Search The Beachwood Reporter
Subscribe to the Newsletter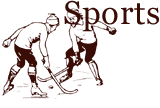 Yes, racing fans, it's that time of year.
The lazy, hazy, crazy days of summer are here, with Del Mar, site of this year's Breeders' Cup, opening Wednesday and Saratoga ringing the bell Friday.
Shipwrecked nines across America will be treading water for more than 90 days, waiting for a rescue boat, the S.S. Rebuilding Plan, that will never come. The Cubs still seem to be searching for identity, but therapy takes time. Can the White Sox get caffeinated with some wins over Crane Kenney's North Side Gang? The Bears will soon straddle the bow, bleating for relevance, while we look over their shoulders and watch the iceberg closing in on them. Dog Days, indeed.
In this last number of weeks, four big things happened on four different ovals. Two of them should have and two of them shouldn't have.

Continue reading TrackNotes: Lazy, Hazy, Crazy Dog Days »
Inside Sports