« December 2006 | Main | February 2007 »
January 31, 2007
What I Watched Last Night
Spring Break sucks when you grow up. You can subscribe all you want to that "You're only as old as you feel" business, but once 40 starts looming large, you're just Creepy Uncle material to anyone in a string bikini along the entire Florida Coast during the month of April. But that's okay. The National Geographic Channel informs us that yes, Virginia, there is a Spring Break for the aging. Yeah, it's held during the summer, but still. It's a place where, for an entire week, you can drink until you puke and witness feats of beaded necklace-collecting that reduces Mardi Gras New Orleans to a burg of rank amateurs.

Where is such a magical place? It's the Sturgis Rally in Sturgis, South Dakota, as seen in Tuesday night's airing of Sturgis: Hell On Wheels. I had a hard time trying to figure out what to do with my vacation time last summer, so this biker event has become my new Mecca, I think. I shall start saving my pennies right today because unlike college Spring Breaks, you're perfectly welcome in Sturgis no matter what stage of middle-aged physical deterioration you've reached. So no matter how bad you think you look without a shirt or dental insurance, a sizeable portion of everyone else is going to look worse than you.
The Sturgis Rally began quietly enough in 1938 with a fellow named J.C. "Pappy" Hoel, a member of the Jackpine Gypsies Motorcycle Club. Rodeos and festivals were big tourist draws for the small towns in the Black Hills of South Dakota, so they dreamed up the Black Hills Motor Classic so Sturgis could have some of the tourist pie, too. The first Classic drew nine motorcycle racers, and they camped out in Hoel's yard. The main draw was originally track racing, but the real fun was in the stunts, like crashing into wooden walls, jumping ramps, and crashing into cars head-on. Today, more than half a million people find their way into town during the first week of August every year to see motocross racing, burnout competitions, and famous biker-friendly bands like ZZ Top and Kid Rock. They also come for the Full Throttle Saloon, a full-service bar at the edge of town that hooches up 30,000 bikers a day and features a dude named Rhett Rotten zooming around the inside of a giant barrel called The Wall of Death on a 1927 Indian Scout six times a day.
While everyone's there for a whole week, there's plenty of motorcycle racing and motorcycling showing going on, tattoo showing, tattoo getting, and - oh, screw it already - there's tits. Tits everywhere. Women flashing 'em, guys taking pictures of 'em. Old tits, young tits, it doesn't matter as long as there's someone showing tits somewhere. It's just one gigantic tit-fest! The restaurants in town even serve tits and eggs. "Motorcycles and women - that's what it's all about," said one attendee, forgetting to mention tits.
Sadly, in one of the biggest demonstrations of ironic behavior on record, National Geographic - which made its reputation among generations of young readers by showing tits - failed to actually show any on Sturgis: Hell On Wheels.
Boycott at will.
*
Previously, in What I Watched Last Night.
Posted by Beachwood Reporter at 3:57 PM | Permalink
The [Wednesday] Papers
"Coach, this team, the '85 Bears, that's a team. These men have never quit giving to this town. They're responsible for 389 restaurant bars, 219 sports-talk shows and 741 DUIs."
- From a Superfans script written by Robert Smigel last year that never made it on air, as reported by Greg Couch of the Sun-Times.
* Super Bowl halftime performer Prince is going to be 50 next year. Shouldn't he be a Duke or Baron by now? Rick Kaempfer and Dave Stern suggest some other age-appropriate name changes, including Iron Butterfly to Iron Lung, Journey to Cruise, and The Who to Who's Left?
* Colts president Jim Irsay's political donations.
* Dos and Donts for Super Bowl Sunday, in Eric Emery's Blue & Orange Kool-Aid Report.
* The Sun-Times wants photos of other Chicagoans named Lovie, and other stories the media will use to fill the remaining days until the big game.

The Obama Messiah Watch
Slate introduces "a periodic feature considering evidence that Obama is the son of God."
House Cleaning
What the House Democrats did in their first 100 hours, including ridding the chamber of "Hastert smell"and closing the underground tunnel to Dick Cheney's office.
School Tools
The Tribune today published the second in a series of editorials on school funding supporting a tax swap that would increase state income taxes and lessen the dependence of education funding on local property taxes.
While the Tribune editorial page has long supported this type of plan, it brought me back to its 1994 endorsement of Jim Edgar over Dawn Clark Netsch.
"Nothing has been so certain in this campaign for governor as death and taxes," the Trib said. "Recognizing that voters fear crime, Gov. Jim Edgar made Comptroller Dawn Clark Netsch's opposition to the death penalty a prominent campaign issue. Recognizing that no one likes to pay more for government, he jumped on her proposal to raise the state income tax.
"Edgar hit Netsch with both barrels and - Poof! - for all intents and purposes, the campaign was over."
And the Tribune has never gone back to say Netsch was right on the issues all along.
Local Geography
"There are plenty of reasons for Effingham taxpayers to care about Hinsdale schoolchildren, for Hinsdale taxpayers to care about Harvey schoolchildren, for Harvey taxpayers to care about Effingham students, " the Trib said in its editorial on Sunday.
But apparently, given the newspaper's paltry aldermanic election coverage and Tribune Company's cuts in foreign reporting, there aren't very many reasons for taxpayers in the 2nd Ward to care about taxpayers in the 25th Ward, nor for citizens in Dolton to care about citizens in Darfur.
Foreign Notion
Remember after 9/11 when the media was going to re-commit to foreign reporting? Well, the promises of the media are as valid as the promises of politicians. But here's the thing: Fewer foreign reporters makes our country less safe. And in an Internet world where your brand can be extended internationally and your reports can gain a worldwide readership, it's just bad business sense. In fact, a paper with a fleet of foreign reporters would be smart to repackage its journalism from such a staff in a number of ways, from a foreign reports blog to a weekly or monthly print publication to a subscription newsletter. Newspapers' attempts to innovate are still amazingly weak. They ought to keep asking themselves three questions: What Would Google Do? What Would Apple Do? And What Would A Great News Organization Do? Presto.
The 51st Ward
"The U.S. government wasted tens of millions of dollars in Iraq reconstruction aid, including scores of unaccounted-for weapons and a never-used Baghdad training camp with an Olympic-size swimming pool, investigators say," the AP reports.
Ad Libby
"Reporter Judith Miller testified Tuesday that former vice presidential aide Lewis 'Scooter' Libby identified a CIA operative to her on two occasions on dates earlier than he has told investigators he first heard the information from another reporter," the AP reports.
Daley Doses
* The mayor says it would be wrong to fire Christopher Kozicki. Does the mayor's new pal Barack Obama agree? I mean, he said things were getting better . . .
* The mayor, dismissing shakedown allegations in a federal lawsuit filed by a developer as election-year politics, says "At election time, people say a lot of things and do a lot of things," according to a Fran Spielman report.
Sort of like the "series of moves aimed at courting black and Hispanic voters" that Spielman wrote about so approvingly last month.
The Education of Hillary Clinton
A flawed but nonetheless highly informative Atlantic piece about Hillary Clinton - and the value of certain kinds of experience.
This Is Our Country
"Until he was deposed in 2002 as majority leader, Trent Lott favored a lipstick-and-skirt dress code," the Atlantic story reports. "Women still must cover their blouses with jackets in order to set foot on the Sentate floor. (There was a big fuss this summer about whether they could wear open-toed shoes.)"
Why not just put them in burkas?
"Far from being just quaint notions, these outsdated standards of decorum are neforced by 'bench ladies,' who are stationed on the floor. Staffers call them the 'SS guards' behind their backs."
This is the United States Senate.
Unsweetened
* Lynn Sweet doesn't get the joke.
* Reporters can spread any bullshit they want once they start quoting the "man in the street."
Teen Dream
"Car crashes are the No. 1 cause of death among teenagers, according to the National Traffic Safety Administration."
How many teens die from heart attacks or Alzheimer's Disease?
CDC leading causes of death, all Americans:
Heart disease: 654,092
Cancer: 550,270
Stroke (cerebrovascular diseases): 150,147
Chronic lower respiratory diseases: 123,884
Accidents (unintentional injuries): 108,694
- Tim Willette
Cover Story
The Top 50 Cover Songs Of All Time.
Beachwood Goodness
The Papers archive. Includes The Weekend Desk Reports by Natasha Julius.
The Beachwood Tip Line: Granting immunity daily.
Posted by Beachwood Reporter at 7:37 AM | Permalink
The Sporting Life
Your [February 1 - February 7] leisure guide from the Beachwood Sports Desk.
THURSDAY: To Read/Appreciate Art. New City's "Super Special" Issue. Newsstands Everywhere. Free. Pick up the latest copy of New City and take a good look at the cover. And don't try to skimp out by looking online, cause they picture ain't there. On the cover is model Sandra Salgado "wearing" an Urlacher jersey, reminding you why you're a Bears fan. And a breasts fan. If that's not your cup of milk, look inside for other musings about the big day, including a guide to bars celebrating the game and recipes for hot wings.
FRIDAY: To Enjoy Satire/Laugh So Hard You Burn Calories. Onion Super Bowl coverage. Free. In case you haven't noticed, The Onion now features a long-overdue Sports Section. Current stories include "Bears Lead Rex Grossman to Super Bowl," "Bears Deny Placing Snow, Fog Machines on Dolphin Stadium Sidelines," and "Bears Inspire City Still Reeling from Great Chicago Fire of 1871."

SATURDAY: Do Your Job as a Citizen/Rat Someone Out. Bring a Lawsuit Against Your Least Favorite Bar. You know that bar across the street that you loathe, especially at 2:30 a.m. when every Trixie and her giggly entourage pile into the street like it's Watts the day O.J. was acquitted? Well, Saturday is your last chance to take action and get them shut down. According to NFL spokesman Brian McCarthy in a recent Tribune interview, "Legally, businesses don't have the right to use 'Super Bowl' [in adverstisements]." Yep, you heard him. He's saying they can be sued. From one skim through today's RedEye, looks like you can take down the likes of Smartbar, Duffy's, innjoy, and even The Bedding Experts, in one fell swoop.
SUNDAY: HOLY SHIT MONKEY, DA BEARS ARE IN THE FLIPPIN' SUPER BOWL! AND IT'S ON CBS AT 5:25PM! AND THE KERRYMAN ON CLARK AND ERIE WILL TAKE 41% OFF YOUR ENTIRE TAB IF THE BEARS WIN! I'M A LIFELONG BEARS FAN AND I CAN BARELY BREATHE! I FEEL LIKE I'M BEING SIT ON BY DONOVAN McNABB'S MOM IN THOSE CAMPBELL'S SOUP COMMERCIALS!
MONDAY: To Appreciate It All/No Matter What. The Super Fans. Featuring Robert Smigel, Joe Mantegna, George Wendt, Beth Cahill, Horatio Sanz, Mike Myers, Kevin Nealon, and Chris Farley. Monday is going to either feel like the day after you lose your virginity or the day after you find out you got herpes on spring break. If the Bears win, the pride of the Midway faithful will be running more rampant than the Mini-Bears would against any mortal team in the NFL. If we lose, you're going to need a reminder why you bleed the team colors of the University of Illinois. So watch a few minutes, or hours, of Bill Swerski and his friends until you agree with the following: In a game of one-on-one basketball up to 11, Mini-Ditka would beat God 11-6.
TUESDAY: To Be a Good Parent/Be Precautious. Take Your High School Athlete for a Check-Up. Immediately. Cost Depends on Your Insurance Benefits. I have absolutely no idea why this linked story would ever fly as under-the-radar as it has. Apparently, it's not just high school football players and cheerleaders that are getting nastier than a Condoleezza Rice striptease these days. Best line to come across the AP Wire in '07 thus far, courtesy of one of the Minnesota wrestling coaches: "How do you tell a parent that their child has herpes for the rest of his life?"
WEDNESDAY: To Give Up Football/Catch a Cold. Chicago Steel at Ohio Junior Blue Jackets. B2 Network. 6:30 p.m. Bet you didn't know that Chicago had a Tier 1 USHL Junior Hockey Team? And you call yourself a "hockey fan." Oh wait, you don't call yourself a "hockey fan?" Well if you want to, you better get with the program and watch this online simulcast of a hockey league in which fighting is still encouraged and rewarded with a chance to be a third-line goon on some bottom-feeding NHL team. But if anyone asks what you're doing Wednesday night, just say you're going bowling.
Michael Raspatello is the editor-in-chief of The Rival Room. He can hardly breathe.
Posted by Beachwood Reporter at 1:24 AM | Permalink
January 30, 2007
The Blue & Orange Kool-Aid Report
Dos and Donts to keep in mind while the Bears proceed to win the Super Bowl on Sunday.
* DO remain in close contact your fellow Bears fans from now until game time. Even the bandwagon fans. This is a time for goodwill toward all.
* DO NOT contact any Colts fans you may know. They live in Indiana.
* DO purchase an insane amount of alcohol. You cannot overdo it.
* DO NOT consume all that alcohol before game time without restocking.
* DO become pleasantly intoxicated by kickoff.
* DO NOT drink yourself into a blackout, at least until the post-game coverage kicks in.
* DO wear a Bears jersey during the game just this once if you want to.
* DO NOT wear the jersey of a current Bear or a former Bears quarterback.
* DO keep your belly full of food. You'll need your strength late into the night.
* DO NOT fill up on chick food. On this day, at least, be a man.
* DO express your emotions to the utmost from kickoff on.
* DO NOT use the occasion of a Bears victory to finally tell your buddy how much you love him.
* DO watch the commercials during the game, just this once.
* DO NOT change the channel at any time, even if The Lingerie Bowl is on.
* DO use the bathroom at halftime. Prince will never be at his worst than at his Super Bowl show.
* DO NOT use the bathroom during a break for a coach's challenge. You need to watch every angle as many times as possible, so that if a non-Bears fan accuses the Bears of stealing the win, you have your rebuttal handy.
* DO hug your fellow Bears fans once - once - after the win.
* DO NOT say "I cannot wait for next year." That's for Cubs fans.
* DO call other Bears fans, including family members. This may be the only chance in your life to share.
* DO NOT call Colts fans to congratulate them on a fine season. They don't want to hear it.
* DO help your Super Bowl host clean up. Especially if he spent his time bashing the Bears all year on The Beachwood Reporter. Your grace will make him feel even worse for bashing the Bears all year.
* DO NOT steal the leftover deviled eggs. This is a time for goodwill among men.
* DO call in to every sports radio show you can get on. Never mind that you're drunk; you'll sound just like the typical regular-season caller out of his mind over Lovie's failure to make half-time adjustments.
* DO NOT admit that you never believed in Rex Grossman. There'll be plenty of time for that next year when he goes into the tank.
And of course, do not drive home drunk when it's so much more fun to trample through people's yards and piss in the alleys. It will be the one night of the year that nobody will care.
*
Sugar in the Super Bowl pitcher: 65%
Recommended sugar in the Super Bowl pitcher: 100%
*
More Bears coverage:
* The Blue & Orange Kool-Aid Report archive.
Posted by Beachwood Reporter at 8:01 PM | Permalink
What I Watched Last Night
I had a crummy day Monday, so I grab a seat at the end of the bar at the Home Plate Pub in Hessville. That's where I find ABC ordering me somewhat rudely to ponder What About Brian since there's no question mark in there asking me politely. I haven't seen the show, so I do wonder: What about Brian? Did he fall down a mine shaft? Does he overcome adversity and teach others deeply meaningful lessons about their own lives despite having some sort of handicap that would defeat a lesser fellow? Does he save others from certain death through heroic surgeries or stunning lifeguardsmanship? Does he sell insurance? What?

An hour later, I still don't know what about Brian. Nor do I care. Brian's a self-absorbed ninny. So are his friends.
Erica the bartender tries to explain the show's appeal and how addicting it can become, but I'm not buying it because, well, how good do your entertainment choices get when you're stuck tending bar on the slowest night of the week? It's not that my crummy day fogged my impression of this show, or that I have anything against chick TV that's naturally stuck in the gravitational pull of shitty, problematic relationships. Nay, I love a fine heartwarming tale; I just don't like walking away with a raging case of diabetes from it.
Basically, this show is a version of thirtysomething if it had been written by Dan Fogelberg. For me or anyone else who got suckered into this show Monday, it felt like an hour-long 1980s Lowenbrau commercial that had guys bonding in very sensitive ways because "the night is kind of special" and your beer ought to be, too. And to show how wonderfully everyone was bonding and celebrating each other's company on Monday, the writers re-created the sugary dancing-in-the-kitchen scene from The Big Chill that everyone and his brother was stealing 20 years ago too, except this time using some 1980s-era song.
But Brian drives a really cherry Chevrolet Corvair convertible, so I imagine Ralph Nader is gnashing his teeth all over again.
Monday's episode was all about relationship strife and decision-making. The first decision someone made was to gather everyone together for a Big Decision Weekend in a big ostentatious log cabin that looked like something Abe Lincoln might have built if he were Donald Trump and liked lots of glass. The show's writers set the episode in late autumn because it's much easier to make decisions when you're decked out like a Timberland meets L.L. Bean winter catalog. And boy, were there ever potentially globe-stopping decisions to be made. Brian has strife because he can't decide whether to move in with his girlfriend, so he brings her along so the tribe of established women can treat her as the interloper in all sorts of petty, snippy little ways. Bored Married With Little Kids Couple have strife because she's pestering him to make a decision right today whether to have surgery to deal with some sort of dangerous ailment. Interracial Couple have strife because he can't decide whether to assert himself as a dog person or bend to her wishes that he be a cat person instead. Newly Married Couple have strife because he can't make a decision whether to go back to his old girlfriend, but they soon become Newly Separated Couple after the girlfriend shows up at the cabin.
Other than that, the guys spend a lot of time fishing and talking, but the only thing they do with all their jibberjabber is scare away the fish, leaving everyone's dilemmas to get solved when all the women admit that they love each others' earrings.
Rosanna Arquette has a regular role on the show, but she didn't have any big decisions to make in Monday's episode, so she wasn't on.
*
Speaking of shallow and self-absorbed, Brian was followed by Channel 7 burning through a bunch of its newscast allotment with a hard-hitting piece by Ron Magers over the best Chicago-style hot dogs and pizza in Miami.
Naturally, every member of the Eyewitless News team who did score a junket to Miami to demonstrate how far the puff envelope can be stretched looked very pleased to be there instead of freezing live on some dark expressway overpass with Storm Watch coverage of that quarter-inch of snow falling here in Chicago. If any one of the left-behinds at Channel 7 deserved a sympathy vote in the wake of Monday night's irrelevance festival in Miami, it was Jerry Taft. You just knew he was standing there in front of the weather map thinking, "What the fuck - like there's no goddamn weather in Miami????"
Tonight at 10: Ron expenses lunch and dinner with a piece on a restaurant that serves Eli's Cheesecake.
*
Previously, in What I Watched Last Night.
Posted by Beachwood Reporter at 5:40 PM | Permalink
The [Tuesday] Papers
"Well, we're halfway through the two-week Super Bowl hype orgy, with media from around the world grinding away so hard they ought to be administered lube," the Tribune reports.
Whoa!
That's in the Tribune?
Circulation must be really bad.
* Our approach to discussing how the media will occupy itself until the actual game.
* "The media are making a big deal out of Lovie Smith and Tony Dungy becoming the first African American head coaches in the Super Bowl. Good. It provides the perfect contrast to an untold story about the media," writes the Tribune's Ed Sherman.
"In a sport where more than 60 percent of the players are African American, there never has been an African American analyst in the booth for a Super Bowl."
* "Bears Play Underdog Card, But They Were Favored In 16 Of 18 Games."
* "Pines Die and Bears Feel It."
Blue's Clues
You can now start your O'Hare delay early on the Blue Line.
"The problems on the Blue Line illustrate how slow, unreliable and inconvenient taking the L has become for riders on almost every line," Monifa Thomas reports in the Sun-Times.
Daley's CTA
"Only Mayor Richard M. Daley can save the train system," Crain's implores in an editorial. "So far, he's mostly ignored the deterioration of service as trains swell with downtown office workers commuting from the gentrifying neighborhoods of the North and Northwest sides -- a predictable side effect of the middle-class renaissance he worked so hard to foster."

Daley Delusions
The mayor responds to a watchdog report card critical of his rule:
"No other city is building new schools. No other city builds libraries. No other city builds affordable housing. No other city is building parks. No other city is improving quality of life."
No other city has streets! No other city has office buildings! Go look for yourself! You won't find them! So I'm very proud of my administration. I work very hard. Next question!
Burke's Law
"[Ald. Ed] Burke is sitting on an astounding $6.8 million in campaign funds through various political committees he controls," Mark Brown writes.
Good for Burke, seeing as how he's facing his first opponent since 1971.
And Barack Obama says you shouldn't go into politics if you want to get rich.
Well, he was just an Illinois legislator representing a Chicago district, so he couldn't be expected to know any better.
Obama's Law
Obama will not endorse Burke's opponent. But he'll gladly accept any help Burke will offer, if he hasn't already.
Mikva Challenge
Abner and Zoe Mikva think that the way we teach civics in school is broken. Maybe it's the civics itself that is broken. I don't see Mikva calling out the mayor on 17 years of corruption and anti-democratic rule. Maybe the mayor needs a private tutoring session. I also don't see Mikva running for mayor or funding a civic-minded reform candidate to do so.
Whore House
Most aldermen are ho's.
Beavers Slop
Bill Beavers calls himself "the hog with the big nuts."
Nuts fit for roasting. It's past overdue that reporters pulled every piece of paper on this guy and did a f ull-court press on his financial and city council dealings.

Bush League
"President Bush was unqualified to run the country in 2000, just as Obama is now."
Kitchen Knife
"White House Gets A New Pastry Chef."
Old one turned against the war.
Scooter Ride
The Libby trial shows once again that politicians spend far more time planning how to manage the media than the media spends planning on how to conduct an effective interview and do the reporting that will reveal the scoundrels for who they are. Even more so now that newsrooms are being gutted.
Ari's Gold
Ari Fleischer's damaging testimony is front page news in the Tribune and New York Times, but buried in the Sun-Times on page 26 under "Oklahoma Produces Another Miss America," perhaps to spare editorial page editor Steve Huntley the embarrassment of being so blindingly wrong - among others.
ChicagOlympic Sun-Times
The Sun-Times has never felt moved to put an editorial on its front page calling on the mayor to clean up his act, but on Sunday the big headline was "Why The Olympics Must Be Ours."
The paper never lists the ad dollars it hopes to reap as one of the reasons.
Mayberry Post
"It's time for Chicagoans to get behind the effort to sell Chicago to the world," the paper says.
No, it's time for newspapers to do their job and vet the exaggerated economic claims being made by the local Olympic committee, and flesh out the financial issues, flaws in planning including lack of community involvement, the mayor's horrible track record with large projects, and the impact upon the city and residents that shouldn't automatically be presumed to be a positive one.
Record to Run On
"Publicly, [USOC members] want guarantees that the games will not drown in red ink and cost overruns," the Sun-Times says.
Good thing those issues have never been a problem on Daley's watch.
Proud Sponsors
The Todd Stroger Era, brought to you by Rich Daley, Barack Obama, and the Chicago Sun-Times.
The Beachwood Tip Line: Tickets still available.
Posted by Beachwood Reporter at 7:58 AM | Permalink
Bear Down, Chicago Media
How the city's media will fill the remaining days until the Super Bowl.
1. Devin Hester's fastest Dan Ryan alternate routes.
2. Breaking Barriers. What it's like for Rex Grossman to be the first Jewish quarterback in the Super Bowl.
3. Janet Davies with Tank Johnson: 50 ways to decorate on house arrest with Ikea Bolingbrook.
4. The Sun-Times wants photos of other Chicagoans named Lovie.
5. Ditka's Garbage: What's In It? Chuck Goudie investigates.
6. Teen Driving and the Bears: A Deadly Mix. A Tribune Special Report.
7. Telex or Motorola headsets for gamers?
8. House arrest, and other secrets to keeping your star athlete husband, on Oprah.
9. Tank Johnson vs. Abrams Tank. Mini-Tank Johnson vs. Abrams Tank.
10. Is Rexy really sexy? Or is it just hype? We ask his girlfriends.
11. Barack Obama was a Chiefs fan growing up. He even wore red.
12. The Sun-Times wants photos of The Biggest Bears Fans In Chicago - literally! Include current weight.
13. Other Chicagoans nicknamed Peanut.
14. Astrologists say there's bad karma in the House of Tank. But Urlacher's moons match up well with Manning's suns.
15. Getting Our Kicks! The Fox news team hits the town with Robbie Gould and Brad Maynard.
16. Forty Years of Super Bowl Weather, a Tom Skilling Special Report.
17. Fox News holds a seance to contact George Halas. Reaches Vince Evans at home instead.
18. North Beach: Metromix Does Miami With Mike North.
19. Best commercials shown during the Bears regular season.
20. The Channel 2 news staff goes on the South Beach diet this week.
21. Are kids too obsessed with the Bears? A Tribune special report. In five chapters.
22. Bears Fans Gone Wild. A Chuck Goudie report.
23. Beartinis and Urlachburgers: Where to Get Your Bears Grub On. A Metromix/WGN-TV report.
24. There's no way the Bears can win this game, by Jay Mariotti. There's no way the Bears can lose this game, by Jay Mariotti.
25. Super Bowl TIF steals money from Miami schools to pad Mayor Daley's slush fund, a Reader investigation shows. The rest of the media shrugs.
*
More of the city's best Bears coverage:
- The Blue & Orange Kool-Aid Report.
- Over/Under.
- "Crown Their Ass!"
Posted by Beachwood Reporter at 5:48 AM | Permalink
Esteban's Master Class Cutaway Guitar Package
I wish I could hear Esteban's students play, but his backing musicians are too loud.
What It Is: A 22-piece set that includes a handmade acoustic-electric guitar, packaged with accessories and instructional DVDs featuring rugged guitar veteran Esteban. It also includes a guitar chord poster, strings, picks and a cleaning cloth.
Description: In principle, not too much different from the guitar starter kits you might see at a Guitar Center or, frankly, K-Mart.
Quote: "This man has touched nearly a half-million lives with his amazing guitar packages!"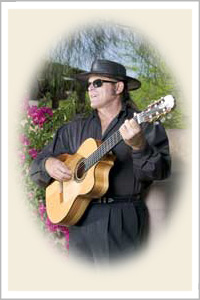 Shill: Esteban, who purports to be a student of master Spanish guitarist Andres Segovia, a claim rigorously thrown into doubt by this Phoenix New Times story. His pretty foil is the Home Shopping Network's own Shannon Smith. There's also a rotating cast of Esteban's students, and I'll get to them later.
Set and Costumes: The TV version of a cozy living room, with a video fireplace set high up on the wall, where a fireplace could never be. Esteban's dressed like a bad mix of Stevie Ray and Johnny Cash, and constantly wears dark sunglasses because one of his eyes was blinded during a baseball game when he was 12, and the other damaged in a tragic car accident. Shannon's dressed in a tasteful, spangled black deal.
Politics: Incumbent-friendly. He wants your support, but you don't really get to know jack about him.
Cost: About $200.
Gimmick: Esteban's students, who range from a little girl to various grown men, join him for run-throughs of songs. At first, you hear the little imperfections in their playing - which are to be expected, because the acoustic guitar isn't easy for your fingers to get used to - and sense an uncommon honesty in the presentation. Then Esteban swoops in with his nimble leads. With each successive student seem to come more backing musicians on horns, bass and drums. So you have to take Esteban's word for it when he praises each student for playing "like a pro."
Bonus Gimmick: Slobbering over the details of the guitars' purportedly handmade construction - "all-wood construction" with a "beautiful lacquer finish," complete with close-ups of the mother-of-pearl inlays.
Extra-Bonus Crummy Rhyme Gimmick: The little amp in the package is a "Bach-to-rock" amp. Which just means it has an overdrive button, like thousands of amps on the market. "You press this button, and you have hard-rock, rockin' guitar sounds."
Pavlovian slip: After Esteban plays with a young female student, Shannon says, "Imagine - that could be your daughter, or better yet, yourself." Because they know this will appeal as much (if not more) to grown men as to kids. Though said little girl is reported to "idolize" Esteban.
Pavlovian omission: You probably don't want to learn to play Esteban's guitar. You just like the idea of learning to play guitar, and Esteban doesn't want to confront you with the awkward hand positions or the gnawing of steel against your soft fingertips until after you've got that puppy out of the box.
Evaluation: It could be a great guitar, could be a piece of crap. Without the opinion of someone who knows musical instruments better than I, I'll withhold judgment. From Esteban's story, it sounds like he's a nice guy who got fucked over and milks it way too hard. And no, I'm not some silly purist who believes instructional videos cheapen an artist - just look at two of the finest acoustic blues players going today, Chris Smither and Rory Block, who don't go around with fake Spanish names.
Rating: 5 (provisional)
- Scott Gordon
* Visit the Beachwood Infomercial Review library.
Posted by Don Jacobson at 12:23 AM | Permalink
January 29, 2007
The [Monday] Papers
* Bears Super Bowl victory headline neither Chicago paper will be willing to use: "Crown Their Ass!"
* More likely Indy victory headline after Adam Vinateiri kicks the game-winning field goal as time runs out: "Money!"
* The city's best Bears coverage, all week in Beachwood Sports:
1. Lessons and observations in a Top Ten season review.
2. The Bears are in the Super Bowl. Emery tries to wrap his head around it. In The Blue & Orange Kool-Aid Report.
4. What the NFL taught us this year. In Over/Under.

Clothes Line
The Sun-Times has declared Friday "Wear the Bears to Work Day."
So now they're going after the dork demographic.
Lovie Smith Drive
In Big Sandy, Texas.
Tank Johnson Way
"More than anything, Tank Johnson needed to know he wasn't alone," the Tribune's David Haugh writes. Johnson had just lost his best friend, Willie B. Posey, in a nightclub shooting and feared he was close to losing his spot on the Bears roster after defying team orders following a weapons arrest. That's when Lovie Smith picked up the phone to pick up his defensive tackles's spirits."
Maybe Lovie should have picked up the phone after any one of 30 visits police made to Johnson's home as he terrorized his neighbors and put his children at risk from pit bulls and unsecured guns.
Minnesota Way
Tony Dungy chose the University of Minnesota to pursue his college football career "because it was one of the few universities that would allow for the possibility of a black quarterback," The New York Times reports.
Chicago Way
Illinois has third most segregated school system in nation.
Readiness
When people - pundits, the media - ask if America is "ready" for a black president ("No, let's lay some more groundwork until we're just a little more comfortable"), it really means "Is America still such a racist place that an African American can't get elected president?"
But the media doesn't want to put it that way. Too uncomfortable to discuss the real question.
If America's ability to elect a black president is still legitimately under question, what does that say about our daily interactions, particularly in the workplace, and how does that square with those who think we should just be color-blind now?
Barack's Law
People are who they are.
Chuck Roast
NYT: Did you read his book, Audacity of Hope?
New York Sen. Charles Schumer: I just read little pieces of it.
NYT: You couldn't finish it?
Schumer: I skimmed the parts that were interesting.
Obama (D-Daley)
1. Barack Obama just lost my vote and respect when he endorsed that crook Mayor Daley," Marvin Harrison of Berwyn wrote to the Sun-Times on Sunday. "Even if he didn't endorse the other candidates, he should not have endorsed the man who has been allowing his friends to steal the city blind!
"Daley claims he knows nothing about all the illegal activity during his watch. Politics 101: Quid pro quo. That's a shame, Mr. Obama."
2. "I have been a huge fan of Sen. Barack Obama ever since he began his political career in the Illinois Legislature. This was a guy who seemed very sincere and totally genuine: a politician you could trust, or at least believe.
"I am still an Obama supporter, but I cannot understand his endorsement of a mayor who has reigned over nearly 20 years of blatant corruption - corruption that was orchestrated by those close to him, in offices next to him," Cornelius Foster of Douglas wrote. "I cannot imagine why Obama, who has enjoyed such overwhelming support, felt it necessary to attach his name to a figure who is so widely presumed to be corrupt."
Big Picture, Local Focus
The latest CNN poll has Hillary Clinton leading the field with 38 percent of Democrats polled in her corner. The next three: Obama 18; John Edwards 6; Al Gore 12.
Electability
. . . won John Kerry the nomination. Pundits and strategists are never right about this stuff.
Kerry Case
On the other hand, if Kerry had won Ohio he'd be president. Yet, the media caricatures him as a loser, just as it caricatured Gore for years despite the indisputable fact that Gore won the 2000 election.
How silly is this, for example?
"Mr. Kerry's hopes were probably most damaged by what he said was a botched joke he told while campaigning on behalf of Congressional candidates in the final week of the 2006 election campaigns," The New York Times says.
This is how we choose a president? George W. Bush botches a war, he gets re-elected. John Kerry bothces a joke about Bush's botched war, and he gets ridiculed into oblivion.
Readiness Redux
When people ask if America is "ready" for a woman president, consider the text in the (syndicated) editorial cartoon that ran in the Trib on Saturday -
"Countries That Have Already Had Female Heads of State: England, Norway, Finland, Israel, Switzerland, Germany, Serbia, India, Mongolia, Sri Lanka, Pakistan, Philippines, Indonesia, Liberia, Burundi, Bolivia, Chile, Argentina, Ecuador, Panama, Nicaragua, Haiti, Ireland, Latvia, and Iceland."
Overdrive
Hillary might want to re-consider using a song for her campaign with the opening line "I met a devil woman."
Rock Star Buzz
If Obama becomes president, he'll be at least the second coke snorter in a row to attain the office. And quite possibly the third.
Color Bind
WGN-AM led the way in 2006 radio revenue with $48.4 million, Robert Feder reported last week. WGCI-FM finished fourth with $28.6 million in revenue - even though they battled all year for ratings supremacy. The Chicago Reporter explains why.
Fickle Fingers
The slipstream media loves bloggers (and political activists) in other countries a whole lot more than those in this country.
Motor City Marine
Ted Nugent wants to provide hunting trips for wounded soldiers and their famlies. Somehow I don't think soldiers want hunting trips when they come home.
Maybe Nugent ought to volunteer for duty in Baghdad instead of pretending in Michigan.
Quick Pick
"The Lottery's Next Big Loser: Illinois."
The Beachwood Tip Line: Bearing with it.

Posted by Beachwood Reporter at 7:52 AM | Permalink
January 27, 2007
Foolin' Fish Spray
Hello Mr. Steve Rhodes:
The following press release about UV Fish Spray may be of interest to your audience. Any editorial comment or mention that you may give this press release would be greatly appreciated.
- - -
EXCITING BREAKTHROUGH PRODUCT FOR FISHERMEN "UV FISH SPRAY" HOOKS 3 TO 4 TIMES MORE FISH
Dateline: January 26, 2007 ... Berkeley Springs, WV
Contact: Isbjorn Marketing & Sales, Inc.
Phone: (877)400-6753
E-Mail: luremaster@uvfishspray.com
Web Address: www.uvfishspray.com
Berkeley Springs, WV - January 26, 2007 - For decades, bait and lure companies have conducted tests to find new and better ways of attracting fish to the hook more quickly and more often. A recent breakthrough has been discovered, combining science with fisherman instinct. It's called Fool-A-Fish TM the new amazing UV Fish Spray that is helping fishermen catch three to four times more fish.

From bright, fluorescent lures to fish-attracting scents, thousands of products are available on the market for the assertive fisherman. Unfortunately, all of these have limitations. The bright colors disappear or become dull in water ten feet deep or muddy water. The scents can wear off quickly. That's why Milan Jeckle, M.D developed the innovative UV Fish Spray.
Dr. Jeckle was fascinated with a recent scientific discovery made by Duke University Marine Biology Dept., that bony fish and birds can see in the ultraviolet (UVA) color range that the human eye cannot see. He had studied physics, chemistry and biological sciences so he knew there had to be a connection that could close (or at least lessen) the gap between fish and the "fisherman's hook." This new scientific
discovery was the answer.
Fool-A-Fish TM is patented bait and lure spray that coats the bait with a powdery substance that is non-toxic to humans, animals and the environment. This substance reflects ultraviolet light that only fish can see. To the fish, the UV light reflects from the bait or lure in many directions, similar to a disco ball. This ultraviolet light reflection can be seen by fish for up to one-half mile, giving it preeminence over other non-treated lures in any water.
UV Fish Spray is easy to use. Fishermen just spray it on according to the instructions, allow it to dry, and then bait their hook. It can be sprayed onto live bait such as worms, minnows, maggots, or any type of bait or lure.
Tests conducted by Captain John Keizer, one of the founders of Salmon University Fishing Institute in Seattle, Washington, revealed that herring bait sprayed with the UV Fish Spray caught three to four times as many salmon as the herring bait without the spray. "Instructors have sprayed it (Fool-a-Fish TM) on lures, flashers, hootchies and plugs, all which showed better results than the same lures not treated with Fool-a-Fish," states Captain Keizer.
The UV Fish Spray has also been widely successful during fish tournaments. Pertti Nevalainen and Antti Viljnen won the Finnish Championship Competition using Anchovy Special bait holders. Every salmon bait rig was sprayed with UV Fish Spray.
Fish use three senses to hunt for food: sight, smell, and sound. Sight is the dominant sense; therefore, if the fisherman makes his lure or bait more visible, fish will attack it! "Hungry fish can't resist it - particularly when everything else has faded to only a dull shadow even - in shallow depths," says Dr. Jeckle.

Posted by Beachwood Reporter at 7:19 PM | Permalink
A Bears Top Ten Review
Observations.
1. Rex Grossman disappointed fans most of the year, leaving them with an uneasy feeling about the Bears playoff prospects.
2. Rex Grossman disappointed fans by playing pretty well in the playoffs, leaving them with an uneasy feeling about the Super Bowl.
3. Chicks dig Urlacher. Except for that one.
4. The best offense is a Devin Hester punt return.
5. Few teams erase a 18 point deficit against the Patriots. Anybody can come back from 18 points down against the Cardinals.
6. Though the McCaskeys could hardly be happier, wait til they get Lovie's bill.
7. The Bears have now provided a whole new thread of false hope for Cubs fans.
8. As a leader, if you say the same words over and over, people start to believe it, whether it be "Rex is our quarterback" or "Iraq is part of the war on terrorism."
9. Guns, children, pot and pit bulls do not mix. Unless you need a pass rush.
10. Sure, but the Bears didn't play Florida.
See also Super Bowl Shuffling, The Blue & Orange Kool-Aid Report, and Over/Under.
Posted by Beachwood Reporter at 7:11 PM | Permalink
The Blue & Orange Kool-Aid Report
For the past few days, I have tried to wrap my head around this year's Super Bowl match-up. Just how, for example, did the Bears even land in the Super Bowl? Did they consistently dominate their opponents? Yes, for the first five weeks. Did they play great defense? Sometimes. Did they get great play out of their quarterback? As much as they did not.
The Colts provide even fewer answers. Where did their suddenly competent run defense come from? Where has Marvin Harrison gone? Why does Peyton Manning express sadness in a commercial that a former coach of his introduced him to Rock and Roll? Was that a bad thing? And what's with the cheesy mustache get-up?
Simply put, I've been having trouble making sense of it all. That is, I was having trouble until Friday night.
For our office Secret Santa exercise, I received a $10 movie gift card. Since it was my wife's turn to pick, I found this to be the best occasion to not pay full price for a bad movie - one inevitably lacking in car crashes, gun fights, and/or sports action.
I was not prepared however, to suffer through the worst movie of all time - Catch and Release.
(I hereby now issue a Spoiler Alert; if I leave out the relevant details, some day when you are roped into this steaming pile of monkey crap, you'd seek vengeance on me.)
Nothing made sense. Nothing.
Well, except the part where Jennifer Garner looked hot. Besides the hotness, nothing made sense. Garner is to marry a man, but he dies. Sure, that happens. And Garner gets mad at her deceased fiance's friend Fritz for covering up some small details, such as the deceased's secret bank accounts, his mistress in California, her bastard boy, and the $3,000 in monthly payments to the mistress. Oops.
As the saying goes, bad things happen to good people. Well, not really. At least according to the dead man's upper crust bitch of a mother, who accuses Garner of not satisfying her son sexually and driving him to the arms of a hussy. Boo-ya! Yeah, and by the way Miss Garner, could you be a doll and return that wedding ring that has been in the family for six generations? You know, because he's dead and your no longer with him?
And here's thing thing: Garner never gets angry.
Remember how Fritz lied about the mistress? But does this make him dating material? Of course! You know, fornicating with a lying piece of crap makes sense. Oh yeah, especially after he porked some other random woman in a bathroom. Did I forget to mention that the deed went down at the deceased fiance's wake? You wouldn't suppose Garner sat in the bathtub while said deed went down, as she longed for a quiet moment alone? If you also supposed the random woman said "Sock it to me" in the throws of lust, you'd be correct twice.
After all this nonsense, the mistress arrives looking for the deceased, mostly because she's grown accustomed to the monthly $3,000 she received as child support. Of course, since Garner never married the man, all the loot belongs to the bastard of the mistress, pending the paternity test. Though this seemed like a job for Maury Povich, the mistress and Garner remain on speaking terms. Hey, how about some dinner? I'll gladly bring the four-year old bastard to serve as a reminder of the deceased fiance's infidelity! Pass the salad, 'cause Garner rises above it all.
Through all this insanity, all ends well. Everybody finishes 200 man-hours of work on the peace garden dedicated to the deceased. The upper crust bitch gladly gives the mistress money because her son would have wanted it that way. Garner offers the upper crust bitch the ring, but she refuses to take it. Finally, Kevin Smith shacks up with the mistress, using his massive salary earned writing quotes for Celestial Seasonings boxes to support the mistress and the bastard son.
Just in case none of that made sense, Garner brings it home by driving to California to express her love to Fritz. You know, the Fritz who nailed the random chick at the wake. The end.
Driving home from the movie, I tried to make sense of all this. Then it hit me: It doesn't have to make sense. Does everything in life have to make sense?
Epiphany.
Sure, the Bears' lackluster play, ugly wins, and questionable coaching led them to a 15-3 record. Their schedule almost never tested them, yet they found ways to be tested by sub-par opponents, like Arizona, Detroit, Tampa Bay, and Miami. You'd think such a team watches the Super Bowl at home. But the Bears are in the Super Bowl. Does it make sense? Of course not. Does it have to make sense? Apparently not.
If Garner never worries about catching all manner of nasty disease from Fritz, then I'm not looking at this logically either.
So I'm picking the Bears. In fact, I'll do something else. I'm picking the Bears straight up. I'm not stopping there. I'm guaranteeing a Bears victory. Not satisfied? Swell. As Garner is my witness, the Bears blow out the Colts.
I'm not done yet. Rex Grossman completes 18 of 26 passes. The defense gives up only 10 points. Devin Hester returns a punt for a touchdown. After the game, Cedric Benson says, "I'm going to Disneyworld!" Urlacher lays down with three women in the locker room. And using his best "Cleveland from the Family Guy voice," Lovie Smith says, "Mrs. McCaskey, I'd like that raise now."
Does any of that make sense? No. But does it really have to? The Bears will be the World Champs.
*
Sugar in the Super Bowl pitcher: 65%
Recommended sugar in the Super Bowl pitcher: 100%
*
For more Emery, see the Kool-Aid archive, and the Over/Under archive. He can be contacted at Eric_Emery12345@yahoo.com.

Posted by Beachwood Reporter at 6:36 PM | Permalink
Big Media's Air Raid
As a long-time radio veteran, and someone who has followed the story of media consolidation as closely as anyone, even I was appalled by the details of the Minot, North Dakota train derailment that Eric Klinenberg recounts in the introduction to his new book, Fighting for Air.
According to Klinenberg's excellent narrative, local officials tried to contact the radio stations in Minot to declare an emergency because a toxic cloud five miles long, two-and-a-half miles wide, and 350-feet high was heading straight for town.
There was only one problem: Clear Channel owned every radio station in Minot, and all of its programming was automated. There wasn't a single person in any of the local studios to answer the calls of emergency response officials to alert the public about the impending danger.
By the time the cloud had dissipated, one man was dead, and more than a thousand people needed medical care. If Minot's radio stations hadn't been consolidated and downsized, the town could have been easily evacuated before the slow-moving cloud reached the city limits.
And that's just the introduction of Fighting for Air.

Klinenberg, a sociologist from New York University with a reporter's gift for uncovering the stories behind the stories, methodically chronicles the effect of consolidation on every medium since the disastrous Telecommunications Act of 1996, including network and local television; network and local radio; mainstream and alternative newspapers; and the Internet.
Why does radio suck now? Klinenberg explains it.
Why does 24-hour cable television news cover so little news? Klinenberg explains it.
Why does it seem like we have more media options than ever, yet less information about public affairs? Klinenberg explains it.
He effectively and meticulously presents evidence of the cost-cutting that inevitably follows big media mergers, and shows how these have led to decreased news staffs in every medium. That, in turn, has led to a country that only appears to have more information available, while it actually has far less. (What's more terrifying than an uninformed electorate? An uninformed electorate that actually thinks it's informed.)
He shows how the increased power of these few media corporations has led to several big stories being buried in the broadcast media, including - and especially - the effect of media consolidation.
He chronicles the complete disregard the current FCC (and the previous edition headed by Michael Powell, Colin's son) has for public, professional, and scholarly opinion about consolidation.
The arguments against Big Media are clinically enumerated by Klinenberg, most convincingly in the sections about the loss of local news and information. Klinenberg also thoroughly and convincingly debunks the arguments that were presented by the industry before the Telecommunications Act of 1996. (Just to take one example, those 1.5 million new jobs that were promised? Never materialized. Instead, 500,000 jobs have been eliminated in the consolidation accelerated by the Act.)
So what is the argument for further deregulation, like that intensely lobbied for by Tribune Company, among others? I thought the answer produced the funniest quote in the book, from a Heritage Foundation article often cited by Powell: "The real danger to Americans is that outdated and unnecessary FCC restrictions will limit improvements in media markets and technologies, limiting the benefits that they can provide."
Got it? They aren't making enough money to improve technologies. If you just let them own it all . . . they'll work harder at making it better.
Is there honestly anyone in the world who believes that? Certainly no one who has ever worked in the media. So why aren't members of the broadcast media (who would personally be most harmed by further consolidation) coming out to aggressively point out how ridiculous this argument is?
Simple. To tell the truth about your corporate media bosses is to commit career suicide.
To tell the truth about the FCC is to bring down the wrath of the FCC on your bosses, which is an even more effective way of committing career suicide.
Fighting For Air isn't the first book to tell this story, but it's probably the most impressively researched and well-written.
My only quibble with Klinenberg's book is his assignation of political motives to some of the big media CEOs. In my experience, these guys don't have a political agenda as much as they have insatiable greed. Scratch the surface of an apparent political agenda (even Rupert Murdoch's) and you're bound to find just another money grab.
At its heart, however, Fighting for Air tells an important truth: The big media corporations have completely abdicated the public interest obligations required as a precondition of operating the public airwaves, and the FCC, which was founded to keep an eye on this above all other things, is helping them do it.
I guess it takes a sociologist to tell the real truth about the media.
*
Rick Kaempfer was a Chicago radio producer (Steve Dahl & Garry Meier, John Records Landecker) and host for 20 years. He is the co-author of The Radio Producer's Handbook (Allworth Press, 2004) and the author of $everance, a satirical novel about the broadcast industry coming out in April on ENC Press. Rick covers the media regularly on one of his many blogs and is a frequent Beachwood contributor.
Posted by Beachwood Reporter at 8:14 AM | Permalink
January 26, 2007
The Weekend Desk Report
Numbers Game
President Bush this week sought to quell broad-based congressional resistance to his current Iraq plan. Using a new statistical model, Bush now says the actual number of U.S. troops, casualties, and Iraqi insurgents is considerably lower than first estimated. For that reason, he contends, it should be no problem to send 20,000 more soldiers to the beleaguered battlegrounds, and maybe toss a few bones Afghanistan's way too.

The Breakup
In an unprecedented summit of America's exes, the message was loud and clear: the U.S. is never going to find someone to settle down with unless it starts listening. Most recent dumpee Canada had even more words of advice for current flame Israel. "I never felt like I could be myself in the relationship," Canada cautioned, "and I got really tired of cleaning up America's messes. If I were you, I'd keep my eye out for other suitors."
Search and Destroy
More mixed messages from Washington this week. While on the one hand, the Bush administration encourages the whole-sale destruction of elements seeking to dictate prevailing culture, on the other hand, not so much.
Race to the Bottom
Confident American gamblers have raced to the OTB this week, certain that their man has locked up the race for World's Worst President. But surely the smart money will steer clear of this passing fancy. After all, in the ultimate stakes, he's not even close.

Posted by Natasha Julius at 11:38 PM | Permalink
What I Watched Last Night
Are you one of those country music purists who firmly believes Garth Brooks is the Antichrist and the eyes of hormone-raging young boys should be shielded whenever the new, improved version of Faith Hill turns up on CMT? Then you'd be right at home with The Wilburn Brothers, as I was Thursday night. Well, I wasn't really at home with them. It was more like who in the world digs up these things?
The RFD-TV network does, that's who. (For those of you born well after Andy left Ken Berry in charge of Mayberry, RFD is an acronym for Rural Free Delivery, which brought home mail delivery to the sticks and gave farmers the same right as city folk to have their mailboxes cluttered up by Publisher's Clearinghouse.)
Billing itself as "rural America's most important network," RFD-TV is where the Propane Research and Education Council does its advertising, and I guess if I watched long enough, I could probably have picked up a subscription to Grit newspaper too, except now it's not really a newspaper anymore and that's just another fine example of how corporate America has screwed the heartland, dagnabbit.

On my channel guide, RFD-TV is located way up in the nosebleed section in the 9000s and lumped in with a mess of Jesus stations, so I kinda knew what I was getting myself into. At first, I thought I'd stumbled across a Lawrence Welk show from 1971 because the picture had that same sort of screwy-saturated look Polaroids get when they get old, yet the sets didn't achieve nearly the same design standards as Welk's. Either the TV studio was the size of a tent or it was just Doyle and Teddy Wilburn reflecting that sort of early Opryland attitude that says when you're letting the music do all the talkin', you don't need no ten more bucks worth of paint and wood in the hands of a set designer who might actually have graduated vo-tech school, y'all. No, that investment was made up in wardrobe for the hosts.
I'm not sure whether the singing brother who looked like Brian Doyle-Murray without all the extra mileage was Doyle, or the guitar-playing brother who's a dead ringer for Tom Hanks' next project was Teddy, or vice-versa. The show was a bit short on introductions, but I suppose if I knew anything about country music prior to 1992 - other than it's awful - introductions wouldn't be necessary. I needed Wikipedia and CMT.com to tell me Doyle and Teddy went from first performing on a street corner in Thayer, Missouri, on Christmas Eve 1937 to become one of Nashville's most popular recording duos between the 1950s and early 1970s. Sure, they're both dead now, but they looked mighty smooth in their matching powder-blue satin suits and bow ties.
They had to, given the company they were in Thursday night. Tom T. Hall, who is arguably the driest wit to ever pen a Nashville tune, entertained everyone in his dark blue leisure suit with "Chattanooga Dog" and his ultra-amusing "Ballad Of Forty Dollars" looking like like he hadn't slept in a year, as usual. Pre-Crisco spokeswoman Loretta Lynn chimed in with "Will You Visit Me On Sunday" while catching up to the times a half-decade late in a purple tie-dyed dress.
The music and the look was pure '70s and so was the sound, which I can only describe as 1962 beach transistor radio, so the only distinguishable instruments were steel guitar and a snare drum. All the digital stereophonics in the world can't fix that, but in a sense, you wouldn't want them to. That's just the kind of sound we need to get nostalgic over if we're ever to appreciate real country music meant for real Americans with real family values because it's got dusty-dry small town Texas 1952 gas station/diner written all over it. Go ahead, tune in to The Wilburn Brothers next week and listen to the whole thing with your eyes shut. Sure as hell, you'll be able to see the waitress reading the afternoon newspaper to the transistor radio in the empty Texas diner in 1952 just waitin' on the boys to stop in for some pie and coffee after the lynchin'.
Nope, you just don't get that with Garth.
*
Whata hecka mooka mooka, dear: Dan Ho of Discovery Health Channel's The Dan Ho Show neither plays ukelele nor sings about tiny bubbles or anything else. He isn't even Hawaiian. He's from Guam. Bummer.
*
I'm not sure what to make - or whether I even want to make anything - of ABC's Men In Trees. I caught only the last five minutes sandwiched between the end of Soundstage on WTTW and the beginning of the local news, but I instinctively go *aw, Christ* whenever I hear some woman narrating life lessons at the end of the program in in that Sex and the City tone of voice. If I can stand it long enough, I might even watch this show next week if the residual Grey's Anatomy lead-in stench isn't too overpowering, if only to see whether the current problem with Justine Bateman is that she and Tony Curtis share the same overly-rambunctious plastic surgeon or she's just hagging out naturally.
*
Previously, in What I Watched Last Night.
Posted by Beachwood Reporter at 3:48 PM | Permalink
The [Friday] Papers
1. Why Bears fans without Super Bowl tickets won't be able to watch the game at Soldier Field either.
2. Not everyone is in love with the Tribune's proposed teen-driving legislation.
3. "A second task we can take on together is to design and establish a volunteer Civilian Reserve Corps," the president said in his State of the Union addresss Tuesday night. "Such a corps would function much like our military reserve. It would ease the burden on the Armed Forces by allowing us to hire civilians with critical skills to serve on missions abroad when America needs them. And it would give people across America who do not wear the uniform a chance to serve in the defining struggle of our time."
Yeah . . .. bringing you the Peace Corps, except without the peace part.
- Scott Buckner
4. The Daily Southtown's Kristen McQueary has the solution to the county budget mess: a nepotism tax.
5. Make it stop.

6. How about pay toilets to offset Olympic building costs?
- Brian Rhodes (my brother)
7. The Tribune editorializes today against allowing aldermen found to have taken bribes not disguised as campaign contributions to run again for office.
8. Tribune: "Obama Confident He'll Appeal To Blacks."
And he very well might. Missing from the story, though: An ABC News/Washington Post poll shows Hillary leading Obama among African American Democrats by a 57-23 margin. After all, she is the wife of the country's first black president.
9. "In the first such account from Vice President Dick Cheney's inner circle, a former aide testified Thursday that Cheney personally directed the effort to discredit an administration critic by having calls made to reporters in 2003," the Los Angeles Times reports.
"Cheney dictated detailed 'talking points' for his chief of staff, I. Lewis 'Scooter' Libby, and others on how they could impugn the critic's credibility, said Catherine J. Martin, who was the vice president's top press aide at the time.
"Libby is on trial on charges of obstructing an investigation into how the name of a CIA operative, Valerie Plame, became public. The government says her identity emerged in conversations Libby had with several reporters. It is illegal to knowingly divulge the name of a CIA employee."
Question considered on one of the cable-news channels last night: Should Cheney be forced to resign?
10. On The View yesterday (hey, I work at home - and the show's gotten really good!), Rosie O'Donnell asked Lou Dobbs if the president should be impeached. "Oh boy," he sighed, and then appeared to seriously consider the question before stammering out a non-response. Later, on his own show on CNN, Dobbs completed his answer. "Would you really prefer Dick Cheney to George Bush?"
11. Illinois Entertainer picks the most essential local albums of the last ten years.
12. Jim DeRogatis takes a look at the best of the current scene.
13. Note how a story about city scofflaws is framed as an 11-year effort by the mayor to crack down on city employees not paying their parking tickets.
14. "The City Hall scofflaw scandal broke in October 1996 when then-city Clerk Jim Laski embarrassed and infuriated Daley by blowing the whistle on millions of dollars in unpaid water bills and parking tickets owed by government employees."
Note how Daley was infuriated at being embarrassed by the scandal being exposed, rather than infuriated at the scandal itself.
15. "Daley responded by releasing a list of deadbeats that included mistakes and the names of employees who had already paid."
Note how Daley sloppily responded to the scandal with a media strategy rather than a solution.
17. The federal campaign contribution report of WGN radio host Orion Samuelson.
The federal campaign contribution report of longtime Tribune Company executive and current Los Angeles Times publisher David Hiller.
The federal campaign contribution report of the late Ann Landers.
18. The Tribune's public editor says newspapers don't publish rumors, gossip and falsehoods. Where exactly would I start with that one?
19. Maybe here: the public editor column was published in the same space occupied the day before by Jonah Goldberg.
20. Georgie Anne Geyer, in a column on the Trib's Op-Ed page, recalls that candidate Bush "acknowledged that he didn't know much about foreign affairs but said he was a 'quick learner.'"
Which was enough for Geyer and her cohort, who found Bush delightful and the know-it-all Al Gore just too smart for his own good.
21. When Bobby Rush was a Chicago alderman, he had his wife on his payroll. Later he backed his sister for his old seat. So AT&T was a natural benefactor for Rush, given their Friends & Family plan and all.
22. The Sun-Times editorial board chides the mayor today for not consulting with aldermen and area residents about the plans for an Olympic Village and stadium. Hello? Daley's lack of consultation was not an oversight. As Ald. Toni Preckwinkle said this week, that's how he operates. It's called one-man rule. Daley isn't interested in being slowed down by other people's opinion. Prime Exhibits: Soldier Field and Meigs Field. And when left to his own devices, which he always is, the result is always a mismanaged embarrassment.
23. The fine print on Donald Trump screwing a bunch of rich people. Originally broken by Crain's, if I'm not mistaken, and followed up by the Trib.
24. This Is Our White House Correspondents Association.
25. Tons of great stuff inside the Beachwood. Read up.
The Beachwood Tip Line: Working on our Rich Little impression.

Posted by Beachwood Reporter at 8:09 AM | Permalink
Off the Juice: Week 1
Week 1: Gas Ex Machina
It's been a week since I broke my fast and there's one thing I know for certain: eating is really hard work.
I don't mean just the chewing, although that definitely takes it out of you. I mean the whole experience of swallowing food, digesting it and (hopefully) eliminating the waste products. My first "meal" in more than two weeks was half a banana, and readers, I kid you not: that half banana kicked my ass.
I'm going to issue a content warning here because there really is no way to avoid discussing what I'm about to discuss. I had thought that my stomach growled during my fast because it was empty. That's not strictly true. My stomach was full of gas. And the immediate impact of swallowing solid food was that all that gas in my stomach, my intestines, my esophagus, escaped - with maximum noise and fragrance - out the nearest opening. After 14 flatulence-free days I'm back at it with a vengeance.
That's not the only unfortunate side effect of the return to food. Indeed, it's like my entire digestive system has rewired itself to not process solids. My mouth doesn't want to chew. My stomach has shrunk to the size of a raisin. My guts are staging a major work slow-down. After a week of carefully reintroducing food, I still can barely handle more than half a cup of solids without severe cramping, nausea, bloating, headaches and abdominal discomfort.
But wait, there's more. My tastes and tolerances have changed radically. I'm not able to eat much in the way of protein. Foods that formed a big part of my pre-fast vegetarian diet - cooked beans, nuts, soy and cheese - are now completely unappetizing. Those that I've managed to eat have wrecked havoc on my stomach. My cravings have shifted from salty, fatty foods to ones with high glucose and carbohydrate content. I'm on a constant cycle of sugar rushing and crashing.
Even better, many of the benefits of being on the fast disappeared almost immediately. My skin, which during the fast was clear and pale, has gone to hell in a hand basket. Although my sinuses are still significantly clearer than they were before the fast, I caught a cold just as I was getting used to unblocked airways. I feel sluggish, unmotivated, tired and cranky. I find myself running a lot of my meals through the blender because I just can't be bothered to chew every bite 25 times, as is necessary for me at the moment.
If all of that wasn't enough to convince you that breaking a fast is harder than being on a fast in the first place, I give you the thirst. I'm not talking a little dry-mouth here; I'm talking constant, grueling, trek-through-the-Sahara-with-half-a-skin-of-water thirst every time I eat something. It feels as though my mouth has been vacuum-sealed. It's impossible to take in enough water to slake the thirst; even if I tried (and believe me, I have) it would just slosh around inside me like a half-empty washing machine.
So aside from being a gassy, crabby, pimply mess, is there anything positive I can say about breaking the fast? Of course. Flavors are amazingly satisfying to me now. I taste notes in all my foods and drinks that I never noticed before. A glass of beer is an amazingly complex and lengthy journey. It's great to be back in society again as well. My hypersensitivity to sounds and smells has dulled considerably; I watched the Bears' NFC Championship game at a local watering hole and didn't once want to vomit from the whiff of a cigarette or the lusty whooping and cheering.
Still, this is without a doubt the most difficult part of the fasting process. I expected to return to normal within a matter of days; now I'm wondering if I'll ever have the same tastes or diet again. It's a little scary, to be perfectly honest, but I still don't regret the fast.
Week 1 Hunger Level: Still inconsistent; I don't get hungry the way I used to. I have to remind myself to eat at regular times. I still feel the urge to cram my face full of food when I'm in a hurry, but if I succumb to that habit I pay a steep price in terms of physical discomfort.
Week 1 Energy Level: Also inconsistent. There are great peaks and valleys throughout the day. I need to nap again, and not just on the days when I teach more than one yoga class. I'm also having trouble sleeping through the night.
Week 1 Physical Condition: See above. I have no idea what to expect, but in general not much of it has been good.
Week 1 Mental State: Concerned. I don't like not knowing what's coming next, and in marked contrast to the term of the fast, now there's no time limit on the craziness.
Week 1 Primary Foods:
Fresh fruits
Unflavored organic yogurt
Coffee
Fat-free milk
Steamed vegetables
Brown rice
Dried fruits
Plain whole grain breads and crackers
Beer
Fruit juices
Week 1 Food Mistakes:
Tofu
Cooked beans
Peanut butter
Fried corn chips
Goldfish crackers
Chocolate
Week 1 Foods Not Attempted:
Butter
Cheese
Pasta
Pasta Sauce
Pizza
Salad dressing
Vegetable juices
Previously:
* On The Juice: Day 1. If you can't beet it, juice it.
* On The Juice: Day 2. Fire in the glory hole!
* On The Juice: Day 3. Sipping point.
* On The Juice: Day 4. Brush with destiny.
* On The Juice: Day 5. Food for thought.
* On The Juice: Day 6. Dinner-free dinner party.
* On The Juice: Day 7. The longest chard.
* On The Juice: Day 8. The daily grind.
* On The Juice: Day 9. Driving force.
* On The Juice: Day 10. Sprout to get me.
* On The Juice: Day 11. Bottle rockets.
* On The Juice: Day 12. New World Order.
* On The Juice: Day 13. Here's looking at chew.
* On The Juice: Day 14. End of the line.

Posted by Natasha Julius at 12:41 AM | Permalink
100 Hours: The New U.S. House
The new Democratic majority in the U.S. House set out an ambitious "first hundred hours" agenda to pass measures that would tighten lobbying ethics, implement the recommendations of the 9/11 Commission, raise the minimum wage, expand stem cell research, lower prescription drug prices on behalf of Medicare patients, roll back oil industry subsidies, commit to pay-as-you-go budgeting, and cut interest rates on student loans.
Here are some of the lesser known accomplishments of the House Democrats' first hundred hours.
- Rid chamber of "Hastert smell."
- Now abusing the girl pages, not the boys.
- Confederate flags in old leadership offices sold on eBay; money used to upgrade access to series of tubes known as "the Internet."
- Replaced illegal immigrant help with Democratic-voting illegal immigrant help.
- Yoga mats added to House Exercise Chamber.
- Closed the underground tunnel to Dick Cheney's office.
- Used Tom DeLay's hammer to hammer out justice, and hammer out freedom, and hammer out love between their brothers and their sisters, all over this land.

- Potpourri bowls and candles returned to Congressional bathrooms.
- Replaced photo of Woody Hayes with photo of Woody Guthrie.
- Replaced NRA on congressional speed dials with Trial Lawyers Association.
- Iraqi Fries renamed French in House Mess.
- Replaced portrait of James Buchanan with Jimi at Woodstock.
- No wire hangars.
- Assigned Joe Lieberman to a broom closet.
- Renamed Subcomittee on Education, Labor, and Human Services to the Subcommittee on Wedge Issues.
- Hired private investigators to find Constitution.
Posted by Beachwood Reporter at 12:37 AM | Permalink
The Periodical Table
A weekly roundup from Shipley's nightstand.
Urban Redevelopment
In the January 26th issue of Entertainment Weekly there's a small blurb about Keith Urban, who, after seven months, is out of rehab for alcohol abuse. Now he'll just start sucking sober.
Table of Incompetence
The February issue of Vogue might prove interesting, what with stories about Joyce Maynard (who once had an affair with J.D. Salinger), Renee Zellweger (who once had an affair with Thomas Pynchon), and Italian label Derercuny (who once clothed Harper Lee). Yeah, might be a cool issue but, goddammit, after thumbing through 1,200 pages of ads, I still can't find the freakin' table of contents.
Tupperwarrant
The CD era must be coming to a close because the good folks at Better Homes and Gardens are already thinking about repurposing. For example, in their February issue the BH&G staff suggests using stackable containers for Tupperware storage and a CD rack for the lids - filed by size.

Ebony, Ivory and Greenery
Ebony, in their February issue, lets readers in on the five steps to better manage your money.
1. Map realistic spending goals.
2. Know your credit score.
3. Pay off your debt.
4. Develop a "pay me first" attitude.
5. Look to the future.
Glaring omission: Don't spend money for ridiculously obvious financial advice.
Cod's Gift to Women
The January 6th issue of Science News has this interesting bit of fishy news. Male fish in the Colorado River roll their eyes to flash a novel "Back off, punk" signal to other males, according to researchers from Simon Fraser University. Also, in a Colorado River tributary, the Paria River, they found male fish beating up the weak ones behind the gym after school.
All About You
According to the February issue of Psychology Today, people who visualize an athlete making a successful play feel personally responsible when it actually happens. No wonder so many Bears fans think the team's success has something to do with them.
Posted by Beachwood Reporter at 12:18 AM | Permalink
Cab #5746
Date Taken: 1/19/07
From:: River North
To:: Roscoe Village via Bucktown
The Cab: Clean and comfy, with working restraint devices and an open thief window. No radio or cell phone to detract from the experience. Overall, another fine example of Chicago cabbie workplace pride.
The Driver: Now here's where #5746 starts to set itself apart. This guy's a talker, and the sheer breadth of topics on which he is willing to expound is truly astonishing. Electric cars? Sure. Traffic patterns in the city and near suburbs? You got it. But consider this. How many service employees would be willing to float well-informed yet controversial moon landing hoax conspiracy theories in mixed company? That takes guts, my friend, and Driver #5746 has them in spades.
The Driving: Chicago doesn't present too many opportunities for route selection flair. It's basically a big grid with a handful of diagonal lines bisecting it. So imagine the collective surprise of your reviewer and her companion when Driver #5746 executed not one but two short cuts on the same run. Speed was efficient without being nausea-inducing. He even showed an aptitude for long-range driving in reverse. Pretty impressive on the whole.
Overall rating: 4.6 extended arms. I'm giving him an extra tenth of an arm for knowing about the Van Allen radiation belts.
- Natasha Julius
*
There are more than 6,000 cabs in the city of Chicago. We intend to review every one of them.
Posted by Natasha Julius at 12:01 AM | Permalink
January 25, 2007
What I Watched Last Night
Take a sick day and lay in bed with some temporary but nonetheless uncomfortable physical malady until afternoon and it becomes clear that satellite TV during the day has the same miserable choices of any other form of TV reception at night. Since I was miserable enough, I tuned in to The Last Days on Earth on The History Channel to see how much more miserable I might have been Wednesday if we were in the middle of global annihilation.
This program (the DVD on sale in March at the A&E store contains "stunning graphics and representations depict[ing] every doomsday scenario in precise, excruciating detail") showed seven very real ways that either nature or man itself can conspire to doom the whole camping trip. Whoa. Forget the chicken soup, I thought. What I'd be needing is a bigger umbrella.

Some time ago, I'd read something similar to Last Days in "How To Destroy the Earth at Things Of Interest," a Website belonging to a fellow named Sam Hughes. Hughes maintains, quite correctly, that destroying the Earth is actually much harder to accomplish than you have been led to believe:
"You've seen the action movies where the bad guy threatens to destroy the Earth. You've heard people on the news claiming that the next nuclear war or cutting down rainforests or persisting in releasing hideous quantities of pollution into the atmosphere threatens to end the world. Fools. The Earth is built to last. It is a 4,550,000,000-year-old, 5,973,600,000,000,000,000,000-tonne ball of iron. It has taken more devastating asteroid hits in its lifetime than you've had hot dinners, and lo, it still orbits merrily. So my first piece of advice to you, dear would-be Earth-destroyer, is: do NOT think this will be easy."
Similarly, Last Days does give us some of the same scenarios Hughes alluded to, like bioterrorism, nuclear war, global plague and global warming. Those things will, comparatively speaking anyway, just make us really uncomfortable. But we've lived with those things before, and we've proven that even nuclear incineration can't keep a good human race down once it digs out and becomes intent on screwing every automaker in Detroit out of business. No, for maximum impact and presentation like a can of Black Flag on a truly Vengeful God-sized scale, you can't beat the true Last Days ass-kickers like eruption of a supervolcano, impact with an Earth-killing asteroid, or Earth getting sucked into a black hole.
Last Days reminds us that these three are entirely within the realm of possibility and probability, albeit staggeringly tiny. Yet, if tourists believed odds like that didn't have even the remotest chance of coming true, Las Vegas wouldn't know what to do with itself.
Of that trio, a supervolcano seems poised to raise its head first. The problem with supervolcanos though, since there's always problems associated with any kind of science, is 1) they're so massive it's hard to spot them, meaning they could be anywhere, and 2) they're underground. Since nobody in recorded history has ever seen one light up, nobody knows what the sky show's going to be like, but science is sure that mankind will be in for a major inconvenience once everyone gets done ooh'ing and ahh'ing and puts the lawn chairs back in the garage. However, there's something else geologists are absolutely and positively sure about: there's a supervolcano stewing right now beneath Yellowstone National Park in Wyoming. This giant sea of molten magma has been biding its time 25 miles beneath the Earth's crust for more than 600,000 years, just waiting for any opportunity to find a weak spot to escape. So basically, it's just a matter of waiting for the United States Congress to start poking around with an oil drill.
Once it throws up about a dozen massive magma Old Faithfuls and the dome covering the whole works collapses and lets the real trouble out of the bag, we'll have one national park and four fewer states to worry about designing new 25-cent pieces for. Sorta nearby, South Dakota will end up under eight feet of ash, every internal combustion engine will be rendered uselessly clogged, and every living being will be suffocated by clouds of sulphuric gas mixing with the ash so everyone's lungs fill up with a sort of acidic cement. Things aren't going to be too awful peachy for the rest of the country and the globe, either: temperatures everywhere will drop into a permanent deep winter, we'll have total darkness for a few years, all vegetation will die within a few months, and all animal life a few months after that. And finally, all that sulfuric acid floating about will turn the oceans into what amounts to seas of battery acid, settling once and for all the debate over what to do with the Titanic and the USS Arizona.
Of course, the sun will come out eventually, the pH of the atmosphere and the oceans will neutralize after a few several thousand years, and the single-celled beings will crawl once again from the primordial soup. Which means evolution will have us back sucking up Starbucks lattes behind the wheels of our SUVs before we know it.
Since a supervolcano means a slow, hideous death and my survivalist skills are no more advanced than those of the mentally retarded, I'm counting on an asteroid impact or the earth getting sucked up into a black hole. Of the two, odds are with asteroid because, on April 13, 2029, we'll come as close as ever since our dinosaur days. That's when a 1,000-foot-wide asteroid known as 2004 MN4 will come close enough to slip between the Earth and some space satellites hovering overhead in geosynchronous orbit. This should make for some stellar viewing on TV since it'll undoubtedly be carried live from space, and off TV because it'll be visible with the naked eye in some places on the globe. 2004 MN4 will return again exactly seven years later, but nobody knows what'll happen because the earth's gravity will have affected its orbit in all sorts of unpredictable ways the first time around. So we'll just have to stay tuned for the big crapshoot.
Should the globe get the biggest case of 'roids the world will ever have the displeasure of knowing, forget what you may have seen in Armegeddon and Deep Impact. Especially the part in Deep Impact where everyone stands around watching what essentially amounts to Central Park streaking through the daytime sky in a light show better than anything Emerson, Lake and Palmer ever dreamt up. Traveling at however far anyone on the metric system can get in 15 kilometers per second, the 'roid will be moving so fast when it plows into earth's atmosphere that you won't see it or hear it. If you're fortunate enough to have box seats within 1,000 miles of ground zero when it does hit land or sea, you and everything you bought from Ikea will spontaneously combust into thin air in less than a heartbeat. This will leave everyone else the indignity of wandering endlessly about, pissing and moaning over being dropped by State Farm after the worldwide mass meteor shower or the miles-high tsunamis incinerates or drowns everything.
However, not all of Last Days was doom and gloom. The program does raise the suggestion of human life going on after a killer asteroid, albeit for a limited time. While things wouldn't be a picnic what with the extinction of all plant life leading to inevitable global starvation, it certainly might be survivable - and perhaps even lead us back to a manner of communal living and survival that would be a wet dream of immeasurable proportion to anyone with a subscription to The Whole Earth Catalog. Ironically, that salvation will probably come courtesy of some enterprising pothead with a few leftover seeds who manages to jerryrig a campfire to run a grow light. True, subsisting on cannabis salad and making your own hemp clothing might not be the tastiest of ways to try to survive Armegeddon, but it would probably be one of the more amusing.
*
I rarely get to see Tuesday prime time TV, so imagine my surprise Tuesday night seeing America's Funniest Videos still on the air, and still for a whole unfunny hour. I find it incredible that ABC has the magical power to shit money, but it can't manage to invent a time slot to kill this show.
Coming up next on AFV: Lazarus catches one in the sack from the Lord while emerging from the cave.
*
For more What I Watched Last Night.
Posted by Beachwood Reporter at 5:56 PM | Permalink
The [Thursday] Papers
"For one night at least, President Bush drew more TV viewers than American Idol," the Tribune reports.
Which just confirms viewers are tuning in to see people making fools of themselves.
Affirmative Action
As explained by Mary Mitchell this morning in a column about Lovie Smith and Tony Dungy, affirmative action and diversity programs - run right - have nothing to do with hiring and promoting people who are unqualified to do their jobs. That's what patronage machines are for.
Affirmative action is about overcoming still ever-present barriers to give everyone - everyone - the fair shot they deserve.
It's a well-observed fact of the sports world, for example, that the same white coaches and managers always seem to find jobs, often despite records of failure, while minorities are often given only token consideration at best.
As referenced by Mitchell, the "Rooney Rule"in the NFL requires teams with head coaching vacancies to interview at least one minority. And you know what? It's not as if there is only one decent minority candidate for each vacancy.

Affirmative action/diversity programs are also supposed to find strong job candidates who have the ability to be trained up into jobs if only they hadn't been denied the chances somewhere along the way that others of similar talent received.
Which isn't to say that all businesses and organizations understand how this is supposed to work. All too often, affirmative action/diversity is instead used as window dressing, which does nothing but harm in creating white resentment and minority insecurity.
And the palpability of white resentment only goes to show how much farther we have to go. When I was in the Tribune's reporting residency program in 1993-1994, I can't tell you how many people told me that if I was only a black woman I would have been hired on permanently for sure. I never quite understood that - looking at the paper's hires, they were almost all white, and probably half male. And most of them weren't even that good. But when a minority was hired, the grumbling started in, usually among whites whose own skills were mediocre at best.
At the same time, diversity won't work if we continue to entomb a disproportionately minority underclass whose men wind up in prison or on the streets at alarming rates. Affirmative action starts at birth. Is there any child who does not deserve a gold standard education and blue ribbon health care? Economic opportunity starts at home - but not just with parents.
Finally, I get a kick out of the corporate world's embrace of diversity in recent years. Management consultants, business schools, and corporate executives now preach that diversity is good for business. It can, for example, expand your customer base if you have employees who reflect the communities you operate in, and help bring useful perspectives that can help create new products and markets.
But what if diversity was bad for business? What would business leaders - and shareholders - say then? Too bad, we're staying white?
Good-for-business strikes me as a happy by-product of diversity, but not a reason to pursue it.
Opening up opportunities and actively recruiting non-traditional talent is just the right thing to do. And thanks to some other people who thought so too, as Mary Mitchell writes, Lovie Smith and Tony Dungy are in the Super Bowl.
Teen Scream
So the Tribune's campaign against teenagers has come to this: a state proposal to allow drivers under 18 only one unrelated teen passenger in their car for a driver's first year? That's absurd. This from the same Baby Boomer editors pining for the days of old-fashioned cruising?
Imagine my shock to learn that such a law is already on the books applying to a driver's first six months.
And a curfew? What is this, Footloose? Why don't we just make them stay in their room until they're 18 and we send them off to war?
The Tribune's teen driving series is no doubt borne of the best intentions, and it's always heartbreaking to read of young lives being snuffed out in stupid car accidents. But as Tribune editor Ann Marie Lipinski noted herself in the paper's special teen driving section a few weeks ago, teen driving deaths are not an upward trend.
"During this year of coverage, at least 59 teenagers lost their lives in Chicago-area automobile crashes, our community's pained contribution to a national toll averaging 5,600 teens each year," Lipinski wrote. "That number has remained stubbornly fixed for more than a decade, as each new class of young drivers confronts the same perils with no more safeguards or preparation than we gave the class that came before."
Certainly we would all like to see those numbers go down. But despite this series and the articles about how teenage brains are unevolved, I'm not convinced this is particularly a teen problem.
Teen Tune
On a side note, the Tribune reportedly will also push for legislation prohibiting teenage drivers from listening to emo in their cars until they turn 18.
Obama (D-Daley)
Barack Obama, who shares media advisor David Axelrod and brother Bill with Mayor Daley, says Chicago is a well-managed city. Rev. Jesse Jackson begs to differ.
"Rev. Jesse Jackson said Tuesday he's not willing to endorse any of the mayoral candidates, but the facts of Daley's record must be made clear. Jackson said voters need to take a hard look at Daley's service as State's Attorney and the Jon Burge torture situation, City Hall corruption and the economics of the Black community during his administration," the Defender reports."

"Daley's record is not commendable. The abuses of his administration are substantial," Jackson said.
Baracklash
More anti-Obama - or really, when you get down to it, anti-hype - letters in the Tribune today. Choice excerpts:
* "U.S. Sen. Barack Obama's actions during the past weeks are beginning to look like he is alliance-building, controlling his press and manipulating the expectations of the voters," writes Patrick Donnell of Chicago. "In other words, he is a politician seeking election, not the leader many (including me) hope he is."
* Gregg Dudosh of Palos Hills answers the recent Tribune headline, "What Obama Must Do To Win." "Get some real experience, first!"
* Heather R. McDonald of Homewood is "sick and tired of the steady diet being fed to us daily by the media . . . Time for a new flavor of the week, don't you think?"
* Kevin B. Kamen writes all the way from Baldwin, N.Y. to say "This fine young man should pause and work toward becoming an effective senator before he permits himself to stumble at the hands of a desperate Democratic Party."
* Steve Lennart of Warrenville asks, "Has Barack Obama done anything during his two years in the Senate other than write books and talk to Oprah?"
* And Wayne Capinegro of Chicago has been praying to Saint Obama about his prostate to no avail.
It Takes a Village
"One of Chicago's most active builders, requesting anonymity for fear of riling City Hall, said anybody who takes on the [Olympic] housing project will be lucky to break even," David Roeder reports.
"I can just see how this will work. You get cost overruns and the developer has to eat them.
"Yeah," he said derisively, "that sounds like the sort of deal for us."
It Takes a Tyrant
"Ald. Toni Preckwinkle (4th) said she got only a few hours' warning before Daley shifted the Olympic stadium to Washington Park, which is partially in her ward. And she was left in the dark about the proposed $1.1 billion Olympic Village, which would be in her ward," Fran Spielman reports.
"But this is the way they operate," Preckwinkle said.
And by "they" she meant "the mayor."
That's why I found the U.S. Senate Foreign Relations Committeee vote on Wednesday so amazing; I had forgotten what it was like to live in a country with a legislative branch. Now I just live in a city that doesn't have one.
It Takes An Idiot
The "colorful rhetoric" the Tribune says Ald. Burt Natarus is known for might otherwise be called "nonsense."
But Burt tells the paper he knows some people think he's a buffoon. Or is he really a fox?
"Natarus' name surfaced in 2004 in the corruption trial of insurance executive Michael Segal when a witness testified that Segal's firm provided the alderman with loans in the $125,00-to-$150,000 range," the Trib account says.
"Natarus said the money was for his legal services. He has the documentation for the fees 'and I paid taxes on it,' he said."
So Natarus was simply performing undefined legal services for a political supporter who did a ton of business in his ward? I'm not sure Natarus's explanation isn't worse than the original alleged impropriety.
Incomplete Grade
A spokeswoman for Rod Blagojevich said that documents purporting to show "the governor's office repeatedly steered state jobs to favored applicants" were "one-sided and incomplete," the Sun-Times's Dave McKinney reports.
That's also how she described a phone call between McKinney and a man named in the documents who was hired after contributing to Blago's campaign.
"Can you hold on a second?" the man said to McKinney. He never returned to the phone.
The Beachwood Tip Line: One-sided but complete.
Posted by Beachwood Reporter at 8:25 AM | Permalink
January 24, 2007
The [Wednesday] Papers
*
Jim Webb vs. Barack Obama. Discuss.
*
We already know that George W. Bush's foreign policy has been a disaster. But you have to wonder if there's a single thing this president has done right when the Tribune editorial page cites as the president's two key domestic achievements "the No Child Left Behind law that introduced a powerful culture of accountability to public education" and "the succession of tax cuts that provoked the American economy into a flush era of job creation, market growth and rising government revenues."
Yes, thank God we were rescued from the Clinton economy. That sucked.
*
Apparently the editorial board doesn't read - or doesn't believe - its paper's own reporting.
*
Neat trick to cite "rising government revenues" (I thought conservatives wanted to starve government) instead of "a mind-blowing out-of-control deficit."
Scooter Pie
"I. Lewis Libby Jr., the vice president's former chief of staff, was made a scapegoat by White House officials to protect the president's longtime political adviser, Karl Rove, Mr. Libby's lawyer asserted in his opening statement on Tuesday," The New York Times reports.
Just to make sure you read that right - that's Libby pinning Plamegate on Rove, not the prosecution.
Olympic Fever Dreams
Fran Spielman transcribes her recording of Pat Ryan's press conference.
The Tribune's Kathy Bergen reports the news.

The Chicago Way
"A nationally known contractor has signed a pledge to build [the Olympic stadium] for the guaranteed amount, adjusted for inflation, Ryan said, though ultimately the project will go out for bid," Bergen writes in her account.
Olympic judges have also already decided who will win the women's 100-meter butterfly, but ultimately they'll hold the race for show.
Red Flag
"To drive down the stadium's height and costs," the Tribune's Blair Kamin writes, "concessions and restrooms would be located outside."
Just like at Wrigley.
Let Them Eat Flowers
"Patrick Ryan, the insurance executive who is Mayor Richard M. Daley's point man for Chicago's Olympic bid, said Tuesday he expects public hearings for the amphitheater plan only. He feels there is little, if any, opposition to the stadium," Kamin writes.
Forgive Ryan. He only reads the Sun-Times.
"But the record shows otherwise. After the stadium plan was announced last fall, several residents of Hyde Park, which sits east of Washington Park, expressed their unhappiness that a chunk of the park would be closed during the stadium's construction. Some don't want the stadium there at all."
Well, Ryan meant no opposition among those who won't be directly affected.
Everyone Must Stand Naked
So no skyboxes or suites at the Olympic stadium? The mayor is going to stand in line at the urinal trough with his loyal subjects?
Chicago Way Tonight
Chicago Tonight's Web blurb promoting last night's show.
"Chicago's Olympic committee unveils its plans to host the 2016 games. The temporary stadium has shrunk in size, but the estimated costs have risen."
Here we go.
iBama
"Could the media please stop selling Barack Obama as if he is the next iPod?" asks Alan Perlman of Highland Park in a letter to the Tribune today. Perlman has declared his mind a No-Obama zone.
In fact, all the Trib letters today are about Obama. My favorite excerpts:
* From Noah Warman, of Chicago:
"If I want cheerleading, I'll go to a sporting event.
If I want recommendations on how to win an electoral office, I'll hire a political consultant.
And if I want reporting on politics, facts, not commentary, about 'playing to the center,' 'the Clinton factor,' or other bunk, I'll be looking to some source other than your newspaper."
* From S.E. Gustafson, of Valparaiso:
"Would someone please finally tell me why Barack Obama is such a wonderful choice for president besides the following?
- Giving a great speech at the 2004 Democratic Convention
- Writing two published books
- Going on multiple book tours
- Visiting Kenya
- Being photogenic and (supposedly) charismatic
- Being a person of color.
Besides the above, what has he accomplished?"
Chicagobama Times
The good news: "This is my last Scribble column."
The bad news: "With the expected announcement of Obama's run for the White House, we need to put more writing and reporting resources into our coverage. Jennifer Hunter is leaving the editorial board next week to join the city desk team and will produce a regular Obama diary column. She will begin writing just before the Springfield announcement next month."
- Memo from Michael Cooke, S-T editor-in-chief
I thought producing an Obama diary was Lynn Sweet's job.
Family Values
So the publisher's wife is on the Barack beat. Interesting. The publisher's wife. On the Barack beat.
You know, the Scribble columnist. Promoted to covering a presidential campaign. Interesting.
Sun-Times Mash-Up
"Mayor Daley's Obama Olympic Dream, coming Sunday!"
Machinists Union
Barack Obama (D-Daley).
Full Tank
The media is giddy about a judge's decision to allow Tank Johnson to travel to the Super Bowl ("The Tank will roll into Miami."), but Greg Couch asks, "Does this sound anything like in high school, when the jocks skipped detention because they had to go to practice?"
Bear Down
Super Bowl Shuffling.
Epiphany
"E2 Guard Says He Talked To God During Melee."
Guard told God: "This really isn't a good time. Can't You see I'm kind of busy here?"
Silly People
* A new poll shows that most people are against torturing animals to create foie gras and in fact think it should be outlawed. The mayor said it was the silliest poll he had ever seen.
* George Cheyne, quoted in a New Yorker essay about vegetarianism:
"To see the Convulsions, Agonies and Tortures of a Poor Fellow-Creature . . . dying to gratify Luxury . . . must require a rocky Heart, and a great Degree of Cruelty and Ferocity."
Daley says Cheyne is just silly.
Beachwood's Buckner
Best TV writer in the city.
The Beachwood Tip Line: FISA-approved.
Posted by Beachwood Reporter at 7:45 AM | Permalink
January 23, 2007
The South Is Under Attack!
So says Regnery, the right-wing publishing house founded in Chicago and once closely affiliated with the University of Chicago, in the following promotional copy that landed in The Beachwood Dixie Affairs Desk inbox.
*
From the Founding Fathers to the frontiersmen who tamed the West to the country music, NASCAR, Bible-thumping heart of 'Red State' America, the South is the quintessence of what's original, unique, and most loved about American culture. Yet, thanks to the big-city elites, the South is under attack. The PC establishment is so intent on spreading the myth of the South as prejudiced and ignorant that it even wants to rewrite history.
But author Clint Johnson rises up in fierce resistance to the second war against the South. He reveals that, far from being the backwater of the nation, the South has always been the center of American culture and history, and that the South is truly rising again.

The Politically Incorrect Guide to the South gives you the facts behind scores of revelations like these:
* How Southerners led the way in drafting the Declaration of Independence, the U.S. Constitution, and the Bill of Rights.
* How the Northern victory in the Civil War led to today's all-powerful federal government.
* Why race relations in today's South are much better than in the North - or anywhere else in America.
* Why the South is naturally conservative (and the North is naturally liberal).
* How American jazz, blues, and rock and roll all came from the South.
* Why Southerners are overrepresented in the military - and no, it's not poverty.
* The best American literature? Southern, of course.
The Politically Incorrect Guide to the South is here to even the score by taking a stand for Dixie, and proving why the South, its traditional values, military service, good manners, and fierce independence will certainly rise again.
Be one of the first to own Clint Johnson's Politically Incorrect Guide to the South.
*
Now 34 percent off.
Posted by Beachwood Reporter at 8:49 PM | Permalink
Marfa Tweedy
Jeff Tweedy
January 21, 2007
Liberty Hall
Marfa, Texas
*
Home of Marfa Public Radio
General Manager: Tom Michael, Chicago-born Friend of the Beachwood
*
1. Be Patient With Me
2. Remember The Mountain Bed
3. I Am Trying To Break Your Heart
4. Black Eye
5. You Were Wrong
6. Blasting Fonda
7. The Ruling Class
8. One By One
9. Bob Dylan's 49th Beard
10. Gun
11. Via Chicago
12. Muzzle Of Bees
13. Radio King
14. How To Fight Loneliness
15. New Madrid
First Encore:
1. Theologians
2. Jesus, Etc.
3. I'm The Man Who Loves You
Second Encore:
1. Dreamer In My Dreams
2. Acuff-Rose

- via in part WilcoBase.com
Posted by Beachwood Reporter at 7:53 PM | Permalink
Super Bowl Shuffling

I'm the man in the middle, Brian Urlacher,
Distracted by nothing, except big knockers,
When I'm not bringing, the running back down,
I'm planting my seed, all over the town,
After one of my hits, my foes are dizzy,
Paternity suits, tend to keep me busy,
Sign non-disclosures to keep 'em muffled,
While I am doing the Super Bowl Shuffle
Rex Grossman here, and I'm number 8,
I'm the QB that you love to hate,
Good Rex, Bad Rex, who will show?
Quarterback rating of double O.
Complete more passes than it seems
They just get caught by the other teams,
Won't hear your boos, my ears are muffled,
Still learning the steps of the Super Bowl Shuffle
I'm Olin Kreutz, and I'll tell you what,
I don't like Rex always touching my butt,
Smashmouth football is my game,
But that is not my claim to fame,
I'm tough, high strung, and a little strange,
Punched a teammate's mouth at the shooting range,
But this year I'm not in much trouble,
Cause I've been doin' the Super Bowl shuffle
Number 99, they call me Tank,
There are so many people, I need to thank,
My teammates, help me stop the run,
My babies, playin' wit' a loaded gun,
From the Ice Bar shootin' ingrate,
To the judge, who's lettin' me leave the state,
The FBI won't get me ruffled,
Cause I'm still doin' the Super Bowl Shuffle

Posted by Beachwood Reporter at 4:52 PM | Permalink
Barista! Assistant Managing
One of the really repugnant things about my corporate coffee chain is that anyone can be hired right into store management. Well, they get hired as "assistant managers" (although they have no power to delegate in the manner that their title would otherwise allow, seeing as how they have never made a latte) and breeze through the process to learn the business in a matter of weeks.
And when I say "the process" I'm talking about earning the barista dues like the rest of us, learning the ropes and what it takes to run an actual coffee shop, as opposed to say, a nail salon or a pizza place. One of my former district managers came from Pizza Hut. So she sorta had some vague idea of what was going on . . . our product was, after all, edible.

Then, only after you've seen and served the lowest of humanity as a barista; once you've witnessed with thine bare eyes, the ranges of human emotion that coffee and sugar can invoke, months, sometimes years later do you merely become a shift supervisor. As a shift supervisor, the only thing you get for a buck or so extra per hour, is ten times the responsibility, and the privilege of working at a higher level . . . so you can be the first to catch the shit rolling downhill.
To me, the life of a barista is like that of an innocent child. I often catch myself blankly staring at my baristas, dreamy with envy, as I watch them come and go on their four-hour "princess" shifts. How sweet they are, so affable and careless.
So after being a shift supervisor, for any duration, and only if you seem fit, are you promoted to assistant manager, where you endure a whole crap-load of drawn-out trainings and relocating, and finally a salary (even if it is lame), and a lot of waiting and kissing ass and waiting some more, mostly for the district manager to get his shit together and relocate you again to your own store to manage. Eventually, years down the road, you are finally a full-blown manager with your own store to show it.
The process is long and grueling, but so is the job at the very base of it all. It should be difficult, and competence should be tested to rule a store. One of the best co-workers I ever had was everything any employer could ask for, and she spent the last four years going through the process, with a major delay in the supervisor to manager training section. I met her in 2003, as a supervisor wanting to be a manager, and she just got her own store a couple months ago.
Whereas District Manager Nimrod scoots on over from Pizza Hut without ever drinking a cup of coffee and barks orders at the people who have espresso endlessly caked under their fingernails. Regardless, the system doesn't always run so oiled under these conditions. Not only because I don't think my friend needed all four years to prove her managerial talents to the company, but also for the sake of store morale - something that should be a priority to keep high, under the supposed partner-centric goals of the company. Keep your pound of coffee each week; give me some dignity back instead.
What gets me revved on this topic, is the sudden addition to my store - an assistant manager hired into the company as virginal and naive as those baristas in my mission statement training workshop. Speaking no ill of her specifically, I feel ill on the situation, and this ongoing policy. Prior to now, our low-volume store has functioned smoothly with only our manager and three shift supervisors at the helm.
At $9 per hour, I am not paid enough to do all the mandatory daily responsibilities that are already required of a shift supervisor, let alone interrupt my progress on those said responsibilities by having to train my assistant manager on how to make a drink. All while she gets paid far more than I do.
Not to mention the worst part of it all, which is that forty hours from our payroll must be snatched away from the three shift supervisors in the store, because the assistant manager needs to have her forty first and foremost. So in a week or two, my hours are literally cut in half, which is when she finally gets to start delegating under her official title. We must be done training her by then.
Once again, my company thinks a job can be summarized and learned through a series of workshops and workbooks, with little experience in the actual job. But as most of us know, the only way to truly know a job, is to do it; to stumble upon the common mistakes and learn from them; to take shit from customers who you want to backslap into last Tuesday; to smell like espresso and be a walking stain at the end of the day, to subsequently try and maintain a relationship outside work, as a stain; to handle the rush and juggle the coffee travelers and know the language and the lingo and how to glide rhythmically behind the bar; or even how to clean the bathroom without ever so much as touching a surface, nor even entering the bathroom, if you have long arms like me.
It all comes with time and experience. Not to say that our new assistant manager won't learn the ins and outs of coffee in the next couple years, but until then, she's soaking up our hours and cramping our collective store style through her incubation period. And still getting paid way more than me, I might add.
And worse, it will take her years to run a store as well as my friend who did her time. She will not be of the same caliber as someone who was originally a barista, and her store will noticeably reflect it. I've seen the difference between direct-hires and promoted-withins, and since my company is so strict on quality control, they should have a tighter grip on their policy to hand out undeserving titles to anybody who applies.
*
Maude Perkins is The Beachwood Reporter's pseudononymous service industry affairs editor currently serving time as a store supervisor for a large, publicly-held corporate coffee chain. Catch up with the rest of her heartwarming tales from the front here.
Posted by Beachwood Reporter at 12:42 PM | Permalink
Barack Obama (D-Daley)
Barack Obama endorsed Mayor Richard M. Daley on Monday, saying among other things that the city had made great strides in overcoming corruption. Forgive Obama, he hasn't been in the state much since being elected senator.
Just where does Obama see improvement? Daley is now finishing his worst term since the one in which more than 700 people died in the 1995 heat wave that he so badly mismanaged. Perhaps Obama hasn't heard of the Hired Truck Scandal, or that Robert Sorich, the mayor's former patronage chief, is on his way to jail. And that's just the top of the shitpile; there are also the revelations of Daley's extensive patronage machine; stalled efforts at CPS and CHA; a CTA that is literally running off the rails; soaring property taxes; and the stain of that pesky Burge Report, whose whitewashing managed in reverse to make the mayor look guilty.
Now, to be sure, Obama's endorsement had very little to do with Daley's re-election campaign (except to help satisfy the mayor's thirst to positively crush his opponents and critics), but everything to do with Obama's presidential campaign.
And that's what's troubling.

For all his talk of representing a new kind of politics, Obama's every move smacks of business-as-usual. It's not just that his endorsement of Daley - just days after Hillary Clinton announced she was joining the race - sends a message to the city's big money people and other players still on the fence that there will a price to pay in mayoral vengeance should they side with Clinton over Obama.
It's that it puts to rest any doubt that Obama is anything but at the center of the same old machine, the same old fundraisers, the same old tactics, and, in the end, the same old cynical political calculations.
Obama has now endorsed Richard M. Daley, Todd Stroger, Alexi Giannoulias, and, just to be clear about all that against-the-war-from-the-beginning talk, Joe Lieberman. He made a real estate deal with Tony Rezko, and now is trying to tap Carl McCall, the former New York comptroller whose fingerprints are all over the Stuart Levine pension fund scandal. His advisors include Bill Daley and the telecom lobby.
So just what kind of new politics does Obama represent? Better manners?
*
It didn't appear in the print version of the Sun-Times article, but the paper's original Web report about Obama's endorsement of Daley included this anecdote of Obama trying to weasel out of some fairly innocuous comments he made about the mayor in 2005.
"In August 2005," Fran Spielman wrote, "Obama nearly ran into trouble with Daley when he hedged on whether he'd support the mayor for re-election in light of the corruption investigations at City Hall.
"Asked then if he planned to support the mayor or if the corruption probes might have given him pause, the senator replied, 'What's happened - some of the reports I've seen in your newspaper, I think, give me huge pause.'
'An hour later, he called the Sun-Times saying he wanted to clarify his remarks. Obama said the mayor was 'obviously going through a rough patch right now.' But he also said Chicago has 'never looked better' and that 'significant progress has been made on a variety of fronts.' The senator said then it was 'way premature' to talk about endorsements because the mayor had not yet announced his candidacy.
"Daley didn't hold a grudge against Obama. He reportedly concluded that the freshman senator had been trapped by a loaded question."
Yes. Asking if the corruption surrounding the mayor gave him pause certainly is loaded.
Barack Obama: A kinder, gentler old politics.
*
"I don't understand how Sen. Obama could look at this administration and see a cleaner government," mayoral challenger Dorothy Brown said.
That's because you're not supposed to look at this administration head-on, you're just supposed to kind of glance at it from the side and then turn away really quickly and get back to admiring the flowers.
*
"Obama also endorsed Daley's running mates, whom he described as old friends," Spielman reports. "They are City Clerk Miguel del Valle and Treasurer Stephanie Neely."
Obama also shares a media advisor with Daley in David Axelrod. And Obama's wife, Michelle, used to work for the mayor.
Barack Obama (D-Daley).
*
Do you think Obama encouraged Daley to debate his opponents for the first time in his mayoralty?
*
Do you think Obama, who has been a Wal-Mart critic, asked the mayor about calling proponents of the big-box ordinance racists?
*
"Mayoral challenger Dorothy Brown said Obama's endorsement of Daley flies in the face of remarks the senator made about corrupt politicians during a fiery Martin Luther King Day speech in Harvey," Spielman reported.
But just what did Obama say?
From the Daily Southtown:
"There are a lot things Harvey needs," Obama said. "Some folks here in city hall think that maybe the office that they possess is because they are so special, it is supposed to be a place where they can help their family and their friends instead of helping the people who elected them."
Gee, whose administration does that sound like?
Beyond that, Obama's Harvey appearance raised questions - again - about his choice of political friends.
*
See also "The Trouble With Obama."
-
Posted by Beachwood Reporter at 11:57 AM | Permalink
The [Tuesday] Papers
1. "We have a quarterback who's lucky he made it through college," a Barrington contractor tells The Indianapolis Star.
2. Barack Obama's endorsement of Mayor Richard M. Daley has very little to do with the mayor's campaign, but everything to do with Obama's campaign. Is Barack Obama just a pretty new face on the same old politics?
3. Mark Brown says the private correspondence of former Daley patronage chief Victor Reyes, made public in the court files of Robert Sorich's appeal, shows how the city really works, but that there's no smoking gun. It's all a smoking gun! That's like saying we found the bullets, and we found the gun, and we found the fingerprints, and there's a dead body, and there is a motive, but there's no smoke coming out of the barrel so we can't be sure. I mean, c'mon!
4. My favorite Brown finding: Rosemarie Andolino, who is in charge of the bungled O'Hare expansion, reminds Reyes in a letter "of her upcoming family vacation to Caracas, Venezuela, and that she had spoken with him about asking the lobbyist for American Airlines to upgrade their four seats."
Nice.
A real mayor would send Andolino packing.
5. "Hillary's Reputation Both Helps & Hurts 2008 Bid."
Other candidates unburdened by strange paradox.
6. Gov. Rod Blagojevich's lottery dreams made the front page of The New York Times. The Times wasn't clear about the news peg, but Crain's reports that on Monday the state released "a 17-page request for qualifications from interested bidders, who are required to respond by Feb. 20."
The Beachwood Lottery Affairs Desk is already preparing its offer.
7. Richard Roeper once asked Rich Little if he did impressions of anyone still alive.

8. I hope Rick Telander applies the same skepticism toward Chicago's Olympic bid as he demonstrates here in an item about the economic boost of Detroit hosting a Super Bowl. Plus, it was only a few years ago when Chicago, not Detroit, was the nation's murder capital. For a few years running.
9. "Among the biggest worries associated with bringing the Olympics to Chicago in 2016 is the fear that area residents will be socked - and shocked - with an unexpectedly high bill for playing host," the Sun-Times editorial page says today.
"Mayor Daley and his Olympic boosters have tried to ease those fears by vowing the use of private dollars, but it would be naive to think that no public funds will be spent."
Alternative way of putting it: "The mayor is being disingenuous at best to claim the city can host an Olympics without taxpayers bearing part of the cost. Maybe he ought to tell us how much we're in for."
10. The editorial concludes: "If winning the Olympics leads to the type of horse-trading, dealmaking and ultimatums that Chicago is accustomed to . . . "
You mean it hasn't already?
". . . the Olympic motto of 'swifter, higher, stronger' will also be an apt description for our runaway Olympic bill."
But Obama says we have such a well-managed city!
11. Coming soon: An Olympic TIF.
12. Lynn Sweet corrects a scurrilous Mark Steyn column that Sun-Times editors saw fit to publish claiming Obama was educated as a Muslim fundamentalist (read: terrorist) - and that the Hillary Clinton camp leaked the revelation. Further explanation of the origin of the smear, and how the right-wing message machine works is here.
13. On Saturday the Sun-Times "Consumers Benefit From Free-Market Competition" by Jim Prendergast, who was identified as the executive director of Americans for Technology Leadership.
Just so you know what passes for legitimate commentary in the oldstream media, Americans for Technology Leadership is best known as a Microsoft front group that once sent homespun letters using the names of dead people to state attorney generals engaged in an antitrust lawsuit against the software company.
14. You know we're living in bizzaro world when the mayor touts Block 37 as an example of his administration's achievements. "Look across the street," Daley said last week. "There's no other city doing what we're doing in the country right there."
What, trying to recover from decades of mismanagement so infamous that the parcel became a national symbol of failed urban redevelopment and inspired a book about its history as a microcosm of greed and stupidity destroying cities? Or just the most recent part about the city untangling itself from an imploding development company?
In fact, the very name "Block 37" is so tainted that if you enter it into Wikipedia, you are redirected to an entry for its new name, "108 North State Street." Nice job, city staffers!
15. "That one square block, there's more cranes there than any other city in the country," Daley continued. "Look at it. And that's what we're really proud of."
If Daley said the soil of Block 37 was really chocolate, would the media report that unchallenged as well? Because I'm pretty sure there aren't more cranes on Block 37 than in any other city in the country, nor more cranes than on any other city block in the country, if that's what he meant.
16. The Tribune's Dawn Turner Trice is joining the Pickett/Mancow commentary rotation on Chicago Tonight, in an effort clearly aimed at destabilizing The Beachwood Reporter through mania-inducing psy-ops.
17. Something I find interesting about Hillary Clinton is that her qualifications or ability to be president has never been questioned. Even before she was a senator.
18. But the most important decision a president makes is whether to go to war. Making the war a litmus test - in fact the best character question we have - is absolutely legitimate. And Clinton failed.
19. On Chicago Tonight last week -
CTA chief Frank Kruesi: We certainly are not a third world transit agency. In fact, we're one of the top transit agenices in North America.
Ald. Joe Moore: One wag suggested calling the CTA a Third World transit system was an insult to Third World transit systems.
When the head of your transit agency has to debate whether it's better than those in the Third World, it doesn't really matter what the answer is technically.
20. "Recently Divorced Michael Jordan Announces Plans To Return to Marriage."
21. Colts fans are just like us.
The Beachwood Tip Line: Anti-partisan.

Posted by Beachwood Reporter at 8:28 AM | Permalink
January 22, 2007
Over/Under
With this column we wrap up the 2006 edition of Over/Under. Let's review what we've learned.
1. Don't bet on football. I wasn't the only one who sucked this season; things were tough all over.
2. Nobody gives you credit when you're right, but when you're wrong, the e-mail overflows. President Bush's e-mail must all go directly to his spam folder.
3. Coaching in the NFL is a great gig - if you're clinically insane. Step one: Get hired by Cardinals. Step two: Lose in comedic fashion. Step Three: Appear on YouTube in clip for the ages. Step Four: See inevitable parodies follow.

4. Coach-killers kill coaches.
5. To aspiring lawyers out there, remember: There's more lawyers per capita in Washington, D.C., than anywhere else in America. Try Cincinnati.
6. Some coach-killers try to do themselves in first. Either way, someone leaves their job in the end.
7. Coaching Tom Brady washes away your sins. You get to act like a Grade-A dick by snubbing a fellow coach and pushing a cameraman, with no repercussions.
8. Selling out can backfire. John Cougar Mellencamp's truck song, for example, is more overexposed than Brittney Spears getting out of Paris Hilton's Hummer.
9. There's always next year. Except in Oakland and Detroit.
10. Never underestimate a coach named Lovie.
*
Picks -
Regular Season: 45-52-3
Playoffs: 5-15
Total: 50-67
*
For more Emery, see the Kool-Aid archive, and the Over/Under archive. He can be contacted at Eric_Emery12345@yahoo.com.

Posted by Beachwood Reporter at 2:28 PM | Permalink
What I Watched Last Night
The Chicago Bears: proving yet again you don't need a quarterback to win a football game.
Also at Soldier Field, American Idol finalist Chris Daughtry sings the national anthem and shows off his progress on a look originally popularized by former pro tag team wrestlers Maurice "Butcher" and Paul "Mad Dog" Vachon.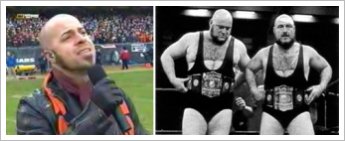 *
If you were curious over the source of the hour-long chorus of anguish wafting over the nation just before noon Sunday morning, it was the mass hysterical freakout by germophobes everywhere watching back-to-back episodes of Fox Reality Channel's Busted on the Job: Caught on Tape. This is a series that gleefully loads up on instances of workplace surveillance cameras catching the underpaid and the malcontent in all manner of back room shenanigans. As the program itself admits, even Einstein would proclaim that the only thing more infinite than space is human stupidity.Yes, there's your garden variety stupid, like the drug-selling high school teacher, the deputy stealing coins from the blind vendor, Santa taking a leak on the dock, the thieving housekeeper, the mortician swiping a ring off a stiff in the box, a dude keying the boss' car, and the female employee photocopying some T&A. But there's also your variety of stupid that needs a little more marinating time, like the guy on the graveyard shift who pushes the sexual harassment envelope with his employer's stock of newly-manufactured pinatas. "The things didn't complain in any way, shape of form," the guy says in an interview for the show.
But if you're ever looking for reasons to never eat a meal made by someone else as long as you're alive, this show gives you plenty of them. There's the bistro kitchen help practicing their hackey sack moves with meatballs and licking the whisk, the convenience store clerk in front of the the freezer case licking the inside of the ice cream container lids, the pizza delivery guy at the front door French kissing the pepperoni, and the Chinese food delivery guy dropping the food on the sidewalk and using his hands to shovel it back into their containers.
The cream of the crop, though, are the kitchen help who go about remedying the nutritional oversight of salad dressing and donut glaze containing nowhere nearly enough protein. Sure, tapes like these did improve public health at that point, but consider this: These guys got stopped only after someone became suspicious that they might have been putting the secret in the secret sauce for some time.
Now, you might think these modern Typhoid Marys would be apologetic, but you'd think wrong. Said one waitress who was found stirring the contents of her runny nose into the coffee of one of her regulars who made the mistake of squatting for hours without ordering anything other than coffee: "I hold grudges only until I get even with them. You fuck with my tips, I'm going to fuck with your food if I ever get back into food service. America, just beware: there are others just like me and when they see this, hoo-boy."
*
What do you do when you're a dude with a belt buckle bigger than Greenland who's fed up with your raggedy-ass Peterbilt looking less-than-gnarly while spilling its load of steel coils all over the Bishop Ford? While MTV won't pimp your ride, seven dudes on Country Music Television will do some pretty amazing things to your big rig on Trick My Truck, a program I was more or less held captive to with the sound off Saturday night while spending some quality time getting to know the Home Plate Pub in the Hessville neighborhood of Hammond, Indiana. Listen, when the regular price of a good mixed drink is $2 and one of the first things Penny the bartender does is offer me a cookie in one of the more attractive and thug-free neighborhood joints in a town like Hammond, I don't make waves over what's on the TV.
Although they appear to be working on second jobs as ZZ Top impersonators, the seven truck trickers do some amazing work transforming sorry-looking rigs into rolling works of road art with layers of new paint, airbrushed murals, new engines, enough interior sound to make your ears bleed, giant flat screen TVs, leather seats, neon rope lighting inside and out, sleepers worthy of Plato's Retreat, and more than enough chrome to blind Ray Charles a second time. Saturday's back-to-back episodes went to the design extremes of bringing heaven and hell to our nation's highways and byways by producing The Grave Digger for trucker Matt Graves and Higher Power for trucker Richard Crowder.
Crowder, interestingly enough, does his trucking for Jesus and uses his rig to spread the Gospel to heathen motorists and TV-watching tavern denizens everywhere by displaying select Bible verses. Since the TV was on mute, I'm not sure why Crowder has dedicated himself to moving our nation's consumables for the Lord, but no matter. I imagine your soul will be in better shape after slamming your car into a concrete barrier at 70 miles per hour while reading something in the next lane from the sixty-fourth chapter of Corinthians.
For the exterior, Crowder's rig got its own giant angel wings mural and church pipe organ-style exhaust pipes in the back, while the interior got a light-up stained glass window of a flying dove, and painted clouds with flashing lightning. Graves' Grave Digger got a truly bitchin' moonlit graveyard scene, while the interior got its own big-screen video game system and a little toy car diorama of a monster truck crushing some cars.
Finishing off the whole package were side exhaust pipes that shot blue flames high into the air, which should be remedy enough for any pokey motorist in the passing lane who seriously deserves the living shit scared out of them.
*
I ran across this word-for-word listing on my satellite TV guide for a very late Saturday night movie on Spanish-language channel Si TV, which caused me to wrangle with the question of whether it would be just too scary or just too ridiculous to actually watch:
Circumsized Cinema (2005). A film about rival drug lords is cut into a story about singers with dreams of winning big on Mexican Idol.
Meanwhile, Dr. Drew continued to pursue his lifelong dream of being an idiot. Who else could host a show for Discovery Health called Strictly Sex, announce to the world there's a male equivalent of the G Spot, and then not give the less enlightened specific directions on where exactly it is? Yes, it will be a bright day indeed when Sue Johanson hobbles over from Talk Sex on the Oxygen Channel and smacks the lame right out of him.
*
Anyone over the age of 50 can tell you exactly where they were the day President Kennedy was assassinated in 1963. Likewise, Saturday's late night rerun of the VH1 retrospective When Metal Ruled The World shows us why anyone over the age of 40 can tell you exactly where they were the day hair band metal was assassinated in 1991 by Nirvana's Nevermind.
Before the music industry figured out that flannel from Seattle was a spiffy way to rake in boatloads of money off the bipolar and suicidal, there was a glorious, heady era - back when the M in MTV and the V in VH1 actually stood for "music" and "video" - that began when it finally dawned on everyone that the Sex Pistols weren't just assholes, but they weren't that good of a band either. So once Quiet Riot's album Metal Health was released and everyone ate up its first single, "Cum On Feel The Noize" in 1983, every single musician in America gave up on spelling lessons and headed off like the Joads to Los Angeles and Sunset Boulevard. Once there, they stopped off at the store selling helium-voiced singers and every single one of them got signed by major record labels. If you were one of those bands, you got to experience firsthand what The Great Gatsby would have been if Fatty Arbuckle drove up in a Ferrari full of big hair, big makeup, big drugs, and big loud guitars.
Sunset Boulevard was to '80s hair bands what the intersection of Haight and Ashbury was to musicians in the '60s. On the Sunset Strip, the top venues to play were the Rainbow Room, The Troubador, The Roxy, and the Whiskey A Go-Go, where Skid Row lead singer Sebastian Bach wistfully recalled walking in the front door and "being greeted with the scent of puke and piss," and there was enough sex going on in Dumpsters in alleys behind them all to make everyone a happy camper.
Things went along really well and everyone was having loads of fun going broke on hair stylists to make all sorts of music videos featuring women who constantly reminded hairy-palmed boys how dangerously close they were to finally going blind, like this one from Warrant and this one from Whitesnake. The good times almost died when when the mockumentary This Is Spinal Tap came out and showed everyone how ridiculous things had become, but then Guns 'N Roses came along and MTV started scaring the bejeezus out of every parent in America with Headbangers Ball.
Eventually, though, everyone discovered that the money runs out sooner or later because it's really, really hard to maintain a career while on heroin or sitting dead inside a car wrapped around a telephone pole, and everything, observed Motley Crue singer Vince Neil, "went from being really fun to being really dark" once someone turned the industry suits on to Starbucks and bands with a sense of social relevance. Even now, Neil still has a hard time understanding the allure of grunge and the smell of teen spirit: "It went from 'Let's go fuck some chicks' to 'This world really sucks.' It's marketing depression and how much life sucks."
Amen, brother.
*
Meanwhile on Spike TV, some doofus is singing "Soul Taco" on Cheech and Chong's 1978 film Up In Smoke, a movie that showed us exactly why hair bands needed to save Sunset Boulevard and clubs like The Roxy. Ellen Barkin makes an uncredited appearance as a girl with a guitar, and a bearded Donal Logue refuses to admit narc cop Sergeant Stedanko (Stacy Keach) into the Rock Fight of the Century at The Roxy. A few hours later, the Donal Logue haunting continued, this time on TNT in The Patriot, a movie made in 2000 when Mel Gibson was having personal issues with the British instead of the Jews.

Posted by Beachwood Reporter at 10:23 AM | Permalink
The [Monday] Papers
Who dat gonna beat dem Bears!
Beara Culpa
I don't think I've been more wrong about anything in the past year than the Bears. I honestly really thought, deep in my heart, that the Saints would blow them out.
Bearish
Though there's still one more chance for me and Emery to say we told you so.
Colts 45-13.
Gentleman Jay
"I could be a real jerk and call them the worst 15-3 team to reach a Super Bowl," Jay Mariotti writes this morning. "But that wouldn't be true."
A) Second-worst. I mean, the 1985 Patriots, pee-yeww!
B) The "real jerk" part, he means.
C) Because they'll be 15-4!

Suggested Headline
"Nightmare Comes True: Two More Weeks of Ditka"
Expert Bowl
"Tribune researcher Alan Peters took a spin on his computer to see how many experts predicted the Bears to reach the Super Bowl before the season began," Ed Sherman wrote on Sunday before the game. "He came up with only three: Tim Cowlishaw of the Dallas Morning News, Katherine Smith of the Tampa Tribune and Brian Baldinger of Fox Sports."
Indeed, Cowlishaw picked the Colts to make it too (he didn't pick a winner in the big game, though). So Cowlishaw is the Man.
But just for fun, look at what else he wrote:
"The Colts' magical offense against the Bears' great defense will make for a special game and monstrous TV ratings. But know why Chicago is going to get there? Because the Bears got significantly better in the off-season when they signed Brian Griese. Why doesn't anyone else understand that?
"Griese may begin the season as the backup to Rex Grossman, but that won't last. Griese is no Peyton Manning, but he can be to the Bears what Trent Dilfer was to the Ravens and what Brad Johnson was to the Bucs when those teams rode defenses to Super Bowl wins.
"Griese played in 17 games for Tampa Bay the last two years. He completed 67.6 percent of his passes. That's a higher percentage than Ben Roethlisberger, than Donovan McNabb, than Matt Hasselbeck, than Peyton Manning . . . oops, it's the highest in the league."
Truth be told, Cowlishaw may have been wrong factually, but not really conceptually.
Meanwhile, Smith, the Tampa writer, indeed picked the Bears - and picked the Chiefs to beat them in the big game.
I couldn't find what Baldinger wrote.
Expert Analysis
The Tribune reports today that all eight experts on ESPN.com picked the Saints. That should teach ESPN not to borrow the McLaughlin group for its punditry.
Friendly Wagering
Indianapolis doesn't have anything we could possibly want, so there won't be any mayoral Super Bowl wagering. Gov. Rod Blagojevich, however, is trying to get Indiana Gov. Mitch Daniels to accept a bet in which Indiana would have to move further away from us if they lose. If they win, too.
City Haul
In the bet between mayors settled yesterday, Richard M. Daley won a corrupt Special Operations police unit from New Orleans Mayor Ray Nagin. If the Saints had won, Daley would've had to give up Christopher Kozicki.
Daley Dose
The Trib's Kozicki editorial is curiously abstract in assigning blame to "the Daley administration" and "the city" but not to "Richard M. Daley." The Trib's (correct) stance would have been more satisfying - and to the point - it if simply asked why Richard M. Daley hasn't fired Kozicki. In fact, why doesn't the paper run a headline across the top of its front page like "Mr. Mayor: Why Haven't You Fired This Man?"
That's newspapering.
Blunt Instrument
"Mindlessly cutting 20 percent will devastate health services while preserving patronage," a county medical director writes to the Sun-Times today.
Fringe Benefit
The Tribune editorial page believes the Bush Administration still deserves the benefit of the doubt, this time when it comes to replacing U.S. attorneys all over the country. I mean, after all, it's not like this administration has ever put politics ahead of merit when it came to filling important positions.
Pundit Pablum
"Bush Needs Solid Plan B For His Surge," Charles Krauthammer writes on the Trib's Op-Ed page today. You mean we've still been on Plan A this whole time? I could've sworn we were at least down to Plan M.
Or does he mean Bush needs a Plan B for his Plan Z.
Doesn't matter. Krauthammer hasn't picked a war right in 50 years. Let's ask Cowlishaw what to do.
Plan for Transformation
"The Chicago Housing Authority, the state's largest housing agency, has closed its waiting lists for public and subsidized housing during its $1.6 billion remake of its public housing," the Tribune reports.
The Sun-Times will accordingly adjust the CHA's grade upward.
Baby Bears
The Cubs were against raising ticket prices before they were for raising them.
Dusty Trails
"[W]e've moved on, and now we have a manager that's going to come in and say, 'This is how I want it done, this is what is going to get done, and you win,'" says Scott Eyre, heretofore a Dusty loyalist.
Waterworld
"Boat Show Features Yacht That's a 2nd Home."
Coming in spring: "Home Show Features House That's a 2nd Yacht."
Dream Sale
The Martin Luther King Jr. Sale at American Mattress has been "held over."
So you can still 'Pay For A Queen, Get A King!"*
*Only valid on select models.
No kidding.
Tease of the Week
"Is Bob Seger still the same? We'll find out next Sunday Morning."
- heard/seen by Tim Willette
Mixed Message
"White House proclaims tomorrow National Sanctity of Human Life Day."
"Today's death toll of U.S. soldiers in Iraq was the highest in two years."
- spotted by Tom Michael
New News
At this point, it's news when we have a day in Iraq that isn't one of the deadliest of the war.
Trib Takers
Nobody much wants the Tribune Company.
Do the right thing: sell the papers to the locals who want them, cut loose the TV stations, and put the Chicago Tribune under McCormick Foundation management.
Saddam Steyn
Enemies like Mark Steyn may turn out to be Barack Obama's biggest friends. After reading this, I was ready to sign up as an Obama volunteer.
Daley's CTA
"An important item has been missing from last week's discussion about the CTA's service problems," Anne Alt of Beverly wrote to the Sun-Times on Sunday. "Last year, Chicago contributed only $3 million toward operating expenses, the same skimpy annual amouint they have given for the past 25 years. The City of Atlanta gave $18 million last year to the Metropolitan Atlanta Rapid Transit Authority, a system one-tenth the size of the CTA."
It's true. CTA chief Frank "Brownie" Kruesi dodged the issue on Chicago Tonight recently, but I did some reporting on this a few years ago and the only explanation I found from the administration was that Daley thinks the region, state, and feds should pay more for the CTA and he doesn't want to set a precedent by upping the city's share.
Yeah, I know.
Field of Clout
"I, like millions of others in the Chicago area, will be in front of my TV watching the Bears play the Saints with rapt attention," U of C sports economist Allen Sanderson told the Sun-Times before Sunday's game. "But just imagine if the new Bears home had 80,000 seats and a retractable roof. There would be more fans, and the fans would be warm. And the city would have a huge leg up on its bid to host the 2016 Olympics. Instead, most of us will get to witness a great football event on television from inside a very publicly funded, quasi-private club."
You mean, imagine a competent and honest mayor instead of the one we have?
The Beachwood Tip Line: Coltish.
Posted by Beachwood Reporter at 7:25 AM | Permalink
The Blue & Orange Kool-Aid Report
Clearly, many readers have waited for this moment. Watching the Bears advance to the Super Bowl wouldn't be nearly as satisfying without sending all those "Would you like crow with that?" e-mails. So let me say one thing: I was wrong.
Results don't lie.
Now, some people might say that the Bears excelled in a weak conference, and in an even weaker division. Still others might point at the Bears' incredibly weak schedule. Some might even point to the team's horseshit play in the final four regular season games, and that first playoff squeaker against a mediocre Seahawks squad.
Heck, some might even say that Sunday's game was more about the Saints' inability to take care of the ball than the Bears stopping their offense. Though the Saints played up to their ability for roughly seven minutes, the Bears offense or special teams failed to play a complete game. The Bears offense converted early mistakes into field goals instead of touchdowns. Even though these people will say what they want to say, the scoreboard reads 39-14. The Bears travel to Miami.

For the next two weeks, these same people will note Indianapolis's resurgent defense. They might say things like, "If Brett Favre and Donald Driver can dominate this defense, Manning and Harrison will absolutely crush the Bears."
Or point out that the Colts beat the Patriots, who beat the Bears.
Of course, I'm not saying all of this. But others might.
I'm eating crow with a side of Heinz ketchup. Other people will continue to hate. Haters will make lists like this one:
The Bears winning the NFC this year is like . . .
A) Winning the National League in 2006 on the way to becoming the Worst World Series Champion Ever.
B) Winning a Democratic presidential primary.
C) Winning the endorsement of the firefighters union.
D) Winning an intramural championship in college.
Let me make this clear. I would never say these things. Other people might whisper, "The Bears are living on borrowed time." I will not. Others will use gambling analogies like "The Bears are playing with the house's money." I will not.
I'm just telling you what some other people might say.
*
Sugar in the Super Bowl pitcher: 60%
Recommended sugar in the Super Bowl pitcher: 40%
*
For more Emery, see the Kool-Aid archive, and the Over/Under archive. He can be contacted at Eric_Emery12345@yahoo.com.
Posted by Beachwood Reporter at 5:41 AM | Permalink
January 21, 2007
Smoke, Mirrors and Backyard Tire Fires
They call themselves "Illinois' premier rock trio." Untoward hype from Backyard Tire Fire? Or a bit of tongue-in-cheek self-deprecation from the Bloomington-based alt country group? I'm leaning towards the latter because, although I have no idea how many rock trios there are in Illinois, I'd have to guess there are at least as many of them as there are three-car garages in Normal.
At least.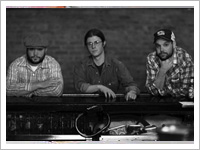 And the annals of Illinois rock trios may be quite large for all I know. Just off the top of my head (painstaking research, actually) I could cite Loud Lucy, Big Black, Chevelle, 1/2 Mad Poet, Taking Pictures, Volcano!, Catfish Haven, The Farmers, Arnold Jackson, Fast Product, Oh My God, Miles of Empty, Escape From Earth and Milk at Midnight. Are none of them "premier?"
Oh, I know Ed Anderson and the Tire Fires don't mean anything by it. They're probably just having a little fun with the fact that after a decade of obsessive touring throughout the Midwest, they're finally getting some recognition from the music media, specifically those who pay attention to the kind of Wilco- and Drive-By Truckers-inspired country rock that Backyard Tire Fire so skillfully puts out. For instance, a track from the band's upcoming fourth LP, Vagabonds and Hooligans, got a spin on Americana Roots Review, which in my opinion is the best Americana music podcast on the planet.
The song is "Don't Know What to Do," which can also be found on a "tide-me-over" EP the group issued in October called Skin and Bones. Lyrically it's pretty representative of what Anderson says will be the theme of Vagabonds, which is that ol' roots music standby, Life on the Road. It goes:
All this raining and complaining
I'm just killing time
I'm not sleeping, I'm just keeping
Track of my demise
And I don't know what to do with myself
I don't know what to do with myself
Always waiting, contemplating
The punch line to the joke
All this touring and ignoring
The mirrors and the smoke
So true. Show biz is like life - all smoke and mirrors. Musically, however, this song a bit different from the Tire Fire's usual blend of dirty country blues and loud-fast Southern rock 'n' roll. This number is really more of a jaunty, major chord ballad that's put over by Anderson's plaintive yet powerful voice. Kinda nice.
The other track from the new album that I've heard is "Downtime," which also had its debut on the recent EP. I don't want to get too carried away here, but the guitar, drums and bass backing Anderson (from brother Matt Anderson and Tim Krump) sound a lot like early Zeppelin from the days when they'd roll into Atlantic Records and cover Willie Dixon. According to the Tire Fire's indie distributor, Red Eye, the album was cut using analog equipment at Oxide Lounge Studio in Bloomington, giving the sound an "old-school" immediacy. I'd say it worked.
Back to the touring thing, though. Ed Anderson has said he's played 150 shows a year over the past decade in the various bands he's been in, and that kind of devotion just has to have a payoff, and this may be it. No one can spend that much time on the road playing music in bars, juke joints, truck stops and outdoor festivals, sharing bills with the likes of Son Volt and Alejandro Escovedo, and not have it result in some kind of superior craftsmanship. We'll see if the new album, which will be released on Feb. 7, will be the breakthrough this band's hardcore cadre of loyal fans are hoping for.
One of those fans is former Wilco-ite Jay Bennett. He's set to share the stage with the Tire Fires at their Chicago CD release party on Feb. 17 at the Double Door. The connection with Wilco seems to be pretty strong, and reveals another side to these guys. The top-downloaded Backyard Tire Fire song on iTunes is the signature number from their 2005 album Bar Room Semantics, "The Daze." I have to say this song sounds so much like 1997-vintage Wilco that it really could have been an outtake from Being There. Anderson seems to be able to move from balls-out, Slobberbone-style Southern boogie-blasting to nuanced, poppy Tweedy-ism in a heartbeat. His lyrics also tend to capture the everyman angst that runs through the best white man's blues songs.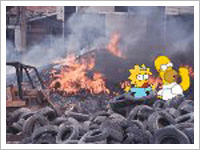 Oh, and the band's name came from The Simpsons, specifically referencing the Springfield Tire Fire, which as the town proudly proclaims, has been burning since 1966. Smoke and mirrors, indeed.
i don't know if all this adds up to being "Illinois' premier rock trio." But I like that they think so.
Posted by Don Jacobson at 2:48 PM | Permalink
January 20, 2007
The Weekend Desk Report
The "B" team is holding down the Weekend Desk this, um, weekend, while Natasha Julius is away on a post-juice fast secret mission. Here are the stories we'll be tracking in her absence.
Super Bowling
The contestants are yet to be decided, but Prince has signed on as halftime entertainment for the Super Bowl. Word has it he's been rehearsing a new song called "I Can't Hear You" about the president's Iraq strategy.
Saints Bowl
Still under water.

Spy Bowl
President Bush shifted course this week on its once double-secret super spying program. The administration will now get court approval before tapping your phone because you once made a joke about Dick Cheney.
Presidential Bowl
Hillary Clinton is officially in. Folks here in Chicago may not realize it, but the latest USA TODAY/Gallup Poll of Democratic and independent voters showed Clinton preferred over Barack Obama 29 percent to 18 percent. Which, curiously enough, will be the same spread by which the Bears beat the Saints.
Space Bowl
In a sudden shift, the administration announced that American space weapons would now also be "Made in China." More as this story develops.
Freedom Bowl
America's campaign to curb journalistic freedom around the globe is going nicely, though the administration prefers jailing to killing.
Water Bowl
The family of a woman who died after winning a radio station contest for drinking the most water without urinating is suing the station. Station officials, however, say that Donald Rumsfeld, in his new job as industry consultant, assured them they couldn't be held liable if something went wrong.
News Mashup
McCain links gum disease with new 'hobbit' galaxies
Obama launches bid for Scottish independence
Male panda said to make amends with conservative Christians
Bush pledges to work for crematorium expansion
- Tim Willette
Chicago Says Goodbye to Yvonne De Carlo
     Paramount paramour,
     Femme fatale, contralto-voiced
     wife of Moses, restrained little bird, Sephora.
     Fetching show girl, dancer,
     Our own vampire mother.
They named you "Baby Peggy" as Benito marched on Rome.
Your father, a Canadian salesman, left when
you were only three.
But always behind the curtain, your stage-door Mother made
sure you could sing and dance, and she cried when you lost "Miss
Venice Beach".
One Halloween night in Vancouver, you made your own costume
and dressed as a glamorous ghoul , foreshadowing your
Hollywood career.
At first you were a look-alike Lamour, reminding
The sometimes-difficult Dorothy that even she was
replaceable.
You worked with Gable, and Poitier, holding your own,
Until the inevitable low-budget horror.
And then at last you came to live at thirteen, thirteen mockingbird
lane, glowing pale in a black and white world where Marylin
was the ugly one.
How we loved to watch you in your sleeveless gown, "cleaning"
'round the manse, the vacuum in reverse, blowing dust.
     White-streaked hair,
     Bat-adorned,
     Campy,
     Charming,
     Comic, sitcom bloodsucker.
Lillian Munster, ghastly homemaker, Herman's wife,
our friend.
We see you waiting, eager to go out, in the floor-length, red-hooded,
cape you
made from your coffin lining, its satin gathered at your
feet, like a pool of blood.
Along the way you had over twenty-two lovers;
Howard Hughes, Billy Wilder, and more; your slaves.
     Yvonne!
"Darn, darn, darn, darn" as Herman used to say. Too soon
we thank you, and we'll miss the Paramount
paramour, Femme fatale, contralto-voiced wife of
Moses, restrained little bird, Sephora.
- Bethany Lankin
Posted by Beachwood Reporter at 8:59 AM | Permalink
January 19, 2007
The Periodical Table
A weekly roundup from Shipley's nightstand.
Soul Hole
The cover story of the January 25th issue of Rolling Stone is a warm tribute to the life, times, and music of James Brown. However, on page three there's a picture of his corpse as well as a picture of Michael Jackson embracing Al Sharpton. And the only one who looks alive and well is Sharpton.
Space, the Capitalist Frontier
Richard Branson wants you to fly Virgin Galactic - into space. The December issue of Wired reports that Virgin is selling seats for just $200,000. Industry analysts say the real money will be made selling overpriced CDs to a captive market.
Fair Warning
I'm sure the February issue of Vanity Fair is pretty good. There's a cover story on Demi Moore. There's a story about John McCain and his possible 2008 Presidential run. There's a story about the new Broadway show based on Joan Didion's wonderful book, The Year of Magical Thinking. But I'll never really know because I can't get near it. Boy, you stink, Vanity Fair! Thank your cologne advertiser Acqua Di Gio for nothing.
Alternate Analysis
Am I supposed to read this magazine, or wear it?

Fuel Pimps
The January/February issue of Mental Floss has a fun "Where Are They Now?" piece that asks, for example, where full-service gas stations have gone. The answer: New Jersey and Oregon, where it's actually illegal to pump your own gas. The reason? They banned self-pumping in 1949 and 1951, respectively, for fear that customers would inadvertently light themselves on fire. That is the reason, by the way, my father is completely hairless; he blew himself up trying to put gas in his father's 1940 Mercury Mercaholic Coupe. My dad is now in a traveling circus but refuses to ride in a car. He travels via ox cart.That's my dad - Dave "The Hairless Ox Cart Man" Shipley.
Pope Sneezy
Pope Urban VIII issued a worldwide ban on smoking and threatened to excommunicate anyone who smoked in holy places because he thought sneezing too closely resembled sexual ecstasy, according to the January/February issue of The Atlantic. Many years later, Pope Benedict XIII repealed the smoking ban, though sexual ecstasy remains against Church law to this day.
Pussy Whipped
A Tennessee man is suing authorities for $1.5 million in damages from "emotional pain and suffering" after they raided his house and seized 114 frozen cat corpses, according to the January 19th edition of The Week. He hopes to use the money to buy a bigger freezer.
Posted by Beachwood Reporter at 2:00 AM | Permalink
King in Chicago: Conclusion
Excerpts from:
American Pharaoh
Mayor Richard J. Daley
His Battle for Chicago and the Nation
By Adam Cohen and Elizabeth Taylor
*
Previously:
Part 1/Daley mobilizes black machine politicians to undermine King's efforts here.
Part2/Daley denies there are slums in Chicago, then pledges to eliminate them within a year.
Part 3/Daley negotiates an agreement long enough to get King out of town, then reneges. His private feelings about King are revealed.
*
With the election safely over, the truth about the housing summit came out. Keane, the number -two man in city government and Daley's co-negotiator at the summit, declared on the floor of the City Council that there was no open-housing agreement. "There were only certain suggestions put down and goals to be sought," he said.
. . .
[Daley] agreed with Keane that the housing summit had produced no enforceable agreement, although he did concede that there was a "gentleman's agreement unded a moral banner" to address the concerns that were raised there. By backing up Keane, he was sending a clear signal to the white wards that they did not need to worry that the summit agreement would cause their neighborhoods to be integrated. At the same time, his talk of a "gentleman's agreement" and a "moral banner" offered blacks just enough that they could probably be convinced to continue to vote for the machine."

. . .
In the end, there were many reasons the Chicago Freedom Movement failed where the southern civil rights movement had succeeded. Chicago was certainly more difficult terrain. It was harder to fight complex social ills like slum conditions than to challenge the segregated buses and closed voter rolls blacks faced in the South.
But much of the credit for defeating the Chicago Campaign - and for taking the steam out of the civil rights movement as it tried to move north - belongs to Daley. His response to King and his followers was shrewd: he co-opted their goals; he dispatched black leaders like Dawson and the Reverend J.H. Jackson to speak out against them; and he refused to allow them to cast him as the villain in the drama. The housing summit was Daley's masterstroke, a way of ending the protests and driving the movement out of town in exchange for vague and unenforceable commitments.
"[L]ike Herod, Richard Daley was a fox, too smart for us, too smart for the press . . . too smart for his own good, and for the good of Chicago," Ralph Abernathy would write in his memoirs. "Did we make a mistake in taking his word and leaving Chicago with our signed agreement and our high hopes? I believe we did the right thing, even though the outcome was bitterly disappointing."
The Chicago Campaign was nominally about open housing and slums, but it was also about something larger: a battle between two very different visions of what kind of city Chicago should be. The Freedom Movement's goal was what it called an "open city," in which residents would be free to live wherever they wanted without regard to race. When it came to development, the civil rights activists wanted the emphasis to be on improving living conditions in the city's worst neighborhoods.
At the same time, Daley was working to build a wealthier and more powerful Chicago, anchored by a revitalized Loop. Racial integration was not necessarily inconsistent with Daley's vision, but he saw it as a threat because it had the potential to drive middle-class whites to the suburbs, and to discourage businesses from invvesting in and locating downtown.
The defeat of the Freedom Movement was a victory for Daley's city of stable, middle-class, white ethnic neighborhoods, and a booming downtown. With King and his followers out of the way, Daley could return to his work in building his city.
*
From:
Vernon Jarrett
Sun-Times, 1986:
I would wager that today we can find only a handful of prominent citizens anywhere who will not gladly praise Martin Luther King Jr. as one of the great Americans of all time - now that he is dead.
Yes, indeed, on this 57th anniversary of his birth, Martin Luther King Jr. is a solid fixture in America's pantheon of historic figures - now that his advocacy is heard only from tapes and film clips of the 1960s.
King, who was uncompromising on affirmative action, was praised in solemn tones last week by none other than President Reagan.
Yet, as Reagan spoke, his attorney general, Edwin Meese III, was plotting further attacks on court-ordered affirmative action.
What a blatant contradiction. King canonized by the president while the president's chief of artillery smilingly turns a cannon on King's dream.
And who can forget Mayor Richard J. Daley standing with solemn mein at a ghetto intersection as the city changed the name of a famous boulevard from South Parkway to Martin Luther King Drive.
One would have never guessed that two years earlier, Daley, surrounded by his black political flunkies, had angrily advised King to keep his crusade out of Chicago.
But at the street-naming ceremony, they all looked so innocent. Black and white together, as in the old song.

Posted by Beachwood Reporter at 1:00 AM | Permalink
The [Friday] Papers
I have a multitude of things to attend to today, and it's already been an exhausting week here at Beachwood HQ, so The Papers will return on Monday.
In the meantime, though, please check out these fine new Beachwood offerings.
* Scott Buckner is positively on fire as our new chief What I Watched Last Night writer (submissions welcome, as they are for all of our ongoing features). I don't mind telling you that our TV criticism is the best in the city. The first installment of our rolling Mid-Season Review is here.
* Barista! has recovered from the holidays and is back with another fine installment. If you haven't been reading her column, you've truly been missing out.
* In Sports, we have new installments this week, as always, of The Sporting Life, The Blue & Orange Kool-Aid Report, and Over/Under.
* The Political Odds have changed; Obama's chances of getting the nomination are on the board.
* The Music page is running four ongoing features at the moment: Chicago In Song, Bin Dive, Playlist, and Don's Root Cellar.
* If you missed them the first time, catch up with such series' as Home for the Holidays and On The Juice.
* The Papers and Weekend Desk Report archives are here. Section archive links are located on the top left rail of each section front, and then organized by month.
* And I'm happy to announce that we've completed a move to a new host/server and added tech support that will help us build a bigger and better Beachwood. Thanks to our readers, and thanks to our members, whose support has literally kept this project alive at a couple key junctures. More to come.
The [Thursday] Papers
No one will be rooting harder for the Bears on Sunday than President George W. Bush. Do you think he really wants two weeks of worldwide Katrina retrospectives and footage of an entire American city still decimated and virtually abandoned by his administration?
Not to mention it's New Orleans, not Kansas City or Des Moines. It's a city of world renown, except that now it's barely a city.
A Saints victory might be the best thing that can happen to New Orleanians if it brings them not only the short-term pleasure of having a team in the Super Bowl, but a renewed public policy effort spurred by the renewed attention the city will get.
Cheesy Sex-Times
Meanwhile, back in Chicago . . .
"With the Bears one win away from the Super Bowl, why ask Chicago gals to rate players on their sex appeal?" asks news staff reporter Mark J. Konkol in the Sun-Times today, in "Punter Voted Sexiest Bear In Sun-Times Online Vote."
"That's easy. Even ladies not caught up in the playoff buzz can appreciate a tight end - or running back or quarterback or linebacker - in tight pants."
This is wrong on so many levels I don't even know where to start. I guess Chicago really is the smallest big city in the country.
End Times
Twelve pages after the sexy punter story: "Scientists Warn Of Nuclear Apocalypse."
Under "Obama Sizing Up Abe's Old Digs."
Pander Bear
Bears fans are lucky that, even with no serious opposition, it's a mayoral election year.
Two Chicagolands
"Draw a map of Chicago-area communities where businesses have received state subsidies. Now draw another of places plagued by joblessness," reports the Tribune's Stephen Franklin.
"The result, according to a watchdog group that examined 15 years of subsidies to companies in the six-county Chicago-area, are two maps that barely touch."
Supreme Legacy
Today's Dreamgirls are the ones who front The Detroit Cobras.
Civility Coarse
The next time the Tribune editorial board calls for more civility to soothe our coarsening public dialogue, send them a note asking why they carry Jonah Goldberg's column. Ask if they oughtn't fact-check it, too. They are the mainstream media, after all, which is devoted to accuracy and reason, unlike, say, bloggers.
Obama's Army
"His immediate challenge is to simultaneously assure Democratic partisans that he is liberal enough for them while convincing everyone else he is conservative enough for them," a political strategist writes unapologetically.
Oh wait. That was from the Tribune's Steve Chapman today.
From a journalistic perspective, I would say Obama's challenge is to tell us why he should be president, and what he intends to do should he win the office. Behaving in the manner expressed by Chapman is unacceptable. It's the kind of politics we're all sick of, and if Obama, especially Obama, participates in it while advertising himself as an agent of changing the political culture, he should be eviscerated for it.
Political Predictor
"Obama's achievements, on the other hand, are mostly in his future," Chapman writes, comparing him to Colin Powell, who as chairman of the Joint Chiefs of Staff had been "the No. 1 person in the armed forces of the most powerful nation on Earth."
I'm not entirely comfortable electing a president based on their "future achievements."
The Trouble With Obama
He plunges us deeper into celebrity politics, instead of saving us from them.
Friends of Barack
Plus, anyone who has so much support from the political Establishment is immediately suspect. He isn't threatening enough to the existing order, the way Howard Dean was.
I mean, my God, the Daleys are on board.
Obama Avenue
"Barack Obama is a lawyer by training, but could easily have made a career on Madison Avenue, where 'impressions' are the holy grail. The most effective commercials are those that provoke the consumer to provide her own impressions of the product, through word and image association. Obama's special genius is to elicit self-generated positive impressions from a wide range of consumers/observers - most dramatically, from consumers across the color line - while saying nothing of substance," writes Glen Ford, executive editor of the Black Agenda Report.
"Corporate media, an extension of Madison Avenue, eats this crap up. Barack Obama has "wide appeal" and is, therefore, a "saleable" product. But what are they selling, and to whom?"
Bush's War
"The United Nations reported Tuesday that more than 34,000 Iraqis were killed in violence last year, a figure that represents the first comprehensive annual count of civilian deaths and a vivid measure of the failure of the Iraqi government and American military to provide security," The New York Times reports.
More than 34,000. Last year alone.
Think of how distraught we are about 3,000 American casualties, and then, just as an exercise, multiply that by ten. Last year alone.
Not counting the rest of the destruction.
So yeah, Iraqis are kinda pissed at us.
In Today's Reporter
* Tank vs. Troutman. From the Police Raid Affairs Desk.
* Political Odds. Obama's chances of getting the nomination are on the board.
* I'm the Tribune/I'm the Sun-Times. I suck and I don't know why.
Knowing Jack
Maybe I didn't give Kiefer Sutherland a fair chance.
The Beachwood Tip Line: Just handlebars, and five-point stars.
Posted by Beachwood Reporter at 12:09 AM | Permalink
January 18, 2007
What I Watched Last Night
I have this theory about how TV shows which aren't spinoffs of something else are developed. It goes something like this: A guy comes up with a brilliant idea and spends a year or three (even longer if he has a day job or a relationship) developing and refining the concept, the characters, the treatments, an actual script, and whatever-else have you for the pilot show. It's hilarious, the network suits love it, so they all sign a deal and tell him to go home and come up with a dozen more scripts.
Soon enough, it dawns on him what has just happened. So he sits back, stares blankly at his shoes and says, "Oh, shit. Now what?"
I think that's what happened with The Knights of Prosperity, the show about a bumbling crew of people so sick of their stations in life that they dream up a plan to rob Mick Jagger and/or his apartment. They're not yet entirely clear which, so neither am I. I missed the show last week, so I thought maybe Natasha Julius was woozy from her two-week juice fast to comment so harshly about Knights in the Beachwood's mid-season review, but you clearly don't need animal protein to see that this show has quickly turned into a disappointingly unfunny show just like everything else that passes for comedy on ABC.

Last night, things went downhill for me fast, starting immediately with the really stupid opening theme song, which the pilot didn't have.
In this episode, Eugene believes the crew needs an official theme song to go with their official T-shirts, so he settles on Rush's "Tom Sawyer." I'm a little slow on the uptake at times, so I'm still trying to figure out whether Geddy Lee pissed off Donal Logue or ABC enough for them to specifically pick one of his songs to butcher all karaoke-like, or whether someone's running with the idea that there just ain't enough abstract expressionism in sitcoms today, doggone it.
Either way, if I were Geddy Lee, I'd just sue the show on principle alone.
Also in Wednesday's episode, the crew needs to overpower the guards stationed outside Mick's high-security apartment, so they hire a B-grade security consultant from a Learning Annex class whose biggest professional accomplishment is that Elayne Boosler and Weird Al Yankovic haven't been raped or killed so far, and Eugene walks across a bed of hot coals to "mentally prepare" for the heist because he saw it done once on Survivor. Since the crew does all its planning in Glickman's Jewish Supply warehouse, Eugene gets to use a coffee filter for a yarmulke, and ABC spoils the top-secret location of the giant blue dreidel someone's planning to use atop a Macy's Thanksgiving Day Parade float.
We also know that Mick Jagger isn't finding the show very funny either, since his role was played rather halfheartedly by a thumbprint in a container of cream cheese and a very bad rubber mask of himself.
*
Meanwhile, on VH1's "Movies That Rock," Ferris Bueller was threatening to sit down in the middle of Wrigley Field and light himself on fire unless cable TV quits showing his damn movie already.
*
Scott Buckner is the Beachwood's official TV watcher. The rest of us do it unofficially.
Posted by Beachwood Reporter at 5:34 PM | Permalink
Barista! Glazed and Confused
Here we are, two weeks into the New Year, and my resolution to not hate everyone so goddamn much has already gotten a little shaky. Resolutions are only valid through January right? I'm hoping I can de-resolve in February and still feel like I've accomplished enough to carry me through the year.
But until then, I am a new person in 2007. You want a latte? Only if I can give you a big smile along with it! You haven't been enriched today? Then I'm not doing my job! There's a spill in the Kids' Corner? Let me get my bucket!
Okay, so I'm not entirely convincing myself either. But I'm working on it. I have enlisted the help of a stress ball, personalized with a Sharpie, "Try not to kill people." This seems to be a healthy reminder for my day-to-day.
Also, I have the following customers to thank for helping me keep a level head:
1. The pre-pubescent J. Lo-wannabe, in her pink velour outfit complete with a stylish pink Coach wallet. When this pre-teen walked in at first, I couldn't help but notice her impeccable accessorizing of necessary labels. I made her a drink and sent her on her skipping way . . . only I happened to notice on her way out that she had not actually skipped up to the store. Rather, she drove.
Yes, she left the store, hopped into a BMW convertible with her tweenie friend in the passenger seat, as though this was perfectly normal and lawful, and drove away, latte in hand. As if legal adult drivers aren't enough of a hazard, now I have the image of that caffeinated pink velour brat to take with me on the road.
2. My next favorite customer of '07 is the emotionally abusive mother who spent the better part of her recent transaction cutting down her overweight teenage daughter. The mom allowed the girl to pick out something for lunch, specifically noting, "And by lunch, I don't mean a glazed donut."
Having her pastry of choice shot down, instead of selecting something to eat, the girl got something to drink (and most likely an eating disorder, compliments of her mom): a medium blended coffee and caramel beverage, topped with whipped cream and caramel sauce.
It's time once again for nutritional info comparisons, people.
Glazed donut: 440 calories, 22 grams of fat, 3 grams of saturated fat (0 grams of trans fat), 33 grams of sugar.
Caramel coffee icy drink with whip: 430 calories, 16 grams of fat, 10 grams of saturated fat (0 grams of trans fat), 52 grams of sugar.
So basically, the calories aren't too far off from each other, but there's a huge difference between 3 and 10 grams of saturated fat, and 33 and 52 grams of sugar. I applaud this mother for stopping her daughter from making the mistake of getting a glazed donut rather than a frozen caramel drink.

3. And to round out the category of memorable youngsters, a girl of the 11 to 13 age range came into our store over the weekend about ten minutes to close. She was with a couple of her clonie friends, who were all wired on sugar even before they each ordered two cups of whipped cream. After standing around especially long and knocking over CDs and laughing hysterically at the thought of knocking over CDs, the girl threw her leftover coins into our tip jar. She laughed and showed her friends, saying, "Phew, now I feel better about myself!"
I couldn't help but picture this young girl using money to prove her self-worth over and over again throughout the rest of her life.
As you can see, 2007 has started with a bang. I had some time off in the beginning of the month to decompress from my infected holidays, and now I'm back and feeling rested and ready to deal with anyone. Even that guy who comes into our store during the weekend rushes, orders a cup of decaf espresso French-pressed (rather than our already-brewed coffee, that is), which means that we must, in the middle of the rush, go measure out and grind decaf espresso for the proper French press setting and allow his coffee to steep for five minutes, all the while helping the rest of the line who so kindly orders shit on the actual menu.
I would not be as bothered by this guy if I saw a purpose behind us doing this for him. I understand that he may enjoy the flavor of decaf espresso, but then I watch him add shitloads of cream and syrup to the cup, completely diluting the flavor of the beans. It finally all made sense when he ran into someone he knew in line and made sure to show them what a special drink he was getting. "That cool French press thing," he said. One of these days (probably in February when I'm over the resolution thing), I'm going to emphasize to him that he can buy those cool French press things, and decaf espresso, and do it his goddamn self.
Until then however, I am there to serve with a smile and make sure he and everyone else is completely enriched before leaving my store. It's just part of my job.
*
Maude Perkins is The Beachwood Reporter's pseudononymous service industry affairs editor currently serving time as a store supervisor for a large, publicly-held corporate coffee chain. Catch up with the rest of her heartwarming tales from the front here.

Posted by Beachwood Reporter at 4:30 PM | Permalink
The [Thursday] Papers
No one will be rooting harder for the Bears on Sunday than President George W. Bush. Do you think he really wants two weeks of worldwide Katrina retrospectives and footage of an entire American city still decimated and virtually abandoned by his administration?
Not to mention it's New Orleans, not Kansas City or Des Moines. It's a city of world renown, except that now it's barely a city.
A Saints victory might be the best thing that can happen to New Orleanians if it brings them not only the short-term pleasure of having a team in the Super Bowl, but a renewed public policy effort spurred by the renewed attention the city will get.
Which doesn't mean Bears fans should feel guilty rooting for their team on Sunday. But on the other hand, you're either with Bush or you're against him. Let the unity of a new political culture begin.
Cheesy Sex-Times
Meanwhile, back in Chicago . . .
"With the Bears one win away from the Super Bowl, why ask Chicago gals to rate players on their sex appeal?" asks news staff reporter Mark J. Konkol in the Sun-Times today, in "Punter Voted Sexiest Bear In Sun-Times Online Vote."
"That's easy. Even ladies not caught up in the playoff buzz can appreciate a tight end - or running back or quarterback or linebacker - in tight pants."
This is wrong on so many levels I don't even know where to start. I guess Chicago really is the smallest big city in the country.
End Times
Twelve pages after the sexy punter story: "Scientists Warn Of Nuclear Apocalypse."
Under "Obama Sizing Up Abe's Old Digs."
Pander Bear
Bears fans are lucky that, even with no serious opposition, it's a mayoral election year.
Two Chicagolands
"Draw a map of Chicago-area communities where businesses have received state subsidies. Now draw another of places plagued by joblessness," reports the Tribune's Stephen Franklin.
"The result, according to a watchdog group that examined 15 years of subsidies to companies in the six-county Chicago-area, are two maps that barely touch."
Supreme Legacy
Today's Dreamgirls are the ones who front The Detroit Cobras.
Civility Coarse
The next time the Tribune editorial board calls for more civility to soothe our coarsening public dialogue, send them a note asking why they carry Jonah Goldberg's column. Ask if they oughtn't fact-check it, too. They are the mainstream media, after all, which is devoted to accuracy and reason, unlike, say, bloggers.
Obama's Army
"His immediate challenge is to simultaneously assure Democratic partisans that he is liberal enough for them while convincing everyone else he is conservative enough for them," a political strategist writes unapologetically.
Oh wait. That was from the Tribune's Steve Chapman today.
From a journalistic perspective, I would say Obama's challenge is to tell us why he should be president, and what he intends to do should he win the office. Behaving in the manner expressed by Chapman is unacceptable. It's the kind of politics we're all sick of, and if Obama, especially Obama, participates in it while advertising himself as an agent of changing the political culture, he should be eviscerated for it.
Political Predictor
"Obama's achievements, on the other hand, are mostly in his future," Chapman writes, comparing him to Colin Powell, who as chairman of the Joint Chiefs of Staff had been "the No. 1 person in the armed forces of the most powerful nation on Earth."
I'm not entirely comfortable electing a president based on their "future achievements."
The Trouble With Obama
He plunges us deeper into celebrity politics, instead of saving us from them.
Friends of Barack
Plus, anyone who has so much support from the political Establishment is immediately suspect. He isn't threatening enough to the existing order, the way Howard Dean was.
I mean, my God, the Daleys are on board.
Obama Avenue
"Barack Obama is a lawyer by training, but could easily have made a career on Madison Avenue, where 'impressions' are the holy grail. The most effective commercials are those that provoke the consumer to provide her own impressions of the product, through word and image association. Obama's special genius is to elicit self-generated positive impressions from a wide range of consumers/observers - most dramatically, from consumers across the color line - while saying nothing of substance," writes Glen Ford, executive editor of the Black Agenda Report.
"Corporate media, an extension of Madison Avenue, eats this crap up. Barack Obama has "wide appeal" and is, therefore, a "saleable" product. But what are they selling, and to whom?"
Bush's War
"The United Nations reported Tuesday that more than 34,000 Iraqis were killed in violence last year, a figure that represents the first comprehensive annual count of civilian deaths and a vivid measure of the failure of the Iraqi government and American military to provide security," The New York Times reports.
More than 34,000. Last year alone.
Think of how distraught we are about 3,000 American casualties, and then, just as an exercise, multiply that by ten. Last year alone.
Not counting the rest of the destruction.
So yeah, Iraqis are kinda pissed at us.
In Today's Reporter
* Tank vs. Troutman. From the Police Raid Affairs Desk.
* Political Odds. Obama's chances of getting the nomination are on the board.
* I'm the Tribune/I'm the Sun-Times. I suck and I don't know why.
Knowing Jack
Maybe I didn't give Kiefer Sutherland a fair chance.
The Beachwood Tip Line: Just handlebars, and five-point stars.
Posted by Beachwood Reporter at 8:29 AM | Permalink
The Trouble With Obama
I'm not anti-Obama. He's quite likable on the surface. I haven't made up my mind about him. But I'm against hype, and particularly media hype, and that's what's going on. When I was the political reporter at Chicago magazine, my editor rejected both my proposals to embed with Obama first in the primary and then in the general election in order to write insider campaign accounts - win or lose.
After Obama caught fire, I proposed a story examining his legislative record, which still has gone largely unexplored. Also rejected. I proposed a story about "How Obama became Obama," namely how the circumstances of his U.S. Senate campaign, his speech at the Democratic National Convention, and the tenor of media coverage helped create the man who might be president. Also rejected.
Any story, in fact, that might be a serious journalistic enterprise including critical thinking was rejected.
But my editor, Richard Babcock, the editor of the magazine, desperately wanted an Obama story nonetheless, so he could put him on the cover and sell magazines. The cover decision had been made; now we just needed a story to go with it. And of course, that meant a puff piece, which is what they got.

Throughout the media Obama is being used to sell magazines, newspapers, and TV shows. And Obama is going along with it for his own purposes, even while slyly expressing his skepticism at the media hype.
There's a reason why the Sun-Times, in particular, is slobbering over Obama: They've determined he can help them sell newspapers. But nearly every magazine in the land is doing the same thing. I think Soybean Digest and Boxboard Containers International are the only publications yet who haven't yielded Obama covers, and rumor has it that's only because Obama hasn't completely thought through his position on soybean and boxboard subsidies.
This is not the way to pick a president - not if we want to avoid tragic, murderous disasters like Iraq or other quagmires foreign and domestic.
A presidential election may be decided (in part) by popular vote (most of the time), but it ought not be a popularity contest. The problem with Obama is that instead of changing politics the way he pledges to, his campaign merely moves politics further into the tabloid arena of celebritydom.
We should be electing people like, say, Richard Lugar or Barbara Mikulski, or even Howard Dean, who was turned into a celebrity and then laid low by party insiders, but who brought nothing but substance to the table (and was righter about the war than Obama, who is getting credit for his early stance but who has also been curiously passive on the issue since it started.)
And that's why, no matter how some Democrats (though still not the majority) might like Obama, Hillary Clinton and Joe Biden, just to pick two, ought to be given a serious look because they are serious, experienced public policy leaders. If only our media was as serious.
(Personally, I think a Clinton-Webb ticket is the winner for Dems. On the Republican side, my early money is on former Arkansas Gov. Mike Huckabee.)
After all, what is the job of the president? It's not a ceremonial speech-giving job. It's to get things done, and what separates candidates from each other is their ability to be effective, and even more importantly, their agenda. Can anyone tell us what Obama's top three issues are? Not really.
He and his handlers are hoping that will be a winning strategy.
His brief Senate record is good because opponents won't be able to hold votes against him? That's ludicrous; citizens are well-served by not knowing where Obama stands and seeing what he does on tough votes? Pure folly. But of course the media buys into such analyses, because they enjoy play-acting as strategists over doing their jobs as journalists.
It's folly, and I think there's a decent possibility that a very smart and likable man, Obama, will ironically crash when he is - rightly or not - exposed as too shallow and slight for the presidency.
Maybe as a result he really will change our politics.

Posted by Beachwood Reporter at 8:07 AM | Permalink
Tank vs. Troutman
A comparison.
Tank: Encroaches in the neutral zone.
Troutman: Encroaches on zoning.
Tank: In wrong place at wrong time.
Troutman: In wrong ward at wrong time.
Tank: Money for sacks.
Troutman: Money in sacks.
Tank: Stops the run.
Troutman: Vows to run.
Tank: Allegedly affiliated with gangs.
Troutman: Allegedly affiliated with gangs.
Tank: Teammates hire ho's.
Troutman: Colleagues are ho's.

Tank: Rolling papers still warm.
Troutman: Paper shredder still warm.

Tank: Kept pit bulls.
Troutman: Spewed bullshit.
Tank: Plays defense.
Troutman: Plays offense.
Tank: Gurnee police find six guns and drugs after 20 minutes.
Troutman: FBI finds way into house after 20 minutes.
Posted by Beachwood Reporter at 5:24 AM | Permalink
King in Chicago: Part 3
Excerpts from:
American Pharaoh
Mayor Richard J. Daley
His Battle for Chicago and the Nation
By Adam Cohen and Elizabeth Taylor
*
Previously:
Part 1/Daley mobilizes black machine politicians to undermine King's efforts here.
Part2/Daley denies there are slums in Chicago, then pledges to eliminate them within a year.
*
The night before the summit began, [the Chicago Freedom Movement] cobbled together a set of proposed reforms. True to his character, Daley plotted his course of action more carefully. He assembled a team of experts who would be able to go head-to-head with the civil rights delegation on any subject they were likely to raise.
. . .
Daley's approach, as it had been with the 1963 open-housing ordinance he drafted, was to blame the lack of fair housing in Chicago on the real estate industry rather than city government. Once again, it was a formulation that made Realtors and the civil rights movement the combatants, and avoided placing Daley in a showdown with King.
. . .
White working-class residents of the Bungalow Belt, accepting the open-housing language of the agreement at face value, were convinced Daley had handed their neighborhoods over to blacks . . . Black activists were just as convinced it was their side that had been betrayed.
*
From:
Clout: Mayor Daley and His City
By Len O'Connor
*
On September 28, 1966, Daley put a major share of the blame for Chicago's racial troubles on the doorstep of the media. Speaking to delegates attending an international conference of the Radio and Television News Directors' Association, Daley assailed the media - especially television - for giving publicity to the "haters, the kooks, the psychotics" through "crisis coverage" of the civil rights demonstrations and other protest movements.
Daley blasted the newspapers along with others of the media for giving coverage to "frivolous and irrresponsible individuals who, in many instances, represent groups so small in number as to be practically non-representative."
Daley had his usual trouble reading the speech, but though the phraseology was foreign to his style, the message that the media was "managing" the news, "distorting and misrepresenting," allowing "irresponsible persons to make outrageous statements" was very much Daley's own."
Two months later, on November 3, there was yet another sign that His Honor the Mayor was taking the offensive; he angrily denounced Martin Luther King, Jr., for "trying to undo the Democratic party."
From Pharaoh:
Daley had one more idea for finessing the race issue. On the eve of the election, he announced that King had come to Chicago for the first time since the housing summit to urge blacks not to vote Democratic. He also claimed that [James] Bevel had urged blacks to abandon the Democratic Party. Daley's charges were untrue. King had actually been coming to Chicago almost weekly since the summit ended, and had scrupulously avoided taking any partisan political stands. But it was clear what Daley was up to: he was telling white voters not to worry that the Democratic Party had become the party of civil rights.
From Clout:
Daley had boasted in the early 1960s that he would eliminate the slums of Chicago by 1967; at the time that King was killed, the slums were more wretched than when Daley had made his promise. Public housing, funded by the federal government, was confined by the Daley administration to those segregated ghetto sites that Daley's friends in the real estate business did not want for more profitable development; indeed, it was Daley administration policy that all federal housing must be built in the ghettos.
If there is a proper and apt closing to the shameful episode of Chicago's response to King's assassination, it occurred in December 1973, when the Chicago City Council passed an ordinance creating a City of Chicago holiday, January 15, to honor the memory of the slain civil rights leader. Characteristically tardy and insensitive, the council acted for a city administration that had implacably frustrated the man at every turn while he lived.
*
From:
Boss
Richard J. Daley of Chicago
By Mike Royko
*
King decided to come to Chicago, [Rev. Arthur] Brazier said, "because he thought Chicago was unique in that there was one man, one source of power, who you had to deal with. He knew this wasn't the case in New York or any other city. He thought if Daley could be persuaded of the rightness of open housing and integrated schools that things would be done."
[Edwin] Berry, of the Urban League, one of those who briefed King on what to expect from Daley, said, "King thought Daley was a despot and that he ruled with an iron hand, regarding black neighborhoods as plantations to which he anointed his people as overseers. But King also thought that Daley was better than the people around him, and that Daley could be effective if he was convinced of the rightness of King's goals."
And what did Daley think of King?
Outwardly, he treated King with the respect due a world-renowned figure, a Nobel Peace Prize recipient.
But a party leader recalled dropping in on Daley in early 1966, when King was establishing his movement in Chicago. Daley had made a luncheon speech that afternoon, indirectly attacking King.
"Daley asked me what I thought of his speech. I told him: 'Was it necessary to challenge King? Why throw down the gauntlet?'
"He went into a wild rage about King. Oh, the things he said. He called him a dirty sonafabitch, a bastard, a prick. He said: 'King came here to hurt Douglas [Sen. Paul Douglas] because Rockefeller gave him dough, that's why he came here, to try to get Douglas beaten. He's a rabble-rouser, a trouble-maker."
*
Coming Friday: Daley torpedoes fair housing and courts the white backlash vote. The King campaign in Chicago comes to an end.
Posted by Beachwood Reporter at 4:24 AM | Permalink
January 17, 2007
Hump Days: A Mid-Season Review Parts 1 & 2
Lost and Jericho are gone for now and they've been replaced by mid-season shows that don't have many obvious synergies with their predecessors. A pair of comedies are on in place of an ultradramatic show about grim, grim survival. Meanwhile, a time slot where viewers have come to accept nuclear armageddon is now all about a gun-toting midget.
The first in a planned series of TV reviews as the "mid-season" unfolds until, like, March.
Part 1: Hump Day Humor
So ABC has decided to replace its vacationing Wednesday night stalwart, Lost - a show that routinely features images of torture, forced labor and mutilation by the effluvial hand of some vengeful island god - with two "quirky" down-on-their-luck comedies, The Knights of Prosperity and In Case of Emergency. Allowing for the fact that most pilot episodes of half-hour comedies spend most of their run time on exposition, neither one of these shows is very funny.
The Knights of Prosperity runs first and shows some vague promise of future amusement. The marginally-irritating but impressively committed Donal Logue stars as Eugene, a down-on-his-luck janitor who somehow decides that robbing Mick Jagger is the best way for him to get the money to open the bar he's always dreamed of owning. He assembles a rag-tag crew of predictable down-on-their-luck odd-balls, including the sex-obsessed Indian cab driver, the hot Latina waitress and the giant black guy. There's also a non-descript schlub and a dorky college kid recruited as an intern. If you ask me, they blew up the intern joke way too early. I could've gotten into a running gag about the many ways they find to keep him out of the loop.
Anyway, the most important thing is that none of these characters are likeable. None of them are really characters besides Eugene, and he's sort of a turd. The rest of the crew just spouts one-liners that want desperately to be edgy, but instead come up crass and derivative. If you lobotomized Arrested Development, you'd probably get something close to Knights of Prosperity. I cracked a smile exactly twice, at the follow two lines:
"I was born with a plastic spork in my ass, just like you."
"Bitch broke my heart."
Uh huh. The laughs didn't come so much from the humor of the situation as from two perfect line reads. There are likeable actors on this show, but with the exception of Logue they don't seem particularly excited about the material. When Mick Jagger consistently steals the scene, you have a problem.
Not nearly as big as the myriad problems plaguing In Case of Emergency. It handles the exposition better than Knights, but the concept behind it sucks. Four people who went to high school together - played by David Arquette, Kelly Hu, Greg Germann and Jonathan Silverman - magically reunite one night when they all realize they have no one else to call in an emergency. Actually, it's not that magical because two of the guys call the third guy who meets the girl at . . . you know what? It's not important. The point is that all four of them have pissed away their potential somehow and now find themselves down on their luck. And the creators decided to make the Asian woman a sex worker in a seedy massage parlor because that's exactly the type of guys they are.
I can't remember the names of any of the characters, except for Kelly Hu's because she's called Kelly. Oh, and I almost forgot; Lori Loughlin shows up as an emergency room doctor who seems up on her luck and has no chemistry with David Arquette. Since she's in the opening credits I assume she's going to be sticking around until this thing gets cancelled. I did not smile at all. Nothing was funny. If you lobotomized The Knights of Prosperity, you still wouldn't be close to In Case of Emergency. My VCR cut out the last couple of minutes. I do not regret this event.
I don't know why the ABC brass thinks that an audience addicted to the flash-backing skullduggery of Sawyer and Co. would be the slightest bit interested in these comedies. Surely a second run for The Nine or even Day Break would've been better than this. Well, maybe not Day Break, but still. I can't help but think someone decided Wednesday nights needed to be lightened up. It's Hump Day, after all. Who needs a bunch of gloomy plane crash survivors when there's still two days of work in the week?
- Natasha Julius
Part 2: Armed and Disingenuous
I'm going to say right off the top that I rarely, if ever, watch reality shows. I don't like their cheapness. It pisses me off that writers are being put out of work because of these things, which invariably pander to the worst in TV audience sensibilities. So I'll just say it: They lower the bar for civilization.
And now that I have said that, I also have to say that Armed and Famous wasn't nearly as bad as a piece of reality show art as I thought it would be. Of course I had no illusions that it would have anything of worth to say about police work, the cult of celebrity or the hardscrabble lives of the poor, mentally and physically disfigured Indiana drunks and drug addicts it so mercilessly exploits. In that I was not pleasantly surprised.
But from the advance reviews I had been reading, I was thinking that it would also be incompetently filmed as well. Not so! Armed and Famous was slick and very professionally done, and if you judge by those standards, it was a success. The directors have taken advantage of improvements in the evolution of the hand-held camera technique to raise the Cops-style shirtless-drunk-getting-cuffed ritual to new heights. Kudos to them for that.
In its mid-season role, it's replacing CBS' surprise hit Jericho, which, for some reason, isn't coming back until Feb. 21. It's a case of a once-fading but now returning genre, the reality show, replacing a fading-but-still-fading genre, the serialized scripted drama, a la 24 and Lost.. Jericho was one of the few winners in a fall season full of those suckers. I gave up on it, though, because rather than being the pure, spooky sci-fi/nuclear survival show I thought it would be (I was hoping Invasion), it turns out to be only half that, with the other half being that same old, tired CBS "family drama" we've all come to know and loathe. Basically it's about learning poignant life lessons from Dad as he helps puts down a panic run on the grocery store. In that respect, the mid-season thinking at CBS seems to be, nuclear war isn't "real" enough. La Toya Jackson wielding a Glock, however, is.
Of the Z-list celebs that take the police plunge in Armed and Famous - Erik Estrada, Jack Osbourne, Jason "Wee Man" Acuna, Jackson and Trish Stratus - it goes without saying that career survival is first and foremost on their minds, and seeing them each subjected to painful Taser-ings during their cop training was so sweet it was worth the hour of my life I used to watch this show. Like all reality show stunts, it appealed to something in me that I'm ashamed of. And yet, seeing someone as annoying as "Wee Man" writhe in agony for a few seconds gave me the distinct impression that even as they were ripping me off, the producers of this show sympathized with me for the countless hours of worthless celebrity culture crap I've been subjected to for years, and said, "Here, enjoy this, just to show you we're not all bad."
After one episode, here's my A&F celebrity scorecard:
Estrada - Still desperate to hang onto Ponch. This is just another infomercial for him, but one where he gets to say he loves cops and also gets to harangue "criminals" both because they recognize him and because they don't (while filming a future episode, he got into a obscenity-laden shouting match with a perp who kept calling him Emilio Estevez).
Jackson - The most telling scene with her is when she calls her brother Jackie on her cell, and putting it on speaker, tells him that, oh, by the way, she's joined a police force and she's going to put herself in the line of fire. After a stunned silence, Jackie sounds really concerned. Like the rest of us.
Osbourne - Jack really seems to have cleaned up. He looks completely sober and, Christ, he could really shoot a gun. I actually think he could make a decent real cop. I was encouraged for him; he seems like he could escape the fate of so many talentless show biz offspring. But then again, what's he doing on this dumb show?
Acuna - Judging by the way this "little person" stirs up trouble, it's only going to be a matter of time before someone flings him out the window of a monster pick-up. Please nip this in the bud before we have to hear about Wee Man's stirring comeback from Viagra addiction.
Stratus - She's a wrestler with a heart of gold. She also will probably end up being a real cop. More power to her because she showed she could actually sympathize with some folks who got burned out of their house and home at Christmastime. Could there possibly be a real person on this reality show?
- Don Jacobson
Posted by Don Jacobson at 4:12 PM | Permalink
The [Wednesday] Papers
Between the Bears and Obama, I think the Chicago media might spontaneously combust. In fact, my Chicago Sun-Times is bursting into flames at this very moment.
News Review
Tribune: "What Obama Must Do To Win" represents one of the worst attributes of modern political reporting: the insistence of journalists to assume the role of political strategists. In so doing, the media moves onto a different playing field with a different set of rules and values and forgets to do its job. For example, when journalists advise that a certain candidate will have to move right or left during a primary and then to the center during a general election campaign, they are playing the role of political strategists. But the role of journalists is to detect - and decry for its dishonesty- such movements and expose them to the light of day. Political strategy is almost always dishonest and manipulative. The job of the journalist isn't to show savvy by demonstrating an understanding of the sophisticated techniques involved, but to expose the manipulations for the lies that they are, and stand on the side of citizens demanding transparency and honesty.
Sun-Times: In "Move Offers 2 Chances To Get Coverage," local Democratic strategist Kitty Kurth explains why Obama is announcing just an exploratory committee now, and will announce his actual candidacy later: "It gets you two bites of the apple at getting press. You guys will cover this, and when he does announce, you guys will cover that."
In other words, because the media are a bunch of suckers who are consistently outsmarted by the people they cover, yet continually fail to adjust.
But why stop at two bites of the apple? Why doesn't Obama just keep issuing numerous proclamations about running in order to maximize content-free but cost-free publicity? Oh wait, that's what he's been doing.
Homers
Besides, I thought there was no cheering in the press box.
Or do you want to be known as just the latest example of a local backwater press corps that had to rely on the national media to properly vet one of your own?
Pundit Patrol
* Mark Brown: "I expect Democratic voters to prefer Obama over Hillary Clinton because - if they had a choice - they'd rather not relive the Bill Clinton days."
Yeah, nobody much wants to relive those days.
"They'll prefer Obama to John Edwards," Brown continues, "because they still haven't spotted that something extra in Edwards."
Except when they see how superior a speaker Edwards is to Obama.
* Tribune editorial page: "Here are some names and numbers to remember from March 2002: Al Gore (26 percent), Hillary Clinton (19 percent), Tom Daschle (8 percent), Joe Lieberman (7 percent), John Kerry (6 percent), John Edwards (2 percent), and Howard Dean (1 percent).
"That was the lineup based on polling support for candidates two years before the 2004 presidential election."
Which is just about where we are now in the 2008 cycle.
* Michael Sneed: "By the way, word is Obama will base his national campaign in Chicago."
Forgive Rip Van Sneed, she just woke up.
* John Kass: "In a video release, he said he was considering a campaign 'to change our politics,' and I wondered how an adoring press corps will finesse and reconcile that one, what with the Daleys of Chicago clinging to him now."
What, you don't recall Obama trying to change the politics in the cesspool that is Springfield, and urging the mayor to clean up City Hall?
Actually, I don't either. Has Obama said a single thing about 17 years of City Hall corruption? My guess is that, with the Daleys and the rest of the Machine aboard, the answer is No - and will continue to be.
* Kass continued: "Not all reporters prance when Obama's name is mentioned, but there are more than a few. I'm thinking of those who are so enraptured that they write in prose evoking the excited shrieks of adolescent girls squealing at the Beatles when Obama was a child." (second item in link)
* Neil Steinberg: "Kass is a genuine fraud."
* Neil Steinberg (third item): "Let me explain the appeal. Look at the stiffs the Democrats have put up for higher office: John Kerry. Al Gore (who might be a tousle-haired prophet now but came off like a wooden board when it counted). Then skip the aberration of Bill Clinton and we have Michael Dukakis and Walter Mondale."
As opposed to Republicans in that same time frame like George H.W. Bush, Bob Dole, and George W. Bush.
But yes, let's take a look. John Kerry is a bona fide war hero who has been a national leader since Vietnam and is undoubtedly smart, despite whatever personality flaws we might like to think we see. Al Gore actually won the 2000 election, so yeah, what a stiff. And by the way, people who have been paying attention and actually observing for themselves rather than just repeating what they read elsewhere know that Gore has had the best sense of humor in the business and been a terrific speechmaker (better than Obama) since at least the 1996 Democratic convention, here in Chicago, if not earlier. To use the word "wooden" is just to lazily join the ranks of other hacks who don't bother to figure things out for themselves. Michael Dukakis was a fine candidate who was Willie Hortoned, just like John Kerry was Swift Boated. And Walter Mondale, by the way, may have been blown out by Ronald Reagan in 1984, but I wonder if Steinberg ever saw him speak. Hardly a stiff, and unlike Reagan, he had a brain that was not only functioning properly but stored factual data instead of fantasies.
See, that's the thing about Obama. What our politics needs right now isn't Oprah-in-chief, but maybe a really boring, dull "stiff" who can actually do the job. Politics - public policy - is serious business (you might say it's the business of life and death) and blindly rushing into a cult of personality in a celebrity-obsessed soap opera state isn't exactly a great direction for an already troubled democracy to go in.
* Michael Tackett: "Clinton, most notably, represents the politics of a polarized era that has defined at least the last decade of American politics. Count Kerry and former Vice President Al Gore as marked by that era as well."
Is that really what Hillary Clinton represents? Or does she represent one of the nation's foremost - even bipartisan - leaders with a Senate tenure far more realized than that of Obama?
And what/who made the Clinton era "polarizing"? Bill Clinton was a centrist who enacted much of the Republican agenda (balanced budget, welfare reform, NAFTA, capital gains tax reductions, expansion of the death penalty) and famously took a Third Way approach to politics that a far slighter Obama only dreams of mimicking. It was the rabid, loony-tunes right, enabled by a cowed, shallow, and inept media, that was polarizing, and continues to be, dividing the nation by rich and poor, black and white, native-born and immigrant, patriots and traitors.
But yes, Bill Clinton was certainly divisive, though less than any other president in modern history.
* More Tackett: "After midterm elections signaling a call for change, Obama is trying to offer something different, a kind of politics that relies less on maximizing the votes of your supporters and more on the idea of bringing in folks from the middle, or even the other side. It sounds appealing in theory, but Bill Clinton is the last Democrat to do it successfully on a national level."
Oh. But didn't you just tell me we don't want to go back to that divisive era?
* More Kass: "Putin will eat him for breakfast, [the Clinton camp will] say, ignoring the fact that Hillary's co-president, Bill, lavished a Michael Jordan-autographed basketball on Kim Jong Il in hopes of keeping North Korea away from nukes."
Well yes, but the ball trick worked. North Korea didn't acquire nukes until Kass's boy, George W. Bush, took his eye off the, um, ball.
Wag Wager
At the end of a recent column rehashing Republican talking points alleging that Democrats had no solutions of their own on Iraq (I guess Joe Biden's partition plan, Dennis Kucinich - and John Edwards' - immediate withdrawal plan, Joe Lieberman's stay-the-course plan, and the various other redeployment plans as well as endorsements of the Iraq Study Group's recommendations don't count), John Kass tacked on this:
"Note: Recently I wrote that if Michelle Obama's husband is ever elected president, I'd bet my White Sox tickets that she wouldn't keep 800 FBI files of political opponents in a White House bedroom. I didn't mention former First Lady Sen. Hillary Clinton by name, but the meaning was that the Obamas wouldn't ever be as embarrassing as that other couple. But I've been reminded by Steve Rhodes of The Beachwood Reporter and others that independent counsel Robert Ray concluded there was no credible evidence that Hillary was involved in Filegate. So thanks, Steve. I was wrong. I'll bet you my Sox tickets that Michelle Obama won't make a fortune in cattle futures from a $1,000 investment."
A) No, but she already got a $1.65 million home and adjoining lot with a little help from Tony Rezko.
B) No, and her daddy won't get her a job in the oil bidness either.
C) Wager accepted, though I don't much like the Sox, so let's get dinner at the next Daley fundraiser the way you did with Dorothy Brown. It will be more fun to be back on common ground again.
The Beachwood Tip Line: Your antidote to the hype machine.

Posted by Beachwood Reporter at 8:35 AM | Permalink
King in Chicago: Part 2
Excerpts from:
American Pharaoh
Mayor Richard J. Daley
His Battle for Chicago and the Nation
By Adam Cohen and Elizabeth Taylor
*
Previously:
Part 1/Daley mobilizes black machine politicians to undermine King's efforts here.
*
Coming back from an eight-day vacation with Sis and four of the children to the Florida Keys and Puerto Rico, Daley declared at the San Juan airport that there were "no slums" in Chicago, only "bad housing." In a January 26, 1966, taped television appearance, he predicted that all of the city's blighted buildings would be eliminated in the next two years.
Daley insisted that he was working as hard as anyone to improve conditions in Chicago's poorest neighborhoods. "All of us, like Dr. King, are trying to eliminate slums," he said. "Elimination of slums is the No. 1 program of this administration, and we feel we have done more in this field than any other city."

. . .
When he returned ot Chicago, he held a joint city-county press conference on February 10, 1966, at which he committed to "the full power and resources of the city to be used in an unlimited way to erase the slum blight." Daley's timetable was speeding up: now he said his goal was to wipe out all slum housing in the city by 1967.
. . .
It was obvious that his anti-slum campaign was an effort to co-opt King and the SCLC, but Daley denied it. "We have been doing much code enforcement and placing many buildings in receivership long before Dr. King arrived in Chicago," he said. If the city seemed to be stepping up its efforts, it was only because new laws were now available for use against landlords, Daley said.
But the Republican sponsor of a law making it a felony for landlords to violate the building code, state senator Arthur Swanson, said Daley had never bothered to use his substantial legal authority to take on slum conditions until King arrived in town.
. . .
Though King never asked for a police guard, Daley arranged for him to have full-time protection every time he came to the city. But Daley's hospitality had its limits. When Alderman Leon Despres introduced a resolution inviting King to address the City Council, Daley's floor manager, Tom Keane, immediately shouted "sub-committee," sending the resolution to oblivion."
. . .
Daley was finding it increasingly hard to keep his real feelings about the civil rights movement in check. Even as he spoke about his commitment to improving slum housing, he began to argue that the Chicago Freedom Movement was overstating the extent of the problem. "Look at 35th and State Street," he said, referring to a once-run-down area that had been razed to build public housing. "I lived there and went to school there. It was one of the worst areas in the city, but what do you see now?"
In fact, most people still though it looked pretty bad.
In private, Daley was even less restrained in his attack on King and his followers. At a closed-door meeting of the Cook County Democratic Central Committee in mid-April, Daley told machine leaders that King and his followers were simply trying to "grab" power. "We have no need to apologize to the civil rights leaders who have come to Chicago to tell us what to do," Daley said. "We'll match our integrity against their independence."
. . .
While both sides worked toward some process for entering into negotiations, the marches continued, and the violence in the neighborhoods grew worse.
. . .
"I've been in many demonstrations all across the south, but I can say that I have never seen - even in Mississippi and Alabama - mobs as hostile and hate-filled as I've seen in Chicago," King said afterward. "I think the people from Mississippi ought to come to Chicago to learn how to hate."
. . .
King and the movement's more moderate leaders wanted to participate in [Daley's proposed] summit. King argued his position with what seemed to be an almost naive belief in the possibility that Daley could be converted to the cause. Daley "is no bigot," he told other members of the Freedom Movement, but he "is about my son's age in understanding the race problem."
. . .
After considerable debate, the Chicago Freedom Movement agreed to negotiate.
*
Coming Thursday: In public, Daley tried to treat King with deference. In private, he called him a dirty sonafabitch, a bastard, and a prick.
Posted by Beachwood Reporter at 6:07 AM | Permalink
What I Watched Last Night
Just when you think you've gotten over the fear of flying, driving over suspension bridges, nuclear power, and riding in submarines, The History Channel airs Modern Marvels: Engineering Disasters. Here, we get an astonishingly simple explanation of how Engineering Disasters happen in the first place: Say you're zooming your way home 12,000 feet over Iowa and there are 473 little things going wrong at once. If those 473 things are just happening all willy-nilly, the worst that will probably happen is you'll end up taking a shuttle bus home from Gary. But if they all go wrong in a very particular order, you can pretty much count on a front row seat to the asphalt ballet.
We also learn from the show that there's nothing inherently life-threatening about major transportation products or civil engineering projects that have substandard components that blow up, fall apart, or ice over. That is, as long as there aren't too many other substandard products just like yours right next to them. So kids, the next time you're in class thinking you couldn't possibly have any use for advanced math or statistics in everyday life, credit most of your continued daily existence to it.
While the Chernobyl disaster in 1986 shows what you get when you go monkeying around with a nuke plant's atomic reactor turbine generators just to see what happens, you can't beat good old-fashioned laziness or ego to create the most stunning displays of engineering snafus. The day before California's St. Francis Dam collapsed in 1928 and sent a 125-foot wall of 12 billion gallons of water to drown more than 600 people in their beds, chief engineer William Mulholland inspected it and proclaimed that water leaking around his dam was "normal." When custom-built pieces of the The Hartford (Connecticut) Civic Arena roof didn't fit right, builders decided to prove that you can shove square pegs in round holes if you just try hard enough. Six months later in 1978, just hours after 5,000 hockey fans cleared out, the roof fell in under the weight of a snowstorm.
Nobody knows how many thousands of American soldiers died needlessly during World War I because of the Chauchat, our government's standard issue automatic rifle at the time. The Chauchat was a gift from France for Chicago Mayor William Hale Thompson threatening to punch England's King George in the snoot, and historians unanimously agree is the worst firearm ever conceived both in form and function. Mud from the trenches packed the open-design magazine, and the thing was manufactured so horrendously that no two were ever alike. As one talking head put it, the only upside to the Chauchat was that you could "take the parts off it and make a still."
Meanwhile, the British were efficiently killing Germans with the highly superior Browning Automatic Rifle. Uncle Sam stubbornly stuck with the Chauchat to prevent the BAR from falling into German hands, never quite grasping the concept that a BAR is totally useless in the hands of dead Germans.
New York bridge designer Leon Moisseiff, a consulting engineer on the Golden Gate Bridge project, promised a more elegant and cheaper-to-build Tacoma Narrows Bridge over Puget Sound by sinking support girders eight feet into the ground instead of the original 25 feet specified by Washington state's blueprint for a "tried and true" design. The thing ended up being so elegant and gorgeous that engineers everywhere were introduced to brand new concepts known as mechanical resonance and torsional flutter when the whole mess fell apart in highly dramatic fashion in 1940. Quite simply, it's what happens when you don't give the wind enough room in a major windstorm.
Finally, Engineering Disasters happen because nobody really knows any better. We take uneventful rocket liftoffs for granted these days unless maybe it's one of our own space shuttles going up, but back in the day, sending up a rocket was like blowing up a toy balloon, not tying it at the bottom and letting it go. During the 1950s, fellows like Robert Goddard and Wernher von Braun (who developed the V2 rocket for Germany) envisioned putting a man on the moon, but were still pretty hazy on exactly how to go about it. It took everyone awhile to figure out that motors and nose cones melt when you light up a shitload of liquid oxygen, so the segment on rocket development was gleefully full of rockets falling over, exploding in mid-air, crashing into the ground nose-first, or just careening around end over end.
*
Team Squirrel might be "World Famous For Dicking Around" on the Fox Reality channel, but as even the six Scottish lads who make up this group of dipshits will probably concede, the village of Cairneyhill is a small world indeed. If anything, this program shows there are jackasses all over the world willing to light themselves on fire and squeeze lemon juice in their eyes for, well, nothing.
So which came first, Dicking Around or Jackass? Not that it actually matters much, but the Dicking Around segments were filmed during 2002 (Jackass ran on MTV from 2000-2002), but Team Squirrel's homemade videos had become quite popular across the pond by 1998. Which again proves that in this country, there's no such thing as an original TV idea.
Anyway, the bunch is made up of six lads who go by the Jackass-esque names of Burkey, Fat Rossco, Smith, Cautious Dave, Jimmy Pube Face, and Vaseline Boy. Their dream is to prove they're good enough to score a trip to Hollywood by impressing actual, respectable movie and stunt directors with activities like a human barbecue, using one of them for target practice at the golf range, and going for a tumble in a clothes dryer. The reactions from the director-stunt guys range from outright amazement to outright laughter.
Basically, though, there's one major reason these guys aren't world famous. It's not because Jackass did the exact same stuff better. It's because the world can't understand a single damn word anyone in Scotland is saying.
*
Posted by Beachwood Reporter at 12:45 AM | Permalink
January 16, 2007
The Blue & Orange Kool-Aid Report
In some ways, Sunday left me a shell of a man. Certainly, I expected the Bears to win, but I thought they would do so in a more dominating fashion. Then my bandwagon team, the Chargers, made a mess in their pants. And after the games, 60 Minutes broadcast an interview with President Bush. What a crappy day.
Nothing was right with the world. Not even W's wardrobe.
Bush wore a lightweight green jacket, specially equipped with the Presidential seal and his name "George W. Bush" embroidered below. This struck me as odd. No matter your level of political knowledge, I'd like to believe that most folks watching know who he is. Why put your name on your clothing when you're the president?
That got me to thinking. To avoid confusion, here are my suggestions for what some Bears ought to get sewed into their clothing under the team seal.
Lovie Smith: "In Dusty Rexy We Trusty."
Ron Rivera: "31 Flavors of the Cover 2 defense."
Ron Turner: "Next Stop, Joey Harrington."
Rex Grossman:"Scapegoat."
*
New Orleans at Chicago
Storyline: The great Saints offense faces the (used-to-be) great Bears defense.
What They Forget To Tell You: The Saints dispatched a hot Eagles team, and the Bears allowed 24 points to a less-than-stellar Seahawks offense. Let's revisit my preseason summary regarding the Bears:
"It's analogy time, Bears fans. I'm just saying it's time to put the glass of Kool-Aid down, stop adding so much sugar, and thank your lucky stars you play in the NFC North. If your team played in the AFC North, you would be called the Baltimore Ravens."
And look what happened to the Ravens - They played a hot defense, they failed to stuff the run, they failed to protect the ball.
On the other hand, the Bears dodged bullets against a noticeably inferior team, scoring only 24 points in regulation against a beat-up defense with a bank officer in the secondary; failing to stuff the run; and losing two of four fumbles.
Like the Ravens, it's all over this week.
Pick: Saints plus 2.5/Over 42
*
For Bears win:
Sugar in the Blue and Orange Kool-Aid: 60%
Recommended sugar in the Blue and Orange Kool-Aid: 35%
Sugar in the Super Bowl pitcher: 50%
Recommended sugar in the Super Bowl pitcher: 10%
*
For more Emery, see the Kool-Aid archive, and the Over/Under archive. He can be contacted at Eric_Emery12345@yahoo.com.
Posted by Beachwood Reporter at 5:38 PM | Permalink
Over/Under
I spent a few minutes simply staring at the TV after the Patriots defeated the Chargers. It wasn't just that I thought the Chargers would win; it was that they were my bandwagon team. And according to the rules, I cannot jump to a new one. I am done.
So what do you do when your bandwagon team's season is over, but the season isn't? Let's review.
1. Learn your lesson. Vow you will not jump on that team's bandwagon for three years. That is, unless the offending coach leaves. Call it the Schottenheimer Rule.
2. Call a true fan to offer condolences. Make sure you mention at least three plays that lead to the loss. Also mention one player that you feel bad for. Finally, vilify the victorious team. At this point, count on your friend being in the "anger stage" of the seven stages of grief. Never say "I know how you feel." Especially if your team won the Super Bowl last year.
3. You can still be a hater. Certainly, you may not cheer for any other team, but you may cheer against a team. Additionally, if your favorite team has a sordid history with the perspective team you are considering hating, you are encouraged to hate said team. Good: The Steelers lost to the Patriots twice in the AFC Championship. I've heard enough about Belichick. I hope the Patriots get crushed. Bad: I guess since the Packers didn't make the playoffs, we might as well see an NFC North team do well. Saints suck!
4. Jump conferences. You aren't beholden to hating within your conference. With the Chargers out, I am not allowed to jump on the Saints' bandwagon, but I am totally free to hate the Bears.
5. Let it go. All this hatred helps you forget that not only did your favorite team let you down, but the team whose bandwagon you jumped on betrayed you as well.
Early Super Bowl Outlook
Let's look at the possible matchups.
Indianapolis/New Orleans. Mellencamp vs. The Neville Brothers. More Nevilles, and more muscular too. Saints win.
Indianapolis/Chicago. The Border War. Mellencamp vs. Kanye West. West turns truck ditty into a real song. Bears win.
New England/Chicago. Rematch of Super Bowl XX. Brady better than Eason/Grogan; Grossman worse than McMahon. Pats win.
New England/New Orleans. Haves vs. have-nots. Saints sickened by Patriots' ownership of the means of production. Saints win.
*
New England at Indianapolis
On one hand, Indy fans rejoice because they play at home. On the other hand, they frown because they play the Patriots.
As for the dedicated football fan, we're left to ponder whom we hate more: the overexposed folksiness of Peyton Manning or the overexposed brilliance of the Patriots.
Choose a team to root against, then pray for an NFC upset in the Super Bowl.
Pick: Indianapolis minus 3/Over 48
*
Last Week: 0-4
Regular Season: 45-52-3
Total: 45-64-3
*
For more Emery, see the Kool-Aid archive, and the Over/Under archive. He can be contacted at Eric_Emery12345@yahoo.com.
Posted by Beachwood Reporter at 5:00 PM | Permalink
What I Watched Last Night
When I was a kid, Mystery Date was a board game popular with the neighborhood girls. The object, if I recall, was to see whether you wound up with The Dreamboat or The Dud when you opened the white door. Monday night, Lifetime Television brought something like this to television with Gay, Straight or Taken?
Nobody has ever told anyone at Lifetime that women have already been playing this game for ages in drinking establishments throughout the industrialized world, so now we've got this show. As we might imagine, they aren't any better at guesstimating who might be gay, straight or taken on television than they are in real life.

The premise of the show is simple: Find a reasonably good-looking woman, sit her down in front of three guys from a Brawny Paper Towel audition, and have her choose the one that floats her boat enough to accompany this complete stranger on an undisclosed vacation of some sort for an undisclosed duration at some undisclosed location. At least the hair on the back of your neck didn't stand on end for the bachelorettes on The Dating Game because Jim Lange always laid out the chaperoned itinerary.
But what's a reality show without the element of surprise? Here, the unsuspecting women are ambushed with a cell phone call that one of the Brawny guys is gay and one's already involved with a woman, leaving them to figure out which Brawny guy will eventually never call her again. Not only that - wheeee!!!! - she gets ambushed again when those calls are made by the girlfriend and boyfriend of the spoken-for Brawny guys, who inform her that if she picks their man for her own, they get her trip.
In the first episode, cutie Nashville nanny Kara meets Robert, Ryan, and Nick. They're no help at all because nobody's conforming to stereotypes like wearing rings, lisping, or dressed like anyone in The Village People, and they're all making ambiguous statements that gay and attached guys alike could make, such as liking children and being engaged once. Everyone knows men are lying bastards anyway, so Kara must resort to the state-of-the-art Gay Attached Manly Single Guy Detection System developed specifically for Lifetime by the U.S. Department of Homeland Security: a ballet lesson, making ceramics, target-shooting blindfolded with a crossbow, and line-dancing.
How the show's developers neglected more accurate tests, such as dressing in the dark, choosing to decorate a room with or without neon beer signs, and cooking a meal that doesn't involve a can opener is beyond me.
When all this fails to give Kara a clear idea, the final Double Secret Detection Weapon is unveiled: inspect the contents of their travel shaving bags. Naturally, she's confused by the notion that for some of us, Jewel bags aren't luggage, we're completely aware that skin moisturizer and shower gel can help keep us from turning into dried-up hags, and a good manicure set helps keep our toenails and fish-scaler foot calluses from turning someone's $200 investment in a set of Egyptian cotton bedsheets into shredded rags.
In the end, Kara picked Robert to enjoy her vacation in the company of his rather unremarkable-looking girlfriend.
Since Lifetime is clever enough to sense a theme to its programming, both episodes of Gay, Straight or Taken? were followed by Shall We Dance, a Richard Gere/Jennifer Lopez film that has gay and straight men in it, too.
*
We observe something on Monday night's E-Vets: Things Pets Swallow on Animal Planet: Pets are stupid. The people who own them are stupider. Which is the only way dogs are able to practice their jobs as sword swallowers in the circus act with foot-long sticks.
The emergency room vets at the Alameda East animal hospital are as befuddled as anyone else over what possesses dogs, ferrets, rabbits, and even iguanas to eat inanimate objects like treble hooks still tied to a strand of monofilament, zinc coins, an entire bottle of Motrin, big erasers, nails, Christmas ornaments, and padlocks. My girlfriend is one of the befuddled, too:
Me: There was a dog that ate a couple of those big round river rocks people use for landscaping.
Her: What kind of asshole dog does that?
Interesting vet trivia: 1) Pigs ears are scary, and 2) rabbits can scare themselves to death.
*
Is there any Samuel L. Jackson movie in which he doesn't play angry, yelling black guy? Last night, he was angry, yelling black alcoholic guy with no credit and no family on the FX Network in Changing Lanes. Later, Michael Keaton was on WE TV as a laid-off Detroit car engineer forced to become Mr. Mom when his homemaker wife goes to work for an ad agency. Left to his own devices, he explores the fascinating world of soap operas, coupon poker, personal grooming, and Ann Jillian.
For more What I Watched Last Night.
Posted by Beachwood Reporter at 4:05 PM | Permalink
The [Tuesday] Papers
1. "The game opened with the Chicago Bears as 3-point home favorites over the New Orleans Saints, but by Monday morning the odds were all over the place," reports Covers.com.
That's because the only thing that prevents the Saints from being the favorites is the Bears' home field advantage.
2. And yet, this year's Saints are better on the road (6-2) than at home (5-4).
So this is where it ends, Bears fans.
3. Thought while looking at Paige Wiser's Golden Globes red carpet report in the Sun-Times: Black-and-white newspaper pages might as well be black-and-white TVs.
Especially when it comes to, um, a photo-driven feature. Newspapers: Bringing you yesterday's technology tomorrow.
4. "We've got a fight on our hands on every issue that we bring to City Hall," local union leader Dennis Gannon tells the Tribune.
5. "I can 'Bearly' contain my excitement over the Bears kicking the Seattle Seahawks' butt on Sunday with a 27-24 victory that went into overtime," writes a well-paid adult columnist for a (theoretically) major metropolitan newspaper. "Words simply can't describe this city's collective glee and joy over that win, which puts our Bears in the NFC Championship Game Sunday against the New Orleans Saints at Soldier Field. I am 'Beary' happy . . . because they are 'UnBEARlievable!'"

6. SMU isn't sure it wants the George W. Bush library after all. "How would the institute affect the intellectual integity of SMU?" one faculty member worries, according to a New York Times report.
"Once completed the $500 million George Bush Library will become the number one (#1) US edifice terrorist target in the world," a lawyer who lives near SMU wrote to the mayor of Dallas.
Another local wrote to the Fort Worth newspaper that Dallas was already infamous for the JFK assassination; "now it probably will be known for honoring the worst president ever."
Maybe they should just build it in Crawford, where no one will have to see it.
7. "The worst thing about Islamic oppression of free speech is that it muzzles both believers and non-believers alike," Neil Steinberg writes.
Christian and Jewish oppression too.
8. Does the 17 percent across-the-board cut Todd Stroger is asking for include his salary and the salaries of county commissioners? (inspired by Barry Aldridge)
9. The Tribune produced a smug editorial on Saturday about Chinese officials telling merchants to be cordial to visitors for the Olympics in the Beijing - as if something like that would never happen here. "And so we have another reason to bring the Olympics to Chicago: Midwesterners don't need a crash course on how to be kind to strangers," the paper proclaimed.
Yes, Chicago is so well-known for its friendliness to outsiders.
And aren't we the place that doesn't want nobody nobody sent?
And since when does Chicago represent "Midwestern values" anyway? I mean, this isn't Iowa.
10. "The Tribune and other newspapers have been repeating the administration's comparison of George Bush and Harry Truman without underlining its utter absurdity ('In Policy Mirror, Bush Reflects On Truman,' News, Jan.7')," writes Melissa Macauley, associate professor of history at Northwestern.
And aren't the same people on the wrong side of history in each instance?
11. "Cheaper Drugs Would Come At A Steep Price," Peter Pitts writes in the Sun-Times.
Yes, that's right. More inexpensive drugs would be bad for us.
Just who is making such a counterintuitive argument? Pitts is identified at the end of the piece as director of the Center for Medicine in the Public Interest. What the Sun-Times doesn't tell you is that the "center" is funded by the drug industry and/or health-care corporations. (Its advisory board includes Joseph Bast, president and CEO of the Heartland Institute, a Chicago-based right-wing think tank where Sun-Times business editor Dan Miller was once an officer.)
It didn't fly in Kansas City, and it shouldn't fly here.
12. "Ex-Cons OK'd To Run For Alderman."
A) Current cons, too.
B) Future cons, too.
C) Other offices, too.
13. So Virgil Jones gets to run for alderman again. "It means to me that since I am a believer in the God of Abraham, Isaac and Jacob, that there is still a God that does not allow injustice to prevail," Jones says.
A) Because injustice has never prevailed in this world.
B) Because we all know how, with everything else going on the world, God was particularly concerned with Virgil Jones' ballot status.
C) Or maybe God just has a soft spot for ex-con ex-aldermen.
D) Or maybe Satan won this round.
14. By the time FBI agents entered the home of Ald. Arenda Troutman, documents had been shredded and, apparently, drugs had been flushed down the toilet - a drug-sniffing canine reportedly "alerted" in the bathroom.
Jeez, maybe next time the FBI should call ahead and make an appointment, or just let Troutman do the search herself.
15. "The alderman says she's easy to find since she has an open-door policy," Steve Warmbir writes in the Sun-Times. "A process server in a federal lawsuit, though, has a different story."
16. The best music writer in the city strikes again.
17. "3% Raises for Metra Chiefs."
Why do the folks who think raising the minimum wage costs jobs remain silent when the wages at the top of the scale are raised? Don't those raises also put people out of work?
18. "Most young people in Chicago have never witnessed a mayoral debate in their lifetimes," writes Brian Brady, executive director, Mikva Challenge. In Baghdad, either.
Where are civic leaders - Abner Mikva, this means you - calling on Daley to debate? Calling on him to clean up his act, in fact? What kind of leadership is that? Think about what young Chicagoans are learning about how politics works? How government works?
19. Meet Terry Peterson - Daley's campaign manager.
20. As a new Chicago resident, Jeff Clauser has some observations about the way we drive that he'd like to pass on.
(Apparently Clauser hasn't been in town long enough to learn from the Tribune editorial page that we're all about Midwestern heartland values around here.)
The Beachwood Tip Line: UnBEARlievable!

Posted by Beachwood Reporter at 7:43 AM | Permalink
No Hugs On The CTA
In a recent contribution to Jargon Chicago, former non-Chicagoan Amber Hussung writes a short essay on the state of morning-commute CTA passengers. "Before I moved to Chicago, a friend from Boston told me that people make a point of looking as miserable as possible on public transportation," she writes. "I never really believed it. But then I rode the CTA everyday and saw it for myself."
Not content to let folks like Bob Geldof and the late Fred Rogers corner the market on volunteering helpful ways to improve the world, Hussung closes her essay thusly: "So I propose this: Start a conversation with a complete stranger on the CTA today. After all, it's an easy way to pass the time, and, slowly but surely, we can bring pleasant back to the commute."
Silly girl.
Bring pleasant "back" to the commute? I was raised in Chicago, and I've had countless encounters with the CTA. Commutes have never been a pleasant undertaking. Not even during the 1960s, when everyone was on dope and had an actual reason to be pleasant. Really, the only commute that remotely resembles the common definition of pleasant would be the Friday evening ride out of the city into Northwest Indiana on the South Shore Line. That's because a fair percentage of the riders are hooched up.

As Hussung accurately observes, "There are unwritten rules of the city, circumstances and behavior that aren't questioned and are, perhaps, not even noticed." This is true in Chicago or any other major metropolitan burg where anyone has free access to all manner of illegal weaponry. This is why unquestioned circumstances and behaviors were invented in the first place. It's called self-preservation. Contrary to what Chicago writers who are *still* whining about Marshall Field's might say, Chicago is not a town of friendly, happy people. Of course, we're friendly once we know you; anything other than that most always involves a tip, a commission, alcohol, or a patronage job. Really, we're no friendlier than the people of New York City. They're just able to get away with being openly hostile to the world because, quite honestly, everyone there just scares the living shit out of you.
True, there's a difference between casual eye contact and the piercing stare of a psychopath, but who determines where that line in the sand really lies? When the person next to you might be on the lam from Cook County Jail, most of us would rather not press our luck, especially in a confined space. Start a conversation with a complete stranger on the CTA today, my ass. Nothing rewards social experimentation like finding yourself lying on the floor of the bus trying to keep your innards from spilling out a gaping belly wound.
However, the greatest act of self-preservation for most people, if given the choice, would be to avoid the CTA and their sullen commuting brethren completely. This is especially true in the winter, when the CTA is a reminder of what commuting by immigrant boat was like. If the constant threat of lice, someone vomiting on your shoes, and whatever lung fungus everyone's hacking up doesn't put a chill in your day, nothing will. But this choice isn't available to most of us, so riding CTA is a daily reminder of the great divide between the haves and have-nots. If we had enough money or an expense account, we'd take a cab. If we had a chauffeur, we'd have someone drive us. If we had a job closer to the train station, we'd laugh in the face of the danger from being impaled by falling skyscraper icicles and walk.
But there's a much simpler reason everyone riding the CTA looks so miserable: We are miserable, because half of us are just too damn tired, and the other half is hung over. When you're lugging around baggage like that all day, the earbuds of an iPod is a natural and acceptable defense. Besides, if you can pull off looking miserable or dangerous enough, nobody will sit next to you, and you can use the vacant seat to stretch out.
Living in the city, there's just some things you learn. And when you learn, you live to ride another day. It's our own Circle of Life thing.
When Scott Buckner isn't riding the rails, he's watching a lot of TV.
Posted by Beachwood Reporter at 5:22 AM | Permalink
King In Chicago: Part 1
Excerpts from:
American Pharaoh
Mayor Richard J. Daley
His Battle for Chicago and the Nation
By Adam Cohen and Elizabeth Taylor
*
Martin Luther King, who was by now leaning strongly toward bringing his movement north to Chicago, had his mind made up for him one sweltering summer night in Los Angeles. On August 11, 1965, a California highway patrolman pulled over a black man for what should have been a routine driving-while-intoxicated stop. But Watts, a northern-style ghetto set down among the palm trees of Southern California, responed by erupting in rioting . . .
The depth and breadth of the anger that set off the rioting struck him as a powerful argument for extending the civil rights movement to the rest of the country, and trying to improve the conditions of blacks in places like Watts.
. . .
The SCLC considered serveral large cities, including New York, for its historic journey north. But there were many compelling reasons for choosing Chicago. In terms of racial segregation, it was as bad as any major city, north or south. In 1959, the U.S. Commission on Civil Rights had called Chicago "the most residentially segregated large city in the nation." The racial separation that the Jim Crow system preserved by law, Chicago had simply achieved through other means: racial steering by real estate brokers; racially restrictive covenants on house sales; and the ever-present threat of violence if established racial boundaries were crossed . . . To King, Chicago was "the Birmingham of the North."

. . .
A decision was reached, but it was not unanimous. Some SCLC activists were skeptical about the movement's chances of succeeding in the north, and they did not agree that Chicago was hospitable terrain. At a meeting in Atlanta, Bayard Rustin and SCLC staffer Tom Kahn tried to persuade King he was underestimating the difficulty of prevailing in Chicago - and underestimating Daley. King had this naive faith that he could do in Chicago what he had done in the South, that he could reach down and inspire them, and so forth," says Kahn. "And Bayard kept saying, 'You don't know what you are talking about. You don't know what Chicago is like . . . You're going to get wiped out.'"
. . .
By fall of 1965, word spread that King and the Southern Christian Leadership Conference would in fact be coming to Chicago that winter for a prolonged stay. Daley said he would be happy to meet with King whenever he wanted. "No one has to march to see the mayor of Chicago," Daley said jauntily. "The door is always open and I'm here 10 to 12 hours a day." And Daley insisted that he shared King's agenda. "I'm always happy to have help and assistance in resolving difficult problems of housing, education, and poverty," Daley said. "I would like to show Dr. King some of our fine installations." At the same time, Daley began mobilizing black machine politicians to undermine King's efforts in Chicago.
. . .
But if parts of Chicago reminded them of home, King and the SCLC staff quickly realized just how different this sprawling urban metropolis was from the South. It was far larger than the other cities they had organized campaigns in before - 10 times as large as Birmingham, and 100 times as large as Selma. Ralph Abernathy recalls how astonished he was the first time Jesse Jackson took him on a driving tour of Chicago. "As we drove through the South Side, where a large segment of the black population lived, we kept waiting for the slum tenements to give way to the warehouses, vacant lots, and then country stores and open fields where cows were grazing," he recalls. "Instead, we saw more slum blocks. And more. And more. We had a feeling that if we drove much farther south we were going to see the Gulf of Mexico. 'That's nothing,' said Jesse. 'Wait till you see the West Side.'" And to southerners used to a region where almost everyone fell into a simple category of "black" or "white," Chicago was a confusing array of Irish, Poles, Jews, Lithuanians, and other white ethnic groups.
Another thing the SCLC was unprepared for when it arrived in Chicago was the opposition it would face from significant parts of the black community. "Chicago was the first city that we ever went to as members of the SCLC staff where the black ministers and black politicians told us to go back where we came from," says Dorothy Tillman, then a young SCLC staff member from Alabama. "Dr. King would frequently say to me, 'You ain't ever seen no Negroes like this, have you Dorothy?' I would reply, 'No, Reverend.' He said, 'Boy if we could crack these Chicago Negroes we can crack anything.'" Some Chicago blacks professed to be as offended as Daley that outsiders were coming and telling them what to do.
. . .
To some on the SCLC staff, the black opposition seemed to be rooted in years of oppression by whites. "The Negroes of Chicago have a greater feeling of powerlessness than I've ever seen," said SCLC staff member Hosea Williams. "They don't participate in the government process because they are beaten down psychologically. We are used to working with people who want to be free."
But the truth was, much of the opposition came not because Chicago blacks were powerless, but because they had more power than blacks in the rural South. Daley, who needed black votes in a way that southern politicians did not, handed out elected offices, patronage jobs, and money in the black community, and had singled out a few Dawsons and Metcalfes to represent blacks on a citywide level. These black leaders, and their armies of patronage workers, had a personal stake in the status quo, in a way that few blacks in Selma or Birmingham did.
. . .
King and the SCLC were not prepared for these anti-civil rights black ministers, but they were also disappointed to see how reluctant even ostensibly sympathetic black clergy were to stand up for civil rights. "Many ministers who were with us had to back off because they didn't want their buildings to be condemned or given citations for electrical work, faulty plumbing, or fire code violations," says the Reverend Clay Evans of the Fellowship Missionary Baptist Church. Mattie Hopkins of the Episcopal Society for Cultural and Racial Unity, who had worked with King in Selma and Montgomery, says she never saw King as depressed as he was after meeting with a group of black ministers in Chicago. The ministers told King that they supported him, but could not speak out from their pulpits because they had already come under pressure from mortgage holders, city building inspectors, and others with ties to the Democratic machine. "He got his first real picture of the way Daley ran this town," Hopkins says.
*
The History Club archives start here.

Posted by Beachwood Reporter at 5:14 AM | Permalink
January 15, 2007
What I Watched Last Night
Bears kinda sucked and the Seahawks kinda sucked, but the Bears kinda sucked less. Bears kickers Brad Maynard and Robbie Gould did not suck. That's the only relevant observations necessary for anyone whose Sunday afternoons don't revolve around football.
*
IN THIS EDITION:
- At Midnight I'll Take Your Soul
- Bad Girls Club
- Dirt
- The Surreal Life: Fame Games
*
The high point of my weekend watching was Friday night's At Midnight I'll Take Your Soul, a 1963 black and white Brazilian horror flick on the Independent Film Channel. I'm not big on subtitled movies because I tend to miss something important in the acting while I'm busy with the subtitles, but it was almost midnight and I'd never seen how Brazilians go about swiping souls. I also hung around because it's been a long time since I'd seen anything not presented by a major corporation uncut and commercial-free. This probably means IFC will have its own soul stolen within the year, too.
Take three parts Ed Wood and toss in one part Fellini and you have At Midnight, a movie which demonstrates why weekend late nights haven't been the same since WGN killed off "Creature Features" a few decades ago. Ze do Caixo (Jose Mojica Marins) is the town undertaker with the huge case of really bad juju. Also known as Coffin Joe, Ze looks a lot like a creepy, unibrowed Abe Lincoln on crank with funky teeth, bony fingers with long, sharp fingernails, and black top hat and long cape. When he's not busy freaking the bejeezus out of everyone in the village and eating greasy meat on Holy Friday, he's beating them up and teaching dudes who don't pay up at the card table deserve to feel like Eric Roberts in The Pope of Greenwich Village by having their fingers lopped off with a broken booze bottle.
It might also be where someone at Wendy's ad agency got their now-famous "Where's the beef?" line. Seriously. It's in there.
The Internet Movie Database manages to describes Ze better than I could: He is "just such an all-around dick that ya just gotta love him. He just don't give a fuck. He'll whip ya, poke your eyes out, rape your girl - it just don't matter to him, cuz like ol' Joe'll tell you himself: when he wants something, he gets it."
Aside from his questionable taste in women, much of Ze's deep-seated angst lies in his barren wife Lenita's (Valeria Vasquez) inability to provide him a son because when you're the freakiest dude in town, good mortuary help is hard to find. A woman like that, he comments, "needs no care," so she needs to die so he can be free to find the perfect woman who will be able give him a son. He doesn't go into much detail about the kind of testing available in Brazil to foretell that sort of thing, but still. So he ethers Lenita, gags and binds her to their bed, kills her with a tarantula, and sets his hypnotic, bloodshot eyes on his friend Antonio's fiancee, Terezinha. Terezinha, of course, is creeped out by him just like everyone else in town, and she gives him a good bite on the lower lip to show she's serious about it, dammit.
The plot thickens when Ze, Antonio, and Terezinha visit a mysterious gypsy for the briefest fortune-telling session on record. She immediately informs Antonio that he'll die that night, but she's not a very good businesswoman for being a gypsy because "the laws of the supernatural prevent me from taking payment when death is foretold." Jeez, you'd think she'd just keep her mouth shut, take the money, buy herself some light bulbs and indoor plumbing, and just let the poor sap be surprised just like everyone else when they get run over by a horse or something.
Ze, of course, thinks all this fortune-telling stuff is a bunch of hooey. So, unaware that caving in the skull of your only friend in town with a fireplace poker and then strangling and drowning him in his bathtub makes it tough to rustle up a bridge partner, it's not much of an endearing quality to Terezinha, either. Ze's also unaware that buying a canary from the local gin mill isn't much of a way to win the heart of a woman who finds you repulsive even *before* you killed her boyfriend, so he beats and rapes her. She hangs herself out of shame, but not before promising to take Ze's soul by midnight.
I didn't see the rest of the film beyond this point, so I'm not sure how someone goes about stealing the soul of someone who has no soul. But I'm guessing things ended badly enough for Ze.
Coincidentally, Coffin Joe and Marins are still popular cult film figures. According to IMDB, Marins is doing post-production work on the Coffin Joe vehicle "Encarnacao do Demonio" (Devil's Reincarnation). Whether it'll be shot on a Wal-Mart budget in spooky black-and-white is anyone's guess, but if you can manage to dig up At Midnight at one of your better video retailers, I'd certainly recommend it.
*
I'd never seen Oxygen's Bad Girls Club before Saturday, but after this season's final few episodes, it's not likely that I'll see it again anytime soon during its upcoming season. Not because it's a bad show, inasmuch as reality TV is always bad. Actually, it's fairly tolerable as a chick TV train wreck. No, it's because the resident lush has left the program, leaving little chance for a repeat of Reality TV's Most Awesome Catfight Ever.
The show follows the same "Big Brother/Real World" formula: Stick a mess of spoiled brats in their early 20s who are bound to clash in the same house for three or four months and see how long it takes for them to kill each other in their sleep. I can't figure out what made these women score their own show, other than a few of them somewhat resembling certain celebrities. But the thing I can't figure out even more is what - beyond drinking too much, screwing around on their boyfriends halfway across the country with slimy dance club douchebags, and annoying us with overwrought Chick Drama - makes these girls so bad. You might hope they'd pass some bad checks, do some shoplifting, or join a street gang, but you'd hope wrong. And now the baddest one of the bunch has left the building as one of the more ambitious booze/anger management projects known to the rehab industry.
Like every other reality TV show with a Dedicated Lush Who Makes Everyone's Life Miserable, this role was filled by a Paris Hilton lookalike named Ripsi. Which probably explains a bit about her bad attitude. As with any other young woman spoiled rotten without much to do in life beyond replicate Louis Vuitton's entire wardrobe, Tipsy Ripsi had an affinity for vodka shooters at nine in the morning, drunk yoga, not eating much, and pretzel logic that says the best way to sober up is to drink more. Like any other binge drinker with simmering deep-seated hostilities toward those you think are more perfect than you, you knew it was just a matter of time for the cork to pop.
Which brings us to Reality TV's Most Awesome Catfight Ever.
Like most of history's incredibly good catfights, this one was fueled by an entire bottle of tequila. Just when you think Ripsi has finally passed out, she becomes possessed by Tequila Satan, suddenly bolting awake more than once. Each instance, she goes off on a full-blown assault of the kitchen, a waiflike Sissy Spacek lookalike named Kerry, and a sleeping Jewel lookalike whose name I don't recall. A lot of hair gets pulled, a throat gets wrung, some serious facial punches are thrown and land, there's blood and black eyes, and Ripsi learns the same thing dead Rolling Stones guitarist Brian Jones did about incredibly drunk people ending up in a swimming pool.
Of course, no dedicated binge drinker would be worth anything without the blackouts, so naturally, Ripsi doesn't recall a thing. "I'm usually a happy drunk," she says, but she's forced from the house anyway. This leaves walking bad attitude and Ashlee Simpson lookalike Aimee - the dedicated ugly duckling and only non-blonde white chick in the house - as the odds-on favorite to sink a pair of scissors into someone's forehead.
*
Friday left me still trying to figure out whether Dirt is all that, mainly because Courteney Cox's act as editor Lucy Spiller seems like it's trying to find a way to fit into a dress that's too big. In this episode, schizophrenic paparazzo Don photographs the same dead starlet - twice - for the Dirt cover and starts hallucinating her in bed with him, a Mexican domestic plays tabloid snitch hardball and scores 100 grand in cash and a 200 grand villa for her family back home, and Lucy demonstrates that when under the stress of trying to reduce overhead by 20 percent, a girl's best friend is her vibrator.
*
All you need to know about Sunday morning's second installment of The Surreal Life: Fame Games: Verne "Mini Me" Troyer gives everyone rides on his motorized scooter, manages to piss off a female clown, and informs everyone he's a dwarf dammit, not a midget. The elimination game was "What's Charo Saying?" and we're left with this priceless, Yogi Berra-esque nugget from ex-wrestler Joanie "Chyna Doll" Laurer:
"Ignorance is alright if you don't know."
Posted by Beachwood Reporter at 9:49 PM | Permalink
The [MLK DAY] Papers
Editor's Note: Due to the holiday, we have an abbreviated version of The Papers.
1. American Hero.
2. American Pharaoh.
3. The CTA will have regular weekday service today. So expect delays.
Posted by Beachwood Reporter at 1:52 AM | Permalink
What I Watched Last Night
Okay, I'll admit that I'm one of the suckers whose been drawn into the inevitably tear-jerking, feel-good, pay-it-forward mojo of Extreme Makeover: Home Edition. I watch it reasonably religiously, probably because (a) it's cathartic and (b) it gives me hope that some day something really cool, like a bus full of people with lots of money and good intentions, will pull up at my door, send me on vacation, and build me a stunning home while I'm away. Ty and his gang are living proof that such things happen.
Unfortunately, it's not going to happen to me. At least not this season. See, this year, they're doing it a little differently, and they're doing one home in each state. And on Sunday night, well, they were right here in Chicago, in Lawndale, "giving a family a second chance."

Seems Geno Noyola and his wife Melinda finally saved up enough to move out of Geno's grandma's attic (with their six kids) and into a new house, only they got conned and the house was a disaster. So there they were, stuck back in the roach-infested attic, Geno and Melinda sleeping on the bare floor, when the Design Team rolled up to make their dreams come true.
Now, most of the time, the folks they come to help just had a hard break. Their house burned down, a parent died, a kid got a disease. But Geno Noyola's story was a bit different, and I found myself having trouble reaching for the Kleenex.
He'd been a troublemaker since when his kids were younger, breaking into cars and stealing stereos, and he'd been charged with theft and burglary. Now he's turned his life around and mentors other kids, coaches football, and is a community leader. And he wants the best for his kids, blah, blah, blah . . .
I get it that it's not this guy's kids' fault that he was a jackass when he was younger. But complaining that you've been let go from jobs because of your record? Well, bub, welcome to life. If grocery stores decide not to hire people based on their bad credit, it's certainly not inconceivable that a construction company wouldn't want a guy who used to steal stuff on site.
It's not that I don't believe in second chances. I do. I don't think a decent guy who's turned his life around should be judged on his past mistakes. But it happens. And while these parents were undeniably good, making sure their kids got violin lessons at the Merit School of Music (kudos to them, by the way), and grew up with a good foundation, well, they just didn't quite capture my heart.
It's the people who take in numerous troubled foster kids and teach them how to work with wild horses but need help fixing up the ranch so they can take in more kids, or the guy whose wife died at 27, leaving him with three little girls under five and a house that's falling apart, that get me.
And maybe it was just too close to home. I mean, there are people all around me whose houses are in extreme disrepair, who need the very basics, who are living with relatives, who are really screwed. So what made this family so different that they got the wake-up call and the trip to Disney? I guess making your video plea really does work. I'm reasonably sure plenty of people all across Illinois send in requests to the show, and I guess the Noyolas grabbed the producers in a way no one else did. But, though I wish them luck, they didn't grab me.
Oh well, new state next week. Bring on the Kleenex!
-
Editor's Note: A reader shares that Geno Noyola died on October 27, 2013. Our condolences.
-
Posted by Beachwood Reporter at 12:46 AM | Permalink
January 14, 2007
On the Juice: Day 14
Some people start the New Year off with a few poxy resolutions scribbled down somewhere only to be forgotten by February. Me? I'm went on a two-week juice fast.
Day 14: End of the line
Two weeks. 14 days. 336 hours. Sometime tomorrow morning, after I've woken up and fed my cats, the great odyssey of my New Year's fast will come to an end. For the first time in 2007, I will have a solid meal. For all intents and purposes, I've made it.
About the only predictable thing about this long trek through a land without food has been its utter unpredictability. So, not surprisingly, today was one of the toughest days of all. My husband and I went to the giant, industrial grocery store down the street this morning to stock up for the week. During the fast, I've been doing my shopping at organic markets and haven't strayed far from the produce section. Being left to wander in a place suffused with the thick smells of detergent and processed food and the subtle flickering of fluorescent lighting was almost too much for me. I became extremely dizzy and disoriented, a feeling that lasted a couple of hours after we'd left.
This was just one of many debilitating episodes of hypersensitivity that I've encountered during the fast. It's not that every sight or sound or smell will set me off, but occasionally one will sneak in and knock me on my ass. It's one of the many phenomena that anyone considering a lengthy fast should be aware of ahead of time.
In my research before I began the fast, I found a few lists of possible side effects and benefits. I can tell you now that none of them was entirely accurate. Most were vague, but exaggerated the good and down-played the bad. So in the interest of full disclosure, here is my quick running list of the many unpleasant sensations I've experienced in the past two weeks: hunger; boredom; insomnia; muscle weakness; dizziness; nausea; tingling in the extremities; bouts of extreme fatigue; flashes of hot and cold in the hands and feet; tunnel vision; constipation; dry mouth; paranoia; grumpiness; chills; tremors; runny nose; cough; pain in the eyes; extreme sensitivity to auditory and olfactory stimuli; faintness; heart palpitations; lingering muscle strains; and significant weight loss.
If this sounds like one of those pharmaceutical advertisements where the list of side effects seems to outweigh the list of benefits, just bear with me. Here is my running list of strangely wonderful experiences: sharper vision and sense of smell; increased sensitivity in the hands and feet; sinus clearness; increased ability to concentrate; increased productivity; euphoria; clear skin; increased flexibility; a general sense of well-being; lack of headaches; quicker reflexes and heightened responsiveness; wakefulness; sobriety; increased self-knowledge; mental clarity; and overall vitality.
On balance, I have enjoyed this experience immensely. And yes, despite everything, I would - and most likely will - do it again. I want to point out, though, for anyone considering a fast of their own, that there are truly shitty moments and, although the early days are the worst, they can happen anytime.
Thanks to everyone who has read my ramblings over the past 14 days. I appreciate all the support and hope you've had as much fun as I have. I also want to thank all my fast buddies - I wouldn't have made it without you!
Over the next few weeks I'll be posting Off the Juice, my occasional account of breaking a fast. Until then, I'll see you all in the lunch line!
Day 14 Hunger Level: Not much of a factor today; I was more preoccupied with the dizziness.
Day 14 Energy Level: Fluctuating from wiped out to buzzing.
Day 14 Physical Condition: Other than the dizziness, I felt pretty good.
Day 14 Mental State: Much better after Robbie Gould nailed that field goal.
Day 14 Juices:
#1: Grape, Mango, Spinach, Chard
#2: Purchased Odwalla Superfood Drink (full bottle)
#3: Purchased Synergy Kombucha Drink (quarter bottle)
#4: Apple, Carrot, Ginger
#5: Cucumber, Broccoli, Grape
Total amount: approx. 48 oz.
Previously:
* On The Juice: Day 1. If you can't beet it, juice it.
* On The Juice: Day 2. Fire in the glory hole!
* On The Juice: Day 3. Sipping point.
* On The Juice: Day 4. Brush with destiny.
* On The Juice: Day 5. Food for thought.
* On The Juice: Day 6. Dinner-free dinner party.
* On The Juice: Day 7. The longest chard.
* On The Juice: Day 8. The daily grind.
* On The Juice: Day 9. Driving force.
* On The Juice: Day 10. Sprout to get me.
* On The Juice: Day 11. Bottle rockets.
* On The Juice: Day 12. New World Order.
* On The Juice: Day 13. Here's looking at chew.
Posted by Natasha Julius at 10:55 PM | Permalink
January 13, 2007
On the Juice: Day 13
Some people start the New Year off with a few poxy resolutions scribbled down somewhere only to be forgotten by February. Me? I'm going on a two-week juice fast.
Day 13: Here's looking at chew
I went to the grocery store today, not only to buy enough juicables to get me through the next couple of days, but with a mind to stock up for my slow but inevitable return to eating. I dallied in the produce department for ages, eventually abandoning my plan for a broader shop altogether. It suddenly occurred to me that I have no idea how to plan a meal.
When you juice, you don't have to think about things like flavor, balance, harmony. You don't have to saute anything or boil or roast it. Whatever you put in your juicer is going to come out the other end tasting vaguely similar to everything else. The idea of making something pleasing to the palate is sort of ridiculous; you drink for nourishment and to cleanse your body. That's it. In these terms the thought of cooking a meal is kind of disturbing.
This is a total about-face for me. At the beginning of the fast I wondered in this space whether I would be able to go two weeks without preparing food. Now, I'm wondering how I'll ever manage it again. Of all the crazy side effects I've suffered through the past 13 days, this is possibly the most bizarre.
Of course, I have a practical concern at the moment about how to shop. I have absolutely no idea how long it will take for me to return to "normal" eating. I'm planning on giving myself a few days to ease back into the swing of chewing and swallowing, but beyond that I don't know what to expect. Right now my appetite is minimal. My tastes are simple. I used to love spicy, rich, salty foods. I think if you stuck a lump of Pepper Jack in front of me right now I'd faint. I don't know if that feeling is going to last. I don't know if I've permanently altered my relationship with taste or if this is just a passing phase. Once again, I'm entering a period of extreme uncertainty. The fasting is almost over; now there's the small matter of the rest of my life to worry about.
As I get ready to break my fast, I realize there are things about this experience I'm going to miss. I'm certainly more in tune with the rhythms of my body now than I have been in quite a while. I like that I can tell the difference between food lust - the arbitrary urge to stuff my face with tempting goodies - and actual hunger. I hope that understanding doesn't fade from memory. I also like knowing exactly how much fuel I need to get me through the day, and how much is too much. These are changes I'd like to make permanent.
Along the same lines, I like the deliberateness of drinking my juice. It's nice in a way to be forced to consume your calories slowly. Like a lot of people, I tend to rush through my food and drink. There never seems to be time to really enjoy it or to properly assess proportion. Now that I know I can have a small amount of food and feel satisfied, I hope I can approach eating the same way I do juice-drinking. I'd like to sip, to nibble, to savor those tastes that I've missed so much. I hope I never lose my appreciation for them. I hope eating never becomes some frenzied thing I do; that it remains a healthful and nourishing and joyful thing. I'm looking forward to going out with friends and spending an hour drinking a pint of beer, just enjoying its texture and flavor again.
Yes, there are a lot of things I'm going to miss. But don't worry - that doesn't mean I'm not ready for this long two weeks to be over. Bring on the solids, I say.
Day 13 Hunger Level: I think my body is starting to feel hungry. It's difficult to determine how much of this is because my brain is telling it that the fast is almost over. Whatever the case, the idea of eating doesn't seem quite as daunting as it did a few days ago.
Day 13 Energy Level: I was pretty wiped out today, but to be fair I've had a brutal work schedule this week. I think I would most likely feel just as depleted if I were eating.
Day 13 Physical Condition: Here's a funny story. Collette, one of my other fast buddies, gave me some Kombucha drinks today. For those who don't know, Kombucha is a Chinese drink made from steeped, fermented mushrooms. It's slightly fizzy (a nice change of pace), and probably 0.005% alcoholic. And boy howdy, after a glass or two, I was feeling pretty well hammered. Any illusions I had that I'd return to my pre-fast lifestyle seamlessly were dashed - I'm now a certified light-weight.
Day 13 Mental State: Apprehensive, eager, confused, a bit nostalgic. Really, no more or less manic than I've been for the lion's share of two weeks now.
Day 13 Juices:
#1: Broccoli, Mango, Spinach, Banana
#2: Beet, Carrot, Celery, Orange
#3: Purchased Synergy Kombucha Drink (full bottle)
#4: Broccoli, Chard, Kiwi, Apple
Total amount: approx. 46 oz.
Previously:
* On The Juice: Day 1. If you can't beet it, juice it.
* On The Juice: Day 2. Fire in the glory hole!
* On The Juice: Day 3. Sipping point.
* On The Juice: Day 4. Brush with destiny.
* On The Juice: Day 5. Food for thought.
* On The Juice: Day 6. Dinner-free dinner party.
* On The Juice: Day 7. The longest chard.
* On The Juice: Day 8. The daily grind.
* On The Juice: Day 9. Driving force.
* On The Juice: Day 10. Sprout to get me.
* On The Juice: Day 11. Bottle rockets.
* On The Juice: Day 12. New World Order.

Posted by Natasha Julius at 9:47 PM | Permalink
January 12, 2007
On the Juice: Day 12
Some people start the New Year off with a few poxy resolutions scribbled down somewhere only to be forgotten by February. Me? I'm going on a two-week juice fast.
Day 12: New World Order
Sometimes in human history, a simple technology upgrade can so drastically alter our worldview that we can't picture our lives without it. It's not that we forget the past or don't look on it with a happy nostalgia; it's just that we would never - could never - go back to the way things were. Can you imagine how miserable we would be if we still had to use public phones to make phone calls once we left our homes? And suppose no one had ever thought to set up high-speed Internet connections. Why, you might still have to talk to people.
I have survived the past 11 days foodless with the help of a remarkable little machine, a mini-juicer borrowed from my friend Dave. It has served me well, and I will always treasure its memory. Today, however, my world has changed. Today, my new juicer arrived.
Gigantic, shiny, with enough horsepower to run at the Brickyard and a glory hole big enough to suck down a whole apple, my new juicer can fill a glass with liquid nutrition faster than you can figure out what went into it. It shoots juice out one end, plant offal out the other. It takes 30 seconds to clean and 30 seconds to reassemble. Can you imagine if you'd spent your whole life playing at Hurricane Harbor only to one day be dropped right in front of Niagara Falls? Your reaction would doubtless be similar to mine: Holy shit!
Now with every great leap forward comes a twinge of regret. A part of me wishes I'd acquired the awesome power of my new juicer earlier in the fast, to cut down on the many hours I've spent coaxing and cajoling Dave's wee machine into swallowing another handful of parsley. But on closer consideration, I think the new equipment arrived at exactly the right moment. It's given me a much-needed shot of adrenaline just when I was starting to doubt if I could drag my weary ass across the finish line. It's made the casual obliteration of plant matter fun again. Hell, when I sign off after Day 14, you might catch me tossing a salad in there just because I can.
So as I pause to honor the mighty little juicer that could, I give thanks for the hours of explosive emulsifying action yet to come.
Day 12 Hunger Level: I think my mind is playing tricks on me again. I've started to dream about food. Specifically, Swiss cheese and chocolate. Not at the same time, of course; it's not like I'm subconsciously pregnant. But I'm clearly subconsciously ready to eat, even if I wake up feeling confused about my continued lack of hunger.
Day 12 Energy Level: I'm once again finding a surfeit of energy. Times when I should be exhausted and ready for sleep instead are among the most alert and productive in my day. I don't feel entirely comfortable riding this wave of activity, though. Much like the Great Sugar Crash of Day 13, I've afraid it's not going to end well at all.
Day 12 Physical Condition: A little more achy today and I'm definitely picking up a bit of a sniffle. I don't think any of this is related to the fast, however. It's just cold and I've had a crazy schedule all week.
Day 12 Mental State: I'm still counting down, but I've turned a corner and now the amount of time remaining in the fast seems completely manageable. When you have the better part of 12 days behind you, another weekend seems over almost before it starts. I haven't started to plan dinner parties yet or anything, but I may have singled out the exact banana I'll enjoy as my first solid meal.
Day 12 Juices:
#1: Banana, Broccoli, Mango, Spinach
#2: Purchased Odwalla Mo' Beta Drink (full bottle)
#3: Purchased Odwalla Superfood Drink (full bottle)
#4: Broccoli, Celery, Carrot, Apple
#5: Apple, Cucumber, Mango
Total amount: approx. 58 oz.
Previously:
* On The Juice: Day 1. If you can't beet it, juice it.
* On The Juice: Day 2. Fire in the glory hole!
* On The Juice: Day 3. Sipping point.
* On The Juice: Day 4. Brush with destiny.
* On The Juice: Day 5. Food for thought.
* On The Juice: Day 6. Dinner-free dinner party.
* On The Juice: Day 7. The longest chard.
* On The Juice: Day 8. The daily grind.
* On The Juice: Day 9. Driving force.
* On The Juice: Day 10. Sprout to get me.
* On The Juice: Day 11. Bottle rockets.

Posted by Natasha Julius at 11:09 PM | Permalink
The Weekend Desk Report
Factional Playoff Series
The long bomb is a favorite offensive tactic of some of the teams still in the running for the ultimate prize this weekend, although it's met with mixed results in the past. With the Over/Under on strikes at 5, here's our picks from the leading targets:
Over:
Marvin Harrison
Marques Colston
Ras Kamboni
Baghdad
Under:
Bernard Berrian
Darfur
David Beckham
Todd Heap
Loop Droop
We love the idea of an all-night party in the Loop. Now if only we had a way to get there.
Home Grown
Despite protests to the contrary from some quarters, we expect the number of U.S. adoptions of foreign-born children to continue dropping. Experts note that in 2007 alone, we're likely to see a sharp increase in the numbers of domestic babies available.
Bully Market
Finally, as America continues to struggle with the hired help, we take a moment to reflect on the halcyon days. Remember when a super power could just sap the will of its proxy states by systematic threats of economic oppression? Good times. Good times.

Posted by Natasha Julius at 11:08 PM | Permalink
What I Watched Last Night
Sometimes television is inventive. Most times, though, it's perfectly happy to just invent new ways to eat its young. So the cannibalizaton of American Idol continued Thursday night with an installment on Bravo of Grease: You're The One That I Want!.
I didn't like Grease when it was a movie because two things on my list of Things I Really Don't Like Because They're Stupid are musicals and '50s music. I'm no fan of American Idol either because, well, I got sick of hearing about it long ago. But it's not that I didn't like this snoozer because it's a ripoff of a program I don't particularly like. Ripping off TV shows is a long-honored tradition in American TV, and it's the only reason we got our own versions of the original British Who's Line Is It Anyway and Who Wants To Be A Millionaire. No, I didn't like it much because whoever came up with this show is a total failure at ripping stuff off right. The reason Whose Line and Millionaire went over so well is because the Americans hosting the shows were far more interesting than those in England.
In America, personality spells success. Which is why one of the first things Millionaire did when Meredith Viera took over from Regis Philbin was head into the tank.

You're The One That I Want! follows the same formula as Idol: Visit major cities (Thursday night it was Los Angeles and Chicago) and round up a mess of starry-eyed hopefuls to audition for the lead roles of Danny and Sandy in the new Broadway production of Grease. Three Broadway Grease honchos (producer David Ian, choreographer Kathleen Marshall, and Jim Jacobs, who wrote the 1978 movie) replicate the three-person American Idol panel of judge, jury and executioner. Sure, they're all white folk, but Randy Jackson is probably glad equal employment opportunity doesn't require him to be the one who has to put up with "Hopelessly Devoted To You" being screeched a few hundred times.
Similarly, Grease has cast Ian as the show's version of Simon Cowell. He's got the same British accent and toils just as long over his hair, but where Cowell is deliciously mean, Ian's just a big puss. Where Cowell thrives on being constructively terrible to contestants for wasting everyone's time, Ian is just plain polite in dismissing the untalented. Take the appearance of a portly, half-deaf and homely brunette with a speech impediment to audition for the part of Sandy. Instead of being eaten for lunch with her bones spit back at her, the worst this bunch can scrape up are confused glances of this one of those Howard Stern jokes, right?
Heck, Grease has its own Ryan Seacrest, too. He's a Howdy Doody-looking fellow with a plaid shirt and the unfortunate name of Billy Bush. He prowls around backstage and has a word or two with the losers, too.
As the series progresses in the coming weeks, the crowd of finalists go on to Grease Academy, a sort of Broadway singer-dancer boot camp where Lou Gossett Jr. yells at everyone for being queer and eyeballin' him. As the weeks progress, the wheat gets separated from the chaff until the final episode or so where viewers choose the new Danny and Sandy from among the final 12.
I could only endure a half-hour of this stuff, so I went surfing.
* * *
After Thursday's late-night syndicated rerun of Law and Order: Criminal Intent, I can fairly say that it's a good thing President Kennedy's motorcade picked Dealey Plaza in Dallas to motor through instead of Manhattan. That's because Manhattan is one of the few places where a suicide bomber can take a righteous head shot from a sharpshooter's high-powered rifle in the middle of a crowded parade and have not one single person notice. Had it been JFK instead of a mad terrorist, he'd have been to Staten Island before anyone noticed his noggin was missing an important hunk of real estate.
* * *
This week my satellite provider has thrown in a free preview of The History Channel International, so I was able to run across a two-hour program listed simply as Punishment. Although HCI isn't anywhere near the pay-per-view porn channels, I dropped in since this version of The History Channel wasn't beating Hitler or World War II to death.
Punishment was aptly titled, since it chronicled in great detail the methods of torture used in Europe - mostly on accused heretics and treasonists - during the early part of the last millennium. It was a grand tour of The Rack, The Pear, pressing, the Iron Maiden, beheading, and drawing and quartering.
There were, however, milder forms of punishment widely available to the common folk just for the asking that some would probably argue should be just as available today. Take, for instance, the Branks, also known as the Scold's Bridle. This was a metal face mask quite popular in this country throughout the 1600s; more advanced models had a tongue depressor with spurs or sharp edges. Which made talking a bit of a chore. Back in those simpler times, all a husband needed to do was accuse his wife of nagging, and into the Branks she went. It was also kept on hand for women who disagreed with their husbands or exceeded their recommended daily allowance of gossip. If your wife needed additional humiliation, some Branks models had a chain attached to the front so the uppity little witch could be led through the streets or tied to a post.
Today, you can get one of your own at any one of several very charming Old Town boutiques.
Here are a few other tidbits of learning only The History Channel could provide:
* Inquisitors had an official playbook on how to run a respectable, uh, Inquisition. First appearing on the New York Times Best Seller List in 1486, The Malleus Maleficarum was the owner's manual for the identification, prosecution, and dispatching of witches. So if you've been looking for actual proof that you've been right about your mother-in-law all along or just need a special activity to spice up your Super Bowl party should the commercials really suck this year, you can download your own version of The Malleus Maleficarum here in convenient PDF and text formats.
Once you do, jump directly to "The Text" portion for the good stuff.
* It took two to three hours to completely burn a woman accused of heresy at the stake. More than 13,000 women were dispatched this way before the practice petered out during the 1600s. Some European nations would strangle the unfortunate lasses at the stake before lighting her up, but not many.
* Drawing and quartering was a special brand of British hospitality reserved solely for those who plotted to overthrow the King, and Mel Gibson for managing to undo 691 years of amnesia over William Wallace in three hours. It's called being "drawn and quartered" because your belly was sliced open, your intestines drawn out before your eyes, and your corpse hacked into quarters. Your head found a new home along London Bridge, and the rest of your bloody mess was dispatched to the entrances of London, where it would join the other executed riffraff as a way of reminding everyone to behave while in town picking up souvenir T-shirts.
I almost forgot: you were castrated, too. Oddly, Braveheart overlooks this.
* The guillotine was reserved for aristocrats; commoners had to make do with hanging. Either way, executions were big business, both for the pickpockets who roamed the Killin' Day crowds and the guys doing the executing. Which just goes to show how much of a deterrent hanging was against pickpocketing. Along with their regular pay, hangmen were entitled to the clothing and nooses of those they executed, and they made a considerable secondary killing selling the clothes and rope cut by the inch.
The fun continued until 1833, when a killjoy Frenchman named Alexis DeTocqueville published De la Democratie en Amerique (or Americans Are Idiots), which chronicles the American idea of using prisons to reform criminals instead of just executing the whole lot and being done with it. Within a year, everyone on the continent started thinking about prisons, the Spanish Inquisition ended, and everyone on the continent started hating the French even more.
Scott Buckner is one of the Beachwood's resident TV watchers.
Posted by Beachwood Reporter at 4:09 PM | Permalink
The [Friday] Papers
Well, we've finally achieved bipartisanship; both parties are against the president.
*
Arenda Troutman says she'll stay on the ballot despite the federal bribery charge against here. Mayor Richard M. Daley says he'll run again too despite the allegations against him.
*
Daley and Seattle Mayor Greg Nickels have made their wager over the Bears-Seahawks game. Daley is putting up three Streets & San workers, one wrought-iron fencing contract, and two cases of denials against Nickels' one-year Prozac prescription and a fish market.
*
"I was wondering if Daley's airport expansion plans call for an actual terminal for UFOs to land instead of circling . . . "
- Brian Rhodes (my brother)
*
And now a vibrating bag found at O'Hare. Area 94? O'Hare 51?
*
Saw a commercial last night for Lunesta, the sleep-aid drug, warning that side effects could include drowsiness.
*
Saw that Boniva commercial again where Sally Field says that her girlfriend has to set aside time every week to take a pill. Yeah, that's half a second a week she'll never get back.
*
READER FEEDBACK: Two responses to the Boniva item.
1. "On Boniva - that same line in the ad bothered me, too. Then I decided there must be digestive consequences to taking it (???) but I didn't want to know badly enough to look it up and expose myself to the gory details."
2. "Uh, Steve, I don't know whether you've checked the Fosamax web site, but there's a bit more to the non-Boniva osteoporosis pill than just swallowing it. Thanks for making fun of zillions of women facing likely hideous injuries, without first finding out what the deal is."
I certainly didn't mean to make fun of anyone. As near as I can tell, the thing about taking one of these pills is that you can't lie down for 30 minutes afterward. I'm not sure why someone would have to "set aside time" each week to account for this if you take the pill at any time other than before bed, but maybe there are "gory details" I'm not aware of. In any case, the commercial sounds ridiculous, though admittedly it's not aimed at me. I just chalked it up to the kind of melodrama more often associated with the miracles of mundane products featured on infomercials, but if I missed the mark on this, my apologies.
*
Who hired Arenda Troutman's lawyers?

*
Rev. John Ellis opened Troutman's press conference yesterday, the Tribune reports, with an excerpt from Psalm 18: "The Lord is my rock and my fortress and my deliverer. But my alderman ain't bad either when you need alley egress."
*
Unlike God answering prayers, with aldermen the answer is never "No."
*
CTA president Frank "Rummy" Kruesi blames Ald. Joe Moore for his agency's messes. "I haven't seen Ald. Moore raise a hand in support of our efforts in Springfield for rebuilding the CTA," Kruesi said.
Well, that's not exactly fair. Moore missed his flight to Springfield because of delays on the Blue Line.
*
Daley holds a Pimps 'N Ho's party.
*
According to an ad in the Sun-Times, American Mattress is having a Martin Luther King Jr. Sale. "Pay For a Queen, Get a King!"
I kid you not.
*
After all, King did have a dream . . .
*
Just how many people does Mike North have to offend before the city finally names a park after him?
*
"Someone mentioned that we should contact the U.S. Olympic Committee with pictures and stories about the lack of reliable service on the 'L.'"
- John F., on CTA Chairwoman Carole Brown's blog (via Sun-Times)
*
Upon hearing that Daley is standing by Frank "Brownie" Kruesi, Kanye West said Daley doesn't care about black people.
*
The latest from Pueblo, Colorado:
*
"Sen. Dick Durbin (D-Ill.) has quietly maneuvered the Commodity Futures Trade Commission (CFTC) into his purview by bringing the regulatory body under the jurisdiction of his newly formed Financial Services and General Government Appropriations Subcommittee," Robert Novak reports in his political newsletter. "Chicago, once home to extensive stockyards, is home to the two largest futures exchanges in the U.S."
The campaign contributions to follow will merely be a coincidence.
*
"We have a system that has survived this long, because it's stable, it has this divided government, these shared powers," legal scholar Jonathan Turley said recently on MSNBC. " You have a president who's not recognizing a fundamental tenet of our constitutional system that he constitutionally took an oath to protect . . . And that has led a lot of people to wonder what's really behind some of these things. And there's a lot of us that have become cynics in the last few years. We believe - at least, I believe - that there's a great deal of illegality that's occurred under this administration, including possible crimes . . .
"This is a president who still remains uncomfortable within that constitutional skin . . .
"You know, the fact is, this president has an obsession with this concept of an absolute ruler, the absolutely president. And he's surrounded himself with fairly radical law professors who told him what he wanted to hear, that you could take a citizen off the street, unilaterally strip him of all of his rights, hold him until you wanted to release him, if at all."
*
"Threat level has been elevated to Orange. I'm worried I'm going to walk outside and be attacked by killer iguanas."
- Tim Willette, reporting from Washington, D.C.
*
"Of course, it's a free country - we're all free to endorse anybody we want. And I surely don't think that black politicians should only endorse other black politicians. But neither Meeks, Jackson, nor Rush backed Daley in 2003. So I'm wondering: what's changed in the last four years to make them support him now?" asks the Reader's Ben Joravsky.
"The Sorich trial convictions? The hired truck scandal? The demolition of Meigs Field? Soaring property taxes? The Duff affirmative-action scam? The fact that only 9 percent of the city's contractors are black? The continued breakdown of the Red Line? New revelations about Daley's apparent indifference, as state's attorney, to allegations regarding the torture of black crime suspects by Jon Burge?"
*
The Daily Show did a piece last night ("Media Analysis: Bush's Address" video) on all the pundits using gambling rhetoric to describe the president's "new" Iraq plan. And whaddya know, Sun-Times editorial page editor Steve Huntley opens his column today by describing George W. Bush as "a riverboat gambler."
He goes on to inform us that "Bush is going for broke," and asking, rhetorically, "Just how high are the stakes for him personally?"
I actually read the whole column searching for an original thought, but couldn't find one. (And it took more time to read than setting aside time each week for an osteoporosis pill.)
In fact, it just got worse as it went on. "Months ago I expressed a hope that for the good of the country our leaders in Washington could come together on a common policy in Iraq," Huntley wrote. "But passions there are too deep and bitter for that."
Yes. Whatever happened to that Iraq Study Group thing anyway?
"Unless his war plan succeeds, the president knows Iraq will forever be called Bush's war."
If he succeeds, too.
And so on.
*
Like Mark McGwire, the president isn't here to talk about the past.
*
The Daily Herald reported this week that police have been called to Tank Johnson's home 30 times in the last two years.
Good thing the Bears have a 31-strikes-and-you're-out policy.
The Beachwood Tip Line: A new old way forward.

Posted by Beachwood Reporter at 7:40 AM | Permalink
January 11, 2007
On the Juice: Day 11
Some people start the New Year off with a few poxy resolutions scribbled down somewhere only to be forgotten by February. Me? I'm going on a two-week juice fast.
Day 11: Bottle Rockets
I've talked before about some of the better juicables available to the recreational faster. There's broccoli, packed full of vitamins and minerals, and beet juice with its wonderful burst of energy. I've learned so much in the past 11 days about what juices to blend to get exactly what effect on the body. Sadly, I've learned another thing through my random experiments that really throws a wrench into the whole juice-only lifestyle. None of these juices ages well.
Freshly juiced vegetables need to be consumed while still fresh. In most cases, you have a window of a couple of hours in which to get the liquid meal down your throat. After that, the juice starts congealing. It can also start to turn bitter, or, in the case of broccoli in particular, develop a smell that could strip the paint off a wall. One of my early time-saving experiments involved making batches of the juices I knew I would use the most and storing them in my fridge for quick mixing. Even chilled, them things turned nasty. There's just no replacing the fresh factor.
It follows from this observation that if you have a day out of the house and you're not planning to haul your borrowed mixer and a cooler full of leafy greens around with you from place to place, you're going to have to rely on prepared, bottled juices. This is difficult in terms of fasting purity, because by and large these concoctions are not entirely organic. It can also be hard to find juices that don't contain artificial sweeteners. There's a whole list of quibbles; flash-pasteurization, homogenization, nutritive supplements. Point is, imperfect though they may be, sometimes you've got to hit the bottle.
My biggest concern with ready-made juice drinks is the lack of variety. They tend to rely heavily on fruits rather than vegetables. I'm just going to go out on a limb here and guess there isn't a huge market for prepared kale or broccoli juice. Maybe no one has invested the R&D capital necessary to find a way about that smell. I understand. The trouble is, when I have a long day full of teaching yoga classes, the fruit juices take their toll. I've found over the course of this fast that my tolerance for sweetness has atrophied. As tempting as a box of chocolates or a fresh-baked cake may smell, I can't even imagine what it would to do me right now. At the end of this particular long day of teaching, I feel a classic sugar crash coming on.
I'm not sure there's a practical solution to this, other than cutting back your activities during a fast. Since that's not really an option, I'll just confine myself to a shrug of the shoulders and a hearty sigh of relief that the longest days of the fast are behind me.
Day 11 Hunger Level: It's an annoyance. The stomach grumbling has increased over the past day. I think it's a combination of the insubstantial fruit juices and my own intellectual knowledge that the fast is coming to an end soon.
Day 11 Energy Level: I got a little sluggish during the afternoon, between classes and as I was trying to conserve my juice allotment. Once I got back into the teaching groove, though, I was fine.
Day 11 Physical Condition: I still feel fine, other than a runny nose probably due to the weather and a headache almost certainly due to the sugar buzz mentioned above.
Day 11 Mental State: I've started my official countdown. It's not that I particularly want or need to eat; I just want a normal life back. The isolation of another weekend without food, without alcoholic drinks, with the constant need to explain my situation to people . . . it's really starting to play on me.
Day 11 Juices:
#1: Broccoli, Chard, Banana, Mango, Orange
#2: Beet, Carrot, Ginger, Orange, Apple, Cucumber
#3: Purchased Odwalla Superfood Drink (full bottle)
#4: Purchased Odwalla Berries GOmega Drink (full bottle)
Total amount: approx. 52 oz.
Previously:
* On The Juice: Day 1. If you can't beet it, juice it.
* On The Juice: Day 2. Fire in the glory hole!
* On The Juice: Day 3. Sipping point.
* On The Juice: Day 4. Brush with destiny.
* On The Juice: Day 5. Food for thought.
* On The Juice: Day 6. Dinner-free dinner party.
* On The Juice: Day 7. The longest chard.
* On The Juice: Day 8. The daily grind.
* On The Juice: Day 9. Driving force.
* On The Juice: Day 10. Sprout to get me.
Posted by Natasha Julius at 11:48 PM | Permalink
I'm the Trib/I'm the Sun-Times
Hello. I'm the Tribune.
And I'm the Sun-Times.
We suck and we don't know why.
Also available on YouTube for your own embedding needs.

Credits: Sun-Times/Marty Gangler; Tribune/Jeff Ford; Director/Shawn Girvan; Editor/Tim Inklebarger; Music Performed By/Mark Tatara; Executive Gaffer/Steve Rhodes.
Posted by Beachwood Reporter at 11:09 AM | Permalink
The [Thursday] Papers
1. To support the president at this juncture requires us to believe that George W. Bush is smarter, wiser, and more visionary than the following people: The distinguished members of the Iraq Study Group; Colin Powell; Chuck Hagel; George Will; Jon Stewart; your barber; Gerald Ford; your bartender; Al Franken; Jacques Chirac; Thomas Friedman; your 12-year-old daughter; Brent Scowcroft; Barack Obama; the Beachwood Weather Monkey; William F. Buckley; Ted Kennedy; Neil Young; the illegal immigrant who tends your lawn; George H.W. Bush; Al Franken; the vast majority of the American citizenry; the vast majority of the rest of the world; the aliens who visited O'Hare recently.
I just find that hard to believe.
2. "Now, it's one thing to sell oats before the horse has eaten them, and another thing to sell them after."
3. Whoa. "A partial examination of about 1,100 signatures submitted jointly by Walls lawyer Sidney B. Smith and Daley lawyer Michael Lavelle found problems with 40 percent," the Sun-Times reports. "The remaining 60 percent were deemed legitimate."
Forty percent of the mayor's signatures were no good?
4. "Your Travel Time Home Will Double," the Sun-Times reports, referring to the impact of the CTA's next phase of Brown Line reconstruction. Jeez, I was joking yesterday when I wrote that the re-opening of the Kimball station would be followed by the closure of the rest of the system. When reality outpaces sarcasm, it's time for somebody to lose their job.
5. Your doin' a helluva job, Frankie!

6. "CTA Riders Are In For A Rail Mess."
But really, how will they know the difference?
7. "Does the CTA want to get rid of all its riders? That's one way to alleviate overcrowding on trains," one commuter told the Tribune.
"It currently takes 45-plus minutes to get from the Loop to the Kimball station," she said. "It is now going to be 1 1/2 hours to travel nine miles as the crow flies?"
Plus, multiple transfers are free on crows. And on some trips you can even get meal service.
8. "And that's if everything goes according to plan, which would be almost unprecedented for the CTA," the Trib's Jon Hilkevitch reminds us.
9. So, let's see. The mayor does what well?
Oh yeah. Contracts and patronage.
10. I mean, the airports are a disaster, property taxes are out of control, the city's finances are shaky, school reform isn't working, the CHA's grand plan is five years behind schedule (among other problems), Millennium Park won't be paid off until 2036, the entire city will soon be under surveillance, Todd Stroger is the Cook County president, the city's hiring system is so fradulent a federal monitor now has to approve every move, we still have the worst gang problem in the country, and all aldermen are ho's.
Vote Daley!
11. Tribune Company is considering a joint online advertising network with fellow publishers Gannett and McClatchy. TribCo also has a new cooperative venture with the Sun-Times. Here is their first effort.
12. Arenda Troutman's lawyer, Sam Adam Jr., seems to think that the criminal background of the FBI's informant in the case is relevant. But he doesn't say why; nor do the Sun-Times reporters who dutifully record what he says.
The Tribune has the real story on the informant.
13. Though, again, it doesn't inspire confidence in the FBI.
"An initial FBI affidavit in the Troutman case said the bureau was not aware that [informant Andre] Johnson had a criminal background," the Tribune account says. "The FBI said it learned of Johnson's criminal past 'after the government received information/an inquiry regarding [his] background from a third party.' A source said that third party was a Tribune reporter."
14. The president also announced last night that when American troops stand up, British troops will stand down.
15. Ald. Bernard Stone told the Sun-Times that Troutman told him she was only repeating what a lawyer once told her when she was caught on tape by the FBI saying "Most aldermen, most politicians are ho's."
"She claimed she just repeated what he said and told him he was wrong. But when [the FBI] quoted it, they took out the part that she was repeating."
The Beachwood has obtained the unedited excerpt.
TROUTMAN: This lawyer dude once said to me, he said, 'Well, the thing is, most alderman, most politicians are ho's."
CONFIDENTIAL INFORMANT: Uh-huh.
TROUTMAN: I said, no honey, that's not true. Some of 'em don't even get paid!
[laughter]
TROUTMAN: But seriously, what do I get out of it?
16. Yvonne DeCarlo, who just died, was not only Lily Munster, but Moses's wife.
She also listed 22 lovers in her 1987 biography, including Billy Wilder, Burt Lancaster, Howard Hughes, and Robert Stack.
Thank God the days are over when actresses were only valued for their bodies.
17. Is it easier to get on the ballot in Chicago or in Baghdad?
18. It's the third anniversary of Stella Foster's "column," which means it's been three years since I asked Sun-Times publisher John Cruickshank how in the world this woman rated a column in (theoretically) a major metropolitan newspaper. Loyalty counts for something, he told me, with a pained look that seemed to acknowledge that she is a joke.
Yeah, I said it!
19. Rick Telander's comparison this morning of Chicago and Los Angeles includes "Chicago has neighborhoods; L.A. has drive-by zones." Actually, Chicago has always had a worse gang problem than Los Angeles. They just have better gangsta rappers.
20. I wish Steve Jobs would buy Tribune Company and start publishing iPapers.
The Beachwood Tip Line: A new way forward.

Posted by Beachwood Reporter at 8:01 AM | Permalink
January 10, 2007
The Blue & Orange Kool-Aid Report
The moment we've been waiting for is at hand. The question on everyone's mind will finally be answered: Will the Bears soil themselves at home again and be one-and-done, or will they progress by waiting to soil themselves next week?
I refuse to force my Christian tradition upon you, so I refuse to ask the question "What Would Jesus Do?" Then again, if we ask "What Would Ditka Do?", Ditka might shine His light upon thee and grant you peace. Let's face it, He is the last person that got you to the Promised Land. So . . . What Would Ditka Do?
Manage Grossman. As a quarterback, it's important to get the ball in the hands of your playmakers. For the Bears to win, Grossman needs to hand off the ball three times, let Brad Maynard punt, and thus get the ball into the hands of the Bears' playmakers - Devin Hester and the defense.
Tank Perry. Give Tank Johnson the ball on the goal line and tell him to run as if the cops are after him.
Left Guard. If Grossman needs some adversity to get going, have your offensive line ease up a couple times early and let him get his clock cleaned.
Defensive Line. Don't confuse a great defensive line with a great line for the defense, such as "My kids needed those guns to protect themselves from the pit bulls." In other words, don't let Tank Johnson be a distraction. Oops, too late.
Potato Head. It may not be Bears football, but the Boise State playbook would like mighty good with Devin Hester in the backfield - or under center or spread wide.
Game Face. Wear it. The NFL Films cameras are always on, and even if you end up in a piece called Playoff Futility, you can burnish your legend if you have the right look.
*
Seattle at Chicago
The bye week gave me some time to put the final touches on my Bears Playoff Loss Formula. I postulate the following: Cold and/or Inclement Weather + Opponent Strong Run Defense + Better Strategic Head Coach = Bears Playoff Loss. Let's break it down quickly:
A) Cold and/or Inclement Weather. 32 and chance of snow. Grossman is a complete mess in cold weather. Believe it or not, Seattle has more experience with snow/rain this year, thanks to the global warming and El Nino. Advantage Seahawks.

B) Opponent Strong Run Defense. Seattle stinks. Advantage Bears.
C) Better Strategic Head Coach. Many regard Holmgren as some sort of genius, but I seriously doubt that assertion. In the regular season, I expected the Seahawks to spread the field, especially given the injury to Shaun Alexander and the general disarray of their running game. What did the Seahawks do? They ran the ball to the edges. I'm only a pundit, but it's probably best to try something that you might do well at and not do something that makes it easier for the defense to stop. Believe it or not, Lovie is no worse than Holmgren, and a better motivator. Advantage Bears.
The Bears will lose in the NFC title game, but about 4 p.m. this Sunday, diabetics will receive a contact high from the humongous concentration of sugar in The Blue & Orange Kool-Aid.
Pick: Chicago minus-8/Under 38
*
For Bears win:
Sugar in the Blue and Orange Kool-Aid: 60%
Recommended sugar in the Blue and Orange Kool-Aid: 60%
Sugar in the Super Bowl pitcher: 50%
Recommended sugar in the Super Bowl pitcher: 33%
*
For more Emery, see the Kool-Aid archive, and the Over/Under archive. He can be contacted at Eric_Emery12345@yahoo.com.
Posted by Beachwood Reporter at 11:40 PM | Permalink
Over/Under
Never has one round of wild card football produced so much hysteria as last weekend's slate of games did. Here are the statements issued this week by players and teams throughout the league.
Office of Dallas Cowboys Inc.: "We categorically deny that we are trying to kill Bill Parcells rather than have to fire him. Conspiracy theories involving Tony Romo are nothing more than Internet twaddle."
Tony Romo: "I couldn't be more excited about my trade to the Mavericks, especially since the league went back to their old leather balls. Easy to handle, and no T.O. in the huddle."
Terrell Owens: "I have 18 dropped passes, er, reasons to fire my publicist."
The Kansas City Chiefs Fan Club: "We disagree with the consensus that Herm Edwards lacks the creativity to lead a team through the playoffs. After all, you have to be awfully creative to fail to get a first down well into the third quarter."
Eli Manning: "I regret to announce I've discovered I'm adopted. My real father lives in San Diego."
Office of New York Giants Inc.: "We are pleased to announce a one-year extension Tom Coughlin's tour of duty. His infantry unit leaves tomorrow."
Bill Belichick: "I sincerely apologize for pushing that cameraman. I thought he was Mangini."
Eric Mangini: "I pre-emptively deny infecting Bill Belichick with polonium 210."
Lovie Smith: "Rex is our quarterback."
Here are this week's most over- and under-hyped games.
Over-hyped: Indianapolis at Baltimore
Storyline: League's best quarterback against league's best defense.
What They Forget To Tell You: The Colts looked like boiled shit on offense for the regular-season stretch run, plus they've struggled against the 3-4 defense, which the Ravens run.
Pick: Baltimore minus 3.5/Under 42
Under-hyped: Philadelphia at New Orleans
Storyline: Katrina vs. Garcia. Kind of lopsided in the sentiment department.
What They Forget To Tell You: Rocky Balboa is actually a decent movie.
Pick: New Orleans minus 4/Over 48
Under-hyped: New England at San Diego
Storyline: Belichick and Brady vs. Schottenheimer and Tomlinson.
What They Forget To Tell You: Schottenheimer sucks. But this might be the true Super Bowl.
Pick: San Diego minus 4.5/Over 47
*
Last Week: 0-8
Regular Season: 45-52-3
Total: 45-60-3
*
For more Emery, see the Kool-Aid archive, and the Over/Under archive. He can be contacted at Eric_Emery12345@yahoo.com.
Posted by Beachwood Reporter at 10:34 PM | Permalink
On the Juice: Day 10
Some people start the New Year off with a few poxy resolutions scribbled down somewhere only to be forgotten by February. Me? I'm going on a two-week juice fast.
Day 10: Sprout to Get Me
There were some lines I discovered very early on that I simply wouldn't cross; foods that ordinarily I love and adore, but couldn't stomach the thought of consuming in juice form. Cauliflower? Love it, don't ever want to juice it. Asparagus? Yum. Don't ever want to juice it. Avocado? Yam? Garlic? Leek? The list was fairly long. It wasn't based on any concrete evidence; it was more of a gut thing. "Go with your gut," I told myself, "and everything will be just fine."
This strategy has worked well for me so far, but earlier today at the supermarket I had a moment of weakness. Hang in there for a moment and I'll explain.
The holy grail of any hard core juicer is filled with what we call the dark-green leafies - things like kale, chard, broccoli, spinach and parsley. They're absolutely packed with nutrition, including hard-to-find minerals like calcium and iron. Unfortunately, with the exception of broccoli, it's really difficult to get all that goodness out of them. Your average bunch of parsley yields perhaps a half cup of juice. It's nothing, a gulp. So I'm always on the lookout for new sources.
Enter a sack of humble Brussels sprouts. There they were, sitting in the produce section and looking wonderfully green and nutritious. I love Brussels sprouts. I love them boiled, I love them steamed, I love them roasted. Juiced? No thank you. But I'm getting a little sore in the wallet watching bag after bag of kale disappear down the glory hole leaving barely enough to wet my whistle. So I did it. I let my brain override my gut and grabbed some sprouts.
I'd like to tell you this story turns out well, and for the first few minutes it did. The sprouts yielded a good quantity of juice that I cut with some broccoli and cucumber. At the eleventh hour I decided to throw in half an apple, you know, to sweeten the cup. I stirred it up and tentatively took a sip.
Brussels sprout juice has a wonderful creaminess to it that tastes quite rich and satisfying. It draws out the subtler notes of the broccoli juice. And then the burning hits. You know that classic action movie set piece where the hero or heroine is stuck in a mine, a cave or an elevator shaft that we're told is filled with flammable gas or liquid? And then something climactic happens and the hero or heroine runs away from a giant, fast-moving fireball only to leap heroically to safety? And then flames come bursting out of some doorway or cave opening and disperse into the open air? Well, it felt a bit like that, only instead of a mine, cave or elevator shaft, it was my throat. And instead of hitting the open air and dispersing, the flames just hit my stomach and exploded. My poor, shriveled, unfed-since-last-year stomach. For the first time in the course of the fast, I had encountered a juice I just couldn't finish.
So here's a lesson to all potential juice fasters, learned the hard way: stick with your gut. If something doesn't seem like good juicing fodder, it probably isn't.
Day 10 Hunger Level: Pretty much a non-factor today.
Day 10 Energy Level: Consistently high. This was a good day, Brussels sprout juice not withstanding.
Day 10 Physical Condition: There are little aches and pains here or there, but on the whole I feel pretty friggin' great.
Day 10 Mental State: No great fits of self-doubt today, and no major panic attacks. It's all good in my head for the moment.
Day 10 Juices:
#1: Banana, Chard, Broccoli, Grape
#2: Purchased Odwalla Mo' Beta Drink (half bottle)
#3: Brussels Sprouts, Broccoli, Cucumber, Apple
#4: Carrot, Beet, Ginger, Cucumber
#5: Purchased Odwalla Superfood Drink (full bottle)
#6: Orange, Mango, Broccoli, Parsley, Seltzer Water
Total amount: approx. 58 oz.
Previously:
* On The Juice: Day 1. If you can't beet it, juice it.
* On The Juice: Day 2. Fire in the glory hole!
* On The Juice: Day 3. Sipping point.
* On The Juice: Day 4. Brush with destiny.
* On The Juice: Day 5. Food for thought.
* On The Juice: Day 6. Dinner-free dinner party.
* On The Juice: Day 7. The longest chard.
* On The Juice: Day 8. The daily grind.
* On The Juice: Day 9. Driving force.
Posted by Natasha Julius at 9:50 PM | Permalink
What I Watched Last Night
If there was a contest right now for Biggest Fucking Genius Of The Universe Ever, I believe I know who the undisputed champ would be. No, not Stephen Hawking. Jeez, even the clinically insane can come up with concepts not a single breathing human being could possibly grasp. Bert and Ernie could do it with crayons. No, the true BFGOTUE would, collectively, be the think tank at VH1 that came up with Tuesday night's The Surreal Life Fame Games: Welcome to Celebrity Island.
The genius here is not the game itself, but rather that VH1 has found yet another way to keep the same bunch of celebrity driftwood off the dole.
The flotsam and jetsam rounded up for this program include Traci "Traci Who?" Bingham; Sandra Denton (Pepa, as in Salt-N-Pepa); C.C. DeVille (former junkie guitarist for Poison); Rob "Vanilla Ice" Van Winkle; onetime porn star Ron Jeremy; former female wrestler Joanie "Chyna Doll" Laurer; Emmanuel "Webster" Lewis; Andrea "Andrea Who?" Lowell; Brigitte "Drunk and Disorderly" Nielsen (Red Sonja, Rocky IV, Flavor of Love), and Verne "Mini-Me" Troyer. Troyer became a last-minute substitute when onetime New Kid On The Block Jordan Knight stormed off the show after being struck by a bolt of lightning bolt bearing the gift of momentary intelligence.
The show is led by Robin Leach, whose own champagne dreams and caviar wishes dried up since he - or more accurately, that bellowing voice of his - found fame hosting Lifestyles of the Rich and Famous during the 1980s. Quite simply, if Joan Collins and Dynasty hadn't existed, neither would this guy. But he does, and now he's emceeing this show. Curiously, I found comfort in seeing that the ruffled shirt and powder blue tux and matching bow tie that I rented from Gingiss Formalwear for senior prom in 1978 has finally found a new home on Leach's bloated frame.
In this multi-challenge elimination game show, the ultimate winner wanders away with $100,000 to whatever car or cardboard box constitutes home these days. Until, of course, they find out the producers forgot to tell them the hundred grand is for charity. While the real challenge for these folks would be to find an agent that's worth a shit, the first exercise on Tuesday's episode was to try to get the most bystanders to ask to be photographed with them. If it hadn't occurred before to most of the driftwood that their overly-generous helping of 15 minutes expired long ago, it started sinking in now. Said DeVille, who was having such a hard time rounding up photos that he resorted to bribing the crowd with an offer to split half the $100,000: "I'm a big star in my head. In reality (pregnant pause) not so big."
The program is also impossibly bad - maybe even good? - enough to show just how low some celebs will reach for that point where even the tweakers and the inbreds on Cops demonstrate more self-respect and dignity. At that point, it's time to call mom and dad to see if your room's still available. Laurer, presented with the hard truth that her fame train is now just a dot on the horizon after having an even harder time than DeVille scrounging up photo ops, was reduced to a heap of tears after being announced the round's Big Loser Bottom Feeder. "It's a horrible feeling, actually," she blubbered. "I want my fame to mean something."
That's the thing. Their "fame" means nothing to anybody but them. At least Troyer, who appears short-fused even on a good day, realizes the show is what it is: just another easy way to pimp yourself for a quick buck now, while the getting is good. "I have no idea what I'm doing here," he commented.
Okay, I feel the overpowering urge to take a long, hot shower just writing about this show, so I'll leave it up to you to see the rest of the spectacle for yourself some other Tuesday night. At this point, the only thing I feel the obligation to mention is that this program is actually a *series,* and that upcoming exercises in self-humiliation include the driftwood seeing how many still-famous acquaintances they can still get to take their phone call.
And to think the Charlie in the Box thought he had problems on the Island of Misfit Toys . . .
* * *
Of course, some career Dumpster divers have managed, by virtue of VH1's Career Life Support Institute, to avoid the island. Folks like Erik Estrada, Bella Vista Village spokesman and is now on some new CBS reality show with other washups who allegedly become real cops and ride around allegedly fighting crime with real, allegedly actual cops. This is a program I'm afraid to watch. Very afraid. Also conspicuously absent from the island by virtue of their newfound successes were Adrianne Curry and her fair Brady.
All three are good candidates for next season, though.
Catch up with the What I Watched Last Night files.
Posted by Beachwood Reporter at 3:38 PM | Permalink
The [Wednesday] Papers
Our confidence in the FBI's ability to, say, do its part to protect us from terrorism isn't exactly at an all-time high upon learning of its apparent inability to read maps.
According to various reports, the sting set up by the agency to snare Ald. Arenda Troutman involved a parcel of land that wasn't even in her ward.
Troutman's lawyer, though, errs when he thinks that's a point his client's favor. "That should prove to everyone that there was nothing fraudulent going on," Sam Adam Jr. told the Tribune. Adam said Troutman knows exactly where the boundaries of her ward are.
That's all the more damning, though. Troutman actually had the gall to (allegedly) accept a bribe to develop a property that wasn't even in her ward! It turns out the parcel in question is in Shirley Coleman's ward - and Coleman wasn't even offered a cut!

Reading the "plot line" laid out by the Tribune, you get the sense that Troutman had to try awfully hard - and did - to find something she could deliver in exchange for a, um, contribution.
Aside from allegedly consummating a deal with a (fake) developer for a parcel that wasn't even in her ward, Troutman called the city's planning department to alert them to a letter in support of a zoning change she was going to send in. She was told that wouldn't be necessary because the land was not owned by the city.
"The complaint charges that Troutman continued to try to find a way to earn bribe money, finally using her clout to allow the developer to use a public alley for access to his project's parking lot," the Tribune reports.
Which was Troutman's way of really playing the (fake) developer for a sucker. Ald. Thomas Allen, chairman of the city council's Transportation Committee, told the Trib that alley-access ordinances are so routine that it would be "ridiculous" to pay a bribe to get one.
Proper Names: "Aldermen: Don't Call Us 'Ho's." They prefer pimps instead, though that infringes on the mayor's turf.
Defining Terms: "Any money she took from the cooperating witness in the case cannot be called a bribe, [Adams] said."
Zero percent financing?
Daley Dose: The mayor blamed Troutman's troubles on "human frailty."
And in Chicago, humans are more frail than anywhere else.
Prerogative: "[Daley] said that 'aldermanic prerogative' - the long-held tradition that gives City Council members great power over development in their wards - is appropriate, even though dishonest aldermen over the years have taken bribes for zoning changes and other assistance," the Tribune reports.
"If the mayor had power over all local projects, 'then you would say, Why would the mayor want all that power?'"
And we all know the mayor makes his decisions based on what reporters would say.
Isn't there, like, a zoning department that should make these decisions?
Surge Patrol
The president addresses the nation tonight to prove that John Kerry was right when he said "Education, if you make the most of it, you study hard, you do your homework and you make an effort to be smart, you can do well. And if you don't, you get stuck in Iraq."
Millennium Airport
Mayor Daley's ill-fated O'Hare expansion project is already $400 million over budget, the Tribune reports.
And "there is at least $700 million in additional expenses, ranging from an airfield taxiway to interest payments, for which the city has not yet identified funding."
And the project is still in the early-going.
"In addition, the airlines have not agreed to terms for financing the second phase of the runway expansion plan, which is when most of the benefits to increase flights and reduce O'Hare delays would occur."
Not only that, but over the last 15 years, the paper notes, airlines have been channeling a sizable number of connecting passengers through other airports with lower costs.
Please remind me, what is this mayor good at again?
Millennium Olympics
Just wait.
Business Models
A) "Beijing Targets Corruption Before Olympics."
B) "Lottery Funds To 'Bail Out' [London] Olympics."
Sources say Daley has settled on "B."
Blog Fog
Chicago Tonight's Phil Ponce asked blogger Jon Marshall last night about a concern in the industry that the Internet was dumbing down journalism. A few minutes later he introduced the show's weekly Debra Pickett commentary. Mancow was off this week.
Mommy Track
Pickett has returned from maternity leave to learn that her page 2 column in the Sun-Times has been demoted to the Lifestyles page. Sources say Chicago Tonight is now considering moving her commentaries to Check, Please!
Takes One To Know One
"While trying to justify the pain of the budget cuts he is seeking, Stroger also defended his recent decisions to hire and promote friends and family members," the Tribune reports. "In the latest example, Stroger has hired his sister-in-law, Monique Martin, to be his personal secretary for $64,983 per year.
"I am working with people who I know are qualified," Stroger said. "And why would I go out and hire somebody I don't know when there's people I do know who can do the job?"
Stroger then explained his new idea of keeping a list of people he knows, or of people recommended to him by people he knows, and trying to place them in county jobs so he can be sure he's hiring people he can trust.
Never Forget
Todd Stroger was installed by Richard Daley and endorsed by Barack Obama, Dick Durbin, and the Chicago Sun-Times.
Short List
Cook County Democratic Party Chairman Thomas Lyons is resigning, apparently due to bad health, though it's also possible Bill Beavers has another relative who needs a job. The early favorites to replace Lyons:
* Vladimir Putin. Nostalgic for good old days.
* Bobbie Steele. Pension money not going as far as she thought.
* Rod Blagojevich. More power, less Springfield.
* George Ryan. Bored while out on appeal.
CT&A
"Brown Line's Kimball Station To Reopen Friday."
The rest of the Brown Line will be closed, though.
Chicagobama Sun-Times
Please stop.
Does A Bear . . .
The Sun-Times's big front-page headline today: "Is Al Gore Right?"
It's about global warming.
Next week:
Monday: "Is Darwin Right?"
Tuesday: "Is Einstein Right?"
Wednesday: "Is Newton Right?"
Thursday: "Is Galileo Right?"
Friday: "Obama Right."
Neil North
Which big dumb white guy has offended more people, Mike North or Neil Steinberg?
I'd say North. He has more range. Steinberg tends to stick to blacks and Jews.
Spam Scam
Beachwood contributor-by-association Dave Stern answers a Nigerian e-mail scam.
The Beachwood Tip Line: Zoned for funny.


Posted by Beachwood Reporter at 8:12 AM | Permalink
January 9, 2007
On the Juice: Day 9
Some people start the New Year off with a few poxy resolutions scribbled down somewhere only to be forgotten by February. Me? I'm going on a two-week juice fast.
Day 9: Driving Force
I like to challenge myself, as you've probably guessed by now, so today I tried something I've shied away from thus far in my fast. I got behind the wheel of a car.
This wasn't just a question of wanton fancy. It was actually a necessity. In general, as a city mouse I can avoid taking to the streets. However, I teach yoga out in the suburbs on Tuesdays and there really isn't any other way to get there. So there I was on a bright, sunny afternoon, 100% food-free for more than a week, hitting the highway with a peppy little V6 underfoot. And you know what? I can comfortably say I wasn't the most high-risk driver out there. I think that distinction would probably go to the crazy lady with no wing mirrors switching lanes the way some people kick off their shoes. Or perhaps the guy who was consulting a map flung open across his steering wheel while holding and talking on a cell phone. The open road is populated by psychopaths, my friends, and an ultra-focused fasting fiend is the least of your worries.
That I noticed every nutty driver out there is due to one of the most aggravating side effects of an extended fast; fits of extreme self-doubt. Your nutrition level drops a little, your heart rate increases and suddenly you're convinced your body is shutting down for good. Every shadow, every line, every angle of your face screams that this was a bad idea; every routine, everyday ache and pain tells you you've really screwed yourself up this time. You watch the road like a hawk because you're sure any minute now the screen will go blank and you'll be another statistic. I always I felt the mental part of the fast would be far more difficult to handle than the physical. I had absolutely no idea just how hard it would be.
Take for example a conversation I had with a friend who mentioned that my eyes look different these days. She described them as being brighter and perhaps a little trippy. At the time I thought, "Hey, cool!" But within an hour, as my body settled into its early-evening fatigue, I started to wonder. Just what does "trippy" mean? Do I look manic? Desperate? Starved? Can everyone see this? Is that why everyone is looking at me funny? Is everyone looking at me funny? Are they?
There are a million and two tiny things that happen to your body when you fast. More than likely, the vast majority of them also happen when you eat. You just never notice them. But because you are expecting things to be different, every difference becomes fodder for this type of panicked speculation. So how to manage this? I drink a little juice, I wait a little while. Sure enough, as soon as the nutrition hits my system I feel alert, confident, even trippy.
Day 9 Hunger Level: My stomach was quite vocal during the day, but again it wasn't linked to any actual hunger. When I envision eating in my mind, I feel oddly comforted but also a bit confused.
Day 9 Energy Level: Fairly consistent and quite high at that.
Day 9 Physical Condition: I'd like to shift the attention away from my own physical condition toward the condition of Dave's juicer. In terms of juicing horse power, it's holding up splendidly. However, the toll of nine days' continuous employment is beginning to show on its plastic components. This is my way of saying, dude, Dave? Your juicer is totally turning green. Don't worry - I'll give it a thorough soak and scrub before turning it back to you.
Day 9 Mental State: Aside from the crazy brooding mood swings, the boredom and the isolation, I'm doing just fine, thanks.
Day 9 Juices:
#1: Chard, Banana, Grape, Mango
#2: Beet, Spinach, Parsley, Ginger, Carrot, Apple, Orange
#3: Banana, Chard, Broccoli, Apple
#4: Purchased Odwalla Mo' Beta Drink (half bottle)
Total amount: approx. 50 oz.

Previously:
* On The Juice: Day 1. If you can't beet it, juice it.
* On The Juice: Day 2. Fire in the glory hole!
* On The Juice: Day 3. Sipping point.
* On The Juice: Day 4. Brush with destiny.
* On The Juice: Day 5. Food for thought.
* On The Juice: Day 6. Dinner-free dinner party.
* On The Juice: Day 7. The longest chard.
* On The Juice: Day 8. The daily grind.
Posted by Natasha Julius at 10:16 PM | Permalink
What I Watched Last Night
Monday night is the only night in which TV puts me to sleep. Truly. Not just to sleep, but barely after nine o'clock Old People Early asleep, so I'm up at the crack of fucking dawn the next morning with nothing to do but look out my window for opportunities to stick my nose in my neighbors' business.
I just moved to a new neighborhood. I have seen my neighbors. I really don't want to know what they're doing.
Someone in charge of Monday night TV programming needs to please stop this before I need a hip replaced or start talking about goiters or something.
The wooze-inducing culprits last night were The New Adventures of Old Christine and CSI: Miami - I was more or less defaulted into watching CBS because I had already seen the Mythbusters guys try to replicate an Archimedes Mirror to harness the reflective power of the sun, possibly to incinerate Rachael Ray.
I was perfectly wide-awake during Two and a Half Men, which is pretty much the only consistently-excellent show CBS has. After four years, the Charlie Sheen-Jon Cryer program just proves that you can turn deep-seated cynicism and mean-spiritedness into a rewarding career as a TV scriptwriter. In last night's show, entitled "Castrating Sheep in Montana," Alan Harper (Cryer) gets a diamond stud in the "gay" ear (which gets all infected) and discovers how to recognize when a bad relationship with a demanding, lactating bitch has run its "natural course."
Interestingly, if you're not much of a speed reader and have never been able to read the often-engaging screenful of text that shows up for a nanosecond every week during the end credits, you can catch them all in one place here in executive producer Chuck Lorre's collection of vanity cards. You can even read those that nanoflashed at the end of Dharma & Greg. If you think your boss is the stupidest troll on the face of the earth who deserves a slow and hideous death, some of Lorre's cards will make you feel fortunate enough not to work for anyone in charge of paddling the entertainment industry's canoe.
I don't know why I even occasionally bother with Julia Louis-Dreyfus and The New Adventures of Old Christine, as I did Monday. Maybe if the Mythbuster guys had repeated the episode where busty junior buster Kari does some busting that required her to wear a kimono, I'd have tuned in. But they didn't. So I got stuck with Christine, which isn't all that funny except when Wanda Sykes shows up now and then. Wanda didn't last night, but Blair Underwood did, and I can't think of a way for anyone to make Blair Underwood funny.
I caught myself dropping off just in time for the season premiere of CSI: Miami, a show unable to decide whether Lt. Horatio Caine (David Caruso) should be a detective or a crime scene investigator since he seems to spend most of his time chasing around suspected felons for making fun of his name and getting confessions out of them by threatening to bring in Dennis Franz if they don't start spilling real quick. That's probably a good thing, because yesterday Horatio had a hard time trying to figure out whether the murder victim was shot or stabbed. So he asked the coroner at the scene: "Cause of death?" I would have loved for her to say, "Are you blind and stupid? These big holes in his chest killed him." But she didn't, leaving everyone unsatisfied.
So in last night's episode, some guy with a mustache turns up dead, there was lots of blood, many fingerprints were dusted for, and Dave spent a lot of time being bossy and treating everyone to his annoying manner of speaking that makes the world suspect he's taking articulation lessons from William Shatner aboard the Starship Enterprise. What happened beyond that, I have no idea, because Dave hypnotized me to sleep with his voice.
Maybe CBS can start a new spinoff for him when Miami runs its course. They can call it CSI: Somnambulist.
For more expert television watching, see the What I Watched Last Night files.
Posted by Beachwood Reporter at 4:24 PM | Permalink
The [Tuesday] Papers
Political scandals in Chicago, which in my mind includes state government, come with an unerring ability to add to the already-rich vernacular of fixers and operators scheming in any manner of way to get a little on the side. Who can forget such timeless classics as former Chicago treasurer Miriam Santos's FBI-recorded squeeze on a contractor/contributor, "Now it's time for people to belly up," followed by "I am human and probably the first woman to go to jail for PMS-ing"? And sometimes the phrase-making comes from prosecutors, as in U.S. Attorney Patrick Fitzgerald's description of Tony Rezko's dealings as pay-to-play on steroids.
We can now add Ald. Arenda Troutman's instant classic, recorded by the FBI, "Well, the thing is, most politicians are hos."
Ding ding ding! We have a winner!
Let's take a look at some of the other highlights from the Troutman follies.

Candygram
Troutman apparently refused to answer agents knocking on her door, but could be seen peering outside from a window.
"The agents also asked a nanny, who spoke through another window, to let them inside and called the home several times with no response," the AP reported. After 20 to 30 minutes, the agents broke a window to open a door and enter."
By the way, that AP story, sent 'round the globe, started this way:
"CHICAGO - FBI agents had to break a window at a city alderman's home to get inside Monday to arrest her on a federal bribery charge, authorities said."
Nice.
Morning Papers
"When they entered the alderman's South Side home, her document shredder was warm," the Sun-Times reports.
Which would explain the 20- to 30-minute delay. She had a lot of shredding to do. But shouldn't agents have gone in right away?
Historical Illusion
"Arenda Troutman is a throwback to a bygone era when politicians paraded around in fur coats, drove fancy cars, packed the city payroll with relatives and allowed other family members to cash in on government contracts," Fran Spielman writes.
A) As opposed to today, when they wear faux-fur.
B) As opposed to today, when they are chauffered.
C) Just like the mayor.
WikiTroutman
Troutman's Wikipedia entry.
Women's Caucus
"I know women who've been tricked by men before," said Ald. Freddrenna Lyle (6th) said of her relationship with fugitive Black Disciples kingpin Donnell "Scandalous" Jehan.
Yes, women are vulnerable like that.
Past Predictors
* In 1978, Troutman admitted to shoplifting.
* In 1990, Daley appointed her alderman.
* In 2004, the FBI questioned Troutman about her relationship with Jehan.
* In 2004, she also had police officers assigned to guard her home 24/7. "Deserve it? Damn right," she said. "I should receive the protection I am receiving. I am an elected official."
* In 2004, the Sun-Times editorial page said that Troutman had "accepted $4,800 from an Englewood church even though churches aren't allowed to make political donations. And she managed to get the property tax reduced on her home when her neighbors were hit with higher bills."
* In 2005, a Sun-Times investigation found that "Ald. Arenda Troutman's family created and ran a trucking company that took in more than $1.1 million from the city's scandalous Hired Truck Program."
* Spielman reports "that Troutman's sister and mother serve on her aldermanic staff. Another sister who has since died was the 20th Ward sanitation superintendent. Other family members hold other government jobs."
Tale of Two Trucks
Just a couple months ago, Troutman unloaded on the mayor.
"The Duffs stole $100 million earmarked for blacks and other minorities. . . . White men [used] their mothers, sisters and daughters to steal $40 million. They abused the Hired Truck Program designed to help blacks and other minorities pull themselves up by their bootstraps. These people were getting contracts because they lived in a white city. They were greedy and wanted the minority share," she said. "My constituents want a fair shot at jobs and contracts."
From Spielman's account at the time: "When Troutman said she was 'speaking truth to power,' Daley replied, 'It doesn't bother me.' When she ended her speech, he mockingly applauded."
From Spielman today: "Daley blamed Troutman's tale of two cities remark on a 'complex' ward with Hispanics on one end and blacks on the other that pulls the alderman in opposite directions."
Daley, in Springfield for Gov. Rod Blagojevich's inauguration, had no comment on Troutman's arrest. He was seen mockingly applauding, though.
More Efficient Bribery
Troutman recently told the Tribune's Rick Kogan that " I never understand why so many people want to challenge us for our jobs think there are a lot of people who simply don't understand that the longer aldermen are in their jobs the more effective they can be."
She also complained that the press didn't treat her fairly in the Jehan and Hired Truck matters.
Cynicism Writ Large
The Sun-Times editorial page, which endorsed Todd Stroger, says Troutman's arrest "just adds to city cynicism."
The Sun-Times editorial page also says "Since her appointment to the City Council in 1990, troutman has distinguished herself mostly for her lack of good judgement."
Gee, is that why the paper has endorsed her in each of her four campaigns? Let's review.
* In 1991, the Sun-Times endorsed Troutman despite board member Vernon Jarrett writing this: "And in the all-black 20th Ward, a scurrilous, sick campaign is in high gear against Dino McNeal, 32, an independent who is challenging Daley appointee Ald. Arenda Troutman. McNeal is a native of this troubled ward who stayed and earned a college degree in psychology and is employed by the Salvation Army. He came back home to work the streets against crime and voter apathy. Yet, he is being smeared as a 'dope pusher with a long criminal record.'
"His police record shows nothing but one traffic violation. Such sick tactics will continue into the next century unless decent people decide to reject them and make a determined effort to deny office to all who rely on public gullibility."
* In 1995, the Sun-Times endorsed Troutman saying this: "Arenda Troutman is an outstanding public official."
* In 1999, the Sun-Times endorsed Troutman saying this: "Ald. Arenda Troutman managed to bring significant economic development projects to her ward."
* And in 2003, the Sun-Times endorsed Troutman in an editorial titled "8 Great Choices for City Council."
So I'm guessing she still has a chance to get the paper's endorsement this year.
Alt-Arenda
For comparison, let's look at the Tribune editorial page's history with Troutman.
* In 1991, the Trib edit page said this: "The death of Ald. Ernest Jones has led to the largest field in any ward: 20 candidates. They include his widow, Georgia Jones; his former chief of staff, John Lewis; and Ald. Arenda Troutman, picked by the Democratic organization to succeed Jones. A better choice than all of them is Mary Ann Broy, a city Department of Human Services supervisor."
The paper then skeptically endorsed Troutman in a runoff against Dino McNeal.
* In 1995, the Trib edit page said this: "Ald. Arenda Troutman has made some headway on housing, but her tenure has generally been a disappointment. She would merit re-election against lackluster opponents. But this field includes an excellent challenger: Dino McNeal, founder and director of a successful social service agency. He would bring a sharper focus to servicing the ward."
* In 1999, the Trib edit page said this: "Ald. Arenda Troutman has had a go-along, get-along four years, and her ward has precious little to show for her mediocre performance. The ward would see more effective leadership from Julius Polk, a national account executive with a shipping firm and president of the Woodlawn Development Association. A lifelong resident of the area, Polk would bring a more professional approach to managing the ward."
* In 2003, the Trib edit page said this: "Ald. Arenda Troutman has been an engaged and vocal advocate for her ward."
She had four opponents that year, including a former state representative and an Operation Push executive.
Naked Play
Memo to the Chicago Obama-Times: Give it a rest.
Number One
Boise State.
The True Story . . .
. . . of the O'Hare UFO.
The Beachwood Tip Line: It's time to belly up, hos!

Posted by Beachwood Reporter at 8:23 AM | Permalink
Del Reeves' Truckin' Country
There is a strain of Nashville country music that to me, as a dyed-in-the-wool rock 'n' roller, was always one of the least objectionable of its forms. That was truckin' country. And Del Reeves, who died on New Year's Day, was its Beatles.
I kind of liked truckin' country because it seemed to vaguely rock, which is far more than I could say about any other kind of Grand Ol' Opry stuff coming out of Nashville in the '60s. I mean, of course it was still so right-wing and reactionary that I could never really embrace it, but I had to admit that some of it was undeniably hooky. Plus, it was the only kind of country music that seemed to have any sense of humor. It made me realize truckers liked to laugh in between hippie-bashings. Or maybe even during.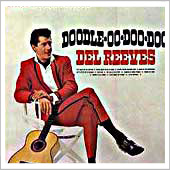 My guess is that, compared to a lot of country music fans, truckers got around more and that exposed them to what was going on musically in the rest of the world. So their kind of truckin' country incorporated a few elements of rock 'n' roll - first and foremost, a twangy yet hard-edged guitar sound. One of the kings of the truckin' country guitar sound was Franklin Delano Reeves, who died on Jan. 1, 2007 (ironically sharing that New Year's Day demise with fellow country greats Hank Williams and Townes Van Zandt). Reeves' death marks the passing of one of the few Nashville/Opry types of the 1960s whose willingness to answer rock's blasting guitar call helped create an opening for the huge success of "country rock" in succeeding decades.
It's a trebly thing, that sound, which twangs and punches at the same time. It's instantly recognizable as the trucker's guitar. The first time I heard it, it was being wielded by Dave Dudley in "Six Days On the Road," released in 1963. I thought it was pretty cool, because as well as being the first song I ever heard about meth, the guitar sounded like it was being plucked with a hammer. It had a rock beat, rather than a country beat, although there was no doubt that the twang labeled it as Nashville. The lyrics were funny, and I kind of got into it, at least as much as my rock chauvinism would let me, which wasn't much.
Then along came Del Reeves to further refine truckin' country. Although Dudley's "Six Days" is still the gold standard by which the genre will forever be defined, Reeves' 1965 song, "Girl on the Billboard" was probably its biggest hit. It came out about the same time that Roger Miller was riding high with his sly country-ish novelty numbers like "King of the Road" and "Dang Me," so I think the record-buying public was especially receptive to funny country songs. But this one took the cake. Not only was it pretty raunchy for mainstream radio, it was rather clever in its construction. Not something you'd expect from the Opry scene.
In memory of Del Reeves' passing, here are the lyrics to "Girl on the Billboard," the "Stairway to Heaven" of truckin' songs. Best of all, it's got a Chicago reference . . . I think that's because all long-haul truck trips either begin or end in Chicago in song-lyric world.
Doo da doo doo doo doo da doo doo doo
Who is the girl wearing nothing but a smile
And a towel in the picture on the billboard in the field near the big old highway
Rolling down the highway in my Jimmy hauling freight
From Chicago to St Louis, Lord I see her every day
A double clutching weasel like me can hardly ever get a girl to look at him that way
Like the girl wearing nothing but a smile
And a towel in the picture on the billboard in the field near the big old highway
Well what a girl wearing nothing but a smile
And a towel in the picture on the billboard in the field near the big old highway
I bet it wouldn't take her very long to be gone
If someone would pull a dirty trick and take her hot pants away
I slow my Jimmy down to twenty that's how many wrecks I see there every day
Caused by the girl wearing nothing but a smile
And a towel in the picture on the billboard in the field near the big old highway
A doo da doo doo doo doo da doo doo doo
Doggone that girl wearing nothing but a smile
And a towel in the picture on the billboard in the field near the big old highway
Sleepy-headed painter said the girl wasn't real
And I'd better get the (%@**!) on my way
On Route 66 from the billboard to Chicago
You'll find tiny pieces of my heart scattered every which a-way
Shattered by the girl wearing nothing but a smile
And a towel in the picture on the billboard in the field near the big old highway
A doo da doo doo doo doo da doo doo doo dee da dee dee doo
Posted by Don Jacobson at 2:52 AM | Permalink
January 8, 2007
On the Juice: Day 8
Some people start the New Year off with a few poxy resolutions scribbled down somewhere only to be forgotten by February. Me? I'm going on a two-week juice fast.
Day 8: The Daily Grind
An interesting thing happens when you stop using your mouth to chew. You begin to notice just how often you use your jaw muscles. Every time you take a bite of food, your mandible contracts, retracts and moves side-to-side. It's an incredibly complex ballet of two coordinated joints, requiring eight muscles that extend from the base of the jaw to the sides of the skull well above the brow ridge and temple. These same muscles are used when talking, grinning, protruding the jaw. They are among the tightest muscles in the body.
For me, clenching the jaw is an immediate response to stress. I also tend to clench my jaw or grind my teeth when I sleep. Every time the upper and lower teeth are in contact with each other I know I'm flexing some kind of muscle. Now that I've been chew-free for more than a week, I can tell you that it happens way more often than I ever realized. I can also tell you it's taking a bigger toll than you might suspect.
When moving the jaw becomes a bit more novel, it's suddenly a major event. Because my muscles of mastication are finally having a bit of a rest, they get sort of achy when I try to contract them. It's not exactly painful; more like a little alarm bell ringing, or perhaps a little voice whispering, "shhhh . . . we're trying to sleep." So I'm learning how to back off and let my jaw stay more relaxed. Suddenly, my entire face feels freer. Some of the headaches that I'd always attributed to congestion or cricks in my neck have dissolved, evidently caused all along by a habit I never fully knew I had. I've even started to notice less discomfort when I wake up in the morning, no longer spending my sleeping hours grinding my teeth to nubs.
A lot of really weird things have happened to me since I started this fast. This is among the weirdest and also the most welcome. I'm starting to wonder if I can break this jaw-clenching habit for good. Maybe by exercising some conscious control I can reshape the way I use those muscles and keep reaping the great benefit of not grinding my teeth permanently. Then again, I haven't eaten in eight days, so maybe this is all just a bizarre multiplatform hallucination or something.
Day 8 Hunger Level: I'm starting to understand hunger more on a cellular level. My muscles tire, my gaze softens, and my whole body begins to slow itself down. I might get a little light-headed or sleepy. These are all signals that I need to get some nutrients in me quickly. As soon as I've consumed some juice, I feel awake and nourished again.
Day 8 Energy Level: It's closely linked with the hunger I mentioned above. As long as I manage my juice intake carefully and make sure I have a good mix of short- and long-burning calories in me, I feel almost disturbingly alert and energetic. If I allow that to taper off, I fade pretty fast.
Day 8 Physical Condition: I definitely feel much more sensitive to heat and chill, particularly in my finger and toes. I've been much more careful about drinking extra water and using lots of lip balm, so the dryness and irritation I started to feel in my throat and mouth have lessened. I do feel a bit weaker over all, but at the same time my muscles seem more limber and relaxed. My clothes are starting to fit differently.
Day 8 Mental State: You know, I may not be the best judge of this. I just wrote a whole treatise on breaking my chewing habit, and even from my euphoric food-free state that sounds half-crazy. I think I'm possibly a bit more moody and grouchy sometimes, in particular when I'm running low on fuel. Otherwise, I'm doing just fine.
Day 8 Juices:
#1: Banana, Pear, Lime, Chard, Seltzer Water
#2: Spinach, Broccoli, Kale, Banana, Pear
#3: Beet, Carrot, Ginger, Red Pepper, Apple
#4: Purchased Odwalla Superfood Drink (full bottle)
Total amount: approx. 54 oz.
Previously:
* On The Juice: Day 1. If you can't beet it, juice it.
* On The Juice: Day 2. Fire in the glory hole!
* On The Juice: Day 3. Sipping point.
* On The Juice: Day 4. Brush with destiny.
* On The Juice: Day 5. Food for thought.
* On The Juice: Day 6. Dinner-free dinner party.
* On The Juice: Day 7. The longest chard.
Posted by Natasha Julius at 10:38 PM | Permalink
What I Watched Last Night
Get on a hotel bus with a dozen or so Mexicans on a Saturday afternoon and you never know where you'll end up. Especially when you don't understand a lick of Spanish.
I was channel surfing when I came across a big Sin Rodeo graphic on Galavision, a Spanish-speaking channel on my satellite menu whose logo is apparently on loan from the Green Bay Packers. I'm a fan of sin, and I don't mind a good rodeo now and then during the monster truck pull off-season, so Galavision had my attention for the next hour.
The host of the program was a chipper young woman who works as Gloria Estefan's somewhat-less-hot sister. She used the first quarter of the show in the back of a hotel bus interviewing roughly a dozen Mexican fellows who appeared to be in their mid-30s with the same hair stylist and buying habits at The Sunglass Hut. What made these guys special enough for their own bus ride, I wondered. Were they on their way to find sin? To to the rodeo? My gringo curiosity needed satisfaction.

But first, Galavision felt I should see several music videos by a group called Banda Astilleros, a horn and clarinet band with more members than Earth, Wind & Fire could ever imagine. Given the rather insane decibel output of its music, which I can only characterize as polka music for the Hispanic, Banda Astilleros appears to specialize in producing music for the deaf.
Being a gringo, I had no idea what was going on in the band's songs, but they seem to have a lot to do with spouses screwing around, passing out drunk, and incredibly hot women in fishnets and Daisy Dukes lap dancing The Invisible Man or wandering the streets aimlessly getting their hair blown around by the wind. Yet I didn't need to understand the tunes to see that the band is serious about its wardrobe. Dressed in matching uniforms (which change in each video), these fellows look bitchin' even when they're performing ankle-deep in a creek.
As the program continued, it dawned on me that the dudes on the bus were - surprise! - Banda Astilleros. I didn't realize this at first because none of their clothes matched. Disappointingly enough, the bus trip was to find neither sin nor rodeo, but rather a public plaza somewhere outside a major landmark with a giant flag of Mexico flapping about in the background and a really creepy-looking mime with an unsettling resemblance to Michael Jackson dressed as a scarecrow. I don't know what the landmark was, but it reminded me of what Our Lady of Guadalupe Church might look like if the parish had Banda Astilleros' wardrobe budget when it built the place. The yackfest continued until - surprise! - the band pulled out its new CD.
There were also interesting, informative things to see during the commercial breaks:
* Public service advertising is alive and well on Galavision, which seems to be the one place on Earth where the United States Marine Corps is considered socially redeeming enough to qualify for a PSA. UNICEF was also represented with a commercial that informs us that when they're not busy starving, children of the Third World enjoy kicking around the same ball made entirely of rags held together by a giant rubber band.
* Just when you thought Jose Feliciano might be dead, you discover he's alive and well with a brand new CD.
* You're fat, you're a fashion plate in a screaming red shirt, a pair of Sans-A-Belts, and some ankle boots, and your life isn't complete without four or five babes sitting in your lap drinking champagne. Don't worry - Seduxion cologne is available to make it happen for players just like you.
* I've now seen what qualifies as the most disturbing thing I've seen in my entire life: A commercial for a children's CD entitled Kids' Flow. It seems to be much like the Kidz Bop CDs familiar to most of us white, middle-class suburban gringos. Except this one is made by a small group of 8-year-old gangstas. If you have any conscience whatsoever, nothing will make your skin crawl like seeing a little one fanning a fistful of cash out a back seat window or getting out of a sports car followed by a 'ho or two.
Aired not just once, but three times within a half-hour. Obviously, the ad agency was asleep at the switch, since it forgot one of them getting capped in a drive-by.
* * *
It was Ferris Bueller's day off. Again. This time on VH1's Movies That Rock. I can't think of any other movie on cable passed around and beaten to death more times than a Bangkok hooker than this one.
Notable performance by the red Ferrari.
* * *
This past weekend was wild card playoff time. I was sitting at Harry's Bar in Thornton when I, along with the rest of Dallas Cowboys-Hating Nation, saw the now-legendary self-humiliation of Cowboys quarterback Tony "Dropsy" Romo.
Sunday night, I caught the last half of the Eagles-Giants game at Franco's, arguably the nicest of the watering holes along the Kennedy Avenue alcohol corridor between the Hessville and Highland borders in Indiana. If you happen wander in on weekends, keep an eye out for the amazing redhead with the perfect amount of junk in the trunk. The Eagles won, which means we'll get to watch Seattle most likely hand the Bears their ass on a plate next Sunday.
For more expert television watching, see the What I Watched Last Night files.
Posted by Beachwood Reporter at 2:52 PM | Permalink
Immigrants With a Twist
To most of us, concepts like globalization and global citizenship seem so far removed from our daily lives that they seemingly have no impact. In fact, we hardly consider the possibility that such concepts can determine our friends, neighbors, and co-workers. Most of us also think of immigrants in very simple terms: Mexicans from Mexico, Poles from Poland, Asian Indians from India, etc. In most cases, immigrants do come from where they were born. But there are also others who have roamed the earth before arriving in our state. Some have settled in Illinois upon their travels and some are simply passing by.

Historically, people often moved for political and economic reasons. Many have fled Cuba, Bosnia, or a number of African nations to seek political asylum. And many have left the Philippines, India, Poland, and many other nations seeking economic opportunities. Today we travel with far greater frequency and over far greater distances than ever before. After 1965, when the Immigration and Naturalization Act was passed, Asian Indians who used to live in England during colonization and Koreans who were in Germany seeking coal mining and nursing opportunities moved to United States. In fact, in the 1970s, a third of Korean immigrants into the Chicago area came from Germany.

According to the latest census data, from 2005, 317,027 of white immigrants in Illinois (38 percent) were born in Mexico. This is not surprising considering many Europeans have migrated to Mexico just as many settled in the United States. Aside from expected places of births in various European countries, whites in Illinois showed a fair amount of diversity, coming from Ecuador (5,722), Venezuela (4,166), Colombia (3,627), Egypt (3,174), Peru (2,592), Morocco (2,017), South Africa (1,882), Algeria (1,561), Uruguay (1,285), Afghanistan (955), India (954), Chile (276), Nigeria (199), Zimbabwe (109), Kenya (105), and Liberia (101). There were also 147 born in China with an additional 194 born in Hong Kong and 158 from Taiwan.

Also not surprising are blacks/African Americans who were born in various African nations, including Nigeria (6,838), Ghana (3,922), and Ethiopia (1,449). However, it is surprising that there were more blacks/African Americans born in Romania (1,336) and Norway (1,079) who have emigrated to Illinois than those from France (926), Germany (743) and England (150). We also have black residents who were born in a number of Asian countries, including Japan (745), China (288), and Korea (70).

Historically, Asians have been particularly mobile for the past century around the globe, and that is quite evident among Asian residents in Illinois. Their places of births outside of Asia practically covers the rest of the world, including England (1,113), Canada (786), Trinidad and Tobago (482), Australia (352), Brazil (336), Mexico (318), Venezuela (312), El Salvador (226), Argentina (214), Guatemala (213), Germany (133), Ethiopia (112), Guyana (111), Algeria (103), Tanzania (96), Russia (95), Kenya (89), France (83), Poland (73), and Nigeria (64). These figures do not include an additional 2,354 who simply stated that they were born in Africa.

While most people on this earth live their entire lives in one place, those few who explore the globe challenge our thoughts about social interactions and spark us to think beyond what we already know. Much of the debate about immigration today problematizes immigrants by reducing them into simple categorical terms: undocumented, limited English-speaking, fillers for unskilled jobs, etc. But in this world where everyone is more exposed to each other, the complexity of who we are also makes it increasingly difficult to describe people in simple terms. The level and rate of change in this new complexity will only increase, and we will need policies and cultural competence to accommodate it in the near future.

Kiljoong Kim is Research Director with the Egan Urban Center and a lecturer of sociology at DePaul University. For more Kiljoong, see the Who We Are archive.

Posted by Beachwood Reporter at 2:18 PM | Permalink
The O'Hare UFO: What It Really Was
What was that unidentified flying object spotted hovering above Gate C-17 at O'Hare airport recently? A Beachwood investigation has narrowed the list to these 20 possibilities.
- A giant rotating TIF district.
- Dennis FitzSimons' golden parachute.
- A Starbucks location-scouting drone.
- The Alpha Centauri Outfit collecting their cut.
- Oprah's ego.
- Barack Obama's secret campaign headquarters.
- Barack Obama's space minders checking in on the status of Project Earth.
- Soldier Field on its first mission.
- An alien troop surge.
- Kanye West's ride.
- The Cubs' payroll spinning out of control.
- Rod Blagojevich's space minders delivering further instructions and a bigger comb.
- The Department of Homeland Security picking up all those hair products confiscated by airport security.
- O'Hare's first blue-light surveillance camera.
- Pat Robertson's ride.
- A CIA rendition ship.
- The Silver Line.
- ComEd's new headquarters.
- Ditka.
- George Ryan's getaway ship.

Posted by Beachwood Reporter at 10:41 AM | Permalink
The [Monday] Papers
The continuing delight that is the story of the UFO spotted hovering above Gate C-17 at O'Hare airport has captured the wonder and imagination of Earthlings far and wide, with one notable exception: Sun-Times columnist Neil Steinberg.
UFOs, Steinberg writes (second item), frighten him, because they show just how far we haven't come from primitive beliefs.
I suppose you could work up an argument like that, but I think just the opposite is true. While I don't believe the vast majority - if any - of the people spotting UFOs are actually seeing alien spaceships, it's folly to believe that in an apparently infinite universe there is no other form of life, nor a form of life that one day might actually pay us a visit.
To believe that our pathetic lives are all that is out there - that in the incomprehensible vastness of endless space only one civilization has come to be, and it spends most of its waking hours watching American Idol and Dancing With The Stars - is actually a belief I find far more primitive than believing other beings could have invented space travel that likely doesn't involve taking one's shoes off before boarding. In fact, it is the possibility of alien life forms that shakes our most primitive belief systems - religions - to their roots.
So I'm leaning toward the explanation that space people could have indeed visited O'Hare, only to be frightened and confused by the Burrito Beach in Terminal 3. Until proven otherwise.

Space Story
Steinberg also chides the Tribune for putting the story on its front page. "Right under the masthead, where the wars and actual events in the real world belong," he writes.
I guess he's right, that's where news of wars and actual events in the real world belong, because we certainly can't get that from the Sun-Times, much less its front page.
Space Station
Can you imagine if the Sun-Times had broken this story (and don't let Steinberg fool you, they would have loved to have broken this story)?
A) Welcome, Spacemen! What you need to know about our wacky city.
B) Barbarians At The Gate! Enemy Ship Spotted At O'Hare. How to prepare, page 58.
C) Tell us your UFO stories.
D) Mini-Saucers Coming Sunday!
What It Really Was
As revealed by a Beachwood investigation.
Surgical Repair
Did most of the world believe that Saddam Hussein had weapons of mass destruction? I'm not sure most of the Bush Administration did. Hans Blix, Scott Ritter, Mohamed El Baradei and plenty of others didn't think Iraq had WMDs - or at least were highly skeptical. Certainly most of the world didn't back the American-led invasion. We know now that France was right. And the case for war was so shaky that Colin Powell was sent to the United Nations in desperation, and he didn't really believe what he said. Hell, when then-CIA director George Tenet made his presentation to the president, Bush's response was: "This is the best we've got?"
John Kass would have you believe otherwise. Kass can't seem to bring himself to admit that his guy, George W. Bush, made one of the all-time blunders, so thoroughly reported by now as a tangle of deception, ignorance, and incompetence that anyone who believes otherwise isn't trying.
To Kass, though, the problem with the war was that "Coupled with bad planning and expert surgery by Democratic opponents, Bush's political legs were cut out from under him."
Yes, the Democrats were so expert in their "opposition" to the Iraq invasion that they threw Howard Dean under the bus and failed to elect a genuine war hero, John Kerry, in 2004.
Kass goes on the say that what "galls" a soldier who is the focus of his column is "the politicians and spinners. They've got their facts and everything. But have they actually stepped foot on the ground, besides the Green Zone?"
I don't know about the "politicians and spinners," but reporters certainly have. And many didn't survive.
And part of the blame for that surely rests with the failure of the media to do its job in the first place. Compounding those errors doesn't do anything but threaten more lives.
Landmark Theater
The Sun-Times editorial page describes the Farwell Building victory for landmark preservation as an "upset," because, after all, landmark preservationists rarely win in Chicago. The Sun-Times rightly lauds this outcome, but doesn't stop to ask itself why it should be rare rather than the norm that the Commission on Chicago Landmarks should actually protect Chicago landmarks.
I'll tell you why: Mayor Richard M. Daley. It's his commission. He appoints its members. (Current members include chairman David Mosena, who has held a variety of positions for the mayor, including president of the CTA, and current planning department commissioner Lori Healey.)
Daley's name is nowhere to be found in the Sun-Times editorial, though. Because it's been such a smooth 17 years, why start holding the mayor accountable now?
Landmark Vote
Lynn Becker has the Farwell vote, and it appears there were three brave souls, not four, as reported by the Tribune, who saved the day.
As far as I can tell, the Sun-Times news pages abstained.
Local Oversight
Speaking of co-opted oversight, it might surprise you to learn that the City Council is not a city department. According to my research, it is actually an independent branch of the government, kind of like a local Congress.
So I find it slightly amusing to hear national Democrats including our very own Rahm Emanuel and Dick Durbin promising to return congressional oversight to the administration while we continue to go without it here at home.
Beauty School
"Since 1999 when the [Plan for Transformation] began, 66 high-rises and nearly 18,000 apartments have been demolished, according to CHA spokesman Bryan Zises, and more than 20,000 residents have had to relocate," the Tribune's Don Terry reports in a profile of Residents' Journal reporter Beauty Turner. "Another 5,600 units, most of them unoccupied, remain to be demolished. So far, about 6,000 new units have been built but only 25 percent of the original families have moved into them."
Turner gives the CHA's grand plan a "D." In October, the Sun-Times' Kate Grossman awarded the CHA a B-minus. I guess Turner gives harder tests.
Beauty Treatment
Terry's story was fine as far as it went, but it ended much too soon. A story about a crusading reporter covering one the nation's biggest public policy experiments demands some comparison to how her work stacks up against the mainstream competition - none of which has a full-time reporter covering one of the nation's biggest public policy experiments. Because, you know, they're not Chicagoans, just poor people.
Script Tease
Last week it was John Kass wondering where Hillary Clinton was going to stash the "liability" that is Bill during her presidential campaign, desptie the fact that Bill left office with the highest approval rating of any president in modern history.
Now it's Steinberg picking up the script: "The idea of electing Hillary as president would be tough to swallow in some quarters if she were married to Fred Rogers, and the fact that her husband is Bill Clinton magnifies the matter."
Sugar Shock
Why did the world's largest chocolate manufacturer need $880,000 to move to Chicago? Who knows. City officials didn't bother to ask.
Quorom Quotient
Can we establish democracy here before we try to establish it in countries where we're not welcome?
Civics "R" Us
Steinberg also comes out (third item) in favor of denying free speech to rights to anyone under 18. "[T]eachers and principals need a lot of latitude to make sure learning gets pushed ahead of all the other concerns - friends, hobbies, fads, computers - jostling for the attention of today's distracted youth."
As opposed to the hyper-focused youths of yesteryear.
Do you ever get the feeling Steinberg was never a kid - and yet, never grew up?
"The need to listen to authority - even a ham-handed principal - dwarfs that of the need for teenagers to express themselves freely in school corridors."
Or, say, in their school newspapers. The last thing we would want to do is teach students to challenge authority. Steinberg is right about that; you'll never land a job at the Sun-Times that way.
Mary Contrary
Mary Laney, continuing to abuse the privilege of holding down an Op-Ed column at a Chicago daily, wonders when the media is finally going to report on all the bad things Saddam Hussein did, instead of all this fretting about his unruly execution putting more American soldiers at risk.
Bear Dare
"In effect the Bears played [the Green Bay game] with one hand tied behind their backs, showing no inventiveness in their offensive game plan and withholding their more intricate blitz packages and coverages on defense," writes the city's best sportswriter, the Reader's Ted Cox.
"This was because - and it's a sin of omission that no one pointed this out, from Madden to the so-called experts at the dailies - the Bears were clearly playing possum, hiding their best offensives and defensive schemes from their potential playoff opponents."
The Beachwood Tip Line: Milky Way-wide.
Posted by Beachwood Reporter at 7:42 AM | Permalink
January 7, 2007
On the Juice: Day 7
Some people start the New Year off with a few poxy resolutions scribbled down somewhere only to be forgotten by February. Me? I'm going on a two-week juice fast.
Day 7: The longest chard
It's the halfway point of my fast and I think I can safely say that most of the serious detoxification is behind me. No more headaches, no more nose dripping like a tapped maple, no more confusing waves of digestive discomfort. I actually feel pretty damn good. So naturally, my thoughts are turning to the next week and what the biggest challenges will be for the remainder of the fast. I have a very busy schedule through Saturday, teaching yoga every day. Obviously, maintaining my energy level and packing enough juice will be two major issues from here on out. But these pale in comparison to the single greatest threat to my resolve: boredom.
Here's the thing about freshly-extracted fruit and vegetable juices. After a while, they all taste pretty much the same. I mean, there are obviously some minor variations on the basic theme, but more or less they're either kind of bitter or kind of sweet. However many combinations you come up with, they'll generally cancel each other out and become a smooth, thickish, vaguely-earthy liquid. The one notable exception is chard, which has a very distinct note of seaweed to it, similar to when you're wading in the ocean and you get hit in the face with a wave and accidentally swallow a little of it. Just me?
Another interesting thing to note about freshly extracted fruit and vegetable juices is their tendency to coat the tongue and the top of the mouth so that, over time, even if you did want to tease out the subtle differences between, say, kale/apple/cucumber and broccoli/pear/carrot, you'd be physically incapable of doing so. What I'm getting at here is that the act of consuming nutrition has become necessarily rote. There's no particular joy in it. It's all about scheduling, both the time to drink my meals and the time to prepare them. I've been watching my husband this past week lustily prepare and consume his meals and frankly, I'm getting a bit jealous. I miss being really excited about something I've cooked.
Don't get me wrong. I am enjoying the fast and someday, after my taste buds have sloughed off their protective shield, I intend to keep juicing. (Note to Dave: don't worry, I'll get my own juicer!) But waking up every day faced with the prospect of swallowing another half-gallon or so of primordial ooze is taking its toll on my psyche. Can I really go another week without any seasonings? Can I stand another seven days without any texture? And more importantly, can I make to next Sunday with a bright-green tongue?
Day 7 Hunger Level: I've accepted that my stomach is going to growl. That seems to be a fact of life. What's interesting is that the association with hunger is entirely mental. I hear my stomach growl. I think, "I must be hungry." Am I actually hungry? Most of the time, no. And if I am, a few ounces of juice will fix me right up.
Day 7 Energy Level: Uniformly high. I'm still having trouble figuring out when and how long to sleep. Once my eyes are open, they tend to stay that way.
Day 7 Physical Condition: Pretty damn good.
Day 7 Mental State: This new state of caloric boredom has provided a fresh challenge for me. I'm trying to keep myself busy so I don't have time to think about all the wonderful flavors I'm currently missing out on. Again, I should stress, this has nothing to do with being hungry or wanting to eat. I'm just, you know, bored off my ass.
Day 7 Juices:
#1: Pineapple, Blueberry, Apple, Chard, Seltzer Water
#2: Broccoli, Spinach, Kale, Celery, Carrot, Ginger, Apple
#3: Purchased Kagome Golden Peach drink (half bottle)
#4: Banana, Mango, Chard
Total amount: approx. 50 oz.
Previously:
* On The Juice: Day 1. If you can't beet it, juice it.
* On The Juice: Day 2. Fire in the glory hole!
* On The Juice: Day 3. Sipping point.
* On The Juice: Day 4. Brush with destiny.
* On The Juice: Day 5. Food for thought.
* On The Juice: Day 6. Dinner-free dinner party.
Posted by Natasha Julius at 10:18 PM | Permalink
January 6, 2007
On the Juice: Day 6
Some people start the New Year off with a few poxy resolutions scribbled down somewhere only to be forgotten by February. Me? I'm going on a two-week juice fast.
Day 6: Dinner-free dinner party
I like to think I'm a pretty social person, with decent social skills and an active social life. I never stopped to think before this week how much of that identity is bound to the act of eating, especially at a dinner party. Sharing food does more than nourish people; it provides a conduit for conversation, a means of sharing ideas from one common experience. It may sound like I'm overstating this, but trust me, I'm not.
Tonight I went to a dinner party. I talked, shared ideas, and had a wonderful time. But my wonderful time was drastically different from the wonderful time had by everyone else, because everyone else was eating. Everyone else was able to share a unique experience of consuming food expertly prepared for them by our hostess. They were able comment on that food in a way that I simply wasn't.
Naturally, I felt compelled to try. I remarked sincerely on how terrific everything looked and smelled, but it was about as useful as a nun trying to talk dirty. You may not have noticed this before, but dinner parties are all about trust and intimacy. To consume food, to put it in your mouth and to swallow it is a fundamentally intimate act. If you've sworn off that particular act, there's no way you can possibly understand it.
I've found myself receding from social activities this week, and it has nothing to do with the temptation of eating or concerns about my energy level. It has more to do with having placed myself outside that social unit. I'm not eating. I'm not drinking alcohol. I can sit happily and sip my veggie melange and feel perfectly satisfied, but the nature of my interaction with other people is fundamentally different. I feel like a dropped stitch; I'm still there, still a factor in the discussion, but notable more for what I'm not contributing than what I am. I know people will feel compelled to ask me about the fast; it's just too big to avoid and I don't mind talking about it. But it sets up an oppositional dynamic at exactly those times I would usually feel most strongly a part of the group. It's a sort of loneliness I didn't even know existed.
Day 6 Hunger Level: I'm full more often than I'm empty.
Day 6 Energy Level: Today felt just like any other Saturday. I started off a bit sluggish, but by mid-morning I was alive and kicking.
Day 6 Physical Condition: I'm starting to get a more objective sense of what symptoms are related to the fast and what are just a part of my everyday life. Having said that, I'm noticing that I feel a chill more frequently than usual. On the upside, my headache, sinus congestion and runny nose are gone. The skin of my lips and hands feels drier than usual, but I'm wondering if that has more to do with constantly handling and drinking minute plant fibers than actual dehydration. Oh, and my eyelids feel a lot better.
Day 6 Mental State: The way I think has been bound up in the way I feel physically, so today was a really good day. I felt happy; I felt like myself. I'm still apprehensive that this is a one-day respite from another round of turmoil. More importantly, I find myself fighting the urge to relax and enjoy myself, just in case that next big physical shock is waiting around the corner.
Day 6 Juices:
#1: Ginger, Grape, Lemon, Lime, Seltzer Water
#2: Purchase Odwalla Mo'Beta Drink (full bottle)
#3: Purchased Kagome Golden Peach drink (half bottle)
#4: Broccoli, Kale, Spinach, Ginger, Carrot, Apple
Total amount: approx. 53 oz.
Previously:
* On The Juice: Day 1. If you can't beet it, juice it.
* On The Juice: Day 2. Fire in the glory hole!
* On The Juice: Day 3. Sipping point.
* On The Juice: Day 4. Brush with destiny.
* On The Juice: Day 5. Food for thought.

Posted by Natasha Julius at 11:04 AM | Permalink
The Weekend Desk Report
Happy New Year, everyone! From noisemakers to newsmakers, we're back to watching the stories that you need to follow.
BCS Election Show
On Monday, delegations from Ohio and Florida will battle for ultimate college football supremacy. While each state has been influential in previous national struggles, only Florida managed to pull off an upset. Call us crazy, but our money's on the Gators in overtime.
Wet, Hot American Summit
Faced with the possible resignation of a high-profile underling, President Bush this week promised to stop fondling the help. Sources close to the situation, however, note that the president's one-time executive assistant may still launch a sexual harassment suit claiming that Bush's closeness forced him from his job.

Slow Ride
Sources say the CTA is considering a novel approach to placating riders caught in endless expansion, repair and improvement projects. Who says nothing good ever came out of Indiana?
Axis of Shevil Update, Part 1
Britney Spears this week threatened a bigger, better comeback, saying she has new material ready to go that will win the world over. The world seemed fairly cool to this latest threat.
Axis of Shevil Update, Part 2
Meanwhile, Lindsay Lohan's desperate attempts to generate pity through her physical suffering have found at least one taker. President Bush maintains that although Paris Hilton's behavior was unfortunate, the operation itself was justified.
Posted by Natasha Julius at 2:24 AM | Permalink
January 5, 2007
The [Friday] Papers
The Tribune nicely dismantles this morning what is obviously a disingenuous ad campaign by ComEd in favor of dramatically raising your electric bills disguised as a grass roots effort fighting for some kind of utility justice.
The paper's reporting shows that Consumers Organized for Reliable Electricity, which has been placing full-page ads in the Tribune, Sun-Times, and newspapers around the state, as well as airing scare-mongering TV commercials, is a front group funded by . . . ComEd.
"But ComEd's name is nowhere to be seen as the voice-over raises the specter of the disaster to come if the Illinois legislature extends the freeze on electricity rates next week," Crystal Yednak writes.
ComEd President Barry Mitchell, who deserves a phone call from every ComEd user in the state, doesn't see anything wrong with the deception.
"Every organization that runs ads and performs activities doesn't put a disclaimer with respect to all their funding sources," he told the Trib. "That's a violation of the First Amendment."
Ah, yes. Barry Mitchell, First Amendment Freedom Fighter. I think the Society of Professional Journalists is considering him for an award this year.

Worse than ComEd's corrosive cynicism and failure to deliver model corporate citizenship, though, are the whores who signed on to the utility's print ads to give them their grass-roots patina.
Phillip Jackson, Martin King, Mary Gonzalez Koenig, Juan Rangel, and Cesar Santoy, I mean you.
Jackson is the loopy former head of the CHA who is now executive director of the Black Star Project, whose mission is to eliminate racial achievement gaps in education. I'm sure it won't surprise you to learn that ComEd is a funder of the project.
Martin King is the chairman of the Rainbow/Push Board of Trustees, and we all know how committed Martin Luther King Jr. was and Rev. Jesse Jackson is to utility justice.
Mary Gonzalez Koenig is the president and CEO of the Spanish Coalition for Jobs; Juan Rangel is the CEO of the United Neighborhood Organization; and Cesar Santoy is the executive director of the Hispanic American Construction Industry Association.
All apparently have been deeply involved in the fight to maintain just and equitable revenues for Exelon, ComEd's obscenely profitable parent company.
Or maybe these folks have just had a longtime jones for electricity rate structures.
The corporate hacks participating in this sham are those we've come to expect, including: Donald Jacobs, the dean emeritus of Northwestern's Kellogg School of Management - and a former member of ComEd's board of directors; Paul O'Connor, the executive director of World Business Chicago, on whose board Exelon's CEO sits; and David Vite, the president and CEO of the Illinois Retail Merchants Association, who asks "Why can't a group of people get together and say what they believe on the issues?"
He forgot to add: "And do it in a way that deceives the public as to who that group of people actually represent?"
Vite, like ComEd's television commercials, also had the gall to raise the specter of a California-like energy crisis if the ComEd doesn't get its rate hikes. Unless Enron is back in business, that's not a real likely scenario - though California's crisis was also caused in part by a deregulation scheme very much like the one ComEd is fighting for here in Illinois.
The question now is whether legislators - and journalists - ought to give any credence to anything coming out of the mouths of ComEd executives and their puppets.
I'm leaning toward No.
Double Vision
I wonder how many folks involved with ComEd's lobbying campaign have also uttered disgust at the nature of our political system.
Phone Home
The Exelon Ethics Help Line: 1-800-23-ETHIC (1-800-233-8442)
Landmark Decision
"Pigs flew. When Chicago's landmarks commission stiffened its spine Thursday and throttled a plan for a spectacularly ill-conceived act of architectural taxidermy, the vote was a stunner," Blair Kamin writes in the Tribune this morning.
"Members of the Commission on Chicago Landmarks typically act like the old Soviet parliament and do what the Daley administration tells them to do. But four brave commission members heeded the warning of historic preservationists who argued, correctly that approving the plan [for the Farwell Building on North Michigan Avenue] would set a horrible precedent."
This is great news, but what does it say about the mayor? If the fact that a landmark building has been saved is so rare as to be stunning - and it is - add historic preservation to the list of this mayor's failures.
Now, what is he good at again?
Faceless, Nameless
Unfortunately, Kamin did not name the four members of the landmark commission whose votes saved the building - or the commissioners who voted to destroy it. Johnathan Briggs wrote in his news account that "Of the eight commissioners in attendance, four were in favor, three opposed and one abstained."
Briggs only named chairman David Mosena, who voted in favor of the plan, and commissioner Lisa Willis, who voted against it.
It sure would be nice to know who abstained, and why, and who voted to save the Farwell Building so we can track whatever retribution they face from the mayor or gauge the likelihood that they fold and reverse themselves.
UPDATE 5:30 P.M.: Lynn Becker has the vote here. It appears there were three brave commissioners, not four, who stopped the Farwell destruction. I'll have more on Monday.
Daley Double
On the two things Daley is most right about- the tax swap and gun control - he has failed most miserably.
ZZZ-Ticket
"Passengers on the CTA Brown and Blue Lines can expect slower-than-usual rides during the weekend, officials said Thursday," the Tribune reports.
Slower than usual? What, they'll be running in reverse?
Oh wait, they already do that.
Marketing Bonanza
According to the laws of physics, you can actually become younger by riding the CTA.
Air Chicago
Both airports are full. But their contracting opportunities aren't, so no third airport yet.
What About Bill?
John Kass wonders this morning where Hillary Clinton will "stash" Bill during her presidential campaign, see as how he's such a "liability."
Yes, given that Bill Clinton left office with the highest approval rating in modern history, I see how that could be a problem.
Taxing Swap
"Chicago Native Sworn In As Massachusetts Governor."
Completes bet made on Bears-Patriots game. If the Chicago beats New England in the Super Bowl, we get him back.
Ammo Dump
Police who raided Tank Johnson's home last month found about 550 rounds of ammunition "on a stack of tires in the garage, in a drawer by a kitchen dishwasher, in an unfinished basement utility room and the master bedroom," the Daily Herald reports.
Team rules allow up to 600 rounds, so Tank is ready to go for the playoffs.
The Beachwood Tip Line: Armed to the teeth.
Posted by Beachwood Reporter at 8:39 AM | Permalink
On the Juice: Day 5
Some people start the New Year off with a few poxy resolutions scribbled down somewhere only to be forgotten by February. Me? I'm going on a two-week juice fast.
Day 5: Food for Thought
No great feat of daring or stupidity is ever achieved alone, and so I, like so many before me, have recruited accomplices to help on my journey into foodlessness. I call them my "fast buddies" - people who've vowed to join me, in fact or in spirit, for the duration of these two weeks. So when a girl who can't eat or drink alcohol wants to go out on a Friday night, she's naturally going to call one of her fast buddies. Tonight, it was my friend Pants. Pants isn't so much fasting as making radical changes in his diet, which include temporary abstention from the demon drink. In other words, he's not opposed to sitting stone-cold sober and watching me sip broccoli juice.
It was good to get out of the house for a while and bend a sympathetic ear, because frankly today was a struggle. I think I'd imagined that I'd break the hunger barrier and that would be that - smooth sailing until next Sunday. Imagine my shock when the familiar growl began anew in my belly. It certainly wasn't as strong as it was at first, but I couldn't deny that my stomach was unsatisfied. At the same time, the very thought of chewing and then swallowing food has become completely foreign and somewhat frightening to me. I'm again trying to balance the intellectual knowledge that I've had plenty of nourishment with the physical reality that my stomach is empty.
Things are complicated by the fact that the hunger arises entirely on its own. There are none of the usual triggers - the smell or sight of food, a normal meal time - to give context to the growling. It just happens and I'm not quite sure when or where it will strike next.
This isn't to say the fast is all bad. In fact, when Pants asked whether I had any regrets I immediately answered, "No." There are a lot of things about this experience that I really like. I like being able to enjoy smells for what they are instead of how they make me feel. I love the times when my mind clears and I can maintain a focus that's otherwise fleeting. I just feel disconnected from my body in a way that's wholly unfamiliar to me. I'm really not sure what's coming next or how I'll respond to it, and that's definitely freaking the ass off me right now. Oh well, as long as it doesn't involve the actual loss of body parts I guess I'm OK with it.
Day 5 Hunger Level: Consistent and definitely perceptible, although I think I'm getting better at managing my calorie intake so it remains background noise.
Day 5 Energy Level: Wildly variable. I actually took a nap today, an activity that is entirely normal for me on days when I teach multiple yoga classes. Still, it suddenly occurred to me that I hadn't felt the need for a nap since I started fasting. It's not that I haven't been tired, it's just that another of those familiar triggers - the satiety of eating a full lunch, for example - has been removed.
Day 5 Physical Condition: It seems like my nose and sinuses are rapidly clearing. I still feel some irritation in the eyes and my throat is quite raw, perhaps as a result of drinking nothing but gritty juices. It also occurred to me today that I might be a touch dehydrated. I know that sounds crazy, but it's the sense I'm getting. So I've decided to up my water intake and see what happens. Who knows? Maybe my hair will change color. Nothing would surprise me at this point.
Day 5 Mental State: I'm fully realizing now that controlling my emotional and mental response to the fast is going to be a constant struggle. This is definitely the most anxious I've felt since starting the fast. It's the first time I've seriously considered altering some of my fast purity rules to include supplements and the like. Still, at no time have I thought about giving up and, after "dinner" and a movie with Pants, I'm feeling much more positive and relaxed. Hey, what are fast buddies for?
Day 5 Juices:
#1: Pineapple, Blueberry, Mango, Ginger, Pear, Seltzer Water
#2: Beet, Carrot, Cucumber, Parsley, Ginger, Pear
#3: Purchased Odwalla Superfood Drink (half bottle)
#4: Celery, Parsley, Ginger, Apple
#5: Purchased All-Green with Ginger and Wheatgrass
Total amount: 61 oz.
Previously:
* On The Juice: Day 1. If you can't beet it, juice it.
* On The Juice: Day 2. Fire in the glory hole!
* On The Juice: Day 3. Sipping point.
* On The Juice: Day 4. Brush with destiny.

Posted by Natasha Julius at 2:26 AM | Permalink
January 4, 2007
On The Juice: Day 4
Some people start the New Year off with a few poxy resolutions scribbled down somewhere only to be forgotten by February. Me? I'm going on a two-week juice fast.
Day 4: Brush with destiny
My work schedule on Thursday requires that I be out of the house most of the day, away from my cats, away from my familiar things, and - of the greatest import to this feature - far away from Dave's juicer. Another day, another test. Had I been graded on my performance, I'm thinking I would've scraped by with an underachieving C. I left home with enough liquefied fruits and veggies to get me through the morning, figuring it would be easy enough to find unadulterated, hopefully organic juice in downtown Chicago. It isn't. So the first lesson of the day is, no matter how heavy it may get, always pack more juice than you think you'll need.
Well, kids, I have another lesson and it comes with my first juice-fast confession. There are different levels of fasting purity, you see. Some people allow for the use of soy milk or protein supplements; some don't allow anything non-organic or enhanced with sweeteners. Up to this point, I've tried to stay near the more conservative end of the spectrum. I'm not saying I'll be able to maintain this, but up to now I've been supplement-free and organic whenever possible. My one big cheat, the one thing not technically sanctioned by the faster's code of ethics, is toothpaste. Wonderfully fake, chemically minty, laced with fluoride and whitening agents, toothpaste is the magical substance that makes a dirty mouth clean. I'm not saying I've deep-throated a tube of it or anything, but if the gates of fasting heaven are closed to those who brush, I'll roasting in hell with my plaque-free smile.
This brings me to the crux of the lesson. If you're going out for the day, drinking nothing but juice and water, still in the throes of corporeal detoxification, for the love of all that's good in this world, please pack your brush and paste. I'm serious. You may think the water will wash everything away. It won't. You'll be left with a thick coating of plant matter along your gum line, a noxious taste at the back of your throat, and the eerie sensation that your teeth are flipping you off. Also? Your tongue will look like Jabba the Hut. Trust me on this one.
Day 4 Hunger Level: I'm starting to notice that the old hunger triggers don't function like they used to. If I smell something - fresh-brewed coffee or buttered popcorn, for example - it not longer makes my mouth water or my stomach growl. It just smells nice. Same thing holds for looking at foods; they may be very appetizing to my eyes, but they do nothing for the old tummy. This is not to say that the hunger pangs have entirely dissipated. They're still there, although much more quiet. I still think about eating quite a bit, but somehow now it seems just as easy and natural to grab a glass of juice.
Day 4 Energy Level: I was up quite late last night and had to start the day early. About mid-way through the morning, I experienced the sensation of pure tiredness. It wasn't that I felt run-down or like I wanted to take a nap. I still had enough energy to get through my day, but I was unquestionably aware that my body needed more rest. It was a simple sensation that I was able to acknowledge and move on.
Day 4 Physical Condition: the detox is definitely kicking into high gear. My eyelids are still sore, and I have a strong sinus headache from all of the junk that's creaking out of there. I'm also noticing some limitations on my stamina and muscle strength. Nothing too serious, but certainly a change from the norm.
Day 4 Mental State: Eh. Still crazy.
Day 4 Juices:
#1: Purchased Odwalla Mo' Beta Drink (full bottle)
#2: Kale, Parsley, Beet, Red Pepper, Apple, Orange
#3: Purchased Tropicana Pulp-Free Orange Juice (half bottle)
#4: Purchased Odwalla Superfood Drink (full bottle)
#5: Celery, Parsley, Carrot
Total amount: 61 oz.
Previously:
* On The Juice: Day 1. If you can't beet it, juice it.
* On The Juice: Day 2. Fire in the glory hole!
* On The Juice: Day 3. Sipping point.

Posted by Natasha Julius at 10:31 PM | Permalink
The Periodical Table
A weekly roundup from Shipley's nightstand.
Hard Foul
A Rhode Island man has received a $400,000 settlement because of a faulty penile implant he received. His erection lasted TEN YEARS. In the January issue of Harper's.
Tent Revival
Interesting sidenote: The man hasn't purchased sweatpants for a decade.
Anticlimactic
The rest of the January Harper's ain't bad either. Recommended: "The Swim Team" by Miranda July and "Catching Out: Travels in an Open Boxcar" by William T. Vollmann.
Fine Wines
The latest Wine Spectator gives props to the 100 best wines of 2006. The big winner? Chateau Leoville Barton St.-Julien '03 ($75 a bottle). Second place goes to Quilceda Creek Cabernet Sauvignon Washington '03 ($85); third goes to Casanova Di Neri Brunello di Montalcino Tetuta Nuova '01 ($70). My favorite, Fat Bastard Sparkling '06, didn't make the list.

Immaculate Komoco Conceptions
Female Komodo dragons in captivity have startled their zookeepers by laying viable eggs without any contact with males, according to the December 30th issue of Science News. My girlfriend has similarly surprised me by coming up pregnant despite a long-term absence of sex (long story). She did visit the zoo recently though . . .
Descent Into Madness
Scientists have descended almost two miles into a South African gold mine to discover bacteria that survives on energy from uranium, the January issue of Smithsonian reports. Also found down there: Britney Spears' career.
Red China
The January issue of Bon Appetit highlights a grand new restaurant in Moscow near the Kremlin. Named Turandot, it's a 65,000-square-foot restaurant that cost $50 million to create, complete with marbled courtyard, sculptures a'plenty, and enough gold to make South African bacteria to jump for joy. The restaurant enlisted the famed Londoner Alan Yau to oversee it's "imperial Asian" cuisine. The revolution is complete.
Posted by Beachwood Reporter at 4:53 PM | Permalink
What I Watched Last Night
Okay, if immigrants can come to New York with barely two nickels to rub together and end up owning a whole string of gas stations, restaurants and bodegas, then why can't an employed guy in Queens with $89 in the bank and a $100 savings bond get his slice of The American Dream without turning to a life of crime? Because it wouldn't be funny.
I like my TV humor dark and dry, but you can't beat a show that makes you almost piss yourself. It takes my mind off my own underpaid part of The American Dream that has me a paycheck or two away from living under a bridge. That's why I liked Wednesday's 30-minute pilot episode of The Knights of Prosperity, on ABC. I figured any show originally called Let's Rob Mick Jagger had to have something going for it. I wasn't sure what, exactly, since the Internet Movie Database says the working title before that was I Want To Rob Jeff Goldblum, and the working title before that was Untitled Donal Logue Project, but still.
Good thing they settled on Mick Jagger to rob. Jeff Goldblum would just talk the thieves to death with that rambling existentialist bullshit of his, and we'd just have a 13-weeks continuation of his diner monologue with Geena Davis in The Fly to look forward to. Then we'd all just have to kill ourselves dead.
Donal Logue (late of the under-appreciated Grounded For Life) plays Eugene Gurkin, an apartment building janitor/super careening toward middle age with a shitty job, a shitty apartment in a shitty building, and a shitty future. Instead of being born with a silver spoon in his mouth, Eugene was "born with a plastic spork in my ass." When a fellow, older-than-dirt janitor keels over while cleaning toilets, Eugene tells his fellow partner in grime, Francis "Squatch" Scuacieri (Lenny Venito, who's even more scary-looking as Brad Garrett, just nowhere near as tall), that it's time for a change in life. Turned down for a bank loan to begin his dream of owning a bar because he's broke, a dejected Eugene gets a brainstorm while sitting in his shitty little bathtub, drunk and watching Mick Jagger on an E! version of a cross between MTV's Cribs and whatever program it is where E! shows off all the lavishly excessive crap rich celebrities blow their money on.
When he's not busy running one of the most important bands in rock history into a yawning maw of irrelevance, Mick Jagger, we see, spends all his money on really stupid hats, and most of his day in his faaaaaabulously swanky New York apartment doing little more than taking yogurt baths and using his Thai houseboy as a soccer ball target. But that's okay, since it's tough to imagine Bono working with that sort of humor. To everyone's credit, Mick camps the whole thing up with a colossal wink-wink-nudge-nudge, down to the elevator music version of "Start Me Up." Which I'm pretty sure Mick's selling as an MP3 download somewhere.
Eugene figures, why not rob Mick Jagger? So he goes about recruiting his criminal gang by approaching every person on the street he sees with a dead-end job. Out of the group of the drunk, stupid and hopeless who show up to his big recruitment round-up on nothing more than a promise that there will be snacks, he assembles janitorial partner Squatch, Rockefeller Butts (Kevin Michael Richardson, as his "big black guy muscle"), Gourishankar "Gary" Subramaniam (Maz Jobrani, as his Persian cab-driving wheel man), and Esperanza Villalobos (Sofia Vergara), a Colombian waitress whose membership is approved just because she's hot. The last member is Louis Plunk (Josh Grisetti), a scrawny kid who just lost his college TV internship. Gary recruits him as their gang intern with a line that they're filming a sequel to Taxi, reasoning that the kid will be distracted from the real mission if he rides around in Gary's cab all day with headphones playing loud music. For college credit.
After some debate, they settle on The Knights of Prosperity as the name of the gang (because Eugene already had the T-shirts made) and then decide to which individual charities they're going to donate the excess booty from the heist. I won't detail of how the gang goes into action; it'd just be one of those "you had to be there" things. Instead, be there yourself by catching the repeat this Friday night.
The only thing that could potentially ruin this show, maybe, is that ABC will reduce it to a cameo-filled piece of crap (Kelly Ripa's not getting robbed already on one of the promos) where the clever, sarcastic writing gets so watered down that it disintegrates into a pointless, painful piece of slop. Just like NBC did with The John Larroquette Show after the first season.
***
I take back what I wrote yesterday. David Arquette actually is in something more than ten people have seen. That's because ABC sent us on another sitcom trip to Loserville Wednesday night with In Case Of Emergency, a show featuring four high school classmates who graduated in the late 1980s into their current lives of divorce, binge eating, financial ruin, and sex massage therapy.
Remember that one hard-ass every high school has who doesn't give a shit about anything, but he really does and everyone knows it, but he spends all his time trying to convince everyone he doesn't? That's what spending time with this show is like. It has virtually the same smirky, dreary-life tone and ambiance as FX Network's It's Always Sunny In Philadelphia, but it doesn't want its characters to be quite that pathetic, so the writing's not quite as smart. It wants everyone to think it's a comedy instead of what it really is: an above-average comedy with an underlying, heartwarming message of friendship found in some of the unlikeliest of people. Which is the same formula Scrubs has used to avoid becoming a full-blown chick show.
Anyway, Emergency has plenty of actually-funny moments to make it, for now anyway, worth that empty half hour before tuning in at 9 to see whether this will be the week Sam Waterston disintegrates into a pile of dust on Law & Order.
Jonathan Silverman, who's about as Ben Stiller as you can probably get without actually being Ben Stiller, portrays Harry, a divorced, dateless dad whose only outlet for his unmet needs is the local Korean massage parlor. There he meets cheerful service employee Keli (Kelly Hu, obligatory eye candy), the fallen class valedictorian who also dates a cop (no! you don't say!) with the temperament of your typical cop with an up-close and personal relationship with Rodney King. Next, we meet Sherman (Greg Germann), a best-selling diet author who hijacks and tries to eat the entire contents of an Entenmann's truck when his wife leaves him. Finally, there's Jason (Arquette), a financial advisor of some sort who somehow managed to milk his investors dry (even he doesn't know how the whole scheme worked), seems to be on the brink of being nabbed by the IRS, and ends up trying to commit suicide by shooting himself in the foot.
Which brings them all together one night to the local hospital, where emergency room nurse Joanna (Lori Loughlin, who appears to have learned how to eat actual food) begins her second job of playing the sensible mother hen to them all because, well, she has a fiancee.
Curiously, the cast member who's the most interesting to watch is Arquette, who has the amazing ability to deliver bad pick-up lines and come off as one of the smoothest motherfuckers ever for being a smirky-looking white guy. He's exactly the kind of guy who'd be able to convince an insanely rich and famous TV star into marrying a B-movie actor. Wait a minute, he just did that not too long ago. Ah well, he's a trip anyway.
***
It's Thursday. Fuck Grey's Anatomy. Characters that incredibly stupid shouldn't be allowed to live, even on TV. If you care anything about yourself, the only network shows anyone needs to watch on Thursdays are My Name Is Earl (7 p.m., NBC), followed by The Office.
For your pleasure, the What I Watched Last Night files.
Posted by Beachwood Reporter at 4:06 PM | Permalink
The [Thursday] Papers
Is the Chicago area unprepared for a mass disaster or terrorist attack? I have no idea. I do know that Cook County can't successfully transmit election results via cell phones and the CTA can't keep its trains on their tracks, but then again the U.S. Department of Homeland Security isn't exactly doing a bang-up job either. I'm not sure they get the benefit of the doubt on this one.
My sense is that when the mayor says "We have done a tremendous job [but] if they are talking about the region outside of Chicago, about some issue, that is different," he means that the city has its shit together but it's the county and outlying areas that have their problems, and I can believe that as long as Robert Sorich had nothing to do with hiring anyone involved in protecting us.
The Richard
Is the mayor sounding more like Donald Trump with each passing day? Seems these days no other city has ever done as tremendous a job at any possible task than Richie Daley's Chicago.
Contract Scandal
"An Orland Park firefighter is alleged to have tried a new twist on double dipping: getting paid leave from his fire department because he was supposedly serving in the military in Iraq when instead he was working for private contractors," the Tribune reports.
Daley said the firefighter was a man of fine character.
Bad Apple
Truly, how does the alleged misdeed of the Orland Park firefighter, Lawrence Masa, compare to Robert Sorich? Masa is, if the allegation is true, an individual who perpetrated a one-time fraud. Sorich - and his co-workers, likely at the direction of the mayor's brain trust - orchestrated a massive fraud that perverted the employment practices of the entire city, putting our lives in the hands, for example, of teenage building inspectors.
Cynics Derby
Masa's allegedly fraudulent take: $193,000.
Bobbie Steele's presidential pension: $136,000.
General Daley
The mayor says the Iraq Study Group was too Washington-centric, the Sun-Times reports.
"You don't stay in Washington to solve the issue," Daley says. "You have to go out and talk to people in America . . . If you come out here and talk to people [in the heartland], they'll give you some common sense about an issue like that."
For example, Daley compared the Iraq war to the American Revolutionary War, the Civil War, and World War II. "No one was for the Revolutionary War," he said.
Yes, I have no idea how they fought that war without any revolutionaries.
"Maybe today they would doubt the Civil War."
Yes, I'm sure James Baker and Lee Hamilton would advise the North to cut-and-run.
As for World War II, Fran Spielman didn't capture the mayor's thoughts. But if the Washington insiders would just come out here to the heartland for some common sense, we could wrap this thing up.
Poor Execution
"We bungled yet another thing in Iraq, and there's no excuse for it."
- Joe Scarborough, Scarborough Country
Market Politics
The New York Times published an editorial on Wednesday in favor of net neutrality under the headline "Protecting Internet Democracy," but you can't read it unless you have a TimesSelect subscription.
Divine
The Scandal of Forgiveness.
White Lies
The Sun-Times editorial on polar bears today could hardly be more disingenuous in citing statistics from The Wall Street Journal to argue that polar bears aren't really endangered - and by extension that concerns about global warming are overblown.
The Sun-Times conveniently leaves out the fact that the statistics (and argument) it cites comes from the Journal's editorial page, while the Journal's own news reporting says something quite different.
Beyond that, the logic of the Journal and Sun-Times editorial pages simply doesn't hold up. Just because there are more polar bears now than in the 1950s doesn't mean they aren't now threatened by a disappearing Arctic ice shelf. (Also overlooked is the fact that the polar bear population, according to the Journal editorial's own figures, has not grown since 1984.)
Last Rites
"The theory that Ford was trying to 'heal the nation' with the Nixon pardon was improbable at the time," David Rutter writes in the Lake County News-Sun.
"First, I don't recall anyone asking to be healed, and I probably would have remembered. I was peeved at Nixon and certainly didn't need a soothing balm applied to my political soul.
"I didn't know anyone else who thought they needed to be healed.
This Is Our Country
Nixon was pardoned, but Genarlow Wilson is in prison.
Hell's Company
"To Jeffrey Johnson and Dean Baquet, the former publisher and former editor of the Los Angeles Times, Tribune must have sounded like the motorcycle thugs in Hunter Thompson's first book, Hell's Angels," the Columbia Journalism Review says in a remarkable editorial calling for Tribune Company to get the hell out of the newspaper business. "In Thompson's telling, the Angels come up to you in a bar and say, Give me a cigarette. Then: Give me another cigarette. Then: Give me the pack. Give me your shirt. At some point you realize you might as well fight."
This and other items in Rick Kaempfer's Media Notebook.
Will Power
"Labor is a commodity," George Will writes today arguing that the minimum wage should be $0.
That's funny, I thought labor was human.
"Iraq reported Tuesday that more than 12,000 civilians were killed last year - the third full year since the U.S.-led invasion - with a dramatic rise in the last three months, when 5,000 died," AP reports.
12,000.
Next Year's Resolution
"Because what's the point of New Year's Eve, anyway?" Paige Wiser asks. "To mark the passage of time? Well, woo-hoo! Let's stay up late, binge drinking and getting glitter in our hair because the Earth managed to turn on its axis right on schedule. It's time to boycott New Year's Eve. Don't worry; I think you'll find the boycott to be your favorite form of protest (as opposed to, say, 'hunger strike' or 'self-immolation'). Just sit there. Yes, that's it. You're doing it!"
The Beachwood Tip Line: Glittering.
Posted by Beachwood Reporter at 8:31 AM | Permalink
Over/Under
These days, if you capture any part of the American sporting consciousness, you must give an award. Why? Because you want to feel more important than you actually are. For instance, did John Madden's "All Madden" awards really change the lives of the awarded? Imagine seeing the player's live-in girlfriend field the call from John Madden himself, then putting her hand over the phone and saying "Honey, you know that really old, bloated, stuttering guy from Ace Hardware? Well, he wants to give you an award."
So, in other words, these awards mean nothing. If nothing else, the salutations I award below give players and coaches what they deserve - a swift kick in the ass for wasting our time and attention. So without further ado, I present: The Toolies.
The Money Talks, Bullshit Walks Toolie goes to: Nick Saban. Nick sounded so sincere when he said "I'm not coaching Alabama." What we all missed was him muttering under his breath, "Unless they offer me $32 million and a new car. Then I'll even memorize the words to their state song."
The Raving Village Idiot Toolie goes to: Dennis Green. After blowing a 17-point lead to the Bears, Green ranted, "They were who we thought they were!" Yes, and you were who we thought you were too: a nutcase masquerading as an NFL coach. Dennis Green, we hereby crown your ass.

The Death of a Salesman Toolie goes to: Peyton Manning. Celebrities garner credibility if they use the products they hawk - or at least can make us believe they use the products they hawk. We can believe Manning uses DirecTV to keep up on the rest of the league, and we can believe he uses a Sprint cell phone to commisserate with Eli, but we doubt he pays for this stuff - or anything else - with a MasterCard. That would be too priceless.
The George W. Bush Toolie for Excellence in Course-Staying goes to: Lovie Smith. Staying with Rex Grossman has not caused thousands of deaths and waste billions of dollars, but the sleepless nights and burning indigestion of Bears fans has hampered their workplace productivity, increased their phone bills because of all those frantic calls to sports radio, and strained their marriages, which are so delicately balanced on the fortunes of their favorite teams.
The George W. Bush Toolie for Excellence in Assistant-Selecting goes to: Art Shell. With a wealth of available offensive minds on the market, Art Shell selected Tom Walsh to be his offensive coordinator. Walsh's previoius job: Coordinator of Bed and Breakfast Operations. After that didn't work out, the Raiders promoted the much-maligned ex-Bear John Shoop to the position. Next? We're thinking Dennis Green.
The Attention Whore Toolie goes to: Terrell Owens. Even his (17) dropped passes are a call for help.
And now, on to the week's most over- and under-hyped games.
Over-hyped: New York Giants at Philadelphia
Storyline: NFC East foes meet for a third time. Familiarity breeds contempt.
What They Forget To Tell You: Some teams have coaches the players would take a bullet for. The Giants have Tom Coughlin, and they prefer to use him as a human shield. Doing it for Tiki will not be enough.
Pick: Philadelphia minus 6.5/Over 47
Over-hyped: Dallas at Seattle
Storyline: Veteran coaches meet in NFC Wild Card showdown.
What They Forget To Tell You: Even a brilliant leader like Bill Parcells can't coach his way out of a major depression. His livelihood is in the hands of a flash-in-the-pan quarterback from Eastern Illinois, a suicidal wide receiver, an offensive line that has started Marc Colombo in every game, and a defense shakier than a Skid Row bum with the DTs. The next time you see Parcells, he'll be coming to you from the warm confines of a TV booth.
Pick: Seattle minus 3/Over 46.5
Under-hyped: Kansas City at Indianapolis
Storyline: Kansas City's stellar running game meets Peyton Manning's arm.
What They Forget To Tell You: Perhaps this has been mentioned, but let me drive the point home. INDY'S DEFENSE STINKS. Then again, Kansas City's isn't much better. Which means that while the focus is on the offenses, the team with the least bad defense wins. And that means it's anyone's ballgame.
Pick: Kansas City plus 9/Over 50
Under-hyped: New York Jets at New England
Storyline: The student meets the master in AFC East showdown.
What They Forget To Tell You: The student, not the master, is the AFC Coach of the Year. Bill Belichick's assignment for his team after the game will be "a one-page essay on how we should not have let the New York Jets stay in this game."

Pick: New York Jets plus 9.5/Under 38
*
Last Week: 5-1
Regular Season: 45-52-3
Editor's Note: If Emery hadn't been under the mistaken impression early in the season that he had to pick from only those games broadcast in the Chicago area - to better serve you - he'd likely be at or near .500. Considering his horrendous start, his numbers over the second half of the season look pretty impressive. But man, early in the season he sure stank.
*
For more Emery, see the Kool-Aid archive, and the Over/Under archive. He can be contacted at Eric_Emery12345@yahoo.com.
Posted by Beachwood Reporter at 1:22 AM | Permalink
The Blue & Orange Kool-Aid Report
A friend who is now sporting a blue-and-orange Kool-Aid mustache recently told me, "This is the wrong year to be a Bears hater."
Really?
This begs the question: Why should somebody like the Bears?
This year is only one year in a stored tradition of stinking. There are plenty of reasons to hate the Bears - even this year.
Messes of the Midway. In the last 40 years, the Bears are 298-310-2. They have just 14 winning seasons, reached the playoffs just 12 times, and compiled a 7-11 playoff record. They have one Super Bowl victory. That's just one more than the Cardinals have over the same stretch of time. In other words, Ditka 1, Dennis Green 0.
Ditka. Without Ditka. the Bears are 192-248 over the last 40 years. Only a team as historically mediocre as the Bears could make Mike Ditka a legend.
The Fridge. In the last 40 years, the Bears fielded four undisputed outstanding players: Gale Sayers, Dick Butkus, Walter Payton, and Mike Singletary. William Perry has one more Super Bowl TD than all of them.
The Super Bowl Shuffle. A one-hit wonder.
New Soldier Field. An insult to veterans, fans, urban planners, architects, and democracy.
Michael McCaskey. He wrote a management book but didn't read it.

Storied Mediocrity. The Bears' storied tradition is a myth. I mean, does this sound impressive? "Tragedies and Mediocrity, 1964-1981"; "Chicago Football Renaissance, 1982-1992"; "Stumbling into a New Century, 1993-2003"; " Renewed Promise, 2004- " . Don't pour Kool-Aid down my leg and tell me it's raining.
11-5 + 13-3 = 0-2. It don't mean a thing without that championship swing. The Bears have been flashes-in-the-pan who crawl out of the fetal position every couple of years to make it into the first round of the playoffs and crawl back in. This year will be no different.
The curse. After all, Bears are just big Cubs.
*
For more Emery, see the Kool-Aid archive, and the Over/Under archive. He can be contacted at Eric_Emery12345@yahoo.com.
Posted by Beachwood Reporter at 12:00 AM | Permalink
January 3, 2007
On The Juice: Day 3
Some people start the New Year off with a few poxy resolutions scribbled down somewhere only to be forgotten by February. Me? I'm going on a two-week juice fast.
Day 3: Sipping point
Today I faced my first major test of the young fasting season. I went back to my job. Teaching yoga. I'm not going to try and compare the physical demands of yoga instruction with those of, say, building a house or lumberjacking, but the fact of the matter is it's an energy-consuming enterprise. All things considered, I think I managed to pull it off. Fortunately, the spigot that is my nose stopped dripping for the duration of class, and no one seemed to notice any abnormal spaciness. I did learn one thing for certain, though: I need to drink more juice.
Yeah, yeah, that may not seem like much of a revelation, but when I started researching juice fasting I found there wasn't a lot of information out there on how much juice to consume in a day. Most estimates put the proper quantity somewhere between 32 and 64 ounces. I'm assuming the low end is for people who either a) want to lose weight or b) sit on their duffs all day. As someone with an active job, I should probably park myself at the high end of that scale.
I've learned something else over the past three days that will serve me well. When I first started juicing, I treated each glass like a meal. I drank fairly quickly and rode the subsequent wave of energy. The key to this fasting thing lies in one simple motto: ABS. Always be sipping. If you take the juice in slowly, allowing maybe 5 minutes per ounce, you'll have a steady stream of nourishment throughout the day. Also, when you're not sipping juice you really should be sipping water because . . . well, I'm getting to that.
So in conclusion, I learned two important things today, which means this fast has already made me significantly smarter. With some careful planning and consideration, I might just survive the whole two weeks.
Day 3 Hunger Level: Much better than yesterday, probably due largely to my new sipping strategy. The nature of the hunger itself is also different. What was a pulsating supernova of emptiness yesterday has collapsed to a dense neutron star of need. There's a pit in my stomach, noticeable most of the time but no longer agitated. I'm hopeful that eventually it'll fade out altogether.
Day 3 Energy Level: Consistently high, except for a brief period after my last class. I had run out of juice and, while reading on the bus, experienced a rapid drop in energy. At first it freaked me out, but to be honest it wasn't too much different than what usually happens when I try to read on the bus. They heat the crap out of those things, you know? Anyway, I had a generous serving of juice when I got home and I'm feeling just fine now.
Day 3 Physical Condition: OK, folks, things are starting to get a little weird around here. First of all, my eyelids ache. I'm serious. They're achy. I'm also experiencing an odd sort of fleeting hypersensitivity to touch. Every so often, I'll suddenly become acutely aware of everything that's in contact with my body. If I touch my fingers together, they feel ticklish. Delicate waves of warm and cold flow over exposed skin. I'm well aware this quality may have distinct advantages if properly harnessed, so for the moment I'm not complaining. Finally, I mentioned that my nose has stopped running. However, that doesn't mean toxic scum isn't still trickling into my nose, ears, eyes and throat. Like I said, always be sipping. Otherwise, you'll find out what the crap that's been hiding in your sinuses tastes like.
Day 3 Mental State: Pretty chill. I keep thinking someone's going to ask me a question and I'll just stare blankly at them and get a nose bleed, but so far I've actually managed to respond to every inquiry in fairly clean and concise fashion. Damn, maybe this fast really is making me smarter.
Day 3 Juices:
#1: Lime, Orange, Pear, Seltzer Water
#2: Blueberry, Pineapple, Cucumber, Grape
#3: Carrot, Beet, Cucumber, Red Pepper
#4: Beet, Parsley, Red Pepper, Apple
#5: Purchased Odwalla Superfood Drink (full bottle)
Total amount: approx. 54 oz.
Previously:
* On The Juice: Day 1. If you can't beet it, juice it.
* On The Juice: Day 2: Fire in the glory hole!
Posted by Natasha Julius at 10:02 PM | Permalink
What I Watched Last Night
Back in the day, the best reason to have cable TV was because it was the only place short of National Geographic and porn theaters where you could encounter profanity, sex, and full frontal nudity all in one place. Without commercials, too. For those of us growing up then, cable was a place more reliable than the gutter to learn about the facts of life, and more accessible than your dad's stash of Playboy and Penthouse. Then, around a decade or two ago, someone shoved a stick up the nation's behind, and before you knew it, we got Al Pacino and Samuel L. Jackson telling everyone "forget you" a few hundred times and the evaporation of the highly pivotal Getting To Know You scene between Jennifer Tilly and Gina Gershon that explains Bound so well.
Artistically speaking, it just ain't right, you know? It's like Michaelangelo's David. If Mike had intended us to see it wearing pants, he would have sculpted out a pair of Levi's. Which leads me to the pilot episode of FX Network's new, hour-long original series Dirt. For those of us who knew what cable was originally intended to be, it's one more reason we should thank all that's right with the world for whoever's running FX. (That, and the fact that FX is very kind to the TiVo-less, as it repeats its original-program shows a few times throughout the week.)

Dirt centers around the interaction between celebrity and the tabloid press. The series is produced by Courteney Cox, who even people in Bulgaria recognize from Friends, and her husband David Arquette, an actor with a long and substantial - perhaps even amazing - career of being in films that few people with foresight enough to show up early in the day on weekends to rent the really good DVDs can remember the names of. Dirt feels a lot like Melrose Place except it's made for actual grown-ups, filmed better, and contains plenty-enough graphic sex, dope smokin', coke snortin' and pill poppin' to make up for the absence of Heather Locklear.
Whether it's really good is something that will take more than one viewing. That's because the FX shows that are really good (Rescue Me and Nip/Tuck) are unsettling at first - and often repulsive - because they're chock full of characters so simple to follow, given the long trail of unchecked inner demons spilling out their ears wherever they go. But therein lies the attraction (perhaps even the social redemption) that builds such a fan base: every week, you can depend on watching a bunch of people elevate being incredibly fucked in the head into an art form.
So in order to judge these shows fairly, you have to approach them like having sex three times with someone you're either drunk with or mildly attracted to. You try it once to see whether you'd like it, twice to make sure, and a third time to make sure you didn't miss out on anything really, really good the second time.
Cox plays Lucy Spiller, the editor of Dirt magazine, a Hollywood tabloid The Star would be if grew balls and lost what amounts to a conscience in the tabloid industry. Lucy's clearly a conflicted woman. She's tough enough to taser her previous night's casual-sex pickup in the groin the next morning, but she's soft enough to appreciate the talent and inner being of a schizophrenic paparazzo named Don who seems to have some sort of difficulty keeping track of his meds. (And good thing, too, since Tuesday's pilot included a kick-ass presentation of life seen through the eyes of a schizophrenic running on fumes.) She thinks nothing of giving the news a nudge over the cliff by encouraging her staff to set the sex-and-excess traps for celebrities to fall into, but she's principled enough to demand that everything that shows up in Dirt be true.
How this woman's head doesn't explode is beyond me.
The truth, she reminds us, is why Dirt is so popular. It's also the reason she hasn't turned up dead in some Dumpster yet. The sullied and the muddied all know what she prints is true, and in Hollywood, sordid truth isn't just part of the game - it's often what keeps you in the game. Unless, as we see in Tuesday's episode, you're some muy-macho family man Los Angeles basketball star getting served with paparazzi photos of you taking one for the team, so to speak, from a hooker with a strap-on. There, we learn, the truth can hurt in more ways than one, and when you're a self-proclaimed family man sports figure with a hot tub and a blonde who can suck the chrome off a trailer hitch, down is truly a long way to fall without a parachute.
Being the devil wouldn't be much fun if nobody wanted to play in your sandbox, and Dirt shows what even the Amish have known since, like, forever: Hollywood has no shortage of the heartless and the soulless perfectly willing to sell out their more-successful friends and loved ones for some cash or a puff piece to jump-start their own career going nowhere. That's because in Hollywood, if you can make the impression that someone thinks you're interesting, you are. Which, as even the Amish have known since, like, forever, is the only argument even God Himself could make for Paris Hilton.
It's said that God couldn't exist without the devil, so Dirt shows that consciences sucked dry by hack jobs, envy, and greed sometimes do win the wrestling match. It just comes too little too late to make a difference. In Tuesday's episode, it led the nowhere-career actor whose betrayal of a star's secret pregnancy (and her fatal overdose) to smash his car and his girlfriend into a cement barrier, and Schizo Don to blame the cancer death of his cat on bad tabloid karma.
In essence, Dirt asks us to ponder the question of whether celebrity (or lack of it) attracts bad people or just makes good people do bad things. Should we even try? Given what Hollywood and celebrity is, it's probably best to just let God have the task of sorting 'em all out when they're through.
Find more life lessons learned from television in the What I Watched Last Night files.

Posted by Beachwood Reporter at 2:59 PM | Permalink
The [Wednesday] Papers
On the Friday before New Year's Eve weekend, the campaign of Mayor Richard M. Daley announced the mayor was once again refusing to debate his opponents.
"There is no need for Daley to engage in a public debate since he has answered more questions than any local elected official during his nearly two-decade reign, campaign manager Terry Peterson said," the Sun-Times reported.
I didn't know that was the standard.
"Plus, Peterson said, the proposed debates are 'nothing more than a political strategy of our opponents to get their names out there.'"
As opposed to the political strategy of refusing to debate so your opponents can't get their name out there.
"For the most part, the people of the city know where the mayor stands on the issues,' he said."
Yes. Silent.
"Daley has not participated in a debate since 1989 when was first voted into office."
Ever since then, the people of the city have known where the mayor stands. For the most part.
The people of America know where a president stands, and a governor, too, but the mayor apparently did not issue an opinion on whether he thinks they ought to participate in debates. Apparently, feeling he hasn't had anything to learn, the mayor has never watched a debate.
And why get caught up in the past? This election isn't about asking the mayor to justify his installation of Todd Stroger as Cook County President, or the whitewashing (pun intended) he got in the Burge report, or if he really believes supporters of the big box ordinance are racists, or if he would have prosecuted Robert Sorich while he was Cook County State's Attorney, or why corruption persists in his administration at a rate far out-pacing any government in America that we're aware of, as well as the private sector he so often holds up as equally scandalous.
This election, at least as the mayor would like you to believe, is about the future. And as far as the mayor's plans for his next term, well, he'll keep you posted.
Five-Ring Circus
If Chicago doesn't get the Olympics, will the mayor still raise and invest the money promised for infrastructure and other improvements in and around Washington Park? Or is that kind of investment only justified as a by-product of holding a really big track meet?
Minority Report
When Mary Mitchell says the right people were given the contracts and the right people were given the jobs, does she mean the white people posing as black people, or the men posing as women?
Patron Saint
Gerald Nichols is finally off the county payroll, the Sun-Times reports.
A) He named his son as his successor.
B) Nonetheless, he was given a 17 percent raise.
C) He starts his new job with the city on Monday.
Subway Hero
"A Man Down, A Train Arriving, And A Stranger Makes A Choice."
Perfect Fit
"It takes no thought whatsoever to cut across the board," said Forrest Claypool.
Which is a perfect plan for Todd Stroger because . . .
God Factor
"Robertson: God Warns Of Terror Attack In '07."
Rain also likely.
Down Button
Todd Stroger's private elevator is no more.
"Private car 'isn't necessary,'" the Sun-Times reports.
Neither is Stroger, but hey, you can't have it all at once.
Menage Orr Trois
"For the past 17 years, Orr has offered to marry the first couple of the year to obtain a marriage license," the Sun-Times reports.
So far, though, no couple has felt comfortable with Orr's snoring.
Touting Tony
"The conference room of Rezko's real estate office on North Elston ended up being the place where many appointments were made to influential boards and commissions, where certain state jobs were decided upon, and where Cabinet-level positions were clinched," Carol Marin writes this morning.
"Whatever the governor did or didn't know, the feds believe that Rezko was a staggeringly talented shakedown artist who traded plum appointments for large donations to Blagojevich, got massive 'consulting fees' for himself and his friends in exchange for state investment business, and, along the way, wiggled his way into all manner of lucrative deals and contracts, some of which came with government tax breaks or subsidies."
Moneyball
When the Tribune, like other news organizations, reported in its year-end review that the Dow Jones hit an all-time high in 2007, topping 12,000 for the first time, it failed to take inflation into account. Oops.
Al-Anon
"Top Ten Ways U.S. Enabled Saddam Hussein."
Beachwood Bests
Catch up with what you missed over the holidays, both in The Papers archive and the archives for each section, located on the top left rail of each page.
Also, check out our Home for Holidays series, The Gift Card That Saved Christmas, The Ford Tapes, and our predictions for 2007.
And this week we've started our first series of the new year, On The Juice. There is the potential for real human disaster here, so jump aboard early and take the ride.
Ford Edsel
Historians will re-assess this brief re-assessment and conclude that we're idiots.
Even Nixon said the country deserved to know whether it's president was a crook. Apaprntely Gerald Ford didn't believe we were (formally) owed that.
In interviews Ford justified his pardon of Nixon by saying he was spending 25 percent of his time on what to do about Nixon. Should've been a hundred! Besides, Ford has acknowledged already deciding on the pardon before taking office, so this is a lie.
Ford is now lauded as Mr. Bipartisan, but nobody thought that during the 1976 campaign, when he dumped vice president Nelson Rockefeller for partisan pit bull Bob Dole in a move even Ford later called "an act of cowardice."
Ford did not heal nor unite the country. Then again, neither did Jimmy Carter. The truth is, that's what Reagan's claim to greatness is - though it was largely his 1984 re-election campaign that did the uniting. And true enough, he united the country around greed, blind ambition, and blind patriotism in an administration that was also wracked with criminality. But still.
George W. Bush has divided and wracked the country so badly that Barack Obama has a rationale for a presidential campaign.
Ford's loyalty to his party was higher than his loyalty to his country. While the House Minority Leader, Ford was Nixon's last best staunchest defender, and serious historians agree - and Bob Woodward's recently released tapes show - that his pardon of Nixon was based in large part on their friendship. Nixon never acknowledged his guilt - that's why Ford carried around in his wallet a legal decision that said accepting a pardon was an acknowledgement of guilt. Seems Ford needed to carry justification around with him.
Take a look at the impeachment articles and remember that those only scratched the surface.
Crazy Diamonds
"Contrary to popular mythology, you don't make good records when you're crazy. You make them when you're not."
The Beachwood Tip Line: Random precision.
Posted by Beachwood Reporter at 7:49 AM | Permalink
Barista! Bucket Brigade
Let us now pause to reflect on some of the highlights of working in customer service the last couple of weeks, before moving on to whatever horrors 2007 will bring.
Hot Glove
For our quaint suburban town's annual Christmas Walk, where residents gather in the town center to compare fur coats, the bank next door to us requested we make them 600 hot cocoas for the event. Amidst the craziness of the night, some kid left behind a pair of gloves, which we threw into the back room with the rest of the lost and found. It wasn't until the end of the night, when the bank returned our giant hot cocoa containers, that my coworkers opened the lid to one of them only to discover that one of the gloves had somehow found its way inside the five-gallon cocoa urn and spent the evening floating around in it.
I still find it difficult not to laugh riotously when my memory returns to my coworkers' discovery. Not only because the bank's large cocoa request on this busy night was a major inconvenience for our store, but because I can only imagine where that little glove had been. Wiped across a runny nose or two, I suspect. Or perhaps run along the back of many-a-cute neighborhood dogs on the way to the Christmas Walk. Either way, it makes me smile to picture all those yuppies drinking the delicious free cocoa, garnished with a dirty glove.
Cocoa Puffs
Speaking of large hot chocolate requests, we had another order of 500 around the same time as the Walk. No flavorful gloves this time, but the person who ordered them called and asked if we would only charge them for 250 cocoas, since they didn't actually end up using half of what we made. Ha! I'm going to start trying that one in restaurants and bars and see how far that gets me. "No thanks on the doggy bag, I'll just pay for the portion of the entree that I actually consumed." Right.
Phone Jacks
Additionally, our phone has been ringing off the hook. While I understand that people often call on holidays to verify that we are open, there is a major dumbass difference between "Hi, I just wanted to see if you were open" and "Are you guys open today?"
That was the question posed by my refill bandit buddy on Thanksgiving morning. I had to bite my tongue not to say, "No, I just came in at 5 a.m. on Thanksgiving to answer the phones and tell people we're closed."
But by far, by far, the best phone call we received was on Christmas Eve. It went something like this: "I was in this morning and bought a gift card for someone, but I decided not to give it and thought I'd keep it for myself instead. Can I still use it?"
The crossed all sorts of idiot boundaries, for obvious reasons.
Sympathy Cards
Then I got a kick out of all the customers who did show up on Thanksgiving, Christmas Eve, New Year's Eve, and New Year's Day (yes, I worked all of them) and made it a point to tell us how sorry they were that we were open. They sincerely and sympathetically asked us why we were open on those days, until those times.
Honestly, if you really felt that bad about it, you wouldn't be standing here giving my boss a reason for us to be open. You wonder why we're here? Probably because you're here!
KC Bowl
And finally, I took a picture of my Christmas gift to the Kids' Corner. It's a bucket I found in the back room, complete with a warning label on the side that is hard not to heed.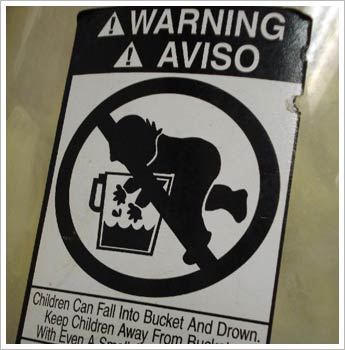 I'm thinking about filling it half full (me, the optimist) and letting Darwin do some selecting. Maybe the parents will start paying better attention after the first few incidents.
*
All in all, despite the quality entertainment of the 2006 holiday season, I am more than happy that it's over. And now that I have reported some of the highlights, it's time to forget it all ever happened.
Maude Perkins is The Beachwood Reporter's pseudononymous service industry affairs editor currently serving time as a store supervisor for a large, publicly-held corporate coffee chain. Catch up with the rest of her heartwarming stories here.
Posted by Beachwood Reporter at 12:38 AM | Permalink
January 2, 2007
Chicago In Song: Rock and Fire
Daniel Lanois' artsy take on Chicago meets Hank Williams' traditional take on hellfire and the city.
Rocky World/Daniel Lanois
It's not too often that Chicago is included in song lyrics of the truly artistic stripe. In most cases, I have to say, the city is called out in songs with the simplest of intentions. It's kind of a sad state of affairs. Despite some apparent progress in sophistication that the city has made since, say, the 1920s, Chicago as a lyrical metaphor still seems to appeal to songwriters who merely want to employ its image to bash across some simple message, usually having something to do with pain, loss, human depravity or some combination thereof. Every time I see a song lyric that refers to Chicago as a gangster haven or as some kind of poverty-stricken wasteland (and there are so many), I have to shake my head and say, now I know how it feels to be typecast.
That brings me to "Rocky World" by Daniel Lanois. How refreshing it is to find a lyrical reference to Chicago that's artsy enough to make me scratch my head and wonder, at least for a few seconds, what it really means. Basically, Lanois name-checks the city in what I believe is an articulation of a Canadian's vision of the United States as something like a battlefield where you can win a living but lose everything that really matters.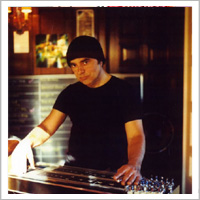 Lanois, of course, is a French Canadian from Quebec. But in "Rocky World," the storyteller seems more like an Ontarian because of the references to Sault Ste. Marie, Michigan and Chicago (according to his biography, Lanois started his record career in Hamilton, Ontario, across from Detroit). Lanois included this song as the wrap-up to his second solo record, For the Beauty of Wynona, released in 1993, at the height of his hipness factor. He had, along with Brian Eno, spent most of the late 1980s shaping U2's sound as co-producer of The Unforgettable Fire and The Joshua Tree. Then, thanks to Bono's recommendation, Bob Dylan teamed with Lanois in 1989 on Oh Mercy.
That, too, was a huge hit with the fans as well as the critics, and Lanois' musical capital was off the charts. He decided to use this golden opportunity in part to pull out all the stops on a solo album for himself, in which he could truly showcase his considerable lyrical and arranging skills as well as his guitar musicianship. The result was a modest commercial and all-out critical success. It turned out that, left to his own devices, Lanois could come up with some truly mood-changing and thought-provoking poetry. His music tended toward the spacey, the slow moving and the ethereal, with trance-like yet somehow still interesting takes on various roots music forms. He really can't sing too well. But one thing that For the Beauty of Wynona surely revealed was where The Edge's guitar sound on many of U2's best '80s songs came from: A lot of it was Daniel.
"Rocky World," however, is more of a bittersweet folk guitar ballad that sounds a lot like later-career Dylan - even Lanois' raspy singing style on this track is Dylanesque. It begins:
My hands are wrapped in your raven hair
In the faded picture on the back stair
We were narrow, we were steady, trembling and ready
To give it hell in this rocky world
You said do I look like I could be a strong mother
And raise the good side of a young daughter
In the Hotel Shangri-La let me tell you
I've been thinking of her in this rocky world
Now, at this point, I'd say this is simply a story about ill-fated young lovers, who start out determined to make their mark in this cruel, rocky world, but are now separated. Very sad. But why? Oh, it's because the guy has shit to do in America.
Chicago is heavy, but I can't turn around
I'm smuggling that whiskey, every flesh and pound
Michigan I worry, and Susie I'm sorry
That I lost you out there in the rocky world
Chicago is heavy. I suppose that's true. It's heavy in that it's big, and industrial, and full of dangerous losers who like to buy and drink smuggled whiskey. So now I'm also thinking, maybe this is a period piece . . . a Canadian smuggling whiskey across the Great Lakes into Prohibition-era Chicago and Michigan. If so, it's certainly a different take on the oft-told Capone-Chicago tale. And it would be damn cool.
Then, after talking about two apparently different girls - one who's a drug-addicted prostitute and another who rebels against religion - he ends with:
Yeah I'll tell you something I'll never forget
The sight of you in silhouette
Outside Sault Ste. Marie you really threw me
When you pulled me down to your rocky bed
In a crowded room I stood there empty
Looking for salvation and glory be
When a shot turned my head and I saw you instead
Walk into my rocky world
These lyrics make it sound like he's not referring at all to a "real" person as the "you" in this song, but to the U.S. itself. "Outside Sault Ste. Marie," of course, is America - it's a border town. The Lake Superior shoreline is indeed very, very rocky, so perhaps he's talking about being seduced by American values as he gets pulled "down to your rocky bed."
Or maybe not. Maybe it's all about Daniel Lanois' childhood dog Rocky. Or the movie. Either way, this gets the "Most Thought Provoking Award" in the non-stop popularity contest that is the Chicago lyrical universe.
When the Fire Comes Down/Hank Williams
Ah, back to familiar territory. In this good ol' hillbilly tune, performed by Hank Williams on his Mother's Best Flour morning radio show in 1951, Chicago is set up as an example of what can happen to you when you slide into a life of sin: utter destruction. Yes, it's nice to be back to the Windy City's traditional song lyric role as a cipher for pure evil.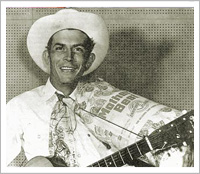 I really think that at the time most people believed the city got exactly what it deserved with The Great Chicago Fire. Even then the city had a bad reputation, what with those nasty, nasty meatpacking houses and the Fancy Dan financiers flashing their spats at the brand new Board of Trade. I think the nation believed: Pork plus profit equals perfidy. And who am I to argue, except to ask, has anything really changed? Is another Great Fire needed to correct the current state of the city's moral and political character, or will it just grow back even more corrupt, as it did in the decades following 1871?
Hank would probably just shake his head and take another shot. But the guys who wrote "When the Fire Comes Down," which included regular 1940s-era Grand Ol' Opry performers Milton Estes and Wally Fowler, echoed the popular southern Baptist sentiment that sinners will end their days engulfed by the righteous flames of Jesus. In their view, the Great Fire, along with some other then-contemporary events, were precursors of what's going to happen someday on a sinner-wide scale.
Way back in the days of Noah,
Water covered all this land,
Then the great rainbow of promise,
Started up on life again
And the Good Book tells of fires,
That will fill the earth some day,
Then the sinful will be screamin',
As this earth shall pass away
When the fire, (when the fire),
Comes down from Heaven, (comes down from Heaven),
This old world, (this old world),
Will melt away, (will melt away),
Millions then, (millions then),
Will cry for mercy, (will cry for mercy),
But it will be, (but it will be),
Too late to pray.
Ouch. Too late to pray. That'll certainly show those civic procrastinators that the time to clean up this city was yesterday. But instead of straightening up, they just let the sinning go on its merry way. In fact, at every election the city's residents voted to give the worst sinners even more chances to move us toward a terrible, fiery fate.
Texas City, Texas City,
Oh how awful was her fate,
First she burned and then exploded,
Now the story, we'll relate
Of the Winecoff in Atlanta,
How she burned right to the ground,
Of the great fire in Chicago,
And the dead lay all around.
Just for the record, Texas City, a big refinery town outside of Houston, blew up in 1947, killing 500 people in what is considered one of the worst industrial accidents in the country's history. The Winecoff Hotel in Atlanta suffered through a disastrous fire that killed 119 people in 1946 (the long-vacant building is now being renovated into a boutique upscale hotel - the wages of sin?).
The Great Chicago Fire, of course, was much earlier than these post-war mishaps. It killed around 200 people - a surprisingly low death toll when the scale of the disaster is considered. But it has nonetheless loomed large in the literature of fiery doom ever since, and has helped assure the city a permanent place as the go-to musical metaphor for carnage, immoral behavior and disaster of Biblical proportions.
Yep. My kind of town.
For your reading pleasure, see more Chicago In Song.
Posted by Don Jacobson at 10:43 PM | Permalink
On The Juice: Day 2
Some people start the New Year off with a few poxy resolutions scribbled down somewhere only to be forgotten by February. Me? I'm going on a two-week juice fast.
Day 2: Fire in the glory hole!
The idea behind any fast is to allow the body to expel any toxins that have built up in it. Usually, such toxins leave through one of two familiar exits. Perhaps the most jarring - and exhilarating - aspect of a liquid fast is that pretty much any opening in the body can and will become its own little toxic pumping station. Dissolved fats leak out of each pore, the lungs start tossing their cookies at the throat, and the sinuses flush themselves into the eyes, ears and nasal passages.
This is my polite way of telling you that my nose is running like Hicham El Guerrouj. I don't mean I'm congested. I don't mean I have a sniffle. I mean fluid has been leaking out of my nose off and on all day. I haven't really identified a consistent trigger for it; it just happens. It's like Chinese water torture, only instead of water dripping on your forehead it's dripping on whatever's right in front of you. And instead of water, it's snot. Crystal clear, low-viscosity snot. I really don't know how to feel about this latest development.

In other news, I've decided to combat the repetitive nature of my juice fast with variety. I hit the produce section of Whole Foods with the ferocity of a Mike Tyson forehand, coming home with a veritable cornucopia of fruits and veggies. And let me just say, you have not lived until you've dropped a fistful of grapes down the glory hole. It's like watching those lottery balls bounce around in their wind machine container, only instead of rolling weakly into a tube at the end, they explode. It's pretty spectacular. I also purchased a few prepared juice drinks to further supplement my diet.
Day 2 Hunger Level: Excruciating. Constant, nagging, grumbling hunger. I know I'm consuming plenty of calories. Someone just needs to tell my stomach.
Day 2 Energy Level: Remarkably high and much more consistent than Day 1. When I was lying in bed this morning, I couldn't imagine getting up. Now that I've been upright for 14 hours I can't imagine going back to sleep. I'm ordinarly not opposed to nodding off in front of the fire place. Now it's almost like I have to tell myself to shut my eyes and rest.
Day 2 Physical Condition: I'm going to assume you won't require any further information on my nose. I've also developed a bit of a cough - no doubt due to that lung cleansing I mentioned earlier. My muscles, particularly in my legs and back, are a little stiff and sore. I'm guessing this is because my usual level of physical activity is a little much for my adjusting system to handle at the moment.
Day 2 Mental State: Alert, but slightly agitated. Right now I'm really concerned about the empty stomach. I'm still having a difficult time suppressing the urge to chew on something. It's also starting to dawn on me how much I enjoy cooking. I'm not talking about microwaving or heating things on the stove; I really love preparing meals and sharing them with others. Juicing was exciting at first, but has quickly started to show its limitations. It's like when you go on vacation somewhere and cram all the fun activities into the first two days. After that, you're thinking, "great. Now I've got 12 more days to fill. Good thing I brought a book." Only, truth is, I'm not sure there's room for a book in this metaphor.
Day 2 Juices
#1: Lemon, Lime, Apple, Seltzer Water (more diluted version than Day 1)
#2: Cucumber, Parsley, Pear, Ginger, Grape
#3: Carrot, Celery, Kale, Blueberries
#4: Celery, Cucumber, Mango, Grape
#5: Purchased Odwalla Superfood Drink (half bottle)
Total amount: approx. 50 oz.
The series so far:
* On The Juice: Day 1. If you can't beet it, juice it.
Posted by Natasha Julius at 10:06 PM | Permalink
The [Tuesday] Papers
1. Boise State rocks.
2. First the hook-and-ladder, then the Statue of Liberty.
4. Plus, they play on blue turf.
5. The Beachwood Crystal Ball Affairs Desk has determined when the governor will be indicted, when the Cubs will be mathematically eliminated from contention, and who the first Democrat will be to drop out of the presidential race.

6. "To fly 7 million light years to O'Hare and then have to turn around and go home because your gate was occupied is simply unacceptable," O'Hare controller and union official Craig Burzych told the Tribune, setting the bar awfully high for quote-of-the-year so early into the competition.
7. If we all follow ComEd's tips for cutting our electricity usage, could we cut our bills by the same percentage the company is raising rates by, and therefore bankrupt the company?
Let's try.
8. "Knee-jerk reactionaries will clamor for Griese," the Sun-Times's Brad Biggs writes, on a page opposite Jay Mariotti's clamor for Griese.

9. President Bush called the execution of Saddam Hussein "the kind of justice he denied victims of his brutal regime."
Seems to me it's exactly the kind of justice Saddam doled out.
10. "It was something of a mystery how someone so coldly calculating could have so badly misjudged events that led to his removal from power. If he didn't have weapons of mass destruction, why not come clean?"
- The Tribune editorial page, still trying to justify the war instead of admitting it was wrong, by blaming Saddam for not doing a better job of denying he had WMDs, rather than Bush and Cheney for refusing to believe it.
11. We should never forget that Saddam was one of ours, which is clear just by reading between the lines of this Tribune report, much less taking a deeper look.
1963: "With U.S. support, the Baath Party overthrows the government but loses party months later."
1979: "From his ascension to the presidency in1979, Western governments - including the United States - recognized Hussein as a ruthless strongman, but someone they could do business with."
1980: "In September 1980, Hussein launched an invasion [of Iran], setting off an eight-year war that left at least 1 million Iraqis and Iranians dead. Through the war, the U.S. supported Iraq by providing satellite intelligence and refusing to sell the Iranian military spare parts for its mostly American weaponry."
1983: The Tribune doesn't mention this now-famous handshake between Don Rumsfeld and Saddam Hussein, but it occurred just a year after the slaughter at Dujayl that Hussein was hanged for.
12. As usual Stella Foster's political insights are dead-on: "Even though he came under fire for pardoning Richard M. Nixon, he still deserves the respect of all Americans for being a great humanitarian."
13. If Gerald Ford had truly "healed" the nation after Vietnam and Watergate, he would have been elected president in 1976. Instead, he faced an unusually strong primary challenge for a sitting president, and lost the general election to Jimmy Carter 50.1 to 48 percent. That's the sign of a pretty badly torn nation, and in fact, the whole rationale for Carter's election was to elect someone who could heal the nation.
14. Pundits aren't historians.
15.What's next, the rehabilitation of Chester Arthur?
16. The Beachwood lab has determined that Jerry Ford plus James Brown actually does equal Jerry Brown.
17. When the Jordans got married in 1989, Bill Zwecker reports, "At that time and for several years thereafter, it was widely perceived that Juanita did everything in her power to snare Michael."
No kidding. Elsewhere the Sun-Times reports that "They wed at 3:30 a.m. on Sept. 2, 1989, in the Little White Chapel in Las Vegas when son Jeffrey was 10 months old. She had filed a paternity suit against him," but the real story is even less romantic than that. It took years of legal negotiations.
18. Jordan once said that without Juanita and his three kids, "I could have gotten myself into trouble. If I had been single, playing basketball and making a lot of money, I could have made some wrong decisions."
Thank God marriage and family life kept Jordan from a life of gambling debts and meaningless affairs.
19. "I've always said women such as Juanita who are married to superstars who travel a lot should pack their man's suitcase, pack the condoms and then go on a shopping spree because the devil is always at work," says relationship expert Stella Foster.
20. When Stella Foster says "I am sure that the gossip rags will have a field day with this news," does that include Stella Foster and the Sun-Times, which, um, had a field day with this news?
21. Do you think Stella Foster is the "close friend" speaking on condition of anonymity or "another friend" who asked for anonymity?
22. When Stella Foster says "I am sure that the gossip rags will have a field day with this news just like in 2002, when Juanita first filed for divorce - which shocked everybody, including close friends . . . [and the] gossip rags featured stories about Michael's alleged dallainces with different hoochies . . .", does she include herself for getting in trouble with Juanita back then for being an anonymous source - and for a news organization that wasn't her own?
23. "It's a commonplace of modern life that job security is a bygone relic," the Tribune editorial page states today. But it's also a myth, the page says. "In the globalized, fast-changing, fiercely competitive economy of the 21st Century," the paper continues, "corporations are accused of outsourcing jobs abroad, jettisoning workers at the drop of a stock price, undermining union protections and generally putting personnel in constant danger of unemployment."
All apparently untrue. And are you going to believe the Tribune editorial page, or the lying corporation it works for?
24. On New Year's Day, the Sun-Times ran six pages of horoscopes.
25. "Forgiveness Is Best Resolution For 2007." And here I thought it was vengeance.
The Beachwood Tip Line: Only if it makes you feel good.
Posted by Beachwood Reporter at 8:26 AM | Permalink
The Year in Preview: 2007
A preview of 2007.
* First political offspring to be promoted to mysteriously resigned political office: Glenna White-Jones, daughter of Secretary of State Jesse White.
(Amy Blagojevich, 10; Annie Blagojevich, 3; Malia Obama, 7; and Sasha Obama, 5; are being groomed for 2016, 2030, 2024, and 2034.)

* Number of major league starts by Mark Prior: 6.

* Number of times Todd Stroger is consulted on important Cook County decisions: 0.

* Date of Rod Blagojevich's indictment: November 17.
* Number of points Bears lose first playoff game by: 14.

* First celebrity breakup: Jim Carrey & Jenny McCarthy.

* Percentage of votes Mayor Daley receives in Mayoral election: 73.

* Number of Bulls playoff victories: 3.

* Month of first story about 40th anniversary of the Summer of Love: February.

* Number of times Tribune editorial board encourages Obama to run for president before endorsing his Republican rival: 3.
* Month of Warner Saunders "surprise" retirement announcement at Channel 5: June.

* Number of joint media appearances by figure skater Sasha Cohen & comedian Sasha Baron Cohen: 0.

* Number of times Todd Stroger will give an incredibly vague and dimwitted answer to a direct question: 742.

* Name of Mary Cheney/Heather Poe offspring: Jerry Lee Cheney-Poe.

* Average number of fans attending White Sox games in May: 18,000.

* Number of times the word "Iraq" appears on the front page of the Sun Times: 10.

* Number of troops in Iraq in December 2007: 130,000.

* Number of times Mayor Daley is "shocked" by corruption news coming out of City Hall: 4.

* Date of first Lou Pinella ejection: April 30.

* Title of Ann Coulter's next book: Pussies.

* First 2008 Presidential candidate to officially bow out of the race: Chris Dodd.

* Date Chicago Cubs are mathematically eliminated from the playoffs: September 4.

* Number of Michael Richards' movies: 0.

* Attendance at final Blackhawks home game: 63 (paid).

* Number of times a local weatherman is blamed for bad weather by local anchors: 73.

* Date Jay Mariotti calls for Ken Williams firing: August 6.

* Number of joint media appearances by William Jefferson and William Jefferson Clinton: 0.

* Number of Big Ten schools in the NCAA Men's Basketball Tournament: 4

* Number of other politicians discovered to have real-estate deals with Tony Rezko: 3

* Lower ERA - Dave Aardmsa or Neal Cotts: Aardsma.

* Number of dustups between David Gregory and Tony Snow: 12.

* Most likely to appear on The Surreal Life: K-Fed.

* Number of games it will take for Lou Pinella to call Aramis Ramirez out for loafing: 4.
* Number of people VP Cheney accidentally shoots in the face: 0. But not because he won't try.
- Rick Kaempfer, Tim Willette, Marty Gangler, ML Van Valkenburgh, Steve Rhodes
Posted by Beachwood Reporter at 6:32 AM | Permalink
What I Watched Last Night
If you were alive and owned a TV set during the early 1960s, Twilight Zone was one of the most creative shows around. If you were alive between New Year's Eve and New Year's Day this past weekend, you could watch what was probably the entire series during Sci-Fi Channel's Twilight Zone marathon. Since I paid good money for a color television, I settled for just two episodes, all filmed in classic black-and-white.
If NASA was anything like the space program depicted in the 1960 episode "I Shot An Arrow Into The Air," you'd wonder how we ever managed to get to the moon in the first place. A half-dozen or so astronauts sent on the first manned space flight disappear from radar just after lift-off, crash-landing on an "asteroid of some kind," killing half the crew on impact. Since it would take another four-and-a-half years to build another ship from scratch because, well, NASA was more laid back then, the three surviving 'nauts embark upon a campaign of killing each other over water rations until a sign for Kilson's Motel (Eats - Gas - Oil) informs the last survivor that he's a mere 97 miles from Reno, Nevada.
So the bozos never got off the planet in the first place. Not that there weren't clues galore that either they weren't in outer space or Rod Serling never thought of hiring a continuity director. Things like clouds in a blue sky and a perfectly breathable atmosphere without the need for space helmets. Other nagging questions compounded the confusion, such as why an astronaut might need an AK-47 in space if you're not carrying Sigourney Weaver or Bruce Willis along to blow something up, and what sort of space program would send up five measly gallons of water in jerry cans and canteens.
The 1960 space theme continued, sort of, with the next episode, "The Monsters Are Due On Main Street." It's a pleasant summer day on the 300 block of Maple Street, in a town straight out of Leave It To Beaver, until a strange oscillating noise fills the air along with a series of bright flashes in the sky.
Figuring "it must have been a meteor" because the first law in science fiction is to blame meteors for everything, the neighborhood goes back to its business until everyone discovers the electricity and the phones are out and Claude Akins' car won't start. Everyone wanders around looking horribly clueless
because this has apparently been the first phone and power outage in recorded history. And they'd probably still be wandering about like that today if some smart-aleck comic book-reading kid named Tommy hadn't put it into everyone's head that monsters from space were to blame. Not only that, but a few years prior, the aliens sent ahead a human-looking mom, dad, sister and a brother, and now the mothership has returned to pick them up.
Since only on TV and in Congress can such a crackpot notion like that be taken seriously, the finger-pointing over who might be the aliens in everyone's midst escalates until someone gets clocked in the head with a rock and another someone gets shot.
In the closing scene, we see the real culprits: From their perch inside the steaming cup of coffee on the billboard, Larry Mondello and Beaver Cleaver sit monkeying with the neighborhood power grid. No, I made that part up. It was actually two aliens (looking a lot like they stepped off a Dutch Masters cigar box), standing atop a hill overlooking the neighborhood, flicking the town's lights off and on. This way, as they've been finding out in other similar tests across nation, it's easier to take over the planet when everyone in it kills each other first.
Hey, haven't the people over at ComEd been really squirrely lately? Yeah. Think about it.
*
Murder teaches us something, and there was plenty to learn Sunday on E!'s 20 Most Horrifying Hollywood Murders. The main and very obvious lesson learned is: Fans are fucking nuts, so if you want to live a long and healthy life, stay the hell away from them. Way away.
But not everyone learns from the mistakes of others, so here were things to learn:
Dump your loser boyfriend before you get famous (Dorothy Stratton). If your father doesn't like you much, don't buy him a handgun as a gift (Marvin Gaye). When your parents tell you not to open doors to strangers, they mean it (Rebecca Shaeffer, Sharon Tate). If you're going to be a gold digger, take a lesson from Anna Nicole Smith and do it right by marring a guy older than dirt with barely the strength to breathe, much less fire a gun (Bonnie Lee Bakley). Invest your cash wisely early in your career to pay for the really good attorneys when your wife turns up dead (Robert Blake, O.J. Simpson). The world's just not ready to give peace a chance (John Lennon). When you're a waitress and some crackpot record producer at your table tips you $450, it means you have the fare to take a taxi home instead of his limo (Lana
Clarkson). We now have the Internet and FAQs to learn about home video and porn all by ourself, so use it (Bob Crane). Hire mentally-balanced family members to work for you, not fans; the worst your family will do is stab you in the back, and you can always recover from that (Selena). Stick to straight porn (John Holmes). Gospel singers make a decent living and rarely get capped in drive-bys; maybe give that a try first and see how it goes (Notorious B.I.G., Tupac Shakur).
There was one very subtle, unspoken lesson permeating the whole two hours that you had to pay close
attention to catch. That is, if you're connected even years later to people who are still very powerful in
the entertainment industry, you won't have to face the indignity of having E! incorporate crime scene photos of your bloody corpse into a sordid two-hour program.
When in Hollywood, date and marry wisely, young stars and starlets. Date and marry wisely.
Find more life lessons learned from television in the What I Watched Last Night files.
Posted by Beachwood Reporter at 5:28 AM | Permalink
January 1, 2007
On The Juice: Day 1
Some people start the New Year off with a few poxy resolutions scribbled down somewhere only to be forgotten by February. Me? I'm going on a two-week juice fast. And at the request of concerned friends everywhere, I'm keeping a diary of my daily experiences living without solid food. Enjoy!
Day 1: If you can't beet it, juice it.
So the first thing you need if you're going on a juice fast is a juicer. You can go out and buy one or, if you're like me, you can text your friend Dave, whose former roommate's new girlfriend made the roommate abandon the brand new juicer his old girlfriend bought him at Dave's apartment, and ask to borrow his for a while. I'm fairly certain all juicers are more or less the same in their basic function. You shove raw fruits and vegetables into a little chute - I don't know the technical term for it, so I'm calling it "the glory hole" - press it down with a fitted plastic foot, and watch as the juice sprays out of a nozzle into a strategically placed cup. You're left with an oddly dry spackle inside the juicer that can easily be rinsed out.
The next thing you have to do is decide what you're going to juice. It's a bit daunting in that pretty much anything can be chopped up and crammed down the glory hole with little or no trouble. The one notable exception is the noble beet. Because the texture of raw beets is quite fibrous and tough, it took Dave's wee juice machine a few passes to get each chunk processed. Thing is, I will tell you right now that a little beet juice goes a long, long way.
Day 1 Hunger Level: Vacillating between excruciating and non-existent. Surprisingly, I'm finding that the hardest thing to deal with is not the hunger itself, but the physical urge to put something in my mouth and chew. The best thing right now is to stay active. The more I stop and think, the more I notice a little rumbling in my stomach or a touch of a headache.
Day 1 Energy Level: Also variable, but generally much higher than I expected. I think because the calories in the food are reaching my system in such a different way, my reaction is quite different. Each food is unique as well. Some things, like carrots or lemons, hit me almost immediately with a wave of energy that burns out quite quickly. Others, like kale, take a little while to kick in but last a little longer. Beets are fucking crazy; they're way high in sugar and the energy boost lasts forever. Plus they turn your urine funny colors and when you haven't eaten in a while that'll really fuck with your head. I included a whole beet in the mixture listed below, but I think about a quarter that much would be sufficient per serving.
Day 1 Physical Condition: Pretty damn good. I'm feeling a little shaky from time to time, my tongue feels like someone spread paste on it, and my lips are a bit dry. Plus my nose is a little extra runny, but that's about it.
Day 1 Mental State: Oh, dudes, I'm all over the fucking place. Like, there are moments of great focus and clarity surrounded by waves of what I can best describe as fuzziness. I'm not dizzy, I'm not sleepy, I'm just a little slow catching up to whatever's going on. Sometimes I feel like I have a touch of tunnel vision and like whatever I'm hearing was recorded on a player piano, whatever that means. Seriously, yo, I gotta go lie down.
Day 1 Juices:
#1: Carrot, Apple, Ginger, Beet
#2: Celery, Kale, Apple, Ginger
#3: Apple, Carrot
#4: Lemon, Lime, Apple, Seltzer Water
Total amount: approx. 48 oz.
Posted by Beachwood Reporter at 10:40 AM | Permalink