« October 2006 | Main | December 2006 »
November 30, 2006
What I Watched Last Night
I watched a little of that Real World last night and really found it annoying, so I got on my computer and did some holiday shopping. So I didn't really watch any television worth writing about last night. The only thing I can think about to comment on is the incessant sobbing on the Real World.
These two ladies who made out with this one guy in the house are now best friends and will never hurt each other again. Apparently "again" means till next week's episode.
Pat Bataillon is the Beachwood's resident TV watcher. Catch up on everything he's been watching in the What I Watched Last Night archive.
Posted by Beachwood Reporter at 12:05 PM | Permalink
The [Thursday] Papers
Wow, it was a big day for The Combine. Former Gov. George Ryan won his bid to stay out of jail while his racketeering conviction is on appeal, but lost his pension. Bobbie Steele got her pension but unfortunately won't be going to jail for the political fraud she has perpetrated on Cook County voters and taxpayers. Rod Blagojevich, who remains in office and out of jail pending indictment, conviction, and appeal, has once again broken his word, this time to Steele and John Daley. Daley's brother, Richard, who also remains in office and out of jail pending indictment, conviction, and appeal, is piggybacking on the whitewash of his involvement in police torture as Cook County State's Attorney by declaring he sees no evil in the police department despite a report of "continued indifference" to corruption in the department.
Bill Beavers said it all: "This is good Democratic politics."

Cardinal George
"There is a God," George Ryan declared, upon hearing that he will be allowed to stay out of jail while his appeal is pending.
Apparently He was just on vacation last year when a jury convicted him and a federal judge sentenced him to six-and-a-half years in the pen.
God is like that.
"'We're very, very happy,' Lura Lynn Ryan said, declaring her husband's innocence. Ryan, who was in the house, did not speak to reporters."
George was actually inside delivering an "exclusive" to Sneed: He was making bean soup when he got the news. That made the Sun-Times's front page.
Soup to Nuts
Message: The racketeer is just like us!
Richie and the Beave
In Mickey Ciokajlo's account in the Tribune, he calls the manuevers between City Hall and Cook County a "triple patronage play that would stand out even by Chicago standards."
Steele Breeze
"Among her accomplishments as presidents, Steele cited lifting of the burn moratorium at the forest preserve district and an order to end politics in hiring in the county."
Then she announced plans to install her son Robert on the Cook County board.
Steele Trap
"She dodged questions about whether pushing her son, Robert Steele, as her replacement was nepotism, or whether she was disingenuous in waiting until after the election to announce she would retire on her president's salary, which allows her to draw a double pension instead of returning to her board seat," the Sun-Times reports.
"'I am finished answering questions,' she said abruptly, after entertaining just a few queries, and left the dais.'"
She learned that from the mayor.
Bobbie Steal
"For Steele, jumping through a loophole pays great dividends," the Tribune editorial page noted. "She took office four months ago with only one big responsibility other than warming a chair for her successor: She need to propose a Cook County budget for the fiscal year that begins Friday.
"Steele never did get around to drafting a budget. So many inauguration parties, so little time."
State of Denial
"Also on Wednesday, Daley scoffed at a report by Lou Reiter, a former senior Los Angeles police official who concluded that Chicago police officials have continued 'a practice of indifference' toward corruption that makes renegade officers here 'feel protected.'"
There is indifference everywhere, Daley said. Even in your industry.
Hall Monitors
What's your favorite part of the Tamron Hall boob job story? I can't decide whether it's her insistence that she's a "news journalist" who is "in the grind' breaking stories every day or it's the lame but mildly amusing jokes in Robert Feder's column today.
I do know, though, that the coup de grace was turning to Stella Foster today (hey, I do it so you don't have to) and finding out that Hall will appear in an episode of Fashion House tonight. Perfect.
Same As It Ever Was
"The governor made a commitment," a steamed John Daley said on Wednesday about a financial deal the county made with the state. "It's apparent that he has once again not lived up to his word. Maybe we have to do what some members of the General Assembly do and get a letter of commitment when we deal with this governor."
Obameter
Oh Lord.
Rush Hour
Of course Bobby Rush (D-AT&T) is two-faced weasel. We already knew that. The pertinent question is: What did he get - street paving, a contract for a pal, an appointment to public office for a relative?
Irresistible URL
CelebrityButtPlugs.com.
For entertainment purposes only.
Er, that's not what I meant.
Rock Dock
"Let's impose a moratorium on rock critics. Now. A few months ago, I came across this line by critic David Dunlap, Jr.: '[The band] Windsor for the Derby has plenty of experience jumping subgenres . . . everything from slo-core to krautrock to electronica to its current flavor of Mancunian-tinged postrock."
"Call me square, dismiss me as an oldster, but I think when you're referring to Mancunian-tinged postrock, it's time to hang it up."
Bullseye
Good God. (Inspired by a photo in today's Quick Hits)
In the Reporter
We're chock full of good stuff. If you don't believe me, take a look around and see for yourself.
An Inconvenient Truth
"A few scribes remain weepy apologists for City Hall patronage, while standing tough on Cook County patronage, as if Daley didn't run it all."
The Beachwood Tip Line: Where slings meet arrows.

Posted by Beachwood Reporter at 7:50 AM | Permalink
November 29, 2006
The Blue & Orange Kool-Aid Report
The Kool-Aid Nation is in a state of obsession over what to do about Rex Grossman. There are two schools of thought.
1. The Bears are 9-2. Even if Grossman played the next five games with his pants around his ankles, the Bears still get home field advantage. He just might not be called Sexy Rexy anymore. This is also known as The Orton Plan of Just Managing The Game.
2. Brian Griese sure looks sexy - but in a non-threatening way. This is also known as The Orton Plan of Just Managing The Game. Where is Trent Dilfer when you need him?
Remote Viewing
The Tribune discovered this week that a lot of Bears fans go to electronics stores to watch the games. This is hardly news - married men have been using this technique for decades. What's next, a trend story about men going to Home Depot to escape mundane duties at . . . home?
Electronics stores aren't the only places to go to watch the game when you have to get out of the house or pretend you are shopping or running errands. Here are a few more.
Hospitals: Check yourself into a single room with a TV and order in a pizza. Instant access to medical care hen you develop a bleeding ulcer after Rex Grossman's third interception.
Health Clubs (high impact): Run on treadmill and pretend you are Mark Bradley running down the sidelines. Hamstring pull included. Get injury sympathy from the hotties at the juice bar.
Health Club (low impact): While watching the game on the club's big-screen, move 90 degrees every five minutes to scout out hotties at the juice bar. Good for the obliques.
Soldier Field parking lot: TV tailgating. At halftime, scour the parking lot for half-eaten brats. Wash down with 12 half filled cans of Old Style. Watch out for those cigarette butts!
Friendly Neighborhood Deli: Cut out the middleman. Instead of suffering through bad bar food while watching the game, go directly to the source and suffer through unsanitary deli food.
Millennium Park: Justify needless city expense by using metal statue thingy to supplement TV antenna.
Wrigley Field: Sneak into the clubhouse and settle into the same recliner that put Mike Remlinger on the DL. A great way to enjoy the Cubs and Bears together, with nobody getting hurt but you and whatever Cub you bump into.
Minnesota at Chicago
Intriguing game. Do we shackle Grossman and run into Minnesota's strength, or do we throw the ball down the field? The heart says the former, but the numbers say the later. Then again, does it really matter? Either the Bears win 16-10 or 24-17. The Vikings keep it close enough. It's a win for the Bears, but one that grants no confidence.
Pick: Minnesota plus 10/Over 36.5
For Bears win:
Sugar in the Blue and Orange Kool-Aid: 95%
Recommended sugar in the Blue and Orange Kool-Aid: 85%
Sugar in the Super Bowl pitcher: 80%
Recommended sugar in the Super Bowl pitcher: 35 %

*
For more Emery, see the Kool-Aid archive, and the Over/Under archive. He can be contacted at Eric_Emery12345@yahoo.com. Or berate him publicly.
Posted by Beachwood Reporter at 11:29 PM | Permalink
Over/Under
Having grown up in the lightly-populated, small Northwestern Illinois town of Savanna, holder of the state high school football record for consecutive losses, I learned how to make my own fun. So when I went back home to my see my folks for Thanksgiving, I was ready for some creative time-killing. This time around, for example, me and my father decided to visit a bunch of auto dealerships and check out the stock. It was actually quite entertaining.
Fans of teams that stink who can no longer bear watching their heroes could do well to employ this kind of strategy with the extra time you now have on your hands on Sundays. Here are some suggestions.
Redskins fans: Form your own study group to solve your team's problems now that hope is lost.
Packers fans: Form a "Ship, Captain, Crew" league. The winner gets his name on state liver transplant list.
Lions fans: Form an investment club to search for other poorly run companies that might sponsor the stadium in which the the most poorly fun franchise in the league not named Arizona plays in.

Buccaneers fans: Attach a photocopy of Jon Gruden's face to your family dog. Avoid walking the dog in public so strangers don't kick it.
Cardinals fans: Apply to be Lions fans.
Steelers fans: Fly to Pittsburgh, use game tickets you purchased after Week One for $130 over face value, drink a couple sixers of Iron City, and yell at your team for looking like boiled shit after winning the Super Bowl last year. To my credit, I'm following my own advice.
Browns fans: Create the Drew Carey Hall of Fame. Watch it get funding and draw more people than both the Browns games and the Rock and Roll Hall of Fame.
Titans fans: Write snooty art review on the Titan's "T" logo and send it in to the local paper. Postulate that the blue signifies the clear skies that reflect the optimism of Titans fans. Theorize that the red signifies the blood the Titans are willing to spill in pursuit of victory. Muse that the flaming "T" stands for the Turd your team lays every week.
Texans fans: Phone other Texans fan and recount the single important game the team has won in franchise history, and how good it made you feel. Marvel at how many minutes you have left on your calling plan.
Raiders fans: This one requires you to actually keep watching your team, but the fun it provides will be well worth it: Art Shell Bingo. Make a list of the 75 most frequent poor coaching decisions. Randomly place 24 numbers on various 5x5 grids. Fill in your card as the game goes on. Feel free to ad lib and ad squares for new offensive coordinator John Shoop too.
Last Week: 4-2
Season: 29-39-2
Last Five Weeks: 20-10
Comment: Study Group?! Study Group?! I don't need your stinkin' study group.
Over-hyped: Dallas at New York Giants
Storyline: Dallas looks to continue momentum against the reeling Giants. The Giants need a win to stop the bleeding and stay in the playoff hunt.
What they forget to tell you: When you combine names with words, the hype meter reaches critical mass. With Romomentum, we're there. Plus, Romo's alleged romance with Jessica Simpson has some folks muttering his name in the same breath as that of Joe Namath (Broadway Romo?). Sure enough, rumor has it Romo will appear soon on an episode of "7th Heaven" to visit someone pretending to be a sick kid. With Bill Parcells as the buzz-kill neighbor.
Still: The Giants showed they rally when times are tough. This week, the times are too tough. After this game, Bears fan will cry about the national media cheating on them with the Cowboys.
Pick: Dallas minus 3.5 points/Over 45
Under-hyped: Seattle at Denver (Sunday night)
Storyline: Rookie Jay Cutler gets his first NFL start for the Broncos. Seattle continues to get healthy and is eager to show they are still among the best in the NFC.
What they forget to tell you: You see those silver bands around Cutler's wrists? Those are handcuffs. The Broncos have three decent running backs. You won't see a lot of Cutler's arm.
Still: Seattle needs one more week to get really good. Seattle has the weapons on offense to make a run, but unfortunately, they're still watching most of the game from the sidelines.
Pick: Denver minus 3.5 points/Under 39
*
For more Emery, see the Kool-Aid archive, and the Over/Under archive. He can be contacted at Eric_Emery12345@yahoo.com. Or berate him publicly.

Posted by Beachwood Reporter at 10:17 PM | Permalink
What I Watched Last Night: My Boys
My Boys is an awful show. It is the new show on TBS that has been advertised to everyone in Chicago over every medium for the last few weeks. There is so much wrong in this show I don't even know where to start.

The dialogue was as predictable as an episode of Friends, the city views may as well have been from Vacation, and the acting purely bush league.
So here is the premise: PJ Franklin is one of the guys and she is having trouble balancing being a lady and still hanging with her boys. This character conflict is made apparent seven to ten times throughout the course of the 22-minute show. So for those of you with a short attention span, listen: She is having trouble being a lady and still hanging out with her boys. She is a sportswriter and a huge baseball fan. She collects baseball cards and follows the Cubs. She does not wear make-up and she drinks beer and eats chicken wings. She is way into old school Asteroids and poker; basically, she is real down-to-earth.
Then there are her friends - this will be brief because they're pretty forgettable. Her brother is in a faux miserable marriage and is controlled by his wife - that has never been done before except for Al Bundy and Norm Peterson and the dad from Everybody Loves Raymond. Then there is the pathetic guy who is walked all over by women and is really sensitive so, insert your choice of romantic comedy star here. Then there are the buddies who have limited lines but are already pegged as undeveloped characters in this soon-to-be short-lived series.

Back to the show and how awful it was last night. I caught myself saying out loud to myself "Are you kidding me?!" at least four times. Like when the PJ - nicknamed Peeje - began to write and her thought-narration kicked in, a la Sex and the City. Several female friends tell me Sex and the City wasn't total crap, but I beg to differ. That show had a terrible influence on plenty of things that I don't have time to get into right now. But anyway, PJ starts thinking/talking about how referees in sports keep things fair - but there are no referees in the real world. Boo-hoo. That's life. Any writer knows this one thing: if there were rules that were unbreakable in life, there would be no writers to break them. This is why this woman is an idiot.
Finally, the constant references to Chicago were ridiculous, and usually just plain wrong. Explaining how good the hamburgers are at the Billy Goat? Please. And a sportswriter who buys his pants at the Lord & Taylor at Water Tower Place? I'm pretty sure that's never happened in Chicago newspaper history. If there are some brilliant people that want to make a show about Chicago, just cast Chicago actors and writers and be done with it; don't just show panoramic views of John Hancock and Wrigley Field that you found on the cutting room floor of The Blues Brothers.
At least they didn't go to a blues club last night. The writers are probably saving that for the next episode. They'll probably take the Blue Line to get there, and along the way, Peeje will fret about how hard it is to balance being a woman and being one of the guys. For the billionth time.
-
Posted by Beachwood Reporter at 10:37 AM | Permalink
The [Wednesday] Papers
With the mayor continuing to stand behind a man convicted of orchestrating a massively fradulent City Hall hiring operation, will the outrage directed at Todd Stroger now be directed at Richard M. Daley? Will the editorial boards and civic titans and smug North Siders decide that being governed by a criminal enterprise is too high a price to pay for pretty flowers and Olympic bids?
Because Richard M. Daley deserves the ire far more than Todd Stroger. Todd Stroger doesn't know any better; Richard M. Daley does. Todd Stroger is a pawn in other men's games. Richard M. Daley runs the game.
When Daley calls Robert Sorich a man of fine character - a man convicted on a mountain of evidence of criminal wrongdoing (on the mayor's behalf) - well, it gives away the lie of all those impassioned promises of ethics reform Daley issues whenever things get too hot around him.
And everyone who supports this mayor is complicit. You can't separate his achievements from the basic fact of his administration: Corrupt to the core. With a capital 'C.'
You can't bitch and moan about Todd Stroger without being outraged at Daley's hand behind the curtain. You can't scream bloody murder about Bobbie Steele's shenanigans without understanding that Daley gives the blessing. It's a sick, sick culture, oozing from here to Springfield. With Saint Obama uninterested and gallavanting around Iowa and New Hampshire, Daley is the one man who could stop it. That would make him a truly great mayor. What a legacy that could be. Instead, he condones what amounts to treason - the coup d'etat of Sorich & Co.; Stroger, Steele and Beavers; Reyes and HDO.
And while we're directing anger this morning, why has there been such silence at the way Jesse Jackson Jr. and Luis Gutierrez froze the field of potential Daley opponents until it was too late for anyone else to put together a campaign? While the extent of the nationwide Democratic victory - meaning the U.S. Senate and what happend in statehouses nationwide - hadn't been anticipated, there had been little doubt for a long time that the Dems would win the House. And yet, both Jackson and Gutierrez used their new majority power as an excuse to pull the plug on their mayoral candidacies. Thanks, guys.
The only one talking sense these days is Forrest Claypool.
Is it too late?
Run, Forrest. Run.
Five Style
Channel 5's Allison Rosati beamed while delivering the news yesterday that the mayor will "likely" run for re-election. The station then cut to Daley honoring CHA residents: "We will never give up on anyone who doesn't give up on themselves," he said - on the same day he defended a man who gamed the city's hiring system, preventing honest citizens from helping themselves.
Mary Ann Ahern then stuck a microphone in the face of Daley sycophant Desiree Rogers, who proclaimed that "I don't believe this election is a racial election," despite the fact that the mayor does.
Regarding Sorich, Ahern said of the mayor: "He clearly did not want to dwell on that scandal."
Back to you, Allison!
Of course, the station failed to mention, much less show, Daley cutting off questions at a press conference when the subject turned to Sorich and ending his "media availability" for the day.
What Would Jesus Ask?
Mr. Mayor, do you think the jury erred in finding Sorich guilty? Why?
Mr. Mayor, did you not find the evidence compelling? Would you have prosecuted this case when you were Cook County State's Attorney?
Mr. Mayor, do you feel bad that Robert Sorich is going to prison for activities he undertook on your behalf?
Mr. Mayor, do you think the judge was wrong to describe City Hall hiring under Sorich as "corruption with a capital 'C'"?
Mr. Mayor, do you think Patrick Fitzgerald was wrong to bring this case?
Mr. Mayor, do you tolerate corruption in your administration? No? Then why is there so much of it?
Tunnel Vision
Fran Spielman's account credits the mayor with being consistent in his defense of Sorich - ignoring how inconsistent that stand is with his numerous pledges to clean up his administration.
Daley Dose
"Do you think when someone makes one mistake that you would kick 'em all the way down the street?"
No. You kick 'em to prison.
Daley Dosed
Mr. Mayor, do you think Sorich really made just one mistake, then, and not the massive fraud jurors found him guilty of?
Quigmire
"To a large extent, how do you blame President Steele for doing this?" Mike Quigley asked.
Would you teach your children to do this, Mike? Or would you teach them that doing the right thing is more important than ill-gotten gains?
Bobbie Steele could do the right thing. She's making a choice.
Steele Foundation
Maybe she should take the money - and donate it to the county.
Miguel del Sellout
The truth is that Miguel del Valle wanted a desk job. The tragedy is that he could've just gone into the private sector to get one instead of making an ass of himself.
Like Father
"Reagan's Son Elected to Eureka College Board."
A) The bombing of Southern Illinois begins in five minutes.
B) Tear down that mall!
C) No more scholarships to welfare queens.
Sneedling
When the Sun-Times advertises "Another" Sneed exclusive on its front page, it means in addition to what, the one she reported in the 70s?
I guess her exlusives are so rare they are front page news.
Plane Truth
"Once on the plane, the imams reportedly took seats to which they were not assigned, pairing off to sit near the exits," Kathleen Parker wrote on the Tribune's Op-Ed page today. "The two seated in first class requested seat-belt extensions, which they placed on the cabin floor. One needn't be Islamophobic to go, 'Hmmmmmm.'"
One needn't be a journalist to go "Hmmmmmm."
If Parker is getting her information from reports like this one, she ought to be more diligent in her research. If you read this report from the ground, you'll see how the right-wing message machine has cherry-picked this one. If the imams were terrorists, the last thing they would do would be to draw attention to themselves by shouting about Allah as they boarded the plane. That's a plane I want to fly, because the real terrorists will be wearing American flag lapels and carrying a Bible the next time.
It's also sadly amusing that US Airways removed the imams from the flight, but offered a customer service number so they could fly on another airline.
Patriot Act
Cathy Messino of North Center has apparently been reading right-wing blogs (fifth letter). "The more I read about the events that transpired, the more I intend to make US Airways my airline of choice, going forward," she writes.
Me? I'll be wary of flying US Airways going forward. Not because they have offended me, but because their security savvy seems awfully lacking.
Number Bummer
"Since the CHA launched its $1.6 billion Plan for Transformation in 1999, more than 8,000 CHA residents have been placed in jobs, with a 50 percent three-month retention rate," the Sun-Times "reports." "The employment rate among CHA residents also has increased from 25 to 39 percent. Annual incomes has incrased by 50 percent - to $15,000."
So . . . after three months half (4,000!) of CHA residents placed in jobs had already washed out?
The bigger problem is one that, again, is taught in the first year of any halfway decent journalism school: Statistics mean nothing when presented in a vacuum. They have to be compared to something. We have no idea whether these numbers are good or bad, nor where they came from. Did annual incomes increase by 50 percent, for example, because the lowest earners were kicked out of CHA altogether?
I guess the press release doesn't say, and so neither does the reporter.
Shoe In
Ad in the Sun-Times:
"You're Invited to A Shoe Party At Your House.
"How can you get the hottest new footwear to come to your own home?
"HEELS on WHEELS
"A Special Report with Kim Vatis.
"Tonight at 10 p.m. 5 NEWS. NBC.com"
So Michael Cooke is editing the Channel 5 news now, too?
Chicago Character
"Sorich told a courtroom packed with family, friends and neighbors that he 'tried to do my best and . . . tried to be fair.'"
As long as you were on the list.
Job Fair
"He meant these 'fine young men' are going to prison because they served him, personally," John Kass writes. "They built massive illegal patronage armies in violation of federal court orders and rigged thousands of job tests to beneift those with clout, so the mayor could use these patronage armies to control Cook County."
Blue Line
"There's a big police scandal, and you'll get these big pronouncements,'internal investigation,' 'no stone unturned,' and 'we're going to do all these great things.' And then the dust settles, and it ends up being business as usual."
Sounds like a familiar formula.
The Beachwood Tip Line: Leaving the station.
Posted by Beachwood Reporter at 9:00 AM | Permalink
Up Against the Wall, Indie Record Label!
Once upon a time, Jerry Jeff Walker ushered in the spirit of a musical movement with the cry, "Up against the wall, redneck mother!" And all the cool kids in the South, indeed the whole country, responded to this satire of hippie-bashers by getting rip-roaring drunk, lighting one up, and buying the album Viva Terlingua! by the hundreds of thousands, securing Jerry Jeff's place in the world of cosmic country music.
Nowadays, though, it seems Walker is the one doing the bashing.
Apparently upset that a tiny Texas record label, Palo Duro Records, did a tribute album to the Luckenbach, Texas, music scene without sufficiently cutting him in, the ol' gypsy songwriter has slapped the upstarts with a lawsuit demanding that Palo Duro quit distributing its album Viva! Terlingua! Nuevo! Songs of Luckenbach Texas, which was released in October.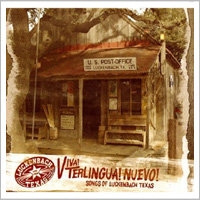 Palo Duro's Chris Thomas says the company has voluntarily done so for the time being, but insists he's done nothing wrong and will fight like a redneck mofo to get it back on the shelves. He says that Walker was properly notified but refused to take part in the new live recording, even though several members of the original Lost Gonzo Band, which backed him on the classic live 1973 recording, showed up for the tribute (one report says Walker was never invited).
The details are lost in a "he said, she said" kind of haze. Thomas says Palo Duro complied with legal requirements of copyright statutes. When Walker refused to grant permission to use his original compositions for the record (unlike fellow legends Guy Clark and Ray Wylie Hubbard), Palo Duro resorted to a "compulsory license" provision of the law, which allows for previously released songs to be covered on a new record without express permission . . . if the new producer sends out a "timely notice" to the original artist and includes a writing credit.
Jerry Jeff says he never got a notice. Palo Duro says he did. Now the federal courts will decide, another chapter in the long and boring book called "It Used To Be About the Music."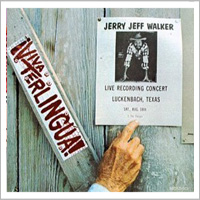 On one level, Walker might have a point. Even though his name is not exploited and is nowhere to be found on the album except in the songwriters' credits, "Viva! Terlingua! Nuevo!" is very similar to the title of the 1973 album. So is the premise of covering his famous "cosmic country" songs live in Luckenbach. Walker says he was "dumbfounded" by the similarities between the new album and his original.
But on the other hand, I think anyone who listens to the album can tell it's not just about Viva Terlingua, but, as the album's full title suggests, also more generally about the tiny town's musical influence. For instance, it includes the reading of a poem written by Hondo Crouch, the iconoclastic Texan who basically recreated the town around his dance hall and general store in the 1970s.
What I don't get is why Jerry Jeff held out on letting these guys cover his songs in the first place. It was a chance for new Texas bands like the McKay Brothers, Morrison-Williams and Two Tons of Steel to follow in his footsteps and advance the alternative country cause, which is still small and fragile enough to be shaken by a nasty lawsuit like this from one of its founders. Looking at and listening to the album, it doesn't seem to me like Palo Duro is trying to pass it off as Walker himself, or steal his revenue stream. This is a heartfelt salute to a time, an era, and a place that greatly influenced all of alternative country music.
The lawsuit also smells a bit of hypocrisy. Walker himself has made a lucrative living out of being a cover artist, and in fact is known as a masterful interpreter of others' work. Even on Viva Terlingua, his own meal ticket, he had a bunch of cover songs, including Michael Martin Murphey's "Backslider's Wine" and Guy Clark's "Desperadoes Waiting For a Train." So why wouldn't he just let this tiny label sell covers of his songs, and get nine cents a sale in royalties to boot? Does he really think anybody who's searching for the classic original will be confused and instead buy this album, which doesn't even have his name on it except in the small print? Can he not tell the difference between an homage and a rip-off? It's painfully evident that every artist on this record worships him and all things Luckenbach - Waylon, Willie and the boys. It just doesn't seem to me like they're trying to cash in or commit fraud, as Walker alleges in his suit.
Maybe it goes all the way back to Jerry Jeff's song, "Mr. Bojangles," which didn't sell much for him as a singer but went gold for the Nitty Gritty Dirt Band a few years later - the ultimate case of a Jerry Jeff cover doing way better than the original. Whatever the reason, his resort to the legal system to stifle some upstart indies who seem to want nothing more than to celebrate his legacy is puzzling. It sounds like something only a real redneck mother would do.
Posted by Don Jacobson at 12:08 AM | Permalink
November 28, 2006
Booklist: A Beachwood Gift Guide
A gift guide of (almost-all) 2006 releases as determined by the Beachwood Book Laboratory, in various categories to fit your needs.
History
Conspiracy in the Streets: The Extraordinary Trial of the Chicago Eight
Editor, Jon Weiner, Afterword by Tom Hayden, Ill. by Jules Feiffer
New Press
$16.95
If you're not familiar with the Chicago Seven/Eight - one defendant, Black Panther Bobby Seale, had charges dropped when he was indicted on other charges, though not before the judge had him bound to his seat and gagged because he insisted on continuing to ask for his own lawyer or the right to represent himself - you should be. The United States of America put on trial a veritable Who's Who of Sixties activists, including those from the Yippie movement (Abbie Hoffman and Jerry Rubin) and the politically radical group the MOBE (Dave Dellinger, Rennie Davis, and Tom Hayden), and two young Ph. D students (John Froines and Lee Weiner), on charges of planning and inciting to riot at the 1968 Democratic Convention. The defendants lampooned the judge, the judge made a mockery of the justice system, and the entire spectacle was like a circus sideshow. This book, which mainly contains highlights from the 20,000-page trial testimony, is at once sobering and absurd, and you can't help but compare the antics and action of the defendants to the tame activists of today, who have more than enough reason to be outraged.
Hip Novel
Wolf Boy
Evan Kuhlman
Shaye Arehart Books
$23.00
Kuhlman's debut novel is beautifully transcendant. A comi-tragedy played out both within a family that's falling apart and a friendship that's cementing itself into a creative duo ready to take on everything from the emergence of adolescence to death itself, Kuhlman's novel includes perfectly scripted and cleanly drawn comics to help the story open its wings and fly. Points to Kuhlman for (a) setting it in Downstate Illinois with all the depressing expertise that entails and (b) setting it in 1993, and actually getting his pop culture right.

Nonfiction Hot Topic
Crazy: A Father's Search Through America's Mental Health Madness
Pete Earley
Putnam Adult
$25.95
Veteran journalist Earley is thrown into the fray of one of America's hot-button topics when his own extremely delusional son, Mike, breaks into a house because he wants to take a bubble bath, thus damaging the premises and terrifying the owner. Treated as a criminal rather than the severe manic-depressive that he is, Mike gets no help from authorities - only probation. His father decides to delve deeper into the issue of America's mental health crisis, where those with mental health issues are far more likely to end up in prison than in treatment, and the result is a poignant mix of outrage for the broken system and love for his son.
Fiction, American Icon
The Road
Cormac McCarthy
Knopf
$24.00
Cormac McCarthy is probably the greatest American novelist of our time, yet he's often overlooked by Gen X'ers who don't think they can find meaning in a Western, or in Appalachia. His unusual, staccato style of writing can, at first, be confusing, but soon becomes engrossing and, like last year's brilliant No Country for Old Men, The Road only shows the breadth of his talent. Set in post-apocalyptic America, where cannibals roam and darkness clings, a man and his son set out down a road to the sea, carrying blankets and a few supplies. The unnamed characters encounter other survivors, and the boy comes to realize that his father's assurances that he and the boy are "good guys" doesn't hold, for his father cares only for his son, and his son can only rely on his father.

Fiction, Best Sequel To A Book You Probably Haven't Read But Should
Bangkok Tattoo
John Burdett
Knopf
$24.00
Burdett's debut novel, Bangkok Eight, hurled you into the steamy underbelly of Bangkok, as the only non-corrupt cop in town, Sonchai Jittlecheep, pursued the murderer of both a U.S. Marine with bizarrely exotic tastes and of his own partner, Pichai, killed in the line of duty at the Marine's murder scene. Bangkok Tattoo takes you even deeper into a world you think you know something about but never will unless you are reborn Thai. From a shocker of a beginning (a call girl in his mother and police boss's bar comes in, admits to cutting off a customer's penis, then shoots up with morphine) to delicate negotiations with the Muslim factions in Southern Thailand to a devil of a bad guy who "collects" tattoos, this story draws you in and makes you aware that Thailand through Sonchai's eyes is Thailand worth looking at.
Young Adult
The Book Thief
Markus Zusak
Knopf Books for Young Readers
$16.95
Narrated by Death himself, The Book Thief tells the story of Liesel Meminger, who is sent to live with a foster family during the Second World War. Meminger captures Death's eye at the burial of her younger brother; the nine-year-old becomes a sort of muse to him. Liesel, whose father has been taken away for being a Communist and whose mother disappears soon after, steals her first book at her brother's funeral - The Grave Digger's Manual. She does not know how to read, but her foster father teaches her using this not entirely appropriate book. Stolen books and Death's dry sense of humor and way with words propel this book to the top of the list for the teenager on your list (particularly fantastic is the Jewish boxer who steals a copy of Mein Kampf, then whitewashes the pages to write a new book for Liesel.)
Nonfiction, Religion, or Lack Thereof
The GOD Delusion
Richard Dawkins
Houghton Mifflin
$27.00
Dawkins is a biologist at Oxford. An avowed atheist, he harshly criticizes religion for its intolerance - in about as intolerant manner as possible. But it is this that lends credibility to his arguments, for his intolerance is couched in reason and rationale and credible science (he takes Intelligent Design to task with Darwinism). Although he is best stomached in chapters when he is less vitriolic, his criticisms of Evangelical Christianity and Fundamentalist Islamic movements certainly have merit. Dawkins puts theology to the same tests that he would science . . . and science comes out on top every time.
Stocking Stuffer
Stuff On My Cat: The Book
Mario Garza
Chronicle Books
$9.95
Really, you can't express it any better than the cover caption: "Stuff + Cat = Awesome." In this very stupid but ridiculously funny little book, Garza and other cat owners took pictures of their cats sporting everything from whipped cream with a cherry on top to elaborate scenes with action figures.
Comics
Sandman Volume I
Neil Gaiman, et. Al.
Vertigo
$99.99
Anyone who grew up in the comics era that I did worshipped and adored the Sandman and Gaiman himself. Now, Vertigo has taken the first 20 issues, redone the coloring (approved by Gaiman but a bit questionable to a hardcore fan), added tons of "never-before-seen-material," included the complete original proposal, and bound it in gorgeous binding that has an equally gorgeous slipcover. Wait, I've got to clean the drool off the keyboard . . .
*
Also see ML Van Valkenburgh's Five Best Books Ever (For Now).
Posted by Beachwood Reporter at 7:37 PM | Permalink
The [Tuesday] Papers
Item: "Prime Minister Tony Blair condemned the African slave trade and expressed deep sorrow for Britain's role - but stopped short Monday of offering an apology or compensation for the descendants of those victimized by it."
Item: "The homicide rate on the Ute Mountain Ute Indian reservation has soared to nearly 50 times the national average, prompting Colorado's new U.S. attorney to label it the state's 'murder capital.'"
Item: "Last week on Dan Patrick's radio show, ESPN analyst Michael Irvin jokingly suggested the success of Dallas quarterback Tony Romo could be due to an African-American heritage. '[There might be] some brother in that line somewhere,' Irvin said of the white quarterback. 'If a great-great-great-great-great-great-great grandma pulled one of them studs out of the barn . . . '"
Item: "Prime Minister Ehud Olmert reached out to the Palestinians on Monday in one of his most conciliatory speeches yet, saying he was prepared to grant them a state, release desperately needed funds and free prisoners if they choose the path of peace. But the Palestinian Cabinet, led by Hamas militants who reject Israel's right to exist, accused Olmert of posturing.
''This is a conspiracy. This is a new maneuver," a spokesman said.
Item: 50 shots.
Item: "Consider the media. There were no African-American regulars on Seinfeld, even though it was set in New York City. TV is no longer a completely white ghetto. Oprah Winfrey remains a remarkable phenomenon. But look at the talk show hosts from the news hour to midnight: There is not an African American or Latino among them. Tavis Smiley is the sole notable exception - and he's on the educational channel, PBS."
Item: "John Cruickshank, Publisher. Michael Cooke, Editor in Chief. John Barron, Executive Editor. Steve Huntley, Editorial Page Editor. Don Hayner, Managing Editor." The all-white, all-male Sun-Times management team.
Item: "In recent months, Daley has made a series of moves aimed at courting black and Hispanic voters," the Sun-Times reports. "They include vetoing the big box-minimum wage ordinance and framing the debate in racial terms; proposing an Olympic stadium in Washington; overhauling the police department's Office of Professional Standards; and appointing state Sen. Miguel del Valle (D-Chicago) as city clerk and Stefanie Neely, an African-American, as city treasurer."
Item: Black voting patterns.
Item: "Protesting the removal of six imams from a US Airways flight last week, a group of Christian, Jewish and Muslim religious leaders staged a 'pray-in' Monday near the airline's ticket counter at Ronald Reagan Washington National Airport."
*
Heard while writing this column.
*
Is it a civil war? Yes.

Iraq Extends State of Emergency.
*
Not every soldier is a hero fighting for freedom (second and third letters). A lot of them join the military for purely socioeconomic reasons, with little interest in the noble principles newspaper editors like to affix to them from behind their desks.
*
Were you better off than you were four years before? No.
*
But according to a campaign mailer I received, Richard M. Daley says Todd Stroger has been working hard on your behalf when it comes to property taxes. So I'm not sure what to think. Except that my rent will probably go up.
*
Bobbie Steele could do the right thing if she wanted to. It's our money she's filching, by the way.
*
Wait, the Blackhawks have been playing long enough to fire their coach? When does the Bulls season start?
*
Is Denny Hastert planning to retire to Wisconsin?
*
"Instead of having elections, we have appointments. The machine has never been stronger."
- Forrest Claypool, on Fox News Perspective last Sunday.
*
Murray Chass of The New York Times wrote recently in a story I linked to that Alfonso Soriano led the National League in errors among outfielders last season. He was wrong - it was Adam Dunn.
Find that factoid and more in Don Jacobson's essay on how opening the corporate checkbook doesn't solve the Cubs' problems.
*
John Kass of The Chicago Tribune wrote recently in a story I linked to that Rahm Emanuel "narrowly defeated" Nancy Kaszak in 2002. Actually, as the Tribune reported at the time, Emanuel "handily defeated" Kaszak (by 11 points). Kass is still right about Emanuel though.
*
"The Cubs gave Henry Blanco a two-year, $5.25 million contract to be their backup catcher. This came a few months after the Twins gave their backup catcher, Mike Redmond, a two-year, $2 million deal."
Guess which one is better.
*
Blanco used to be with the Twins. He was replaced by Redmond.
*
"New York Sen. Hillary Rodham Clinton scored ninth of the 20 leaders with a score of 49. Massachusetts Sen. John Kerry, the 2004 Democratic nominee who was roundly criticized before the election for suggesting that students who don't study could end up stuck in Iraq, came in last at 39.6.
"Kerry later apologized for what he said was a botched joke."
And that's how fiction becomes fact in American politics. It was a joke - about the president. Just go look at it yourself, or read the transcript. If you do, you'll have done more work than nearly every journalist who now lazily repeats this as if they actually know.
*
"In a low point in Democratic Party history, Pennsylvania Gov. Bob Casey was banned from speaking at the 1992 Democratic Convention for being opposed to abortion rights," Kirsten Powers wrote in a column that appeared on the Sun-Times Op-Ed page on Sunday.
And that's how fiction becomes fact in American politics. Casey was banned from speaking because he wouldn't endorse the party's nominee, which isn't an unreasonable prerequisite at a national convention.
*
Ralph Martire explains it all.
*
"Ouch. Keef and Ronnie don't even know the chords, they just noodle."
*
The Beachwood Tip Line: Joining hands.

Posted by Beachwood Reporter at 8:10 AM | Permalink
What I Watched Last Night
Monday nights and still nothing on the television and that is too bad. I would like to ask the readers of this fine little column, however, to start watching The Real World Denver. This show will definitely serve as my Thursday morning outlet for the rest of the season.
To bring you up to speed, there is a gay guy, two sluts, a girl who doesn't talk too much, a white "cool" guy, a Bible beater, and a huge guy from Omaha. You can already see the problems facing this place. Gay rights, racism, sexual promiscuity, a mental disorder (only a matter of time) and we'll have another hit on MTV.

The so-called "real world" is far from the real real world. In the real real world you have to pay rent and have a job. In the Real World you live in a dream house for free and work a "job" three hours a week. In the real world there are not cameras chasing you around. Also, a Bible beater and a gay man would never, by choice, live in the same house with each other. The women with loose sexual morals would, however, live with a "cool" guy.
I guess the only thing that is in common with the two versions of the world is that both phone conversations are monitored for secrets.
Pat Bataillon is the Beachwood's resident TV watcher. Catch up on everything he's been watching in the What I Watched Last Night archive.
Posted by Beachwood Reporter at 5:50 AM | Permalink
November 27, 2006
Message to Cubs: Grow Your Own
Yeah, I'm a Minnesota Twins fan. Have been ever since Harmon and Tony-O took Koufax to Game Seven in 1965. I've got a history with those guys - a history that includes a lot of lonely years when 8,000 people showing up at Met Stadium and later the Metrodome was considered a good night. But in all those years, never have I been as impressed with them as I was this year, when they won the AL Central in a mad dash and boasted the American League's MVP (Justin Morneau), its Cy Young winner (Johan Santana), and its batting champion (Joe Mauer). The Cardinals and Tigers got to the World Series, but I'd say it was the Twins who had the best season of anyone.
If only the Cubs were paying attention. The Twins have won their division four of the last five years with only a fraction of the North Siders' payroll. And yet, the Cubs stubbornly refuse to learn any lessons - as if their formula has been working. It hasn't, and opening up the Tribune Company's checkbook even more for someone like Alfonso Soriano won't work either. The real answer for the Cubs, as well as just about any baseball team, is obvious: Grow your own.
It's impossible to separate a major league baseball team's on-field performance from its ownership. The way a team's players play, even though the game itself is made up of individual athletic efforts, is in a subtle-but-sure way influenced by the personae of its owner(s) and management. It's nothing that you could really ever single out on a given day or game - it comes out over time in long-term patterns of play and effort that, taken together, tell a larger tale of a franchise, a history of success or failure, a reflection of a city. That's part of the beauty and subtlety of baseball that's completely unmatched by any other team sport.
With that in mind, let's look at what the Twins accomplished in 2006 in light of their ownership's strengths and weaknesses, and compare that to the Cubs' 2006 performance and how being owned by Tribune has influenced their on-field play.
The Twins are owned by one man: Banker and billionaire Carl Pohlad. Before he bought the team in 1984, it was owned for 70 years by the Griffith family, who moved it to Minnesota from Washington, D.C., in 1961. Pohlad made a very, very wise decision when he bought the team, which, in my opinion, has had a direct bearing on its recent success: He kept nearly all of the Griffiths' management team intact, including its vast network of minor league managers and scouts. That meant that the same old-time baseball hands who discovered Harmon Killebrew in the 1950s also discovered Kirby Puckett in the 1980s.
The Griffiths, even in the age before free agency, were well-known as skinflints who took the cutout-bin route to finding players. They had to, because they weren't wealthy dilettantes; they were baseball folk who had no other means of support. Fielding winning teams literally meant putting food on their table. So they plowed their meager funds back into building their baseball organization, spending comparatively modest amounts to make sure their scouts and farm managers were well taken of and given the resources they needed to become among the best in the world at one thing: Sifting through thousands of unknown quantities to find more diamonds-in-the-rough than the other teams.
For instance, the Senators/Twins were among the very first teams to systematically scout Latin America, and they're still among the best in that respect. Not only can they sign Latin stars, but they're always aware of which prospects held by other teams have real potential, so when trades are made for minor leaguers, it's almost always the Twins who come out ahead. It's paid off handsomely for them with a steady flow of Hispanic stars stretching from Camilo Pasqual to Francisco Liriano.
This system also meant that a certain style of play, initially developed by Clark and Calvin Griffith and later refined by former longtime manager Tom Kelly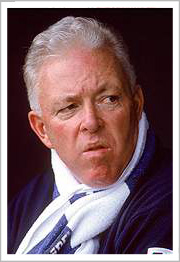 to fit the Metrodome, was taught throughout its minor league system, from its lowest rookie league teams to its major league outfit. The organization also drafted and traded for talent that fit its system. This is called "organizational philosophy" - something the Cubs have never had, unless you count being virulently against players with high on-base percentages and falling in love with sluggers who strike out a lot. In the old days for the Twins, it was finding the best power hitters who could take out right-handed pitching. Later it was all about defense, baserunning and situational hitting. The style changed, but the consistancy within the organization never wavered. This meant the Twins always featured players who played as hard as they could because the organization was like a family to them. This hustle has made up for a lack of sheer talent on many, many occasions.
The biggest drawback to this approach is that the Twins are so dependent on their farm system that when it hits a dry spell, as it did during most of the 1990s, the big team will flounder. Because Pohlad is a miser, he'll never go out and spend top dollar for free agents to smooth over the rough spots. Which gets me to thinking - what if there were a team with both spendy owners and a great farm system? Such a team could build a lasting dynasty. That franchise could be the Cubs - if they had owners who knew what they were doing.
I thought the Cubs were on just such a path 12 years ago when Tribune hired Andy MacPhail to run the team. Like me, he moved from Minnesota to Chicago in 1994. I thought there was some kind of karma in that, and that together we would be able to bring some of that Twins magic with us. But it turned out the Cubs' corporate owner didn't care enough about winning to do what was really needed to build the franchise into something more than a one-time phenomenon that might be able to buy its way into breaking its "curse" and then fall apart because it had no real baseball foundation. As it turns out, its real foundation was nothing more than a bunch of wild fans who worshipped Wrigley Field but in reality didn't seem to know or care much about how you really build a winner.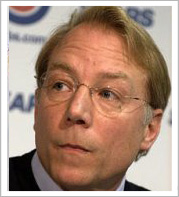 The Cubs' MacPhail years have shown how roster decisions being made by a corporate board rather than a baseball "family" can bring only inconsistant results at best. My hopes that he would be allowed to emulate the Griffiths and build from within by forging a great farm system slowly unraveled -- it became apparent that MacPhail was really a corporate suit rather than a baseball guy, despite his sterling family name. We found out after his firing that it was indeed the Tribune's board that had final say on Cubs spending decisions, not MacPhail, which may explain why nothing was ever done to improve the farm system. That's a long-term investment that won't show up in the profit column and the share price until, well, maybe never. It's a "deep baseball" way to build a winner - and why bother with that when you can still put fannies in the seats by signing a few big-name free agents, a bunch of middling ones every year, and hire the most famous manager you can find? That's baseball as show buisness. But history has shown it's extremely hard to win consistently that way.
It makes me think that maybe MacPhail's accomplishment of winning two World Series with Twins was a result of him merely steering a ship that was already set in motion by Calvin Griffith and pushed along by Carl Pohlad.
One of the many lessons that the Cubs can learn from the Twins, as well as from two other 2006 playoff-caliber teams, Detroit and Oakland, is that pitching and defense always counts for more than slugging. It amuses me to see how the sports media has anointed the Cubs a playoff contender now that they've signed Soriano, because when you look closely at the Cubs, you see that they've been built in such a hodge-podge manner that they're poorly matched for their own home ballpark. Yeah, Soriano may hit 50 homers in Wrigley, but will that help them win when the pitching staff gives them all right back? You'll never win consistently at a place llke Wrigley with a staff full of fly-ball pitchers and defensive hacks.
The biggest number to remember for the Cubs from this year is this: their pitching staff gave up 125 homers at Wrigley. That was the most home field homers allowed in the entire major leagues. What that shows is that the Cubs don't have the right kind of pitchers for their own ballpark. Especially in the summer when Wrigley is homer-friendly, the Cubs need groundball pitchers, in other words, pitchers who can hit the low strike zone. That calls for hurlers who rely on sinking fastballs and sliders, and can get that pitch over the plate. They've never had many of those, especially with the continued absence of Mark Prior.

Also, in a homer-friendly environment, you need pitchers who don't give up walks. Guess which club gave up the third-most home field walks in the majors? I don't see how Soriano is going to help that. The only way the Cubs are going to be a contender for anything is not to just keep adding overpaid bashers to their lineup, but to find ways to pitch effectively at Wrigley. That's going to take more than Neal Cotts.

Another thing Soriano surely won't help is the Cubs' below-average defense. Overall, they were sixth in the National League in number of errors committed with 106. Their fielding percentage was 11th-worst of out 16 N.L. teams. No team that commits that many errors is going to contend for a title. Is it a coincidence that Soriano's Washington Nationals were the worst-fielding team in the N.L. last year? Soriano, who was forced into the outfield last year against his wishes, committed 11 errors in the field. That was most of any outfielder in the N.L. with the exception of Cincinnati's Adam Dunn. Let's face it, Soriano will be a huge defensive liability for a team that already head some very suspect fielding abilities.
The Cubs' pathetic performance this season completes a collapse that began two years ago after they blew a chance to make the 2004 playoffs by losing seven of eight games down the stretch in late September and early October. When this season ended, there were only four players remaining from that late-2004 squad who really figure into the Cubs' future: Derrek Lee, Aramis Ramirez, Michael Barrett and Carlos Zambrano. In the "maybe" category are Kerry Wood and Mark Prior. Gone are Sammy Sosa, Moises Alou, Corey Patterson, Neifi Perez, Todd Walker, Mark Grudzielanek, Nomar Garciaparra, Greg Maddux, Matt Clement, Kyle Farnsworth, Mike Remlinger and LaTroy Hawkins. Among others. And not to mention Dusty Baker.
Of the team's four holdover "franchise" players, only Zambrano is a product of the Cubs' farm system. Wood and Prior were first-round draft picks who passed through the minors so quickly you could hardly credit the Cubs with developing them. (Instead, the Cubs' seem to have done them more damage than good.)
Compare that to the Twins' troika of superstars: Santana, Mauer and Morneau each worked their way through the team's farm system. Other key Twins in the same category include Torii Hunter, Brad Radke, Jason Bartlett and Michael Cuddyer. That means seven of their core "franchise" players were home grown. Another one that got away: David Ortiz. And consider that the added talent that allowed them to win the division - Joe Nathan, Carlos Silva, Nick Punto, Luis Castillo and Liriano - were acquired through canny trades, not free agency. The managing reins have been held by the Tom Kelly-Ron Gardenhire duo since 1986.
How much of more of an abject lesson in the benefits of building from within can there be? Combine the Twins' experience with the similar tale of the Atlanta Braves, the most consistently winning team of the last decade, and you'll see a pattern. Look as well to the Oakland A's, another example of a team that wins consistently - despite losing big-name free agents every year - because it has a consistent philosophy. If you're not the New York Yankees, you'll never build a consistent winner through free agency. Instead, build a farm system. Establish a consistent on-field philosophy that fits the quirks of your home ballpark. Develop an organization that breeds loyalty by spotting hidden talent and keeping it, including managers.
Until the Cubs learn how to act like a real baseball franchise instead of a marketing venture or, now, a low-rent version of the Yankees, the Billy Goat curse will live on. It's the curse of a stubborn animal unable to learn the lessons staring him in the face.
Posted by Don Jacobson at 3:47 PM | Permalink
Booklist: Five Best Books Ever (For Now)
1. Ballad of the Confessor/William Zink.
Of course you've never heard of it. But that doesn't make it any less of a masterpiece. The weight of the world is on the shoulders of the working man. Being a working man doesn't mean you're not also a thinking man. The weight of the world is crushing the soul of our thinking, working, protaganist. We can relate.
2. To Kill a Mockingbird/Harper Lee.
Whaddya mean you saw the movie and that's good enough? Read the frickin' book!!! You find words in it offensive? Cultural context, people. That's how life was. Hell, in a lot of places, it's how life still is. But if Atticus Finch isn't one of your personal heroes, if Jem and Scout aren't up there on your list, it's time to figure where you went wrong.
3. Ender's Game/Orson Scott Card.
How any one man could predict so many things so accurately is alarming. The use of the Internet for, well, almost everything (in a book written long before the Internet was in even remotely common usage)? The scary fact that we believe 99.9 percent of the bullshit that's fed to us? Blogging, at a time when most of us didn't even have personal computers? If the rest of what's foretold in this book comes true, we're really screwed. But as long as we have people with conscience, even if they are children, we will not lose our humanity. Ender Wiggin, where are you when we need you most?
4. Bangkok 8/John Burdett.
On the surface, this is a murder mystery. But with a neat little flick of a serpent's tail, Bangkok 8 transcends gender and you suddenly find yourself so immersed in Thai culture you might as well be police detective Songchai Jittlecheep's alter ego. A book that can both be a whodunnit and teach you not to judge other cultures by your own Western values is a masterpiece indeed. Also recommended: the sequel, Bangkok Tattoo.
5. The Devil in the White City/Erik Larsen.
This may well be the only non-fic I've ever asked for for Christmas, and I was immersed in it from page one. In fact, I can easily say that this book, with its brilliant intertwining of architectural wonder and macabre murder, helped influence my move back to Chicago after an eight-year absence - it made me want to come home. It could only happen here. I love this goddamn city.
Previous Booklists:
* Hipster 101
* Books Most Commonly Owned But Not Read
* Kinko's Kiosk
* The Last 10 Books I Read And Why
* Ten Books I Have Hated Most So Far And Why
* The Beachwood Inn Bookshelf
* Books As Urban Accessories
Posted by Beachwood Reporter at 2:09 PM | Permalink
The [Monday] Papers
1. If only Abt had a liquor license.
2. I will never buy a Chevrolet or a John Mellencamp record again. Not that I ever bought either to begin with. But still.
3. Two people pointed out to me yesterday that the ranch in the latest of the Mellencamp commercials is the KK ranch. "Just one K short," one said. Ain't that America.
4. Michael Richards goes on Jesse Jackson's nationally syndicated radio show to apologize and discuss last week's racial tirade and the Tribune gives it a few wire service paragraphs on page 15 in its celebrity Personals column - right next to items about Mario Lopez and Karina Smirnoff going on vacation together and a Princess Diana benefit concert in the making. Ain't that America.
5. The Beachwood Study Group solves Iraq.

6. Abt should consider selling personal seat licenses
7. Dawn Turner Trice just learned about Flavor of Love. Welcome to Planet Earth! Enjoy your brief stay here.

8. Yuppie and Chocolate Factory.
9. David Blaine: Alternate Endings.
10. "A few years before the Southwest accident, Chicago and the FAA had agreed that due to the shorage of available land, it was not practical under FAA criteria to build the 1,000-foot runway safety areas or the satndard 600-foot aircraft-arresting system on runway ends at the landlocked Southwest Side airport," the Tribune reported over the weekend.
The city has no business having - and expanding - an airport there. If the mayor was truly the visionary he is said to be, he would have created a comprehensive transportation plan at some point in his 17 years as mayor that would have closed Midway, capped flights at O'Hare, and built a third airport with express rail (and a refurbished El lines on the South Side) to the Loop.
11. The Sun-Times noted that new buffers at the Southwest Side airport "marked a departure from previous statements made by city officials, including Mayor Daley, that major changes at Midway weren't needed to improve safety."
12. "C'MON, TODD!" The Sun-Times pleaded on its front page on Sunday. "They said we were crazy to endorse you in the election but we stood by you . . . and you're letting us down already?" And yet, the paper still refuses to tell the truth about how the editorial board was allegedly overruled by publisher John Cruickshank in its endorsement, apparently to pander to black readers. Maybe the headline ought to have been C'MON JOHN, WE TOLD YOU SO! The paper is kidding itself if it thinks Todd Stroger is going to suddenly become somebody he's not. Then again, they've got a ready-made headline now they'll be able to use an untold number of times in the next four years. Maybe they oughta just make it a permanent part of its logo, like that broken palm tree.
13. Stroger doesn't want to fire Gerald Nichols before Christmas, which is very compassionate of him. Of course, Nichols makes six figures for nothing that anybody can figure out. But still, you wouldn't want to put the guy out on the street during the holidays.
14. If Stroger continues to meet with Nichols outside the office, as he says he will, which one ought to wear the wire?
15. On Bobbie Steele's plan to hand her job to her son, the Sun-Times editorial page says: "Bequeathing government positions to children is bad old-style politics and she shouldn't do it." From the paper that endorsed Todd Stroger.
16. Then again, the edit board says that in her short time as interim president, Steele has performed "admirably, bringing intelligence and common sense to tackling the county's problems." Name one example. Her one responsibility was to put together a budget, which she hasn't done. Maybe the paper will endorse her to stay on as interim president emeritus.
17. The Tribune had a really good idea - though not great in execution - on Sunday, asking its arts critics to recall reviews in which they had reassessed their original opinion. I wish the paper's editorial board would exhibit the same sense of humility and self-examination, seeing as it is still performing intellectual contortions to justify its support of the war. In its latest rationalization, the paper tries to draw a parallel between Iraq and the Hungarian uprising of 1957, which is a completely unworkable analogy on several levels, the first of which is that there was no uprising in Iraq, and in fact no real democracy movement, and thus no side for us to be on. The editorial board also doesn't address the fact that in the long run a containment strategy may have been the best way to deal with turning Iraq into a democracy, and that the damage this course of action has caused will likely set back the American cause of exporting democracy for years to come.
I didn't see that the paper is advocating the overthrow of North Korea and Cuba either, or owning up to our role in overthrowing democracies in places such as Chile, or recalling in disgust our support of a military coup of the democractically-elected Hugo Chavez, or discussing the Shah we installed and propped up in Iran, which haunts us to this day.
Just admit it, Tribune: You were wrong.
18. The likelihood that larger class sizes miraculously translate into educational gains is about the same as Todd Stroger becoming president of the United States. The smaller classes that performed worse than the larger classes also had a greater percentage of impovershed students. Why is everyone so afraid to attribute achievement gaps to socioeconomic background - because it proves we have to spend more money on poor people? All these other issues are details.
19. "A Racial Gap, Or An Income Gap?"
20. Erika Coleman made the front page of Saturday's Sun-Times. For what? Parking in a handicapped spot. Which is not a nice thing to do. But . . . front-page news?"She was one of two dozen caught in a sting targeting drivers illegally parking in spots reserved for the disabled." Other stories making news in the Sun-Times recently: Kids redid the kitchen when the parents were out! A dog is missing! A wedding ring is lost! Coming tomorrow: A profile of Sheriff Andy Taylor.
21. Dateline Bronzeville.
23. "Ronald Reagan once said, 'You know, you don't even think of Colin as black.'" Because Reagan's perception of a black man was . . . of someone else. "I ain't that black," Powell said himself. Because Powell's perception of a black man is apparently just like Reagan's.
Colin Powell was a loyal soldier - loyal to his career, and maybe his president, but not loyal to his country.
24. "Solomon was David's son, the wisest man who ever lived. If it's considered tradition, so be it," Steele told ABC-7. "I don't want anyone to think that I'm a bandit and I'm taking something and running. That's not me. I didn't make the law, and if I become the beneficiary of it, it's by no doing of my own."
Steele ought to consult some ethical and spiritual advisors on that. But then, the biggest bandit of all is Daley. The political culture starts at the top.
25. Today is a good day to review how to make an angry sports radio call.
The Beachwood Tip Line: We told you so. In so many ways.
Posted by Beachwood Reporter at 7:27 AM | Permalink
Go Iraq
The Pentagon's closely guarded review of how to improve the situation in Iraq has outlined three basic options: Send in more troops, shrink the force but stay longer, or pull out, according to senior defense officials. Insiders have dubbed the options "Go Big," "Go Long" and "Go Home."
- Washington Post, "Pentagon May Suggest Short-Term Buildup Leading to Iraq Exit"
The Beachwood Study Group has also developed some options.
* Go Chicago: Divide Iraq into 50 wards and install a strongman.
* Go the Distance: Wait for deceased smarter strategists to come out of the cornfields with a solution.
* Go Bears. Not good on the attack, but should be able to contain offensives inside the Green Zone.

* Go Fuck Yourself: Send Dick Cheney to verbally assault.
* Go Your Own Way: Send in Fleetwood Mac. If they can overcome their differences to reunite, imagine what they can do to help settle sectarian differences.
* GO.com: Bring sects together with ugly, conglomerated website.
* The Go Team + OK Go = First Annual Baghdad Rock Festival.
* GoDaddy: First militia to go a month without killing anyone wins free domain name with hosting.
* Go Wild: Baghdad is beset with beer-soaked, bleach-blonde women hell-bent on removing all of their clothing. A team of "videographers" records the events "for posterity."
* Go West, Young Man: Attack Syria instead.
* Go Lightly: Sneak out in the middle of the night, possibly with the help of David Blaine.
* Do Not Pass Go: A national Monopoly turnout to determine property ownership.
* Consider: Perhaps we have a growing problem, not a going problem.
* Gomentum: Send Joe Lieberman on a fact-finding mission - to Kazakhstan.
* Go Under: What we're doing now.
- Scott Gordon, Rick Kaempfer, Steve Rhodes
Posted by Beachwood Reporter at 6:41 AM | Permalink
Labelle: Nightbirds
At one time, "Lady Marmalade" was unquestionably one of the great tracks from the '70s: a sexy, four-minute funk party with a hot streetwalker whose lovers just can't stop thinking about her or her come-on line: "Voulez-vous coucher avec moi ce soir?" But if you actually really listen to "Lady Marmalade," you'll sense that this character and her story are also fleeting and sad.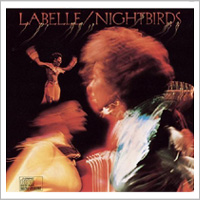 These days, the whole song is kind of fleeting and sad, because it's one of many once-terrific singles that have been overplayed by Oldies radio programmers and included in too many bad movies or Democratic political campaigns - just like "Lean on Me," "You Are the Sunshine of My Life," "More Than a Feeling," and "Don't Stop (Thinking About Tomorrow)." Still, these are great songs, especially when placed in the right context.
Context matters. Consider the ongoing example of politicians who are also liars. Nixon may have lied, but he sure did cheat. Yet even Nixon occasionally talked about social justice. Ford probably lied, but no one seems to remember anything he did or said, while Reagan really didn't lie, because he couldn't remember anything he did or said. In between, Carter probably lied, and probably should have lied a lot more. The first Bush undoubtedly lied, but he'll mostly be remembered for yakking on the Japanese prime minister and siring a son who wasn't interested in learning anything and simply got others to lie for him. Clinton lied, too, but the comparison with his successor has made many people wish he were back in office lying to the American people all over again.
They were all liars, but the context changed, and we've decided to remember them all differently. In other words, a healthy tension exists between universal laws and situational ethics; between the constant and the constantly changing; between the idea that a few glasses of wine over dinner with friends is always a good plan and the idea that drinking out of the bottle with the company of your cats is a special night; between songs stolen by marketing people and used as advertisements and songs that make up album cycles about pain, lust, fantasy, drugs, spiritual searching, music and politics - the joys of life.
All of the great, overplayed songs of the '70s can still approach perfection at certain moments - especially "Lady Marmalade," and especially when it's heard within the rest of the amazing Nightbirds record. In the early-to-mid 70s, as Nixon was burying himself under layers of lies, Patti LaBelle, Nona Hendryx, and Sarah Dash began dressing up, like Bowie, in what appeared to be discarded costumes from the set of Barbarella - not that Jane Fonda wore much of a costume, or anything else, in that movie. Think about it, though - Barbarella might not be the one of the greatest all-time sci-fi movies, but under certain conditions, it's probably one of the greatest sci-fi movies to try to watch.
LaBelle's old record jackets are similarly fun to try to figure out. The three singers look like they are ready to board their own spacecraft and rocket away from this world of rigid thinking and factory-produced R&B. But when you play the records, especially this one - which was released within a few weeks of Nixon's resignation - something else emerges: a danceable, haunting story collection that happens to be told through an excellent mix of '70s R&B, rock, gospel and New Orleans funk. After "Lady Marmalade" has come and gone, they sing, "Somebody somewhere will hear our cry for freedom," and after that, "Are you lonely?" The beats and basslines, many provided by The Meters, are full of passion, anxiety, and defiance; yet while some songs ("Don't Bring Me Down") signal rebellion, others ("It Took a Long Time") promise salvation or hope for peace ("Nightbirds").
The album ends with "You Turn Me On," a song about passion and loss that, in the best soul tradition, could be directed at God as well as a departed lover. It is so wistful and so deeply felt that it becomes beautiful and promising all over again. Is this Lady Marmalade singing? One of the lost voices who cried out for freedom earlier on the album? A citizen tired of lying and war? Some other neglected soul looking for release? Or simply a jilted lover? It depends on how and when you hear it, and who you are when you do.
Posted by Don Jacobson at 6:27 AM | Permalink
November 23, 2006
The [Thanksgiving] Papers
1. The Greatest Turkey Event in Thanksgiving Day History.
2. Thanksgiving Day Phone Call. (via Rick Kaempfer)
3. Rare breed of wild turkey ready for serving at Beachwood HQ.
4. "[T]he homogenized and sanitized history learned as children and revisited every Thanksgiving holiday bears faint resemblance to the actual people and dramatic events of that desperate time."
5. Yuppie and The Chocolate Factory.

6. The World According to Altman.
7. GreenBrett and other TomKat-like marriages of convenience in the NFL.
8. Urlacher is the turkey; the schedule is the gravy.
9. Thanksgiving at the Sun-Times.
10. The Sun-Times Thanksgiving memo was sent out a day after Cy Friedheim was namd CEO.
"He will be paid a base salary of $680,000 and be eligible for a target 2007 bonus of up to $1.36 million," Crain's reported. "He will also be granted 100,000 restricted shares vesting over the next two years. He could also claim as many as 400,000 additional shares if he meets certain stock-price and earnings targets."
Those must be pretty easy targets to hit if prudent holiday spending will help get him there.
11. Turkey of the Year.
12. "Maybe I don't read the papers thoroughly, but I haven't seen anything about Gerald Nichols being under federal investigation," Stroger said in the Sun-Times today.
"Actually," the paper noted, "the Sun-Times has reported six times over the last two months that the federal raid on county offices and county officials in September focused on Nichols. Stories quoted those interviewed by FBI agents as saying Nichols 'was definitely the center of their attention."
Still, Stroger said that even if he does fire Nichols, he'll continue to meet with him outside the office to find out, for example, who the good department heads are. According to the man at the center of a federal investigation into hiring.
See if you can spot the problem.
13. "He is a good man," Obama said about Todd Stroger. "He cares about people, and I think he's in politics for the right reasons."
"He's had a good record both in Springfield (where he was a state representative), and as an alderman," Daley said. "He understands people's issues."
14. Since when do they play football in Kansas City on Thanksgiving?
15. When I see Tony Peraica described as a "fringe lunatic who staged a drunken election night attack on a government building," it makes me really like him again.
16.Reader mail:
A little help please.
The Chicago Sun-Times and Chicago Tribune each cost $.50 per issue. The price of a daily issue of the Washington Post is 35 cents.
But after an exhaustive dissection of their news pages, I have been unable to positively identify the full fifteen cents of additional news value that our local papers provide.
I suspect that it is the Kass and Stella columns, but my wife is leaning towards "Susanna's Night Out."
What do you see as the reason that the Trib and ST cost readers 30% more than the Washington Post?
Synergy?
17. Growing Up.
18. The Pilgrims had no buckles, didn't bring furniture with them on the Mayflower, and meant to land in Virginia, not Cape Cod. (via Steve Johnson)
19. But they did have onion dip and Heineken.
20. Though they left Holland for America in part because the Dutch had too much fun.
21. "Six imams removed from a US Airways flight from Minneapolis to Phoenix are calling on Muslims to boycott the airline. If only we could get Muslims to boycott all airlines, we could dispense with airport security altogether."
22. The liberal media's account, just for comparison.
23. Um, no, I don't think you can. I tried to watch a Seinfeld rerun on Tuesday and couldn't. How can you not see the image in your mind of Michael Richards ranting about niggers every time Kramer walks into Jerry's apartment? It's impossible to seperate. I suspect Roeper would feel differently if he was African American. And I suspect ratings of the syndicated shows in rerun will dip. It's going to be too much for a lot of people to stomach - thank God.
24. "Civilian Death Toll Reaches New High In Iraq."
25. The United States of America did a very, very bad thing in Iraq. When an adult does a bad thing, you apologize, ask for forgiveness, learn lessons, vow not to do it again, and rededicate yourself to noble purposes. It would be a blessing if we did that. Bring the troops home.
The Beachwood Tip Line: For when the Butterball people can't answer your Wild Turkey questions.
Posted by Beachwood Reporter at 8:47 AM | Permalink
David Blaine: Alternate Endings
NEW YORK - David Blaine's latest stunt is as much about charity as publicity.
The 33-year-old magician stepped inside a gyroscope Tuesday in Times Square. His hands and feet will be shackled to the spinning scope Thursday afternoon. He will then have until Friday morning - a total of 16 hours - to make his escape.
If he's successful, Blaine will lead 100 children selected by The Salvation Army on a shopping expedition at Target. Each child will receive a $500 gift certificate from the retailer.
- Associated Press
Blaine Fails To Escape In Time. Result:
- The hopes of a hundred children locked in the Target vault slip away as the oxygen runs out.
- As terms of his contract dictate, Blaine is forced to take a job as a Target gift wrapper.
- David Copperfield makes him disappear.
- He loses his excuse and has to spend Thanksgiving weekend with the in-laws.
- The gyroscoping Blaine crashes into Dick Clark. Clark survives the incident.
- A Cincinnati DJ throws the tarred-and-feathered Blaine out of a helicopter.
- Officials banish him to the Phantom Zone with General Zod and Ursa.
- Officials banish him to the Cubs' bullpen.
- A Russian cosmonaut putts him across space.
- Fearing the bad publicity that results from denying 100 needy children a shopping spree, Target blames the failure on the gyroscope it bought in the magic section at Wal-Mart.
- Target announces new partnership with Criss Angel.
- Deprived of the hungry eyes of his adoring public, David Blaine ceases to exist.
- Blaine goes into a rage and starts screaming racial epithets at hecklers.
- Signs book contract to write If I Did It, describing how he would've broken free, and what his subsequent Target shopping spree strategy would have been. Contract is cancelled after 100 disappointed children call it "blood money."
- The gyroscope breaks free of its frame with Blaine in it, sending him rolling across the country until he comes to rest in a loading bay outside Target headquarters in Minneapolis, where he is pelted to death with stale hot dogs by interns from the marketing department.
- Blaine is not heard from again until he shows up on The Surreal Life, Season 13.
Blaine escapes. Result:
- He escorts 100 eager children on a Target shopping spree, only to discover at checkout that he left his wallet in the gyroscope.
- Disoriented after a week of gyrating, Blaine mistakes three winos for 100 eager children and leads them to the Times Square Bennigan's.
- Blaine tells an eager child to punch him hard in the stomach and vomits blood on the PlayStation display. His body merges with the other trampled would-be PS3 buyers.
- He pulls the same stunt in Baghdad as a diversion while U.S. troops are airlifted out of the country. He is greeted as a liberator and named president-for-life.
*
- Tim Willette, Natasha Julius, Steve Rhodes
*
See also David Blaine: A List.
Posted by Beachwood Reporter at 12:10 AM | Permalink
Barista! Giving Peace A Chance
Now that Thanksgiving 2006 is but a glowing, tryptophanic wino reminiscence, Christmas is officially around the chronological corner! Aww, hell - November may as well be over, let's just turn the calendar now so we can see the exciting announcement typed permanently into the 25th box!
Knock off all that unmarketable thankfulness bullshit; it's time to celebrate warm tidings and peace on Earth - with just a dash of religious undertone in place to anchor and justify the actual horror of what Christmas has become, including the tragic irony of such peaceful tidings in the first hateful place! I mean, can't you just feel the love knowing that holiday shopping is now a high-risk undertaking, sometimes resulting in human casualty? God, I love peace.

And the holiday spirit only continues to spread - like an irritating rash on your ass that would probably subside if it wasn't an essential part of your daily routine to wincingly assist its expansion.
But the good cheer is spreading nonetheless. Our merchandise sales are through the roof and we can hardly keep our felt gift card holders stocked, because, my goodness, has my company outdone themselves this year with the felt gift card holders! But even aside from all the cheer that is for sale at my store, I am feeling extra appreciated by customers these days.
One morning, not having heard all the mumbled elements of an order, I asked a woman to repeat her drink to me - the middleman between register and bar who ensures the proper translation of her double-short decaf roomy Americano; a person who can give that bitch four shots of regular espresso in a caffeinated heartbeat if so inspired.
Obviously upset at this inconvenient and unexpected bout with ignorance, she rolled her eyes and repeated her order with abundant frustration, but left out the main detail I needed to clarify. When I asked again, just for the size this time, she only got more steamed (heehee), and responded incorrectly again by answering, "Double."
I re-clarified my size-specific inquiry to her, with an ever-so-subtle attitude rebuttal, and so commenced a two-minute peripheral stare-down between us. As I pulled her three small coffees from the urns, I kept her in my eye's corner while I smirked annoyingly, having just made an ass of her without being so blatantly rude that I could be reported or have to award her with a service recovery coupon. I also deliberately filled her coffees to a dangerous spillage level, as I imagined her covered in all 36 fluid ounces of scalding coffee, flipped over in a ditch somewhere.
I can't wait for her to visit again so I can inconvenience her day by intentionally being as ignorant as she supposes I am.

Oh, and in case you're wondering how our intense interaction ended, she did not even have the courtesy to say thank you. Imagine that. She must have already been on the fast track to Christmas warmth, bypassing the more modest and gracious-spirited Thanksgiving holiday. Hey, why not, at least Christmas has presents! And peace on Earth to boot.
Maude Perkins is The Beachwood Reporter's pseudononymous service industry affairs editor currently serving time as a store supervisor for a large, publicly-held corporate coffee chain. Catch up with the rest of her heartwarming stories here.
Posted by Beachwood Reporter at 12:00 AM | Permalink
November 22, 2006
The [Wednesday] Papers
I'd be more impressed by the Sun-Times's gimmick of dedicating its paper today to a wounded Rolling Meadows soldier if the paper apologized at the same time for abdicating its journalistic duty in favor of the kind of war cheerleading that needlessly put him in harm's way. How about a Sun-Times cover with photos of every wounded and killed Illinois soldier with the words "We're Sorry"?
Bryan's Story
The Tribune also features soldier Bryan Anderson on its front page today; the paper first wrote about Anderson last December.
Best Wishes
The best advice anyone could offer Bryan is a warning to not let others use and exploit him.
Scrubs
"We have a lot of good people coming through the system, a lot of good arms, but for the first time in a while we need some more pitching," Jim Hendry said Tuesday.
For the first time in a while? I can't remember when the Cubs didn't need more pitching.
And those good people coming through the system - as good as Ronny Cedeno, Bobby Hill, Hee Sop Choi, Corey Patterson, David Kelton . . . ?
Bill of Rights
It's the Cubs who need to read this, not the Bears.
Line Score
"Trust me, if the financially strapped Sun-Times owned the Cubs, the team would be down to three outfielders, a pitcher and someone in charge of making sure Barack Obama had good seats."
- Rick Morrissey, "Pay No Mind To Gripes About Paying Soriano"
Quagmire
"Annan Sees U.S. 'Trapped' In Iraq."
And who can say that he's wrong?
Keeping Score
Annan also said we should have given weapons inspectors more time to complete their work before the war. We also know now that the French were right. Let's keep score. If you supported the war, you are not allowed to be a pundit for twice as long as the war lasts. You know, accountability.
Blaine Damage
With David Blaine on to his next stunt, let's reminisce about his last one.
Management by Objectification
"[Sen Kirk. Dillard (R-Hinsdale)] said Duckworth may need to surround herself with strong administrative people becaues she doesn't have experience running a state agency," the Tribune reports.
Wouldn't it be more efficient to hire one of the people Duckworth will have to surround herself with as the director?
Politically Qualified
"Blagojevich has also faced pointed political criticism over reports that his administration repeatedly circumvented Illinois laws giving military veterans first crack at state jobs . . .
"Duckworth said she was not aware of the reports of hiring violations that may cost veterans jobs."
So that whole birthday check thing just kind of passed her by. But she'll surround herself with people who read the paper.
Toddlin' Town
Todd Stroger plans to surrounds himself with folks who know how to do his job better than he does - like the guy who is under federal investigation and was recently placed on leave because the interim president couldn't figure out exactly what he did for his paycheck.
Todd Stroger: Brought to you by the Democratic Party.
Daley's Guy
And where did Stroger's new chief of staff work in the Daley administration? The Mayor's Office of Intergovernmental Affairs. You know, the office that convict Robert Sorich used to direct - as well as three other former directors under federal investigation. Get it?
Traitor Joes
Why don't we start charging the likes of Robert Sorich with treason? After all, they have effectively seized control of our government - our democracy - and perverted for their own ends.
But if the United States were to invade Chicago, would they be greeted as liberators?
Rahmbo
John Kass asks Rahm Emanuel one of the questions Phil Ponce didn't last night in his creampuff interview on Chicago Tonight:
The setup: "[I]f City Hall had not sent Don Tomczak, the corrupt city hall water department boss, to Emanuel's congressional campaign in 2002 - and Tomczak's political army of hundreds of city workers who stumped the precincts with the promise of overtime - then Emanuel wouldn't have narrowly defeated a local grass-roots Democrat
The question: "And all I wanted to know from political operative Emanuel was this: Who sent Tomczak's army?
"'Who?'
"Yes, Was it Mayor Daley? Or Billy Daley, or [mayoral brain] Tim Degnan? Who?
"'I don't know.'
"Of course you do.
"That's your question?'"
And a damn good one - the sort of question, as Kass notes, the rest of the media doesn't bother to ask. Rahm didn't answer. But he knows. Of course he knows. He's Rahm Emanuel.
Same As The Old Face
Meet Rahm Emanuel, new face of the Democratic Party.
Todd Lipinski
Emanuel "said he would recommend that Rep. Dan Lipinski be given the slot he covets on the Transportation Committee."
Emanuel is also holding slots for any other Lipinski relatives who need work.
Obaminator
Barack Obama assures Hispanics that his vote for a 700-mile fence on the Mexican border is part of a larger, secret strategy. Kind of like his plan to end the war.
NOTE: You have to put Obama in the search function, it should be the first video top left.
Police State
The police department claims crime is down 30 percent in the 234 areas where blue-light cameras are stationed. If Channel 2 would've done some reporting, rather than just stick a microphone, they could have fleshed out the multiple ways in which this figure is absurd.
Covenient Talk Express
John McCain, flip-flopper extraordinaire.
If We Saw It
Are we really glad the O.J. book and interview have been cancelled? I mean, don't you want to see him confess?
Raise and Spend
Who spent more money on their campaign than any other senator? The virtually unopposed Hillary Clinton.
The Book of LIfe
Baseball 2006.
The Beachwood Tip Line: Easy on the gravy.
Posted by Beachwood Reporter at 8:00 AM | Permalink
The Blue & Orange Kool-Aid Report
Thanksgiving: Perhaps the only holiday in which we cover all seven deadly sins. Eat and sleep. Brag and become jealous. Hoard the mashed potatoes and whine that Uncle Ken ate all the stuffing. Granted, lust is hard to work into this family-centered holiday. That is why we have FOX.
Thanksgiving is also my favorite holiday. And now I will defile it by matching a Bears player with my favorite Thanksgiving fare.
Turkey: Brian Urlacher. Clearly, Urlacher is the centerpiece of the Bears. Just listen to any telecast, and they will marvel at his grandeur. But as the year goes on, turkey becomes tiresome - turkey sandwiches, turkey stew, turkey shakes. By the throes of winter, the turkey becomes dry and rubbery. The turkey has become overexposed, and you want something else. Like baseball season.
Gravy: The schedule. Gravy is the MVP on any Thanksgiving plate. It solves everything that sucks - turkey, stuffing, mashed potatoes, green bean casserole, and cranberry sauce. The Bears' schedule is this season's gravy. When the Bears appear like the mushrooms in the green bean casserole, the good 'ol schedule saves the day.
Baked Beans: Rex Grossman. Sometimes sweet, sometimes spicy, sometimes laden with bacon (mankind's best invention), baked beans start out as a symphony for the taste buds. They don't end that way, though. They end up stinking.
Mashed Potatoes: Lovie Smith. Nobody really enjoys Thanksgiving without mashed potatoes. Remember that Thanksgiving when Auntie Thelma brought sweet potatoes instead? Bears fans realize that Lovie helps make the team better. Much like mashed potatoes, Lovie is also bland and resistant to change.
Stuffing: Bears Radio Coverage. Some things demand simplicity. Boil water, add butter and stuffing, cover, separate stuffing with fork. You now have yummy stuffing. The Bears' 9-1 record needs no extra clatter or animation. Why, then, after listening to one quarter of Joniak and Thayer, does it appear that the Bears are not only ahead 7-0 but they've also stabilized Iraq?
Cranberry sauce: Thomas Jones. One of the sweetest - and tartest - portions of the Thanksgiving plate. With 60 grams of salt, the cranberry sauce puckers your lips and sours your face - just like a Thomas Jones performance does. You're rewarded in the end, but not without some unpleasantness.
Chicago at New England Patriots
This game tells the tale. If the Bears win, only the Bears will be able to beat the Bears the rest of the way. Or maybe the Chargers. If the Bears lose, it depends on how well they lose. Last week they only scored a field goal on a short drive, thanks to an incredibly stupid onside kick, and a sole touchdown. Hardly a dominating performance, unless you believe that whole "Don't mess up and allow your defense to win you games" theory. That theory works until week 1 or 2 of the playoffs.
Bottom Line: I'm sure the Patriots learned a lot from the Bears' loss to Miami. Expect Lovie to eat an "Out-coached sandwich."
Pick: New England minus 3 points/Under 38
For Bears win:
Sugar in the Blue and Orange Kool-Aid: 65%
Recommended sugar in the Blue and Orange Kool-Aid: 40%
Sugar in the Super Bowl pitcher: 80 percent.
Recommended sugar in the Super Bowl pitcher: 65 percent.
*
For more Emery, see the Kool-Aid archive, and the Over/Under archive. He can be contacted at Eric_Emery12345@yahoo.com. Or berate him publicly.
Posted by Beachwood Reporter at 4:16 AM | Permalink
Over/Under
In Over/Under, I cover the extraordinary hype of the NFL. For football fans, the Super Bowl represents the pinnacle of hype. This past weekend, the world of celebrity reached theirs - TomKat.
I accidentally caught five minutes of TomKat coverage, and it was five minutes too much. Still, I'm not the real victim here. That would be Suri. Imagine growing up with the realization that your parent's marriage was a sham. Then imagine having it documented by Entertainment Tonight. At least the therapists of 2026 need not ask Suri to recount her relationship with her parents.
When an entertainment "analyst" states, "Both should enjoy a career benefit from this marriage. I'd like to look at this without cynicism and believe there is some love there," well, it's hard to believe there is love there. We know how fairy tale weddings and castles turn out - just look at Charles and Di.
We all know TomKat is a marriage of convenience. Here are the NFL equivalents:
GreenBrett - Brett Favre needs playing time to secure meaningless stats to break records. The Packers need Favre to avoid admitting they have no viable successor.
MaddeNBC - Madden needs an announcing paycheck since his Outback Steakhouse and Ace Hardware money dried up. NBC needs Madden to avoid having to put one of the Sharpe brothers in the booth.
ESPIrviN - Michael Irvin needs the ESPN paycheck to maintain retainer fees with his team of lawyers. ESPN needs a complete mumbling idiot to maintain the illusion that Chris Berman is witty and knowledgeable.
GreenCard - Dennis Green needs Arizona to avoid his next coaching job at Lipscomb University. Arizona needs Dennis Green to take the brunt of its unrelenting failure as a franchise.
JanderGate - Like all ménage à trois, this ends in shame, divorce, and a doctor's visit. TO needs teammates to blame for not winning the Super Bowl. Parcells needs TO to blame for returning the Cowboys to their glor days. They each need Vanderjagt to blame to divert attention from their co-dependency.
Last Week: 4-2
Season: 25-37-2
Last Four Weeks: 16-8
Over-hyped: Philadelphia at Indianapolis (Sunday night)
Jeff Garcia starts at QB for the Eagles. Unlikely to finish there. Enough said.
Pick: Indianapolis minus 9 points/Over 44
Under-hyped: Denver at Kansas City (Thanksgiving night)
A heated rivalry with huge playoff implications.
In Week 2, Denver defeated KC 9-6 in OT. Since then, the Broncos have taken the shackles off Plummer - which means more scoring by both teams.Herm Edwards has his Chiefs believing - just in time for him to be out-coached again. The Chiefs are the Chargers-lite. Denver comes out on top.
Pick: Denver minus 1 point/Over 39.5
*
For more Emery, see the Kool-Aid archive, and the Over/Under archive. He can be contacted at Eric_Emery12345@yahoo.com. Or berate him publicly.

Posted by Beachwood Reporter at 3:53 AM | Permalink
What I Watched Last Night
This being the week of Thanksgiving, I want to take this opportunity to thank all the shows that have actually entertained me this season: It's Always Sunny in Philadelphia, The Office, and . . . well, that's it.
As far as the other shows out there are concerned, I want to thank them for making this column so much fun to write. Let us give thanks, then, to the following:
WWF. This brilliant soap opera includes near-naked women and muscular men with limited brainpower - just like the real world! This show appeals to a demographic who think with their Budweiser and pot rather than with their head. Thank you also, WWF, for your twisted take on masculinity.
All metal-related hows on The Discovery Channel. Similiar to WWF, except these programs tend to show some progress by their end. Furthermore, this show appeals a wide demographic because everyone likes metal.
Grey's Anatomy andDesperate Housewives et al. The amount of drama packed into these shows exceeds reality by at least a factor of 10, and I love them for that. People seem to get shot or cheated on every episode. It's nuts. Thanks, drama television - by which I mainly mean ABC programming - for all the laughs.
ESPN. Your ability to make so many shows about everything but sport is astounding. Your 20-hour countdown to Monday Night Football is unceasing. Stories of challenged kids winning the big game in the middle of SportsCenter still do not inspire me to do whatever it is I am supposed to do. Thank you, Everything but Sports Programming Network.
The NBC new fall line-up. There are a lot of smash hits out there. That doesn't mean they're any good. I will stick to my guns and predict that Heroes will soon be off the air. Soon. Please. Thank you, NBC, in advance.
Fox News. Thank you, Bill O'Reilly, for being such a pinhead. Thank you, Sean Hannity, for being such a douche-bag. And thank you, Fox News, for helping Republicans to wear out their welcome with Americans. I will thank you at this time next year as well.
Thanks also to political pundits, Dog the Bounty Hunter, hippopotamuses on nature shows, Celebreality, Waterworld, reality television, Chuck Norris and, of course, Drew Barrymore. Thank you ,Drew Barrymore, you served up some of my best material and I really appreciate that. Happy Thanksgiving.
Pat Bataillon is the Beachwood's resident TV-watcher.
Posted by Beachwood Reporter at 2:59 AM | Permalink
The World According to Altman
A tsunami just hit the film world. America's greatest living director has left us. No, not Martin Scorsese. Robert Altman. Who would have thought that his claim to that title would be in dispute. But it was. In just one example, when The Guardian's list of the top 40 living directors in the world came out in 2005, Altman wasn't even named. When I think about why Altman has such an ambiguous place in the directors' pantheon, I have to conclude that the film school generation has muscled out the yeoman filmmakers like Altman, John Frankenheimer, and Hal Ashby, who learned on the job making television shows, industrial films, and documentaries, and found their own forms of expression that "high concept" can't begin to express.
Altman himself lampooned high concept - the movie factory's new formula for success - in The Player. Seeing his fatuous characters pitch "The Graduate, Part II" or "Out of Africa meets Pretty Woman . . . it's like The Gods Must Be Crazy except the Coke bottle is an actress" highlights exactly what the Hollywood establishment and much of the public finds troublesome about Altman - his eccentricities as a filmmaker.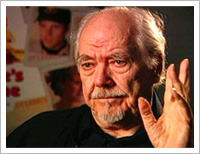 Of course, Altman's distinctive style has been commented upon and picked over ad nauseam - his overlapping dialogue, his long tracking shots that join one strand of plot with another seemingly at random, his explorations of the psyche that move from the ridiculous to the sublime to the incomprehensible. These style elements are no small part of Altman's magic. Although I had heard his overlapping dialogue in several films before I finally saw his masterwork, McCabe & Mrs. Miller, I felt a thrill of discovery at its first appearance in the Western saloon Warren Beatty's character enters in the town he thinks he's going to own. The conversations at the tables seemed private, snatched up in a passing moment, swallowed just as fast, a dizzying swirl of life as it happens when it is unobserved. Unfortunately, the element of surprise fails Altman as often as it succeeds, and in his more self-conscious films, like HealtH and Prêt-à-Porter, the dialogue seems more like a trick. In his otherwise masterful film (and my personal favorite) Gosford Park, the overlapping British accents of every stripe nearly sink comprehensibility for the American viewer.
His camerawork, on the other hand, always seems dead-on to me. Panning through the convention floor in Nashville, he creates an adrenline high of concentrated political ecstacy that seems documentary in nature - a tip of the hat to his early documentary work (The James Dean Story). His movements through an indoor shopping mall in Dr T and the Women give half-obscured glimpses of Farrah Fawcett's striptease in a fountain to create a consumer-oriented parody of Anita Ekberg's dance in the Trevi Fountain in La Dolce Vita. His straightforward rodeo ring shots in Buffalo Bill and the Indians circumscribe the new Old West, a reservation of sorts for a faded Western hero that his sideshow curiosity, Sitting Bull, mocks.
I find criticism of his supposed casting against type unfathomable. It is hard to imagine a more perfect Popeye and Olive Oyl for Popeye than Robin Williams and Shelley Duvall; a more swoonworthy gynecologist and his mentally unstable wife for Dr T and the Women than Richard Gere and Farrah Fawcett; or a more ill-fated, romantic couple in McCabe & Mrs. Miller than Warren Beatty and Julie Christie. The entire cast of his most successful film, MASH, seems inevitable, from the plastic Major Houlihan of Sally Kellerman to the Neanderthal sex tool "Painless" Waldowski of John Schuck.
Altman also made superlative use of music. Although Popeye was roundly panned - Altman lacks the whimsy of, say, Terry Gilliam to pull off a cartoon fantasy - the soundtrack by Harry Nilsson was a winner and the song "He Needs Me" as performed by Shelley Duvall won new fans when it was used in P. T. Anderson's Punch-Drunk Love. Keith Carradine performing his own song "I'm Easy" in Nashville is, along with Audrey Hepburn's "Moon River" from Breakfast at Tiffany's, one of the greatest solo performances on film. And of course, jazz is the foundation of Altman's Kansas City, and his exploration of his hometown shows just where he got his musical know-how.
To be sure, Altman's forays into experimental filmmaking leave audiences divided. Many people think his horrorlike Three Women is a terrific film. To me it seems like an undigested dream that tried to be Ingmar Bergman's Persona and failed miserably. But the spirit of adventure - the daring to reach into innerspace to wherever his fancy took him - is exactly what made him a great director. He didn't care about the form, whether he adapted a play (Secret Honor, Streamers), filmed a ballet (The Company), or tried to retread Raymond Chandler (The Long Goodbye). He simply wanted to show what interested him. All of his films have a jazzy rhythm. They frequently have a desperate edge of the winner or almost-winner hurling toward a fall. They often mock the tepid aspirations of society's drones.
Robert Altman always made the films he wanted to make and never compromised. He succeeded and failed spectacularly, on his own terms. He made films right up to the end because he loved them. He made films for us to love, too. And I do.

Posted by Beachwood Reporter at 1:48 AM | Permalink
November 21, 2006
The [Tuesday] Papers
I can't figure out the Alfonso Soriano deal either, except to say my instinct is that it will end disastrously. Either he'll put up Sammy Sosa numbers and the Cubs will still finish in the second-half of the division, or he'll get off to a slow start like almost every other free agent the Cubs sign and things will get ugly pretty quickly.
Murray Chass, perhaps the dean of American baseball writers, says the deal means Tribune Company is selling the team. Even if not, he's far from impressed.
"[He] committed 11 errors, most among N.L. outfielders, for a .969 fielding percentage, which ranked him 32nd among 34 defensively ranked outfielders.There was talk yesterday that the Cubs may use Soriano, who will turn 31 in January, in center field as a replacement for Juan Pierre, also a free agent. But some baseball executives were incredulous at that prospect.
"They also questioned the size of the package the Cubs gave Soriano, saying it was far too much for a leadoff hitter. That kind of money, they suggested, should be saved for a middle-of-the-lineup hitter, a run producer like [Alex] Rodriguez and Manny Ramirez.
"Soriano has driven in more than 90 runs in each of the past five seasons, but in his most productive seasons he knocked in 102 and 104, an impressive total for a leadoff hitter, but not necessarily for a $17 million hitter."
Bruce Miles, in the Daily Herald, reported on Monday, though, that the Cubs are likely to move Soriano to right field.
Dayn Perry, at FoxSports.com, says the Soriano deal is "idiotic in the long term."
Carol Slezak at the Sun-Times is admirably skeptical, and the best line I've seen is the headline to her piece: "Soriano's Good, But Can He Pitch?"
She also thinks the deal means TribCo is prettying up the property for sale, though in other reports both interim president John McDonough and general manager Jim Hendry say they have had no such discussions with their corporate minders. Then again, all it takes is for Dennis FitzSimons to tell them to go for it - he doesn't have to explain his motivation.
On the other hand, I wonder if the Soriano deal - and the Cubs exploding payroll in general - is a poison pill that is somehow designed to keep the Cubs in TribCo hands.
Either way, this can't be good.

Boring Barack
I saw a little bit of Barack Obama's speech to the Council on Foreign Relations yesterday, and it was a snooze. Obama's inability to speak passionately about Iraq, even in a policy proscription speech, just goes to show that Mr. Charisma isn't all that in the charisma department. Sometimes he's downright cold.
More importantly, he had virtually nothing new to say. Reporters and editors who had geared up for a major news story were left holding the bag.
The Tribune did a relatively decent job adjusting. "Substantively, Obama's talk to the council was not markedly different from the one he gave there a year ago," the paper's reporters noted. "He echoed many of the themes of that speech - as well as from his highly publicized new book, The Audacity of Hope. Politically, the plan he embraced positions him alongside many centrist Democrats in Congress who are calling for a slow and careful withdrawal of troops rather than a quick exit or buildup of military personnel.
"But while the speech was mostly the same, the environment in which he delivered it was radically different."
Meaning the speculation of a presidential run has only heightened, the public has turned evermore against the war, and Obama, with a seat on the Senate Foreign Relations Committee, is now residing in the majority.
So the context has changed. But on the most gripping and profound issue of the day, Obama doesn't have much to say.
"[T]he speech did not cover a lot of new ground," the Tribune reports.
Or really any at all.
Obameter
The Tribune played the story, not inappropriately, on page four of its first section. Obama is an Illinois senator, after all, and his speech was a curiosity.
On the other hand, as near as I could tell, neither The New York Times nor The Washington Post carried a story about Obama's speech today, though they both carried brief wire stories on their websites.
Why? Because a key part of the concept of a newspaper is the "news" part.
The Sun-Times, meanwhile, made a front page out of Obama's speech. Why? To sell newspapers with another false promise, this time advertising Obama's "plan."
The fact that the mayor's former patronage chief was sentenced to 46 months in prison for massive hiring fraud in a scandal that has prosecutors looking at three other former aides (Tim Degnan, Victor Reyes, and John Doerrer) as close to the mayor as you can possibly get without being Maggie didn't even merit a mention on the Sun-Times's front page.
Not only that, but it's the Trib that put the cancellation of the O.J. book and TV interview on front page - as any paper in America ought to have.
If He Did It
"In the courtroom packed tightly with supporters of the four defendants," the Tribune reported, "there were starkly different views of how serious a crime - if any crime at all - was committed when the men helped pro-Daley workers get city jobs."
Wonder if Neil Steinberg and his fellow commentators will lambaste all those dumb white people hootin' and a-hollerin' despite the evidence staring them in the face.
Boratski
I do owe Steinberg an apology; yesterday I conflated two potential Borat items into one, and in the scrum I lumped Steinberg in with David Brooks and Christopher Hitchens as critics of Borat. In fact, Steinberg wrote that "The movie's as funny as everybody says. I was wiping my eyes on my sleeves, and at one point I worried I was howling so hard that something snapped in my jaw."
Standing Up and Down
Far more interesting than Obama's pedestrian murmurings is the latest report from The Washington Post's Thomas Ricks. The truth is that Iraqi troops will never be able to stand up - which isn't entirely their fault.
"The U.S. military's effort to train Iraqi forces has been rife with problems, from officers being sent in with poor preparation to a lack of basic necessities such as interpreters and office materials, according to internal Army documents," Ricks reports.
"The shortcomings have plagued a program that is central to the U.S. strategy in Iraq and is growing in importance. A Pentagon effort to rethink policies in Iraq is likely to suggest placing less emphasis on combat and more on training and advising, sources say.

"In dozens of official interviews compiled by the Army for its oral history archives, officers who had been involved in training and advising Iraqis bluntly criticized almost every aspect of the effort."
Scarlet C
"This offense is corruption," Judge David Coar told the mayor's former patronage chief. "It's corruption with a capital 'C.'"
And it was done in service to Daley. And it was massive. Maybe Daley should write a book called "If I Did It" about how he would have run a thoroughly corrupt administration, if he did.
If They Did It
If I Did It, by Sammy Sosa. A hypothetical look at how Sammy Sosa would have used steroids, if he did.
If I Did It, by R. Kelly. A hypothetical look at how R. Kelly would have had all kinds of nasty sex with underage girls, if he did.
If I Did It, by George W. Bush. A hypothetical look at how George W. Bush avoided serving in the Vietnam War, if he did.
If I Did It Again, by Britney Spears. A hypothetical look at . . . oh, you get the idea.
- with Rick Kaempfer and Tim Willette
Special Comment
Devastating.
Obameter
A CNN poll released last night about Dem favorites for the 200 presidential nomination:
H. Clinton - 33 percent
Obama - 15 percent
Gore - 14 percent
Edwards - 14 percent
So, uh, who's really the rock star?
I mean, geez, Obama is in Gore-Edwards territory . . .
Olympic Education
What if Pat Ryan turned around and said - hey, we're gonna give this money to Chicago schools instead?
Democrats In Action
* "She's my personal secretary, subject to my - for lack of a better word - control."
- Cook County Commissioner Joseph Moreno on using his taxpayer-provided secretary for personal business.
* "I'm going to bring Gerald on to help me figure out who's who and what's what. I don't care what people say."
- Cook County President-Elect Todd Stroger, endorsed by Saint Barack and Lord Daley, on turning to a man under federal investigation who he has promised to fire for help understanding his job.
* "My gun is bigger than your gun, and I can shoot better. The bigger the family, the better the funeral."
- A staff member at the Cook County Juvenile Temporary Detention Center.
We're about to see just how in over his head Todd Stroger is.
Consolation Prize
I know Tammy Duckworth courageously served as a combat helicopter pilot, but is there anything on her resume that merits her being handed a $94.2 million state agency with 1,135 employees?
Blowing Barack
The Sun-Times even found Obama's speech worthy of an editorial, albeit a typically confused one in which the paper criticizes Democrats for not having a plan to end the war in Iraq, though the president seems to have escaped that criticism, and then the editorial goes on to name all three Democratic plans on the table: Immediate withdrawal, phased withdrawal, and/or partitioning of Iraq.
The faux-intellectual opining ends with this stretch to justify its own existence: "Credit Obama with helping establish a framework for our politicians to move away from partisanship and think constructively about what to do about the war in Iraq."
Oh please. We might as well tell Jim Baker and his pals to pack it in now that Obama's on the case.
The Beachwood Tip Line: Bipartisanship welcome.
Posted by Beachwood Reporter at 8:16 AM | Permalink
What I Watched Last Night
Monday nights have been a trouble spot for me the last few months; at one time the programming got so bad I decided to never write Tuesday columns again. But a friend recommended that I view a television show about the Carter family, so here I am.
Apparently, this show is about Aaron Carter and his brothers and sisters. Aaron Carter is famous for being, I think, the little brother of a Backstreet Boy. The Backstreet Boys were guys who danced and made teen-age girls excited about life. The Backstreet Boys were popular for a while but now they have faded into obscurity.
I did not watch the show, but I think I get the idea. It's kind of like Meet the Barkers or The Osbournes or the one with that Kiss guy or that guy from the Partridge Family with all the mental problems.
Problem: It's hard to see the Carters measuring up.
Take Bonaduce. He is completely out of his mind; he has attempted suicide a few times, drinks heavily, takes steroids, and wants to beat the shit out of his marriage counselor. He has gone from lovable child star to a manic depressive drunkard. And if he hadn't, he wouldn't have a "career."
Or take another of the celebreality bunch, Hulk Hogan. His daughter that is trying to be attractive and wants to be a singer because she is the daughter of Hulk Hogan. Hulk Hogan is a former actor - I mean, wrestler - from the popular soap opera WWF. He left that cast and joined the cast at WCW for awhile and is now washed up trying to pay the bills with his reality show.
This celebreality thing is getting repetitive; how much alcoholism and egomania from washed-up C-listers can we take? Having a bad case of self-importance and a drinking habit will keep you thinking that you are still an important person in this society. It is good to see that the popular personas of each television generation are staying the course with their decisions to get involved in hairbrained ideas like working for a television studio that is parading washed up celebs for the entertainment of the masses.
So, as far as The Carters is concerned, I am sure that the show went like this: There was a fight; the producers were called in to prevent the situation from escalating, though cameras kept rolling hoping the situation would escalate; there was plenty of alcohol made available to the cast; the situation escalated. I'm sure things were said that were better left unsaid. There were probably scenes from the next episode promising more fights, and strange objects hurled through the air. It's almost as if this sort of thing sells.
Remember the Kramer Reality Tour? Well, that's been extended too. You can bet the next Michael Richards gig will be standing room only. He's back. Hey, if washed-up celebrities and their wannabe relatives want to extend their 15 minutes of fame into 20, who can blame them? We can only blame ourselves for giving it to them.
Posted by Beachwood Reporter at 5:58 AM | Permalink
November 20, 2006
The [Monday] Papers
1. It looked good in practice.
2. Nine overtimes.
3. When Neil Steinberg complains about "those people" "hooting and hollering," "weeping and shrieking 'Hallelujah' in that hairdresser's," he means black people even though the dominant images of people celebrating the acquittal of O.J. Simpson were broadcast from college campuses, not inner city salons. But that's not how Neil Steinberg sees black people, which is why he got these responses and why he was called a racist on WVON-AM on Saturday afternoon.
4. More Steinberg:
* "[Jay Mariotti will] say anything just to get people excited."
* "Kass is a genuine fraud . . . Every 10 columns is a good column."
* "When I met Michael Jordan, I didn't know who he was."
5. When you're are Dick Mell's daughter and Rod Blagojevich's wife, well, this sort of thing is only natural.
6. Daley not as green as he says.
7. In "City Sees Progress In War On Rodents," the Sun-Times ballyhooed Chicago's efforts to decrease the rat population from 6 to 7 million 20 years ago to 500,000 today.
If the reporter had bothered to check his own paper's clips, the headline could have (and should have) been: "No Progress On Rats In Six Years."
Because in 2000, the paper ran a story headlined "Chicago Winning Battle Against Rats" that noted the rodent population was down to . . . 500,000.
8. "Incoming Cook County Board President Todd Stroger says that in all his years in the state Legislature and City Council, he's never seen a 'clout' list."
A) Um, that's because you never had clout, Todd.
B) That's funny, because your father put your name on all of them.
C) But now that he knows what they look like, he can't wait to get started on his own.
9. "Democrats Split On How Far To Go With Ethics Law."
Apparently all the way is out of the question.
10. Incurious George. It's almost beyond comment by now.
11. I haven't seen Borat yet, but having David Brooks, Christopher Hitchens, and Neil Steinberg line up against it is quite an endorsement (third Steinberg item, the one in which he opines that "generally," "movies" are "lousy.")
CORRECTION 5:00 P.M.: "The movie's as funny as everybody says," Steinberg wrote. "I was wiping my eyes on my sleeves, and at one point I worried I was howling so hard that something snapped in my jaw."
Apologies - I mixed two potential Borat items into one, and in the mixing Steinberg got the raw end of the deal.
12. Maybe Steinberg is another Sacha Baron Cohen character designed to illuminate our prejudices.
13. The Tribune continues to propagate the false conceit of Red and Blue America. False because a state that is, say, 51 percent Republican gets painted Red - as Red as a state that is 80 percent Republican - and because the divide is more typically between urban and rural, and because that sort of divide isn't necessarily anything new, and among other reasons. Christ, journalists saw the big electoral maps the networks use for presidential elections and drew profound conclusions! What a bunch of knobs.
14. City Hall can save a tree but can't determine whether John Duff is really a black woman, figure out who hired Angelo Torres, or discover massive hiring fraud under its nose. I mean, assuming it didn't already know.
15. Concertgoers: Shut the fuck up.
16. Cool new rules for politicians, including: All dirt must be presented in the first 30 days of a campaign unless breaking news occurs, and no candidates allowed in church.
17. James Meeks cherrypicks the Bible.
18. The Bible and Greed.
19. Aren't you glad the Democrats have furthered their control of state government?
20. "Sen. Dale Risinger (R-Peoria), who voted to reject the raises, said he could not vote to increase his pay when highway engineers and other state workers in professional jobs have not had a cost-of-living raise in four years.
"I cannot go back and look in the eyes of other people in this government that are doing a heck of a job, working hard, saying, 'You know what? I got mine, but you can't get yours.'"
James Meeks can, though.
21. Two views of Agora:
"This truly represents the 'I Will' spirit of our city."
- Mayor Richard M. Daley
"I think it shows the essence of a world gone mad."
- Bill McLean of Flossmoor
22. "I Don't Make My Jukebox Selections For The Recognition."
23. "Mayor Daley normally calls Bill Walls last to speak, even when Bill is among the first to sign in," the Dock Walls campaign says (click on budget hearing). "Bill out-foxed Daley by signing Guillermo Paredes,' which is Spanish for 'William Walls'."
24. Another woman I won't be dating.
25. The true cost of the Olympics revealed.
The Beachwood/Butterball Tip Line: Here for you all week.

Posted by Beachwood Reporter at 8:47 AM | Permalink
November 19, 2006
Yuppie And The Chocolate Factory
Tonight the sky is clear, and a light breeze envelops the street with a chocolate aura. I'm sitting across from the Blommer Chocolate Factory on the Northwest edge of downtown Chicago and I'm 5 years old again, waiting for my grandmother to take cookies from the oven.
Tonight the factory, at 600 West Kinzie, is awake, glowing in the presence of the city to my back. It breathes in and out, with a soft snort and a sigh, whispering a silent happiness down into my lungs while men, dressed in white, walk to and from their cars. They are wearing plastic shower caps and Mickey Mouse gloves; they resemble a strange crossbreed of scientists, Martha Stewart, and Saturday morning cartoon figures.
For the last two months I have attempted to discover who complained about the chocolate smell that's now aesthetically paralyzing me. Who, I wanted to know, could be against chocolate?
The complaint triggered an investigation a year ago by the U.S. Environmental Protection Agency and lead to a citation and "alleged violation" of the 2001 Clean Air Act.
On the surface, it appears the smell has prevailed, that little has changed, that I should sit here content, cologned in this childhood fragrance. But deep in the shadows of looming condos, there is a war that wages between gentrification, government, and cocoa grinders.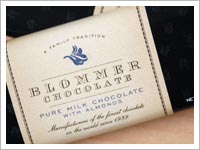 The Investigation
In July 2005, a condo dweller who officials still refuse to identify called the EPA complaining of an unpleasant odor coming from the factory. The smell was particularly bothersome when the unidentified complainant used his balcony, he told investigators. At the time, Blommer operated 11 grinders that vented emissions from the northeast corner of the factory roof. The citizen also complained about these visible emissions.
The EPA does not regulate odor. However, on the first and second of September 2005, an EPA inspector found "significant violations" of opacity limitations - for 16 minutes the first day and 10 minutes the next.
Opacity is a subjective measurement that determines the amount of emissions being released into the air. It does so by monitoring how much light is obscured by a plume of smoke, rating them on a scale that ranges from 0 percent (clear smoke) to 100 percent (completely black smoke). Illinois requires factory opacity levels to be at less than 30 percent, with three eight minute exceptions for every 24 hour period. The reading for Blommer ranged from 32.1 percent to 49.4 percent over the two observed days.
Shortly after the testing, Blommer was sent a notice of its violation.
"We were surprised by the allegation," vice president of operations Rick Blommer wrote in a November 2005 letter sent to neighbors of the factory. "We were in the final stages of adding filter equipment for maintenance purposes that would have the added benefit of decreasing emissions."
In fact, since 2004, Blommer had been developing a plan to install emission control equipment for its cocoa bean grinders.
"Blommer had told the EPA that they were installing equipment," says Tom Wolf, a spokesman for Blommer. "There was no fine or payment or agreement that Blommer exceeded the opacity limit."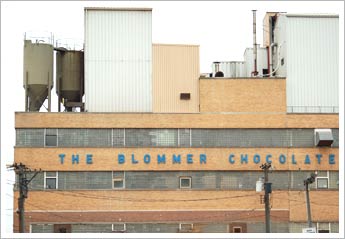 Even if there was a violation of opacity limits, the EPA stated in a document obtained by The Beachwood Reporter, "Our complaint did not allege health risk," and that "No information was found addressing health effects associated with ambient cocoa concentrations."

"The substance emitted from our plant is organic, not toxic," Blommer wrote in his letter to neighbors. "The source of the opacity viewed by the USEPA inspector was cocoa butter. Nothing more. Nothing less."
Blommer installed its emissions control equipment as planned and, according to the EPA, are in compliance with the Clean Air Act today. And it still smells like chocolate.
The Flak
The EPA's investigation of Blommer was a media sensation, from National Public Radio to 20/20. While the EPA was merely responding to a citizen complaint, the agency caught most of the flak, as pundits opined that "Big Brother" government was ready to take away every ounce of joy and happiness.
"It's like saying Willy Wonka is a child molester," says Brian Urbaszewski, director of environmental health programs at the American Lung Association. "I feel bad for the EPA in this situation. They saw a small problem, they addressed it, and fixed it. It's what they were supposed to do."
Still, the story blew up. Blommer was news as far away as India and Australia.
I suppose this was the reason the EPA was less than pleasant to work with and gave me a headache on more than one occasion - despite my initial feeling that the real culprit was the guy who filed the complaint.
"All we can say is in the documents I gave you," USEPA spokesman Bill Omohundro repeated to me several times. These were documents I had already found on the Internet and told me little. He answered very few of my questions, and I had to file a Freedom of Information Act to force the agency to turn over their public records regarding the case.
In the end, however, the agency would not release the name of the complainant, citing a confidentiality policy. The condo owner who started it all is the only one who has escaped scrutiny.
The Air
It wasn't just the Blommer violation that the media found disconcerting - it was the contrast with the 7,600-plus environmental violations documented by the state attorney general's office since 1999 that the office says have been ignored by the EPA. Current attorney general Lisa Madigan alleges that six aging coal-fire power plants owned by Midwest Generation, including two in Chicago and three in the suburbs, have been skirting the requirements of the Clean Air Act for decades. And yet, Madigan says, none of the plants has yet received a single citation for these violations.
Madigan sent a scathing letter to the EPA in August 2005 - a month after the condo-owner's Blommer's complaint - citing the agency's "continuing refusal" to address opacity requirements at the power plants, and stating that the EPA "continues to skirt around a clear, absolute, and non-discretionary requirement of federal law."
A petition was also sent objecting to permits issued to Midwest Generation on the grounds that the factories were out of compliance of their current permits and should be required by law to construct a plan and time frame to reach compliance before new permits go into affect. As of this writing, the attorney general's office has received no reply to the petition despite the 60-day notice requiring the EPA to respond, according to Ann Alexander, Madigan's environmental counsel. The deadline for such a response expired more than six months ago and the attorney general's office is contemplating suing the EPA for a response.
"There are bigger problems that aren't being addressed," says Urbaszewski, who called Blommer's violations "ants" compared to Midwest Generation molehills. "It harms people's health and robs people of their lives. It's the 800-pound gorilla sitting behind it that no is addressing that is the problem."
But the EPA says there is no problem.
"We have continuous emissions monitoring equipment on the power plants and access to all emissions data from them," says an EPA internal talking points document, obtained by the Reporter, written in preparation for a 20/20 interview.
In an EPA letter titled Draft Response to Public Comments, the EPA writes that the data they are receiving from Midwest Generation is "not determinative of whether these exceedances constitute violations." They claim that they have taken numerous enforcement actions against power plants, and that comparing Blommer's situation to coal-fired power plants is not fair because they are vastly different.
But in another document obtained by the Reporter, the EPA does compare the two, saying the particulate matter emissions for all equipment at Blommer "should not exceed a permit limit of 68 tons per year," and then later stating that a "350 mega watt coal-fired boiler in the Chicagoland area has an average annual emission of 670 tons per year."
In her letter, Madigan points out the EPA's disregard for Midwest Generation's hefty emissions, saying that nowhere in the EPA's draft response do they deny that opacity violations exist; instead the agency merely argues that the opacities are "too insignificant or too inconvenient to tackle in a compliance plan."
In 2000, a team of researchers from Harvard University estimated that these Midwest Generation power plants, along with three more elsewhere in Illinois, together cause 300 deaths and 14,000 asthma attacks each year. The report also states that if the plants were forced to follow the Clean Air Act's pollution standards, two-thirds of those deaths and asthma attacks could be avoided.
The Blommer Chocolate Factory has not been determined to have caused any asthma attacks, much less deaths. The EPA says they don't overregulate small factories; they merely try to be responsive to citizen complaints, as in the case of Blommer. But they still won't identify who filed the complaint against Blommer.
The Neighbors
Home to 180 local employees, Blommer has defined its industrial neighborhood for almost 70 years, and has become one of the largest chocolate manufacturers in North America. Like many other parts of the city, though, the area has undergone an extreme form of gentrification, with condos popping up left and right like zits on the face of a post-pubescent teenager. That has put Blommer in the midst of growing neighborhood tension.
Whoever complained about the chocolate smell was neither the first, nor most recent person to do so.
Another complaint was filed with the EPA in November 2005 by a resident who complained of a smell described as "overwhelming, greasy, and not like chocolate at all."
A third neighbor who complained says the smell has only recently become "unbearable," and as recent as this last summer, another neighbor complained about unpleasant odor and smoke on his balcony. This neighbor's long list of frustrations included complaints that Blommer was not maintaining their landscaping and blocking the street with their trucks.
The writing, some might suggest, is on the wall. But many still find the factory endearing and don't want to lose it.
"People who complain about such things contribute to environmental pollution themselves with their hot air and the wasted paper they use to clog the system," an irate citizen who works in the area wrote to the EPA. "These are the kinds of people who would move to International Falls, Minnesota, and complain about the cold weather, or would buy a house next to Midway or O'Hare and immediately demand they stop the noise."
Neighbors Rubin Estremera and Greg Wolk have lived at Kinzie Station, directly across from the factory, for the last five years. "We've never known anyone who hasn't said they love it," Wolk says. "We were mad when we heard someone complained."
Out walking their dog recently, the two describe the factory as mysterious and alluring.
"All my friends are envious," Estremera says. "Who doesn't want to live next to a chocolate factory?"
Who indeed. That's the real mystery.
-
Posted by Beachwood Reporter at 7:11 PM | Permalink
Barista! Mocha Violencia
Boy am I glad I wrote all that nice gooey stuff last week because I don't think I've ever had a more trying time in terms of restraining my tongue and wishing I owned an automatic weapon than I have since then. Yesterday alone, I uttered the words "I'm going to shoot up this place" no less than once every fifteen minutes. Luckily, I work in a coffee shop and not an airport, or else I'd be writing (or not) from a torture room right now, which, don't get me wrong, my editor would more than encourage for the sake of fresh unparalleled material.
Alas, I am just a weaponless barista, teetering on the sanity fence, ready to fall clear off the next time I am expected to read the mind of some yuppie scum on a cell phone who mouths her order to me and then gets pissed when the drink is made incorrectly. Silly of me not to assume that when someone mouths "Grande Mocha," they really mean, "Venti non-fat, no-whip, three-pumps of mocha Mocha." This may seem comical now, but at the time I wanted so badly to kick this woman in the fucking head. Repeatedly.

Or perhaps my good nature will crack the next time the regular customer with the grande non-fat, easy-foam latte impatiently leans over our bar and lets us know he's got a train to catch. Well, then come in five minutes earlier you fucking idiot. This is the same guy who comes in on weekends, sits around with his latte and then leaves his garbage on the table. There's a strategy behind that trash can sitting right by the exit you lazy son-of-a-bitch.
But then again, I think my biggest sanity-tester this week was a fully capable blonde woman who opened the door and requested assistance. Thinking that she, like so many others, merely needed me to hold the door for her while she pushed her stroller through, I walked around the counter and opened the door, immediately to notice that there was no stroller in sight.
Catching me entirely off-guard, this special woman proceeded to give me her drink order - not one, but two drinks - one of which was an eggnog latte (need I say more), and the other was - get this - an iced half-decaf, double-tall two percent, three Splenda latte. Then she handed me her credit card.
Completely taken aback, I forced myself to remain blank-faced as I walked back to the register to assist the line of customers that had shuffled in during this door transaction. With only two of us working at the time, I nearly fashioned myself a gun out of rubber bands, spoons and whole beans to take aim at this blonde wench as she did an eager dance outside the store window. I thought better of it when I realized I would feel unsatisfied knowing that a projectile bean could not actually kill her.
In the end, I refused to walk her drinks to the door. I made her take the fifteen steps inside, which was a major inconvenience of course, and on the way out, she had the balls to smile and say, "It got so busy in here!" I turned to Velma and said, "That bitch is getting written about."
Maude Perkins is The Beachwood Reporter's pseudononymous service industry affairs editor currently serving time as a store supervisor for a large, publicly-held corporate coffee chain. Catch up with the rest of her heartwarming stories here.
Posted by Beachwood Reporter at 2:50 PM | Permalink
November 18, 2006
The Weekend Desk Report
The Weekend Desk is a little strapped this week. In light of recent events, we'd laid a healthy chunk of our operating budget on Joe Paterno in the Big Ten Legends death pool. You can imagine our shock when freshly-pacemakered Bo Schembechler beat JoePa to the line. Forgive us if we're a tad distracted.
Si, Signoras
In the grand tradition of red M&Ms and O.J. Simpson, it appears silicone breast implants have been declared safe for distribution to the American public. So what's the next potentially dangerous item to be put back into circulation? There are plenty of candidates, but it looks like defense of the Bush Doctrine will head the list.
Facing the Music
The government of the Netherlands has proposed a law to ban the wearing of burqas in public, citing the threat to public order that arises from the use of clothing that covers the face. Just to prove this is not a punitive measure aimed solely at Muslim immigrants, the Dutch parliament is expected to further ban knife throwers, highwaymen, and Halloween.
Window to the World
In case any Muslim Dutch immigrants were wondering what the leaders of a completely different religion were thinking about the burqa ban, the Vatican has weighed in. Cardinal Renato Martino stressed that immigrants should respect the laws and traditions of their host countries, including any ban on face-obscuring clothing. No word yet from Cardinal Martino on whether this respect for the law applies to the well-established Dutch prohibition on crotch-obscuring clothing as well.
Blues Lagoon
We're guessing Tom Cruise has gotten over his aversion to antidepressants, because we're thinking it took something considerably stronger than a Xanax tab to get Brooke Shields' ass to Bracciano this week.
Posted by Natasha Julius at 12:00 AM | Permalink
November 17, 2006
The [Friday] Papers
I'm taking the morning - and possibly the day - off. I'll return to rail against state legislators voting themselves a pay raise, Neil Steinberg's latest noxious thoughts, and the Tribune editorial page's warped sense of economics sometime between now and Monday. Don't forget to check in on Saturday for the always superlative Weekend Desk Report of Natasha Julius, and go right now to Pat Bataillon's latest What I Watched Last night entry about why he chose to watch Modern Marvels: Metal last night instead of 30 Rock. Don Jacobson has a new Chicago In Song that finds a thread between Dean Martin and The Handsome Family, and Eric Emery provides you with a guide for How to Watch a Bears Game With a Bears Fan in his latest Blue & Orange Kool-Aid Report. The Beachwood Tip Line remains open.
The [Thursday] Papers
Jesus, a few aldermen just unload on the mayor and it's the Sun-Times that puts it on front page and writes the best account while the Tribune lays back. Does that mean it didn't really happen?
The unbelievably great highlights:
* Ald. Ed Smith: "There is no headline in this budget that reads 'The Department of Criminal Affairs' . . . there is no line item for a $40 million Hired Truck scandal . . . for buddies swiping in buddies . . . for phony sick pay."
* Ald. Toni Preckwinkle: "It's not so much the number of people being arrested, it's that they are connected. They're part of the political operation, frankly, of the administration, and that's what's so problematic."
* Ald. Arenda Troutman: "The Duffs stole $100 million earmarked for blacks and other minorities . . . White men [used] their mothers, sisters and daughters to steal $40 million. They abused the Hired Truck Program designed to help blacks and other minorities pull themselves up by their bootstraps. These people were getting contracts because they lived in a white city. They were greedy and wanted the minority share."
Ed, Toni, Arenda - where have you been all my life?

Now let's look at the mayor's reaction and consider once again to what degree he is a child.
* To Smith: "Very good. Make sure you meet the inspector general. He'll be in your office tomorrow morning . . . We'll make sure. He'll be in your office. Thank you."
* To Troutman: "It doesn't bother me." And then he "mockingly applauded." (The Tribune account, once it got around to the kerfluffle, put it this way: "Ald. Arenda Troutman (20th) won mock applause from Daley after delivering a speech in which she criticized inequities between African-Americans and whites as well as city jobs given to members of the pro-Daley Hispanic Democratic Organization." Nice. Way to be sincere about all those moves to win back black support in an election year.)
* To Preckwinkle: Well, neither account has the mayor responding to Preckwinkle, perhaps because she is one of the few council members with half a brain. And she was blistering.
"Ald. Toni Preckwinkle (4th) blasted the 9 percent share of city contracting awarded to black companies.
"'It seems problematic at best and damning at worst we haven't done better for African-Americans,' Preckwinkle said. 'Since I believe this is a can-do administration and that things are accomplished when there is a will behind it and a commitment to it, I can only conclude that both are absent in this instance. And that is very disturbing to me.'"
* To reporters after the meeting: "Everybody's against corruption - whether it's an employee, the president of a company, the chairman of the board - anyone. Everybody's against any type of corruption. Of course, I am too."
Mayoral Myths
And now, the lowlights. The Sun-Times continued to propagate some of its favorite myths.
* Fran Spielman refers to "the corruption scandals that have made Daley's life miserable for nearly three years."
Spielman has an incredibly short memory. Significant scandal has been with this mayor since he's had the job - for 17 years. You can look it up.
Not only that, why is the focus on Daley's life being made miserable, as if he's the victim?
* Daley's budget "includes no new or increased taxes."
The council approved the LaSalle Street TIF district at the meeting. If Spielman would take the time to read Ben Joravsky, she would learn how Daley's use of TIF districts does in fact raise your taxes.
* What does it mean for a budget to be "a perfect blueprint for re-election?" That it's a political document, and not a financially responsible one?
* The budget "freezes the property tax levy for a third year." True, but it doesn't freeze skyrocketing property taxes. Daley has the luxury of not having to raise the levy, while gentrification squeezes long-time middle-class homeowners out of their neighborhoods and fills his coffers.
* The budget "holds the line on all other taxes and fees." I'm pretty sure a close read of the budget would yield a different verdict if you include things like increased parking ticket enforcement, just for starters, not to mention increased fees at the park district and the CTA, whose budgets don't leave City Hall without mayoral approval.
Despite their outbursts, Smith, Preckwinkle and Troutman voted for the mayor's budget, which passed unanimously. My question: How many reporters in town do you think have actually read the budget? The Over/Under is 2.
Double-dealing Dems
How does Nancy Pelosi ride into the Speaker's office on her high ethical horse and drag Jack Murtha and Alcee Hastings with her, not to mention business-as-usual armtwister money-man extraordinaire Rahm Emanuel? Does the incoming Dem leadership look like a change to you?
Then again, Trent Lott is back in the Republican leadership, so the two-party system is working.
Sneedlings
Everything she has written this week is incredibly old or just rehashed from other publications. I'd go item-by-item, but it just makes me tired.
Kool-Aid Nation
Presenting the Bears-Haters Guide To Watching The Bears With Bears Fans.
From the same folks who brought you How To Make Angry Sports Radio Calls and The Bears Bandwagon Starter Kit,
And don't miss The Sporting Life, our guide to your week in leisure. Loosely defined.
Daley Double
The City Council on Wednesday approved the creation of $300 annual parking permits for real estate agents, social workers and home health care providers which will allow them to park in neighborhoods with residential stickers.
"The 44-4 vote came only after Finance Committee Chairman Edward M. Burke (14th) informed aldermen they had no choice," the Sun-Times reports. "If they failed to approve the permit, it would blow a $2.4 million hole in Daley's 2007 budget."
A) So why not just eliminate the City Council if the way they must vote is pre-determined?
B) And the problem is . . . what?
C) Remember all those complaints about the lack of congressional oversight?
D) I thought there weren't any new fees. I guess $2.4 million doesn't count. But wait - is the administration saying they will take in more in new permit fees than they were getting in neighborhood sticker violations from these people?
The Buck Stops There
"Residential permit parking came in through the aldermen - not through the executive branch," Daley said. "We had nothing to do with this."
And he's powerless to do anything about it now.
General Assemblage
Illinois legislators took measures on Wednesday to raise the state's minimum wage by a dollar an hour and earmark the resulting increase in workers' earnings to ComEd.
Blackout
"Senate President Emil Jones (D-Chicago) has expressed opposition to the [rate-freeze] bill, while a bloc of black Democratic House lawmakers have remained neutral toward it."
ComEd's racially-based lobbying strategy pays off.
False Start
"Only 14 people have enrolled in a new Illinois veterans health care program that Gov. Blagojevich billed as vital to helping thousands of people who don't qualify for federal aid," an AP report says.
"Aides to the governor called it 'a very good start' Wednesday, although some lawmakers criticized administration of the program."
Some lawmakers didn't?
But more importantly: 14 people!
House of Rahm
"Schumer said he and Rep. Rahm Emanuel - the boss of the House Democratic campaign committee, who is expected to be elected to a leadership spot today - made a list of what they consider abusive campaign practices," Lynn Sweet reports.
The ones that worked they put in safekeeping for the next election. The ones that didn't they called for eliminating.
The Beachwood Tip Line: Join the B-team.
Posted by Beachwood Reporter at 6:57 AM | Permalink
What I Watched Last Night
Modern Marvels: Metal made me magnify my mental magnificence; moreover, my magical mindset mirrored manifestations. Accordingly, amazing alliteration ability as an amusing act assumes asinine accountability.
So this is where I wandered to after The Office last night. The Office is a great show and the pudding was there last night for you to sample. After The Office abandoned me I was faced with a void. There was 30 Rock and the unknown. I went with the unknown.
Yes, that Tina woman from Saturday Night Live is on the 30 Rock program. I do not think she is all that funny. She is frequently praised for being the first head female writer on SNL. Congratulations, you were the head writer on a show that has not been funny in five years.

Tracy Morgan was funny until he started this pouty face that I never understood; he is on 30 Rock also. Then there is Alec Baldwin. I have no problem with Alec.
I have never watched the show but it seems like Tina is a director or something working on a live television show. Tracy Morgan is a cast member and so is Alec Baldwin. Basically, this is a failing show about a failing show. To quote a conversation between Jerry Seinfeld and Cosmo Kramer -
Jerry: "Where are you?"
Kramer: "I am at the corner of First and . . . First! I must be at the nexus of the universe!"
We have made it, audience. Finally, after all these years of watching crap on television, we now can watch crap on television about crap being made for television. Amazing, isn't it? I urge you not to watch this show no matter how may commercials they air during Sunday football and The Office trying to persuade you. And don't even get me started on Deal or No Deal.
So, Modern Marvels. It seems there have been some brilliant breakthroughs in the field of metallurgy over the last couple thousand years. There was the first bronze way back in the day used for weaponry; we now use it for third place medals for Olympians. We have just passed the greatness of titanium that was used to create the space shuttles; now I use it in my razor blades. I did see some neat stuff, though, like a metal that can be bent into shape and then unbent into its old self by adding hot water.
Whatever use serves humankind down the road, I'm sure it will be pretty fun. Be it razor blades or Olympic medals, at least it will be more entertaining then alliteration and 30 Rock.
Posted by Beachwood Reporter at 5:09 AM | Permalink
November 16, 2006
What I Watched Last Night
I watched A Few Good Men last night and it wasn't all it's cracked up to be.
Posted by Beachwood Reporter at 10:05 AM | Permalink
The [Thursday] Papers
Jesus, a few aldermen just unload on the mayor and it's the Sun-Times that puts it on front page and writes the best account while the Tribune lays back. Does that mean it didn't really happen?
The unbelievably great highlights:
* Ald. Ed Smith: "There is no headline in this budget that reads 'The Department of Criminal Affairs' . . . there is no line item for a $40 million Hired Truck scandal . . . for buddies swiping in buddies . . . for phony sick pay."
* Ald. Toni Preckwinkle: "It's not so much the number of people being arrested, it's that they are connected. They're part of the political operation, frankly, of the administration, and that's what's so problematic."
* Ald. Arenda Troutman: "The Duffs stole $100 million earmarked for blacks and other minorities . . . White men [used] their mothers, sisters and daughters to steal $40 million. They abused the Hired Truck Program designed to help blacks and other minorities pull themselves up by their bootstraps. These people were getting contracts because they lived in a white city. They were greedy and wanted the minority share."
Ed, Toni, Arenda - where have you been all my life?

Now let's look at the mayor's reaction and consider once again to what degree he is a child.
* To Smith: "Very good. Make sure you meet the inspector general. He'll be in your office tomorrow morning . . . We'll make sure. He'll be in your office. Thank you."
* To Troutman: "It doesn't bother me." And then he "mockingly applauded." (The Tribune account, once it got around to the kerfluffle, put it this way: "Ald. Arenda Troutman (20th) won mock applause from Daley after delivering a speech in which she criticized inequities between African-Americans and whites as well as city jobs given to members of the pro-Daley Hispanic Democratic Organization." Nice. Way to be sincere about all those moves to win back black support in an election year.)
* To Preckwinkle: Well, neither account has the mayor responding to Preckwinkle, perhaps because she is one of the few council members with half a brain. And she was blistering.
"Ald. Toni Preckwinkle (4th) blasted the 9 percent share of city contracting awarded to black companies.
"'It seems problematic at best and damning at worst we haven't done better for African-Americans,' Preckwinkle said. 'Since I believe this is a can-do administration and that things are accomplished when there is a will behind it and a commitment to it, I can only conclude that both are absent in this instance. And that is very disturbing to me.'"
* To reporters after the meeting: "Everybody's against corruption - whether it's an employee, the president of a company, the chairman of the board - anyone. Everybody's against any type of corruption. Of course, I am too."
Mayoral Myths
And now, the lowlights. The Sun-Times continued to propagate some of its favorite myths.
* Fran Spielman refers to "the corruption scandals that have made Daley's life miserable for nearly three years."
Spielman has an incredibly short memory. Significant scandal has been with this mayor since he's had the job - for 17 years. You can look it up.
Not only that, why is the focus on Daley's life being made miserable, as if he's the victim?
* Daley's budget "includes no new or increased taxes."
The council approved the LaSalle Street TIF district at the meeting. If Spielman would take the time to read Ben Joravsky, she would learn how Daley's use of TIF districts does in fact raise your taxes.
* What does it mean for a budget to be "a perfect blueprint for re-election?" That it's a political document, and not a financially responsible one?
* The budget "freezes the property tax levy for a third year." True, but it doesn't freeze skyrocketing property taxes. Daley has the luxury of not having to raise the levy, while gentrification squeezes long-time middle-class homeowners out of their neighborhoods and fills his coffers.
* The budget "holds the line on all other taxes and fees." I'm pretty sure a close read of the budget would yield a different verdict if you include things like increased parking ticket enforcement, just for starters, not to mention increased fees at the park district and the CTA, whose budgets don't leave City Hall without mayoral approval.
Despite their outbursts, Smith, Preckwinkle and Troutman voted for the mayor's budget, which passed unanimously. My question: How many reporters in town do you think have actually read the budget? The Over/Under is 2.
Double-dealing Dems
How does Nancy Pelosi ride into the Speaker's office on her high ethical horse and drag Jack Murtha and Alcee Hastings with her, not to mention business-as-usual armtwister money-man extraordinaire Rahm Emanuel? Does the incoming Dem leadership look like a change to you?
Then again, Trent Lott is back in the Republican leadership, so the two-party system is working.
Sneedlings
Everything she has written this week is incredibly old or just rehashed from other publications. I'd go item-by-item, but it just makes me tired.
Kool-Aid Nation
Presenting the Bears-Haters Guide To Watching The Bears With Bears Fans.
From the same folks who brought you How To Make Angry Sports Radio Calls and The Bears Bandwagon Starter Kit,
And don't miss The Sporting Life, our guide to your week in leisure. Loosely defined.
Daley Double
The City Council on Wednesday approved the creation of $300 annual parking permits for real estate agents, social workers and home health care providers which will allow them to park in neighborhoods with residential stickers.
"The 44-4 vote came only after Finance Committee Chairman Edward M. Burke (14th) informed aldermen they had no choice," the Sun-Times reports. "If they failed to approve the permit, it would blow a $2.4 million hole in Daley's 2007 budget."
A) So why not just eliminate the City Council if the way they must vote is pre-determined?
B) And the problem is . . . what?
C) Remember all those complaints about the lack of congressional oversight?
D) I thought there weren't any new fees. I guess $2.4 million doesn't count. But wait - is the administration saying they will take in more in new permit fees than they were getting in neighborhood sticker violations from these people?
The Buck Stops There
"Residential permit parking came in through the aldermen - not through the executive branch," Daley said. "We had nothing to do with this."
And he's powerless to do anything about it now.
General Assemblage
Illinois legislators took measures on Wednesday to raise the state's minimum wage by a dollar an hour and earmark the resulting increase in workers' earnings to ComEd.
Blackout
"Senate President Emil Jones (D-Chicago) has expressed opposition to the [rate-freeze] bill, while a bloc of black Democratic House lawmakers have remained neutral toward it."
ComEd's racially-based lobbying strategy pays off.
False Start
"Only 14 people have enrolled in a new Illinois veterans health care program that Gov. Blagojevich billed as vital to helping thousands of people who don't qualify for federal aid," an AP report says.
"Aides to the governor called it 'a very good start' Wednesday, although some lawmakers criticized administration of the program."
Some lawmakers didn't?
But more importantly: 14 people!
House of Rahm
"Schumer said he and Rep. Rahm Emanuel - the boss of the House Democratic campaign committee, who is expected to be elected to a leadership spot today - made a list of what they consider abusive campaign practices," Lynn Sweet reports.
The ones that worked they put in safekeeping for the next election. The ones that didn't they called for eliminating.
The Beachwood Tip Line: Join the B-team.
Posted by Beachwood Reporter at 7:51 AM | Permalink
Chicago In Song: Dino and the Stewbums
In this edition:
Little Ole Wine Drinker Me / Dean Martin
The Woman Downstairs / Handsome Family
Even though Dean Martin never lived here, he and Chicago really go together. It probably comes from the fact that Dino spent so many nights here in the '50s and '60s playing gigs in mob-owned nightclubs, ostensibly paying back his early-career gambling debts.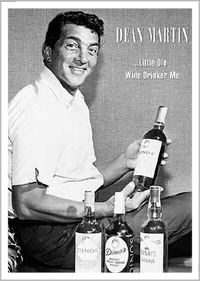 The highlight of that particular string of efforts came, critics agree, during a spectacular weeklong gig with fellow Rat Packers Frank Sinatra and Sammy Davis Jr. at the Villa Venice Supper Club in Wheeling in November 1962. The Villa was owned by Sam "Momo" Giancana, to whom not only the various Rat Packers but even the then-president of the United States were indebted. The story of the Villa was recounted last year by Robert McCoppin of the Daily Herald:
"Located where Allgauer's Restaurant now sits, near the Des Plaines River, the Villa Venice had a boat landing with Venetian lanterns on the banks, where patrons could ride in a gondola. For an out-of-the-way club, the Villa Venice somehow got top-flight talent, including Sinatra, Davis and Martin, and then-popular singer Eddie Fisher.
"Sinatra's daughter Tina wrote in her book that to repay Giancana for help getting the union vote for John F. Kennedy in 1960, her father brought the Rat Pack to do several shows at the Villa Venice. In 1967, the theater and restaurant burned down in a mysterious fire.
"Bill Hein, a member of the Wheeling Historical Society, was at the Rat Pack show. He said the club was gorgeous, with satin ceilings and tapestries, and the show was fabulous. Hein, a former volunteer firefighter in Wheeling, was also there the night Villa Venice burned down.
"'I've never seen anything go up so quick in my life,' he said.
"In the years Villa Venice was open, according to Crimemagazine.com, the FBI estimated the supper club and gambling at a nearby Quonset hut grossed over $3 million."
With all of these rich Chicago connections, it was probably inevitable that Dino would do a song that referenced the city in its lyrics, and he did in 1967 with a version of "Little Ole Wine Drinker Me," a song written by country-western scribe Hank Mills along with Dick Jennings. It was a Top-40 hit for Dino, who was then in the midst of his Reprise Records phase and whose NBC-TV variety show was at its height of popularity. He was also appearing in the movies in the guise of James Bond rip-off Matt Helm.
The song played off of Martin's image as a boozer, of course. And like a lot of Jimmy Bowen-produced '60s stuff, "Wine Drinker" has that soft country-pop sound that Martin helped to pioneer. Lyrically, it falls into that category of songs that use Chicago as a metaphor for someplace you can go to to escape love trouble back home and start over, usually with the help of an always-available job. In music, as in life, the main reason people seem to come here is to make money.
In the song, the singer has relocated here from Nashville, which cements the Chicago-country music connection, but instead of working he spends most of his time drinking:
I'm praying for rain in California
So the grapes can grow and they can make more wine
And I'm sitting in a honky in Chicago
With a broken heart and a woman on my mind
I matched the man behind the bar for the jukebox
And the music takes me back to Tennessee
And he asked who's the fool in the corner crying
I say a little ole wine drinker me
I think the biggest difference between Chicago and Nashville is that down there they mostly drink beer and Jack Daniels to forget. But is it really any easier to escape the past on Clark Street than it is back in the smallville you came from?
I came here last week from down in Nashville
'Cause my baby left for Florida on a train
I thought I'd get a job and just forget her
But in Chicago, the broken heartache's still the same
Dino's ultrasmooth delivery could really put over the country heartache, which is not something he gets much credit for thanks to his years of hanging with Momo and the Chairman of the Board out in Wheeling.
Also, in an interesting note, "Little Ole Wine Drinker Me" also charted for movie star Robert Mitchum in the same year. It had to be one of the few times you could buy dueling versions of movie stars singing the same country song.
The Woman Downstairs / Handsome Family
For my money, this is the strangest as well as the coolest song ever written about Chicago. And from my perspective as a one-time, near-penniless haunter of North Ashland Avenue, probably the most accurate. Rennie Sparks, kudos to you - with this song you have totally captured the feeling of what it's like to sink into the emotional and spiritual abyss that is Chicago.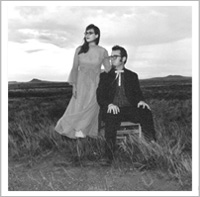 In fact, I put it to you that "The Woman Downstairs," from the Handsome Family's 1998 album Through the Trees, captures in musical form the modern-day equivalent of Nelson Algren. With Brett Sparks' spooky deep voice singing Rennie's depressing yet oh-so-true words depicting the mournful reality of the poverty lurking just beneath the veneer of Wicker Park yuppie-dom, I can vividly recall that unsettling sensation of living in a neighborhood that is at once glamorous and riddled with decay.
Chicago is where the woman downstairs
Starved herself to death last summer
Her boyfriend Ted ate hot dogs and wept
With the gray rats out on the fire escape
In a thrift store chair I drank cases of beer
And dreamed of laying down on the El tracks
The trains roared by under smoke-gray skies
Lake Michigan rose and fell like a bird
And when the wind screamed up Ashland Avenue
The corner bars were full by noon
And the old stewbums sliding down their stools
Ate boiled eggs and fed beer to the dogs

This song just gets it so right. The wind does indeed scream up Ashland Avenue. That's what you find out if you ever have to stand out there waiting for a bus in January. If it doesn't come, you have the option of ducking into one of the bars, which on weekend nights seem so charming because they're authentic dives. But if you actually live near Ashland Avenue (rather than fleeing back to Schaumberg after closing time) you know that if you go into these places at noon on a weekday it's a different story. That's when you can rub shoulders with your real neighbors: starving little old ladies and "stewbums."
The woman downstairs lost all her hair
And wore a beret in the laundryroom
I borrowed her soap and bought her a Coke
But she left it on a dryer
She died in June weighing 82
Her boyfriend went back to New York
The cops wandered through her dusty rooms
One of them stole her TV
Tell me, how many songs can so effortlessly evoke the heartlessness of Chicago with so few well-chosen words? It's basically a just a cold, windy, mean place full of losers and slowly dying alcoholics. And that's just why I love it.
*
Visit the Chicago In Song archive.

Posted by Don Jacobson at 2:39 AM | Permalink
November 15, 2006
The Blue & Orange Kool-Aid Report
The further along we get in this Bears-infested season, the more desperately those of us outside the Kool-Aid Nation need to support each other. Here are some guidelines to help you if you are forced to watch the Bears with Bears fans.
1. Come with gifts. Sure, last week I gifted the 12-pack Ken left at my house two weeks earlier. This re-gift is appropriate and appreciated in guy-dom. The extra bag of BBQ chips softened him up.
2. Allow Bears fans time for pre-game hubris. A wise person once said, "You cannot reason with the unreasonable." Allow Bears fans time to say things like "This game is over early" and "Urlacher sits at the right hand of God." Remembering these quotes for later. And later will arrive - one of these weeks.
3. Prepare talking points. Both kinds.
a) Facts. Gather general information about the Bears. For instance, mentally note recent running backs who have run for more than a hundred yards against the Bears. Note Rex Grossman's quarterback rating on the road. Commit to memory Bears wins vs. teams with winning records. That one's easy.
b) Insults. Mix in standards like, "Wow, nice Urlacher jersey. For a moment, I thought you were Urlacher was right here until I noticed there where 10 other Urlachers here," with obscurities such as " What a mistake by Jason McKie. Put in the backup!"

4. Don't bring a notepad. When the Bears are going good, Bear fans will say something stupid and then demand that you write it down. When the Bears are going bad, Bears fans will say something stupid and punch you in the face for writing it down.
5. Repeat inappropriate catchphrases liberally. "That had to hurt - not!" "Grab some benchmarks!" "Sexy Rexy Apoplexy!" "The Prophet's open!"
6. Use facts to bring reasonable Bears fans to your side. After Tiki Barber ran for a big gain, Ken exclaimed, "Barber stinks!" I countered with, "Barber leads the NFL in yards rushing."
7. If the Bears are losing or playing badly, pit reasonable Bears fans against unreasonable Bears fans.How do you know who is reasonable? Reasonable fans reserve from doing the following: Call for Griese, name Gould as their favorite player, or wear Urlacher jerseys. Use your new allies to annoy unreasonable fans. Watch fight. Open beer. Enjoy.
Follow these guidelines and your Kool-Aid soaked environment becomes tolerable. Besides, it's 11 weeks until the Bears first-round home playoff loss, so use these guidelines to keep your spirits up.
Chicago at New York Jets
I cannot say the Bears are lucky, but they are fortunate. It's been seven years since a team converted a 20+ run on third down. As for the Giants, "Coughlin" and "out-coached" appears in the same sentence often, a little more than "Lovie" and "No adjustments to game plan."
Don't be surprised if the Bears find a way to lose. The Jets are healthier than the Giants and, coming off their win in New England, have something to prove.
Pick: Jets plus 6.5 points/Over 38.5
For Bears win:
Sugar in the Blue and Orange Kool-Aid: 85%
Recommended sugar in the Blue and Orange Kool-Aid: 55%
Sugar in the Super Bowl pitcher: 94 percent.
Recommended sugar in the Super Bowl pitcher: 78 percent.
*
For more Emery, see the Kool-Aid archive, and the Over/Under archive. He can be contacted at Eric_Emery12345@yahoo.com. Or berate him publicly.

Posted by Beachwood Reporter at 8:18 PM | Permalink
Over/Under
This week we match NFL teams with their corporate archetypes.
The Superstar Salesman: One guy in your department gets all the attention. Sure he's talented, but you're working hard too and nobody seems to notice. Plus, in crunch time he seems to disappear, I mean, the individual awards are nice but he's not exactly meeting the company's goal of being the best in its field.
Welcome to Peyton Manning's Indianapolis Colts. The Colts have two players: Peyton Manning, and the guys who play with Peyton Manning. Imagine busting your rump for 60 minutes and getting crushed by 300-pound guys. As you hobble back to the locker room, all you are asked is "How does it feel playing with Peyton Manning?"
Making matters worse, Manning shows up on every third commercial on TV. Clearly, Manning is preparing himself for Congress after football. Not only is he popular, he understands that it pays more to take money from corporations than from your regular job.

Bill Lumberg: Imagine if your boss asks you to take a pay cut in order to use the money to buy better talent, then your company farms customer service out to India and places 15 temps under your direction.
Welcome to Tom Brady's New England Patriots. Brady accepted a pay cut but the Patriots failed to lock up Super Bowl MVP Dion Branch, and signed a multitude of cast-offs. Just like at your workplace, personal sacrifices that are supposed to be "good for the company" almost never are.
Crazy Boss: For years your company does poorly. Mediocrity rules the day. In a last ditch effort, they bring in a seemingly qualified manager to turn it around. Problem is he is half bat-shit crazy. Initial momentum crumbles; the wheels fall off and all hell breaks lose.
Welcome to Dennis Green's Arizona Cardinals. Green fires his offensive coordinator; the team averages 11 points a game under Green. Green holds a 29 percent fan approval rating - two points worse than George W. Bush. And unlike Bush, Green's father can't bail him out.
Crumbling Corporate Monolith: You are a proud company, steeped in a proud tradition, and you are slowly sinking into a mire of filth. Your CEO speaks of the proud tradition, yet success seems decades in the past. You bring in managers from the past to recapture old glory. Problem is that they moved on to different careers like "Director of Human Resources" and "Food and Beverage Director" upon leaving the first time.
Welcome to the Oakland Raiders. Art Shell's second tour-of-duty is even worse than the first. Why? Because he hasn't worked since being laid off! He hasn't kept up with his industry, and his boss is living in the past. Tradition isn't enough. There's this thing called the Internet now. Learn it.
Last Week: 4-2.
Season: 21-35-2.
Here are the over- and under-hyped games of the week.
Over-hyped: San Diego at Denver
On paper, this game has everything - division rivals with 7-2 records meeting to determine who is the lead dog in the AFC West.
Both teams have nice defensive stats, but they came mostly at the expense of bad teams. San Diego is the hot team, and you would do well to place your chips on Tomlinson, not Plummer. Won't be as close as the hype; the Chargers roll.
Pick: San Diego plus 3.5 points/Over 39.5
Under-hyped: Indianapolis at Dallas
Indianapolis stinks against the run. Parcells leads a crazy team, but he is not crazy. The Cowboys will learn from the Bills: Run, run, run. Keep Manning on the sidelines. Dallas makes this the Game of the Week.
Pick: Dallas minus 2.5 points/Under 48
*
For more Emery, see the Kool-Aid archive, and the Over/Under archive. He can be contacted at Eric_Emery12345@yahoo.com. Or berate him publicly.
Posted by Beachwood Reporter at 7:42 PM | Permalink
What I Watched Last Night
Dog the Bounty Hunter. I can't believe it has taken me this long to get to it. Dog is the name of the man in the show. He has a wife and a brother and a couple of cousins or maybe they are his kids but nonetheless they all work together to catch crooks living in Hawaii. Yes, and they all wear black from head to toe and some of them wear tribal beads and necklaces. I'll get to the black thing in a sentence or two but the tribal headdress and necklaces must come first.
Tribal ornaments are usually meant for the members of a tribe and I find it dubious that this Dog character is a member of any tribe other than his family. Some families have crests and traditions and some even dress their kids to match the parents, but to each his own. Now, the black thing. Black must signify the stealth that Dog and his pack must have to maneuver the tough streets of Hawaii. And to intimidate the tough guys they come upon.
Think about it. If a man and his family broke down your door dressed in black outfits without sleeves holding handcuffs and yelling, you would be a little intimidated. I sure would be, however, if anyone broke down my door I would be a little stressed.
So, dressed in sleeveless outfits and talking into walky-talkies, they hunt down these violent offenders, excuse me parole violators charged with drug possession a month or so ago. Usually, these offenders are usually high on the same type of drug they were put on parole for and relatively sedated, therefore, easily apprehended. However, when the doors break down and the pepper spray is pointed at them and
handcuffs are put on the offender, it is really exciting. Justice is served. And yes, I did say pepper spray instead of guns a blazin'. See, in Hawaii it is illegal for a bounty hunter to have a gun. So, a word to a would-be probation-breaker in Hawaii: Carry a gun.

After all, ou have already broken the law once and now again with violating probation and you are probably high on meth. Why don't you just go for the whole lot and carry a gun? It would put a rise in Dog. That in itself is worth a long prison sentence.

See, when Dog gets all riled up he starts speaking of all the things that the offender has done wrong and how much pain the offender is causing all the people in his life. Then the waterworks kick in - no, not from the offender, but, rather, Dog. As Dog exhales the smoke out of the SUV he is riding in, wrap-around sunglasses not able to keep those welled-up tears from streaming down his weathered face and blond locks with nonsensical ornamental beads and braids fluttering in the wind, you realize that this show is completely awesome. Dog then breaks into Bible verse quoting things that are not even in the Bible. The harder he cries, the better it gets.

Here is a guy who has named himself Dog. He is emotional. He is deranged. He has a small slice of power. He makes up quotes from the Bible. And he is crazy. Giving a guy all of this ammunition and then expecting him not to put on a show is idiotic. Bible passage is a powerful thing; apparently it is even more powerful when you make it up yourself. So here we go, my fake Bible passage in honor of Dog:

"And on the eighth day He created a man with limited power and an inferiority complex. He gave this man a black sleeveless T-shirt and a tribal name. The name created on this eighth day was Dog, and Dog roamed the Earth curing the social ills that the police couldn't care less about, and he earned a dime doing it." - Dog 3:16
Posted by Beachwood Reporter at 10:00 AM | Permalink
The [Wednesday] Papers
Okay, the chief justice of the state Supreme Court wins a libel suit and a $7 million judgement and it's not front page news at the Sun-Times?
The 7-year-old son of a Chicago woman holed up in a church to avoid deportation for entering the country illegally travels to Mexico to speak to lawmakers who pass a resolution asking that the woman not be deported and its not front page news at the Sun-Times?
A "small army" conducts a brazen daylight raid and kidnapping at the Iraqi Ministry of Higher Education in Baghdad - we cannot even secure the Iraqi Ministry of Higher Education in Baghdad - on a day when 117 people were killed around the country in a deteriorating situation that is nearly beyond catastrophe and it's not front page news at the Sun-Times?
And, just to be fair to its nature, O.J. Simpson will go on TV and describe how he committed the murders of Nicole Brown Simpson and Ron Goldman . . . "if he did," and it's not front page news at the Sun-Times?
"SCHOOLS SETTLE RACIAL RIFT" is better than "O.J.: HOW I DID IT!"?
Must-reads
* The Real Estate Fairy.
* Rod Blagojevich: Getting Things Done.
* The real exclusive in the city today, by one of Chicago's stellar reporters.
* The House That Rahm Sort of Built.
* Greatest Dog the Bounty Hunter review ever.
Rev. Chump
Meeks wishes he would have run. (fourth item)
Minimum Thought
I didn't think anyone seriously believed anymore that raising the minimum wage resulted in job losses. Despite what the Tribune editorial page says this morning, the evidence that has piled up in recent years shows that hiking the minimum wage has virtually no effect on job availability - and in fact its positive effect on the economy ultimately creates jobs.
But the Tribune editorial page not only doesn't want the minimum wage raised, it doesn't seem to want it at all, asking in a readers' poll question if government should have any say on the wages employers set.
Now, let me ask you: Are we better or worse as a country for having minimum wages? Is our economy better or worse?
It does us no good to have people working 40 hours a week only to be mired in poverty and taxing our social services. A higher minimum wage actually saves taxpayers money in the end.
The Tribune does have an alternative idea: Expanding the Earned Income Tax Credit. So instead of requiring employers to pay a minimum wage, the Tribune wants taxpayers to subsidize workers' paychecks.
Don't get me wrong; I love the Earned Income Tax Credit. By all means, expand it. And raise the minimum wage. They aren't mutually exclusive.
Businesses do not operate apart from society or the law; they are regulated like any other enterprise. After all, by the Tribune's logic, you could argue that safety provisions cost jobs too. Or that allowing vacation days cost jobs. Or that 8-hour days with weekends off cost jobs.
You could also argue that subsistence wages are just as much a risk to the health and welfare of workers than unregulated toxic fumes.
Beyond that, mininum wages are just one piece of the puzzle. Even if they did cost jobs, other pieces of the economic development ought to be - and are - in place to fuel other job creation strategies. For example, there is actually a labor shortage in a wide array of well-paying fields that could be filled through training and education; there is also simple geographic mismatches. As Jesse Jackson Jr. often says, there are more jobs in the Northwest suburbs than workers who can fill them, but far fewer jobs on the South Side and in the South suburbs than workers who want them. (Which is why he's so adamant about building the Peotone airport.)
Raising the minimum wage is the right thing to do. The Tribune editorial page can't see that in its heart because, well, it has no heart. You can't cut your way to growth, much as the Tribune Company is trying. Same lesson applies to wages. Economies grow on investment, not withdrawal.
Chip Dip
"Mayor Daley today will introduce an ordinance to provide a $4.5 million city subsidy to Jays Foods Inc.," the Sun-Times notes today (second item). I eagerly await the Tribune's next editorial against government sticking its nose into the affairs of business.
Treasury Joke
Ha ha ha! Ooh boy! Whew! I'm in stitches! Stop! Please!
CTA Slo-Mo
The CTA can't afford to fix its slow zones.
Can't they sell sponsorships for that? This fast zone brought to you by Fast Eddie Vrdolyak? Or "From 7 to 11 in under four seconds, brought to you by 7/11"?
Or go the other direction and get Comcast to sponsor the slow zones.
By the way, the CTA can't afford Fast Frank Kruesi at the helm anymore. Neither can the mayor.
Bill the Butcher
Friend of Rod, Rich & Mike.
Their Truck
It's even worse for people who buy those Chevy trucks; the radio only plays one song.
New Boss
QT forgot to mention the Abscam episode of Jack Murtha, Nancy Pelosi's choice for House Majority Leader. Among other indiscretions.
Kentucky Fried Area 51
This is just wrong.
Keeping Up With Jones
"We've already had a 10-year freeze. Maybe we'll freeze your salary for 10 years and see how you guys react," state Senate President Emil Jones told reporters who asked him why he opposed freezing ComEd's rates.
Um, Senator Jones, reporters pretty much have had their salaries nearly frozen for 10 years - those who still have their jobs anyway - just like the rest of your constituents. So, how they react is that they want to know why ComEd needs huge rate hikes when its parent company is hugely profitable.
Jones, the Sun-Times notes, "maintains a close friendship with ComEd's chief executive."
So he's recusing himself from this one, right?
Cow Droppings
Phil Ponce teaser on Chicago Tonight last night: "And Mancow Muller will share his thoughts about the aromas we cherish."
Pass.
Tarnished Gold
Is Chicago better off without San Francisco in the running for the 2016 Olympic Games? "It changed the landscape more for Los Angeles," the Tribune's Philip Hersh said on Chicago Tonight last night.
Why? Now L.A. has statewide unanimous support for its bid. Everyone in Chicago knows you're better off with two opponents on the ballot instead of one to split the vote.
More interesting, Hersh says - and has written - that San Franciso's stadium problem brings in sharper relief the fact that Chicago hasn't yet built a stadium, nor even has solid plans to go on. If the mayor had shown some foresight when he built Soldier Field, Hersh said, the city's chances of landing the Olympics would be "dramatically better."
The investment ahead is enormous. A billion dollars for an Olympic village, for example, and more to build many of the needed sports facilities. L.A., by contrast, already has its facilities in place and will use existing housing, including college dorms, for its Olympic village. L.A. needs to invest less than $200 million to pull the games off.
As consultant Marc Ganis pointed out, though, L.A. has a bit of the "been-there, done-that" factor. Which is why I think the United States Olympic Committee will pass on a 2016 bid.
In any case, both Hersh and Ganis thought Madrid had the best chance to land the games - the current competition is just for the U.S. entry. Two years of prep and lobbying will follow before the International Olympic Committee makes its choice.
Olympic Economics
Civic leaders who preach the economic benefits of events like the Olympics ought to be honest and just say, "No, it won't make money, but it will be a helluva lot of fun." Because that's the truth.
"The goal is to break even," Hersh said. "It's not going to be that one-time rainfall that people think."
In the meantime, the city is putting a lot of time, energy, and money into a bid that only came to realization in an election year when the mayor changed his mind about his past position on bidding for the Games.
As one reader put it to me, this isn't Daley's Dream (phrase used eight times since Sept. 21 by Fran Spielman), it's Daley's Smokescreen.
The Beachwood Tip Line: Ring it up.
Posted by Beachwood Reporter at 7:59 AM | Permalink
November 14, 2006
What I Watched Last Night
When I think of America, I think of raging wild fires in the West and floods in the South and the Twin Towers of the East. Neither I nor John Cougar Mellencamp tend to think about anything in the North, most likely because the North has been pretty much free of natural and terror-related disasters recently.
I am, of course, referring to the advertising stroke of genius known as the new Chevy truck commercials featuring the musical talent of Johnny Cougar Mellencamp, or John Mellencamp or John Cougar - depending on your generation.
Johnny C. sings about what America is to him and us because he is the voice of our country, according to him and the geniuses at Chevrolet. As he belts out "This is our country!" there are great scenic shots of America, including a panning shot of the aftermath of Hurricane Katrina and fires burning out of control in California. The new commercials in the series, using the same song, feature photos of people who define what America is, like that race car driver who died in a car wreck. Well, actually he died racing a car at ludicrous speeds in close quarters with other cars going roughly the same speed in a relatively tight area - roughly a quarter of a mile in a circle. So you be the judge if that describes you.
There are also shots of farmers and men drinking coffee with each other. I can't remember the last time I was on a farm, and I am from Nebraska. I can't remember the last time I enjoyed a cup of joe with the fellas. Again, if this describes what you do in your free time, this truck is for you.
After viewing the destruction of Katrina, wild fires, and 9/11, I felt so American that I have decided to
write Chevy's next commercial. It will open with another Johnny C. song, "Small Town," and pan through Pearl Harbor on the day of infamy, then to the book depository in Dallas, Texas. For the final part of the commercial they can go with either one of two things: the Oklahoma City bombing or the San Francisco earthquake. That is the CEO's job to decide, not mine.
As far as a hero who only appeals to one third of Americans? That is tough. Possibly that race car driver drove a Chevy in his races. That really opens a can of worms, though. If he drove a Chevy and he died in a Chevy, well, then maybe Chevy isn't the car for us.
The people at Chevy think the best way for us to be great Americans is to buy their cars that drink highly priced foreign beverages for every meal and then craps the leftovers into our sky so we can inhale them every time we step outside.
I still don't know that has to do with fires and hurricanes and terrorist attacks and a past race car driver and men hunting with a couple of dogs, but hey, that's advertising for ya, it has always been good at duping me into buying products. Remember Mentos? I never got those Mentos commercials but I still bought the product. In those commercials someone would violate a law or social norm, get a weird look from a person that disapproved, and then eat a Mentos and everything was fine. At the very least, eating Mentos only cost us a buck instead of two-and-a-half for a gallon of delicious drink for my huge truck that drinks and farts gas out at an alarming rate. The drink has led us to a war that was caused by a terrorist act. The farts warm up the earth that creates intense hurricanes and severe droughts. And Chevys kill heroes who portray America.
Wow, Chevy trucks really do embrace this country. They they seem to be responsible for all those things we see in their commercials.
Posted by Beachwood Reporter at 9:39 AM | Permalink
The [Tuesday] Papers
So . . . how 'bout those Bears?
The Bears have been proving me and the Beachwood Sports Affairs desk wrong all season, but when they lose in the first-round of the playoffs, we'll finally get to say we told you so.
Meanwhile, this is pretty cool. And here's a bunch of other Devin Hester returns.
MLK Memorial Day
The groundbreaking ceremony for the new Martin Luther King Jr. memorial on the Mall in Washington, D.C. was a stunningly beautiful and emotional event. I saw clips on The NewsHour with Jim Lehrer (excerpts can be downloaded here on the right rail) of a few of the speeches and was struck in particular by a line from former president Bill Clinton, which is getting a lot of play: " "When the real battlefield is the human heart, civil disobedience works better than suicide bombing," Clinton said. "Fighting your opponents with respect and reason works better than aspersion and attack."
The ceremony drew coverage worldwide - at the very least in wire service snippets - including in newspapers in South Korea, Ireland, Australia, and China. The Tribune, appropriately, put their story on its front page.
The Sun-Times, on the other hand, skipped the story and was satisified instead to put a photo with an inset of a blurred piece of indecipherable artwork on page 5, besides the "Homeowners In Need Of Cash?" and Mont Blanc watch ads. At least it was above the paper's "Let Us Hear From You! What is it with men and women, anyway?" plea to readers to write in about their relationships. The plea went on for 68 words. The MLK memorial photo caption was 59 words.
CNN has additional MLK memorial resources here.
Lucky Luis
Tim Novak of the Sun-Times looks at the sale prices of the 17 units of a townhouse development on the Chicago River just north of Diversey Avenue and finds the one that doesn't look like the others: The one belonging to U.S. Rep. Luis Gutierrez. And who built the development? Tony Rezko.
Just a coincidence, Gutierrez says.
Luis Landowner
"Gutierrez, 52, and his wife buy and sell houses every few years in booming neighborhoods," Novak writes. "Their aim, he said: To make money. In the last seven years, they've bought and sold five homes. Usually they buy a lot and build the home themselves. The lone exception was the town house they bought from Rezko's company."
Olympic Dream
He says it, she writes it.
Olympic Reality
Is it good news for Chicago's Olympic bid that San Francisco has dropped out? Not necessarily.
Daley Dose
"Mayor Richard Daley said Monday that he isn't behind a move by the Chicagoland Chamber of Commerce to back a slate of sympathetic aldermanic candidates, but he asserted that the influential group is free to support whomever it likes."
True. He's in front of it.
Chamber Maids
Voters may want change but in Illinois they're about to get more of the same. The General Assembly is getting ready to give themselves a pay raise to go along with their "multimillion-dollar reconstruction of the House and Senate chambers." After that, they may have time to consider your interests, but who knows.
One Mayor, Two Chicagos
"Also Monday, Daley turned aside the complaints of advocates for the homeless who came to City Hall seeking additional funding.
"'We have more homeless housing than all the suburbs combined,' he asserted. 'We have done our part.'"
(See if you can spot the multiple fallacies in that statement.)
"The Chicago Coalition for the Homeless called for $55 million on top of the $17 million in next year's budget. It contended that the city will fall short of its goal of ending homelessness by 2013.
"Ellen Sahli, the mayor's liaison on the homeless, said she is confident the goal will be met."
Here's an idea: A TIF district for the homeless.
Partisan Logic
Both the Tribune and Sun-Times editorial pages argue this morning that if the Democrats are serious about bipartisanship they will confirm John Bolton as United Nations ambassador. It never occurs to them that if the president/Republicans were serious about bipartisanship he/they would withdraw the nomination. After all, Bolton was an unmistakably in-your-face choice for the post. Bipartisanship inherently means governing from the center, and Bolton is nowhere near it.
Fuller Brush
See if you can spot the fallacy in the argument put forth today by former Tribune Co. president and Tribune editor-in-chief Jack Fuller.
"[Hugo Chavez] warns of a covert campaign by George Bush to to topple him from power. Everyone understands this to be as clownish as Chavez's UN speech, except that the United States has repeatedly played into his hands, just as it so often has with Castro.
"For example, during a coup against Chavez early in his presidency, it was clear to everyone that the U.S. supported the usurpers, who quickly failed. Now comes a report in The New York Times that the U.S. has sent millions of dollars to Venezuealan organizations that oppose their president."
Oh, I get it. Chavez is clownish because the covert campaign he is warning about is so obviously overt.

Toddlin' Town
Carol Marin hosted Cook County Board President-elect Todd Stroger and interim Cook County Board President Bobbie Steele on Chicago Tonight last night and once again proved that she was the only one at the table capable of being Cook County president.
For anyone foolish enough to think that Stroger is going to suddenly grow into the job, last night's appearance was as dispiriting as his campaign. And Steele all but said she would name one of her kids to replace her if she decided to retire and get a pension based on her being president, rather than going back to being a commissioner and the lesser pension that goes along with that.
Campaign Rap
The candidates who didn't vote for themselves.
Warming Trends
Mmmm, Sweden.
The Beachwood Tip Line: Constantly adjusting tactics.
Posted by Beachwood Reporter at 8:15 AM | Permalink
November 13, 2006
The [Rahmbo] Papers
Rahm Emanuel is certainly the Man of the Hour in American politics at the moment - partly because he deserves to be and partly because he's a pro at managing the media. Let's take a look.
Architect of the Tribune
The Tribune called Emanuel "Architect of a Turnaround" on its front page on Sunday, promoting its special "insider" report recounting Emanuel's role in last week's takeover of the U.S. House as head of the Democratic Congressional Campaign Committee. The Tribune got access to Emanuel for months in return for not publishing anything until after the election.
This was to Emanuel's advantage, of course. Placing another reporter inside the operation of Democratic National Chairman Howard Dean would have produced a fuller report - and very different view of the campaign. Instead, we got "The House That Rahm Built."
Not to diminish Emanuel's considerable if repugnant political skills, but the hyperbole and spin is stifling. Let's take a look.

* Just for starters, did Emanuel really, as the Tribune claims, remake the Democratic Party in his own image? I mean, stop and think about that for a second. It's laughable on its face. It's nonsense. Besides, Emanuel is described in the article as an incredibly unlikable, profane, ruthless operative. I don't think the Democrats have become that quite yet.
* Who deserves more credit, Emanuel or Dean? The Trib says Emanuel while its reporting shows Dean. The paper gives Emanuel credit for recruiting "candidates who could mount tough challenges in some of the reddest patches of America." But, as the paper recounts, it was Dean who insisted on a 50-state strategy and Emanuel who "felt Dean's strategy wasted money in unwinnable places." Like the reddest patches in America?
* "For all his forcefulness, Emanuel was not responsible for the political climate, either the failing war or the sex and corruption scandals racking the Republican Party," the Trib says. "But with creative recruiting, unremitting fundraising and a national message, he positioned the Democrats to exploit that collapse."
Again, follow the logic: If Dean pushed a 50-state strategy and Emanuel pushed a swing-district strategy, it would follow that Dean put the party in a position to exploit the Republican collapse, not Emanuel.
* Emanuel "muscled weaker Democrats out of races in favor of stronger ones." This statement by the Trib assumes that the candidates Emanuel rejected were indeed weaker than the ones he backed. But using the Tammy Duckworth campaign as an example backfires. The paper notes that Emanuel trained all the big guns at his disposal, including George Stephanopoulos and David Axelrod, at Christine Cegelis in Illinois' Sixth District. "Cegelis could not compete with this, losing 44 percent to 40 percent to Duckworth in the March primary," the Trib reports. But those numbers clearly show Cegelis could compete - she only lost by four percent going up against the party's own campaign committee chair! As a war amputee, Duckworth was an international sensation. Yet, she only increased the percentage of the vote Cegelis got two years ago by 4.5 percent - and only garnered 1.5 percent more than John Kerry got in the district in 2004 - in an election year in which the war was front-and-center. Not only that, but she lost to a conservative - not a moderate - in a district trending to the center.
* And those ballyhooed candidate recruiting skills? "Emanuel and his staff judged a candidate almost entirley by how much money he or she brought in," the Trib reported.
Rahm vs. the Netroots
Did Emanuel remake the Democratic Party in his own image? Did he recruit the Dem candidates that put his party over the top? From The New York Times on Sunday:
"[O]nline activists also gave some once-underrated candidates - like the Senate candidates Jon Tester and Jim Webb, in Montana and Virginia, respectively, and the House candidates Paul Hodes in New Hampshire and Joe Sestak in Pennsylvania - a chance to be taken seriously. All ending up winning on Tuesday . . .
"Mr. Webb, for example, was essentially drafted last winter by a network of national and Virginia-based netroots activists . . . in some cases the party even got behind some netroots-favored candidates that it had previously ignored or discouraged."
Guess who did the discouraging and ignoring?
Scorecard
So how did Rahm's candidates do? Let's take a look.
* And yet, Emanuel blames Dean for not pumping even more money into Duckworth's race.
* The vindication of Howard Dean also tells a different story than the one told by the Tribune.
Rahmbits
* For all its access got them, some of the material in the Tribune story already appeared in June in Time magazine - an article in which Dean said: "We're going to win some races in places people don't expect with this 50-state strategy." Dean's strategy, it was noted, ran counter to "the highly tactical approach that Emanuel has pursued, which is to pick winnable districts and candidates who can win them."
* The Trib article describes Emanuel as privately happy that Bush didn't fire Rumsfeld before Election Day, and shows him shifting strategy on the war to exploit increasing violence in Iraq. All in the best interests of Americans, of course.
* The Time article also said "Leaders of the House's black and Hispanic caucuses recently got so fed up with Emanuel over his reluctance to hire minority consultants for the fall campaign that they appealed to Pelosi to intervene, and she is working on brokering a truce."
* Pelosi calls Emanuel "cold-blooded;" Bob Novak calls him "too abrasive to be well-liked by colleagues."
* To his credit, he supported Forrest Claypool for Cook County board president.
* And he talks a good game: "I want to get moving out of what I call this wageless recovery. And I want to attack the problems on retirement, education, health care, because I don't want to bring out the old voices of the status quo just for old time's sake. And so, none of those ideas, whether you make children's health care universal, is small. It's accomplishable, and that - in and of itself - is worth looking at."
* He also made $18 million in two years as an investment banker between his stint in the Clinton Administration and his election to Congress. With no previous investment banking experience.
* "In the 2004 national election, an innocent voter could be forgiven for concluding that the Democrats' unifying principle was not how much we wanted to transform the country but how much we wanted to beat the other side. All we seemed to care about was winning - and consequently, we weren't very good at that, either. We didn't take a chance on our own ideas, for fear of losing. Instead of truly looking for answers to the country's problems, we hired consultants to look for slogans."
"Winning is everything."
Posted by Beachwood Reporter at 10:35 AM | Permalink
The [Monday] Papers
3. The Sun-Times described its Veteran's Day front page photo montage on Saturday thusly: "The 147 Illinois servicemen and women who have died since the 2001 attack on the United States."
I thought it was clear by now that the only link between 9/11 and the Iraq war was the one fabricated by the Bush Administration. I guess the press's old habits are hard to break.
4. All the president's father's men
5. Rumsfeld rolling a doobie has got to be the highlight in this election roundup.
7. Sneed was just "told" that President Bush's father couldn't stand Don Rumsfeld because apparently she hasn't read the papers herself for years.
8. I have to admit, I've had this thought. A Democratic takeover of the House, in particular, opens the door to the president changing course in Iraq while ostensibly saving face, as well as the chance to notch a few Clinton-like triangulated legislative accomplishments in an attempt to save his presidency.
9. Sammy Sosa still insists he never used steroids, but just what did his agent, Adam Katz, mean when he told the Sun-Times's Lacy Banks last spring that Sosa's virtual disappearance from the planet was because "I just don't want any spotlight on Sammy right now until all this [steroids] controversy has been cleared up"?
10. Ed Feulner's alternate universe.
11. As usual, my home-delivered Tribune and New York Times were delivered snugly to my doorstep on Saturday morning. My Sun-Times was left in a puddle on the stoop. At least it got there - my Sunday Sun-Times fails to arrive about once a month. The fishwrap rots from the head down.
12.The best section the Sun-Times publishes is "Controversy" on Sundays, but for some reason they fold it up and hide it deep inside the paper where even a fan like me often forgets to go get it. Fix this.
13. I'm not sure a single sane person on the planet thinks Saddam Hussein is innocent of crimes against humanity, but contrary to the Sun-Times's typically lazy thinking, his trial was anything but a fair model for an Iraqi democracy to build on.
14. For those without TimesSelect: "Iraq got neither the full justice nor the full fairness it deserved. President Bush overreached in calling the trial 'a milestone in the Iraqi people's efforts to replace the rule of a tyrant with the rule of law.'
"From the beginning, the now dominant Shiite and Kurdish politicians have been determined to use Mr. Hussein's trial and punishment to further their own political ends, as Prime Minister Nuri Kamal al-Maliki has continued to do in recent days . . . powerful politicians regularly tried to influence the outcome, judges were not allowed to rule impartially, and defense lawyers were denied security measures and documents they needed."
15. Bill O'Reilly would rule like Saddam.
16. Bill O'Reilly would really rule like Saddam.
18. Daley thinks the Bronx is racist.
19. Bill O'Reilly in the Urban Dictionary.
20. Bill O'Reilly, former tabloid TV anchor.
21. Bill O'Reilly, tabloid newspaper columnist. Appearing locally in the Sun-Times.
22. "These days, Democrats cannot seem to get beyond the notion that the president is an inarticulate lightweight. At best, they depict Bush as an amiable puppet running his seven-minute miles while Dick Cheney runs the country. In politics, as in war, the cardinal rule is to know your enemy. By that standard, the Democrats have paid a high price for their lack of interest in viewing Bush in anything other than cartoonish terms. As the Democrats bind their wounds after their recent electoral setbacks, they have theories to explain everything - except Bush's success," Walter Shapiro once wrote in USA Today.
"Few Democrats have faced up to the reality that Bush and his fellow Republicans know how to manage the government. Stephen Hess, a scholar of the presidency at the Brookings Institution, says, 'This is the best-run White House since Eisenhower.' As Hess notes in a new edition of his book Organizing the Presidency, Bush 'imposed his own ideas about running an executive office by making structural changes reflecting his priorities, goals and general approach to governing.'"
23.The media once fixated on George W. Bush being the first MBA president, but it doesn't much matter if you have an MBA if you didn't study and do your homework and end up getting us stuck in Iraq. Not only that, but how idiotic is the media to think an MBA makes that kind of difference? How many terrible managers have MBAs? Most of 'em!
24. Nineteen other countries are less corrupt than us.
25. "But what is really incomprehensible is this: Every other religion has essentially taught that man can get right with God on his own through good 'works,'" Betsy Hart wrote on Sunday. "Christianity is unique in teaching that man is sinful and can never get to God on his own, but instead needs a Savior to be right with God."
Um, okay. On one hand, the most caring, selfless, loving, and generous human beings among us can live noble, inspiring, admirable lives - and believe in God with all their hearts - but still not attain Heaven if they don't accept Jesus as Son of God; on the other, our most despicable, lousy, greedy, selfish, violent, hurtful, despotic sadists can attain Heaven simply by believing in Jesus as Savior. You tell me which one makes sense.
26. Before you flood me with e-mail, yes, I understand Hart doesn't necessarily get her theology right here.
27. Men are pigs.
28. AT&T: Your World. Delivered.
29. Wait a minute - only five cabbies of more than 13,000 in the city have had their licenses suspended in the last two years? I think the Sun-Times missed the story here.
30. By the way, don't send your bad cab stories to the Sun-Times; contribute (both good and bad) to our Taxicab Journal instead. We're on a mission to document every cab in the city, ride-by-ride, and now we're enlisting readers to help us out.
31. I propose a new kind of draft: If you support a war, you have to participate in some way, home or abroad, in whatever capacity the military deems serves its mission best. And cheerleading cheap patriotism to sell newspapers doesn't count.
The Beachwood Tip Line: It'd be cooler if you did.
Posted by Beachwood Reporter at 8:07 AM | Permalink
November 12, 2006
Urban Rebounding
Bouncing on a trampoline is just kid stuff until you learn to harness those G-forces.
What It Is: A small trampoline and a series of videos that teach you how to do a variety of exercises with it. A detachable stabilizing bar helps you stay on the trampoline.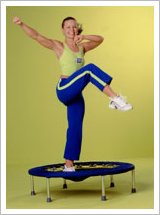 Description: The trampoline - AKA the Rebounder - is sturdier than those other trampolines, and exercise videos include Latin dance bounding, African dance bounding, hip-hop bounding, ballet bounding, yoga bounding, and oldies but goodies bounding.
Quote: "You'll lose weight and tone your entire body in just minutes a day - and have the time of your life doing it!"
Super-Motivational Quote: "You don't bounce high - you bounce strong!"
Shills: JB Berns (who says he created urban rebounding after suffering a martial-arts injury) channels the weasel-faced salesman by way of the overenthusiastic personal trainer. Today his student/potential buyer is Jen, an attractive blonde with a British accent. They are backed by a phalanx of 20-50 trampoliners (they're hard to count because of the gym mirrors). Most are females, with one or two males mixed in.
Set and costumes: Standard exercise wear mostly in a standard, mirror-walled gym.
Politics: Utopian. You can exercise your entire body, but it's easy on the joints, and apparently gets an incessant smile out of anyone who uses it. Plus, any bungling tourist can get into it, as proven by a demonstration in Times Square.
Cost: $14.95 to try the Rebounder, stabilizer bar, and two videos.
Gimmick: Science! "The magic of urban rebounding is how it uses the G-forces of gravity to exercise every muscle in your body." The infomercial says that astronauts use rebounding when returning from space travel, and it cites an unspecified NASA study that praised rebounding.
Bonus Gimmick: JB shows the blonde how to get started with the help of the stabilizing bar and everyone applauds, because it only takes her two seconds to get the hang of it. If all these people can cheer and smile in unison without missing a bounce, the system must be working.
Predictable Gimmicks: Close-ups of nicely toned female abs; before-and-after shots; shots of smiling bounders crosscut with shots of people looking miserable on stair-steppers and treadmills.
"Just Because They Can" Gimmick: JB bounces an egg off one of his trademarked Rebounders, and it doesn't break.
Strained Promise: "JB will be your in-home personal trainer."
Evaluation: Most suspect is the use of word "urban," because it's a portable system that you can use anywhere. Perhaps it will provide the illusion of sophistication to the suburban weight paranoiacs who will be attracted to such a product. Then again, if JB can so gleefully navigate the space between the two definitions of bounder, he must have a sense of humor. Plus, considering that he had to leave the distinctly more badass field of martial arts for this, he's a pretty good sport.
Score: 7.5
- Scott Gordon
Editor's Note: Now I must go perform 250 sun salutations to cleanse myself.
Visit the Infomercial Reviews catalog.
Posted by Natasha Julius at 9:15 AM | Permalink
Barista! The Perks
I realize that more often than not, I am ranting about the gloomy side of working for a corporate coffee chain. I may have mentioned before that the customers are not always the friendliest, nor even often bearable, for example. Perhaps I have referred to them as "assholes" once or twice. I even recall complaining about my district managers and some of the company's policies with which I may not entirely agree.
But despite my sanity-sucking hatred of corporatism, fast food, the general public, and, worse yet, the combination of the three in harmonious capitalism delight, I really do have a soft spot for my job. In sheer anticipation of the madness about to ensue now that the holiday season is officially underway, I want to reflect, even if only briefly, on the few enjoyable elements of my job.

Here, then, are the perks of being Barista!:
1. While my tales of customer service encounters usually focus on the nastiest of the nasty, there are a handful of customers who always make my day a little brighter.
Niles, the husband of my big-titted coworker, Leona, seems to be just as much of a cynical bastard as I am. During a group discussion at the store one day, the topic of the company's stock came up. Niles didn't even storm off when I mouthed "Fucking dork" to him for knowing the current stock price off the top of his head. In fact, this may have been the first time I saw a smile escape from his mouth.
Then there's Joe, who comes in the store a lot to escape visits from his mother-in-law. Joe hardly flinched when I first questioned his masculinity for always ordering a skim vanilla chocolatey drink. He did wonder, though: Isn't she supposed to be nice to the customers? I simply assured him that he'd be back three times the next day to throw away another $15 because he is an addict, and my shortage of niceness wouldn't change that. He agreed, and I've been rude to him ever since.
And finally, there are a couple of mothers who actually have control of their children and don't let them act like chocolate-stained chimps like most of the others do. Any time a mom denies a whining child or exercises some form of discipline, I thank her for taking the time.
2. Another enjoyable aspect of my job is my crew. Having just stood up at the wedding of one of my former co-baristas, there is no question that I always meet great people among my coffee workforce. Everyone who has ever held a job that emphasized teamwork knows how crucial it is to love thy co-worker.
Although it seems like I am paddling alone in my boat of cynicism, adrift a sea of corporate inanities, spinning metaphorically out of control, I work with some equally sadistic characters. Velma, for instance, can blind you with sunshine charm one second and call you a shithead the next. Such was the time she graciously accepted a windbreaker found on the floor by a concerned customer.
"Thank you so much, ma'am, we'll put this right into our lost and found!" She said with a sincere grin. It wasn't but a second later - after the concerned customer had turned around to walk away - that a straight-faced Velma, arm outstretched, opened her hand to let the windbreaker fall, stepped on it, and used it as a prop to glidingly dance across the floor on her way to the back room where she safely stored it.
The windbreaker reclamation scene the next day was almost as funny as Velma's moonwalk with it the day before. We all fought back laughter as the owner came in asking for it.
"I think Velma knows where that is, right Velma?" Offered June, another dark-humored barista, and coincidentally, Velma's best friend. I don't even have to tell you with what unbroken deliberate sweetness Velma returned the windbreaker to its owner.
3. Finally, in my heart of hearts, I am a coffee junkie. I highly value free and discounted access to anything java-related. I don't mess around with our nasty specialty sugar drinks, but boy do I cherish the whole beans. My genuine love for coffee eases the pressure of providing knowledgeable service to my inquiring customers. When I said the new holiday blend was delectable, I meant it with the utmost sincerity. I can't wait to crack open my first pound at home and sniff the sweet fragrance of fresh beans. As a matter of fact, any time a pound of coffee goes through my hands at work, I make sure to take a whiff from the aroma-leaking air valve on the package. It's an obsession, but a good one to have when coffee is your trade.
So there you have it - three things that keep me somewhat level-headed, among the dozens of things that work against my sanity. Like I said, I'm writing this now before I am completely mired in the holiday muck, knowing that this sort of peaceful reflection may get buried in the war zone to come. Also, my dad is worried about my mental health and my mom thinks I use the f-word too much, so I thought focusing on the upsides might ease both their minds for at least a week. Overall, no matter how vicious the customers get or how ridiculous Corporate can be, at the heart of it all I love coffee - and the people who scathingly serve it alongside me.
Maude Perkins is The Beachwood Reporter's pseudononymous service industry affairs editor currently serving time as a store supervisor for a large, publicly-held corporate coffee chain.
More Barista!:
* Barista! Tales From the Coffee Front
* Barista! Our Ennobling Mission
* Barista! Back in the Grind
* Barista! A Grand Skim Offensive Latte
* Barista! Holiday Spirits, On The Rocks
And catch up with the complete Life at Work archive, including the travails of our original Life at Work columnist, J. Bird.
Posted by Beachwood Reporter at 1:41 AM | Permalink
November 11, 2006
The Weekend Desk Report
Now that the Revolution of 2006 is complete, we turn our attention to the races and faces that will shape our world in the next ten years. Here are our official predictions.
Cartoon Cabinet Villain '06: Various Candidates
With Don Rumsfeld falling on his sword in spectacular fashion, the Bush administration has lost its most blatant gruff-voiced cartoon villain. Front-runners to replace Rumsfeld's hand-rubbing nastiness include the following unsavory characters:
Robert Gates as Wile E. Coyote
Dick Cheney as Snidely Whiplash
Karl Rove as The Penguin
Michael Chertoff as Lex Luthor
This race is tough to handicap, as each distinguished candidate comes with a lengthy list of dubious achievements in villainy. However, we project that Cheney's star is waning as a result of his close ties to Rumsfeld. A botched mid-term election campaign seems to have knocked some of the wind out of Rove's sails as well. In a tight contest, we expect Gates to pick up right where his predecessor left off.

Implosion '07: Bush vs. Stroger
Faced with the harsh reality of a Congress that really, really doesn't like him at all, President Bush stumbled through his concession press conference on Wednesday like a blind squirrel that's already found its one nut. Stroger, meanwhile, will be hard-pressed to exacerbate the miserable state of affairs he's inherited, although early indications show remarkable creativity in the key incompetence area of indifference. Still, his ambivalance will no doubt be dwarfed by that of his constituents and the local media, while Bush looks set to get the bumpier ride. It'll be a squeaker, but you can't spell "breakdown" without a "W".
White House '08: Who Cares vs. Whatever
Seriously, the mainstream media will try to dress this up as some great battle for the American soul, but who are they kidding? Early front-runners indicate this could be the dullest presidential race since, well, the last one. John McCain has the coma-inducing sincerity of a hypnotherapist. Bill Frist constantly disappoints with his inability to embrace the role of scheming evil genius. Hillary? Yeah, she could bore paint off a wall. And, sadly, even the bombastic Alan Keyes barely raised Barack Obama's pulse above blandly likeable nice guy. Still, despite a host of charisma-free candidates, voter turnout has picked up over the last two elections. Obviously, somebody does care. With party foot soldiers poised to rally their base, expect Whatever to take this one in a landslide.
Olympics '16: Chicago vs. Los Angeles
And then there were two. The early advantage would seem to go to L.A. They've done this before, and their public transit system, while underused, hasn't tried to kill itself recently. However, if head-to-head history is any indication, Chicago will simply buy L.A. and offer a two-site Olympics with a cross-platform participation model. This will eventually piss L.A. off, causing that city to launch a buy-out bid of its own. Chicago, realizing it overpaid in the first place, will entertain the thought of selling a few assets, although losing the most desirable one would leave the city ill-suited to host the Games in the first place. Even if Chicago does eventually pull out the win, we doubt the event will bring any of the value organizers have promised.
Posted by Natasha Julius at 8:56 AM | Permalink
November 10, 2006
The [Friday] Papers
1. The way campaigns used to be covered.
2. "Asked if he would run his campaign any differently now [without Jackson or Gutierrez in the race], Daley didn't miss a beat," the Tribune reports. "'I have not announced whether I am running or not,' he shot back."
So it could be Dorothy Brown vs. Bill "Dock" Walls? Hmmm, maybe I dismissed Dock Walls too hastily . . .
3. And then Daley picked the corned beef out of his teeth from the fundraiser for a campaign he pretends doesn't exist.

4. Connect the dots.
* Harold Washington fired Donald Tomczak.
* Richard M. Daley re-hired Tomczak.
* Tomczak was just sentenced to four years in prison for his role in the Hired Truck Scandal.
* Tomczak testified in the corruption trial of the mayor's former patronage chief, Robert Sorich, who was found guilty along with three other Daley aides of a massively corrupt City Hall hiring system.
* Tomczak said he took his orders from Daley advisers Tim Degnan, Victor Reyes, and John Doerrer.
* The Chicagoland Chamber of Commerce has just hired Doerrer to start a new political machine on behalf of the mayor.
* The Chicagoland Chamber of Commerce is the new HDO.
5. The Republicans don't even control the Chamber of Commerce? Wow, that was a tsunami.
6. "Under Mayor Daley's leadership, the business community had, effectively, 'one-stop shopping' in City Hall," the chamber states in an internal presentation cited in the Tribune account.
7. Tomczak's lawyer said his client was part of an Old Chicago that doesn't exist anymore. If it doesn't exist anymore, why do so many people keep getting convicted for participating in it?
8. "Clearly, some of Mr. Tomczak's crimes were condoned, they were facilitated and I believe in some respects they were honored by high-ranking portions of the City of Chicago," prosecutor Patrick Collins said.
Hint, hint.
9. So we won't be able to get rid of Daley or Blagojevich until federal prosecutors drag them out of office kicking and screaming. Not necessarily a worse alternative than beating them at the polls.
So, who is the lieutenant mayor?
10. "Tomczak also admitted he commanded a 250-strong army of water department employees who did political work for Mayor Daley, Al Gore, Rahm Emanuel and others in exchange for promotions, pay raises, and overtime."
"Emanuel In Line For No. 4 Dem Spot In House."
Meet the new boss . . .
11. "The Truth About Rahm Emanuel."
12. George W. Bush politics in Cook County.
13. "My church beliefs taught me that - never be vindictive against people," Daley said of Tomczak.
Too bad the mayor fell away from the church.
I wonder how many politicos spit up their coffee this morning when they read that.
14. "What a quiet race for mayor won't answer, though, is why a clean city can't have a clean government," the Tribune editorial page says today.
15. Miguel del Valle has fallen into line nicely. His plan to televise City Council meetings comes straight out of the Tass playbook.
"Aldermen have privately complained that a camera free to pan the floor could paint an unflattering portrait of inattentive aldermen," the Sun-Times reported on Thursday. But del Valle learned how to deal with that while in the General Assembly.
"The primary concern of legislators was how will the camera pick up the individual. We have it so it only picks up the speaker. You certainly don't want to be seen reading the paper or sleeping. But the camera shot can be tight enough to zero in on the speaker."
In other words, the solution to sleeping legislators isn't to wake them up and make them work but to make sure they don't get caught on camera.
16. "As giddy as local Democrats are following the elections, voters have to be feeling a bit queasy after seeing the status quo confirmed at the polls in a year in which City Hall, the Cook County board and the governor's office have been targeted by the feds for corruption," the Sun-Times editorial page says today.
The same editorial page that endorsed the status quo at the Cook County board and the governor's office, with City Hall on the way.
17. More from The Smartest Columnist in the World.
Steinberg: "The armies of English speakers in India demand no payback for British rule."
History: Pakistan, Kashmir, post-colonialism. For starters.
Steinberg: "The millions of Mexicans heading north to work don't want California returned."
Reality: For starters.
So it's no wonder that his take on affirmative action is ignorant and racist. I mean, obviously somebody lowered the bar for him, and looking at the rest of the paper he works for, a bunch of white guys got some kind of affirmative action as well, because management is all white guys and most of the reporters are white too, and look at the bang-up job they're doing.
18. Sun-Times front page: "Tribune Trouble: Cubs For Sale? Page 55."
So I'm on page 55. Is the Cubs story the secret message in Beetle Bailey or Family Circus, because Page 55 is the comics.
Somebody's lowering standards again.
19. Product Placement of the Day: Garmin.
20. Pelosi lunches with Bush. We have the transcript.
The Beachwood Tip Line: Where Old Chicago meets New.

Posted by Beachwood Reporter at 10:05 AM | Permalink
November 9, 2006
Pelosi Buries the Hatchet
"President Bush and Rep. Nancy Pelosi, the likely speaker of the House, yesterday buried the hatchet - gently - as the two sat down for an Oval Office lunch after a vitriolic campaign that put Democrats in control of Congress for the first time in 12 years."
- "Bush, Pelosi Look Ahead Over Lunch"

Bush: Thanks for coming.

Pelosi: Thanks for inviting me, Mr. President.

Bush: Would you like a corndog?

Pelosi: Yes, thanks.

Bush: Mustard?

Pelosi: No thank you.
Bush: I like to dip the corndog in the mustard.

Pelosi: I'm just not a big fan of mustard.

(long silence)

Bush: So . . . congratulations.
Pelosi: Thank you.

Bush: How's that corndog?

Pelosi: Delicious.

Bush: Betcha can't get corndogs like that in San Francisco.

Pelosi: Not really, no.

(long silence)

Pelosi: Um, Mr. President, may I raise an issue?
Bush: Sure. You can raise anything but my taxes! Heh-heh. Heh. Heh.

Pelosi: Maybe this wasn't such a good idea. Why don't we meet again after the election results sink in a little more . . .

Bush: Are you cutting and running from this lunch?

Pelosi: I wasn't planning on it . . .

Bush: Of course not. You don't have a plan.

Pelosi: Yes, I do. It's right here in my purse.

Bush: You're kidding.

Pelosi: (rifling through her purse) Ah, here it is. (holds it in the air) My plan.

Bush: Can I see it?

Pelosi: Nope.
Bush: Why not?

Pelosi: Because you're not being very nice.

Bush: Aw, hell, Nancy. I'm just funnin' with ya. Let me see the plan.

Pelosi: Not until you ask for it nicely.

Bush: Does it tell us how to get out of Iraq?

Pelosi: You'll never know.

Bush: C'mon, Nancy. Just give me the plan.

Pelosi: What's the magic word?
Bush: I'm not five years old.

Pelosi: Ask for it nicely. Say, "Madame Speaker, may I please see that piece of paper?"

Bush: You're not the Speaker yet.

Pelosi: Say it.

Bush: Fine, then. I don't want to see your stupid plan.

Pelosi: Fine, then. I'll just put it back in my purse.

(long silence)

Bush: I can't believe you're going to make me say it.

Pelosi: I can't believe you don't have a plan after being President for six years.

(long silence)

Bush: Fine. "Mrs. Speaker, may I please see that piece of paper."

Pelosi: Yes, you may. Here it is.

Bush: What the hell is this?

Pelosi: It's a subpoena. Next time lunch is at my place. Bring your lawyer.

Posted by Beachwood Reporter at 4:00 PM | Permalink
The Blue & Orange Kool-Aid Report
I'm not a big sports radio guy, but the post-game commisserating after last week's stunning loss to the Dolphins was comedy gold.
Now that the Bears are embarking on a three-game road trip that could result in a four-game losing streak, though, we'd like to better prepare the Kool-Aid Nation for what lies ahead.
Here, then, is our six-step primer on How To Perform The Angry Sports Radio Call:
Step One. Use a manly sounding name from a tough-sounding town. Good: Tom from Chicago and Frank from Cicero. Bad: Rory from Rolling Meadows.
Step Two. Don't ask hosts how they are doing. They're on the phone with you so they're not doing that well.
Step Three. Present a topic sentence. Good: "Lovie Smith is on sedatives." Bad: "Lovie lockerroom adustments Rex back foot injuries Derrek Lee!"
Step Four. Show stamina. In 7th grade, the hot girl allowed you five seconds before shooting you down. On sports radio, you get up two minutes. The key is to steadily increase your volume and sense of indignation about what you've just seen. Imagine the increase in anger and desperation your wife feels as she moves from "Why is $100 missing from the checking account?" to "You tested positive for what after you spent that $100 in Tijuana?" Practice this technique at home. If the police respond to your domestic dispute, you are ready for next step.
Step Five. Devise subsequent sentences that differ slightly from the topic sentence. Good: "The Bears need to make a change at quarterback and the Colts need Briggs. Make the trade now. Colts get Briggs and Grossman, Bears get Manning. Briggs is leaving after this year, so get Manning from the Colts. We could really use Manning, and the Colts could really use Briggs and Grossman. Briggs is gone anyway, so pull the trigger." Bad: "It's time to make the move to Griese. The Bears also need to acquire a big-time receiver with Berrian hurt. Maybe they could trade Briggs for one."
Step Six. Never say "I'll hang up and listen to your answer." Because once you've hung up, you're not on the air anymore.
Chicago at New York Giants, Sunday night
True or false: "The Miami loss woke up the Bears." True - just like the loss of both houses of Congress woke up the Republicans. And like the Republicans, what's important now is the ability of the Bears to prevent a slide into irrelevancy. It doesn't look good. Consider:
a) The Giants (6-2) only losses to are to Indianapolis and Seattle. They are for real - and in first place in the NFC East.
b) Tiki Barber leads the NFL in rushing years.
c) The Giants have allowed only 10.4 points per game in the last five games.
d) A Giants win ties them with the Bears with the best record in the NFC.
e) The Giants are at home.
f) Grossman may only last a half.
Pick: Giants minus-2.5 points/Under 37.5
For Bears win:
Sugar in the Blue & Orange Kool-Aid: 65 percent.
Recommended sugar in the Blue & Orange Kool-Aid: 40 percent.
Sugar in the Super Bowl pitcher: 85 percent.
Recommended sugar in the Super Bowl pitcher: 75 percent.

*
For more Emery, see the Kool-Aid archive, and the Over/Under archive. He can be contacted at Eric_Emery12345@yahoo.com. Or berate him publicly.
Posted by Beachwood Reporter at 12:26 PM | Permalink
Over/Under
I know why you're here. You're expecting me to pile on the Bears. But you know what? You can do that yourselves. It's easy. And it's yesterday's news. Here are a few things you couldn't dream up yourselves, but which are occupying the forefront of my primitive brain.
* In case you weren't clear on it yet, Chevy trucks and the NFL want you to know that "This Is Our Country." I counted 16 airings of the Mellencamp jingle on Sunday. I'm still not convinced, though. I didn't see any plaid shorts.
* This is our country abroad.
* In other car news, Tiki Barber is starring in a Cadillac commercial with tag line "Life. Liberty. And the Pursuit." Don't let the "historically significant" tagline fool you. Much like our forefathers, the Cadillac demographic is filled with old, rich, white landowners.
* ESPN's MNF announcer: "The Raiders possessed one the best defenses in the NFL." The Raiders promptly surrendered points on the Seahawks' first three possessions.
* Later, MNF welcomes ex-Seahawk LB Brian Bosworth to the booth. Fun ensues:
a) Tony Kornheiser names "Stone Cold" as one of his favorite movies.
b) Mike Tirico asks Bosworth if he could beat up players-turned-action heroes in real life.
c) Bosworth calls current NFL players the real "action heroes." Due to Bosworth's undeniable charisma, firemen, policemen, and soldiers agree.
d) Bosworth recounts his "rivalry" with Bo Jackson. If playing 24 games and being plowed over in one game and running 30 yards behind Jackson in another makes a rivalry, I have a deep rivalry with Las Vegas oddsmakers.
* For all you haters out there: Last Week: 4-2/Overall: 17-33-2. Two winning weeks in a row. Credit Rahm Emanuel's brilliant strategizing. Here are this week's most over- and under-hyped games.
Over-hyped: Washington at Philadelphia
With a loss, Washington effectively falls out of playoff contention, making this the second "must-win" game in a row for the 'Skins. Last week they won.
The Eagles, meanwhile, have hit the skids, having lost three in a row.
Still: Washington just delayed the inevitable last week. They play a rested Philadelphia team this week, and Dallas at home does not equal Philadelphia on the road. Don't believe the hype. The Eagles win easily.
Pick: Philadelphia minus-7/Under 43.5
Under-hyped: San Diego at Cincinnati
San Diego looks for the inside track to a No. 2 seed in the AFC; the Bengals try to stay in the thick of things.
Other story lines include: "Is Marty Schottenheimer a great coach who will lead his team to an early playoff exit?" and "Has Marvin Lewis transformed Cincinnati from a team with no discipline and talent to a team with no discipline and above average talent?"
This is the game to watch. LaDainlan Tomlinson makes the difference.
Pick: San Diego minus-1.5 points/Over 46.5
*
For more Emery, see the Kool-Aid archive, and the Over/Under archive. He can be contacted at Eric_Emery12345@yahoo.com. Or berate him publicly.

Posted by Beachwood Reporter at 11:14 AM | Permalink
The [Thursday] Papers
I'll get to K-Fed and Streisand and the continuing implosion of the Sun-Times and the Tribune Company's mission to alienate every reader it still has and every journalist it still employs soon enough, but today it's still politics.
D-Rum
"This little-understood, unfamiliar war - the first war of the 21st century - it is not well known, it was not well understood; it is complex for people to comprehend," outgoing SecDef Don Rumsfeld said Wednesday; the AP report that ran in the Sun-Times called Rumsfeld "a victim of a war he contended the American public simply did not understand."
"It could last, you know, six days, six weeks. I doubt six months."
- Rumsfeld on Feb. 7, 2003, to US troops at Aviano Air Base, Italy, a month before the war started.

PressDef
"In the days after Sept. 11, Rumsfeld was hailed by some as a visionary," the AP report said.
But not in the days before Sept. 11.
Journalists have short memories, but Rumsfeld was on his way to being forced out the door before 9/11. In fact, 9/11 saved his job. The pre-9/11 calls for Rumsfeld's resignation because he had already shown what a bumbling fool he was reached such a crescendo that the even the Milwaukee Journal Sentinel wondered on Aug. 27, 2001, "Is Rumsfeld Up To His Job?"
Pretty much every media outlet wondered as well, regardless of ideology. On Sept. 3, 2001, a National Review by Rich Lowry included a prediction that Bush would fire Rumsfeld. On Sept. 7, 2001, Al Kamen of the Washington Post wrote a column titled "Donny, We Hardly Knew Ye," and speculated on who his successor would be.
After 9/11, the press became infatuated the matinee movie idol; the loathable self-hating press corps loved the way he administered his daily beat-downs on their bottoms. Dreamy Don was so much smarter than they were; at least his abuse signalled he cared.
Of course, Rummy was still Rummy. He didn't change after 9/11; just his press coverage did. Suddenly the "war cabinet" was doing photo spreads for Vanity Fair. Rumsfeld's longevity owes itself in part to the war cheerleading of a press that abdicated its responsibilities went the going got rough - when a president wrongly took a country to war and demanded fealty from everyone lest they be called on their patriotism. In other words, when we most needed them.
Post-mortems on Rumsfeld are incomplete if they don't include the media's part of the story.
War President
Rumsfeld is gone, but no one should ever forget that George W. Bush is the commander-in-chief and the one wholly responsible for this war.
War Pundit
George Will, whose column appears in the Sun-Times, says this morning that "Republicans sank beneath the weight of Iraq, the lesson of which is patent: Wars of choice should be won swiftly rather than lost protractedly."
Um, maybe wars of choice should never be waged. Let's go back to war as a last resort.
Besides, Will acts as if there is a choice between winning swiftly and losing protractedly. Wars have a way of choosing for you.
Pundit Pap
Will also repeats a favorite Newt Gingrich canard that the $2.6 billion spent on U.S. House and Senate races this year was nothing - Americans spend that much on chocolate every two months.
True, but when Americans buy chocolate, Hershey's doesn't owe them political favors in return.
Shim-Sham
"But GOP Rep. John Shimkus of Illinois placed blame on the corruption and scandals that led to the resignations of Rep. Mark Foley of Florida, Majority Leader Tom DeLay of Texas and Rep. Bob Ney of Ohio," the Tribune reports. "That's not policy, that's in essence a party that imploded because of personal problems," Shimkus said.
The paper failed to note that Shimkus of Illinois was and is in charge of the congressional page program.
King Richard
"Who else among ye will not run?" John Kass asks.
Hastert Headlock
In a written statement dutifully reproduced by the press, Denny Hastert says, "As a former wrestling coach, I know what it is like when your team takes second place in the state torunament. It hurts."
Way to keep the press lapping up the folksy image - especially for someone who went to Washington and became a multimillionaire on a congressman's salary.
Jus' Folks
It comes from a partisan source, but Denny's Secret Files paint a picture of a different kind of wrestling coach.
Moral Authority
The Sun-Times editorial page advises Todd Stroger to get started cleaning up county government. I'm not sure the editorial page has any moral authority to urge reform though until it admits to readers that publisher John Cruickshank overrode the editoral board's recommendation to back Peraica in order to instead pander to black readers who have steadily left the paper as the paper aggressively abandoned them and their interests in the last decade.
The paper is also apparently already breaking a promise made in its Stroger endorsement: It will not be assigning extra reporters to cover him and hold him accountable. That was just bluster.
Todd Squad
Eric Zorn's comparison of Lisa Madigan to Todd Stroger is wildly off the mark. Lisa Madigan was an exceptionally strong candidate for state attorney general in 2002; she was an above average state legislator who had an agenda and vision for the office that was pro-consumer, anti-corruption, and full of initiatives from crime-fighting to transparency in government. While she may not have been elected without the strong-arm tactics of her father, her father's role also most endangered her campaign.Though her opponent, John Schmidt, had an impressive resume, he was really just a guy looking for public office to keep his political ambitions alive after a failed attempt to run for governor. Schmidt had no agenda or vision; he promised only to be an efficient manager of his in-box.
Todd Stroger, by contrast, was a mediocre state legislator and alderman, and that's putting it charitably. I can't tell you how many times I've heard the phrase "dumb as a post" in the last few months from people who have dealt with him. He not only lacked vision and an agenda for this campaign, he lacked the basic knowledge of the government he will now lead; he couldn't be bothered to even learn about the budget he now must tackle. Beyond that, he has shown himself to be a dishonest public servant, first in his disastrous role as family spokesman covering up the health status of his ailing father, and second (at least) in running fundraising out of his ward office. Between his incuriosity, mediocre intellect, poor public presentation, and failure to be anything other than someone's son, it is Todd Stroger who has truly brought George W. Bush politics to Cook County.
Meet the New Boss
"'If percentages are based on jobs, then I'm doing damn good,' Ald. Howard Brookins (21st) was overheard telling Ald. William Beavers (7th), referring to the vote he got out for Stroger and the county jobs he expects in return.
"'I expect him to reach out to a good guy like me for recommendations for qualified candidates in top jobs he has control over,' Ald. Isaac Carothers (29th) said, complaining about the lack of West Siders among 25,000 county employees."
The Beachwood Tip Line: Transmitting county-wide.
Posted by Beachwood Reporter at 9:47 AM | Permalink
November 8, 2006
What I Watched Last Night
I watched The Tony Peraica Show last night. It was a pretty good episode - it started out kind of predictable, you know, alleged ballot fraud and voting machine malfunctions and bumbling at election headquarters. At first I thought it was a rerun of a show they ran in March.
But then came the twist, and more compelling television I have not seen in a long time. And it was live.
Watching Peraica bellow repeatedly to his supporters that he wasn't going to let the election be stolen from him was more frightening than inspiring. Peraica was right to be incensed, but his tone was all scary dictator. When he allowed himself a little smile after chants of "Tony! Tony!" erupted in the hall, well, let's just say I saw a darker, humorless version of Pat Buchanan flash before my eyes. It only got worse when - like Buchanan urging the peasants to take up pitchforks - Peraica implored his supporters to follow him to 69 West Washington, where they would storm election headquarters.
This can come to no good end, I thought.
I turned up the volume.
What in the world would Peraica and his charge do at 69 West Washington, outside of spark a confrontation likely to result in violence?
I had no idea, but I wasn't changing the channel.
Multiple cameras, in a nice dash of cinema verite, followed Peraica as he marched out of the Intercontinental and onto Michigan Avenue with a cell phone pressed to his ear. Who was he talking to? At one point, it was Carol Marin in the Channel 5 studio!
The boisterous march scene was intercut with shots of quiet, lonely reporters in the placid calm of election headquarters painfully anticipating a reckoning they didn't quite understand. It was extraordinary mood-shifting. My stomach was all a-jumble.
Unfortunately, the climax was poorly written. A revolving door was locked, and then unlocked. One man was arrested, but out of camera sight. A freight elevator was broken. The shots of ballots and voting equipment arriving in boxes being unloaded from cars and trucks coming in from the suburbs was compelling, but ultimately went nowhere.
It certainly didn't measure up to the Republican mob scene in Florida in 2000, but then again, this production didn't have as big a budget.
In the end, The Tony Peraica Show was a bit of a disappointment, but it sure had its brief, shining moment, and it's still recommended by virtue of its sheer oddness and historic value.
*
Channel 5 clearly provided superior Election Night coverage among the locals. Apparently Warner Saunders was supposed to host this shindig but came down with laryngitis, all the better for us because of Bob Sirott's adept and smart show management as emcee of sorts. Marion Brooks also proved a fine political moderator, overseeing a lively panel of Walter Jacobson, Michael Sneed, Cliff Kelley, and Joel Weisman.
Weisman was, well, the wise man of the group, providing reasonable and interesting analysis, while Sneed spouted her typical mediocrities and warmed-over "scoops" that somehow pass for political insight. Kelley was a welcome antidote to the MSM, but his theory that U.S. Attorney Patrick Fitzgerald is a partisan political prosecutor taking orders from the president is preposterous, and easily dispatched. (George Ryan trial, hello?)
Jacobson was uncharacteristically shut out - too bad, he seemed to have some useful ideas to contribute.
On Channel 2, Mike Flannery was the lone bright spot unfortunately forced to work with the clueless duo of Antonio Mora and Diann Burns.
They were asleep over at Channel 7, oblivious and late to the Peraica drama and with such a deadly dull broadcast it almost made me forget an election had been held.
*
Nationally, the Chris Matthews and Keith Olbermann combination easily bested the folks at CNN, and I only checked in with Fox occasionally to see how much denial they were in. Answer: A lot.
Matthews can be a nauseating blowhard, but he can also be priceless. Early in the evening he asked a Connecticut firefighters union official about his support of Joe Lieberman. "How does your rank-and-file feel about the war?" he started in. The union guy looked a bit like Todd Stroger caught in the headlights. Matthews' comparison of Lieberman to a George Bush kissing booth was the line of the night, until I happened upon MSNBC later in the early morning hours and caught Matthews saying to Pat Buchanan, "Let's not pretend you were on Lincoln's side in that war!"
*
I finally cashed it in at 2:30 a.m. Unfortunately, it doesn't look like The Tony Peraica Show will get picked up.
Posted by Beachwood Reporter at 11:47 AM | Permalink
The [Wednesday] Papers
It wouldn't be Election Night in Cook County without the words "chain of custody."
Although, to be fair, voting problems were reported nationwide. Can't we just contract our elections out to Google? Seems like a company whose technology can search millions of websites for the term "vote fraud" in .04 seconds and deliver 907,000 results could probably figure out how to transmit voting results from Schaumburg to downtown in under three hours.
Here are some other observations on three hours of sleep. I mean, who could go to be with Tony Peraica storming the citadel?

* How many days until the governor is indicted?
* What will Pat Quinn do in his first 100 days?
* What will Bill Beavers do in Todd Stroger's first 100 days?
* How many extra reporters will the Sun-Times assign to its endorsed candidate? Will the Sun-Times release its reorganized reporting plans to the public? Or will they just kind of hope you forget what they promised?
* Was this election really more negative than elections past, or were our candidates just that much worse?
* I received a mailer at home on Monday titled "Lucky Number 7," proclaiming Mayor Daley & Todd Stroger: Fighting for Your 7% Property Tax Cap!" The mailer included a letter from Daley and claimed that "only one County Board President candidate supports a property tax cap." Which is true. They just didn't say which candidate.
From Peraica's website:
"On the seminal property tax reform measure in Cook County in the last generation, Todd Stroger took a pass. I am speaking of property tax caps being extended to Cook County. Stroger voted against authorization of the 1994 referendum asking voters to weigh in on whether the General Assembly should limit annual property tax extension increases to 5%. That referendum passed and it ultimately led to property tax caps being extended to Cook County the next year. (HB 1038, 71-38-6 in the House)"
Daley's letter also says says "Alderman Stroger and I are working together to get the State House of Representatives to pass [the extension.]"
Right. I'm sure Stroger has been working the phones and personally lobbying legislators. He didn't do that when he was in the General Assembly, but I guess there's a first time for everything.
* Barack Obama endorsed Todd Stroger.
* Barack Obama remains silent on City Hall corruption.
* Barack Obama went in on a real estate deal with Tony Rezko well after the political establishment expected Rezko to be indicted.
* Barack Obama: Regular Democrat.
* Barack Obama on the Democrats' showing: "This is a vote for change all across the country." Except in Cook County.
* Barack Obama: The Audacity of Business As Usual.
* "Blagojevich is in danger of being indicted," Walter Jacobson said on Channel 5 last night, "and we have to talk about the possibility of Daley being indicted."
* How long until Alexi Giannoulias gets in trouble? Find out what the oddsmakers think.
* How do citizens vote against corruption if both candidates in a given campaign are corrupt?
* Maybe Tammy Duckworth will run in the district she actually lives in next time around, which would be Melissa Bean's district. Which would mean that Melissa Bean would have to run in the district she actually lives in, which would be the district Dan Seals just ran in. Which would mean that Seals would have to run in the district he actually lives in, which is Jan Schakowsky's. Or maybe Rahm Emanuel will just eliminate districts as he consolidates power.
* "This was the machine rolling," said Bill Beavers.
* Rod Blagojevich is against gay marriage.
* Mary Mitchell repeats the lame argument this morning that Todd Stroger should be afforded the Cook County Board presidency because the sons and daughters of white politicians have cheated their way into office too. Mitchell, like most pundits echoing this sentiment, seems to forget that those cases inspired outrage as well - aside from the basic fact that favoring equal corruption rights is not a tenable position. Further, she ignores the two white men named Rich and John Daley behind the curtain.
* Like Forrest Claypool before him, Tony Peraica failed to explain that those hurt most by the corrupt Stroger dynasty are African Americans who depend on the county for health care, among other services, and a fair and humane criminal justice system.
* "Blagojevich must do a better job of realizing the promise that we saw in him when we were among his earliest supporters in 2002," the Sun-Times editorial page says this morning.
In 2002, the Sun-Times editorial board supported Paul Vallas over Blagojevich in the Democratic primary. Publisher and now-felon David Radler overruled the board - against the objections of current publisher John Cruickshank and editor Michael Cooke - for reasons that the paper has never made public. Why compound the lie?
* I think we can all agree that Radler chose the wrong guy. Paul Vallas lays it bare for John Kass.
* Results of a Cook County referendum calling for the withdrawal of Ameican troops from Iraq: Yes, 456,091. No, 167,446.
* Results of a referendum in 21 Chicago wards in support of the big-box living wage ordinance that Daley vetoed: Yes: 12,823. No: 3,163.
* Blagojevich's father-in-law, Ald. Dick Mell, appeared at Giannoulias' victory party, not the governor's.
* Ray "Spanky the Clown" Wardingley snared 22 percent of the vote in his congressional run. Methinks Dan Lipinski is vulnerable. The bearded woman might have pulled it off.
* In 2004, Christine Cegelis received 105,367 votes (44.2 percent) against Henry Hyde. Last night, Tammy Duckworth received (unofficially) 77,222 votes (48.5 percent) against Peter Roskam. Sure, 2004 was a presidential year, bringing more people to the polls, but still.
* Let's not crown Emanuel king yet. He supplied the money and the muscle, but Howard Dean provided the vision and the strategy, and Chuck Schumer arguably had a better night.
* "We're going to have another - what do you call these things? - Oh yeah, another victory party!" Todd Stroger said speaking to supporters late last night. I kid you not. Then Todd went to bed while Peraica stormed the election board headquarters. Which is pretty much how the next four years will go. Look for Stroger to take a really long nap.
* Sign held by several people at Stroger's rally: "I'm With Todd." Think about it.
* Michael Sneed on Channel 5 about the possibility of Denny Hastert resigning altogether: "Denny Hastert is a wrestling coach! Do not forget that!" Hastert hasn't been a wrestling coach since, well, since Sneed was a reporter.
* Nonetheless, Channel 5's coverage was clearly the best among the locals.
The Beachwood Tip Line: Scanning optically.
Posted by Beachwood Reporter at 11:24 AM | Permalink
The Men's Journal Road Trip To Trying Too Hardville
"The way Men's Journal editors see it, a road trip isn't really a road trip without the perfect soundtrack. That's why they selected the 25 greatest traveling songs from eMusic's massive catalogue of hits."
- Special advertising promotion, Men's Journal
1. On The Road Again/Willie Nelson
2. To Be Young (Is To Be Sad, Is To Be High)/Ryan Adams
3. Sun Is Shining/Bob Marley
4. Seven Nation Army/White Stripes
5. Rex's Blues/Fort Worth Blues/Steve Earle
6. Range Life/Pavement
7. Run Through the Jungle/Creedence Clearwater Revival
8. The State of the Union/Thievery Corporation
9. He War/Cat Power
10. I Can't Be Satisfied/Muddy Waters
11. Folsom Prison Blues/Johnny Cash
12. Haiti/Arcade Fire
13. Gigantic/The Pixies
14. The Great Leap Forwards/Billy Bragg
15. CC Rider/Old Crow Medicine Show
16. This Red Book/Pinback
17. Go West/The Cult
18. Travellin' Blues/Santana
19. Great Escape/Squeeze
20. Roll on John/Bob Dylan
21. Wild Thing/The Troggs
22. She Sells Sanctuary/The Cult
23. Holiday Romance/The Kinks
24. The Old Man Down the Road
25. Hang On, Girl/Favourite Sons

Posted by Beachwood Reporter at 12:49 AM | Permalink
Books As Urban Accessories
"Most customers at the Anthropologie store in SoHo come for the delicately woven knits and the ultra-feminine floral dresses. But these days at least some are coming for the books.
"Last Sunday the merchandise and books were coordinated with near-perfect precision. Resting beside a black sweater ($68) and a jet-black skirt with orange embellishments ($118) were copies of Annie Leibovitz's A Photographer's Life: 1990 - 2005, big and black and gleaming, for $75. A pop-up book called One Red Dot echoed a display of polka-dotted canvas sneakers, while another title, The Persistence of Yellow, perfectly matched a strategically positioned yellow knit sweater.
"Books are turning up in the oddest places these days."
- "Selling a Little Literature to Go With Your Lifestyle," New York Times front page, November 2
A partial list of books found on a first-floor table at the Urban Outfitters on Milwaukee Avenue in Wicker Park, until our correspondent suddenly suffered shortness of breath and ran out of the store screaming.
1. Illustrations Now!/Julius Wiedmann
2. An Inconvenient Truth/Al Gore
3. Body Type/Ina Saltz
4. Icons of Fashion: The 20th Century (Prestel's Icons)/Gerda Buxbaum
5. 350 Best Sex Positions (or Sex Tips, we're not sure, possibly by the editors of Cosmo, who apparently couldn't come up with 365)
6. Bad Cat/Tracy McGuinness
7. Orgasms: How to Have Them, Give Them, and Keep Them Coming/Lou Paget
8. The Daily Cocktail: 365 Intoxicating Drinks and the Outrageous Events That Inspired Them/Dalyn Miller and Larry Donovan. Apparently all but 15 of them will result in sex.
9. 350 Ways to Change the World/Author unknown, but possibly the editors of Cosmo.
10. Sex Everyday in Every Way/Nerve.com. The smart guys in marketing came up with a clear competitive advantage here. Next year: Sex Twice a Day in Two Different Ways, or 730 Ways to Have Orgasm: An Inconvenient Truth Involving Outrageous Cocktails, Illustrated!
11. Street: The Nylon Book of Global Style/The editors of Nylon magazine.
12. Maripolarama/Anna Sui
13. Lucha Libre something or other/Author unknown
14. Sex and the City: Kiss and Tell/Amy Sohn
15. The Modern Girl's Guide to Life/Jane Buckingham
Posted by Beachwood Reporter at 12:34 AM | Permalink
November 7, 2006
What I Watched Last Night
Monday night headaches, it must be Election Day! I get tense when I watch political coverage the night before any election; been that way for a couple of cycles. I watch every time with anticipation and ridicule the pundits and disagree with all them and think that I am oh-so-smart. They all talk different agendas. MSNBC was speaking to the dirty politics of the Republicans; apparently the GOPers are robo-calling Democrats with dirty tricks. CNN has their election coverage going on all night with a panel of experts; they cover all the angles of all the States. Wolf Blitzer is such a fake name by the way. But my favorite of all, of course, is FOX News. FOX News was issuing warnings about what would happen if the Democrats win the House and not the Senate. Somehow the terrorists in Iraq killed more Americans this last month because they want to the Democrats to win. This was actually said by a commentator on Hannity and Colmes. Terrorists are Democrats and Democrats are terrorists.

Democrats are going to raise my taxes. Democrats want to let all the illegal immigrants into the good ole US of A. Democrats kill babies. Democrats hate freedom. The Democrats are going to cut and run from Iraq. Democrats are weak on foreign policy. Democrats are wafflers. Democrats are liars. Democrats hate Catholics. Democrats hate God. Democrats hate everyone but themselves.
This is the talk we have been hearing for the last few years - all pretty compelling stuff. Since all of these statements above I heard from a fair and balanced news source they must be true.
Now, here is a little logical lesson for all you voters out there this morning. If the Democrats are
all these things then the Republicans must be the opposite! Great news! The Republicans are the following: not terrorists, not raising my taxes, not killing babies, not hating freedom, not cutting and running from Iraq, not weak on foreign policy, not waffling, not lying, not hating Catholics or God, and not hating themselves.
So we know whom we should vote for - the people who are not the other people.
The people who are not the other people are for everything good and sunny. I don't want to kill babies either; I just want to see that women aren't told what to do by a government. I think that a woman can think for herself about what to do with a baby, it is hers anyway. I don't hate freedom; I think that we should evaluate what freedom is other than a red, white and blue word that is thrown around. I know that freedom is not taking away habeas corpus and the right to fair trial and phone tapping and surveillance at every corner. And I don't want to cut and run from Iraq; in fact I don't know what to do with that place.
There is no reason to point blame at all the faults in the reasoning why we went over there because that is not preventing people from dying. Think about it: Why are Americans over in Iraq dying? Why?
As for the other arguments, that is the way politics is played. Both sides waffle and both sides pander to their base be it Catholics or Atheists, rich or poor, farmers or city dwellers. It's all nonsense.
This whole charade that this country goes through every two years is truly nonsense. Everyone lies to each other and everyone loses because the voters vote based on which candidates they hate, not which candidates they love. With so much hate being injected into our daily lives it is no surprise that we are at war and don't realize it. It is no surprise that basic freedoms are being burned out of the Constitution and not enough people realize it. People are dying, and according to the people at FOX News it is because the terrorists want the Democrats to win.
I am sorry, dear readers, but if you think that anything on FOX News is accurate you should not be voting.
So on this midterm election day, I say again to those 25 percent of you that do go out and vote, please choose wisely. I am sick of people lying and dying.

Posted by Beachwood Reporter at 9:39 AM | Permalink
The [Tuesday] Papers
Today, millions of Americans will do the wrong thing.
1. A heartwarming Election Day tale.
2. If you do anything today, do something about these judges.
3. The Sun-Times implores you on its front page today to vote, saying "Don't be a cynic - what you do today really does matter." It then directs readers to its endorsements of virtually every incumbent on the ballot - including 12 of 12 in U.S. congressional races and four of four in statewide offices. The paper is also endorsing Todd Stroger for Cook County Board president without telling you the real reason why, and editorial page editor Steve Huntley has acknowledged that its endorsement of Gov. Rod Blagojevich does not reflect the views of the editorial board but, rather, the perceived interests of Sun-Times readers. But don't be a cynic!
4. Readers are voting their pocketbooks - and newspapers are losing.
5. Get Nieuked.
6. I couldn't disagree more with Eric Zorn's column today arguing that a vote for Rich Whitney is a wasted vote.
First of all, something important is at stake: If Whitney gets 5 percent of the vote, the Green Party will be established as a major party in Illinois and receive ballot privileges that only Democrats and Republicans currently enjoy.
Second, Zorn can complain all he wants about what happened In Florida in 2000, but why blame Nader voters whom Al Gore failed to win over when there are so many others to be more justifiably angy at - Palm Beach elections officials and their butterfly ballot, for example, or the state voter rolls purged by secretary of state Katherine Harris as part of the Jeb Bush operation that suppressed the black vote in the Northern part of the state. There is absolutely no question that more voters intended to vote for Gore in Florida, yet there was no mainstream media call for George W. Bush to be a statesman and do the right thing - instead the pressure was on Gore to concede. And then there's Antonin Scalia and his pals on the U.S. Supreme Court - I mean, you really want to keep laying this on folks who voted their conscience? Further, Gore won the popular vote. Why in the world is the Electoral College still in existence? Blaming Nader is a cop-out, and raising the specter of 2000 whenever a third-party candidate attracts support is facile and anti-democratic. (You also might as well blame Pat Buchanan and his 17,356 votes for not giving Bush a clear victory in Florida.)
Third, Ross Perot did not hand the 1992 presidential election to Bill Clinton, as Zorn contends. Exit polls showed that without Perot on the ballot, about a third of his supporters would not have voted and the rest would have split about evenly between Clinton and Bush.
Fourth, the idea that third-party candidates have no lasting effect is bunk. Ever since Perot, each party has tried to figure out how to attract the type of voters who supported him. In some states, the impact has been more profound - there would have been no Gov. Jesse Ventura in Minnesota if not for Perot, and to this day the Independence Party (descendant of the state's Reform Party) candidate participates in gubernatorial debates there. Sure, Whitney couldn't even get into the Tribune editorial board for their private little debate affair, even though he's polled as high as 18 percent, but progress comes slowly to Illinois. Maybe it's time the Tribune followed its own advice instead of begging voters to express outrage at the ballot box and then endorsing 14 of 14 congressional incumbents, nearly every incumbent in state legislative races, and, come spring, nearly every aldermanic incumbent.
Finally, no one should have their right to vote for the candidate of their choice taken away from them. By Zorn's reasoning, those who believe in Green, Libertarian, or independent candidates would never be afforded the opportunity to vote for their candidate of choice - except in elections when their support was so miniscule no one else's candidacy was threatened. They would be forced to always vote Democrat or Republican. What kind of system is that? In dictatorships, there is one name on the ballot. In America, there is two. What good is it to have the right to vote if you never get to use it?
Zorn has identified the problem - the two major parties are not offering the public the choices we deserve. His answer, though - to therefore go on voting for the dim and corrupt candidates presented to us - is perverse.
7. The Beachwood Election Guide. Clip 'n Carry.
8. Sneed makes sure her pal Judy Baar Topinka gets a final boldface mention on Election Day. Does Topinka have to declare Sneed's column as a campaign contribution?
Other Sneed items today include news from "last week," and "last Wednesday,' and an opening item on Barack Obama that could hardly be less brilliant as she purports.
But watch for her expert election analysis on Channel 5 tonight!
9. The 40th Country Music Association Awards were held last night and not a single winner can hold a candle to the worst recording Bloodshot has ever put out. Bloodied, but unbowed.
10. Product Placement of the Day: Bark Busters.
11. Evan Brown, early supporter and legal counsel to The Beachwood Media Company, makes the front page of the Tribune business section today.
12. If you walk by a newsbox today and you see the Sun-Times teaser about the injured Brian Urlacher, "The News On Chicago's Most Important Foot," you might be tempted to buy the paper. Or, you could glance at the adjacent Tribune front page and see "Relax, Bears Fans: Urlacher Only sprains big toe, hopes to play Sunday," and be on your way.
Chances are, though, that you've already heard the news on the radio, seen it on TV, or read it on the Internet. It is fascinating, though, to watch the Sun-Times on its journey back through time, devolving before our very eyes.
The Beachwood Tip Line: You know what to do.

Posted by Beachwood Reporter at 8:12 AM | Permalink
November 6, 2006
What I Watched Last Night
I watched the Bears lose to the Dolphins and thought about how annoying ESPN and the local media would be pounding into my head that this was a good loss. You know, puncture the team's overconfidence to better prepare for a Super Bowl run. Let me tell you something: THERE IS NO SUCH THING AS A GOOD LOSS. If that were true the Cubs would be thought of as the greatest team ever. Furthermore, I'm now bracing myself for a week of "Not So Sexy Rexy" nonsense that is bound to dominate the media coverage this morning and throughout the week. Listen, Rex Grossman is like seafood: Most of the time it is really good but there are those few times that you wished you never got involved with it. Rex is comparable to a clam in my book. I have never liked Rex for one simple reason: He played football for Steve Spurrier. And Steve Spurrier is worse than Sean Hannity.
I also watched Desperate Housewives last night and saw two people get killed and two more get shot. There was no cheating going on, though, so it wasn't all that interesting of an episode. I think that I have gone over the criteria for ABC programming, but here is a refresher: Get some somewhat attractive people together, have them sleep with each other, then cheat on each other, then kill each other. I am felling cheated because ABC didn't deliver on their side of the deal. The deal is simple: Show me murder and adultery and I will keep lapping it up as quality drama. Murder alone is not enough. Last night, I was the one who was cheated on.
I finished out my day watching the Patriots/Indy game on NBC. If you caught a commercial break during this game you would have known that the Bears/Giants game is on NBC next week. They felt it necessary to remind me of that at least 20 times so I wouldn't forget. Oh wait someone's at the door . . . It's NBC reminding me the Bears are playing the Giants next week on NBC.
Finally, I got all caught up on my politics. Everything's fucked. For the 25 percent of Americans who are voting in the midterm elections this week, good luck. The last couple of times you really screwed the pooch. Please choose more wisely this time.
Finally, if I get to write on Wednesday that Rick Santorum lost in Pennsylvania, I will be in wonderful spirits the rest of the week. Santorum is worse than Spurrier.
Pat Bataillon is the Beachwood's resident TV watcher. Catch up on everything he's been watching in the What I Watched Last Night archive.
Posted by Beachwood Reporter at 9:44 AM | Permalink
The [Monday] Papers
There are three big stories this morning that belong on any Chicago newspaper's front page: The sentencing of Saddam Hussein and the reaction thereof in the streets of Iraq; the latest campaign developments before tomorrow's election, and; the Bears embarrassing first loss of the season to the lowly Miami Dolphins.
Endorsing one side in a dispute over a child abuse case does not make the list.
No-brainer
The Tribune played the Hussein story at the top of its front page - as did virtually every newspaper in the country - and in the free world. The Sun-Times put it on page 8.
Guilty, Guilty, Guilty
Tribune editorial: "Saddam Hussein: Guilty." Indeed - of crimes against humanity carried out in 1982. Curiously, the editorial page then didn't support invading Iraq, nor for the next 20 years. In fact, here is Don Rumsfeld shaking hands with Saddam in 1983. Here is Ronald Reagan with Tariq Azziz in 1984.
"The administration had U.S. intelligence reports indicating that Iraq was using chemical weapons, both against Iran and against Iraqi Kurdish insurgents, in the early 1980s, at the same time that it decided to support Iraq in the war," National Security Archive Senior Fellow Joyce Battle told the Washington Post. "So U.S. awareness of Iraq's chemical warfare did not deter it from initiating the policy of providing intelligence and military assistance to Iraq. There were shipments of chemical weapons precursors from several U.S. companies to Iraq during the 1980s, but the U.S. government would deny that it was aware that these exports were intended to be used in the production of chemical weapons."
So . . . when are we going to try Saddam's accomplices?

Battle Redux
"The U.S., for many years, held the view that promoting Islamist beliefs would effectively counter the spread of communist ideology in the Middle East, South Asia, and Africa, and was not at all opposed to Saudi support for conservative Islamist movements. In return, the U.S. presence in various military facilities in Saudi Arabia is widely viewed as the ultimate guarantor of the Saudi royal family's continuing rule."
Trail Mix
My favorite snapshots from the local campaign trail as culled from various news reports -
1. Gov. Rod Blagojevich was to be the "chief guest" Saturday night at a party sponsored by Mutual Bank (mutual indeed!) and its president, Amrish Mahajan - a longtime no-bid state contractor with bank business pending before state regulatory boards. Mahajan and his wife are friends of Patti Blagojevich, who earned $113,000 in real estate commissions from them this year. The Mahajans denied knowing who Patti's husband was though their lawyer said Patti was an old friend of the First Family. Blagojevich ended up skipping the event, saying he was nursing a cold. No candidate stays home the final weekend of a campaign because of a cold - especially not a robo-candidate like Blago. Further, the governor said he didn't know Mahajan was sponsoring the event. Right. See the "Following the Bouncing Blago" item at the end of The [Blago] Papers for a refresher.
2. Illinois Republicans warn that 14 years ago Rich Whitney was a Socialist - and the Sun-Times transcribes.
Whitneys' response was typically open and candid - showing far more honesty and preparedness than either of his opponents.
"He said his positions in the governor's race - funding education by raising the income tax and lowering local property taxes, universal heatlh care and cleaning up corruption - are 'mainstream' positions," the Sun-Times reported.
"I'm the one that's running on the mainstream," Whitney said. "Putting a casino in Chicago? Now that's a kooky idea."
Whitney could have added: "At least the Socialists never put Alan Keyes up for election. And that was just two years ago!"
3. Republicans are trying to get Whitney voters to move into Topinka's column. But aren't most Whitney voters either lefties and Greenies or Democrats disgusted with Blagojevich who would never think of casting a vote for a Republican? Seems to me Topinka needs to turn out the conservative wing of her party that isn't thrilled with her and maybe snag some independents rather than look to Whitney voters for a protest vote.
4. "Maybe he ought to run for manager of the Cubs," Topinka said of the gov. "They're a bunch of losers too and need some help." True enough, but man does she have a big, obnoxious mouth.
Plus, it looks like she'll be the one looking for a job soon.
5. "Why are churches important? Really, the base of my candidacy is the South Side," Todd Stroger said. "And you will find a large audience at the churches . . . they want to hear something."
6. Stroger was appearing "at the same microphone [where] just before the March primary [he] promised parishioners 'President Stroger will be back' from a stroke that hospitalized him just days before the primary." Which we now know was, um, less than truthful.
7. Bishop Arthur Brazier, pastor of the Apostolic Church of God in Woodlawn, "urged his huge congregation not to put much stock in newspaper articles about federal corruption probes of those close to the governor."
Because God's not really interested much in cheats, liars, and crooks. He's a regular Democrat.
8."The Illinois Republican Party is paying for scary direct-mail pieces going into the 6th District with a picture of bin Laden and a blast against Democrats," Lynn Sweet reported over the weekend.
You remember bin Laden, right? He's the guy the Republicans haven't captured.
9. "As chairwoman of the Illinois Republican Party a few years ago, Topinka refused to endorse the re-election of former U.S. Sen. Peter Fitzgerald, the maverick Republican who took on corruption and the Combine," John Kass reminds us. "That Topinka, as GOP chairwoman, would refuse to endorse the incumbent senator of her own party who fought corruption is astonishing.
"Fitzgerald defied the Combine by bringing independent federal prosecutors to Illinois, including U.S. Atty. Patrick Fitzgerald (no relation), who has been digging at the fat roots of political corruption in Illinois.
"So the Combine showed Sen. Fitzgerald the door. And Judy helped walk him out."
10. The Beachwood Election Guide sorts it all out for you.
Rich Daley
The mayor speaking about moral values is rich. Let's review.
Only In An Alternate Universe That One Of Our Newspapers Seems to Exist In
"Could CTA tie and key chains become as popular as those "I (Heart) NY" T-shirts?"
Um, no. Never. Not even close.
Foreseen CTA sock recall: holes along the Brown Line and failure to cover much of the South Side of the foot.
Olympic Dream
Maybe local reporters should vet the economics and feasability and politics of Chicago's Olympic bid rather than cheerleading. You know, be reporters - which means doing more than calling people and writing down what they say.
Sheriff Don't Like It
I didn't weigh in on the Cook County sheriff's race, but Rev. Jesse Jackson just endorsed Republican Peter Garza, as has the Chicago Defender, which said: "We cannot forget the way in which Dart was chosen to serve as the successor to Michael Sheahan, completely shutting out African Americans from the process and only allowing us a place at the table after the fact. Forget the fact that Garza is a Republican. There is a need for African Americans in the city and county to full embrace a coalition between African Americans and Hispanics, and aligning with Garza is a good start."
Spot Sneed's Sources
Her pal Judy Baar Topinka plants a Brenda Edgar item; the Daley team plants a Jesse Jackson Jr. item, and; a friend of the Biedermeir furniture and art exhibit at the Milwaukee Art Museum plants an item.
The Beachwood Tip Line: Build a better garden.

Posted by Beachwood Reporter at 8:38 AM | Permalink
November 5, 2006
Barista! Holiday Spirits, On The Rocks
It is officially time again to unlock the hard liquor cabinet. And leave it unlocked.
At least that's my approach to the next two months of holiday fucking bliss. Hopefully I'll be just lucid enough to remember the safe codes, but just hazy enough to forget it all ever happened by February.
As though the season isn't miserable enough on its own, the company I work for all but blows Santa for eight weeks straight. Nine, if you count this week - the one preparing, training, unwrapping, decorating, and stomaching for the main stretch.
Our store had a festive meeting the other night to unveil the fabulous new products available in our Holiday 2006 line. My manager kicked it up a notch with some bitchin' snacks at the meeting. I unabashedly devoured most of the raw veggie platter, as well as my coworker "Lillian's" mom's special peanut buttery crispy chocolatey things. Kudos Lillian's mom, kudos.
We also did a coffee tasting, and I must say that this year's holiday blend is especially delectable. I like to describe it as smoother than a bear shitting in the woods. A big cute North Pole polar bear with a scarf and a cup of coffee shitting in the woods, that is! I'm pretty sure that's the scene I saw inside one of our new holiday items for sale - a snow globe that rests atop a ceramic version of our company's logo cup.
This brings up two questions: Why do we sell snow globes? (Or even DVDs for that matter.) And, has the idea of holiday tradition really been reduced to collecting things from the corporate coffee store? Not to mention the fact that everything for sale this time of year has somehow acquired the mystical value of being a "collectible." Just who determined that? Oh yeah, some dude in marketing. There's a reputable source.
*
Aside from the company mentally preparing me for the holidays, I've also taken it upon myself to practice deep breathing stress relief techniques to help me avoid physical violence every time somebody orders a skim eggnog latte and claims that the skim milk "balances" the eggnog.
Allow me to break down the simple math for everyone: A medium eggnog latte made the normal way, with whole milk, is 550 calories and 19 grams of saturated fat (29 fat grams total). The same drink, substituting whole milk for skim, is 440 calories and 13 grams of saturated fat (20 fat grams total). Either way, you may as well eat a Big Mac (540 calories and 10 grams of saturated fat, 29 fat grams total) and actually feel full for the amount of lard you're ingesting at once.

*
Overall, no matter what ugliness the upcoming season is sure to invoke in most of us, I am thankful that America has my coffee company around to induce some cheer in the otherwise dreary existence that is many people's lives. I mean that.
I have witnessed the warming transformation of the most cold-hearted sons-of-bitches upon discovering that we once again have gingerbread-based products. Hark! It's almost like Christ was born again right in this coffee shop!
Finally, I want to formally raise a stiff toast as we all embark into this jubilant time of year. As I report throughout the next eight weeks, it may get ugly. I may not be the sweet, sunny Maude that everyone has come to expect. If my predictions are correct, I'll be sharpening candy canes into weapons by week three, vomiting red and green by week four, and Hulkishly trampling nativity scenes by week seven, only sparing the barn animals and baby Jesus for hostages.
But until that happens, a toast to the anticipation:
The buzzing in my ear
sounds the looming threat of cheer.
Under a heavy snow-filled cloud,
The eggnog steams so fucking loud.
I fight to display niceness
as I internalize my vices.
My heart overflows, abundant with glee,
and my cabinet overstocked
with Jack, Johnny, Jim, and Stoli.

Maude Perkins is The Beachwood Reporter's pseudononymous service industry affairs editor currently serving time as a store supervisor for a large, publicly-held corporate coffee chain. Read more Barista! here.
Posted by Beachwood Reporter at 2:51 PM | Permalink
November 4, 2006
The Blue & Orange Kool-Aid Report
I watched very little football this weekend. How do you write about something you know nothing about? I polled the Kool-Aid Nation. Here is their report.
First Quarter
* Bears return opening kickoff 242 yards, setting a record in return yards and also becoming the first team to collectively tear the space-time continuum. (Bears 7 - 49ers 0)
* Forty-Niners start their first drive from their own 20-yard line with a handoff to Frank Gore. Tommie Harris literally draws and quarters Gore, causing a fumble which he then returns for a touchdown. Harris feels bad about ending Gore's life and sits out the rest of the game. (Bears 14 - 49ers 0)
* Bears kicker Robbie Gould kicks a 41-yard field goal. Gould actually missed the kick at first but the ball traveled around the world and sailed through the uprights on its second pass. (Bears 17- 49ers 0)

* Rex Grossman throws a touchdown pass that goes through the hands of former Bears defensive back Walt Harris and into the hands of current Bears wide receiver Bernard Berrian. Harris leaves the game and is listed as "probable" for next week with two missing hands. (Bears 24- 49ers 0)
Second Quarter
* The first-quarter field goal that Robbie Gould continues to orbit the earth. Since ball goes through uprights again, officials grant the Bears three more points. (Bears 27 - 49ers 0)
* Due to the lopsided score, Bears allow the 49ers to field 15 players. Brian Urlacher takes over the game by lifting 7 offensive linemen over his head and throwing them into 49ers quarterback Alex Smith. Officials grant the Bears a safety to honor this feat of strength. (Bears 29- 49ers 0)
* Bears running back Thomas Jones caps a 12-play drive by diving over line from the 49ers 10-yard-line. All PATs are waived by officials since the last kicked football is now out of Hubble range. (Bears 35 - 49ers 0)
* Angered by a lack of playing time, Bears running back Cedric Benson rips off an 80-yard touchdown run. Then he resumes pouting on the bench and demands a trade. (Bears 41 - 49ers 0)
Third Quarter
* Bears spend the third quarter in the locker room. Forty-Niners are too traumatized to score.
Fourth Quarter
* The Bears send out Willie Gault and Dan Hampton to finish game. The 49ers create a diversion, hit Dan Hampton on head with folding chair, and score a touchdown. (Bears 41 - 49ers 7)
* Having ruined the Bears shutout, the 49ers head straight for the airport, but both the Blue & Orange Lines are slowed due to a series of firest, switch malfunctions, and human errors. The Bears catch up with the 49ers on each line, beat them up, and steal their CTA cards. Refs award an additional 14 points, but upon replay review find the Bears were offsides at Clark/Lake. The 49ers kick a field goal when no one is looking. (Bears 41 - 49ers 10).
Miami at Chicago
Miami moved from "Decent" to "A Complete Embarrassment to the whole State of Florida" last week. It's hard to embarrass a state that has produced hanging chads, KC and the Sunshine Band, and Katherine Harris, but the Dolphins have done it. Cuban-Americans in South Florida are so ashamed they are reportedly considering returning to Havana. Meanwhile, the Bears will send their starters to the East Coast early to prepare for the resumption of their regular season schedule.
Pick: Chicago minus 13.5 points/Over 38.5 points scored.
*
Sugar in The Blue & Orange Kool-Aid: 97%
Recommended sugar in The Blue & Orange Kool-Aid: 90%
*
For more Emery, see the Kool-Aid archive, and the Over/Under archive. He can be contacted at Eric_Emery12345@yahoo.com. Or berate him publicly.
Posted by Beachwood Reporter at 5:44 AM | Permalink
The Weekend Desk Report
Sample Ballot
Vote early and often; after all, it probably won't count anyway.

Line #1: The Race for Illinois Governor
Judy Baar Topinka. Rod Blagojevich. Rich Whitney. Marry, shag or kill?
A. Marry Topinka, shag Whitney, kill Blagojevich
B. Marry Blagojevich, shag Whitney, kill Topinka
C. Marry Whitney, shag Topinka, kill Blagojevich
D. Marry Whitney, shag Blagojevich, kill myself
Line #2: The Changing Tide
If the Democrats wrest control of the House from the Republicans on Tuesday, it will be a triumph of:
A. War over Wallet
B. Center over Extreme
C. Container over Content
D. Gays over God
E. Oh, whatever
Line #3: Judgement Day in Iraq
A verdict is expected this weekend in the trial of former Iraqi president Saddam Hussein. Considering the serious nature of the charges against him and the possibility of a capital sentence, Saddam will be found:
A. Guilty
B. Not Guilty
C. Dead in his holding cell
D. Hanging out in the Northwest Frontier with his Weapons of Mass Destruction.
Line #4: Last Scandal in Paris
It's the end of days, the final push before the mid-term election. What last-minute conservative admission will rock the Republican party ranks?
A. Ted Haggard admits he snorted meth but never inhaled
B. Mark Foley admits snorting meth off congressional page
C. Bob Ney admits snorting meth off Jack Abramoff
D. Halliburton given no-bid contract for meth labs in Iraq
E. Mary Cheney comes out as straight
Line #5: Marching to Perfection
With a mix of pushovers and potential contenders on their schedules the next few weeks, which will be the last undefeated team in the NFL?
A. Da Bears
B. I don't know; Peyton's looking pretty good
C. DA Bearsdabearsdabears
D. Dude, quit saying that
E. DAAAAAAA Bearsdabearsdabearsdabears
Line #6: Next in Line
With Ali G. retired, Borat in theaters and a Bruno film reportedly in the works, what ingenius character will Sacha Baron Cohen develop next to make Americans uncomfortable?
A. Ron Ruse, awkwardly non-gay film star
B. Benny Bastert, awkwardly incumbent Illinois politician
C. Osama bin Laden
Line #7: Dictator Deathmatch
Who's your money on?
A. Kim Jong-il
B. Mahmoud Ahmadinejad
C. Than Shwe
D. Kanye

Natasha Julius has completed her early voting; she is now working on the often part. For additional assistance in the voting booth, see The Beachwood Election Guide To Throwing The Bums Out And Smashing The Machine. Catch up on the week's Papers and The Weekend Desk Report archive here.
Posted by Natasha Julius at 2:23 AM | Permalink
November 3, 2006
Everybody Must Get Stony Brooked
Mmmmm, Stony Brook. I know it's probably just another crappy-ass town on Long Island, but the name sounds so cool. Like there's a bunch of folks hanging out down by this beautiful babbling brook who are, well, getting stonyed. And they all gather 'round to listen to their fine local non-commercial radio station, WUSB-FM - also known as Radio Free Long Island - especially on Tuesday nights, when the Tuesday Night Rock and Roll Dance Party is on the air. As Gene Vincent sings about pink Thunderbirds, they start dancing across the stones, deftly avoiding the rushing water below. In my mind's eye, it's truly an inspiring sight. Three hours later, the dancers are still high and dry, yet drenched in the sounds of garage rock at its best.
Then I wake up, convinced that's how life should be every day. We should all be living in some kind of Stony Brook of the mind. And thanks to its podcast, the Stony Brook dance party doesn't have to be for Tuesday nights only. Through the magic of downloading, it can happen any time you can access your iTunes. The show - which has been on for quite awhile and used to be called Dead End Radio - is hosted by some dude named Michael, but I can't tell you anything more about him because, judging by the lack of information on the show's website, he prefers to rock in obscurity. Which is a shame, because he's doing yeoman's service by coming up with three solid hours every week of obscure rockin' oldies, vintage R&B and the best in new retro-garage. Where does he come up with all this stuff?
While factoids about Michael himself seem to be in short supply, he's very generous in supplying his voluminous playlists. He's also got this B-movie horror thing going on in the background when he's on the air giving the song titles - the sound of a bubbling cauldron and maniacal laughter. I know that there was a seminal East Coast rock jock from the '50s and '60s who did that, too, and I'm sure it's some sort of homage to that guy, whoever he was. Michael's delivery is pretty no-nonsense, with little or no joking around and a lot of "getting right back into the music." I appreciate that. Thanks, Mike.
Here is the Rock and Roll Dance Party playlist from Oct. 24.
1. Rock And Roll Trio, "Tear It Up" (Coral)
2. Mon-vals, "Cool Cat and His White Bucks" (Pen Joy)
3. Bob Riley & the Atoms, "Rock and Roll Mama" (Rare Fifties Boston Rockabilly)
4. Bullmoose Jackson, "Watch My Signals" (Black Tootsie Roll)
5. Ace Brown & the Helldivers, "7-10 Split." Down To Nickels and Dimes
6. Rip Carson & the Twilight Trio, "Heart Attack." Stand Back
7. Ronnie Self, "You're So Right For Me" (Columbia)
8. Bill Haley & His Comets, "Straitjacket" (Essex)
9. Cochran Brothers, "Tired and Sleepy" (Ekko)
10. Gene Maltais, "Gang War" (Lilac)
11. Gene Vincent & His Blue Caps, "Crazy Legs" (Capitol)
12. Gene Vincent & His Blue Caps, "Pink Thunderbird" (Capitol)
13. Barnshakers, "Wiggle Like a Worm" (Goofin')
14. Don & Dewey, "Justine" (Specialty)
15. Cordwood Draggers, "Might as Well Howl." My Baby Likes a Rocketship
16. Rory Justice & His Ubangi Rockers, "Let's Go Baby." Rock n Roll Flu
17. Flatfoot Shakers, "Blow Whistle Blow." High Heeled Lovin' Machine
18. Janis Martin, "Barefoot Baby" (RCA Victor)
19. Smokey Stoker, "Let's Have a Ball" (Rare Fifties Boston Rockabilly)
20. Artie Holmes, "Wee Willie Wiggle" (Rare Fifties Boston Rockabilly)
21. Hasil Adkins, "Jenny Lu." Chicken Walk
22. Willie Egans, "Rock And Roll Fever" (Dash)
23. Shortie Billips, "Boss Chick" (Black Tootsie Roll)
24. Bo Diddley, "Rock and Roll." ..and Company
25. Rahgoos, "Do the Rahgoo." Garage Beat '66
26. Excels, "Let's Dance" (Move It)
27. Ronnie Cook & the Gaylads, "The Scotch" (Norton)
28. Don & the Goodtimes, "Long Green" (Original Northwest Sound)
29. Dimensions, "Penny" (Flash and Crash)
30. Joey Gee & the Come Ons, "She's Mean." Garage Beat '66
31. Heartbeats, "Little Latin Lupe Lu." Garage Beat '66
32. Devo, "Uncontrollable Urge." Pioneers Who Got Scalped
33. DC Snipers, "Get Awesome On the Street." Missle Sunset
34. Guitar Wolf, "Missile Me." Bang Of Hammers
35. Jewws, "Space City Beat." L'explosion du Son de Maintenant
36. King Khan & BBQ Show, "Why Don't You Lie?" What's For Dinner
37. Kaiser George & the Hi-Risers, "Confession Of Love." Transatlantic Dynamite
38. Squires, "Going All the Way." Going All the Way With the...
39. Bunnies, "Gravy" (s/t)
40. Fabulous Itchies, "Do The Mashed Potato." Here Come the...
41. Breakaways, "Farmer John." Let's Go To The Beach
42. Rave Ons, Love Pills." Too Much Monkey Business
43. Midniters, "Whitier Blvd." n Thee Midnight Hour
44. Jaguars, "Railroad Drag" (Norton)
45. Kookie Kat, "Neow Not Neow" (Atco)
46. Los Straitjackets, "Kitty Kat." Twist Party
47. Kaisers, "Hipshake Shimmy Kitten." Squarehead Stomp
48. Frankie Stein & his Ghouls, "Elbow Twist." Ghoul Music
49. Rave Ons, "The Line." Party Party Party
50. Rivingtons, "Long Tall Sally" (Liberty)
51. Ken Nordine & the Kinsmen, "Hot Saki." Oriental Rock
52. Michael & the Jesters, "Screwdriver." Frolic Diner
53. Sadies, "Black Sheep." Tales Of The Rat Fink
54. Sam the Sham & the Pharaohs, "Monkey See Monkey" (MGM)
55. Invictas, "Watusi!" (Fine)
56. George Washington & the Cherry Trees, "Crisco Party." Flash and Crash
57. Big Inners, "Ethymoditis Com Polypopis." The Big Itch
58. Bel-Tones, "Back Down." Strummin' Mental
59. Gen Jenkins, "Short Stuff." The Big Itch
60. Viscounts, "Night Fight." Wildsville
61. Twilights, "Bohemian." Weirdsville
62. Visions, "Cigarette." Wowsville
63. Fritz & Jerry, "Pad." Weirdsville
Posted by Don Jacobson at 6:57 PM | Permalink
The [Friday] Papers
ABC News political director Mark Halperin was on Charlie Rose last night explaining that, sure, John Kerry didn't say what he was accused of saying, and no honest, serious person believes that he did. Nonetheless, Halperin argued, Kerry got what he deserved because he failed to properly manage the media's reporting of what was never true in the first place.
That's where we're at, folks.
The truth doesn't matter; managing the spin does. And when the media blindly buys into one party's spin instead of doing their job and vetting political claims, it is incumbent on targets of spin to satisfy these dimwits by doing things like apologizing in just the way reporters demand for what the reporters reporting the apology know was an offense that never actually occurred. But reporters now operate on the playing field of political strategists - the most cyncial creatures on the planet - instead of dragging the vipers onto the playing field of journalism and giving them the shellacking they deserve.

Similarly, Newsweek's chief political correspondent, Howard Fineman, laughed his head off this week at the suggestion that President Bush or anyone in the White House actually believed Kerry said what they accused him of saying. Of course not, Fineman said, but that's not the point.
I happen to believe it is.
If politics is a House of Mirrors, so be it - that just makes it even more incumbent on journalists to be hell-bent on getting and presenting the truth. Now large chunks of America will never know the truth in this case - just as folks still believe Al Gore said he invented the Internet and that Bill Clinton held up air traffic at LAX to get a haircut and Dan Quayle didn't know how to spell potato (he was reading off the answer card given to him) and George H. W. Bush didn't know what a grocery scanner was.
Those guys aren't the idiots. The idiots are people like Neil Steinberg, who doesn't know the first thing about politics or John Kerry's history as a genuine war hero and how he's handled it all these years, and people like Steve Huntley, who finagle their way into influential positions without any particular skill or insight to deserve them and write bizarre stream-of-consciousness columns like this one filled with outright falsehood and folly.
Halperin himself calls this media phenomenon The Freak Show.
The truth of the matter is that the White House and national party leaders and the national press corps all know it is a game. In the end, you all get played for rubes - which at least isn't as bad as being one of the fools unwittingly drafted into rube-playing business, like Steinberg and Huntley.
Brain Freeze
"The mayor's son, Patrick, enlisted in the Army in 2004 at the age of 29 after graduating with honors from the University of Chicago's MBA program," Fran Spielman noted this week. "In other words, he's no dummy."
Choose from among the following punch lines:
A) Unlike Kerry, who graduated from Yale and got his law degree from Boston College. What an idiot!
B) Though, truth to be told, the longer acronym for the MBA program he went through is MBAFCMI - for My Bad Ass Father Clouted Me In.
C) How does that explain Bush, then, who went to Yale and got his MBA at Harvard?
Mission Really Looks Like Fun!
Steinberg sang a different tune about war heroics three years ago when he castigated critics of President Bush's flyboy Mission Accomplished stunt. "When I saw the president take off his helmet, smile broadly and greet the assembled servicemen and women, I thought: That looks fun," wrote Steinberg, who now poses as a war critic.
"Bush doesn't really need to underline his commander-in-chief chops - the Iraq War did that nicely," Steinberg wrote back then. "Rather, I believe, he chose to arrive on the Abraham Lincoln the way he did because it seemed like a hoot."
Aw, shucks.
Vote Smart
Remember, you are allowed to take The Beachwood Election Guide To Throwing The Bums Out And Smashing The Machine into the voting booth with you, no matter what our corrupt election judges say.
O'Rahma
Read Kass to the bottom. We should never forget who Rahm Emanuel is - Cynic Incarnate.
A Better Question
"Can Merit Pay Turn Around Failing Schools?" a Sun-Times headline asks today.
I don't know, can it turn around a failing newspaper?
Clout Care
"Even Docs Needed Clout, Says Ousted Chief of County Hospitals" might have landed on front page - EVEN DOCS NEEDED CLOUT! - if the publisher hadn't decided to back Todd Stroger in an effort to win back black readers the paper abandoned years ago when Hollinger and its stellar cast of high-quality journalists came to town 12 years ago.
Daley's Dots
The Daley media message team is planting seeds among its willing dupes in the press. Today it's Sneed, who hears from a "source" about one of the mayor's vaunted and useless ethics reforms that was announced to the entire world two years ago.
It's a Two-fer!
Later in her column today, Sneed hears - Pssst! - that Daley attended the Rev. Jesse Jackson's 65th birthday party last Saturday, which was only documented on video by local TV news crews, though she did get the scoop that the mayor didn't even skip to the front of the receiving line - as if Al Sharpton would have let him.
Letters to Their Editor
* Paul T. Baker of Avondale is the most astute writer in today's Sun-Times (second item). No offense to Baker, but that's just sad.

* Even letters to the editor are edited. Newspapers generally don't publish letters from people who claim World War II never happened, for example, or that the Blackhawks won the World Series this year. So why publish the letter from Jim Glogovsky of Gurnee? Then again, Glogovsky's only mistake is believing what he reads.
Advocating Ignorance
Huntley's editorial page today advises voters to ignore negative political advertising because then, maybe, the ads will go away - even as it further propagates the anti-Kerry spin point to poor folks like Jim Glogovsky.
Here's a better idea: Advise your reporters to fact-check every claim put forth in political advertising, and put the results on your front page, even if it means calling liars liars.
Hardball
"Let me get this straight now," Chris Matthews said this week. "When your opponent takes a word you said out of context and dump all over you on it, turning it into an attack on the military, then you apologize to the military for the fact they did it to you, right? Is that how it works, now?"
Fact-check
Memo to Steinberg: John F. Kennedy's election was NOT contested; even without any stolen votes in Illinois, he would have easily won the Electoral College. And Hugo Chavez is not a Latin American despot. He was elected by popular vote twice and survived an additional recall vote. Bush was only elected by popular vote once.
Ballot Bollocks
Rich Miller has a sample ballot distributed by Democratic candidate for Cook County Board Jim Dasakis and asks if you notice anything odd.
Answer: Not only is Rod Blagojevich's name missing, but it's disingenuous to give the impression that all of those newspapers endorsed all of those candidates - particularly Todd Stroger.
Green Screen
Miller also has the latest polling numbers and argues that it's all about Whitney. And here I thought it was all about Nieukirk.
Bank Draft
Huh, a press release was accidently published as news.
From CJRDaily
"[T]he raised voices of Republican operatives alone - even when the president is among them - do not a story make. For that you need reporters to amplify it and editors to give it prominence.
"The [Washington] Post article on the affair described its spread this way: 'The White House and Republican allies orchestrated a cascade of denunciations throughout the day to keep the once and possibly future presidential candidate on the defensive and force other Democrats to distance themselves.'
"What about the fact that these "denunciations" were picked up by the press and treated as a substantial story?
"To describe the Kerry kerfuffle passively - 'much of the day's political conversation centered on Kerry,' wrote the Post - is a guileless way of absolving journalists from any role in the story at all.
"Ironically, many of the articles on the Kerry slip-up were written as 'meta' analyses. Not wanting to deign to reprint blatant exaggerations by one side or another, the respectable press opts for writing stories about the fact that blatant exaggerations are being hurled from one side or another. Such an article might have been a good place to describe the press's role. But no.
"Take today's [New York] Times' 'Political Memo.' This is the closest we get to an admission of involvement: 'The White House, which had been struggling for ways to make President Bush less of a liability in the election, seized on Mr. Kerry's comments, with the president, vice president and spokesmen blanketing radio and television to blast him for impugning the troops.' (Note the absence of newspapers in that list of the culpable.)"
Media Matters
The Kerry media madness conveniently drowned out Republican House Majority Leader blaming the generals on the ground for the botched war in Iraq, as well as the president's pledge to retain Don Rumsfeld for the remainder of his term. Here's how the whole thing got started.
The Beachwood Tip Line: Do your homework; don't get stuck.
Posted by Beachwood Reporter at 7:21 AM | Permalink
November 2, 2006
The Beachwood Election Guide To Throwing The Bums Out And Smashing The Machine
Dear Beachwood:
I'm completely stumped on a few races.
I really want to send the Republicans in Congress a message, but it looks like all of the local races involve sending the Democrats a message. I'm torn. Voting Republican actually makes my skin crawl, although I've done it a few times in the past in extraordinary cases.
I've met Judy Baar Topinka a dozen times, but I just can't get myself to vote for her. I won't vote for Blago (didn't last time either . . . I abstained, although I do like Pat Quinn. Should I vote for indictment? I'm leaning Green Party here, even though I know he can't win.
As for Cook County Board . . . I can't and won't vote for Stroger . . . but a Republican? Is there a third choice? I'm leaning toward abstaining.
My congressman is Mark Kirk, who is a decent man (I've met him many times), but he voted for the Iraq War. I'm voting for Seals.
I can see why so many people don't bother voting . . . and it's not because we're uneducated about politics. It's because the more we learn, the less we want to vote.
Aaargh. Help us.
- Stumped and Torn
Dear Stumped and Torn:
Help is here.
Indeed, the elections this year are all about sending messages . . . or more like, sending the same message but to members of both parties: We've had enough. Don't shy away from voting against candidates with glee this year, instead of voting for candidates. Consider it a first step toward reclaiming our democracy.
Governor: Rich Whitney. If the frickin' Rockford Register Star had the guts to endorse the man, why can't you? He's polled as high as 15 percent in recent days despite operating in a virtual media blackout. He's right on the issues and every indication is that he's honest. Nobody owns him. And you know what? There's no reason to think he'd be anything but a fine governor - unlike his two opponents. Sure, the General Assembly would stiff him at every turn. What else is new? That's just one more reason why you should vote against tyrannical House Speaker Michael Madigan if you live in his district. Vote for the stooge he put up as his "competition." It's time to say you've had enough. Go Green.
Lt. Gov: You don't get to vote separately for this office, but it is worth keeping in mind that Judy Baar Topinka's running mate comes out of the infamous DuPage County criminal injustice machine. Pat Quinn becomes governor if/when Rod Blagojevich gets indicted/convicted. Whitney's running mate, Julie Samuels, is, as far as we know, the least compromised.
Secretary of State: Vote Rutherford (Republican) or Karen Young (Green). Jesse White might be popular, and he might employ a troupe of tumblers as the greatest name-recognition gimmick the state has seen, but he's still a Machine Hack who sees nothing wrong with tripling his daughter's salary, among a series of hiring scandals that have marked his tenure.
Attorney General: Lisa Madigan might be Michael Madigan's daughter, and the way she rode her father's strong-arm tactics into the office is indefensible, but she's done a relatively decent and honest job and might even make a fine governor or U.S. senator one day - if she would only tell her dad to cool it. My suggestion: Skip this race. Madigan will win in a walk. You will be on record as having voted neither for nor against her. So you kind of send her a message, but you don't turn her out of office.
Treasurer: Vote Radogno or Schlorff. Radogno appears to be a relatively solid, respected legislator. I don't know that this office is particularly sensitive to political ideology. Democrat Alexi Giannoulias supposedly has a batch of new ideas for the job, but how many new ideas are we looking for in a state treasurer? Barack Obama endorsed Giannoulias because Giannoulias gave him a ton of money, which tells you something about Obama. Giannoulias appears to be an arrogant, careless, overly amibitious, rich 30-year-old who has never seemed to adequately address the questionable loans given out by his bank.
Comptroller: Dan Hynes is in much the same spot as Lisa Madigan; both ascended to state office in large part due to their political families, but both have performed admirably in office. Like Madigan, Hynes is a potential future governor (and unlike Madigan, already a failed U.S. senate candidate). Hynes has been candid about the state's finances - in particular contrast to the sitting governor. I see no reason not to vote for him.
Cook County Board President: If Tony Peraica becomes the accidental county board president by virtue of the Democratic Machine's shenanigans, then so be it. The Machine must be destroyed; it is immune to reform. Don't be fooled: There is nothing to fear from a President Peraica. Not voting in this race is not an option (unless you don't live in Cook County, though maybe even then). Todd Stroger and his puppetmasters (Richard M. Daley, Barack Obama, Dick Durbin, Bill Beavers) must be stopped. A Todd Stroger victory would be the ultimate insult. Don't let it happen. Please. I beg you.
Sixth Congressional District: I don't live in this district, but if I did I would consider not voting. I can't stand Tammy Duckworth - she is a Dick Durbin/Rahm Emanuel creation who has nothing unique to say about Iraq despite her service there. If she hadn't lost her legs, she wouldn't be a candidate. If she had lost her legs and had something worthwhile to say about the war, like, say, Ron Kovic, she'd be a fine candidate. But that's not the case. Christine Cegelis got screwed. Meanwhile, Peter Roskam doesn't deserve the job if only because of the poor judgement shown in using a photo of himself in a Speedo in one of his television ads. What is he thinking? If you're a Dem, write in Cegelis. If you're a Repub, write in yourself. If you're independent, write in Stufflebeam, even though he doesn't live in the district. Neither does Duckworth.
Eighth Congressional District: I don't live in this district either (I live in the Fourth), but I can't stand Melissa Bean or David McSweeney. Vote your party and go home and throw up.
Other House Races By District:
* First: Bobby Rush is in bed with the telecoms. Send him a message.
* Second: Jesse Jackson Jr. is the smartest of the bunch. Send Daley a message.
* Third: Dan Lipinski is quite possibly even more disgusting than Todd Stroger. You know what to do.
* Fourth: I have mixed feelings about Luis Gutierrez, but he's been on fire this year on immigration and City Hall corruption. See Jackson.
* Fifth: My impression is that Rahm Emanuel is one of the most cynical, power-hungry politicians on the planet.
* Seventh: Danny Davis seems like a decent - if sometimes misguided - sort. Don't vote.
* Ninth: I don't have a fix on Jan Schakowsky, but I doubt she deserves your vote.
* Tenth: Mark Kirk is a smart guy who would have a brighter future as a national leader if moderate Republicans were more in vogue. I haven't followed Dan Seals's campaign, but up to now he hasn't gotten much support from Emanuel, who has the keys to the party's cash, so that's in Seals's favor. Vote your party. Or your conscience. Either way.
* Eleventh: Jerry Weller is a walking, talking, sitting conflict-of-interest. You know what to do.
* Twelfth: I have no idea who incumbent Jerry Costello is.
* Thirteenth: Judy Biggert is a captive of corporate interests, as far as I can tell. Doesn't Corporate America own enough public officials?
* Fourteenth: House Speaker Dennis Hastert is a greedy dick who thinks anyone who is against tyranny at home is soft on terrorism. Or at least pretends to think that. He has gotten a free ride long enough. Send him home.
* Fifteenth: I have no idea who incumbent Timothy Johnson is.
* Sixteenth and Seventeenth: You know, I just don't care. Really.
* Eighteenth: Ray LaHood is Hastert's mouthpiece - and not a very good one. Send him a message.
* Nineteenth: John Shimkus was in charge of the congressional page program. If anyone should pay, it's him.
Cook County Board of Review: Brendan Houlihan.
Judges: Judges, people. Find out who to vote against.
These views represent me and me only; I will not foist upon you the illusion that an editorial board has come to these conclusions after considered reasoning and study, as the daily papers try to do, instead of telling you that in the end the publisher comes into the room and rips up all the work that has gone before him in order to satisfy personal and business agendas which readers are never let in on, making endorsements one of the most fundamentally dishonest things newspapers do.

Posted by Beachwood Reporter at 2:15 PM | Permalink
The [Thursday] Papers
"Does anybody really think Kerry meant to insult the troops by implying that if you're not educated, you'll end up as a soldier in Iraq?" Richard Roeper asks this morning (second item). "Does anybody believe Republicans were really offended?"
Yes. Mayor Richard M. Daley and the Sun-Times.

The Dimmer Twins
"Reporter" Fran Spielman's original story posted on the Web last night was even worse. Note how it presumes the Republican spin as fact. Has Spielman seen the video? Read the transcript? Followed the coverage? No serious political analyst - and I watched and read a bunch of them yesterday - believes that George w. Bush & Co. actually think John Kerry maligned U.S. troops. Be a reporter, Fran, not a shill. Be a man, Mr. Mayor, not a child.
This is your media and your mayor. They're not very bright, and we all pay the price.
Bush League
Keith Olbermann, American hero.
Dick Joke
"He was for the joke before he was against it," the vice president joked about Kerry yesterday.
That's funny, because George W. Bush was for Vietnam before he was against personally attending it.
Dick "Dick" Cheney
Cheney avoided Vietnam with five deferments. "I had other priorities in the '60s other than military service," he said in 1989.
Someone should ask the mayor if that offends him.
Poll Dance
Which poll doesn't fit? It appears to be the Trib's.
Obamacide
John Kass returns to city and state politics from his foolish flight of John Kerry fancy, and, therefore, to sanity and reason, weighing in on The Audacity of Obama's Fence. Eric Zorn catches on to Obama's politics-as-usual, which anyone bothering to look at his record could have seen all along, in the next President of the United States of America's indefensible defense of Todd Stroger, whom he claims was a "strong voice" as a legislator in Springfield, among other ridiculousnesses.
One synonym of audacity is effrontery, from the French word for shameless.
Fence Fiasco
See for yourself by clicking on the image in this story.
Fence Post
I'm not sure, but it looks like Obama voted against the fence before voting for it.
Planet Sun-Times
"Remember the old Saturday Night Live skits where several mistachioed Mike Ditka look-alikes would predict Bears victories in preposterous hypothetical scenarios over beer, polish sausages and an occasional heart attack?" the "newspaper" wonders this morning.
Why no, I don't! Please refresh my memory!
Zwecker's World
If Zwecker worked for the Tribune - or the Bears - this would probably be on the Sun-Times's front page today in excruciating detail.
I smell a Chicago magazine story coming.
Tax Cap
"The IRS dispute is being worked out, Zwecker said, adding that the agency will end up owing him money."
Zwecker said that before the defense he was planning to use took a blow in another case.
O'Rahma
I think the formidable Lynn Sweet gives Rahm Emanuel a little too much credit this morning for what appears to be a coming Democratic tidal wave in U.S. House races.
"Emanuel, working from a national perspective, decided from the start to devote resources to the most viable candidates," Sweet writes.
Gee, what a novel idea!
Meanwhile, it's really Howard Dean, who fought with Emanuel over strategy, who will be vindicated - not just next week but two years and four years from now. It was Dean who brought the new idea of spending money to compete in all 50 states and who will probably steal a few seats not previously thought competitive as a result of it, not to mention the benefits down the road of establishing his party's presence in places Realpolitik Democrats like Emanuel had previously abandoned.
Governing
What's not to like?
Chicagoist: If you are elected governor, what would be your top three priorities for the State?
Rich Whitney: First, budgetary and education reform. Passing House Bill 750, including the Tax Swap. I'm the only candidate that is talking about fully funding education in a real way, a way that works for people.
Second, changing the rules of campaign finance. Ending pay-to-play, ending corporate donations. If you want to do business with the state, you can't be involved in politics. If you want to be involved in politics, you can't do business with the state.
Third, clean energy and sustainable transportation. Solar power, wind power, ending nuclear power in Illinois. I think this state is one of the largest producers and consumers of nuclear power. That must end. I would put a strong emphasis on smart urban planning, building cities that work for other forms of transportation, and putting a strong emphasis on public transit that works, that is affordable, and is sensible in the long-term.
You can read the full interview here.
Paper Houses
A few months from now both major Chicago dailies might be under different ownership - as well as the Cubs, WGN-TV and radio, and the Bears mini-footballs promotion. It's kind of a big deal.
Opportunity Knocks
Worried that your message is reaching a smaller and increasingly stupider segment of daily newspaper readers? Advertise with The Beachwood Reporter, Chicago's fastest-growing news source! And easily worth the 50 cents a day you're spending to read those other sinking ships. Spend with us instead.
The End of Halloween
Today is Media Notebook day over at Rick Kaempfer's, and true enough he's got Dr. Laura talking action figures and video of David Letterman's latest tilt with Bill O'Reilly. But I was most amused catching up with Halloween Butt.
(Also from Kaempfer: Why did the vampire subscribe to The Wall Street Journal? He heard it had great circulation . . . )
Piniella Resigns
"I truly believe this move will give me a better opportunity to win."
The Beachwood Tip Line: Pipeline to freedom.
Posted by Beachwood Reporter at 7:34 AM | Permalink
Genre-Bending: A Literary Trend to Loathe
There is a new literary trend upon the land and I would like to register my disgust. Call it the emergence of the Nonre - the Genre formerly known as "Novels" or "Literature" or "Fiction" (or, in some cases, as we shall see, "Pets.")

The Nonre tends to be made up of meaningless books about meaningless people who do meaningless things. "Chick Lit" is a perfect example. Women gripe about their sisters, their jobs, their bosses, who they're sleeping around with, their shoes, and their crappy roommates. This is literature? People spend money to read this?
Here's a hint: Stop by the ladies' room of any "hip" bar, especially downtown after the corporate workday has let out, hang around for half an hour, and you'll save yourself $24.95. I mean, sure, these books may provide an occasional laugh, but more and more, I see women reading just Chick Lit, and this alarms me. It's fluff. It's junk food. It's killing their brain cells. It's the equivalent of reality TV or Twinkies, and it's created because people who work in the entertainment industry, whether it be television or publishing, have figured out that they don't have to make us think to keep us entertained and interested and that, my friends, that should make us afraid.
A real-life anecdote: I suggested to a friend that her book club read Michael Chabon's incredible and award-winning The Amazing Adventures of Kavalier and Clay. When I asked her how it was going, she grimaced. "Honestly, everyone found it really difficult to read. They just didn't get it. I think I'm the only one who actually finished it. We ended up choosing something a little lighter instead." Their choice? A brainless Chick Lit novel so insignificant I neither remember its title or author.
Why not just do away with the books altogether and just meet for martinis and Sex and the City reruns?
Ironically, Chick Lit is now seen as reading fit for "smart girls" as defined by Debra Pickett's Chick Lit-centric "Smart Girls Book Club" column in the Sun-Times, which I suppose is true if you define smart girls as women who don't read much. If the definition of smart has become figuring out whether he dumped you because your shoes were out-of-date or because he's sleeping with your roommate, kill me now.
Although big-box bookstores prominently display Chick Lit all over, we can at least be thankful that only one Chick Lit book is currently among the top 15 New York Times bestsellers - at number 15. Jennifer Weiner (author of such craptastic novels as In Her Shoes) is doing quite well with The Guy Not Taken: Stories. What could be better than a novel about shoes and disastrous relationships? You got it: Short stories about them.
The other Nonre category that drives me crazy is the Pet Memoir. For God's sake, Marley and Me is Amazon's third best-selling paperback, and it's been in print for well over a year. Hasn't everybody who cares already read it? It's the latest excuse my sister-in-law is using to block my well-deserving niece from having a dog on her own, her theory being that if a dog can be as horrible as the main character in this emotionally manipulative piece of garbage, it will be just her luck to get such a dog.
People who see me with my own dog often ask if I've read Marley and Me and the answer is a resounding "NO!" Why the hell would I want to set myself up for inevitable heartbreak by reading about a dog who is incorrigibly bad (but lovable all the same, of course), when, in the end, right about the time you get attached to the rotten dog, it dies? I'd rather read something that's enlightening or enriching or has more value than a cup of Ramen. Great, the author achieved catharsis. What the hell was in it for me?
I could crank out chick fic and pet memoirs all day long. It might even fund more serious writing projects. But I would hate myself for it.
There are great books out there. They're a little harder to find these days, but they're worth looking for. In the meantime, ask yourself if you really care whether the Devil wears Prada or Nikes?
Posted by Beachwood Reporter at 12:17 AM | Permalink
November 1, 2006
Dating Math
Whittling the pool of acceptable heterosexual dating options for a single man in Chicago.
Chicago and its suburbs: 9 million people
Subtract the suburbs: 3 million remaining
Subtract for gender: 1.5 million remaining
Subtract for age: 500,000 remaining
Subtract for married and monogamous: 250,000 remaining
Subtract for unmarried but in a monogamous relationship: 125,000 remaining
Subtract those you will never be attracted to: 62,500 remaining
Subtract those who will never be attracted to you: 31,250 remaining
Subtract for sexual preference: 28,125 remaining
Subtract those in prison who would otherwise meet the remaining qualifications: 25,000 remaining
Subtract those with unacceptable record collections: 5,000 remaining
Subtract the certifiably insane, with regret: 4,000 remaining
Subtract those you will never meet: 2,000 remaining
Subtract those with unacceptable religious beliefs: 500 remaining
Subtract neat freaks: 250 remaining
Subtract those who eat their peas one at a time: 225 remaining
Subtract those whose parents will never accept you: 100 remaining
Subtract those you've already dated/slept with: 75 remaining
Subtract those whose lifestyle you can't afford: 50 remaining
Subtract bad tippers and atrocious drivers: 25 remaining
Subtract those who can't be true: 12 remaining
Subtract those with unacceptable political beliefs: 6 remaining
Subtract those you work for or who work for you: 3 remaining
Subtract those who don't speak English: 1 remaining
. . . And she just moved to New York City.
Posted by Beachwood Reporter at 1:49 PM | Permalink
The [Wednesday] Papers
John Kass would do well to apply the same formidable powers of skeptical, politically-knowing observation that he uses in assessing Illinois politics to his pals in the national Republican party - and his colleagues in the media. Anyone watching the video of John Kerry's speech in Pasadena could see that he was obviously referring to the president and not the troops when he joked that if you don't do your homework you wind up stuck in Iraq. Sometimes the story isn't the trumped-up offense that political operatives and White House strategists pretend has occurred, but the despicable fact that they are making the charge and, in this case, exploiting our soldiers, in the first place.
Look at the slide from U.S. Central Command that accompanies this story and tell me if we should be arguing about anything John Kerry has said lately as opposed to what he said 35 years ago, when he said, "How do you ask a man to be the last man to die for a mistake?"
Grow up, people.

*
"Almost a third of the 102 U.S. troops killed in Iraq in October - the fourth deadliest month of the war - were on extended, second or third tours," the Tribune reports.
*
The number of dead American soldiers in Iraq has become too many for the Tribune to track.
*
"Now he's sitting on the fender of a Chevy truck, strumming a guitar and singing, 'Well, I can stand beside ideals I think are right, and I can stand beside the idea to stand and fight.' He can also stand beside a nice shiny truck, if the fee is right."
- New York Times media columnist David Carr on John Mellencamp
*
The Rockford Register Star stands besides ideals it thinks are right.
*
This story would be better if it turned out that Patti Blagojevich was the real estate agent.
*
*
But only on the Web. The death march of the print edition continues.
*
Richard Roeper explains to readers at the end of this column that when he's "on vacation" from his newspaper column he's actually tending to his 25 other jobs. Hey Rich, maybe just pick one job and do it well.
*
Product Placement of the Day: United Airlines.
*
"Nine months after coming out of a brutal bankruptcy, United Airlines keeps gaining altitude."
Ha ha ha ha ha ha ah! Stop! Please!
*
Buried: "[United CEO Glenn] Tilton received a 40 percent pay raise and a new five-year contract in September, a year before his previous employment agreement was due to expire."
*
"Overall, salaries will increase at United about 1.5 percent."
*
"6/17/05: [United] reaches agreement with last union on $176 mil. in wage concessions."
*
Sneed steals another paycheck.
*
Rex Grossman's message to students at a financial seminar sponsored by VISA, the NFL, and U.S. Rep. Judy Biggert: Think twice about that $125,000 Mercedes-Benz CL55, because one day your performance bonuses may run out.
*
Surprisingly, it turns out that Biggert is a member of the Financial Services committee, which is no doubt generously funded by VISA; Biggert is on the Financial Services Subcommittee on Capital Markets, Insurance, and Government Sponsored Entities. and the Subcommittee on Financial Institutions and Consumer Credit.
*
Anyone who thinks Todd Stroger and the Democratic Machine have the market on compassion for the poor and/or vulnerable citizens of Cook County, please read this and explain to me how the patronage-drenched and willfully incompetent Stroger organization is in anybody's interest except those who are drawing paychecks from taxpayers for doing a lousy job - or no job at all.
*
"Senator Obama feels that Stroger has the experience to usher the county into an era of progress," an Obama spokesman says.
Yep, presidential timber.
*
"You don't demean people in public service," Mayor Richard M. Daley said Tuesday. "You can disagree with somebody, but you don't have to attack them personally."
*
"Daley Sees Race in 'Big Box' Debate"
*
The Bears-49ers game as retold by the Kool-Aid Nation.
*
The Beachwood Tip Line: Join the Beachwood Nation.

Posted by Beachwood Reporter at 8:31 AM | Permalink
Barista! A Grande Skim Offensive Latte
My struggle with catering to the whims of every belligerent customer who comes through the door reached comic proportions the other day when a patron especially sensitive to breast cancer came in for a skim latte and left in a huff. How was I supposed to know?
It had already been a long day at the office. My energy level - and tolerance for condescending yuppie bitches with their miserable offspring - was winding down. It was near closing time and patience was in short supply when one of the said yuppie bitches noticed a sign on our register countertop that piqued her interest. Unpleasantness ensued.
Earlier in the day, my coworker "Leona," who is also a school teacher, stopped by and showed us her new faculty photos. "Can I have one for my wallet?" I joked. She happily cut me a 2 x 3.
Not thinking much about it, I set Leona's picture by the register, wedged into a standing countertop sign display. As far as I can tell, nobody ever looks at these things. Rarely do I even heed the messages or promos so urgently - and colorfully - on display in its metal frame. The extent of my relationship with the countertop sign is that I happen to punch it at least ten times a day in vain attempts to serve my customers in a swift, graceful manner.

So there is wallet-size Leona, smiling her giant pearly whites at all the customers from her countertop perch - looking especially pretty in her scooped-neck navy blue top, which, I should note, perfectly accentuates her gargantuan breasts, voluptuous and perky as the day is long.
When Yuppie Bitch first cast her eyes on Leona, I thought I noticed a moment of recognition. Maybe Leona was her miserable offspring's teacher, I thought. You can imagine my shock when Yuppie Bitch's naturally sour face contorted into a look of uncomfortable concern.
"This woman who works here," she whispered in a suddenly humane way, "Is she a breast cancer survivor?"
I burst out laughing when I noticed that Leona and her tig-o-bitties were propped into the pink register sign that was advertising Breast Cancer Awareness Month.
"No," I said, chuckling at this accidental juxtaposition. "She's a teacher - she dropped off her picture earlier."
Apparently unamused, Yuppie Bitch grabbed her purse and her miserable offspring and stormed away in motions of deliberate offense. Oh no, did I cause your shriveled heart to beat a little faster for a moment there? Was this not the inspiring coffee experience you were expecting?
I could only laugh out of blatant disgust. Not because I am insensitive to cancer of any kind, but because I am amazed at what innocence offends people these days. I realize that Y.B. may have lost someone to breast cancer, or perhaps she battled with it herself. However, she reacted to me as though I saw her coming and set her up to unnecessarily emote.

In today's world of political correctness, and the over-sensitivity of Americans in general, I am continuously amazed that anybody can take life so seriously. I would go insane in a week if I let half the things that could offend me, offend me.
I work in a place that insults me at every turn. I serve people whose lifestyles and narrow minds rarely escape the gated confines of their country clubs. I serve mascara-ed 12-year-olds with hundred dollar bills. I babysit the toddlers of negligent moms, too caught up in vanilla lattes and town gossip to notice their children running amok and growing into shallow shit stains like themselves. Lest we forget, I cheerily provide a service to people with Dubya bumper stickers.

Yet I still find the humor in every day. I can't dwell on the disheartening nature of the demographic I serve - a group of people who are, by society's standards, considered "normal" when, in reality, they mostly lack any sort of genuine, grounded perception of life. Their lives are desired, sought after, envied. They are what most of us blue-collars aspire to be. The world revolves around targeting them and getting their business. They are monetarily powerful, but rarely moralistically so. The hierarchy of power embraces money before values and good nature, allowing for the financially privileged to think their shit don't stink. And my place of employment prevents me from telling them otherwise.
It is with great offense that I am forced to act friendly to this haughty cluster of disillusioned people. Even before Yuppie Bitch was so wholly taken aback by Leona's lack of cancer, she had already gotten in at least 60 seconds of pure condescension to me, the lowly service worker. My smile was never broken despite her unwavering nasty attitude.

Allow me to provide a little life perspective for those out there privileged enough to never slave in the underpaid world of customer service: Don't be a douche to those preparing products for you to put in your mouth. I'm not suggesting anything here, nor implying that I would personally doctor a drink depending on the degree of asshole ordering it. I am merely offering some hearty advice from a person who has seen it all and still manages to laugh at life's little offenses.

Maude Perkins is The Beachwood Reporter's pseudononymous service industry affairs editor currently serving time as a store supervisor for a large, publicly-held corporate coffee chain. Read more Barista! here.
Posted by Beachwood Reporter at 4:37 AM | Permalink