Search The Beachwood Reporter
Subscribe to the Newsletter
I took in Sunday's game against the Pirates from a left-field rooftop. Here's how it compared to watching the game from inside Wrigley Field.
SIGHT LINES: From the left-field rooftops you can't see the left-field warning track, so you can't see how afraid of the wall Alfonso Soriano is. ADVANTAGE: Rooftop.
CROWDS: Although the rooftop is full of people, it is not as full as Wrigley Field itself. And people suck. ADVANTAGE: Rooftop.
TOILETS: There are no troughs on the rooftops, unless you count the yards below. ADVANTAGE: Rooftop.
ANNOUNCEMENTS: You can hear the public address announcer when you're sitting inside Wrigley Field. You can't hear the public address announcer from the rooftops. ADVANTAGE: Rooftops.
COST: Rooftops are expensive. So are seats inside Wrigley. You get screwed either way. ADVANTAGE: Watching on TV.
VIBE: The rooftops are really laid-back and the game is somewhat secondary. Inside Wrigley, the vibe is really laid-back and the game is somewhat secondary. ADVANTAGE: Neither.
GARBAGE: Although it didn't come up, if you wanted to throw garbage on the field you could never make it from the rooftop. ADVANTAGE: Inside Wrigley.
OVERALL: Watching Cub games from rooftops has become mostly an expensive, corporate-sponsored proposition. Watching Cub games from inside Wrigley has become mostly an expensive, corporate-sponsored proposition. ADVANTAGE: Joliet JackHammers.
*
Week in Review: The Cubs took three of four from the Padres and two of three from the Pirates to go 5-2 on the week. If the National League was a pocket, the Cubs would be picking it right now.
Week in Preview: The Cubs travel to Houston and Pittsburgh for three games each this week. And then they probably play Pittsburgh again. Followed by Pittsburgh.
The Second Basemen Report: Mark DeRosa got five starts this week while Ronnie Cedeno got two. Just like Jim Hendry drew it up.
In former second basemen news, Mark Bellhorn is playing for Dodgers' Double-A team, the Jacksonville Suns. Mark also owns and operates four Dunkin' Donuts franchises in the greater Boston area. He is missed.

The Zam Bomb: Big Z cracked bat over his knee this week. In Z's world, that's simply Furious. But he's due to go boom.


Lost in Translation: Jimio Edmonso-son is Japanese for "better five years ago."
Sweet and Sour Lou: 71% sweet, 29% sour. Lou didn't get any sweeter or sourer this week due to winning baseball and a loco ace pitcher. And like your real crazy drunk uncle, Lou expects you to clean your room so when it's clean he doesn't think he has to get all excited about it. He also knows that you have some issues but he's not going to coddle your ass. Besides the only way he knows how to settle issues is with a kick in the backside. Now, deal with your own head issues and leave him alone.
Center Stage: Jim Edmonds is in the house. Felix Pie is back on the community theater circuit. Reed Johnson still gets top billing. Just like Hendry drew it up.
The Cub Factor: Catch up with them all.
Beachwood Sabermetrics: A complex algorithm performed by the The Cub Factor staff using all historical data made available by Major League Baseball has determined that there's a connection between mental stability and bats broken over one's leg.
Over/Under: Number of bats Carlos Zambrano breaks over a leg this year: +/- 3.
With Apologies To Nena: 99 Years of Cub Losses (99 Jahre von Bengeln Verlusten).
Mount Lou: Mount Lou stays at warning level yellow despite cool winning breezes that have recently hardened the surface of Mount Lou. Deep down in Mount Lou's core, hot molten anger churns over a certain headcase pitcher Lou knows he has to count on. Villagers in Pittsburgh Friday night are warned to have an escape plan at the ready.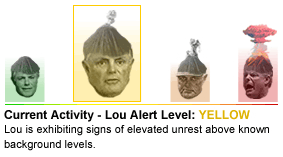 -
More from Beachwood Sports »
Will Bob Baffert ever go away? Churchill Downs Inc.: It's just what they do. Dickie D. dead. Cliches can shape your biorhythms. Double-teaming justice. You look just like. We asked one person, me.
Continue reading "TrackNotes: Back To The Future" »
Posted on Jan 28, 2022

Electric, indefatigable and, finally, undenied.
Continue reading "Minnie Miñoso Was Very, Very Good To Us" »
Posted on Dec 9, 2021