Search The Beachwood Reporter
Subscribe to the Newsletter
Last week had its sour notes, but with an impressive sweep of the Diamondbacks over the weekend to put the Cubs back into first place, we here at the Cub Factor are going to let our guard down and make a declaration: It's time, people. Time to hop on the Cub Train. And like the CTA, it's on fire. (Unlike the CTA, it's making stops all over town.)
On the other hand, the last thing you want is to board a bandwagon full of your colleagues at the office. So just throw a few of these winners out this week at the office cooler and keep your rep as a skeptic intact.
* Alfonso Soriano is going to carry this team. If the team needs be carried a short distance.
* Carlos Zambrano is really a team guy deep down. And it will take years of psychotherapy to get to that layer .
* Derrek Lee's power is back. Too bad he left his glove behind.

* Reed Johnson plays centerfield like a blow-up doll with a bat up its ass.
* Off-season cockfighting has been good to Aramis Ramirez. He no longer plays like a chicken with his head cut off, just like a guy trying to be the biggest cock.
* Mike Fontenot can bench press more than twice his weight. But you and I can bench press Mike Fontenot.
* Daryle Ward can eat twice his weight in one sitting. If he shows some discipline.
* Mark DeRosa is a better utility player than ComEd. But at least ComEd plays every day.
* Lou Piniella pushes all the right buttons. All those years of video poker have finally paid off.
-
Week in Review: The Cubs went 4-2 this week, losing two of three to Dusty Baker's lousy Reds and then sweeping a three-game series from the best team in the National League, the Arizona Diamondbacks. The bandwagon is now accepting passengers.
Week in Preview: The Cubs' homestand continues this week with four games against the underachieving Padres and three against the sadsack Pirates. By this time next week, the bandwagon should be fairly full.
The Second Basemen Report: Three different players started six games at the second sack this week. DeRosa got three starts, Ronnie Cedeno got two, and Fontenot got one. Uncle Lou is looking for the hot hand and second base is where he stokes the fire. Whoever keeps their hand close to the flame the longest will play. You know, just like Hendry drew it up.
In former second basemen news, Todd Walker was released by the A's in 2007 and is no longer in the big leagues, though it's not clear whether he has retired. He is missed.
Zam Bomb: The Cubs defused the Zam bomb this week by pushing back his scheduled start on Sunday to keep him out of the rain. But his wick is waterproof and he still remains angry.


Lost in Translation: Felixio Fukopie is Japanese for unseasoned meat.
Sweet and Sour Lou: 71% sweet, 29% sour. Lou is up seven points on the Sweet-O-Meter this week due to sweeping the Diamondbacks. And like your real crazy drunk uncle, Lou is happy you helped him pull that big stump out of the backyard. But it's still no garden yet back there so don't get too excited, junior. There's still a lot more work to do. Now go get him a Falstaff.
Center Stage: Felix Pie (.222) started five games this week; Johnson (.255) started one. game this week (now batting .255). Neither is ready to headline.
The Cub Factor: Catch up with them all.
Beachwood Sabermetrics: A complex algorithm performed by the The Cub Factor staff using all historical data made available by Major League Baseball has determined that games played at other team's parks also count in the standings.
Over/Under: The number of people who panicked after the Reds series but now are the world's biggest Cubs fans: +/- 57,269.
With Apologies To Nena: 99 Years of Cub Losses (99 Jahre von Bengeln Verlusten).
Mount Lou: Lou moves down one notch yellow status as cool lake breezes soothed Mount Lou's anger magma. But remain on alert. Hot weather is coming and Mount Lou is far from dormant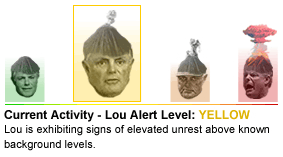 -
Are you on the bandwagon or off? Let Marty know.

More from Beachwood Sports »
Will Bob Baffert ever go away? Churchill Downs Inc.: It's just what they do. Dickie D. dead. Cliches can shape your biorhythms. Double-teaming justice. You look just like. We asked one person, me.
Continue reading "TrackNotes: Back To The Future" »
Posted on Jan 28, 2022

Electric, indefatigable and, finally, undenied.
Continue reading "Minnie Miñoso Was Very, Very Good To Us" »
Posted on Dec 9, 2021