Search The Beachwood Reporter
Subscribe to the Newsletter
Do we think Lou Piniella is stupid? Hey, he's the one who asked. My answer: I'm not sure. You use your entire 40-man roster over the course of the season and ride the hot players when you can. So that seems pretty smart. But your closer is the third-best reliever on the team and you keep trotting out Alfonso Soriano when you should be trying to get rid of him. And those things aren't too smart. So really, we don't know if you are a grizzled veteran manager or a crazy old stupid coot. Personally, I think Uncle Lou isn't stupid but he doesn't seem to be giving his team the best chance to win.
*
Week in Review: The Cubs lost two of three to both the Brewers and Cardinals, their closest rivals. That's stupid.
Week in Preview: The Cubs go to Cincinnati to battle Dusty Baker and his flailing Reds for three games, and then come home to host the best team in the National League - the Diamondbacks - for three more. Another bad week and the Cubs will be heading for their stupidest May ever to follow their best April in franchise history.

The Second Basemen Report: Remember last week when Ronnie Cedeno played four games at second? Well, he didn't get any starts this week. Mark DeRosa got four and Mike Fontenot got two - in part because DeRosa filled in at third for the ailing Aramis Ramirez. Just like Hendry drew it up.
In former second baseman news, Augie "The O-Dog" Ojeda knocked in six RBIs for the Diamondbacks on Saturday. That's one-fourth of his Cubs career total of 24 in four seasons. He is missed.
The Zam Bomb: Carlos Zambrano moves to getting angry as the Cubs blew a save and a win for him this week. Carlos doesn't like counting on others and doesn't take it well when they let him down.


Lost in Translation: Joe Morgan-san is Japanese for douchebag.
Sweet and Sour Lou: 64% sweet, 36% sour. Lou is down eight more points on the Sweet-O-Meter due to a stupid week, a stupid Soriano, and five stupid walks in the stupid first inning of this week's stupid Rich Hill start. And just like your real crazy drunk uncle, Lou has had it with you kids. You can drive to Six Flags yourself for all he cares.
Beachwood Sabermetrics: A complex algorithm performed by the The Cub Factor staff using all historical data made available by Major League Baseball has determined that Cub fans are stupid too.
Center Stage: Reed Johnson and Felix Pie split the starting centerfield job this week with three games each. But Pie is playing just so he doesn't get rusty and a move has to be made soon. You know, sending down your top prospect because he stinks, just like Hendry drew it up.
The Cub Factor: Catch up with them all.
Over/Under: The number of additional games Lou is going to let Kerry Wood blow before he makes Marmol the closer: +/- 2.
With Apologies To Nena: 99 Years of Cub Losses (99 Jahre von Bengeln Verlusten).
Mount Lou: Cub Factor forecasters were right on the money last week with the Mount Lou eruption. This immediately sent the forecasting crew to the nearest AM/PM to play the lottery. Lou moves to warning level Orange as even the smallest disturbance may be enough to blow Lou's top. We're talking getting caught in traffic could trigger lava flow. Expect another blast on Wednesday.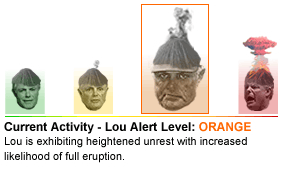 -
Do you think Lou Piniella is stupid or something? Let Marty know.
More from Beachwood Sports »
Will Bob Baffert ever go away? Churchill Downs Inc.: It's just what they do. Dickie D. dead. Cliches can shape your biorhythms. Double-teaming justice. You look just like. We asked one person, me.
Continue reading "TrackNotes: Back To The Future" »
Posted on Jan 28, 2022

Electric, indefatigable and, finally, undenied.
Continue reading "Minnie Miñoso Was Very, Very Good To Us" »
Posted on Dec 9, 2021