« August 2006 | Main | October 2006 »
September 30, 2006
Fan Note: Confessions Of A Radiohead-Head
I am incapable of listening to music casually. There is no such thing as "background" music to me. This has consequences.

For example, a couple months ago I was riding my Schwinn Cruiser, "Ruby," down a busy suburban road when, suddenly, through the dense trees of someone's backyard, I heard the caramelly sweetness of "Unchained Melody." I smiled at this random opportunity to hear a classic tune, but kept biking, purely for traffic flow and safety reasons (that's right, I roll Ruby helmet-less, tempting death and fate at every turn of suburbia). I felt a tinge of sadness as I rode out of range just when the song was about to climax. This would not do. I whipped my bike around and made it back just in time to hear the Righteous Brothers take it to the hizz-ouse (I-I-I neeheeheed your lu-huv!). I managed to flatten a tire somewhere in the whipping around and the hizz-ouse, but dammit, I got to hear the song. I chuckled to myself as I walked my wounded Ruby home. Something like this would surely happen to me.

I consider music to be my, uhhh, vehicle of spirituality. By which I mean, some people sit through church sermons or read bibles, whereas I immerse myself in an album and believe my spirit feels just as enriched for the experience.

Even more specifically, Radiohead is my religion; their albums constitute the books of my Bible. I try not to use that statement lightly, although I am afraid most people do not grasp the seriousness with which I present it. The permanent inkings on my body pay homage to Yorke & Co. in the same way that a devout Christian needles a crucifix on his body to honor the Jeebster.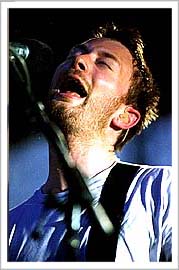 It is difficult for me to concisely summarize what it is about Radiohead's music that drives me to this level of fansanity. I am not sitting in a tree outside Thom Yorke's house with binoculars or anything, but that doesn't mean my first son won't be named after him. Radiohead's music is thought-provoking and complex. Their songs seem to have a purpose; they move through phases and grow, sometimes resulting in climactic spine-tingling finishes. And who doesn't like those?
Their six albums, each fantastically different from the next, showcase the (hopefully) endless shifting creativities of the band. Radiohead is comprised of five musical demigods who work together in composing music incomparably intriguing. The four lesser-known ingredients of Radiohead (Colin Greenwood, Johnny Greenwood, Ed O'Brien, and Phil Selway) provide the most reliable accompaniment out there; Yorke's voice is merely the icing on the greatest cake you've ever tasted.
I fear now, and always have in regards to this musical topic, the inadequacy of my words. Certain passions drive certain peoples to speechlessness. As a bonafide talker and amateur writer, it is rare for an occasion to render me mute. Or worse than mute - dumbfounded; cycling barbarously through two or three puny statements (eg; "Wow, holy shit. Whew. Shit. Wow . . . wow, man. Shit.").
I'm telling you this now on the occasion of Thom Yorke's solo album release. I can also report that Radiohead played in Chicago this past June, and I am still in an incoherent stupor. Hundreds of dollars poorer yes, but incalculable amounts of beauty and fulfillment richer.
* * *
I first saw Radiohead live in Grant Park (specifically, Hutchinson Field) on August 1, 2001. That night remains ferociously real in my mind. It was the culmination of years of listening to their music and never believing in their actual earthly existence. Simply focusing my eyes upon Radiohead, as they recreated the songs that scored my adolescence and the years to follow, well, it was surreal. Many people these days chronologically reference life in terms of pre- or post-9/11. I reference pre- and post-8/1.
I next saw Radiohead in 2003, at the far less impressive Alpine Valley. The Grant Park show highlighted the release of back-to-back albums Kid A (2000) and Amnesiac (2001). The Alpine Valley show was built around Hail to the Thief (2003). The Grant Park show was set at the feet of the incandescent backdrop of the most beautiful skyline in the world. The Alpine Valley scene was impersonal, the crowd was lame, and the sound was eaten in the vast, steep openness of the valley. I was disappointed, to say the least.
So when the rumors began early this year that a new album and a North American tour was brewing, I was a wee bit excited. By spring, there was no chance the new album would be ready, but a small tour was still in sight. The North American dates were released slowly, and Chicago was one of the first and only definite bookings. But where? Noise complaints deterred a return visit to Hutchinson Field. Millennium Park's Pritzker Amphitheater was booked by the orchestra. Please, oh God please, not the First Bank thingamajig in Tinley Park . . .
And then the gods smiled: The Auditorium Theatre.
The acoustically-perfect Auditorium Theatre is an ancient beauty of a building; intimate seating, acoustics rich enough to make your ears dance, gold trim and classically painted muraled walls just waiting, no, begging, for Thom Yorke's other-worldly voice to shake them. Holy crap, I had waited my whole life for this tour stop.
The shows finally came after a particularly long month of May. Sitting in the gallery of the Auditorium the first night was beautiful, yet slightly scary to be flailing at such a great height (even Thom pointed out that we were "way fucking up there").
The second night was even better. For the small price of my second-born child (my first-born, I am told, was already compromised at a less-than-lucid White Sox game), I was able to get one ticket, third row of the first balcony. Also, the couple next to me gave me the aisle so that I could sufficiently boogie. I appreciated their kindness for appreciating my madness.
Since the new album is yet to be released, Radiohead decided to use the tour to work out the kinks in their new material. Each concert, we were treated to at least eight new Radiohead songs in their unrefined stages. One of the greatest moments from the second show was when Thom requested we bear with them, as they had just tried tinkering around with the next new song that day in Chicago; they liked it and they hoped we would too. This was the debut of "All I Need," a song so uncooked that Thom spent most of it standing up at the piano to direct traffic with his eyes as his bandmates worked through it. Chills.
* * *
Radiohead's new music is brilliant - and I'm not just saying that as a "sycofant." At times, the new music is reminiscent of their earlier days - the driving guitars on lesser-revered albums such as Pablo Honey (1993) and The Bends (1995), and even so far as the stand-out rocker "Electioneering" on OK Computer (1997). Their return to simplistic rock 'n' roll is a long-awaited one for me. But to say it's like "old Radiohead" is too easy; there is still a noticeable difference in this latest change of direction.
For example, in the punky new tune, "Bangers n Mash," I am reminded of the attitude on Pablo's "How Do You," but the work comes with an extra layer of excitement and fervor. It's almost as though the 13 years of maturation between the writing of these songs can be heard in all the instruments; from Johnny's snake-charming guitar, to Phil's over-worked high-hat, to Thom's best attempt at making his voice ugly and gritty, as he pounds away on a mini-drum kit and screams "I got the poison!" This coming from a man who has for so long accepted that his heavenly voice was ostensibly incapable of such griminess.
So basically, the new stuff rocks. Even "Nude (Big Ideas)," a newly reworked old B-side that was highlighted in almost every show of their 2006 tour, is now somehow a lovelier version of a song that was already gorgeous.
Since 1997, waiting for each new album has been an exercise in shaky nerves and giddy anticipation. Assuming, as I did back then, that no musical compilation could ever again touch the glory of OK Computer, I have always feared the disappointment of a just okay Radiohead album. It is a serious worry that plagues my existence, and perhaps that is why I am so joyous every time they come through with another masterpiece.
I sense now that Thom Yorke is more certain and self-assured than ever before. For a man already known for risky musical endeavors, he is especially risky - and frisky - these days. I am sure the man has always been secure in the grandeur of his voice, but there is something different in his demeanor lately, too. I saw it in his performances this summer, and I've seen it in his recent interviews. He finally seems fully comfortable giving us whatever he wants to give, whether we like it or turn away. He is still experimental as ever; experimental for Thom Yorke and Radiohead is going back to the riff-centric songs of the early days.
The new songs are patient, well thought-out, and deliberate. And not surprisingly, we freaking love it. Let Johnny play that guitar until his fingers are dizzy and all the snakes have been charmed from their baskets! The Head-heads are here to listen, at your mercy. We got the poison.
-
-
Posted by Don Jacobson at 8:43 AM | Permalink
The Smudgeless Rub Of A Solid Eraser
You know how most pencils have those little rose-colored erasers at the end? Every once in a while, I come across one of those erasers, and for whatever reason, it doesn't erase for shit. These erasers are rigid and almost waxy; they smear my errors into leaden skid marks around the page, snickering as my mistakes are highlighted, somehow bolder and more permanent than they were before the futile rubbing.

A good eraser maintains a backbone, never crumbles and remains flexible to your pressure changes. A good eraser jigs playfully over your writing, happily and cleanly removing any proof that you are less than perfect. John Rose knows what I'm talking about.

Thom Yorke's first "solo" effort, The Eraser, is a jigging album; its charm is its simplicity, and the cleanliness of Yorke's hauntingly sublime voice (a crispness that is sometimes smudged on Radiohead albums, due to the equal talents of each band member). Yorke's hesitation to label The Eraser as a solo album is understandable. Like a television spin-off series, a solo career can imply the failure of a larger work, often marked by bitterness from remaining members of another venture. In this case, though, Radiohead strongly supported Yorke's solo pursuit (guitarist Johnny Greenwood even provides piano for The Eraser's title track), and moreover, the release of Yorke's album coincides with the promising buzz of a seventh Radiohead album.

Radiohead spent most of June charming North American cities, further enticing the appetites of all us salivating Head-heads, who are now quite accustomed to (although never happy about) waiting several years between new albums. The Eraser is kind of like that one little gift that your mom lets you open on Christmas Eve, in order to sustain your greedy self until the main stash can be torn into the following morning (or in this case, until the next Radiohead album is released, hopefully in 2007).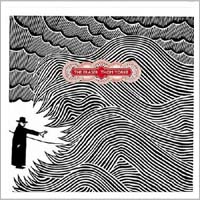 Yorke's album, although mostly categorized as "electronic," is far from the electronic music that pulses and thumps and dry-humps in a nightclub on a Saturday night. Underneath the mellowing electronic beats on The Eraser, there is still a dependence on traditional instruments to drive songs. The layers of each composition serve as a reminder that Yorke actually sat down and composed this work, and didn't just sample beats on his computer and then add words.

In the great melodramatic tradition of Yorke's work, The Eraser evokes some degree of emotion, even when simplistically beating through the sterility of its genre. The track "Skip Divided" is Thom Yorke at his most straightforward, musically and lyrically speaking:
When you walk in the room I follow you 'round like a dog
I'm a dog, I'm a dog, I'm a lapdog
I'm your lapdog, yeah
I just need a number and location.
Here, stripped of his typical loner complexity, Yorke transforms into a creepily blunt and confident version of himself, ready to flap around and dive-bomb your head as he wishes.
I've had people express to me that some Radiohead music is moody and difficult to stomach at times (I have no idea what these people are talking about). I've even had others tell me that Radiohead music makes them depressed. (Nope, no idea at all.) But like many things - psychotropic substances, for example - Yorke's music is all about the mental approach of the participant. The Eraser is well-paced, even sometimes upbeat, and there is no room for tears or attempted suicide on this album.
The only place that might inspire eye moisture (in a good way) is the final track, "Cymbal Rush." This track is the most memorable of the nine, led by a simple piano part and the Yorke-ian style of song-layering, as seen on Radiohead songs such as "Fake Plastic Trees," "Exit Music" and "You and Whose Army." All these songs begin with the instrumental bare minimum escorting Yorke's vocals, and then piece-by-piece, blossom into full-fledged affecting anthems of glorious resolve and clarity. If you know what I mean.
The end of "Cymbal Rush" follows this same climactic effect, kicked into motion by a distant, but approaching drum kit and a caressingly assertive piano that reminds of Radiohead's dreamy "Pyramid Song." This entrancing melody makes way for Yorke's voice, seeming to approach from a distance. He continues to build the song up the octave, getting louder and more passionate the sharper he gets, spinning his vocals in a predictably exciting way, continuously building and warming the cockles of your heart, when, all of a sudden, just as you are about to run out and get another tattoo paying homage to this brilliant man, everything cuts out . . . all that is left is the electronic bleep-bloopy thing that began the song.
Overall, The Eraser is not Radiohead, but is undoubtedly Thom Yorke. I enjoy every track on his album, but often wonder if that's not because I admittedly worship anything Yorke produces. The guy could armpit-fart a minor scale, and I'd still somehow find the beautiful genius in it. Sure, certain songs on The Eraser are more interesting than others, but even a mediocre Thom Yorke song is better than most of what else is out there.
If you are like me, a Radiohead devotee who lusts for new music, Thom Yorke fills the void with The Eraser, now three and a half years removed from the band's last official release. Just like a tube of Carmex in a chapping winter wind, The Eraser is soothing and sustaining during this especially trying Radiohead drought. And given the right mindset, it evens makes you jig a little.
-
Posted by Don Jacobson at 7:59 AM | Permalink
September 29, 2006
The Weekend Desk Report
Your weekly chronicle of global lying, spying and detainee flying.
What's Dunn is Dunn
The House of Representatives this week took aim at the corporate practice of "pretexting," stating unequivocally that such behavior is completely unacceptable for anyone who isn't the President of the United States.
The Thais that Bind
The U.S. government also acted this week to levy sanctions against Thailand in the wake of a recent coup. The State Department stressed that deposing an elected leader through military force is completely unacceptable for anyone who isn't the President of the United States.
Stan and Deliver
Meanwhile, President Bush hosted the world's most awkward dinner party this week, as Pakistan and Afghanistan prepare to enter the divvying-up friends phase of their ugly divorce. Aides have confirmed the situation has become so unbearable that Bush is looking to ditch them both in favor of the more emotionally-stable Kazakhstan. Hey, it may have its baggage, but at least we know it's not sleeping with the enemy.
Use Your Delusion I
Meanwhile, Al-Qaeda second-in-command Ayman al-Zawahiri continued his campaign of relentless shit-talking, offering to throw down with everyone from Bush to the United Freaking Nations. For his part, the president indicated he is willing and, now, able to cut a bitch.
Use Your Delusion II
Finally, Bush had withering words for anyone who opposed his new hard-core attitude, saying, "you don't create terrorism by fighting terrorism." Unless you happen to be Great Britian. Or Israel. Or Columbia, Russia, or Rajiv Gandhi. Everyone else, though, should suck it up and join the war.
Posted by Natasha Julius at 11:30 PM | Permalink
Tommy Keene's Pop Power
Ever since I told people I was going to see a Tommy Keene show, I've found it suprisingly hard to explain to these folks (mostly 20-somethings) just what "power pop" is. I always knew it was a niche, but I also always thought it was quite a substantial one. Now realize I was so far into it during its heyday in the 1980s - which in turn made me ultra-aware of how it was influencing vast swaths of the rock kingdom - that I just assumed most music fans, even the younger ones, knew what it was.
Apparently not.
You could say the Beatles in their skinny tie period were the inspiration and that The Who (some would say the Kinks) were the first real power pop band with everything since being either an imitation or a tribute to them. Tommy Keene certainly would, and did, when I talked to him after a show in late September at 400 Bar in Minneapolis.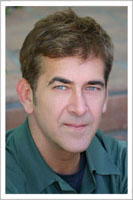 Keene, at 47, is a king of the music underground, thanks to his years of soldiering on as an artist who managed to maintain his integrity after one or two famously dodgy set-to's with major labeldom early in his career put him permanently off the fast track. But more importantly, he's probably the purest practitioner left standing in the power pop field . . . a field that seems to getting mighty small judging by the blank stares I get just by mentioning it.
The long line of power pop arguably started in 1965 with "I Can't Explain," and wound through Badfinger, the Raspberries, Cheap Trick, Elvis Costello, XTC, Matthew Sweet and all the way up to Fountains of Wayne. But I wonder, is Keene the last of his kind? Because, though he still goes about his art with unabashed unenthusiam, and expertly wields the essence of power pop itself through his still-awesome guitar skills, going to his show made me uncomfortably aware of the genre's fallen status. The quite substantial niche I had imagined seems to have shrunk to a roomful of about 30 middle-aged guys, all of whom (and no one else) were at the 400 Bar that night.
The irony is that the music still holds up, and if it is dying as an art form, it's a sadly unjust demise. Keene and his bandmates, drummer John Richardson, bassist Brad Quinn, and guitarist Dave Phillips, play a stately and majestic form of power pop, specializing more in big, jangly riffs than in nimble melody-making. Keene likes to build into thundering finishes with huge chords reverberating into the, well, ether. It's a signature sound that has been incorporated so thoroughly into the mainstream that it came as a shock to hear straight from the source - I admit I didn't know it came from Keene. But there you have the paradox of his position.
Crashing the Ether is the 10th solo album in a long and winding career for Keene, who at one time was considered one of the up-and-coming major label prospects for Geffen Records. After the Minneapolis show, he talked a bit about that golden time in the '80s when power pop was riding high as the legitimate successor to '60s rock and '70s punk, and how he, Paul Westerberg, and Peter Buck were the three amigos and les enfants terrible of guitar pop. While Buck attained major stardom and Westerberg became the greatest indie/hipster hero of the age, Keene fell through the music business cracks after a rocky stay at Geffen that begat a still-simmering tiff between him and Geoff Emerick, the former Beatles engineer who was assigned to produce his album Songs From the Film (1986).
That effort, now seen as a pop-rock classic, was a critical success but a disappointment at the cash register, and Keene was never again given the star treatment from the majors. He spent much of the '90s slinging his inimitable, shimmering guitar stylings as a top-notch sideman to Westerberg and others, and lately has developed a strategic relationship with the post-Guided By Voices Robert Pollard. In fact, the two of them this year released an album as The Keene Brothers, with "talk," Keene says, of another such collaboration sometime soon.
So, for the aging fans of power pop (such as myself), it's possible to listen to Tommy Keene and imagine the genre is still a force because Keene has never stopped approaching it as something vital, as tracks on Crashing the Ether such as "Black & White New York" and "Lives Become Lies" amply demonstrate.
"What I'm doing is mining a niche here, really," he says in the basement of the 400, tending to a finger he has ripped open on stage, literally shedding blood to keep the power pop dream alive. "It's a consistent style, and when you hear my songs, you can be fairly certain of what you're going to get. I'm always trying to keep it fresh, though. I'm always trying to keep it interesting and keep it heading in different directions."
I just wish I felt more confident that the milieu, which has always lived in that special spot between the smart, the sweet and the rockin,' had much of a future. But you never know - maybe the kids of one of those old guys at the bar will pick up their dad's collectors' copy of Songs From the Film and feel inspired enough to rip off a series of power chords, jump up and down like a maniac, and sing about love like an angel. Only then, I fear, will power pop be safe.
Posted by Don Jacobson at 3:21 PM | Permalink
What I Watched Last Night
Pat Bataillon is on his way to watch a football game in Nebraska. He'll watch more TV for us next week.
Posted by Beachwood Reporter at 11:10 AM | Permalink
The [Friday] Papers
If today's front-page account in The New York Times is any indication, Bob Woodward's new book, State of Denial, is a blockbuster. Among the revelations as reported by the Times:
* "The White House ignored an urgent warning in September 2003 from a top Iraq adviser who said that thousands of additional American troops were desperately needed to quell the insurgency there."
* "As late as November 2003, Mr. Bush is quoted as saying of the situation in Iraq: 'I don't want anyone in the cabinet to say it is an insurgency. I don't think we are there yet.'"
* "Secretary of Defense Donald H. Rumsfeld . . . [was] so hostile toward Condoleezza Rice, then the national security adviser, that President Bush had to tell him to return her phone calls."

* "Vice President Cheney is described as a man so determined to find proof that his claim about weapons of mass destruction in Iraq was accurate that, in the summer of 2003, his aides were calling the chief weapons inspector, David Kay, with specific satellite coordinates as the sites of possible caches. None resulted in any finds."
* "On July 10, 2001, the book says, [then CIA director] George Tenet and his counterterrorism chief, J. Cofer Black, met with Ms. Rice at the White House to impress upon her the seriousness of the intelligence the agency was collecting about an impending attack. But both men came away from the meeting feeling that Ms. Rice had not taken the warnings seriously."
* "In the weeks before the Iraq war began, President Bush's parents did not share his confidence that the invasion of Iraq was the right step, the book recounts. Mr. Woodward writes about a private exchange in January 2003 between Mr. Bush's mother, Barbara Bush, the former first lady, and David L. Boren, a former chairman of the Senate Intelligence Committee and a Bush family friend.
" The book says Mrs. Bush asked Mr. Boren whether it was right to be worried about a possible invasion of Iraq, and then to have confided that the president's father, former President George H. W. Bush, 'is certainly worried and is losing sleep over it; he's up at night worried.'"
* "The book describes an exchange in early 2003 between Lt. Gen. Jay Garner, the retired officer Mr. Bush appointed to administer postwar Iraq, and President Bush and others in the White House situation room. It describes senior war planners as having been thoroughly uninterested in the details of the postwar mission.
"After General Garner finished his PowerPoint presentation - which included his plan to use up to 300,000 troops of the Iraqi Army to help secure postwar Iraq, the book says - there were no questions from anyone in the situation room, and the president gave him a rousing sendoff."
Texas Straight-Talker
"Woodward: Bush Concealing Level Of Iraq Violence."
Fairy Tale
The Tribune editorial page thinks our "Goldilocks economy" is just swell. And it is - for people like them.
CHRIS MATTHEWS: The economy. David, you`re up in Harvard. Is this economy doing great or not?
DAVID GERGEN: Depends on whether you're in the investor class or not, and you know, what you own.
This is a great economy in terms of growth . . . If you look at the numbers on the growth side, it looks great. But in terms of my actual life, most people find that their incomes are stagnant and they cannot afford the higher cost of health care and many other - and gasoline and many other things that are coming their way, and that`s why they're very unhappy . . . a lot of people are hurting. You know, it's a great economy for some people at the top half of the scale. All of us here on this program doing pretty darn well. I think we're all happy.
The Smartest Columnist on Earth
Neil Steinberg argues today that blacks are better off because of slavery and Jews are better off because of the Holocaust.
King Richard I
We already have a Cook County board president, and his name is Richard M. Daley.
King Richard II
"[A]lmost as soon as the LaSalle Central TIF receives its stamp of approval from the City Council it will jack up property taxes and start diverting what will eventually be hundreds of millions of dollars earmarked for the schools, parks, and county into a slush fund controlled by the mayor," Ben Joravsky writes in the Reader this week, in his latest installment on Daley's secretive tax districts. Had enough?
On Message
Mike Noonan, Todd Stroger's campaign manager, said on Chicago Tonight earlier this week that his candidate "has an important message."
I think it might be that he's had enough too and he's voting Peraica.
Spot the Tool
"'The voters are starting to realize the truth about phony Tony. Tony Peraica would say anything and do anything in order to implement his radical rightwing agenda on the good people of Cook County,' said Mike Noonan, Stroger's campaign manager.
"Stroger's campaign manager did not, however, answer repeated questions about Stroger's relationship with Gerald Nichols, except to say that Nichols is not part of the campaign."
Putnam County Press
I usually don't point out ticky-tack stuff like spelling errors in the papers because, God knows, I make enough of them myself, though I don't have a team of people paid specifically to keep such mistakes out of print. Nonetheless, I thought it worth mentioning, amusedly, that a colleague points out the Sun-Times spelled both Mahatma and Gandhi wrong in a story this week.
Pick to Click
I'm not sure I can think of a better thing to do over the weekend than this. Whack-a-Mole and a Heavy Metal Note Holding Challenge.
The Beachwood Tip Line: Make a little history.
Posted by Beachwood Reporter at 7:31 AM | Permalink
Life at Work
When I was about four, I made my mom buy me a Superman costume for Halloween. It was the beginning of a series of let-downs.

My mom tells me she was often frustrated at my insistence on dime-store costumes - the year before, when my peers were in cute homemade ballet and scary vampire gear, I was in a vinyl plastic Bugs Bunny costume, happy as, well, a rabbit.
But Superman was, as far as my preschool teachers were concerned, pushing the envelope. Nevermind there were several other Supermans at school. This was a gender issue, and they were sticking with it.
I insisted all day that I was Superman. "Supergirl," they corrected. And at the Halloween parade, I was announced as "Supergirl," which pushed me into a blind rage.
Why? Why, for one day, couldn't I be Superman? Whoever heard of Supergirl? What the hell had she ever done?
It was the worst Halloween ever - aside from the one many years later when I sprayed my hair pink to be a punk rocker with stuff that was supposed to wash out of my hair, and instead had to endure six months of taunts from my schoolmates as "the girl with pink hair." And, actually, I kinda liked the pink hair.
We are raised in a culture that lies to us from day one. We're told again and again that we can be "anything we want to be (especially if we apply ourselves)." That's obviously a big fat lie.
I know mining is really dangerous, as evidenced by the tragedy at the Sago Mine, but I've always been kind of attracted to it. Something about the dark, and the comraderie, and so forth. So, d'ya think I could be a miner? Nope. I've got bad lungs already.
I was once really really desperate to learn goat husbandry in the Arizona desert. Didn't happen. Thanks, mom and dad. In retrospect I kind of get it, I guess. "Well, our oldest is working on her master's, and our son is an attorney, and our youngest breeds goats." Not the kind of cocktail conversation they wanted to have.
I entertained notions of entering both conventional and veterinary medicine until I started taking the science classes needed just to take the tests and realized that dropping high school chem had been a mistake.
The one thing I was always pretty good at was writing and, well, here I am. Not a field rife with opportunity.
Everyone I know, at some point, was denied the opportunity to do or be something they really wanted to do or be, whether whaling or documentary film-making. This isn't a world where you can really be whatever you want to be - even if you apply yourself.
I don't have kids, but if I ever do, I won't give a rat's ass if they want to be Superman for a day, or a month, or a year. Everybody's got to have a dream.
J. Bird is the Beachwood's pseudononymous workplace affairs reporter who no longer has a workplace to report from. Now Bird sends dispatches from the front lines of unemployed ennui. Catch up with the Life at Work series here.
Posted by Beachwood Reporter at 7:06 AM | Permalink
September 28, 2006
The Blue & Orange Kool-Aid Report
In conjunction with The Beachwood Reporter, Over/Under Enterprises is proud to announce a new product:
"The Bears Bandwagon Fan Starter Kit"
As you know, the most exciting part of being a fan is watching your team win it all. Nothing instills more pride in city than a championship. In this busy world, sometimes we are unable to follow the local teams' progress. On the other hand, we don't want to be left behind when the local team becomes successful. With "The Bears Bandwagon Fan Starter Kit", you can now say "I've always loved the Bears . . . since they started the season 3-0".
With "The Bears Bandwagon Fan Starter Kit," you receive the following:
* Do you still have Cade McNown and Kordell Stewart jerseys? This package includes a player's last name printed on navy blue material, so you can iron over your existing name to create a new jersey. Select from the following options:
a) Convert Cade McNown to Rex Grossman
b) Convert Mark Carrier to Thomas Jones
c) Convert Raymont Harris to Adrian Peterson
d) Convert Tom Waddle to Mushin Muhammad
e) Convert Kordell Stewart* to Bernard Berrian
*(additional $20 for conversion of "1" to "8".)

* Do you have four Cubs hats from the failed 2003 run? With this package, you also receive the pointy nub that you attach to the left of the Cubs insignia, and a colored marker to turn it orange. Show you are such a big fan by showing your new "Limited Edition" Bears hat.
* Do you have a passing knowledge of Bears history, but know nothing of the current roster? Use our new cocktail conversation flash cards to impress longtime fans with your Bears knowledge. For example, "That Bernard Berrian sure reminds me of Willie Gault."
* The first 1,000 Bandwagon fans will also receive "A Guide To Jeff Joniak's Most Overexcited Phrases" Be a hit in the office with this hilarious, yet informative device. Land that $3 million account? Let Joniak bring it all home with "THOMAS JONES, RUNNING WITH PURPOSE, GAIN OF THREE!" Travel to five locations in a week, express your glee with "DEVIN HARRIS, THE WINDY CITY FLYER!" Spot Jenkins sneaking out early for the third consecutive day? Let Joniak put him in his place by exclaiming "TOMMIE HARRIS CUTS THROUGH THE LINE AND STOPS HIM AT THE FIVE, NO! GAIN!"
Don't be the last on your block to sound like a fan and get this package. Much like playoff wins since 1986, supplies are limited!
Irony on Display
I've spent some time discussing the formula for a great team. And yet, in weeks 1 and 2, I failed miserably on my picks. Finally, I found the formula for picking at least one game correctly (1-0-1). Sure, I picked the Bears/Vikings game as correctly as possible, and even mentioned that "The Vikings line will not hold off the front four for the whole game, and especially when it counts." Sure enough, a fourth quarter sack and fumble set up the Bears winning drive. If only my analysis preceding this prediction was as accurate.
You see, I made a factual error in stating, "The Vikings barely beat Carolina, who barely beat the Lions." In fact, it was Seattle who barely beat the Lions.
But you know what? It worked.
So this week I will again use faulty information in making my picks.
Seattle at Chicago, Sunday, October 1, 7:15 p.m.
Shaun Alexander continues to dominate defenses with his hard running through consistently huge holes. Steve Hutchinson and Walter Jones lead an offensive line that protects QB Jim Zorn without fail. Heck, once this new LB Brian Bosworth develops, this defense will help the Seahawks defend their Super Bowl Championship.
Do the 2-1 Bears have the talent to compete at home? Well, since the Bears continue to languish at home, I must say no. In the trailer for Stone Cold, Brian Bosworth said "Imagine the future, Chains, 'cause you're not in it."
Just like what the Boz (#55) did to Bo Jackson, the Seahawks will do to the Bears.
(Seriously) Pick: Seattle over 3.5 points/under 36 points
For a Bears win:
Sugar in the Blue & Orange Kool-Aid: 65%
Recommended sugar in the Blue & Orange Kool-Aid: 50%
*
Visit The Blue & Orange Kool-Aid Report archive, and the Kool-Aid forum, where you can tell Emery what an idiot he is.
Posted by Beachwood Reporter at 10:38 AM | Permalink
What I Watched Last Night
I'm going to ruffle some feathers today and then I'll get to some fun stuff. Last night there
were two huge news stories - Fox "ALERTS" were being issued at a record pace. The first story was that Terrell Owens may or may not have committed suicide by way of overdosing on prescription medicine. The second story involved a gunman who took six Colorado high school students hostage, then killed one of the students and himself as police rushed the building. Now, there are only two more days to nurse these stories until the weekend until there will be something new to talk about, so I am going to beat all the news stations to the punch.

A Pat Bataillon "ALERT." Professional athletes are no longer allowed to take pills of any sort unless a doctor is present. It is too dangerous and complicated for athletes to take pills by themselves, so there should be immediate new rules issued to save the fragile lives of our athletes.
A Pat Bataillon "ALERT." All kids should bring guns to school for their own safety. The longer these kids go without guns the more deaths there will be. Every kid should have a gun to protect themselves from irresponsible adults and adolescents.
A Pat Bataillon "ALERT." Everything Bush did wrong is Clinton's fault. Whoa, is that a terrorist around the corner? I'm scared. Clinton really screwed the pooch on that one. He should have stopped 9/11. It was also Hoover's fault that Hitler was still around to take over Europe. Lincoln could have prevented WWI and Ben Franklin was directly responsible for Pearl Harbor. Will George W. Bush be held responsible when Finland invades Maine a hundred years from now?
Enough nonsense for one day.
What I watched last night was obviously a little too much news, but I did get a chance to catch Showgirls on VH1. Surprising that VH1 showed that movie the same day that Screech Powers made a porno flick available for download on the Net. See, Jessie Spano was in was in Showgirls right after she was in Saved by the Bell. So she did her little soft core prono flick and now it is Screech's turn.
I don't know much about this movie because I chose to not see Screech naked, but from what I hear, he is with two women and there is a Dirty Sanchez involved.

For those of you who don't know what a Dirty Sanchez is, don't look it up. It is not material suitable for children.
Man what a day on the television, a lot of news; a lot to be scared about. Kids with guns and terrorists coming to get us around every corner and professional athletes trying to kill themselves because they are so scared. I am most frightened of; you guessed it, a Dirty Sanchez and Screech crossing paths.
Posted by Beachwood Reporter at 9:39 AM | Permalink
The [Thursday] Papers
The mayor's announcement yesterday that the Chicago Children's Museum will move from its Navy Pier location to the corner of Monroe and Columbus is played rather sedately in the papers today compared to the sparks the plan has ignited among lakefront park advocates and other civic-minded urban observers, as evidenced on Chicago Tonight last night.
The protestations of Grant Park Advisory Council President Bob O'Neill received much stronger airing on CT's panel than what was represented on newsprint. And prominent local architect and WBEZ-FM contributor Edward Keegan (as identified from the WTTW website; I missed the introductions) downright blasted the mayor for his typical piecemeal, sloppy, contradictory approach to public planning that belies the media image of a manager with great vision when lack of vision has been a hallmark of his administration.
"We cannot plan [the new museum] the way we planned Millennium Park," Keegan roughly said (as best as I scrambled to get down his remarks). "Millennium Park was a happy confluence of events. If we let it fall together the way some things we're hearing about, then we have the potential for great trouble."
More to the point, Keegan asked, "Where is the plan?"

Daley is being typically obtuse.
"[Daley] said the move would put the children's museum within walking distance of other downtown attractions, such as Millennium Park and the Shedd Aquarium," the Tribune's Noreen S. Ahmed-Ullah reports.
Which might make sense, though it seems like kind of a hike to the aquarium to me. On the other hand, the children's museum's current location at Navy Pier only puts it in the center of the state's top tourist attraction. So, you know, either way.
"The architect chosen for the new museum said that no designs or details have been drawn," Ahmed-Ullah notes, in a story that, as you would expect, properly shows more skepticism than the Sun-Times's bored little kiss on the cheek.
An early cost estimate puts the project's price tag at $40 million. We all know where that's heading.
It's not clear what's really behind the move, but here's a clue inadvertently buried in the Sun-Times's "report": "The draw of 500,000 museum visitors annually could also help Millennium Park's parking garage, which hasn't generated enough revenue to cover debt payments."
In other words, the mayor is still trying to figure out how to pay for Millennium Park, his gift to the universe. I suppose turning the whole park into a parking garage is out of the question.
The Vision Thing
The Tribune's Eric Zorn is also knocking Daley's lack of vision, in this case regarding the Olympics and Soldier Field. Zorn also links to a blog post by Barnaby Dinges, the former public relations chief of the Soldier Field construction project, in which Dinges blasts the mayor's proposal for an Olympic Village along the lakefront.
The truth is, this mayor isn't good with the vision thing. Millennium Park was a disaster barely rescued by business leaders to save the mayor from major embarrassment. The mayor's Block 37 plans came and went for years before ground was broke by an outfit more troubled than the Tribune Company. Gajillions of dollars were poured into straining Midway and O'Hare airports beyond their limits while the mayor pulled his support for a third airport off the table, and then destroyed Meigs Field in a fit of pique. He once proposed a billion-dollar downtown casino complex, turned against casinos, and now wants a casino. Lake Shore Drive has been moved at least twice in his tenure. Vision is not this mayor's strong suit, despite what you may have heard.
We're Number One
Daley, hailing the business community: "We're unique. No other city does it like we do."
Does what, cheat?
The irony is that every city says that. We couldn't be any less unique.
Big Hands
Apparently Allstate has bought naming rights for the children's museum. Because no other city does it like we do. And it's never too soon to preach the importance of a comprehensive fire/safety policy to eight-year-olds.
Mocha Mania
Starbucks has vision - for 250 more stores in Chicago. A Beachwood Reporter analysis has determined just where they'll go.
Bronze Medal
"As Chicago, Los Angeles and San Francisco pull the veils from their proposals to host the 2016 Summer Games, one thing is becoming crystal clear: Of the three, Chicago is facing the highest hurdles at this time," the Tribune reports on page 1 today.
Cop Shop
Also on the Tribune's front page: "State To Drop Cases Tied To Suspect Cops: 110 Arrests Linked to 9 Officers in Robber Probe."
I also missed linking to this excellent piece of police reporting several weeks ago and I've been trying to figure out how to catch up ever since:
Wal-Paper
Over at The Bright One, a profile of Wal-Mart's general contractor. I'm not even going to provide a link, just on principle.
Vision Quest
"After warning for months that it was behind schedule, the Chicago Housing Authority is projecting that its $1.6 billion effort to remak public housing will not be completed until 2015," the Tribune reports.
"By 2010 - the original target date for the Plan for Transformation - fewer than half of the 7,500 public housing units to be built in new mixed-income developments throughout the city will be finished."
To put it another way, the mayor's vaunted remake of public housing is five years behind schedule.
With school improvement flat-lining, I wonder if the mayor's political advisors are re-considering a re-election platform built on the mayor taking charge of public schools and housing. Maybe that explains the all-out race baiting.
Daley Dose I
The mayor responding to questions about funding the city's Olympic bid: "We don't have answers that quick. I know you [reporters] have 'em all."
Thankfully, reporters then asked the mayor if he thought it was inappropriate for them to ask how a Chicago Olympics would be funded, and if he had a better idea for how they should do their jobs.
Oh wait, that second part didn't happen.
Daley Gras
"We can outlaw every ethnic food in the world right now. Children are more important. Let's put our priorities" in order. Or something.
Dumb-Times
Michael Cooke is back.
Stage Fright
"There's probably only one woman who can upstage the governor - and get him to laugh about it," the Sun-Times "reports" this morning.
Only one woman? The governor of Illinois?
There's only one woman who can't upstage the governor, and unfortunately her name is Judy Baar Topinka.
Jimbo's Jumble
This is the story that should've been on front page.
The Beachwood Tip Line: Do it for the children.
Posted by Beachwood Reporter at 8:46 AM | Permalink
Over/Under
Last week I covered NYG/SEA and ATL/NO. Just in case you wondered. I hope you forgot my picks.
What we should not forget about is Katrina. The Monday Night crew waxed poetic on how game relieved the pathos of New Orleans. Except that few of those who spent time the SuperShelter actually attended the game. This fact was not lost on my wife, who said after the countless crowd reaction shots, "So, how many people were affected by Katrina, yet then all the white people get a concert?"

After the white folks' concert, G.H.W. Bush performed the coin toss. Though in last week's Over/Under, I predicted G.W. would receive the honor. [Editor's Note: You can't even pick the coin toss right?] Ironically, G.H.W. Bush marched in to finish the work of his son. [Editor's Note: Nice line. All is forgiven.]
Because I focused on three NFC games last week, I spent very little time talking about the AFC. This also means you probably spent very little time watching the Cleveland Browns II at Cleveland Browns I. So to help catch you up to speed, here is the first installment of "What I Learned on CBS."
While you were enjoying the Bears/Vikings game with the cogent analysis of Dick Stockton and ex-Cowboy Darryl Johnston, I toiled under the work of the world's worst quarterback father, Phil Simms. Hindsight is always 20/20, but perhaps we should have seen Chris Simms' poor play a mile away, given his old man is so brutal. This is proof players should never coach their son's Pop Warner teams. If Chris' mind at birth is a tabula rasa, Phil ruined the slate with "Of course it looks bad when you're not executing. When things go bad, it's not going to look good" and "I haven't thought about it. I'm not capable of deep thinking." Obviously.
For the 3 p.m. games, I spent a good amount of time watching the Seahawk slap the Giant like reality slapping the president. In a prior Kool-Aid Report, I mentioned Lovie Smith's voice sounds like Cleveland's from The Family Guy. In the file of "amusing likenesses," Tom Coughlin enjoys two entries: Face made while passing a kidney stone and incredulous face made by my wife when I say "I'm going to watch 12 hours of football on your birthday." Like the Giants, I also suffered humiliating defeat.
When I wan't watching the Giants/Seahawks, I flipped over to Browns II/Browns I game. During those 10 minutes, the announcers mentioned Browns II quarterback Charlie Frye's love for the Browns. I'm still not sure what makes this a compelling story. If nothing else, this makes Charlie Frye mindless, given that the Browns he enjoyed in his boyhood ceased to exist. It would be like remaining a big David Hasselhoff fan because he was the coolest detective with the coolest car while pretending to be unaware of his German music videos and appearance in the worst variety show contest on TV. If America Has Talent, how can a judge sans talent tell?
On a more serious note, CBS pimped Condi Rice's attempt to appear human on 60 Minutes. All through the 3 p.m. game, CBS ran promos for Rice's interview. I did not watch the interview, but I'm guessing this question failed to make the cut: "Condi, when you stand in front of a mirror, can others see your reflection?"
CBS did have a marketing problem on its hands. How do you convince us to watch the Rice interview and bond with what makes her human when there is no evidence that she actually is?
Well, CBS went for it, but they went for it a bit too hard when they boasted "Rice listens to Led Zeppelin when she works out." What, they thought that in an instant, Condi would go from "Bush sycophant setting foreign policy back 30 years" to "Holy cow, does she wear a "Monsters of Rock" tour shirt when she works out? Does she like to Ramble On? Does she make love to Kashmir?"
The problem is, we know Condi doesn't make love. She makes war.
For her part, interviewer Katie Couric, in her new role as serious newsperson, failed to ask the obvious follow-up question: "What are your favorite Zeppelin songs?" Now, if Condi would have said "Black Dog" or "Stairway to Heaven," we would all know that "Satisfaction" and "Pinball Wizard" appear as well on her "Condi's Classic Jams" mix tape. On the flip side, had she answered '"Moby Dick" and "Bring it on Home,", I would have rushed out and bought some G.W. Bush Underoos and matching feetsy pajamas. We would have to reassess the whole situation.
But that would never happen, because we know Condi isn't a rocker in her heart. She doesn't even know the words to the songs.
And, ss your President once said "If you don't stand for anything, you don't stand for anything."
Here are the most over/under hyped games for Week 4 that I'm standing for.
Over Hyped: Green Bay at Philadelphia, Sunday, October 1, 3:15 p.m.
(As mentioned in the Kool-Aid Report, I will use faulty information to make all my viewing recommendations and picks.)
Every Monday night game has hype, but this one has way too much. The ESPN slogan of "Is it Monday night yet" should be replaced with "Is it a week from this Monday night yet?" This matchup is so bad, Phil Simms would look good covering this one.
Philly is known for a few things: Ben Franklin, cheese steak, and nice fans. These nice fans carried the Eagles to victory two weeks ago, as the Eagles held off a late surge by the San Francisco Giants.
Even though Green Bay possesses less talent that the Eagles, their veteran leadership usually keeps them in games. Brett Favre, Edgar Bennett, and Robert Brooks provide the base of a rock solid, consistent offense. On defense, even the great play of Vonnie Holliday prevents the Packers from keeping this one close.
(Seriously) Pick: Philadelphia minus 10.5/Over 45.5points
Under-hyped game: New England at Cincinnati, Sunday October 1, Noon
One team recently lost to the Packers in the Super Bowl. The other team lost to the 49ers. Both teams carry undefeated records into a game to determine who has the inside track for the 1st round bye.
Too bad that we are talking about the AFC. Last year the 6th seed from the NFC defeated the 1st seed from the AFC.
The Bengals win going away with their ability to run the ball. When you have two guys like Ickey Woods and James Brooks that could run for 1,000 yards each, you can wear down a broken down Patriots defense. Even MacGyver couldn't fix this defense with a paper clip, bubble gum, and a 1991 version of Reggie White.
(Seriously) Pick: Cincinnati minus 4.5/Over 44.5points
*
To see just how badly Eric Emery is doing this season, check out the Over/Under archive.
Posted by Beachwood Reporter at 8:16 AM | Permalink
Life at Work
So it turns out my older sister is a whiz at finding job opportunities online. I did not know this. I wonder what else she's good at?
She e-mailed me a bunch of possibilities last night. I haven't gotten around to sending out resumes to all of them yet, but I was intrigued enough at the online job posting site that was requesting people to send in resumes to work for them that I tweaked my resume and sent it in. I mean, so far they haven't matched me with any potentially great jobs, but if I knew the system from the inside out . . .
Meanwhile, my folks come home from vacation in a couple of days. Threat level at yellow, soon to be orange.
My older brother called this morning to suggest there's a real need for quality pre-schools out there.
Huh? Am I suppose to open one?
Aside from the fact one needs a degree, and possibly an advanced degree, and possibly in early childhood education, one also needs money, space, and a high tolerance for screaming.
I've never known my brother to be completely delusional, but perhaps he's suffered a recent trauma I don't know about. I changed the subject quickly, and refrained from suggesting he seek professional help.
Really, the best people at a time like this are the people who believe that you'll find something, but who don't try to send you in any particular direction. They're the comforting ones. They're the ones you can rely on to support whatever bizarre ideas you come up with.
Not "opening a pre-school" bizarre, but "maybe I'll work for that online job bank instead of just answering their ads" bizarre.
It's really not such a bad idea.

Posted by Beachwood Reporter at 3:44 AM | Permalink
September 27, 2006
This Polka Band Could Be Your Life
On Bravo's fashion design competition Project Runway, host and supermodel Heidi Klum always greets the contestants with the tagline, "In fashion, one day you're in, and the next day you're out." That is the nature of fashion. In the short documentary, The World's Most Dangerous Polka Band - a 27-minute valentine - really-first-time director Sonya "Sonny" Tormoen shows that operating outside of fashion can sometimes guarantee the kind of staying power money and fame can't buy.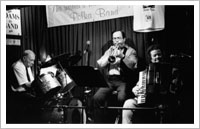 The Ruth Adams Band, self-mockingly termed "The World's Most Dangerous Polka Band" on a banner that graces the stage of Nye's Polonaise Room in Northeast Minneapolis, has been the house band for more than 30 years. The septuagenarian founder of the band, Ruth Adams, is known for her accordion riffs and imitation of what sounds to me like a cocker spaniel's bark in "The Barking Dog Polka." On trumpet is The Kid - 60-something Joe Hayden, a transplanted Chicagoan with a lovely Chicago accent and an expansive way of talking that folds you into his riches-to-rags (make that polkas) stories about the band. The man who gave Joe his nickname is 88-year-old Al Ophus, the band's tempo-challenged drummer.
The genuine love between the band members sweetens their sometimes sour notes and endears them to the regulars, and a cadre of hipsters and yuppies, looking for an old-fashioned good time in the way-back machine that is Nye's.
Tormoen, a film student, became intrigued by this band and was urged to dive into the deep end of filmmaking by her screenwriting instructor because of Al's advanced age. By following her curiosity, she captured for posterity a slice of Minnesota history that has now begun to fade. Al died four months after Tormoen's film wrapped in 2003, and thus, this film is a vital record of a genuine character.
Tormoen gives a brief history of Nye's and shows mainly young professionals drinking and laughing along the length of the bar. I was startled by the sound of barking, and found out only after a few anxious minutes that it was Ruth. The music the band plays doesn't get much camera time and is recorded poorly, so it's hard to understand what the cool kids find so entertaining. However, when Tormoen turns the camera on Al, we see a man who mixes with staff and patrons alike, flirting with all the girls and grinning his wide, thin grin. The relatively new manager of the club, Harry Kaiser, clues us in that Al stocks the toilets by choice and was hurt when Kaiser wanted to relieve him of the task.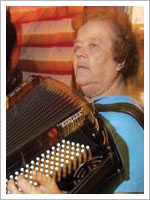 We get to watch a recording session at the makeshift Mystery Ranch Recording Studio, mainly one-take tracks of 60 songs. Perfection wasn't the goal, though what was still has me a bit puzzled. Ruth is disturbed by Al's deteriorating drumming skills, but she doesn't make a fuss. I guessed from her odd, short hairdo that she might have recently finished chemotherapy, but the film was well advanced before I found out I was right. As the bandleader and a female musician who came up when that was relatively rare, there's a lot of story in her life. I was frustrated not to hear more from her. On the other hand, I could have done with a little less of the talkative Joe, whose words were less than the sum of their parts. But I sure did like the sound of his voice, like a WGN-TV announcer from my childhood.
Ultimately, though, the film develops its focus and feeling in a way that really drew me in. It was a touching moment when Tormoen ran the last recording of Al singing, an impromptu to her at his home. It's very satisfying to see that his drum kit, covered with signatures, was installed above a doorway in Nye's.
I don't know if I'd like to hang at Nye's. Now that I'm well into middle age, I don't seek out relics as much as I feel like one. But there's an undeniable charm to the place and to the band that goes on playing together because they love it. I'm glad I visited Nye's and the Ruth Adams Band in this warm, sweet film.
The Chicago International REEL Shorts Festival is Friday through Sunday, Sept. 29-Oct. 1, at the Davis Theatre, 4614 N. Lincoln Ave., in the Lincoln Square neighborhood of Chicago. There will be about 100 short films ranging from two to 27 minutes in length. The World's Most Dangerous Polka Band shows with four other short documentaries on Saturday at 3 p.m. Best of the Fest selections as determined by audience votes and the festival director's favorites will be shown Sunday at 9:30 p.m.
Posted by Don Jacobson at 7:31 PM | Permalink
What I Watched Last Night
Listen to this: There are a few people out there who have super-human powers, and their powers vary from one to another. They live unsuccessful lives and are dealt hardship after hardship. They are always trying to do the most for humankind but never seem to get proper credit. They are almost always hated by society and put into roles that are unfair.
This is the synopsis of the first of many shows that will not be cancelled in their first week. The show is called Heroes, and it is NBC's answer to Dancing With the Stars. NBC ran this show last night for the second time to see if it would play a little better this time around. (Note to NBC: Please credit Dusty Baker and his reliance on Ryan Dempster as closer when referring to this strategy.)
This show is really bad. Not like Titus bad, because that show had its moments. This show is in a league of its own.
I watched maybe 10 to 15 minutes of Heroes and I have reached the season finale in my head already. The super-human "heroes" will face some type of governmental investigation into them in mid-season just as they realize who they each are. They will band together with some sort of scientist who speaks with a German accent and he keeps them safe somewhere in his fancy mansion, most likely in on an underground level. The scientist will then encourage them to go out and do some good for all humankind, like a Captain Planet sort of thing. This is the point where costumes will be debated in the writers' room and the marketing department will stop by for a visit. The German scientist will now serve as a father figure to all the "heroes," and they will admire him.
Toward the end of the season, an evil faction of super-human people that will arise and try to kill the "heroes" and spread fear amongst the regular humans. They may be called Republicans. This will happen just in time for a two-hour season finale where the "heroes" and the villains square off and the German scientist is either killed or captured. I would bet on captured in order to keep him around just in case he made for good rating - and a toy tie-in with Burger King.
So there you have it, the first season of Heroes on NBC. Now let's hope this terrible show is taken off the air since we already know what is going to happen and there's no reason to actually be forced to live through it.
Posted by Beachwood Reporter at 11:07 AM | Permalink
The [Wednesday] Papers
1. Michael Cooke is back as editor-in-chief of the Sun-Times (more on that in time) and has told staffers he wants more "attitude" in the paper. It's cheaper than more reporting.
2. "It's a joke. It's written on a 9th-grade level."
That's a union guy talking about the firefighers exam in a Sun-Times story written on the 6th-grade level.
3. "After months of controversy, the world's largest retailer opens its first Chicago store today, and those who work there say they couldn't be happier," Shamus Toomey writes in the Sun-Times - where else? - this morning.
Wal-Mart hasn't traditionally advertised much in newspapers, but the Sun-Times is trying really, really hard to get its business. They discounted this story to the 4th-grade level.
(Is this what Cooke means by "attitude"?)

4. Amid a series of revelations that have left the governor a shriveling mess, Ramblin' Rodney found time to tell the Sun-Times about his campaign against, well, against either phony charges on your, um, phone bill, or charges that are just hard to understand. I'm not sure which. I mean, is the governor saying those regulatory line charges and such are trumped up? Like you, I've long suspected that they are. But I'd sure like to see the evidence. Maybe he oughta ask state attorney general Lisa Madigan to take action.
"The cynic might point out that cell phone companies have been doing this for years, and the governor is only moved to act now, five weeks before an election," writes Neil Steinberg, breaking the story this morning. "But cell phone companies and their hidden fees are so annoying, I bet we'll take whatever help we can get, for whatever reason it is offered."
Or at least Steinberg will take whatever help he can get, for whatever reason it is offered.
5." Terror Report Contradicts Bush."
- page 40, Sun-Times, 36 pages after the exclusive front page report in which the dentist in a case involving a five-year-old patient who wound up in a coma expressed his distress.
"Bush Denies War Incites Terrorists."
- page 1, Tribune
Mix and match and you've got a real newspaper on your hands.
6. "Ex-State Supreme Court Justice."
- page 77, Sun-Times
"An Independent Political Mind."
- page 1, where it ought to be, Tribune
7. Michael Cooke is back on the job for just a few days and I'm already wondering how he keeps his job.
8. "What's fascinating is that critics who peel young Stroger's skin are often the same folks who, by their silence, excuse the more massive patronage abuse and corruption under Chicago Mayor Richard Daley and serve as cheerleaders for his Olympic dreams."
- John Kass
9. Kass's last two columns, about Constitution Party gubernatorial candidate Randall Stufflebeam and his Green Party ballot-mate Rich Whitney, have inspired me. If you've really had enough, vote Stufflebeam or Whitney. Seriously, I would love to see either of these guys in the governor's chair if the alternative is, as Kass says, Topinkavich. Unless you're betting on Pat Quinn ascending to the throne after the feds bag Rod. It's a gamble, but it's the only reason left to vote for Baloneyvich.
10. Really, if you've had enough, vote Stufflebeam, Whitney, Peraica, and, for now, Bill "Dock" Walls, who at least has a cool name, until the field of mayoral challengers fills out. Really. Do it. Please.
11. On one side of the debate, Mahatma Gandhi, Pope Benedict XVI, St. Francis of Assisi, the Prophet Muhammed, and, by the way, Paul Harvey. On the other side, Ald. Bernie Stone, Ald. Burt Natarus, and Mayor Richard M. Daley.
Just sayin'.
12. Maybe the foie gras debate ought to be decided by which side has the fewest laughingstocks among its supporters.
13."After reading Monday's Sun-Times, I have to ask: Who makes the decisions for the placement of what is considered news in your paper? Page 4 contains a 'news item' about former President Clinton being so-called 'Testy on [a Fox] TV [interview]' and Page 5 features a full page about a Highland Park church being rehabbed into a home for a lawyer's family, but a reader has to dig in very deep to find a real news item of importance, buried on Page 38 under the dubious title 'Democrats batter GOP with report,' about the recent intelligence report that states that the Iraq war has been feeding terrorism. This report was the leading story on BBC News Sunday night, but here in the United States, at least as far as Chicago is concerned, it rates well behind a news interview, church rehabs and 'Laurie Dann' appearing in MySpace. That says a lot about your paper and explains a lot about the American voter."
- Janet C. Burke, Elmhurst. letter to the editor, who is Michael Cooke
14. "[T]he Daley [Olympic] plan has one function only - to hold together until next year's election."
- David Roeder (third item), wondering, unlike his colleagues, how the Games will really be paid for, and if you can really plunk a 95,000-seat stadium into a park, later to be reduced to 10,000 seats, and not ruin the park.
15. "Experts say retailers have covered every inch of ground in the suburbs, where land prices are lower and opposition tamer, and now are looking for new growth," Sandra Guy writes in her Sun-Times Wal-Mart story.
So wait - you mean the suburbs are full for big-box retailers? So the city is their only option in Chicagoland, regardless of, um, wage ordinances?
16. "The situation can be a double-edge sword: The company hires local residents, but many cannot afford to raise a family on the salary offered or save for retirement," Guy writes.
So wait - are you saying that having a handful of poor people in impovershed areas simply becoming poor people living in impovershed areas who also work for the enormously profitable Wal-Mart isn't a great economic development plan?

17. The Tribune editorial page's war contortions continue. Can't you just say you were wrong and Howard Dean was right?
19. Mary Schmich still hasn't gotten the news that the Inner Self Cafe spontaneously combusted 30 years ago and was replaced by a record store called Death Carnage.
20. "We want to make this a global city so you get the Olympics and, with the construction of O'Hare International Airport, you're making this a global city," Daley said.
The guy's been in office for 17 years and we're not a global city yet?
21. "If we get [the Olympics], it certainly would create foreign exposure with global attention. It would be a huge opportunity to get the Chicago message out to the world," says Tom Bartkoski of World Business Chicago.
Um, the message that we're open for business, Tom?
"Not everyone knows what a great business location it is and how great of a place it is to live and work. The Olympics - as with Sydney in 2000 or Tokyo in 1964 - has the potential to be a real image maker."
I thought that's what the half-a-billion dollar and growing Millennium Park was for. (Tokyo 1964?)
22. If you've ever stood on this swath of land, which indeed has a sweet skyline view, well, it's hard to disagree.
Maybe the mayor stole his Olympic idea from the wrong challenger.
23. Spot the Beachwood Reporter contributor who learned English by watching Cubs games in this article.
24. Global cities don't care if some schmuck thinks they are a laughingstock.
25. Baltimore Sun employees ask Tribune Company to show them some respect. I don't know, why should they get special treatment?
26. Apologies for the late posting again today, I was up all night trying to come up with three more reasons to read Sun-Times.com to help out their marketing folks. I couldn't.
The Beachwood Tip Line: 101 reasons and counting.
Posted by Beachwood Reporter at 9:30 AM | Permalink
Life at Work
J. Bird called in sick. I've got my eyes on you, Bird.
Posted by Beachwood Reporter at 8:38 AM | Permalink
September 26, 2006
The Beachwood Inn Bookshelf
1. Everlasting/Nancy Thayer. "A lightweight, predictable fairy tale of a young woman's success in business and in love." (Publisher's Weekly)
2. The Road to Gandolfo/Robert Ludlum. "A wickedly funny Robert Ludlum you've never met before." (From the Publisher - Bantam)
3. The Five Fingers/Gayle Rivers and James Hudson. "The book is a brusque but joyous Benzedrine-fueled rollercoaster of ambushes and flesh wounds. The seven members of the Five Fingers team stomp through Laos, leaving armies of dead in their wake. Male bonding occurs. There is a betrayal. The ending is ambiguous, startlingly so for a cheapo battle paperback . . . Hey, the Hemingway plod got popular because it fucking works. The Five Fingers - weird, compelling, and perhaps overdue for recognition." (Colby Cosh)

4. Image of the Beast/Philip Jose Farmer. "Herald Childe has seen Hell, glimpsed its horror in an act of sexual mutilation. Childe must now find and destroy an inhuman predator on the streets of a polluted and decadent Los Angeles of the future." (From the Publisher - Rhinoceros)
5. Save The Tiger/Steve Shagan. "A story of moral conflict in modern America . . . [Jack] Lemmon plays Harry Stoner in a bleak story that depicts an outwardly successful man questioning the value of the material prosperity he's desperately trying to maintain." (Wikipedia entry on the 1973 movie adaptation also written by Shagan)
6. The Sendai/William Woolfolk. "Something very strange is happening at the Karyll Clinic . . . a series of infant deaths, all of them test-tube babies . . . falsified records and a top-secret, off-limits research unit." (Mistymorninbooks.com)
7. Submission/Elizabeth Oldfield. "This is the story of Shane, a popular pop singer for a band named Submission who hates the limelight and wants out, and the band secretary, Rhiannon. A subplot about Shane finding his roots in Asia was poorly fleshed out and hardly mentioned except as an afterthought at the end. A standard book but nice if you don't want to think." (C.A. Wanamaker, Amazon.com)
8. Sea Fever/Anne Weale. Harlequin Romance #3132.
9. Invasion/Robin Cook. "A gigantic spaceship arrives in the stratosphere to dump some black disks onto Earth. Touch these things at your own risk, however; unsuspecting souls who handle the disks receive a sting, soon followed by flulike symptoms and ending in a kind of zombie assimilation into the alien consciousness. And make no mistake: these aliens are up to no good - we know this because the victims of the UFO-flu are soon transformed into hideous reptilian creatures." (Amazon.com)
10. Message in a Bottle/Nicholas Sparks. "The farfetched plot of Message in a Bottle is more likely to elicit fits of giggles than flutters of the heart, and it leaves the mind quite numb." (Sarah Harrison Smith, The New York Times Book Review)
11. Family Pictures/Sue Miller. "Now A Powerful TV Mini-Series Starring Angelica Huston." (Book jacket)
12. Streets of Death/Dell Shannon. "Lt. Luis Rodolfo Vincent Mendoza does police work because he's good at it and he enjoys it. A man of independent means, the suave Mendoza is always impeccably dressed and combines Latin charm & sensuality with a fondness for racy cars, high-stakes poker, pretty women, and his Abyssinian cat." (The Reader's Advisor)
13. The Fourth Protocol/Frederick Forsyth. "It is a time of political unrest in Great Britain. And behind the Iron Curtain an insidious plot is being hatched, a plan so incendiary that even the KGB is ignorant of its existence - Aurora, the sinister brainchild of two of the world's most dangerous men: the general secretary of the Soviet Union and master spy Kim Philby . . . Only British agent John Preston stands any chance of breaching the conspiracy. Through plot and counterplot, from bloody back streets to polished halls of power both East and West, his desperate investigation is relentlessly blocked by deceit, treachery, and the most deadly enemy of all . . . time." (Inside flap)
14. Along Came A Spider/James Patterson. "This book is about a crazed school teacher who kidnaps a daughter of a famous actress. Alex Cross, a detective, is suppose to figure out this twisted and complicated criminal act." (Jared Hensley, Resident Scholar, AllReaders.com)
15. Red Storm Rising/Tom Clancy. "Whereas the fictionalized USSR in Red Storm Rising required the plot device of a refinery disaster to kick off the storyline, the United States has arrived in precisely the same situation as the fictionalized USSR in the book through chronic mismanagement." (What Really Happened: The History the Government Hopes You Don't Learn!)
16. War and Remembrance/Herman Wouk. "Because the miniseries was shot out of sequence, producers could not cut Jayne Seymour's hair for the scenes in the concentration camp. Make-up artists took shears to a full scalp wig for her to wear for those scenes instead." (Wikipedia)
17. The Brotherhood of War: The Aviators/W.E.B. Griffin. "The eighth volume of Griffin's Brotherhood of War series is a detailed and absorbing view of military life and military men that readers will find fascinating." (Library Journal)
18. Deer Dancers: Daughter of the Sky/Amanda Cockrell. "She is named Deer Shadow, blessed and cursed by a magical talent inherited at birth. She is cherished by the Yellow Grass People, until a hostile tribe threatens their ancient ways, casting doubt on Deer Shadow. But the gods have sent her a gift - a mysterious outcast, bearing strange new ideas and sacred seeds. She knows she must defy all - for he is her destiny." (Fantastic Fiction)
19. The Brotherhood of War: The New Breed/W.E.B. Griffin. "An American Epic." (Tom Clancy)
20. Julius Caesar/Cliff's Notes. "Brutus bases his decision to assassinate Caesar on a) his hatred for Caesar; b) what Caesar may do if he is crowned king; c) his own desire to be king; d) the need to please Cassius." (Study Help: Quiz)
21. Job Hopper: The Checkered Career of a Down-Market Dilettante/Ayun Halliday. "Dimensions: 8.5"H x 5.75"W x 1"D; 0.64 lbs." (BestBookBuys)
22. The Gospel According to Oprah/Marcia Z. Nelson. "Clearly, Oprah Winfrey has been converted into the New Age Movement. And one of the biggest deceptions is that she apparently doesn't know it." (Watchman Fellowship)
23. Celebremos! Let Us Celebrate!/Mexican Lectionary (Leccionario Mexicano). "Can be paired with the We Celebrate Hymnaland/or Cantos del Pueblo de Dios hymnal." (World Library Publications)
24. The Mean Season/Fred Block, Richard A. Cloward, Barbara Ehrenreich, Frances Fox Piven. "This is a spirited reaffirmation of the humane values of the American 'welfare state' as well as a sharp attack on the Reagan Administration for trying to dismantle the 'safety net' that now protects the unemployed, dependent children, the aged, the disabled, and the very poor. The authors reject the charges that public welfare is a drag on the economy, an incentive to immorality, and ultimately a cruel hoax on the needy. Instead, they argue that there are still big holes in the 'safety net,' to be mended with better health insurance and adequate income support for the very poor. Liberals are chastised for falling into theoretical and moral disarray and thus failing to ward off conservative attacks on these issues." (Library Journal)
25. Moments of Engagement: Intimate Psychotherapy in a Technological Age/Peter D. Kramer. "Statistically Improbable Phrases (SIPs): ambulatory depression, ward chief, dynamic therapy, doing psychotherapy, being empathic, inpatient ward, paranoid patient." (Amazon.com)
26. The Interpretation of Dreams/Sigmund Freud. "Dreams of loneliness/like a heartbeat drives you mad/In the stillness of remembering what you had/And what you lost/And what you had/And what you lost." (Stevie Nicks)
27. Angela's Ashes/Frank McCourt. "When I look back on my childhood I wonder how I managed to survive at all. It was, of course, a miserable childhood: the happy childhood is hardly worth your while. Worse than the ordinary miserable childhood is the miserable Irish childhood, and worse yet is the miserable Irish Catholic childhood." (McCourt)

Posted by Beachwood Reporter at 4:07 PM | Permalink
Pass the Charter: A Guide To Chicago's New Schools
The city's raft of magnet and charter schools have become so specialized that this year the Chicago Public School district found itself compelled to open a school (the Chicago International Charter School-Ralph Ellison - not to be confused with the Chicago Virtual Charter School ) focusing on "reading, writing, and arithmetic."
Among the other new schools offered up by CPS this year: The Austin Business & Entrepreneurship Academy, for budding young business leaders hoping, we presume, to deal in human fulfillment; the Bronzeville Lighthouse Charter School, for the performing arts, possibly with a focus on sea shanties; and the Sherman School of Excellence, focusing on "shared governance," which means the mayor won't be visiting any time soon.
Here are 15 charter and magnet schools under consideration for next year.

1. The McDonald's School of Culinary Arts (grades 8 to 10). Students passing the McSCAT will advance directly into fry cook positions.
2. The NCAA Charter School of the Physical Arts (pre-K to 12). An elite development program with intensive after-school programs and field trips.
3. The English As a First Language Minuteman Academy (K to 8th). An affirmative action school for white folks who feel threatened by a changing world. Legal citizenship required, though a passing score on a citizenship test is not.
4. The School of Social Promotion (K to 12th). Students must meet an income requirement and have a job already lined up for them by their parents.
5. The Magnet School. (9th to 12th) Prepares students for careers in the magnet industry.
6. The Young Anchorman's Academy (9th to 12th). For students interested in the blow-dried arts.
7. The Uptown Downsizing Academy (9th to 12th). Prepares future business leaders in the economics of workplace wealth transfer.
8. The Illinois School of Budget Mathematics (12th-grade only). Brief but intensive coursework in obfuscation, rose-colored projectionism, and election-year gimmickery.
9. The ACT Excellence in Testing Academy (11th-grade only). Students will spend their year drilling in the ACT, much like in regular CPS high schools, only with ACT-certified instructors.
10. The Attendance Academy (9th to 12th). No child will be left behind.
11. The Department of City Planning School of City Planning (9th to 12th). A charter school located in City Hall but taught by the city's leading developers.
12. The Chicago School of Electoral Mathematics (pre-K to 12th). Practical applications of math, such as the geometry of U.S. congressional districts, the algebra of racial blocs, and political calculus.
13. The Haven of Patronage Charter School of Chicago (9th to 12th). Acceptance limited to those sent by somebody.
14. The Daley Country Day School (K to 12th). Specializing in contract law and the literature of denial.
15. The Charter School (9th to 12th). Educational instruction in developing your own for-profit charter school curriculum.
- Natasha Julius, Tim Willette, and Steve Rhodes
Posted by Beachwood Reporter at 2:47 PM | Permalink
What I Watched Last Night
So sorry I was not able to write yesterday as I was still too enthralled watching the Monday Night Football countdown clock on ESPN.
See, on Sunday night I figured I would catch up with all the happenings in the NFL on NFL Blitz, ESPN's new version of NFL Primetime. The show features highlights and "analysis" from all of Sunday's games. While I was catching up on all the information, a clock popped up in the corner with a countdown to Monday Night Football.
"Wow!" I said out loud. "I didn't even know that ESPN had Monday Night Football, I could have sworn that I've een watching it on ABC for the last three weeks. It sure is great that there is a clock here letting me know that there is exactly 18 hours, 42 minutes and 12, 11, 10 seconds till the big game!"
I had no idea that there was such a huge game coming up on Monday night that it deserved 18 hours of preparation. Playoffs must be on the line - but in the third week of the season? No way. Yes way! The Saints are playing the Falcons. Those two traditionally dominant teams are meeting and the world needs to know a day in advance so we can get ready. The Superdome is opening for the first time since it served as a Katrina refugee camp. That is the real story here and it was brought up all last night and all last week and all day today, how could I miss the story line.
The Saints ended up winning pretty impressively; good for New Orleans, they needed that.
This last Sunday and the two previous Sundays have had this countdown clock in the corner for a day before kickoff. Honestly. A countdown clock sure could have helped President Bush as Katrina put the Gulf Coast in her sights. That way maybe he would have known that it was a shit storm down there and "Brownie" was not doing all that great a job.
Countdown clocks. I have seen them on the news channels for things like "THE COUNTDOWN TO WAR!" or
"COUNTDOWN TILL PRES. BUSH SPEAKS TO THE NATION!" or, my favorite, "COUNTOWN TO TERROR?" The reason the last one is my favorite is simple; it features a question mark behind it instead of the regular exclamation point. A question mark just scares us even more than we already are.
Which brings me to point one of two in this two-for-the-price-of-one column today. Countdown clocks should only be used for important things like the way they were used in Spaceballs.
In what I consider the greatest comedy of all time, Captain Lone Starr foils Lord Helmet by way of the Schwartz and activates the self destruct alarm for Mega-Maid (Mega-Maid is the transformed ship "that is going to suck all the oxygen out of planet Druidia and transfer to Planet Spaceball, therefore ruining Planet Druidia and saving Planet Spaceball," Colonel Sanders says to Lord Helmet, who replies, "Everybody got that?") That is a good use of a countdown clock because lives are on the line. A football game though?
That question mark was
not supposed to scare you. Or was it?
* * *
Alright, for part two, and this does not just apply to television but everywhere, enough with the exclamation points!
Not only has every news program exploited the most dramatic piece of punctuation; it has now spread to work and text messaging and notes at the apartment.
"Happy Friday!"
"Going out call you later!!!!"
"Last night at the movies was so much fun!!!!!!!"
It is not the amount of exclamation points used; rather it is the willy-nilly way they are used and abused.
Here is a proper use of an exclamation point, "Man this column is dragging on today!"
Bad use: "I'll end it!"
Pat Bataillon is the Beachwood's resident TV watcher. Catch up on everything he's been watching in the What I Watched Last Night archive.
Posted by Beachwood Reporter at 10:21 AM | Permalink
The [Tuesday] Papers
1. "The discovery that a bizarre particle travels between the real world of matter and the spooky realm of antimatter 3 trillion times a second may open the door to a new era of physics," the Tribune reports.
Further, Fermilab researchers making the discovery found that the particle zooming in and out of the real world is lodged in President's Bush's brain.
2. I wonder what poor (and gutless) reporter was forced into writing up the Sun-Times page 5 news story titled "7 Reasons To Try SunTimes.com." (Reason No. 2: There's a search function!)
3. There were no opposing voices in that story, by the way.

4. Todd Stroger says that county government employees who "skate by and cheat taxpayers" should "quit now, because when I get there you will be terminated." But if they're gonna be fired, shouldn't they steal all they can in the interim?
5. "But after the debate, Stroger refused to say whether he would fire Gerald Nichols, patronage chief to his father, ex-Board President John Stroger," the Sun-Times's Steve Patterson notes. "Nichols is suspended from his county job amid a federal corruption investigation into job rigging."
6. Secretary of State Jesse White sees nothing wrong with promoting his daughter to a $112,000-a-year job. After all, he conducted her review personally and found her charming.
7. Three state jobs ago White's daughter was making $39,000.
8. Perhaps one of the candidates for governor should propose a nepotism policy prohibiting relatives of elected officeholders and other high-ranking officials from positions in state government. It could also be billed as a jobs program given how many openings would be created.
9. Fran Spielman's story in the Sun-Times about the latest firefighter exam is framed around the cliched false choice of high standards vs. diversity. Gary Washburn's story in the Tribune is framed around the difficulties in diversifying the pool of applicants. Compare and contrast.
10. Maybe Spielman and her editors ought to pick one story a day for her to actually spend some time reporting rather than having her write up three crappy ones like they make reporters do at the Smallville Sentinel. Also, if they have one of those educational programs, they could pay for her to go back to school. Just a thought.
11. "In response to a question from the audience, Stroger denied that his aldermanic office used public funds to conduct political work." All evidence to the contrary.
12. "[Daley] has also denied that there was wholesale rigging of hiring and promotions under his watch, telling reporters, 'There were some mistakes. But, it wasn't all a sham.'" All evidence to the contrary.
13. How about three-strikes-and-you're-out ethics legislation: Tell three lies and you get knocked off the ballot.
14. The Sun-Times, The Official Paper of The Mayor's Olympic Dream, actually contains critical thinking of the mayor's Washington Park proposal- from reader Charles G. Staples of Hyde Park. So the gag order inside the newsroom remains in place.
15. As long as you're on the letters page, the next one comes from Ahmed Rehab, executive director of the Council on American-Islamic Relations, and much like Tony Peraica and his suporters, it sounds like Rehab's had enough.
"Finally, I ask the Sun-Times to do something about its pitiful track record where, invariably, its editorial treatment of Islam-related topics is marred by a tendency toward reductionism, generalization or oversimplificiation," Rehab writes.
Other topics too.
16. As long as you're on the letters page, James P. Crawley of West Town has an idea: "If any other Chicago employee made a reckless blunder that cost the taxpayers $1 million, they would surely be fired. The mayor should use his own campaign funds - and not our tax dollars - to pay this fine."
And then he should be fired.
17. "Stroger, an alderman and former state legislator, said Peraica has built no bridges with other politicians or even fellow Republicans to be a successful board president."
Forrest Claypool was not available for comment.
18. "CTA Kicks Off 'Circle Line' Hearings, Defends Raises."
Raises to managers are the union's fault. "You can't give 90 percent of your employees a raise and ignore the other 10 percent," CTA spokeswoman Noelle Gaffney says.
Gaffney is right. Usually the top 10 percent get the raises and the other 90 percent get offered severance packages.
19. A CTA primer.
20. "The hotel bathtub is going down the drain," the Tribune reports. "In today's hurried society, baths are becoming a rare occurrence, some hoteliers say, so tubs are being replaced with larger shower-only stalls."
I did not know that.
21. "Spy Agencies Say Iraq War Worsens Terrorism Threat."
- New York Times lead story on its front page on Sunday
"White House Says War Not To Blame For Terror Rise."
- Tribune, page 19 on Monday
"Democrats Batter GOP With Report."
- Sun-Times, page 38 on Monday
So the consensus of the American intelligence community is that the Iraq war has created and motivated more terrorists who didn't exist before a war whose rationale has fizzled into the wind, thereby increasing the threats to our security for no defensible reason. By the time that news reaches the Tribune, the news is the White House's defense, and by the time it reaches the Sun-Times, it's just a partisan battle. Nothing to see here.
22. Desmond Clark mini-footballs were the big front page story that day for the Sun-Times. Remember after 9/11 when we were going to be serious again?

23. Maybe the sacrifice editorialists keep wanting the president to ask us to make so the war for the fate of civilization feels more real to us should be the media repressing its worst instincts.
Or newspaper companies sacrificing obscene profits for merely ostentatious money-making.
24. Had enough?
25. Sorry the column is a little late this morning, navigating the Sun-Times's brilliant new website slowed me down. Maybe I need to read those seven reasons again. (They couldn't come up with 10?)
The Beachwood Tip Line: Automatic gratuity for large parties.

Posted by Beachwood Reporter at 9:12 AM | Permalink
Life at Work
The source of the leak has been located, so a grand jury will not have to be empaneled. Turns out my brother is a dunce.
He forgot to relay to his wife the vital fact that I was not sharing the news of my job loss with my folks just yet, so when my father called from Greece to see who had been trying to reach him, she suggested it might have been me - regarding the loss of my job. I rescind my threat of violence as the apologetic e-mail I received from her (which, incidentally, let me know who had done the deed) was virtually tear-stained. Pun intended.
With that mystery solved - though the full emotional ramifications are yet to come - I once again spent my morning going through help-wanted ads. This is an exercise which leads to many soul-searching questions, such as: Do I really want to work in a mail room? Probably not. It also occurred to me, in the reflection that said exercise also leads to, that all the time I spend griping about work could probably be better spent, well, working.
Granted, some conditions are not really acceptable, and my work environment was getting close to topping the list. I mean, the artist formerly known as "Boss" could have had a job torturing innocent people for the CIA. Which, by the way, is actually advertising for employees on television, which I find highly bizarre, but which is tangential to what I'm trying to say.
Which is that not working, sadly, makes you appreciate working. Because not working can make you feel pretty rotten. If I had the smallest cubicle on earth right now, I would not begrudge my co-workers their larger spaces. Just to have a cork board wall to pin pictures of my niece and nephews on would be a real pick-me-up. The bad coffee, the office gossip, the guy who can't help but talk loudly about his various weekend nightclub conquests - well, I kind of miss them.
And I sure as hell miss payday. And not just payday, but the anticipation that comes when payday nears. I miss that.
So there's an airline recruiting flight attendants starting in October, and I've signed myself up to be recruited. Why not? I'm not tied down, I can find someone to look after the pooch when I'm away, and I'll get to travel a bit. It's not really where I pictured myself at this stage in life, but so what? It might be fun. At the very least, I'll get a neato uniform and people will (theoretically) have to listen to me. It's a bit Napoleonic, but not a bad combination to try out for awhile.
Posted by Beachwood Reporter at 1:27 AM | Permalink
September 25, 2006
Life at Work
Despite my best efforts at keeping this data classified, I learned that somebody leaked my non-working status to my vacationing parents when my father left a message from the Mediterranean on an unrelated matter and mentioned it. When I find out who, violence may occur, so stay tuned for that. I was going for the "While you were on vacation I lost my job but no worries I'm all set with a new one" once they got back take on the whole thing, which, of course, depended on getting a job before they got back. So that strategy is pretty much dashed.
Meanwhile, I decided over the weekend that I have too much stuff, and that maybe paring down will lead me to something meaningful. Like a job offer. How that will work, I can't explain, but I have a feeling it might. Maybe it will bring me clarity. One minute I'm accepting what happened and sending out resumes as often as possible; the next I'm feeling persecuted and miserable and wondering why it seems like every time I've got things worked out, they suddenly come crashing down again.
That's what losing your job does to you. Unemployment: The Ultimate Mind Fuck.
J. Bird is the Beachwood's pseudononymous workplace affairs reporter who no longer has a workplace to report from. Now Bird sends dispatches from the front lines of unemployed ennui. Catch up with the Life at Work series here.

Posted by Beachwood Reporter at 10:56 AM | Permalink
What I Watched Last Night
Pat Bataillon watched TV last night, but he is not yet prepared to talk about it.
Posted by Beachwood Reporter at 10:18 AM | Permalink
The [Monday] Papers
The embarrassing folly that is the Sun-Times's coverage of the city's 2016 Olympics bid continued over the weekend with a front-page story billed as an "Exclusive First Look" at the proposed Olympic Village that wasn't much of a look at anything at all - "more an idea than a real design at this point," said Skidmore, Owings & Merrill managing partner Tom Kerwin, who is also an advisor to the city's Olympic committee.
The rest of the story - I know, shocking for the Sun-Times - was impossible to differentiate from a press release. This unquestioned spin point in particular caught my attention: "The [Washington Park] stadium would have 15,000 more seats than an earlier Olympic arena concept for downtown, in part because it's now anticipated that the excitement of the Chicago Games would create 'an extraordinary appetite for tickets,' [advisor Doug] Arnot said."
Right. Under the previous proposal, city officials did not anticipate such an appetite for tickets. The change has nothing to do with the fact that the previous proposal was untenable; how could it have been, the Sun-Times must be thinking, when we "reported" how great that plan was too?

Compare and Contrast
* "Olympic Stadium Plans Could Either Ruin Or Fulfill Olmsted's Chicago Park Vision."
* "Olympic Park Is About Daley, Not South Side."
Sunny Spin
Let's review.
"Chicago's search for an Olympic stadium is focused on three possibilities: building a collapsible stadium between Soldier Field and McCormick Place; retrofitting Soldier Field, or demolishing McCormick Place East to make way for a permanent facility, City Hall sources said," Fran Spielman reported on June 12.
There was no talk from Mayor Daley then about how the Olympics had to serve the communities outside of downtown, particularly where African Americans live, as the mayor so emphatically stated and Spielman so enthusiastically bought last week.
In fact, Spielman reported in June that the mayor had considered having opening and closing ceremonies as far away as Notre Dame, the University of Wisconsin-Madison, or the University of Illinois in Champaign.
That's when the Olympics were going to be a Midwest Olympics, which was a great idea. Until the great idea became a compact, center city Olympics. Then the great idea became a South Side Olympics. Maybe Chicago will be awarded three Games so all these great ideas don't go to waste.
The Sun-Times has a short memory, but I don't. On June 23, Spielman dutifully reported local Olympics impresario Pat Ryan saying the city had "an elegant solution" to its stadium problem. We know now that the solution was anything but.
That was in a story trumpeting a poll showing that nearly 80 percent of Cook County residents wanted Chicago to host the Olympics, which is like asking residents if they think it would be cool to host a Super Bowl or maybe have the Mardi Gras come to town. The poll didn't ask about pesky things like how much they were willing to pay to land the Games. The poll was also conducted by the same outfit that does Daley's political polling.
Spielman's propensity to swallow anything the mayor's people tell her was on full display in that piece.
"In a surprise change of heart, Daley announced last summer that he had decided to make a serious bid to host the 2016 Summer Games," Spielman wrote. "The mayor cited two reasons for the about-face: many venues are now in place, and business leaders have agreed to front the city's bidding costs."
Aside from the city not having the only venue in place that counts - a stadium to hold opening and closing ceremonies as well as track and field and other events - does the city really have any more venues in place now than it has in the past? And were business leaders really previously reluctant to pony up for bidding costs?
Spielman didn't ask. She just wrote down what she was told.
On June 24, the Sun-Times's puffery continued, with Stephanie Zimmerman reporting on mayoral spokeswoman Jackie Heard saying that Chicago's bid would include "thousands more" spectator seats than any Olympics in modern history. (Apparently not ancient history, though.)
On August 10, Shamus Toomey reported that the temporary downtown stadium plan was still on the table despite criticism from the USOC.
"They liked the concept very much of the lakefront, the concentration," Ryan said, when asked what the United States Olympic Committee liked about Chicago's plan.
So the mayor's epiphany about an Olympics that would spread out into the neighborhoods where he has discovered black people live must have come in the last few weeks. The Sun-Times has not yet reported on just when and how this happened, but I'm sure once the mayor's aides think it up and pass it along to Spielman, she'll let us know.
Jingo Fever
When the Sun-Times editorial page wrote in August, "We'll abstain from the jingoistic fervor until we see some solid ideas," I thought, Why the change in policy?
Well, apparently the editorial board has finally seen some solid ideas. The board is declaring that it has no problem with the mayor playing racial politics as he takes the city for an Olympic ride exquisitely timed to his re-election campaign. Regardless of winning an Olympic bid, the editorial board says, the effort is worth it because it is "helping Chicago define, again, what kind of city it is and wants to be."
Um, can someone help me out here, because I have no idea what that means. A city with a newspaper incapable of reaching the basic standards of journalism? A city with an editorial board continually confused about what kind of city we are? Throw me a bone here, people. This one has gone clear over my head.
Elsewhere
I know there are other things going on besides the Olympics bid - I'll catch up this week, I promise. Elsewhere in the Reporter today:
* The Political Odds have changed. The chances that Gov. Rod Blagojevich is identified as a target of federal investigators makes its inaugural appearance on the board.
* A line by line summary of what's wrong with the CTA. Choose your favorite color-coded woe.
* New magnet schools coming on line, including a school that will prepare students for careers in the magnet industry.
* A new installment of Chicago In Song, featuring the city as a destination for those escaping broken hearts.
* Did our man finally pick some games right? Follow the drama.
The Beachwood Tip Line: Say it loud, say it proud.

Posted by Beachwood Reporter at 8:54 AM | Permalink
September 24, 2006
Chicago In Song: Destination Chicago
When Manitoba, Milwaukee, and the rest of the world aren't treating you right, you wanna go North, South, or just plain Home to Chicago. In this edition of Chicago In Song - Chicago as escape hatch to mend your broken heart.
North to Chicago/Hank Snow
The main thing to remember here is that the entire premise of this song is a lie cooked up by Canadians. That's right. Canucks. They're not going to go "north" to Chicago at all, unless, of course, they're those kind of country music Canadians who pretend they're from Austin or Nashville when all the time they've been shopping for tuques in Thunder Bay.
You know, secretly Canadian.
"North to Chicago" was written in 1972 by Canadian Les Pouliot, who was best known as the producer of The Tommy Hunter Show, a program that ran for many years on the CBC and sort of served as Canada's TV showcase for traditional country music. It was recorded by another Canadian, Hank Snow, the next year on his album called, ironically enough, "Grand Ol' Opry Favorites," which was co-produced by Chet Atkins.
It's a kind of shuffling, innocuous confection that's like a lot a whole lot of early 70s music, be it pop or rock or country - it all sort of sounds like John Denver or Bobby Goldsboro or the Carpenters to me. It's about how Hank is getting ready to leave his unnamed home (obviously somewhere south of Chicago) and can't quite make it - he's already missing his baby.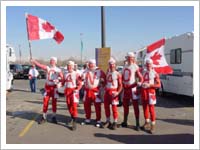 I filled my ol' car up with gas
North to Chicago I was goin'
Just drove ten miles and turned around
I couldn't leave without you knowin'
I had to see you one last time
And be with you once before I'll go
To talk with you just one more time
And then I'm bound north to Chicago
While it's not exactly clear why he's leaving - although the hint is that it's because of a broken heart - Chicago serves in this song in its role as a symbol of reinvention, that very American notion of being able to leave trouble behind by pulling up stakes and starting over somewhere else. It's the same role played by Chicago in black history and in the blues - but Canadian history? I smell a fraud.
Please don't be angry that I've come
I know you didn't want to see me
I know I said I wouldn't call and I tried my best
Love, please believe me
Well everything I own is in my car
You can see I'm leavin' so you must know
I only come to say goodbye
And now I'm bound north to Chicago
Maybe he'll keep going till he reaches Winnipeg.
To the Kill/Violent Femmes
If Chicago is envied elsewhere in the world as a symbol of hard-nosed American entrepreneurial genius, closer to home I think it's mostly envied as a place that seduces Midwestern hometown girls into lives of sin. That's been the case with two other songs profiled here: Cheap Trick's "You're All Talk" and Mark Wills' "I Hate Chicago." That theme continues with "To the Kill."
Much like Cheap Trick's Rockford inferiority complex, the Femmes seem to be suffering from the Milwaukee variation of that same malady. I never knew that until I studied the lyrics of this song, which appears on their very first LP, 1982's The Violent Femmes, and precedes one of their all-time hits, "Gone Daddy Gone." In it, Gordon Gano (very defensively, to my mind) protests that "I don't live in Chicago" and that he "ain't no Al Capone," which, of course, is the ultimate lazy put-down to any Chicagoan.
Ain't had no fun
All the time jacking around
Ain't had no fun
All the time messin' mind
I kick it around
But if it's alright with you
If it's alright, yes I will
Aw c'mon babe
Go ahead to the kill
I ain't no Kid Chicago
I ain't no Al Capone
But there's a windy city
In my bedroom alone
Hmm. "A windy city in my bedroom." This is the give-away. This Milwaukee hick is upset because someone from a certain big-shouldered metropolis has used his considerable charms to lure the girl away from the land of beer and Friday night fish fries and into that sophisticated international center of civilization that is Chicago. And really, who can blame her for leaving? Come to think of it, you know something, cheesehead? Get over it.
But he can't. He's pouting. Check it out:
I said I don't live in Chicago
I don't know no Al Capone
That bitch took my money
And went to Chicago
Boo-hoo-hoo. But still, I have a feeling this kind of thing happens a lot in the Rockfords, Milwaukees, South Bends and Grand Rapids of the world. And actually, I can see why it would upset the locals: just when you think you've got it made in your small town, some handsome stranger smelling of Frango mints pulls up in a late-model General Motors sedan, and you're baby's gone. It's probably pretty tough . . . but on the upside, it obviously makes for good song inspiration.
Back to Chicago/Styx
By the time this song came out in 1990 or so, rock music was again at a horrible, horrible low point. It took the Replacements, Nirvana, Pearl Jam and all of Seattle to pull the art form out of the slough of despond that this kind of crap put it in. Styx perfectly personified everything that was nasty about what rock had become - corporate, bland, by-the-numbers, unable to admit that the real creativity of the 60s and 70s was long over and that even phoning it in was now too much of an effort.
End of the Century, the album on which "Back to Chicago" appeared, was supposed to be a big comeback for Styx, which hadn't put out an album for seven years. But it was a critical flop - Tommy Shaw was too busy cleaning up his cocaine addiction and hanging out with Ted Nugent in Damn Yankees to be bothered with the "comeback." Shows you what kind of power Styx still had. Dennis DeYoung took over and everything sounded like it was concocted at a record company executive's poolside patio. "Sterile" doesn't begin to describe it.
So what to do to inject a little "authenticity" into something so hopelessly inauthentic? Name-drop Chicago, of course. And that's just what Styx does on this tune, trying to overcome its lightweight persona by blues-ing it up a bit, Chicago style - except that they go the overproduced horn section route, which of course, is exactly what killed the blues by making it . . . uh, inauthentic. And lyrically, Dennis is waxing homesick for the Windy City.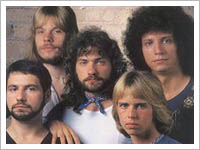 And I don't care what people say
Cause I'm gonna love you night and day
Oh baby, if you still want me
Still need me, all you gotta do is let me
Walk right up to your door
I'm makin' my way back to Chicago
I'm makin' my way come rain or shine
I'm gonna find true love waiting for me
I'm gonna make it all work out for good this time

"For good this time." You know, when you're flying around the world, being a poofy-haired rock star for years and years and years, and you start pushing 50, well, thoughts naturally turn back to that little piece of heaven on Sheridan Road that you left behind, and that special Windy City girl, the only one who really knows you, the only one who can understand what it's truly like for a lonely Chicago boy out on the road.
Let's go walking by the beach tonight
And watch the sun come up on Lake Shore Drive
Then I'll take you in my arms
And I'll keep you from all harm
Cause I know everything is gonna be alright
See? All that Mr. Roboto stuff and the accolades that came with it didn't really signify a thing. Neither did the world tours, the private jets. Because at the end of the day, when Styx sang "Lady," they meant you, Chicago girl.
Dig it.
Catch up with the Chicago In Song archive.
Posted by Don Jacobson at 12:14 PM | Permalink
September 23, 2006
Jimmy Smith: Mickey Mouse
Jimmy Smith was a master of pulling soul out of the cheesiest organ lines. On "T-Bone Steak," the flip side of this single, he and his band create one of these classic grooves, made up of funky guitar licks, a propulsive beat and bass line, and Smith's oozing organ. But they sound even better on Side A: "Mickey Mouse."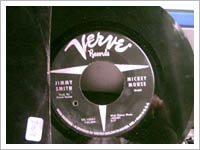 It opens with Smith jamming some smoky scales, then rocking the room with his gravelly vocals: "Now it's time to say goodbye to all our company: M-I-C-K-E-Y M-O-U-S-E." His band pushes the beat and melody on as Smith works the keys into a whirling, sweaty dance party. "Come along and sing a song and join the jamboree," he sings. "Mickey Mouse! Mickey Mouse!"
Now, I have to admit that it's easy for me to get into this: I've always loved Mickey Mouse because I share his name. Overall, Disney cartoons may be too smooth and overproduced and lacking in bad guys, but I've repeatedly been taken in by the euphoria of these calls to come along and sing our song - even in the tune's original, scrubbed-clean version. The Mouseketeer hats were pretty sweet, too.
Yet Jimmy Smith's number hits its peak when the organ goes still, the guitar plays an elegant flamenco-like rhythm, the snare drum snaps along, and he mutters, "And don't forget Donald Duck." How great! Not that I needed one, but it's a reminder that even if my name were Spartacus, these are three of the best minutes I'll have today.
Or, as Smith sings: "Forever let us hold our banner high."
Posted by Don Jacobson at 11:41 AM | Permalink
September 22, 2006
The Weekend Desk Report
Following all the latest gossip from the steamy world of global leadership.
It's Not Coup, It's Me.
2006 has seen some pretty ugly splits, from Heather Locklear and Richie Sambora to Paul McCartney and Heather Mills. But those bust-ups pale in comparison to the Thai military's brutal dumping of Thaksin Shinawatra while the prime minister was out of town preparing to address the United Nations. While the junta may have gotten its way, its reputation has taken a beating in the media.
Stone Cold
The resilient Thaksin, meanwhile, seems to be faring rather better than Pervez Musharraf. Despite famously kicking Nawaz Sharif to the curb from mid-air, the Pakistani strongman has reportedly succumbed to threats from associates of his current boyfriend. Musharraf's sweetheart was "shocked" to hear this latest rumor and dispatched his most-loyal pal to sort out the confusion.
Don't Thai My Patience
Over in the United Kingdom, Queen Elizabeth apparently has had enough of the ugly divorce proceedings between her country and Tony Blair, saying if Blair doesn't stop trying to stir up trouble, she's prepared to "go freaking Bhumibol" on his ass.
Hun-break My Heart
Hungarian prime minister Ferenc Gyurcsany learned the hard way this week that it never pays to lie your way into a relationship. After all, hell hath no fury like voting public spurned.
Hugoing Steady
Finally, reports of a romance between the wall-flower American opposition and hot-headed Venezuelan president Hugo Chavez were put to bed this week after Chavez's public rant against President Bush. High-ranking democrats couldn't distance themselves fast enough, coming out of their shells to criticize the hunky South American leader. For his part, Chavez seemed to take the verbal smack-down more or less in stride.
Posted by Natasha Julius at 7:24 PM | Permalink
What I Watched Last Night
I don't have digital cable or satellite I just have regular cable television. I don't have the On Demand feature, no Tivo, no program guide. I once did, in college, and I loved my remote and my digie (digital cable). Now I have channels 1 through 99 and most of those channels are cable access. Someday I will have digital cable and that fantastic remote. Which brings me to the point of these last hundred words: My remote.
I can explain my remote in two words: Bush League. I have the basic channel and volume buttons and, the best button ever invented on a Bush League remote, the Last Channel button. I want the Favorite button and a Guide button. I want to hit Record on my remote and record television shows on my DVR. I want to strike the Guide button and surf the pages of television viewing instead of roaming aimlessly through the crap that is on all these channels.
Yes, surfing through crap manually actually comes up golden with programs on Animal Planet and HGTV and cable access channels, but there is something to be said about having all that to choose from on an interactive menu.
Currently, my Bush League remote is dying a slow death. My "9" button is on the verge of failure. I have to press it at least three times for it to remember its function. Other than the three strikes and I am in rule, I am asking for a severe case of carpal tunnel syndrome if something doesn't change soon. Once the "9" button is gone, I would imagine that either the "6" or the "8" will go next.
Given their geographical locale on the remote, that is. Is this infection wearing upward or sideward? I
do not know where it is going, it could be a kind-of-all-over-thing and that would frighten me. What if this disease is contagious and my other remotes become infected with such a devastating virus?
If such a thing did occur, I would not be able to turn on the tunes on my computer in the morning. No more DVD control, no more stereo control. If I had radio-controlled cars and boats and such, those would also be useless! My goodness!
I could be onto something bigger than the spinach ordeal here. There is something I can do, but what?
The answer is simple: Get a new remote. Ha! That is not as easy as one would think. I have worn that Bush League remote into a family member. That remote has traveled with me all over the country. Like a family remembers the dead I will do the same with this remote and frame it. It will be displayed near the television so it still feels useful.
I can't just get a new remote. I have to choose a new remote, and I have had my eye on one for a while. It is the Comcast digital remote; you know, the gray-almost-silver one with the red button on top. It is a fine remote. It has outstanding button placement. There is no thumb strain associated with this particular model.
You may be asking yourself what is wrong with this guy who is evaluating remotes and why am I reading this? I can answer this pretty easily. I am unemployed in Chicago and I have a lot of time on my hands.
Whoa, I can't get ahead of myself here. If I get digie back in my life, where will the need for a job be? Out a sight, is where. After all this blather, I have realized that I love my Bush League remote and I will hold onto it until I get some gig that affords me the digie luxury.
Pat Bataillon is training for a career in professional TV watching.

Posted by Beachwood Reporter at 9:45 AM | Permalink
The [Friday] Papers
The only explanation I can think of for how Fran Spielman has kept her job so long as the Sun-Times's City Hall reporter is that the mayor somehow has clouted her into her position and for some unknown reason her editors are unable to do anything about it. They must also be under orders not to touch her putrid copy. Because she has no business being a reporter on a high school or college newspaper, much less on a major metropolitan daily. Much less in a city like Chicago that is supposed to be the home of journalism so tough your mother's expressions of love are met with intense skepticism. Boy, those were the days.
Spielman's latest work - an "analysis" titled "Politically, Daley Gets A Gold Medal" - is a doozy. It's also the kind of story that should result in the reassignment of Spielman and her editors - perhaps to the food section - if not the downright firing of such incredible mediocrities.
"Mayor Daley's plan to build a 95,000-seat stadium in Washington Park is a gold-winning political masterstroke," Spielman gushes to open her "analysis."
"By revising his Olympic dream to benefit his native South Side, Daley has changed the subject - and put his African American mayoral challengers on their heels," she writes.
First, the mayor's "Olympic dream" is something he just came up with; he stood firmly against an Olympic bid for years. He certainly wasn't dreaming of the Olympics when he built a Soldier Field he knew wasn't large enough to host major sporting events. So let's drop the hyperbole.
Second, Daley is not a native of the South Side. He grew up in Bridgeport; the Southwest Side is distinctly not the South Side. But Daley's aides must be thrilled at his sudden association with the core of the city's African American community.
Third, Daley has "changed the subject" only so far as reporters like Spielman allow the mayor to dictate to them what the subject is.
Fourth, there is no evidence whatsoever that Daley has put his African American mayoral challengers "on their heels."
"When Jesse Jackson Jr., Dorothy Brown and Bill 'Dock' Walls complain about minority contracting fraud and the city hiring scandal shortchanging blacks or about the 9 percent of city contracts going to African Americans," Spielman continues, "Daley can point to the Olympic motherlode of jobs and contracts yet to come."
Does Fran Spielman think black people are stupid? Or does this passage merely reflect her own stupidity? The notion that the mayor can erase 17 years of neglect in minority contracting with the promise of a 2016 Olympics that is still far from fruition - and that somehow the Olympics will come with the contract reform the mayor has heretofore refused to enact - is just plain idiotic.
"If they try to use $465 million Millennium Park or $655 million Soldier Field as evidence of Daley's myopic focus on downtown development, the mayor can shut them up in a hurry, simply by pointing south," Spielman writes.
Are you kidding me? Pointing at what, the neglected historic park the mayor has suddenly discovered? Wouldn't pointing south prove the point of Daley's critics?
"The mayor has already positioned himself as a champion for development of impovershed black neighborhoods by playing the race card to justify his veto of a big-box minimum wage ordinance," she goes on.
Oh Lord, make it stop!
Journalists should never approve of politicians "positioning" themselves. Aside from that, how can she approve of the mayor playing a race card that didn't exist? The mayor should be castigated for his big-box racial play. And how can he be a champion for impovershed black neighborhoods that have languished in his 17 years in office by vetoing higher wages for those residents who might be lucky enough to get jobs at big box stores? In neighborhoods that have languished under his tenure for 17 years? He's suddenly a champion of those neighborhoods? All you have to do is point north to show how absurd that argument is.
An alternative analysis not whispered to Spielman by the mayor's aides might read: "Mayor Daley's proposal to build an Olympic stadium in Washington Park is just the latest sign that mayor feels vulnerable in the upcoming election and is bent on shoring up African American support even as he exposes himself to charges of hypocrisy and racial exploitation."
Instead, we get this: "The strength of Daley's South Side coup was evident in the somewhat muted response from his challengers."
Really?
Then why does the headline across the top of the Tribune's Metro section say "Daley Gets Olympic Slam"? ("In a jab at Daley, Jackson said he was 'pleased the mayor, after 17 years, is contemplating building new infrastructure on the South Side,'" the Tribune reported.)
Spielman goes on to say that "Daley has a mixed record on glitzy, big-ticket projects." But the projects she cites are all evidence of the mayor's propensity to botch big projects. There is no "mixed" to it. "O'Hare Airport expansion is a work in progress," she writes kindly - the truth is it's a mess. "He delivered on Millennium Park, Soldier Field, Midway Airport and the 911 emergency center, albeit with massive overrruns on each." Massive overruns on each means he delivered? And is anyone happy with the boondoggle that is Soldier Field, which, ironically, the mayor built too small to host the Olympics (or a Super Bowl) because he hadn't yet had his Olympic dream yet? The further irony is that if Soldier Field were a viable Olympic venue, Chicago would probably be a shoo-in with the United States Olympic Committee - and the mayor wouldn't had to have discovered the black people living on the South Side whose park he now wants to wreck to show how much he loves them.
Spielman ends her story saying "By pinning his Olympic hopes on the South Side, Daley appears to be a political winner, no matter what happens on the international stage - so long as he can convince South Side community leaders locked out of the process until now to accommodate the secrecy demanded by the U.S. Olympic Committee to come along for the ride. "
South Side community leaders have been locked out of the process because of the USOC's demand for secrecy? I have no doubt this line was fed to hear by the mayor's people trying to cover their tracks, and Spielman is happy to hand her notebook over to them to tell whatever story they would like.
After all, plenty of downtown folks have somehow not been locked out of the process until now. In fact, they've been driving the process.
A City Hall reporter in the nation's third-largest city has quite a bit of influence on that city's civic life, and it's been abundantly clear for years that Spielman, the paper's stenographer-in-chief, isn't only not up to the task, but is consistently guilty of journalistic malpractice. Her editors are even more responsible, because they let this garbage into their paper. With few exceptions, the majority of the Sun-Times, in fact, needs to be sent back to school to learn how to be journalists. This is an embarrassment and an outrage, and they ought to be ashamed.
In Today's Reporter
* See The [Thursday] Papers for the first day of Spielman's spoon-fed cheerleading.
* See Scott Gordon's terrific summary of the CTA's latest woes - color-coded line by color-coded line.
* Our hapless but witty football reporter is back with a new Orange & Blue Kool-Aid Report and a new Over/Under. Predict for yourself whether he can get a game right this week.

* Mad at the Sun-Times? Cancel your subscription and buy a Beachwood membership instead.
Coming Soon
* The new editor of the Sun-Times is the old editor of the Sun-Times, back for more. Which means more shenanigans unworthy of a Chicago newspaper - or even a letter home.
* The world according to Dennis FitzSimons, CEO of Tribune Company.
* Why the secret slogan of Dem insiders is "Blagojevich in '06, Quinn in '07."
* A bunch of other stuff - electricity rates, the skinny black pant, and the FBI's raid on Cook County government - that I haven't had room for this week. I'll try to get to it all.
The Beachwood Tip Line: Open all weekend.
Posted by Beachwood Reporter at 8:38 AM | Permalink
Slow Ride: The CTA Is Stuck In Reverse
The news last week about a dramatic increase in "slow zones" on the CTA's El tracks was just the latest in a year of discontent for frustrated riders tired of the transportation agency's seeming inability to run a train system. Here is a rundown of the continuing problems on each of the CTA's color-coded routes - and the solutions advocates are pressing for.
Red Line
Main problems: It's too short and too slow. Much-talked about extension on the South Side leg past 95th Street is still just that - much-talked about. Number of slow zones has more than doubled in the last year, in part due to Dan Ryan construction. But almost half of the Howard leg is in slow zones of 35 m.p.h. or less. Work scheduled to begin on the Belmont and Fullerton stations later this year will only make the situation worse.
Quote: "The Red Line totally sucks," Miguel Brown told the Sun-Times.
Advocate: Michael Evans of the Developing Communities Project. DCP, whose office is based, appropriately, at 95th Street, began holding an annual Red Line Walk-a-Thon last year to show support for the long-gestating Red Line extension past 95th.
Blue Line
Main Problems: It's slow, it's overcrowded at Rush Hour, and it tends to catch fire.
Quote: "Sometimes I have to wait for a second train," Stephen Mullins told the Tribune. "Sometimes a third train."
Advocate: For years the Chicago Area Transportation Study has lobbied for extending the Blue Line past O'Hare airport to the Woodfield Mall in Schaumburg. For years it hasn't happened.
Pink Line
Main Problems: The CTA is drawing fire for the delays and additional transfers that the Pink Line has created.
Quote: "The service sucks," Alan Nottingham told the Sun-Times. "I wish they went back to the old service. It takes too long."
Advocate: Michael Pitula of the Little Village Environmental Justice Organization. He has admitted, though, that the rerouted Pink Line makes it easier for him to get from his West Side home to CTA headquarters.
Green Line
Main Problems: It's a long way between stops on parts of this line. On the Lake Street Branch, the Ashland and California stops are about a mile and a half apart. Plus, at least one man has been found dead on a Green Line train this year. And a fire forced passenger evacuations at two different stations.
Quote: "The Green Line is garbage," NWside wrote in a post to Skyscraper City. "No wonder residents complain."
Advocate: Amy Sue Mertens of the West Loop Community Organization may be less disgruntled than other transportation activists, but she's still enthusiastic.
Brown Line
Main Problems: Renovations on Brown Line stops are now famously over-budget; the CTA and its contractors have sometimes failed to get the construction permits they need; stations were closed despite the CTA's assurance they wouldn't be; older platforms are falling the hell apart.
Quote: "[The CTA] has a huge credibility problem" because of the Brown Line, CTA Chairwoman Carole Brown said in July. She said she would hold CTA chief Frank Kruesi responsible, as well she - and the mayor - should. You're doing a helluva job, Frankie.
Advocate: Les Kniskern of the Greater Rockwell Organization jumped into transit politics when the Brown Line renovations went over budget- and the CTA went back on its promise that it wouldn't close stations during the project. As far as I can tell, Kniskern is as well-to-do as Chicago transit activists come - he's an associate producer with the Goodman Theatre. Upsetting a line especially heavy on white, middle-class commuters seems dangerously novel for the CTA.
Orange Line
Main Problems: The end of the line is ostensibly Midway Airport. But you might want to call a cab to get from the station to the terminal.
Quote: "Unlike O'Hare, the connection between the airport terminal and CTA terminal is very awkward and does little to encourage the use of public transit. To get to the transit station, one must pass through a heavy set of doors, walk through the parking garage and cross vehicular traffic lanes, and then use a long pedestrian bridge to the CTA station. The bridge is glass-enclosed and features moving walkways [that are frequently broken and therefore still] to help alleviate the long walk, but is not climate-controlled. A fin tube heater along the ceiling, however, does provide some heat in the winter," writes David S. Cole in his review on nycsubway.org. Like the rest of the CTA station, the bridge is of a utilitarian design with exposed steelwork painted green. To our left we are treated to an impressive view of the Orange Line yard, just west of the actual station."
Advocate: The Chicago Area Transportation Study wants the Orange Line extended beyond Midway Airport to the Ford City Shopping Center.
Purple, Yellow Lines
Main Problems: Um, we don't really care.
Circle Line
Main Problems: Pretty much everyone mentioned in this story wants to know why the hell the CTA is spending money on this project; it will divert money and attention from their needs and concerns.
Quote: "Any advantages of the Circle Line will not only be at the expense of 54/Cermak Blue line riders, and residents of Pilsen losing their homes, but of CTA employees losing their jobs, and all riders affected by Doomsday service cuts and fare increases," says Midwestunrest.net. "Nobody has asked for it," Jacquelyn Leavy of the Neighborhood Capital Budget Group has said, pointing out that the line would benefit gentrifying neighborhoods already well-served by public transportation while "huge swatches of the city are underserved by rapid transit. It means the Red Line won't be extended to 130th, the extension of the Orange Line to Ford City will get no priority, and the Southeast Side will continue to have no access to rapid transit. A proposed Mid-City Transit Way that would link O'Hare and Midway as well as existing CTA and Metra lines would also be set back, she has said.
Advocates: CTA officials?
All Lines
Main Problem: We can't quantify any of the aforementioned problems.The CTA has released some specific data about slow zones and how long it takes certain lines to go around the Loop, but so far has not released much in the way of empirical data that tells us how specific train lines and bus routes are performing. (The CTA just waits for the Campaign for Better Transit to release its own independent reports and then dispatches its flaks to dismiss them.) Not to mention that the CTA's business is conducted in an opaque, un-democratic manner.
Quote: "When you can't disaggregate the [CTA's] data to get down to the route level or the line level, the data loses any kind of semblance of validity," State Rep. Larry McKeon (D-Chicago) said during an April hearing on Illinois House Bill 4663, which would require transit agencies across the state to provide detailed accounts of performance and finances to state legislators and the public, and to hold more public hearings on their annual budgets.
Advocates: Leavy and Kniskern testified earlier this year in favor of 4663. McKeon is retiring from office in January, but the bill will still have a fighting chance, especially as legislators continue to get peeved about bailing out the CTA and RTA. Leavy is gathering many of the advocates mentioned in this story into a broader coalition to make the bill an election issue - on the city level as well as on the state level.
Posted by Beachwood Reporter at 5:44 AM | Permalink
Life at Work
So Bob wasn't such a bad guy, but the whole temp agency thing really sucks. I mean, they review your resume, have you fill out eight million forms, then stick you in a room to take a bunch of computerized tests. Apparently I have an aptitude for editing people's correspondence.
My spelling and grammar skills are way up there, but strangely enough, I suck at Word - which I've only been using periodically since the program came out - almost as badly as I suck at Excel, which I pretty much lied about having any experience using. At least my scores were above the 50th percentile; I can still claim to be above average.
Now I play the waiting game. They submit my resume to potentially interested parties, who will request a face-to-face interview, and then decide whether or not to hire me (a) temporarily, (b) indefinitely, or (c) permanently. Or d) not at all, of course.
The whole thing actually has a vaguely Asian business practice feel to it, not that I have any point of reference when it comes to Asian business practices, but it's kind of how I imagine them. Middle-men, and so forth. Maybe when I go in for the face-to-face I should bring a gift.
J. Bird is the Beachwood's psuedononmyous workplace affairs correspondent. Bird is currently, um, without work. Catch up on the series here.
Posted by Beachwood Reporter at 12:19 AM | Permalink
September 21, 2006
Ten Books I Have Most Hated So Far And Why
If I don't like a book by its 50th page I usually give up on it. But, sometimes, I stick with it because others have stuck with it (friends, family, my former professor who smelled of cheese), because the book is supposed to be good, and/or because I want to look intelligent on the bus as I return home from work. "Look at me," I say silently to other bus riders, "I have a thick tome upon my lap and I'm looking at it thoughtfully. Yes, it's crap, but you won't know that until you read it and by then I'll be long gone off this public tube of judgement."
Allow me to introduce you, then, in reverse order, to the 10 books I have, to date, most hated reading.
10. Moby Dick/Herman Melville.
Yeah, I want to read about the whaling industry and other boring stuff for hundreds of pages with nary an interesting plot moving forward. Yes, tangents. That's what a great novel needs! Long-winded coma-inducing tangents!

9. Poland/James Michener.
Perhaps you can distill the story a little bit, Michener. Do we really need to span eight centuries in your novel? Do I really need to spend eight years reading your novel about 6.2 million Polish characters I have a hard time keeping track of? Thankfully, no. No one can force me to.

8. Finnegan's Wake/James Joyce.
"for which thetheatron is a lemoranage; at milch-goat fairmesse."
7. Little Women/Louisa May Alcott.
Maybe it's because I'm not a little woman but, uh, I hated it.

6. Anthem/Ayn Rand.
Not as good as the Rush song. Plus, I was involved in a low-budget film based on this book and I didn't get very many lines and I hated waiting around for everyone else to speak theirs.
5.The Hobbit/J.R.R. Tolkien.
Bilbo Baggins finds himself caught in a plot to raid the treasure horde of Smaug the Magnificent. Smaug Baug, this book left me in a faug of profound ennui.

4. Curious George Rides a Bike/H.A. Rey.
I like monkeys! So does my kid. But when she's in her PJ's and ready for bed, I don't want to have to read a stem-winder about George's adventures. How many plot lines can you shove in a picture book? Cut it out, Rey. My kid wants to snooze - and so do I.

3. Out of Africa/Isak Dinesen.
Borrrring.
2. Prey/Michael Crichton.
I used to love Crichton. I read all his books in college. Have I become more discerning in my novel reading or has Crichton gotten so lazy that he simply pushes a couple buttons on his laptop and a plot springs forth using cardboard characters, terrible dialogue, and science babble stolen from a Microsoft user's guide? Time to reboot, Crichton.
1. The Giving Tree/Shel Silverstein.
Everything that is wrong with us as a people is encapsulated in this abomination. I loathe this book for its horrifying message of taking and taking and taking without so much as a care for others, or even a freakin' thank you. Well, thank you, Mr. Silverstein, you've written the book I hate most.
Posted by Beachwood Reporter at 2:26 PM | Permalink
The Blue & Orange Kool-Aid Report
Since my other column is titled, Over/Under, here are some Bears-related lines I should have devised before last week's games:
Detroit at Chicago:
Over/Under: 150 1/2. Number of Urlacher jerseys at the neighborhood Buffalo Wild Wings on Sunday.
Over/Under: 1/2. Number of guys in Roy Williams jerseys who believe they made the right wardrobe choice on Sunday.
Over/Under: 2 1/2. For the three offensive plays I will hear on the radio leaving me muttering "Lighten up, Francis" when Jeff Joniak calls the three massive three-yard runs by Thomas Jones.

Ah, yes, Buffalo Wild Wings. I found it necessary to leave my ivory tower of ineptitude on Sunday and personally take the Kool-Aid Nation's pulse. As noted, the place was filled with Bears fans. Unfortunately, I sat next to a Falcons fan in town on business, so I could not get any direct quotes. I did keep an ear open for stray gems like "Why is the ref signaling traveling?" and "Jerry Glanville is the best announcer in football." I know I'm hard on the Kool-Aid Nation, but these things were actually uttered by Packers fans in Madison back in the day the Packers were better than brutal, and Bears fans have never been known to be smarter than Packer backers.
Then again, it's easy to not say anything stupid when you jump to a 24-0 lead.
Now the Bears hold a 2-0 record. The Bears fans I know have reassessed the schedule. It's kind of like when you start dating a new person and you look ahead to all the holidays and other life events which once caused dread but now and instead happily feel a lighter heart and pocketbook. Since the Bears show promise, you now have to actually go into public, pound beers, buy a jersey, and purchase some of the those crappy Sun-Times mini-footballs. Sure you are happy, but remember: Even happiness comes with costs.
The NFC's best teams - Seattle and Carolina - figure out ways to win with lackluster play but also ways to lose with above average play. After two weeks, no NFC team has played better than the Bears or the Falcons. How do I know that Bears fans know it might be the start of something good? One guy I know started singing the Super Bowl Shuffle. With a win over the Vikings, expect to hear the question "What rhymes with Urlacher?"
Chicago at Minnesota, Sunday September 23, Noon
After two weeks, we now have the benefit of multiple performances to help in our evaluations. For instance:
The Vikings barely beat Carolina, who barely beat the Lions. The Bears took the Lions, drugged them, drove them to their mountain home, and well, you get the picture. Advantage: Bears
The Bears went on the road to Green Bay and slept-walked through the game, but I could not classify Green Bay as "hostile." Minnesota won at home, and when things are going well, the crowd becomes "hostile." Minnesota is not exactly singing the "Purple People Eaters" song, but they are also 2-0 - and against tougher teams. Moderate Advantage: Minnesota
In terms of talent, I characterize the Vikings OL as decent, but inconsistent. Not Green Bay sieve-like porous, but simply inconsistent. Then again, on a normal day, Minnesota's previous opponents (Carolina and Washington) do a good job of pressuring the QB, and the Vikings did win these games. The Bears usually can push straight ahead pretty well with their front four, which is especially important against Brad "The Statue" Johnson. On the flip side, Johnson does release the ball quickly, and I assume they will have some success moving the ball, especially if they test the secondary. Certainly, the Vikings are better equipped to test the secondary of the Bears than Green Bay or Detroit turned out to be. At the end of the day, I doubt the Vikings can overcome the Bears front four the whole game, though, especially when it counts. Advantage: Bears
The fact I'm picking the Bears when almost 92% of my picks have been wrong in two weeks. Infinite Advantage: Vikings
Pick: Chicago -3. Over 33 points.
Sugar in The Blue & Orange Kool-Aid: 90%
Recommended sugar in The Blue & Orange Kool-Aid: 70%
See The Blue & Orange Archive to see what Eric Emery has previously said about the Kool-Aid Nation. Contact him directly at Eric_Emery12345@yahoo.com. Or berate him publicly in the Kool-Aid forum.

Posted by Beachwood Reporter at 1:58 PM | Permalink
Over/Under
It's hard to be funny when you are angry. But I will try.
Let's start with the good news. Pittsburgh/Jacksonville was exciting if you enjoyed watching a team getting beat down like a rented mule. Washington/Dallas was never close, but for two different reasons than I expected. Special thanks to Joe Gibbs for ruling Clinton Portis out after I released last week's column. That ruled. By picking losers, I was 5-0-1. So things are looking up.

Pittsburgh/Jacksonville featured plenty of hitting, mostly Jacksonville hitting the Steelers and the Steelers hitting the ground. That was not The Beloved. I smell conspiracy. Since I lean to the left, I hold certain governmental conspiracies closely, such as Bush invading Iraq solely to finish the work of his father; Lee Harvey Oswald killing JFK for the mob; and JFK and Marilyn Monroe faking their deaths so they can live together peacefully in Boszeman, Montana raising emu and bison for the specialty jerky market.
That sounds like a slam-dunk to me.
It's more than my name; it's my way of doing business.
Since the column is entitled Over/Under, here are the Over/Under jokes that should have been made last week, if my crystal ball hadn't fogged up. I've since taken it to the shop for repairs.
Washington at Dallas
Over/Under: 15 1/2. Number of times I will beg Washington Defensive Coordinator Gregg Williams to blitz the Cowboys Drew Bledsoe, like I said he should.
Over/Under: 3 1/2. How many times announcers will mention Drew Bledsoe's propensity toward being hit and rattled, resulting in me hurling F-bombs at Williams through my TV screen.
Over/Under: 1/2. Number of times I will pick the Redskins again.
Pittsburgh at Jacksonville
Over/Under: 1/2. Times the Steelers will adjust passing routes to the middle for Hines Ward, big catches by Cedric Wilson, or plays Santonio Holmes looks like he belongs in the NFL.
Over/Under: 7 1/2. Number of Jacksonville crowd reaction shots that sported somebody with missing teeth. (Have you seen a dirtier group of front row seat holders? Can you imagine the humanity in Section 510? How much are front row seats at Alltel Stadium - $10 with a free glass of Thunderbird?)
Over/Under: 1 1/2. During the two shots of the guy with the Steve Beuerlein jersey, times I will think "Is that the only jersey he owns?" (What, your Natrone Means jersey is at the cleaners?)
Madden Ruining Football For Me One More Time
I read a column in Slate this week that explains how you can learn football strategy from playing Madden '07. This rings true, since, just like in the game, every time I see three Steelers DBs retreating, I know it is the patented "Let's give up a 12-yard out pattern" defense.
As far as the Redskins refusing to blitz Drew Bledsoe, Bledsoe, just like in the game, is always easy to find - 5 to 7 yards directly behind the center. The only strategic question is, "How do we get someone there as quickly as possible?"
I bring up Madden because if were playing Madden, I would have used the same defensive strategy as the real-life Redskins, since video Bledsoe is considerable tougher than real-life Bledsoe. In Madden, you take away Owens and Glenn, since successful pressure in Madden is a sack. Successful pressure in real life is hitting Bledsoe a few times, and then he leaves the game to change his adult diapers.
He will remain nameless, but in 7ish games of Madden, a friend of mine has never beaten me, even though his copy is on a different game system. Why? Because even if he is playing with the fearsome passing prowess of Manning or Palmer, I almost always blitz. Why do defenses drop back against Manning and I blitz like the Germans in World War II? My friend holds on the ball too long and drops back too far, allowing my LBs to beat the OTs around the corner.
Gregg Williams and John Madden, I hate you.
With the Bears playing at Noon, we can expect another thin offering of televised games in Chicago. Here are the Over/Under-hyped games of Week 3.
Over-Hyped: Atlanta at New Orleans, Monday September 25, 7:30 P.M.
Between my frequent F-bombs during Monday Night Football last week, I noticed the 242 times ESPN mentioned how football was returning back to New Orleans. I predict that also means we have Aaron Neville and Dr. John performing the National Anthem. We can also expect a cavalcade of stars with roots in the Gulf Coast. Finally, we can count on President Bush showing up for the 3rd Quarter for the coin toss. The man never quite gets to New Orleans in time.
Once the tears end, we can expect an action-packed game, right? After all, both teams are 2-0. Well, not so fast. New Orleans beat UW-Green Bay last week, so that is more like half a win. The other win was against Cleveland Browns II, who in turn was crushed by Cincinnati. So, in other words, much like the people responsible for disaster planning, the New Orleans has still not met an above average team.
On the other hand, Atlanta faced teams that are now 0-2; Carolina and Tampa Bay. Of all the 0-2 teams, Carolina seems to be the most talented, so give a nod to Atlanta. Plus, Atlanta possesses the league's best two running backs after two weeks: Warrick Dunn and Michael Vick. I know Vick wears #7 and that is a QB jersey number, that's a lie. He's a running back who happens to take the snap.
Finally, Atlanta is getting some key players back on a defense that looked brilliant in Week One and pretty darn good Week Two. At the end of the day, New Orleans shows an ability to score and to be scored upon. But for the firsts time this season, they will simply be overwhelmed like, well, you know.
The only question remaining: Will Brittney Spears throw her baby on her lap and go see Tirico and the boys in the booth? If she does, remember one thing: Kornheiser sits in the middle. He hearts the awkward grope.
Pick: Atlanta -3; Over 41 points.
Under-hyped: New York Giants at Seattle, Sunday September 24, 3:15 P.M.
Just when you thought you heard enough of a Manning, I pull you back in. Sorry.
As you watch the game, don't let the trivial stuff get to you. I know that you know the following: Eli is Peyton's brother, Seattle lost in the Super Bowl, and Tom Coughlin looks like he is passing a stone when he yells.
Even though the broadcast crew will spend equal parts time speaking about Seattle's 2-0 start and the Giants comeback against Philadelphia, they should instead talk about Seattle's sputtering running game and the Giants' two games against two better-than-average offenses. Even though they might be a little thinner at defense, the Giants should hold up well against Seattle's offense. Seattle is tough at home, so it will be relatively close, and fun to watch.
Pick: New York Giants +3; Under 44 points
***
You can reach Eric Emery at Eric_Emery12345@yahoo.com, or berate him publicly in our forums.

Posted by Beachwood Reporter at 1:27 PM | Permalink
Life at Work
I was supposed to have an interview with a staffing agency today. The only thing they asked me to bring was my Social Security card. While I find this to be sort of a weird, arbitrary requirement, I thought I could easily agree to it. So when I talked to the guy over the phone, I said, "No problem, Bob, I can do that." Then I started looking for it. I mean, do you know where your Social Security card is?
I turned this place upside down. I'm a great stasher of things. I see something that I think is important, and I think "Oh, wow, I'd better stash that someplace safe." Unfortunately "safe" includes safe from me.
I managed to find every piece of documentation that proves I'm me except the card. I've got my birth certificate, my driver's license, my passport, my voter registration card, any number of cards from places like grocery stores, movie rental places, etc., but no Social Security card.
So I call Bob. He's definitely annoyed. Not a great early impression to make, but, really, don't people lose these things all the time? There is just no way I can be interviewed without the card, though. That's what Bob tells me. It would violate company policy, and Bob wouldn't want to do that.
A friend e-mails me directions for obtaining a new card. At first, it seems relatively simple - bring in your passport, bring in your driver's license, we'll get you a copy of your card. But as I keep reading the instructions, I discover there's a catch. They won't just print out a card. Instead, they have to "verify" your documents, and in eight to ten days, your card will arrive in the mail. I can tell you right now that in eight to ten days, Bob will not be available for interviews.
I decide to drown my sorrows in a hearty breakfast. I start telling my tale to my serving pal at a local haunt, and another guy chimes in with a very similar story, which he ends by noting that he now always keeps his Social Security card in his passport. Aha! Ye good ole passport. I have one of those.
Sadly enough, the only stamp in it is Gatwick, which isn't very exciting (that's the other London airport, for those of you not in-the-know). Apparently I spent 17-pounds-15 for something at a tweed shop, which seems very unlikely, but I was in Scotland, so I guess it could have happened.
Sure enough, as I was flipping through the pages, a little piece of blue paper, the same color as those in my passport fluttered at me. "Holy shit!" I blurted out. "I just found my Social Security card!"
Bob will be happy. Now I can meet with him tomorrow and possibly even begin re-entering the workforce.
J. Bird is the Beachwood's pseudononymous workplace affairs correspondent. Bird became unemployed shortly after beginning to write this feature.
Posted by Beachwood Reporter at 9:28 AM | Permalink
What I Watched Last Night
I flipped through the channels last night all through Primetime looking for something to watch other than the Cubs game. It is supposed to be the new fall season with all types of great new television on, and all I found was crap. Possibly my standards are too high. Maybe I am not allowing myself to buy into a new show. Maybe all the stuff that is on television these days is the same stuff that has been on for the last 10
years.

Sequels are getting a little old. A show has a run and then there are five more sequels that are less and less successful as the previous. What American Idol are we on now? I don't even know who won the last four or five. I know that the little squirrelly kid with spiked hair won a few years ago. There was the girl who sings a song now that is apparently popular, but I do not know it. Her name is Kelly Clarkson!
The sad thing is, the only reason I know her name is from the waxing scene in The 40-Year-Old Virgin.
Bravo has had that Queer Eye show on for about seven too many seasons. Bravo renewed that fashion show that is sweeping the nation. CBS is on the umpteenth season of Survivor pitting Black versus White (great idea!). NBC started The Biggest Loser three or four years ago. Is Dancing with the Stars on its third season or still just its second?
CBS also has Big Brother. I actually thought that show went off the air like five years ago. That Rock Star Supernova should never leave the air, that show is a riot, and I think that is on its second season.
Funny, how I can name all of these shows and yet I have never watched an entire episode of any of them. Must be advertising, I don't know. Whatever it is, I wish it would stop.
Through all of that interference in my mind I did find something to watch, from an unlikely source: Home & Garden Television, also known as HGTV. I found this little show called I Want That. That show really lives up to its title because they featured these really cool flip flop sandals that do not have straps, they just stick to your feet. I thought they would get dirty when worn but you can wash them with soap and water and you got your self clean kicks again! I want that!
I also want reality television to, at the very least, come up with something new to distract me with. And by new, I don't mean a new season of an old show. We've got enough of those already.
Posted by Beachwood Reporter at 9:18 AM | Permalink
The [Thursday] Papers
Mayor Daley's surprising new proposal to move a proposed Olympic stadium and other venues from the downtown lakefront to Washington Park on the South Side is being greeted in some media corners as a masterstroke. And that's becaue the mayor has a lot of allies in the media - people who seem to think their jobs are to be stenographic cheerleaders rather than journalists. But the truth is that the mayor's new plan represents a stunning reversal and acknowledgement that the original plan was fatally flawed and wasn't going to pass muster with the United States Olympic Comittee.
How do I know? Because the USOC's doubts about the temporary stadium originally proposed for the lakefront have already been reported. The mayor changed his plan because he had to, not because he suddenly had a brilliant idea. And he did it quickly - some might say it was even in a panic.
Ald. Arenda Troutman (20th) said on Chicago Tonight last night that she first heard of the plan Wednesday morning. "The administration, that's how they do things sometimes," she said. Ald. Toni Preckwinkle (4th) told the Defender that the Chicago 2016 Olympic Evaluation Committee didn't do itself any favors by not getting community support before the announcement - you know, the community Daley is suddenly so interested in helping.
The mayor's Olympic dreams - if they aren't instead just a political distraction - might have more truthfully been portrayed in the media as a plan in trouble that necessitated a shift, one demanding journalistic scrutiny. Not undue criticism, just due critical thinking. It may be a great plan, it may not be. We have no way to judge for ourselves if journalists don't ask the questions that ought to be asked.
Instead, we get Channel 2's Antonio Mora, for example, to a beaming Derrick Blakely, "Let's hope it does help get the city the Olympics!"
Aside from wondering whether its really a good idea for the city to build a "state-of-the-art" stadium larger than Soldier Field in Washington Park that will later be reduced to a 10,000-seat running track, the media shouldn't be operating from a base assumption that getting the Olympics is a good thing. The media ought to be not just neutral on the question, but tend toward skepticism. That's how you do your job, because it helps you formulate questions you don't think of when you are a cheerleader.
It's quite possible, maybe even likely, that the Olympics could be a net economic loss. Ald. Ricardo Munoz (22nd), for one, is questioning whether the millions of dollars spent on an Olympic bid wouldn't be better spent directly on neighborhood schools and parks. He may have a point.
As usual, Fran Spielman and the Sun-Times aren't interested in questioning the mayor.
"Downtown is the best possible showcase for an Olympic stadium, but it's more important to share the wealth, Mayor Daley said Wednesday," Spielman wrote in the opening to her story this morning, perfectly mimicking Daley's own statement two paragraphs later. Maybe Spielman and her editors were out sick the day the rest of us were taught in Journalism 101 not to do that.
They must have been out sick too the day we were taught not to take what people say at face value. Did the mayor really just discover that it's important to share the wealth? If so, a good question to ask the mayor would be, "What was it that made you suddenly realize, after all the planning that has occurred so far, that you should share the wealth? Please describe this ephiphany to us."
The fact is that if the USOC hadn't told the city that its plan for a temporary lakefront stadium and dual venues for opening and closing ceremonies wasn't viable, that would still be the plan and the mayor would not have come to realize the virtues of sharing the wealth.
"If you're going to have a long legacy for the city, you have to move it out into the communities," Daley said at his press conference.
Oh really, Mr. Mayor? Why didn't this occur to you in the first place?
"Washington Park would further benefit from two Astroturf fields for hockey and football, ugraded softball fields, bike paths and revitalized lagoons," Spielman transcribes. "Lighting and security would be improved and neighborhood parking built. Neighborhood streets and L stops would be overhauled. There's even the possibility of dramatic mass transit connections."
Um, maybe those things should be done even without an Olympics? Mr. Mayor, how could you have let Washington Park fall into such disrepair? If the city doesn't get the Olympics will you still fund these Washington Park improvements? Shouldn't the wealth in Chicago be spread even if the Olympics are held somewhere else?
"The surprise shift stems from two major factors," Spielman continues. "Daley's long-standing desire for a location that serves as a catalyst for neighborhood development, and the U.S. Olympic Committee's more recent concern about tight lakefront space."
If Daley had a long-standing desire for a neighborhood location, he would have gotten one in the first go-around.
"When the USOC raised questions about congestion, Daley had the opening he needed to make a renewed push for the South Side - and to undercut the downtown-centric development claims of U.S. Rep. Jesse Jackson Jr., a possible mayoral challenger," Spielman writes, in a passage that can only be sourced to mayoral aides spinning a story to their favorite City Hall reporter.
Daley needed an opening for a renewed South Side push? The downtown Olympics had been forced on him? He wanted the South Side all along? Please.
At least Spielman names Jackson in her story. If you can't see the politics written all over this, particularly following the mayor's absurd - and largely unchallenged by the media - claim that the big-box ordinance was designed to punish African Americans, then you have no business being a newspaper reporter - or, really, a citizen of Chicago.
"Who lives out here?" the mayor said at his press conference. "African Americans in large percentages, so they are going to be part and parcel of this."
Apparently nobody thought to ask the mayor why they weren't going to be part and parcel of it before the USOC stepped in.
***
Number of skeptical voices in Spielman's story: 0.
Grade she would get in virtually every journalism school in the country: F.
***
The Tribune, while guilty of some cheerleading violations, did better. The paper not only included Munoz's complaint, but the quite valid objections of Erma Tranter, president of Friends of the Parks. "It seems to me this plan would destroy the legacy of Olmsted in that park," Tranter said. "It doesn't sound like a sunken stadium fits in with Frederick Law Olmsted's design of the park, which is a historic landmark."
Likewise, Jim Peters of Landmark Illinois said on Chicago Tonight last night that, contrary to officials' statements, he didn't think Olmsted would approve of putting a 90,000-seat stadium with parking lots and drop-off zones for limos and all the rest in the middle of his creation. "A park is not a place to put a giant stadium," Peters said.
Troutman disagreed. "I don't think it would destroy the park. No, not at all . . . We develop everywhere but our side of town."
Really? Daley has been mayor for 17 years. Might want to ask him about that.
***
The Tribune also included a story gauging immediate neighborhood reaction, both good and bad, and an analysis by Blair Kamin backing the plan but acknowledging that the city's first stadium plan "was a loser."
If it hadn't been, the mayor wouldn't have felt the sudden need to "spread the wealth."
But that's the story the mayor and his people want to tell, and as usual, they have a lot of takers.
The Beachwood Tip Line: Spreading the wealth since 2006.

Posted by Beachwood Reporter at 8:34 AM | Permalink
September 20, 2006
What I Watched Last Night
I had something a little earlier on why Sean Hannity is a douche bag and it was good but I just deleted it because I am not here to manufacture any more hate. I saw a little bit of Dancing with the Stars last night; that show is terrible. That is honest so it is not manufacturing hate. So therefore, I have just realized, I can write about how Sean Hannity is a douche bag! Great!
Sean Hannity is a douche bag. I am not a fan of his insistence that he is always right and everyone else is always wrong. I really don't like watching him cut people off in the middle of interviews. I don't enjoy it when he asks questions longer than the answers he allows. Some answers in this world are a little deeper than a yes or no.

Sean Hannity wears that pompous grin on his face all the time. There is no humility in that man. Sean Hannity seems like the guy you meet at a party who you wish would just shut the %&$# up. He is, most likely, a self-proclaimed know-it-all and a self-proclaimed master of lovemaking. I also imagine he turned down a lucrative career in the porn industry despite the "natural gifts" given to him by the grace of God. He would never do such a thing as porn because he is morally infallible. Just like his buddy Bill "The Loofa Lover" O"Reilly. Hannity would never be caught dead with that guy.
See, Sean Hannity is someone we all want to be: A guy who gets paid for issuing opinions based on sweeping generalizations and nonsense. My opinions are based on just nonsense and my readers (I would hope) take my opinions as just that: Opinions.
Opinions are an interesting thing; on Hannity's show they are fact and in the real world they are fiction.
My opinion about Sean Hannity: Douche bag. I don't hate him because of what he does; I just think he is a douche bag. Sean Hannity is a douche bag. I really think that Sean Hannity is a douche bag. Man that is fun. If you think that Sean Hannity is a douche bag, type it out a couple of times, it is damn near impossible to stop it. Sean Hannity is a douche bag.
Posted by Beachwood Reporter at 9:03 AM | Permalink
The [Wednesday] Papers
The deadly drip-drip-drip of the federal investigation into the Blagojevich Administration has begun.
"A criminal investigation into whether lucrative state pension business was being traded for campaign contributions to Gov. Blagojevich has developed a Hollywood storyline:
"Federal authorities want to know if an investment firm then co-owned by the Oscar-winning producer of "Million Dollar Baby" was pushed to donate money to Blagojevich as it vied for a $220 million state deal, the Chicago Sun-Times has learned.
"The producer, Tom Rosenberg, and Capri/Capital Advisors were approached in 2004 about contributing to the governor and were told it was a condition for securing investment funds from the state Teachers' Retirement System, sources familiar with the investigation said."
You can expect to read successive versions of this story in the coming weeks with different players trapped in the same scheme. You can also expect this investigation to reach the governor's door.
That's why the federales call him Public Official A.
Drug Dealing
"Gov. Rod Blagojevich's administration spent nearly $1 million to develop and market a plan to illegally import low-cost drugs that ended up serving fewer than 3,700 Illinois residents, Auditor General William Holland said Tuesday," the Tribune reports.
"Holland also said top Blagojevich aides pushed a plan to illegally import millions of dollars worth of flu vaccine in 2004 even after they realized the vaccine would never arrive and after state health officials told the governor's office that federal officials had found vaccine for Illinois."
Nicely done, guv.
Quote of the Day
The drug importation plan is called the I-SaveRx program.
"It's also a nationwide 'Look-at-me-aren't-I-wonderful program," state Rep. Rosemary Mulligan (R-Des Plaines) told the Tribune. "And it's the taxpayers of Illinois paying for that."
Permanent Campaign
The difference between campaigning and governing: Anticipating the audit's release, the Blagojevich Administration announced it would expand I-SaveRx.
Public Official D for Dunce
Ald. Danny Solis (25th) invited federal investigators to his door this morning.
"Because of all the investigations, you can't do things the way you used to do them. You can't have a quid pro quo attitude, 'If you help me, I'll get you a job or promotion.' You can't even talk about that."
Unless compelled to do so by subpoeana.
High-Wire Act
The wheels on this guy's "sky cycle" were grooved to fit over the wire. Just sayin'.
Papal Pundit Patrol
* Kathleen Parker on the Tribune Op-Ed page: "In non-news today, Muslims are outraged. Also, the sun rose at its usual time, and the Earth continued to turn on its axis in the customary fashion. And I'm a lazy-thinking, ahistorical, reactionary propagandist."
I made up that last line.
But it's still true.
* Parker ought to read Martin Marty's piece in the Tribune on Monday.
"[I]t also must be said that Christians, from the 4th Century to the 18th Century, can match the Muslims one-for-one when it comes to having spread the faith with the sword," Marty wrote. "Read the history of the Christianization of Europe, and you have to go hunting for that minority of the faithful who spread the faith without the sword, merely by witness and works."
* Paul Cobb adds in his own piece next to Marty's: "If the Crusades aren't to blame for Muslim distrust of Western comments on Islam, then surely three centuries of direct and indirect imperialism cannot have helped."
Obviously I don't endorse violence. But maybe it's the common root of religion's ineluctably fascist nature of the devout belief in a particular truth which no one could possibly know that is the problem. Right now it's a fundamentalist Muslim brand spreading violence, but very few religions have been immune, so let's can the (counterproductive) smug superiority.
* "Show me just what Jesus brought that was new, and there you will find things only evil and inhuman, such as his command to spread by the sword the faith he preached."
I just wanted to see what it sounded like.
* What could be more violent than a God who would condemn non-believers to an eternity in Hell?
* Steinberg lauds the civilizing efforts of Turkey founder Kemal Ataturk, noting approvingly that "Turks who insisted on clinging to their fezzes were hanged."
* Do Jack Higgins and his editors still have their jobs? Higgins's cartoon in the Sun-Times this morning depicts a stereotypically maniacal, sword-wielding Muslim in front of a mountain of skulls screaming "Islam violent? How dare you!"
The pope, in Higgins's drawing, responds: "Well . . . the mountain came with Muhammad."
(You can see it for yourself here; upper-right above "Top Stories.")
Tickle Me Newspaper
In a city of a thousand untold stories staring us all in the face, this was the one the Sun-Times deployed a reporter to yesterday and gave a full page to.
Daley Dose
"Daley, who in the past has announced his candidacy in the December before the election, has refused to say whether he will run," the Tribune reports. "But he is widely expected to seek a sixth term, particularly by Terry Peterson, whom, as this newspaper has reported, was transferred from his job as head of the Chicago Housing Authority to run the mayor's re-election campaign which we nevertheless refuse to acknowledge exists."
I added the Peterson part. But it's still true.
Oh Henry
Like the Tribune, I have a few Henry Hyde memories. I found myself awfully moved - because that's the kind of corny guy I am, I mean, I really believe in this democracy stuff - by Hyde's classic speech in which he urged Congress to "catch the falling flag." Then I remembered he was speaking so eloquently because he thought Bill Clinton's fudging in the Paula Jones lawsuit would cause an otherwise sterling criminal justice system to crumble if not adequately dealt with by impeaching and removing the president.
I must have missed his reprise over the Bush Administration's illegal wiretaps, secret torture prisons, and lies that got us into a miserable war that has put our nation at risk.
Big Brew Ordinance?
Starbucks plans to double the number of stores it has in the United States, including an additional 250 or so locations in Chicago. Oh, gotta go, they're building one in my kitchen right now.
The Beachwood Tip Line: Available in small.

Posted by Beachwood Reporter at 8:18 AM | Permalink
Life at Work
I hit bottom yesterday. I realize that now. And I don't really get it - I mean, things really don't suck that badly. I've been paid through the end of the month, I have an interview tomorrow, it's only been a week since I was not "technically" fired, and, realistically, I stand a reasonable chance of finding a job soon. I have free time to read, watch television, enjoy the few nice days that the weather people keep saying we're not going to have many of left, wander the streets, and generally goof off. So why do I feel like I hit the pavement?
Because losing your job does funny things to your psyche, not matter what the circumstances.

Maybe there's a part of me that doesn't like not having gotten the last word - a part that wanted to say "I quit" before being told to go away. Or maybe it's that I don't want to go through it again - not the not-getting-fired bit, but the whole 9-5 workaday play dress-up and be "grown-up" and pretend that, on some level, you have something in common with these people around you part. I feel this tremendous pressure, from family, from society, and now a bit from within, to go and be this person with goals and a career and drive and it's not just a Peter Pan complex, I really, really don't want it. It's not who I am, it's not who I want to be. Whether I can excel at it or not is utterly irrelevant. There are plenty of things I could excel at, but the real question is, do I want to? And the real answer is, No.
But if you don't want to go to work, what do you do? How do you go about surviving? I mean, yeah, there are plenty of people who work strictly for themselves, but I know myself well enough to know that I'm not going to be one of them. Unless I have just the tiniest bit of structure, just one other person to answer to, I'm a goner. I'll find 47 different ways to divert my energy, and the day will be done.
Unfortunately, for me, I think right now the answer is that you grin and bear it. You take the job you don't want, you put on your suit and your mask, you silently thank your parents for those acting lessons when you were a kid, and you sit in your new cubicle with a smile on your face.
And you hope beyond hope that you get a really brilliant idea that leads you to the autonomy you desire very, very soon.
Posted by Beachwood Reporter at 12:29 AM | Permalink
September 19, 2006
Indisputably Torture
"This debate is occurring because of the Supreme Court's ruling that said that we must conduct ourselves under the Common Article III of the Geneva Convention. And that Common Article III says that there will be no outrages upon human dignity. It's very vague. What does that mean, 'outrages upon human dignity'? That's a statement that is wide open to interpretation. And what I'm proposing is that there be clarity in the law so that our professionals will have no doubt that that which they are doing is legal."
- President George W. Bush, September 15, 2006
Some clarity:
1. A looped recording of the chorus . . . "Oh Mickey you're so fine, you're so fine you blow my mind, Hey Mickey!"
2. A Paulie Shore film festival.
3. An entire afternoon shopping at Old Navy with an indecisive spouse.
4. Attending a wedding alone . . . when you only know the bride or groom.
5. Stuck in an elevator with Ann Coulter.
6. A heart-to-heart 3 a.m. conversation with a weepy drunk . . . when you're sober.
7. Listening to an entire baseball game called by Ed Farmer & Chris Singleton.
8. Sitting at the same restaurant table as a toddler who didn't take a nap.
9. Riding the train with nothing to read but RedEye.
10. Watching the President of the United States try to re-define torture.
Posted by Beachwood Reporter at 3:31 PM | Permalink
Minor League Report 2006
In which we track the travails and triumphs of the area's myriad minor league baseball teams. But mostly the travails. Season highlights updated as events warrant.
Team: Windy City ThunderBolts (formerly the Cook County Cheetahs), Crestwood, IL.
League: Frontier League, no Major League affiliation.
Why Be Interested In This League? Cornered the market in phallic-sounding ex-Major League players; Pete LaCock and Danny Cox serve as coaches. Not appearing: Rusty Kuntz.
Ballpark: Hawkinson Ford Field (The Hawk). Capacity is 3,000-plus.
Quality of Play: Fifth-place finish (39-57) in the West Division last year.
Best Player: Clemente Bonilla; lead team in batting average (.371)
Why Else Be Interested in Clemente Bonilla? Try to determine if players call him a poor man's Roberto Clemente or a poor man's Bobby Bonilla. Played for seven different teams between 2003 and 2004.
Mascot: Boomer, a moderately big blue thing resembling Phillie Phanatics' less obese cousin.
Merchandising: Shot glass ($3.50 - empty).
Best Promotion This Summer: Elvis Night featuring Jerry Elvis Vegas (Aug. 10, 7:05 p.m.). Good times humor rock and roll cowboy!
Tryouts? Yes, you can try out.
First-Half Highlights: Holding tryouts on May 6 - a Saturday in case you don't want to use up a sick/personal day. Tryout fee of $50 may be the most ridiculous minor league fundraising scheme ever . . . Acquired standout pitcher and 2005 league MVP John Martinez in a "blockbuster" trade, giving up All-Star third baseman Travis Garcia to the Chillicothe Paints. Martinez won the Brian Tollberg Award last year as the league's most valuable pitcher. Tollberg started for Chillicothe in the Frontier League in 1994 and ended up with the San Diego Padres, starting 53 games in 4 seasons . . . Underwear Race easily winning the favorite between-innings promotion click poll with 50 percent of the vote. Hairiest Back Contest is third . . . Bolts toss first shutout of season against the Washington Wild Things. It took five pitchers, but still . . . Website wins award for Consecutive Sponsor Hilarity with the Yellow Book/Dick's/White Hen succession. Talking about Dick's, the T-Bolts (3-11) have dropped six in a row . . . Like the hairiest back, the T-Bolts made a comeback. The Hairiest Back contest is three points behind the Underwear Race, and the T-Bolts have won the last three games. If they only could get George "The Animal" Steele to the ballpark, they'd hit the daily double . . . June 24th is Jimmy Buffet Night. Liver transplants to first 500 fans . . . I just noticed this, but the team Website has a "donations" page. To the American Cancer Society? No. Perhaps they can call the other Buffet for some of his $31 billion.
Mid-Season Update: Along with two other players, Clemente Bonilla was named to the All-Star team for the second year in a row. So I take the "Poor man's" joke back. I won't take back the fact that the T-Bolts stink. They are tied for last overall, with a 15-25 record.
Second-Half Highlights: Though Thunder never Bolts, the T-Bolts are winners of six of their last eight. Enjoy the Radio Disney Party Patrol on July 22nd. If you become over-served at the party, a camp-out follows the game . . . Message board poster "GBearsFan" provides the scoop of the day. Schaumburg, Joliet, and Gary are looking to defect from the Northern League to the Frontier League. WWE plans on Boomer-Jammer/Bearon-Rusty tag team match. Expect Rascal to hit Rusty in head with steel beam, since Rascal is jealous of Rusty . . . Bank Ball giveaway courtesy of First Midwest Bank scheduled for August 8th. No word from First Midwest if the Bank Ball gives depositor the customary .0000003% interest a normal savings account earns . . . Rockford listed by fans as Windy City's biggest rival. You can take the bus to Rockford on August 12. Thinking of going? Thanks to Google's "I'm Feeling Lucky" button, a search of "Rockford Illinois dangerous neighborhood" netted this. (Perhaps this is why Bush is not a fan of the cease-fire.) . . . ThunderBolts close out season against the Traverse City Beach Bums over Labor Day weekend. They will not be going to the playoffs. "Well again, we all try to be positive about the season, but again there is a let down in Crestwood," try2btboltfan says on the team's message board. Dusty Baker largely blamed for sub-.500 season.
Year-End Update: The ThunderBolts finished fourth (41-54) in the five-team West Division. Having auctioned the jerseys off their backs, the T-Bolts played the final weeks of the season shirtless. The promotion failed to boost attendance. Clemente Bonilla now plays for the Fullerton Flyers. I guess I can go back to following Bobby Bonilla. He sure looks smaller than I remember.
***
Team: Schaumburg Flyers.
League: Northern League, no Major League affiliation.
Why Be Interested In This League? Contains two other Chicago area teams. Root for the Flyers by calling Gary and Joliet "Two Bit Fronts For The Mob While They Are Tired Of Running Their Casino ball teams."
Ballpark: Alexian Field, named after suburban role model Alex Keaton. Capacity 7,048.
Quality of Play: Fifth-place finish (38-58) in the South Division last year.
Best Player: Tim Marks; catcher with a solid .325 batting average.
Why Else Be Interested in Tim Marks? a) A former Saint Paul Saint who looks a bit like Kerry Wood, though assumed to be more durable.
Mascot: Bearon, a very happy bear. This bear loves to fly and it shows.
Best Promotion This Summer: Full-Size Bats (first 1,500 kids) (July 12, 7:05 p.m.). Extra bonus: Full-Size kid-on-kid beatings.
Tryouts? You can try out not only for the team, but the dance squad.
First-Half Highlights: Mother's Day Brunch on May 14. Admission: Adults $19.95; Children $9.95; MILFs free . . . Just 150 fans in attendance for May 7 tilt against Joliet. Approximately 150 Bob Uecker "Must be in the front row" jokes uttered during the game . . . June 10 Home Run Derby participants will include Kyle Orton. No backup plan if Orton can't go . . . Eric Cole and Ben Van Iderstine are neck-and-neck in the "Who Would You Like To See On A Player Magnet Promotion?" poll. Everybody point and laugh at R.J. Swindel because he has only 4% of the vote. HA HA! . . . You can now e-mail your weekly poll suggestions to the Flyers. Be careful not to abuse the privilege . . . Big News! MSN and LivePlanet (production company for Project Greenlight) announce Fan Club: Reality Baseball, in which Flyers fans will manage the team by voting on batting lineups, roster moves, and the pitching rotation, though not concession stand prices. Fan Club: Reality Politics is also in the works, in which oil executives, defense contractors, and the Christian Right will manage the Bush Administration . . . I'm very excited to see if Joe Six-Pack is smarter than Flyer management. The Flyers are in first place. I smell two words coming: "Diffused Responsibility." See also entry for Chicago Cubs and Tribune Company.
Mid-Season Update: So far so good for the Flyers; they enjoy a 28-16 record, and first place in their division. Some thought Bearon smiled due to gas, but now its clear winning makes the Bear giddy.
Second-Half Highlights: George Jefferson Alert: The Flyers sold the rights to Geoff McCallum to the Florida Marlins association. Talking about selling, shares of the Flyers soul are for sale here. . . Soul selling still alive - Go to Ebay and be the next play-by-play broadcaster. Note to the Flyers - the Devil called, and he said that you are making it too easy for him . . . Jason Pawlowski won the auction to become the next play-by-play announcer. Winning bid: $810. Next up for bids: Let's just say Bearon loves flying and winning, but is not a fan of yard work . . . The Flyers have become the coldest team in the Northern Leauge, dropping 7 of the last 10 games. Looks like the "Joe Six-Pack" arrangement is failing. The Bears manage to stink with a handful of the clueless. There is little reason to believe more will make better decisions . . . Sixty cases of Budweiser acquired in trade of Leon finally gone. So is patience with fan-chosen lineups. After a first place finish (31-17) in the first half of the season, fan-driven team in second half is 14-33. Maybe plethora of accountants among fans see same tax break available Tribune Company goes for each year . . . Playoffs begin on September 5, sponsored by Jackson Hewitt Tax Service.
Year-End Update: The Flyers were bounced out of the playoffs in the first round by the Gary SouthShore RailCats. The fans were fired.
***

Team: Gary SouthShore RailCats.
League: Northern League, no Major League affiliation.
Why Be Interested In This League? Two Chicago-area teams nearer to Chicago. "How do you like sitting in traffic, you latte drinking idiots?"
Ballpark: U.S. Steel Yard. Capacity 6,139. Vendors are former steelworkers who have been retrained for the global economy.
Quality of Play: Northern League Champions in 2005! A second-place finish (54-42) in the Southern Division during the regular season.
Best Player: Pitcher Willie Glen (9-3, Opp. Ave. .234, nearly 1 SO/Inning)
Why Else Be Interested In Willie Glen? Optioned to minor league camp on same day as Jared Sandberg, son of Cubs great Ryne Sandberg. Also likes Jared the Subway Guy. Middle name believed to be Jared.
Mascot: On the Web, a friggin' angry cat named Rusty about to whomp someone with a steel girder. In person, a disappointingly fan-friendly cuddly thing.
Merchandising: RailCats Gourmet Chocolate in a variety of flavors, including Triple Dipped Malted Balls ($5), though it would be better if they were called Triple-A Dipped Malted Balls.
Best Promotion This Summer: Night Light Giveaway to the first 1,000 fans on Rusty's birthday (July 2, 2 p.m.). And then everyone is invited over to Rusty's for a sleepover.
Tryouts? Undetermined.
First-Half Highlights: RailCats voted Best Local Spectator Sport by Northwest Indiana Business Quarterly for third straight year. Runner up: Hammond Indiana Cub Scout Steal the Bacon League . . . NEW MASCOT ALERT!!! Rascal joins Rusty as the second mascot. Fun Facts: 1) Appearance - Smiling cat poised to execute Daniel LaRusso crane kick. 2) Poll Numbers - Low approval rating on RailCat website; 35% list Rascal "will be as popular as Rusty is". Still, political pundits not worried , since Rascal appears to be four points more popular than GWB . . . RailCats swept by Fargo RedHawks in four-game series; 'Cats fall to 3-11. Rusty calls out Rascal in locker room melee . . . I'll give you asthma! It's Asthma Night June 19 . . . 'Cats first-place Schaumburg by seven games. Traded pitcher Jeff Mault to Windy City for Future Considerations. Another pitcher released. In recent poll, "Pitching" is listed as "thing that needs most improvement." So moves seen as addition by subtraction . . . Weigh in on your favorite RailCat player on the Message Board. "Charile" tells it like it is, stating "Nobody is my favorite after getting pounded by the T-Bones 24-1." . . . Thirty-six percent of those polled are most excited about the fireworks promotion this weekend. If there sure things in life, they are death, taxes, and Indianans loving fireworks.
Midseason Update: The good news: The RailCats are in second place. The bad news: The RailCats are chasing the Flyers. The so-so news: The RailCats are 22-22. Rusty was seen yesterday kissing his sister.
Second-Half Highlights: Rusty hearts the JackHammers; RailCats win five in a row, three of which came over the JackHammers. Hopefully Rusty and Rascal will start work on this . . . Rusty and Rascal spent too much time dancing - RailCats drop last six games. I guess it looked a lot like this . . . Reminder, you can spend the game in the hot tub in center field. Or, bring your binoculars to see the massively overweight fans in the hot tub who have lost their sense of self-respect and decided to bare their bulbous guts and northerly creeping swim shorts, as if the seats grant them respite from human decency . . . Website poll wins the "synonym award" by asking, "The Famous 'San Diego' Chicken Arrives Aug. 16: Do you think it will be the ______ night of the year?" a) the funniest ; b) the most entertaining ; c) the most hilarious ; d) all of the above . . . RailCats fight for playoff spot, facing Kansas City T-Bones in final regular season series. RailCats management dampens expectations with online poll asking if the team will make the playoffs and offering not only Yes and No as answer options, but "I Come For Fun!" RailCats fans, however do not come for fun, as only 2 percent select this answer.
Year-End Update: The RailCats were helped down the stretch by September call-ups, who helped push the team all the way into the championship series. But they coudn't overcome Fargo-Moorhead, which had the extra-state advantage. The RailCats did share Organization of the Year honors with the Winnipeg Goldeyes, though, which may seem like kissing your sister but is more like kissing your really hot step-sister.
***
Team: Joliet JackHammers.
League: Northern League, no Major League affiliation.
Why Be Interested In This League? Two other Chicago-area teams, one represented by an angry cat and the other the home of the mall rat. JackHammer tears them both apart.
Ballpark: Silver Cross Field, which is named after Silver Cross Hospital. Which is lame, yet infinitely more satisfying than the Bud Light Bleachers at Wrigley Field. Capacity 4,616. (If Silver Cross had a Kerry Wood Ward, that'd be different.)
Quality of Play: Last place (12-26) in the Southern Division.
Best Player: Chad Ehrnsberger, shortstop, .360/14/68, .617 SLG.
Why Else Be Interested in Chad Ehrnsberger? He is a two-time academic all-Big Ten selection, a three-time OSU Scholar-Athlete, and a member of the honors program. Smartest JackHammer Ever?
Mascot: On the Web, a righteously menacing jackhammer named Jammer, drilling apart home plate. In person, a slightly psychedelic and disappointingly cuddly Snuffleupagus type.
Merchandising: Jammer Doll ($10)
Best Promotion This Summer: "Are You Ready For Some Football! Theme Night (Aug. 14, 7:05 p.m.) Home baseball games remaining after declaring readiness for football: 12.
Tryouts? Undetermined.
First-Half Highlights: On April 20, JackHammers re-signed Luis Villarreal, nicknamed Mr. No-No. Nobody knows why Villarreal gets the extra No in No-No because he did give up four walks in his no-hit effort in August 2005. But who are we to nitpick? . . . Chad Ehrnsberger leads poll for 2006 MVP. Like Ferris Bueller, said to be popular with the sportos, the motorheads, geeks, sluts, bloods, waistoids, dweebies, and dickheads . . . Trivia notes on Website player profiles satisfyingly called Loose Gravel . . . JackHammer splits Rail, but ThunderBolts . . . wait, shouldn't that be LightningBolts? . . . The Superfans have not visited the Website lately because Ditka has only a narrow 5-point lead over Jammer in the "Who Would Win A Race From Second To Home?" poll. No word if Ditka can get to home base quicker with help from Levitra . . . Little Richard, Boyz II Men, and Tone Loc appear at Silver Cross Field on July 1. Little Richard remains a pioneer of Rock. Boyz II Men remains a pioneer in ending words with "z." Tone Loc remains a pioneer of songs about roofies . . . "Guns and Hoses" post-game promotional event June 25. Probably note for the whole family . . . July 5th is "Western Union Cinco de Julio" night. I'm not sure what you do for this, other than mention you are two months too late.
Midseason Update: Perhaps the new name should be the Joliet JackShit, because this team does two things: Jack and Shit. Their 14-30 record is the worst in the Northern League.
Second-Half Highlights: Website recaps first half (bad news). Same article states that second half starts with three-game series with Gary (good news). JackHammers drop all three games (bad news). The role of Chicken Elmo will be played by Jammer . . . 62% of those polled looking forward to more wins. Only 12% are looking forward to the official JackHammer blog. Writer later seen submitting resume to The Beachwood Reporter . . . As mentioned above, "Are you ready for some football?" has been posted to the website. Perhaps The Beachwood Reporter should have a football column. Hmmmm . . . Joliet is now ready for football, and ready to be in first place. On the food front, two fans answered the blog regarding "favorite food/beverage" with wishing the frosted nuts back. I think it was the marketing, not taste that killed the frosted nuts . . . JackHammers in playoff chase as season winds down. Fan poll finds "Jammer maintaining beautiful a blue coat under this hot summer sun" second most impressive JackHammer feat, slightly behind Rob Stratton's power. Franchise not big enough for both of them; Stratton put on block.
Year-End Update: The JackHammers lost a one-game playoff to the RailCats for the East Division second-half championship, and returned to their construction crews to get some roadwork in before winter. More importantly, nearly 800 fans participated in polling that finally determined that Jammer maintaining a beautiful blue coat under this hot summer sun was the most impressive feat of the season, though Rob Stratton's power won the Electrical College.
***
Team: Kane County Cougars.
League: Midwest League, Class A minor league affiliate of Oakland A's.
Why Be Interested In This League? Only local team except the White Sox affiliated with the major leagues.
Ballpark: Philip Elfstrom Stadium, featuring the Leinie Lodge in right field, which is infinitely more satisfying than the Bud Light Bleachers at Wrigley Field. Capacity 7,400.
Mascot: Ozzie T. Cougar (#0) is a slightly more satisfying mascot than most in that he looks much more like a real animal and less like something awful from the 1970s. He also appears more weary, world-wise, and perhaps alcoholic than the average mascot.
Merchandising: License plate "not valid for driving anywhere but Elfstrom Stadium" ($4).
Best Promotion This Summer: Post-game concert by Beatles cover band British Export (July 16, 2 p.m.). In a deal negotiated with Manchester United, on this same night in England a Rolling Stones cover band called American Excess is playing.
Quality of Play: Finished sixth (67-75) in the Western Division.
Best Player: Pitcher Ryan Ford, 14-7, led team in Innings (143.2) and hit batters (12).
Why Else Be Interested In Ryan Ford? Played high school ball for the Adams Highlanders. Makes great segue for classic Highlander/Queen/Fat-Bottomed Girls joke succession.
Tryouts? Absolutely not. These guys are a lot better than you.
First-Half Highlights: Only area team to have started play. Holding down first place in the Western Division with an 11-8 record. Four-game home stand with last-place Clinton, Iowa, will feature Reader's Digest Night on April 29. Free Humor in Uniform Mad-Libs for first 300 kids. . . Jake the Diamond Dog appears for four games starting May 16. Jake is internationally known; Jake has appeared in Japan. Also, Jake's owner bears a resemblance to Dr. Phil's ne'er-do-well older brother, which by court agreement prevents Jake from appearing in MLB stadiums . . . A weird double-header resulting from a rain-suspended game the night before leads to the headline "Cougars Win In 12, Lose In 8" . . . Nicor Beach Towel giveaway scheduled for June 15. Free gas leaks as well to the first hundred customers . . . Jerry Lewis-ripoff Myron Noodleman scheduled to appear June 15 . . . The Zooperstars, including Harry Canary and Clammy Sosa, appear on June 16. Not appearing: Ram Roethlisberger . . . The poor man's San Diego Chicken, BirdZerk!, appears at Philip Elstrom Stadium on June 29. Adults 21 and over get "Old Second Bank" checkbook covers. Adults 18-20 left to mutter, "I am old enough to die in a war, but not old enough to get a free checkbook cover." . . . Cougars earned spot in playoffs as a 1st-half wildcard entry. Celebrate with Myron Noodleman and The Zooperstars on the 4th and 5th, respectively. Enjoy feeling a little dumber.
Midseason Update: Already clinched a playoff spot, and just started the second half with an 8-6 record. Hopefully they can hire Jim Mora and ask him about the playoffs.
Second-Half Highlights: The Cougars continue to anchor the hot play of the Chicago area teams (sans Joliet) by winning nine of the last 12 games. Ozzie may give the first 500 fans free beatings at next home game . . . The organization estimates that they will welcome their 7,000,000th fan on 7/29. Just in case you wondered, www.eventageous.com recommends that you secure a 63,000,000 square foot reception hall to honor all the fans. According to www.buildingjournal.com, expect to pay $183,857,574,600.00 for the space. Call your local Congress-person for support . . . On August 5th, the Cougars will have skydivers and fireworks. Hopefully, not at the same time . . . Just noticed the slogan of Cougars baseball is "Catch our idea of a ballgame." Not the most inspiring slogan. Imagine if Bush sold Iraq as "Catch our idea of the Middle East" or "Catch our idea of our war on terrorism"? It goes to show fake optimism and fear always sells . . . Playoffs start Sept. 7, and the Cougars will be there. Cougars sign 20-year deal to stay in Geneva; Myron Noodleman demands three strippers and M&Ms with the brown ones removed in his dressing room at next year's appearances.
Year-End Update: The Cougars lost the Midwest League Championship series to the West Michigan Whitecaps at Fifth Third Ballpark in Grand Rapids. Apparently the Cougars were confused by the renaming of third base as Fifth Third Base.
Posted by Beachwood Reporter at 10:08 AM | Permalink
The [Tuesday] Papers
I'll be attending to some business matters this morning so there won't be a column, but the links below from The [Monday] Papers are just as fresh today as they were yesterday. You can also catch up on the rest of the site, including Mick Dumke's latest excellent Bin Dive on the Clash's Sandinista! as well as such Beachwoodian features as the travails of our Life at Work columnist, who no longer has a job, and our wacky resident football expert, who might no longer have a job if he doesn't start picking some winners. Then again, it's almost more fun when he doesn't. See you on Wednesday.
***
1. This George Ryan phishing scam is so hilariously and simultaneously clever and stupid it would almost be worth it to invest some time and money following its trail. Then again, maybe Ryan himself is behind it.
2. Remember when Ryan's lawyer, Dan Webb, tried to sell us on how poor Georgie and Lura Lynn really were? Maybe Webb was already figuring Ryan's $197,037 annual, taxpayer-funded pension would revoked after a jury found his client guilty.
3. Why is six-and-a-half years in a minimum security prison considered a death sentence for George Ryan? He'll be 77 or 78 if he serves the full term, which is slightly more than the average life expectancy in Illinois, and given that Ryan is a white male who so far has had access to the high-quality health care, well, I bet he walks out of prison in a few years as unrepentant as ever.
4. The Sun-Times's "stories" this weekend about the paper's mini-footballs promotion didn't include reporters' bylines (see the Breaking News item), but I suspect reporters still wrote them. Is it really so hard to have a marketing intern do the write-ups and label the stories as advertisements?
5. The Sun-Times is now putting ads on the top half of its front page - ads for its mini-footballs promotion. Sunday's front page also included a front-page promo blurb of the paper's free collectors' edition of its Spider-Man comic book. Sources say the paper is considering a new weekly edition which would contain "news."
6. Greatest Internship Program Ever.
7. "Aldermen See Spin In Daley's Win."
8. 'Rahm Emanuel told me that . . . the attack on the Clintons in the nineties was so severe and baseless, in his view, that a moment of anger [by Bill Clinton] over dinner was nothing," David Remnick writes in his fascinating New Yorker profile of the post-presidency of Bill Clinton (which is not available online as far as I could tell.)
"[Emanuel] mentioned a recent report in the Chicago Tribune which revealed that the Speaker of the House, Dennis Hastert, began his career in Congress with a net worth of three hundred thousand dollars and now has assets of six million, owing largely to an almost fantastical increase in the value of land near a highway project that he helped push through Congress.
"'The Speaker came in with three hundred thousand dollars and now has six million in real estate and no one asks a question? Your questions is, "Why is Clinton so angry?" My question is, "Why are you so stupid?"'"
9. Emanuel earned $16 million in less than three years as an investment banker in between his stints as a White House aide and a U.S. congressman.
10. How Dusty Baker made Rick Kaempfer's summer so productive.
11. The president seems confident that history will judge him more favorably than contemporary commentators, but the president doesn't seem to realize that history is already rolling in.
12. David Broder's contempt for readers who have done more, well, reading than he has is astonishing. At one point in this online chat he says "Get it?" to a reader asking him about the CIA leak case, but it's Broder who clearly doesn't get it. Broder joins such local intellectual giants as Steve Huntley and Jack Fuller in asserting that the revelation in Hubris that Richard Armitage was the primary leaker for Sun-Times syndicated columnist Robert Novak disproves the "conspiracy theory" that there was a coordinated White House effort to discredit Joe Wilson. In fact, the revelations of Hubris show just the opposite. Get it, David?
13. Broder also still thinks Bill Clinton should have resigned for lying to his Cabinet officers about Monica Lewinsky, but doesn't believe George W. Bush or anyone in his administration ought to resign for lying us into a war - because Broder does not believe there was a coordinated White House effort to deceive the public about Iraq. Get it?
14. Broder is often referred to admiringly as the dean of Washington political reporters.
15. "God Has Given Bush A Vision - And Courtiers Like David Brooks."
16. If the Tribune Company's goal when it acquired Times-Mirror was to become as hated coast-to-coast as it is locally, it is succeeding.
17. Fox announcer Tim Ryan extolled the virtues of all those blue-collar Bears fans at Soldier Field on Sunday. Myths die hard. Chicago is a yuppie city - and those Bears fans aren't exactly taking time out from their jobs at the slaughterhouse. According to Team Marketing Report, it costs a family of four $439.59 to attend a Bears game. That's the third most expensive ticket in the league.
18. The bad-idea playlist at the bottom of this story is a good example of how hilarious the Tribune is.
19. Robert Novak writes today that Mayor Daley is "only vaguely a Democrat, is much admired by Republicans and talks occasionally on the phone with the target of Democratic abuse, George W. Bush."
"I have a lot of respect for President Bush," Daley told Novak.
20. Novak also reports that Ald. Ed Burke supported the big-box ordinance in part so his wife, now a state supreme court judge, wouldn't have to run against labor in future elections.
21. Jackie Heard is full of shit.
22. "Our soldiers are following the rules of war - but their opposition is not," writes Mary Laney, in her latest dispatch from Planet IMA2L. "In Iraq, Americans have been kidnapped, tortured, beheaded, burned, hanged from bridges, dragged through streets. But the CIA's method of questioning a terrorist in a cold room while playing loud music is too 'tough'?"
23. From the estimable QT:
News Item: The New CBS Evening News announces a "freeSpeech" segment "intended to create a candid and robust dialogue among viewers about issues important to them."
News Item: Bill Maher declines invitation to appear on "freeSpeech" segment after being told he couldn't talk about religion but would be sent a list of "approved" topics.
24. Katie Couric is not just the newsreader of the CBS Evening News, she's the managing editor. So it was her call.
25. Random Beachwood Classic: Actual Crank Calls To Misleadingly Named Suburbs.
The Beachwood Tip Line: Still just what it sounds like.
Posted by Beachwood Reporter at 7:07 AM | Permalink
Life at Work
Today was the breaking point. I couldn't get out of bed until quarter to three, and I never got out of my pajamas. And for those of you with inquiring minds, no, I don't mean cute little jammies covered with sheep jumping over clouds. I mean baggy old cotton pants and a ragged out long-sleeved t-shirt. Sheesh.
On the upside, a staffing agency called wanting to place me in a corporate temp-to-permanant position. So I'm going in on Thursday for a two-hour interview. I'm not really sure why they need to interview me for two hours. Pretty much every interview I've ever been on has taken about fifteen minutes. Maybe they're not really a staffing agency. Maybe I'm going to be detained for a lengthy session of waterboarding and then sent to Guantanamo. At least y'all will know where to forward my mail.
In the meantime, I actually have some things to accomplish, so tomorrow I'll have to get up, shower, and get dressed. Unlike today. Days like today are permissible every once in awhile, but not too often, or you lose your sense of . . . I dunno . . . some kind of meaning or something.
Maybe I'll figure out tomorrow what I've lost today. If anything.
Posted by Beachwood Reporter at 3:46 AM | Permalink
September 18, 2006
Life at Work
I think it's Day Three without a reason to set the alarm, grumble about having to roll out of bed, dress up, and make my way downtown - but I'm not really sure. Unemployment It's taking its toll already. I've lost the ability to distinguish between weekday and weekend.
Either way, I have no pressing engagements. Just a pressing, re-occuring thought: "Well, hell, do I really need to get out of my pajamas today?"
Yes. Yes I do. If you don't force yourself to abide by some kind of structure, you're really screwed. You kind of lose the will to leave your place. It's something you have to fight against if you're going to be successfully unemployed, or other things are going to start slipping. You stop looking at the job ads. You turn your phone off. You start watching Judge Judy and Dr. Phil, conveniently scheduled back-to-back. Then you're really sunk.
On the one hand, I'm able to stay up a lot later than I'm used to - I think I made it to eleven or so with no problem last night, reading my book, watching a movie, comfortably settled in. I require an extraordinary amount of sleep to be functional, so the whole staying up late thing doesn't happen that often anymore, at least until now.
On the other hand, I'm a little despondent over the job ads. I'd hoped there'd be a bunch of new, attractive opportunities calling my name since the Sunday postings went up, but there was pretty much zilch.
I talked to my brother today; he gave me the old "keep your chin up, conserve your resources, keep applying, if asked why you left, tell them your version before your former boss has the chance to tell them his, I doubt you'll get a job as a private eye, are you sure you want to stay in Chicago," speech. Typical family stuff, but well-meaning. My brother's a straight-shooter. Pretty much no one else in my family lives around here, and they're not really sure why I do, but I have my reasons.
As for the whole "finding meaning in days that feel meaningless" thing, well, I had an errand that I really needed to run, so that gave me a reason to get dressed and leave the house, and then I had a cup of coffee and some entertaining conversation, and that right there was enough to get me through early afternoon. I figure as long as you can find a reason to get dressed, you're making it. When you can no longer find a reason, you're really screwed.
Maybe there'll be a really great job opportunity tomorrow. Or maybe I won't get out of bed. We'll see.
J. Bird is the Beachwood's pseudononymous workplace affairs correspondent. Due to recent unforeseen but wholly fitting circumstances, J. Bird is also the Beachwood's pseudononymous unemployment affairs correspondent. To catch up, check out the Life at Work archives.

Posted by Beachwood Reporter at 5:15 PM | Permalink
The Clash: Sandinista!
Coherence is overrated. Sure, there are moments when you know all the answers, and that's when you play the first Ramones album, a persuasive argument in favor of two-minute, three-chord rumbles, wrecking shit just because you can, and getting stoned; or the early and mid-60s Motown singles like "The Tracks of My Tears" and "Nowhere to Run," where the pain of loss is clear and cutting and you can't think of anything else and don't want to . . . though you still may want to get stoned.
Personally, I enjoy moments of clarity; I just don't have them very often. I like the wanderers and I understand the flip-floppers and I certainly believe in the kind of people who mix all the flavors together when they get a Slurpee. Most of the interesting and honest people I've met don't actually know what they're doing, or why - they just try stuff out until it doesn't work for them any more. Once, as the old verse goes, I was a child; I thought like a child and reasoned like a child and liked Field of Dreams. Now that I have become a man, or at least have met the age requirement, I still really like Field of Dreams, but I recognize that, as a work of art, it blows, and I have added new obsessions, like old Bogart movies and Superfly. Putting it another way, what kind of a creep doesn't change his mind or at least his approach after seeing, say, a quick little act of imperialism turn into a bloody civil war?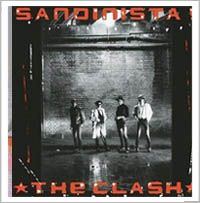 Sandinista! is, like all Clash records, a political album, but that's not entirely the point here: It's a sprawling, ragged, undisciplined mess, and now, exactly 25 years after its release, it is more fascinating and fun than ever. When it was released, a lot of people bought Sandinista! - and then realized that it was a triple album, which meant (in the pre-downloading days, which still exist at my crib) that you had to get up five times and flip sides or switch records in order to play it all the way through. Even the later CD version was spread over two discs.
And the listening itself requires some attention. It's not a straight rocker, like the early Clash stuff, or a tightly themed critique of Western indulgences, like the brilliant London Calling. It's got early hip hop, country, gospel, choral, reggae, funk, dub, Celtic, and R&B, without much "punk," and the songs are about... well, I'm often not sure, though I think they tend to condemn said imperialism and police brutality, and that's the way it needs to be.
Most importantly, this is an album to explore, over and over. Many of the high points are immediately evident: the leadoff track, "The Magnificent Seven," has a truly rocking disco beat that's part party, part rage, and the segue to the pure pop of "Hitsville U.K." is shocking and thrilling every time, as if you get to fully enjoy two very different eras of your life in 10 minutes. "Somebody Got Murdered" is tuneful in the best spirit of London Calling; the cover of Eddie Grant's "Police on My Back" screams with indignation; and "Charlie Don't Surf" builds on a revolutionary wave of Paul Simonon's bass.
Good enough, but lots of listeners through the years have dismissed the rest of Sandinista! as unfocused and even arrogant - as if we want to hear the Clash getting a children's choir to take the lead on a cover of their own "Career Opportunities." Well, actually, some of us do - I think that old punk rock song is a total blast when done in those boys' school voices. "Rebel Waltz" is just what it broadcasts, sounding like a drunk friend stumbling back to the bar while ranting about getting the unions off their asses and shutting down this goddamn town. Of course the Clash's gospel plea for forgiveness, "The Sound of the Sinners," is completely ridiculous, but that backing chorus - "Judgment Day!" - sticks with you, just as the fiddle in "Lose This Skin" swings harder every time you hear it. There are fragmentary, studio-experimental tracks that aren't as immediately catchy as these songs, but they're never uninteresting. Something is always moving on Sandinista!
That's why this is near the top of my Stuck On Another Stalled Subway Train List (the Chicago version of the Desert Island List). On "The Call Up," another classic, fuck-your-wars song, Joe Strummer sings,
Who knows the reasons why you have grown up?
Who knows the plans or why they were drawn up?
This answer is clear: Nobody around here.
Posted by Don Jacobson at 3:33 PM | Permalink
What I Watched Last Night
Pat Bataillon did not watch TV last night. But he plans to tonight, and if he does, he will return tomorrow.
Wanna satisfy your Pat Bataillon fix? Check out our What I Watched Last Night archives. Wanna contribute your own television watching insights? Send us your submissions. We're particularly interested in bolstering our collections of Infomercial and TV Preacher reviews.
Posted by Beachwood Reporter at 9:43 AM | Permalink
The [Monday] Papers
1. This George Ryan phishing scam is so hilariously and simultaneously clever and stupid it would almost be worth it to invest some time and money following its trail. Then again, maybe Ryan himself is behind it.
2. Remember when Ryan's lawyer, Dan Webb, tried to sell us on how poor Georgie and Lura Lynn really were? Maybe Webb was already figuring Ryan's $197,037 annual, taxpayer-funded pension would revoked after a jury found his client guilty.
3. Why is six-and-a-half years in a minimum security prison considered a death sentence for George Ryan? He'll be 77 or 78 if he serves the full term, which is slightly more than the average life expectancy in Illinois, and given that Ryan is a white male who so far has had access to the high-quality health care, well, I bet he walks out of prison in a few years as unrepentant as ever.
4. The Sun-Times's "stories" this weekend about the paper's mini-footballs promotion didn't include reporters' bylines (see the Breaking News item), but I suspect reporters still wrote them. Is it really so hard to have a marketing intern do the write-ups and label the stories as advertisements?
5. The Sun-Times is now putting ads on the top half of its front page - ads for its mini-footballs promotion. Sunday's front page also included a front-page promo blurb of the paper's free collectors' edition of its Spider-Man comic book. Sources say the paper is considering a new weekly edition which would contain "news."
6. Greatest Internship Program Ever.
7. "Aldermen See Spin In Daley's Win."
8. 'Rahm Emanuel told me that . . . the attack on the Clintons in the nineties was so severe and baseless, in his view, that a moment of anger [by Bill Clinton] over dinner was nothing," David Remnick writes in his fascinating New Yorker profile of the post-presidency of Bill Clinton (which is not available online as far as I could tell.)
"[Emanuel] mentioned a recent report in the Chicago Tribune which revealed that the Speaker of the House, Dennis Hastert, began his career in Congress with a net worth of three hundred thousand dollars and now has assets of six million, owing largely to an almost fantastical increase in the value of land near a highway project that he helped push through Congress.
"'The Speaker came in with three hundred thousand dollars and now has six million in real estate and no one asks a question? Your questions is, "Why is Clinton so angry?" My question is, "Why are you so stupid?"'"
9. Emanuel earned $16 million in less than three years as an investment banker in between his stints as a White House aide and a U.S. congressman.
10. How Dusty Baker made Rick Kaempfer's summer so productive.
11. The president seems confident that history will judge him more favorably than contemporary commentators, but the president doesn't seem to realize that history is already rolling in.
12. David Broder's contempt for readers who have done more, well, reading than he has is astonishing. At one point in this online chat he says "Get it?" to a reader asking him about the CIA leak case, but it's Broder who clearly doesn't get it. Broder joins such local intellectual giants as Steve Huntley and Jack Fuller in asserting that the revelation in Hubris that Richard Armitage was the primary leaker for Sun-Times syndicated columnist Robert Novak disproves the "conspiracy theory" that there was a coordinated White House effort to discredit Joe Wilson. In fact, the revelations of Hubris show just the opposite. Get it, David?
13. Broder also still thinks Bill Clinton should have resigned for lying to his Cabinet officers about Monica Lewinsky, but doesn't believe George W. Bush or anyone in his administration ought to resign for lying us into a war - because Broder does not believe there was a coordinated White House effort to deceive the public about Iraq. Get it?
14. Broder is often referred to admiringly as the dean of Washington political reporters.
15. "God Has Given Bush A Vision - And Courtiers Like David Brooks."
16. If the Tribune Company's goal when it acquired Times-Mirror was to become as hated coast-to-coast as it is locally, it is succeeding.
17. Fox announcer Tim Ryan extolled the virtues of all those blue-collar Bears fans at Soldier Field on Sunday. Myths die hard. Chicago is a yuppie city - and those Bears fans aren't exactly taking time out from their jobs at the slaughterhouse. According to Team Marketing Report, it costs a family of four $439.59 to attend a Bears game. That's the third most expensive ticket in the league.
18. The bad-idea playlist at the bottom of this story is a good example of how hilarious the Tribune is.
19. Robert Novak writes today that Mayor Daley is "only vaguely a Democrat, is much admired by Republicans and talks occasionally on the phone with the target of Democratic abuse, George W. Bush."
"I have a lot of respect for President Bush," Daley told Novak.
20. Novak also reports that Ald. Ed Burke supported the big-box ordinance in part so his wife, now a state supreme court judge, wouldn't have to run against labor in future elections.
21. Jackie Heard is full of shit.
22. "Our soldiers are following the rules of war - but their opposition is not," writes Mary Laney, in her latest dispatch from Planet IMA2L. "In Iraq, Americans have been kidnapped, tortured, beheaded, burned, hanged from bridges, dragged through streets. But the CIA's method of questioning a terrorist in a cold room while playing loud music is too 'tough'?"
23. From the estimable QT:
News Item: The New CBS Evening News announces a "freeSpeech" segment "intended to create a candid and robust dialogue among viewers about issues important to them."
News Item: Bill Maher declines invitation to appear on "freeSpeech" segment after being told he couldn't talk about religion but would be sent a list of "approved" topics.
24. Katie Couric is not just the newsreader of the CBS Evening News, she's the managing editor. So it was her call.
25. Random Beachwood Classic: Actual Crank Calls To Misleadingly Named Suburbs.
The Beachwood Tip Line: Just what it sounds like.
Posted by Beachwood Reporter at 8:38 AM | Permalink
September 16, 2006
According to The Hoyles
This time in Don's Root Cellar, the Hoyle Brothers hold 'em in down in Texas, Jon Christopher Davis makes me laugh in my beer and Lee Rocker shows why he's still an O.C. (Original Cat).
1. The Hoyle Brothers play some extremely authentic Texas honky-tonk. Real cry in your beer stuff. So authentic that many a Texan is apparently swearing these Chicago guys are channeling Lefty himself . . . or at least some reasonable facsimile thereof.

Late every Sunday afternoon at the Empty Bottle, the Hoyles trot out the teardrops in a regular gig that has drawn notice, and not just because it comes at a time when absolutely nothing else is going on onstage around town. The brothers (like a countrified version of the Ramones, not really brothers) are tapping the old-time country purist vein in that their songs are mostly about drinking and cheating and delivered with an ultratwang from pedal steel guitarist Brian (Wilke) Hoyle, who like most of his bandmates/kin, actually hails from Illinois but seems about as Texas as you can get.
Deep-voiced singer Jacque Judy (Hoyle, of course) has that kind of smooth, clear delivery that you find on some of the choicest vintage honky tonk - we're talking Lefty or Tubbs here, or in a more contemporary comparison, Dave Marr of the Star Room Boys. The group's second album, One More Draw, came out earlier this year.
But the proof of their ultimate authenticity is their nomination for this year's best classic country band from the Academy of Western Artists (AWA), an outfit based in Dallas that's best known for its dogged determination keep to Will Rogers' memory alive as well as for its efforts to maintain what it calls the "cowboy movement." It also does a good job calling together radio industry types in an effort to get more twang on the air.
That nomination puts the Hoyles in the same classic country category as Dale Watson, James Hand, Jamie Richards, Dallas Wayne, Justin Trevino, Amber Digby, Heather Myles, Sunny Sweeney, Liz Talley, Leona Williams, Miss Leslie and Her Juke Jointers, the Cornell Hurd Band, the Derailers, the Lucky Tomblin Band and Marti Brom.
Not bad for Chicago city slickers. The Hoyles will be playing the AWA awards show on Sept. 26 and then sticking around the Lone Star State for some other gigs, including a Sept. 29 date at Ginny's Little Longhorn in Austin, a cinderblock saloon that Judy calls "the Carnegie Hall of real country music."
2. Also on the Texas tip, there's a new entry from that state in that woefully under-populated category of Cool Country Songs With Witty Lyrics - Population: One. And the winner is . . . Jon Christopher Davis.
Davis recently returned to his home state after spending 10 years in Nashville as a songwriter for such mainstream acts as Billy Ray Cyrus and Dolly Parton, but after the birth of his daughter and getting frustrated with the "cookie cutter" approach of the major labels toward country music, he fled to make independent records. Judging from his clever writing on songs like "Cosmic Joke" - Like how is it he didn't inhale, but managed to take a toke? Like how did he win the election without the popular vote? - it's no wonder he gave up on corporate country.
The music for "Cosmic Joke" - and other equally interesting Davis tunes - was written by former Tom Petty drummer Stan Lynch. Davis has a new self-titled full length out that has "Cosmic Joke" as well as a track that's been getting some noticeable alt-country playlist attention called "Love Had Something Else In Mind." Check it out, if you like to laugh in your beer while you cry in it too.
3. Anybody who loved the Stray Cats in the 1980s and thought it was all over for them when Brian Setzer turned into a big band wacko ought to check out former bandmate Lee Rocker. The knock against the stand-up bassist soldiering on alone in the rockabilly purist vein was that he couldn't match Setzer vocally, but I challenge anyone to make that argument after hearing his new release Racin' the Devil on Chicago's Alligator Records.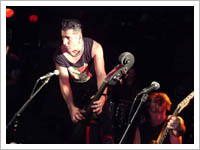 Rocker has worked hard to refine his singing, and he has succeeded to the point where he has surpassed the Stray Cats' groundbreaking discs of 20 years ago. Not only that, but his embrace of hardcore, psychobilly-ish licks has made for a reiteration of what it was we really dug about the Cats all those years ago - something approaching the dangerous wild abandon of rock 'n' roll that even back then was turning into a rare commodity. So much moreso today.
Before he appeared at the On the Waterfront Festival in Rockford this past summer, he told the Rock River Times that his signing to Alligator has produced a good situation for him, in which the folks at what is essentially a great blues label understood his long quest for rockabilly purity.
"We have a lot more in common than less," Rocker said. "It's music that, ultimately, comes from the same place. It's real American music, not made by machines but by people. It's about passion and realness."
Racin' the Devil is Lee Rocker's statement that the neo-rockabilly types who have found success in the past few years still can't hold a candle to the Original Cat.
Posted by Don Jacobson at 8:48 PM | Permalink
From the Doggie Desk: A Few Words About Jed
I have this dog, Jed, and life without him would be unthinkable, so, though he is a mannerly and not bratty dog, he is consequently extraordinarily spoiled. He does not wear clothes - I refuse to degrade him in this way. But he eats the best of foods, has the newest of collars (and leashes), and has more toys and treats than Baron Trump. He has a ratty bed that I would replace, but he just doesn't like other ones, and he sleeps with me at night, anyway, hogging at least 3/4 of the bed so he can stretch out.
We don't do walks because his idea of a walk is to pull my arm out of the socket, then the leash out of my hand. But he likes to keep fit, and his preference has always been the disc. He's getting a bit older, so his accuracy is not as great, but he used to be spot on - he could snag that thing every time. If we're at the lake, he'll dive underwater if it sinks until he's found it, which amazes me because he was terrified of water til he was nearly four after a fall into a walled pond as a pup sent him into a panic. He finds ball an acceptable substitute game, and if you're strong enough to play tug with the rope bone, you've got a friend for life (jaws of steel on this guy, I tell ya). Him, that is, not me.
They say you can always teach a dog obedience, like staying off the furniture, and so on, but my question is, "Why?" I like the way things are in my house. I have a good dog. My neighbors love him and give him treats. He scares off strangers and the super, both of which are good things. He's a snuggly, sweet guy who just wants love and proximity in return. My couch is pretty crummy, so what do I care if he lies on it? My bed has been his space since he was a pup, and I don't intend to give that up. And if some trainer wants to tell me that Jed's got me trained, and that he's the leader of my pack, well, that's a load of bullshit. Jed knows who the boss is. He listens well and does what he's told. "Stop barking!" means "Stop barking!" If he's really having trouble letting go, I switch to German (he's bilingual) and he knows he's really in trouble. Yet I've never hit him, or threatened violence against him. I'm just the boss, and he's kind of like my point man.
There's this new doggy boutique that's opened on Division between Western and Damen. They carry the food that I have a helluva time finding anywhere else, and good treats that last him awhile (they assure me they'll get Greenies so I don't have to go to more than one place for my doggy needs), and they carry fun toys, and clothes for you saps who buy into that, and leashes and collars and beds, and doggy ice cream, which is a favorite around here - Jed just tried Rockin Apple Ice Cream for the first time. Good stuff, apparently. And they've got these tubs so you can wash your dog with their special shampoo, and stay dry in a smock, and all kinds of other cool stuff.
Having a dog that you love more than you love life itself isn't cheap. It has its perks, though. Someone loves me, no matter what. For that, I can live on frozen Mac-n-Beef for some time to come.

Posted by Beachwood Reporter at 8:46 AM | Permalink
The Weekend Desk Report
Whatever happens this weekend, just remember that the terrorists are coming to kill us all.
Texas Hold 'Em
President Bush this week angrily defended his proposal for detaining and interrogating suspected terrorists, saying that the language of the Geneva Convention is too vague. The president took particular issue with Article 3 of the Convention, which prohibits "outrages upon personal dignity." Compliance with this statute, Bush noted, could dismantle the fabric of American college life.
Texas Try 'Em
The president's impassioned call to clarify the Geneva Convention came on the heels of his earlier attempts to shed a little light on another incredibly confusing, vague document. Sadly, as in previous weeks his pleas fell on deaf ears.
Texas Catch and Release 'Em
During the same press conference, President Bush commented on the current border control crisis. Stressing the need to stem the tide of illegal immigration, the president asserted that it is imperative to "treat people with dignity in this country." Given the inherently befuddling nature of such concepts, The Beachwood Reporter Weekend Desk has assembled a quick list of treatments that Mr. Bush apparently finds suitably dignified:
1. Water-boarding
2. Wrongful imprisonment and abuse
3. Lethal injection
Don't all storm the border at once, now.
Texas Holy 'Em
In happier news for the president this week, he appears to have found a rhetorical ally in his ideological war against Islamic extremists. And the strategy seems to be working every bit as well for Pope Benedict as it has for most of our other allies.
Posted by Natasha Julius at 8:32 AM | Permalink
September 15, 2006
Life at Work
I'm not really sure how to classify today. Yesterday I had that "get-up-n-go" attitude, but that might have had something to do with needing to get downtown and collect my pay. Today - Day Two of Life (Not) at Work - I didn't.
Today was a little more low-key. I'd planned to write a book review that I've long owed another publication, but I didn't get around to it. I had an awesome breakfast that was way too pricey for me but totally reasonable for how awesome it was. I slept in past nine, which is pretty cool. I trekked around the neighborhood to get my errands done, cos these beautiful days are going to be few and far between from here on out. I finally did some dishes and dealt, at least temporarily, with the ant invasion in my kitchen - I hate ants, I really do, but I think I hate the smell of Raid "Botanicals-With Natural Clove" even worse.
My laundry situation had become dire, so I got some quarters at the Currency Exchange over yonder and started on that task - no fun. The only decent thing about it is that one of the former hooligans that lived in the building figured out that the reason the dryer wasn't working was because the guy that collects the money hadn't locked the lock box, so you can just lift it up and press a button and voila! Free drying! Since it takes about eight times to dry a load of laundry, this saves a lot of money. I'd intended to totally clean my pad today - it's pretty bad, embarrassingly so. I swept a bit, but that was it. Maybe over the weekend. It's not like I have to be anywhere on Monday.
The job search isn't going well, due to the fact that (a) when I check every day, there's nothing new up that I actually want to apply for and (b) I'm either way overqualified or way underqualified for every job that looks remotely interesting. I got really psyched about one job until it turned out I'd have to join the Navy Reserves in order to do it. Yeah, right.
I'm considering a career as a private eye. Seriously. I'm not sure they'd consider me too seriously, but it's worth a shot.
I'm pretty glad my folks are vacationing in the Mediterranean right now. If I had their utterly well-meaning support at this particular moment, I would probably have to flee normal civilization and become a cave-dweller. My mom is one of those "Why don't you do such-and-such? That's what so-and so did. You remember so-and-so? And that's just worked out great for him" people. She means well, but you end up feeling like the biggest loser on earth because everyone she knows, or their kids, have achieved everything they've ever wanted and, well, I just "don't fit in." My dad is one of those totally reasonable, rational people until I say something like, "I think I'm going to apply to be a private eye." Then he totally loses his shit, sputters unintelligible gibberish, and is usually forced to either hang up or hand the phone off to my mother.
Anyway, today was pretty much a write-off. I decided a nap was in order around two and didn't wake up til my dog decided it was time for some Frisbee. Now it's time for dinner and I just realized I forgot to go to the store. Looks like frozen pizza again!
J. Bird is the Beachwood's pseudononmyous workplace affairs correspondent who, shortly after beginning this column, because unemployed. Now J. Bird is also the Beachwood's pseudononymous unemployed affairs correspondent. You can catch up with Bird's travails at the Life at Work archive.

Posted by Beachwood Reporter at 5:34 PM | Permalink
What I Watched Last Night
A little Animal Planet can go a long way, especially when there is nothing else on. Every time there is a whole bunch of nothing on the television set I flip through all the channels on an endless search for something to occupy my time. Typically, I find the usual nonsense on Fox News, some CSI-type show on Discovery, and the regular C-SPAN stuff that is truly a bore. Then there is a flickering light, this little light o' mine, this thing called Animal Planet.
I watch this channel for about an hour every day. Last night I watched a documentary on penguins. Penguins are a fun sort of creature, God's cruel joke, wings and can't fly? What a crock.
I came to watching this feature when I saw a penguin walking on thin ice and falling face first through a weak spot. I found this hilarious. Watching anything fall without knowing it is going to fall is funny. Call the funny police, TBS. Speaking of that, TBS's "knowing funny" commercials that is, those commercials are really pompous. What gives TBS the right to determine what is and isn't funny? They have funny shows on but they also have really unfunny shows on.
For instance, Friends. I hate this show. I never liked this show. Let me examine a re-occurring plot. All the "friends" are sitting in a coffee shop making fun of the dumb blonde one; she says something stupid and the dumb Italian says something even dumber. The wise-ass mocks both of them, gets hit by the poor hottie, then the poor hottie is ridiculed by the quasi-hottie. The tool of the show comes in with another sob story. There you have it, I just wrote the outline for every Friends episode ever made. Friends is not funny.
By using the transitive property (I just used math in real life!), if Friends is not funny and TBS airs it and is the self-proclaimed funniest network on television, then TBS is not funny. Animal Planet has more room to claim the funniest network on television because of that falling penguin.
Honestly, I would never get bored watching some dumb-ass penguin bite it over and over again. Come to think of it, I would rather watch the cast of Friends bite it on some thin ice. Now that would be funny.
Posted by Beachwood Reporter at 9:26 AM | Permalink
The [Friday] Papers
Yes, this makes perfect sense. A couple years ago, union leaders held a secret meeting in order to determine how best to screw Chicago's poor African Americans. Out of that meeting emerged the big-box ordinance. "Let's threaten higher wages and better health care!" one union leader proposed, according to sources close to the situation. And their hateful plan worked perfectly until Super Mayor Daley of the Racial Justice League stepped in to save the day. Thank God we have the intellectual giants who make up the Sun-Times editorial board to help us navigate a complex world with reason and clarity.
Contrary Mary
Good God, Mary Mitchell, you too?
"If Daley is wrong about the union's motives," Mitchell writes, "then why wasn't this an issue when so-called big box stores went up in predominantly white areas of the city?"
I'm not going to even dignify that with an answer. The mayor is having a good laugh right now - at your expense.
Speaking of which . . .
Laughingstocks I
Is it true that the foie gras ban has made Chicago a national laughingstock? Eric Zorn does the work so I don't have to.
Laughingstocks II
The mayor's press secretary, Jackie Heard, whose salary is paid by the very taxpayers whom she is charged with spinning, says the foie gras ban "is not placing the city in a very positive light nationally."
As opposed to this. Or this. Or this.
Laughingstocks III
"I think that was one of the silliest, silliest decisions anyone made," the mayor said on Thursday about his brother and other top aides of his attending a fundraiser for his convicted former patronage chief Robert Sorich. Er, I mean regarding his rejection of police beat deployment that would move cops to where crimes occur. Er, I mean, regarding a new proposal to overturn the ban on the torture of animals to provide a delicacy enjoyed by a handful of rich people.
Laughingstocks IV
"Just think," the mayor says, "you'll go down every ethnic food in the city, 'Outlaw, outlaw, outlaw, you can't eat this, you can't eat that.'"
First they came for the Duckists, and I did nothing because I was not a Duckist . . .
Aflac Ghraib
It is gutsy, though, of the mayor to come out in favor of animal torture in an election year.
The Burt & Bernie Show
Ald. Bernie Stone (D-Bellevue) says the foie gras ban must be repealed in order to "restore our credibility."
Ald. Burt Natarus (D-Luded) says "I was also talking to a lot of animal welfare people, and they really don't think it is that much of a problem."
Daley Dose
"Now they realize that you can eat it at home. You go to a restaurant. You can't buy it, but they can put it on your salad. You buy the salad for $25, but the foie gras is not charged. Does that make any sense?"
Um . . . no. I have no idea what you're saying.
Breaking News
In a break with traditional journalism values, Sun-Times news reporter Shamus Toomey also works part-time for the paper's marketing department - and for no extra pay. Today, Toomey's extracurricular press release "Bears Mini-Footballs Debut: Sun-Times' Latest Collectible Series Features '06 Team" appeared in the paper under the section label "News" in an effort to fool readers into thinking they were reading an actual news story. Sources say Sun-Times reporters from now on will be called advertorialists.
Also, at an upcoming panel Toomey and his editors will discuss the formative journalism training they received at the Mayberry Post.
News Break
"Bears Mini-Footballs Debut."
- 528 words, page 14
"Media Ownership Study Killed, Ex-FCC Lawyer Says"
- 251 words, page 22
Cattle Prod
"Electric Bills To Soar: 25% Jump Estimated As A Result Of Illinois' 1st-Time Power Auction."
The added revenue will go to pay for ComEd's recent ad campaign warning of higher rates.
The Market Works
"When deregulation was contemplated in the 1990s, regulators believed competition from providers of electricity would drive down prices for consumers," the Tribune reports. "But that competition to sell power directly to consumers never appeared, and the auction was chosen by regulators in the hope of obtaining the cheapest electricity possible."
Apparently re-regulation wasn't considered. Nor was eBay.

Futile Resistance
I don't think it would violate my self-imposed moratorium to point out that a reader sent me this link, perhaps in order to test my resolve.
Rock Block
"Every time Gilby Clarke or Jason Newsted would wax philosophical about songwriting and vocal performance, I just had to giggle," Tribune TV critic Maureen Ryan writes. "I mean, who are these guys to dispense advice on . . . anything? Clarke's most famous for being fired from Guns n' Roses, and Newsted was in Metallica . . . for a while."
Fourteen years! In one of rock's most influential & popular bands!
- Tim Willette
Watching The Watcher
We're better.
The Real Meaning of 9/11
0.8181818181818181818181818181818181818181 . . .
- Tim Willette
Gas Tax
"After a summer of sky-high oil prices at or well above $3 per gallon, the trend is reversing course," the Tribune reported this week. "Gas is now about 45 cents per gallon cheaper on average than a month ago, bringing gas guzzlers out of the garage."
Huh. Did someone change the tax rate without us noticing?
In the Reporter
* Tired of the foie gras fight yet? If not, here's a primer.
* Are the Bears the real deal? Track the hype all season in The Blue & Orange Kool-Aid Report.
* It is altogether fitting that the Beachwood's secret workplace affairs correspondence has already lost his/her job. It is also altogether fitting that Life at Work continues anyway.
* Catch up on your missed Papers and our fabulous Weekend Desk Report.
* We're still accepting money.
The Beachwood Tip Line: No one has to know
Posted by Beachwood Reporter at 8:07 AM | Permalink
September 14, 2006
Dusty Must Get Fired
The two most enduring images of this Cubs season are the pop fly that bounced off the top of Aramis Ramirez' head and Mark Prior doing towel drills. The most enduring sound - besides the early-season boos of Jacque Jones - is Tom Latourette's "Dusty Baker, You Must Get Fired," first heard on the Loop and now brought to you by The Beachwood Reporter.
NEW VIDEO ADDED BELOW ON SEPT. 4, 2008!
But first, a few words.
It is altogether fitting and proper that we should present this. We cannot dedicate, we cannot consecrate, we can not hallow, the ground of Wrigley Field. The brave men, living and dead, who struggled here, have consecrated it, far above our poor power to add or detract. The world will little note, nor long remember what we say here, but it can never forget what Cubs fans did here. It is for us the living, rather, to be dedicated here to the unfinished work which Cubs fans have so long sought.
They shall not have rooted in vain. We can only hope that the Cubs shall have a new birth of freedom - a future without Andy MacPhail and Jim Hendry and Dusty Baker and, yes, without the Tribune Company. Instead, we work for the advancement of a Cubs franchise of the fans, by the fans, and for the fans; a franchise that shall not perish from the earth without winning a World Series.
Now get the hell out of here, Dusty, and take your stumblebums with you.
Dusty Baker, You Must Get Fired
Lyrics by Tom Latourette
Tinkers, Evers Double Play
Charlie Metro, Hank O'Day
Bresnahan, Vukovich, Good Kid Lou Boudrou
Joe McCarthy, Hornsby, Jimmie Wilson, Lucchesi
Jim Marshall, Fred Mitchell, Amalfitano
Killifer, Stan Hack, Cavarretta, Harry Craft
Hartnett, Kennedy, Zimmer, Altobeli
Essian, Charlie Grimm, Lou Klein, Bruce Kimm
Lacheman, Riggleman, You came here 2003
Dusty Baker, You Must Get Fired,
Join this list of losers, made Chris Speier a boozer
Dusty Baker, You Must Get Fired,
We need to stop our bitchin', start a new tradition
Tappe and Tom Trebelhorn
Durocher before I was born
Gene Michael, George Gibson, Charlie Francis Fox
Rabbit Marranville, Jim Frey, made us ill
Lee Elia screamed Cub fans all suck &%$% . . . AND PRINT IT!
Frankie Frish and Herman Franks, Preston Gomez, you all stank
Robert Sheffing, Don Baylor, Whitey Lockman, Lefevbre
Himsl in '61, Please tell me all this losing's done
From the West, Came the Best, Supposed to be our Saviour
Dusty Baker, You Must Get Fired,
All your toothpick chewing, don t know what you're doing
Dusty Baker, You Must Get Fired,
There is no more trusty, in this dude called Dusty
Juan Pierre can't get on base, Barrett punched Pieryzinski's face
Maddux, Hall of Fame, these Cubs years will cause him shame
Mark Prior, Kerry Wood, In simulated games they're good
Baseballs give them pain, go soft toss a towel again
Derrek Lee, broken wrist, two months on disabled list
Your boy Neifi Perez, fly ball off Ramirez head
Sac Fly, two runs score, Dempster pitching, gives up more
Ron Santo with no legs, could surely play for us instead
Dusty Baker, You Must Get Fired,
There's trash on the field, think your fate is sealed
Dusty Baker, You Must Get Fired,
There is no more trusty, in this Dude called Dusty
First year, gave us hope, put that noose around our throat
Marlins, playoffs, 5 outs left to go
Steve Bartman, in the stands, foul ball went right through his hands
8 runs later, your Cubs complete the choke
In '04 we're looking fine, Cubbies lose seven of nine
October Day, White Sox play, what else do I have to say?
Dusty Baker, You Must Get Fired,
Mets get 2 grand slams, this year is such a sham . . .
Dusty Baker, You Must Get Fired,
You are out of luck, cause these Cubbies suck, they suck, they suck . . .
Dusty Baker, You Must Get Fired,
You are at the end, grab some bench, my friend
Dusty Baker, You Must Get Fired,
If you don't get canned, I'll be a White Sox Fan
Dusty Baker, You Must Get Fired,
The Cubbies may be cursed, but you are the worst . . .
Dusty Baker, You Must Get Fired,
You can't see the plate, you have sealed your fate . . .
Dusty Baker, You Must Get Fired,
There is no more trusty, in this Dude called Dusty . . .
Posted by Beachwood Reporter at 7:49 PM | Permalink
Life at Work
After originally saying I would work through my severance period, I came to my senses and realized that I damn well deserved a couple of days off to mope, and a couple of weeks off to look for a new job. In a short while, I will go in to collect my severance check, which will hopefully pay a few bills.
I have, to date, sent out more than a dozen resumes online, but I've heard these online resume dealies don't often come through. It's all about networking, and, being a total introvert, I may be screwed. I know about 15 people in the City of Chicago, and I'm related to seven of those. Maybe I should have attended some of those alumni events after all.
I tried sleeping in, but both my dog and my biological clock wouldn't let me. I will try again tomorrow.
I have a shit ton of laundry and dishes to do, and ants seem to be invading my apartment, which is an issue that I need to take up with the management, but since they don't respond to any other issues, I hardly see them caring about a few ants.
Plus the bozos who do building maintenance around here were clearing out an apartment and turned it into a free-for-all - random people wandering in and out, taking with them whatever they wanted. Nice, huh?
Anyway, I went into the office around two to pick up my severance. Boss showed up a few hours later. He said I threw him for a loop, deciding not to actually work now that I'd been told I didn't "fit in,"but it was my choice. I guess he really did think I was as dumb as I thought he thought I was.
Once I had the cash, I went on a little spree. Nothing huge, but a pick-me-up. Kicked ten bucks to James, this homeless dude I keep an eye on downtown. We're not really tight, but he'll talk to me, and he doesn't even really look anybody else in the eye. Figured it might be the last time I see him. Looks like he may be getting a bed at the Y in the 'burbs, and I won't be in the Loop anytime soon. Did some shopping at the Turkish market in Daley Plaza. Stopped by a couple stores I like on the way home. Got some treats for my dawg. Still haven't had a chance to get that badly needed haircut, but whaddya gonna do?
Now it's time to pay the bills and see what's left and how I'm going to live for the forseeable future.
J. Bird is the Beachwood's pseudononymous workplace affairs correspondent. And now our pseudononymous unemployment affairs correspondent. Follow Bird's travails in this space daily; catch up on what you've missed in the Life at Work archive.
Posted by Beachwood Reporter at 5:56 PM | Permalink
What I Watched Last Night
I am not going to lie; I did watch television last night. I want to write about what I watched last night. But I had a little mishap involving a knife last night, so I am operating with a bit of a handicap this morning, typing a little slower than usual. I would like to explain, because this was not a cooking accident, nor a hunting accident. It was a MacGyver accident.
A MacGyver accident is an accident easily solved with whatever is at hand - usually household items - and a little ingenuity. I had one of those.
I moved into a new apartment about a month ago and I enjoy it. I also enjoy the little things in life. I like a bar of soap in the morning to be solid instead of soggy. A soggy bar sits in water throughout the night and a solid is in a dry habitat.
When I moved in I made a soap dish out of an old Tupperware lid. It works great - no more soggy soap. I don't have a dustpan so I use the back cover of an old notebook. Now I can afford a soap dish and a dustpan, but where is the fun in that?
Two nights ago I cracked; I had had it with my toothbrush storage method. It sits in the medicine cabinet and takes up way too much room. Something needed to be done. My bathroom features a toothbrush holder but the slots in it are too small for my Oral B. Having this luxury go to waste has bothered me for the last few weeks because I want to take advantage of it, and I think it looks pretty slick to have toothbrushes hanging rather than laying.
So I hatched my plan for a hanging toothbrush. I figured that I could cut a Tupperware lid to fit over the existing toothbrush holder and cut proper holes in it for a toothbrush. Flawless plan so far. So yesterday, after making the proper measurements, I began to cut the lid - as well as the tip of my left index finger, drawing blood.
I tried to fashion a bandage out of toilet paper and soon realized that was not sufficient for the amount of bleeding involved. I then held the wound together in order for the blood to coagulate. I applied some Neosporin and a bandage and, presto, the blood stopped.
I finished making the rig and it works wonderfully. Sometimes I impress myself with the amount of physical pain I can take and still function normally. I was on the verge of losing consciousness due to blood loss out of my quarter inch gash and yet I was still able to finish my task.
I wish MacGyver was still on.

Posted by Beachwood Reporter at 9:57 AM | Permalink
The [Thursday] Papers
In "The Real Story Behind The Armitage Story," syndicated Sun-Times columnist Robert Novak writes that critics of the president "cannot fit Armitage into the left-wing fantasy of a well-crafted White House conspiracy to destroy Joe and Valerie Wilson. The news that he and not Karl Rove was the leaker was devastating news for the left."
Novak then proceeds to tell a tale that precisely fits Armitage into that "left-wing fantasy."

"First, Armitage did not, as he now indicates, merely pass on something he had heard and that he 'thought' might be so," Novak writes. "Rather, he identified to me the CIA division where Mrs. Wilson worked, and said flatly that she recommended the mission to Niger by her husband, former Ambassador Joseph Wilson.
"Second, Armitage did not slip me this information as idle chitchat, as he now suggests. He made clear he considered it especially suited for my column."
By Novak's account, Armitage was a man on a mission. Novak notes that in all his years in Washington he had previously had no contact with Armitage; in fact, for two-and-a-half years Armitage had rebuffed Novak's interview requests "summarily and with disdain," Novak says.
Then, out of the blue, Armitage sought a meeting with Novak. In that meeting, "he had told me unequivocally that Mrs. Wilson worked in the CIA's Counter-Proliferation Division and that she had suggested her husband's mission," Novak writes. Armitage intended for Novak to include this information in his column, Novak adds.
Not only that, but Valerie (Plame) Wilson wasn't just any ol' counter-proliferation specialist, she was the chief of the CIA's Joint Task Force on Iraq "frantically toiling away in the basement, mounting espionage operations to gather information on the WMD programs Iraq might have," according to David Corn, co-author with Michael Isikoff of Hubris: The Inside Story of Spin, Scandal, and the Selling of the Iraq War, where Armitage was first identified as Novak's primary Plame source.
Corn today raises some good questions about Novak's latest account, particularly about Novak's previous characterization of the Armitage leak as off-hand. Novak's editor at the Sun-Times, Steve Huntley, the paper's editorial page editor, wrote recently that "it was a casual disclosure, resulting from the daily give and take between government officials and journalists that is as common in Washington as the capital's steamy summers."
That's not how Novak describes it today; Either way, though, no matter what right-wing fantasists want to believe, even Armitage's version of events does not take the White House or Karl Rove off the hook, as Corn and Isikoff explained last weekend on Hardball (segment low in transcript).
David Broder recently wrote that the media owes Rove an apology for suggesting he had a dark role in the Plame affair. Perhaps he should lead the apology parade. The revelations of Hubris include these:
"* Richard Armitage, the deputy secretary of state, was the original leaker in the CIA leak case. But as he was disclosing information to columnist Robert Novak, Karl Rove, Scooter Libby and other top White House aides were engaged in a fierce campaign to discredit Joseph Wilson. Rove even told MSNBC anchor Chris Matthews that the Wilsons "were trying to screw the White House so the White House was going to screw them back."
"* Karl Rove and his lawyer did not turn over a critical piece of evidence in the CIA leak case (a document covered by a subpoena from the special prosecutor) for nearly a year."
Former Tribune editor Jack Fuller last week also used the book's revelation of Armitage as leaker to state that "The premise that the administration was willing to give up a spy for narrow, vindictive political ends fell apart."
Apparently Fuller hasn't read any other parts of the book, nor paid attention to the television appearances of Corn and Isikoff.
Will Fuller apologize and correct his error?
Likewise, Steve Huntley picked up on Hubris's Armitage reporting to declare the Plame Affair easily and innocuously solved in the White House's favor.
I'll await his apology, too, as well as the column he writes upon educating himself on the rest of what Corn and Isikoff have found.
Big Box Bollocks
Suddenly, we have a new contender for the biggest box of bollocks yet in the debate over the now-vetoed big-box ordinance: George Will.
Or at least the weirdest.
Will opens his column with an anecdote that seems to imply that the Wal-Mart in Evergreen Park rejected a Chicago woman's job application because she's African American. But Will isn't so concerned with that - he says the fact that the woman still shops there because of the store's low prices shows just how great Wal-Mart is!
Will goes on to write that when the store was first built, it received 25,000 job applications for 325 openings, "which vexes liberals like John Kerry." Well, maybe what's vexing is that the economy is in such poor shape that 25,000 people are applying for 325 openings at a store whose wages and benefits cannot be accurately described as "competitive."
It's not as if 25,000 people applied for 325 jobs because Wal-Mart has a reputation for being a great place to work.
It gets weirder.
"By lowering prices, Wal-Mart costs about 50 retail jobs among competitors for every 100 jobs that Wal-Mart creates," Will writes.
So . . . Wal-Mart succesfully eliminates higher-paying jobs for lower-paying jobs. And that's a good thing?
"Wal-Mart and its effects save shoppers more than $200 billion a year," Will continues, "dwarfing such government programs as food stamps ($28.6 billion) and the earned-income tax credit ($34.billion).
Aside from ignoring the additional social service costs borne by taxpayers because of Wal-Mart's low wages and poor benefits, Will seems to be arguing that the solution to poverty is low prices.
Will then objects to efforts like the big-box ordinance that would force higher wages on the company "than those that already are high enough to attract 77 times more applicants than there were jobs at Evergreen Park's store."
But higher wages would attract even more applicants. Wouldn't that impress Will even more? Or should the company lower wages until only 325 people apply for 325 openings?
Race Is On
Mayor Daley has accused those supporting higher wages and better health care for African American workers in areas where big boxes want to build as being racists, in a clever blunting of the allegation that could be made against those striking down the big-box ordinance that they believe poor working minorities deserve something less than a living wage.
John Kass writes today about the mayor's brilliant racial maneuver. But if those calling into "The Roland S. Martin Show" yesterday are any indication, the mayor's race card has angered a great many African Americans. And Mark Brown writes today that (African American) Ald. Toni Preckwinkle (4th) "thought she saw something sinister in the way the issue has split opinion in the African-American community, suggesting without explicitly saying so that perhaps it had been done intentionally in anticipating of the upcoming election."
Ald. Tom Allen (38th), who is white, "wondered aloud about a 'Karl Rove-type spin job' intended to polarize city residents," Brown writes.
Meanwhile, Ald. Danny Solis (25th), one of the three aldermen who switched their votes to uphold Daley's veto, says he has noticed that "many of those" who union leaders say they will now target in the next election are African American and Hispanic.
Solis doesn't seem to have noticed that the aldermen being targeted by labor happen to coincide with the names of those who voted against the big-box ordinance, not a list of African Americans and Hispanics.
Pocket Rocket
The penis bomb case has been resolved, but I know there's one question many of you still have. Here's the answer.
The Beachwood Tip Line: No artificial enhancements needed.

Posted by Beachwood Reporter at 9:10 AM | Permalink
September 13, 2006
The Blue & Orange Kool-Aid Report
In the last installment of Over/Under, I likened Week One to Christmas. Well, Bear fans are not only enjoy playing with their toys, but they are rubbing it in the face of the neighbor kid - after the neighbor kid predicted "You are too poor to get a good toy." Oops.
So as you can imagine, a few of my friends sent me e-mails about how brutal I am. Some friends took time out of their busy schedules of being a calf fries salesmen and Bush Conspiracy Generators and posted on the forums. Yet another sent me a note immediately the game saying how bad my picks were. That note was the least productive of them all. It was like saying "Iraq was a bad idea." It's easy to dismiss a critical look before it happens, then rail against it afterwards. Can I have more of "Hindsight is 20/20" for $1400, Alec?
As I mentioned in the current Over/Under, I didn't realize Chicago was playing the UW-Green Bay Phoenix last week. My mistake. I didn't realize this until the Bernard Berrian TD, after which I rushed to the UW-Green Bay website to confirm my suspicions.
The greatest thing you can say about the Bears is that their Athletic Director did a fine job scheduling the Phoenix for Week One to provide a confidence boost, to be followed this week by the University of Detroit.
Let's take a look.
Plusses for Chicago:
1. Hurray for us, we are big kids now!
Gained 361 yards on offense. Allowed 267 yards on defense. One punt returned for a TD. Robbie "Neil Rackers" Gould converted all four attempts. Only punted four times at 47 yards/punt. As I recall, all four punts were in the second half while Chicago went into "Operation Shut Down".
2. Wax on, Wax Off. Balance important grasshopper.
Chicago did not need five RBs to carry the ball 40 times each. 36 rushes and 27 pass attempts. I don't have the first half stats, but I'm guessing the split was more 50/50 for the first half.
3. Let's get those nerds!
Remember how the Nerds in Revenge of the Nerds overcame all odds and defeated Stan Gable, Ogre, and the rest of Alpha Betas in the Fraternity Olympics? Sure, the Nerds had the javelin specifically engineered to Lamar's limp wrested throwing style; at the end of the day, the Abs played down to the level of the Tri-Lams. Chicago got those nerds. Nerds!
Minuses for Chicago:
1. What is this foreign land you speak of?
Something tells me Lovie was very concerned about moving the ball, so much so, they forgot what to do when they actually got close to the end zone. Once the Bears reached the 30-yard line, all that could be heard over the helmet speakers was the sound of crickets. The Bears solved this once by throwing it over the 30 and not even bothering with the red-zone offense. The other four times they got near, Chicago kicked field goals. Some days, the 70-yard TD pass or big return won't be there.
2. You see Bob, it's not that I'm lazy, it's that I just don't care.
Okay, here is a point on which I'm sure I will divert from the Kool Aid nation: The Bears did not seem to really care. If I were a Bears fan, I really want to see a statement against a bitter rival. Last year, the Steelers defeated the Newer Cleveland Browns 41-0. I loved every second. The year the Old Cleveland Browns won the Super Bowl (meaning the Baltimore Ravens), they crushed Kent Graham and the Steelers a whole bunch to nothing. That game still unnerves me. All I'm saying that you hate to see that lack of caring against a new, better opponent. To put it in perspective, does it bother you that your front four produced only one sack?
3. Who did we really play? A Division-II team?
On the flip side, I watched the Detroit Titans nearly defeat the Seahawks. As impressive as that sounds, Seattle showed very little in terms of a running game. One might say "Sure, it was due to the Lions defense." Given that Seattle dealt for Deion Branch, I'm guessing it was a lack of firepower, rather than Detroit skill that netted Seattle nine points. Detroit showed half of a good game; Detroit's defense tended to be around the ball constantly, and Detroit's passing game avoided it at all costs.
I'm beginning to buy into the theory espoused by Kenny the Packer fan when he said "The Bears are built to defeat bad teams, and lose to good teams." Detroit is not a good team, just barely better than a bad team. Chicago will still have trouble scoring TDs. By Week Eight, they might need to put Robbie Gould on a kick count.
At the end of the day, the lack of motivation and red-zone offense keeps Detroit within sniffing distance, again. The Bears start the year 2-0, and the fun begins Week Three against Captain Stuebing and the rest of the crew.
Pick: Lions +8, under 32 points
For a Bears win:
Sugar in The Blue & Orange Kool-Aid: 85%
Recommended sugar in The Blue & Orange Kool-Aid: 65%
Posted by Beachwood Reporter at 5:18 PM | Permalink
Over/Under
It's always good to hone one's skills, and given that the midterm elections loom just weeks away, I must work to master a very important skill: Pandering. Pandering to Chicago. Pandering to Chicago more than Jim Belushi.
In the Kool-Aid forum, "Da Mangler" (who also happens to be a friend from high school, and yes, my mom was unavailable for comment) stated I have no love for Chicago. Mangler suggested I combat this by bringing some love and joy into my life to restore my judgment. I have decided to follow his advice.
I am not a native Chicagoan, so to make this totally accurate, I picked some personalities that Chicagoans such as yourselves recognize, in the hopes that you can relate to me through their stories. I further cut the list to those with some limited connection to Chicago, much like how I have a limited connection to Chicago. The final three: Geraldo Rivera, Dave Wannstedt, and this guy. At the end of the day, though, I want to limit this to a comparison between Rivera and Wannstedt, given that the Super Fan is incredibly beloved, but also sports a faux smarmy mustache.
Say what you will about Geraldo Rivera, but the man is a genius. No, the genius is not sporting a ridiculous, smarmy mustache, or inviting people into the vaults of Al Capone. Sure, men like Dave Wannstedt also hold distinction in the creepy mustache field. And truly, many people throughout Chicago treasure the 'ol soup strainer, perhaps believing fashion rotates to the mustache once every 15 years.
No, it's not the mustache. It's the way Geraldo so effortlessly inserts himself any exploitable story. The way I've done here.
What makes Wanny such a Chicagoish role model for me is how he always found new ways to lose football games. I got that one down cold last week.
So now I must decide how to address my 1-5 performance last week. Because I am genetically unable to grow the smarmy mustache, I must consider the other talents of my mentors. Do I insert myself into the story with over dramatization and hyperbole like Geraldo? Or do I continue plugging away week after week, asking all of you to hang in there, and at the least, provide humor at my own expense like Wannstedt? Clearly, I've choosen the latter.
Here is where I went right: Pittsburgh/Miami played poorly on offense for one quarter. Seattle/Detroit was as close as I predicted. What I did not know was that Chicago played UW-Green Bay. I won't make that mistake twice.
Ah, we'll be OK. We're flyin' to Week 2.
Over-Hyped: Washington at Dallas, Sunday September 17, 7 p.m.
This ought to be the least entertaining of the three non-Bears games on broadcast TV here this weekend. Sure, if you watch the NBC promos, you will see George Allan's epileptic fit. You will see Tom Landry. And you will see too many shots of Terrell Owens. As troubled Cowboys go, why can't we see Hollywood Henderson snort coke out of a vial?
What you will see come game-time is the Redskins defense stuffing the Cowboys running game, and Drew Bledsoe needing a transfusion by the second half. Pair this with the Redskins' patient, above average running game, and Washington covers easily in a game easily missed.
Pick: Washington minus 6, under 37 points
Under-Hyped: Pittsburgh at Jacksonville, Monday September 18, 7:30 p.m.
Well, the choice among locally-televised game was either this or Kansas City at Denver. Given professional bull riding looked better than KC at Den, the only other game is the Beloved at Jacksonville.
You might think, "The better game is KC at Denver. It's an AFC West showdown." Well, with Damon "Holy Crap They're Actually Letting Me Play" Huard at QB, KC should snap the ball directly to Larry Johnson instead. With Jake "Would Somebody Let Him Take The Final Turn At Arlington, Break His Leg And Finally Put Him Down" Plummer, you will see little out of the QB position for the home team, too. Expect a lot of handing off to the Bronco RB du jour, and a bunch of Plummer bootlegs.
How about a game with exciting finishes? How about a game with a Steelers team rallying from 17 down to come up a little short late? How about seeing a team record rushing performance from Fred Taylor? How about an overtime TD pass from the Steelers' Tommy Maddox to the Jags secondary to cinch the victory?
After the last meeting, Jacksonville players suffered from diarrhea of the mouth. Look for a quote from Joey Porter in return. Every game between these two tends to be physical. Both offenses sport a balanced attack. Both defenses pressure the QB. If history is a guide, Jacksonville will come up with the big play to squeak out the victory. Even with Charlie Batch at QB, Jacksonville cannot expect the three turnovers they got from Dallas.
Plus, you guys are not quite sick of the Steeler Nation yet. After Monday, you will get sick of it. Here we go Steelers, here we go!
Pick: Pittsburgh (pk), over 36 points
Posted by Beachwood Reporter at 4:33 PM | Permalink
Life at Work
Okay, Bird's in a real pickle. While your feathered friend didn't get "fired" or "terminated" (the boss' words), I will, in the shortly forseeable future, be forced to find other employment, mainly due to not being the "right fit".
This could be a marvelous thing. On some levels, I'm elated. But on the levels that have to do things like pay the bills, and find a new job, and so forth, I'm definitely saying "Oh, fuck."
We put up with a lot of shit at work. But work is, ultimately, better than no work. And not just because we'd rather stay home and watch TV and surf the Net and travel around and meet interesting people. Work is good because it pays at least some of the bills. It sucks that there's a bottom line, but we eventually have to grow up and realize that the piper (and Comcast and SBC and ComEd and the rental company and People's Gas) have to be paid or they get pissed off and turn off your services and kick you out of your house.
I'll probably never meet the person the boss finds who is the "right fit." I imagine it'll have to be a pretty passive individual who cranks through work like a machine. No play and all work. No thanks.
In the meantime, I'll be on the prowl for gainful employment somewhere that pays reasonably well and is a little less, well, intense, to put it nicely. And you can continue to follow my travails right here, even if I have to briefly write about Life Without Work.
J. Bird is the Beachwood's pseudononymous workplace affairs correspondent. You can read the Life At Work archive here.
Posted by Beachwood Reporter at 3:38 PM | Permalink
What I Watched Last Night
Word Wars is a documentary about four Scrabble players on their way to the National Scrabble Championship in San Diego. Scrabble is a crossword game and a fun one at that. However, playing at the national level takes a considerable amount of skill and personal problems.

Each one of these men know every two- and three-letter word in the English language. For instance, who would know that xu, aa, eh, and ka are all playable words on a Scrabble board? They would. They also know all the "Q" without "U" words like: qoph, qintar, and qwerty.
Memorizing the dictionary is something to strive for among Scrabble players, and so is figuring anagrams as efficiently as possible.
Another part of being a National Scrabble player is to have some sort of physical or mental condition. Each of the four players displayed some interesting habits throughout the film. One man, G.I. Joel or Gastro Intestinal Joel, had problems with acid reflux and had to chug Maalox on a regular basis. G.I. Joel sported a shirt that displayed his name, as well as suspenders and pants up to his mid-belly. Round thick-rimmed glasses and a bald head accentuated his "out-of-the-norm" status.
Another man named Marlon was a self-proclaimed Ghanan though he was actually from Brooklyn. Ghana does not recognize, or, most likely, even know who Marlon is.
Marlon blames the Western Europeans for his income level and his inability to earn more. Right or wrong, he does not earn that much and his marijuana habit does not help his cause. Marijuana is a funny thing in Marlon's life. He gets angry at his Scrabble life and smokes to feel better about it.
Two other men are featured in Word Wars. The Zen Master of Scrabble practices Zen and Tai Chi before, during, and after his matches. The remaining featured player literally took hundreds of mind-enhancing pills to improve his play. He has a ring below his lower lip.
Everyone in this documentary is a little nuts. It's funny how a little game can become an obsession. The National Scrabble Championship pays $25,000 to the winner - a pretty handsome sum for all of these folks.
I guess the message of this documentary is simple: Life is a game. And the players are, well, merely players.

Posted by Beachwood Reporter at 9:17 AM | Permalink
The [Wednesday] Papers
Whoa. Does Mayor Richard M. Daley really think those who support the big-box ordinance are racists whose motivation is to screw black people out of shopping options?
"It was all right for the North and Southwest Sides to get big boxes before this," Daley thundered on Tuesday in defense of his veto of the ordinance. "All the sudden, when we talk about economic development in the black community, there's something wrong."
The papers played it straight, as if this was a reasonable position. "Daley: Race Spurred Big-Box Effort," the Sun-Times headline reads. "Not An Issue Until Stores Went To Black Areas?" the paper wondered in its subhead.
The headline on the Tribune's report: "Daley Sees Race In 'Big Box' Debate."
This shouldn't be left to pass. The mayor is accusing an awful lot of people of being racists - approximately 84 percent of the city's registered voters - in an election year.

If the mayor really believes this, his intellectual capacity to lead the city ought to come into question. If he's just playing cynical politics, he should be called on the carpet for it - making racial accusations for political gain is more offensive to blacks than whites, because it is they who are being exploited and played for fools. It's disgusting, and Daley should be pressed on it. After all - right or wrong - supporters of the big-box ordinance are the ones fighting for higher wages for the workers in the neighborhoods where the stores would be built.
Daley Dose
"Daley has not said whether he will seek another term," the Tribune notes in its report, "although, as this paper has reported, he has removed the chief executive of the Chicago Housing Authority from his job in order to run his re-election campaign."
I added the second part.
Ald. Ignoramus (D-Daley)
Shirley Coleman's ascension to the top of the aldermanic idiot list didn't last long. Ald. George Cardenas (12th) now wears the crown.
Even in the annals of aldermania, few have appeared as lame as Cardenas did on Chicago Tonight last night as he explained why he was changing his position on the big-box ordinance and supporting the mayor's veto.
It seems things have changed in the six weeks since he thought the ordinance was a good idea. The local economy has suddenly gone to pot. And he realized supporters of the ordinance are hypocrites.
Pressed by moderator Phil Ponce, Cardenas finally acknowledged that the only thing that had changed was that the mayor told him how to vote. "If you believe in your heart this is best for Chicago, I will support you," Cardenas says he told Daley. "Chicago has never looked better . . . we second-guess the mayor on so many other things."
Yeah, I know. It gets better.
"I'm an independent-minded individual," Cardenas pleaded. "I'm educated. I can make my own decisions."
True enough. Deciding to let the mayor make decisions for you is still making a decision.
Two-Faced
Like Daley, Cardenas also accused organized labor leaders pushing the ordinance of racism, citing figures of low minority membership in various union locals. The segment ran out of time before he had a chance to mention the paltry number of minorities who get city contracts or white pals of the mayor posing as minorities and women to get minority contracts.
Classic Cardenas
"Unions should be talking about how do we get more people to make more money."
Shop Drop
Cardenas, citing a Wall Street Journal editorial, also accused Ald. Joe Moore of hypocrisy for shopping at suburban big-box retailers, as if Moore had sponsored an ordinance to ban shopping at big-boxes. Huh?
Daley also played the framing game. "This issue defines whether or not you stand for economic development on this site or are you going to let this site stand idle?"
Supporters of the big-box ordinance want big-box stores in the city. They just want the economic development that comes with them to include those who work there.
Monopoly Madness
The new Monopoly games are here. But we had it first, new rules and all.
Unfair Playing Field Indeed
The Sun-Times publishes another press release from a pol today (second item). Because apparently that's what newspapers do.
Old Media
It's come to my attention that some home editions of the Tribune, as well as home editions of the Sun-Times, as I noted yesterday, also do not carry late sports scores, such as the final score, updated standings, and game story from last night's White Sox game in Anaheim.
I saw a commercial last night featuring a paperboy on his bike going about his route and I wondered if young people watching would wonder why that kid was tossing some sort of rolled-up tubes onto people's lawns.
Seemed like there might be a connection there.
Disingenuous Daley
"Not one person objected to any type of store in the suburban area," Daley said. "No one said, 'Mayor, you're wrong. No one said the aldermen are wrong. No one said the community (was) wrong, or church leaders. Only in the West Side, only in the South Side."
I don't know if anyone in any suburb objected to Wal-Mart building there - certainly many small towns for years have rued Wal-Mart's impact on local businesses - but it's so incredibly irrelevant that once again the mayor should not be allowed to get away with saying it without being forced to explain and defend what he means.
Is it that the city's union leaders should have fought their battle in Evergreen Park?
The city is new territory for Wal-Mart, the living wage movement is gaining momentum as antipathy for Wal-Mart continues to grow, the political moment is advantageous, union leaders have worked the issue for years, and making a stand in Chicago has national impact.
Reporters - and their editors - tend to dismiss rhetoric as mere rhetoric. As politics. They analyze it strategically for how well or how poorly it will succeed in manipulating the thoughts of voters. I tend to think the job of journalists is to hold public officials to account for what they do and say, and when they are as disingenuous as Daley, you call them on it.
Kool-Aid Acid Test
So much for that big Packers victory, Emery. Pick a fight with our so-far hapless football writer in our new Kool-Aid forum.
Foreign Territory
Isn't it funny how Daley refers to "the suburban area," as if it's one big field or something?
Living Education
Higher wages for the poor ought to be considered part of school reform.
Wage State
So how soon will the mayor get cracking on a new state minimum wage law that he says is the real solution to full-time big-box workers who remain poor?
Pope Dope
"Pope Decries Fanaticism As 'Contrary To God's Nature.'"
Just before he reiterated his belief in the virgin birth, the Holy Ghost, homosexuality as a sin, and the Hell that non-Christians would spend eternity in.
The Beachwood Tip Line: Now available in the suburban area.
Posted by Beachwood Reporter at 8:26 AM | Permalink
September 12, 2006
Phony Beatlemania Biting the Dust
You can hear that music play,
any time of every day,
every rhythm, every way!

- The Kinks, "Denmark Street," Lola versus Powerman and the Moneygoround Part One
One of the advantages of my current job as a local editor for The Onion's A.V. Club is I get so much crappy music in the mail. It's not the most opulent of fringe benefits, and it rarely actually helps me in my work, but I'm not complaining because you never know in just which ways crappy music has the power to entertain. For example, a few weeks ago I received a pair of sophomore albums from The Gurus and The Winnerys.
The press release header - a bar of yellow between two red stripes, as on the Spanish flag - read: "Rainbow Quartz (Records) presents TWO BANDS FROM SPAIN. But you wouldn't know it unless we told you . . . they sing in perfect English!"
They also achieve the stunning feat of borrowing from the Beatles (and the Kinks), the press release notes earnestly, inadvertently leading to a question much larger than the mere existence of two more slabs of trite-pop in the universe: Will phony Beatlemania ever really bite the dust?
The Gurus' and The Winnerys' emphasis on borrowing from the Beatles' mystical Revolver days, along with the albums' titles, The Swing Of Things and Daily Urban Times, suggest a kind of hip farsightedness while at once admitting that it's just stylistic gibberish. On the Daily Urban Times cover, the illustrated face of bassist Javier Polo (yeah, I want to kill him and steal his name, too) even seems to be gazing at me in detached, Lennonesque derision. Some of the lyrics credited to Polo follow suit. For instance, from "So Many People:"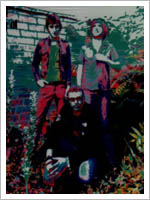 So many people I heard crying oh my God!
As they all watched the wreckage of their world
Swimming under heavy flying mysteries
Hiding out from heavy dust

I ask myself: Did he fucking pay attention in English class? (The title of the group's first album at least suggests a familiarity with bad puns, so I'm a bit confused.) Or did he listen to a bunch of psychedelia records and figure, "It's all gibberish anyway; all I need to add is a specter of humanistic concern?" Then I figure out that Polo's a garden-variety 9/11-ist, sloppily appropriating the various emotions and politics therein, and it makes a little more sense, though it still has an impressionistic fuzziness that could be either sincere or just lazy.
Polo's also an Iraqist! Dig "No Longer White:"
How did you get to that throne?
Did you forget your best wishes at home?
Can't you hear all that roar?
Isn't so much pain enough?
Is this the job you can do 'fore you go?
Leave those Muslims alone!
Stop destroying our land drinking blood and tears
Swapping killings for oil is your vilest deal
Stop playing chess with the poor and the weak

It puts me in a militaristic mood. I say America should strike back by exporting me, my acoustic guitar (which I can barely play), my mostly forgotten Spanish, and all the combined musical glory that implies, to the most revered galleries of the Prado, the most Moorish edifices of Cordoba. That'll learn us to leave those Muslims alone! And isn't playing chess with the poor and the weak at least a way to provide them with a little company?
Want a measure of just how blatantly The Winnerys appropriate Beatlemania, their press materials aside? The first track on Daily Urban Times is called "Get Into My Life." Which implies they're taking the classic "Got To Get You Into My Life" and making it less interesting. For my money, the better tribute is Beatallica's truly inspired parody, "Got To Get You Trapped Under Ice."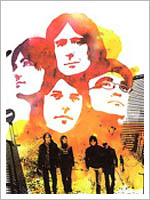 Yet The Winnerys' competence at creating '60s pop mockups almost obscures the fact that the listener is essentially being lectured in Pidgin. I tend to notice the music first because I've had so much experience with the latter on public transit. And this Pidgin slides under the radar, because it's been buffed free of the halting and trepidation that usually accompany a speaker's second language. "No Longer White" paves over its own lyrics with Rubber Soul/Revolver-inspired cheer. In spirit, I guess, it's probably meant to resemble the Beatles' "And Your Bird Can Sing," a spiritual scolding that bubbles with George Harrison's giddy guitar hooks. Maybe Mr. Polo is telling us that he's ascended to a new plane of derivative hip by delivering a tirade without losing his pop-crafted cool. But ultimately I'm going to have to agree with the ever-sage Allmusic, which calls The Winnerys "the Castilian Rutles," a label that seems even more perfect once you've heard "My Daily Ray Of Sunshine:"
. . . You're my daily ray of sunshine
The daily ray of sunshine of my world
The trick is to tell yourself the tears are from laughter. Mine are. The chorus of the Beatles' "Good Day Sunshine" is shorter and somehow less dumb. Conciseness is key in English, Polo.
The Gurus seem to be the newer and more urban ones, and not just because their CD shows the band staring at a mysterious glow emanating from one member's crotch, and/or the center hole of the disc. The Gurus on this record can be found often mixing their best George Harrison impersonations with their best Beck impersonations, which I can sometimes enjoy without feeling like a twerp. And, unlike New Urban Times, it never makes me feel like I'm playing "name the Beatles song this song most resembles," aka "Pictionary in Hell." I wouldn't spend money on this album, but I will give the band the benefit of the doubt: They at least seem capable of evolving their sound, psychedelic dick jokes aside.
The Gurus' LP ends with a cover of "I Need You," one of the Kinks' many early throwaway singles. It's a song that was charming because it was so disposable; see Lola versus Powerman and the Moneygoround Part One for background, not to mention "Lola," the Kinks single that kicks every other Kinks single's ass straight to hell. But of course, while The Gurus are doing all this bald imitation, they've got to try and sound like cheeky musical anthropologists. And their bass player, at least, is trying to look like one: Scroll down to the bottom of this page to see the video for "Good Morning," in which he plays a Paul McCartney-favored "violin"-body bass and even tries to make some of those goofy faces Paul makes when trying to make eye contact with the audience.
But what's really going to screw both of these bands? Their label and publicists. Don't expect me to be surprised at anyone from Western Europe who has a fair command of English. Especially not after hearing better bands like Sweden's The Hives (who I guess are just as derivative, but they used it in the interest of pure, tongue-in-cheek fun, just mowing people the hell over instead of clumsily coaxing them into listening) and France's Phoenix. National and linguistic boundaries don't really help us explain or appreciate rock music, and if you think they do, you're no better than the jerk who wouldn't stop yelling "CAAA-NA-DAAA!" between songs at that New Pornographers show I went to last year.
The Clash said phony Beatlemania was biting the dust in 1979. Nearly 30 years later, it's still biting it. Maybe one of these days it will finally be dead.
Scott Gordon works out of The Onion's Madison, Wisconsin office. His new blog is World's Biggest Corporation. His last piece for The Beachwood Reporter was "Da Vinci Code Blue." He also wrote the classic investigative piece, "The Declining Quality Of The AMC Channel."
Posted by Don Jacobson at 9:16 PM | Permalink
Life at Work
Life at work sucked today. J. Bird will return Wednesday if sufficiently recovered.
In the meantime, catch up with the Life at Work archive.
Posted by Beachwood Reporter at 8:11 PM | Permalink
What I Watched Last Night
Monday Night Football premiered last night; my Monday nights have been saved. Football has once again proven to be a viable entertainment option.
The big news, of course, is that MNF is now on ESPN instead of ABC, if you didn't know that, you have obviously not watched even a minute of ESPN for a minute during the last four months.
The MNF hype extends to the show itself. ESPN begins MNF coverage two hours before kickoff. Two hours of coverage might be necessary for the Super Bowl or the College National Championship, but the Vikings against the Redskins? I think not.
Maybe because ESPN is now the MTV of sports programming, maybe they feel it is entirely appropriate to cover things till I am sick of them.
This weekend, in college football, No. 19 Nebraska will be playing No. 4 USC on Saturday night. I am a Nebraska fan, having grown up there. I am not looking forward to watching anything on ESPN because of this. ESPN will be yapping about how this is the greatest match-up ever this season. How USC will be proving that they are still on top and how Nebraska is the up-and-coming powerhouse football program of the past.
Honestly, I think it will be a high-scoring game. It will be nice to watch two storied programs play one another. But it is not the greatest match-up of the season. Let's just keep it at that and not ruin the game by over-hyping it for everyone. It is just sports. Lives are not on the line.
Well, I am worried about what could happen to me if Nebraska does win. If there is a naked man painted in red running down Michigan Avenue late Saturday night screaming nonsense, you'll know who won.
Then again, if ESPN got ahold of that footage, even I'd get sick of it after nonstop showing for a couple of days. The games are fun enough; why distract us from what we really want to watch in peace?
See what else Pat Bataillon has been watching, in the complete collection of What I Watched Last Night.
Posted by Beachwood Reporter at 10:42 AM | Permalink
The [Tuesday] Papers
News reports continue to refer to Gov. Rod Blagojevich's characterization of allegations against him and his administration that political favors were exchanged for campaign contributions as "triple hearsay."
Indeed, that's exactly the line a Blagojevich spokesperson fed me last fall when I wrote this Chicago magazine story about disgraced Democratic domo Joe Cari:
"This whole thing is speculation based on what Joe Cari says he heard from Stuart Levine about whoever these officials and associates are, so it's already third- and fourth-person by the time it's reported in the plea agreement," says Abby Ottenhoff. Blagojevich himself issued a flat-out denial in September, saying, "This is not how we operate."
What I wrote next doesn't seem to have registered, perhaps because it was lawyered - improperly in my view - to death.
"But Chicago has learned that Cari has told federal investigators that Stuart Levine was not his only source of information on the purported campaign fundraising scheme - that others in or close to the Blagojevich administration also spoke of using state boards to raise money. Cari himself is said to have claimed that he was offered a board seat in exchange for campaign contributions."
All I can say is that the combination of Stuart Levine's cooperation and what Cari has told federal investigators does not add up to a very good situation for Blagojevich.

Pay The Man, Shirley
Ald. Shirley Coleman (16th) is a real piece of work. Even after learning that her real estate consultant friend Tracy Williams is being investigated by federal authorities in connection with multiple fraud allegations, Coleman says she would still do business with Williams.
"I don't research everyone who comes in my office," Coleman said, according to a Sun-Times report. "And I would still be willing to do business with Flawless Financial, Blythe Holdings and anyhone else who has a good project for the 16th Ward."
Funny how aldermen consistently have so little interest in researching the folks who come to their offices - except doing a quick check to see if they are campaign contributors, I'm sure.
But the best part of this story is about the Christmas tree and the piano.
What Would Coleman Do?
Shirley Coleman is a reverend.
Internal Conflict
"U.S. In 'Struggle For Civilization.'"
- Tribune headline
Yes. With ourselves.
This Just In
The White Sox won last night. Of course, if you read the paper version of the Sun-Times you wouldn't know that, because they still can't accommodate scores from the West Coast in their home editions. Or maybe they were participating in a Throwback Journalism promotion.
The Burt and Bernie Show
The City Council vote to ban foie gras passed 48-1 last spring. In the new aldermanic tradition of deciding where they stand after voting on issues (see The [Big-Box Veto] Papers), a couple aldermen are pushing for a repeal of the ban.
"Ald. Bernard Stone (50th) and Burton Natarus (42nd) originally voted in favor of the measure when it was approved by the City Council in April. But both have since had second thoughts," the Tribune reports.
"Stone contended that Chicago has become a national laughingstock since outlawing the delicacy, which is made from the livers of geese and ducks.
"He acknowledged that inserting long tubes down the bird's neck and force-feeding it to produce the foie gras is torture to the animal. And 'in principle [the ordinance] is probably correct,' he said.
"But 'anybody who has traveled anywhere in this country knows that people are laughing their heads of at us now,' Stone said."
So let me get this straight: Stone has decided he'd rather vote in favor of animal torture than be laughed at?
Stone was the point person on aldermanic pay raises, by the way. Perfect.
Meanwhile, the basis of Natarus's change of heart is this bit of intellectual reasoning: "We do an awful lot of things to animals and to fish. I think fly fishermen who catch fish for sport and take the hook out and put the fish back are just as irresponsible as is this foie gras situation," Natarus said.
Except for that part where the duck is killed and the fish is set free.
Kitchen Crap
"My throat is not like a duck's throat," says local chef Allen Sternweiler. "If you have some tragedy like an oil spill or a fire around a wetland, they would be using an exact same feeding tube to feed those injured ducks."
Except the part where emergency workers use the feeding tubes to save ducks instead of kill them.
God Winning
"Study: Americans Not Losing Religion."
Shoot.
Fuller Brush Man I
Former Tribune editor Jack Fuller uses the revelation in a new book that Richard Armitage leaked the name of Valerie Plame to Robert Novak to state that "The premise that the administration was willing to give up a spy for narrow, vindictive political ends fell apart."
But the authors of that book - Michael Isikoff and David Corn - strenuously said this weekend on a television appearance that their revelation does no such thing, and in fact argue that the administration was indeed willing to do just that.
Further, Corn writes this as part of a larger Huffington Post article:
"The outing of Armitage does change the contours of the leak case. The initial leaker was not plotting vengeance. He and Powell had not been gung-ho supporters of the war. Yet Bush backers cannot claim the leak was merely an innocent slip. Rove confirmed the classified information to Novak and then leaked it himself as part of an effort to undermine a White House critic. Afterward, the White House falsely insisted that neither Rove nor Libby had been involved in the leak and vowed that anyone who had participated in it would be bounced from the administration. Yet when Isikoff and Newsweek in July 2005 revealed a Matt Cooper email showing that Rove had leaked to Cooper, the White House refused to acknowledge this damning evidence, declined to comment on the case, and did not dismiss Rove. To date, the president has not addressed Rove's role in the leak. It remains a story of ugly and unethical politics, stonewalling, and lies."
You'd think a former editor of the Tribune - and former president of its publishing division - would know better. Or maybe not.
Fuller Brush Man II
Fuller also advocates reporters outing the anonymous sources of competing reporters under a "greater good" argument. But isn't the "greater good" found in the confidence of sources to come forward to any media outlet without fear of being outed? Fuller doesn't like reporters keeping information from the public. Why, then, doesn't he take his argument to its logical extension and advocate reporters at the same paper investigate and out the sources of their colleagues?
Chefs Called On Crockery
"Here are people whose greatest passions in life are pastries and pate, and they're going to lecture the rest of us on the big and 'meaningful' things in life. Please, someone tell the chefs to hold the sanctimony."
- Gene Bauston, president Farm Sanctuary, in a letter to the Sun-Times
The Beachwood Tip Line: Stuffed to the gills.
Posted by Beachwood Reporter at 10:05 AM | Permalink
The [Big-Box Veto] Papers
Who says Mayor Daley has lost control of the City Council? His veto of the big-box ordinance has turned at least a few aldermen back into the quivering cowards we always knew they were.
Pay The Man, Shirley
Ald. Shirley Coleman (16th) never realized during all the heated, drawn-out debate about the big-box ordinance that such a law could cost her ward jobs until after she voted in favor of the ordinance and Wal-Mart came calling to reveal that its secret plan to build a store in Englewood had now been scuttled.
Coleman, who is also a reverend, suddenly saw the light. It was almost as if God spoke to her.
Coleman is now among several aldermen who will change their vote in order for the mayor's veto to survive a council override.
The council's original vote in favor of the ordinance was an overwhelming 35-14.
What Would A Real Alderman Do?
"I haven't got a commitment in writing from [Wal-Mart]," Coleman said.
Apparently, she's acting on faith.
What Would Daley Do?
It's almost as if God spoke to Ald. George Cardenas (12th), too.
"[C]ardenas, who voted in favor of the measure but signaled a possible switch shortly afterward, said he also would join with Daley," the Tribune reports.
"He said he changed sides on the issue after the mayor spoke to him about the ordinance.
"'My decision is based on Mayor Daley's track record,' Cardenas said in a statement. 'Chicago has never looked better.'
"Cardenas, a freshman alderman elected with the backing of the pro-Daley Hispanic Democratic Organization, said the ordinance would harm 'the very people unions are trying to help.'"
So let's get this straight: George Cardenas is basing his vote on a wage ordinance on how pretty the mayor's flowers are? And will he defer all future votes to Daley as well due to the mayor's "track record"? And at just what point in the debate did Cardenas realize that he thought the ordinance would hurt working people? The point where Daley pointed out to Cardenas that the person whose employment was most in jeopardy was Cardenas?
What Would Danny Do?
Ald. Danny Solis (25th) has also seen the light and will switch his vote.
Will the council also, then, repeal the salary increases they voted for themselves along with the cover of the big-box ordinance? Or perhaps they think they deserve a raise for all the extra work they do now that they research issues and decide where they stand after voting on them, as well as before. After all, their workload seems to have doubled.
Or maybe the fix was in from the start.
What Will Voters Do?
"[D]aley is apparently determined to present a show of force and avoid hanging just a few aldermen out to dry for unions to target," the Sun-Times said in its report. "On Monday he was reportedly lobbying Aldermen Ray Suarez (31st), John Pope (10th), Ariel Reboyras (30th) and Pat O'Connor (40th)."
Instead, Daley wants to hang a lot of aldermen out to dry.
What Do Voters Want?
Richard M. Daley: Man of the People.
What Will Jackie Say Next?
"Mayoral press secretary Jacquelyn Heard said [Jesse Jackson Jr.'s] support for the big-box ordinance was 'completely understandable' because 'much of the area he represents is in the suburbs, which stand to gain greatly' if the ordinance stands," the Sun-Times report said.
The paper did not report whether she said this with a straight face, or whether she went from directly making that statement to picking up this week's share of her taxpayer-funded $135,516 annual salary.
That's What The Sun-Times Would Say
The Sun-Times continued its campaign against the big-box ordinance by noting once again without any actual reporting that "Wal-Marts A Hit In Suburbs" in an addendum to its report, as well as publishing a chart showing projected sales tax revenues we could expect from each big box.
The paper conveniently ignored a recent U.S. House committee report that found that each Wal-Mart store costs taxpayers on average $420,750 annually in public social services sought by workers whose low wages and lack of adequate health insurance land them in the ranks of the working poor.
What Will The Council Do Next?
"We are going to write another ordinance," Ald. Fredrenna Lyle (6th) said, according to the Tribune's report.
"Since everybody was complaining that this would only attack (big-box retailers), maybe we will go ahead and go after everybody this time and say everybody has to pay (a higher minimum wage)," Lyle said.
Maybe that's what the City Council should have done in the first place.
Posted by Beachwood Reporter at 8:58 AM | Permalink
September 11, 2006
Where Do Chicago's Poor White People Live?
In August 2005, Chicago Sun-Times columnist Mary Mitchell posed the question, "Where do poor white people live?" While the question may sound simple, it leads to complex issues about race, class, and how we think about social space. For many decades, being poor in a metropolitan area has been synonymous with being black, just as being poor in a rural areas has mostly meant being white. Of course, this cannot be wholly true. Poor blacks live in the country, too. Rich blacks live in the city. Rich whites live in the country. Mitchell's question is perhaps the most obscure of these combinations: Where do poor white people in the Chicago area live?

The simple answer is pretty much all over the region. The only exception is those areas concentrated with poor African Americans, who generally have fewer housing options. While much of this confinement of poor African American households may be attributable to historical discrimination by both individuals and institutions, there are social scientists and policymakers who question whether they intentionally choose to live close to one another just as immigrant enclaves were formed for familiarity and convenience.

As of 2000, there were 120,800 non-Hispanic African American households living below the poverty line in Chicago's nine-county area, or 23.3 percent of all Chicago area black households. The number for non-Hispanic whites was 98,176, only 5 percent of the area's non-Hispanic white households. Close to 40 percent of poor blacks in the area are under age 16, a statistic relatively well known to researchers. This has become a persistent problem as ghettoized neighborhoods consistently reproduce generations of impovershed African Americans.

Less well known, however, is that more than half of those of Bulgarian (84.5 percent), Lithuanian (57.3 percent), Irish (56.2 percent), and German (54.5 percent) descent in the area below the poverty line are between the ages of 18 and 54, the age range believed to be the most productive years with highest level of earning potential. Also close to a third (31.5 percent) of the poor Ukrainian population in the region is over 65 years old.

Still, there are not many social agencies and institutions in areas where poor whites reside. One reason is that poor whites' living patterns are dispersed. Another is the diversity in circumstances within poor whites - from recent immigrants to trailer park residents. The degree of diversity, in fact, is unknown because researchers and policymakers have paid little attention to metropolitan poor whites.

The fact that poor whites are assumed to have more choice in housing than poor blacks is significant because where people live determines their access to schools, stores, and public facilities such as parks and recreation, and the likelihood of crime. One important difference in the current dispersal patterns of poor whites and poor blacks is their proximity to those who are not poor. Poor whites are far more likely than poor blacks to live close to - and to interact with - those of different social classes.

Close to 30 years after then-University of Chicago sociologist William Julius Wilson published a controversial book, The Declining Significance of Race, which argued that public policy programs should be geared toward class not race, this country has yet to resolve its race issues. Regardless of whether poor whites choose to live away from blacks or poor blacks choose to live among themselves, residential patterns place these two groups so far apart that exposure to each other comes mostly through indirect communication such as television or movies, where stereotypes are still the rule. Our racial issues exemplify the range of consequences when social interaction is limited and confined. The victims are not always one color or one class.

Kiljoong Kim is Research Director with the Egan Urban Center and a lecturer of sociology at DePaul University.


Posted by Beachwood Reporter at 1:59 PM | Permalink
Life at Work
The Bird felt like total crap at 5:30 in the morning today, which isn't totally unusual, except for the scratchy throat and coughing up of nasty goop. One look at the weather confirmed it. Bird was not going to work today.
The Boss was not happy. He believes Bird gets sick too often. But Bird's thought is that it is better to stay home and take care of oneself one day than come to work and feel sick for days at a time until Bird has to stay in the nest for numerous days, plus pay for a visit to the doctor and take nasty antibiotics.
And if you're feeling better after an extra five hours' sleep, at least you know you're going to be work-worthy tomorrow.
I am tempted to call Pat and find out just how mad the boss is, but with my luck, she's in his office, and that wouldn't be a great conversation.
Of course, the crummy thing about being sick today is that I can't watch TV without having to watch 9/11 coverage over again for the fifth year in a row. Why do we punish ourselves this way? Maybe the CIA and the FBI and George Bush should be locked in a room together and forced to watch it again and again. Watching it that first year was bad enough for me. I don't want to see it again. It's not like I'm going to forget it. How could I? How could any of us? So why do we have to watch it over and over and over again?
Well, this is one bird that feels like snuggling under the covers will make everything go away. And, with enough NyQuil, that'll work like a charm!
J. Bird is the Beachwood's pseudononmyous workplace affairs correspondent. Life at Work is Bird's private journal of, um, life at work.
Posted by Beachwood Reporter at 1:57 PM | Permalink
What I Watched Last Night
Imagine a man wearing a king's crown and a red satin robe pouring champagne on a purple shag rug in the foyer of his home.
Now imagine him doing so on TV. That's right, the second season of VH1's Flavor of Love, starring Flavor Flav, is underway.
Flavor of Love features women vying for his love and affection by going on dates with him and fighting with one another. At the end of every show he gives his large signature clocks to the women who will remain and move on to the next round; the woman who doesn't receive a clock must leave. At this point in the show Flavor Flav pours champagne on his purple shag rug and repeats the name of the lady that was banished from his home.
While the grand prize for winning this reality television show is to be with Flavor Flav, things obviously didn't work out with the lady who won last season, because, well this is the second season and Flav is still ostensibly single.
For those of you that do not know who Flavor Flav is don't feel out of the loop. It is better that you don't know. I wish I were so fortunate.
Flavor Flav was the hype man for the seminal rap group Public Enemy back in the early Nineties. A hype man is a person who screams things at crowds before and after musical performances to enthuse the audience. Flavor Flav did this during performances. He wore a large clock around his neck and pranced around the stage yelling incoherent babble into a microphone as the rappers rapped.
This hype man position requires only two things: An annoying appearance and a voice that can pierce the eardrum. Flavor Flav possesses both, and truly excelled at this position until Public Enemy stopped performing.
After the band broke up, Flavor Flav was lost to popular culture for good - or so we thought until VH1 hired him on to the cast of the psychologist's wet dream that is The Surreal Life. This show combines washed-up narcissistic "B" talent with booze to create an entirely new form of entertainment.
It was on this show that Flavor Flav fell in love with a tall Danish woman who was once married to Sly Stallone. The tall Danish woman and Flavor Flav starred in a spin-off show featuring Flavor courting the tall Danish woman. At the end of the season, the tall Danish woman broke Flav's heart and opted for a young Italian guy instead. Being out-of-work and a promising relationship forced Flavor Flav to use a reality show as a guiding light to love.
Love cannot be sought, though. It can only be stumbled upon.
Flavor Flav may be the king of his house and home but no one is the king of love, even with his red satin robe and large clock.
Posted by Beachwood Reporter at 9:32 AM | Permalink
The [Monday] Papers
1. 1,825 days later.
2. If beef stew and squealing tires in the rain is all that is left in the quiver of George Ryan apologists like Rob Warden, the former pharmacist from Kankakee ought to start training for the prison dispensary.
3. "In one of the counts [federal judge Rebecca] Pallmeyer dismissed, Ryan had been accused of a supposed role in a fraud committed by Arthur 'Ron' Swanson, who collected a $50,000 fee in 2001 from a Downstate town to lobby for locating a prison there. In fact, the decision to locate the prison there had already been made - and Swanson knew it. At Ryan's trial, however, the government produced not a shred of evidence that Ryan knew of Swanson's fraud," Warden writes in his beef stew piece.
Warden leaves out the not inconsequential fact that Ryan was the one who told Swanson the confidential information about which town had been chosen for the prison.
Warden cites two counts that Pallmeyer threw out - despite the jury's decision to convict on them - as proof that the jury failed to do its job honestly. He conveniently ignores convictions on the other 16 counts that Pallmeyer let stand.

4. "Members of Congress tell the whole truth only about a quarter of the time when debating major legislation on the floors of the House and Senate," the Pew Research Center reports.
"Instead, legislators mostly rely on half-truths, misleading exaggerations or outright inaccuracies when debating the nation's business, according to two political scientists who have studied the quality of debate in Congress."
5. "Apparently there's no national standard for driver's ed, although it seems like an awfully big coincidence that everybody came up with the idea to use fluorescent orange cones on their own," writes Paige Wiser.
6. Perhaps the media is missing the real story in the case of the white Beverly 14-year-old who was beaten in July by, according to police, three African Americans. The case prompted calls from the neighborhood to label the incident as a hate crime, and the ensuing debate has framed the story. But maybe the real story is the racial animus that whites in the neighborhood feel for the alleged attackers. Perhaps that's where the hate emanates from. Consider:
"According to investigators, the attackers' only motive was to commit a robbery, even though one of them referred to Ryan as a 'goofy-looking white boy,'" we learn deep into a Sun-Times report on Sunday. "But even before that remark was made public, there was an outcry from the neighborhood about why the beating was not considered a hate crime."
So even the slimmest of reeds - the goofy white boy remark - wasn't even known when the good folks of Beverly started screaming that this ought to be considered a hate crime. Why? Solely because of the races of the kids involved.
"The Cook County state's attorney's office has maintained there was no hate crime," the Sun-Times says, "though Chicago Police are reviewing the incident because of those remarks."
To be polite, I'm sure.
Even the kid's mother "believes the attack was a random act of violence."
The neighborhood response, however, was anything but random.
7. "Color Us Hypocrites."
8. So much for any lingering notions anyone had of the hard-nosed Bears reflecting a blue-collar fan base. "It costs a family of four $439.59 to attend a Bears game, according to Team Marketing Report," as cited by the Tribune. That's the third highest "fan cost index" in the league, behind Patriots and Redskins games. Least expensive: Buffalo Bills games, at $246.17. (Packers games: $331.45)
9.
10. Life imitates art imitating life. On CBS.
11.
12. "Q-Ray Inventor Gets More Than Wrist Slap."
And customers can line up at my place for head slaps.
13. "State-funded Trade Group 'To Wind Down.'"
Mission accomplished.
14. "We All Sanctioned Undocumented Workers."
15. The Tribune's Christi Parsons bid farewell to Springfield on Sunday on her way to a new assignment in the paper's Washington, D.C. bureau. Parsons notes that the state capitol is "corrupt, sneaky, and underhanded."
Just like every newsroom I've been in.
16. I'm not sure the Tribune editorial page sees the connection between low prices, low wages, and a low economy.
17. I'm not sure the Tribune editorial page will ever see the light as articulated by Alan Gandelman of Glencoe.
18. Janice Davis of Elmhurst has a fine idea: Rename State Street between Washington and Randolph Honorary Marshall Field Way.
The Beachwood Tip Line: Better than shopping.

Posted by Beachwood Reporter at 8:47 AM | Permalink
September 10, 2006
Tommy Cash: Six White Horses
Right now, it doesn't look like Johnny Cash will ever go away, and that's the way it should be. His latest/posthumous record, American V: A Hundred Highways, has been a huge hit, and for good reason: the songs are a mix of originals and covers, but that voice makes each one into a detailed, personal experience we all can drink and weep and pray our way through.
Part of the Cash voice, of course, is, literally, his voice - that amazing baritone that many of us have tried and failed to imitate when we played the records and imagined ourselves performing from the stage of our own Folsom Prisons. Frankly, it doesn't seem that hard to sing like Johnny Cash, until you find out you can't do it. And that's because the most essential part of his voice is really the way it's used: not only is his baritone a lot deeper and cooler than ours, it's a lot wiser, too.
It's also deeper, cooler, and wiser than his brother Tommy Cash's.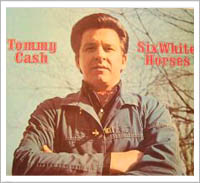 Needless to say, Tommy is not the brother whose tragic death was a central focus of the plot of Walk the Line - this is the brother whose mere existence was cut out of the film altogether. Now, if it seems a little unfair to compare Tommy Cash to his brilliant older brother, it's even more unfair to excise him out of his older brother's life completely. More to the point, consider that Tommy made a lot of his own records, and that he regularly indulged in a habit of covering songs his brother had already made legendary, including, for God's sake, "Ring of Fire." That's not on Six White Horses, but "Long Black Veil" is, and when sung by Tommy Cash, the veil in question just isn't as long or as black as it was when Johnny told the tale.
In truth, though, Tommy doesn't sound like a Johnny replica - he sounds a whole lot more like Johnny's friend, the great, may-he-also-rest-in-peace-with-his-records-on-my-turntable Waylon Jennings. And, even more than covering his famous brother's songs, Tommy has a thing for covering songs by his famous brother's famous protègè, Merle Haggard, who was inspired by seeing Johnny perform at San Quentin Prison while he, Haggard, was serving time there for robbery.
On Six White Horses Tommy offers his own run-through of one of Haggard's most regarded - and ridiculed - songs, "Okie from Muskogee"; he seems to declare that they don't smoke marijuana in Muskogee with particular earnestness. I was tempted to believe that Tommy chose the song for its tune rather than its politics, but his own very bitter and very bizarre "So You're Tired of America" snuffed out that idea. It starts off as a rollicking country song, then stops suddenly for Tommy's free-flowing, Southern raps about what's wrong with 1970 America: Those damn long-hairs protesting the war! It's so awful on so many levels that it's absolutely fascinating . . . especially considering that, just a few months later, Johnny Cash released "Man in Black," which explains his solidarity for the poor, the imprisoned and the hungry, and expresses dismay over wars that each week kill "a hundred fine young men."
Still, Tommy gets it mostly right here. He had a No. 1 country single with the outstanding title track, a eulogy for the Kennedy brothers and Martin Luther King Jr. (and by the way, it's a different song from the Waylon Jennings number with the same name). He romps through a spirited version of Carl Perkins' "Rise and Shine." And his love for everything he's doing - singing his favorite country songs while chastising us for our lack of patriotism and faith - makes this a fine time.
If Tommy Cash doesn't have quite the presence of his brother, and little of the wisdom, he at least has a voice we can rumble along with.
Posted by Don Jacobson at 3:28 PM | Permalink
September 9, 2006
The Weekend Desk Report
Sure, there's a million crazy stories out there this week, but we want to focus on what's really important. That's right, baby: Football is back! Here are a few of the official Beachwood Reporter Weekend Desk NFL season predictions.
1. We know they're both going to retire, but the smart money says Tony Blair will pack it in well before Brett Favre, and with a lot less sturm und drang.

2. Bill Parcells has confirmed that, for the time being, kicker Mike Vanderjagt is no longer a useful contributor to the cause. Vanderjagt will now be transferred to Guantanamo Bay.
3. Despite increasingly bitter negotiations with one of their key players, the Patriots will live to fight another day. However, their offensive scheme to link all their opponents to terrorism will eventually crumble.
4. Undeterred by the NFL's crackdown on touchdown celebrations, Chad Johnson will continue his plans to develop his own domestic nuclear energy program for use in future end zone romps.
5. In an attempt to keep up with the times, the NFL has announced several changes to team nicknames. The Buffalo Bills will now be referred to as the Buffalo Home-Equity Loans. The Oakland Raiders will become the Oakland Price Gougers. Washington fans can now cheer the slightly more politically correct Red Faces while fans in Tennessee, with their tantalizing and expensive unexplored prospects, can go back to supporting the Oilers.
6. Rex Grossman will re-injure his knee tripping over Brian Griese's dog. Griese will spare the dog further embarrassment when re-injuring his knee by just admitting he got drunk and fell over.
7. Dissatisfied with his already impressive list of commercial endorsements, Peyton Manning will sign on to shit-talk Fidel Castro.
8. Hoping to avoid the catastrophe that befell them last time they broadcast the Super Bowl, CBS officials announced they would ban Joe Cullen should the Detroit Lions make it to the championship game.
9. Of course, if the Lions make it to the Super Bowl, we'll have more pressing matters on our hands.
Posted by Natasha Julius at 12:27 AM | Permalink
September 8, 2006
Life at Work
Okay, I've finally found something that's more frustrating than a boss in a shitty mood, a co-worker who listens to Enya, and a busybody office manager, and it's something that - unless you're one of the powerful few in IT - you have absolutely no control over. You can avoid your boss, throw Enya in the shredder, and ignore the office manager, but you can't do a goddamn thing when your office's Internet goes down.

If you're like me, you're really screwed because we rely on outside IT people, and they're slipperier than an eel in an oil spill.
And once they blame it all on the ISP, which admittedly sucks worse than any ISP imaginable, you're totally fucked, because there is no such thing as customer service at these places, especially the one my company uses, which I'd never even heard of before I came to work there.
Customer service representatives delight in telling you they can probably fix it by next Thursday, and there will be a sizable fee for that, even though it's their fault. We even threatened them with a lawsuit, because we lost so much business as a result. I wasn't actually on the phone with them at the time, but I think I heard them laughing from across the room, through my co-worker's receiver.
It's not just losing business that sucks. I complete the majority of my work using internal files, so for me my work isn't so much impacted as my ability to step back from work and take a breather. I mean, I do use the Internet for business purposes, to look up files and forms and such, but mostly, it's my equivalent of a cigarette break. I need to check my e-mail. I need to use my online music service because I'm sick of listening to the songs on my iPod over and over again. I need to shoot someone an IM every now and then. I need to know what CNN has to say every couple of hours, not to mention checking out what's new from my colleaugues here at The Beachwood Reporter.
I'm not one of those people who spends all day every day surfing the Web and disguising it as work. I accomplish a lot, most days. But I can't accomplish it and stay sane without access to the outside world, and when you're stuck in an inner office a gajillion feet in the air, the Net provides you with that access.
They better have it fixed by Monday. Otherwise, I might really start telling people around here what I think about them. And that can't possibly have a good outcome.
J. Bird is the Beachwood Reporter's pseudononmyous workplace affairs correspondent. You can see the complete Life at Work collection here.

Posted by Beachwood Reporter at 6:16 PM | Permalink
The [Friday] Papers
NEWSBREAK: "Sudan President Agrees To Release Tribune Journalist Salopek"
And now, back to The Papers.
*
It's Islamic fascism day on the commentary pages of our great metropolitan papers. Here's a user guide.
* "The Term 'Islamic Fascist' May Not Be Popular, But It's Accurate," by Steve Huntley. Huntley is already the Sun-Times editorial page editor. Apparently he also needs the additional forum of an Op-Ed column to get his urgent views out to the public. "What will he do next," a Beachwood reader asks,"start writing letters to the editor too?"
"Yes, It's Fascism - And It's Islamic," by Victor Davis Hanson, who is making a strong run for Most Boring Right-Wing Columnist Ever.
* "Fearful Words For Young Muslim," by Azam Nizamuddin, a lawyer and adjunct professor of religion and theology at Elmhurst College, whose argument is so soft you wonder if the Tribune set it up this way on purpose.
* "Defending Christian Fascism," by the True Christian Church of Christ, and featuring Ann "We should invade their countries, kill their leaders, and convert them to Christianity" Coulter. (There wasn't room for this one in some editions.)

Dear George
Kass has the Willis letters.
Silly Slaughter
I wonder if Hizzoner thinks horse slaughter is silly, too.
Not that I have a problem with eating horse meat. I don't see why any animal should be excluded from our dinner table just because we like the way it looks. We only eat ugly animals?
It's the treatment of animals before we kill them that is the issue. The making of foie gras is inherently cruel. Foie gras is the result of extending duck livers by force-feeding them until - often - their internal organs explode. That's a different matter than raising ducks painlessly until meeting a swift, instant death. Is it really too much of a sacrifice to forgo a luxury delicacy to spare some ducks pain and disease? What kind of a people are we? Who do we want to be?
Today's Toddler
Forrest Claypool will endorse neither fellow Democrat Todd Stroger nor fellow reformer Tony Peraica in the campaign for Cook County board president.
Claypool said on Thursday that local Democratic leaders had "thumbed their nose at the taxpayers" and "arrogantly manipulated the system for their benefit and the benefit of outsiders" in lying about the condition of former board president John Stroger after he suffered a stroke at the end of his re-election campaign against Claypool in the Democratic primary, and then in maneuvering to put their stool pigeon, Stroger's immature and mediocre son, Todd, on the ballot.
When informed of Claypool's decision not to endorse, Todd Stroger showed once again that every time he opens his mouth he makes himself look like even more of an idiot who is too clueless to be humiliated by an ongoing public undressing unique in the annals of local political sleaze. "I don't know what the basis of it is," Stroger said of Claypool's decision. Ignorance - feigned or not - seems more and more like a central part of Stroger's campaign strategy.
But that wasn't all.
"All of this came the same day Stroger failed to call in for a scheduled interview on WLS-AM's Don and Roma, leading to radio guffaws directed at Stroger and an opening for Peraica to call in and be heard by 300,000 listeners," the Sun-Times reports.
Two weeks ago, Stroger backed out of an appearance on an African American radio station after Peraica agreed to also appear.
Maybe Todd is learning after all that its best for him to keep his mouth shut. After all, a quiet man is often deemed wise - even if it merely means he has nothing of value to say.
Daley Dose
The mayor obviously does not agree with Claypool that the Cook County Democratic Party cynically exploited the life-threatening illness of its fallen leader, John Stroger, and moved to put Todd on the ballot to serve their private, greedy interests instead of the interests of taxpayers. He supports Stroger.
Nor does the mayor believe that his former patronage chief Robert Sorich, now a felon, did anything wrong. In that way, and others, the mayor is very much like George Ryan. I would respect each more if they would just come out and say they think this is the best way to govern, plain and simple. And then take responsibility for the consequences.
"Sorich has refused to coooperate with investigators in the ongoing probe of the Daley Administration, but he recently testified before a federal grand jury after prosecutors served him with a subpoeana," the Tribune notes today in its report about Sorich hiring a high-profile lawyer who once represented Ollie North to handle his appeal.
Mr. Mayor, as a man with a deep love of this city, and who has continually promised to get to the bottom of corruption in your administration, wouldn't you like to see Mr. Sorich cooperate fully with federal investigators? Will you call on him to cooperate? As a former prosecutor yourself, do you support this investigation? If this case came to you when you were the Cook County State's Attorney, would you have moved forward to prosecute it? Or would you have endorsed a fundraiser for the defendant?
Katie Cakes
The Tribune editorial page thinks Katie Couric conducted a "solid, informative" interview with President Bush the other day. It isn't bothered enough by the lie that the interview was billed as an exclusive to mention that part. It thinks the "business" over Couric's re-touched photos was "silly." It's not bothered by that lie either. It endorses Couric's stated goal to make the news "friendlier" and "more entertaining." After all, Couric once "worked" as a "beat reporter." Not that the paper is calling for more reporting. It doesn't think it was necessary for Walter Cronkite to introduce Katie on her first night. But if you have to ask whether someone has gravitas, they inherently do not. Finally, the paper characterizes Katie as the girl - make that the anchor - next door. If you live in a neighborhood of millionaires.
Guilty Sounds
On Sound Opinions tonight, local rock critics Greg Kot and Jim DeRogatis play some of their favorite guilty pleasures. There is no joke here; to the contrary, this is a recommendation. Sounds like a great show. At 7 p.m. on WBEZ-FM (91.5).
Globalization Works
"Gov. Blagojevich last year billed the new Illinois Global Partnership as 'another effective tool in creating more opportunities for our working families to get ahead,'" the Sun-Times reports. " But the only people who really got ahead were the trade group's $100,000-plus-a-year executives, who traveled, wined and dined on the taxpayers' dime, a state audit shows."
TIF Tiff
Even the most hardened reporter might find TIFs (tax increment finance districts) too tough to take on. But Ben Joravsky has been at it for years at the Reader, and he's persuasively argued that TIFs are little more than a mayoral slush fund that steals money from schools, parks, and other taxing bodies - such as the county.
Now County Commissioner Mike Quigley is stepping up to the plate and fighting back. Joravsky's account, "The Lone Gunman," will get you up to speed.
In Today's Reporter
* The nation's best Fall TV Preview story: "Year of the Superspiracy."
* Why the Bears-Packers game will be closer than you think, in the latest Blue & Orange Kool-Aid Report.
* Life at Work is making us schizophrenic. The clothes are a big part of it.
* A Beachwood Classic, chosen at random: "May The Porkins Be With You." Because even the smallest kid knows it's funny to call a fat guy Porkins. It just is.
The Beachwood Tip Line: Start your weekend right. With a tip.

Posted by Beachwood Reporter at 9:08 AM | Permalink
September 7, 2006
Life at Work
I was pretty stoked for today's column til today turned out to be one of those days that just hammers away at you from the minute you walk in the door til the minute your boss says "Sayonara" and there's only an hour left in the day, and your "IN" box is still piled high.
All the same, I think today's topic is a pretty important one that impacts most of us in the working world, so I'm going to take a few minutes to address it.
Work has turned us all into schizophrenics. No, I'm not talking about clinically diagnosable mentally ill people, and I don't want to use the term lightly, but working in an office, unless it brings more meaning to your life than it does to most people's, forces you to split and splinter your personality until you don't really know who you are or who you're supposed to be.
And it's not something that's a new phenomenon. It's why great heroes in all the old stories start out as ordinary guys. Why princes come from frogs. Why regular girls get to be princesses just by being able to sleep on a mattress with a pea under it. Why boring, nerdy old Clark Kent gets to be Superman.
You may recall that Bird here ranted about appropriate office attire in yesterday's column. And I don't take it back - I think people should dress appropriately for the office. But being a downtown drone in a black suit is, most decidedly, not who I am. I am decidedly unconventional. I've been known to see the sun come up after an all-nighter at one of Chicago's old "cop bars" (remember Mike's on Webster?). I'll happily frequent a decent tattoo parlor (I recommend Deluxe Tattoo, and Josh in particular). When I'm on the train on my way home, or walking down the street in my work clothes and I run into a pack of people who look like they might be fun to get to know, I feel self-conscious, and like the epitome of everything I never intended to stand for. I feel an intense need to rush home and immerse myself in my beloved comic collection and, well, just be myself, whatever that means at a given moment.
I have friends who have succeeded in not giving in to the drive to become a part of the workforce, but here I am, straddling two worlds and not quite fitting in to either one. I know from talking to other people around the office and around downtown that this is a common phenomenon, and it never seems to get easier. How do you compartmentalize your life? Can you ever find balance? Can you be yourself while effectively fulfilling your duties as a Suit?
If there is a way, I haven't found it. This Bird is one strange puzzle of fierce individual and worker bee.
-
J. Bird is the Beachwood's psuedononymous workplace affairs correspondent. See more Life at Work here.

Posted by Beachwood Reporter at 4:51 PM | Permalink
The Blue & Orange Kool-Aid Report
On the heels of my prediction that the Bears fall victim to the Packers on Week One, I went over to the forums for a reaction. Perhaps the Beachwood Reporter readership consumed too much booze or too easily saw the wisdom of such a declaration, but the forums contained no reaction. Upon further investigation, I did find that consecutive topics started "Oh my God I am so funny!" and "Get you medications ONLINE!" Needless to say, I was sufficiently entertained.
In the latest Over/Under, I covered over/under-hyped games of Week One. I considered including the Bears-Packers game in both sections. I soon realized that was overkill. And that is the last thing we need. Granted, the fat man at ESPN will ramble on about "The Frozen Tundra" and "NFC Norris" for five minutes. That is five minutes of your life you will never get back.
So to give this game it's due, all jokes will be five- to ten-years old, which equates to the last time both teams had a better than average offense.
I consider this game over-hyped, being that as much as the network folks would like you to believe otherwise, this game will have more irregularities than a Florida election. Neither team shows much of a willingness to count above zero.
Will the crowd have energy? Yes. Well, it just depends what the definition of "yes" is. Truly, the Packer faithful sing "Bang on the Drum All Day," "The Beer Barrel Polka," or any song Brett Favre likes with all the enthusiasm in the world. On the other hand, the fan reaction to this game will turn ugly quickly, like the morning after a one-night stand with Linda Tripp.
On the other hand, I consider this an under-hyped game, in that I believe it will be closer than Bears fans and the greater public wants to believe. Some even believe this game will be decided quicker than Ray Lewis can hide a murder weapon. Let's face it neither team is very talented. Clearly, the best talent exists within the Bears defense. Much like a funny Carrot Top joke, Brett Favre still can throw the ball down the field haphazardly and connect a few times. Add to that the not-to-be-underestimated fact that the Bears secondary has a tendency to allow such things to happen.
Much like our presidential candidates, this game will showcase inept management (Bush) versus lack of excitement (Gore). Perhaps interest in this game will die faster than a Death Row inmate in Texas.
Pick: Under 35 points, Green Bay +3
For a Bears win:
Sugar in the Blue & Orange Kool-Aid: 85%
Recommended sugar in the Blue & Orange Kool-Aid: 45%

Posted by Beachwood Reporter at 1:21 PM | Permalink
Over/Under
As a kid, I used to scan the Sears catalog for all the toys I wanted for Christmas. I would leave notes in the catalog, with the hopes for a pile of gifts just for me. By Christmas Eve , the gifts, though somewhat disappointing in volume, placated me. Unlike the nights previous to Christmas Eve, sleep came easily, knowing what was actually in those packages.
As an adult, the excitement of Christmas waned and moved to football. Much like Christmas, I began to wonder what each new season had in store. I would spend quite a bit of my free time reading about the various teams, hoping to successfully put my finger on the pulse of the coming season. As the years have gone by, though, I have figured out that most of the excitement and interest generated by the media isn't wisdom and intelligence and genuine enthusiasm, but something altogether different: Hype.

Here are the most over/under-hyped games available for viewing in Chicago. Also, since I had a soft spot for Jimmy the Greek in my heart (until he decided to play "social commentator"), each game includes my prediction.
Over-hyped: Miami at Pittsburgh, Thursday 7:30 PM Central
OK, I'm a huge Steelers fan. Some might even consider me a freak. So what if I had two Franco Harris jerseys when I was a kid? Every kid should be so lucky to have one strictly for playing football in the backyard, and the other for school. One might file this away as childhood fancy. I look back and feel proud.
So why am I turning you away from this game? Both teams have pretty good defenses. Though both teams ended last season playing well, but each has made some important changes on offense. And then there's the big news: Ben Roethlisberger is out due to not wearing a helmet on his appendix.
The Steelers have won their opener the past four years running, albeit against four crappy teams. This year, they have graduated from "that decent team that cannot win in the playoffs" to "that team that annoyed us all year with those Sports Illustrated Super Bowl Champions commercials." Even I wished for the return of those cheesy football phones.
In short, everything points to a low scoring game. If you choose to watch it, it will be difficult to determine if "impressive defensive play" or "the other offense wanting to lose more" was the determining factor.
Pick: Under 37 points, Miami +5
Under-hyped: Seattle at Detroit, Sunday Noon Central
This game serves as the warm-up to the Bears-Packers game. Try your best to mow the lawn between 11 a.m. and noon, because I believe this will be one of the more surprising games of the weekend.
Here is the storyline: Seattle went to the playoffs as the number one seed in the NFC last year, then lost to a hot Steelers team that "some say" won through faulty officiating. Now, they start their defense of the NFC crown by traveling to pitiful Detroit. In other words, the experts say, don't watch this game because the result is a no-brainer. So much so, reports are Vince McMahon will be special guest referee.
This will be a closer game, however, and a high-scoring game at that. After all, Seattle led the league in scoring last year. And even though Seattle led the league in sacks, Detroit was in the bottom half of allowing sacks. That's pretty impressive for a Detroit team on the verge of signing Josh Blue from Last Comic Standing to improve their faltering running game. Also, while Jon Kitna is not exactly the Barack Obama of the NFC North, he can make some plays.
I'm not saying that Detroit will win. I'm just saying there will be plenty of scoring. And maybe, just maybe, one of those patented Down-by six-driving late-in-the-game-and-Detroit-snatches-defeat-from-the-jaws-of-victory endings.
Pick: Over 35 points, Seattle -3

Posted by Beachwood Reporter at 12:54 PM | Permalink
The [Thursday] Papers
George Ryan, the former Kankakee pharmacist, was sentenced to six-and-a-half years in prison on Wednesday. See my take in The [Ryan] Papers.
Jr.
Jesse Jackson Jr. put the chances of his running for mayor at 75 percent, which means I'll have to rejigger The Political Odds today.
I don't think it's a secret to those who have read this column that I think Jr. is a pretty sharp guy. I saw an extended excerpt of the press conference he held outside his South Side home yesterday and found it hard not to be impressed.
Not so fond of "listening tours," but I suspect Jackson will spend a fair amount of time on the North Side assessing whether he can make a citywide campaign.
The homefront appears secure.
"He's passionate about Chicago and it's time he brings that passion home to Chicago," Sandi Jackson said, according to a report today in the Defender.

Daley Dose
From the Tribune. Insertions mine.
"While Daley says he has not decided whether to run for re-election [even though he removed the chief executive of the Chicago Housing Authority from his post in order to run the campaign he hasn't officially declared exists], he has begun forming a campaign team and last week hinted [meaning, he actually said it but doesn't want the press to get the idea that he means it until it's politically opportune for him to hold an artificial event to say so] that only some unforeseen circumstance could prevent him from seeking a sixth term [which is somehow seen by the press as less than an acknowledgement that he is running. Unless he means an indictment or his own death, neither of which would necessarily prevent him from running again, but which might cause a reappraisal of the situation.]"
Good Will Huntley
"But the bulk of the evidence indicates that people high up in the White House did seek to punish Wilson by unmasking his wife, and that the vice president's chief of staff did his best to conceal this effort from the special prosecutor," the Tribune's Steve Chapman writes today, in what might be considered a rejoinder to what the Sun-Times's Steve Huntley wrote last week.
"For that evidence, we should thank the much-maligned Fitzgerald, whose sole sin is doing his job conscientiously. But the only people who are grateful are those who put truth and accountability above their own narrow interests."
Compare and contrast.
Onion or Tribune?
"Book Says Rove Ordered Office Exorcism."
Katie Cakes I
Zay Smith's suggestion for Katie Couric's sign-off: "Please join us tomorrow. You never know when we will actually report some news. Goodnight." (last item)
Katie Cakes II
Did watching Couric interview President Bush make you feel more secure about our nation?
Katie Cakes III
After she asked Bush what his greatest fear was, I decided I couldn't wait around for the cooking segment.
Katie Cakes IV
Couric said she has gotten more than 20,000 e-mails suggesting what she should use for her sign-off. Pointing a finger at viewers, she vowed to personally go through each and every one of them.
Looks like a long weekend for the interns.
Katie Cakes V
If you can't come up with your own sign-off, maybe you shouldn't have one.
Invasive Procedures
The City Council is working with the restaurant industry on a trans fat compromise, the Sun-Times reports.
"Next week, Dr. Terry Mason, the city's health commissioner, will fly to New York City to get a firsthand look at whether Manhattan restaurants have voluntarily agreed to take trans fat off their menu, as city officials there have requested," the paper says.
Mason works for Daley. However . . .
"On Wednesday, Mayor Daley took yet another shot at aldermen hell-bent on sticking their noses in their constituents' lives.
"'Here we go again. Foie gras . . . they're gonna tell you not to eat ethnic foods. They're gonna tell you what to eat. They're gonna go into your living rooms, your dining rooms every day and your kitchen [while you're] sitting there. We have other things to worry about,' Daley said."
Yeah, I hate it when the city sticks their noses into our lives, like telling us where and when we can park, where and when we can buy alcohol, and when we have to yield to oncoming traffic. We have other things to worry about, like giving the city a reading list and arguing about street names.
Like Wisconsin
The city's Unified Communications Vehicle finally arrived. This was the only photo I could find.
Special Ops Cops
"Authorities are expected to arrest four Chicago Police officers today in a corruption investigation that could lead Cook County prosecutors to drop more than 100 criminal cases because they were tainted by the allegedly crooked cops," the Sun-Times reports.
"The officers are members of the department's elite Special Operations Section, a citywide unit that seizes guns and drugs in crime hot spots."
Officials did not say whether reconfigured statistics would show that crime actually went up, not down, in hot spots, thanks to the elite special ops unit.
"Sources said prosecutors in the Cook County state's attorney's office noticed last year that officers in the Special Operations Section were not showing up for court in cases involving large amounts of narcotics," the Sun-times said.
But prosecutors in the Cook County state's attorney's office under Richard M. Daley didn't notice that suspects interrogated by Jon Burge's unit showed signs of being tortured.
Letters Assessment
The mayor says the city is moving in the right direction. A leader of the Logan Square Neighborhood Association writes to the Sun-Times to say, "Unfortunately, the only direction thousands of Chicagoans are moving is out of the city." (fourth item)
Also in letters: Cook County Assessor James Houlihan calls Chicagoland Chamber of Commerce President Jerry Roper a liar. (seventh item)
The Beachwood Tip Line: Never surprised. Sometimes happy.
Posted by Beachwood Reporter at 9:59 AM | Permalink
The [Ryan] Papers
In sentencing George Ryan to a relatively light six-and-half-years in prison yesterday, U.S. District Judge Rebecca Pallmeyer called the former governor "a complicated man."
As John Kass writes this morning, "Ryan is as complicated as butt steak and eggs at 4 a.m. after a long night at the casinos . . . "
In fact, George Ryan is the most uncomplicated governor of Illinois in recent history, and one of its most uncomplicated pols of stature of all time.

George Ryan is who he is - an old-school Machine hack who to this day believes there is nothing wrong with using public office to reward friends and campaign contributors. That is a point of view still held by many, including Mayor Richard M. Daley. Federal judges - and the media - don't need to make it any more complicated than that.
It's not as if we didn't know what we were getting with George Ryan as governor. Consider:
"In 1982, the Better Government Association released an investigation of then-Speaker of the Illinois House George Ryan's attempt to use his influence to protect a nursing home facing state charges," the BGA reminds us in its online George Ryan archive. "That action enabled Ryan's Kankakee pharmacy to regain $60,000 in annual business that had previously been lost to that facility.
"Since that time, the BGA repeatedly investigated Ryan's fundraising practices as Secretary of State throughout the 1990's. The BGA reported on the massive amount of campaign dollars Ryan raised from entities he regulated. In addition, the BGA and its media partners revealed the inappropriate pressure brought by Ryan on his employees to raise money for his campaign."
The only thing complicated about Ryan is why anyone would think he's complicated.
*
But then, the pathetic George Ryan saga is a bit complicated for the press. The Tribune today published a brilliantly composed editorial - the Sun-Times editorial board should take notes and learn how it's done - titled "George Ryan, In Denial," for example.
The paper's stance was very different in 1998, when it endorsed Ryan for governor.
"Ryan's experience and record offer confidence he will be an effective governor," the paper said. "In 25 years of public service as a legislator, speaker of the House, lieutenant governor and secretary of state, he has earned enthusiastic, bipartisan praise for his great capacity to work with people and get things accomplished."
This despite, as the BGA points out, evidence of Ryan's dark political character dating back at least to 1982.
The Tribune did not ignore allegations of the licenses-for-bribes scandal already swirling at the time. It just brushed them aside - again, despite what we already knew about the candidate.
"Our enthusiasm for Ryan is tempered by a couple of factors," the paper allowed. "One is the ongoing scandal of alleged sales of truck-driving licenses in the secretary of state's office that has led to federal charges against two current and one former employee. In his defense, it should be noted that they weren't George Ryan hires - the two employees joined the office long before Ryan did, and the third person had retired before Ryan came on board. But it is deeply troubling that Ryan's own investigators failed to ferret out the scandal and that bribe money allegedly wound up in Ryan's campaign."
Not troubling enough, though, to stand in the way of an endorsement. The Tribune editorial page finds it easy to ask citizens to show their outrage over corruption while tolerating it itself when convenient.
The paper concluded: "George Ryan is a known and tested commodity. He's the best choice to lead Illinois."
That's not to say the Tribune should have endorsed a candidate it did not like - Glenn Poshard, the Democrat. The paper could have expressed its outrage and skipped an endorsement. Or, it could have endorsed Poshard under the principle that cleaning up Illinois's criminal political culture is a higher priority at this juncture than even policy positions (of which Ryan had virtually none) and ideological litmus tests. After all, that's the principle the Tribune will invoke when it endorses Tony Peraica for Cook County board president.
*
The Sun-Times isn't off the hook, either. Here's what its editorial board had to say in its endorsement of Ryan for governor.
"Republican Ryan cannot credibly be blamed for six kids being killed in a freak traffic accident.
"With his gruff, blunt, grandfatherly, cigar-smoking style, Ryan, 64, has earned a reputation as a pragmatist, a conciliator, the kind of guy who gets things done. He is an effective political leader, and effectiveness in government is something we can use more of."
Sometimes you wonder if editorial boards read their own papers. It gets worse.
"Ryan, while accepting responsibility for what goes on in his offices, denies any knowledge of or tolerance for any bribery or other unlawful activity," the paper continued. "No evidence has been presented against him. There is no proof of the allegations about the truck driver. And the U.S. attorney's office says Ryan is not a target of its investigation.
"Nonetheless, Poshard and other Democrats have accused Ryan personally of turning a blind eye to widespread corruption. In a scurrilously defamatory - even by Chicago political standards - TV ad, Poshard also unsubtly implied that Ryan was personally to blame for those six kids' deaths. Ryan was rightly outraged, as were we. We also believe Ryan in his assertions of innocence in the alleged corruption of some of his employees.
"He gets our vote and our confidence that he will make a good governor."
*
Perhaps each editorial board ought to offer the apology they so wanted to see from Ryan - an apology that those of us who understand that Ryan is a simple man knew would never come.
*
Not a sincere one, anyway. John Kass scores one of the all-time great political nuggets in the annals of Illinois sleaze in his column today.
"Judge Pallmeyer must believe in the potential goodness of all people.
"But she didn't hear Ryan laughing the washroom after she imposed her light sentence, Ryan joking with his buddy Big Jim.
"'Wonder what [defense lawyer Dan] Webb is going to say to the media,' Ryan said, chuckling, spry enough in his allegedly weakened and infirm state that he bent quickly, like a portly gymnast in hard shoes, to see if anyone was hiding in a stall.
"A young reporter who was dressed in a nice suit - and so didn't look like a young reporter but more like an attorney - wanted to use the facilities.
"'Got a ticket?' wisecracked Ryan, smiling, hearty, apparently crushed by the tough sentence he might not ever serve.
"A few minutes earlier, though, he was seeking mercy, speechifying, oozing contrition without ever offering a real apology, just like a politician."
*
We know who Richard M. Daley is, too. He hasn't been engulfed by corruption and scandal in just the last two years, as recent press reports indicate. His 17 years in office as mayor have been engulfed in corruption and scandal. Corruption and scandal have been part and parcel of this mayor's tenure; he tolerates it because he, like Ryan, believes in it. Daley is a slightly more complicated man than Ryan, but not so complicated that we should be confused about who he is and what he's about. Daley's flowers are Ryan's Death Row prisoners. It's not important what they really believe in, only what they hope to gain by said beliefs.
*
The political pundits like to say that the license-for-bribes scandal stands out among Illinois scandals because it comes with a death toll.
Is Daley's administration really dissimilar? When politics takes precedence over policy, more than 700 people die in a heat wave.
When patronage is at the heart of an administration, people's lives are endangered.
In 2003, 13 people died in the collapse of a Lincoln Park porch that wasn't properly inspected by the city's buildings department.
"After that tragedy and another unrelated porch failure that led to the death of a 9-year-old girl, the Daley administration did something quite astonishing," Kass wrote last spring. "Two young sons of two high-ranking union officials were hired as $50,000-a-year building inspectors, only after their applications were embellished and revised at City Hall to make up for their woeful lack of experience. One inspector was 19 and the other was 23."
It's not complicated.
Posted by Beachwood Reporter at 8:51 AM | Permalink
September 6, 2006
Life at Work
For once, the boss is behaving in a reasonable manner toward me ("Pat" is getting the brunt of his moody weirdness today) - he even bought me lunch! So I can't gripe too much about him, and I've been cranking through my workload at a steady pace, so I'm in a nice space right now. Earlier, I got to be Delivery Bird, which was extremely cool - getting outside on a beautiful day like today is always a treat, and a rare one, at that. I'm sure such errands will suck in February, but for now, I'll take Delivery Duty any day.
The quirky thing that I've noticed about today's swarm of office workers is that it is almost unilaterally blue shirt and yellow tie day downtown today. Nobody sent me the memo, but that's just fine - I've never been a bandwagoneer. But I was on the elevator earlier and there were four guys on there in grey pants, blue shirts, and yellow ties. The guy in the grey pants, blue shirt, and red tie stuck out like a sore thumb. I like to think I was a vision of "fashion forward" in my black suit and shirt, but they were probably whispering about me as soon as I stepped off.
Seriously, though, what is it with Office Wear? Why do we get dressed up in special, usually uncomfortable, clothes every day (and just slightly less uncomfortable clothes on "casual Friday") just so we can work? And why does it vary so much from office to office? If we're going to do this corporate attire thing, shouldn't we standardize it? Because what I think of as "office appropriate" and what some other people I see around downtown think of as "office appropriate" is radically different. I firmly believe that if your office has a policy of "corporate attire", you ought to wear decent, well-made, fairly conservative clothing. You don't have to spend a ton to look well turned-out. But showing up for work in the clothes you would ordinarily wear clubbing just isn't ok. Not that it's inappropriate to express yourself. Don't get me wrong, I'm all for self-expression. But I DON"T WANT TO SEE YOU IN THOSE CLINGY, SYNTHETIC, TAWDRY, CHEAP-ASS CLOTHES IN BROAD DAYLIGHT! It's just grody.
Bird isn't into dressing up. In fact, I hate it. But I do it because it's part of the job. As soon as I get the chance, I'm back into jeans or camos and a t-shirt. My dog has to wait til I've changed into my "real" clothes before I'll play with him, not because I don't want my work clothes to get dirty, but because I can't stand to wear them for another minute.
All I ask is that if we are going to dress up, we do it right. Doesn't mean we all have to look like drones. We don't all have to wear blue shirts and yellow ties on the same day. But we can at least not gross each other out.
-
J. Bird is the Beachwood's psuedononymous workplace affairs correspondent. See more Life at Work here.

Posted by Beachwood Reporter at 4:13 PM | Permalink
The [Wednesday] Papers
Former Gov. George Ryan will be sentenced today. This says it all.
By Georges
George Ryan's favorable rating among Illinois residents is 35 percent, the Southern Illinoisan reports. George W. Bush's favorable rating among Illinois residents is 32 percent. (via Capitol Fax Blog)
Katie Cakes
All you need to know about Katie Couric's debut as anchor of the CBS Evening News is that Marianne Murciano told the Sun-Times, "I'm really happy that I saw what Suri looks like."
Big Time
Though my favorite Katie Cake was when she informed New York Times columnist Tom Friedman that the Taliban were back "in a big way."
Couric also directed viewers to the CBS News website to catch up on the, um, news. Then she returned to the show.

War Cry
The Tribune editorial page today takes former Tribune Company director Donald Rumsfeld to task for his latest speech implying that Democrats are unpatriotic appeasers. The page also reminds us that "The U.S. faces an enemy that is not open to negotiation. It is an enemy that will have to be defeated . . . There is an enemy."
But just who is the enemy? Everyone agrees that Al-Qaeda is an enemy. Has been since the Clinton Administration. But what does that have to do with Iraq?
Iraqis are not the enemy, though they are each other's enemies.
Terrorists are enemies. But they can't be the enemy because they're all fighting for different causes. And some actually are open to negotiation.
Lately we've been hearing that the enemy is Islamofascists. As opposed to other kinds of fascists? And again, what does that have to do with Iraq? Weren't the Islamofascists we were fighting in Afghanistan? Apparently they're back. In a big way.
If you are three-and-a-half years into a war you're still trying to justify against an enemy you still can't identify, you have presided over a colossal failure.
The Donald
"Rumsfeld Has Shoulder Surgery To Repair Torn Rotator Cuff."
Cubs expect him ready to go next spring.
Condi Cub
"Rice Compares Iraq Conflict To U.S. Civil War."
Which side are we again?
"Rice, a former academic, said she spent the summer reading biographies of the Founding Fathers and was certain 'there were people who thought the Declaration of Independence was a mistake' as well.
And most of them are in the Bush Administration.
Worst Cabinet Ever.
Being Bin Laden
"Bush: Bin Laden Wants Us Out of Iraq."
Declares mission accomplished. Where does he want us next?
Toddler I
Ald. Todd Stroger (8th) said Tuesday he'll create an independent inspector general's office if elected Cook County board president. Stroger, however, could not name the county's current inspector general - even after facing questions about him for a couple weeks in connection with the plethora of 8th Ward workers on the county payroll.
Stroger said the fact that he can't name the county's current inspector general - Joseph Price - is a sign that Price is doing a good job. Sigh. This isn't even fun. It's pathetic.
"Price was appointed by Stroger's father, longtime Board President John Stroger, reports directly to the president and has made $3,100 in contributions to John Stroger's campaign funds," the Sun-Times reports.
Toddler II
"No thinking person in Cook County will believe Todd Stroger is a reformer," said Stroger's challenger, Tony Peraica.
Peraica also said Tuesday that the 8th Ward Democratic organization's finances are a mess. "State reports show it was $144,000 in debt in mid-August. It has fluctuated almost $1 million since, and has a current balance of about $500,000," the Sun-Times reports.
The organization's treasurer is Donna Dunnings - Todd Stroger's cousin and the county's budget director.
Stroger said he had never heard of Dunnings, and that meant she was doing a good job.
Sneedling
Michael Sneed is taking the day off. She also won't have a column today.
Vague Signals
"Last week, CHA chief Terry Peterson resigned to run Daley's re-election campaign in the first concrete sign that Daley intends to shake off recent corruption scandals and seek a sixth term," Fran Spielman reports today in the Sun-Times.
In other news, the sun rose in the east this morning in the first concrete sign that another day was dawning, but scientists said they wouldn't hold a press conference announcing the existence of today until December. Journalists agreed to play along.
Post-Mayoral Blues
"Eugene Sawyer: From City Hall To Bankruptcy."
Well, there's an opening on the county board . . .
Network Effects
The Sun-Times editorial page came out against "net neutrality" this morning, arguing that Internet providers such as phone and cable companies should be able to charge higher fees for better service that would, for example, load sites faster for those who could afford it. The rest of us would be screwed, competitively speaking. We can only hope that if the Sun-Times gets its way, the Tribune buys faster, better Internet service, steals all their advertisers, and crushes them.
Hunter Effects
It's not e-mail that has "wrung all the civility out of us," as Jennifer Hunter, wife of Sun-Times publisher John Cruickshank, argues today. All those nasty reactions Hunter gets to her columns exist apart from the availability of e-mail. Without e-mail, though, her awareness of such reactions would not exist.
Triple Play
"Study: Low-Paying Jobs Cost State Billions."
"Illinoisans Shell Out $2 Billion Yearly To Help Low-Wage Earners Subsist."
"Higher Wages Can Save State Money."
All in the Sun-Times today.
Beachwood Specials
* If you haven't done so already, please read all three parts of our Fall TV Preview and then try to tell me that it isn't the best Fall TV Preview in the land.
* Also, trade in your Cubs and Sox disillusionment for Bears disillusionment, in Eric Emery's Blue & Orange Kool-Aid Report. Eric also authors Over/Under, our weekly sports hype report.
* Finally, check out our daily inside look at life in sucky office jobs, by our pseudononymous workplace affairs correspondent, J. Bird, in Life at Work.
The Beachwood Tip Line: Workplace-friendly.
Posted by Beachwood Reporter at 9:20 AM | Permalink
September 5, 2006
Life at Work
First off - Crazy Sign Spotted Downtown Today: "God Told Satan to Go To Hell and Take Bush With Him!!"
While Bird agrees in principle, the theory is pretty quacky, since the whole God casting ol' Lucifer Morningstar from the Heavens would, theoretically, have happened billions of years ago, and, well, Bush ain't that old.
But enough about religion and politics. Or rather, enough about those kinds of politics.
Let's talk about office politics.
There's currently a battle in the suite in which I work. I'm not sure what started all the hate-mongering - it seems to have begun some time before my employment here - but it's between individuals who work on either side of reception.
It really came to a head a few weeks ago, when this sour-puss, Codename "Petunia," from "the other side," got into it with a co-worker of mine. Now both of these individuals are old enough to be my mother - and Bird here is old enough to remember the latter part of the Seventies reasonably well - and at least one of them is indeed a grandmother. Nonetheless, an argument ensued and escalated, and the woman from the Dark Side, "Petunia," ended up calling my coworker, "Pat," an "asshole."
These are mature women, here, folks, and I was pretty shocked. "Pat" curses like a sailor, but she wouldn't resort to name-calling in the workplace, especially to someone's face. Furthermore, if you are going to call someone a name, you should call them a name that makes sense. What catty woman calls another woman an asshole? The proper curse word in this context would most certainly be "Bitch," wouldn't it?
Well, "Petunia" has been snarky ever since, but I scarcely ever see her, so I mostly just hear the fumings of "Pat". But then another woman from "Over There" decided to get in the ring with poor "Pat," who really is very nice. This woman, Codename "LargeMarge," stood up as "Pat" was walking by and, completely out of the blue, said, "You know, "Pat", you'd just better keep your nose out of other people's business."
"Pat" is still trying to figure out what that was all about. There hadn't been an incident to provoke it, so we're all pretty puzzled. Even our allies over there are in the dark about what's at the root, though many have their suspicions that the dreaded Office Manager, "Barb," has something to do with it. When I went for a Coke earlier, one of the allies was in the kitchen having lunch.
"How's it going over on you guys' side today?" she asked.
"Pretty well. Busy, I guess. You?" I answered.
She heaved a great sigh. "You know how it is. You're lucky over there. We've got "Barb" hovering around all day. It gets pretty tough."
I consoled her as best I could and scurried back to my side, realizing that the office is just a microcosm of the world at large. And we all know how well that's going.
-
J. Bird is the Beachwood's psuedononymous workplace affairs correspondent. See more Life at Work here.
Posted by Beachwood Reporter at 10:21 AM | Permalink
The [Tuesday] Papers
1. Our world today.
2. Ald. Shirley Coleman (16th), who is also a reverend, did not return calls to the Sun-Times for its story about her financial relationship with a real estate consultant accused of fraud in several civil lawsuits. Coleman apparently asked What Would Jesus Do? and He said, "No comment."
3. The Beachwood Reporter's exclusive that Richard M. Daley is running for re-election was finally picked up by another media outlet, though the BR wasn't credited. "Mayor Daley is still pretending that he hasn't decided to run for a sixth term, but he's in - either that or new campaign manager Terry Peterson just stepped down from his job as CHA chief for nothing," the Sun-Times editorial page says today.
Wonder how long it will take for the Sun-Times news pages to break the story.
Meanwhile, the Tribune is pretending its still in the dark, too. A caption under a photo of the mayor on Monday said: "The million-dollar question is whether Mayor Richard M. Daley will run for re-election."
Really? For 50 cents I already read in the Tribunethat the mayor has tapped Peterson to run his re-election campaign, even if the paper refused to acknowledge that this means there is a campaign.
Even The New York Times last week refused to state the truth without the mayor's blessing.
"Mr. Daley declined this week to say whether he would seek a sixth term, despite indications that his political supporters were organizing for another campaign," the Times said.
Indications? He hired a campaign manager! And it's not as if political supporters are organizing without his direction.
You don't need the mayor to officially announce the sky is blue to make it true.

4. The Daley photo with the million-dollar caption accompanied a rare piece of fine work by the usually messy and incoherent Dennis Byrne, which he questions the media's assumptions about the mayor's control of the city's public schools and public housing - how he got it, if and why he wanted it, and what he's done with it.
Why do reporters assume it is a good thing to have the mayor - any mayor - control public schools and public housing? Why do they assume Daley's control has been a success - when the evidence is middling at best? Could it be because that's what Daley's handlers tell them? That the message has so successfully been inculcated into their minds that they no longer question basic assumptions?
5. According to state election board records, Daley's campaign fund is still paying Dana S. Herring $12,500 a month and AKP Message and Media $5,000 a month. That's A as in Axelrod.
6. Please try to tell me that The Beachwood Reporter's Fall TV Preview doesn't put every other preview out there to shame.
7. "Google CEO To Join Apple Computer Board."
Might make one wonder if the Tribune Company or the Sun-Times Media Group, as Hollinger is now called, ought to put someone from Google on their board. Or better yet, someone from Apple. Mmmm, iPaper . . .
8. "The nation's median household income rose slightly faster than inflation last year for the first time in six years," The New York Times reported last week, citing Census Bureau figures.
"The rise, however, had little to do with bigger paychecks - in fact, both men and women earned less in 2005 than 2004. Rather, census officials said, more family members were taking jobs to make ends meet, and some people made more money from investments and other sources beyond wages . . .
"While the economy has been strong by most measures for the past several years, its benefits have not translated into improvements in the standard of living for many people."
Meanwhile, the Tribune editorial page reports that, according to polls, Europeans want more vacation time. Not Americans, apparently, who, the paper says, are "more likely to wonder with profound bemusement as to what in the world we would do with all of that time on our hands. Take a second job, maybe."
God, it must be cushy being a Tribune editorial page writer.
9. Employee of the Month. (via Rick Kaempfer)
10. Patricia Craig and Mary Shulatz of Chicago, and Dorothy Brauweiler of Oswego want to know how much ComEd is spending on ads telling us our rates are going up. Good question.
11. Sun-Times radio listing: "10 a.m. - The Roland S. Martin Show, WVON-AM (1450): The host tackles hot-button topics that affect the black community."
The rest of us, too.
12. "Is Katie Couric Good Enough?" Apparently so. After all, "Couric landed an exclusive interview with President Bush." As opposed to, say, this exclusive interview with President Bush. I wonder how they do it.
13. "In the eight months ending last May, Justice attorneys declined to prosecute more than nine out of every 10 terrorism cases sent to them by the FBI, Immigration and Customs Enforcement and other federal agencies. Nearly 4 in 10 of the rejected cases were scrapped because prosecutors found weak or insufficient evidence, no evidence of criminal intent or no evident federal crime."
Perhaps we've been terrorizing ourselves for five years.
14. Mary Laney is right. Appeasement doesn't work. It's time for the Sun-Times to cancel her column.
15. John Kass won't call her out by name, but he's talking about Sneed here. What say you, John Barron, editor of the Sun-Times? Do you condone her flackery?
16. This is kind of the problem with anonymous comments. Marketers and political operators already deploy anonymous commenters in viral campaigns. For all I know, Zorn and Roustubuot are the same person.

17. The Tribune editorial page blames the troops.
18. Aside from failing to adequately acknowledge that the public ownership model has utterly destroyed the newspaper industry, Phil Rosenthal's piece Sunday about the dangers of newspapers moving back to a private ownership model failed to mention the non-profit model that has worked so well for the St. Petersburg Times and a few other papers.
Rosenthal also wonders, for example, about the agenda a Yusef Jackson would bring to the table should he acquire the Sun-Times one day, as he would like. As opposed to what, the agenda of Tribune Company executives? Or the agenda of Conrad Black and David Radler, who owned the Sun-Times when Rosenthal was a reporter there? We know Radler stuck his hands all over the place in that newsroom, with nary a peep out of the staff and their editors, John Cruickshank and Michael Cooke, who are still there. Let's have a public accounting of Radler's influence on editorial matters, and Cooke and Cruickshank's appeasement; then we can move on to worrying about Yusef.
19. I'm not clear about whether these stories - "City Denies Feds Seized Data" and Feds Seize Records of Daley Aide" - are talking about the same records, but in any case racketeering indictments are just around the corner, aren't they?
The Beachwood Tip Line: Undeniable. And unindicted.
Posted by Beachwood Reporter at 8:55 AM | Permalink
September 4, 2006
The Blue & Orange Kool-Aid Report
I will cut to the chase - Bear fans have not fully realized their offense stinks.
I waited to write this until after the final preseason game, in the hopes something of note would happen. Thankfully, the Chicago papers beat "the first TD" into the ground, as if Blessed Mother showed herself on a Halas Hall window. Furthermore, two plays caused Bear fans to check their fantasy football free agency wire, as Desmond Clark caught a TD plus had a fairly impressive 25-yard reception.

Most glossed over the offense's inept preseason performance, though Rick Telander literally dedicated almost an entire column to asking disturbing, stubborn questions. Mike Mulligan put forth the weakest cheerleading argument in a piece headlined "Bears In Relatively Good Shape." Mulligan noted the Bears first team scored 16 points in its 18 possessions. A good sign? Let's let the numbers do the talking.
The Bears first team ran 90 plays. On average, a team runs 64 plays a game. So the first team ran 1.40 games worth of plays this preseason. That measures out to 11.4 points a game (16 points/1.40). Is that really relatively good shape?
Not only that, but The Touchdown began 20 yards away from the end zone. Also:
* The Bears offense holds sub-par talent in other positions. Don Pierson rightfully calls the Bears to task for having little talent at WR. One sports radio commentator defended Rex Grossman by pointing to four drops; others focused specifically on the drop by WR Airese Currie in the end zone that left the Bears with a field goal instead of a touchdown. Conclusion? "Our offense will be better when the WRs start catching the ball."
Well, it would be better, but who says that's going to happen? That's like saying the Cubs rotation will be better once Kerry Wood and Mark Prior get healthy. These are the Bears wide receivers, and they tend to drop balls. That's not going to change just because you want it to. It's happening for a reason. They. Stink.
* The running game looked pitiful and the Bears need it to succeed, even more than a healthy Grossman. This was lost in the hullaballoo over the pilot of Everybody Hates Benson.
* The average Bears fan, from what I can tell, still believes in the Bears. That is not quite right; they believe in the Bears' schedule. The Bears will go 8-8. Sure, the Bears could go 8-8 and still win the North, but that's nothing to be excited about.
Besides, the Bears will indeed go 8-8, but they will miss the playoffs. At the end of the season, Bear fans will realize they lost a game they won last year - a game that should be won this year but won't be. The road game against the Packers.
Sugar in the Blue & Orange Kool-Aid: 60%
Recommended sugar in the Blue & Orange Kool-Aid: 40%
Posted by Beachwood Reporter at 3:31 PM | Permalink
Year of the Superspiracy
With the success of programs like Lost and Prison Break, the Big Five networks have approached the 2006-7 television season with a clutch of new shows based around similar, seemingly unsustainable premises. If a show doesn't boast an evil conspiracy pervading every aspect of civilian life, it's bound to have an odd supernatural twist.
Here we examine the eight (count 'em!) new network offerings fitting this pattern that are set to hit your screen this fall.
Fall TV:

Year of the Superspiracy

1.
Day Break
ABC, Wednesdays at 8:00
Premise: A police detective is framed for the murder of a state's attorney and wakes up to discover he has to live the day of his arrest over and over again until he can prove his innocence. Sort of like Groundhog Day meets The Fugitive, with an extra helping of extraneous violence.
Evil Conspiracy or Supernatural Twist? Both. It's an Evil Twisting Superspiracy.
Main Characters: Detective Brett Hopper (get it?!) is the unfortunate patsy destined to take the fall for shooting States Attorney Alberto Garza. Hopper has a wife or girlfriend or convenient bit of totty with whom he wakes up repeatedly on this fateful day. Her name, per the four-minute promotional video, is Marie or Maria. Hopper also drinks coffee, breaks a small plate and lives in a poorly-lit apartment building, the set for which is tired of being typecast as a "flophouse" and is trying to prove it can handle more affluent roles. There are a few other shadowy figures that alternately torture or tease Hopper as well as a young woman who seems destined to be hit by a bus repeatedly.
Predictions: I'm going to go out on a limb and say that almost every character aside from Hopper will be violently murdered, some multiple times. I'm also guessing the emotional impact of said deaths will be considerably lessened when the person is spontaneously regenerated at the start of the next day. It's hard to imagine how Hopper is going to make much headway into his conspiracy investigation when he magically gets transported back to his bed after only 24 hours of work. The show's bare-bones website points out that Hopper retains not only the information he learns each day, but also the physical injuries he sustains. So perhaps midway through the run we'll have a riveting episode where what's-her-face makes Hopper go to the hospital when she awakens to find him vomiting blood after one of his many beat-downs.
2. Heroes
NBC, Mondays at 8:00
Premise: A random collection of people discover they have supernatural powers, which may have something to do with a solar eclipse. Seriously. I know. Whatever.
Evil Conspiracy or Supernatural Twist? Supernatural twist, although the extremely comprehensive website hints at a possible conspiracy involving a murdered geneticist. I know. Just go with it.
Main Characters: Oh, we've got them all. The motley crew of superheroes and the mere mortals who love them includes the following incredibly detailed job descriptions:
* A Texas cheerleader with a New York accent who shoves poles into her throat. Really.
* A hospice nurse with a crush on one of his patient's daughters who also thinks he can fly.
* His brother, an oily politician who's already married to a Dixie Chick and can therefore ill afford a wingnut relative.
* An Indian professor who relocates to New York to work as a cab driver (I know) and search for whoever killed his father, the aforementioned geneticist.
* A stripper mom with a heart of gold being chased by a bunch of threatening men.
* A chubby L.A. beat cop who can hear people's thoughts but can't pass his detective exam because he is dyslexic, all of which begs the question of why he doesn't just listen in on the thoughts of other people taking the exam with him.
* A heroin-addicted artist who paints the future, bangs the aforementioned hospice daughter, and apparently gets his hand chopped off in the pilot.
* A Japanese office worker who, perpetuating the nouveau Lost-ian Asian male stereotype, doesn't appear to speak English, but who can control time and possibly teleport.
Predictions: I'm thinking once Smackson Pollock loses his hand, it's just a matter of time before the hospice hottie makes her tearful way into the arms of daddy's nurse, provided he hasn't succumbed to the force of gravity by then. I've also got a feeling that Supercop and the stripper mommy, unhappy marriages aside, will hook up at some point. It's pretty heavily hinted that the Indian professor's dead father was killed because he knew too much about the heroes' abilities. If the show gets picked up for a full season, we'll probably find out he's not really dead and is either continuing his research in hiding or is actually involved in whatever shadowy plot is behind the proceedings. And should the show need a cliffhanger heading into season two, that conspiracy is certain to involve either the hospice daddy or the financial backers of the oily politician brother. I have no idea how the cheerleader and the Japanese guy fit into this, but whatever image just popped into your head is probably more entertaining.
3. Jericho
CBS, Wednesdays at 7:00
Premise: The populace of a small town in Kansas is left baffled and, presumably, cut off from the rest of the world after a mysterious mushroom cloud-inducing explosion on the horizon. There's not a whole lot out there about this show, but I'm guessing it's sort of like Invasion without the hurricane or the aliens. So, uh, yeah. There you have it.
Evil Conspiracy or Supernatural Twist? Evil conspiracy, all the way. I'm guessing it's the government testing some whack-assed Homeland Security thing on the unwitting residents of Jericho.
Main Characters: Skeet Ulrich. That is all.
Predictions: Well, since Skeet is just about the only character given any face time during the promos, I'm guessing he gets laid. I'm also guessing he doesn't die. Everyone else is expendable.
4. Kidnapped
NBC, Wednesdays at 9:00
Premise: You're not going to believe this, but someone gets kidnapped. The victim is the eldest son of a successful New York businessman and his socialite wife. Not wanting to involve the authorities, the frantic parents recruit a troubled former FBI agent to aid their search for the missing boy. So it's sort of like Ransom meets The Maltese Falcon with a little hint of Ordinary People and a lot less screaming Mel Gibson. Which I think we can all agree is a good thing.
Evil Conspiracy or Supernatural Twist? Evil conspiracy.
Main Characters: Kidnapped definitely gets the award for most impressive cast, including Dana Delaney, Delroy Lindo, Mykelti Williamson and an incredibly puffy Timothy Hutton. It also leads the league in obvious, winking, too-cute character names. The troubled private eye is named Knapp (get it?); the salty FBI veteran is named King; the nouveau-riche tycoon is named Cain (gee, think he might have some dark secret?) . . . the list goes on. One cast member certain to grate on my nerves is Williamson's philosophy-spouting bodyguard, who comes straight out of Tarantino central casting.
Predictions: Although not as detailed as the website for Heroes, the Kidnapped site does offer background sketches of its main characters. It makes a point of mentioning the kidnapped boy's fluency in French and German. So I'm guessing, first, that a good chunk of the action is told from his perspective and, second, that these language skills will come into play at some point, perhaps around mid-season when he escapes and finds he's been relocated to Tahiti.
5. The Nine
ABC, Wednesdays at 9:00
Premise: This show follows the lives of nine people bound together by their shared experience during a botched bank robbery and the ensuing 52-hour standoff with police. In an open homage to Lost, each episode features a "flashback" sequence detailing 10 minutes inside the bank during the hostage crisis. The rest of the episode takes place sometime in the future. So by my calculations, there's enough material here to supply flashbacks for 312 episodes, which would give The Nine a considerably longer run than such successful programs as M*A*S*H (250 eps) and ER (279 eps and counting). Can't say they're not ambitious.
Evil Conspiracy or Supernatural Twist? Conspiracy, with the intriguing twist that the conspirators appear to be the main characters on the show. We're watching their interactions and developing relationships after the defining event, so we have to figure out what their motivations are and what they might be hiding. There are hints of a police cover-up after the fact, but that conspiracy seems secondary.
Main Characters: The ABC site is downright anemic on names, but I did glean that Scott Wolf's character is a doctor (mostly because he screams, "I'm a doctor!" at one point in the promo video), Tim Daly's character packs heat and might be a plain-clothes cop, Chi McBride's character is a bank big-wig with a feisty teenage daughter, and Kim Raver's character is somewhere in the bank knockin' boots when the shit goes down. Also, I counted two bank tellers, two bank robbers, a nerdy loan applicant, a security guard, and a female love interest for Scott Wolf. So that makes 12, meaning at least three people are killed during the mysterious 52 hours.
Predictions: Well, clearly I've got three stiffs to account for. I'm guessing the security guard takes one for the team early in the pilot, thus allowing the producers a way to build the body count without having to pay an actor for a speaking role throughout the series flashbacks. It also looks like one of the bank robbers is corpsed before the standoff is over. A scene in the promo video featuring a reunion of the titular nine shows a distinct lack of one bank teller and Chi McBride's feisty teenage daughter, so shakes ain't looking too hot for them either. Remember, though, that both characters can be used extensively in the flashback sequences. Oh, and it's pretty well telegraphed that Scott Wolf gets it on with the surviving teller to the chagrin of his established female love interest. If pressed to come up with some guesses on the dark, awful secrets the nine are hiding post-holdup, I'd say that the nerdy loan applicant is responsible for the violent death of one of the bank robbers, that a second bank robber has blackmailed everyone into allowing him to slip back into society unmolested, and someone loses an unborn baby. I don't know; it just seems like that's the way it's going.
6. Runaway
The CW, Mondays at 8:00
The Premise: Donnie Wahlberg forms another quintet of new kids on the block by being falsely convicted of murder and taking his wife and three children on the lam. As implausible as it seems that a family of five would be able to decamp and recamp unnoticed in this day and age of citizen journalism and heightened vigilance, the fugitive clan is apparently so adept at slipping into new communities that they even enroll the young'uns in school. Because this is the CW and all teenaged characters must have ample opportunity for sexual congress.
Evil Conspiracy or Supernatural Twist? Yawn. Conspiracy all the way.
Main Characters: Wahlberg is married to Leslie Hope, who really doesn't have much luck with TV husbands. They have three children: a "hunky" teenaged son; a "frumpy" teenaged daughter; and a "spunky" pre-adolescent whose soul purpose is to find the silver lining to every crap sandwich Daddy Donnie cooks up. The teenage son also seems to have a girlfriend back home to whom he sneaks off to call from local payphone, and he also seems rightfully pissed off that his fugitive father couldn't just go AWOL by himself and leave the rest of the family out of it. Not very sporting of him, to be sure.
Predictions: At some point, Alpha Son is going to head for home in search of the warm embrace of his cheerleader love, and will probably discover that she's replaced him with a philosophy major from the local community college. Frumpy daughter is going to make out with someone just before the family needs to leave again. I don't think the CW has the rocks to kill anyone off. Besides, I have a feeling this show won't be on long enough to warrant any major sweeps-month plot twists.
7. Six Degrees
ABC, Thursdays at 9:00
The Premise: New York is full of millions of strangers who are separated from each other by only six acquaintances. We're going to follow six of the most photogenic and dull of these strangers and see how many times they can bump into each other on the street before actually meeting.
Evil Conspiracy or Supernatural Twist? Supernatural, in that it involves that old chestnut, serendipity. Unless you count the evil conspiracy by the producers to bore the ass off me, that is.
Main Characters: I don't know. One guy is a lawyer. He defends the young girl, who takes her clothes off and is on the run. The black guy is chasing her. Hope Davis looks like hot hell with a side of bacon and needs a nanny for her unruly child. The naked chick is the nanny. The dark-haired chick is an ad executive. Campbell Scott is disgruntled.
Predictions: The problem with this show is that it requires all six to not meet despite being around each other all the time and yet it assigns a lot of value to their eventually meeting. So basically we're going to be seeing the myriad ways six people can not meaningfully interact before meeting the most significant person in their life. Granted, there are some 720 combinations of non-intimacy, but who the hell wants to watch that? So for this reason, I'm predicting that nothing of any interest will happen and that, if new members of the million-strong community of New York strangers aren't introduced, the premise will wear out quickly.
8. Vanished
Fox, Mondays at 8:00
The Premise: The hot wife of a U.S. senator disappears and the ensuing investigation, headed by an FBI agent and a rookie reporter, uncovers her involvement in a bizarre underworld society.
Evil Conspiracy or Supernatural Twist? Now this is what I'm talking about. We've got your standard wicked government hush-machine doused with hot lashings of free-masonry and topped off with a dollop of DaVinci Code murder monks. It's an evil twisting superspiracy of the highest order.
Main Characters: Who cares? Did you not read about the freemasons and the passel of murder monks?
Predictions: I mean, I think they seriously shot their wad in the previews. We know the missing wife is ten kinds of shady and we can figure her prominent husband isn't keen to have this get out into the press. I'm just looking forward to the twists and turns along the way. One big question is whether or not the wife is still alive. I'm going out on a limb and guessing that she is, and that she'll reappear just in time for a sweeps raid. I'm also guessing the senator husband isn't in on this conspiracy, but that it will somehow come out that the wicked freemasons have been bankrolling him all along. Oh, and he's probably having an affair with a staffer who will end up snuffed in some disturbingly cultish way. But, dude, this is Fox. Just about anything could happen.
Posted by Beachwood Reporter at 3:14 AM | Permalink
New Comedies, Old Jokes
This is supposed to be the year of the serialized drama, which according to erudite TV critics indicates darker, more grown-up and reflective audience tastes, presumably because 9/11 has taught us that life sucks and then you die. This means we're now more willing to tolerate season-long storylines where nothing really gets resolved because, by gosh, that's how it is in the real world of terrorism and $3 per gallon gas prices.

Fall TV:

New Comedies, Old Jokes


Personally, I've always liked serial dramas because I like good writing and that's always been where you were most likely to find it on TV. But since there's been precious few of them on the networks until now, the place to look for well-written stuff for many years was in comedies. Because I'm loyal to a fault, I'm going to continue to hold out hope that there will be one or two good comedies on the sked this fall - and we'll really need them now that we're going to spend the next nine months wrapped in a blanket of unresolved angst.

Each show review is followed by several yes/no questions that are the basic hurdles any comedy must clear to become eligible for my "doesn't suck" list. More than one "yes" answer means trouble.

1. 30 Rock
NBC, Wednesdays at 7:30 CT

I'm an unabashed Saturday Night Live fan, always have been, and probably always will be as long as Lorne Michaels is physically able to make the drive in from the Hamptons. Yeah, of course, there are some weeks (months) where it's agonizingly bad, but even the worst of it is still so much edgier than anything else on broadcast network TV, you have to get behind it. For every Horatio Sanz doing Carol, there's a Will Forte doing the Falconer.

Alec Baldwin's SNL guest shots are always the best, and the thought of him butting heads with Tina Fey every week on 30 Rock . . . I'm already in a state of high anticipation. Baldwin plays an immaculately tailored corporate shark, Jack Donaghy, who, after literally kicking down Tina's office door and announcing that her show's former network boss is dead, introduces himself as the new vice president of development for "NBC-GE-Universal-Kmart."

"So we own Kmart now?" asks a slovenly writer.

"No," he says. "Why are you dressed like we do?"

The first thing Baldwin does is demand that Tina, who produces a program called The Girlie Show, hire Tracy Morgan, a certifiably insane, angry black comic. She asks, "Isn't he, um, crazy?" Alec answers, "The important thing to remember is he was never charged with a crime. It isn't illegal to fall asleep on your neighbor's roof." Before their lunch meeting, Morgan drags Tina to strip bar, where she reluctantly gives the dancer some cash, telling her, "This is for computer classes!"

I'm feeling good about this show. I can't help it. Of course it will be confused with Aaron Sorkin's much-heralded (and probably vastly overrated) Studio 60 On the Sunset Strip, which is most definitely not a comedy, but, judging from the six-minute trailer, rather a pissed-off, sarcastic anti-entertainment industry screed a la Paddy Cheyefsky's 1976 classic Network (still the gold standard in that particular field). Not that that's bad - God knows America needs to be told that their remote control is a "crack pipe" -- but it would figure if an over-hyped T. Rex like that crushed plucky, funny Tina Fey in its wake.

Cute kids/Troubled teens? No.

Life lessons learned? No.

Actors in other sitcoms within past two years? Yes.

2. Twenty Good Years
NBC, Wednesdays at 7 p.m.

I give this show Twenty Good Minutes. With a dud like this as a lead-in, now I'm really, really concerned about Tina Fey. Treasure her while you can!

On paper it must have made sense; take two comedy vets like John Lithgow and Jeffrey Tambor, slap 'em together as lifelong but bickering pals now pushing 60, let the odd couple (yeah, it's been done before) run wild all over town indulging their mid-life (late life?) crises, and what could be funnier? The problem is we all got tired of Lithgow as Dick on 3rd Rock From the Sun years ago, and here he is, playing exactly the same shouting, gesticulating wild man, only instead of a great supporting cast and witty writing he's got Tambor playing a stuck-in-the-mud crony and what seems to be a bunch of stock sit-com family members.

Ouch. To see Tambor in this show is to perceive the inevitable TV comedy acting arc: Cutting edge cable show (The Larry Sanders Show) to hilarious but unwatched network effort (Arrested Development) to late-career big-budget flop. It's all so sad and predictable.

Here's a sample of the stellar humor on Twenty Good Years: Doctor Lithgow, after talking his balky judge buddy Tambor into calling off his impending marriage to a controlling harpy in order to be more spontaneous about life, consoles him by saying, "There are other flowers in the garden! Hydrangeas. Lillies!" "I'm not like you, John," Tambor answers, "I don't think with my watering can."

Har. And here's another thing: Any comedy wherein the characters have the same first names as the actors playing them is a bad sign. It means the show was invented to give them something to do. Think Lucy and Rickie. This show also looks to have tender and feel-good moments where important lessons about life and aging will be learned. I say, no lessons learned! Ever!

Cute kids/Troubled teens? Yes.

Life lessons learned? Yes.

Actors in other sitcoms within past two years? Yes.

3. Knights of Prosperity
ABC, Tuesdays at 8 p.m.

ABC has been unkind enough to not offer any video teasers for this show, which was originally called Let's Rob Mick Jagger and, according to the network, is about a bunch of "misfits" who, when they aren't performing their dead-end jobs (such as janitor in Donal Logue's case), are dreaming of pulling a heist by breaking into Mick's Central Park West "super-luxe" apartment.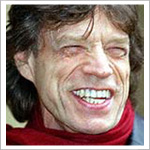 The producers are the same guys who brought us Ed,which was, for the most part, a pretty funny show but which had a big problem - it was too sweet, and the characters spent a lot of time learning valuable life lessons, ergo, I spent a lot of time not laughing. But because Ed had its moments, and without the benefit of any actual clips, I'll have to give Knights the benefit of the doubt.
But there are warning signs, chief among them that Mick has reportedly agreed to make one or two guest appearances, and there is little chance he'll actually be funny. Probably lecture his grandkids not to take drugs or something. Also, the show description calls these misfits "sweet" and comes right out and says, "What they don't know is that there's a much richer target for them . . . the chance to find hope, self-esteem and confidence within themselves." Uh-oh. It sounds to me like all these misfits are going to grow as people, perhaps finding the strength to admit mistakes, take their medicine, shape up and get better jobs . . . all as I yawn uncontrollably and wonder what's going on over at the fishing channel. When, oh when, are they going to learn that no comedy will ever succeed when such lessons are forced down our throats? Check out the most successful comedies, like the Simpsons, Family Guy, pretty much anything on Comedy Central. Who learns lessons there, I ask you? God, get with it, network suits, please! Just make us laugh and not feel guilty about being the schmucks we are, okay?
Cute kids/Troubled teens? No.
Life lessons learned? Yes.
Actors in other sitcoms within past two years? Yes.
4. Help Me Help You
ABC, Tuesdays at 8:30 p.m.
Right off the bat, this has two strikes against it: It's a vehicle for a serial sit-commer (Ted Danson) and its premise is about lovable losers and misfits going to group therapy, so you just know all kinds of life lessons are going to be learned. The whole show will be based on it. I can just see it now: One of the characters is going to spend the episode bickering with his mother/wife/daughter/gay lover over some wacky tic he has, like always trying to kill himself, and after Ted's bestselling self-help book author character proves to the loser that he himself is even more screwed up, everyone will share a knowing smile that says, "Hey, life ain't that bad, after all."
Then there's the roster of Ted's therapy group: The frigid Asian girl, the nervous closeted gay guy, the cute but suicidal young man, the bearded angry guy, the nymphomaniac middle-aged woman, and of course, irascible Ted himself, who can't seem to stay away from his ex-wife, played by the screaming mom from Malcolm in the Middle.
Ted has let that famous big hair of his go completely grey, which I think means he's getting older but not noticeably wiser - in the trailer he's smashing a car windshield with a golf club (my guess is the car belongs to the ex-wife's new boyfriend).
This show could be funny against all the odds if the group members turn out to be real people rather than stereotypes, and if - this is a big if - Ted's Dr. Hoffmann character is noticeably different from the same person he's played in the last eight shows he's been in. (See John Lithgow). Chances of that are about the same that Mick Jagger will be funny.
Cute kids/Troubled teens? No.
Life lessons learned? Yes.
Actors in other sitcoms within past two years? Yes.
5. The Class
CBS, Mondays at 7 p.m.
Just as there are two shows about the behind-the-scenes antics of late night sketch comedy programs, there are two sitcoms this year about groups of school classmates who reunite years later - with presumably hilarious results. One will debut in mid-season on ABC, In Case of Emergency. That one is about former high school classmates and is being produced by Jon Favreau and stars David Arquette.
The one we're getting now is from producers Jeffrey Klarik (Mad About You) and David Crane (Friends) and reaches all the way back to third grade for a connection - two former classmates who are getting married decide to throw a party and get as many of the kids who were there the day they met to attend a reunion party. The show then follows their interactions once the party's over.
Once again, no teasers or clips are forthcoming from the network. Just an impressionistic spot that shows third-graders frolicking on a playground who morph into their current incarnations - a bunch a extremely pretty folks in their 20s who look like they just stepped out of a Garnier commercial, accompanied by that ubiquitous kind of strummy folk-rock music used in the promos for every single TV show and movie that's mainly about relationships. Nonetheless, Klarik and Crane have promised The Class will not be your typical sitcom - they'll use a huge cast that defies stereotypes just like reality shows!
"There isn't the kookie one, there isn't the serious one," Klarik says. "All of the these people have so many different facets and will do things that surprise you." Right. Characters include:
* Twin sisters, one who's open and another who's cynical.
* The nice guy who lives with his mother.
* The former heartthrob boy who turns out to be gay.
* The happy kid whose life has gone downhill since third grade.
* The bitchy TV news anchorwoman.
* The popular girl who's now an unhappy trophy wife.
No stereotypes? We'll be the judge of that. One possible plus is that the cast members are relative unknowns, and thus untainted by former sitcom failures.
Cute kids/Troubled teens? Yes.
Life lessons learned? Likely.
Actors in other sitcoms within past two years? No.
6. 'Til Death
Fox, Thursdays at 7 p.m.
Brad Garrett was always the secret weapon on Everybody Loves Raymond - the one reason why that show had an edge and the one reason why it was really funny on occasion. That's why I'm not going to lump 'Til Death into the same category as Ted Danson's and John Lithgow's new comedies, that category being Shows Created to Give Old Sit-Commers Another Go 'Round.
This show seems to put Garrett into Honeymooners territory - that is, a chance for him to complain sarcastically about marriage for a half hour each week. But that could be funny, depending on how biting the sarcasm is. This being Fox, my hope is that it will be plenty biting. But can it be consistent? The clips Fox has been hyping for a month now highlight the comparison between the newly wedded bliss of the younger next-door neighbors and his own battle-scarred marriage with Joely Fisher. The neighbor, Eddie Kaye Thomas, is also a new administrator at the high school where Garrett is a history teacher.
Now, marriage jokes are among the oldest in the book (take Henny Youngman . . . puh-leeze) and that could make it dodgy going if not done just right. But for some reason I have faith in Garrett. He's so aggressively cynical, so eerily comfortable with his own misanthropy, it's hard to take your eyes off him. On the show's website, Fox has provided a video piece where they ask him to do marriage-related word associations that were actually kind of hilarious. To wit:
"Engagement." A rash.
"Wife." Plaintiff.
"Love." Smoke and mirrors.
"Wedding ceremony." Not enough liquor.
"Wedding vows." Catheter.
"Wedding reception." Getaway car.
"Linens." Great for evidence.
"Waterbed." The Dead Sea.
I think I can hear Henny Youngman cracking up from beyond the grave.
Cute kids/Troubled teens? No.
Life lessons learned? No.
Actors in other sitcoms within past two years? Yes.
7. Happy Hour
Fox, Thursdays at 7:30 pm
Finally! A good, old-fashioned, unfunny Fox sex comedy. Thanks, Rupert Murdoch, for providing me with enough trailer to know that I will without one single doubt be spending my Thursday evenings from 7:30 to 8 p.m., even if it's the dead of winter, jogging barefoot through snow if it comes down to a choice between that and watching Happy Hour.
That 70's Show was such an institution it was probably inevitable that Jackie and Jeff Filgo, who were the key creative forces behind that phenomenon, would strike out with their follow-up. But this? Even they couldn't put enough class into the Fox/sex comedy matrix to rescue it from the dubious standard set by Married With Children. And even a Chicago locale can't win it enough boosterism points to get an "amen" from me.
Tired premise: Straight-arrow loser gets kicked out by his prefect girlfriend (probably because he wasn't funny enough), and he ends up answering a roommate-wanted ad placed by Larry, a swinging dude whose goal in life is to swill martinis and dispense cracked wisdom about women. Sexcapades ensue at Larry's Windy City bachelor pad as the Absolut flows. Example: Larry's old roommate and his (controlling and bitchy, naturally) girlfriend come back to the apartment to take back his TV set. Larry hates her so he stuffs the remote down his pants.
Controlling Girlfriend: Where's the remote?
Larry: I . . . think it's in my pants.
Controlling Girlfriend: Well, I'm sure there's plenty of room down there.
There are also plenty of references to balls, butt-lifting jeans, sexy bosses and incompetent lovemaking. All not funny and all accompanied by hysterical laugh-trackery. Yes, the Fox sex comedy tradition lives on.
Cute kids/Troubled teens? No.
Life lessons learned? No.
Actors in other sitcoms within past two years? No. And yet it's horrible.

Posted by Beachwood Reporter at 2:28 AM | Permalink
Up and Down the Dial
It may be the Year of The Superspiracy and New Comedies, Old Jokes, but that's it's also time to check in with the likes of the Gilmores in Stars Hollow, the Teletubbies, and Lou Dobbs, each of whom may go off the rails for different reasons this fall. A few more capsules from the Beachwood Fall TV Preview Desk.

Fall TV:

Up and Down the Dial


1. Gilmore Girls
The CW, Tuesdays at 7 p.m.

Commentary: Whew! Now that the husband-and-wife writing team of Amy Sherman and Daniel Palladino are gone, maybe the show will get a breath of fresh air. No one writes an episode like Amy and Dan, but last season seemed like equal parts heartbreaking and stale. Good news for Stars Hollow!

Plot Predictions: Even thought the conclusion of Season Six left lovers Luke and Lorelai to a summer-long sobfest, I have high hopes for Season Seven. Who knows, maybe Lorelai was just sleeping over at Christopher's naked on the couch as friends! As if that ever happens. In any case, Luke and Lorelai are never more than two episodes and a heartfelt conversation-width apart. Right?

- Amy Giovannetti

2. Heroes
NBC, Mondays at 8 p.m.

Commentary: I know little about this new show, but three things about the trailer have my interest:

* The cute boy who plays Jess in Gilmore Girls, I assume his name isn't actually Jess, will be in it. I think he can fly. Awesome.

* I like the part when the bespectacled and sweaty Asian man concentrates really hard and moves time backwards by one tiny second. I don't even know him yet, and am convinced that he's great. Plus, I love that cool clock.

* It's pretty kickass when the cheerleader says to her mom, "I walked through fire and I didn't get burnt" in response to mom asking, "How was your day?"

Plot Predictions: The show will never be as good as the trailer.

- Amy Giovannetti

3. The O.C.
Fox, Thursdays at 8 p.m.

Commentary: I sooooo thought it was going to be an overdose. I mean, Marissa has an episode-by-episode tendency to put herself into bad situations, get depressed about it, and then make things worse. It seemed more than likely that eventually she'd die by her own dumb hand. But her car crash death leaves us with more questions than answers. For instance, over how many episodes will the details of the funeral stretch out?

Plot Predictions: I'm not very interested in Julie Cooper's strategy for coping with loss. But most importantly, what is this going to do to Seth and Summer? The two already have a shitload to deal with, like long distance and the start of college and Seth's newfound bum status, and I definitely don't want Marissa's death to interfere with their touching and witty banter. College!

- Amy Giovannetti

4. America's Next Top Model
The CW, Wednesday at 7 p.m.

Commentary: If you like Project Runway, Queer Eye for the Straight Guy, Survival: (Anywhere), Fear Factor, Extreme Makeover, and The "L" Word, think of all the time you can save by dumping those shows and just watching America's Next Top Model!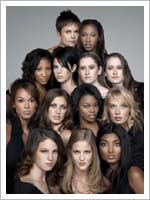 You've got your fashions, gay photo-shoot director, and drag-queen runway coach. You've got your danger from posing in bikinis on a NYC rooftop in December and swinging from the rafters in tight harnesses that restrict breathing. There's the squirm factor of such fashion accessories as tarantulas, giant cockroaches, snakes, and pigeons. Then there are the long-haired, naturally beautiful girls who are made "fierce" with platinum spikes and droopy mohawks, and one sweet girl with misaligned teeth who was made over into a swollen-faced zombie after 18 hours of dental surgery. We get to see a bi-curious girl maul a cute lesbian contestant, and lesbian photo shoots coyly hidden just below the TV camera's horizon.
At the center of it all is the increasingly "plus-sized" and over-painted Tyra Banks, the mastermind of the show. Tyra is the on-camera den mother whose off-camera reputation for being a bitch seems highly plausible after all traces of the first winner, Adrianne Curry (now Mrs. Christopher "Peter Brady" Knight) of Joliet, vanished after Curry slammed the show for making false promises.
Now in its seventh "cycle," ANTM has morphed from the little runway that could into a casting call for Cover Girl Cosmetics. This has taken the show from looking for an edgy high-fashion model to searching for a personable girl next door. I expect the risqùe shoots - but hopefully not the psycho and tranny-look contestants - to tone down as the show moves from the trashy UPN to the CW, a new network combining UPN and the WB that I expect to favor the WB's tame teen/family fare.
Plot Predictions: The Cycle 7 models have been revealed, and I've done my assessment. Expect half-Sri Lankan judge Nigel Barker to drool over buxom Indian beauty Anchal, who hasn't got a prayer because technically she's Asian. Brooke has that Cover Girl look, but she's blonde, so that's that. I'd put money on AJ, the punk Sandra Bullock, or the soulful-eyed Christian. I also expect that Cover Girl will continue to reject the winners by choosing actresses to be Cover Girl models.
- Marilyn Ferdinand
5. Thomas & Friends
WTTW/Channel 11, Mondays and Tuesdays at 11 a.m.
Commentary: The star of the show is Thomas the Tank Engine, an animated steam engine from the imaginary Island of Sodor. This brilliant children's show teaches kids important life lessons, including the most important lesson of all: technology and progress are bad.
On the Island of Sodor, the menacing diesels are trying to force out the friendly steam engines. Who will win? (Spoiler alert!) The steam engines do. Along the way, children learn important technical details about a technology that hasn't existed for a century, while learning to distrust evil progress. The quality of the animation is even old-school: none of the mouths on the steam engines move when they speak. By comparison, Rudolph the Red-Nosed Reindeer looks like the work of Pixar.
Plot Predictions: Thomas will be cheeky, Alec Baldwin (one of the narrators) will embarrass himself with the worst British accent since Kevin Costner in Robin Hood, and at least ten new merchandising opportunities . . . er, I mean characters will be introduced.
- Rick Kaempfer
6. Lou Dobbs Tonight
CNN, Daily at 5 p.m.
Commentary: Lou Dobbs is the most entertaining demagogue in America today, excepting, perhaps, Al Sharpton. He's right about the evils of outsourcing and how the middle class is getting the shaft, wrong about his tough stance against immigrants, and in-between on everything else. He manages the rare feat of adequately balancing his dual roles as Journalist and Pundit, tackling tough issues, sharply analyzing the news, and giving the bad guys hell in sizzling interviews. He has no patience for fools on his news roundtables. It's just what you thought couldn't be - scintillating public affairs television!
Plot Predictions: I tune in as often as I can because you never know if this will be the day Lou's head explodes. The midterm elections could break Lou, so the fall season looks promising. If he survives, he will come back even stronger. I suspect then that the Lou Dobbs for President rumors will spark up, though more likely he'll be cast as Howard Beale in a remake of Network. He may face an ignominous end, though, when it's discovered that he's hired illegal immigrants as stagehands and hasn't paid Social Security taxes for his Mexican gardener.
- Steve Rhodes
7. Studio 60 on the Sunset Strip
NBC, Mondays at 9 p.m.
Commentary: By Aaron Sorkin. What else do you need to know?
Plot Predictions: Will likely be popping some pizza rolls in the oven about eight minutes before Heroes ends. Mmmm . . . well-written dialogue with pepperoni.
- Amy Giovannetti
8. The Situation Room
CNN, Daily at 3 & 6 p.m.
Commentary: Like other news junkies, I find myself in The Situation Room a couple times a week. When someone calls and asks what I'm doing, I say, "I'm in The Situation Room." They might say, "Oh, how do things look?" I'll say, "Dire." Or, "We're still assessing the situation." Or, "I'll let you know after William Bennett tells more lies to the American people to advance his hypocritical, 19th century moralistic agenda and Donna Brazile gets done explaining how the Democrats will blow it this time." They'll say, "I predict 'Dire.' I'm going to Brownshirt alert and moving the nuclear armageddon clock one minute closer to midnight." What other slickly-packaged news roundup outside of The Daily Show is this much fun?
Plot Predictions: As the midterm elections near, The Situation Room will get close to dangerously overheating and hazmat crews will be called out to stand by in case Wolf Blitzer spontaneously combusts. Jack Cafferty, of the show's Cafferty File, will slowly morph into Krusty the Clown while reporting results of the show's latest viewer polls. Bennett, the frequent Republican pundit called upon to spin the Administration line which otherwise has no way to reach the public, will keel over one day from a seizure sparked by the set's 83 oversized video screens. Six hundred thousand dollars in slot tokens will fall out of his pockets. In memoriam, the White House will actually start having its own situation room meetings in The William Bennett Situation Room - on Fox.
- Steve Rhodes
9. Teletubbies
WTTW/Channel 11, weekdays at 11:30 a.m.
Commentary: In Teletubbie-Land, four brightly colored television-receptor-people (Teletubbies) live in a spaceship-shaped home. This luxurious 5,000-square-foot space-age pad is located in a grassy field of wild flowers and live bunnies, and appears to come with a lawn service and live-in help (a vacuum cleaner-shaped sucking device named Nu-Nu.)
The four Teletubbies, Tinky Winky (purple), Dipsy (green), La-La (yellow), and Po (red), receive messages sent by children on the televisions built into their stomachs. These videos feature exciting scenes of children cutting out pictures and waving. The Teletubbies themselves have an impressive vocabulary consisting of the following words: "uh oh," "no," "Nu-Nu," "look" and "bunnies." All of these words can produce a giggle at any time from the little baby that lives in the sun and watches over them.
One last tip for parents tuning in: don't bother writing the producers of this show to find out "what they were on" when they created it. They won't tell. Do as I do: continue experimenting with whatever you can get your hands on until you encounter the correct hallucinogen.
Plot Predictions: La-La will dance his (or her) little heart out, Tinky Winky - the deep-voiced, purse-carrying triangle-headed one - will offer a limp-wristed wave to the baby in the sun, and the silly Nu-Nu will forget to suck up a spill. Uh-oh!
- Rick Kaempfer
10. Chicago Tonight
WTTW/Channel 11, Daily at 7:00 p.m.
Commentary: Carol Marin is the best thing to happen to this show in years. She could moderate a panel on emo and actual glean some insights. Correspondents Rich Samuels and Elizabeth Brackett are head-and-shoulders above their commercial television peers, and Phil Ponce is solid, if not always as aggressive in calling out the spinmeisters as one might wish. He's also much funnier in person than on the show, and would be better served letting his witty freak flag fly than trying to be the kind of all-purpose host former show emcee Bob Sirott was brought in to be. This is still the best public affairs television in the city, and a lot of people root for it to be even better.
Plot Predictions: In the face of eroding ratings, desperate station executives will parter with RedEye editors to revamp the show. Commentator Mancow Muller will be forced out after it's discovered he hasn't paid Social Security taxes for his Mexican gardener - and that's he's really 54. Neil Steinberg will replace Ponce but be forced out after three days for offending blacks, Muslims, Latinos, women, Chicago public school students, librarians, union workers, pilots, store clerks, teachers, everyone on his Metra line, himself and his family. Bob Sirott will come back to do One More Thing One Last Time commentaries after his See, The Thing Is . . . commentaries bomb on Channel 5. In a budget move, the station will rerun old episodes of Chicago Tonight: The Week In Review every Friday and nobody will notice the difference.
- Steve Rhodes
11. Lost
ABC, Wednesdays at 8 p.m.
Commentary: Are you serious? I'm still waiting for Season Two to come out on DVD. You'd think they could release it in time for someone like me to have a Lost marathon with lots of Lost-themed food and beverage (salt water, fruit) and a Lost costume contest (artfully dirty or ripped clothing, sand) so that I could be all caught up in time for the season premiere. Wait, can I still do that? I need to re-check those dates . . .
Plot Predictions: The Season Two DVD will be out before Season Three ends - but just barely.
- Amy Giovannetti
12. Cartoon Alley
TCM, Saturdays at 10:30 a.m.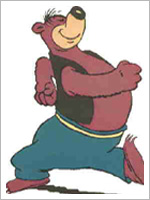 One day, one of my film instructors asked our class, "What do you think of when you think of Warner Brothers?" Instead of the correct answer, "gritty urban and crime dramas," I replied, "cartoons."
If you're like me, or you just want to find out what inspired the creators of Family Guy and The Simpsons, Turner Classic Movies' Cartoon Alley is for you. Host Ben Mankiewicz, (yes, of the Herman and Joseph L. Mankiewiczes) is the congenial host of this half-hour tribute to classic cartoons that provides a fabulous, commercial-free alternative to children's programming on the majors.
You'll never be able to enjoy these gems of short animation the way they were meant to be seen-preceding a feature film at a movie theatre (except on the occasional Saturday night at the LaSalle Theatre in Portage Park). So make do with the next best thing. Revel in the insanity of Tex Avery, Chuck Jones, and Fritz Freleng. Sit and watch with your kids and then drive yourself crazy looking for a Barney Bear or Sniffles the Mouse lunch box for them (or yourself) on eBay. Enjoy British cartoons and much more. See animation done the old-fashioned way-painted on cels by the thousands. Take that CGI!

- Marilyn Ferdinand
13. Washington Journal
C-SPAN, Daily at 6 a.m.
Commentary: C-SPAN's famously non-partisan guest and call-in show in a no-frills Washington studio.
Plot Predictions: Instead of separate Republican and Democratic phone lines for viewers to call in on, the show will go to Republicans Against Bush and Democrats Against Bush call-in lines.
- Steve Rhodes
Posted by Beachwood Reporter at 1:23 AM | Permalink
September 3, 2006
Over/Under: Containing the Hype
I'm convinced that football coverage is much like any sort of coverage, in that some outlet gets hold of a story, and others say "I'm not sure if this is actually going to make the world a better place, much less if it's true, but it might get people talking." So they ride the "story" until complete exhaustion. Sports radio has a lot of hours to fill.
If the story doesn't have legs, there is always the carpet bomb approach - throw out as many provocative statements as possible and hope something strikes a group frayed nerve.
All told, it's hard to seperate what is really important in football - especially when it comes to the Bears. That's where we come in. We're here to help. That's what Over/Under is all about.

Overhyped: Practice
Since we cannot talk about the game, we have to talk about practice.
As you may have noticed in the past ten days, ESPN is the worst violator. Should there be four preseason games? Should starters even play? Why don't they just eliminate the first two games of the regular season so players don't get injured at all? And so on. You see, if you make each question a five-minute segment on every 30-minute show, you have filled four hours of programming. This is important so you never have to bring back Australian Rules Football to fill airtime. Pity.
But driving the general questions about preseason into the ground only goes so far. You offset that by manufacturing a "story" you can also drive into the ground. How do you do that? You focus unerringly on a single team, coach, and/or player until a problem develops. And then you pounce. Relentlessly.
Of course, you have to be careful who you pick. Tom Brady? Too cute. Dominick Davis? On a bad team. Best bet? Somebody who talks in the third person and never turns down interviews.
T.O.'s gonna score!
Underhyped: One Team's Trash Is Another Team's Treasure
In five to seven years, the NFL will induct Marshall Faulk and Jerome Bettis into the Hall of Fame. You might say, "Wow, the Rams and Steelers really drafted well. Bravo." Actually, they the Colts and Rams, respectively, really drafted well. Long forgotten is the fact that Faulk and Bettis landed on the teams they are best known for through trades. For the Rams, Marshall Faulk was a bit of a mulligan, given they shipped Bettis to Pittsburgh and turned their running game over to Lawrence Phillips. Oops.
At the time, Faulk and Bettis were perceived as trash.
So who is today's trash and tomorrow's treasure? Perhaps the answer can be found in these trashy trades.
* The Eagles replace T.O. with a young underachieving WR (Donte Stallworth) who also will not listen to the coaching staff, and the Saints get an old overachieving LB (Mark Simoneau ) who the team will not listen to. Here are the players the Saints have taken in the 4th round, starting in 2000:
2000: Terrelle Smith, FB. Starts in Cleveland. Touched ball 99 times in 91 games
2001: Moran Norris, FB. Played five games for the special teams, released the following year. Special teams player for Houston next four years.
2002: Keyuo Craver, CB. Out of football
2003: Montrae Holland, G. Started 30 games, now pencilled in as a backup.
2005: Chase Lyman, WR. Did not play rookie year
At least Simoneau sounds Cajun.
* The Packers traded Javon "I have no interest in being a Packer" Walker to Denver for a second-round pick. Walker helps Denver by making sure Jake Plummer is not one of the top three talented players on offense. The Packers traded the pick they got for Denver to Atlanta for several lesser picks, getting, in effect, Boise State offensive tackle Daryn Colledge for Walker. Colledge entered pre-season as the starting left guard, but it wasn't long before he was demoted to second string, meaning he may not develop in time to play his assigned role in Brett Favre's "Neverending But Getting Embarrassing Tour."
* The Vikings traded Daunte Culpepper to Miami for a second-round pick. Culpepper is big, bad, and has a bad big celebration. He also has hands to small to get around a football, and seems to perform less well when the likes of Randy Moss aren't around to catch his bombs. But the Vikings used the pick they got from the Dolphins to select New Mexico offensive lineman Ryan Cook - who was projected as a second-day pick.
All of these players look like trash right now, but one of them may make the Hall of Fame one day. Which one do you think it is?
Posted by Beachwood Reporter at 5:01 PM | Permalink
What I Watched Last Night
Pat Bataillon is on hiatus. Unlike many of your favorite shows, he will return shortly.
Posted by Beachwood Reporter at 10:37 AM | Permalink
September 1, 2006
The Weekend Desk Report
Special Updates Edition
The Weekend Desk is taking a couple of days off to observe the federally-mandated death throes of summer. To help you pass the time this long weekend, we present timely updates on our major stories - and fantasy leagues - from the past six months. The Weekend Desk will resume normal publication next, um, weekend. The Papers will return Tuesday.
World Walletball Championships
We haven't been paying much attention to the World Basketball Championships, but given the recent history of such events, is anyone surprised to see the Euro once again beating up on the rest of the world?
Bittersweet Symphony
Beleaguered U.S. Secretary of State Condoleezza Rice suffered another high-profile setback in her global credibility when German Chancellor Angela Merkel replaced her atop a list of the world's most powerful women. Not only does Merkel hold an elected office and preside over the third-largest economy on the planet, she also has new diplomatic credentials to fall back on.
MVFD
Long-time fantasy sports players will tell you that the hardest thing to predict is the break-out player - that guy who comes out of nowhere to post career numbers that far outpace any and all forecasts. If you've been savvy enough to draft that player, you're in for an exhilarating ride. If you missed the boat, you can only sit back and rue the missed opportunity. Well, it seems that in The Beachwood Reporter Fantasy Fascist Dictator League we have such a performer. In fact, per Donald Rumsfeld, we have tens of millions of them. That's right, if you drafted the vast majority of the American public, our hats are off to you. Your team is now on pace to demolish established high performers such as the Chinese Communist Party and Rummy's boss.
When Good Theories Turn Bad
Apparently enraged by continued challenges to its conclusive victory in this year's Theory Races, Global Warming has decided to take on humanity in a head-to-head battle royale. While insiders continue to back traditional global power Mankind for the moment, there are some concerns that our training regimen could lead to a species upset to rival Evolution's historic thrashing of the Neanderthals 30,000 years ago.
And In Other News . . .
. . . Uh, ditto.
Posted by Natasha Julius at 11:09 AM | Permalink
What I Watched Last Night
As of today, I am an out-of-the-closet Waterworld fan.
Yes, the acting is horrible and the dialogue is not exactly deserving of an Oscar. But the story is intriguing. And whenever Waterworld is on television, like it was last night on Bravo, I find myself watching it.
Maybe I like it so much because, according to recent reports, this is where the human species is heading.
It is only a matter of time before Manhattan goes underwater and Denver is the last great seaport before succumbing to Poseidon and his devilish plans.
Waterworld presents to us a vision of what Earth will be like when we run out of oil at the same time the Earth floods. Hello? It's practically a true story. Plus, Kevin Costner's character grows gills, which is almost enough to recommend any movie.
So here is the plot: Earth has flooded and the survivors are looking for land. The Good: Survivors holding together make-shift societies populated by the wanderers of the ocean. The Evil: a group of survivors on an oil tanker killing people looking for land. The Twist: the survivors don't realize that there is no land because the ice caps melted and everything is under water. The Happy Ending: Costner finds land. There you have it, a movie.
Waterworld is as predictable as a Disney movie. It was a flop, a laughingstock, and a disaster for Costner. Fortunately, he landed a role in The Postman. I have never made it through that entire movie but I bet it is just as great as Waterworld or even better.
See what else Pat Bataillon has been watching, in the complete collection of What I Watched Last Night.

Posted by Beachwood Reporter at 9:28 AM | Permalink
The [Friday] Papers
1. Life at Work.
2. "Tehran Residents Fear Their Nation On Verge Of Being Pariah." Finally, common ground.
3. Isn't George W. Bush making a huge mistake by inflating the threat, scope, and standing of al-Qaeda and its ilk? I mean, should we really turn this into the greatest ideological battle of the 21st century? That's just even more of an invitation than the war in Iraq to actually coalesce a united enemy against us that otherwise would remain scattered and disjointed. He's issuing a call to action for the other side! And thus, George W. Bush is the world's biggest threat not only to our security but to everyone else's. I wonder if the papers in Iran are reporting "Washington Residents Fear Their Nation On Verge Of Being Pariah."
4. "[New York City Mayor Michael] Bloomberg, who has seen the intelligence reports and has dispatched NYPD officers to London, Afghanistan and the Middle East to investigate the jihadist threat, doesn't hesitate. Americans, he tells me, are 'too freaked out' about the threat of another attack," Rolling Stone reports. "'There is a much greater risk from lifestyles that hurt you - smoking, walking across the street without looking both ways, not putting bars in the window if you've got kids and you live above the first floor, those kinds of things."
5. Bush told NBC's Brian Williams that he never said that Iraq had something to do with 9/11. Okay, wait a minute. al-Qaeda attacks us, so you invade Iraq. But there was no connection. So, um, what was your response to 9/11 again then? Truly, regardless of partisanship, if you don't see how disastrous this presidency has been, you are not being intellectually honest.
6. Cook County Circuit Court Clerk Dorothy Brown announces for mayor. Not impressed.
7. "When reporters asked Brown her position on the controversial 'big-box' minimum wage ordinance passed by the City Council in July," the Tribune reports, "she would only say that the issue needs 'a lot more discussion.'"
When asked whether Brown was prepared to run for mayor, reporters would only say that the issue needs "a lot more discussion."
8. Just to bring closure on Benny the Bull.
9. Dusty Baker says he's baffled by the negative media he receives, Lacy Banks reports this morning.
''It used to be we're all in the game together,'' Baker said. ''It used to be not us and them or not nearly as mistrusting as today. When I broke into baseball, the media rode with us on the planes and on our buses. They were like part of the team. We used to hang out with the media, go to the same bars and restaurants and stay in the same hotels. We were like one instead of two."
It goes on from there, with levels of ridiculousness too tiring to point out.
Banks also reports: "Cubs first baseman Derrek Lee also took issue with the intense media criticism of his manager. 'Everybody in the media is now trying to get the juicier stories,'' Lee said, 'even if they have to make up stuff, which they do sometimes.'"
Care to give any examples, Derrek?
10. Baker is more concerned with padding Aramis Ramirez's stats than the future of the organization. These statements alone should get him fired. Let Billy Williams run the club for the final month and then go get Joe Girardi, which seems to be what Jim Hendry wants to do.
11. Spot the top three things that bug me most about this column. It's something I want you to do on your own from now on, because I am entering a temporary, self-imposed moratorium on this front. Until the baby is born.
12. "Last week, I attended a coffee at which Peraica was speaking, raising volunteers and money for his campaign, in the "Fighting 47th Ward," a Democratic stronghold on the Northwest Side," writes former Ald. Dick Simpson, now a University of Illinois-Chicago professor.
"That same day, challenger Peraica was supposed to debate Ald. Todd Stroger, who has been anointed by the Democratic Party as heir to the job held by his father, John Stroger, until he was disabled by a stroke, on an African-American radio station. Stroger, after agreeing to appear, suddenly had a conflict when Peraica said yes to the debate."
Simpson also writes: "[Peraica] opposes political corruption and has promised not to accept campaign contributions from county employees or vendors who do business with the county. He pledges not to raise taxes and to cut the budget, and he proposes a referendum to consolidate four tax-collecting agencies to save taxpayers' money. But can a Republican be elected on the platform of a smaller government, eliminating corruption and lower taxes?
"Peraica says 97 departments of county government can be cut to 35. He supports the 7 percent property tax cap pending in Springfield and would work for fundamental property tax reform later. He would cut the size of county government. Because 1,300 to 1,500 of the county's 27,000 employees leave each year, unnecessary jobs could be eliminated without having to fire large numbers.
"To win, Peraica has to get a large share of the Forrest Claypool voters. Some say he is too conservative to win them over. But at the 47th Ward coffee, he satisfied most of the liberals in attendance with two pledges. Despite his pro-life beliefs, he would not stop abortions at Cook County Hospitals. He would uphold Roe vs. Wade although he would have more counseling, including adoption choices. On gay rights, he argues that Illinois state law defines marriage as the union of a husband and wife, but he supports the county providing people in same-sex relationships full benefits."
So what's not to like?
13. Operation Manila Folder. (Second item. But see the first item, too.)
14. "Former Gov. George Ryan, who will be sentenced Wednesday by U.S. District Judge Rebecca Pallmeyer on federal corruption charges, has lately been spending his time at his Kankakee home putting together a photo album for his children," Sun-Times gossip columnist Michael Sneed "reports" this morning.
"And here's me meeting Rev. Scott Willis at a prayer breakfast and lighting into his lawyer. And here's me denying Ricardo Guzman had an illegal license. And here's me in Jamaica executing a sweetheart lease deal with Harry Klein. Ah, good times."
15. "Sneed's Thursday item about Cook County Board president candidate Tony Peraica listing the endorsement of deceased Westchester Village President John Sinde on his Web site caught the attention of Sinde's widow, Marilyn Sinde. Mrs. Sinde informed the column that her husband did endorse Peraica before his death."
16. "A fund-raiser for the retention of judges is being tossed Wednesday by the Committee for Retention of Judges in Cook County at the Chicago Cultural Center," Sneed reports.
A fundraiser for a Committee for Retention of Judges in Cook County?!
They used to just bring the money to Counsellor's Row.
17. Juxtaposition of the Day.
The photo caption,"The [Chicago Public" school district announced this week that bus service will be cut back for homeless children who qualify for hardship service," above the headline, "Car Dead In Metra Lot? Free Aid On Way."
18. "When doling out financial aid, America's colleges and universities are increasingly awarding more money to upper-income students, according to a report released Thursday," the Tribune says.
"The study, by the Washington-based Education Trust, found that although state and federal policies have shifted money away from low-income students, the greatest change has been at the college level.
"Though the neediest students still get larger grants than the wealthiest, colleges are directing more money toward middle- and upper-income students, because they are more likely to have the grades and test scores that boost academic rankings, according to the report."
19. If this is really the president's summer reading list, I'm a lot busier than he is.
The Beachwood Tip Line: Anonymous comments now enabled.

Posted by Beachwood Reporter at 8:13 AM | Permalink