« June 2006 | Main | August 2006 »
July 31, 2006
Playlist: Chicago Tonight
Who knew so many people were interested in the crappy snippets of music played on Chicago Tonight? From the program's Frequently Asked Questions:
What music is played during the opening and closing credits of Chicago Tonight?
Our new theme (effective Feb. 2006) is original music by composer Nick Tremulis.
What music is used during the segment transitions ("bumpers")?
We use a variety of music during our bumpers between segments. Below are just some of the songs and the artists featured between Chicago Tonight segments.
Jane (Barenaked Ladies)
Eleventh Confession (Peter Himmelman)
Neon (John Mayer)
Nothin' Bout Me (Sting)
Bittersweet Symphony (The Verve)
Child Into A Man (Peter Himmelman)
You Know Me Better Than I Do (Peter Himmelman)
Please Forgive Me (David Gray)
Fields of Gold (Sting)
If I Ever Lose My Faith in You (Sting)
Clocks (Coldplay)
Last Train Home (Pat Metheny Group)
Had I Known (Poi Dog Pondering)
In Seeds Come Fruit (Poi Dog Pondering)
Porcelain (Moby)
Carriage (Counting Crows)
Lie in Our Graves (Dave Matthews Band)
Stardust and Snow (Once Blue)
More Than This (Roxy Music)
Opposites Attract (Billie Myers)
Speak (Nickel Creek)
What Sarah Said (Death Cab for Cutie)
Landed (Ben Folds)
83 (John Mayer)
While She Sleeps (Billy McLaughlin)
Your Heart is an Empty Room (Death Cab for Cutie)
What music played is during the opening and closing credits of the Friday Night program?
It's Cantaloop by the group US3.

Posted by Beachwood Reporter at 12:20 PM | Permalink
The [Monday] Papers
Now incorporating The [Sunday] Papers.
Daley Dose
"Doling out city services at election time is yet another way that the Daley administration has used public resources for political gain," the Tribune reports, in "Trading Services For Votes."
Had enough yet?
Making Ends Meet
Dennis J. Gannon, president of the Chicago Federation of Labor, fires back today at Sun-Times business writer David Roeder's assertions that the big-box ordinance is evidence of union weakness, not strength. Roeder's reasoning is that a strong union would welcome the stores at any wage, and then go in and organize them. Roeder ignores the idea that labor might operate on several fronts at once with several strategies, as well as the impact of eviscerated labor laws on the ability to organize.
Gannon, however, takes a broader approach in his response, citing labor's historic victories that have improved workers' conditions for everyone, union or not. "Only when families can afford to make ends meet and afford quality health care will we see real improvement in our communities," Gannon writes (second letter).
Like maybe among the poorest of the poor, and the children they send to Chicago's public schools?

Neil Steinberg has this to say today about Chicago public schoolchildren - apparently based on surveys the paper used to do a long time ago:
"Half arrive at their first day of school unable to identify the colors red, blue, and yellow. Half are unable to speak in complete sentences. Half do not know how to hold a pencil or a crayon, never mind write with one. Half can't tell you their last names - heck, some kids show up for school and don't even know their first names, only a street tag - 'They call me Lil Man.' It takes a special parent to send their child to school without knowing his name - actually not so special, which is heartbreaking.
"The surveys were last taken a dozen years ago, but the situation hasn't changed."
Steinberg was reacting to the Rev. James Meeks's assertion over the weekend that Mayor Richard M. Daley's vaunted school reform has failed black kids.
"How can the nation's third-largest city be comfortable with the fact that only six out of every 100 high school students will graduate from college?" Meeks asked at a rally on Friday. That means the mayor, who brags about how great he's done in the area of education, has a 94 percent failure rate . . .
"These kids who started in kindergarten, they wasn't messed up when they started in kindergarten," "They were not messed up in the first grade. They did not get messed up until they enrolled in the Mayor Daley-run school system."
Aside from the fact that Steinberg is content to rely on newspaper surveys a dozen years old, I don't know how Steinberg knows that "the situation hasn't changed." Maybe he's been conducting his own surveys.
Steinberg not only condemns Meeks, but rises to the defense of Daley, "whom impartial observers laud for doing so much with a school system that was on life support when he showed up."
I'm not sure who these "impartial observers" are, but the success of the Daley era in school reform is hardly settled fact. As Alexander Russo, the education reporter and proprietor of the District 299 Chicago Public Schools Blog, noted on these pages, Chicago is now a cautionary tale, not a model, for cities considering mayoral takeovers of their school systems.
What's more, Meeks argues that test scores are worse now than they were before Daley took over the school system in 1995.
I don't know if that's true - and I don't put much stock in test scores as a way to evaluate a school district - but I do know that in 1997, I contributed to a Newsweek article touting new test scores as evidence of the school system's turnaround. The test scores had indeed risen slightly - but only enough to match what the scores had been in, if I remember correctly, 1989. That was the year Daley took office. That fact didn't make it into the article.
So, if by "impartial observers" Steinberg means all the great press the Daley Administration has gotten worldwide, well, I would suggest that great press rarely has anything to do with reality - except that it's part of the plan. I interviewed Paul Vallas early in his tenure as head of the schools; he had retained the previous superintendent as a consultant, and told me that he wasn't doing anything different than she had been doing, except that he had more money, more flexibility from the union, and more power to make changes than she had had. He also said that regaining the public's confidence - doing better, more aggressive public relations - was key. In fact, that part of the plan has probably been more successful than the part about educating the neediest kids.
I have no doubt the school system works better for many people now than it did before the mayor took responsibility for it - especially those who can clout their kids into the city's top magnet schools. And perhaps others. But I also have great doubt that progress has been made for those who need it most, and that is in no small part due to conditions kids face before even getting to school.
Steinberg wants to blame that on poor black people.
My question , though, is this: If the conditions Chicago's kids are growing up in hasn't changed in a dozen years, isn't that still a failure on the part of the mayor?
Council Wars
At least we're not another Detroit.
'I'm originally from Detroit and I thought that city council was a bunch of idiots, but Chicago's is making Detroit's look like geniuses."
- Sally Wright of Edgewater, in a letter (fourth) to the Sun-Times today
Whitewash
Here's what the chief assistant to corporation counsel Mara Georges wrote to her in an e-mail upon hearing that Edward Egan and Robert Boyle had been appointed as special prosecutors in the Burge inquiry, according to the Sun-Times today:
"They will likely be fair to the city and the CPD and our guess is that they will not be inclined to turn their investigation into the kind of unfocused witchhunt . . . that the [People's Law Office] and their ilk would ideally push for."
As opposed to Jon Burge, and his ilk.
"The special prosecutor even admits that 'all police officers refused to talk to us.' That happened by chance?" DePaul law professor Leonard Cavise wrote in the paper on Saturday, arguing that the statute of limitations does not yet apply to the Burge investigation because the cover-up continues to this day.
Tribune Tickets
"Though the Illinois Ticket Scalping Act prevents those putting on a sporting or entertainment event from selling tickets above their face value, [Tribune-owned] Premium Tickets sells some Cubs tickets for more than $1,400 above face value.
"The Cubs successfully argued [before the state Appellate Court] that they sell tickets to their brokerage firm, which then marks up the tickets - not the team - and they do that to compete with other ticket brokers," the Sun-Times reports.
As lawyer Paul Bauch, representing a couple of fans in the legal action, said: "Everybody else seems to think this thing was misleading and deceptive except the judges who looked at it."
Meanwhile, James Klenk, a lawyer for the team and the brokerage - but remember, there is no connection - says Premium Tickets "offers consumers a better product, at better prices, than other ticket brokers."
Perhaps - but a worse deal than you get from the Cubs box office.
Tribune Tactics
"Three billionaires hoping to buy the Los Angeles Times expressed their interest in separate letters this month to the paper's owner, Tribune Co. But each was told the newspaper was not for sale - at least for now."
In a separate announcement, Tribune Company announced the formation of Premium Newspapers.
Dusty Joel
Heard by a member of the Beachwood Nation on the Loop this morning: "Dusty Baker Must Get Fired" to the tune of "We Didn't Start The Fire."
Clay Dice
Reporting on another death possibly associated with a dice game gone bad, the Sun-Times reports that "The game was likely what some call 'happy-go-lucky dice shooting.'" The paper helpfully explains the rules, like how you win if you roll a seven first, or if you match your first number during later rolls. Side bets even get made, in what the paper calls "a game played for years in hallways and on street corners."
Sounds like fun. I wonder why it hasn't caught on.
Forked Tongue
From Jim DeRogatis's Pitchfork Music Festival review:
"At its best, it illustrated the enduring strengths of the indie-rock underground, thanks to spirited and wonderfully idiosyncratic up-and-comers such as Art Brut and Tapes N' Tapes and long-running underground heroes such as Mission of Burma and Yo La Tengo.
"But the festival also demonstrated the shortcomings of the often-insular indie-rock scene, offering a parade of acts championed by the influential Pitchfork Web zine. Too many of these bands lacked the charisma to captivate such a large crowd. They celebrated pointless quirkiness and uninspired amateurism, or they were just dreadfully boring."
The Beachwood Tip Line: Often dreadful, never boring.
Posted by Beachwood Reporter at 8:38 AM | Permalink
Rock a Billy Goat
What is the meaning of this strong connection between goats and bars in Chicago? I have detected new evidence of the curious goat/tavern karma here. As if one all-too-popular bar that fetishizes the animal isn't way more than enough, now there's another popular watering hole in town that's sporting a thing for horned ruminants.
The big difference is this one features some pretty tasty roots music and hasn't yet been turned into a Hollywood version of itself. And not only that, instead of that petting-zoo alcoholic creature that Billy Sianis brought for company to the 1945 World Series, the Charleston in Bucktown has a much more formidable rocky mountain goat as its icon. Stuffed, of course, and in prominent view of the unique, in-the-round stage the place has.

Goats and bars. The first one is pretty bad karma, I think, because it reminds us of being losers every time we're about the reach the brass ring. So if that's not good, isn't it probably time for a goat that's associated with Chicago's alt-country scene - which to my way of thinking exudes some of the best karma the city has to offer - to take its place? I actually envy the Charleston goat, and would go so far as to say I want to be that goat, unlike the Cubs' billy goat (which probably ended up getting served as faux cheez-borger down on Lower Michigan Ave.) That's because the new goat gets to see some great music for free in what's being talked about in several local publications as a laid-back, pretension-free music zone at Charleston and Hoyne in Bucktown. Assuming such a thing is indeed possible, it might be worth getting in early at its reportedly packed weekend shows.
It at least has a big fan in Perdita, mistress of Three Hours Past Midnight, who raves about the performance of Strobe Recording's Jim Frazier there and admits the goat got the better of her:
I might start considering spending more time there. I like the ambience, and the smokelessness, and, of course, the goat. I mean, what sort of hardhearted asshole wouldn't be charmed by half a stuffed goat in a paper hat and a feather boa? I mean, really.
And Frazier seems kind of typical for the place's musical stylings. When he's not busy running Strobe Recording on Division Street in Humboldt Park (engineering for such bands as Bakelite 78, Lucky 7s, Filisko & Noden), he's playing a brand of sometimes-dreamy, pop-influenced acoustic country rock, including "'Cause of You," a Woody Guthrie-style lament wherein the hurtin' line goes, "I'll drink until I see double, and I'll smoke till I turn blue, if they ask me just why I do it, I'll tell them it's all 'cause of you." Yeah, it hurts, baby, but maybe not as much if it's at a cool bar.
Frazier says he's working on a John Prine tribute album at Strobe Recording that could include his frequent musical partner, Tim Menard, another Bucktown regular and member of the roots rock band Fallen Angels. These guys and their buddies seem to be the house band at Charleston. Looking at its calendar, coming up in August are such pickin' bands as Hardscrabble, Blue Line Rider, and Honeysuckle Rose.
It gets me to thinking that maybe that drunken old goat downtown has made enough cheese for one lifetime.
Majors Junction Meet-Up
Majors Junction is a Chicago band whose stated goal is to get you to feel you're stuck in some God-forsaken desert dive bar. It's where they say they want their music to take you, a pensive locale whose name they share:
As you approach Majors Junction at sunset you can see the hazy desert stretch for miles in every direction; three U.S. Highways meet here where the neon beer lights glow under the pink sky. The absence of company is obvious, you are isolated here. It is a place where the laws of the old west are still alive, visitors are welcome but trouble is met with the barrel of a gun.

The only standing structure for 30 miles in every direction is this bar in the Nevada desert, you push open the doors to discover a place where weary travelers have sat for many a beer and whiskey. You hear the old juke box in the corner playing an old country waltz and the slot machines chiming in time. A lone bartender awaits his orders, leaning your way with his straight arms firmly placed where you can see them. The one patron sits at the end of the bar and glances at you for a moment through his glass and then squares back up to the bar.

With its population of two people and a dog named dog, Majors Junction symbolizes the stand-alone maverick qualities of the band that shares its name.
I like that this town has a dog named dog. And the bartender kind of sounds like the one from It's a Wonderful Life, the mean bastard who threatens to kick the crap out of Jimmy Stewart when he's so obviously harmless and confused (that just wasn't right). Or maybe Moe the Bartender, the well-known floor hockey champion.
Anyway, once the members of the band Majors Junction (veterans Mike Mulcahy, Heather O'Brien, Benjamin Nusbaum, Colin Williams and newcomers Michael Scott Duplessis and Jay Septoski) made their way back from the lawless frontier in one piece, they started working on a new album tentatively called Confluence on North of Nashville Records. (Maybe that's referring the confluence of those three U.S. highways to hell they mentioned.) The disc is likely to be another dose of the hard-edged western blues rock that evidenced on their first album, "A Desert Oasis."
Posted by Don Jacobson at 1:46 AM | Permalink
July 28, 2006
The Weekend Desk Report
Don't mind us if we nod off for a bit. Even in a dream state, we're still watching the stories that count.
Market Update
Peace continued to face a consumer confidence crisis amid reports of a hostile takeover bid. Ultimately, key decision makers decided to merge Peace with Rhetoric to create a new entity, Lasting Peace. Shares in LP were promptly junked.
Condi-tional Surrender
U.S. Secretary of State Condoleezza Rice plans to return to the Middle East to give her special brand of diplomacy another try. We suggest for this encore that she try a piece that better expresses the complexity and difficulty of the situation.
Idol Chatter
Meanwhile, President Bush reiterated his deep concern over the mounting crisis in the region. Indeed, he indicated that, should Secretary Rice's diplomatic approach fail, he has already assembled a crack second negotiating team.
Cruising to Stand Still
Finally, the Hermit Kingdom this week continued its pattern of evasiveness, vowing to communicate directly only with long-time allies and sympathetic parties. And in other news, ditto.
Posted by Natasha Julius at 8:57 PM | Permalink
The [Friday] Papers
1. Mayor Daley is on MySpace. "Anyone who is interested in being my online buddy is welcome!" he says. Mayoral friends so far include Jesus Christ, Esquire; Pirate Zombies From Outerspace; and John Candy. Someone on the mayor's staff might want to keep up with the comments, though. I doubt he'd be pleased to see the word "jewspaper" there.
2. The mayor's musical interests: "Chicago, REO Speedwagon, Cheap Trick, and, of course, the blues."
3. The President of the National Association of Letter Carriers delivers a message to Bobblin' Burt Natarus. (second item)
4. "The new local ordinance mandating big-box retailers pay higher wages and benefits to workers sent a chill through the Chicago retail industry, from high-end department stores to hardware outlets," the Tribune reports.
"Aside from Wal-Mart Stores Inc., the primary target of the hotly contested ordinance, the law would cover at least 18 retailers operating more than 40 stores in the city.
"Nordstrom, Marshall Field's, Saks Fifth Avenue, Carson Pirie Scott & Co., Toys "R" Us, Home Depot, Lowe's, Menards and Kohl's are just a few of the stores affected, according to a list compiled by the City of Chicago's Department of Planning & Development."
The paper Tribune includes a terrific map of existing retailers who will be affected by the new big-box ordinance throughout the city, but, unfortunately, the online Tribune doesn't.
5. "Radio Station Format Goes From God To Porn." Listenership stays the same.

6. Phil Ponce Gets A Nose Ring, And Other Changes On Tap At Chicago Tonight Besides Bringing Mancow Aboard.
7. "Disabled List Offers Mark Prior Two-Year, $8 Million Extension."
8. Kendall County is among the five fastest growing counties in America.
9. An American city doesn't show up on this ranking of the world's best cities until number 27 - and that's Honolulu. Chicago is ranked 41st - the fifth-highest American city (also behind San Francisco, Boston, and, somehow, Washington, D.C.).
10.Is the American public stupid?
11. Fido fires back at Bobblin' Burt Natarus.
12. Who are Illinois's biggest lobbyists? Who knows.
13. "From a distance, especially from the air, downtown Vancouver looks like most downtowns: a pack of modern skyscrapers nesting in a dense and confined central area. Only when you hit the ground do you realize that it is different. The skyscrapers are virtually all condominium towers. This is an overwhelmingly residential high-rise downtown. Some 560,000 people live in Vancouver, Canada's third-largest city, and nearly 100,000 of them reside in tall, slender towers on the less than five square miles of the downtown peninsula.
"There is nothing quite like this in North America, not in San Francisco, Chicago or even New York. When it comes to downtown housing density, the closest comparisons are to places such as Rio or Hong Kong. And virtually the entire change has happened in the past 15 years. Since 1991, when Vancouver rewrote its zoning laws to attract downtown residents, launching a self-described "Living First" policy, the physical character of the central city has been so thoroughly transformed that a visitor returning after two decades would have trouble even recognizing the place."
14. "Ironically, it was as State's Attorney that Daley became the first Cook County official to sign the court-ordered Shakman decree, which eliminated the politically motivated hiring and firing that had been a hallmark of his father's administration."
- "Chicago's Richard Daley: 1997's Municipal Leader of the Year" American City & County magazine, 1997
15. "Whether privatization can really work in the city of Chicago, or whether it will just provide a cover for some new form of patronage system, is still a matter of some debate. What is clear, however, is that this Daley would rather not be thought of as a boss. In keeping with his new-style urban ideology, he prefers to be called a manager. 'Daley hates waste. He hates inefficiency,' says Paul Green, a political science professor and locally prominent Daleyologist. 'In many ways, he's a policy nerd.'
"Not everyone is so sure that patronage has died. A few privatization opponents on the city council suggest that Daley is merely designing a new machine, exchanging the old patronage system for a pinstriped one where businesses contribute to his campaign and are paid back in city contracts. Others have charged that Daley is creating his own secret patronage army, in an attempt to get around an anti-patronage federal consent decree that is supposed to limit the numbers of jobs under the mayor's personal control.
"The merits of both these charges are hard to prove - and may, in the end, simply lack credibility.
- "Taking Chicago Private," Governing magazine, 1994
16. "Master of the detail."
- Richard M. Daley: Master of the Detail," Governing magazine, 1997
17. "The Encyclopedia Britannica, which for more than two centuries has been considered the gold standard for reference works, has only a hundred and twenty thousand entries in its most comprehensive edition. Apparently, no traditional encyclopedia has ever suspected that someone might wonder about Sudoku or about prostitution in China. Or, for that matter, about Capgras delusion (the unnerving sensation that an impostor is sitting in for a close relative), the Boston molasses disaster, the Rhinoceros Party of Canada, Bill Gates's house, the forty-five-minute Anglo-Zanzibar War, or Islam in Iceland. Wikipedia includes fine entries on Kafka and the War of the Spanish Succession, and also a complete guide to the ships of the U.S. Navy, a definition of Philadelphia cheesesteak, a masterly page on Scrabble, a list of historical cats (celebrity cats, a cat millionaire, the first feline to circumnavigate Australia), a survey of invented expletives in fiction ('bippie,' 'cakesniffer,' 'furgle'), instructions for curing hiccups, and an article that describes, with schematic diagrams, how to build a stove from a discarded soda can. The how-to entries represent territory that the encyclopedia has not claimed since the eighteenth century. You could cure a toothache or make snowshoes using the original Britannica, of 1768-71. (You could also imbibe a lot of prejudice and superstition. The entry on Woman was just six words: 'The female of man. See HOMO.') If you look up 'coffee preparation' on Wikipedia, you will find your way, via the entry on Espresso, to a piece on types of espresso machines, which you will want to consult before buying. There is also a page on the site dedicated to 'Errors in the Encyclopedia Britannica that have been corrected in Wikipedia' (Stalin's birth date, the true inventor of the safety razor).
"Because there are no physical limits on its size, Wikipedia can aspire to be all-inclusive. It is also perfectly configured to be current: there are detailed entries for each of the twelve finalists on this season's American Idol, and the article on the '2006 Israel-Lebanon Conflict' has been edited more than four thousand times since it was created, on July 12th, six hours after Hezbollah militants ignited the hostilities by kidnapping two Israeli soldiers. Wikipedia, which was launched in 2001, is now the seventeenth-most-popular site on the Internet, generating more traffic daily than MSNBC.com and the online versions of the Times and the Wall Street Journal combined."
- from "Know It All: Can Wikipedia Conquer Expertise?" The New Yorker.
The Beachwood Tip Line: Wiki-worthy.

Posted by Beachwood Reporter at 7:37 AM | Permalink
Scatisfacturing Dissent
In 1957 the Brazilian visual poet Décio Pignatari turned a famous marketing slogan against itself by manipulating the Portuguese translation of "Enjoy Coca-Cola" into repulsive word-shapes like "drool" and "cesspool." Pignatari's work has been on my mind recently, ever since a peculiar ad campaign for Snickers candy bars hit town.
The concept is simple enough: invent new, hunger-inducing words from pieces of other words and deploy them in Snickers's iconic font, thereby inspiring the target with an irresistible desire to buy and eat delicious Snickers candy. For whatever reason the bright lights at Snickers settled on using CTA buses to carry their neologism-ads to Chicagoans. I'd like to have been a fly on the wall at that meeting. ("Hey, buses are kind of shaped like Snickers bars! And our research indicates 73% of commuters eat candy!")
A week ago I encountered my first Snickword, "PEANUTOPOLIS," rolling its way down Milwaukee Avenue. This seemed like a cruel method of transporting the mentally ill - Nuthouse Express, please watch your step! - but the passengers looked comfortable with it. Actually, my opening impression was that "PEANUTOPOLIS" was as good a description as any for our schizophrenically-run city on the make. It also conjures dystopian visions of a citizenry scraping by for peanuts meted out by mad, stingy overlords. Crazy, I know. Further deconstruction yields a single "NUT" connected to a stretched-out "PE-N-IS." Taxpayer-funded studies disproved the nipples-in-the-ice-cubes effect decades ago, but here it lives - on the side of a city bus, no less. I guess sometimes a candy bar is more than a candy bar.
Shortly after my brush with "PEANUTOPOLIS," I met "HUNGERECTOMY" at the Grand Avenue stop. If you've ever squeezed aboard the Grand bus exiting the Loop at rush hour, you've undoubtedly felt the need for an "-ectomy," along the lines of "another minute crammed into this fellow passenger's umbrella and I'm gonna need an umbrellectomy." But wait! What on earth is the word "RECTOM" doing in an advertisement for candy bars? Have these copywriters not seen Caddyshack?
"NOUGATACITY" sounds like Chicagoese for white flight, or a fight over who should flee. ("No! YOU get outta da city!") I find nougat unappetizing enough, reminiscent of packing foam, that for me calling attention to it serves more as warning label than sales pitch. On this score, the word succeeds.
At least "NOUGATACITY" provides some public benefit. "SUBSTANTIALISCIOUS," meanwhile, resuscitates the unfortunate fad of generating adjectives by suturing the suffix "-alicious" to nouns ("rockalicious," "groovealicious"). Note, however, the added "s," forming a mildly evocative "-liscious." I suppose that's meant to reference "luscious," or maybe "conscious," as in, "Somehow, I've become conscious of how deliciously substantial this candy must be." But I also can't help but sense "viscous," which inevitably calls to mind motor oil. Anyway, after "RECTOM" I'm probably just paranoid by seeing the "AN-AL" in there.
My newest discovery, "SATISFECTELLENT," manages to summon both "disinfectant" and "repellent," fitting terms following all this rectal activity and nougat. But alas, we're back to the drawing board with "TIS FEC-EL," which may appeal to representatives of the constipated candy-eater demographic but is unlikely to do much for the "regulars," other than remind them how viciously/viscously a fierce chocolate-nut combo can propel through the human body.
So what's Snickers's game? According to Webster's, to "snicker" is to "laugh in a covert or partly suppressed manner." Am I merely a pawn in a sophisticated marketing scheme? "Step one: unveil a series of ads that slyly mock the product, evoking comparisons between it and anuses, motor oil, etc. Step two: ride free media from misinformed 'clever' types running snarky responses to campaign. Step three: await massive sales increase as snarky responses drain from public consciousness, leaving only a nougaty residue on the unsuspecting consumer mind. Step four: laugh in a covert or partly suppressed manner." Suddenly, somehow, I've become conscious of how deliciously substantial Snickers bars must be.
CORRECTION: My thanks to the readers who pointed out my misspelling of "NOUGATOCITY." I may have given the Snickers people too much credit by unconsciously linking nougat with sagacity or tenacity to form "NOUGATACITY." It's a better word than the actual one, which after all is just a letter away from "NOUGATROCITY" (a redundant term for any product that contains nougat).
Posted by Beachwood Reporter at 4:54 AM | Permalink
July 27, 2006
Peter Popoff
Who: Rev. Peter Popoff.
Where: Upland, California.
Organization: Peter Popoff Ministries.
Brief History: Peter Popoff preached his first sermon at age nine and conducted his first crusade at age 14.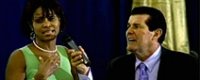 Throughout the 1980s, Popoff dazzled spectators by accurately stating personal information about his "powerful miracle circus" audience members. He would call out their names, addresses, and physical ailments, claiming the knowledge came from God-given revelations.
According to James Randi, a professional magician and pseudoscience investigator, God's will oscillates at the frequency of 39.17 Mhz. It was at this frequency that Randi and a team of researchers sponsored by the Committee for the Scientific Examination of Religion (CSER), intercepted the voice of Popoff's wife, Elizabeth.
Via wireless earpiece, she fed Popoff information she had gathered before the show from prayer-request cards and conversations with those who came to be healed.
Randi busted Popoff by playing these intercepted recordings live on The Tonight Show Starring Johnny Carson. Later that year, Popoff filed for bankruptcy.
Now Playing: Though he has ceased calling out audience members, Popoff is still on the air, Sunday at 9 p.m. on WJYS (Channel 62). Now Popoff is "giving away" Miracle Spring Water with a mandate from God to make us all "healthy and wealthy," as long as you follow the directions.
But don't fret. For those rare illnesses that still require his holy touch, Popoff has a heavenly anointing of assault and battery. When not promoting his miracle spring water, he keeps busy by slapping old women and shaking them until their heads nearly pop off. He screams, and sweats, and then usually leaves his victims groaning on the floor, all in the name of a loving God.
Salvation Inflation: With one simple call, Popoff and his bored-looking wife will send you free Miracle Spring Water with a promise of prosperity. What they don't tell you is that when you receive the water, you are instructed to send $17 dollars (the "1" is for one God, and "7" for the number relative to God's perfection) or else God won't bless you.
They also promise to send a free book, but instead you'll receive is a letter asking for $19.00, or $38 if you want a double blessing.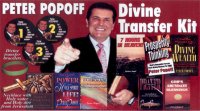 Miracle Money:Purchase The Divine Transfer Kit and watch your bank account grow for no worldly reason. "It's not coming from your job," he says between tearful testimonies of thousand-dollar bank flubs. "It's supernatural."
The kit comes with an awful lot of reading. Is The Divine Transfer Book Club far away? Kit contents include the following Peter Popoff books:
- 7 Hours In Heaven
- Prosperity Thinking
- God Has Promised You Divine Wealth
- Guaranteed Answered Prayer
- Angels
- Dreams
- God's Promises (Devotional)
- God's Abundant Blessings
- Releasing The Power Of The Holy Spirit In Your Life
- HOOKED! Breaking Satan's Bondage
As well as:
- A Divine Transfer Wallet with Engraved Prayer by Rev. Popoff
- The Powerful Teachings 3-CD set, "For My Very Important Platinum Members"
- A Divine Transfer Bracelet
- "Beautiful Cross Necklace Personally Brought Back From Israel By Rev. Popoff Filled with Holy Land Soil and Water."
Divine Transfer Kit Quote: "A $390 value for only $89.99!" Wealth is being transferred already.
Not So Miracle Money: Peter Popoff Ministries raised $16,220,066 in revenue in 2004. More than $548,000 went into Peter Popoff's pockets..
TV Quote: "Just as God used Moses to lead the Israelites out of Egypt and into the Promisedland, so too has He given me a mandate to lead you into health and wealth."
Who Would Jesus Kill? During the program I saw, a woman shared her testimony about being in serious financial debt. She ordered the Miracle Spring Water and within minutes of using it, received a phone call informing her that her grandmother had just unexpectedly died and left her with a $100,000 inheritance. "Praise Jesus, It's a miracle!" Popoff exclaimed.
Yes, praise Jesus for killing your grandma.
Lesson: If money is the root of all evil, then Popoff's miracle spring water came from the devil's sprinkler system.
Hallelujahs: 1.8
- Steve Yaccino
Posted by Natasha Julius at 9:02 PM | Permalink
Booklist: Kinko's Kiosk
1800 West North Avenue
1. The 8th Habit: From Effectiveness To Greatness
Stephen R. Covey
2. How To Win Friends And Influence People
Dale Carnegie
3. One Thing At A Time: 100 Simple Ways To Live Clutter-Free Every Day
Cindy Glovinsky
4. Crucial Conversations: Tools For Talking When Stakes Are High
Kerry Patterson, Joseph Grenny, Ron McMillan, Al Switzler, Stephen R. Covey
5. Self Matters: Creating Your Life From The Inside Out
Phillip C. McGraw, Ph.D. (Dr. Phil)
6. The 7 Habits Of Highly Effective People
Stephen R. Covey
7. Unstoppable: 45 Powerful Stories Of Persverance And Triumph From People Just Like You
Cynthia Kersey

8. Get Hired Fast! Tap The Hidden Job Market In 15 Days
Brian Graham
9. The Automatic Millionaire: A Powerful One-Step Plan To Live And Finish Rich
David Bach
10. How To Win Any Argument: Without Raising Your Voice, Losing Your Cool, Or Coming To Blows
Robert Mayer
11. The Resume Handbook: How To Write Outstanding Resumes & Cover Letters For Every Situation
Arthur Rosenberg and David Hizer
12. Eat That Frog! 21 Great Ways To Stop Procrastinating And Get More Done In Less Time
Brian Tracy
13. 101 Smart Questions To Ask On Your Interview
Ron Fry
14. Business Etiquette
Anne Marie Sabeth
15. 151 Quick Ideas To Get New Customers
Jerry R. Wilson
16. How To Work For An Idiot: Survive & Thrive - Without Killing Your Boss
John Hoover
17. Hiring The Best: Manager's Guide To Effective Interviewing And Recruiting
Martin Yate and Martin John Yate
18. Smart Women Finish Rich: 9 Steps To Achieving Financial Security And Funding Your Dreams
David Bach
19. How To Change Anybody: Proven Techniques To Reshape Anyone's Attitude, Behavior, Feelings, Or Beliefs
David J. Lieberman
20. Never Check E-Mail In The Morning: And Other Unexpected Strategies For Making Your Work Life Work
Julie Morgenstern
21. How To Spot A Liar: Why People Don't Tell The Truth . . . And How You Can Catch Them
Gregory Hartley and Maryann Karinch

- Steve Rhodes

Posted by Beachwood Reporter at 6:27 PM | Permalink
The [Thursday] Papers
The Chicago City Council's passage of the "big-box" ordinance requiring stores such as Wal-Mart to maintain wages and benefits above and beyond those mandated to other businesses rightfully dominates the news today, and we'll get to that soon enough.
My more immediate concern this morning is this: Can we sue special prosecutors Edward Egan and Robert Boyle for malpractice for their gross mishandling of the recenty released, $7 million, four-years-in-the making report on police torture allegations surrounding former commander Jon Burge?
The report's many flaws have already been noted, but with the release of the transcript of the special prosecutors' interview of Mayor Richard M. Daley, who was the Cook County State's Attorney when the torture allegations first bubbled up to the surface, confirms that this report was either an exercise in incompetence or a whitewash rigged from the get-go.

"Noting that [tortured suspect Andrew] Wilson was in such bad shape - apparently after being beaten by police - that officers at the lockup would not let him in, Boyle posed his question this way: 'I assume that nobody ever brought that to your attention?'
"'No,' Daley answered.
"Boyle sounds almost apologetic in raising the question of whether the police killings that led to Wilson's arrest put pressure on law enforcement authorities.
"'And this may be an unfair question,' Boyle began. 'But in the normal course of events, I assume that the [William] Fahey and [Richard] O'Brien killing was a somewhat heightened case. And it's difficult, we've all been in law enforcement, and it's difficult to characterize a terrible event like that, so I don't know how to characterize it.'
"Boyle's question continues for four more lines in the transcript. Daley's answer was brief: 'Yes. It was known as a heater case.'"
Being a heater case - a high-profile prosecution of man charged with killing two police officers - you'd think Daley would have paid special attention to, say, a letter from the police chief indicating the suspect had been tortured.
This may be an unfair question, but could Boyle have been more of a pussy?
The Sun-Times reports that Daley said "I don't recall" 16 times. And maybe he doesn't. Daley made a big show last week about how he would never have allowed torture on his watch if he knew about it.
But it's not as if the allegations are just coming to light now. Daley was the state's attorney from 1981 to 1989, when he became mayor.
"Amnesty International issued a report in 1990 about police torture in Chicago; we received reports at the time that police from the Area 2 police station systematically tortured African-American detainees between 1972 and 1986. In December 1990, Amnesty International wrote to both the Cook County state's attorney and to the U.S. attorney for the Northern District of Illinois, asking them to investigate the allegations," an Amnesty International official writes in the Sun-Times today (fifth letter). "Despite the allegations of torture, the authorities failed to act."
And yet, Channel 7's Charles Thomas reports that Daley was asked only about the Wilson case. "There was nothing about the other 54 torture allegations during his term as state's attorney."
Additionally, "Egan told ABC7 an earlier, informal interview was conducted with Daley but was not transcribed.
Wow. Worst special report ever?
The Daley Index
The mayor's other interview responses, according to the Sun-Times:
"I don't know." Four times
"I wouldn't know." Three times.
"I can't comment on that." Twice.
"I couldn't speculate on that." Twice.
"I forgot." Once.
"I don't have a recollection." Once.
"I wouldn't recall." Once.
"I don't remember." Once.
"I've never heard of that." Once.
They Might Not Be Giants
The Tribunemay want to reconsider whether Egan and Boyle are really "Giants Among Men."
Transcripted
Neither paper, as far as I can tell, posted the Daley transcript to their Website. WBBM-AM has a pdf available here.
Big Boxing
This big-box thing is a big deal whose repercussions could be felt nationwide as other cities take up the debate and retailers are forced to respond one way or another. Appropriately, then, Wednesday's City Council vote made the front page of today's New York Times.
This was the most interesting part of the Times's account:
"We're very confident that retailers want and need to be in Chicago, and the question for the city is what kinds of jobs they will bring," said Annette Bernhardt of the Brennan Center for Justice at the New York University Law School, which helped draft the Chicago bill and has done economic studies of its likely impact . . .
"The drive to raise state and city minimum wages has grown out of frustration with Congress, which has left the federal minimum wage at $5.15 an hour since 1997. At least 22 states have enacted somewhat higher minimum wage laws.
"San Francisco; Albuquerque; Santa Fe, N.M.; and Washington have across-the-board minimum wage ordinances for all but the smallest businesses. Those in San Francisco and Santa Fe have set levels near that in the Chicago bill without driving out retailers, Ms. Bernhardt said.
"Ms. Bernhardt said that large retailers had saturated suburban markets and had powerful incentives to move into urban areas."
Pundit Patrol
* John Kass says the bill is "certainly unconstitutional," though the focus of his column is on the politics of the squabble. (The Illinois Retail Merchants Association says the bill violates equal protection guarantees; the Brennan Center says there is precedent for selective minimum wage requirements.)
* David Roeder, not very convincingly, says the bill reflects union weakness, not strength.
* The Sun-Times editorial page suggests big-box stores game the system and build stores that measure 89,999 square feet. (The new requirements apply to stores that are 90,000 square feet and larger.)
* Our very own Scott Gordon dissects an economic claim made in full-page ads paid for by Wal-Mart and the company's pals.
* Eric Zorn says he came to his position favoring the big-box ordinance late, and still has doubts. He also says the debate demonstrates why council meetings should be televised.
By The Numbers
The New York Times says the big-box ordinance bill will affect 35 stores, including Kmart, Target, Toys "R" Us, Sears, and Lowes.
The Tribune says there are about 40 stores that will be affected, naming Menards, Home Depot, Marshall Field's, and Nordstrom's.
The Sun-Times pegs the number at 38.
Living Large Wage
The City Council voted itself a pay raise.
Meat's a-Cookin'
Chicago advances in the Olympic derby.
Ring Them Bells
Sue Ontiveros of the Sun-Times says the media got the story about new neighbors silencing church bells of St. John Cantius wrong. One of the complainants speaks, too.
Ministry Misery
John Cleese on the effects of his recent hip replacement: "I can't do the silly walk anymore." (via QT)
The Beachwood Tip Line: Pedestrian-friendly.
Posted by Beachwood Reporter at 7:43 AM | Permalink
July 26, 2006
Blow It Up

"I don't think you have to blow this thing up and start all over again."
- Dusty Baker
"To be successful next year, a blowup's not in order."
- Jim Hendry
"We've got a good group of players. We've just got to make a few adjustments."
- Aramis Ramirez
Please. Blow it up. Now.
It may not seem like the Cubs have much to offer on the trade market, but they actually do. Several of their players are worth more now than they will ever be. The value of Michael Barrett, a lousy defensive catcher having a career year at the plate, will never be higher. Trade him. The value of Jacque Jones, having a strong year at the plate but a lousy defensive player, will never be higher. Trade him. Aramis Ramirez, having a relatively mediocre year at the plate and a lousy defensive player, isn't at his highest value, but could be worth something in a trade. So trade him. Greg Maddux will never be worth more for the remainder of his career. Trade him. Juan Pierre will be a free agent at the end of the year. Trade him unless he is the centerfielder of the future. In which case, trade Felix Pie. Dump Neifi Perez and Todd Walker. Stock the team with young prospects in return. Sign a couple free agents in the off-season. That's how you get back to contending.

*
Jim Hendry continues to evaluate Dusty Baker, but Jim Hendry and Andy MacPhail seem safe from accountability. Don't forget: Hendry was in charge of Cubs scouting from 1995 to 2000. Then he became assistant GM under Andy MacPhail. If the problem is the organization, that means Hendry and MacPhail.
*
Jim Hendry complaining that the media misconstrued his remarks about evaluating Dusty Baker over the All-Star break:
"My stance hasn't changed. Despite what people have written or said that I had a so-called deadline -- I don't have a time frame. And if I don't have a timeframe, how can someone else have one?
"In the end, I will make a decision. That hasn't changed. I will do what I feel is in the best interest in the Cubs."
"It's something you do every year after the first half," Hendry said.
What Hendry said on July 5, according to the Sun-Times:
"You certainly want to give us a chance to see if we can make a run here before the break,'' Hendry said about the five games left before the All-Star Game. "See if we can do well the rest of the week. I'll spend a lot of time over the break not just with the way the situation is, but with your own players. I'll sit back and reflect on the first half.
"You are getting ready to go into a month where you have to evaluate what you have. It's one of those [things] where you want to give everyone a fair chance to succeed. I'll continue the process of evaluating the whole situation on a daily basis. When you are 20 games-plus under .500, I'm evaluating everything, all situations.''
*
Early in his Cubs presidency, according to George Castle of the Northwest Indiana Times, Andy MacPhail said, "It's a failing of the front office when you fire a manager." So they don't want to admit ailure?
*
The MacPhail quote is included in an interview Castle did with Dusty Baker, in which Baker's religiosity made him sound a bit like George W. Bush believing God put him in the presidency for a reason.
Excerpts:
The Times: The Cubs' losing syndrome seems like a tiger that can't be tamed. Can it ever be tamed?
Baker: I think so. Nobody ever thought Boston could be tamed. Everything can be tamed. Just because everything has been gobbled up here, you don't quit throwing stuff at it. Sooner of later, you're going to throw stuff and throw stuff, and he won't be to gobble 'em up. Then you'll be able to tame him and ride him.
The Times: Do you still believe you can be that tiger-tamer?
Baker: I hope so. That's why I came here. I still believe that's why I was sent here.
The Times: Do you think you're being unfairly blamed - even crucified - for the Cubs' problems?
Baker: Ever since I've been here, most things that have happened adversely, my name seems to come up one way or another, whether I've had anything to do with it or not. But most of the time, stuff is thrown at the strong, stuff is thrown at those who believe more than those who don't believe. People try to bring those who believe down to not believe. I refuse to let it happen no matter what people feel. "Ever since I've been here, most things that have happened adversely, my name seems to come up one way or another, whether I've had anything to do with it or not. But most of the time, stuff is thrown at the strong, stuff is thrown at those who believe more than those who don't believe. People try to bring those who believe down to not believe. I refuse to let it happen no matter what people feel.
*
The [Patterson] Papers
"Hendry said Patterson was mislabeled as a leadoff man, while Patterson viewed himself as a power hitter who should be batting fifth or sixth. That led to internal conflicts.
- Sun-Times, July 5
It was Dusty Baker who insisted on batting Patterson leadoff, instead of the six-hole where he has had the most success.
"He's being Corey and not trying to be somebody he isn't, what they wanted him to be in Chicago," says La Troy Hawkins.
During a recent Braves broadcast, former Cubs announcer Chip Caray said that while in Chicago, Corey Patterson was "chasing the ghost of Lou Brock. Too many people in Chicago wanted him to be the next Lou Brock, instead of the first Corey Patterson."
It was Dusty Baker who said Patterson could be the next Lou Brock.
"Part of Patterson's frustration with the Cubs was the overabundance of advice he received. In Baltimore, he has worked exclusively with hitting coach Terry Crowley, who said Patterson has been very receptive."
"They're all positive here and upbeat," Patterson says.
*
The difference between the real winning manager and the real losing manager was clear after the Cubs' 15-11 victory over the White Sox:
"It was a great game to watch, a great game to manage."
- Dusty Baker
"It was an ugly game. Ugly on both sides."
- Ozzie Guillen
*
More July tidbits.
* "A new victim will come in with high hopes, plenty of energy and a fail safe plan to revive a franchise with no direction, no future, and no accontability."
- The Tribune's Paul Sullivan on the next Cubs manager
* They never learn. "Agent Mark Rodgers' deals with two Cubs draft picks have caused some commotion in the baseball world," Sullivan reported in early July. "Rodgers represented 11th- round pick Chris Huseby, who will receive a $1.3 million signing bonus despite being the 329th player selected. Last year, the lowest- picked player with a $1 million or more bonus was the 33rd pick. The right-handed high school pitcher out of Palm City, Fla., spent the last year recovering from elbow surgery.
"Rodgers told teams Huseby would attend Auburn unless he received first-round money. The Cubs' first-round pick, outfielder Tyler Colvin, received a $1.45 million bonus. General manager Jim Hendry declined to discuss Huseby's deal, which will be done by Wednesday.
"Rodgers was also an adviser to Notre Dame's Jeff Samardzija, who signed for a $250,000 bonus after reports surfaced he was to receive a $7.25 million conditional deal, back-loaded over five years, if he gave up football for baseball.
"The Cubs believe Samardzija would've been a first-round pick if he wasn't expected to play in the NFL, and Huseby would've been a first-rounder if not for the elbow surgery."
* "This is the team they penciled in, the other seven, eight guys. For the most part, this is the team they penciled in for this year."
- Steve Stone on The Score, rebutting the idea that Baker hasn't had "his team" because of injuries
COMMENT: If the Cubs have more injuries next year, does Dusty get to keep his job again until that one magical year when not a single player goes on the DL?
* "I look at this and I see the Cubs in '03, first place; '04, third place; '05, fourth place; '06, fifth place. The trend of this team is not where you want to see it. It's straight down," Stone says. "Accountability is something that everybody has to have, whatever business they're in."
* "The last three-plus years, the Tribune Company has spent more money on this baseball team than they ever dreamed. They've spent enough o win. For $98 million, we should be able to assemble a winner. There's some changes that have to be made."
* Stone compares Dusty's record to other managers in other organizations and it's clear Dusty has been given a long lease on life.
* Stone also points out that the Cubs are terrible in one-run games, which is "not a coincidence," and in a later show points to the Cubs heading toward historic back-to-back losing home records.
* "We're seeing the same things we saw from 2004 and 2005," Stone says. "Missed cutoff men, a lack of bunting, hitting behind runner, baserunning mistakes . . . different players, same problems."
* Stone loves the job Joe Girardi is doing in Florida with a $14 million payroll. Joe Girardi, the guy the Cubs didn't hire.

Posted by Beachwood Reporter at 7:25 PM | Permalink
Big Box of Nonsense: Wal-Mart's Imaginary Billions
Don't worry, House of Smiley. Be happy.
You're not as bad off as you think.
Yes, the Chicago City Council voted Wednesday on a living wage proposal that will require "big-box" retailers such as yourself to pay workers more than you are used to.
But you're still in pretty good shape - surely up to absorbing Chicago's new rules and still make gobs of money. And same to you, Chicago - unless you believe Wal-Mart's propaganda. Those full-page newspaper ads desperately asking, "Would You Turn Down $6.5 billion?" don't really add up.

The figure comes from an independent estimate cited in a 2004 Crain's Chicago Business article that says: "Chicago consumers spend $6.5 billion a year on goods outside the city's borders -meaning the city is losing out on tens of millions of dollars a year in sales tax revenue."
Big-box stores account for a significant chunk of that spending, but certainly not all of it. So on the face of it, the number is nonsense.
In fact, the same story cites a company estimate that "Chicago residents spend $500 million a year at Wal-Mart's 35 suburban Chicago stores."
Of course, Wal-Mart is not the only big-box out there. So let's do a little experiment. Let's say the big-box ordinance had failed, and Wal-Mart, Home Depot, Target and the rest of 'em sought to soak up that entire $6.5 billion city dwellers are spending in the suburbs. Let's also say that Wal-Mart's $500 million from its 35 suburban stores is a good measure of typical big-box performance. [Update/clarity caveat: remember, that's $500 million from Chicago consumer spending, not all spending at those stores.] It doesn't take an economist to see that the numbers don't add up. To get to $6.5 billion, the following would have to happen:
* Big-box retailers would have to cram 455 more stores into Chicago. Do the math: $500 million is one-thirteenth of $6.5 billion. Thirty-five multiplied by 13 equals 455. This, of course, assumes that . . .
* The city would have to have several square miles of large, open parcels of land on which to build all these new stores. Wal-Mart's square footage per store is growing. According to the proposed ordinance, the smallest big-box stores take up 90,000 square feet. Wal-Mart's suburban stores often run larger. Assuming all 455 stores are itty-bitty big-boxes, we're looking at 40,950,000 square feet, which converts to 1.5 square miles. If they tend more to the size of the 145,000 square-foot Wal-Mart already approved for the Austin neighborhood, that'll be 65,975,000 square feet, or about 2.4 square miles. (To be fair, the smallest U.S. Wal-Mart I could find takes up only 40,000 square feet, but according to CNN, supercenters - the ones that Wal-Mart would presumably have to build here to provide a significant amount of affordable groceries - usually top 100,000 square feet.)
* Chicagoans would have to stop going to suburban big-box stores entirely. Would residents of Rogers Park abandon the Target on the Evanston side of Howard Street? And the Home Depot on Oakton Street in Evanston? Would residents of the Southwest Side stop going to the Evergreen Park Wal-Mart?
* Poor city dwellers would have to match the spending power of suburban shoppers. No doubt, well-placed Wal-Marts could greatly benefit poor Chicagoans who don't have access to major pharmacies and affordable groceries. But would spending at inner city Wal-Marts be comparable to spending their suburban counterparts?
* Poor city dwellers would have to match their wealthier counterparts' transportation and hauling ability. Wal-Mart has threatened to run shuttle buses between the city and suburban stores. Even if Wal-Mart does open more stores in the city, this might be a good idea for poor people who don't have cars.
* The growth of suburban markets and the decline of urban markets would have to slow or reverse. While Chicago has stemmed its population loss, the long-term trend shows more people ditching the city for the suburbs and exurbs, which are the real big-box stomping grounds anyway. Suburban revenues are only going to grow, regardless of what the city does.
The City Council has made a controversial decision that may or may not end up costing the city jobs and tax revenue. But either way, it wasn't a $6.5 billion decision, as advertised. Not even close.
Posted by Beachwood Reporter at 5:15 PM | Permalink
The [Wednesday] Papers
The City Council's vote today on the proposed Big Box ordinance that would establish a separate, higher minimum wage for large retailers such as Wal-Mart is going down to the wire - the margin could be as slim as last night's one-run victory by the Twins over the White Sox.
While pro-ordinance forces still hold an advantage, according to today's media reports, Mayor Daley is twisting arms, and given the nature of our aldermen, it wouldn't be surprising for a few to say Uncle, especially in return for, say, some extra street paving in their wards.
The question from the mayor's point-of-view is whether he's too late. If the ordinance passes, the Sun-Times's Fran Spielman writes, the mayor and the business community will only have themselves to blame.
"The business community didn't wake up fast enough," Chicagoland Chamber of Commerce President Jerry Roper told Spielman. "Over the years, the City Council has been somewhat pro-business. We've always known the mayor was there to be a bridge. We let the mayor down. We didn't recognize early enough - two years ago - that this was an issue we should have engaged on."
Roper diplomatically refused to lay any blame at the feet of the mayor. Spielman, however, reports that the mayor was "asleep at the switch."

"Distracted by corruption scandals and disengaged from recent City Council action, Daley waited too long to jump with both feet into the big-box debate," Spielman writes.
Not to worry though, Wal-Mart. If the ordinance passes, just consider the higher wages you will be forced to pay a corruption tax. You can probably make up for it with sweetheart contract for a kiosk at O'Hare.
Crafty Comparison
While the Chicago City Council debates the Big Box ordinance, area suburbs have put out the welcome mat for Wal-Mart, the Tribune notes. The paper fails to report, however, what wages suburban Wal-Marts are offering, or what the difference in living costs are for workers in, say, Round Lake Beach, which is about to get its second Wal-Mart, versus Chicago.
Pundit Patrol
* Carol Marin favors the Big Box ordinance - and a raise for aldermen. With a caveat.
* Eric Zorn and Cindy Richards think Wal-Mart is bluffing.
* Mary Mitchell thinks the ordinance makes poor blacks sacrificial lambs in a union fight.
Burning Burns
The Sun-Times sticks it to Channel 2's Diann Burns on its front page today for asking a Cook County judge to seal from the public large portions of her lawsuit alleging that contractors did a lousy job building her $3 million Lincoln Park home because she is black.
But the paper makes a huge goof of its own in its accompanying story.
"As a journalist, WBBM-Channel 2 anchor Diann Burns regularly delves into the private lives of others, but she wants her own private life off limits," the paper says.
Since when is Diann Burns a journalist?
Princess Di
At $2 million a year, Burns is the city's highest-paid teleprompter reader.
Political Whines
Rick Kaempfer's got nine of 'em.
Gekko Goof
"Geico Dumps Gecko For Minor Celebs."
I'm not happy about this.
Extra Sausage
The Milwaukee Brewers are adding a chorizo to their sausage races.
It might look like this.
Housing Hitches
* Is it necessarily bad news when home prices fall? Or does it mean that more homes are becoming affordable to more people?
* The CHA plans to raze the Lathrop Homes. Will a mixed-income community really replace it?
Lobotomy
A Beachwood reader suggests that a story this week in which a modeling agency executive and a plastic surgeon reviewed photos of Chicago CEOs to evaluate "the look of power" demonstrates "the depths that Crain's has sunken to."
Traitor Joe's
I spread my grocery shopping around. I get my Diet Mountain Dew and Hostess products at the corner Walgreens. I get my coffee, apple fritter, and occasional tuna sandwich and pre-packaged sushi (much to the horror of friends and acquaintances) at the 7-11. And I split the big stuff between Whole Foods and Jewel.
I've been a Whole Foods shopper for years, in fact.
But I've also heard a lot in the last year about Trader Joe's as an alternative to Whole Foods.
I finally shopped at a Trader Joe's recently, and my skepticism was confirmed.
First, nothing was where it was supposed to be!
So I admit I am a creature of habit.
Beyond that, though, I didn't find the prices much different from those at Whole Foods, I was put off by the whole Hawaiian shirt thing, and the selection seemed awfully narrow. Where was the rest of the store, I wondered?
The rivalry between the stores is real, though, particularly as Trader Joe's gains momentum.
The New York Times recently surveyed food prices at a Whole Foods, Food Emporium, Trader Joe's and Walgreens near Union Square in Manhattan.
"In several cases," the paper reports, "Whole Foods' prices were, in fact, the lowest. An 8-ounce package of Philadelphia Cream Cheese was $1.99 at Whole Foods, compared with $2.19 at Walgreens and $2.99 at the Food Emporium. A 15-ounce box of Kashi Crunch cereal was $2.49 at Whole Foods, compared with $2.69 at Trader Joe's and $3.49 at Food Emporium.
"Despite its reputation as a higher-priced alternative, Whole Foods frequently matched the prices at Trader Joe's, which, since it arrived in Union Square in March, has often attracted a line of customers outside its store waiting, up to 20 minutes, to join the line inside."
I found another comparison here.
Whole Foods is also battling critics over just what constitutes organic food. You can find an exchange between Whole Foods co-founder John Mackey and University of California-Berkeley journalism professor and author Michael Pollan here.
Finally, don't be fooled. Trader Joe's is Aldi.
The Beachwood Tip Line: A different kind of Big Box.
Posted by Beachwood Reporter at 8:45 AM | Permalink
July 25, 2006
The [Tuesday] Papers
The Sun-Times oddly shows little interest in the shameful aldermanic pay raise that now looks like a done deal, pushing it to page 11, but the Tribune (admirably) goes to town on its front page this morning with wit and verve:
"Foie Gras Forbidden. Trans Fat Endangered. Car Cell Phones Restricted. One Thing Alderman Won't Ban: Their Raises."

No rational person believes the Chicago City Council deserves a pay raise, but unfortunately the City Council is populated by Chicago aldermen, not rational people, and in an affront to the just order of things, as set out by ancient Biblical law, the Enlightment, and the laws of physics, they get to decide their own salaries.
This doesn't happen in a two-party town, but there you go. This aldermanic pay raise is brought to you by the same people who brought you Todd Stroger, Dan Lipinski, the Hired Truck scandal and massively fraudulent hiring at City Hall.
Had enough?
It's true that the compromise measure linking the pay raises to the cost of living is better than the original proposal that would have awarded aldermen annual increases of $5,000 over four years, apparently to be delivered to aldermen's homes in brown paper sacks. But then that proposal was just an opening bid. The aldermen have still snookered you.
"I know that I work very, very hard," says Ald. Freddrenna Lyle (6th).
"We work very hard," says Ald. Isaac Carothers (29th) .
"If I stay in my office till 10 o'clock at night, my phone rings at 10 o'clock at night, because people know that we are going to try to do what we are supposed to do to help them," says Ald. Ed Smith (28th).
Well, would you take some time off if we paid you less? Please?
Or, can we pay you more to just sort of stay away, take some long vacations?
I'm sure many aldermen work very hard on constituent service, but they are aldermen, not ward superintendents. Those duties can be delegated. Where the City Council doesn't work hard is in its role as a legislative branch confronting the major issues facing the city, and as a watchdog on the executive branch.
On that count, the City Council deserves to have their pay docked, but unfortunately they have the power to judge their own job performance, declare it worthy, and dip into your pocket to push their pay into six figures.
Perhaps voters should determine aldermanic salaries in referenda every four years. I don't mean the old cliche about elections, I mean actually putting salary figures on the ballot. Why not? It would be like a job review. Just like, as the mayor and his minions like to say, private industry.
Or the pay of aldermen (and the mayor) could mirror the median income of Chicagoans. That would put them in a real constituent-oriented frame of mind. A Tribune graph this morning shows that in 1980, the median family income in Chicago was $18,776, while the salary of an alderman was $24,075. In 2004, the last year for which the paper had figures, the median family income was $47,186, while the 2006 salary of an alderman is $98,125.
"On average, Chicagoans per capita are paying nearly three times what residents of New York and Los Angeles are for the salaries of their public servants, noted Lisa Valentine, vice president and director of research for the Civic Federation, a local budget watchdog," the Tribune reports. "'It begs the question, are the Chicago ward constituents getting three times better representation, three times better services, and more efficiencies?'"
Big Box Blues
I'm experiencing a bit of clever deficit this morning, so I haven't come up with a witty way to link the aldermanic pay raise to the proposed ordinance before the City Council that would set a higher minimum wage for Big Box stores like Wal-Mart. But I would like to exchange the City Council for any 50 Wal-Mart workers and see if we're any worse off.
The truth is, I'm torn about the Big Box ordinance. I'd like the Wal-Marts of the world to pay their workers higher wages - even if it meant slight price increases, because I believe a high-wage economy is not only stronger than a low-cost economy, but also the only path to economic growth. But I'm not sure the approach of the City Council is the right one. I believe government has every right, even a duty, to enforce a minimum wage and other labor laws, but to start determining wage rules for particular sectors of the economy makes me uncomfortable.
But not as uncomfortable as the mayor and a coalition of black ministers joining Wal-Mart to make this a racial issue. To paraphrase Kanye West, Wal-Mart doesn't care about black people. I don't think they care about poor white people, either, but I most definitely don't think they care about black people.
"Meanwhile, residents of the Harold Ickes Homes on the city's South Side said organizers opposing the ordinance tricked them last week into attending a rally of about 1,200 people, heavily covered by the media, by saying that jobs at Wal-Mart awaited them there," the Tribune reports.
"'They said we were going to get some jobs, and when we got there, it was just a bunch of bullcrap,' said Cheryl Brown, 24. 'All they did was talk about how they were going to bring Wal-Mart to Chicago. People were mad.'"
Red Rod
"Customers will be able to take home unfinished bottles of wine from restaurants under a new law signed by Gov. Rod Blagojevich on Monday."
I take back (almost) every bad thing I've ever said about the governor.
Mancow Madness
Chicago Tonight is adding Mancow Muller as a commentator, apparently not bothered by the fact that he has admitted parts of his memoir were fabricated, that he lied to reporters about his age for years, and that he is prone to bold, hyperbolic statements whose veracity disintegrates with time and scrutiny.
MyPaper
The Tribune discovers MySpace. Ditches story about Friendster.
Think Pink
Customer feedback for the CTA.
Sammy Sighting
"On Feb. 2, 2005, the Cubs traded Sosa to the Orioles. He had slumped to .253 in an injury-plagued 2004 but still hit 35 homers. 'I hit 35 home runs, and that was like I was hitting 10. They probably know what [35 homers] means now."
- "Sosa Can't Believe He's Not A 'Hero,'" Tribune
The Beachwood Tip Line: Goes best with red.

Posted by Beachwood Reporter at 8:13 AM | Permalink
July 24, 2006
The [Monday] Papers
1. The Tribune blows it in its big front-page profile of mayoral press secretary Jackie Heard, in The [Sunday] Papers.
2. "Call To Limit Cases Amuses Public Defenders."
3. "Bush 'Signing Statements' Deemed Unconstitutional."
The rest of his administration to follow.
4. "Some big American cities are flourishing as at no time in recent memory. Places like New York and San Francisco appear to be richer and more dazzling than ever: crime remains low, new arrivals pour in, neighborhoods have risen from the dead," The New York Times reports in "Cities Shed Middle Class, And Are Richer And Poorer For It."
"[T]he rich pour into what some economists now call 'superstar cities,' places like New York, San Francisco, San Diego, Boston and Washington."
Boy the mayor's been busy.

5. "I'm a Realtor, so I understand a thing or two about the good and bad sides of 'neighborhood changes.' And I am SO, SO SICK of yuppie types who want to move into a 'charming old ethnic neighborhood' because of its 'local color' and 'urban feel' - then, five minutes after unpacking, start agitating for removal of precisely the qualities that gives the area in question is 'charm' and 'feel'! Gosh darn, those ethnic businesses are so full of ethnics! And the churches have the audacity to announce themselves with their bells! (I won't even begin to go into the history of the significance of church bells here.)
"And how many folks who grew up in Chicagoland, and think of Western Avenue as Car Lot Central, know about how 'gentrification' is causing the removal of the bread-and-butter economic underpinnings of that street and the neighborhoods it goes through? How naive I was a few years ago when a couple of clients, checking out a new condo development, asked me, 'So when is that car dealership next door going to leave?' I told them, in effect, that Western Ave. has historically been zoned for car sales and they should learn to live with it. Silly me - never underestimate the power of newbies-with-money to petition for removal of a long-standing local business! Within a couple of years after completion of the condo project, the car store was gone and replaced with a 'Build to Suit' vacant lot!"
6."I've got nothing against Britney, I just didn't understand why she would choose to do a song like "I Love Rock 'n' Roll" when rock doesn't even touch her life in any aspect."
- Joan Jett, in an interview with the Sun-Times's Jim DeRogatis
7. Don Rose's "No Way Daley Was Clueless This Time" is not about the police torture of black suspects that occurred while Daley was the Cook County State's Attorney, but about the mayor's illegal patronage machine. But with renewed attention on Daley's two terms as the state's attorney, you have to wonder what he did with his time over there. The special prosecutors who issued the Burge report last week let Daley off-the-hook for not following up on allegations of police torture in part because he was a delegator. Rose notes that Daley "was shocked and angered to learn that the Duff fmaily, who threw parties for him and donated heavily to his campaigns, was running multiple financial scams on the city. Amazingly, though he was state's attorney for nearly a decade, he didn't know those same Duffs were prominently connected to the mob."
8. "Every four years we hear from politicians from both parties about how they want to be our friends," said Vietnam veteran Donald Smithenry of the Veterans of Foreign Wars, Department of Illinois. "I think it is lip service on both sides. Politicians tell us what we want to hear."
9. Jon Yates's piece on Sunday about his "What's Your Problem?" column notes that customer service columns are nothing new for newspapers, reaching back into the past to cite the Action Line that ran in the Tribune in the 70s, but failed to acknowledge current-day The Fixer that runs in the Sun-Times.
10. Amtrak ridership at record levels. Who knew?
11. Gov. Baloneyvich.
12. Media as business watchdogs.
The Beachwood Tip Line: Mmmm, baloney . . .

Posted by Beachwood Reporter at 11:58 AM | Permalink
The [Sunday] Papers
The Tribune on Sunday managed to publish a 3,000-word front page profile of Jacquelyn Heard, longtime press secretary to Mayor Richard M. Daley, without answering (or apparently even asking) the key questions such a story would raise.
The paper chose to focus on Heard's rise from the Henry Horner Homes on the West Side to mayoral confidante - with a stop as a Chicago Tribune reporter - instead of examining her role in shaping Daley's media strategy and the ways she manipulates the press to control what the public knows.
Heard's personal story isn't uninteresting, but it's also not unfamiliar.
What makes Heard a compelling profile subject at the moment is that the mayor is drowning in a sea of bad news, from the conviction of his former patronage chief and three other aides for their role in fradulent city hiring schemes designed to further the mayor's political machine, to festering questions surrounding his inaction toward police torture allegations while he was Cook County state's attorney.
Then again, this mayor is always in the midst of one scandal or another. Heard is the one who helps him navigate the resulting coverage, and just how she does that is the central question any profile of her should seek to answer.
On that count, the Tribune fails miserably.

The paper notes that recent events have "put a premium on damage control and image preservation," but does not explain just how Heard has gone about either (much less ask how a former newspaper reporter feels about participating in the deceit implicit in those tasks.)
Reporters Bob Secter and Gary Washburn do write that "Favorable stories are selectively planted with pliant media outlets, while press attempts to obtain information that could prove unflattering to the administration can be stonewalled."
No examples are given, however, and the sentence is tucked in between approving descriptions of Heard as an unflappable mayoral counselor who keeps her contributions to policy decisions to herself (and thus we never learn what they are) and how she is a "classic working parent."
There is no evidence, for example, that the Tribune asked Heard about her recent refusal to pass along to the mayor written questions from Sun-Times reporters regarding the Roti family, whose extended ties to city business (and organized crime) earned them the moniker The First Family of Clout in a recent Sun-Times series.
Heard told Sun-Times columnist Carol Marin that the questions were too "insulting" and "upsetting" to give to the mayor.
Maybe the Tribune didn't want to get into the Sun-Times's business. But then, it could have asked about its own lawsuit against the city, filed in 2000 and settled three years later, alleging that the city routinely violated the Illinois Freedom of Information Act.
Maybe the Tribune decided that's just too much inside baseball for readers.
So how about asking the mayor's press secretary why the mayor refuses to honestly answer questions? And if it was her idea to limit questioning to daily gang-bang press conferences which are counter-productive to reporters actually learning anything of value? Or how she decides which interview requests to grant? How often does she meet with David Axelrod or Dana Herring to shape the mayor's message?
Well, maybe the Tribune thought those questions would be too insulting and upsetting.
So how about asking how her views of the press have changed in her job - after all, she was once a reporter devoted to digging out the truth, right? So does she now believe that reporters ought not have the truth?
Heard worked for a time on the City Hall beat for the Tribune. Still, Daley didn't know who she was when she was recommended for the press secretary's job. What was it about Heard's work that led the mayor's inner circle to believe she would be good in public relations, and faithful to the mayor? Was she one of the compliant outlets? After all, the mayor wouldn't have offered the job to Heard's colleague on the beat at the time, John Kass.
"Race was surely part of the equation," the Tribune reports. (Heard is African-American.) "Daley has had three chief spokesmen. They have been the public face of his tenure, and all have been African-American."
I would hardly call Heard the public face of the Administration - as the Tribune report says elsewhere, she stays out of the limelight. But isn't it an offensive exploitation of race to make sure that your press secretary is always black, as opposed to, say, something more genuine such as making sure the city's minority contracting program serves minorities, not your white pals?
Near the end of the story, the Tribune quotes an anonymous source who says that Heard understands "the minimum requirements of the press, and also how to run a story to ground - either by not giving access to information or to give so much of it, it is not clear."
Reporters and average citizens who seek public records through the Freedom of Information Act, the Tribune says, "routinely are slowed by foot-dragging or stymied altogether."
That seems like a fruitful line of inquiry. Was Heard asked about this? Apparently not. The paper takes it no further. Instead, we move on to Heard's special "chemistry" with the mayor.
"That he has come to depend on her is obvious," the Tribune says. "Daley insisted she sit in while he was being interviewed about her for this story."
What if the paper insisted she didn't? The mayor can't answer questions by himself?
That too would be a fruitful line of inquiry.
While Heard would likely not cooperate with a story that asked all the right questions, look what cooperation gets you. Better to write around a subject and get the story you want. The irony in this case is that nobody knows better how Heard operates than reporters. Yet none are quoted in the story, and observations of media strategy that reporters are subjected to every day are absent.
The impulse to do a profile like this is often to show the human side of public people who are often otherwise depicted as one-dimensional caricatures. But human-interest profiles rarely go beyond caricature and cliche themselves. Besides, usually what's most important about a profile subject is what they do, not who they are.
The Beachwood Tip Line: Go Twins!

Posted by Beachwood Reporter at 7:45 AM | Permalink
July 23, 2006
Jerry "Iceman" Butler: Love's on the Menu
The Cook County Board's been on our minds lately, so I considered it great fortune when I found a bargain-bin record the other day by my favorite soul-singing commissioner, Jerry "Iceman" Butler. Since Butler has now had a long career as a Regular Democratic Party loyalist, it's easy to forget that, as a founding member of the Impressions and through his solo work, he's one of the most influential soul artists in history.
If you ever find copies of his late '60s and early '70s records, especially The Iceman Cometh and Ice on Ice, grab them immediately. They're full of two- and three-minute sagas of passion and heartbreak, soaring and crumbling on pure melody, and sold by the Iceman with much, much more than a politician's conviction.
Butler hit his artistic peak by about 1971, so I was a little skeptical when I found that dirty $1.99 copy of Love's on the Menu. The cover said it all: The Iceman, in a wide-collared, open-necked shirt, stares coolly out at us as a seductive woman moves to whisper in his ear. The fact that it was on Motown - the Iceman had been on Vee-Jay and Mercury in his heyday - didn't bode well, either, since this was the label's period of Diana Ross and Commodores excess. So when the record started with a popping bass and clubby beat, my hunch was confirmed: Even the Iceman had tried to stay relevant - like the Dead, the Stones and so many others - by going disco.
This was no Trammps record. But I should have known not to give up on the Iceman so quickly. To really get Jerry Butler, you have to play his records all the way through - especially the '70s sides, because some of the good stuff is buried and sometimes, like the first G&Ts at the lounge, it just takes the Iceman a little longer to get it going.
But he always does. Halfway through the first side, he pulled me in with these soul-baring lyrics delivered over a catchy chorus: "Don't let this smile fool you/Gonna send my heart out to you." This comes with just the right touch of wah-wah pedal, girls in the background singing, "Come back, baby, come back," and a danceable beat that, even if derivative of far better funk bands, is made fresh even now by the Iceman's power of persuasion.
After that, a ballad then makes perfect sense. "Love's on the Menu Tonight" is about as syrupy as you'd expect, but the Iceman sounds like he means it. Later on side two he sings, "The Devil and Mrs. Jones/Makes me want to raise a little hell in my home," and by the time he finishes with "This is Your Life," I found it impossible not to agree - this is indeed my life, and I'm going to spend a few more hours of it letting the Iceman melt my soul.
Visit the Bin Dive archive.

Posted by Don Jacobson at 7:27 PM | Permalink
Chicago In Song: Hater's Paradise
As we have seen in earlier installments of Chicago In Song, when it comes to our city's treatment in popular song lyrics, there seems to be a hate-hate relationship going on. Why do they hate us? Why? We're not really such a simmering hellhole, are we? If you judge by these common-man poets, that's just what we are. This time around, we'll look at a song that comes right out and tells us we're crap; one that bemoans friends getting killed; one that associates the city with Big Brother mind-control; and one that actually kind of gets it right.
Wow. Had to look around some for that.

I Hate Chicago/Mark Wills
Well, I think the title pretty much sums this one up. It's a piece of velvet-glove criticism from one of those mainstream, big-hat country acts that play all day long in suburban insurance offices and convenience store gas islands.
Mark Wills' music falls right into that category - twangy in a slick, overproduced way; less-than-adventurous song structure; sentimental, unironic lyrics about lost loves; and the perils of life as a country star. Yep, I bet it's tough being Mark Wills, what with all the time being spent away from his baby while hanging out at Dick Cheney's place and doing a duet with Lynne, supporting the war policy like crazy. I guess someone has to make sacrifices to bring us victory.
One way he's doing this is by breaking out a song written by Chris Dubois and Lee Thomas Miller called "I Hate Chicago." Now, on the most obvious level, the singer hates Chicago because it reminds him of a failed love affair with "Sara."
Sara told me that she only
Needed space to think things out
Then she met some guy named Tony
Guess where they live now?
That's right I hate Chicago
I hate Chicago
Man, I hate Chicago
Sara, it seems, at one time told the singer she wanted to settle down with him in a little farm on the outskirts of town, which, of course, represents the good life. Instead, she throws him over for some (obviously ethnic with a name like "Tony") city slicker.
The not-so-subtle message here is that Chicago represents temptation and ultimately corruption in the form of sexy immigrants. And in a just world, no woman would want to give up living out in the middle of nowhere with a monster truck-driving, Bush-backing would-be cowboy for a dynamic, exciting city with a racially diverse mix of people. Nope, it just wouldn't happen. Good ol' 'Mericans always win out.
Now, just to add in a few more digs disguised as humor, the singer lists some of the things he hates about Chicago:
Tuesday morning sports page, I've got coffee in my cup
A smile creeps across my face, the Braves beat the Cubs
I hate Chicago
I'm changing planes in Dallas, I ain't going through O'Hare
It's a thousand dollars more I know, but I don't care
I hate Chicago
From their WGN station to their seven feet of snow
The rock band in the '80s to the Oprah Winfrey show
I hate Chicago
Even though I take issue with the spirit in which it was given, I have to agree the singer has a point with WGN, snow, Oprah and O'Hare. Those are things that I certainly associate with Chicago, but am ambivalent about or not emotionally attached to. They are all double-edged swords to my way of thinking, about which opinions can vary widely.
But the Cubs - well, no Cubs fan, no matter how much they disagree with how the team is run, can smile when the Braves beat them. That's going to the core of what it means to be from Chicago. There's no other way to take that than as a provocation. And which '80s rock band is he talking about? The band Chicago? It better not be Cheap Trick, because then, dammit, we're going to have a problem. If he means Styx, though, well, maybe we can talk.
Born in Chicago/Paul Butterfield
I have a loose rule about not including "blues heritage" references in this column because of the typecasting. We all know Chicago's cultural image to the rest of the world is first and foremost about the blues, and so there's no use going on about it here for the umpteenth time. But it's just so darn hard to escape. Plus, Paul Butterfield is thought of as much as a popular artist rather than strictly as a bluesman, even though he certainly was a master of that idiom, introducing it to Baby Boomers like no one else.
"Born in Chicago," which bandmate Nick Gravenites wrote, is notable as a virtuoso example of Butterfield's prowess with the blues harp, an instrument he made his own. But it also was probably the best song on one of the most influential rock records of all time, 1965's The Paul Butterfield Blues Band - the disc that really introduced white America to the electrified Chicago blues for the first time. As such, its lyrics deserve inclusion:
I was born in Chicago in 1941
I was born in Chicago in 1941
Well my father told me
Son you had better get a gun
Well my first friend went down when I was 17 years old
Well my first friend went down when I was 17 years old
Well there's one thing I can say 'bout that boy
He got bold
Well my second friend went down when I was 21 years of age
Well my second friend went down when I was 21 years of age
Well there is one thing I can say about that boy
He got dead
Well now rules are alright if there's someone left to play the game
Well now rules are alright if there's someone left to play the game
All my friends are going
And things just don't seem the same
What's probably the very first white blues-rock song about Chicago also set up the conundrum that has faced such Caucasian artists ever since: the lyrics sound authentically autobiographical, but they're not. I doubt Butterfield's father, who was Hyde Park attorney, ever advised the classical music student Paul to "get a gun." And while I'm sure there were white kids getting shot in and around Hyde Park in the late '50s, it certainly wasn't the same kind of thing that was going on just a few miles away in, say, Englewood.
So it seems the never-ending struggle for authenticity that is the hallmark of the white blues artist has been going on since the first Baby Boomer listened to his first Robert Johnson record - probably in the upstairs bedroom of a nice old home in Hyde Park.
Chicago Institute/Manfred Mann's Earth Band
Alright, this is really a strange one, and thus I love it. Manfred Mann's Earth Band, who were riding ultrahigh in 1977 with their smash Springsteen cover "Blinded By the Light," spent the next few months working on a follow-up LP called Watch.
Like all MMEB records, it was quirky progressive rock, the kind of stuff the Kinks were also doing in the '70s - one or two hand-clapping, riff-laden pop rock tracks (such as a very nice re-working of their smash Dylan cover from 10 years earlier, "The Mighty Quinn," and Robbie Robertson's "Davy's On the Road Again") followed by indulgent, head-scratching forays into experimental weirdness.
Firmly in the second camp is "Chicago Institute," an original written by Earth Band members Mann and guitarist Dave Flett and by Peter Thomas, a German TV and movie soundtrack composer. Its lyrics are basically a paranoid rant about how computers literally have our numbers. It's a stroll down Orwell Lane - about how Big Brother controls our meaningless, numbered lives from cradle to grave, and about how only rebellious individualism can save our basic humanity. And Big Brother, it seems, is based in Chicago.
There's an institute in Chicago
With a room full of machines
And they live this side of the sunrise
And burn away your dreams
Once you fly to Chicago - in Chicago you will die
When that institute in Chicago has recorded you and I
I have to admit that, after painstaking research, I have no idea what "institute" Manfred is talking about. Of course there's the Art Institute of Chicago, which has rooms full of priceless Impressionist masterpieces and medieval armor. But rooms full of machines that burn away your dreams? Not that I saw on my last tour. Maybe they keep those kinds of things down in the sub-basement along with the less popular Seurats and Manets.
Perhaps the word "institute" is throwing me. Maybe it's a British-ism and by "institute" Manfred really means a government institution, such as the Social Security Administration or the Cook County Jail. Now that might make a little more sense. But, unless there's some kind of talk radio-style conspiracy going on here (which of course is eminently possible), I'm at a loss to find any evidence of a massive federal government record-keeping operation that was going on in '70s Chicagoland. Then again, I'm probably just another clueless victim of the Institute - they don't want me to know.
At the institute in Chicago from the first day you were born
Oh they just can tell what you're feeling
And they can't see how you're torn
When your name's just a number - just a number you will die
'Cause that institute in Chicago never knew you were alive
If anyone knows of any soul-destroying, life-controlling Chicago-based institutes (the Tribune Company excepted), please drop me a message on the Beachwood tipline.
The El/Rhett Miller
It's interesting and perhaps fitting that Rhett Miller, in the marquee song of his first solo album (2002's The Instigator) decided to go all-Chicago all the time with "The El." His great, great first band, the Old 97's, had a strong Chicago connection because of their affiliation with local label Bloodshot Records. The 97's also had some of their earliest live club successes in our city's nascent alt-country scene.
Now, Miller is known as a "thinking man's pop star," appearing in Esquire and Vanity Fair, and is a regular on the network talk show circuit, popping up regularly on Carson Daly and Jay Leno. I feel good for him because his music is indeed smart, and any time smart pop music gets some commercial success in the screwed-up mainstream music world, I have to say, "alright." I just wish I liked it more. What can I say? It's overproduced and kind of soulless. That's the nature of mainstream pop, I guess. But why, Jerry, why?
Anyway, "The El" is pretty rollicking in a way that sounds a lot more like the Old 97's than Miller's subsequent output. Lyrically, it reminds me of George Jones and Tammy Wynette's "Golden Ring" (reviewed here) in that it is a song cycle that uses a Chicago locale to tell a story of meeting, falling in love and eventually splitting up. With George and Tammy, it was a Chicago pawn shop. For Rhett Miller, well, obviously, it was the El.
Let's say you're in Chicago and you're rattling along on the El
And the one who rides beside you is a stranger to herself
Nobody knows her own heart
You might have been introduced but you drifted apart
You're a long way from where you belong unaware
Let's say you're in Chicago and you're making out under the El
You're trapped in your head humming a tune to yourself
There's a trapdoor in your heart
There's a false bottom line and it's falling apart
You're a long way from where you belong unaware
So far, so good. The singer meets a girl on the El, something that I think has happened to every guy in Chicago. But it's not totally random. He "might have been introduced" to her once before, maybe at a Wicker Park party or at a wedding, a show, or somewhere else. There's an element to Chicago of being a close community, despite its massive size. It's Midwestern and not like New York City in that way. For some reason it just seems more possible to randomly bump into someone you know here than it would in an Eastern city. So points to Rhett for Chicago authenticity, although making out under the El is not something I would do. One: cinders. Two: horrible, screeching noises. I kind of like to be able to hear things when I'm making out.
But then things take a turn for the worse, as they always do in good love songs.
Let's say you're in Chicago and you're breaking up all over the El
You were so in love but you were only in love with yourself
Nobody knows her own heart
Things were coming together now they're falling apart
You're a long way from where you belong unaware
You're a long way from where you belong unaware
Another point for Rhett: Chicago hipsters are indeed in love with themselves! I really think he's got this town nailed.
-
-
1. From Daniel McNeal:
I'd always thought Chicago Institute was a reference to NORC at the U of C (known, back then, as the National Opinion Research Center). It's hard to believe now that only four decades ago this was a novelty, but they were a pioneer in the use of computers to store information on the public, doing massive surveys on behalf of the Departments of Labor, Defense, HEW (Health Education & Welfare) . . . A "room full of machines" that, however hard they might try, couldn't really tell how you were feeling. And that, coincidentally, is just a couple of blocks from Jackson Park and I'm pretty sure used to have a view of the lake from "just this side of the sunrise," though it's blocked now by new construction.
Not soul-destroying on its own by any means, but Mann and his band always were well ahead of their time and they may have rightly perceived NORC as a harbinger of things to come.
On the other hand, I've googled NORC and "Manfred Mann" and I seem to be the only person in the world ever to have made the connection, so maybe I'm just crazy.
2. From Paul Hansen:
Regarding your article "Chicago In Song: Hater's Paradise" and the question of what was the "Institute" in Manfred Mann's song, it's entirely possible that the song refers to IITRI, the Illinois Institute of Technology Research Institute.
"Research and development programs explored as an engineering think tank over the decades have involved many areas of science, including applied physics, high energy physics, upper atmosphere research (aeronomy), nuclear physics, nuclear attack survival, numerical and computer simulations, electron microscopes and microscopy, police technologies, military, luminescence, aerosols, spacecraft thermal protective coatings, material effects by solar radiation, energy work,and mining engineering." (Boldface mine)
I attended IIT as an undergraduate from '67-'70, and I never went in there, but the scuttlebutt was that they had armed guards at the front door.

Posted by Beachwood Reporter at 6:47 AM | Permalink
July 21, 2006
The Weekend Desk Report
The Weekend Desk reports this Friday from New Zealand, where the mountains are gorgeous, the water is clear and the police misconduct is a whole lot easier to stomach.
Market Update
Despite growing consumer confidence and a strong market, it appears that Bonds yields will be much lower than anticipated. Experts stress, however, that a rollover could still generate interest.
Stem of All Evil
Taking a stand against "cross[ing] a moral boundary," President Bush this week used his veto powers to reject a bill calling for expansion of stem cell research. In 2001, Bush famously authorized use of existing stem cell lines in medical research, saying essentially that once the ethical damage had been done it was more or less fair game. Yeah, we sort of thought that policy might bite him in the ass one day.
Fat and Happy?
Anecdotal evidence this week suggests that many people who have undergone gastric bypass surgery subsequently become addicted to drugs or alcohol, a process known as addiction transference. In related news, the United States announced its intention to remain addicted to oil, saying it was afraid to think what it might get hooked on next.
Beating the System
With the death of Ta Mok this week, it's time to update the official Beachwood Global Justice standings. Here's how the leading judicial vacation spots are looking:
Cambodia: Denied. Again.
Chile: Denied.
Former Yugoslavia: Denied.
Iraq: Delayed. Again.
Liberia: Farcical.
Uganda: Delayed and denied.
Posted by Natasha Julius at 10:36 AM | Permalink
The [Friday] Papers
Far from putting us on the glidepath to closure, the long-awaited Burge report released this week has left in its wake an empty, even queasy feeling. Is that all there is?
Apparently not. In "Daley In Legal Cross Hairs," the Tribune reports this morning that "attorneys for four men who say their confessions were coerced served federal subpoeanas on the special prosecutors Thursday, seeking records of Mayor Richard Daley's testimony."
The paper notes that "Daley was Cook County state's attorney during much of the period in which police torture took place, special prosecutor Edward Egan found. Egan's team interviewed Daley and the report devoted three of its 290 pages to what Daley did and did not know about the allegations."
In an example illustrative of the reaction to Egan's report, Channel 2's Mike Parker described the special prosecutors' treatment of Daley as "gentle."

Mostly at issue is Daley's response - or lack thereof - to a letter sent to him by then-police chief Richard Brzeczek about torture allegations involving Andrew Wilson, who was later convicted of killing two police officers. Not just run-of-the-mill complaints, mind you, but claims (that the special prosecutors found to be true) that Wilson was burned and electroshocked.
"The report is oblique, however, in its treatment of what Daley knew of Brzeczek's letter regarding Wilson," the Tribune says.
"The report states that Daley 'assumes that he was advised of the letter.' Daley also said the letter 'was probably discussed with him and [then first assistant, now Cook County State's Attorney Richard] Devine,' the report states.
"But it asserts that Daley 'has no current memory of how the letter was processed.'"
Beyond that, the Sun-Times reports that the special prosecutors asked Daley only about the Wilson case, though 55 other torture claims were made while Daley was in the state's attorney office, according to lawyer Flint Taylor.
Taylor says he will add Daley's name as a defendant in civil lawsuits filed by several men who say they were victims of torture at the hands of former police commander Jon Burge and others in his unit.
"If the special prosecutor won't put the responsibility where it truly lies, we intend to fully do that," Taylor told the Sun-Times. (second story)
The Sun-Times editorial page is also unsatisfied. "The list of men who, according to the report, didn't follow up is long. It includes Mayor Richard M. Daley, who was then the Cook County state's attorney; Richard Devine, who is now state's attorney but was then Daley's top aide; William Kunkle, who prosecuted the Wilson case and is now a judge; Lawrence Hyman, who was Daley's chief of felony review and who took Wilson's confession; and Frank DeBoni, who was a prosecutor and is now a judge."
The paper proposes an imaginative though unlikely action.
"[L]awyers who looked the other way can and should be investigated for their inaction . . . Anyone holding a law license can be disciplined by the state Attorney Registration & Disciplinary Commission."
That includes the mayor (Class of '68, DePaul University College of Law).
World Class
* LONDON - "Chicago Police 'Tortured Black Suspects.'"
* BEIJING - "Chicago Police Torture Black Criminal Suspects."
* QATAR - "Police Agents Tortured Suspects: Report."
John Doe
Is Larry Hyman.
Daley Dose
Where is the mayor, anyway?
Brown On Brown
"CTA Chairwoman Carole Brown said the Chicago Transit Authority has a 'huge credibility problem' convincing the public the $530 million Brown Line renovation project will be completed on-time and on-budget," the Sun-Times reports.
No shit.
Among other problems, the CTA sort of didn't get all the construction permits it needed.
"The CTA's executive vice president of construction, Susan Plassmeyer, said the lapse occurred because the contractor told the CTA a permit wasn't necessary for the work.
"But Brown and other members of the board said staff's inability to get something as basic as a building permit speaks to bigger problems with the management of the project."
No shit.
The rehab project is also running 11 percent over its $259 million budget.
Brown says she will hold CTA President Frank Kruesi personally responsible and "blame him" if the project doesn't come in on-time and on-budget.
Note From Beachwood HQ
That's all for today, I'm off to conduct some business. But watch for Natasha Julius's wonderfully incisive Weekend Desk Report, as well as fresh offerings which we will post through the weekend. And thanks for your continued support.
xxBeachwoodxxSecretxxMessage: Much more a friend than a sometimes enemy, I'm sure. Highly appreciated.
The Beachwood Tip Line: We cut hedz.

Posted by Beachwood Reporter at 9:21 AM | Permalink
July 20, 2006
The [Thursday] Papers
Anyone who didn't already know that former Chicago police commander Jon Burge & Co. brutally tortured suspects - think electrical shocks to the genitals - hasn't been paying attention. In that sense, the long-awaited release of the $7 million, four-years-in-the-making Burge report on Wednesday was a let-down.
I've only just begun to plow through the 292-page report, but judging by today's media accounts, the examination into police brutality by court-appointed special state's attorney's Edward Egan and Robert Boyle is heavy on a narrow reading of the facts of more than a hundred cases in question, but light on any explanation of how this could go on unimpeded for so many years with so few found responsible.
The report lays most of the blame, outside of Burge, of course, on former police superintendent Richard Brzeczek. And Brzeczek indeed ought to shoulder his share, although he wasn't the only chief to lead the department in the years in which torture was not-so-secretly being carried out at Areas 2 and 3. And as Brzeczek pointed out on Chicago Tonight last night, the Egan and Boyle have very little to say about the layers of supervisors between he and Burge.
The truth is that the city's criminal justice institutions - remember, this is a town where justice has historically been for sale - and leadership structure are broadly to blame. The culture of the Chicago police department didn't much care if officers kicked the shit out of poor black men - or chained them to radiators during questioning - in the course of going about their business. And neither, it is clear, did the Cook County State's Attorney's Office, nor a healthy share of the (white) public.
Just as a culture of corruption doesn't exist in City Hall without, at minimum, the tacit approval of its leader, the culture of brutality don't exist in police departments without the tacit approval of police chiefs, prosecutors, city councils, and mayors. Or the press.
In this case, however, one person is in a unique position to claim responsibility: Richard M. Daley.
After all, he was both Cook County State's Attorney when torture allegations first arose - and was notified of them in a letter from Brzeczek - and then he became mayor while the city defended itself against those very allegations.
And yet, the special prosecutors behind the Burge report seem to have given Daley the greatest deference possible in their findings. They don't clear Daley - and if the evidence supported that, so be it - but instead politely let him squirm off the hook.
As Brzeczek said Wednesday, "Does Daley ever wear the jacket for anything?"
Daley's leadership as state's attorney and mayor isn't questioned. Instead, at issue is a letter Brzeczek sent to Daley about brutality allegations that arose out of the prosecution of Andrew Wilson.
"Daley, the Cook County state's attorney at the time, did not respond to Brzeczek's letter. Yet he was unscathed in the special prosecutors' report issued Wednesday," the Sun-Times says. "Instead, the report said Brzeczek should have pressed for an answer from Daley."
Fair enough. Brzeczek's turn as the victimized scapegoat is a bit much; he was the police chief, after all, and sending a letter could have been as much an ass-covering move as a call to action. He could have picked up the phone, for example. Or called the feds.
Nonetheless, Daley's inaction and downright lack of interest are inexcusable.
"There was not a context at the time of, 'Gee, there had been 50 charges or 50 claims against this particular officer so there better be a heads-up," the report says.
But their questioning of Daley, as far as we can tell, seems awfully weak. All Egan and Boyle can bring themselves to write of his version of events is, "We accept his explanation, but would not do it the same way he did."
What was Daley's explanation? We don't really know. As the Defender reports, "Daley was not subpoenaed, but special prosecutors took court-recorded statements from the mayor under oath. Daley's statement - alone among those interviewed, according to one TV station - is not in the report.
"We didn't deem it would have made any difference," Boyle said.
Right. No one would have wanted to see Daley's statements anyway.
We do know this much, according to the Sun-Times: "Brzeczek forwarded the letter to Daley, saying he would wait for instructions on how to proceed so as not to jeopardize the murder case against Wilson.
"Daley and [first assistant and now Cook County State's Attorney Richard] Devine were new to their jobs. They trusted [William] Kunkle - the man who prosecuted John Wayne Gacy and the main prosecutor on Wilson's case - to handle the investigation, Daley and Devine told special prosecutors."
That's right. Daley and Devine "trusted" prosecutor to investigate his own prosecution.
It gets better. According to the Defender, "Kunkle, who represented Burge in two civil rights trials and his case against the city for his 1991 firing, was not available for comment, his staff said Wednesday."
As is his practice when facing questions from the media he doesn't want to answer, Daley also suffered convenient memory lapses when questioned by the Boyle and Egan. But again, a transcript is not available.
"That's nice. I mean, it's nice for the mayor," John Kass writes, in "A Tortuous Path To Not Blaming Daley," which aptly summarizes the mayor's 17 years in office.
And how did Kunkle proceed?
"Kunkle handed it off to prosecutor Frank DeBoni, the report says," according to the Sun-Times.
"DeBoni told special prosecutors that Kunkle or someone else had told him that Wilson's lawyer would be calling him if Wilson wanted to pursue charges against the officers."
In other words, neither Kunkle nor DeBoni did anything.
And guess what? Kunkle and DeBoni are now Cook County judges.
Kunkle, however, acted more like a hostile witness than a judge in his interaction with the special prosecutors.
"During their interview with Kunkle, he did not recall much and could not offer explanations for his ever-changing reasons for [Andrew] Wilson's burns. He tried to convince Egan and Boyle that the officers in the squadrol transporting Wilson beat him.
"'In four separate hearings, Judge Kunkle took four separate positions - no explanation; no burns; self-inflicted burns; and last, self-inflicted burns or alternatively, burns caused by the wagon men,' the report states. 'When we questioned Judge Kunkle, we sought some explanation of the seeming inconsistencies in the positions he had taken. He invoked the attorney-client privilege. Our hopes that Judge Kunkle . . . would shed some light on the question were dashed.'
"Kunkle is just one of many prosecutors mentioned in the report who have gone on to become judges, appellate justices, even attorneys with the U.S. Justice Department in Washington, D.C."
And one went on to become mayor.
Daley Denial
"A spokeswoman for Mr. Daley said the mayor was in San Francisco and would not comment on the report until later this week, if at all," The New York Times reports.
If at all.
Daley Darts
"Ald. Howard Brookins (21st) called Daley's failure to launch an investigation of Burge during the 1980s a 'potential bombshell' that could 'turn into a lightning rod' in the black community if the mayor runs for re-election in February," the Sun-Times reports.
"'His inaction could galvanize large numbers of people in the African-American community against him - even more so than the corruption' that triggered the conviction of Daley's former patronage chief and three others, Brookins said.
"'A lot of people think corruption is business as usual. They kind of understand that connected people got jobs. African Americans . . . even benefitted from it. Burge and the other people at Area 2 were torturing African Americans. This makes [Daley's] race much tougher if he decides to run for re-election. . . . It makes it tougher for African-American aldermen who have supported him in the past to come out strongly for him with these types of allegations out there.'"
Ald. Fredrenna Lyle tells the Sun-Times that black voters are angry, while U.S. Rep. Jesse Jackson Jr. says that Daley "should be held accountable, if not by law, then certainly politically.
"'If people knew then what we know now, Daley would never have been elected mayor in the first place,' Jackson said. 'He must now give a full explanation of his actions as state's attorney. . . . There needs to be an investigation to determine whether or not the process itself that delayed these revelations were deliberate in order to allow the statute of limitations to expire.'"
Boring Brutality
Eric Zorn rightfully takes Egan and Boyle to task for dulling up their findings. "[Boyle] did not use the word 'torture' until the Q&A period following extended introductory remarks, when WLS-Ch. 7 reporter Charles Thomas goaded him into it," Zorn reports.
The Beachwood Tip Line: Scapegoats welcome.
Posted by Beachwood Reporter at 9:13 AM | Permalink
July 19, 2006
The Machine Must Die Part I
What is there left to say about Todd Stroger, aside from wishing he would just go away?
Actually, plenty. After all, we still don't know who Todd Stroger is. I mean, besides the shameless son of John Stroger.

It's beyond time for a full vetting of the man - his record as a state legislator and alderman; a look at his political deals and campaign contributors (and what they have received in return for their support); even some probing into his job as an investment banker. (The state election board is already investigating the alleged mixing of campaign and public business at Stroger's office.)
And who is Bill Beavers? The man has been on the Chicago City Council for 23 years as a proud old-school pol who revels in patronage and the kind of politics that gets people indicted. Is he clean? And what are we to make of his daughter, Darcel, whom he hopes to install as his successor as alderman as he moves to the county board?
The papers can rant and rave all they want on their editorial pages, but maybe it would be more productive to move their reporting beyond the daily twists and turns.
Beyond that, instead of unwittingly aiding the Cook County Democratic Party and leaving readers feeling helpless, the papers could provide outlets for action. For example, neither the Tribune nor the Sun-Times published the names and votes (and contact information) of the (ward and township) committeemen who just put an invisible alderman with no business running a $3 billion government on the ballot over a five-term United States congressman who seems to have at least a bit of a clue as to what the job entails.
And where is the grilling of county party chairman Thomas Lyons? How does Michael Madigan, chairman of the Illinois Democratic Party, escape accountability?
Put their (white) faces on the front page and direct some heat their way. And next time, do it before the votes are in.
Todd's Tales
"Throughout history there has always been those who seek to gain political power through nonstop negative attacks and anti-government rhetoric. But those with anger or intolerance in their hearts rarely inspire and they rearely succeed in building the coalitions necessary to govern in a pluralistic and democrative society."
Apparently Todd Stroger is inspiring the citizenry with his alternative method of gaining political power, though he certainly isn't willing to build a coalition and actually run for a district board seat that came with a vote attached to it.
Dinosaur Days
Apparently unpersuaded by Todd Stroger's profession of "a genuine passion for county government," the Tribune editorial page today says that "Todd Stroger's next good idea for rescuing a county government that taxes too onerously and spends too wastefully will be his first."
Leave It To Beavers
"Congressman Jackson is young in this game," [Beavers] said. "He has a lesson to learn, and one day he'll learn it."
Hall of Infamity
It's hard to know who among the other players is more ridiculous. In the Sun-Times's "They Said What?" collection, it's a dead heat between aldermen Burt Natarus and Howard Brookins, committeeman Michael Wojcik, and state representative Lou Lang - Natarus's blaming Danny Davis for poor mail service would win under usual circumstances, but Natarus says 50 things like this a day.
Pause to remind yourself right now that these people are on the public payroll.
Then there's Ald. Dorothy Tillman complaining that "the press are dividing the community."
Apparently not well enough.
And speaking before the committeemen at the Allegro Hotel, Ald. Fredrenna Lyle justifed Todd Stroger's elevation with the tired argument that America is filled with political families, such as the Kennedys and the Bushes (she declined to name the Madigans and Lipinskis). Yes, America has a rich history of political corruption, favoritism, and cronyism. You're doing a helluva job, Freddie!
What do all these clowns have in common? They are members of the Cook County Democratic Party.
The Machine must be destroyed. I fear four years of Tony Peraica ("Have you had enough YET?") far less than the continued existence of this cesspool of fools.
Posted by Beachwood Reporter at 9:50 AM | Permalink
The [Wednesday] Papers
What is there left to say about Todd Stroger, aside from wishing he would just go away?
Actually, plenty.
And plenty to say about the puppet-masters pulling his strings. Our report, The Machine Must Die Part I, can be found on our Politics page.
Test Tinkering
Schools "CEO" Arne Duncan and his chief education officer, Barbara Eason-Watkins, went on Chicago Tonight last night to combat the notion that lowering the passing score on 8th-grade math tests from the 67th percentile to the 38th percentile had anything to do with fantastic new results called "historic" by the mayor.
Duncan found it odd that some reporters focused on that aspect of the latest exams, as well as other niggling differences such as giving students more time to complete the tests.
Duncan, trying very hard to smile as he recited his talking points, even went so far as to accuse skeptics of racism for not believing that urban schoolkids could do so well on an exam.
Here's a question, then, for Mr. Duncan. Why don't you just give everyone "A"s and declare school reform over?
I find an emphasis on test scores to be one of the most counter-productive measures ever introduced into our school systems, but I would also respectfully suggest to Mr. Duncan that living under an illusion of gains by changing the rules of the game does a greater disservice to students than critics who would rather see kids actually receive a better education.
At the same time, Duncan made a huge promise last night: That when statewide results are released within a couple of weeks, the overall numbers will prove that Chicago schools made a sudden, significant leap beyond whatever could be attributed to changes in the testing methods and criteria. We'll see, but sudden, significant leaps are their own cause for skepticism, as Duncan ought to know.
(And if true, interviewer Elizabeth Brackett asked Duncan, why didn't you just wait to announce your own results along with those for the rest of the state, so they could be more fairly assessed? As far as I could tell, Duncan's non-answer about being so proud of the kids boiled down to notching a good PR hit for him and the mayor.)
Mara's Makeover
Mara Georges announces that her integrity remains intact.
ManKow
Mancow promised on Chicago Tonight the other night that his firing from Q101 would be vindicated by the upcoming new ratings book. Well, the book is out. Was he vincidated? Not really. While Robert Feder reports that Mancow's ratings where higher than they had been in years, he didn't provide any accompanying data. The Tribune, however, reported that Mancow finished with a 5.7 share among men 25-54, "good for second place in that demographic, his best showing in 18 months."
Feder called this a "splendid swan song" that "raised new doubts about management's decision to pull the plug on Mancow's Morning Madhouse after eight profitable years at the Emmis Communications alternative rocker."
Really? At $3 million a year, station management could reasonably expect more from the sputtering Mancow. Besides that, management says, Mancow's show didn't generate nearly as much money as he publicly claimed (no surprise there), and it no longer fit with the station's programming agenda.
In an interview with Radio Ink magazine, Q101 station vice president and general manager Marv Nyren explained.
RI: In reading Mancow's press release, it looks like his show is generating tons of money. How can you walk away from that?
MN: How do I answer those questions? Number one, it doesn't generate that much money. The numbers they gave are not accurate numbers. His ratings are very good. But his syndicated show has become difficult for us because we want a local Chicago show. And when I look at the stations he's got syndicated, they're in Rapid City and Tucson and Salt Lake City and a couple of other markets. They're in general very small markets. He's on in L.A. but it's an AM station. It's not what I would consider a major, nationally syndicated radio show. We've been allowing him to do a nationally syndicated morning show, but it's really starting to affect (us locally). Example, when the Chicago White Sox won the World Series, the next day I think we were talking about 'a car that blew up on a Los Angeles side street.'
Kopy Kats
"There's a plagiarism hunt going on at Southern Illinois University, and the hunters think they may have bagged a big one: a campus chancellor who appears to have taken parts of his Rev. Martin Luther King Jr. Day remarks from other writings, a Web site, and even a White House proclamation," the Tribune reports today, on a saga with a deep back-story.
"The revelation has university officials scrambling to explain the 600-word welcoming address given by Edwardsville campus Chancellor Vaughn Vandegrift and has disgruntled faculty members crowing over what they believe is proof of the administration's hypocrisy."
Vandegrift says his staff wrote the speech in question, and when he asked them about it, "they said they thought using unattributed remarks was acceptable because it wasn't for an academic paper."
Then they expressed puzzlement at all those names next to quotes in the newspaper.
Keystone Kubs
* Sammy who?
* Goat Rider.
Pol Bono
The estimed $20 million - $20 million! - in defense work provided by Winston & Strawn to former governor and convicted felon George Ryan was a political gift, despite the law firm's attempt to characterize it as pro-bono representation, American Lawyer magazine has concluded.
"Thomas Fitzgerald, managing partner-elect of Winston & Strawn, says the case was so vast and so complicated that Ryan, who spent 40 years working in Illinois state government, couldn't have afforded competent legal counsel on his own," the magazine says. "He says Ryan would have had to seek a court-appointed attorney if Winston hadn't stepped in. (Judges have discretion over which defendants qualify for free help, according to federal guidelines.) Ryan's situation embodied the 'classic access to justice' scenario in which a defendant could not afford a lawyer, according to Fitzgerald . . .
"We understand the argument, and it's an interesting one. So we employed a two-step analysis. Could Ryan afford competent counsel? Although Ryan needed vast resources to defend himself, the former governor receives an annual pension of $195,000 from the state of Illinois, and therefore doesn't meet anyone's definition of 'poor.' Could he afford Webb and Co.? No. But that's not the standard. Second, we asked whether the firm was defending an important civil right that would trump the indigent requirement. Again the answer was no. We acknowledge Ryan's interest in liberty, but concluded that the firm's work did not meet our definition."
The magazine notes that Ryan was the lieutenant governor to Winston chairman Jim Thompson when Thompson led the state (among other political ties). Winston also defended Ryan's commutation of death row sentences in state court, and is now handling Ryan's appeal on his recent corruption conviction.
According to a Tribune report today on the magazine's article, the Illinois Supreme Court clarified in June that pro bono work should be "rendered to persons of limited means."
Not limited morals.
Southwestern Style
Chicago's other hometown airline.
Slouching Toward Kansas
Heard on The Score: a snippet of "Dusty Can't Win," to the tune of "Dust In The Wind."
The Beachwood Tip Line: Pro Bono Poor.

Posted by Beachwood Reporter at 9:09 AM | Permalink
July 18, 2006
Bella Vista Village
What It Is: Northwest Arkansas' premier planned community.
Description: An overwhelming cornucopia of residential property, recreational lakes (eight of them, fully stocked with fish) and golf (126 holes).

Quote: "Imagine a place with six miles of incredible golf courses that wind through towering oaks."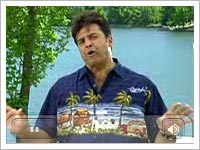 Shill: Erik Estrada, he of CHiPs and, more recently, Sealab 2021. Estrada is a spokesperson for National Recreational Properties, which apparently manufactures other such communities in other states, including Texas and California. Estrada's co-spokesperson (not appearing in this infomercial) is pre-Pat Sajak Wheel of Fortune host Chuck Woolery. Hey, Chuck! Generic burbclave name, three words!
Reinforcement Shills: Several residents, from the bloated 60-year-old golf bum to the pretty young housewife to the psychotic-looking gossipy termagant. Derision aside, these Bella Vista dwellers seem authentic.
Set and Costumes: For most of the commercial, Estrada wears a less-obnoxious-than-average Hawaiian shirt and stands on the shore of one of Bella Vista's lakes. Actually, it could be any lake in any National Recreational Properties subdivision.
Politics: Homesteader! Estrada emphasizes the glorious novelty of "owning property." Which begs the question: Who moves in just because of an infomercial? Are these people really up to our caliber?
Cost: Lots start at $24,900.
Gimmick: Putting the token dead-center. Except for two workers briefly shown shoveling dirt on the site of a new home, Estrada's the only non-white in this spot.
Bonus Gimmick: Playing up the business growth of nearby Bentonville, Arkansas, headquarters of Wal-Mart.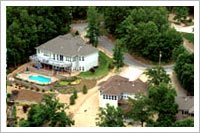 Extra Bonus Gimmick: Sprawling helicopter shots of Bentonville, which reveal winding roads, oceanic parking lots and broad, flat rooftops - it's an aerial big-box epic.
Climactic Erik Estrada Quote: "You belong here. Right here, with me."
Evaluation: The more Estrada cheers and grins, the more haggard and deranged he looks. But, much like his voice work as Sealab's Marco, this performance captures a perverse glee and an embrace of all things huge and tacky. Think of it as a live-action version of Sealab's spectacular "Bizarro!" episode. But why is this commercial running in the Chicago market at 2 a.m. on a Sunday? When are late-night viewers here supposed to up and move to Bella Vista? When they get tired of the never-ending freakshow that is urban life? Then again, Bella Vista, a "Census-designated place" (i.e., not an actual city) might be the right spread for those ready to retreat from municipal government. The producers get bonus points for capturing the delicate balance of modesty and megalomania that defines luxury suburbia.
Rating: 6.5
- Scott Gordon

Posted by Natasha Julius at 5:02 PM | Permalink
The [Tuesday] Papers
Sorry, The [Monday] Papers got lost in the shuffle and did not appear. But as always, you can still catch up with The [Sunday] Papers and The Weekend Desk Report. Even better, our Millennium Park package is already generating a hefty response. Please see Postcard Pablum: The Failure of Millennium Park; The Human Bean and the City; and Bean: A Love Story.
1. Hey, we made Wikipedia!

3. Bobbie Steele is out. The Sun-Times coins "quid pro Stroger." (second item)
4. In New York City, a mayor whose name isn't Daley but who still manages to do a decent job has put poverty at the top of his second-term agenda - in part as a strategy to improve schools.
5.The head of Northwestern Memorial Hospital is under scrutiny, The New York Times reports.
"Healthcare Research and Development Institute, a for-profit company that is owned by about three dozen hospital executives, but underwritten by 40 or so of its handpicked corporate members, all suppliers to hospitals.
"The Connecticut attorney general, Richard Blumenthal, is investigating whether the organization allows certain vendors to buy access to hospital leaders who are in a position to influence what supplies or services their institutions purchase. As a result, Mr. Blumenthal said, hospitals may not be getting the best deals, either in terms of cost or quality.
"'At the very least it suggests insider dealings - an insidious, incestuous, insider system,' said Mr. Blumenthal, who has issued more than 100 subpoenas, mostly to hospital suppliers, including several dozen last week.
"'Its members are merely "trying to improve products and services in health care - not more complicated than that,' said Gary A. Mecklenburg, the group's chairman and a former chairman of the American Hospital Association, the industry's largest trade group.
"But Mr. Mecklenburg's own background highlights the overlapping interests that he faces.
"Mr. Mecklenburg not only runs a large nonprofit hospital, Northwestern Memorial in Chicago, but he also serves on the board of Becton, Dickinson and Company, a major supplier of medical devices to hospitals around the world, including his own. Becton, Dickinson pays the institute for marketing advice, and the institute pays Mr. Mecklenburg $50,000 a year, mostly for participating in two national conferences, according to the group."
5. "This print media is fairly benign compared to Boston, Philadelphia, and New York."
- Baseball analyst Steve Stone on The Score on Monday
6. "As professor John Decker reviewed bail guidelines and other criminal procedures one recent evening, some students in his DePaul University College of Law class had other things on their minds.
"One shopped on eBay for Cirque du Soleil tickets. Another switched between checking her e-mail and Fox News headlines. And, from the back of the room, a 24-year-old White Sox fan refreshed his screen to see whether the team was still ahead of the Pirates."
Laptops in the lecture halls, ya gotta love it.
7. The Tribune missed a salient point in its story about political lies on Sunday featuring a "joke" the governor weirdly keeps telling: That he always describes the little girl in it as African-American, as readers of Rich Miller's Capitol Fax Blog have known for a long time. Another point: The joke's not even close to being funny, much less worthy as a standard speech opener.
8. Our very own Scott Gordon looks at the CTA's recent history with the NTSB, and wonders if our local transit boys are listening.
9. "Arizona Ballot Could Become Lottery Ticket."
10. "Chicago Lottery Ticket Could Become Ballot."
Just a thought.
11. The money behind Bill Beavers.
12. Beavers raises money for Jesse Jackson Jr.
13. "The USA is becoming much more adult-focused after being centered on children for decades."
Or is it become more focused on adults who act like children?
14. Add these two to the ignominous list of the guy who complained of the chocolate smell coming from the Blommer's building and the guy who complained about that noisy racket coming from Lounge Ax. Sterilization of the city almost complete.
15. Mary Mitchell shows compassion for the woman who abandoned her son at the Taste of Chicago.
16. Vladimir Putin on 60 Minutes in May 2005, as reprised by The New York Times on Sunday:
"Democracy cannot be exported to some other place. This must be a product of internal domestic development in a society."
"In Russia, the president is elected through the direct vote of the whole population - that might be even more democratic."
"Four years ago, your presidential election was decided by the court. But we're not going to poke our nose into your democratic system because that's up to the American people."
Putin recently said he didn't want the kind of democracy America has brought to Iraq, either.
17. If your kid brought home this report card, would you be pleased?
18. Another way to construct a report card.
19. The City Hall press corps does this too, and it drives me nuts. Focus, people.
20. Also applies to the City Hall press corps.
21. Visit our archives, now available by section by month. If you like what you see, support us by buying a membership. If you would like to advertise, contact me for more information, including rates and a media kit. Spread the Beachwood love far and wide, we have bills to pay.
The Beachwood Tip Line: Asking Ellie daily.
Posted by Beachwood Reporter at 7:30 AM | Permalink
July 17, 2006
The [Sunday] Papers
United Airlines announced on Saturday that it would move its corporate headquarters from suburban Elk Grove Village to downtown Chicago.
The Chicago press hailed the move and practically slapped Gov. Rod Blagojevich and Mayor Richard M. Daley on their backs for once again proving our fair city superior to putative competitors Denver and San Francisco.
Reports out of those cities, however, make it clear that they were never really in the running. And that United Airlines took Chicago - and its media - for a ($7 million) ride.

It's not as if the local press is totally oblivious; just weirdly unwilling to confront the story head-on.
For example, the Tribune reported this on Friday in a story approving of United's "classic leverage play" - and buried it at the end:
"At the invitation of officials in California, Jake Brace, United's chief financial officer, visited San Francisco.
"'It was a quick in and out,' said Dennis Conaghan, executive director of the San Francisco Center for Economic Development. 'We thought it was a window-shopping type of trip.'
"The carrier never made any on-site visits to properties in the Denver area, said Tom Clark, executive vice president of the Metro Denver Economic Development Corp.
"United's pursuit of a new headquarters location has been 'absolutely the most manipulative deal I've ever seen' in terms of media coverage, Clark said.
"His ire was directed at the media, not the airline, for making United's departure from Illinois seem more likely than it ever was.He said United never led Denver to think it was a more serious candidate than it was."
The paper didn't take its own report to heart, though. In its Sunday account, "United Lands In Chicago," the Tribune notes that United officials said Denver and San Francisco "also were attractive sites," and then quickly dispatches with any skepticism.
"Real estate and finance experts have expressed doubts that United, 'Chicago's hometown airline,' seriously considered a move west.
"[United CEO Glenn] Tilton on Saturday said Ajay Singh, United's vice president of coporate real estate, spent 'a little bit of time in San Francisco and Denver.'"
Now consider this Denver Post report: "Denver was supposedly in the running for the new headquarters but never had a real shot at landing the carrier, according to state and local economic development officials.
"'The fact that we had never spoken with anyone representing United was a very clear indicator that they weren't serious (about moving to Denver),' said Jeff Holwell, division director of business development for the Colorado Office of Economic Development and International Trade.
"United was 'deep in negotiations with the city of Chicago' before Denver was added to the mix, said Tom Clark, executive vice president of the Metro Denver Economic Development Corp.
"'I am convinced that they just wanted to move within the city from the beginning,' Clark said.
. . .
"United never asked for an incentives proposal from Denver and declined the city's offer to submit one, Clark said."
Given those circumstances, you'd think Daley (and Blagojevich) would be aggressively questioned about this deal (each also being highly motivated to score a public relations win by "landing" a company that is already here.)
And yet, the Tribune left it at this:
"Daley said he didn't know if United would have left Illinois but he said the stakes were too high to take a chance. 'If we lost it there would be headlines, 'Chicago loses another Fortune 500,' Daley said."
The Sun-Times's report (not online) on Sunday, "United Joins Flight From Suburbs To City," was even more cheerful.
"United said in May it might move out of state - to Denver or San Francisco," the paper said. "Saturday's announcement culminated weeks of intense negotiations to put together an incentive package to keep the company that advertises itself as Chicago's 'hometown' airline here at home."
The paper quickly dispatched any notion that United had played the city for fools.
"Many industry observers speculated that United's announcement that it may skip town was a ploy to win government perks. But [United CEO Glenn] Tilton insisted that the airline seriously considered a move to other hubs in San Francisco or Denver, where the company has strategic assets and a large employee base."
Now consider this Rocky Mountain News report: "The development comes as no surprise to local officials, who have expressed skepticism about whether United was seriously considering Denver. Published reports in May indicated the company was exploring a move to Denver. But the news caught local officials by surprise, which is rare because companies typically first talk with key leaders when they're seriously considering such a move."
And as far as San Francisco goes, I have found no reporting by either the Chronicle or the Examiner there about the possibility of United moving in. When the announcement was made over the weekend, those papers carried a brief Associated Press story.
And yet, in an editorial Sunday (second item) titled "Fly To The Friendly Skyline," the Sun-Times called the move "another feather in Chicago's cap" and says the deal "keeps United from moving to San Francisco or Denver or elsewhere."
Only in passing does the editorial board propose that "this deal should be examined to make sure that the taxpayers aren't being asked to give up too much," though it doesn't say who should do the examining. A newspaper, perhaps?
You might think the local business press would be a little more savvy, but you'd think wrong. Crain's on Sunday offered up "United A Big Win For Chicago," and it too swats away the notion that United made its decision before seeking (taxpayer) subsidies like a mosquito-like nuisance.
"The relatively quick resolution of the matter raised the nagging question of whether a subsidy was necessary at all. Little evidence surfaced that the airline was seriously considering alternative sites," the paper says.
"Denver economic development officials, for example, were prepared to make UAL a rich offer, says Tom Clark, executive vice-president for the Metro Denver Economic Development Corp. But the request never came.
"Still, if UAL was bluffing, it was a bluff too risky for Chicago officials to call."
Really? Why? If UAL was bluffing - and hadn't even considered proposals from other cities - then where was the risk?
The Tribune, in fact, reported just 10 days ago that "United Airlines has not asked Denver and San Francisco for a list of incentives the cities might offer to entice the carrier to move its world headquarters there," though it didn't make much of it.
In May, the estimable David Greising returned for a day to his old columning role - removed from after a series of wholly faulty Tribune market research exercises - for a piece titled "United's Talk Of Moving Away Leaves A Bad Odor In The Air."
"Take a deep breath, Chicago, and relax," Greising wrote.
"Or better yet, sniff. Because if you nose around hard enough, it soon becomes obvious that United Airlines' threat to move its headquarters to Denver or some other city does not pass the smell test.
"It smells, in fact, like a transparent effort by United, which recently exited bankruptcy, to get taxpayers to help fund a move downtown."
Unfortunately, Griesing also wrote that "Chicagoans are street-smart enough to sniff out bluster and baloney a mile away" - unfortunate because it turned out not to be true.
***
Several accounts of United's move downtown approvingly recall the city's wooing of Boeing headquarters from Seattle a few years ago, glossing over the fact that, upon reflection, Illinois's incentive package of $63 million didn't look so hot compared to Denver's $18 million package and Dallas's $14 million package. So we overpaid by about $45 million.
***
Also missing from the coverage: What about the impact on Elk Grove Village?
The Beachwood Tip Line: Classically leveraged.
Posted by Beachwood Reporter at 8:36 AM | Permalink
Postcard Pablum: The Failure Of Millennium Park
I took a journey through the savage heart of the Chicago dream recently. I visited Millennium Park.
I remain baffled. Is it just me who doesn't see what's so great about Millennium Park? Is it just me who thinks it fails as both art and a park, which pretty much invalidates the whole enterprise? Am I the only one bored with the spectacle and unnourished by the park's tease?
I returned to the park recently to make sure I wasn't crazy, pig-headed, blinded by antipathy to the Daley Administration. I wanted to see. I really did.
I was in and out in 30 minutes. I tried. But the truth is that Millennium Park sucks.
***
Chicago is awash in Millennium Park triumphalism this summer, in part sparked by Timothy Gilfoyle's Millennium Park: Creating A Chicago Landmark, a 442-page history/coffee table book with 361 color illustrations the story-behind-the-story of the park's creation.
I have not read Gilfoyle's book, but reviews and press materials describe a loving history of the controversial, corrupt project that breaks ground in detailing the critical creative choices made by the park's major players.
As Sun-Times architecture critic Kevin Nance wrote last month in his review of Gilfoyle's book:
"The applause for Millennium Park, almost two years after its spectacular opening, is as loud as ever. Firmly ensconced as the jewel of downtown Chicago, the park is almost universally hailed as a major cultural asset, international tourist magnet and engine of economic development - so much so that any bedazzled new visitor might reasonably assume that it was always that way.
"The creation of the $475 million park, which opened in July 2004 four years late and at more than twice its originally projected cost, was fraught with tension among its high-powered participants, including Mayor Richard M. Daley, fund-raiser John H. Bryan and his network of deep-pocket private donors, and architects Frank Gehry and Adrian Smith, among others. At various points along the way, the conflicts over the park's cost, political implications and artistic vision had the potential to substantially alter the final result, if not to scuttle it altogether."
(The Tribune saw fit to publish its (thin) review on the cover of its book section - on Sunday, a month after the book's release, the Sun-Times review, segments on Chicago Tonight and WBEZ's 848, and numerous appearances by the author around town.)
On this we can all agree: Millennium Park is the symbol of New Chicago, the theme park city and yuppie paradise whose entertainment-tourism complex and white-collar base has largely displaced the blue-collar, ethnic-centered, tavern-laden city of neighborhoods.
But is that a good thing?
Or is the mayor and his coaliton of yuppies, empty nesters, and the noveau riche so eager to serve the formidable tourist lobby in their desire to bring new-world glamour to gritty old Chicago that they'll hurl a million cultural spaghetti strands at the wall just to see what sticks?
In other words, "Let's get a Gehry!"
Mayor Richard M. Daley is neither yuppie nor aesthete; instead he is caught in the netherworld between his old Bridgeport and his new South Loop. So it makes a fair bit of sense that Millennium Park is the Central Station of urban parks.
Millennium Park is really not so singular. A lot of other cities have a lot of other pretty cool spaces. (My all-time favorite is the Minneapolis Sculpture Garden.) It's not just the tourists who are being played for rubes; it's you. You are not getting what you are overpaying for (and you are paying for it). Don't be so easily impressed.
***

The Gehry. Millennium Park does not fit comfortably into its environs. It is clunky and awkward; even hamhanded. The spitting towers stand over there by the traffic of Michigan Avenue; the Gehry rises like an ugly stainless steel beast over there, at the rising head of the park; the Bean rests above the Park Grill. The pieces have no connection to each other. They are randomly collected, with no interaction or point beyond somebody's idea of what they thought looked good. Even nature is segmented; the Lurie Gardens are hidden away, and the central walkway of the park isn't a park at all but a mediocre concrete mini-mall with uncomfortable, uninviting benches.The park's only real attraction is spectacle and location.
This problem is best exemplified by the Gehry. No matter how popular the Bean, the Gehry is the big daddy of Millennium Park - and it is a bully.
The Gehry's true interaction is not with the other pieces of Millennium Park but with the new Soldier Field. Both are strained attempts to fit big pieces of modern art in locations along the city's front yard where they do not belong. Like Soldier Field, the Gehry is a monstrosity from all sides except one - front on. (Soldier Field is a grand success only from the view most unseen - the east.)
From the stadium seating and lawn, straight on, the Gehry is a relatively stunning frame for the stage, and as a piece of art in itself. I stood at the back of the grass one day when the bandshell sat empty and noticed for the first time that the lowered seating in front disappears from this view, creating creating the appearance from the back that the grass extends to the stage. You can't see the seats in first-class.
That is a triumph.
From all other angles, though, the Gehry resembles not so much the spaceship that is Soldier Field but the wreckage of a spaceship. I'm certain a lot of tourists and citizens feel the same way but, insecurely unschooled in the arts, interpret the mess instead as something profound that they ought to appreciate even if they don't get it. It is gawkable, that's for sure. But art is for wonder. Gawking is for car wrecks. The Gehry is an interstellar overdrive smash-up.
Which is not to say, by the way, that I am opposed to all things Gehry. Somewhere in my clutter I still have a 20-year-old poster of Gehry's Venice beach house. Like the rest of the planet, I marveled at Bilbao. I love the Gehry-designed Weisman Art Museum at the University of Minnesota.
I just find this particular Gehry to be obnoxious and ill-fitting, a Gehry peg where there is no such hole.
I can't say how the bandshell functions acoustically because I've never seen a show there. But I can imagine that actual park land in Millennium Park may have proven to be more satisfying, with the Gehry sited somewhere else - the end of Navy Pier; out floating out in the water; on Northerly Island; south of Soldier Field where the city is now proposing a temporary Olympic stadium. Maybe even in a South Side park or in Bronzeville. Because it certainly doesn't belong where it is.
The BP Bridge. That's BP as in Beyond Petroleum. This is the park's second Gehry piece, the salamander bridge. I find nothing pleasing about this bridge, which, again, doesn't seem to have the room it needs to stretch out and become something.
And when I get to the other side and see a bit of the Grant Park expanse, I'm pulled that way, not back to Millennium Park's oversize trinkets. Grant Park is our treasure. Why hast we forsaken it?
The Lurie Gardens. The gardens are, in a sense, the park's great secret. I rarely hear anyone talking about them, perhaps because they are hard for the casual visitor to find. Too bad, because this should be the whole park! Instead, the gardens are relegated to the back of the lot, penned in like a fake botany lab. It's a tease that doesn't deliver, because no one cared enough to dream of a park in a garden.
The Crown Fountain. Or, as you may know it as, those light tower thingies with the faces. I have mixed feelings. It's cool at first. Then that feeling wears off. Maybe if they changed up the images. (Maybe those towers ought to chart the park's still rising costs. Or feature faces of corrupt pols - apologizing - as part of their sentences.) Maybe if the illusion wasn't destroyed by being able to see the innards of the contraption. Maybe if water didn't spew out of the mouths of the faces lit up on the towers. Because all of that just makes it a gimmick, a big toy. No wonder kids flock there. With all the kids shrieking there - which is great in one sense - I wonder if this shouldn't be on the beach, with sand between the towers, not asphalt. And certainly not along the traffic of Michigan Avenue.
The Bean. The Bean is a triumph. I am not cynical about The Bean.
I fell in love with the Bean from the first renderings that appeared in the newspapers.
I can't argue with the Bean - and I'm not looking for an argument anyway. I wish Millennium Park was cool as hell. It's not. But the Bean is, for all the reasons that have been put out there and more. First, there is something innately pleasing about the shape and reflection. That alone. Second, it's the reflection of that South Michigan Avenue wall that really makes it. Third is the quality of standing under the Bean, and of becoming part of it by doing so. (For a more lyrical account of the Bean, see Natasha Julius's Bean: A Love Story)
Though even the Bean came in at $23 million (making it one of the most expensive sculptures in history) instead of the $6 million originally cited. It will take a lot of postcards to make up that cost.
And, give or take a McDonald's Cycle Center, that's it. You've just come and gone through the greatest park ever. Unless you've been to Humboldt Park, Jackson Park, Garfield Park . . .
***
Millennium Park is a triumph of public relations.
For example, in interviews with civic leaders a few years ago, it wasn't hard to discern the script when virtually each one repeated the notion that once finished Millennium Park would be the new postcard picture of Chicago. And that no matter what the final bill, the cost would be worth it. When I heard my former editor at Chicago magazine repeat that last one one day, I knew the meme had set in.
But is it true? Of course not. At what point, I would ask the citizenry, would it not have been worth it? At $750 million? At a billion?
Let's say you find the current cost of $475 million "worth it." But you would balk at a cool billion.
Well, consider that we're not done paying for Millennium Park yet. Those parking garages aren't bringing in the expected revenue, and the park is operating at a deficit. When all is said and done, a billion dollars may not be out of sight.
Will that be worth it?
Did we at some point decide that the mayor could have a blank check for a downtown park, but not for schools, health care, affordable housing, or a larger, better police force? Or to
maintain the parks we have?
Even the private funding that has gone into Millennium Park comes from somewhere - your employer, perhaps.

What if we put that money and more towards building the greatest schools the planet has ever seen? Couldn't those be the postcards of a new Chicago?
***
The park is an accomplishment. A testament to will. It makes you realize just what can be achieved if the civic leadership truly wants it to happen - against all reason. The Tribune's Blair Kamin once called Millennium Park "a sparkling example . . . of how big cities can get big things done." I see it more as a sparkling example of how anti-democratic machines can't get big things done (Big Dig, anyone?). An imperious mayor with little foresight and a history of bungling big projects had to be bailed out by the private sector to save him and the city from the embarrassment of a park four years and millions of dollars overdue. You can believe the mayor's myth-makers if you want, but the city could have been enriched in many other ways than Millennium Park.
Personally, I miss those old railroad tracks.

Posted by Beachwood Reporter at 7:16 AM | Permalink
The Human Bean and the City
When it opened two years ago, Millennium Park was four years behind schedule, hundreds of millions of public and private dollars over budget, and still not finished. It had all the makings of a disaster.
Within a week it was a smash hit and within two weeks city kids were putting on their swimsuits, getting on the "L" and heading downtown to splash in 1/8" of water and the occasional spoutings of the Crown Fountain. The Bean, unfinished and still being polished in 2006, became an icon for the city in a fraction of the time it took for Picasso's eponymous 1967 steelwork to do so. It was a triumph of ideas over reality and every Chicagoan and tourist loved it and still does.
Millennium Park fits its name because it is not real. It is a cheat and a fantasy - an artificial grass-covered roof over railroad yards that adheres to the letter of lakefront law in the cheekiest way imaginable. No buildings are allowed in Grant Park (which includes Millennium Park), thanks to a 100-year old lawsuit by Montgomery Ward, so grass and trees soar 40 feet above Michigan Avenue, tucking a 1,600-seat dance theater and a massive bandshell with backstage rooms beneath the surface. They built four-story buildings in Grant Park and then lifted the park up to cover the buildings.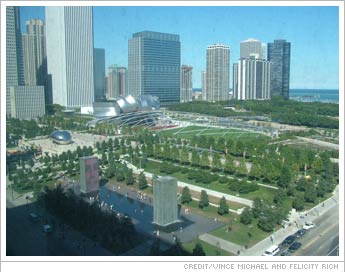 They paid homage to the park's original Plan of Chicago design by Edward Bennett, a formal garden filled with classical balustrades and terraces and pylons and even a huge curving peristyle of columns. The peristyle was lost when they built the Grant Park North Garage in 1959, but now it's back, slightly scaled down, as the Wrigley Fountain. The balustrades came back too, but God knows what happened to poor old Alexander Hamilton, whose statue is still missing. It was an architectural park in 1917, very much about the city, and thanks to the Bean reflecting the skyline, it still is.
Look up from the classical Wrigley fountain to the Classical terraces of the promenade and on top of all this order preens the anarchic silvery concupiscent curds of Gehry's decorated bandshell. The aesthetic disjuncture denies the classical clarity of the original park, but that is almost a virtue, because by denying symmetry and order it lets the visitor/viewer in. After all, the key to the success of the park is its interactivity. The Bean is a moebius mirror, that most elemental of interactive tools, while the Crown Fountain by Plensa smiles and spews with a different Everyman face every few minutes, inviting us to smile back, and perchance to spew.
Besides, even the Classicism in Millennium Park is as unreal as its hyper methamphetamodernism, just another stage set on what may turn out to be the longest running participatory public play in city history. Like a Vegas hooker, Millennium Park asks you what you want it to be: Your own fantasy and playground. It doesn't need clarity or order or symmetry because it is a people magnet, and it is quickly transforming much of the downtown into sycophantic parasites sucking on its success.
By the middle of 2005, with the new park barely a year old, every old office building on historic Michigan Avenue was scrambling to convert itself into condos or apartments. Three old facades on Wabash sprouted the Heritage beanstalk, another fantasy looming over the Cultural Center like a glassine Godzilla, and next year an even larger - if more svelte - behemoth will scoop the guts out of three more old Wabash landmarks three blocks south. There is even talk of hanging balconies on 55 West Monroe, already one of the city's most aesthetically challenged buildings. This park is a development magnet, turning the forlorn East Loop into the city's hottest new neighborhood.

The most battered phrase in Chicago is "world city" but I can't think of another word to describe the transformation here over the last 15 years. Millennium Park is a monument to that status; the checkered flag in Chicago's race to become a boutique city like Milan or Vienna or Edinburgh or Nara or Heidelberg. It's not just because a Spaniard designed the Crown Fountain (Chicago's art and technology wizards made it work) and British South Asian designed the Bean, and a Californian added the foil and netting and snake bridge, in fact it has nothing to do with that kind of primer book diversity.
Twenty years ago I was on the first architectural boat tour on the Chicago River. The city was still big-shouldered then, but it was bleeding and kneeling while the referee counted to ten. On that boat we were trying to find ourselves a post-industrial city, to teach that boxer how to talk and think. When Millennium Park opened, the boxer was safely stuffed in the museum and the vaunted city of culture had arrived, pert, packaged and polished. Or almost polished.
See also Postcard Pablum: The Failure of Millennium Park, and Bean: A Love Story.
Posted by Beachwood Reporter at 7:15 AM | Permalink
Bean: A Love Story
I know how it works. As a jaded Chicagoan I'm supposed to reject Millennium Park outright as a symbol of everything that's wrong with our city. It arrived heinously over-budget and comically overdue, an unmistakable whiff of patronage surrounding its development. The plan to cram four major public art works onto a 24-acre site along with plazas, pavilions, an ice rink, and a state-of-the-art bicycle storage facility has resulted in a sort of cultural Portillo's; a vast clearinghouse of sensory experiences that, consciously or not, substitutes noise for nuance, capacity for quality, and pandering for populism. So yes, in many ways I can dismiss Millennium Park as a great, gaudy symbol of how this city has lost its way.
Yet there is one feature of the park that cuts through my urban skepticism. Rising like a stainless steel beacon of hope from the AT&T Plaza, Anish Kapoor's Cloud Gate sculpture is a reminder that sometimes Chicago's brash ambition and constant urge to cast off and reinvent can create something wonderful. Sure, a lot of times we wind up with a jumbled mess, a garish box or a pointless heap of concrete. But these colossal disappointments are mitigated by the glorious success of the Bean.
I freely admit I was somewhat in love with the Bean before I'd even seen it. I've been fascinated by Kapoor's work since learning he'd unwittingly developed a working Death Star. And I'll gladly concede the point that the Bean came in even more budget-bloated and behind schedule than the rest of Millennium Park. I don't care. In my eyes, the Bean is a triumph.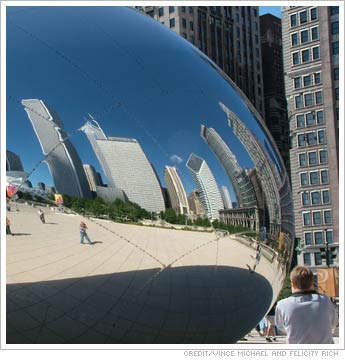 That visitors have swarmed to slap their grubby hands on every reachable inch of its sinuous surface speaks to the Bean's success. Truly great public art draws in each individual viewer with the promise of a unique experience. In this sense, the Bean is doubly rewarding. It offers two distinct worlds. The concave underside constantly reinterprets the viewer's own image as he or she moves through the metaphoric gate. It's an intimate act, watching your form elongate, evaporate and reappear infinitesimal in the arch's central omphalos (so dubbed by Kapoor with all the subtlety of a kick in the pants). The interior Bean indulges your need to place yourself in your surroundings even as it challenges your notion of what those surroundings are.
But to me it's the outside of the Bean that offers the greater reward. To say that the polished surface reflects the surrounding buildings is to miss the significance of Kapoor's achievement. The Bean presents Chicago as a gift to the viewer, creating a wholly new interpretation of a familiar skyline. It isolates a stretch of Michigan Avenue many of us have never stopped to examine before. Crucially, the convex shape of the Bean makes it almost impossible for viewers to locate themselves in the reflection from a distance. This forces them to explore Chicago as a work of art, shifting and developing as they approach. It's as though the Bean wants us to appreciate the masterpiece that was already there - an enormous, beautiful, disorienting city; a place to get lost in, to discover, and ultimately to admire.
Yes it's true. Millennium Park is the drunk uncle of Chicago public spaces; kind of sloppy, overflowing with bravado and incoherently shouting half-cooked ideas at anyone it thinks will listen. Sometimes it's fun to banter with it for a while, but usually it just gives you a headache. Still, every time I think I've heard enough out of it, the Bean draws me back in. Its greatness reminds me that those ideas, while nutty, were noble; that the ballsy attitude isn't just the liquor talking. It makes what would otherwise feel like an eternity of uncomfortable Thanksgiving dinners joyous and invigorating. And for that reason, I love that giant Bean.
See also The Human Bean and the City, and Postcard Pablum: The Failure of Millennium Park.
Posted by Beachwood Reporter at 7:13 AM | Permalink
July 16, 2006
Off The Rails: A Recent History Of CTA Screw-Ups
According to online records of the National Transportation Safety Board, last week's Blue Line derailment is the fifth Chicago Transit Authority accident since 2001 to prompt an NTSB investigation. NTSB investigator Kitty Higgins, at a press conference last week, vaguely credited the CTA with making improvements following past investigations. But it's not clear that the CTA is taking the initiative. These reports suggest that while the CTA has followed some of the NTSB's recommendations, it didn't make full use of NTSB findings - or, say, basic logic and intuition - to fix pervasive safety problems, like drivers' negligence. It took three accidents and two urgings by the NTSB, for example, for the CTA to "implement systematic procedures" to monitor drivers' compliance with speed limits and signal rules. Here are summaries of the accidents, as taken directly from NTSB reports. under that, a roundup of recent small fires on the O'Hare branch of the Blue Line.
* * *
"Within a 2-month period in 2001, the Chicago Transit Authority (CTA) experiences two similar rear-end collisions involving CTA rapid transit trains. Both accidents were preceded by the train operators' having failed to comply with operating rules designed to prevent similar collisions. the investigation of the two accidents highlighted deficiencies in the CTA management's approach to ensuring rules compliance among its operators." Report (PDF, 1 meg)

1. A northbound Blue Line train rear-ends another on its way to O'Hare.
When: 5:40 a.m. on Sunday, June 17, 2001
Narrative: "[The operator] said that as she left the subway portal [from the Belmont Ave. stop on the O'Hare branch of the Blue Line] and exited a right-hand curve, she saw a train stopped about 100 feet in front of her. She stated that she moved the control handle to brake position 3 and then pulled the brake cord, but the train did not stop . . . when she did depress the track brake, it was too late to stop the train. She estimated her sight distance at 100 feet and the impact speed as 10 mph."
Injuries: 21 minor.
The Driver: "After accruing an excessive number of safety violations in May 2001, she was required to participate in a corrective case interview, the last step in the CTA's disciplinary process before discharge."
Conclusions: "Had the operator . . . stopped and contacted the control center when the cab signals on her train did not activate and had the control center then followed existing...procedures, the accident would be been prevented."
"The Chicago Transit Authority's management process for identifying and addressing operators who do not meet safety performance standards was not effective in addressing the repeated problems that the operator in the June 17 accident was experiencing."
2. A Brown Line train rear ends a Purple Line train south of the Sedgwick stop.
When: 8:15 a.m. on Friday, August 31, 2001
Narrative: "[The driver] said he experienced two "blue light" alarms [which mean that another train train is close ahead] . . . The operator said he experienced several R6.4 stops [automatic or manual stops when another train is close ahead] . . . once he entered the combined Brown/Purple Line tracks at Clark Junction, he proceeded after R6.4 stops without waiting for the train ahead to clear and without contact the operations control center [as CTA rules require]. He stated that it was common practice for operators to proceed on an R6.4 without waiting or calling."
"[The operator] stated that he left Armitage Station . . . knowing that he was following a Purple Line train close ahead . . . after leaving Sedgwick and passing Division, he entered the Church Curve, where visibility is limited by [a] church building . . . At the south end of the curve, he said that he observed the taillights of a train stopped about 100 feet ahead . . . he moved the control handle [to brake] . . . but the train did not stop . . . Several witnesses on the train stated that they did not feel the brakes engage before impact. [The report goes on to say the other train was stopped north of the Chicago station, following the rules waiting for yet another train ahead to move.]"
Injuries: One serious; 117 minor.
The Driver: " . . . was referred for remedial training after passing a stop signal on October 23, 1998, in violation of CTA operating rules . . . After the June 17 . . . collision . . . "
Conclusions: "Had the operator . . . complied with the Chicago Transit Authority's operating rules and waited for his stop signal to clear before proceeding, the accident would have been prevented."
Irony 1: "The CTA, in response to an issue identified by the Safety Board's investigation [of the June crash], began delivering a mandatory 4-hour refresher course on cab signal rules, operation on sight, and emergency braking . . . [the] operator [in the August crash] had not yet had the training; he had been scheduled to take it on the Monday following the accident."
In a later report, the board recommended the CTA "Develop and implement systematic procedures for performing and documenting frequent management checks to ensure all operating personnel are complying with Chicago Transit Authority operating rules, including speed restrictions and signal rules."
The NTSB would note after a 2004 accident that the CTA had still not responded to this recommendation.
Irony 2: In its report on the 2001 back-to-back rear-enders, the NTSB noted the disadvantages of not having "black box" event recorders on the trains. The train in last week's Blue Line accident did not have an event recorder, and it's not clear how many, if any, CTA trains do.
***
3. A Green Line train hits two workers on the Loop tracks. (Summary page)
When: 4:50 a.m. on Tuesday, February 26, 2002.
Narrative: "On the morning of the accident, two night-shift signal maintainers were repairing a switch at tower 18 . . . A trainee was operating the train, and a train operator/line instructor 2 was observing. Both crewmembers on the train later stated that they had not heard the control center's radioed advisory that workers were on the track structure . . . Both maintainers later stated that they had not seen or heard the train as it approached. After being struck, one of the maintainers fell from the structure. The other fell to the deck of a platform on the outside of the structure."
Injuries: Both maintenance workers were seriously injured. One was treated and released at a local hospital; the other had to stay for further treatment.
The Driver: A trainee, apparently not at fault.
Conclusions: "The probable cause of the accident was the failure of the signal maintainers to watch for approaching trains and their failure to obey the Chicago Transit Authority's requirement that they increase their visibility by displaying a flashing yellow warning light. Contributing to the maintainers' reduced awareness of oncoming trains was the absence of clear requirements regarding the designation of safety lookouts and the use of interlocking signals to protect work areas."
"The CTA did not have any written rules providing for interlocking signals to be used to protect workers on the wayside . . . the CTA did not have any written procedures requiring that a safety lookout be designated."
Results: "The CTA told National Transportation Safety Board investigators that it has implemented new procedures that require the conducting of pre-entry safety discussions among crewmembers before they foul the right-of-way and the designating of a safety lookout. The CTA has also begun an ongoing program of management right-of-way field safety rules compliance audits and is in the process of evaluating the use of interlocking equipment to establish areas of worker protection. While the evaluation is underway, the CTA is requiring crews to make face-to-face contact with the tower operator before commencing work in an interlocking."
4. A northbound Purple Line train rear-ends a Brown Line train just north of Merchandise Mart. (Summary page)
When: 5:46 p.m. on February 3, 2004
Narrative: "The motorman of [the Purple Line train] told investigators that as he operated the train northward, he diverted his attention to the street below and was distracted by what he believed was going to be a vehicle accident. The motorman stated that when he looked away from the street and toward his direction of travel, his train was about 10 feet from the rear of the stopped train. He said he immediately applied the emergency brakes, but it was too late to stop his train, and the train collided with the rear car of the stopped train . . . The rear marker lights of the stopped train were illuminated and that the rear car had about 138 feet of preview."
Additional Hazard: "The fiberglass walkway grating between the accident trains and the MART platform was covered in ice and jeopardized the safe evacuation of the passengers."
Injuries: 42 minor.
The Driver: Had already worked an overnight shift and overtime as a switchman, then, after a 3 1/2 hour nap, volunteered to work the driving shift.
Conclusions: "The the probable cause of the accident was the failure of the operator of [the Purple Line train] to comply with operating rules. Contributing to the accident was inadequate operational safety oversight by Chicago Transit Authority."
Results: "[In an earlier investigation in Maryland,] the Safety Board . . . asked rail transit systems to "ensure that your fatigue educational awareness program includes the risks posed by sleeping disorders, the indicators and symptoms of such disorders, and the available means of detecting and treating them." The CTA senior manager, System Safety and Environmental Affairs, told investigators that the CTA is addressing [the recommendation] and is also evaluating other conditions that may cause fatigue."
***
Recent small fires on the CTA Blue Line, O'Hare Branch.
1. Sunday, June 13, 2004: A fire breaks out on the third rail between the Logan Square and Belmont Blue Line stations; seven people injured, according to the Sun-Times (third item).
2. August 8, 2003: A small fire, attributed to sparks from the third rail, breaks out in a Blue Line tunnel between Division Street and Chicago Avenue; about 30 minor injuries reported; ABC 7 reports that "a CTA official says the operator should not have evacuated the passengers into the dark subway for the small fire."
3. June 13, 1997: Yet another Blue Line fire in the Milwaukee Avenue tunnel; again, blamed on electrical problems in the third rail; five are treated for smoke inhalation.
Posted by Beachwood Reporter at 7:52 PM | Permalink
July 14, 2006
The Weekend Desk Report
Don't worry about us during this weekend's dangerous heat warnings; we promise to avoid any strenuous activities, take frequent breaks, and of course, drink lots of fluid.
Market Update
All Civil Liberties markets ceased trading this week, due to strong suggestions that the end of the world was at hand.
Coming Attractions
American media moguls were caught off guard by the unexpectedly lengthy run of 2003's international smash, The Fast and The Spurious, and they swiftly green-lighted the hotly-anticipated sequel, 2 Fast 2 Nuclear. But now the staying power of the franchise is being tested as The Fast and the Spurious 3: Pyongyang Drift goes head-to-head with the latest installment of the hugely-successful MidEast: Impossible series. We predict that, despite losing two of its biggest stars, M:I10 will dominate the global box office this weekend.
The Forgotten Child
So when a long-range ballistic missile test fizzles, what can a half-crazed reclusive dictator do to get the world's attention? We recommend Kim Jong-il take a little hunting trip. Then he can really start pissing off friends and neighbors.
No Extra Time
President Bush this week tersely urged Iran to respond to international proposals, saying it would be a shame to see the whole thing come down to penalty kicks. Bush also hinted that, should Iran continue to hurl insults at our international friends, he would have no regrets taking actions into his own hands.
Voice Control
Finally this week, President Bush took time at the start of the G8 summit in Russia to urge his fellow leaders to speak with one voice on issues of global security. To the dismay of some and the amusement of others, he further recommended the single voice be his.
Posted by Natasha Julius at 11:01 AM | Permalink
The [Friday] Papers
1. At a city council meeting last year, Environmental Commissioner Sadhu Johnston was asked why Chicago was the only big city using the blue-bag recycling system. Oh, but we aren't, Johnston said. There's Columbus, Ohio.
Columbus announced this week that it was ditching its blue bags, just three months into a pilot program.
2. The Reader is eliminating Section Four, Lewis Lazare reports today (second item). The ads that made up the section will be stuffed into the rest of the paper. "By concentrating more ads in fewer sections," Lazare writes, "the Reader will increase the ratio of advertising-to-editorial content, and reduce the number of printed pages."
Sick of advertising clutter? Want your message seen clearly by a targeted audience? Contact me for more information.
3. The governor politicizes childrens' health care.
4. In the current issue of N'Digo, Publisher Hermene Hartman says "Todd Stroger is clearly not up to the task" of the Cook County Board presidency. In the same issue, Robert Starks says that should U.S. Rep. Danny Davis win the seat instead, Ald. Isaac Carothers would be in line to take Davis's congressional seat. (Stories not yet online.)
5. "Chicago, which is pursuing the games along with San Francisco, Philadelphia, Los Angeles and Houston, is said to be among the cities most aggressively campaigning for the event, but it has already made some missteps along the way. When asked what his pitch would be to Olympic officials, Mayor Richard Daley said he saw it as an opportunity to 'showcase Middle America.' Most Europeans couldn't find Middle America on a map, and though they could easily find San Francisco, they know that philosophically and politically, our West Coast haven doesn't even consider itself part of America."
- Ken Garcia, San Francisco Examiner
6. Another West Coast report on Chicago's Olympic effort says Mayor Daley is promising a "Chicago-style" Games that would mesh with his already-successful job-creation program.
7. Mancow Muller said on Chicago Tonight last night that getting fired from Q101 was the best thing that ever happened to him, even as he complained bitterly about getting fired from Q101. He named dinosaur bands Depeche Mode and Duran Duran as examples of alternative artists favored by the station, and then announced that he would "create a new form of radio" elsewhere on the dial that would "save FM radio."
When pressed by interviewer Phil Ponce on just what Mancow's revolutionary new schtick would entail, Mancow, referring to himself, said, "The schtick is this guy, this idiot sitting here. There is no schtick."
Hey, Mancow, the FBI may be hiring soon.
8. Jon Stewart on net neutrality.
9. The suburban Daily Herald began publishing this week a print version of its online Beepcentral.com. According to an internal memo, 15.000 copies of the the inaugural edition of the printed Beep were distributed to "locations where young people congregate" and another 15,000 copies were "mailed to those in the 21-34 demographic in Schaumburg, Naperville and Elgin."
The paper says Beepcentral.com, which launched in mid-February, is getting 350,000 page views a month.
10. Harvey.
11. Did you know that doctors actually pay sports teams a fee to work for them so they can cash in on the promotional value of saying they are, say, on a particular team's medical staff? That's what sports scribe Lester Munson said yesterday on The Score.
That's why players - and their union representatives - often insist on getting second opinions from their personal doctors, Munson says.
12. Tribune Company is placing a big bet on its stake in the CW, the new network that combines the old UPN and WB that debuts in fall. "We feel that ratings increases in the 25 percent range are very achievable," CEO Dennis FitzSimons told Wall Street on Thursday.
Tribune execs also report that second quarter interactive revenues were up 27 percent over last year, while online traffic was up 24 percent.
"We intend to make our local newspaper sites more robust including increased use of video and user-generated content. We intend to expand Metromix, an entertainment vertical has been very successful here in Chicago, to other markets, and acquire additional businesses like ForSaleByOwner.com that will add to our portfolio of faster growing Internet businesses," FitzSimons said.
"As we said before, by 2010, we expect to more than double the percentage of publishing ad revenue coming from our fast growing Internet businesses to the 12-15 percent range."
13. On disappointing results on the Cubs front, FitzSimons said: "[W]e have added seats and despite an unacceptable on-field performance, the attendance is probably 99% of capacity. So, what you are seeing in the second quarter is just a shift in the number of home games, which is part of what is causing that decline. Also WGN Radio revenues are slightly lower. So we did not have a strong quarter at the radio station. Those are pretty much the elements."
The Beachwood Tip Line: Braving the elements.
Posted by Beachwood Reporter at 7:56 AM | Permalink
July 13, 2006
The [Thursday] Papers
With the cause of the Blue Line derailment still undetermined, the coverage is appropriately focusing on whether the CTA has an adequate emergency plan for its trains, and, even more so, how well it can communicate that plan to endangered passengers.
The early answers seem to be No and Not Well.
As Eric Zorn points out, communication has never been the CTA's strong suit.
Neither has candor.
CTA President Frank Kruesi, for example, "dismissed suggestions that having a conductor on board the train, in addition to the motorman, would have made the evacuation smoother," the Sun-Times reports.
"The CTA has not had conductors on its trains since the 1990s, when they were phased out to cut costs.
"Robert Paaswell, director of the Transportation Research Center at City College of New York and former executive director of the CTA, said having one operator 'saves money in the long run, but in an emergency it's not enough to really evacuate a train. To just send people off on their own in a dark tunnel is probably not the wisest thing to do.'"
Kruesi, in fact, discredited his own argument by explaining that a single motorman could not be expected to have time to both inform passengers of the emergency and issue instructions to them as well as investigate the emergency and lead the evacuation.
"You've got to go in and turn up the PA system, you've got to go into a locked room and turn it on," Kruesi said, according to this Channel 2 report. "That takes valuable seconds in an evacuation situation. The bottom line is it takes time, and time is the enemy in this situation.
"The operator gave the direction. People were following it, and one of the things is that people were following together. Remember, were taking about an eight-car train with 1,000 people, and everybody was able to get out of that train."
The city's Chief Emergency Officer, Cortez Trotter, said using the PA system could have actually jeopardized safety because of the time and attention it would've taken.
"If (the train operator) had stopped and made the call, think of this - he could have very well had self-evacuations not only from the front, but from the rear as well, and from the sides," Trotter said.
In other words, one motorman can't handle an emergency single-handedly. As Kruesi points out, we're talking about an eight-car train with 1,000 people. Kruesi's statement that a conductor wouldn't have made the evacuation smoother by sharing the burden for those 1,000 people is nonsense. A cost-benefit analysis has been made, and if someone loses their life because of it, well, that's just the way the CTA budget works.
Terrible Twos
It was only the second day on the Blue Line for the unidentified train operator, the Tribune reports.
Teaching Moment
Maybe the CTA will name a Director of Lessons Learned (second item).
Lesson Learned
"[The White House] said they needed a manufacturer in the Loop. I suggested that might be difficult because there has not been a manufacturer in the Loop for more than a century."
- Greg Baise, president and CEO of the Illinois Manufacturers' Association, on preparations for the president's visit last week
The Cubs Are Merely Players
"It's a team with a story - a narrative," writes Joel Boehm in "Chicago, Soul, the Cubs, and Urban Renaissance," at Agony and Ivy. "It's a story we are following because we have learned to care about the characters, and their struggles. There are heroes and villains, decisions and consequences. There are acts of courage and might, and also cowardice. There is strategy and execution, both fine and poor. There are characters with which we identify, and others that grate on us. Most of all, there are moments that will lodge in our memory, and frame our lives as we look back."
Moments such as, "Look, Uncle Paul, the ball hit the Cubs man in the head."
Message Machine
So far this year, Mayor Richard M. Daley's campaign fund has spent $136,297 for polling; $30,000 to consultant David Axelrod; $150,000 to consultant Dana Herring; and $21,399 to the fund's treasurer, Pat Kilroe, according to the Sun-Times.
The Bill Beavers Show
* "Entire County Board Slaps Ald. Beavers," in which the Beave tells the board that "if I wanted to take over, I would have [run] for president . . . But I'm coming over to help."
Little heard side character Commissioner Robert Maldonado says Beavers "will be eaten alive" if he sloughs off.
* "He Can Run Mickey Mouse If He Wants To," in which Beavers responds to the suggestions that Sandi Jackson may challenge Beavers' daughter for his 7th Ward aldermanic seat should he make the move to the county board. "My name is Beavers, and I think Beavers carries more weight than Mrs. Jesse Jackson Jr. Her name is Darcel Beavers. And I think she's better known in the city of Chicago than Mrs. Jesse Jackson Jr."
In turn, Jesse Jackson Jr. called Beavers a dinosaur, saying "His insider political deals are reminiscent of the Jurassic period."
Stadium Games
Chicago's inclusion of a proposed temporary stadium in its Olympic bid is part of an international trend.
Bureaucratic Gold
"The IOC is always open to ideas and proposals, which, if made, would be discussed and studied."
- International Olympic Committee spokeswoman Giselle Davies
The Beachwood Tip Line: Making plans likely never to be discussed, studied, or implemented.
Posted by Beachwood Reporter at 7:21 AM | Permalink
July 12, 2006
The [Wednesday] Papers
What with the Blue Line fire, the Robert Novak revelations, the All-Star game, and Mancow going off the air, it's hard to know where to turn first. But - stick with me here - I'll start with the latest test scores to come out of Chicago's public schools.
They are at a record high.
And they are bullshit.
As the Tribune reports, "For the first time, the majority of Chicago public school students passed state tests in reading, math and science, but significant changes in the exams fueled at least some of the sharp rise, officials said."

"We're on our way to becoming the best urban school district in the nation, " Mayor Richard M. Daley said, calling the test scores "historic."
The Sun-Times put that word in quote marks in its headline, "'Historic' School Test Results," though I'm not sure if that's because the word came out of the mayor's mouth or because it's such a dubious characterization.
Because guess what?
"[C]ity and school officials acknowledged that the gains are attributed in part to the Illinois State Board of Education making it easier to pass the 8th-grade math exam by lowering the passing score," the Tribune says in its report. "The state also revamped the test content and gave students more time to finish."
The Sun-Times reports that "State officials lowered the passing score from the 67th percentile to the 38th percentile."
Jesus! They gamed the system - by 29 percentiles! - and this was the best we could do? Maybe we should be disappointed with the results.
Now I know what Chicago schools "CEO" Arne Duncan means when he says, "This is a tipping point. We can go anywhere from here." Only 38 percentiles to go to reach total success!
Let's hope Daley and Duncan are only trying to fool us, not themeselves.
Of course, President Bush is easily fooled by bad intelligence. On his visit here last week, Bush recalled at a press conference that "The mayor said something interesting. He said, reading scores are up. That's a good sign. It means people are measuring and teachers are teaching. And when you have the basic - you know, the basic foundation for a good education laid, then you can focus on math and science."
Such as the math and science behind test scores.
"'I don't think there's any question that if you are not examining the exact same test that it is difficult to say that this is the quantitative number of where the improvement lies,' said Ald. Patrick O'Connor, City Council Education Committee chairman," according to the Tribune.
"Jeff Mays, president of the Illinois Business RoundTable, said his group fought against lowering the passing score for the math test because it lowered standards. 'It is really sad that we cannot attribute this fully to increased learning,' said Mays. 'I'm sure a lot of people put in a lot of time and effort trying to make it better, but the amount of increase attributable to that versus this mathematical wizardry from the state board - how do you separate the two?'"
You don't. You just ignore them and move on.
Blue Line Blues
"Blue Line Horror: 'Is It A Bomb?'"
Um, no. Maybe next time.
Novak Names Names
Sun-Times columnist Bob Novak has revealed two of his three sources for the column that sparked the Plamegate investigation as well as the fact that he has cooperated in the federal criminal investigation into the matter being led by special prosecutor Patrick Fitzgerald.
Novak says he cooperated with the investigation to the advice of his attorney, who feared, as attorneys often do, that an unsuccessful challenge to resist a subpoeana would make bad press law, which in effect means that journalists ought to behave as if that bad law already exists in order for it to not. Lawyers afraid of making bad law are a bit like Dusty Baker waiting for a perfect roster to show what he can do. Circumstances are rarely ideal, and I bet attempts at avoiding bad law as often as not end up backfiring, but so be it, I'm not a lawyer.
What I find most intriguing about Novak's piece is this:
"I have revealed [Karl] Rove's name because his attorney has divulged the substance of our conversation, though in a form different from my recollection. I have revealed [CIA spokesman Bill] Harlow's name because he has publicly disclosed his version of our conversation, which also differs from my recollection. My primary source has not come forward to identify himself."
Could Novak's recollection have failed him with two different sources, or is it more likely that Rove and Harlow shaped their recollections to their best advantage to prosecutors and the public?
The Tribune, meanwhile, finds the Novak news only worthy of a Washington Post excerpt on page 6. It's not as if this is an important piece to a larger story about how this nation was led to war, that nearly ended up with the indictment of the president's chief political aide, and involves in Novak and Fitzgerald two characters from Chicago.
The Bill Beavers FunTime Hour
Bill Beavers isn't the only one who has finally been revealed to the city at-large as a cynical hack. The press corps which has, as Mark Brown points out today, long considered him a favorite for his bluntness, should now explain why they never considered the substance of that blunt talk as fodder for an examination into how he does business and his performance as an alderman.
More interestingly, though, is Brown probing the possible aldermanic candidacy to replace Beavers, - should he move to the county board - of Sandi Jackson, the wife of U.S. congressman Jesse Jackson Jr., and, judging by her credentials, a powerhouse in her own right.
Baseball Ballot Reform
Every year a debate ensues about how the players in baseball's All-Star game should be selected, such as this New York Times story saying the vote is in the wrong hands, meaning the hands of the fans. But maybe the real problem isn't fan voting per se, but the unlimited number of ballots that gives major markets an unfair advantage. What if each city had the same number of ballots?
Presidential?
Tony Peraica scores a sensible victory.
Penalty Phrase
An admitted "fresh convert" to World Cup soccer defends deciding games on penalty kicks by claiming they are not only essential - "you'd prefer that a tie game simply spun out into infinity, or at least until players collapsed from exhaustion-induced coronaries? - but "perfect metaphors for life."
Gee, didn't the White Sox just play a 19-inning game? They didn't decide the game with a home run derby.
"With a penalty kick, the gritty grandeur of effort and preparation is wedded to the fluid beauty of chance."
I have no idea what "the fluid beauty of chance" means.
"Bet Al Gore wishes he'd leaned the right way when George Bush got his big ol' Texas leg into that kick . . . "
I have no idea what that means, either. That Al Gore leaned the wrong way politically - not "right" enough? - when he won the popular vote in 2000 by about half a mil? Or that Al Gore chose the wrong recount strategy in Florida?
Perhaps penalty kicks are a metaphor for taking the easy way out to come to a grand conclusion with little significance to the matter at hand.
TV Troubles
"CBS, ABC, NBC, and Fox averaged 20.8 million viewers during the average prime-time minute last week, according to Nielsen Media Research, making it the least-watched week in history for the four biggest broadcast networks."
Maybe the networks should ask Mayor Daley how to game the numbers.
Tales From the Front
How priceless does this column continue to be?
The Beachwood Tip Line: Wishing you were here.
Posted by Beachwood Reporter at 8:44 AM | Permalink
July 11, 2006
The [Tuesday] Papers
Mr. Peanut, one of America's most beloved commercial icons, is getting a bit of a touch-up. The Planters people, promoting their centennial, is giving the public a chance to vote on whether to add a bow tie, cuff links, or a pocket watch to the already stately Peanut's repertoire.
Or the public could vote to keep Peanut just the way he is.
Mr. Peanut was created by a 14-year-old boy in a contest in 1916, according to a report in today's New York Times.
"According to the company, Mr. Peanut's hat, monocle, cane and shoes symbolize fresh taste," Wikipedia reports. "The gloves do not symbolize anything; Mr. Peanut simply likes them."
Peanut even once ventured into the political arena, in a way.

"In 1974, the Canadian conceptual artist Vincent Trasov ran for the office of mayor of the city of Vancouver, British Columbia in the guise of Mr. Peanut," Wikipedia notes. "He wore a full peanut costume, with top hat, monocle, gloves, spats and cane and did nothing but tap-dance at the all-candidates meetings. He garnered less than four percent of the vote."
Godspeed, Mr. Peanut. If only the Hostess Pie Magician was shown as much love.
Mr. Mayor
Mayor Richard M. Daley previewed a possible slogan for his 2007 re-election campaign on Monday when he declared, of the massive fraud in job-hiring that led to the conviction of his former patronage chief and three other aides,"It Was Not All A Sham."
Daley said he "should have exercised greater oversight" over hiring, which goes into the apology file next to the rest of his long list of apologies, evasions, and denials about his thoroughly corrupt administration.
As Greg Couch says of Dusty Baker today, don't we know what kind of manager Daley is by now? A corrupt one. What more do you need to know?
(In July 2004, Shane Tritsch wrote a cover story for Chicago magazine called "The Mystery of Mayor Daley," which persuasively showed that the mayor is well-aware of what goes on in his administration, and in fact allows it to happen. I'd link to it but the magazine never put it online.)
Daley's claim of ignorance about the way City Hall hiring worked is laughable. The Sun-Times's Fran Spielman says the clout-based hiring system was the worst-kept secret in City Hall, and points out in her report today, that the Mayor's Office of Intergovernmental Affairs kept a list of 5,700 job-seekers and their political sponsors.
Everyone knew what IGA was up to except the mayor? Robert Sorich, the now-convicted former director of the office, was the mayor's patronage chief! The mayor doesn't communicate with his patronage chief about, um, patronage?
As Tony Peraica says, have you had enough yet?
The Bill Beavers Puppet Show
Daley also pulls the strings at the County Board, though Bill Beavers is the current frontman. Todd Stroger is the stooge.
"Though Todd Stroger did not return calls and Beavers continues to speak for the family," the Sun-Times says, "Beavers insists Todd Stroger is 'not a puppet for anybody,' calling him an 'educated young man' who 'has a backbone.'"
Meanwhile, Bill Beavers will triple-dip from the public payroll if he takes John Stroger's place on the county commission, as planned, so he can tell Todd Stroger when the meetings are and where he should sit.
"But Beavers insisted that he's not making the career change with dollar signs in his eyes," the paper says. "That never was about the money. It's about doing less work. It's less work being a county commissioner than it is being an alderman."
Nice to know Beavers will be earning his pay and representing his new constituents with all the vigor they deserve.
Tony Train
Judging by several recent conversations with fellow journalists, the biggest hurdle Tony Peraica faces in becoming a viable alternative to the Machine is satisfying disaffected Democrats that he's not crazy. Peraica says today that he's not.
Topinka Twaddle
In a press conference after the fundraising visit of President Bush, Republican gubernatorial candidate Judy Baar Topinka had this to say about her opponent, Gov. Rod Blagojevich: "Ethics are important. There is no reason why the public has to put up with an unethical administration. There is no reason why the public has to put up with anything less than excellence in public office. I like to think I stand for that. That's the difference."
This is what she had to say about Daley: "I like Mayor Daley, yes. I've known him for a long time. I think he's a nice man. I think he's done a very good job for the city of Chicago."
Dusty Watch
Paul Sullivan conducts a tough interview of Dusty Baker, who sure talks about his past a lot.
Google Motors?
Google is building a research center in Michigan.
Stiff Arm
"I only talk to sports reporters."
- Bears linebacker Brian Urlacher, refusing to comment as he left the Will County Courthouse after a hearing on visitation of the child he fathered with a Joliet woman 13 months ago.
The Beachwood Tip Line: Leaning toward the bow tie.
Posted by Beachwood Reporter at 8:17 AM | Permalink
July 10, 2006
The [Monday] Papers
The Monday papers are pretty barren, and maybe we all need a break from the Siege of City Hall and the Stroger Family Circus which have dominated the news lately anyway.
Then again, there's always the governor.
1. Rich Miller reminds us today that Gov. Rod Blagojevich appears to be in a load of trouble.
3. "While Illinois has made some inroads in closing the paths to poverty, the state remains among the worst in the nation when it comes to 15 key poverty indicators according to the 2006 Report on Illinois Poverty." (via Capitol Fax Blog)
4. By "Daley's Dupes," does he mean the men just convicted or the media?
5. "[W]hen the case is exposed as the unmitigated farrago of lies and defamations that it is, the exhilaration at having defeated the most powerful organization in the world - not just the so-called Justice Department, but the SEC, IRS, and their Canadian quislings as well - will be very great and I will resume my career fortified."
- Conrad Black, in "Conrad the Underdog: 'I Am Undaunted,'" Toronto Globe and Mail
6. Jack Fuller is tabbed as "the silent mastermind" of the Tribune Company-Times Mirror deal, but John Madigan was the CEO who pulled it off.
7. It depends on what the meaning of non-core assets is.
8. "Before the Iraq war, we were probably at war with no more than a few thousand people around the world who would consider martyring themselves and causing nihilistic damage to the United States. The scale of the problem has grown because we have unleashed a maelstrom."
- Francis Fukuyama (via Tapped)
9. "Search hard enough and you might find a pundit who believes what George W. Bush believes, which is that history will redeem his administration. But from just about everyone else, on the right as vehemently as on the left, the verdict has been rolling in: This administration, if not the worst in American history, will soon find itself in the final four. Even those who appeal to history's ultimate judgment halfheartedly acknowledge as much. One seeks tomorrow's vindication only in the context of today's dismal performance."
- Alan Wolfe, Washington Monthly
10. "By this time I was associate managing editor of the Chicago Tribune, and all the talk among the news management was about editing the paper for the top two quintiles of the income distribution. That means that 40 percent market penetration is the goal, not 100 percent, and that the Trib cares little about 60 percent of the people who might be its readers. And these people are the men and women in the bowling alley. Why doesn't the Trib care? Because these days nonaffluent people shop at Wal-Mart, and advertisers like Lord & Taylor and stores that sell fancy wines don't want to pay for circulation among people who can't afford their wares. It's as simple as that.
"Now almost all metro dailies want only the affluent readers. Everybody else is what advertisers call 'waste.' So publishers simply ignore the interests of the bowling alley set, or write about 'them' only as statistics or as the objects of debates among economists and policy analysts. I am absolutely confident that it takes these 'waste' readers - more than half of all Americans - very little time perusing their metro daily to see that reading further is a waste of their time."
11. Bedazzling is back.
12. JetBlue's customer-friendly changes/canceling/fare rules. (Seen somewhere else first, but I can't remember where.)
13. "It's an outrage to me that so much 'Christian' art is in fact artistically inferior crap. Why? First and foremost, I don't think my Savior, the love of my life, would want His holy name spackled onto something so ham-fisted as most 'Christian' music. Talk about violating the commandment of taking the Lord's name in vain! Jesus as the marketing equivalent of Adidas. A brand name."
14. Found.
From: The Puerto Rican community in Humboldt Park
To: Yuppies
You Stole Lincoln Park, Wicker Park, West Town, and now you want Humboldt Park. Those R flags are 30-feet deep.
15. Catch up with The [Sunday] Papers and The Weekend Desk Report. Pay to play here.
The Beachwood Tip Line: A patronage army of its own.
Posted by Beachwood Reporter at 12:18 PM | Permalink
The [Sunday] Papers
Sifting through the aftermath of the City Hall hiring fraud verdict is a bit like traversing California in the 1840s - you can't help but stumble upon some golden nuggets. (See also The [Patronage] Papers.)
For example, how deliciously telling is it that jurors found Mara Georges to be the least credible witness put on the stand? Not the old-school machine hacks that the defense tried to dirty up by suggesting their testimony was skewed by their immunity deals, but the corporation counsel - the city's lawyer-in-chief (though she's shown that her chief loyalty is to the mayor, not the city).
U.S. District Court judge David Coar also found Georges performance on the stand wanting, and another regrets taking her representations at face value of the city's compliance with a federal hiring decree.
Three strikes and you're out?
Also on the trail of the trial:
* Carol Marin continues to have misgivings about the prosecution, perhaps because she's mistaking Robert Sorich for a mid-level mope instead of the Director of the Mayor's Office of Intergovernmental Affairs that he was.
* John Kass says the prosecution is a sea-change for just that reason - the feds are going after the string-pullers, not the puppets.
* Mary Mitchell shows how the scandal reveals a lack of black clout at City Hall.
* Norman Chad reveals a lack of black clout on the nation's sports pages.
Treasure Trove
The Tribune's "Shaking A Tradition At City Hall" is chock-full of goodies.
* "We had a lot of 11th Warders up here," Ald. Brian Doherty (41st) said of recent elections. "They had South Side guys with Irish brogues trying to cut into my base.
* "James Sprandel, a truck driver who retired from the city's Streets and Sanitation Department in 2004, joined one of the pro-Daley groups to ensure he would not get 'bumped' from his job, he said Friday.
"Sprandel said he worked in a handful of campaigns for Daley and for candidates supported by the mayor, in the city and suburbs. He said he could not remember the names of the candidates he helped by knocking on doors and passing out campaign literature.
"'The names are vague because they put us in there for a three- or four-week shot,' he said."
* "David Axelrod, a Daley political consultant, downplayed Daley's role in assigning the groups to work in campaigns. 'I am not going to ascribe to him any decision about how political workers were deployed,' he said."
I guess Axelrod handled that himself.
* "But Ald. Willam Beavers (7th) said city workers will not stop seeking political benefactors because 'it's always good to have political clout.' He said aldermen would continue lobbying to lessen the discipline meted out to supporters who foul up.
"'Everybody who works for the city for 20 years eventually will get into some kind of trouble."
That's because they're mopes!
"That's where we come in," Beavers said.
That's because you're mopes!
Prosecutors would not comment on whether Beavers' recent intemperate comments all but invite an investigation into his own exercise of political patronage, but to some observers it's a no-brainer.
City Sunscreen
Mary Schmich ventures into the deep end.
"We've lived by the tacit principle that the highest civic good is a city that works, even it it takes a little wrongdoing to get the work done," she writes.
Who says the city works? Are your property taxes working? Are the contract scandals they fund working? Is the gridlock in the streets and skies working? Are $100 million contracts to Mob families pretending to be minorities working? Is there some sort of Chicago exceptionalism that demands wrongdoing for the city to work, as opposed to other cities that don't?
"Precisely because it is so well-run," Schmich continues, "[Chicago] is a model for other cities."
A model for corruption, yes. Anyone who thinks this city is well-run is someone who, like the president, doesn't read the newspapers.
Daley Doggerel
A Tribune editorial reminds us of this Daley quote from March: "John Stroger is alive and well. I'm supporting him and voting for him. Let's be realistic - he's coming back."
Maybe Daley was advocating magic realism.
Best Phone Call Ever
It's coming from inside the building. Watch the whole report, you will be rewarded.
Opus Die
Opus in the editor's office at The Bloom Picayune this weekend.
"Sir, the shareholders are demanding way, way bigger profits.
"Again?! What do they want me to cut now?"
"The front page."
Billy Goat Brooks
On the same day a federal jury convicted four Daley aides for operating a massively fraudulent job-rigging operation in service of the mayor's political operation, New York Times columnist David Brooks informed the world (of TimesSelect subscribes) last week that in Chicago, "a Daley is still mayor, but the machine is gone."
Perhaps the only newspaper stories Brooks read while in town we're the ones on the walls of the Billy Goat, where he felt obliged to report from.
"Twenty-five years ago when I was in Chicago beginning my career, I used to go to the Billy Goat Tavern to drink like a reporter," Brooks said in the opening to his column.
And 25 years later, he returns to do the same. He never learned that going to the Billy Goat to drink "like a reporter" is no substitute for actually being one.
Presidential Seal
Judy Baar Topinka couldn't have been happy to hear President Bush's statement last week that "Illinois created more jobs than any other state in the month of April," but she can always claim that he's said misleading things before.
Fitz Fizz
Various news organizations reported that President Bush, on his visit here, said he was undecided about re-appointing Patrick Fitzgerald as U.S. attorney here.
Looking at the transcript, it seems as if the president was confused about whether the question was about Fitzgerald's status as U.S. attorney or as special prosecutor in Plamegate.
Q: Mr. President, the work of U.S. Attorney Patrick Fitzgerald in prosecuting alleged corruption is well-known here in Chicago as well as nationally. It's my understanding that, technically, he hasn't been reappointed to his position and serves at your pleasure.
Do you have any plans to formally reappoint him to the post or any other position in the Department of Justice? And . . .
BUSH: As a special prosecutor.
Q: And would you give us your assessment of the job that he's doing?
BUSH: You know, I don't have any plans to reappoint him because I haven't thought about it. I will now think about it now that you brought it up.
The only - I can give you an assessment of what - how I thought he handled the case in Washington. I haven't been following the cases here. I thought, in Washington, he handled the case with professionalism. He was very professional about it. You didn't see a lot of leaks. You didn't see a lot of speculation. You didn't see a lot of people, kind of, dropping a little crumb here for the press to chew on. And I really thought he handled himself well.
But as far as reappointing him as the special prosecutor, I don't know whether the attorney general's going to do that or not. That's his choice to make.
The Beachwood Tip Line: Reappointed.
Posted by Beachwood Reporter at 7:42 AM | Permalink
July 8, 2006
The [Patronage] Papers
The verdict itself in the City Hall hiring fraud trial was nothing but anti-climactic. But the aftermath has been nothing but downright weird. Who is criminal defense lawyer Thomas Anthony Durkin, and what planet does he live on? How could the consistently dim-witted Sun-Times editorial page get it so right and the often-misguided but more solidly consistent Tribune editorial page get it so wrong? And how blind to reality are the patronage apologists who continue to insist in the face of overwhelming evidence that basing jobs and promotions on political considerations somehow results in a superior, well-oiled workforce?
Let's take a look.
Durkin's Donuts
At one point during the trial, U.S. District Court Judge David Coar told Durkin (outside the presence of the jury) that he was "getting way beyond what's reasonable here" and that some of his theories were "beyond far-fetched."
To no avail. Durkin is still operating outside the bounds of reality, even for a defense attorney zealously advocating for his client.
"It is perfectly obvious that the case was prosecuted with an eye toward attempting to unseat Mayor Daley," Durkin asserted in a post-verdict press conference, using the word "unseat" to imply a political motive, though, ironically, nobody did a better job of dirtying up the mayor during this trial than Durkin.
"Bush wanted smaller government," Durkin continued, "[but now is] attempting to interfere with the local government."
Huh? Maybe he wants to achieve smaller local government by getting all these grifters off the city payroll.
"A Republican senator announced he thought there was corruption here, and he brought in a prosecutor from New York to root it out, and that's what he wants to do," Durkin continued, angrily, referring to former Sen. Peter Fitzgerald's selection of Patrick Fitzgerald (no relation) to be U.S. attorney here.
And . . . the problem is what?
Durkin then claimed that "you can't get a fair trial in this building," and that "these are people hell-bent on wanting to rid this city of corruption!"
Save Corruption, Vote Durkin!
"If you take mail fraud theory to its logical conclusion, everyone in City Hall with a role in hiring is a potential co-schemer."
Exactly! Now you're talking sense.
And now you're not. Durkin then said it was "ridiculous" that the "supposed beneficiary" of the patronage scheme was the mayor's campaign apparatus.
Is he talking about the same trial we are?
"I think most people on the street think we had the case," he said in the Tribune.
Not on my street. And not in the jury box. Foreman Jay Olshansky said the prosecution's case was "extraordinarily strong."
Finally, Durkin said, "This is the kind of federal government we've elected and a majority of people in this country seem to want it."
Whatever that means.
Editorial Sages
The Sun-Times editorial page shockingly hit it out of the park in "With Hiring Verdict In, Daley Has Questions To Answer."
Most satisfying was the recollection of Daley's own denials that he doesn't play a role in city hiring and that patronage does not exist. "We don't hire anyone on a political basis," Daley once said. "We have never done that in the city."
(A former city personnel director is also recalled saying, "You don't have to know anybody. You have to know your way to Room 100 of City Hall. That's where you apply and that's where you'll be fairly considered.")
Let's just say it: The mayor is a liar.
The Tribune editorial, "Daley's Choices, Sorich's Guilt," positions the mayor's corruption as a nagging blind spot on an otherwise exemplary record it feels compels to present.
The Tribune says the mayor has had five "certifiable" successes in his 17-year run. Here they are, with comment.
1. Planting trees and beautification. Oh Lord, had no one seen flowers in a median before? He's the mayor, not the president of the Garden Club.
2. School reform. Really? Daley hasn't achieved the funding reform that almost everyone knows is desperately needed. Without that, and addressing socioeconomic issues in a deeper way than just trying to shove the poor out of the city, everything else is tinkering around the edges. Daley's "reforms" may work for those who can clout their kids into the city's top schools, but as Alexander Russo notes, Chicago is now the cautionary tale, not the model, for mayoral control of urban school systems.
3. Tearing down CHA high-rises. The Tribune thinks the mayor doesn't get enough credit for this. Huh? Maybe he doesn't get enough scrutiny. No one opposed tearing down the towers - if a workable plan for where those residents would go was in place. It wasn't. Just as the critics predicted, most former CHA residents are not returning to affordable, mixed-income neighborhoods promised by the city. Instead, they have largely resegregated in worse conditions than where they started. The point of public housing reform wasn't a beautification plan to remove the eyesores, but to provide a decent place for people in need to live.
4. Lowering the murder rate. You've got to be kidding me. During Daley's tenure, Chicago claimed the mantle of Murder Capital, U.S.A., recording not just the highest murder rate in the country for several years running, but more actual murders than New York City, which has three times the population. The problem doesn't begin and end with the mayor, but he only acted when the media finally noticed and the numbers became an embarrassment. His refusal to accede to long-standing proposals to re-align police beats to correspond to where crime was actually occurring was not only egregious, but counter to the notion of community policing he claims to advocate . While Chicago still resides at or near the top of the murder charts, he now gets credit for a drop in the numbers that simply corresponds to national trends?
5. Building improvements at O'Hare and Midway. Again, this is a strike against the mayor, not for him, because it illustrates his utter lack of comprehensive planning. Daley sunk $927 million into renovating a landlocked Midway instead of shutting it down and investing in an alternative like Peotone. The result? Planes that slide off runways and kill kids sitting in traffic. Meanwhile, O'Hare is the best example, as the Tribune itself has shown in Pulitzer Prize winning reporting, of the corruption that has consumed this administration. That's what those building improvements are about.
If this is the best the Trib can do on the mayor's behalf, I've been much too kind to him.
Quotes And Notes
FIRST ASSISTANT U.S. ATTORNEY GARY SHAPIRO: At bottom this case was about a scam . . . the creation of a new machine, a corrupt jobs machine, a machine that stole jobs that should have gone to qualified applicants without political favor and instead went to fuel political armies . . . these were not mopes, they were high-level guys.
LEAD PROSECUTOR PATRICK COLLINS: People in governmental entities fear the system more than they fear the FBI . . . The notion that [the defendants] are heroes for standing tall in the 11th Ward [is absurd] . . . Mr. Sorich knowingly allowed people that were unqualified, people that were drunk, to be put in the hole with other men. That is a public safety risk."
SHAPIRO: The irony meter shut off for this afternoon. I think I will not comment on that. [I didn't hear the question, but I'm dying to know what it was.]
SHAPIRO: As a matter of law, Chicago is required to engage in non-political hiring. They falsified Shakman certifications. That's just good old fraud. That's lying to make your scheme work.
MICHAEL SHAKMAN (in separate news reports): It's especially sad and especially serious when you think about the fact that these men were convicted of stealing jobs from honest citizens and awarding them on a basis of political clout
You have to lay the responsibility at the feet of Mayor Daley. These are his people, who never would have thought of doing this without his approval."
ALD. BERNIE STONE (to the Sun-Times): This whole trial was ridiculous. All these trials send a message . . . you will be found guilty. That's the power of the big eagle.
PAUL GREEN (to CNN in 2004): You need a tolerable level of corruption to really make things work. You've got to have a little grease to make things smooth.
JAY STEWART (in a statement): Despite the wailing and moaning of Chicago's ruling political class, the everyday citizens that made up the jury had no difficulty in determining that the relentless political intervention, sham interviews and records manipulation that epitomize the "City that Works" are nothing more than criminal conduct. Machine politicians and their courtiers are undoubtedly perplexed to learn that gaming the system for their benefit is illegal. But taxpaying citizens, who ultimately foot the bill for enriching cronies, understood this inherently corrupt ethos of Chicago's politics and rejected it.
The corrupt system exposed by the trial has existed for one reason only: to further Mayor Daley's political might. It did not serve to make the City more efficient, nor encourage diversity or any of the other flimsy excuses offered by the Mayor's apologists.
GREEN: "Not many great political writers have come out of Wisconsin," said Green. "The city of Chicago and the state of Illinois were not built by great planners, they were built by great speculators, people who risked a lot to do a lot. That mentality is still here today. And that's what we get periodically as the price of getting things done."
"I'm personally sad for Gov. Ryan," said Green. "But let's not go overboard and start wringing our hands and trying to become the Oregon of the Middle West."
What's The Matter With Oregon?
Election turnout by state according to The New York Times via the U.S. Census Bureau, April 2006:
1. Minnesota: 79.2 percent.
2. Wisconsin: 76.6 percent.
3. Oregon: 74.0 percent.
24. Illinois: 66.0 percent.
The List
Did I hear political pundit Bob Crawford tell Carol Marin on Chicago Tonight the other night that the reason why it took the feds so long to prosecute this case when the city turned over its hiring records in 1987 was because "They lost the list!"?
The folks in the U.S. Attorney's Office have obviously never worked for Grayson Moorhead Securities.
Supremely Patronage
Justice Brennan delivered the opinion of the Court.
To the victor belong only those spoils that may be constitutionally obtained. Elrod v. Burns, 427 U.S. 347 (1976), and Branti v. Finkel, 445 U.S. 507 (1980), decided that the First Amendment forbids government officials to discharge or threaten to discharge public employees solely for not being supporters of the political party in power, unless party affiliation is an appropriate requirement for the position involved. Today we are asked to decide the constitutionality of several related political patronage practices, whether promotion, transfer, recall, and hiring decisions involving low-level public employees may be constitutionally based on party affiliation and support. We hold that they may not.
[Patronage] can result in the entrenchment of one or a few parties to the exclusion of others" and "is a very effective impediment to the associational and speech freedoms which are essential to a meaningful system of democratic government."
A government's interest in securing effective employees can be met by discharging, demoting or transferring staffmembers whose work is deficient. A government's interest in securing employees who will loyally implement its policies can be adequately served by choosing or dismissing certain high-level employees on the basis of their political views. See Elrod, supra, at 365368; Branti, supra, at 518, and 520, n.14. Likewise, the "preservation of the democratic process" is no more furthered by the patronage promotions, transfers, and rehires at issue here than it is by patronage dismissals. First, "political parties are nurtured by other, less intrusive and equally effective methods." Elrod, supra, at 372373. Political parties have already survived the substantial decline in patronage employment practices in this century. See Elrod, 427 U.S., at 369, and n.23; see also L. Sabato, Goodbye to Good-time Charlie 67 (2d ed. 1983) ("The number of patronage positions has significantly decreased in virtually every state"); Congressional Quarterly Inc., State Government, CQ's Guide to Current Issues and Activities 134 (T. Beyle ed. 19891990) ("Linkage[s] between political parties and government office-holding . . . have died out under the pressures of varying forces [including] the declining influence of election workers when compared to media and money-intensive campaigning, such as the distribution of form letters and advertising"); Sorauf, Patronage and Party, 3 Midwest J. Pol. Sci. 115, 118120 (1959) (many state and local parties have thrived without a patronage system). Second, patronage decidedly impairs the elective process by discouraging free political expression by public employees. See Elrod, 427 U.S., at 372 (explaining that the proper functioning of a democratic system "is indispensably dependent on the unfettered judgment of each citizen on matters of political concern"). Respondents, who include the Governor of Illinois and other state officials, do not suggest any other overriding government interest in favoring Republican Party supporters for promotion, transfer, and rehire.
We therefore determine that promotions, transfers, and recalls after layoffs based on political affiliation or support are an impermissible infringement on the First Amendment rights of public employees.
Posted by Beachwood Reporter at 8:55 AM | Permalink
July 7, 2006
The Weekend Desk Report
Man, do you remember when all we had to worry about was whether or not we should ask Iran to the prom? Good times.
Market Update
While the U.S. exchanges enjoyed a short week of trading due to the holiday, the bottom fell out of the Asian securities market. Despite repeated assurances from supposed experts it turns out long-range missile tests are a huge fucking deal after all.
Double Duty
President Bush took a moment to reassure Americans that our Alaskan early-warning system would certainly identify any successful test of the Taepo-Dong 2, despite his preoccupation with other recent developments.
Kiss Kiss, Bang Bang
Russian President Vladimir Putin weighed in on the biggest story of the week, saying he feels the North Korean missile crisis should be handled through diplomacy rather than force. Putin personally volunteered to use his favorite negotiating technique of lifting Kim Jong-il's shirt and blowing an affectionate raspberry on his tummy. Apparently, this breeds good will.
World Cut-and-Run Soccer
To the surprise of few who follow international politics, the FIFA World Cup Final comes down to a struggle between the rest of the world and the Coalition of the Willing. Somewhat predictably, the Coalition has been beating up on itself throughout the tournament. While some may note France's well-established history for wilting under attack, we think a frustrated and increasingly defensive Italy may eventually pack up its troops and go home.
Layed to Rest
In accordance with well-established corporate policies, deceased former Enron executive Kenneth Lay's family announced plans to destroy any evidence of his ever having lived. No word yet on plans to distribute the ashes.
Safer Streets
Finally this week, the FBI announced the foiling of a plot to disrupt the transportation network of a major American city. However, officials downplayed the threat, noting that the plans to disrupt traffic patterns and cause widespread chaos were badly flawed and certainly no better than what local transportation agencies could've dreamed up.
Posted by Natasha Julius at 12:04 PM | Permalink
The [Friday] Papers
Far more interesting at this point than the wholly-expected convictions in the City Hall hiring fraud trial is the looming question of just how far the continuing investigation will go.
In other words, should the mayor take advantage of early-bird booking rates and reserve a room right now in the federal pokey?
At any rate, we'll deal with the trial fallout in Politics, with a column up there shortly.
UPDATE 10:54 A.M. FRIDAY: "Shortly" may have been overly optimistic. I have a business meeting to get to, so I may not get our trial fallout up until later today. I'm pretty sure it will be worth the wait. Apologies.
Bush League
Memo to reporters: Just because the president tells a few lame, pre-scripted jokes, you are not under any legal obligation to print them. This is not North Korea.
So when George W. Bush said last night that Laura asked him what he wanted for his birthday, and that his reply was "I said I want to have dinner in Chicago with the mayor," the proper response is to roll your eyes, not put it in the paper.
And when Bush says "I hope Roger Ebert does well," the proper response is, "Gee, Mr. President, which of his reviews is your favorite? An Inconvenient Truth? United 93? Fahrenheit 911? Or is it his liberal views you appreciate most, like when he called your daughter a "yob," or the interview he gave to The Progressive in which he bemoaned the fact that you think God speaks to you personally and approves the war in Iraq, even though the Pope sent an emissary to you saying God, in fact, did not approve of the war?"
Perhaps that follow-up will be asked at the press conference Bush is holding today, which will include members of the local media.
Here are a few more questions for the president:
1. Did you talk to Mayor Daley about the verdicts in the Robert Sorich trial? Why not? Doesn't the ongoing corruption in the Daley Administration bother you? I mean, he is one of your favorite mayors, right? Are you for or against patronage? Do you think your Justice Department went too far prosecuting this case?
2. What about George Ryan, the Republican governor now awaiting sentencing for turning the state of Illinois into a criminal enterprise? Any thoughts?
3. Please assess the governorship of Rod Blagojevich.
4. Well, after all, you are here to raise money for Judy Baar Topinka. Why do you think she should be the next governor of Illinois? Do you support her platform? You do? Can you tell us what it is, then? Because we're still in the dark.
Thank you for speaking so directly to the American people, Mr. President.
Roger & Us
Without Ebert, who is recovering from emergency surgery, I skipped the Sun-Times movie section today. I always skip the Tribune movie section.
Babbling Brooks
As John Kass points out, David Brooks is an idiot. But we'll get to that on Sunday.
Air Rage
"O'Hare, Midway Rank Last In On-Time Departures."
"Chicago's O'Hare Airport Busiest In U.S. This Year."
Connect the dots, people.
Plagiarism Police
Is "Connect the dots, people" a line Steve Rosenbloom used to use in his much-missed Hit & Run column? I wrestled with that this morning. I have also wondered if I have inadvertently copped the "So, yeah . . . " construction from him, given that I absorbed his column pretty thoroughly for a few years there. If so, apologies and props to you, Mr. Rosenbloom. We miss you. Because he's so hard to find in the Trib these days, I recommend getting your Rosenbloom fix on his new WMVP radio show with Sean Salisbury.
We're Number One
How corrupt is Illinois? I'd say thoroughly.
The former governor is going to prison for putting the state up for sale. The current governor's administration is the subject of a broad federal probe into hiring, and the governor himself has been dubbed Public Official A in an earlier investigation. The City Hall investigation continues apace. And we know the City Council is a rats nest just waiting for its next, overdue indictment.
And it doesn't end there. Just from today's papers alone:
* An influential top advisor to former House Minority Leader Lee Daniels just put his old boss in the jackpot.
* At least four of Cook County Commissioner Bobbie Steele's seven children are on the county payroll. Maybe that's why she wants to be county board president; the other three need work.
* And Anne Burke was sworn in to the state supreme court. I guess the press has lost interest in how Anne Burke got her job. Interestingly enough, it was the same way that is under investigation elsewhere: Patronage. It takes many forms, but in the end it's the same: Doing favors for your friends at the public's expense.
Curiously, the Sun-Times's gee-isn't-everything-swell report didn't mention the controversy surrounding Burke's elevation to the state's highest court. The Tribune gave it a passing and approving mention: "As has been true of many past members of the court, Burke's political connections helped her ascent."
Ho hum. Nothing to see here, folks.
The Trib then added reassuringly: "But speaking to reporters afterward, Burke pledged to be independent and not to rule on cases in which her impartiality could be questioned."
Well, if we have her assurance . . .
"I'm constantly on the lookout for any possible . . . appearance of impropriety or conflict," Burke said.
Enough! Burke's very appointment to the job is tainted with the appearance of impropriety, if not actual impropriety! Phone call for Anne Burke - it's Irony! You're due back at midnight.
If the state supreme court is packed with justices who got there largely through politics (and I don't mean elections; I mean gaming the political system, as Burke and her patron, retiring judge Mary Ann McMorrow, did), then why should we believe they aren't making their rulings on the basis of politics? It's obviously in their DNA and they think it's a proper way of doing business. Shouldn't the credibility of the entire court be in question?
As well, the Burke saga confirms again the lesson pols in Illinois have learned: The media's outrage and attention-span is limited. Do whatever you want, take the faux-heat for a day or two, and move on. Because, unless there is a federal investigation to fall back on, the media will.
Minor League Report
The Tribune put together a nice Travel section report on touring the region's minor league baseball parks that in no way resembles ours.
Demon Dan
"In 2004, I spent an afternoon sitting in on the afternoon sports talk show on ESPN Radio in Chicago, Mac, Jurko & Harry," writes blogger Rick Kaempfer, author of "The Demon of Sports Talk" in the summer issue of Lake Magazine. "At the time, there was an obvious tension in the air. That tension reared it's head again last week, when Dan McNeil (Mac) and Harry Teinowitz got into an on-air fight, causing them both to be suspended for two weeks.
"They posed for this picture just for the article, but Lake Magazine decided not to run it. That's Harry on the left, and Mac looking longingly into his eyes."
In This Week's Reporter
I can't recommend highly enough the contributions to our collection of Freedom stories of my esteemed colleagues Tim Willette, Natasha Julius, and Scott Gordon, whose work appearing this week easily bests mine. If you haven't already, please give BBQ Talking Points, Freedom Museum Exhibits We'd Like To See, 13 Anthems, and Blogging For Freedom your attention. Then forward the links to all your friends and half your enemies. And then remember that bringing you Freedom isn't free.
The Beachwood Tip Line: Just another Tip Line with nothing left to lose.
Posted by Beachwood Reporter at 8:31 AM | Permalink
Cab #3329
Date: July 7, 2006
From: Wicker Park
To: Near North Side
The Cab: My first Mohawk cab - the ones with the rooftop advertising wedge. ("Allstate Deduction Rewards"). Otherwise clean, sturdy, and nondescript.
The Driver: A pleasure. At first I thought he was Italian. Then I felt stupid when he told me he just got back from vacationing in Argentina, where he is moving next year with his wife. He intimated that he was from South America. Am I that bad at discerning accents?
Regrettably, I didn't get his name. But boy did he love to talk. And not in an annoying way. He's been driving a cab for 38 years, and he's seen the city change. That $35,000 three-flat? It now goes for a million. "It's incredible the money they spend," he says of the city's new residents. "Whaddya gonna do? Things change."
Even a studio these days goes for $600, $700, $800. "A studio. You know what a studio is? A little room. You cook in it, you sleep in it . . . all in one room."
Most satisfying, though perhaps a safety hazard, this fellow wants to look at me as he talks. So he adjusts his rear view mirror so he can. But then, do I look at him to talk as I have been, or do I look at his face in the mirror? I can't decide, and go back and forth, which probably marks me as neurotic, and possibly short of cash.
At Crosby and Division, we commemmorate the site of his first robbery. Further along Division Street, he tells a tale I think I've heard before: A wealthy man promises a huge tip, but adds only a quarter to the fare. Later, he realizes the big tip was the man's suggestion that he take all the money he has and buy a plot around Cabrini-Green. Just let it sit vacant, and pay the taxes. Because some day . . .
"That was his tip!"
And then it turns out the man is from Italy after all. His wife is from Argentina. They've had a long, happy marriage.
The Driving: I didn't even notice.
Overall Rating: 4 extended arms. I deduct one arm from perfection just because I'm suspicious about that tip story.
- Steve Rhodes
Posted by Beachwood Reporter at 1:13 AM | Permalink
Cab #3005
Date: July 7, 2006
From: Near North Side
To: Wicker Park
The Cab: What's that smell? I like it, but I can't place it. Oh, there it is! A strawberry car freshener tree in the back window. Mmm, strawberry.
Hey, what's that sticker on the little coin window slat thing: It says "Helper."
Hey, what's that little metal plate screwed into the back seat separation unit? It says "Whip It Out. J-Fold. Original Sportswallet."
Hey, there's another one: "KGT Bumper Guards, Long Island."
Just below the black, oscillating, Axics 12-volt fan.
There's a lot to look at in here, for a cab with no actual decoration.
The Driver: A nice guy. I don't realize how nice until it occurs to me halfway through a cell phone conversation that he's turned off his music (Middle Eastern rap?) for the duration of my call.
The Driving: Solid, though not flashy.
Overall Rating: 4 extended arms.
- Steve Rhodes
Posted by Beachwood Reporter at 1:10 AM | Permalink
July 6, 2006
The [Thursday] Papers
Still catching up from the long weekend, in which freedom was both celebrated and stymied. Fortunately, we got through it by using our handy BBQ Talking Points, and diverting discussions towards Freedom Museum Exhibits We'd Like To See.
1. "During his long career in public service, House Speaker Dennis Hastert has amassed a multimillion-dollar fortune through real estate holdings that belies the humble image of a former small-town high school wrestling coach," the Tribune reports on its front page today.
Gee, where do you think that image came from?
2. Hastert "declined to be interviewed" for the article, because a newspaper has no business prying into the financial affairs of the Speaker of the United States House of Representatives.
A more satisfying response would have been answering a reporter's knock on the door of his 127-acre, $4.5 million suburban estate with narrowed eyes, a pull from an imported cigarette, and the line, "What took you so long?"
3. "A wealth of data in recent decades has shown that once personal wealth exceeds about $12,000 a year, more money produces virtually no increase in life satisfaction," the Washington Post reported on Monday.
Dennis Hastert declined to comment.
4. Would a court of law accept this signature as coming from a man of sound mind and body? It was "written" on one of his "peak" days.
5. The stink got too close to the Daleys and they bailed.
6. It's looking more and more like the Bill Beavers Retirement Plan was a bluff after all. The votes for Todd Stroger apparently are not there. What kind of encouragement is Todd getting from the 80 Democratic Party committeemen who will decide who will replace his father on the ballot? "They are not counting me out," Todd says.
Um, Todd? That means they are. Run along now.
7. James Meeks is "not 100 percent sure" Todd Stroger is the man for the job.
Cook County Commissioner Earlean Collins sounds 100 percent sure he isn't.
"Collins said Stroger's legacy aside from being the board's first African-American president and a champion for public health care, will be launching his son's political career if Todd Stroger is slated and wins in November," the Tribune reported on Saturday."
(It's a testament to Todd Stroger's political career that after nine years in the state legislature and five years on the city council, it still isn't considered "launched.")
"It's quite obvious John wielded a lot of power to get elected after having a massive stroke," Collins said, "and to get his son to replace him with absolutely no knowledge of county government."
8. Eerie.
"Instead of democratic transition, China has witnessed a consolidation of authoritarian rule - the strengthening of a one-party regime through organizational learning and adaptation. Since 1989, the Chinese Communist Party (CCP) has been pursuing a two-pronged strategy: selective repression that targets organized political opposition and co-optation of new social elites (the intelligentsia, professionals, and private entrepreneurs)."
- "Will China's Capitalist Revolution Turn Democratic?" Project Syndicate
9. In denying bond to the six Sears Tower plotters in Miami (a seventh is being held in Atlanta), U.S. District Court Judge Ted Bandstra said it was "not relevant that the plans appear to be beyond the abilities of the defendants."
Bandstra put it kindly. It appears more with each passing day that these guys needed a mental health intervention more than a government informant fueling their delusions. Every revelation by the prosecution only ends up serving the defense.
* "The leader of a group accused of plotting to destroy the Sears Tower in Chicago and other buildings viewed the attacks as a prelude to the overthrow of the U.S. government and its replacement by an Islamic regime, prosecutors said at a hearing Thursday."
* "The alleged ringleader of a group of South Florida men accused of plotting to blow up Chicago's Sears Tower wanted the blast to divert law enforcement so he could free inmates from a prison to join his terrorist army, federal prosecutors said Friday.
. . .
"The picture that emerged during Friday's hearing in Miami federal court was of an ambitious but inept military-style organization whose members had illusions of grandeur and a taste of intrigue.
. . .
"According to the original indictment that led to their arrests on June 22, the group's ultimate goal was to launch an all-out ground war against the U.S. government by blowing up the Sears Tower.
"In fact, the plan was even more far-fetched."
* "The seven men who were arrested here last week on terror charges were shown Friday on undercover videotapes solemnly reciting oaths of loyalty to al-Qaeda, repeating the words that an FBI informant had given them to say," The New York Times reported on its front page on Saturday.
. . .
"Some of the [defense] lawyers criticized the new evidence presented Friday as a sign that the government had largely concocted other parts of the case and had lured the men into doing more than they would have on their own.
. . .
"The tapes, in fact, made clear the large role that the government informant had played in the case. In one tape, the informant recited what FBI agents said was an authentic Qaeda oath, while the seven men sat on a sofa and chairs in a warehouse that the FBI had wired with eavesdropping equipment. As the informant repeated the words for a second time, each defendant stood and stated his name before they all said in unison that they were committing themselves to the 'path of jihad.'"
* Sources tell a Miami Herald that the plotters are wannabes and appear to be part of just the latest overhyped terrorist case to fall apart under scrutiny.
10. "The hospital where John Stroger was initially treated following his March stroke has launched an investigation into whether Stroger's private medical records may have been illegally released. Sneed is told Rush University Medical Center is looking into the authenticity of documents obtained by Channel 5 that appeared to be Stroger's medical reports. The NBC affiliate received the reports anonymously and turned them over to the hospital for investigation."
If this is accurate - it comes from Sneed, so who knows - it's appalling. What in the world is Channel 5 doing giving these records back in order to assist an investigation into a whistleblower?
11. I've always wondered what the deal was with Brien Comerford. Now I know.
12. "Man Gets 7.5 Years In Death Of Former Time Reporter."
13. Is the mayor's political house crumbling? Fran Spielman's report Friday about the proposed ordinance regulating wages at big box retailers seems to show cracks in the mayor's foundation.
"Just because the mayor was upset about it - let's say he was adamant about it - it doesn't change my mind," Ald. Michael Zalewski said.
"Rich is a day late and a dollar short on this. That might work if the numbers were close. But there are more than 30 votes for this thing. Those people signed on to it. I don't see very many singing off. If he was really trying to stop the issue, he should have gotten involved from the beginning. He chose not to do that . . . he let it get through comittees. Now he gets into it late, and if he loses, he's going to look weaker. He's going to look real weak," an anonymous alderman said.
"In the past, aldermen were afraid that, if they failed to toe the line, HDO and other political organizations out there might flood their wards with political workers to campaign against them. That's no longer the case," another alderman said.
"Why should we even listen to him? His pearl-handled revolver is empty. He's got no bullets left," yet another anonymous alderman said.
The Beachwood Tip Line: Former Channel 5 sources welcome.
Posted by Beachwood Reporter at 7:25 AM | Permalink
July 5, 2006
The [Wednesday] Papers
A lot of catching up to do. Chicago convention officials argue that Las Vegas is way too fun a place to hold a convention - and the Sun-Times agrees! The Tribune editorial page is alternately naive and a killjoy. And when President Bush says "freedom is on the march," he means right to its room until it behaves itself.
1. "Las Vegas and Orlando are all the rage right now, but McCormick Place is on pace to make 2006 at least a near record and could barely handle any more shows," the Sun-Times says on its front page today, ballyhooing its "Special Report" ghost-written by the city's convention and tourism bureau.
The story asserts that chief convention competitors Las Vegas and Orlando "are all the rage right now," as if the conventions flocking there are just part of a fad, rather than a long-term trend that has, in particular, made Las Vegas the convention king that Chicago once was.
Instead of giving Las Vegas its due, the Sun-Times desperately quotes a plastics show manager finishing up a show at McCormick Place complaining that "In Vegas, there's a thunderstorm every afternoon, and the water leaks through the roof. Can you imagine the disaster I would have?"
Huh? I thought Las Vegas secured its roof.
It gets richer.
Did you know that Las Vegas is a bad place to hold a convention because it is way too much fun? Convention officials have been peddling this line for years and in the Sun-Times they've finally got a taker. "Big shows are ultimately a place to do business, and that seems easier in Chicago," the paper says. "Las Vegas and Orlando have too many distractions, insiders report."
Those "insiders" are Chicago tourism and convention officials who perhaps are unaware that the 'distractions' provided by Las Vegas are exactly the reason why so many conventions are held there. They're conventions!
Just to make sure folks don't get the idea that Chicago is too all-business, though, the Sun-Times approvingly quotes Merchandise Mart president Christopher Kennedy explaining that the Art Institute and Field Museum will open an hour early or stay open an hour late so out-of-town exhibitors can enjoy their wares.
Take that, Steve Wynn!
The paper does get it right at the end of its report when it suggests that high costs are not just the result of arcane union work rules, but the charges tacked on by the contractors who hire the labor on behalf of each convention, as well as costs for amenities such as parking or even the coffee sold inside McCormick Place.
The media backdrop to this story is that the convention and tourism folks are not happy with the Chicago Tribune for consistently peeling off the smiley face they project to the public. You can bet they are thrilled today to see that they can still count on the Sun-Times to put that smiley face right back on.
2. Oh Lord. Missy and Sissy are back. At the Inner Self Cafe. On the Metro front of one of America's largest newspapers.
3. The Tribune discovers poverty.
4. Both papers reported this week that O'Hare has regained its status as the world's busiest airport. And this is a good thing?
5. The Tribune editorial page came out in support of the Supreme Court ruling last week rejecting the Bush Administration's Guantanamo tribunals, but only after empathizing with the president, who it thinks only subverted the Constitution because he was just as scared as the rest of us after 9/11. "It's easier now than it was then to see this issue in calm perspective," the page said, rejecting the central tenet of crisis leadership that prefers calm strength to panicked fear amidst tragedy.
"Keep in mind," the edit page instructs readers, "that many of the fears that underlie the government's policies in Guantanamo were justified: Fighting a shadowy terrorist conspiracy is different from fighting another nation.
"After Sept. 11, the administration was gripped with a sense of extreme urgency that everyone felt. We had been attacked out of the blue on our own soil by fanatics intent on slaughtering innocent people. No one knew what other plots were in the works. No one knew how numerous the enemy might be, or where it might be lurking. Guantanamo was established to remove enemy fighters from the war and extract information that would help avert more attacks."
Tribune editorial page? It's the 1950s calling. They want their naivete back.
A New Yorker report last week on the almost-undoubtedly unconstitutional consolidation of presidential power orchestrated by Dick Cheney reveals that in the days after 9/11, the administration was hardly "gripped with a sense of extreme urgency that everyone felt." Instead, it saw an opportunity to pursue already settled-upon goals (sound familiar?) including the restoration of Richard Nixon's imperial presidency. (And an unprecedented expansion of vice presidential powers; the magazine reports that Cheney actually merged his office with the president's to create a single "Executive Office.")
Among the New Yorker's findings: Colin Powell says that Dick Cheney's chief of staff and principal legal advisor behind the core of the administration's war powers policies, David Addington, "doesn't care about the Constitution;" Republican legal activist Bruce Fein says the president has "staked out powers that are a universe beyond any other Administration" and has "made claims that are really quite alarming;" and the Pentagon lawyer overseeing the National Security Agency's legal advisors still finds it "extraordinary" that he learned about the Administrations's warrantless domestic surveillance from The New York Times, not the White House, which didn't bother to consult with him.
As for Guantanamo, the magazine reports that "Rear Admiral Donald Guter, who was the Navy's chief [Judge Advocate General] until June 2002, said that he and other JAGs who were experts in the laws of war tried unsuccessfully to amend parts of the military-commission plan when they learned of it, days before the order was formally signed by the President. 'We were marginalized,' he said. 'We were warning them that we had this long tradition of military justice, and we didn't want to tarnish it. The treatment of detainees was a huge issue. They didn't want to hear it.'"
When Guter and other JAGs told the Pentagon's general counsel that they needed more information, they were told, "No you don't."
Where the Tribune sees an honest but mistaken policy decision derived from pure motives, those on the inside see a widespread pattern of Constitutional abuse by this nation's highest officials done in secret to satisfy radical ideological and political ends. And those are just the conservatives talking.
6. [T]hree out of four Americans say they would rather live here than in any other country in the world," the Sun-Times editorial page said on the Fourth of July. "Indeed, there is no happier place to be, especially on the Fourth of July."
Unless you are one of those one-quarter of Americans who would rather live somewhere else.
7. Apparently someone has signed John Stroger's name to a resignation letter sent to Democratic Party officials, though no one can be sure it was John Stroger. "Neither party or county officials would provide a copy of the letter and some question whether Stroger ever saw the five-page letter released on Friday," the Sun-Times reported.
Stroger spokeswoman Chinta Strausberg has "insisted Stroger is physically capable of signing it," though, the paper reported earlier. Maybe nobody had a pen, and they all had a good laugh about that.
Meanwhile, Bill Beavers called Cook County Clerk David Orr "a little poop-butt." I am not joking. Orr had questioned whether "misinformation was being intentionally provided" by the Stroger camp to stave off possible independent challengers for the county board presidency.
"What does he care?" Beavers asked.
As clerk, Orr runs the county's elections.
8. The Tribune not only wants to limit the number of days off its employees get, but yours as well.
The Beachwood Tip Line: Anti-torture, pro-vacation.
Posted by Beachwood Reporter at 7:56 AM | Permalink
July 3, 2006
The Weekends & Holidays Desk Report
While the nation celebrates independence, we'll be monitoring these events - as well as breaking news that could impact your freedom - from our Weekends & Holidays Desk. The Papers will return on Wednesday.
Market Update
Constitutional Integrity saw an unexpected surge on the domestic market when a hostile takeover bid was resoundingly defeated. Still, it appears the international markets are cautious in embracing the news, noting the determination of industry insiders to divide and conquer CI at all cost.
World Currency Soccer
This weekend's World Cup Quarterfinals boil down to the rest of the world versus the Eurozone, and if early returns are any indication it's not looking too good for the rest of the world. Even the celebrated Brazilian attack may not be able to shake off a flagging real. Our hopes, and our money, are on the venerable pound sterling to sneak out the win.
Watch Yourself, Ebert
Introducing a bill to censure The New York Times for the egregious crime of reporting the news, House Speaker (and Illinois Republican congressman) Dennis Hastert fierily declared, "loose lips kill American people." We couldn't agree more, and sincerely hope that Congress turns its attention to this guy, who by our measure may be the greatest mass-murderer in history.
Na Na Na Na, Hey Hey Hey, Goodbye
A group of elderly ladies representing the Grannie Peace Brigade was arrested this week as they attempted to enlist in the U.S. Army. Apparently they refused to leave when told they were too old for active duty. Eh, give it a year. They'll probably need you by then.
Live Fat-Free or Die
Officials this week announced plans to relieve Chicago's notoriously clogged arteries. We're anticipating radical bypass operations and innovative treatment plans that will make all our lives . . . oh wait . . . sorry, turns out it's just the City Council minding everyone's business but their own.
Posted by Natasha Julius at 3:11 AM | Permalink
July 2, 2006
Scrub the Cubs
It's only gotten worse since this was first posted more than a week ago. Cubs broadcaster Bob Brenly the other night praised the Minnesota Twins organization for instilling the philosophy of its style of play from the lowest minor leagues and up, in just one of many recent comments indicating the Cubs problems run far deeper than Dusty Baker. We think they run far higher - right into the executive suite.
The Cubs almost blew it two weeks ago when they took the first two games of a three-game series from the Cardinals. A sweep would have been a disaster. Going 6-4 on their road trip before rolling into Houston this week was dicey enough. Thank God the Astros completed a three-game sweep Thursday and sent the Cubs home to Chicago pretty much in the same sorry shape they were in when they left.
Because the worst thing that could happen to the Cubs is to go on a little winning streak. It would feed the illusion that this team is simply a healthy Derrek Lee and Kerry Wood and Mark Prior away from contending. With Dusty Baker at the helm.
That way lies madness.
The Cubs problems start at the top and permeate the organization. They need to blow it up and start again.
You might think that's what the Cubs have been doing for 90-some years, but actually it's not.
The Cubs, at least in recent history, have never blown it up.
Instead, they collect a new set of journeymen every season and send them out to, well, not slaughter exactly, but the purgatory of grinding mediocrity.
1. Dennis FitzSimons is the Tribune Company's CEO, and thus the man ultimately responsible for the Cubs. Unfortunately, FitzSimons has his hands full with matters more pressing than the Cubs right now - which is part of the problem. A baseball team ought to be owned by a person whose singular focus is on that team. With the Tribune Company's very existence on the line, FitzSimons can hardly be bothered to worry about the Cubs, except as a non-core asset that could deliver half a billion dollars or so in a sale.
But as long as FitzSimons is the man responsible for the team, there is only one thing he can do to make a difference and meet his responsibilities - and it's not spending more money on payroll. He should fire Andy MacPhail.
2. Andy MacPhail is the Cubs president. He was brought in from Minnesota in 1995 and the team is no better off now than it was when he arrived, and in many ways you could argue the organization is worse off. Minnesota, meanwhile, has thrived.
MacPhail was a successful general manager in Minnesota, which leads us to one of two conclusions: He's in the wrong job here and should be demoted to general manager, where his true talents lie, or he merely benefited from an excellent organization in Minnesota - something he has failed to build here.
Organizational culture is everything. The Twins draft, acquire, and develop players with brains who are well-versed in the fundamentals - or become so quickly due to a system instilled largely by former manager Tom Kelly. The Twins are a strongly managed organization through-and-through, with a reputation for shrewdness that extends from their executive suites to the ability of their scouts to scour the low minors for talent.
The Cubs are no such thing. Their farm system, just for starters, is a mess. Look at the Cubs roster: It's full of retreads from other organizations. The Cubs system has simply failed to produce. Even prospects used in trades have been busts. Remember when Bobby Hill, Hee Sop Choi, and Corey Patterson were the cornerstones of the future? And all those before them?
There is no use rehearsing the whole, sorry list of failed prospects. Let's just say it's clear that talent evaluation and development does not seem to be the Cubs' strong suit.
The Cubs don't seem to learn any lesssons from the teams that do it right. It's not just the Twins. Look at the Oakland A's. They, too, have an organization-wide philosophy, and they draft and acquire players who fit that philosophy - namely that on-base percentage and measurable performance trumps batting average and physical potential.
Look at the Atlanta Braves. They also employ a system-wide philosophy, namely that their pitchers specialize in control not velocity, particular when it comes to pitching low and away, and their position players master not just situational hitting but situational defense. The Braves also try to follow a philosophy of not calling up prospects when they first cross the threshold acceptability but a year after that, so they arrive as finished, polished products.
The success of the Los Angeles Dodgers in their glory days was due in large part to scouting and development, with an unusual knack for turning out Rookies of the Year. Even new-school franchises such as Florida and Arizona have been able to put together championship teams, dissemble, and rebuild again. (It's worth noting that the San Francisco Giants, under the direction of savvy general manager Brian Sabean, have rolled right along without Dusty Baker.) We don't even need to address the unique situations of the stupendously rich New York Yankees and Boston Red Sox to understand that, as former Bulls general manager Jerry Krause was vilified for saying, organizations win championships.
(The Cubs' bungling in scouting continues unabated and will hamper the team for years: With the No. 13 pick in this year's draft, they took outfielder Tyler Colvin, who was ranked No. 170 by Baseball America. That's right - baseball's scouting bible ranked 157 other players as better than Colvin. And it's not as if Cubs scouts and management have earned the benefit of the doubt, so alarm is indeed the proper response.)
(For that matter, when it comes to evaluating and managing talent, consider how the Cubs might be faring if the team still had Moises Alou (.330/9/31/.394 OPB); Mark Grudzielanek (.302/.340 OBP); a revived Mike Remlinger (3.48 ERA); a revived Corey Patterson (.289/7/24/.337 OBP/27 SB); Kenny Lofton (.313/.371 OBP); Nomar Garciaparra (.351/7/41/.413 OBP); Ricky Nolasco (5-3/3.06), Dontrelle Willis (a relatively tough year with a 4.39 ERA, but we've seen what he can do); and whoever else I've forgotten. And consider how long this has been a Cubs problem. Take left field, for example, and what has transpired there since Luis Gonzalez left to appear in All-Star games and win a World Series - with Mark Grace - for the Diamondbacks. In an alternate universe, the Cubs are a dynasty.)
Teams with troubled management - surprise - tend to fare poorly on the field, year-in and year-out. Look at Baltimore, Tampa Bay, and Kansas City. That's the class the Cubs are in.
As team president, MacPhail is responsible for the organization. Just what has he done to merit his cushy compensation package?
MacPhail's latest bungle was rewarding Jim Hendry with a two-year contract extension for two sub-par seasons - after coming within five outs of a World Series - in which he failed to put competitive teams on the field. Not to mention the mistake of hiring Baker, a move that was popular here but didn't exactly make the rest of the league jealous. Baker's phone was not ringing before the Cubs called.
MacPhail's failures go beyond performance on the field and the putrid farm system. His arrogant and tone-deaf manner have alienated both the City of Chicago and Wrigleyville in battles over rooftops, bleacher expansions, falling concrete inside the ballpark, and, it seems, any other issue he touches. Wind screens, anyone? Is there, in fact, anything that MacPhail has done right?
If someone could compile a list of his accomplishments, I'd be happy to publish it.
This is an organization that has managed to alienate two of the best ambassadors any team could hope for - Mark Grace and Steve Stone. How do you run the best analyst in baseball out of his job? (Wonder why Cubs TV ratings are down? It's not just because the team sucks. With a broadcaster like Stoney, as it was with Harry Caray, fans will tune in anyway and follow the season, no matter how bad, because it is the Cubs, and because it is not just about a single season, but a long-running mini-series whose ending is still unwritten and whose plot twists get weirder and weirder. But no one wants to go through a long, hot, slog escorted by Bob Brenly.)
Now MacPhail has called Tribune beat writer Paul Sullivan on the carpet, expressing the notion that the Tribune should be a Cubs house organ, according to Sullivan, and pushing to have him removed from his job, according to the Sun-Times.
MacPhail has also allowed the advertising creep that Harry Caray once warned against to desecrate baseball's great cathedral, with the red brick behind home plate, for example, now spoiled by an advertising box, ads increasingly taking up more space inside the ballpark, and no doubt more tacky crap planned to go along with the tiny, overpriced hot dogs and dumb cell phones in the bullpen.
If MacPhail's cluelessness isn't apparent, it was in this interview with the Tribune in which he said he "sensed' the frustration of Cubs fans. Are you sensing this, Andy?
(And what was the deal with that interview, Tribune? Was it a kiss-and-make-up job? Why wasn't it conducted by Sullivan? Why was Friendly Fred Mitchell picked for the assignment? Did Mitchell ask about the Sullivan meeting? Were there ground rules?)
FitzSimons may or may not keep his job, depending on how he handles the Tribune Company's boardroom imbroglio and the company's downward spiral on Wall Street. FitzSimons is lucky in that regard. He can still save his job if he performs well enough. The results of MacPhail's performance are already in on the field, in the ballpark, in the radio booth, in Wrigleyville, and at City Hall. His work is done. There is absolutely no case that has been or can be made that he ought to continue in his job, if merit has anything to with it.
And if MacPhail goes, that means Hendry goes too.
3. Jim Hendry is the Cubs general manager. A new president will want - and should get, particularly in this situation - his or her own general manager.
Hendry gets points with the media - and the public - because he isn't a suit. He is a baseball guy, and wreck of a mess of one at that - he's rumpled and disheveled and passionate and hard-working. Everything reporters love (and ought to be themselves).
Hendry is a slight improvement over his predecessor Ed Lynch, who made some trades that looked good on paper but never resulted in a good team. Hendry has had more money to work with, and he has worked some magic. His trades for Aramis Ramirez, Nomar Garciaparra (and Matt Murton), and Derrek Lee are most often cited as evidence of his skills.
But let's take a closer look. Ramirez, when hot, can slug with the best of them. But what kind of team are you building with him at third, Michael Barrett behind the plate, a succession of poor fielders in left, a revolving door at shortstop, and three second basemen (at one time four) on the roster, none of whom can field?
A few other organizations would trade A-Ram's hot streaks for a better glove and a better brain - especially, again, if the team is built around a philosophy.
Meanwhile, Garciaparra hit .280 in time limited by injury with the Cubs, and now may win a batting title in Los Angeles as the Dodgers' first baseman. Lee is a great player, but even if he stays healthy once he returns - and there's no reason to think he won't except that the Cubs organization seems to have a particular problem keeping its players healthy - he won't necessarily put up the same numbers he put up in 2005 every year.
Still an obviously excellent acquisition.
But then, Hendry's problem isn't in acquiring good players. It's building a full roster. He seems able to only address one weakness at a time. For two seasons in a row he has focused on rebuilding the bullpen, but has counted on journeymen such as Glendon Rusch and Jerome Williams to fill holes in the rotation. And he has left the lineup listless.
The rosters Hendry builds make no sense. If the Cubs lack fundamentals, that is more Hendry's fault than Baker's. The Cubs seem to acquire players who aren't very smart or disciplined. (Barrett, for one, is not only a poor defensive catcher, he doesn't seem to know the rules either.)
What does it add up to? Even with Lee in the lineup the team is built, as it seems to be every year, around a lot of Ifs. If Juan Pierre returns to form . . . if Ronny Cedeno blossoms . . . if A-Ram stays healthy and focused . . . if Matt Murton can develop some power and defense . . . if Jacques Jones becomes a more complete player than he was all those years in Minny . . . and if pitchers with no history of staying healthy suddenly stay healthy.
Tell me, what is the philosophy of the Cubs? Are they a team built on pitching and defense? Are they a team built on power? Are they small ball? Big ball? Are they a team with tough outs who work to extend pitchers and rely on on-base percentage and clutch hitting? Are they a team built on young prospects coming of age? Wily veterans?
They are nothing. Nothing but a muddle. Year-in and year-out.
And that's why Jim Hendry must be fired. A team blaming its poor performance on the loss of a single player - even if he is their best player - is a team not built to win. It's pathetic. And don't throw around the names of Wood and Prior. How many short memories are there out there? I thought last year was the year when the Cubs blamed injuries for their plight. Or was that 2004?
Seems like it's every year.
Maybe the trainers ought to be fired too.
4. Dusty Baker is the Cubs manager. He shouldn't be any longer. It hasn't worked. Let's just face that fact. The Cubs and Dusty Baker are a bad fit. Baker seems to function best managing talented veterans who police themselves on teams that don't need strategic acumen. He is gifted at keeping clubhouses like that happy, where he can be - like the "cool parent" who is a "friend" to their children - the "cool manager" whose first priority is "protecting" his players.
That doesn't work on a team like the Cubs, where instead he has become such an enabler that he should start attending Al-Anon meetings.
The most galling of Baker's flaws, though, may not be the way he casts players in the wrong roles (like trying to force Corey Patterson to be a leadoff hitter) or the way he stubbornly sticks with some of his veteran players too long (flip the lineup upside down; Pierre batting eighth might do him and the team wonders) or the way he fails to hold players accountable (in just the latest example, Baker defended Barrett punching A.J. Pierzynski. The Cubs should have suspended Barrett themselves before waiting for MLB.)
No, the most galling of Baker's flaws is the way he treats this team as if it belongs to him and his players, like it is their own private club whose prissy sensitivities come first. It's not, and they don't. This is our team. We'll be here long after these jokers are gone, long after they have besmirched the Cubs jersey like so many before them and split town. (Hell, Baker never even moved here; his home is still in California.)
Trying to discern what Baker can justifiably be blamed for and what isn't his fault is a fool's errand that obscures his inability to adapt to the situations and conditions he finds his team in. He has done nothing to show he can be a difference maker with this organization, and to bring him back because "it's not entirely his fault" is like saying things are "not that bad" and insisting against all available evidence that they might get better. It is the way mediocre managers in mediocre organizations think.
5. The Cubs had the right idea when they hired MacPhail. He was supposed to be this organization's Billy Beane or John Schuerholz. They still need someone like that to come in and remake the organization; MacPhail just hasn't turned out to be the right guy.
The right guy would be someone bold enough to not just fix the team's internal baseball operations, but with the ability (simply by lacking the chips on MacPhail's shoulders) to make amends with Grace and Stoney and re-connect the franchise to those besides Ron Santo who have meant the most to it and its fans. Find a place for Rick Sutcliffe and Rod Beck and Randall Simon (!). Hell, give Brant Brown something to do. Bring Tom Trebelhorn in every year to re-create his firehouse chat. Change perspective. See the rooftops and Wrigleyville and the purity of Wrigley Field as the blessings they are, not as obstacles to making a few more measley dollars. Be the good guys, and enhance your brand - and thus the value of the franchise.
It starts at the top. Can anyone seriously argue that this Cubs management team hasn't failed?
They have, in fact, failed far worse than the players they have put on the field. Now it is time for their release. They are out of options.
Posted by Beachwood Reporter at 3:31 PM | Permalink
Blogging For Freedom
When the news broke in May that the National Security Agency had created a huge database of Americans' phone records, incensed portions of the blogosphere cranked up their message machines, demanding that something be done.
But what?
Daily Kos blogger Da Buddy had an idea. In an "ACTION ITEM" posted on Kos, Da Buddy urged readers to "bombard" the NSA with Freedom of Information Act requests asking for records involving their own phone numbers. "And they HAVE to respond within 20 days, by law!" Da Buddy assured confidently.
Not a bad idea, but a rather unknowing one. Da Buddy's mob could indeed expect a response within 20 days - most likely a letter from the NSA explaining why the agency would need more than 20 days to respond to their requests.
The Freedom of Information Act is a jewel of democracy, but an imperfect one. The NSA's own FOIA policy (pdf), for example, states that "In the event the Director of Policy cannot respond within 20 working days due to unusual circumstances, the chief of the FOIA office shall advise the requester of the reason for the delay and negotiate a completion date with the requester."
So good luck with that.
Freedom geeks are not only celebrating Independence Day this week, but the the 40th anniversary of the Freedom of Information Act. That makes it a particularly good time to consider FOIA's many loopholes as well as the opportunity presented by the growing swarm of bloggers and citizen journalists to press for fixes both federally and, perhaps more importantly, in state FOIA counterparts. Because one thing we've clearly learned in the last 40 years is that the use of the Freedom of Information Act is neither free nor always informative.
As anyone who's ever FOIAed a government agency in Chicago, greater Cook County, or the State of Illinois knows, there's almost no way to force an agency to give you what you're entitled to, much less in a timely manner at reasonable fees, particularly if you are a little guy without, say, the lawyers of the Tribune Company backing you up.
Even if you can get the records you are looking for, you may be discouraged by the cost you will incur. It's not uncommon for agencies around here to charge a quarter a page for copies of FOIAed records. If you're doing serious research on a regular basis, this adds up quickly. An Evanston clerk I dealt with recently (on a non-Beachwood matter) rationalized their quarter-per-page price this way: The person who gathered the records for me could have been doing something else with that time.
The clerk assured me that Evanston's Law Department made sure everything was legal before setting the copy price, but the policy clearly violates the Illinois FOIA statute provision that "Each public body may charge fees reasonably calculated to reimburse its actual cost for reproducing and certifying public records and for the use, by any person, of the equipment of the public body to copy records. Such fees shall exclude the costs of any search for and review of the record, and shall not exceed the actual cost of reproduction and certification, unless otherwise provided by State statute."
The state's Public Access Counselor, Terry Mutchler, agreed and sent the city a letter, but otherwise I've got no recourse, because neither she nor I have the time or money to go to court.
In all its mundanity, my experience with Evanston city government is just a sliver of battles frustrating citizens on a daily basis across Illinois, and often with much larger stakes than my own. It is also antithetical to the spirit of the Freedom of Information laws designed to undergird our democracy.
That's where electromob action comes in. Da Buddy is actually onto something. Bloggers are better positioned than any other group of concerned citizens to throw their political heft - and conspicuous tonnage of spare time - behind Freedom of Information. Aside from the obvious - FOIAing the crap out of as many agencies as possible - I propose focusing on four main goals:
1. Investigative and punitive provisions in FOIA law. Public officials who deny access through deliberate obfuscation and delay should be charged with felonies - and if they are trained as lawyers, disbarred. After all, shouldn't conducting government in secret be considered treasonous?
2. Training requirements for all government employees who handle public records. In Illinois, the seeds are in place.
3. More and better searchable online databases of government documents, which can circumvent much of the cost and hassle of digging up and copying records in the first place. Some government agencies - hello, Cook County Circuit Court - are still unaware of what the Internet can do for them. After all, searchable records free up clerks like the ones in Evanston to attend to the rest of their pressing duties, while shifting copying costs to the folks at home. The investment cost of digitizing records - well - will have to borne sooner or later. Why not now?
4. Strengthening state FOIA laws. Reporters who have spent time in other states - Florida, for example - are amazed at what isn't available in Illinois. (Illinois was the last state to pass an open records law, and it's not exactly a thing of beauty, Scott Reeder's astonishing success notwithstanding.) The impact is as much cultural as anything; the expectations of Chicago reporters are often so low it's easy to think they deserve what they don't get. Citizens deserve more, though.
If the institutional media isn't interested in the consistent, aggressive use of public records, and there is no indication they are, perhaps bloggers across the political spectrum can fill the void.
The Sunlight Foundation has just shown what bloggers and other regular folk can do for Illinois. On June 14, foundation reporter Bill Allison revealed that our very own Dennis Hastert owns 138 acres of land near the route of the Prairie Parkway, a proposed road that would run between I-80 in Grundy County and I-88 in Kendall County. Allison wrote that Hastert has "secured $207 million in earmarked appropriations" for the project. Note that this break came not through state or local records from Illinois, but federal documents - Hastert's 2005 financial disclosure form.
The Sunlight Foundation's welcome Assignment Desk is meant to empower citizen journalists to do their own digging through public records. Chicago is sorely lacking in blogs that dig into our hulking, opaque institutions, but some sites seem to have laid the groundwork. At the CTA Tattler, for example, editor Kevin O'Neil has managed to attract the "CTA Insider" - an anonymous CTA employee who provides biting commentary on everything from seat cushions to Pink Line jam-ups. Now imagine what the CTA Tattler could do if it introduced public records pursued through FOIA into its work.
Perhaps the notorious drag of obtaining documents from the government would trip up the immediacy that so invigorates bloggers. But at some point blogs have to evolve - and that means the addition of reporting, with public records perhaps the ripest tool.
(In her New Republic cover story about InstaPundit Glenn Reynolds, Christine Rosen summed up the stagnation of most political blogs: "Reynolds's blog consists largely of links to news or opinion articles and other blogs followed by comments consisting of such profound observations as 'Heh,' or 'Read the whole thing,' or 'Indeed.' (These are recurring tropes whose centrality can't be exaggerated.) What Reynolds lacks in analysis, he makes up for in abundance of content. On any given day, he'll provide his readers nearly 20 entries - or, if you can stomach it, more.")
And as shown by Pajamas Media's now-dormant IraqFiles in which Iraqis, a military expert, and others sifted through captured Iraqi documents, blogs can connect people who are willing to volunteer expertise and knowledge that's actually revealing.
"One of the things I hate about a lot of political blogs is that they choose really stupid things to write about," Thad Anderson, of Outraged Moderates and Download for Democracy, said recently. " Some people don't really understand my point of view, in that they don't put the same value I do in seeing the actual documents myself. But I think that, in an era of distrust and cynicism, focusing on the documents themselves is especially effective."
Posted by Beachwood Reporter at 12:45 PM | Permalink
July 1, 2006
Freedom Museum Rocks Acceptably
It would be all too easy to make fun of the "Freedom Museum" now housed in the former Hammacher Schlemmer space, in the Tribune Tower complex on North Michigan Avenue. Ironies abound, many of which inform our very own "Freedom Museum Exhibits We'd Like To See."
But if you are any sort of freedom geek like those of us here at Beachwood HQ, you have to admit the museum is kind of inspiring. After all, it's about freedom.
So hop aboard the freedom train, McCormick Tribune Foundation-style.
At each stop we'll present the exhibit title, the Visitor's Guide description, our commentary, and a Freedom Meter rating between 1 (Wham!) and 10 (Neil Young). Because it's not really freedom if it doesn't rock.
1. 12151791. "This two-story sculpture features 800 cascading steel plates, each inscribed with quotes about freedom from everyday people over the course of 215 years."
The sculpture, whose title references the date the First Amendment was ratified, looks good from a distance, but why put quotes on steel plates if you can't get close enough to read them? I was assured there was a list nearby for reading, but then again, the Internet is close by as well. I wanted to read the steel plates.
Freedom Meter: 5. Freedom is just a tease, out of reach for most of us. The museum is toying with us from the start.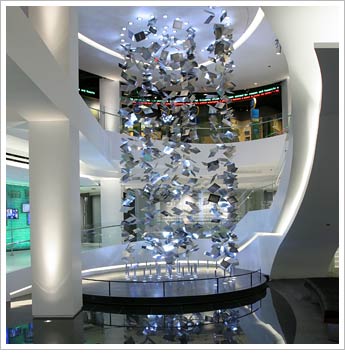 2. The Freedom Theater. "A short film, So It's A Free Country, presents three real life case studies in which our freedoms intersect and conflict with one another."
This kind of thing may be hokey, but I get chills. I'm just a free speech kind of guy. Plus, I get to issue an Ann Coulter Alert: One of the film's heroes is 9/11 widow Kristen Breitweiser, whom Coulter accuses, in perhaps the worst best-selling book ever, of enjoying the tragic death of her husband, who worked at the World Trade Center. Coulter, of course, has never had a husband, so maybe she doesn't know just how great it feels to lose one.
Breitweiser and other 9/11 widows are celebrated for doing what democracy but not Coulter demands: Questioning the government and demanding truth and accountability. In this case, that meant an independent inquiry that became the 9/11 Commission.
Another of the film's case studies comes straight outta Homewood-Flossmoor, packed with the eternal adolescent concern, "Does freedom mean I can wear whatever I want?" Sadly, no one wants to tell these kids the answer is "Yes, until you sell your soul to some company to sell plasticware."
In this case, the immediate issue was the "gay T-shirt showdown" pitting "Gay? Fine By Me" against "Crimes Committed Against God."
The T-shirt companies won, proving commerce always wins, unless you are Hammacher Schlemmer and the Tribune Company wants your space for a freedom museum.
The film's other case study is the case of Kelo v. New London. There do not appear to be T-shirts.
Freedom Meter: 10. Kristen Breitweiser is an American hero. Ann Coulter isn't.
3. What Does Freedom Mean? "Be a part of the exhibit by recording your own thoughts on freedom for all to see and hear."
I did not participate.
Freedom Meter: 10. The freedom to do nothing is sometimes the greatest freedom of all.
4. Clayton Kirkpatrick Gallery. "The home for temporary and traveling exhibit displays."
On my visit, Wearing The Flag was up. I learned that Abbie Hoffman was arrested for wearing a stars-and-stripes shirt in 1968 during a protest against the House Committee on Un-American Activities. In a more perfect world, the House Committee on Un-American Activities would have then been sent before the Senate Committee on Un-American House Activities, but we America is not yet that meta.
Charged with desecrating the flag, Hoffman proclaimed, "I regret that I have but one shirt to give to my country." His conviction was later overturned, sparking unintended fashion consequences which may have contributed to Hoffman's depression.
Freedom Meter: 9.5. Hoffman wore it well. Not so much the others.
5. Roots of Freedom. "Discover the ancient roots of democracy and trace its path to influencing American's Founding Generation. Understand the impact of our founding documents."
On display: copies of the Declaration of Independence, one of 24 signed by John Hancock; the U.S. Constitution, and the Bill of Rights.
Freedom Meter: 5. The Founding Fathers are overrated.
6. First Amendment Freedoms. "Learn your First Amendment rights and realize the importance of safeguarding these liberties through inspiring stories of ordinary individuals."
Case study: Tinker v. Des Moines Independent Community School District, which defined the constitutional rights of public high school students. See the hate mail 13-year-old Mary Beth Tinker received for wearing a black armband to school to protest the Vietnam War. Wonder how a 13-year-old could understand America better than the hate-mongers who addressed her mail to Moscow and Beijing. Feel the sorrow and shame they never felt.
Freedom Meter: 7. Mary Beth Tinker is an American hero. But the haters are still with us, and they've made Ann Coulter a best-selling author.
7. Freedom For All? "Examine how individuals have used First Amendment rights to gain greater equality for themselves and others."
See "Certificates of Freedom" granted to slaves in 1844. Read up on rights movements for Native Americans, women, African-Americans, workers, and gays, under which the museum states "the story continues . . . " Coming soon: Animatronic display of Ozzie Guillen taking sensitivity lessons.
Freedom Meter: 5. The story continues.
IRONY INTERLUDE:
* A guide approaches me asking "Why are you taking notes?"
* Crispyterikayi says "You're not allowed to take photos while on the second floor of the freedom museum."
* A letter from the first President Bush approving restitution for the Japanese internment during the Second World War is displayed here. Perhaps the recent Supreme Court ruling on Guantanamo is on the way.
Freedom Meter: 2. Are we going backwards?
8. Marketplace of Ideas. "What is the role of the free press and free expression in a democracy? Learn about reporters who were jailed for disagreeing with policies, discover symbols and colors censored by governments, and listen to songs once banned.
This exhibit includes the classic Bush-Kerry JibJab; Katie Couric interviewing Michael Moore, and video of anti-war debates. A displayed of banned songs over the years is fairly representative. But not as good as this.
Freedom Meter: 1. Whatever energy JibJab infuses in me, Katie Couric takes away. And country radio won't play the Dixie chicks. Is the point of this museum to show that we never learn?
9. Close To Home. "Where would you 'draw the line?' Immerse yourself in debates involving First Amendment rights, listen to a spectrum of opinions and decide your verdict."
So, for example, did Lincoln cross the line suspending Habeas Corpus during the Civil War? Should The New York Times have published the Pentagon Papers? Should the Chicago Tribune hire an editorial cartoonist? One of those might have just been in my notes, not on display.
Freedom Meter: 2. Drawing the line at corporate media is not addressed.
10. Freedom's Future. "Test your knowledge of your rights. Play fun games and learn how to take action."
I did not test my knowledge, but according to my notes, somewhere along the way I learned that Finland is Number One in terms of press freedom, though according to Reporters Without Borders, Finland is merely tied for first. More remarkably, the United States ranks . . . 44th. Among those countries with more press freedom than the United States: the Czech Republic, Trinidad and Tobago, and El Salvador.
One thing all observers seem to agree on is that North Korea is the worst stinking hellhole on the planet.
Freedom Meter: 8. Because Finland rocks.
11. The Freedom Museum Website. It's highly annoying. It's technically ambitious, but mucho user-unfriendly. Simplify, people. Freedom isn't really freedom if it isn't accessible to us all. And that's really the point of all this.
Freedom Meter: 0. You are sapping my freedom every time I go to you.
12. Naming Names Part 1. The McCormick Tribune Freedom Museum is a cumbersome appellation that puts ego before freedom.
Freedom Meter: 0. Feel free to change the name.
13. Naming Names Part 2. "12151791" is the name of an artistic centerpiece that might as well not have a name, because who is going to call it that? And unlike Cloud Gate, which easily morphed into The Bean, 12151791 has no natural nickname aside from Those Hanging Metal Things That Kind Of Look Like They're Floating In Air Though It's Pretty Clear They Aren't.
Freedom Meter: 0. See #12.
Posted by Beachwood Reporter at 11:59 PM | Permalink
Freedom Museum Exhibits We'd Like To See
The McCormick Tribune Freedom Museum is a fine attempt at civic virtue, but we think they left out a few exhibits.
1. Write Your Congressman! User is invited to write letter which via elaborate rope & pulley system is delivered to congressman's desk, but it works only if sack of money is placed on scale/chute.
1a. More money allows user to write congressional bill.
2. Speak Out! User is invited to air grievance (unamplified) in a room filled with blaring televisions, radios, & loudspeakers.
3. Mr. Potato Head of State. Build a candidate for office from die-cut parts which user can test in the Focus Group Analyzer. (Deposit required)
4. Free Speech Sanitizer. User writes frank and honest piece expressing views on controversial issue; article is thoroughly vetted for possible legal exposure and reader sensitivity by virtual editorial board. Article runs as sunny human-interest piece in sunny McCormick-Tribune Freedom paper.
5. Be Your Own Big Brother! User logs into e-mail and gets to see which random strings of words betray subconscious terrorist leanings in their friends and family. "Liberation" button allows user to scan his or her "sent mail" box for signs of hidden liberal-pinko-whackjob-evil-doer tendencies. "Vigilance" button helpfully composes indexed report of unwitting subversive activity and forwards a copy to local FBI branch office.
6. Stretch Armstrong Williams. For a fee user can shape famous columnist into whatever form s/he likes.
7. Loose Lips Sink Ships! Animatronic display featuring Dennis Hastert and the Cheers guys making prank phone calls to The New York Times, and then writing prank legislation to shut them down.
8. Free Speech Made Easy. Display featuring a Dieblod voting machine, where free speech is reduced to two choices, both of which are wrong and one of which won't count anyway.
9. You Might Be A Terrorist If . . . Narrated by Jeff Foxworthy. Guest appearances by Larry the Cable Guy telling Homeland Security to "Git 'er done!" and Jeremy Piven advising Guantanamo detainees to hug it out.
10. Freedom Field Trip. Board the bus for the Tribune Company's Freedom Center printing plant, where new employees can be observed taking their urine tests.
11. Freedom Photo Gallery.
- Col. McCormick w/Joe McCarthy (McCarthy, left)
- Col. McCormick w/Tsar Nicholas II (Nicholas, left)
- Rev. Sun Moon w/George H.W. Bush (Bush, left)
- Rupert Murdoch w/Rev. Pat Robertson (Robertson, kneeling)
12. Corporate Speech Rules! Watch the Chicago Tribune editorial board earnestly hash out the issues in a true display of democracy in action before editorial page editor Bruce Dold retreats to his office to prepare the endorsement of the Republican candidate for president as decreed by corporate by-laws.
13. Jailbait! Participate in an improvisational skit built around the words "prosecutor," "subpoena," "national security," "partisan gunslinger," and "Robert Novak."
Posted by Beachwood Reporter at 11:24 PM | Permalink
BBQ Talking Points
If You Are A Republican:
* It sure is. Every day's a nice day with a Republican in the White House.
* No, I wasn't eavesdropping on your conversation, and neither is the White House.
* That's great news. You know, speaking of operations that are both necessary and turned out well in the end, I hear the situation in Iraq is really looking up.
* Of course they're foot-longs. Thanks to the latest tax cut passed by the Republican-controlled Congress, I can afford the very best in processed meat foods.
* I'm sorry to hear that. Do you know what else died? Traditional family values, because the Democrats killed them.
* That's a good one! And how about that liberal media?
* Congratulations! Hey, guess who else wants to get married and make a mockery of your holy union?
* Well, I'd feel a lot better if the Democrats would let us end our addiction to foreign oil and explore our domestic potential.
* There is no mess, and anyway, what's your plan to clean it up?
* Put more charcoal on the grill. There's an infinite supply in back, I'll bet.
* Of course there's no ice. The damn tree-huggers won't even let us open the Alaskan Arctic Wildlife Refuge for that!
* Salsa picante? But this is America!
* It's sure getting dark out here. It's as if after about, oh, say 9:11, the whole world changes, and our way of thinking has to change too.
If You Are A Democrat:
* Sure, it's a little cool out. Let's enjoy it while we can. If the Republicans keep denying the human roots of global warming and allowing industry to burn fossil fuels like there's no tomorrow, we're not going to have many more days like these.
* I don't want to offend anyone, but I think the parking situation is turning into a bit of a quagmire.
* I understand your anger, and you make many good points, but although it's true that I am not entirely satisfied with the rising level of hunger and destitution in this country and elsewhere, I also appreciate the tough challenges that corporate executives face every day. So, while I must respectfully disagree with your belief that I am a communist, I believe we can find common ground, possibly on whether I am a "fucking" something-else.
* Three kinds of mustard? Wow, that's almost as complicated as the Republicans' Medicare prescription drug scheme!
* No one's going for the potato salad, huh? It's got a lower approval rating than President Bush!
* In the spirit of national unity, I think we should just call them "chips."
* No, I missed that game. I was too busy looking for the weapons of mass destruction the Republicans promised us.
* I would have tried harder to get the keys away from him, but he called me names. Yes, I realize it's your car.
* God bless you. Did you notice I said "God," not a secular foreign word like "gesundheit?"
* I agree, the War on Drugs is going quite well.
* Yes, I'm a vegetarian, but I don't want them to know that.
* It's not that I don't believe in anything. It's just that I'd rather ask around a little bit before I commit.
* I'm sure we can find some middle ground in this argument. Why don't we poll everybody here and just go with whatever they say?
Posted by Beachwood Reporter at 8:58 AM | Permalink
13 Anthems
And the flag was still there.
The Alphabetically-Spangled Banner
Air and and and at
banner bombs brave bright broad
bursting by can dawn's does
early fight flag free gallant-
ly gave glare gleaming hailed
home in land last light night
o o o'er o'er of of
our perilous proof proudly
ramparts red rockets say
say see so so stars star-
spangled still streaming
stripes that that the the the
the the the the the the the
the there through through
twilight's was watched wave we
we were what whose yet you

*
The Respangled Banner
O say, red you see
by the dawn's early white
blue so proudly we hailed
at the twilight's last greening
whose broad plums and bright stars
through the lavender fight
o'er the purples we watched
were so gallantly olive?
and the hot pink red glare
the bombs navy in air
gave clear through the night
that our flag was marooned
o say, does cornflower teal
salmon yellow
orange tan aquamarine
lemon goldenrod beige
*
The Star-Spangled Forecast
O say can you sleet
by the dawn's early rain
what so cloudily we hailed
at the twilight's tornado
whose cold fronts and clear skies
through the barometric fight
o'er the jet stream's deep trough
were so cumulonimbus
and the hurricane's eye
lightning high in the sky
pea soup fog at night
burning off by sunrise
o say does that winter storm
snow man yet wave
o'er the east-coast flash flood
and the drought-stricken plains
*
The Vertical Banner
O what whose o'er and gave o o'er
say, so broad the the proof say, the
can proudly stripes ramparts rockets' through does land
you we and we red the that of
see, hailed bright watched, glare, night star- the
by at stars, were the that spangled free
the the through so bombs our banner and
dawn's twilight's the gallantly bursting flag yet the
early last perilous streaming? in was wave home
light, gleaming? fight, air, still of
there. the
brave?
*
The Diagonally-Striped Banner
Light,
early gleaming?
dawn's last fight,
the twilight's perilous
by the the streaming? air, there.
see, at through gallantly in still brave?
you hailed stars, so bursting was the
can we bright were bombs flag wave of
say, proudly and watched, the our yet home
o so stripes we glare, that banner the
what broad ramparts red night spangled and
whose the rockets' the star-free
o'er the through that the
and proof does of
gave say, land
o the
o'er
*
The National Anagram
Whether a pig would alter her,
the woolly ass might, say,
veer off the last road
to freedom, dress his horses
and beat the straight-part hour.
After that garage psalm prattle,
all this winning gets is cloth
mocking thought (be silent!)
they cause death by yearning...
Easy, babies, angels pant,
we who drop, stutter, stagger for land,
want to hover for hours where
these meager rains go bubbling dry -
we have no will to lead. Ready?
*
The Binary Banner
0110111100100000011100110110000101111
001001011000010000001100011011000010
1101110001000000111100101101111011101
010010000001110011011001010110010100
101100001000000110001001111001001000
000111010001101000011001010010000001
1001000110000101110111011011100010011
1011100110010000001100101011000010111
0010011011000111100100100000011011000
1101001011001110110100001110100001011
0000100000011101110110100001100001011
1010000100000011100110110111100100000
01110000011100100110111101110101011001
00011011000111100100100000011101110110
0101001000000110100001100001011010010
1101100011001010110010000100000011000
0101110100001000000111010001101000011
0010100100000011101000111011101101001
01101100011010010110011101101000011101
00001001110111001100100000011011000110
00010111001101110100001000000110011101
10110001100101011000010110110101101001
011011100110011100111111001000000111011
10110100001101111011100110110010100100
00001100010011100100110111101100001011
00100001000000111001101110100011100100
11010010111000001100101011100110010000
00110000101101110011001000010000001100
01001110010011010010110011101101000011
10100001000000111001101110100011000010
11100100111001100101100001000000111010
00110100001110010011011110111010101100
11101101000001000000111010001101000011
00101001000000111000001100101011100100
110100101101100011011110111010101110011
00100000011001100110100101100111011010
00011101000010110000100000011011110010
01110110010101110010001000000111010001
10100001100101001000000111001001100001
011011010111000001100001011100100111010
001110011001000000111011101100101001000
000111011101100001011101000110001101101
00001100101011001000010110000100000011
10111011001010111001001100101001000000
111001101101111001000000110011101100001
011011000110110001100001011011100111010
001101100011110010010000001110011011101
000111001001100101011000010110110101101
0010110111001100111001111110010000001100
001011011100110010000100000011101000110
100001100101001000000111001001101111011
000110110101101100101011101000111001100
100111001000000111001001100101011001000
010000001100111011011000110000101110010
011001010010110000100000011101000110100
001100101001000000110001001101111011011
010110001001110011001000000110001001110
101011100100111001101110100011010010110
111001100111001000000110100101101110001
000000110000101101001011100100010110000
100000011001110110000101110110011001010
0100000011100000111001001101111011011110
110011000100000011101000110100001110010
0110111101110101011001110110100000100000
011101000110100001100101001000000110111
001101001011001110110100001110100001000
000111010001101000011000010111010000100
000011011110111010101110010001000000110
011001101100011000010110011100100000011
101110110000101110011001000000111001101
110100011010010110110001101100001000000
111010001101000011001010111001001100101
001011100010000001101111001000000111001
101100001011110010010110000100000011001
0001101111011001010111001100100000011101
000110100001100001011101000010000001110
0110111010001100001011100100010110101110
0110111000001100001011011100110011101101
100011001010110010000100000011000100110
0001011011100110111001100101011100100010
0000011110010110010101110100001000000111
0111011000010111011001100101001000000110
1111001001110110010101110010001000000111
010001101000011001010010000001101100011
0000101101110011001000010000001101111011
0011000100000011101000110100001100101001
0000001100110011100100110010101100101001
0000001100001011011100110010000100000011
1010001101000011001010010000001101000011
01111011011010110010100100000011011110110
0110001000000111010001101000011001010010
0000011000100111001001100001011101100110
010100111111
*
The Star-Spangled Mirror
The brave of the home
and the free of the land
o'er yet wave banner
star-spangled that say
does o still there was our flag
that the night through gave proof
air bursting in bombs
glare the red the rockets and
gallantly streaming so watched were we
the ramparts o'er perilous fight
the stars through bright stripes
and broad gleaming whose last
the twilight's at we hailed proudly
what so light dawn's early
the see by you say can o
*
The Redacted Banner
---------------------------------s ear---light-
what------------------------------------------------------
whose------------------------------------------------------------
------------parts we watch--------------------stream----
--------rock--------------------------------------air,
----------------------------------------ag wa--------------
--say, do----------------------ban----yet-----
---------------------free---------hom---------br--e?
*
The Fortune Top 30 Banner
IMB AIG
Exxon-Mobil Chevron
Wal-Mart Stores Citigroup
GE ConocoPhillips
JP Morgan Chase and Co.
Kroger Hewlett-Packard
Target Costco Wholesale
Morgan Stanley Boeing
AmerisourceBergen Ford
Berkshire Hathaway Dell
Verizon Communications
P&G Marathon
Altria Group Home Depot
Valero Energy
Bank of America GM
McKesson Cardinal Health
*
The txt Banner
o say can uc
by da dawns early lite
wha so prdly we haild
@ da twilites last gleamin
whose broad strps n brite stars
thro da perilous fite
or da ramparts we watchd
were so gallantly streamin
n da rockets red glare
da bombs burstin in air
gave proof thro da nite
that r flag was still there
o say do that star-spangld
banr yet wave
or da land of da free
n da home of da brave
*
*
The Encrypted Banner
GLAPUPNLUFWHFBLGLVVTWEKTAERJPLHHGJLRL
LOGJDUQRJAHIAVYIUSMTYWIWVRTKKUSYNWKWEE
REXNTCSSVFBEBEUKMRZHTSNTOFUJGUGWKSKS
KZGOHMSXKFPREMCGNSWAVHGUPVWIEENQGSKTK
OEWNZNLHEWREIJGZACDPNGRJWWSENZMEYTNU
LWEEUNOHUSERHXDTRVLWEOUXFVCUEFXZFZIE
SXRTGGISSOBSXYJHUXZIHRTTKKUTUNXFMK
FCSVWNYDXLMLGUIIWHSRQSORYELDUSGNVJH
TNXDTDOGYRHSYRGARNXOVJIHRRLRGPF
GUIWJXERFSTUKSSPFOSGLVTKAMW
-
Posted by Beachwood Reporter at 8:15 AM | Permalink