« July 2009 | Main | September 2009 »
August 31, 2009
The [Monday] Papers
By Steve Rhodes
"Anne Kavanagh - the enterprising Fox News TV reporter - not only snagged an exclusive interview with Loren-Maltese, she and photographer Jeff Sutker drove her from California to Las Vegas!" Michael Sneed wrote on Sunday.
"We barely made it on time - arriving at the halfway house with three minutes to spare," Kavanagh said.
She not only "snagged" an exclusive interview with Loren-Maltese - the first of many, I'm sure - but drove her to her halfway house? Is there something wrong with this picture?
"Kavanagh, who will air her entire Loren-Maltese exclusive Tuesday, said her relationship with the former Cicero politician began with an unexpected bathroom encounter at the Federal building right after Loren-Maltese was sentenced on corruption charges in 2002," Sneed writes.
"I felt the feds were unfair and wrong insinuating Betty adopted Ashleigh to get a lower sentence or encourage sympathy . . . and I told her she needed to create her own record for Ashleigh to read, other than what was reported; to let Ashleigh know how she felt. There was no doubt in my mind Betty loved her daughter."
With friends like Kavanaugh, who needs reporters . . .
*
You've got to hand it to Kavanaugh and/or the Fox marketing folks; she or they dropped a dime to Bill Zwecker too.
"Before savvy Fox News reporter Anne Kavanagh headed west to snare that first post-prison interview with Betty Loren-Maltese (airing Tuesday on WFLD-Channel 32), she dropped by Custom Wigs/Fantasy Headquarters on Milwaukee to buy a wig for Loren-Maltese, fulfilling a request from the ex-Cicero town president," Zwecker writes today.
*
And what now to make of this story?
Stats Class
"A third of Chicago public high school teachers say they were pressured to change grades last school year," the Sun-Times reported on Sunday.
Not exactly.
The Sun-Times - in conjunction with the Chicago Teachers Union - e-mailed surveys to all union teachers for whom the CTU had addresses for, according to the paper's own explanation of its methodology.
Of the teachers who were reached, just 18 percent - 1,437 - filled out the survey and returned it by the deadline. Of those, 1,205 were used because they identified themselves as teaching first-through-12th grades.
Now, in a political poll or some other such survey, 1,205 people would be thought of as acceptably representative.
But in this case, respondents were self-selected. It's not like the Sun-Times randomly called a cross-section of teachers weighted to represent the whole.
The Sun-Times did recognize this, quoting the dean of Stanford's education school making this point.
The "one-third" interpretation is highly suspect.
I don't doubt many teachers face pressure to change grades. It's a worthy story. But the methodology is a mess; why approach the story this way? You might as well run a click poll.
Real surveys are expensive. And anecdotes are just anecdotes. I see what the paper was trying to do. But there's got to be a better way.
Poor Sport
I would never hold it against someone if they didn't follow sports. I do, but I really don't care if others choose not to. It's not a litmus test for me; far from it.
And so I don't care if Neil Steinberg doesn't follow sports - though journalists ought to at least have a certain level of literacy when it comes to popular culture, regardless of their interest level.
I wish, though, that Steinberg would just say that he doesn't like sports and leave it at that. Because his explanation makes no sense whatsoever.
"To me - and I'm going to keep repeating this until it ends up in Bartlett's - sports is the same thing happening over and over again, Swan Lake performed 162 times a year," Steinberg wrote on Sunday. "Beautiful. Athletic. But it gets old."
No.
The beauty of sports is just the opposite. It is live drama with no script. Nobody knows how a game will end. Nobody knows how a game will begin, for that matter. Every moment is unique, no matter how similar many moments may be to moments past.
The players change, franchises move, rivalries peak and ebb; and the drama includes money, drugs, scandal, honor, moral dilemmas - all the stuff that life is made up of, writ large.
Each season, in fact, carries its own narrative arc. Each team - each player - travels on narrative arcs of their own.
Sports in some ways are very much like, say, live theater - or Swan Lake if you must - except for the fact that it isn't the same thing each time out.
That's why it's so magical.
*
"When I interviewed Michael Jordan in the Bulls locker room - true story - I did not know who he was until I read his name on the back of his shirt."
That's just wrong.
Student Uprising
"Barrington Fifth-Graders Win Fight To Bring Back Chocolate Milk."
20 Tweets
Today's installment: Jeremy Piven.
Our Award
With photos.
Beachwood Sports
* "The fact is that in the aftermath of the announcement of [the Jay Cutler trade], no one has been able to find a comparable move in the last 30, 40 or 50 years," writes our very own Jim Coffman in SportsMonday. "In fact, there hasn't ever been one."
* Yeah, but is Devin Hester really this team's MVP? George Ofman makes the argument.
* The Cubs aren't the only poorly constructed creation of Jim Hendry. We visit his home to find more horrors. In The Cub Factor.
* One week, two deplorable stadiums, three wretched fan bases. By our very own Andrew Reilly in The White Sox Report.
Trusting Quinn
Four guys learn their lesson.
Cross Checked
According to one Dem legislator, the votes for an income tax hike were there before House Republican leader Tom Cross stepped in.
Chicago State's Political Science
How to get $40 million without ever asking.
-
The Beachwood Tip Line: Glorious and bastardly.

Posted by Beachwood Reporter at 11:19 AM | Permalink
Our Award
By The Beachwood Awards Bureau
Inspired unknowingly by Mick Dumke, conceived by Steve Rhodes, shaped by Jay Stewart, supervised and edited by Suzanne McBride, reported by Erica Christoffer and Becky Schlikerman, and awarded by the Society of Professional Journalists.
Congratulations to everyone who helped put together "Out of Order: City Council Committees Evade The Law" and "Off The Record: City Council Committees Evade The Law."
McBride, Christoffer and Schlikerman were just in Indianapolis accepting the award from SPJ for producing the nation's best independent media online investigation of 2008.
Photos courtesy of Christoffer, seen here left to right with McBride and Schlikerman.
Posted by Beachwood Reporter at 9:21 AM | Permalink
20 Tweets: Jeremy Piven
From The Beachwood Tweetdeck
One in a series.
1. Did I steer u wrong tonight? about 6 hours ago from txt
2. Take your cues from the Universe, it rules us all . . . 5:51 PM Aug 29th from txt
3. Was lucky enough to see Adam Goldstein perform and we love you brother, RIP DJ AM . . . 3:03 PM Aug 29th from txt
4. Can someone ask Diddy 4 me? 5:45 PM Aug 28th from txt
5. Can u wear cream after Labor day? 5:41 PM Aug 28th from txt
6. All you can ask for is to get your day in court and due to the facts I have been vindicated http://shar.es/VUv4 3:39 PM Aug 27th from ShareThis.com
7. @smileyYYC yes would love your review! 7:24 PM Aug 26th from txt
8. RT @drdrew "The work goes on, the cause endures, the hope still lives and the dreams shall never die" Edward Kennedy 5:36 PM Aug 26th from web
9. Officially on break so if these don't make sense I'm sizxjkbnr ncnbdjk*a[~¥ 4:44 PM Aug 25th from txt
10. For those of u who dig Entourage this next Sun is the best we have done so far . . . 4:43 PM Aug 25th from txt
11. @pwhauser thanks for the love . . . Maybe this will help explain what was going on behind the scenes http://shar.es/Scjn 3:58 PM Aug 25th from ShareThis.com
12. just sent out entourage dvds to last week's "the goods" contest winners 11:57 AM Aug 24th from web
13. The Walnut Show, Part 3: : http://beta.twiddeo.com/2752 4:22 PM Aug 22nd from Twiddeo
14. contest for the best reason u haven't seen "the Goods" 500K following . . .5:49 PM Aug 21st from txt
15. The Gorillas in Dallas are Pink: http://beta.twiddeo.com/216a 4:23 PM Aug 21st from Twiddeo
16. The Dallas News covers my birthday: : http://beta.twiddeo.com/2169 4:23 PM Aug 21st from Twiddeo
17. Nothing but good things rainbows, unicorns and sparkle sacks for all of us- the good luck crowd! 4:14 PM Aug 21st from txt
18. movie tix for car pix: http://www.livehardsellhard...3:49 PM Aug 21st from web
19. My summer break is here! Construction started next to me, so must summoned the power of Gandhi.11:40 AM Aug 21st from txt
20. Nothing like going home http://yfrog.us/15nfwz 9:18 PM Aug 19th from Yfrog

-
See also:
* 20 Tweets: Richard Roeper
* 20 Tweets: Pete Wentz
* 20 Tweets: Billy Corgan
* 20 Tweets: Billy Dec

Posted by Beachwood Reporter at 6:52 AM | Permalink
SportsMonday
By Jim Coffman

It has to be called McDaniels' Folly doesn't it?

In the end, that's how the Broncos' ever-more-unfathomable trade of quarterback (the most important and difficult single position in all of team sports) Jay Cutler to the Bears will be remembered. You could hear it in announcers Al Michaels' and Chris Collinsworth's voices right from the get-go last night during the broadcast of the Bears' pre-season contest at Denver.

When they referred to Denver rookie head coach Josh McDaniels, the one whose inability to establish rapport with his team's 25-year-old Pro Bowl quarterback led to the transaction, they didn't come right out and say, "He seems like such a bright young man, how could he have been such an idiot?"

But the insinuation could not have been clearer and they kept it up all night long. In the end (a long, fourth-quarter interview) we found out former super-safety and new NBC studio analyst Rodney Harrison - local guy, former Western Illinois standout who won two Super Bowls during his six-year run with the Patriots after nine years with the Chargers - capped it all off by saying that yes, he thinks McDaniels is an idiot too.

The main thing I don't understand is why the 33-year-old former Patriot offensive coordinator took the job with the Broncos if he didn't want to work with the immensely talented signal-caller who was already there - the kind of quarterback who throughout NFL history has been far too valuable to trade?

The fact is that in the aftermath of the announcement of this deal, no one has been able to find a comparable move in the last 30, 40 or 50 years. In fact, there hasn't ever been one.

McDaniels was apparently on the job for less than a month before he reached out to the Patriots, trying to set up a trade for the quarterback he worked with the season before - former Patriots back-up Matt Cassell. Cassell was good last year in relief of Tom Brady but he was playing in the best offense in the league. It was all downhill from there as Cutler got wind of the trade talks, experienced extreme agitation, conveyed that to his employers and soon convinced them to move him out.

One inescapable conclusion is that McDaniels values his offensive system over all else. Cassell had been an unknown back-up (he went to USC but was never the starting quarterback there) before replacing Tom Brady in the first game in 2008 amidst a historic collection of offensive talent (the one that went 19-1 the year before with Brady at the helm) and taking the team to an 11-5 record. McDaniels must have believed Cassell could run the system better than Cutler. I wonder if he's at least starting to realize that virtually no one else agrees with him. Or at least no one else believes that in this sort of a situation, a coach shouldn't change the system (a West-Coast-type possession passing scheme that of course isn't really McDaniels' but is mostly what was there before he took over the Pats offense with some elements from a few other schemes mixed in) to suit the talent. No wonder the Broncos fans were so upset last night.

Some observers have made fun of the fact that stories have been written surveying Bears fans and finding that yes, they do remember exactly where they were and what they were doing when they found out their team had traded for Cutler. The fact of the matter, though, is that thousands of local football fanatics knew the importance of acquiring a young, franchise quarterback far better than McDaniels did. The fans who didn't know quickly communicated with the ones who did (including the many Bears fans with jobs in the local sports media) and the celebration began in earnest almost immediately.

One of the most prominent voices still expressing significant doubts about Cutler despite the massive majority that feels differently is former Colt head coach Tony Dungy. Dungy believes Cutler's immaturity is a big problem. That's an easy thing to say when you've just spent seven seasons coaching with Peyton Manning at the helm.

Seriously, though, perhaps it takes watching your team struggle for decade after decade without ever having anything consistently special behind center to truly appreciate what a great quarterback can do. It would have been okay if we could have skipped the suffering, but it is great to be here now.

*

As for the specifics of Sunday night's game, well, first we must bust out the usual qualifier stating that none of it means anything. Let us remember yet again that this was an exhibition contest, one in which both teams almost certainly declined to reveal a whole lot of what their primary schemes will be when the real games start.

Still . . .

Look, Devin Hester is back to return a punt! It's about time! If Hester is going to avoid a repeat of last year, when he never did take an opposing kick back for a touchdown after having piled up the return scores the two years before, he probably needs to practice a bit and he hadn't in the first two pre-season games.

And here's the first one, and . . . Hester fails to field a short kick (it may have been physically impossible to do so but still . . . ) and it bounces, and bounces, and bounces some more, moving the Bears at least 25 yards further back in their own territory.

And later on in the first half, here's the second opposing punt, and Hester is going to catch this one, except he's signaling for a fair catch, and he's moving back inside the 10, all the way to the 5!

Yikes, Devin, we don't mind if you field it at the 5 (although good punt returners let the vast majority of kicks inside the 10 go) - just don't fair catch it! And the next punt is straight out of bounds and the next one . . . okay, this looks promising, Hester is headed right, a few blocks are lining up and then . . . ridiculousness! He cuts it up and just like that he is 50 yards up the field. Hester didn't quite score (he was tackled at the 5) but his 54-yard return was longer than any of his returns last year and it set up the Bears' first touchdown.

*

Those were some awfully good catches by Matt Forte and Greg Olsen during the highly satisfying 98-yard scoring drive at the end of the first half. On the catch that brought the Bears into the vicinity of field-goal range, Olsen (who earlier in the march caught about a 20-yarder in stride and uncontested) was hit hard the instant the ball arrived but still hung on. And on the touchdown, Forte was covered like a Velcro blanket and yet still managed to grab a low pass (it had to be or it would have been knocked away) and secure it before he hit the ground.

*

The Broncos probably have the best cornerback tandem in the league (Champ Bailey and Andre Goodman) and they just about completely shut down the Bear wideouts in the first half. And it didn't matter. The defense was solid (although the most important thing was probably a series of Denver penalties), the special teams came up with a perfectly timed big play and Greg Olsen was featured prominently in the aforementioned great drive. The wideouts barely contributed but the Bears ended up dominating the half. Not that it mattered, either. Only two more weeks until it does.

-

Jim Coffman rounds up the sports weekend in this space every Monday. He welcomes your comments.

Posted by Beachwood Reporter at 5:31 AM | Permalink
Devin Hester, MVP
By George Ofman
The Argument by the water cooler, watering hole or Lake Michigan could sound like this: Jay Cutler is the Bears most valuable player. No, Devin Hester is.
They both could be.
Hester's case is clear as punt return for a touchdown. He came very close to one in last night's pre-season tilt in Denver. Aptly using blocks as he darted past would-be tacklers, Hester flew 54 yards to the 4-yard line to set up the Bears' first touchdown. It was shades of his first two years when he electrified the city and the entire NFL with 11 kickoff and punt returns for touchdowns. The decision to move Hester to wide receiver last year produced a profound effect: no returns for touchdowns.
The argument for Cutler, whose credentials when he arrived here was no argument to any Bears fan, included an impressive performance in the second pre-season game against the Giants and yesterday's test of poise. It was just a pre-season game, but not an ordinary one. The folks in Denver had been waiting for this since the day Cutler was sent packing. The boos from the boisterous Broncos fans cascaded from every crevice of Invesco Field. You could probably hear them from as far as Boulder. Denver fans had to vent after Cutler demanded a trade last March.
"The Denver crowd sounds like one spurned lover," exclaimed play-by-play egomaniac Al Michaels.
The fans wanted alimony after Cutler fled; instead, they got Kyle Orton.
Cutler calmly managed to silence the angry assembly during a 98-yard drive with a little over five minutes remaining in the half. Saddled with poor field position for most of the Bears possessions, he was forced to start from the two-yard line. Twelve passes and a few Denver penalties later, Cutler sliced the defense with a pass to Matt Forte, who wound up in the end zone for a six-yard touchdown.
Should we add Forte to this argument?
Forte scored the first touchdown following Hester's punt return. The second-year running back made his presence known during his rookie season when he rushed for over 1,200 yards on over 300 carries. He wound up with a dozen touchdowns, eight on the ground and four by pass. It's safe to say the Bears might have been worthless without him.
After a lull in producing outstanding running backs, the bears have one in Forte, who rambles from the line of scrimmage. And catches plenty of passes. He snared 63 in his overworked first season.
So Forte gives the Bears a dangerous dimension in in the backfield. Cutler is a prolific passer with panache who can throw unlike any Bears quarterback in memory. But Hester is a game changer.
He is ridiculous!
And doesn't it seem ridiculous the Bears overwhelmed him with a dual role of wide receiver along with return man extraordinaire? Remember, 11 touchdowns on returns his first two seasons, none the third. The numbers were historic; the runs dazzling and dizzying. He was the reason the Bears made it to the Super Bowl, not Rex Grossman.
But the dye was cast as Hester's production on punts and kickoffs was dying. It was on the job training. He caught 51 passes in 2008 but only three of them in the end zone. This is not the stuff of number one wideouts.
This season, kickoffs are out, just punts. Perhaps this will allow Hester to concentrate more on running routes for a QB with far more talent than Kyle Orton. While Hester still isn't a number one wide receiver, he remains a threat to bolt past the secondary. And he remains a threat to field a punt and bolt past everyone.
Case closed. He's still ridiculous and still the Bears' most valuable player.
-
George Ofman, an original member of The Score and a veteran of NPR, has covered more than 3,500 sporting events over the course of his career. Comments welcome.
Posted by Beachwood Reporter at 5:18 AM | Permalink
The White Sox Report
By Andrew Reilly
Let's get one thing straight: the Sox, mathematically, are not out of it. The Tigers are bad enough to collapse, the Twins are probably not for real and the Sox, as we have seen, are capable of some weird baseball outcomes.
That said, the literal crushing the Sox received from the big kids this week should have shown us once and for all that it's over. They won't go 0-for-the rest of the season, but there are probably no more significant games left. It might sound negative to write them off in August, but can any among us really see this team making some kind of push towards glory? Of course not.
But for a better understanding of where they stand, think about the marketing materials put out by the Good Guys concerning playoff tickets these days. When you read about pro-rated packages or post-season hot dog deals or Jake Peavy not being eligible for the playoff roster, what do you do? Do you ritualistically seal yourself in the playoff baseball bunker? Shake your head in dismay? Cry at the horror of it all?
Don't. That's all energy we could be saving for hockey or football or basketball or hardcore drinking or whatever it is we do in Chicago between September and April. Rather, read all about the Sox "making their playoff push," then think of Sergio Mitre pitching the best game of his life or Scott Linebrink throwing batting practice or yet another White Sox player breaking your heart in some new and wacky fashion.
Because it's over. We don't have to care anymore, don't have to worry, and better yet we can laugh again, and so often we can at the team we love. Sports, as with life, are sometimes good after all.
Week in Review: Karmically balancing. Dropping three of four at Fenway and a mauling at the hands of the Yankees. No humans were surprised by this 1-6 result.
Week in Preview: Hateful. Three at the Glad Bag, one at the Urinal, and the first three quarters of a four-game stand against The Tawmmies. One week, two deplorable stadiums, three wretched fan bases.
The Q Factor: In the eighth pitch of his at-bat in the second inning of Thursday's game at Fenway, Carlos Quentin was hit on the bill of his helmet by a Junichi Tazawa fastball. Trotting to first base, a series of numbers echoed from number 20's mouth: three, fourteen, one, zero, one, two. Slightly alarmed by the slugger's behavior, Red Sox first baseman Kevin Youkilis asked Quentin if he was alright, to which Quentin calmly responded, "It's a surprise." His next at-bat arriving in the top of the third with Paul Konerko standing on first, Quentin sent an 0-1 curveball over the Green Monster and into the cool Boston night. As he rounded first, a stunned Youkilis asked Quentin, "How did you do that?" Running onwards in silence, Carlos Quentin smiled.
That's Ozzie!: "If we had a B game against us, we might tie."
The Guillen Meter: Eyeing a week's worth of the scrappy lil' second-place Twins and likely playoff-bound Red Sox, the Guillen Meter reads 10 for "belligerently envious and comically sad."
Underclassmen Update: The Chicago White Sox currently have 26 pitchers between the AA Birmingham Barons and AAA Charlotte Knights. Only one of those pitchers, Knights starter Wes Whisler, is a lefty. One. Last time up, Whisler faced seven batters, two of whom scored. Should he be called up with this week's roster expansion, things can only improve.
Alumni News You Can Use: The Minnesota Twins placed former White Sox third baseman Joe Crede on the disabled list Saturday, his back unexpectedly aching just as it did in 2008, 2007, 2006, 2005 and 2004. In related news, the Twins also acquired early 00's South Side pitching disaster Jon Rauch from the Arizona Diamondbacks. The White Sox Report would like to welcome Rauch back to the American League Central, and hopes he pitches as well in Minneapolis as he did on the South Side.
Hawkeroo's Can-O-Corn Watch: His head somehow avoiding explosion after four straight days of nonstop Yaz-love, our man in the booth would like to remind you that even though Ron Gardenhire might just be the smartest man in the game (no question!), Gardy still won't say anything about the blatant anti-Sox bias we shall witness from the umpiring crew in Wednesday's game at Minnesota. Also, Carl Yastrzemski.
Endorsement No-Brainer: Bob Uecker as Harry Doyle in Major League for Saturday's non-game against Yankee non-pitcher Sergio Mitre: "That's all we got, one goddamn hit?"
Cubs Snub: Alfonso "$16 million ain't what it used to be" Soriano and his .243/.305/.428 line owe Milton Bradley a steak dinner. Big time.
George Ofman: King for a day, Favre for a lifetime.
Fantasy Fix: Will return September 9th.
The White Sox Report: Read 'em all.
The Cub Factor: Know your enemy.
-
The White Sox Report welcomes your comments.
-
Andrew Reilly is the managing editor of The 35th Street Review and a contributor to many fine publications.
Posted by Beachwood Reporter at 5:06 AM | Permalink
The Cub Factor
By Marty Gangler:
Another lost Cubs season, another poorly constructed team. What was Jim Hendry thinking? We here at The Cub Factor drove out to Hendry's palatial estate to find out. Hendry wasn't there, but the source of the problem became clear as we nosed around the grounds.
Hendry's Home: Sources told The Cub Factor that for a long time the front door led right into the basement. Then that door was replaced with a bunch of other front doors but you really just need one, so it got kind of confusing. And while some doors led to an upstairs bedroom and others led to someone else's house, they all eventually lead to fourth place.
Hendry's Rowboat: We found it in the garage, up on blocks. The boat itself is made out of really expensive wood, but the paddles are missing the "paddle" part. So they are like just long sticks with holes in them, and when you row you don't go anywhere. Plus, Hendry insisted they be left-handed, even though that doesn't make them any better.
Hendry's Car: It looks good on the outside but a little investigating reveals that it's filled with used parts and the wiring is all wrong. You turn on the windshield wipers and the horn goes off, and you have to hit the button for the back passenger side window to change the radio station. Amazingly, Piniella used to have the quirks down cold so he'd take Hendry out for nice, long drives, but Lou is losing his memory and has gotten too old to drive. The car also has a steering wheel but it's not attached to anything.
Hendry's Backyard Barbecue Grill: Always one to take shortcuts, we found a microwave in the middle of the barbecue pit. Everyone knows a microwave is convenient, and Hendry spent a lot of money on a microwave bigger than a real grill. But sources close to the microwave tell us that this particular model doesn't cook any faster than a grill. But Hendry can't return it because he bought it third-hand and never got a receipt.
-
Week in Review: The Cubs dropped two of three to the Washington Generals and took two of three from the New York Mets' AAA affiliate.
Week in Preview: The Astros come in for three and then the Sox drive over to Wrigley for a one game make-up before the Cubs go to New York to face the Mets. In this week's player preview, Carlos Zambrano sees his therapist on Tuesday, Milton Bradley sees his on Wednesday, Lou Piniella sees his on Thursday, and group is on Friday.
The Second Basemen Report: Mike Fontenot got four starts this week because Jeff Baker is hitting too well to get too many consecutive at-bats under Piniella's system. True, Baker was slated to start at third on Saturday until he took a ground ball off of his little finger during batting practice, but that only makes the situation even more pathetic. And all we can say about Fontenot is this: The nice thing about being so little is that it doesn't take much to hit your weight. Just like Jim Hendry drew it up.
In former second basemen news, Ronny Cedeno will be out at least until Tuesday with a fractured pinky.
The Zam Bomb: Why can't his emotions be lazy? He is still furious.


-
Lost in Translation: "Fukuwho?" is Japanese for "Nobody even pays attention to you anymore."
Endorsement No-Brainer: Lou Pinella for Florida. It's where everyone should retire.
Milton Bradley Game of the Week: M&M's Get Out of Town Game.
Sweet and Sour Lou: 45% sweet, 55% sour. Lou stands pat once again as the season drifts past an old man. And just like you real crazy drunk uncle, there was a time when Uncle Lou would get out there and throw horseshoes in the family horseshoe tourney and really light it up. But these days with his bad back and feeling sorry for himself he'd rather just sit around with Aunt Gladys and listen to her tell the same story over and over again. She's kind of losing it, but Lou doesn't care. He's not even listening.
Don't Hassle the Hoff: Micah Hoffpauir became Iowa's all-time RBI leader over the weekend. No wonder he doesn't fit into the Cubs' plans.
Over/Under: Number of these Over/Unders that are Overs: =/- 5.
Beachwood Sabermetrics: A complex algorithm performed by The Cub Factor staff using all historical data made available by Major League Baseball has determined that the Bradley deal is even worse than the Soriano deal.
The Mount Lou Alert System: Geologists once afraid to tread on the volcanic surface of Mount Lou are now sending out expedition teams to study how the once molten surface mutated into a big pile of dirt.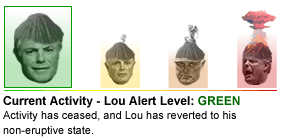 -
Posted by Beachwood Reporter at 4:21 AM | Permalink
August 29, 2009
The Weekend Desk Report
By The Weekend Desk B Team
Natasha Julius will return from her top secret assignment next week.
Depressing Demotion
Tropical storm Daniel's bid for hurricane status backfired as he was demoted to a depression and renamed Danny. His father has threatened to demote him to Denny's if he continues to underperform.
iGrenades
Apple says it is not to blame for exploding iPhones, but could not explain why it approved a Suicide Bomber app nor commercials in Mosual saying "Wanna blow up an American soldier? There's an app for that."
Bradley Tank
Cubs General Manager Jim Hendry says an exploding Milton Bradley is not his help, but could not explain his signature on Bradley's contract nor his idea currently being considered by Apple for an iBradley app that would come with the tagline: "Want a douchebag playing right field for you? There's an app for that."
Apple Polishing
Apple denied conspiracy theories suggesting its new deal to sell iPhones in China was part of a plot to destabilize the nation, despite simultaneously approving the Office Space app, which not only shaves off pennies from unwitting bank accounts and deposits them into your account, but converts foreign debt in countries whose names start with "C" into equity in the Sun-Times Media Group.
ATM APB
Police are denying reports that all 50 aldermen are suspects in this caper.
Usual Suspects
Though they too lack brains, the aldermen have been removed from the pool of folks suspected of being the Scarecrow Bandit, now that a suburban man has been arrested. The aldermen are still among the pool of folks suspected to be the Cowardly Lion Bandit.
-
The Weekend Desk Tip Line: Bandit-y.
Posted by Beachwood Reporter at 7:45 AM | Permalink
August 28, 2009
The [Friday] Papers
By Steve Rhodes
1. Barack Obama's approval ratings are below those of George W. Bush at a similar point in their presidencies.
That's gotta hurt.
2. Did the Civic Federation's analysis of Chicago's Olympic bid really conclude that the financials were sound and reasonable?
That's what the stenographers reported, but Tribune business writer David Greising reports that "a close read of the Civic Federation report reinforces [opponents'] skepticism of all this Olympics hoopla."
And the gung-ho rhetoric of Civic Federation President Lawrence Msall?
"Take a careful look at Msall's report," Greising writes, "and one can only wonder: Did he read the darn thing?"
Anyone can construct a perfect scenario to achieve the outcome they desire on paper. That's what Jim Hendry did in his own mind when he signed Milton Bradley.
And when he conveyed that perfect scenario to reporters last winter, they bit.
The same with Msall.
But you'd have to believe that every single piece of the puzzle - from a raft of construction projects to the national economy - will fall into place to believe the bid committee's projections.
Just one piece gone astray - as Greising shows - and the whole financial picture falls apart.
And history shows - along with the powerful forces of reality here in Chicago - that many pieces will go astray. They always do.
Just consider that Msall's review states that aldermanic oversight is crucial to keeping the plan on track.
In what parallel universe is that going to happen?
It's all theater. Just like those mysterious insurance policies that have yet to show up.
3. I have to say I was awfully disappointed with Carol Marin's interview of Scott Fawell and Andrea Coutretsis on Chicago Tonight earlier this week.
Both were speaking for the first time in six years, and Marin spent most of the interview asking about prison life and how hard the whole ordeal must have been for them.
Please.
People go to prison every day. You can get that interview any time you want.
And there's plenty to ask Fawell. He was George Ryan's chief of staff and star prosecutorial witness, for godsakes! Ask everything we've always wanted to know . . . how was it decided to quash the investigation into Willis crash; what was Ryan's role; what discussions took place with Ryan about the crash, particularly as Election Day approached in 1998; how did the favors list work; does Ryan truly think he did no wrong; etc., etc.
Instead there was a lot of "How did you tell your kids?"
*
Marin said the interview came about when Fawell sent a letter requesting it about a month ago asserting he had something to say about corruption Illinois.
"What is it you wanted to say?" should have been the first question.
Marin never asked it.
She did, however, ask if there was a wedding in the future.
*
My suspicion is that Fawell - a skilled political strategist - planned the interview as an advertisement for himself. (And Andrea, who complained that she couldn't even get a job at a retail store in a mall because she's a convicted felon.)
What is he doing for money these days?
"I've got a few clients, I'm trying to help them open up some opportunties," he said without exactly explaining what that means. "You're almost like radioactive . . . in the old days, when guys went away, they came back and plugged back in the system."
He thought he'd be able to do the same. When he learned otherwise, he got himself some airtime.
*
Chicago magazine has been gracious enough to post on its website my 2004 story called "The Fawell Affair." I'm pretty sure if you read it you'll have a whole set of questions you wish had been asked.
4. "Former CEO Arne Duncan often said that a key to creating the best urban school district in the country was to improve long-failing high schools," Catalyst reports. "But Duncan's broadest, most expensive effort, called High School Transformation, sputtered in implementation and has failed to spark significant improvement, according to an evaluation released Thursday."
5. Are the White Sox planning to acquire a Japanese player?
6. Governor Gumby.
7. Todd Stroger Gets a Boo-Boo.
8. Did the Clintons blow health care in 1993? Is Obama blowing health care now?
Doesn't that question presume that the reforms proposed by the Clintons and Obama are the right outcomes?
I'm in favor of health-care reform. But as a journalist I find it odd that the media has built into its assumptions the notion that the Clinton plan ought to have passed and the Obama plan, as it were, ought to pass and that a rejection of those plans somehow reflects their strategic mistakes rather than the possibility that democracy and even reason has prevailed.
*
At any rate, it's deja vu all over again in the messaging department.
*
Remember Obama's primary campaign vows that a vote for him was a vote to leave the fights of the 90s behind? Well, as someone pointed out at the time, the issues haven't gone away and political opponents don't obey other people's abstract ideas of "turning the page."
9. Patrick Kane is sorry for "being in a regrettable situation."
Or does he regret being in a sorry situation?
At any rate, I'm going to continue assuming he beat the shit out of a cabbie for 20 cents until he explains otherwise.
*
"When asked whether Patrick Kane struck the 62-year-old cabbie, [defense lawyer Paul] Cambria said, 'I absolutely have no basis to say that he struck Mr. Radecki. I wasn't there. You weren't there.'"
And you don't know nothin' 'bout defense lawyerin' if you think I actually asked my client what happened.
*
A judge ordered Kane to write a letter of apology to the cabbie. If Kane didn't do anything wrong, what will he apologize for?
Oh yeah . . . "Dear Mr. Cab Driver, I'm sorry I was in a regrettable situation . . . "
*
Reminder: Kane was indicted on charges of third-degree assault, harassment and theft of services.
10. "I chuckle because I don't care about Milton Bradley, Alfonso Soriano, Carlos Zambrano, and Jay Cutler," our man on the rail Thomas Chambers writes. "The names alone send chills, and not the good kind. I'll never feel the embarrassment of having a closet full of Favre or Urlacher or Cutler jerseys, because I will invest nothing of my soul to these guys. And I will never reach for a ball or throw beer on a player, first reason being that I won't even be there.
"I gravitate towards the greatest game, Thoroughbred horse racing . . . These are truly noble, honest animals."
11. I take it the mystery buyer of the old post office isn't any of these folks.
12. The return of former Beachwood Inn neighbors Moonshine Willy.
13. The Cubs are only three games out of fourth-place.
14. "Hoffman said he did not think using Axelrod's former firm, now known as AKPD Message and Media, would undermine his anti-establishment message that he is running against 'insiders and special interests'."
Funny how being associated with Team Obama would now be considered antithetical to that message.
15. "I mentioned a co-worker, 'Chad,' a few weeks ago (the one who loves the feet of large hairy men)," writes Patty Hunter in At Your Service. "He refers to these large hairy hunks of his as 'bears.' The other day as he walked by me, I heard him singing this under his breath: 'I'm a bear-watcher, yeah, I'm a bear-watcher'."
16. Digital Sheraton Chicago.
-
The Beachwood Tip Line: Bearable.
Posted by Beachwood Reporter at 10:45 AM | Permalink
Bloodshot Briefing: A Moonshine Reunion
By Matt Harness
A darling of the local music scene back in the 1990s, Moonshine Willy is back together to help Bloodshot celebrate its 15th birthday party on September 12 at the Hideout.
Founded by Mike Luke, Kim Docter and Nancy Rideout, the band grew to an oversized outfit, now counting more than dozen alumni. Then life - specifically songwriter Kim Luke's first pregnancy - interrupted Willy and the band eased into retirement as the decade closed. Willy recorded three LPs with Bloodshot before hanging out the closed sign.
Mike and Kim now reside in Santa Cruz, but they are coming back to Chicago to reunite with old friends and play some music.
Beachwood Music recently caught up with Kim.
Beachwood Music: You're a California girl born and raised. What made you want to trade sunshine for dark, endless winters that steal the color straight from your skin?
Kim: I moved to Chicago in 1991 to do Second City and I got mired in the music scene. I met Mike, a Chicago native, almost immediately and started playing music. We started Moonshine Willy.
Beachwood Music: Moonshine Willy was the first single artist to sign with the nascent Bloodshot label. How did you meet Rob Miller and Nan Warshaw?
Kim: It all started at Delilah's, where Rob and Nan were spinning records. They approached us to do a compilation.
Beachwood Music: Is the rumor true? You lived across the street from the Beachwood Inn?
Kim: Yep. Right on that triangle section. It was a three-flat brick house on Beach. We lived in the garden apartment we called the dungeon. The drummer of the Three Blue Teardrops lived on the second floor and a dominatrix lived on the third floor.
That's where we lived for a couple of years and practiced. It was three bedrooms and two bathrooms for $500. That's insanely cheap. It was band headquarters.
Beachwood Music: Ever visit the bar?
Kim: At the time, it was two or three career drinkers, the 7 a.m. to 3 p.m. types. There was nobody there during the second shift, at least nobody under 60.
It was not a hip place. But that made it awesome for a lot of reasons. It's always better to make disparaging remarks about your hangout to protect it.
Beachwood Music: The last album, Bastard Child, came out in 1998. That was it, huh?
Kim: We toured on that record when I was eight months pregnant with our first daughter. It was quite a 30-day tour. Exciting for everybody when I had to stop and pee every 30 minutes.
We then did some Chicago shows.
But we also started playing as Dogwater. The band had a lot of the same members. It was more pop tunes. I love that format, the three-minute tune. Moonshine Willy kind of went on the backburner.
We then started playing more kids' shows. Mike and I then moved to California.
Beachwood Music: In the course of naming the people who you worked with in the past, one name stands out to me: Mike Reed. Is that jazz drumming, Pitchfork band-booking Mike Reed?
Kim: Same guy. He will always be Mikey. He's phenomenal. He saw us playing a show without a drummer and asked to play with us. It was just perfect.
Yeah, I guess he's become kind of a big deal. He's so cool.
Beachwood Music: You nervous at all about this reunion show?
Kim: We knew we always would play again. We keep in touch, and I am still writing Moonshine Willy songs. I also wrote a song about Nancy Tannenbaum (Rideout) who died in a motorcycle accident in 2007. I plan on doing it at the Hideout.
Beachwood Music: Is it hard to believe Bloodshot is 15 years old and driving next year?
Kim: They are now like the problem teenager, and that's something to celebrate. We will be out there with the bad crowd, the one that's flunking out of high school.
Beachwood Music: Any places you have to visit when you return?
Kim: Mamma Maria's in Elmhurst has the best pizza in the world. We will eat as many as we can. It's thin crust, perfect sauce. I put giardiniera on there. You can't even get that in California. Every Christmas I get a giant jar of it.
We do tend to miss the food the most. Chicago is such a great food capital. We can eat our way from the North Side to the South Side. That's kind of terrible.
It used to be about getting drunk. Now, it's about getting fat.
Beachwood Music: Has the band practiced together lately?
Kim: No. But I certainly hope we will. We've all been in touch by e-mail, deciding on what songs to do. They've been pretty big discussions, kind of like summits. Everybody has their favorites. We will get together and settle it, probably by passing around Wild Turkey.
-
Sample Moonshine Willy on their MySpace page.
-
Bloodshot Briefing appears in this space every Friday. Matt welcomes your comments.

Posted by Beachwood Reporter at 1:11 AM | Permalink
TrackNotes: Cub-Free
By Thomas Chambers
Peace of mind. I've got it.
I chuckle because I don't care about Milton Bradley, Alfonso Soriano, Carlos Zambrano, and Jay Cutler. The names alone send chills, and not the good kind. I'll never feel the embarrassment of having a closet full of Favre or Urlacher or Cutler jerseys, because I will invest nothing of my soul to these guys. And I will never reach for a ball or throw beer on a player, first reason being that I won't even be there.
I gravitate towards the greatest game, Thoroughbred horse racing. The great ones, like Cigar, or John Henry, or Secretariat, or Affirmed come only once a generation. The beautiful thing is that you usually don't invest your soul or crushable emotion into an individual horse. You love the game. That's because if a horse gets beat - and even the magnificent Man o' War and Secretariat both got beat - he either got beat by a better horse, or a better horse on that day. Upset and Onion ran just as hard as those two legends. These are truly noble, honest animals. This, we horseplayers know.
Sure, there's the human stupidity of a badly spotted horse or a bad jockey ride, but the horse will do all he can to overcome that.
Rachel Alexandra wows in waters normally uncharted. She's great to watch, and yeah, I'd like to see her keep winning. But she's going to have to earn it, as we look for The Upset.
So as Wrigley Field descends into the grotesque, I've got a weekend of races that send up the good chills. Great horses and great wagering possibilities. There's nothing more I want or need from my sporting world.
*
It's Travers Day at Saratoga Saturday (3:30 p.m., ESPN); The Midsummer Derby. It's the 140th running of America's oldest race, which is also now the longest continuously run race in the U.S., since 1912. They run for the Man o' War Trophy. And it's traditionally one of the best cards of the year. Make sure to handicap it with rain in the forecast.
In race order:
The Victory Ride. Race 7, Grade III, 6 furlongs for fillies three years old.
Sara Louise is your 2-1 morning line favorite. She's been on the bench since November, and they usually need one. That's a drawback, but guess what? She beat Rachel Alexandra back in the Pocahontas on November 1! Rachel evened the score in their next race. Sara will take a ton of money. I also like Step Out Smartly and Bold Union, and Selva has good backclass and Alan Garcia. Juliet's Spirit is my price wiseguy, who's best race in her life was on dirt.
The Ballston Spa Handicap. Race 9, Grade IIt, 8.5 furlongs for fillies and mares three years old and up.
Cocoa Beach is the 2-1 morning favorite, but she might require this race to stay on the turf, firm turf. May not happen. Rutherienne is right behind at 5-2. This warrior by Pulpit definitely has what it takes. I've been backing and waiting for My Princess Jess to score. My reasoning Saturday is that Jess has been in either a bit over her head or has unlucked into some hot horses. If she inches north of her morning line 5-1, I'm all over it. Closeout has a chance on off turf.
The Ballerina. Race 10, Grade I, 7 furlongs for fillies and mares three years old and up.
This could be a kooky, though bettable, race. Who wants the lead? It looks like Tar Heel Mom, but she has little class and generally weak(er) speed numbers. But she likes the course and has won here in the mud. To win, she'll basically have to get the lead, make Informed Decision - who I think will go off the favorite - chase her in quick fractions and burn up, and then hold on. Indian Blessing is 8-5 on the morning line. I dunno, I think she needs dry and recent Hall of Fame inductee Bob Baffert is talking some great talk, but I really think her best form was last year at this time. Baffert said he should have had her here at Saratoga all along instead of returning from Dubai and running her at what looked like an easy score in June at Hollywood. Then why didn't you do that, Bob? Music Note and P.S.U. Grad (Kent Desormeaux) will need the big ones to chase the pace and then mop up. It could happen.
The King's Bishop. Race 11, Grade 1, 7 furlongs, for males three years old.
This might be the best race of the day. Take your pick: 2-1 favorite Munnings; 3-1 Big Drama (you can say that again); unwarranted wiseguys, 7-2 Vineyard Haven and Everyday Heroes (running as a single entry); or a looks-great-on-paper Capt. Candyman Can. Munnings has been running some large speed figures, but who'd he really beat in the Tom Fool or the Woody Stephens, just before getting trounced by Rachel Alexandra and Summer Bird in the Haskell Invitational last time? And I'm not sure I like him in the mud.
Capt. Candyman Can is good at this distance but has either been beating some good horses or has run into the quality Quality Road (more on him later). Everyday Heroes is the good one in the entry, hopefully in shape after the Grade II Amsterdam. Big Drama is a maddeningly inconsistent horse. But he's 3-0 at 7 furlongs (best speed figure in this field for this distance), and is in his "in" cycle for this race. He's cutting back in distance right into his wheelhouse. I would take 3-1 on him. I need you Eibar Coa.
Not for Silver is in tough here, but if he runs the race of his life . . . He had a bad start and was 12 lengths back in the July 11 Carry Back at Calder, got all the way back to second at the eighth pole and won by almost five lengths. All of that happened in just six furlongs. That shows me heart and he's had a very good workout tab coming into this for trainer Michael Trombetta and rider Jose Lezcano.
The Travers. Race 12, $1,000,000 Grade 1, 10 furlongs, three year olds.
Kentucky Derby winner Mine That Bird was declared out of this race earlier in the week. He was only 90 percent after throat surgery and they made the right decision. Don't worry, he'll be back fine. He's going to do a meet-and-greet for the Quarter Horse championship at Ruidoso Downs. Seriously.
More later, but Rachel Alexandra also skipped this race. So we've got Belmont winner Summer Bird facing a horse most believe would have been the Derby favorite if he hadn't had to withdraw with a hoof crack, Quality Road.
Quality Road came back in smashing fashion, setting a track record in the 6.5 furlong Amsterdam August 3. He's fast and visually impressive. His work tab shows his feet must be doing well. The only question mark will be the 10-furlong distance coming off just a sprint prep. All I can say is, you can't ignore him.
You've got some guns in this race. Like Charitable Man, Warrior's Reward, Kensai, and the unfathomable money-taker Hold Me Back.
I think Kensai will go for the front, and while his numbers are impressive, how does he hold off stone closer Summer Bird and the versatile Quality Road? After these, with Charitable Man being possible, I'll wiseguy the race with Our Edge. The Nick Zito/Alan Garcia connections are just fine by me. He should get the distance, but will have to hold off some classy horses. He just won the Barbaro and won the Coronado Quest in the mud at Monmouth just before that. I only hope I get 10-1 or better.
Where The Turf Meets the Surf
Don't forget a good weekend at Del Mar. It's the $300,000 Grade II Del Mar Mile on the turf Saturday.
David Flores will ride Monterey Jazz, who looks to come back after a bizarre fifth in the Eddie Read. (The horse he was professionally stalking, Thorn Song, bolted out of the race, to the popcorn stand or something. Monterey then found himself alone on the lead and couldn't hold on.) Fillies Allicansayis Wow and Lethal Heat are also entered. I'l put a couple down on the veteran Becrux.
On Sunday, it's the 1-3/8 mile Grade II Del Mar Handicap on the turf. Spring House will be favored with Artiste Royal and Obrigado also figuring.
The Rachel Update
Rachel Alexandra will next run in the Grade 1 Woodward Stakes on Sept. 5 at Saratoga. It's clear that owner Jess Jackson and trainer Steve Asmussen figure they've already beaten the three-year-old boys, so why take on the Travers?
The Woodward is against older males, a deep belt notch in Jackson's quest to nail down horse of the year honors for her.
She'll run against the likes of Whitney upsetter Bullsbay and Whitney runner-up Macho Again, as well as Cool Coal Man, Da' Tara and It's a Bird. Not exactly a stellar bunch. Consistent with his stated dislike for synthetic surfaces, Jackson is keeping to his word that he will not be taking Rachel to the Breeders Cup at Santa Anita.
-
Thomas Chambers is the Beachwood's man on the rail. He brings you Track Notes every Friday. He welcomes your comments.

Posted by Beachwood Reporter at 12:53 AM | Permalink
Bulletin: Stroger Gets Boo-Boo
MEDIA ADVISORY

For more information contact:
Sean Howard @ 708-935-1483

For Immediate Release

COOK COUNTY BOARD PRESIDENT TODD H. STROGER INJURES RIGHT EYE DURING PICK UP BASKETBALL GAME AT CHICAGO'S EAST BANK CLUB

PRESIDENT TREATED BY STROGER HOSPITAL EMERGENCY ROOM DOCTOR AND NURSES

PRESIDENT STROGER RELEASED AFTER RECEIVING EIGHT STITCHES ABOVE RIGHT EYE, THEN CONTINUES MEETING SCHEDULE THROUGHOUT THE EVENING

Todd H. Stroger- President of the Cook County Board of Commissioners- received eight stitches above his right eye after being injured during a pickup basketball game at Chicago's East Bank Club on yesterday (8/26/09). The President was playing on the court with a group when he injured the eye by accidental contact. The President noticed swelling above his right eye and immediately exited the facility. He then requested his driver to transport him to John H. Stroger Cook County Hospital.
The President arrived at the hospital roughly around 2:30 PM and was given outstanding care by the Emergency Room staff. The President received eight stitches just slightly above the right eye and was released at 4:45 PM. The President was given a small gauze that was placed above the right eye but on the injury. The doctors requested of the President to wear the protective piece throughout the evening to protect the injured portion of the eye.
After being released by the hospital, the President resumed his meeting schedule for the remainder of the evening. The President is not expected to miss any appointments today. He will remove the gauze this morning prior to leaving his home.
President Stroger is expressing gratitude to the entire Emergency Room staff for their continued professionalism and the spirit of excellence in which they offer all patients on a daily basis. The President chose to be transported to Stroger Cook County Hospital because it is and will remain in his eyes, the Mayo Clinic of all Public Hospitals in the United States. It will continue to offer the best care of any hospital in Cook County.
-
-
1. From Matt Farmer:
"President Stroger is expressing gratitude to the entire Emergency Room staff for their continued professionalism and the spirit of excellence in which they offer all patients on a daily basis. The President chose to be transported to Stroger Cook County Hospital because it is and will remain in his eyes, the Mayo Clinic of all Public Hospitals in the United States. It will continue to offer the best care of any hospital in Cook County."
Unless, of course, you're dealing with prostate cancer . . .

Recall that in 2007 the Toddler had his prostate surgery performed at Northwestern (also in Cook County).

Posted by Beachwood Reporter at 12:25 AM | Permalink
August 27, 2009
At Your Service: Neck-breakers
This week I learned that school is not the only place you can expand your vocabulary.

A young lady came in with two others and sat at my table. When I walked over to greet them, it took everything in me not to gape at her almost entirely exposed bosom; her neckline was more like a belly button line because of how low cut it was and it was open almost as wide on the sides. I didn't even know it was legal to wear those kind of shirts outside of a strip club.
The bartender that night was walking back behind the bar when he noticed the free show. I laughed as I watched him struggle to not stare. He told me that's what you call a "neck-breaker." Apparently, when there's something about a girl that makes you whip your head around to get a second look, she's called a neck-breaker.
While I don't feel enriched for learning this term, it did provide some amusement. I usually pride myself on knowing words like noumenon, which is defined as "abstractions (like geometry) that exist independently of corporal reality." I think neck-breakers could safely be called noumenons under some conditions.

*
One of our other bartenders, "Fred," has been there for more than 30 years. He's very sweet, but not capable of keeping up when it gets busy. However, since he's got the most seniority he tends to work a lot of the busy shifts like Saturday nights. I commented to a manager the other night that he was probably a good bartender when he was younger but the manager just laughed and told me he'd heard Fred was never very good. I've been told Fred is between 64 and 67 years old but I decided it's more likely he is actually ageless like the tale of Beowulf.
*
I mentioned a co-worker, "Chad," a few weeks ago (the one who loves the feet of large hairy men). He refers to these large hairy hunks of his as "bears." The other day as he walked by me, I heard him singing this under his breath: "I'm a bear-watcher, yeah, I'm a bear-watcher." Though a couple of fellow employees thought I was crazy as I collapsed into giggles for what seemed like no reason, they would not have found it near as funny as I had. It was one of those things you had to hear for yourself. And I can't describe my joy for having overheard his little private song.
*

One of my other co-workers, "Keith," is known to occasionally come in drunk. Not slightly buzzed, not tipsy, not sobering up from being drunk . . . but dropping things, reeking of booze drunk. The managers either don't notice or don't care enough to say anything, but they don't have to deal with him on the floor.
When you've got a drunk guy who's a little creepy anyway really intruding on your personal space while he's waiting to use one of the ordering screens it becomes a trifle irritating. Especially when he tells you at least twice each hour about his cousin in town whom he hasn't seen in years.
The strange part the other night was that he didn't seem to sober up at all; he was just as annoying four hours later as he was when he started. He must have sneaked alcohol in. And of course, this was the night before our quarterly inspection from corporate - the night the managers refer to as "perfect clean" night, when every single surface, readily visible and not, must be wiped down until sparkling. Luckily Keith left early that night to spend time with his cousin. Better to be short a pair of hands than have a drunk pair.
*

I've often felt guilty that I don't let French-speaking tables know I understand them and could respond in French to make their lives a little easier. Maybe it's passive-aggressive, maybe it's revenge for all the English-speaking tables who don't give me the time of day. Last night, however, I almost blew my cover with two separate tables.
I had a table of two elderly couples who could barely speak English. I explained best I could, in English, about the food and how long the pizza takes. I could tell they didn't understand so I wrote down the time and showed it to them since it looks the same in French. Sure enough they were surprised. One of the women asked me, in French, if it was really 45 minutes. I nodded. Oops. To make it worse, after the other woman ordered a pasta, her husband told me in French he wanted the same thing. I wrote it down. I don't know if in their panic to communicate they didn't notice I understood or if they assumed I was just able to magically figure out what they wanted.
The other table had four young adults with a slightly larger grasp on English. Two ordered beer and I asked for identification. As they joked to each other about having to show IDs here I shrugged a little. Luckily no one noticed. Then, while taking their order, I advised three of the four to split a larger-sized pizza rather than getting three personal-sized pizza of the same thing. They began talking about the price - and between the three of them none of them could do that math. Three pizzas at almost $9 a piece or split one for $25, which would also give them a little more pizza? They decided it was cheaper to get the three separate ones. As I wrote it down before they repeated the order in English, I couldn't help but look at them for a minute. I mean, really? None of you could do the math? Although one girl looked at me a bit suspiciously, I blissfully continued to pretend to be a monolingual American.
C'est la vie.
-
The pseudononymous Patty Hunter brings you tales from the front lines of serverdom every week. She welcomes your comments. Catch up with the rest of this series and its companions in our Life At Work archive.



Posted by Beachwood Reporter at 4:27 PM | Permalink
The [Thursday] Papers
By Steve Rhodes
This is an absolutely terrible day to not have a column, given all the news that's giving me fits, from Governor Hapless to Carol Marin's interview of Scott Fawell to the usual shenanigans emanating from Daleyland and Olympicland. But no can do today. I will try to catch up with all of it tomorrow, even if that means a really long column.
But we do have a few things to chew on.
* Hasslin' The Hoff. What is David Hoffman doing in the U.S. Senate race?
* Milton The Martyr. In which George Ofman describes how new Cubs owner Tom Ricketts could become an instant hero.
* Over/Under. New odds on an old Cubs story.
* Contract Sport. Mannequins and ramen among Illinois requests for bids.
-
See you tomorrow.
-
The Beachwood Tip Line: A contact sport.
Posted by Beachwood Reporter at 9:51 AM | Permalink
A Contract Sport
By The Beachwood Procurement Affairs Desk
Found at BidContract.com: A Sample List of Government Contracts and Government Bids in Illinois
1. Sealed Bid - Cosmetology Supplies for Truman College.
2. The construction of the proposed Parking Lot Improvements.
3. Various Copy Papers.
4. Refuse Packer Truck.
5. Safe Driver Renewal Sticker/Safety Citation form.
6. Sealed Bid - Cosmetology Mannequins for Truman College
7. Haynie Hall Convector Supply Line Replacement
8. Local school districts energy performance contracts.
9. PRT MASTER CONTRACT FOR UNCOATED OFFSET BOOK
10. A Research Grade Ramen Spectrometer System
11. Bond Watermark Printed Letterhead
12. Enterprise Data Warehouse
Posted by Beachwood Reporter at 9:22 AM | Permalink
Milton The Martyr
By George Ofman

He just can't help himself. This is what fuels Milton the Martyr. The whole world is after him. It's not his fault, it's someone else. Whether admitting he doesn't have rapport with most of his teammates to being called a piece of shit by his manager, Milton the Martyr can't escape the limelight, or himself.

And now the word hatred creeps in. This is dangerous territory. Following last night's humiliating loss to the Nationals, a game in which he actually had success going 4-for-4, Milton Bradley again was the target of the fans derision. "It's never comfortable," he said."It's hard to be comfortable when you don't get a hit and you get booed every time. When I go home I look in the mirror, I like what I see. My family is there"

Don't going anywhere; it gets more intriguing, if not mind-boggling.

"I have people I can talk to who are very supportive in spite of everything and all the adversity and all the hatred you face on a daily basis. But I'll be alright. I always have."

There is much to dispute here, as there always has been with Milton the Martyr. But let's tackle the word hatred. Did someone yell a racial epithet in his direction?

There have been other players who have accused Cubs fans of getting downright dirty. Juan Pierre mentioned it, Jacques Jones said he was a victim of racial slurs and even threatened on his cell phone when his number got out. LaTroy Hawkins said he was a target of racial abuse. And former manager Dusty Baker said he took his share of unnecessary criticism. Bradley is complaining about waiters "bad-mouthing" him when he goes out to eat.

Milton the Martyr, you made this bed, you must lie in it.

Maybe Bradley should order a king-size bed and have General Manager Jim Hendry lie there with him.

It was Hendry who sought out Bradley's services. He wanted a player who batted left-handed with power to drive in runs. Milton the Martyr fits one bill; he hits left-handed. Forget the power and he's never really been a run producer. And right now he's hitting .252 with 10 homers and 32 runs batted in. This is why he's being booed, along with a personality that rubs fans - and teammates - the wrong way.

What Milton the Martyr has been is trouble just about everywhere he's played. He's already modeled eight different uniforms in 10 years. Eight teams in 10 years!

And the trail of abuse he's left is legendary.

What he's received here is warranted, and then some.

Yet it's also dangerous to hear one fan tell a radio station he was removed from the bleachers and warned after he yelled at Milton the Martyr to "throw him the ball, buddy."

If this is true, Big Brother is now dressed as security officials.

This fan also was told by Cubs security some of the things you can't say to Milton the Martyr such as "How many outs are there?" This is in reference to an incident earlier in the season when the right fielder caught a fly ball, paused, then threw it into the bleachers. There were only two outs.

This is one of the reasons why the fans have such disdain for him.

"People are watching and looking at everything I'm doing," Milton says. "I'm really not a guy who is seeking any attention."

Neither was John Wayne Gacy!

Milton the Martyr has ticked off a lot of people but he doesn't get it. Maybe he's too selfish to understand or maybe he's anti-social. I'm not quite sure, though a dose of anger management might be in order in the not-so-distant future.

What he is thus far is a bust, both as a player and a person. He's the poster boy for the Cubs lack of success this season, though in his defense there are others who deserve plenty of blame, not the least of which is Alfonso Soriano. But Soriano is not using the world hatred and his track record with fans and teammates is pretty solid.

What I am sure of is that the Cubs are pretty much stuck with Milton the Martyr for the next two years unless the new owner decides to swallow the $22 million owed to him and simply let him find a new employer.

My guess is Tom Ricketts would be hailed as a hero if he did that.

-

George Ofman, an original member of The Score and a veteran of NPR, has covered more than 3,500 sporting events over the course of his career. Comments welcome.

Posted by Beachwood Reporter at 8:54 AM | Permalink
Over/Under: The Cubs
By The Beachwood Goat Affairs Desk
What the book says for the rest of the season.
* Milton Bradley hissy fits: +/- 2.5
* Carlos Marmol walk-off walks: +/- 3
* Bonus: Marmol hit batters: +/- 2
* Number of leadoff hitters: +/- 4
* Bonus: Nationalities of leadoff hitters: +/- 3
* Number of blown Kevin Gregg saves: +/- 1
* Bonus: Duration of Gregg's remaining career: +/- 2 seasons
* Soriano dropped flies: +/- 1.5
* Chance it will be revealed Soriano injured his knee doing that stupid hop: +/- one in five
* Passed balls: +/- 3
* Times Derrek Lee says the team just has to play better: +/- 5
* Jake Fox home runs: +/- 5
* Zambrano wins: +/- 1
* Zambrano outbursts: +/- 3.5
* Piniella outbursts: +/- 1
* Aaron Heilmann sightings: +/- 2
* Home games delayed because angry fans throw trash on the field: +/- 2
* Aramis Ramirez injuries: +/- 1.5
* False hope expressed about new ownership: +/- 1,000
-
Posted by Beachwood Reporter at 6:49 AM | Permalink
August 26, 2009
The [Wednesday] Papers
By Steve Rhodes
The mayor's non-apology is all the rage.
"[F]or the first time in my life, I really don't understand what the heck you're talking about," John Kass writes. "No, really."
"In essence, Mayor Daley is sorry that he and his staff didn't figure out how to make the deal sound good before members of the public concluded it was a stinker," Mick Dumke writes.
"The words were right there in his script," Jay Levine reports. "Words that a lot of you wanted to hear Tuesday night about Chicago's parking meter mess. But Mayor Daley skipped over them.
"We are often called on to translate 'Daley-speak' and expected to report what he meant to say, rather than what he actually said.
"Tonight, we knew what he meant to say, we were given his prepared remarks. But when the time came to say, 'We screwed up', the words never passed his lips."
I wonder how the folks at the Sun-Times feel for having been duped - again - by Daley's media maestros.
"We totally screwed up" was their big front-page headline yesterday.
Daley never said it.
And yet, the Sun-Times bragged about its "exclusive" in today's editions. In fact, Maudlyne Ihejirika reported that "Daley had kicked off what became an hours-long gripe session for frustrated residents with a rare acknowledgement his administration had 'totally screwed up' the transition."
I wasn't there. But Rich Samuels' account on Chicago Tonight last night - and the accompanying videotape - backs Levine's version.
As does the Tribune account, by Dan Mihalopoulos:
"The mayor stopped short of an apology - a point noted by some critics in the audience. He also skipped over harsher language that was in the prepared remarks his staff gave to reporters - in that script he was to say "we screwed up the way it was implemented."
Prepared remarks are rarely news. And even less often something to brag about obtaining.
And then there was Daley's "press conference" earlier in the day. He was asked why he was apologizing now when he already did in the spring.
"I don't think you ever reported it, maybe," he said in a disingenuous tone.
As pointed out by Dumke - and me, thank you - it was reported plenty.
Given Daley's obsession with his media coverage, there's no way he missed it. He lied.
Then press secretary and baby-sitter Jackie Heard cut off the questioning.
Another despicable performance by a clearly despicable man.
*
Consider this scene, which Samuels played last night and is described here by Mihalopoulos:
"Carol Smith, an activist for the mentally ill, blasted the mayor for closing mental health centers.
"'Why should people who have mental health problems suffer because the administration screwed up?' she asked Daley. 'I want an answer right now.'
"Daley sat stone-faced for several seconds as many in the audience yelled for him to reply. Finally, the city budget director said the health commissioner, who sat at the front table with other members of Daley's Cabinet, would address the question. But he did not immediately answer, and Smith walked from the microphone."
Nice, mayor.
Run along now and go play with your Olympics.
Drinkalog
"In August 1979, I took my last drink," Roger Ebert writes in an instant classic. "It was about four o'clock on a Saturday afternoon, the hot sun streaming through the windows of my little carriage house on Dickens. I put a glass of scotch and soda down on the living room table, went to bed, and pulled the blankets over my head. I couldn't take it any more."
If you read nothing else today, this week, this month or maybe even this year, read this.
Beverly Hills
Glow Putt Paradise.
Majority Leader Durbin?
It could happen.
Zell vs. the Reader's Hedge Fund
Which is worse?
The Celia Hensey Story
The face of the CPS admissions scandal.
Teddy
I have nothing original to say about Teddy Kennedy. But I do remember this Styx song, and I still don't know what to make of it.
Eddie
Eddie Vedder sang the 7th-inning stretch at Wrigley last night and then composed an inane song about the Cubs while in the broadcast booth with Len & Bob.
Please, no more.
Forget Favre
He'll never play a down against the Bears this season, predicts our very own George Ofman.
Clearance Sale
"As many as 10,000 retail stores will close nationwide this year, led by clothing stores, electronics and food-and-beverage stores, and department stores, in that order, a study released Tuesday shows," the Sun-Times reports.
Plus, beer prices are going up.
It just gets worse and worse.
Barack Bush
"It looked like it was business as usual for President Barack Obama on the first day of his Martha's Vineyard vacation, as he spent five hours golfing with Robert Wolf, president of UBS Investment Bank and chairman and CEO of UBS Group Americas," Amy Goodman reports. "Wolf, an early financial backer of Obama's presidential campaign, raised $250,000 for him back in 2006, and in February was appointed by the president to the White House's Economic Recovery Advisory Board. Economic recovery for whom?
"Interestingly, Wolf's appointment came in the same month that UBS agreed to pay the U.S. $780 million to settle civil and criminal charges related to helping people in the U.S. avoid taxes. Not to worry. UBS, an ailing bank with a pre-existing condition, had great insurance coverage. It was actually receiving $2.5 billion in a backdoor bailout from bailed-out insurance giant AIG."
-
The Beachwood Tip Line: Bail.
Posted by Beachwood Reporter at 9:41 AM | Permalink
Forget Favre
By George Ofman
Heeee's back - again. Just when you thought it was safe to consider the NFC North a two-quarterback division, you still can. Brett Favre, waffling as often as Charles Grassley on health care, has declared his love for the Vikings and his desire to pummel the Packers and Bears. Maybe he'll gain his revenge against Green Bay, but he'll never get a chance against the Bears. That's because Favre will be a non-factor by then. Either he'll have been sacked into yet another retirement, his right arm will fall into one of Minnesota's 10,000 lakes or teammates will simply offer him a road map to Mississippi. The Vikings don't play the Bears until November 29th, at which time Favre will be watching Tarvaris Jackson heave interceptions instead of himself.
I'm all for comebacks, but this one will fail. Again.
Wasn't Favre's return to the New York Jets greeted as a ticket to the Super Bowl? They were 8-3 and then . . . poof! They lost four of their last five and missed the playoffs.
And Favre. . . he threw only one touchdown pass in those losses and seven interceptions. A late-season arm injury contributed to his and the Jets' demise.
Favre eventually informed the Jets that he was retiring again. But not before former Bears running back Thomas Jones offered a not-so-pleasant parting gift: "We're a team and we win together but at the same time, you can't turn the ball over and win. If somebody is not playing well they need to come out of the game."
Ouch. And Jones wasn't through.
"You're jeopardizing the whole team because you're having a bad day," he added. "To me, that's not fair to everybody else. You're not the only one on the team."
Would you be shocked if Adrian Peterson utters similar words when the Vikings' ship starts to sink because Favre can't steer anymore?
Favre was treated like a king by Jets brass. But as the season wore down, so did Favre. Maybe the crown he had worn for so long was tarnished and maybe, too, his reputation.
The king is dead, long live the king!

I'm not fazed by Favre's ego or desire to re-invent himself. If he wants to avoid most of training camp, all power to him. He's not the first NFL player to try this stunt.
And I don't care that Favre has lied about retiring. We've all lied, though most of us haven't announced we're retiring, and more than once!
And it doesn't bother that me he's held the nation hostage by his whining and waffling. In fact, he's created enough story lines to revive the newspaper business.
Don't blame Favre for being selfish. Let's remember, it was Packers who decided to bring him back, thus retarding the progress of Aaron Rogers. And it was the Jets who felt Favre could be the difference-maker.
You can't deny Favre is one of the greatest and flashiest quarterbacks in the history of the league. He was a gunslinger who could elude a pass rush and unload pinpoint spirals to suddenly open receivers. Of course, he also unloaded an extraordinary amount of interceptions but he didn't capture three MVP titles and win a Super Bowl because of mistakes.
The bottom line, though, is that Favre is going to bottom-out even if the Vikings possess a better running game and better receivers than the Jets. Sure, their offense is more tailored to his game, but his game faltered badly last season and the vaunted Jets folded. It wasn't all Favre's fault, but blame isn't always a shared responsibility. He was sacked 30 times, the most since the 2000 season.
Yes, even with a weathered rotator cuff, Favre is still better than Jackson and Sage Rosenfels. Doesn't say a whole lot about those two guys. But all it takes is one good hit and Favre will be dreaming again about his hammock in Mississippi. Concussions have no conscience.
While George Bernard Shaw once penned "youth is wasted on the young," age has its limitations, especially on a gridiron.
The Vikings are gambling the gunslinger still has some bullets to fire. It's a mighty big gamble, which is why I feel safe enough in telling Bears fans not to worry. You'll never see the guy on the field when the teams play in late November and again in the next-to-last game of the regular season on December 28th. Favre will be watching the game from the bench at a frozen Soldier Field, turn to a teammate and again utter these now redundant words: "I'm retiring."
See you again next year, Brett.
-
George Ofman, an original member of The Score and a veteran of NPR, has covered more than 3,500 sporting events over the course of his career. Comments welcome.
Posted by Beachwood Reporter at 12:30 AM | Permalink
August 25, 2009
The [Tuesday] Papers
By Steve Rhodes
Pat Quinn has moved too slowly on the University of Illinois admissions scandal, that much is true.
But Dan Hynes is wrong to assert that Quinn should have dealt with school administrators first, before the trustees.
You start at the top. The trustees hire and fire the president. You don't remove the president first and then bring in new trustees.
And Eric Zorn continues to baffle with his assertion - repeated on Chicago Tonight last night that holdout trustees James Montgomery and Frances Carroll have done nothing to merit resignations.
Quinn, acting on the recommendation of the Mikva panel, asked the board to resign en masse - including a relatively new board member not implicated in the least in the admissions scandal. It has nothing to do with guilt and everything do with restoring confidence in the board by giving the governor the opportunity to reconfigure it.
In fact, by asking for the whole board to resign, no trustee is singled out for wrongdoing.
Quinn could then re-appoint any trustee whom he thought could be of service on the new board.
The notion put forth by Montgomery that a resignation would be an admission of wrongdoing is nonsense, as is Carroll's self-absorbed injured pride.
Beyond that, both Montgomery and Carroll did participate in the clout admissions process. While they did so less often than many of their colleagues, even once is enough to warrant their jobs.
Is that "hyper-accountability," as Zorn says in a column that might as well be titled "I'm With Hynes."
Well, where is the line? It's okay to make that phone call to help a relative or political pal once, but not five times? Is three times okay but not seven?
Quinn has moved too slowly. That much is true. But he's doing it in the right order.
*
"Illinois Senate President John Cullerton threatened Monday to push legislation ridding the University of Illinois of the last two holdout trustees," the Tribune reports.
That's rich.
"During the past five years, 114 elected officials made 480 inquiries about students vying for entry to the prestigious public campus, university records show. Cullerton asked about eight applicants, seven of whom gained admittance during the same five-year span, a Tribune analysis found.
"Earlier this year, he advocated on behalf of a New Trier Township High School senior through the U. of I. lobbyist who wrote in an e-mail to [Chancellor Richard] Herman: 'The President thought this students [sic] score seemed a little high for wait list'."
Admissions Admissions
Anthony Beale is now the second alderman to admit he made a phone call to the principal of Whitney Young to get his daughter into the school, the Sun-Times reports.
"You're talking about an A-minus student," Beale said.
Yes. But was this straight-A student left out of Walter Payton Prep because of a similar call?
*
It gets better.
"[Whitney Young Principal Joyce] Kenner said she had a 'personal relationship' with Beale, whom she knew as a baseball coach when her son was playing baseball. 'When he called me, it wasn't about him being a political figure,' Kenner said."
It was about her personal relationship with Beale.
I don't know which is worse.
*
Similarly, Kenner didn't know Ald. Ricardo Munoz as an alderman when he called her to get his daughter into her school. "She knew Munoz as the father of a boy her son played basketball with."

*
It gets better.
"I try not to be political at all,'' Kenner said. "If you ask me how many aldermen there are, I don't even know."
The principal of Whitney Young doesn't know how many aldermen there are?
*
And finally:
"Even Michael Jordan, whose youngest son by-passed the usual admission process by transferring to Whitney Young as a junior in 2007, did not contribute [money] to the school, Kenner said."
Olympic Credibility Crisis
Marc Ganis appeared on a Chicago Tonight panel last night discussing the Olympics.
The same Marc Ganis who suggested to Rod Blagojevich that he be "Rod's voice" on the Chicago 2016 committee while working as a consultant for the Tribune Company in the proposed sale of Wrigley Field to the state.
*
"The likelihood is the Games will be a net gain for Chicago," Ganis said.
Really?
"The Olympics rarely pay off," said noted University of Chicago sports economist Allen Sanderson. "They're just not good investments."
I wonder if and how Ganis still stands to gain if Chicago lands the bid.
*
GANIS: If managed properly, it will be a wonderful benefit for the city of Chicago.
SANDERSON: If we're lucky, we break even.
*
PAT RYAN: We've been more transparent than any bid in history.
Really? More transparent than Beijing?
*
"Committee Chairman Patrick Ryan frequently points to Australia's increase in tourism after the 2000 games in Sydney, saying the number of international visitors passing through the city's airport has risen 25% since then.
"But an expected $2.2-billion boost in tourism spending during the five years after the games 'never materialized' for Sydney, says economist John Madden of Monash University in Melbourne, Australia."
*
"Similarly, the committee's forecast of 315,000 jobs over the 11-year period starting in 2011 is eye-popping compared to Atlanta and Washington, which estimated 77,000 and 70,000, respectively.
"Mr. Matheson of Holy Cross says a study he conducted with Lake Forest College economics professor Robert Baade found that the Atlanta games actually created about 42,000 jobs at most."
*
And speaking of Beijing:
"The United Neighborhood Organization is hosting a rally at its Veterans Memorial School campus with food and prizes. When kids and parents show up . . . they'll hear how important it is to go to school. But there will also be speakers from Chicago 2016 pushing the Olympic bid," WBEZ reports.
"UNO Chief Executive Officer Juan Rangel doesn't see any conflict in tying a back-to-school rally to the Olympics . . . He serves on a council that helps promote the Olympic bid and reaches out to the community.
Daley's Faux Mea Culpa
Trust me, he's not really sorry.
Town Hall Follies
Kirk crowds a sad mirror of ourselves.
Todd's Job
New details on an old story.
A to Z
What Zellweger's Got That Aniston Doesn't.
Durocher Digs In
Ernie Banks a phony; Ron Santo a baby.
Pro Football Pop Culture Prep
The Urlachers meet the Gosselins.
In-Box Health Care Wars
The Democrats fight amongst themselves while blaming everyone else.
-
The Beachwood Tip Line: A to Z.

Posted by Beachwood Reporter at 10:25 AM | Permalink
The Health Care War In My In-Box
By Steve Rhodes
The Democrats fight amongst themselves while blaming everyone else. Edited for clarity and sanity.
August 18: From Dennis Kucinich:
HEALTH CARE WANTED: DEAD OR ALIVE
The masquerade is over! The "public option" is . . . dead.
Health care reform is now a private option: WHICH FOR PROFIT INSURANCE COMPANY DO YOU WANT? You have to choose. And you have to pay. If you have a low income, under HR3200 government will subsidize the private insurance companies and you will still have to pay premiums, co-pays and deductibles.
The Administration plan requires that everyone must have health insurance, so it is delivering tens of millions of new "customers" to the insurance companies. Health care? Not really. Insurance care! Absolutely. Cost controls? No chance.
You will next hear talk about "co-ops." The truth is that insurance company campaign contributions have co-opted the public interest.
I need your help to spread the word and rally the nation around true health care reform which covers everyone and maintains fiscal integrity without breaking our nation's bank! Your contribution will empower our efforts to continue to fight for the single-payer, not-for-profit health care bill, HR676 "Medicare for All," which I co-authored with Rep. John Conyers. The bill now has 85 sponsors in the House.
The hotly-debated HR3200, the so-called "health care reform" bill, is nothing less than corporate welfare in the guise of social welfare and reform. It is a convoluted mess. The real debate which we should be having is not occurring.
Removing the "public option" from a public bill paid for by public money is not in the public interest. What is left is a "private option" paid for with public money. Why should public money be spent on a private option which does not guarantee 100% coverage nor have any cost controls? A true public option would provide 30% savings immediately which would then cover the 1/3rd of the population who presently have no health care.
Unfortunately, under HR3200, the Government is choosing winners and losers in the private sector; proposing to spend public funds on subsidizing insurance companies who make money not providing health care. This process will insure only the expansion of profits. Gone is the debate over cost.
As a result of current negotiations, the Medicare Part D rip-off will continue for another decade, further fleecing senior citizens. Drug importation has been dropped, so no inexpensive drugs can be accessed from other nations.
Instead we are told the pharmaceutical companies will accept a 2% cut in the growth rate of their profits - they call this cost control!
If the matter were not so serious, it would be farcical: The executive branch pretends that the proposed health care reforms are something they are not. The legislation is being attacked for something it is not. Congressional leadership and the White House defend the legislation, pretending it actually is the very proposal that is being attacked. But it is not.
A commonsense government health care reform policy would insure that every single American has full access to health care by expanding Medicare to cover everyone under a Single Payer System. We are already paying for a universal standard of care, it is just we are not getting it.
I need your help to spread the word and rally the nation around true health care reform which covers everyone and maintains fiscal integrity without subsidizing insurance and pharmaceutical companies and breaking our nation's bank!
My voice in Congress will continue to challenge the special interests who do not want "single-payer" to succeed. I need you to join me in combating the special and corporate interests who spend millions to try to win this Congressional seat. With your help WE will win again. With your help I will continue to represent your concerns, be YOUR VOICE in the United States Congress, and be the voice for health care for all Americans!
Please contribute $25, $50, $100 in support of my campaign. Please contribute now.
With your help, we can accomplish ANYTHING in America. Persistence, dedication, truth and courage will lead the way and win out in the end.
August 18: From ProgressNow Colorado:
Is the public option dead? If you read the headlines, you'd think so. But it's just not the case.
The bottom line is this: nothing has changed.
President Obama has always said that health insurance reform must lower costs, must ensure that there are affordable options for all Americans, and it must increase choice and competition.
He believes the public option is the best way to achieve those goals. Presidential senior advisor Valerie Jarrett reiterated that on Saturday at a public event, and this morning Secretary of Health Kathleen Sebelius was explicit: "We continue to support the public option that will help lower costs, give American consumers more choice, and keep private insurers honest."
But industry lobbyists are still spending $1.4 million a day to convince Congress otherwise.
Tell Congress not to back down.
Despite the fear mongering and outright lies from reform opponents like State Senator Josh Penry, Coloradans need health insurance reform. Our premiums have increased 91% since 2000. Every day, 100 working working families lose their employer-sponsored insurance because it has become too expensive. And those who do have insurance worry about insurance company bureaucrats making decisions about their medical care instead of their doctor.
President Obama's plan will ensure that Coloradans have secure, affordable choices for health insurance. A public health insurance option will serve as a check on the greed of the for-profit insurance industry.
Tell Congress to make sure a public option is included in the final bill.
Don't let partisan ideologues like State Senator Josh Penry bamboozle the public into believing falsehoods about the President's reform plan. In a recent op-ed, he wrote that reform "isn't going to come from Washington, D.C." but from "private-sector innovation." It's the same tired, hackneyed philosophy that brought us the health insurance system that is bankrupting Colorado families while lining the pockets of health insurance CEOs.
August 18: From Obama for America:
President Obama is holding a live strategy meeting on Thursday at 2:30 p.m. Eastern Time for all Organizing for America supporters.
The President will update us on the fight to pass real health insurance reform - what's happening in D.C. and what's happening around the country. He'll lay out our strategy and message going forward and answer questions from supporters like you.
The President wrote to us a few weeks ago to ask us to go the extra mile this month in the fight for health insurance reform. And so far, you've stepped up in a big way: Last week, an astounding 60,000 Organizing for America volunteers stopped by representatives' and senators' local offices. You told your health care stories to staffers and members of Congress-- of losing insurance after getting laid off, of being denied coverage upon finding out about a serious illness. And you thanked those supporting real health insurance reform for all the work they've done so far.
But these local office visits were only part of the story. The D.C. media has been trumpeting coverage of town halls disrupted by angry opposition to reform. But the reality on the ground is very different. Organizing for America supporters are showing up in huge numbers at these meetings all across the country - outnumbering opponents of reform, often by overwhelming margins.
But the special interests and partisan attack groups who oppose reform will not let up, and they will tell whatever lies they can to spread fear.
August 19: From 21st Century Democrats:
Have you been watching insurance companies hijack health care reform with misinformation and stall tactics? We can't allow this. We have to hold them and their Republican cronies accountable.
This year, of the top 10 PACs, only 21st Century Democrats is fighting to pass real health care reform including a public option. The other, right wing PACs are just trying to put money into the pockets of the health insurance lobby.
We need your help to let Democrats know we want real reform. The Democrats we support must be confident we'll have their backs when the insurance companies and Republicans come after them.
August 20: From MoveOn:
The public health insurance option is the heart of health care reform and right now it's under serious attack.
Even some members of the administration are pushing President Obama to give in to conservatives and drop it: one senior White House adviser told The Washington Post, "I don't understand how [the public option] has become the measure of whether what we achieve is health-care reform."
This unnamed source apparently doesn't understand that the public option is the key to lowering health care costs and expanding coverage.
And even though some White House advisers seem to have forgotten, the reason the public option has become central to reform is simple: we're fed up with the insurance companies and we need real accountability for them. They've had decades to fix the problems with our health care system, but they haven't done it. Health care costs are spiraling out of control, millions of people can't get insurance, and even those of us with insurance can face bankruptcy or worse if we get really sick.
A public option will give Americans a real choice when it comes to our health care. It'll end the insurance companies' stranglehold on our health care system. And that's exactly why those companies, and their allies on Capitol Hill, are fighting so hard to kill it.
August 22: From Organizing for America:
On Thursday, an astounding 280,000 Organizing for America supporters gathered online to huddle with the President at our National Health Care Forum. With Congress about to return to Washington to make historic decisions on health insurance reform, the President chose this critical moment to speak directly to the OFA community. He reminded us of how far we've come and what we can accomplish together.
Posted by Beachwood Reporter at 4:55 AM | Permalink
Durocher Digs In
By Rick Kaempfer
I knew a few things about Leo Durocher before I cracked open the pages of Nice Guys Finish Last (just re-released in paperback by University of Chicago press).
I knew that he was such an irritant as a player and manager in the 1930s and 1940s that he once provoked Cubs pitcher Hi Bithorn to throw a pitch into the Brooklyn Dodgers dugout.
I knew that his language was so foul it would have made Bobby Knight blush.
I knew that he was essentially an unlikable guy. When Vin Scully, a man who never has a harsh word for anyone, heard Leo took a job in Japan he said: "It took the U.S. 35 years to get revenge for Pearl Harbor."
But most importantly, I knew Leo Durocher was the manager and wore No. 2 for the team of my childhood; the late 60s and early 70s Chicago Cubs.
What I didn't know about Leo Durocher was his almost sociopathic motto: "Do whatever you feel like doing whenever you feel like doing it, and everything will turn out just fine."
I learned that in Nice Guys Finish Last.
I also learned that despite his unlikable personality and foul mouth, Leo Durocher personally witnessed and experienced nearly every important event in baseball between the late 1920s and the early 1970s. Imagine getting behind-the-scenes reports from someone who absolutely doesn't care about stepping on toes.
That's Nice Guys Finish Last.
*
Durocher was a bench warmer on those great Babe Ruth-Lou Gehrig Yankee teams in the late 1920s, a spark plug for the legendary "Gas House Gang" in St. Louis in the 1930s, the manager of the Dodgers when the color line was broken in the 1940s, and the manager of the Giants in the 1950s when Willie Mays came to the majors and Bobby Thomson hit the shot heard 'round the world.
His stories about his run-ins with the baseball executives of the day, including Yankees owner Ed Barrow (Leo told him to "Go fuck yourself"), Cardinals owner Branch Rickey (the tightwad Bible-thumping baseball genius), Dodgers owner Lee McPhail (the manic-depressive lunatic), and Giants owner Horace Stoneham (the distant drunk), are almost inspiring in their iconoclastic furor.
But I'm a Cubs fan first and foremost, and for me the most interesting parts of the book were the little tidbits about some of the all-time Cub greats like Pat Malone, Charlie Grimm, Billy Herman, Bill "Swish" Nicholson, Rabbit Maranville, and of course, the Cubs that Leo managed in the late 60s and early 70s.
Those Cubs years were still fresh news when Nice Guys Finish Last first came out, and while I love the inside look at my childhood heroes, this entire section does make Leo sound like he's attempting to settle some scores. He calls out Ernie Banks as a phony, and implies Ron Santo was an overrated dimwitted baby. He calls Milt Pappas an agitator, and implies Joe Pepitone was God's punishment for Leo's own behavior as a player.
Perhaps the most shocking part of the book for me, though, was Leo's portrayal of Cubs owner P.K. Wrigley. Durocher, who has almost nothing nice to say about anyone (except Willie Mays and Eddie Stanky), calls Wrigley "The finest man to work for in the world" and "The most decent man I've met."
I did not see that one coming.
In fact, the entire Cubs section of the book made me question everything I once believed. Wrigley was a sweetheart, but Jack Brickhouse was a jerk? (Leo actually writes: "Up yours, Brickhouse.") Ernie Banks and Ron Santo were the reason the Cubs didn't win it? ("We were too slow in the middle of the lineup.") For cryin' out loud, Leo tried to trade Santo for Cesar Tovar - and Billy Williams for Mike Epstein. The only reason neither trade happened was because the other team said no. You've got to be kidding me!
*
Nice Guys Finish Last was co-written with incredible flair and style by Ed Linn, who also co-wrote one of my other favorite baseball books, Bill Veeck's incredible autobiography (Veeck . . . as in Wreck.). But while it doesn't pull many punches, and it's never ever boring, there are a few parts of the book that just don't ring true.
For instance, Durocher's run-ins with baseball commissioners Kenesaw Mountain Landis, Happy Chandler, and Bowie Kuhn make those men sound like absolute idiots who fined and suspended him for no reason whatsoever. It's hard to dispute that some of their rulings were a bit random, but it hardly seems likely that Durocher was the unluckiest man in baseball history. There's certainly more to those stories.
The other part of the book that seems a bit whitewashed is the first season Jackie Robinson played with the Dodgers. Durocher was suspended that entire season so he didn't actually manage him until Jackie's second season, but Leo really downplays the unrest in the Dodgers clubhouse before Jackie's arrival. Durocher claims to have held a late-night meeting with the players to warn them that Jackie was coming and if they didn't like it, they could take a hike. He doesn't mention that the commissioner had to step in to issue a more direct threat.
While I absolutely love the baseball tales in Nice Guys Finish Last, I'm not wild about the Hollywood stories. For all the down and dirty criticism of baseball players and executives, Leo is downright sycophantic when it comes to Hollywood. Perhaps the most ridiculous part of the book is the five page ass-kissing of his pal Frank Sinatra. Leo's head is so far up Frank's butt you can actually see Durocher's bald head when Frank says hello. He does the same thing to Danny Kaye earlier in the book.
It's unbecoming.
I like my irascible curmudgeons to be pure.
On the other hand, that kind of ass-kissing led to quite a few cameos and guest spots. Durocher was on Mr. Ed, The Munsters, The Beverly Hillbillies, and The Judy Garland Show, among others.
Maybe I shouldn't question Leo. It hasn't turned out well for anyone else that has.
Don't believe me? Just read Nice Guys Finish Last and see what I mean.
-
-
Posted by Beachwood Reporter at 12:52 AM | Permalink
Zellweger vs. Aniston
By The Beachwood Celebrity Feud Bureau
Jennifer Aniston is reportedly pissed off that she lost some dude named Bradley Cooper to Renee Zellweger, complaining to friends that she doesn't see what Zellweger has that she doesn't. We do.
* An Oscar.
* That cute kid Ray.
* She won't drag you to dinner at the Cox-Arquette household.
* She hasn't slept with Lumbergh.
* Twice as squinty.
* She no longer owns any Kenny Chesney records.
* Superior binging and purging skills.
* Has never dated John Mayer.
* Allegedly reads books.
* Doesn't wonder what other people have that she doesn't.
Posted by Beachwood Reporter at 12:52 AM | Permalink
Pro Football Pop Culture Prep
By Eric Emery
As most fans ready themselves with their impending fantasy football drafts and ironing their new purple #4 jerseys, married fans must do a little extra research before the season. A majority of married fans need to be aware of how the football world connects with popular culture. For instance, you need to know the name of that big butted gal who dated Reggie Bush and the Simpson girl who jinxed Tony Romo. If you know these names, your significant other may root along with you. But without the extra popular culture knowledge, you may find yourself watching the World Championships of Figure Skating. When that happens, like in nuclear war, nobody wins.
Here are some less-than-notable football/pop culture connections that you can try out to impress your better half:
* On their first date, Bears linebacker Brian Urlacher challenged Kate Gosselin to put her kids up against his in a game of hoops. Vegas favored Team Urlacher due to its "deep bench."
* Rap artist 50 Cent and Bengals wideout Chad "Ocho Cinco"Johnson scrapped plans to form a rap duo called "A Buck Thirty Five."
* The Detroit Lions scrapped plans to appear on the new season of The Biggest Loser when they learned the show wasn't what they thought it was.
* Michael Vick nearly lost an opportunity to re-enter the NFL when it was learned that he also applied for a job with Dog, the Bounty Hunter.
* Bravo in in discussions with Plaxico Burress to appear in The Real Housewives of Rikers Island.
* Brian Urlacher and Jon Gosselin will participate in Fox's new reality show The World's Worst Dad.
* Brett Favre has landed a role on the new Melrose Place. He'll play a neighbor who keeps moving in and out.
* Peter Griffin once played for the New England Patriots.
* Bill Parcells will star in The Wildcat as an aging football coach in search of a young offense.
* The next season of The Wire will center on the Baltimore Ravens.
Posted by Beachwood Reporter at 12:10 AM | Permalink
August 24, 2009
The [Monday] Papers
By Steve Rhodes
Sometimes kids say the smartest things.
Death Paneling
"Let's see if we can have a reasoned discussion about end-of-life counseling," writes Charles Krauthammer today.
"We might start by asking Sarah Palin to leave the room. I've got nothing against her. She's a remarkable political talent. But there are no 'death panels' in the Democratic health-care bills, and to say that there are is to debase the debate.
"We also have to tell the defenders of the notorious Section 1233 of H.R. 3200 that it is not quite as benign as they pretend. To offer government reimbursement to any doctor who gives end-of-life counseling - whether or not the patient asked for it - is to create an incentive for such a chat."
Thank Blago For Choking
He made you breathe dirty air and drink tainted water to satisfy his own political grudge.
*
From the original Tribune version by crack environmental reporter Michael Hawthorne:
"Records show the state EPA had determined in late 2007 that village officials had known for years the well was contaminated with chemicals related to a toxic dry cleaning solvent. But the agency chose to quietly negotiate a deal allowing Crestwood to shut off the well and avoid any penalties, which would have drawn attention to the violations.
"EPA officials also kept the attorney general's office out of the loop and failed to inform citizens that they had been drinking contaminated water for more than two decades. Crestwood residents didn't find out about the scheme until the Tribune published its investigation and prompted Quinn to order a review of the case."
Rough Justice
"Bernie Madoff Reportedly Dying of Cancer."
Perhaps he should be sent to Libya as an act of compassion.
Arne's Outta Here!
Arne Duncan has sold his Hyde Park townhouse for $525K.
A People's History of the Mainstream Media
Oh for the days when facts mattered.
Oops.
Social Petworking
A term I just heard on a morning news show. I really don't want to know more.
President Preckwinkle?
"For too long the Cook County Forest Preserve District has served as a dumping ground for County patronage hires, leaving the taxpayers to pick up the tab with property tax increases year after year," Toni Preckwinkle says in an e-mail her campaign just sent out, responding to this Sun-Times story.
Obama's Stealth Czar
"[Daschle] still speaks frequently to the president, who met with him as recently as Friday morning in the Oval Office. And he remains a highly paid policy adviser to hospital, drug, pharmaceutical and other health care industry clients of Alston & Bird, the law and lobbying firm," the New York Times reports.
"Friends and associates of Mr. Daschle say the interests of Alston & Bird's clients have no influence on his views. They say he sees no conflict in advising private clients on the one hand and advising the White House on the other, because he offers the same assessment to everyone: Though he has often said that he favors a government-run insurance option, the Senate will not pass it."
Same-old, same-old.
*
Olympic Bid Running Ragged
Chicago losing steam as facts emerge.
The Bobby Rush Show
Now including Chief Illiniwek.
Lolla-Mart
Jim DeRogatis conducts a fine interview (as usual) with an evil Lollapalooza co-owner.
Bulk Mail
The information packet for the old Chicago Main Post Office comes in three boxes and costs $500, Hedy Weiss notes.
Sneed Spies . . .
". . . Actor Jim Belushi at the Captain Morgan club at Wrigley Field recently."
That's about right.
There Are No Swans Here
"The adults in this world usually lack any redeeming qualities," our very own Connie Nardini writes in her review of Black Swan Green. "However, Jason often sees both sides of these prickly people who include his father and his friend's fathers. He describes one such dad who is known as an irresponsible drunk: 'Green is made of yellow and blue, nothing else, but when you look at green, where've the yellow and blue gone?'"
Bulging Beachwood
The Beachwood welcomes veteran sports radio reporter George Ofman to its burgeoning sports section today.
George's first offering is "A Soriano Saga," and I think you'll see why we're so excited to have him aboard.
Also in Beachwood Sports today:
* "While the Chicago media understandably focused on [Derrick] Rose, a Chicago native, the true significance of this story is not about a single player," Mike Conklin writes. "After all, the National Basketball Association basically requires all rookies to spend a season-in-training in college. It is much more about cowardly university athletic administrators enabling ego-maniacal coaches."
* Advice for new Cubs owner Tom Ricketts, including hiring a team of loophole-savvy contract lawyers. In The Cub Factor.
* "Our collective devotion risks spiraling into a weird, Hawk Harrelsonian abyss of counterlogic and anti-cheering, and any season predicated on the idea of 'as long as they can be less bad' is surely doomed," Andrew Reilly writes in The White Sox Report.
* "The guy is a great, great quarterback and he is a Bear forever (they aren't going to screw up his next contract, I promise)," Jim Coffman writes in SportsMonday. "That fact still boggles everything."
-
That Smell
-
The Beachwood Tip Line: You know you want to.
Posted by Beachwood Reporter at 11:58 AM | Permalink
SportsMonday
By Jim Coffman

We're all taking deep breaths now and repeating our mantra: "Exhibition games don't mean anything. Exhibition games don't mean anything."

Okay, they mean that Devin Hester will continue to make us doubt that he is close to capable of No. 1 receiver-dom and make us wish he might, I don't know, return a kick or two during the pre-season, considering we can still remember that he was the best returner in NFL history but a brief little season ago.

But otherwise . . . ". . . don't mean anything . . . don't mean anything . . ."

Learn it, love it, live it.

Well, maybe they mean a little. That pass that Cutler threw to a tightly covered Bennett (Earl that is) on third-and-long deep in his own territory after two lame Matt Forte runs against a stacked (against the run) Giant defense, the pass that kicked off the Bears' first scoring drive and energized everything, the one that young Jay C. threw into a window that measured approximately two feet by one foot . . . that was pretty good.

And, of course, the second pass from Cutler to Bennett, the one where Cutler rolled out to his right and Bennett was again seemingly blanketed, except that Cutler threw it a few feet off the ground, Bennett slid and held on as the ball hit him right between the numbers.

Then there was yet another third-and-long pass that Cutler threw to Bennett, the one where Bennett was covered by multiple Giant defensive backs, except the one back wasn't terribly confident that his mates had Bennett under control and therefore obviously interfered with him to get the final long, impressive scoring drive started.

In the end, the folks who have been fired up about Jay Cutler since the second it was rumored he might be available in a trade and who then just about lost their minds when Jerry Angelo pulled off the trade of the century to get him, had the chance to revel just a bit on Saturday evening.

The guy is a great, great quarterback and he is a Bear forever (they aren't going to screw up his next contract, I promise). That fact still boggles everything.

Oh, and the defense played well too. Alex Brown's two-way abilities (against the run and the pass) at defensive end have always been underrated, and he provided a glimpse of his capabilities with the swat (of the ball) that turned into the sack that ended a promising Giant drive.

Fellow lineman Israel Idonije, with his glorious athleticism and the coaching of all-time defensive line impresario Rod Marinelli, is going to have a huge year (he will make more big plays than Tommie Harris - write it down).

A little further back, Kevin Payne closed on the ball impressively from the free safety spot to knock away a dangerous early Eli Manning pass to end the first Giant foray into Bear territory.

If Payne can play that spot, Danieal Manning can focus on the nickel and kickoff returns. And if Al Afalava can move up and man the strong safety position the way he has so far this pre-season and Corey Graham can continue to impress at corner (the man can cover and he can blitz), the Bears might really have something (and something young) in the defensive backfield.

And . . . and . . . the exhibition season means nothing . . . nothing . . . but maybe a few things.

A few more notes:

* Erik Kramer wasn't as good on the TV analysis as he was in the first week but he was still solid, especially when he was talking, briefly, about his reservations regarding Mr. Cutler. He spoke of how the reigning Pro Bowler was "in love with his own arm" and how that would cause him to make some ill-advised throws. Kramer's right but we'll take those throws, which will continue to diminish over time (remember, he's only 25), along with the other, slightly more positive attributes like arm strength, accuracy, smarts, and maneuverability.

* Kramer and play-by-play man Sam Rosen irritated early in the second half when they focused way too much on defensive end Mark Anderson. Sure he made a nice play to grab a sack, but when he rushed untouched toward Giant back-up David Carr on the next play, he was just doing exactly what the Giants wanted him to as Carr then completed a pass over him to start a wide receiver screen. That play was notable for back-up corner Trumaine McBride destroying a block attempt and then making a textbook tackle for no gain.

* The Bears have the best tight ends in the league. Did you see that catch Kellen Davis hauled in an instant before he absorbed a huge hit to gain, what, 25 yards? Davis would be one of the top two tight ends on at least half the teams in the NFL, but with the Bears he is scrambling to hang onto the third TE spot.

* The Bears will lead the league in syllables this year, especially if the other Devin (Aromashodu), makes a few more catches (and therefore makes the team) like the laid-out, all-they way down to the goal-line grab that set up the Bears' second touchdown. They will do so even if he doesn't secure a spot because Pisa Tinoisamoa (Rosen was all over those two names by the way - very impressive) will be the starting weak-side (the one who avoids the tight end when the offense runs a standard set) linebacker. While Brian Urlacher was in danger of permanently embarrassing himself with his meager attempts at tackles on a couple early Brandon Jacobs runs, Pisa (I hope you don't mind my informality but once is enough with that last name) put on a tackling clinic.

* I've seen a couple interviews so far this pre-season in which Urlacher tries to blame his failure to make big plays last season (and in the last several seasons except for the last four games or so of the 2007 campaign) on the fact that he was too busy minding his gap (all the linemen and linebackers have to do that first and foremost in Lovie's basic scheme). It would be good if Mr. Urlacher would focus a little less on convincing Sports Illustrated's Dan Patrick and his ilk that he isn't wildly overrated and a little more on getting ready for the nitty-gritty of the coming season.

* The Bears have absolutely nothing left to prove in the next two weeks. This weekend's Denver drama is to be survived - it does not matter if Cutler plays better than Kyle Orton in a meaningless exhibition . . . it does not matter . . . That's followed by the last exhibition game, which never means anything and then, let the real games begin.

-

Jim Coffman rounds up the sports weekend in this space every Monday. He welcomes your comments.

Posted by Beachwood Reporter at 10:23 AM | Permalink
The Cub Factor
By Marty Gangler
We here at The Cub Factor have found local scribes'suggestions for new Cubs owner Tom Ricketts to be just about as lame as the Cubs lineup. If you pay attention to any of these lists floating around, Tom, pay attention to ours.
1. Hire the best loophole-savvy contract lawyers you can find. Even better if they specialize in outfielders.
2. Bring back the Gatorade cooler but spike it with Prozac.
3. Send Carlos Zambrano, Milton Bradley and Alfonso Soriano on a three-hour tour of the South Pacific. We hear the accommodations on the S.S. Minnow are pretty good.
4. Re-name the team. Try "the Cardinals."
5. Book Jim Hendry on the extended version of I'm a Celebrity . . . Get Me Out Of Here!. The one where the losers never leave the jungle.
6. Sell Wrigley Field naming rights to Google in exchange for a search algorithm that can find this team a second baseman.
7. Don't hassle the Hoff. And that goes for Fuld and Fox, too.
8. Take the revenue from the Captain Morgan Club and use it to sign a player capable of being team captain.
9. Hire that guy in those commercials to take back the High Life from those who don't deserve a good honest beer at a tasty price.
10. Replace the bleachers with stalks of corn and pray that the 1908 team returns and is still under contract.
-
Week in Review: The Cubs took one of three from the Padres and one of four from the Dodgers. They also took themselves right out of the playoffs.
Week in Preview: On the other hand, the schedule from here on out is amazingly soft, starting with three at home against the Nationals and three at home against the Mets. If Uncle Lou keeps Soriano on the bench, Gregg off the mound, and Fuld and Fox in the lineup, they could easily go on a run.
The Second Basemen Report: Jeff Baker got five starts this week; Mike Fontenot got two. Yawn. But fear not, Second Basemen Report fans, because September is right around the corner and that means expanded rosters with even more second basemen. Just like Jim Hendry drew it up.
In former second basemen news, remember when we had Mark DeRosa and we were in first place? Yeah, that was awesome. And you know Mark is still in first place - and comfortably. Ronnie Cedeno is not in first place, but he is still missed. Just because.
The Zam Bomb: Too many ab crunches make big Z furious.


-
Lost in Translation: "Sayonora" is Japanse for "Fukudome-san will be home to mow the lawn by October 1."
(Future) Endorsement No-Brainer: 2010 Cy Young award winning pitcher Carlos Zambrano for the Ab Rocker.
Milton Bradley Game of the Week: Bandits. Because at this point the guy is just stealing his paycheck.
Sweet and Sour Lou: 45% sweet, 55% sour. Lou stands pat again for the week because he doesn't seem to care again. And just like your real crazy drunk uncle, you can tell that Uncle Lou is only half listening to cousin Ricky's story about that 30-pound muskie that got away. He just wants this birthday party over with so he can get home and get on the ol' hammock with a couple of frosty Falstaffs.
Don't Hassle the Hoff: Having to wait for a September call-up is a hassle, so stop it.
Over/Under: Amount of time it takes for a newspaper to make some sort of "Ricketty" joke about the Cubs and/or Wrigley Field: +/- it already happened.
Beachwood Sabermetrics: A complex algorithm performed by the The Cub Factor staff using all historical data made available by Major League Baseball has determined that this season was over before it started.
The Cub Factor: Unlike Soriano, you can catch 'em all!
The White Sox Report: Now with a weekly Cubs Snub.
Fantasy Fix: Watching Kevin Gregg, Jay Cutler, and Kyle Orton.
The Mount Lou Alert System: Green as green can be as scientists begin to believe that the once fiery core of Mount Lou may have completely fizzled and turned to old wrinkled ash.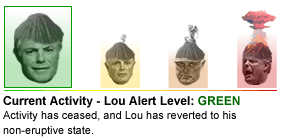 -
Posted by Beachwood Reporter at 9:24 AM | Permalink
The White Sox Report
By Andrew Reilly
You could almost swear the Sox don't really want to take the division. You know in your heart they do, but you have to wonder sometimes if maybe Sox players see the likely Death At The Hands Of The Yankees outcome of a theoretical ALDS as not being worth the so-called effort required to get there. How else to explain the reluctance to win easy games, or the general folding under the pressure of playing the absolute nobodies who come to town these days?
There is still some encouragement to be found in the competition, some solace in the fact that while the Sox haven't gained any ground for a month, they haven't lost any either. But that line of thinking is dangerous: what we're rooting for is not for the Sox to win, just for them not to lose. Our collective devotion risks spiraling into a weird, Hawk Harrelsonian abyss of counterlogic and anti-cheering, and any season predicated on the idea of "as long as they can be less bad" is surely doomed.
So now, with just over a month left, the Sox find themselves in the awkward position of being able to see the top of the mountain while finding their feet trapped inside blocks of ice. They could win the Central, even though they can't win a series to save their lives. They could destroy the Tigers if only the Tigers were any good, but the kittens' similarly-deployed lameness means the Sox don't stand a chance: all the Good Guys have to do is play better baseball (and win more games) than a bad team, and that's probably asking too much at this point.
Week in Review: Split. Taking two from the Royals does a team no good when followed by dropping a pair to the Orioles to go 3-3 for the week. Again.
Week in Preview: Doable. Four at Boston and three at New York normally screams "gazelles in the lion's den," but it has come to light the Sox skipped the "winning and losing in logical fashion" drills in Spring Training.
The Q Factor: Following Carlos Quentin's off days Wednesday and Thursday, Time itself was quoted as saying, "Mr. Quentin informs me he no longer requires my services." Quentin could not be reached for comment, as he had astrally projected himself into an alternate-universe sandlot home run derby with Lou Gehrig, Babe Ruth, Mel Ott, Del Ennis and former standout Baltimore Canaries outfielder Lip Pike, who in 1873 led the National Association with four home runs. Mere minutes passed on Earth, although the true elapsed time of the contest was just over 39 years. Quentin placed third and returned to the lineup Friday.
That's Ozzie!: "Every game in the American League is tough." - Guillen attempts to give some perspective to the Sox' inability to defeather the comically bad Orioles.
The Guillen Meter: His longball-dependent team making its first trip to the unapologetically homer-friendly Yankee Stadium, the Guillen Meter reads 9 for "Again with the %@(* home run derby!"
Underclassmen Update: Low average, high power, decent speed, positional flexibility: It's as though someone took the good aspects of Josh Fields, Ryan Sweeney and Jerry Owens and turned them into a supersub named Jayson Nix without the embarrassment of two bad trades involving Nick Swisher.
Alumni News You Can Use: Former White Sox Hall of Famer Brian Anderson was optioned Friday to the AAA Pawtucket Red Sox.
Hawkeroo's Can-O-Corn Watch: Gordon Beckham's pure numbers are stellar, but his situational line also gives young Bacon Spice the team lead in ball four base hits. The White Sox Report would also like to wish a happy belated birthday to Hawk Hero Carl Yastrzemski, who turned 70 over the weekend.
Endorsement No-Brainer: This week's impossibly difficult road trip for Clint Mansell's soundtrack to The Fountain: Death is the road to awe.
Cubs Snub: The White Sox Report wishes to extend a neighborly welcome to new Cubs owner Tom Ricketts, whose roster depth, easily movable contracts and effortlessly expandable ballpark will surely reap huge returns on the field and in the bank, and a new da-- I'm sorry, I can't type that with a straight face. Had this happened four or five years ago, Sox fans would be running to the hills to escape the inexplicable citywide euphoria for the Cubs dynasty about to be born; instead, we're all just sitting back and waiting for the popcorn to come out of the microwave. I look forward to visiting your brand new, half empty megastadium in Schaumburg for the 2014 Crosscounty Classic.
Fantasy Fix: Quarterbacks, sacked.
The White Sox Report: Read 'em all.
The Cub Factor: Know your enemy.
-
The White Sox Report welcomes your comments.
-
Andrew Reilly is the managing editor of The 35th Street Review and a contributor to many fine publications.
Posted by Beachwood Reporter at 7:55 AM | Permalink
The News From Pueblo: Alcohol & You
By The Federal Citizen Information Center
1. ALCOHOL AND YOUR KIDS - THE TWO DON'T MIX
Talking with your kids about alcohol can be a challenge - you may feel nervous and fidgety and your kids might roll their eyes and wish they were somewhere else. Get some help with this important conversation with free online publications from the Century Council and the Federal Citizen Information Center.

Studies have shown that kids can start drinking as early as 12-years-old. More than 10% of 13- and 14-year-olds say they've tried alcohol in the past month. For this reason, the online publications What You Don't "No" Can Hurt You and How to Talk to Your Adolescent About Alcohol are both aimed at younger kids in grade school to prepare them for when they get older.
Ninety-two percent of kids surveyed said the most trusted information they get about alcohol comes from their parents, with mom as the number one source. These free materials help you facilitate conversations with your children by using educational cartoons and testimonies from other kids and by discussing smart techniques to help escape peer pressure situations.
They also include a set of kid's coupons good for a dinner of their choice or "getting out of chores" when they complete the activities. And there's a contract that both you and they can sign that promises mutual respect and openness when discussing alcohol.

Help keep your kids healthy, safe and educated about the dangers of underage drinking with these free materials.
There are two ways to get a copy:
Read or download them online -
* What You Don't "No" Can Hurt You
* How to Talk to Your Adolescent About Alcohol

Order printed copies (subject to availability) -
* Call toll-free 1 (888) 8 PUEBLO. That's 1 (888) 878-3256, weekdays 8 a.m. to 8 p.m. Eastern Time and ask for What You Don't "No" Can Hurt You and How to Talk to Your Adolescent About Alcohol.
2. GUIDE TO BURIAL AT ARLINGTON NATIONAL CEMETERY

Arlington National Cemetery in Virginia is one of the most honored and hallowed grounds for fallen members of the U.S. armed forces and their families. The free Guide to Burial at Arlington National Cemetery, from Arlington National Cemetery and the Federal Citizen Information Center contains all the procedures and requirements for burial and military honors at the cemetery.
Learn about eligibility requirements, hours of visitation, specifics on gravesite markers and how to apply for a Presidential Memorial Certificate.
For a free copy of the Guide to Burial at Arlington National Cemetery, send your name and address to the Federal Citizen Information Center, Dept. Item 539T, Pueblo, CO 81009. Or call toll-free 1 (888) 8 PUEBLO, that's 1 (888) 878-3256, and ask for Item 539T. And visit www.pueblo.gsa.gov to read or print this and hundreds of other FCIC publications for free.
3. PROTECTING YOURSELF FROM OVERDRAFT AND BOUNCED-CHECK FEES
Overdraft fees and bounced-check charges can really eat into your income. Learn tips on how to avoid these unnecessary payments by ordering a copy of Protecting Yourself from Overdraft and Bounced-Check Fees from the Federal Reserve Board and the Federal Citizen Information Center.
Learn about creating an overdraft protection plan - a financial cushion that banks usually can provide you for a small fee. Also, review some smart budgeting techniques to keep your checking account in good shape.
For a copy of Protecting Yourself from Overdraft and Bounced-Check Fees, send your name, address, and a check or money order for $1.50 to the Federal Citizen Information Center, Dept. 312T, Pueblo, CO 81009. Or call 1 (888) 878-3256, and ask for Item 312T. Have your credit card handy.
Posted by Beachwood Reporter at 6:18 AM | Permalink
Connie's Corner: Black Swan Green
By Connie Nardini
The month of January is supposed to be a beginning, not the end of a beginning. To 13-year-old Jason Taylor it was both.
He is the January Man in David Mitchell's 2006 coming-of-age-novel Black Swan Green. The story starts in the first month of Jason's 13th year and ends, thirteen chapters later, in the first month of his 14th. So what happens to the January Man? Does he seem become a new person after these manic months of being lurched into adulthood, or is he still a beginning being? You must judge for yourself after you listen to his voice.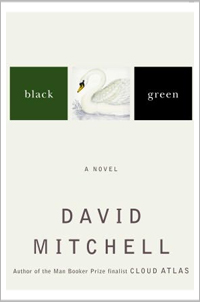 Jason lives in the land of teenage castes in his village in Worcestershire, England, called Black Swan Green in the 1982 period of Thatcherism. One the first ironies you learn is that Black Swan Green has no swans. In this swanless world, "Kids who are really popular get called by their first names, so Nick Yew is always just 'Nick.' Kids who are a bit popular like Gilbert Swinyard have sort of respectful nicknames like 'Yardy.' Next down are kids like me with piss-take names like . . . Nicholas Brier who's 'Nickerless Bra.' It's all ranks, being a boy, like in the army. If I called Gilbert Swinyard just 'Swinyard,' he'd kick my face in . . . so you have to watch out."
Jason had another thing to watch out for - he stammered, but only his family knew this; he was adept at hiding this from his fellow "soldiers." He calls his disability "Hangman."
"Most people think stammering and stuttering are the same but they're as different as diarrhea and constipation. Stuttering's where you say the first bit of word but can't stop from saying it over and over. St-st-stutter. Like that. Stammering is where you get stuck straight after the first bit of the word. Like this, st . . . AMmer!"
"My life divided itself into Before Hangman and After Hangman. The word 'nightingale' ka-boomed in my skull but it just wouldn't come out. The 'n' got out okay but the harder I forced the rest, the tighter the noose got . . . When a stammerer stammers their eyeballs pop out, they go trembly like an evenly-matched arm wrestler, and their mouth gupper-gupper-guppers like a fish in the net. It must be quite a funny sight."
Jason's mother takes him to a speech therapist - a Mrs. De Roo - but Hangman knows better than to mess with her, so she never really sees the guppering. The Four Commandments for the Hangman are: 1) Thou shalt hide from speech therapists; 2) Thou shalt strangle Taylor when he is most nervous about stammering; 3) Thou shalt ambush Taylor when he is not nervous about stammering; and 4) Once Taylor is "Stutterboy" to the eyes of the world, he is YOURS."
Another alter-ego includes the Unborn Twin. This one writes poetry under the pen-name Eliot Bolivar for the parish newsletter. This doppleganger is invited to discuss his work with an old woman who lived in the old, vacant vicarage, a Madame Crommelynk. She is extremely old and extremely opinionated about all of the arts, including poetry. When Jason saw her up close, "the old woman turned into an It. Sags ruckused its eyebags and eyelids. Its eyelashes been gummed into spikes. Delta of tiny red veins snaked its stained whites. Its irises misty like long buried marbles. Makeup dusted its mummified skin. Its grily nose was subsiding into its skullhole."
Nevertheless, Madame inspired the Unborn Twin closer to being born by instilling some pride into the poetic part of our hero. This Jason has the lovely ability of turning nouns into verbs to "startilize" you. "Countless hundreds of birds, orbiting the village green once, elasticking longer, twice, winging shorter, three times, then, as if following an order, vanishing inside the tree again."
The adults in this world usually lack any redeeming qualities. However, Jason often sees both sides of these prickly people who include his father and his friend's fathers. He describes one such dad who is known as an irresponsible drunk: "Green is made of yellow and blue, nothing else, but when you look at green, where've the yellow and blue gone?" He tries to console his best friend, Moran, with these words when Moran talks to Jason about his love for his (Moran's) father. Jason's teachers and relatives all seem bent on destroying the Unborn Twin's need to exist.
So, the 13th chapter is called "January Man" just like the first. The reader must decide if the new 14-year-old is a whole person consisting of both fully-formed twins or not. Will Jason's ride continue to be as bumpy or will it smooth out? Not even Hangman knows.
-
Previously in Connie's Corner:
* "Heavier Than Air." Nona Caspers creates a tapestry of small towns and chronicles the lives of people living there who have a hard time coming down to earth.
* "Pale Fire." Nabokov creates a novel that doesn't seem to have coherent plot but a story that contains a do-it-yourself kit.
* "Out Stealing Horses." A coming-of-age story that reveals a father's secret life during wartime.
* "An American In Iceland." Answering the riddle: how many Icelanders does it take to change a light bulb?
* "The Physics of the Dalai Lama." How Buddhism squares with quantum mechanics.
* "Finn." Some kind of monster.
* "The Master Bedroom." Betrayal, revelation, metaphor, and a swan in a dirty sheet.
* So Long, See You Tomorrow. The powerlessness of childhood and the untrustworthiness of adults.
* Diary of a Bad Year. A three-layer cake baked by J.M. Coetzee.
Posted by Don Jacobson at 3:54 AM | Permalink
A Soriano Saga
By George Ofman
I'm plunked down on my couch the other night watching the Cubs game. No nachos and no beer. I'm 55 and nachos plus beer equal a long night, and not on the couch. You're probably assuming I'm a masochist watching this team play, but I figure this is probably going to be more entertaining taking in Anderson Cooper 360. I'm wrong. It's not more entertaining. It's more aggravating.
Fine, call me a masochist.
I like watching baseball. I just don't like watching bad baseball. And that's not just a Cubs thing; it's the same with the White Sox. Think I enjoy seeing balls go through Alexei Ramirez's legs? But I digress.
So, it's the second inning and the Cubs have two men on and one out. The Dodgers wisely elect not to pitch to Kosuke Fukudome, who homered in his first at-bat. They'd rather see Alfonso Soriano with the bases loaded. This is Alfonso Soriano with 19 homers! Of course, he hadn't hit one since July 29th and has only four RBI to go along with a .172 batting average in August. This is not a tactical move by Joe Torre. It's a no-brainer. I'm not a manager but I could be asleep and order an intentional walk in this situation.
Soriano steps to the plate and - as Harry Caray is my witness - the first words out of my mouth are "He's going to strike out on three pitches!" Please understand I'm not clairvoyant nor am I Nostradamus. It's just something that comes naturally. Predicting Soriano will strike out on three pitches comes from vast experience. I've seen this movie so often I know the script forwards and backwards.
First pitch is a foul ball. That's strike one. I have two to go. Soriano is notorious for swinging at everything though, thankfully, not cab drivers from Buffalo. Doesn't matter what the pitch is, Soriano likes to swing the way an alcoholic likes to guzzle. The Dodgers pitcher is Jeff Weaver, who has been employed by six different teams and has never posted a record better than three games over .500. No matter . . . he's pitching to Alfonso Soriano, who has made ordinary pitchers look as if they deserve $16 million a year!
Second pitch is a slider approximately two feet outside. Soriano, as is his wont, flails mightily and misses the pitch. That's strike two and I have one pitch to go. It's not even close. I'm chuckling as I reposition myself on the couch. I have no reason to get up and head to the liquor cabinet now.
Meanwhile I'm thinking a Little Leaguer wouldn't have swung at that pitch, but a Little Leaguer doesn't get paid 16 Mildo to swing and miss. Soriano does. Weaver is no dummy. He knows you don't throw Soriano a fastball and you don't throw any pitch too low because he just might hit it.
Remember, Soriano already has struck out 112 times, good for fifth in the National league. It's not an enviable stat, but Arizona's Mark Reynolds has struck out a whopping 168 times. He also has a whopping 38 homers, second in the league. Ryan Howard has whiffed an impressive 145 times, but he's slugged 32 round-trippers. Adam Dunn happens to be third and his home run total is 31. Soriano has 19 and just one this month! I can't wait for the next pitch even though I already know the outcome.
Swing and a miss on another slider for strike three! Soriano drops his head and walks slowly and sullenly back to the bench. Instead of raising my chuckle to an outright guffaw, I do something that also comes naturally. I yell, "YOU STINK!"
I've done this often while watching Cubs games, mostly when Milton Bradley is batting. But he's only earning $10 million a year. Soriano is raking in 16 mil this year and he'll do it again next year for 18 mil - and the year after that, and the year after that, and the year after that and yes, the year after that. That's 88 million more dollars to watch a guy flail away as if he's trying to snare a fly with his bare hand. He might achieve more success that way. As soon as Jeff Baker follows and strikes out, I decide, to heck with a port (certainly more soothing than nachos and beer), I'm headed to the sack.
And do you know why? Because I already know the Cubs will lose. Nostradamus has nothing on me.
-
George Ofman, an original member of The Score and a veteran of NPR, has covered more than 3,500 sporting events over the course of his career. Comments welcome.

Posted by Beachwood Reporter at 1:00 AM | Permalink
August 22, 2009
Derrick Rose: Bit Player
By Mike Conklin
This has been a lively off-season for journalists covering pro basketball and hockey in Chicago. Between Derrick Rose's SAT test revelations and Patrick Kane's taxicab adventures, there have been entertaining, better-than-average sideshows for local fans. They've been nicely inflamed by radio talk show hosts.
By far, Rose's apparent role as an academically ineligible player at Memphis State University is the most significant development. Hockey players have been getting drunk and disorderly forever, but fallout from MSU having an ineligible player on its Final Four team is truly big stuff.
The penalty - the school vacating its Final Four season of two years ago - is as harsh as anything the NCAA dishes. It's rare that it happens and the Tiger coach at the time, John Calipari, now has been in charge of two programs thusly penalized. Naturally, he has moved on to bigger and better things as the new Kentucky coach. That's the way it works these days in college athletics.
While the Chicago media understandably focused on Rose, a Chicago native, the true significance of this story is not about a single player. After all, the National Basketball Association basically requires all rookies to spend a season-in-training in college. It is much more about cowardly university athletic administrators enabling ego-maniacal coaches.
In January of 2001, I wrote an opinion piece for the Chicago Tribune with the headline "Memphis rolls in dirt with sleazy Calipari, outlining how Memphis State University's then-new coach, Calipari, was a metaphor for almost everything wrong about college basketball. I outlined how his strength was the weakness of university officials, who'll do what it takes to gain success including hiring someone with a known, checkered background.
When this article appeared, I was bombarded with hate mail and telephone calls. No problem, it comes with the territory and I expected it. Secretly, I kind of relished it. One call was from Calipari, who wondered if he had insulted me - a person he did not know - at some point in my lengthy sports journalism career. Apparently it was beyond his understanding that my sentiments in the opinion piece could be anything but personal and not about principles.
My favorite protest came from Memphis State's director of communication services, Curt Guenther, who emphasized in a letter to the editor that Calipari "demonstrated his commitment to academics" and "that the men's basketball team members take their academic responsibilities seriously." Guenther pointed out that the coach had donated money to the library, apparently overlooking how much of a pittance it was compared to his salary - and the nice tax deduction Calipari surely got.
The smart coaches put layers between them and wrongdoing, which means they are not directly implicated nor have direct knowledge - wink, wink - of what is taking place. Typically this comes in the form of toadies such as assistant coaches, boosters, or zealous relatives and friends of the athlete. This layering comes in very handy when it becomes finger-pointing time, a position Memphis State now finds itself.
Never mind that it occurs on the head coach's watch and they are responsible for knowing every detail of the players in his program. This also was the case for Calipari before Memphis State at the University of Massachusetts, the other school that saw a splendid Final Four season go up in flames while he was there because of an ineligible player.
This system allows the slick coaches to slide untouched through the ranks as long as administrators are willing to hire them. It happens all the time and we saw this with Calipari getting a new, more lucrative, prestigious head coaching job at Kentucky. Maybe someday John could make the Wildcats his third program to vacate an NCAA Final Four appearance.
But the smart administrators who've been around for a while, like R.C. Johnson, the Memphis State athletic director who hired Calipari, know what takes place. They should be vigilant, both in the hiring of a coach and the monitoring of the program. How many times do you see the ADs go untouched in these scandals? Almost always, and maybe that is the real problem here.
Johnson, still on the job, acknowledged in a press conference that the Final Four banners of two seasons ago may have to come down, but said the memories will remain. Let's hope everyone's memory isn't too selective.
Of course, it could've been worse. Memphis could have won the title game against Kansas it lost and now everyone involved would be in a bigger state of mourning.
Derrick Rose? He's just a bit player.
-
Mike Conklin, who spent 35 years at the Tribune, teaches journalism at DePaul University. Comments welcome.
-
Previously by Mike Conklin:
* Webio Warnings Wasted
* Missing The Soccer Beat
* At Ring Lardner's Table
* Behind That Beer Photo
Posted by Beachwood Reporter at 8:23 PM | Permalink
The Weekend Desk Report
By The Beachwood Weekend Desk B Team
Editor's Note: Natasha Julius is back on the road again in her never-ending quest to better herself and our world through a series of secret initiatives that may or may not be revealed one day. We'll fill in and keep our eyes on the news for you for the next 48 hours.
Immigration Reform
Border crossings reverse.
Brought To You By Skil
Power tools and the CIA.
Public Degradations
We can't even have an honest debate about iPhone apps; how can we have one about health care?
Wells Bells
"A new lawsuit has been filed against Wells Fargo & Co. over its home equity line practices, adding to a growing list of litigation against the mortgage lender for which class action status is being sought," the ABA Journal reports.
"Homeowner Michael Hickman contends that Wells Fargo is using inaccurate computerized appraisals to obtain artificially low property valuations that justify reducing the equity lines of credit that many rely on for relatively low-cost financing, reports the Associated Press. Meanwhile, Wells Fargo has benefited from a $25 billion taxpayer-funded federal bailout that was supposed to help improve access to credit for consumers says attorney Jay Edelson, who filed the suit in Illinois."
*
Illinois Attorney General Lisa Madigan has also filed suit against Wells Fargo for allegedly discriminating against black and Latino borrowers, following this report in the Chicago Reporter
*
The private sector can't even run the mortgage business, how can they be expected to run health care?
Cubs Crud
Unless the Ricketts family's deal to buy the Cubs includes forcing Sam Zell to take Alfonso Soriano and Milton Bradley with him when he goes, it is highly unlikely to make a smidgen of difference on the field until the entire outfield retires.
Birthdays
Tori Amos is 46; Valerie Harper is 69.
TFLN
"(978): one more question, do you know why i woke up with 5 pounds of quarters, nickels and dimes in my pocket?"
Mmm, Vienna Beef . . .
-
The Weekend Desk Update Line: 24/7/365.
Posted by Beachwood Reporter at 10:43 AM | Permalink
August 21, 2009
The [Friday] Papers
By Steve Rhodes
A loyal reader asked me what I meant by my statement yesterday that a public option made no sense whatsoever, and the current leading bill without a public option made no sense whatsoever.
Here is my explanation.
1. What I mean is that I don't think the public option makes sense - for a number of reasons. First, it's pure speculation and wishful thinking to believe that this will "force insurance companies to be honest." Obama likes to trot out the (bad) example of the U.S. Post Office competing with FedEx and UPS, but does anyone really believe the business practices of the Post Office have anything but minimal impact on FedEx and UPS? And there already is competition in the market. Beyond that, the CBO has made clear that a public plan will not save money. We all know that the public option is a half-measure on the way to single-payer, something Dems spoke freely about through the last campaign but deny now. Finally, I don't like the idea of the government entering a private marketplace and playing along.
2. But . . . the current bill would make no sense without the public option because it wouldn't be health care reform, it would only address a handful of important insurance issues but not the macro health care system - pre-existing conditions, portability, etc. It would leave us with the exact same system, including the onerous employer-based insurance plan.
3. So, as I've written, I support single-payer. But it's abundantly clear that the country just isn't ready for it - and may never be. It's been so demonized that I'm not sure it could happen - unless the Dems screwed up their courage and pushed it through on their own. But too many moderate Dems would absolutely refuse, and there would probably be riots in the streets.
4. An alternative - which the president was asked about [Thursday] in his live radio interview with Michael Smerconish, but which, like the rest of the questions, he totally didn't answer, would be for the federal government to incentivize (and in my view, largely fund) the states, which are already implementing their own plans, be it the Massachusetts plan, the plan we have here in Illinois, or the variety of other state plans like TennCare and MinnCare. In some cases those are essentially single-payer systems - administered by the states. Why can't that be the path - or the answer? Each state could be mandated to a minimum level of care to prevent, say, Alabama from not participating.
5. I agree [re: my loyal reader's suggestion that the administration trot out Wendell Potter at every opportunity]. But it's not Obama's style to actually, um, fight. He doesn't want to make the insurance companies mad. It's funny, though. I never, ever, liked John Edwards. Thought he was a smarmy poser. But he said in the debates that what Obama didn't understand was that you had to FIGHT the insurance companies and special interests, you couldn't try to make nice with them, because they will try to screw you. That's who they are. And let's face it, Hillary was/is a fighter too. Obama pledged not to fight, and look where we are.
6. Medicare for All. Yes. That seems like a really simple solution. Why not just let everybody buy into Medicare? There's your single-payer, public option! I haven't researched this much, but it sounds like a fine idea to me. I wonder why it hasn't gotten any traction.
Who Will Get Taken Care Of
Insight on health care reform, the wars in Iraq and Afghanistan, and the New Racism from Chris Hedges.
Head Patter
The president showed yesterday that he can patronize liberals as well as he's patronized conservatives. "Folks on the left got a little excited," he said, sloughing off his administration's clear retreat from the public option. Obama also blamed the media for reporting his change in position, which the administration denies but which is clearly proven by the record.
Obama seems to view his job as chief wrangler of compromise. Whatever bill the Congress can agree on will be the bill he will sign; it will be the fruits of all their "hard work" and what he will see as the only thing achievable.
Sometimes you need a president, though, not a facilitator.
Standard Narrative
"Barack Obama ran the best-organized and best-framed presidential campaign in history," liberal linguist guru George Lakoff writes in a piece getting a lot of attention. "How is it possible that the same people who did so well in the campaign have done so badly on health care?"
You know what? The same story was written about Jimmy Carter and Bill Clinton and George W. Bush . . . and nearly every president. How could they run a winning campaign yet stumble in the White House?
Well, someone has to win a campaign. A campaign's management only looks perfect because . . . it's winning, so the media elevates it's players and strategies beyond reason to tell a (fictionalized) story.
Beyond that, campaigning is not governing. And that's why we shouldn't vote for the best campaigner, but for the candidate we think will govern the best.
Journalists like to think that campaign operations are some sort of acid test to how well a candidate will govern, despite scads of evidence to the contrary. Pundits do it all the time; somehow the campaign able to put out the best spread of food and josh around on the plane most effectively is deemed the campaign that ought to . . . rule the free world.

Being president is a very different skill than being a candidate. Some of the world's greatest CEOs would probably make lousy campaigners.
So how do you choose who will govern best? Easy. Look at a candidate's record and experience. The past is almost always prologue. It's all we have to go on. Promises mean nothing unless a candidate has a record of keeping them.
This isn't just about Obama. Hardly. Look at George W. Bush's campaigns. Like the Cubs with Kevin Gregg and Milton Bradley, we got exactly who we should have known we were getting. Bill Clinton is Bill Clinton. Ronald Reagan is Ronald Reagan. Nothing they did should have been a surprise.
I'm happy to recall that I described Rod Blagojevich as an empty suit in his first gubernatorial primary. One of the state's best-known political reporters disagreed with me at the time, arguing vociferously that Blago was the best campaigner he had seen, Clintonesque.
So? Our job isn't to elect the best campaigner, because that's not the post we're filling.
(And this is not an "I told you so" about Obama; it seems to have slipped past a lot of readers that I wrote several times that a voter could reasonably argue that Hillary Clinton had invalidated her credentials for the presidency with her war vote. Still, she was the best candidate by my criteria regardless of ideology. Or look at Howard Dean. Actually not a great candidate, but I sure would have liked to see him be president.)
Anyway, what Lakoff gets wrong in his piece is that the other side will frame messages too. Calling health reform the American Plan is smart politics, but it doesn't change the underlying facts. It's just meeting bullshit with bullshit.
And that's what people mean when they say they are tired of partisanship.
Comparative Literature
But Hillary couldn't even run her own campaign! How could she run the country?
Well, first, like I've alway said, I never endorsed her, nor did I vote for her - or anyone. I don't believe journalists ought to vote in primaries, which are interparty activities. It's not my job to help a party nominate a candidate.
And like I said - and wrote many times - her war vote alone was enough to disqualify her.
But that's no different than what Republicans are saying right now about health care: The government can't even run Cash for Clunkers, how is it going to run health care? Apparently because some dealers haven't gotten their money yet.
You could just as easily say, though, that the government put a man on the moon, how hard could health care be?
It's just nonsense.
Bottle Rockets
See how their new record is being received. In Bloodshot Briefing.
Bettors Beware
They say they aren't accepting wagers after the horses go off. At least, that's what they say. In TrackNotes.
Six Months of Stimulus
And boy are we tired!
Pat Quinn Radio!
Like listening to paint dry.
Real Estate King of the City Council
Meet Robert Maldonado.
Chicago the Beautiful
Back to the future. And vice versa.
-
The Beachwood Tip Line: A line in the sand.
Posted by Beachwood Reporter at 7:56 AM | Permalink
Six Months Of Stimulus
By Christopher Flavelle/Courtesy of ProPublica
The American Recovery and Reinvestment Act celebrated its six-month anniversary this week, and supporters and detractors alike lined up to offer their verdicts. "The Recovery Act is already paying dividends for workers, families, and small businesses," said Democratic House Speaker Nancy Pelosi. "By any objective standard, the Democrats' trillion-dollar 'stimulus' isn't working," countered House Republican Leader John Boehner.
Well, which is it - resounding success or colossal failure? It's too soon to tell, of course. Unemployment could keep falling, or climb again. Growth, if it comes, could be tepid. And as more money starts to flow in the fall and spring, inflation could spike - or not. Moreover, we'll never know for sure what would have happened without the stimulus - or with a different mix of spending and tax cuts.
But there is much we do know. ProPublica looks back at six months of stimulus coverage and finds a mixed record on three key aspects of the package: how wisely the money has been spent; how many jobs have been created (and whether we'll ever know for certain); and how well the government has met its own pledge of transparency.
You spent it on what?
Apparently it's hard to spend three-quarters of a trillion dollars without some of the money going toward questionable-sounding projects. However, as ProPublica found over the past six months, some projects seemed silly only until closer inspection; for other projects, the reverse was true.
Two weeks after the stimulus passed, Louisiana Gov. Bobby Jindal said the plan was "larded with wasteful spending," citing a magnetic levitation train to Disneyland and $140 million for "something called volcano monitoring." As ProPublica reported, the fantastic-sounding train was a fancy way of describing high-speed rail in California, while volcano monitoring referred to funding for the U.S. Geological Survey for construction and repair projects, including volcano monitoring systems.
In March, ProPublica reported that stimulus money would be spent on new skylights for a state-run liquor warehouse in Montana. But wait: The money was part of an energy-conservation program, and the new skylights would save the state money on the cost of running the building. Some projects may have deserved snickers: Stimulus money also went to 22 concrete toilets at the Mark Twain National Forest in Missouri, new vinyl walls for restrooms in Rose Lodge, Oregon, and renovated bathrooms at the McConnell Air Force Base in Kansas.
In May, Republican Sen. Tom Coburn joined the fray, releasing a list of 100 stimulus projects that he called "questionable." Among the highlights: a guardrail for a dry reservoir in Oklahoma, a homeless grant for a New York suburb with no homeless, and an underpass for turtles in Florida. It also noted that we highlighted a report that the Social Security Administration sent 10,000 checks to dead people. The administration responded that the report was full of inaccuracies.
Some projects merited more serious concern. Also in May, ProPublica co-published a story with USA Today, reporting that $5 billion in stimulus funds for weatherizing homes was going disproportionately to cold states. For every dollar given to warm-weather states, the coldest states got three dollars. However, as a spokesman for the Florida Department of Community Affairs noted, "The heat is just as dangerous as the cold."
More questionable spending followed. In July, ProPublica, together with CBS News, reported that more than $100 million in stimulus funds was going to airports with fewer than one flight an hour, while the country's busiest airports had received no stimulus money at all. A month later, the Department of Transportation's inspector general questioned funding for low-priority airports, calling on the Federal Aviation Administration to withhold grant money for the projects until it can justify their economic merit, and urging a full audit of stimulus airport grants. (The deputy transportation secretary responded by defending the grants.)
How many jobs did you say?
One of the administration's key arguments for a stimulus was the pledge that it would save or create more than 3 million jobs. Before the act was passed, ProPublica reported that predicting the number of jobs created or saved was a matter of economic guesswork. As the stimulus unfolded, it became clear that even after the fact, measuring the number of jobs created or saved was guesswork, too.
In March, the Congressional Budget Office released its own estimate of jobs under the stimulus - though, with a range of anywhere from 1.2 million to 3.6 million jobs created or saved, it could hardly be called a daring estimate. Two weeks later, Earl Devaney, chairman of the Recovery Accountability and Transparency Board (or RAT board), weighed in, saying the job numbers reported on the government's stimulus Web site, Recovery.gov, had gotten him "very nervous." He said the difficulty of defining a saved or created job was a concern.
Devaney's worries were prescient. In a late-April news conference, President Obama said the stimulus had already created or saved more than 150,000 jobs. Where did he get that number? It turned out the answer was . . . guesswork: The administration simply pro-rated its earlier 3 to 4 million jobs estimate. In May, the president's Council of Economic Advisers released a report sticking to the original job predictions, but adding that accurate numbers would be hard to nail down.
No kidding. In June, the administration announced its formula for counting jobs created or saved: For each worker paid by stimulus dollars, divide the number of hours worked by the number of work hours in a regular schedule - something called the Full-Time Equivalent standard. Congress proceeded to ignore the instructions. At the end of July, the House Committee on Transportation and Infrastructure announced that the stimulus had created or saved more than 48,000 highway and transit jobs. However, as ProPublica reported, that number came from the equivalent of a head count at stimulus work sites - a method the White House Office of Management and Budget says leads to double-, triple- or even quadruple-counting of jobs. Using the FTE approach prescribed by the administration, 48,000 became less than 10,000.
Earlier this month, the administration got a temporary reprieve from questions about job creation, when the Bureau of Labor Statistics announced a slight drop in the unemployment rate in July, to 9.4 percent from 9.5 percent the month before. But the real test for President Obama will come in October, when recipients of stimulus dollars report the numbers of jobs they've created. And as ProPublica reported this week, even those numbers are likely to carry a whiff of uncertainty.
Follow the money - if you can
The Recovery Act isn't only one of the largest bills of its kind in American history; it was also billed as an attempt to set a new standard for transparency in government spending. The president's signature on the act had barely dried when the government launched Recovery.gov, meant to be the definitive government hub for tracking stimulus dollars. A week later, Devaney, a celebrated inspector general at the Department of the Interior, was tapped to head the Recovery Accountability and Transparency Board, the independent agency created by Congress to oversee Recovery.gov and coordinate efforts to crack down on stimulus fraud.
Some things are easier said than done. ProPublica began raising questions early on about exactly how well the government would be able to live up to its promise of transparency. Among the concerns was the fact that states were only due to report their stimulus spending every three months, as well as the fact that the reporting chain wouldn't necessarily follow the money all the way to the contractor or sub-contractor level. By the beginning of March, a number of states had launched stimulus Web sites of their own - some of which were better than others.
To give the government a hand tracking those dollars, ProPublica launched a few tracking tools of its own. In March, we introduced an interactive graphic comparing how much residents of each state stood to gain from the tax measures in the stimulus. In May, we went a step further, launching Adopt a Stimulus Project, a citizen-reporting initiative from Amanda Michel, ProPublica's editor of distributed reporting. In July, we launched StimCities, tracking the change in the economy in eight cities. Earlier this month, we launched our Stimulus Progress Bar, complete with language that actual humans speak. And we introduced our Recovery Tracker, which lets you search for stimulus projects in your area.
In the meantime, problems appeared with Recovery.gov. By April 1, the site still had no details on how stimulus money was being spent or who was getting it - shortcomings that were compounded by formatting irregularities, technical jargon and time lags in posting information. Then, on April 8, a key date was moved back: The Office of Management and Budget, which calls the shots on stimulus rules, pushed back the deadline for stimulus recipients to report how they spend the money, from July to October. The OMB said states and other recipients needed more time to report their information to Recovery.gov. Federal agencies, too, needed time to work the kinks out: In May, the Labor Department corrected an overstatement of $10.4 billion in its stimulus spending.
It turned out that Recovery.gov needed more time itself. Although the site added new features through the spring, glitches remained, including discrepancies between the numbers on Recovery.gov and on federal agencies' own Web sites. The Recovery Board turned for help to a company called Smartronix, which got a contract to build a "Recovery.gov 2.0" for as much as $18 million. The one catch? When ProPublica filed a request under the Freedom of Information Act to see a copy of the contract, what we got was a bundle of redactions. Questions remain about who ensures data quality, a key problem with earlier attempts at transparency. Like so much of the stimulus, it seems, the push for transparency is a work in progress.
Posted by Beachwood Reporter at 4:41 AM | Permalink
Chicago The Beautiful
Back to the future. And vice versa.
-
h/t: Michael O'Connor
Posted by Beachwood Reporter at 4:18 AM | Permalink
August 20, 2009
TrackNotes: Bettors Beware
By Thomas Chambers
If you've ever seen a TV news anchor in action, you'd be convinced that they're little more than cue-taking actors who can read the teleprompter and display three emotions: serious, relieved and amused.
I saw it once a long time ago at Channel 5. I swear that anchor guy walked in and sat down no more that nine seconds before he was due to go live. He tugged his suit jacket, took a quick look at the papers on the desk, and the minute he got the cue he sat up razor sharp and started reading the story. It was awesome. And jarring.
It's that way with some horseplayers, especially the ones who still swear by using the human tellers. They wait until there is a minute to post and head for the window. Most of the time, they get their bets in, but sometimes they get shut out. I'm convinced that when the old-timers get shut out, they almost want to.
I cannot think of a time that when I got shut out that I was sorry about it. The bets I would have made were always losing wagers. And a lot of times, when I do place it at the last second, it's also a loser.
So why wait? Especially if you've looked over the race in advance and have a good idea who you like?
The tote board can be very informative. Do the bettors like one horse over all the others? Or are they undecided about a couple of them? If a horse goes from 18-1 to 12-1 in a matter of a few minutes, especially at a bigger track, you can assume some whale has put down some big money. If the odds keep going down, others believe in him too. If not, the whale may know something we don't.
I've always pictured the New York OTBs as dingy dens - some people say they are, I've never been in one - with broken-down horseplayers who wager every day and know a lot about the horses at Aqueduct or Belmont. They usually seem right. Odds in New York don't seem to move as much as in other places. So if the New Yorkers think Anthony Dutrow has a live one, I believe it, even if I don't see it myself in the Form.
Arlington and Oaklawn are notorious for the stroller crowd and the vacationers, respectively, pounding the horses with any kind of price into submission just a minute or two before the race. Hawthorne, not so much. They're more grizzled.
If the third race just finished, the board says 23 minutes until post for race four and you bet with 20 minutes left, you deserve a big differential in prices from where you bet and the price when the gates open. But it becomes a big problem when you wait until two minutes to post and decide that 5-1 is a nice price on a reasonable horse and then the instant the gates open, the odds drop to 5-2 or 2-1.
"We have been told time and time again that nothing untoward is going on," writes Bill Finley at ESPN.com. "Nobody is betting after the races start. Rather, the tote equipment takes a while to process the bets coming in from all over the country, and that's why odds change mid-race. That, at least, is what they say."
You hear stories of whales with enough skill to get in a bet even after the horses have taken a few strides. But that was related more to the old off-shore operations which are supposedly now illegal in the U.S. The story was that the tote system would almost wait for these bets, so as not to lose them, and their computers could play this "float."
The tracks and horsemen argue that closing betting sooner would incense the players and hurt handle. That's B.S.
"All that needs to happen is that the betting windows at every track, simulcast parlor, Internet betting site, etc. close when the first horse is loaded into the gate," Finley notes. "It usually takes upward of a minute to load an entire field, normally enough time for every bet made everywhere to funnel its way into the system. But no track wants to do this because they fear people will get shut out and revenue will be lost. People will indeed get shut out, but for no more than a day or two. Horseplayers aren't stupid. They will quickly figure out that they have to get their bets in in time and will adjust accordingly."
Finley is right. I wouldn't mind that at all. I could adjust. Plus, much of the time when the minutes-to-post says zero, it still takes them a few minutes to start loading. Now, if someone could tell the fine folks at Gulfstream that one minute contains a full 60 seconds, that would be great.
Bettors Beware
This is disturbing. Against my better judgement, I bought a voucher and was betting on the Stretch Run OTB system this past Saturday. I landed at Monmouth and played an exacta with a separate win-place cover bet on the seven horse. Having had difficulty with the machines previously, I stood gawking at the screen to make sure my picks were displayed properly. They were.
So the race is run and my seven, at about 33-1, places and pays over $25. I'm happy - until I look at my ticket. The machine printed out the eight horse instead of the seven. I should have had a $38 ticket. This is buyer beware in the strictest sense, and I didn't look at my ticket after it printed. That's my big mistake, especially when the wagering machines are maintained with bubble gum, hangar wire and adhesive tape.
Could have been worse, but it was a tough lesson. These guys cheaped it out and did not install new machines in this place. If the ticket is wrong, you can cancel before a race. I just didn't look at the ticket. Needless to say, I went to the Motorola and fired up the phone betting account.
And had a very nice day.
Triple Threat
This is a bit of a lull week as we cool our heels before next weekend when Saratoga will present another great card with The Travers Stakes (often called the Summer Derby), the Ballerina Stakes, the King's Bishop Stakes, the Ballston Spa Handicap and the Victory Ride Stakes. Del Mar will run the Del Mar Breeders Cup Mile and the Del Mar Handicap, both on the turf, that weekend too.
The Travers card will be on ESPN. Although Preakness winner Rachel Alexandra appears to be sitting out this race in favor of the Woodward or who knows what, there is a slim chance she'll run. If she does, that would bring together all three Triple Crown winners in one race. Kentucky Derby winner Mine That Bird, coming off "minor" throat surgery, and Belmont Stakes winner Summer Bird are scheduled to go. Throw in likely starters Warrior's Reward, Kensei, Charitable Man and others, and it's a real horse race.
These are not the same three-year-olds they were on the first Saturday in May.
-
Thomas Chambers is the Beachwood's man on the rail. He brings you Track Notes every Friday. He welcomes your comments.

Posted by Beachwood Reporter at 7:07 PM | Permalink
Bloodshot Briefing: The Bottle Rockets Lean Forward
By Matt Harness
Depending on who's counting, Lean Forward is the Bottle Rockets' 10th studio album; their third with Bloodshot Records. Their last effort, Zoysia came out in 2006, so it's about time these guitar-driven rockers - whose sound is reminiscent of gravel in a blender - returned with some new material.
Released to positive reviews on August 11th, the record rocketed to No. 1 on the sales chart of the Alliance of Independent Media Stores in its first week. (The Alliance is comprised of 28 stores in 21 cities with the goal of highlighting independent music.)
And that's without the help of Chicago's independent record stores, who have never cooperated with AIM, according to Alliance ringleader Eric Levin, of Criminal Records in Atlanta.
So much for the record stores. Let's take a look at what the critics have to say about Lean Forward.
* Paste: Atop the stinging double-stop guitar licks of
the Bottle Rockets' no-frills latest, optimism and good intentions knock heads with the reality of human imperfection."
* No Depression: "The Bottle Rockets have long been one of America's great bar bands, so it's nice that their new album sounds like four dudes standing in a room playing together. Main dude Brian Henneman's voice is up front and unaltered, the drums are full of pop, and the guitars are alive and tough."
* Spin: "This St. Louis outfit's ninth studio album encompasses virtually every alt-country staple the group helped revive more than a decade ago (the open road, small towns, freedom metaphors involving large bodies of water). But rarely have they been arranged with such happy-go-lucky optimism."
* Twangville: "As Brian Henneman explains in 'Hard Times,' it's not that he's broken, just out of gas, a nice metaphor for where a lot of folks are today."
* Corner Shop Studios: "The record also has some lackluster moments that tip-toe around the album rather than encompassing one track in particular, ostensibly rearing their ugly heads as dull chord progressions or punchless builds, nothing to alert the 'boring police' about but nonetheless."
* The A.V. Club: "Henneman's bluntly drawled, spoken-sung poetry feels tired, and forays into arthritic funk like 'Hard Times' certainly don't help. (The song's line 'I ain't broke down, I'm just out of gas' feels even truer than it may have been intended.)"
-
-
Devil's Play
In other news, Devil in a Woodpile, which suspiciously disappeared from its regular Tuesday night gig at the Hideout, is playing its final show on Friday at the Glenwood Arts Festival in Rogers Park. Rick Sherry and company go on around 9 p.m.
That sucks.
'Woodpile was one of the first bands I saw live when I moved to Chicago six years ago when I serendipitously slipped into the Hideout one evening. They provided me with an early lens through which I viewed the music scene here. And what a great picture it's been.
Such a rich sound done simply.
They will be missed.
So get your ass up to Rogers Park and get your groove on as Sherry slaps around the washboard.
-
-
Bloodshot Briefing appears in this space every Friday. Matt welcomes your comments.
Posted by Beachwood Reporter at 6:02 PM | Permalink
The [Thursday] Papers
By Steve Rhodes
1. Whet Moser is smarter than Mary Schmich. And a better writer. Think he gets paid nearly as much?
2. Some local businesses can't figure out how to get stimulus money, Ald. Manny Flores tells Chicagoist. And the Green Exchange may seek TIF funds.
3. Sheryl Crow sells her catalog for $10 million. I hope to someone who was willing to pay that much so we wouldn't have to hear any of her songs ever again.
*
Actually, her first record had some value to it. Since then, though, she's been nothing but a menace.
4. The public option makes no sense whatsoever. And the entire bill makes no sense whatsoever without the public option.
I've said it before and I'll say it again: Single-payer or kick it to the states. Either way, get Corporate America behind an effort to do away with employment-based insurance.
5. Eric Zorn presents a terrific case for holdout University of Illinois trustees James Montgomery and Frances Carroll to give up the ghost and join their colleagues in tendering their resignations.
Zorn quotes from the report filed by the admissions review panel, which stated:
* "In an email to (UIUC Chancellor Richard) Herman dated April 16, 2009, Trustee James Montgomery advocated for a rejected applicant. Montgomery explained that he emailed Herman at the behest of his daughter, who was dating a relative of the applicant. Montgomery stated that he emailed Herman because he wanted to determine if it was 'too late' for the applicant, whom he acknowledged had been rejected, to be accepted by the University.

* "An April 1, 2009 e-mail to (Chancellor Richard Herman's secretary Phyllis) Mischo, (Associate Provost Keith) Marshall indicated the University will admit a substandard student sponsored by Trustee Carroll as late as possible because she has terrible credentials at a 'good school'."
Zorn also notes that Montgomery recommended at least four students in the last three years, and that Carroll backed at least three students.
Finally, both were appointed by Rod Blagojevich.
Here's the funny thing, though: Zorn doesn't think the record shows that Montgomery and Carroll ought to resign.
Apparently trustees sticking their fingers in the admissions process is acceptable to him. I don't get it.
The Tribune gets it right today in its editorial "It's Not About You."
Remember: If Gov. Quinn finds their service too invaluable to lose, he can always re-appoint them.
But does anyone really think Montgomery and Carroll are indispensable?
Their selfish behavior and poor judgement proves just the opposite.
6. Billy Dec, nightclub impresario and Olympic ambassador, threw out the first pitch (while tweeting) at the White Sox game yesterday and then kicked it with the sports guys on Chicago Tribune Live last night, where he said he is "getting the feeling the momentum is building" for the 2016 bid.
On what planet, Billy?
Host David Kaplan, whom I am a fan of, said getting the Olympics here would "set up our economy for years going forward."
If by "set up" he means distort, pervert and wreck, well, yes, then, he's right.
The phrase "TIF" was never uttered; nor were the words "blank check" or "the mayor lied."
I guess these guys limit their reading to the sports section.
7. "More than 30 percent of single-family homes in the Chicago metropolitan area had mortgages that were greater than the value of their home at the end of June, according to a report from First American CoreLogic," the Sun-Times reports. "That's 550,572 Chicago area homes with negative equity."
But if we get the Olympics . . .
8. Richard Roeper actually has a good line this morning: "There are few things in life more depleting than going back to the gate."
And he's right about Wi-Fi on airplanes: Amazing. I mean, how does the Internet get up there? All that stuff flying through the air - instantly - it just makes no sense.
I don't understand this world.
9. I guess it was coming.
"Blackhawks star winger Patrick Kane has skated on felony charges," the Sun-Times reports.
Please no more stale puns. It's depleting.
*
A colleague pointed out to me that Patrick Kane apologized to everyone in the universe - except the cab driver.
From the Buffalo News:
"Because I've put myself in being in the wrong position in the wrong time, I've caused a lot of pain for my family, my hometown of Buffalo, the city of Chicago, the Chicago Blackhawks and obviously the great fans we have here in Chicago. And for that part, I sincerely apologize."
*
Maybe an apology to the cabbie will be part of his coming plea bargain.
*
He beat up a cab driver over 20 cents! We still don't know otherwise.
*
Then Kane can get back to kicking it with Billy Dec - because I just have a feeling they do.
But do they kick it old-school or new?
*
And then Kane can get back to the ice, where he can beat up people legally.
10. I'm a Rick Bayless fan, so I have nothing snarky to say about this. And I like the show.
Bonus Round
* Pat Quinn's Body Snatched
* Chris Kennedy: Our Brett Favre
* Melissa Bean's Scones of Shame
Plus . . .
* A famous director and a feces flood at a Chicago pizzeria.
-
The Beachwood Tip Line: Kickin' it.
Posted by Beachwood Reporter at 11:12 AM | Permalink
At Your Service: Smells Like Feces
Stand with me now and close your eyes. Absorb the sound of water rushing by. Imagine the mighty river we must be near. The beautiful, tree-laden banks. Perhaps a sandy beach. And yes, we must be near, because you can feel the river lapping at your shoes. Really, your feet are getting wet. And what's that smell? That's not suntan lotion and Mai Tais . . . it's . . . shit. For real.

Water from the alley - and our sewage system - is flooding the restaurant, thanks to a broken drainage system. This isn't the first time. It usually starts out back and stops right at the doorway that separates the alley from the restaurant. This time, though, it's creeping closer and closer to the dining room.
It's about an inch deep and the odor has nearly induced two incidents of waitstaff vomiting. The smell is noticeable all the way to the host stand.
*
A half hour of bleach and cleaning fluid later and the floor is dry, though the smell lingers. The servers have begun calling the dining room "the poop room."
But it's not that funny. On top of the stink of rot, we're one appetizer short, missing ingredients for two of our specialty pizzas, and one busser dropped an entire pizza on a woman's foot.
All in a smelly day's work.
*
Whenever there is a customer complaint against a server or host, management posts it for all to read. One of the new girls whom no one liked got a complaint that was so bad the managers chose not to post it. After pressing one of the managers, I found out one of the things she did was stand behind the customer as he wrote in her tip on the credit card slip and say, "No no no" when she thought it wasn't enough.
The only reason she was hired in the first place was because one of the managers (the 30-year-old who still lives with his parents) thought she was hot. He was the only one who thought so. She was fired.
*
We had a famous director come in recently. When the staff found out who it was, nearly everyone's first response was, "Shit, I hope we don't mess up his pizza." Then came the "Holy shit I can't believe he's coming in!" I'm sure if fans had known he was going to be here they would have talked about it from dusk 'til dawn.

He had placed his pizza order before he came in so it was ready a few minutes after he sat down. He kept his head down the whole time and left very quickly after he was done.
I don't blame him; people come to eat because they're hungry not because they want to sign autographs.
I'm not usually star-struck, but it's pretty neat that I can add his name to the list of celebrities who have passed through our door. And I heard he was really nice.
We didn't screw up his order, by the way.
*
People always talk about how perceptive kids are, more so than we realize. One young boy recently displayed this brilliantly while a server was taking a drink order.
The son (not more than 9 or 10 years old) ordered a lemonade and so did mom.
Then the son looked up from his video game and said, "Mom, just get wine. You know that's what you want."

*
The highlight of this month was being told to make up drinks with the liquor we don't use very often. After surveying the various flavored vodkas that most of the servers don't even know we carry, I created a list of various possible concoctions. Then I was given the go-ahead to start making - and sampling - them.
If this sounds too good to be true, well, that's what I thought too. But the bosses actually trusted me not to abuse the assignment. And truthfully, I didn't; I was having too much fun inventing all sorts of martinis and other manner of mixed drinks.
Three lucky gentleman at the bar became my guinea pigs. They appreciated the free alcohol and I appreciated the input. Five successful new drink recipes later, my shift was over. I got paid to drink and create. Sometimes, it isn't so bad working at a restaurant.
-
The pseudononymous Patty Hunter brings you tales from the front lines of serverdom every week. She welcomes your comments. Catch up with the rest of this series and its companions in our Life At Work archive.

Posted by Beachwood Reporter at 6:38 AM | Permalink
August 19, 2009
The [Wednesday] Papers
By Steve Rhodes
Reporters don't like to hear it, but sometimes a graphic can tell a story better than an article can.
For example, "The Many Goodbyes of Brett Favre" in today's Tribune.
I'd like to link to it, but it doesn't appear to be online. So picture icons of Favre with the lettering "He's Out?"; "He's In"; He's Out", "He's In?" assigned to dates, quotes and announcements. There's 10 in all.
There's your story.
*
Reporters don't like to hear it, but sometimes an editorial cartoon can tell a story better than an article can. And not just because opinion is allowed.
Like the work of the best comedians, the best editorial cartoonists have a way of distilling even complicated issues into a drawing that gets to the heart of it with wit and insight often outside our own imagination.
So it's good news indeed that the Tribune has finally filled its editorial cartooning position after a nine-year search.
Or, what appeared at times to be a search and at other times simply an imposed budget reality.
In any case, the new guy is Scott Stantis, "a self-described libertarian conservative," according to Trib media writer Phil Rosenthal.
(The Tribune has posted some of Stantis's past work here.)
While it may seem like an odd time to spend money on an editorial cartoonist (they're generally expensive), especially after all these years, I give the Tribune credit for stepping up to the plate and seeming to get it.
"He's not just going to a cartoonist," Tribune editor Gerould Kern told Rosenthal. "He's going to be bigger than that. We have found our editorial voice and we will use it for the betterment of the city, the state and the country. It's important for us to lead, to stand out and point the way, and an editorial cartoon is an incredibly powerful and important way of doing that. We will use Scott Stantis' cartoons in creative ways, not only on the editorial pages but online, and he will be used on Page One."
I'm not so sure about the voice; the editorial page, which has its blind spots but generally does pretty high quality work, has had a consistent voice for a long time. The voice of the paper at-large is a muddle. I don't know what the Tribune brand stands for anymore. I'm not sure anyone does.
But Kern's expansive view of how to use Stantis is encouraging - and absolutely correct, even if we're already drowning in right-wing voices around here.
*
Not that I want more left-wing voices around here. I don't. I want more independent voices. And by independent, I don't mean in the middle. I mean outside the spectrum, where all journalists should reside
*
I hope Michael Miner weighs in over at News Bites or in the Reader on the Stantis hiring. Miner has covered the Trib's editorial cartoonist situation like a blanket from the get-go, and is bound to come up with the inside story - because there probably is one - or at least some insight into the hiring.
Is Billy Dec . . .
. . . the Worst Person in Chicago?
Well, he's in the running. Check out the comments.
*
See also: "20 Tweets: Billy Dec."
Olympic Limp
Or what?
That's my response to the Tribune's call for the conjoined twins of the Daley administration and Chicago 2016 to ascribe to state Freedom of Information laws and to answer a multitude of questions about the financing and operations of the Olympic Games should they come here.
Fine.
But what is the penalty to Mayor Daley and Pat Ryan for not taking the Tribune - and others - up on their plea?
History tells us there will be no penalty. There never is. So why would Daley and Ryan go along with the program? There's nothing in it for them.
Unless . . . the Tribune turns its plea into an ultimatum. Tell us the truth or we'll not only come out against the bid, but campaign against it vociferously in the next six weeks. We've even got a new editorial cartoonist to help us!
Otherwise, we'll be asking the same questions a year from now, and two years from now, and seven years from as the Tribune is asking today.
*
Isn't the fact that so many questions remain unanswered just six weeks out from the big decision day enough? How many times must we see this movie? We all know how it ends. What a bunch of chumbolones*.
* © John Kass.
Four More Years
Mark Konkol predicts today that we'll have Todd Stroger to kick around for another four years, and he may be right. He certainly is a lot closer to the ground than I am on this. But I took a different tack with a post at NBCChicago.com; it's called "President Preckwinkle."
*
"County insiders swear Stroger spends more time shooting hoops at the East Bank Club than tending to county business," Konkol notes.
I've heard the same thing.
"Todd's problem is he's a little stupid and a lot lazy sometimes," a top Stroger "lieutenant" from the 8th Ward once told Konkol.
I've heard the same thing.
Building Props
I've always loved Lake Point Tower, which will soon be the subject of a book.
Illinois's Hottest Job
. . . is lieutenant governor. Sort of.
Fantasy Fix
What to do about Favre, Cutler, Orton, Vick and Kevin Gregg.
-
The Beachwood Tip Line: Proper.

Posted by Beachwood Reporter at 10:56 AM | Permalink
Fantasy Fix
By Dan O'Shea
All is not well in the City of Big Shoulder Pads. After one pre-season game, in which he had neither his starting tight end nor his starting running back to throw to, and in which his primary target was a guy whose biggest recommendation as a wide receiver was that he has been "ridiculous!" as a return man, Jay Cutler's initials were found to actually stand for his own name, and not for "Jesus Christ."
As a fantasy football team owner (or in any sort of fantasy league), you have to take some cues from exhibition games, but try to avoid getting too worked up about whoever did or didn't do well in the first game of the pre-season slate. After this one game, I can't say my opinion of Cutler's draft position has changed. Yahoo!'s Player Ranker, in which members of all leagues can vote, has him ranked 10th among QBs. I'd put him at 7th, right after Kurt Warner and ahead of Tony Romo, Matt Ryan and Donovan McNabb.
I think Cutler may have problems connecting with Devin Hester, and I felt that way before the first pre-season game. That might hurt Cutler's total passing yards and TDs just a bit, but I think he'll mostly make up for it by throwing more to TE Greg Olsen and RB Matt Forte a lot. In fact, I'll be surprised if those two players aren't the Bears' top receivers by number of catches this year.
Meanwhile, more QB fodder for your upcoming draft: Guess who's coming to dinner? Brett Favre should be showing up on pre-draft availability lists already, so watch for him. I still wouldn't have him in my top 10 QBs, but he'll definitely make noise, and should be considered a potential starter in 12-team leagues and a must-own in multi-QB leagues. We told you he'd be back.
And more: Kyle Orton is one of our sleeper QB picks this year, definitely a late-round roster pick, but he really had a bad opening to the pre-season. He threw three interceptions, and it's not even clear he can hold onto the starter job. In general, Denver is looking sloppy under a new coach, so I'll wait and still call Orton a very late round second or third QB pick.
Oh, and this: Michael Vick is now available, sort of. Actually, it's not clear when he will play or if he is a viable competitor to McNabb for the QB job (could be a real dog fight). As a dog owner, I refuse to draft him regardless (That's indeed my stance, just in case you found my joke in the last sentence repulsive). But, even for any fantasy team, I think he's a curious bench acquisition at best. If someone else wants to draft him early, let him go.
Expert Wire:
* Roto Arcade shines a light on Ahmad Bradshaw, RB, New York Football Giants. I liked Bradshaw last year as a bye-week fill-in for return yards, but he should be touching the ball more this year as a Brandon Jacobs alternative.
* Bleacher Report has a list of things you should not do on draft day. Not picking Vick is not among them, but there is a gentle admonition not to drink too much alcohol until the draft is done. I think fantasy football league drafts, as opposed to fantasy baseball and fantasy basketball drafts, tend to be raucous affairs. Baseball drafts are intensely serious and quiet, though sociable enough, in my experience, while basketball drafts sometimes seem as though they are conducted with half a mind on something else.
* At WR, SI.com likes Reggie Wayne to have a big year. I think the receiver to watch in Indianapolis is Anthony Gonzalez, who could really break out as a No. 2. That's not to say Wayne won't have a good year. With Marvin Harrison out of the picture, a lot of people are expecting a career year from Wayne. Maybe . . .
Fantasy Baseball Update
Some names in the news make up our Fantasy Fix Action Ratings this week:
Player: Adrian Gonzalez, 1B
FFAR: HOLD/GET
Comment: Won the NL Player of the Week for last week. The San Diego Padres didn't end up trading the fan favorite before the trading deadline, and while he's headed for a career high in home runs, his RBI total is a bit lighter than expected. That sounds like good trade bait in leagues where there is still a week or two left to trade, but I still think he's got a big RBI streak left in him that we'll see come September.
Player: Chone Figgins, 2B/3B
FFAR: TRADE
Comment: He hit .480 last week with four stolen bases, and owners who love the hits-stolen bases-runs theory (that they are all connected and generate major points that are as good as power numbers) love him. Still, there is so much more power to be had at either of his positions. Or trade him for power in the outfield and then pick up a widely available infielder with a power stroke like Clint Barmes, 2B/3B/SS or Mike Lowell, 3B.
Player: Kevin Gregg, RP
FFAR: DROP
Comment: He reportedly is no longer the Cubs closer, and that's all you need to know. I can't think of a reason why anyone would want him in a trade unless he gets a chance in September.
Player: Tommy Hunter, SP
FFAR: PICK UP
Comment: You know that hell has frozen over when Texas Rangers pitchers are all the rage. Hunter is 5-1 since early July and looks like another great young find being brought along the right way by Texas pitching coach extraordinaire Mike Maddux. He's owned in only 35 percent of Yahoo! leagues.
Expert Wire:
* No. 1 draft pick Stephen Strasburg signed at the last minute, but contrary to estimation from a couple months ago, it doesn't look like he will pitch in the majors this season. Boo-hoo.
* Fantasy Baseball Cafe likes Rockies outfielder Carlos Gonzalez as a sleeper pick-up. He's been red-hot of late and has the appealing combination of power and steals. Plus, being in the Rockies line-up virtual guarantees a buffet of stats on which to gorge.
-
Dan O'Shea's Fantasy Fix appears in this space every Wednesday. He welcomes your comments. You can also read his about his split sports fan personality at SwingsBothWays, which isn't about what it sounds like It's about.
Posted by Beachwood Reporter at 2:37 AM | Permalink
August 18, 2009
The [Tuesday] Papers
By Steve Rhodes
"Sen. Dick Durbin (D-Ill.) sent a recommendation letter to a principal last spring on behalf of a staffer's relative who had been rejected entry to one of Chicago's most elite public high schools," the Tribune reports.
"Though the applicant's score was well below the school's average, the principal at Jones College Prep accepted the student through a channel that allows principals to handpick 5 percent of the incoming class. The student was one of 12 chosen under the provision, from a pool of more than 180 applications, Principal Joseph Powers said."
And Durbin's letter had nothing to do with it, right?
No. It had everything do with it - by design! That was the point.
"The nine selective enrollment college prep schools admit most students based on tests, grades and attendance. But a policy adopted two years ago allowed the principals to hand pick up to five percent of freshmen based on five other criteria," the Sun-Times reports.
"Durbin's staffer's daughter was admitted under two of those criteria - extra-curricular activities and extenuating circumstances, his spokeswoman said. Neither criteria is mentioned in Durbin's letter."
That's because the only criteria necessary to mention was Durbin's name.
"I've had the pleasure of watching [the girl] grow from an inquisitive and precocious 7-year-old into the extremely bright, articulate and mature young lady she is today," Durbin wrote.
And how did he have the pleasure? Because she was the daughter of one of his staffers.
A Durbin spokeswoman told the Sun-Times that this is believed to be the only recommendation letter he wrote.
I didn't know that getting a job in a senator's office guaranteed getting your kid into the school of your choice. It's a perk that isn't advertised, but one we should have assumed all along.
Are They All Dirty?
Sure seems that way.
Obama's Option
This "then and now" of the president's shifting positions on health care is actually gentler than the reality if the Tribune either did a little more digging or had been paying attention all along, even going back to the Democratic primary.
File this in the bulging "I Told You So" file.
*
Is there a single significant issue on which Obama has not changed his position? Seriously. And mom and apple pie stuff doesn't count. Real stuff. I don't think so.
*
All those idiots taking that Facebook quiz saying they supported universal coverage! Even the public option is not universal coverage. But - like so many parts of the campaign - large swaths of people believed an illusion that wasn't true, gleefully checking "Yes!" when it was absolutely meaningless to do so and only perpetuated a fantasy.
*
"After Obama was elected, you had all of these people who basically saw him as the second coming of Christ," Joker artist (and Chicagoan) Firas Alkhateeb told the Los Angeles Times. "From my perspective, there wasn't much substance to him."
Stupid People
I know reporters get desperate to find people who will give them the quotes that will fulfill the fantasy narratives of their editors, but quoting people who don't know what they're talking about just makes us all a bit more stupid.
Today's example: "City Closures Catch Many By Surprise."
(Another Sun-Times story I can't find online)
The piece opens by describing the plight of poor Astor Rogers, who didn't know city offices were closed on Monday.
"They're making money off people coming down here and paying for parking, paying for meters," Rogers said. "And then you've got to come back [Tuesday]. So they're going to make double the money."
Yes. That was the city's evil scheme.
After a brief detour, the Sun-Times comes back to Rogers, which leads me to wonder just how many folks were really fooled.
"Some folks streaming into City Hall admitted they'd not paid attention to news reports previewing Monday's closures. But that was apparently no reason to cut City Hall some slack.
"'I came all this way for nothing,' said Rogers."
Yet another example of a depleted newsroom wasting its reporters' time.
If a story about people showing up to closed city offices must be done, it should be done Daily Show style: send a reporter to City Hall to find out just how ill-informed our citizenry is. Then ask each person who showed up expecting the doors to be open if they can name their alderman. Then maybe we've got something.
Expensing It
Returning for a moment to the Tribune's story about aldermen's expense accounts:
"Six aldermen tapped their expense accounts to pay for public relations firms and other consultants - for everything from setting up community meetings to expert advice.
"Ald. Anthony Beale (9th) spent more than any other alderman on public relations, with more than $16,000 paid to The Publicity Works, a company owned by longtime Democratic political consultant Delmarie Cobb."
Now Delmarie Cobb of Roland Burris fame.
*
Aldermanic expense accounts sound an awful lot like the Cook County commissioners' "contingency checks" that everyone got so upset about not too long ago - except the aldermen have about four times as much money at their disposal.
Zell Gives Up
Ready to walk away.
Behind That Famous Cubs Beer Photo
It was touched up.
-
The Beachwood Tip Line: Touching.

Posted by Beachwood Reporter at 10:37 AM | Permalink
Behind That Beer Photo
By Mike Conklin
It's hard to believe the Cubs' gendarmes identified the wrong man at Wrigley Field last week in arresting that beer-tossing fan. There could not have been a lack of photos of the incident. In today's world, everyone's a photographer. Ballplayers cannot hit a loud foul these days without a thousand flashes. The news media has come to depend on this, turning their staff camera people into endangered species.
The Wrigley Field incident brought to mind the most famous beer-in-the-face photo of all time. This was taken in the 1959 World Series in Chicago, when a fan accidentally knocked his glass of beer into the face of White Sox left fielder Al Smith making a vain attempt to catch a home run sailing over the wall. The photo gained worldwide attention, but there are two back stories to the picture that still are not widely known.
The photographer was Ray Gora, one of a legendary group of "shooters" assigned to the Tribune sports department in an era when cameras were expensive and sports photography actually took knowledge of the games. In an interview not long before he died a few years ago, Ray, always a class act, told retold his tale emphasizing a couple of key points.
1. New technology played a big part in capturing the picture, which actually was part of an eight-page, sequential panel. The Tribune had been experimenting that year with a new, motor-driven camera initially designed by the government for recording rocket launches at then-Cape Canaveral.
This camera, according to Ray, was a Hulcher model with a fast-action, gear-driven shutter that allowed pictures - or individual frames - to be taken in rapid succession. The principle was much the same as a movie camera. This became standard equipment, but it was a big deal then. The Tribune, always quick to tinker with technology through the years, was among the first in the nation to have one for news purposes.
The equipment also was heavy and clumsy. Ray, a tall, strong guy, became the likely candidate to use it. He endured no shortage of good-natured insults at events from peers who could not see skill in simply pointing and keeping the "on" button pushed. Never mind that it also had a more powerful lens, allowing better focus from longer distances that produced more clarity for action shots. It is not likely this photo could have been taken any other way in 1959 than with this camera.
2. When the Tribune selected the sequence from negatives to run and prepared to print it, the graphic artist working that day felt the beer cup could barely be seen against the fan's light-colored clothing. He changed his jacket color to black in the sequence's featured photo. Newspapers did not use color at the time. They have routinely air-brushed and made minor edits to photos forever.
For some reason, the jacket color was not changed in the other photos in the panel, thus the Tribune's first edition hit the streets with the fan wearing a light-colored jacket in all but one photo in the sequence. There was a lot of scrambling, according to Ray, and the original color of the jacket was used for all the pictures in the day's final edition and special highlighting was done to the baseball to make it more visible.
Those are two stories behind the famous photograph. Maybe it's time to add a third.
3. Ray's name never appeared under the photos. This is probably impossible to grasp for many in journalism today, when bylines and credit lines get tossed around like candy. Everyone knew Ray took the photos, however, and he won several prizes for his effort.
*
When Smith died in 2002, the New York Times wrote an obituary under the headline "Al Smith, 73, Dies; Was Doused in Series."
The obit names a motor-oil company executive named Melvin Piehl as the third leg in the famous photo's tripod; Piehl is the guy who actually spilled the beer on Smith.
'Somebody wanted a sandwich,'' he told the Times. ''I put my beer on top of the wall and bent down to get a sandwich out of the basket. Then I heard the crack of the bat.''
Piehl stretched out an arm as his beer tumbled off the wall because ''I wanted to be sure the ball didn't hit my boss's wife.''
According to the Times, Piehl "shunned publicity over the dousing and turned down an offer to appear on television's I've Got a Secret."
Also unthinkable today - Steve Bartman notwithstanding.
-
Mike Conklin, who spent 35 years at the Tribune, teaches journalism at DePaul University. Comments welcome.
Posted by Beachwood Reporter at 12:35 AM | Permalink
August 17, 2009
The [Monday] Papers
By Steve Rhodes
Mayor Daley recently half-joked that the burgeoning CPS clout scandal at least showed that some Chicago schools had become so desirable during his tenure that parents and politicians were willing to cheat to get their kids admitted into them.
But Marj Halperin's 1988 Chicago magazine article called "The Lottery" - which she recently shared with District 299 blogger Alexander Russo - shows that clout admissions and the controversial "principal picks" now under federal investigation pre-date the Richard M. Daley era.
Here's how Halperin opened her piece:
"Governor Thompson got his kid in. So did state representatives Ellis Levin and Al Ronan. You'll find the daughter of Alderman Patrick O'Connor, head of the City Council's education committee, in a magnet classroom this year. Alderman Ed Smith's, too.
"TV reporter Andy Shaw's daughters are in LaSalle Language Academy, the same as one-time Chicago Sting soccer star Karl Heinz Granitza's children. Monroe Anderson, the Mayor's press secretary and a former Newsweek reporter, sends his son to Inter-American Magnet. Perhaps if he drops Scott off himself, Anderson gives a nod to some of the Board of Ed employees, who also send their children to Inter-American - such as Margarita Rosa, of the board's research and evaluation office. Fernando Colon got his daughter in while working for the board's law department.
"Alice Vila, of the resource development office, also has her children at Inter-American, as does Anna Berlanga-Nabozny, of the board's special education department.
"On the South Side, Third Ward Alderman Dorothy Tillman sends one of her children to a top-rated magnet school, as did Leon Finney, who like Tillman spearheaded Mayor Harold Washington's school reform efforts.
"Ask them individually how they got in, and you'll no doubt hear a lot of reasonable explanations. But the list of clout-heavy families in eagerly sought school slots is hard to write off as coincidence.
"Ordinary citizens, too, get their children into Chicago's magnet schools. Some go through the official lottery system, but others improve their odds by applying personal clout, by inventing nonexistent siblings and minority ancestors for their kids, or by mortgaging their souls to the PTA."
Halperin comes clean herself, describing how she got her kid into a coveted magnet school slot through a principal pick.
As one mother told Halperin: "It's like everything else in Chicago: It comes down to who you know."
The Real Ferris Bueller Is . . .
. . . now a Washington lawyer.
Help Wanted
The Tribune is looking for a National Content/Lifestyle Reporter/Writer
Zell Out?
David Roeder of the Sun-Times reported last week that creditors may force Sam Zell out of the Tribune Company. My guess is that Zell would like nothing more. He never intended to focus so much time and energy on Tribune and he can't be having any fun. But will all those Clear Channel executives he brought in get kicked to the curb too? I would think so. And while those execs engineered the appointments of Gerould Kern as Tribune editor and Jane Hirt as the paper's managing editor, I would think they would be safe, at least in the short term, just for continuity's sake. But papers in Los Angeles, Baltimore, Hartford and units elsewhere in the Tribune empire may finally get their wish and be set free.
EveryBlock Strikes Gold
MSNBC.com has acquired the Chicago-based EveryBlock.
Water Works
"In Chicago, the city competing to host the 2016 Summer Olympics, not even Mayor Richard M. Daley can do anything about a wastewater financing that forced taxpayers to pay almost $8 million more than they had to," Bloomberg reports.
And:
"The folks at the Water Reclamation District love talking about their bond rating," Fox News Chicago reports.
"Spokeswoman Jill Horist says: 'The issue is we're a fiscally responsible, triple-a rated company' - and talking - 'In this day and this economy the district still maintains its Triple-A bond rating" - 'and talking - 'If you don't understand, we have a Triple-A bond rating.'
"But even District President Terrence O'Brien admits having the right DNA helps. Now running for Cook County Board President, O'Brien made a candid admission during a recent appearance on Fox Chicago Sunday, when I asked about his kids getting jobs in the past.
"He said: 'I'm a father, like a lot of fathers and mothers out in the community, if they can't help their children when they're in need of some experience in the workplace, shame on me.'
"We told Attorney Michael Shakman: 'His defense was 'What kind of father would I be if I didn't help my kids get a summer job'?' Shakman's reply? "One who followed the law and had integrity is the kind of father he'd be'."
Friends & Family
Aldermen use expense accounts on mom, interns, the Lexus 460.
*
What was it that mother said back in 1988?
*
But the Tribune's outrage at aldermen buying bottled water doesn't hold up to scrutiny. The worst offender is Walter Burnett Jr. of the 27th Ward; Burnett spent $1,203 in taxpayer money for bottled water, and while that isn't a lot of money over the course of a year, it sounds cavalier until you dig a little further and learn that it's Hinckley's and used for two water coolers, one in his ward office and the other for his City Hall office. It's not like he was buying Evian.
Burnett is still a crumb for spending down an unconscionable $73,280 aldermanic expense account, but not any more of a crumb that the rest of his clueless colleagues.
Happy Freakin' Furlough Day!
But it might cost more money that it saves.
Remembering Rezko's Home
See the dining room table where Tony cut his checks! Look behind the paintings for the hidden safes! Ponder the impromptu campaign strategy session walk-in closet!
Rezko's home went up for auction today. Like it or not, it's a part of Obama's political history.
Manny's Olympics
You're either all-in or all-out, alderman.
Beachwood Sports
* The three-inning increment: a guide to tuning out the Cubs.
* The White Sox are in it, but they can't do anything about it; they're not out of it, but they might as well be.
* The case for Devin Hester being on the cusp of receiver stardom is shaky at best, despite what the training camp hawks and media spinsters would have you believe.
-
The Beachwood Tip Line: Unshakable.
Posted by Beachwood Reporter at 11:31 AM | Permalink
SportsMonday
By Jim Coffman

The guy I worry about in the aftermath of the Bears' exhibition opener Saturday is our man Devin Hester. No entity has been a bigger fan of the Ridiculous One than The Beachwood Reporter but Hester crammed a bunch of butt-ugly plays into an awfully brief appearance in Buffalo.

Jay Cutler simply couldn't throw him the ball enough. In what was it -14 plays with Cutler? - Hester appeared to screw up one route, give up on another and fail miserably to even contest the up-for-grabs pass that became Cutler's interception.

Then again, Hester did run one very good route that could have gone a long way to making up for the others. After the Bears moved inside the 10 during the starting quarterback's last drive of the night, Hester made a good feint to the outside and got a little separation as he began to cross the end zone.

But as Fox network analyst Erik Kramer pointed out, Cutler, who some criticized after the exhibition for getting rid of his passes too quickly in order to avoid any chance of being hit and injured, chose this moment to hold the ball too long. By the time he zipped his pass toward Hester, a linebacker had managed to drop back far enough to tip it away. But even if Cutler had delivered the pass on time and Hester had hauled it in, the Bears have to have more consistent execution from their best receiver if their passing game is to click.

Oh, and another problem was that Hester didn't return any punts. Given how he struggled with that task all of last year, it seems clear a little practice is warranted. That's especially the case given the fact that if the guy doesn't take a big stride soon (hauling in a half-dozen or so Jay Cutler passes per game during say, the first half of this season would be what we're looking for), it will be time to re-think his role again and re-emphasize returns. Really.

The case for Hester being on the cusp of receiver stardom is shaky at best, despite what the training camp hawks would have you believe (stories in all local media outlets in the past few weeks about how much better Hester has been practicing than he has in the past). He'll have to take a huge leap with a brand new quarterback. And he can't make the sort of dumb plays that have too often marred his performance at receiver for the Bears in previous years.

We're not expecting perfection, we just don't want to see multiple situations per game in which the receiver and the quarterback aren't on the same page and it seems clear that the receiver was the guy who lost his place. And we saw multiple plays like that in just the first quarter Saturday.

Otherwise, the game with Buffalo was just about a completely meaningless enterprise. I bowed out (watching) when Cutler did. The next game will be slightly more important (and hopefully will feature Matt Forte and Greg Olsen for at least a little while) and the third exhibition game will be our best chance to at least get a little feel for whether offensive coordinator Ron Turner and Jay Cutler will be able to pull this off (create an effective passing offense) this quickly or if it will take more time. Because if given enough time, and an infusion of another good receiver or two, Turner and Cutler will get this done.

Kramer's Call
My favorite thing about Saturday's game, or at least, the first quarter-and-a-half of it, was the announcing. Sam Rosen is solid on the play-by-play. He isn't one of my favorites but hell, he's much better than so many of the guys the networks foist on us these days in sport after sport. Can you believe that Fox TV continues to trot out Dick Stockton for baseball games of the week on Saturdays? I guarantee my 10-year-old son, with two weeks of practice, would do a better job on a Cubs or a White Sox game than Stockton, who last competently called a big game when Magic Johnson and Larry Bird still roamed the court. And even way back then, he was a basketball guy, not a baseball guy.

As for Kramer, well, at the start of the game I was not optimistic. He struggled mightily at this task last year and guys either seem to have it or not have it when it comes to providing color on sports broadcasts.

But it was clear quickly that Kramer has improved. He was very good on one of Hester's early catches when he pointed out how the receiver, in driving up the field convincingly, forced the DB covering him to turn his hips all the way toward the goal line. Then when Hester cut inside, he had instant separation.

Later on, Kramer noted how, on Corey Graham's sack, defensive end Adewale Ogunleye dropping into coverage in a potential slant lane was at least a possible factor in Bills quarterback Trent Edwards holding the ball long enough for the corner blitz to get to him.

On the aforementioned attempted pass to Hester in the end zone, Kramer took Cutler to task not only for delivering the ball late but also "staring down" his receiver before the pass. Good stuff Erik.

Yin Yang
I'm still rooting for Tiger Woods to win majors, eventually pass Jack Nicklaus (he totaled 18 British and U.S. Opens, Masters and PGA Championships in his career - Tiger has 14) and to obliterate every last golfing record. Underdogs are nice some of the time but usually I'd rather see another chapter in a story of sustained excellence, as long as the exceller hasn't massively pissed off fans in some way or another. And Woods certainly hasn't done that.

So the final 18 holes at Hazeltine up in Chaska, Minnesota were disappointing on Sunday despite the compelling story of Korean national Y. E. Yang shocking the sports world by out-dueling the legend (who had never before lost a major - 14-for-14 - when leading after three rounds), and becoming the first Asian-born player to win one of the only four golf tournaments that matter.

The thing is, it stinks when obscure guys win majors (I thought about saying "when scrubs win majors" but Yang, who is ranked No. 110 in the world, doesn't deserve the "scrub" moniker).

Do you even remember who won the Masters this year? It was Argentinian pro Angel Cabrera and he hasn't done anything of note since and is not likely to do so again in his career (OK, OK, so Cabrera also won the 2007 U.S. Open - still, he didn't do anything else this year - so work with me).

One of the best things about the PGA was that out-of-nowhere 2009 U.S. Open winner Lucas Glover had another strong run. He ended up fifth and perhaps he is poised to go forward and have a truly substantive career, contending for multiple majors and maybe even winning another big tournament or three.

At least Yang wasn't a complete flash in the pan. He has won on tour and was even in contention for a while at this year's British Open.

But if he just fades away from here on out, as so many of the non-Tiger major winners have done during the past decade-plus, his win here will eventually feel like a bunker shot that doesn't quite get over the lip.

-

Jim Coffman rounds up the sports weekend in this space every Monday. He welcomes your comments.


Posted by Beachwood Reporter at 10:58 AM | Permalink
The White Sox Report
By Andrew Reilly
Pre-season football is underway, and not a moment too soon. Not that I'm an especially avid Bears fan, but every second of airtime, every inch of newsprint and every pixel of internet real estate that once set its crosshairs on White Sox baseball can now be focused on more pressing concerns like what some other team in some other sport might achieve. To anyone still invested in the 2009 White Sox, this is a good thing: if they tank the season, no one will notice; if they pull off the "miracle" rally to the playoffs, we can all celebrate their grindiness and general ability to never give up or whichever cliche folks latch on to this time around.
Because by now, 118 games into the season, what possible reason could anyone have to think there's something great just waiting to happen? Has even one act of greatness gone unpunished? One fit of brilliance not matched by some stretch of total slop? One minute they're stomping on the class of the league, the next they're coughing up series' to the likes of the Mariners.
They can't win, even though they usually do just that, amassing a body of work beyond good and bad, not even just being non-spectacular but actually falling into a pattern of being absolutely nothing at all.
They're in it, but they can't do anything about it; they're not out of it, but they might as well be.
Meanwhile on the South Side of Chicago, Freddy Garcia will start Tuesday, Jose Contreras can't find the form he had earlier in the year and the Sox are going to need a lot of offensive firepower from Jim Thome, Paul Konerko and Jermaine Dye. It's as though 2006 never ended, 2007 never happened and 2008 never laid the blueprint for the sputtering non-baseball that followed. If the Sox fail to repeat as division champions, history says the Bears are due to take the NFC. Believe.
Or, alternately, don't. Whatever.
Week in Review: Surrender a series, take a series. As it was, so it shall be.
Week in Preview: A six-game homestand against the Royals and Orioles, two teams whose collective mediocrity hint at a rough week for the Team of Destiny.
The Q Factor: His numbers down since his triumphant return, the world waits in fear and awe for Carlos Quentin to lay waste to the rest of the American League, the corpses of his rivals stacked into a pile pointing towards the sun. When asked Thursday about his low batting average, Quentin fixed his gaze on the horizon and responded "All shall be revealed when all must be revealed. Now is the time for reflection, not for action; measure my work not by numbers but by the trail of dead left in its wake."
That's Ozzie!: "Jose did not pitch a good game." - the Sox skipper reflects on the latest in a string of Contreras-led disasters.
The Guillen Meter: Following yet another unproductive week, the Guillen Meter reads 5.1 for "just a touch over .500."
Underclassmen Update: We have seen the future of White Sox pitching and it is Freddy Garcia. But after that, and after Jake Peavy, it might be Daniel Hudson, last seen in Charlotte taking names to the tune of 240 strikeouts in 204 innings.
Alumni News You Can Use: Former White Sox outfielder/point of contention Brian Anderson was called up by the Boston Red Sox Saturday, playing eight strong innings of one-hit, scoreless ball in his BoSox debut.
Hawkeroo's Can-O-Corn Watch: If Royals pitcher Zack Greinke stands on the mound while Orioles right fielder Nick Markakis sets up at bat, does a Hawk make a sound?
Endorsement No-Brainer: D.J. Carrasco for Swiffer: drop that mop!
Cubs Snub: Regarding beer-tossing, fittingly-attired suburbanite Johnny Macchione, Cubs chairman Crane Kenney offered some reassurance, saying "If you think about how many years we've gone with no issues of any kind, including situations where we had our fans in some way animated about our own players, where they weren't favorable towards them - so this is an isolated instance."
For those keeping score at home, the "number of years" to which Kenney refers equals two. Other isolated incidents at Wrigley include the 2006 garbage riot, 19 Los Angeles Dodgers fighting Cubs fans in the stands and the great-grandaddy of them all, bond trader and bullfighter extraordinaire Mr. John Murray. Best fans in baseball, folks. Best fans in baseball.
Fantasy Fix: Neckbeard versus Mike MacDougal.
The White Sox Report: Read 'em all.
The Cub Factor: Know your enemy.
-
The White Sox Report welcomes your comments.
-
Andrew Reilly is the managing editor of The 35th Street Review and a contributor to many fine publications.
Posted by Beachwood Reporter at 10:44 AM | Permalink
The Cub Factor
By Marty Gangler
If you've been any kind of Cub fan for any kind of time period you know that there comes a point in almost every season where you "tune out."
This occurs when you decide that the Cubs don't really deserve as much time as you have allotted them.
Quite a bit of the time this happens around June.
Sometimes in September and even some years in April, but it happens quite a few more seasons than it doesn't.
This "tuning out" typically goes down in three-inning increments. If you usually watch every inning of every game, you'll start to watch six innings. If you watched around six innings, you will start to watch just three - be it the first three or the last three.
If you typically watched three innings, you'll start simply switching over from a Seinfeld rerun to catch the score.
If you were already switching over from Seinfeld to catch the score, you'll downgrade to just checking the scroll while watching SportsCenter
And if you just checked the scroll on SportsCenter, you'll continue doing that but you won't wait nearly as long for the Cubs game to come along before bailing.
So yeah, this week marked the "tune out" phase for a lot of Cubs fans.
And who can blame them? There are a lot of other things to do these days.
I mean, you do have a family and you should spend more time with them. And if you don't have a family, well, you should start putting in some time to make one. Do to someone else what the Cubs have been doing to you.
Tuning out doesn't make you any less of a fan. It makes you a saner one.
*
Beer Line: How is Wrigley Field security just like the Cubs? Neither can throw the right guy out.
*
Week in Review: The Cubs lost their last game in Colorado and came home to get swept by the Phillies before taking two from the poor Pirates. The Pirates are so poor they can't pay attention.
Week in Preview: A West Coast trip with late games all week in San Diego and L.A. - a perfect way to ease in your tuning out. Plus if you go to bed at a decent hour you won't have to watch Carlos Marmol or Kevin Gregg pitch. The schedule is really paying off right now.
The Second Basemen Report: Jeff Baker started six games this week and knocked the crap out of the ball. So naturally Baker was sent to the bench in favor of Mike Fontenot before Sunday's game got rained out. Just like Jim Hendry drew it up.
In former second basemen news, Mark DeRosa had a couple of 2-hit games for the first-place Cards this week while Ronny Cedeno - who is otherwise hitting .313 and has "dazzled" with his defense - went 0-7 for the Pirates at Wrigley Field. Kind of like last season. Meanwhile, the Twins released Mark Grudzielanek and boy is he pissed. They are missed.
The Zam Bomb: We don't have an icon for Lazy, so we'll keep him at Furious.


-
Lost in Translation: Tossio many-many yen brewskiee is Japanese for "that beer costs way too much to waste."
Endorsement No-Brainer: - Shane Victorino for beer shampoo. (Too soon?)
Milton Bradley Game of the Week: - Sorry, because he really thought he won the game with a homer in the 11th inning against the Phillies on Tuesday. And generally everyone is Sorry he's here.
Sweet and Sour Lou: 45% sweet, 55% sour. Lou stands pat on the Sweet-O-Meter this week because he doesn't seem to care and has been pointing out the obvious. And just like your real crazy drunk uncle, you know you screwed up when you dropped Uncle Lou's beer on the sidewalk after you tripped over the neighbor's dog Trixie in the driveway. But if your uncle is going to yell "Be more careful!" at you, he can get his own Falstaff next time.
Don't Hassle the Hoff: Is losing without the Hoff on the team a coincidence or a hassle? I think it's a hassle, so stop it.
Over/Under: Uncle Lou ejections the rest of the season: +/- .5 (you need to care to get angry)
Beachwood Sabermetrics: A complex algorithm performed by the The Cub Factor staff using all historical data made available by Major League Baseball has determined that you can still be a fan and care less at this point.
The Cub Factor: Unlike Soriano, you can catch 'em all!
The White Sox Report: Now with a weekly Cubs Snub.
Fantasy Fix: Should Alex Rios be in your future?
The Mount Lou Alert System: Recedes to Green as the once volatile surface of Mount Lou with its streams of anger lava have completely cooled to form masses of solid complacency.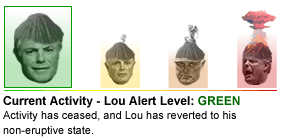 -
Posted by Beachwood Reporter at 10:04 AM | Permalink
Dear Manny Flores
By Matt Farmer
Dear Alderman Flores:

I'm not a resident of the First Ward; I live in Alderman Stone's ward. As a concerned Chicago taxpayer, I've done my best to follow the ongoing debate concerning Chicago's bid for the 2016 Olympics. I watched with interest when you proposed an ordinance capping taxpayer risk at $500 million. I was disheartened to learn that you no longer support such a cap, and I do understand your stated reason for that decision. I do not write today to ask you to revisit that decision. I write to encourage you to seek maximum transparency for all of the Chicago 2016 team's activities, should our city be awarded the Summer Games.
I generally agree with the "principles" of "transparency and accountability" you set out in your August 2 Op-Ed piece in the Tribune, but I urge you to augment your list by making the 2016 Bid Committee and (its soon-to-be alter ego) the Chicago Organizing Committee for the Olympic Games subject to the Freedom of Information Act.

The Tribune's David Greising explained eloquently in two columns this week why we taxpayers need such protection:

* "Public On Hook Deserves Look Into Chicago's Olympic Bid"
* "Time To Hold 2016 Olympics Committee's Feet To Flame On Open Records"

At a Chicago 2016 community meeting at Wright College (not my community, but Alderman Stone did not schedule such a meeting in the 50th Ward), I asked Lori Healey, the mayor's former chief of staff, to explain to the crowd why a FOIA requirement would be a "bad idea."
I found her answer - which cited the IOC's need to maintain proprietary information - wholly non-persuasive.
I urged three of your colleagues who attended the meeting (Ald. Allen, Ald. Levar, and Ald. Doherty) to support such a measure, but from their reactions I may as well have been asking Sarah Palin to support restrictions on firearms.

This city needs leaders, Alderman Flores. The history and scope of public corruption in Chicago is staggering, and it is a national disgrace. Ms. Healey and company tell us they will be open and transparent, but the respective political pedigrees of the folks in charge of Chicago 2016 give me (and many others) pause.

In closing, I'll ask you what I asked Ms. Healey: tell me why it's a bad idea to subject Chicago's 2016 committees (whatever they ultimately call themselves) to the Freedom of Information Act. As of now, $500 million of Chicago taxpayer money remains on the hook for this adventure - and that's enough of a hook for you to subject those committees to FOIA requirements.

I've copied the offices of some of your more progressive colleagues on this message with the hope that they, too, push for transparency. Reaction, rather than action, was the order of the day for the City Council when it came to Chicago's parking meter mess. Please learn from the past and get out in front on the issue of 2016 transparency. Put some teeth in the disclosure and reporting requirements you propose. Our city is damn near broke and our track record for good government is laughable.

Thanks for your time. Feel free to contact me with any questions or concerns you may have.

Sincerely,
Matt Farmer
-
Also from Matt Farmer:
* Good King Rich

Posted by Beachwood Reporter at 7:06 AM | Permalink
August 15, 2009
The Weekend Desk Report
By Natasha Julius
We'll keep working while you take a long weekend to consider the evidence.
Market Update
It was a tough week on the Parenting exchange, as Fathers suffered an historic collapse. Analysts took heart that, despite a disappointing showing, Mothers managed to exceed the Street's rather modest expectations.

Change Watch
The big news in the world of Change: Hillary Clinton has officially run out of close relations eligible to rub elbows with widely reviled global figures. After all, Chelsea is way too busy running damage control.
Rajoelina
In a shocking coup sure to resonate across the globe, Angelina Jolie has joined forces with Rachel Ray and Joe Jonas to seize control of the remote island nation of Madagascar. Observers note that Rachel Ray has long shown terrorist tendencies while Joe Jonas draws on the fortitude shown during his own Swift boat campaign. Details are still emerging, but it appears Rajoelina is poised to formally adopt the leadership role this weekend.
Dog Day Afternoon
Finally this week, Michael Vick will get a second chance at an NFL career after signing with the Philadelphia Eagles. Stressing the importance of Vick's off-field change of behavior, NFL commissioner Roger Goodell said he is also open to the idea of reinstating Squeaky Fromme. "I mean, it's been, what, like twenty years since she tried to contact the guy? That's a lot of water under the bridge." Following the retirement of Morten Andersen, Fromme is thought to be a viable back-up place kicker.

Posted by Natasha Julius at 9:03 AM | Permalink
August 14, 2009
The [Friday] Papers
By Steve Rhodes
1. Oracle sure gets what it pays for every year when the company gets free front page advertising in the dailies (as they do today) through purported news photos of the planes its sponsors in the Air & Water Show.
Similarly, this is why the media should refuse to refer to U.S. Cellular Field, for just one example. Naming rights, sponsorships and strategically placed advertising are insidious product placement strategies that otherwise wouldn't be allowed by news organizations.
Either sell out or don't, but don't be outsmarted.
*
What about arguing on behalf of the Sears Tower name, then, you might say. Well, when the Sears Tower was built, it was built as the company's new headquarters. I suppose they could have sold naming rights to Kmart, but it actually was the Sears Tower.
Similarly, Wrigley Field got its name when the Wrigley family bought the team.
Just sayin'.
2. The Tribune is doing its readers a ridiculous disservice by apparently refusing to acknowledge that the "close family member" whom Ald. Ricardo Munoz clouted into Whitney Young was his daughter.
I assume the Tribune is acting this way to avoid identifying someone who is underage, but c'mon!
The story gains the bulk of its power from the fact that Munoz pulled strings for his own daughter and not just a relative among the dozen or so constituents he says he makes similar calls for every year.
It's not the most pleasing thing in the world to out a teenager, but she did get a special favor - and her dad the alderman is the one who got it for her. Blame Munoz for jamming her up.
3. Kass:
Visiting Africa a few weeks ago and without a hint of irony, Obama struck again, saying that Africans hoping to open a business or get a job surely must feel as if they "still have to pay a bribe."

Bribes? Can you imagine?

Someday, our president might visit Illinois and say the same thing, and that will really make news.
True, it's not news that Obama didn't lift a finger when it came to corruption in his own backyard, but it's also true that reporters continue ignoring that inconvenient truth. Not a single one, to my knowledge, asked the president after this latest scolding what efforts he made when it came to bribery in Chicago.
4. Some things never change. For example, juvenile courts are always overburdened and the CTA is always going to extend its rail lines.
And some things never happen. Like, juvenile courts are never funded and managed in a way that demonstrates anybody in a position to effect change really cares and the CTA rail lines never get extended.
5. How in the world is the 70th anniversary of an airline lounge news? I mean, I got that press release too but I didn't feel compelled to post it.
6. I'm too tired to rebut the Tribune's approval of the mayor giving United Airlines $25 million to relocate is operations center to Big Willie (just trying it out). Rebut amongst yourselves.
7. There Are No Independent Aldermen Here.
8. This week on Sound Opinions:
"Mix one famous musician and stir in some others. It can be a recipe for success, or disaster. Tune in for Jim and Greg's discussion of rock's best and worst Supergroups."
9. "If You're Part of the Pleasurati, There's a Condom for You."
10. "In the biggest class-action suit of its kind, a federal jury ruled Thursday that Cook County Jail employees broke the law in the way they conducted strip-searches of inmates," the Sun-Times reports.
Sheriff's spokesman Steve Patterson begs to differ with the jury's conclusion:
"We believe the jail's correctional officers and staff acted appropriately and did not violate anyone's constitutional rights in conducting searches for weapons or contraband before placing them into jail custody."
If Patterson was still the fine county reporter that he was for the Sun-Times, he might think differently. Or say what he really thinks.
11. Brace yourself: Neil Steinberg's chuckle of the day is actually worth repeating.
12. How Daley-like: the Obama administration's contract with a company hired to build a website for the public's benefit that would track stimulus money is not being made available to . . . the public. At least not in any meaningful way.
14. Most disingenuous Olympic bid ever?
15. John Cullerton's Hilarious New Video.
16. I haven't had a chance to dig into the Sun-Times report that creditors may kick Sam Zell to the curb, but I did see this quote they had from one corporate turnaround expert:
"This was a textbook case of a leverage buyout gone bad. These were imbeciles who had no idea what they were doing."
17. Cathleen Falsani always makes Saving Grace sound like a much better show than it actually is. The whole Earl-the-angel thing is lame, and the show totally jumped the shark when Hanadarko was kidnapped, strung up and tattooed with angel wings on her back. Please.
18. Les Paul made the world a far more bearable place than it would have been without him and his little ol' invention. Thanks, Les.
-
The Beachwood Tip Line: Like a burst of sun.
Posted by Beachwood Reporter at 12:13 PM | Permalink
Recovery Redacted
By Christopher Flavelle/ProPublica
Back in July, a software company named Smartronix landed an $18 million contract to build a Web site where taxpayers could easily track billions in federal stimulus money. It was just another part of the Obama administration's ongoing effort to bring transparency to stimulus spending, we were told.
But it seems the drive for transparency doesn't cover the contract itself.
After weeks of prodding by ProPublica and other organizations, the General Services Administration released copies of the contract and related documents that are so heavily blacked out they are virtually worthless.
Don't believe us? Take a look.
ProPublica sought the contract under the Freedom of Information Act to find out what kind of site Smartronix planned to build and to assess whether it justified the cost, which Republican critics of the stimulus plan called "unreal."
Ed Pound, the director of communications for the Recovery Accountability and Transparency Board, defended the redactions as "legitimate." The Web site Smartronix is to build will replace Recovery.gov, the existing stimulus Web portal run by the transparency board.
"I'm not concerned about whether journalists are concerned about this," Pound said. "We have been very transparent."
The GSA declined to comment, but said in its response to ProPublica's FOIA request that such redactions were allowed if material "involves substantial risk of competitive injury" to a contractor.
But the blacked-out information includes material that seems harmless to the company, such as the names and backgrounds of key personnel and the number of visitors expected by the site during traffic spikes.
Some sections of the contract were redacted in their entirety. They include:
* the project's management structure;
* something called the "Strategic Advisory Council";
* quality assurance procedures;
* five pages on user experience;
* site navigation;
* four unidentified pages on which everything, even section headings, have been redacted;
* every single piece of information in the document's pricing table, including function, vendor, model, part ID, detail and quantity;
* the contract's warranty agreement.
In all, 25 pages of a 59-page technical proposal - the main document in the package - were redacted completely. Of the remaining pages, 14 had half or more of their content blacked out.
The secrecy drew criticism from government transparency watchdogs.
Lucy Dalglish, executive director of Washington, D.C.-based Reporters Committee for Freedom of the Press, noted that information labeled "contractor proposed deliverables" had been completely redacted.
"I think it's on the one hand funny, but on the other hand frightening," said Dalglish. "How are you going to keep these people's feet to the fire? You can't evaluate whether or not they delivered on the contract unless you know what they promised to deliver. That's just nuts."
Dave Levinthal, a spokesman for the Center for Responsive Politics, agreed. "It's difficult to make an accurate comparison with any other potential services when you can't even see what the rates are for different types of programming services and job functions," he said. "Sure, you get the overall number, but could there be a better deal out there? We don't know."
A spokeswoman for Smartronix, headquartered in Maryland, confirmed that the company was given the chance to propose redactions in the documents, as allowed by the Freedom of Information Act.
However, Charles Davis, executive director of the National Freedom of Information Coalition, faulted the GSA for allowing the documents to be redacted so extensively.
"The government should have come back at the redaction and said, 'Oh, for the love of God, nobody can tell anything from what you've redacted here,'" said Davis. "If you're going to create a system designed ostensibly to provide greater transparency around a piece of the federal government, it would certainly be a great start to provide some transparency in the contract itself."
Clay Johnson, the director of the Sunlight Labs project at the Sunlight Foundation, called the level of redaction in the documents remarkable.
"I think the people have a right to know what their money is being spent on," he said. "We still don't really know what the government's buying here, other than that it's a Web site."
The criticism from the Sunlight Foundation is notable. Smartronix says in its proposal that it has "engaged the Sunlight Foundation as advisers on government transparency," adding that the foundation "is willing to advise Team Smartronix on transparency."
Johnson disputed that characterization. He said that while he had spoken with one of Smartronix's subcontractors and agreed to have Sunlight listed as an adviser, he had never spoken with anyone from the company itself and isn't involved in the contract.
"We're willing to advise anybody on transparency," said Johnson.
ProPublica has filed an appeal with the GSA, arguing that the redactions were excessive and requesting that more of the information in the Smartronix documents be released. We'll let you know what it says.
Posted by Beachwood Reporter at 9:45 AM | Permalink
Bloodshot Briefing: Dog Days
By Matt Harness
It's been a slow last couple of weeks for Bloodshot bands in Chicago. But here are some treats in the lead-up to the label's 15th Anniversary Beer-B-Q at the Hideout next month. Look for plenty more stuff in the next few weeks as Beachwood Music has been busy piecing together a series of previews, including a look inside the Moonshine Willy reunion.
*
Artists: Dollar Store and Meat Purveyors
Date: August 20
Venue: Abandoned Convent
Samples:
-

-
Artist: Wayne Hancock
Date: September 10
Venue: Heartland Cafe
Sample:
-
Artist: Ha Ha Tonka
Date: September 11
Venue: House Cafe in DeKalb
Sample:
Posted by Beachwood Reporter at 9:28 AM | Permalink
TrackNotes: Exacta Revenge
By Thomas Chambers
It was one of those weekends when it all came together.
Following the game all year. Knowledge of local weather patterns. Quality horses in quality races. And a decent chunk of luck.
And perhaps most importantly, the time needed to spend studying and handicapping the races. That's how you win at the track.
I was looking at - and pretty much finished with - Saratoga's Saturday races as early as Wednesday. Had to cool my heels until Arlington's Past Performances were ready Thursday evening. For such a big day, Arlington needs to get the PPs out earlier. The Grade I posts were drawn Tuesday!
Also, very curiously, Arlington's announcer John G. Dooley and handicapper Jessica Pacheco taped their Saturday race-by-race review show on what sounded like Thursday. If they said it once, they said it a million times: "Depending on the weather."
It was also the most pleasant of digs as our group had air-conditioned comfort in a reserved room of our own at Stretch Run on LaSalle Street. We needed it as the place was jammed and people were stepping all over each other. It's really the way to go.
The others were late, so I had even more time to get in some last-minute cramming. And it paid off. Before the rest of my group had arrived, I had already hit the third-race exacta at Saratoga. A real confidence builder.
*
We woke up to rain on Friday that continued straight into Saturday morning. And the weather was sort of following the Wisconsin-border train tracks, as the meteorologists sometimes say. Arlington Heights is further from me than Mount Pilot is from Mayberry, so you've got to follow the Skillethead.
They first rated the turf "yielding," so I knew it was very soft. It was upgraded later to "good." Call it what you want, it was deep and certain horses were immediately up against it and therefore tossable.
It was only race 7, so the Secretariat, the first of Arlington's Grade I triple-header, came up soon enough.
I liked Laureate Conductor and Take The Points/Kent Desormeaux. 'Points had been disappointing me all year as I waited for his breakthrough and his less-than-a-length third against a hot Battle of Hastings in a less-than-firm-turf Virginia Derby gave me hope he was on the upswing. Black Bear Island was taking some money, but still at decent odds, and when you don't know a lot about a horse - he's a Euro - you sometimes watch and trust the toteboard. So I boxed these three in an exacta.
Reb was the real wiseguy horse, tough to toss and taking money based on his visually impressive win in the American Derby prep for this. But toss I did, along with Oil Man, the DQ'd third-place finisher in that same race. An old-timer once told me that just because a horse does great in Illinois doesn't make him a great horse. Same for Illinois-breds, which would include Giant Oak. But I put a few dollars on the Oak, for sentiment. You watch, one of these days, maybe his next, he's going to go off at boxcar odds and crush 'em all. I'll be ready.
Take The Points got up just in time to nip Black Bear Island at the wire in a thrilling finish with Laureate Conductor coming up nicely to finish third. A modest payout, but nice nonetheless.
Methodology seemingly intact, I tossed Pure Clan in the eighth, the Beverly D. Alnadana, Points of Grace and Tizaqueena made up my exacta box, but I couldn't get my eyes off of Dynaforce. With Desormeaux up once again, she didn't look like she had the speed figures to compete, but two races from last summer jumped off the page.
She was nipped by Forever Together (Desormeaux up) in the 2008 Diana and then beat Mauralakana and Communique in the Flower Bowl. In the world of fillies and mares, those are ladies who lunch. And it was her second race off a short break with a jockey upgrade. I made sure to pay attention to my notes: "Best on wet" and "check the turf."
Tizaqueena, at 20-1, led nearly all the way around with Dynaforce right behind her. Alnadana got right up in the mix to finish second, but Dynaforce carved out a two-length lead and just would not give it up. But I misbet the race and only had her to win and place. It was for $3, so it was another nice payoff, although I should have had the exacta.
The Arlington Million and the Whitney Handicap at Saratoga were run practically on top of each other. I don't remember which ran first, but the other one stalled its start, thankfully.
After the Beverly D., one of the jockeys, I think it was Arlington technician E.T. Baird, commented on how deep and soft the track was. Bingo! That's inside information.
But in the Million, I got cute, trying to beat the favorite and the class, Gio Ponti. I figured, despite his recent four-for-five, who'd he beat? The answer turned out to be, simply, everybody he's faced. I went with Einstein and three Euros in an exacta box. As Gio Ponti slung-shot out of the pack at the top of the stretch I knew I was cooked. But the luck wagon arrived as my cover bet, Just As Well, winner of the Arlington Handicap last month, got up by a nose for place. I made my money back.
I went into the Whitney off of a skunking in the Test Stakes at Saratoga as longshot Pretty Prolific (uninspiring, to this knucklehead, who didn't see she came out of a key race two back to finish second and was probably pointed to this race) got up for second to ruin my exacta. But I was able to shake it off mentally as I did have the mild longshot winner, Flashing, in my mix.
Asiatic Boy scratched out of the Whitney, which made my job easier. He's the kind of horse you have to include, even if you don't like him.
Dry Martini was a must use. Coming off a break, I couldn't deduce a pattern by Macho Again - would he fire in this race? But Holy Bull on his sire side seemed enough for me. Smooth Air looked in form, albeit with second-itis in three of his last four. Bullsbay? Through process of elimination, I landed on him. I threw a cover bet on Tizway, as I said I would, but Bullsbay seemed to offer more.
After winning two graded stakes, he finished a very respectable fourth in the Stephen Foster, and then threw in a big clunker on the synthetic stuff at Hollywood. The 18-1 price looked mighty nice too.
Old veteran Commentator, who won this race in 2005, handily took the lead in a fairly hot pace. Jeremy Rose on Bullsbay rode a masterful energy- and ground-saving trip and at the far turn, he re-entered the TV screen and swallowed them all. Macho Again followed and bested Commentator. The exacta was mine and I could back up some of the logic. Oh, happy day.
Sometimes, it feels so good, you start chasing the bets, even though you're ahead. In the 10th at Arlington, I hit a small exacta on a horse who impressed in his one and only race, a win, and with Ivory Empress, an Ian Wilkes horse from Churchill with Julien Leparoux aboard. It was another old adage: pretty big connections, why did they ship in for this? And it's Million Day.
The day was about wound down and I crafted an exacta in a $25,000, 8.5 furlong turf claiming race and then threw a dart on a 30-1 shot, Rojo Sol. A local horse and rider has to score at some point today, right? Bam! I got the win and place, but I did not get the $135,440 Superfecta. This made up for all those maiden and $7,000 claiming races I've died on this year, although those are out of my repertoire now.
I'll be playing on these winnings for a while.
Couple More Things
* It was about all she could do, but she did it. Zenyatta, in what seemed a lackadaisical and wide trip by Mike Smith, narrowly edged Anabaa's Creation to win the Grade I Clement Hirsch on Sunday at Del Mar, keeping her perfect at 12-0. If you were watching, you thought she was beat.
* I had given up, but I've got to hand it to the lunkheads at the Breeders Cup. They announced this week that saddle cloths in the Breeders Cup races this year will be the traditional multi-colored array - that is, a different color for different numbered horse - instead of the cloyingly purple (as in royal, don't you know?) cloths they've been wearing since day one.
I know they must have looked great in the consultants' sketches, but when they're flapping around upon themselves in a tiny TV image, even in Hi-Def, you absolutely cannot tell who is leading, or trailing, the race. It gave the race callers real trouble and I'm sure the jockeys hated it too.
It seems trivial, but there is absolutely no enjoyment to playing or watching a race if you can't tell what's going on. (Hey, Arlington, care to trim some of those tree that block a third of the race from the cameras?) For 25 years, it was a big Eff You to the fans who support this game. Players have been telling the Breeders Cup this for years.
Of course, when the decision was announced, the Breeders Cup people took all the credit.
Anyone who can name the cloth and number color combinations for posts 1 through 10 without notes gets a shot and a beer from me at the Beachwood.
-
Thomas Chambers is the Beachwood's man on the rail. He brings you Track Notes every Friday. He welcomes your comments.

Posted by Beachwood Reporter at 9:05 AM | Permalink
August 13, 2009
The [Thursday] Papers
By Steve Rhodes
Totally swamped; an abbreviated column today.
* It seems Ms. Britney Rowley was working with Michael Jackson when he deposited some funds in an account no one else knows about.
* Hey, if you're going to be covering President Obama's vacation at Martha's Vineyard, you might want to ask him about the wind there.
* Tough times, duct tape, wicked people. A prism through which to view today's America.
* "If we do our jobs as servers, at a good speed, we will make our money and our customers will leave knowing that if they had a shitty time it wasn't because their server was an ass. They're on their own with their ugly children and unhappy spouses."
* Property Owners Beware. Joe Berrios wants to get his hands on your tax bill.
* U of I Clout List Killed. President B. Joseph White in survival mode.
* "A memo obtained by the Huffington Post confirms that the White House and the pharmaceutical lobby secretly agreed to precisely the sort of wide-ranging deal that both parties have been denying over the past week."
* "If ever we needed proof that the Obama administration really doesn't want to change the way Wall Street does business, this is it."
* "Stimulus Transparency Watchdog Won't Release Federal Contract Details."
* "Chicago's first-ever Green Music Fest is slated to hit the city's airwaves this summer in Eckhart Park in the north side neighborhood of West Town on August 15 and 16."
* "Who says click-through rates on Facebook suck?"
* The real Ferris Bueller is now a Washington, D.C., lawyer. (h/t: ABA Journal)

* Twenty states still allow school beatings. Locations coincide with SEC conference.
* MoveOn coordinates mobs of its own in letter-writing campaign:
We can't let right-wing extremists ruin the biggest opportunity in a generation to get real reform. Can you send a quick letter to the editor of The Chicago Sun-Times - or another local paper - about the urgent need in Illinois for Congress to pass health care reform with a real public option?

Our tool makes writing a letter really simple. You can send the letter right from our website - it only takes a few minutes.

If you've never written a letter to the editor before, now is the time to send your first. The letters page is one of the most widely read - and most important - in local newspapers.
MoveOn then goes on to provide talking points "as part of our 'Real Voices for Change' campaign."
-
The Beachwood Tip Line: Real change.

Posted by Beachwood Reporter at 12:40 PM | Permalink
Cape Wind Briefing
By Clean Power Now and TheClean.org
A WHITE HOUSE CORRESPONDENT'S GUIDE TO CAPE WIND/MARTHA'S VINEYARD
In addition to being the site of President Obama's August 2009 vacation, Martha's Vineyard is in the immediate vicinity of Cape Wind, which would be the United States' first offshore wind park. The project involves 130 wind turbine towers in Horseshoe Shoals, a shallow area in the federal waters of Nantucket Sound, and would produce enough clean power for 75 percent of the Cape & Islands energy needs.
If you are doing stories about what is going on where the First Family will be taking its summer break, Cape Wind should be at the top of your list of things to cover. This "White House Correspondent's Guide to Cape Wind" from Clean Power Now and TheClean.org sets out all of the background you will need to tell your story. In addition, we can supply you with (1) expert interviews on site in the Cape & Islands, (2) local community perspective on Cape Wind, (3) a tour of the Cape Wind site and (4) related cover video/simulations.
-
BEST RESOURCES:
* Understanding Cape Wind: Answers to the 7 Most-Asked Questions
* Polls: 86% of State Residents/74% of Cape & Islands Residents Support Cape Wind
* Energy Independence: Slashing the Cape & Islands Dependence on Foreign Oil
* The View: What Cape Wind Turbines Will Really Look Like From the Shore (available video footage of offshore wind farm in Denmark)
* Simulations: Cape Wind views from land
* Fact v. Fiction: Debunking the Top 10 Myths About Cape Wind
* Harpooning the Fat Cat Opponents: August 7, 2007 Daily Show segment on Cape Wind
* How Does It Work? Quick Facts About Wind Energy
* Editorializing: on Cape Wind Opponents:
A) Yvonne Abraham, Boston Globe
B) John Keller, WBZ-TV/Boston
-
Clean Power Now started on Cape Cod in 2003 and has grown to over 12,000 members strong. We are a non-profit grassroots organization informing citizens and empowering them to support viable renewable energy projects and policies, and to secure their local and regional benefits. We believe that the timely development of such projects, in conjunction with energy efficiency and conservation, will bring about a clean, healthy environment, an improved economy and a more secure, sustainable America. Our immediate focus is to increase citizen support of offshore wind power in Nantucket Sound.
Clean Power Now is an active member of TheClean.org, a collaborative movement of state and local organizations and individuals who will force and support policy makers at all levels of government to implement new energy policies. The policies we desire are based on decentralized control of energy, whereby energy is generated by regionally appropriate, reliable, and renewable resources, such as wind, solar, and geothermal.
Posted by Beachwood Reporter at 10:37 AM | Permalink
At Your Service: Out To Eat
My experience going out to eat has completely changed since I began working in restaurants. While I was not as clueless as most, I would occasionally make the mistake of asking the overworked bussers for refills. Or I would leave everything wherever it fell and walk out blissfully unaware.
Things have changed.
I began my restaurant experience as a host. I would seat the tables and manage the wait list. I began to understand the flow of a restaurant and how important it was to have teamwork. Then I began bussing. I had a whole new perspective on how dirty and needy people were. After cleaning up a bloody syringe and having someone assume I couldn't speak English because I was a busser, I decided it was maybe a good time to move on. From then on, I cleaned up any mess I made, placed the pepper shaker back in its proper place and was not irritated if I did not get a water refill right away. I still do this. It has stuck with me for almost five years.
A few months later I became a server for the first time. Going to a restaurant will never be the same for me. I am not satisfied in just getting a table and sitting down. I read every server's body language. I see whether our server acknowledges my table's presence even if he or she cannot take our drink order right away. I try to figure out how many tables are in our server's section. This is all within five minutes of sitting down.

I will no longer order a dish if I want to do more than one substitution. In very few restaurants is there a limit as to how many changes can be made, nor is it usually too complicated for the kitchen to change a couple of things out, unless they are very busy. To me, it is now the principle: if I want to change more than one thing, I do not really want the dish. I try to make my server's life as easy as possible. Besides, the more changes you make, the more likely it is something will be screwed up.
I always smile and make eye contact. Once again, there is no rule about this, but it's always nice when the server is made to feel like a person, not just an order-taker. If the server has a particularly unruly table nearby, I try to be especially friendly. I feel their pain. Tonight, my fiance and I went to a smaller restaurant; there were probably 15 tables total (yes, I actually tried to count them as we left). Five of these (aside from ours) were occupied. One table, about ten feet away from ours, had a young man that apparently thought everything he was saying was more important than anyone else. He was large and boorish and his female companion wasn't much better. About halfway through their meal they were joined by another gentleman. Mr. Obnoxious tried to get his server's attention by yelling, "Hey, Mr. Waiter! Get my friend a drink."
The server, to his credit, walked over there with a smile on his face. A little bit later we discovered the friend who wanted a drink worked at the restaurant. Not only was Mr. Boorish a douchebag, he was a douchebag with connections. Those are the worst customers, because you do not dare even to be passive aggressive.
Our server was a younger girl who did everything she was supposed to: we got refills, she checked on our food, sold us on dessert and dropped the check in a timely manner. This was the complete opposite of our server the previous night: we never got refills, he did not once check on us, he did not offer us dessert, and we saw him just standing around at the bar while the others cleaned up. I have no patience for this kind of server.
Granted, when it's a really slow night, it's harder to motivate yourself to do things than on a busy night when you're already in the groove. But I cannot understand the server who stands right by his or her tables but doesn't check on them. Even if I do not need anything, it does not look professional.
One thing I've come to understand is that even though servers survive off of tips, we are not entitled to them. We cannot be snippy, rude, condescending, or anything else besides pleasant and expect more than a 10 percent tip, if that. When I first began serving, I would overtip everyone. Now, it is performance-based. I will not bat an eye leaving a 25 percent tip if the server was great, but I will just as easily leave a 10 percent tip if there was no excuse for the poor service.
I now also stack plates and place everything within grabbing distance of the server or busser. This is not something I expect any of my customers to do, but one of two things happen if they do it: they help me save a couple of minutes of awkward reaching-right-in-front-of-grandma's-boobs-for-her-plate moments or they stack it up the wrong way and it actually becomes harder for me to grab the plates. Nevertheless, it is a kind gesture that does not go unnoticed.
As awful as some customers can be, as much as they can ruin our night . . .we can ruin theirs as well. That customer chose your restaurant, ended up in your section, and came to have a good meal and get everything they need (within reasonable boundaries). We don't have to be entertaining puppets or comedians, though that is a good way to enhance someone's experience. If we do our jobs as servers, at a good speed, we will make our money and our customers will leave knowing that if they had a shitty time it wasn't because their server was an ass. They're on their own with their ugly children and unhappy spouses.
-
The pseudononymous Patty Hunter brings you tales from the front lines of serverdom every week. She welcomes your comments. Catch up with the rest of this series and its companions in our Life At Work archive.
Posted by Beachwood Reporter at 10:24 AM | Permalink
Booklist: Kinko's Kiosk 2009
By Steve Rhodes
In 2006, I listed the books for sale at my local Kinko's as a sort of cultural document, a sign of the times, if you will.
Today we revisit the same store to see how the books currently on sale reflect our culture now.
1. Chicken Soup for the Soul: Tough Times, Tough People.
By Jack Canfield, Mark Victor Hansen, and Amy Newmark
2. Become a Better You.
By Joel Osteen
3. Vinegar, Duct Tape, Milk Jugs & More.
By Earl Proux and the editors of Yankee Magazine
4. Tough Times . . . Again.
5. Everyday Cheapskate's Greatest Tips.
By Mary Hunt
6. How To Sell Anything To Anybody.
By Joe Girard
7. The Resume Handbook.
By Arthur D. Rosenberg
8. 25 Habits of Highly Successful Salespeople.
By Stephan Schiffman
9. Little Green Book: Getting Your Way.
By Phil Gordon
10. Little Platinum Book: Cha-Ching.
By Jeffrey Gitmor
11. 10 Clowns Don't Make a Circus.
By Steven Schragis
12. The 25 Most Common Sales Mistakes
By Stephan Schiffman
13. Copy This!
By Paul Ofalea
14. Getting Things Done
By David Allen
15. Little Green Book: Getting Your Way. Again.
By Phil Gordon
16. Express Lane Meals.
By Rachael Ray
17. The Secret.
By Rhonda Byrne
18. Blink.
By Malcolm Gladwell
19. The TIpping Point.
By Malcolm Gladwell
20. Wicked: The Life and Times of the Wicked Witch of the West.
By Gregory Maguire
-
Previously in Booklist:
* Coming Attractions
* The Walgreens Discount Shelf
* The Last 10 Books I Read And Why
* Five Best Books Ever (For Now)
-
Posted by Beachwood Reporter at 6:47 AM | Permalink
Michael Jackson Money Available!
By The Beachwood Nigerian Affairs Desk
Act now!
Greetings,

I am Ms. Britney Rowley, a co-recording producer for late Michael Jackson the great legend King of Pop who has just passed away on June 25, 2009. While I was working with Mr. Jackson, he deposited some funds for charitable trust organizations with a secured private institution and up till date nobody knows about the existence of these funds.

Due to the recent crisis going on in Jackson's family concerning his assets. The Jackson family is now searching for late Michael Jackson undiscovered properties and money which might lead to the discovery of these existing funds. My reason for writing you is that I have decided to retire and resettle and now want the money to be moved out of this institution to you, where you will receive it and keep it safe for me until I come over to meet with you there. I need a trustworthy business partner and friend who will advise me on proper investments in your country and how I can live comfortably. I have obtained and secured all back up documents to support whoever I chose as help to this money.

For your assistance and help in receiving and investing this money, you will benefit a reasonable part of the total money. I will give you my full contact details and I would appreciate it very much if you give me yours including your phone number where I can reach you. Please send your reply through my e-mail rowleybritney@yahoo.co.uk

Best regards,
Britney Rowley (Ms)
Posted by Beachwood Reporter at 6:40 AM | Permalink
August 12, 2009
The [Wednesday] Papers
Editor's Note: Today I hand the Papers column over to Mike Conklin. Also new on the site today: Dan O'Shea's always excellent Fantasy Fix, and Takin' Care of Schaumburg Plus, a Pritzker Pavilion treat below.
By Mike Conklin
Is it over? Are we done? At first, it seemed as if we were fed excessive Woodstock Music Festival goulash this year. Then, I did the math: The anniversary year is divisible by five. Whenever the media looks back on an event, it will not get excited or consider it significant unless the expired years are divisible by five or, better yet, ten - 15, 20, 25, or, in the case with Woodstock this time, 40. The 38th or 39th anniversary of Woodstock? Sorry, no way were those years as important as the 40th!!! Mark your calendars now for the 45th anniversary in 2014 and a really big blowout in 2019.
If an event is cataclysmic enough, say 9/11 or Pearl Harbor, and there was plenty of death and good art, there are annual retrospectives produced by the media. These will spike in size and volume whenever they hit a five-year mark. The stock market crash, the Bears' Super Bowl win, the Watergate break-in, the '68 Democratic convention, and the JFK, RFK and Martin Luther King assassinations pretty much have been relegated to 10-year retros.
In 1995, on its 50th anniversary, the dropping of an atom bomb on Japan set off all sorts of media alarm bells, most of it dominated by revisionist historians. I haven't heard much about Hiroshima and Nagasaki since then in the mainstream press. I'm guessing we'll have to wait for the 75th anniversary in 2020 for the next, big round of distant replay.
These stories have become journalism's most tired, predictable cliche packages: a mix of pictures, eyewitness accounts, excerpts from a new book, and perspectives from academia. One of my favorite comments in this year 's Woodstock blitz came in Newsday from a college professor, who said: "Woodstock really was the end of an era - the '60s - which brought about the sexual revolution, civil rights, Native American rights, birth control, divorce, women's rights, the idea of living off the land and rejecting consumerism."
Whew. That's a lot to be packed into one August weekend. Fact is, much of what people attribute to the 60s happened in the 70s. As history, Woodstock is significant only in that it boosted a few musical careers. And guess what? Young Americans have been motivated and stamped by their music long before rock. They marched off to fight the British to memorable tunes played with fifes and drums, but no "film at 10" on that one.
The social importance of Woodstock is a myth propagated by entertainment and media industries that continue to make money off a legacy they created. The concert rates high on the list of seminal events simply because it occurred near New York City. This meant the country's most powerful TV mediums had great footage for the evening news.

If the concert had occurred in Colorado, Oregon, or Arizona, we would never have known about it. The networks and wire services are not partial to big events in western time zones. This makes it more difficult to hit deadlines and edit film.
Woodstock certainly did not change one socially redeemable thing that I know of, and that was my "generation" in the concert's mud and goo in New York. Some would argue it was not even the best concert - music-wise - that occurred that year. You'll get a good argument from some Southern Illinois alums that a Simon & Garfunkel appearance later that year in Carbondale, which produced five songs that were recorded and part of an album, was pretty darned good.
In the 60s, I held my share of placards, did a little marching, and worked for Gene McCarthy, but I have yet to meet one person - some of whom were there - who thought Woodstock was important; fun, but certainly not some great symbol of a changing America.
The real significance of Woodstock and the barrage of retrospectives emanating from it, to me, is this: It serves as prime evidence how starved editors and producers are for ideas. Quite possibly it has become the No. 1 example for shallow, reflex-action coverage meant to appeal to baby boomers.
It is not important journalism and it certainly is not serious history. In fact, there was a much more important chapter in our American past being written the same weekend of the Woodstock Festival in New York.
This was Hurricane Camille, one of only three Class 5 hurricanes to hit the U.S. mainland in the 20th Century. This horrible storm, which killed 259 persons, belted the Louisiana area at the same time rock fans were sliding - but not dying - in the Woodstock mud. Camille was the last, big killer hurricane to hit that area before Katrina struck Louisiana and Mississippi in 2005.
And just think: If the media had been running retrospectives on truly important events like this all these years, maybe the federal government would've been alert and better prepared - and could've saved some of those 1,200 or so people who perished. Guess we'll have to wait until 2010, when Katrina notes its fifth anniversary to learn more.
-
-
The Beachwood Tip Line: Retro active.
Posted by Beachwood Reporter at 10:58 AM | Permalink
Fantasy Fix
By Dan O'Shea
Did you give up on Troy Tulowitzki like I did?
Then we're both sorry.
The Colorado shortstop who was skirting the Mendoza line just a couple of months ago (come to think of it, that was right about when his team's winning percentage wasn't much better) has hit over .440 during the last couple weeks and hit for the cycle Monday night against the Cubs.
I gave up on Tulo in early June when he sunk to .216, but he's now hitting .276 with 21 Hrs and 60 RBIs. He also has 15 stolen bases and six triples. He leads all MLB shortstops in home runs, and that final fact is why he tops our Fantasy Fix Action Ratings this week. Here's more FFAR talk:
Player: Troy Tulowitzki, SS
FFAR: HOLD or GET
Comment: If you got him, keep him because he will only get better. If you don't got him, get him by offering a top-tier player at another position. The SS slot has been disappointing this year, with Jose Reyes out and a few others having sub-par seasons. Tulo I think will end up with the second-best numbers this year at SS after Hanley Ramirez. He is looking an awful lot like the do-no-wrong star of the 2007 National League Champion Rockies (and the Rockies as a team are looking similar to 2007 form, too - hmm.)
Player: Barry Zito, SP
FFAR: PICK UP
Comment: With an 8-10 record and 4.40 ERA, he may be only the fourth-best starter on the San Francisco Giants, but he traditionally turns it on in the second half, and has been very sharp over the last month. Also, the Giants could be in the thick of the playoff race right to the end.
Player: Alex Rios, OF
FFAR: PICK UP
Comment: The newest member of the White Sox will get more at-bats than he did in Toronto. His overall numbers are still a concern, but he could get a modest boost in HRs, RBIs and SBs playing in The Cell for a manager who likes to run.
Player: Mike MacDougal, RP
FFAR: SKIP
Comment: At this time of year, it's next to impossible to find a good closer on the waiver wire. This guy, late of the White Sox and now with the Washington Nationals, has eight saves - without any blown - and six in the last month for a last-place team. The thing with MacDougal, though, is that he shows you a glimpse of what made him a first-round pick before he breaks your heart. The Nats have been winning lately, but don't expect that or Mac's good fortune to continue.
Player: Miguel Montero, C
FFAR: PICK UP
Comment: As the season winds down, look for a little edge where you can get it. Montero, hitting .289 with 11 HRs, (six in the last month) and 37 RBIs, doesn't look gaudy, but he is currently ranked higher at his position than Yadier Molina, Russell Martin, Rod Barajas and other catchers you know. Yet, he is only 37% owned in Yahoo! leagues.
Player: David Wright, 3B
FFAR: TRADE
Comment: If you haven't already, trade him while he is still among the NL's leading hitters. I thought the homers and more RBIs would come as the Mets woke up, but instead, they have faded into a deeper sleep, and Wright has seemed run down. He still only has 8 HRs and, at 3B, you can do better than that. Trade to someone who like the SBs (all 24 of them) and is willing to give up power.
Expert Wire:
* Yahoo!'s MLB Skinny has Brandon Funston ruminating on when it's time for a losing fantasy team to pack it in for the year. I say it depends on when your trading deadline is, and many leagues probably still have a couple weeks to go before the action gets halted. Still, if you're last in a keeper league, start thinking about who you want to return next year - or who you would like to get as a keeper for next year by trading one of your top vets.
* Funston also has the Big Board up and running, and he's still awarding a spot near the top to Alex Rodriguez. Confused? You might not be after you see A-Rod's recent numbers, though for my money, Mark Reynolds, currently No. 9 on the Big Board, should be swapped with A-Rod, who is still far from being the A-Rod of 2007 (Of course, in some ways, that may be a good thing).
* Bleacher Report has some pick-ups if you are looking for stolen bases (and not much else). Actually, BR's first mention, Rajal Davis, could be a great late-season find if he continues to hit around .300 (.292 now). Only Nyjer Morgan (13) and Jacoby Ellsbury (12) had more SBs than Davis (10) last month.
* Looks like our friend Lastings Milledge will be called up, and The Faster Times is asking if he'll finally live up to the hype. We here at Fantasy Fix are both laughing and crying on the inside at this possibility, given our history with the top-hatted one.
Fantasy Football Update:
I'm skipping the usual top picks at each position format in favor of trying to pick out the guys I think will do better than their rankings, as well as picking a flop or two in waiting.
QB Pick 'Ems
Aaron Rodgers: You may already know I feel he is being way overlooked. I would say he's No. 4 on my list after Drew Brees, Tom Brady and Peyton Manning, and he seems to have the tools to at least do better than Manning and maybe even Brady if the Senator has trouble coming back from injury and doesn't like his new offensive coordinator. I would seriously skip the other guys if you have the chance to take them, and pick up Rodgers in Round 3 ahead of everyone else.
Kyle Orton: I'm not saying he should be your starting QB, but make him a bench pick (or a No. 2 QB in multi-QB leagues) and you could be pleasantly surprised. He has two talented, proven wide receivers and a good tight end to throw to, and could be a better fit than anyone might expect.
QB Avoid 'Ems
Matt Cassel: This goes against the prevailing wisdom - who would say pick up Orton and avoid Cassel given last year's numbers? But this year's early training camp reports aren't good, not so much in regard to Cassel's performance, but that of his receivers. I'm fearing the KC offense could start out of sync. I would take guys like Jay Cutler, Matt Schaub, Matt Hasselbeck and Joe Flacco over Cassel.
Trent Edwards: He'll be throwing to Terrell Owens, but he's still Trent Edwards. The Buffalo Bills offense may be a work in progress to more of a degree than anyone thinks this year, and I don't think T.O. is the difference between 200 yards passing and 400 for T.E.
RB Pick 'Ems
Knowshon Moreno: Denver Coach Mike Shanahan has caught heat from fantasy types for platooning his RBs in the past. Could this year offer more of the same with rookie Moreno and handy vet Correll Buckhalter? Maybe, but Moreno takes hits and keeps running and has some great moves. He could finish with top 10 numbers in an RB sector that is looking saggy this year.
Felix Jones: Most pre-season rankings don't even have him in the top 20 among RBs, but he is capable of piling up yards on breakaways, will get more touches this year and also probably will return kicks, meaning extra fantasy points. I would take him ahead of the fading Marion Barber.
RB Avoid 'Ems
Ronnie Brown: He helped bring the Wildcat formation back in vogue, but he faded in the second half last year, and wide receivers will be getting the ball more in Miami this season. I also like Ricky Williams and Patrick Cobbs to take a share of carries that were all Brown's early in the 2008 season.
Willis McGahee: His fade is no news at this point, but LeRon McClain and Ray Rice may keep the ball completely out of his hands. A star who had a good run that is now over.
-
Next week: Wide Receivers and Tight Ends to keep an eye on.
-
Dan O'Shea's Fantasy Fix appears in this space every Wednesday. He welcomes your comments. You can also read his about his split sports fan personality at SwingsBothWays, which isn't about what it sounds like It's about.
Posted by Beachwood Reporter at 9:21 AM | Permalink
August 11, 2009
Takin' Care of Schaumburg
By E1 Music
Randy Bachman has become a legendary figure in the rock and roll world through his talents as a guitarist, songwriter, performer and producer. He has earned over 120 gold and platinum album/singles awards around the world for performing and producing, and he's coming to Schaumburg on September 5th at the Septemberfest. He's available for advance phoners on Tuesday, August 18th from 1 p.m. EST to 3 p.m. EST - please let me know if you're interested in talking to one of music's greatest performers, need any jpegs, tickets, and we'll talk soon!
*
Have songs, will travel. That's Canadian music icon Randy Bachman's motto. As one of the most respected songwriters in popular music, the legendary guitarist and founder of the Guess Who and Bachman-Turner Overdrive has logged a lot of miles over the years.
Whether rock, pop, country or jazz, Randy has worked with many of the finest tunesmiths in the music business. His track record as a songwriter is staggering with more than a dozen Top 20 singles to his credit including three Billboard #1 singles - "American Woman," "No Sugar Tonight," and "You Ain't Seen Nothing Yet" (a #1 record in over 20 countries) - and two Billboard #1 albums: American Woman and Not Fragile.
He has received more than 120 silver, gold and platinum albums in his career, and is a member of the Canadian Songwriters Hall of Fame. Quite simply, as a songwriter Randy Bachman's been "takin' care of business and workin' overtime" for more than 40 years.
"Randy is a true writer and a true musician," insists former Van Halen singer/songwriter Sammy Hagar, who has collaborated with Randy.
"He has remained true to what he is and what he does. He is one of those guys who will be a writer his whole life. You have to find other avenues if you are a true writer and musician and that's Randy. I love that about him. I wouldn't be surprised if in the next ten years all of a sudden there is this number one song on the radio, a song I just love to hear, and I come to find out it's a Randy Bachman song. He definitely has that talent and ear for a hook."
Respected Toronto-based songwriter Stephan Moccio, whose credits include songs recorded by Celine Dion, Sarah Brightman, Josh Groban and Olivia Newton-John, collaborated with Randy on the poignant jazz composition "Our Leaves Are Green Again," destined to become a standard.
"What's so great about writing with Randy," notes Stephan, "is that he still has such an amazing sense of wonder. He's still excited about music, all kinds of music. It's almost a childlike sense of wonder about him and that's a beautiful quality. I hope I'm like that when I'm his age.
"I think we sort of achieved something that was outside of the two of us. That's what great songs are, often times. You don't know where they come from, they just come through you. He showed up with a guitar and left with a song. As a songwriter you can't really ask for anything more."
Besides his enviable accomplishments with the Guess Who and Bachman-Turner Overdrive, Randy's songs have been recorded by an impressive list of artists past and present including The Beach Boys (whose hit "Keep the Summer Alive" was composed by Randy and Carl Wilson), the Stray Cats, Lenny Kravitz, jazz stars Kurt Elling and Sophie Milman, Juno award winners Serena Ryder and Corb Lund, soul hitmakers Junior Walker & the All-Stars, and rockers like London Bus Stop, Big Sugar, Krokus, and Soundtrack Of Our Lives.
Randy's songs are among the most in-demand in Sony ATV's massive publishing catalogue. "Takin' Care of Business" and "You Ain't Seen Nothin' Yet" alone receive dozens of requests each week to license for use in movies, television, commercials, you name it. "Takin' Care of Business" has become synonymous with Office Depot worldwide. Burger King, Officeworks and Vodafone are also among a long list of businesses that have employed Randy's songs in their ads and jingles.
Countless movies have also featured Randy's songs including A Knight's Tale. "Takin' Care Of Business" even spawned a 1990 movie of the same name. The song has also appeared in The Simpsons. Both the New York Mets and Atlanta Braves play it as their victory song at home games. Following the tragic attacks on New York's World Trade Center on 9/11, firefighters at ground zero adopted "Takin' Care of Business" as their theme song and inspiration.
The list of Randy's songwriting collaborators is equally remarkable covering the gamut of genres and musical styles including rock icon Neil Young; Carl Wilson; Sammy Hagar; Stephan Moccio (songwriter for Celine Dion and composer of the theme to the 2010 Olympics); Britpop rising star Alex Hepburn; Rob Davis (Grammy-winning UK songwriter for Kylie Minogue); Bill Padley (writer of Atomic Kitten's UK #1 "Whole Again"); Great Big Sea's Alan Doyle; The Rankin's Jimmy Rankin; country songwriter Sonny Tillis; rockers Theory of a Deadman; Stan Meissner (composer for Celine Dion, Lara Fabian, Eddie Money, Lee Ann Womack); country singer/songwriter Willie Mack; UK hitmaker Tony Hiller (responsible for hits for Brotherhood of Man, Cliff Richard, The Fortunes, Anne Murray, Lulu, The Hollies, Cleo Laine, and Georgie Fame), to name but a few.
"Randy is a very good writer who can adapt to many styles of music," attests longtime UK collaborator Tony Hiller. "He's an amazing man and has a tremendous aptitude for work and is always writing. And he's never changed in all the years I've known him. All he really lives for outside of his family is the music, the work. Randy is very well-liked and popular in the music industry and that's why people like to work with him. He has a humility that comes across even though he's a tremendous star."
Together with Guess Who lead singer Burton Cummings, Randy Bachman composed some of the greatest pop/rock songs of the latter 60s to early 70s including "These Eyes," "Laughing," "No Time," and "American Woman."
Theirs was a unique creative chemistry.
"Randy would write half-finished songs and I would write half finished songs," acknowledges Burton, "and nine times out of ten we'd put them together and they would work. We had an invisible language that we could talk to each other with that was intuitive, like a pipeline to each other's brain."
Adds Randy: "When we tried it and it worked we immediately knew the sum was greater than the individual parts; one and one made three. There was something special there. I became McCartney to his Lennon, the missing piece to his puzzle and he to mine. We would take the strengths of each song and piece together a completed song. It was the excitement of creating our own music that spurred us on. We wanted to be like Bacharach and David or Lennon and McCartney, those really great songwriting teams and the result was some great music."
And yet, as a solo songwriter, Randy's list of successes is second to none with hits like "Undun," "No Sugar Tonight," "Takin' Care of Business," "You Ain't Seen Nothin' Yet," "Hey You" and "Looking Out For #1."
"Randy is a very driven writer, extremely determined, and single-minded," points out former ASCAP Nashville head Ralph Murphy, whose own songwriting credits include hits for Cliff Richard and James Royal. "He is totally committed to his craft and that's the kind of writer that publishers want. Randy is pursuing songwriting first and foremost and he is the kind of guy who will do whatever it takes to be successful. He's proven that many times as an artist. Nashville is a story town; the songs have to tell a story and a convincing one, and one of Randy's strengths is his ability to frame a story and set it up in a song."
Never reluctant to mentor young songwriters, Randy has shared his experience, expertise and enthusiasm along with imparting the skills essential to good songwriting.
"One of the things that's really neat about Randy is that he's so gung ho about writing," states Juno award-winning country/roots artist Corb Lund. "He's pretty pro-active about it. At this stage in his career he doesn't need to do that but he obviously is really into the songs and the writing despite all his success over the years. He genuinely likes the process. The biggest thing I learned from writing with Randy was the focus. It was inspiring to see someone who's still got that drive in him after all these years. It kind of instilled a little discipline in me."
Not content to rest on his extraordinary body of work, songwriting remains Randy's passion. He continues to hone his craft whether working in Nashville, London, Toronto or from his home base in the Gulf Islands of British Columbia, Canada. He is both dedicated and determined. "I don't take no for an answer," he emphasizes. "Never give up, that's my philosophy. I believe in myself and my songs. If I get a refusal I analyze it. 'Why did this song not work? How can I take this and use it?' It's a learning process but I'm writing more intuitively now. I feel I'm a far better writer now and I'm proving it with the material.
"I think I am writing the best songs of my life right now. There is so much living and life, my own life, in them. I'm writing about realism, my own realism. Before I was writing about other things. Writing with these people all round the world who are pretty much the best in their profession has been an incredible learning experience. Much different than when I wrote songs with Burton Cummings because we wrote separately then picked the best pieces and stitch them together. But now when I write with someone, we go into a room and they might say, 'I want to write a song about this,' a situation or circumstance and I'll say, 'Wow, this happened to me and my wife.' Then it becomes, 'That's the right sentiment, now let's find the right words to say it.'"
"Randy has an unparalleled string of successes and quite frankly it wouldn't surprise me tomorrow for him to have another hit record," asserts Billboard's Larry LeBlanc.
"Randy Bachman will never write a bad song," adds Ralph Murphy. "They will always be good."
Posted by Beachwood Reporter at 4:18 PM | Permalink
The [Tuesday] Papers
By Steve Rhodes
And in cabbie assault news not involving Patrick Kane . . .
"Chicago's estimated 12,000 taxi drivers are calling for a day of prayer and meditation Tuesday to highlight hardships they face every day," the Tribune reports.
"That includes Karl Clermont, 33, a driver who said he still doesn't know which Chicago police officer refused to pay his $8 cab fare and pulled a gun on Clermont on April 23 at Armitage and Damen Avenues."
*
And now, back to Patrick Kane, who just last week was lauded in his hometown for being a model citizen.
*
Then again, the Buffalo News is reporting that the cabbie alleging he was assaulted by Kane isn't exactly a real winner.
Five-Ring Circus
"In other words," Tribune business columnist David Greising writes, "the City Council should insist - and Chicago 2016 should agree - that the organizing committee become subject to the Illinois Freedom of Information Act."
*
Can we also insist that Gov. Pat Quinn become subject to the Illinois Freedom of Information Act?
*
Also:
* Olympic Vultures Circling. Hey Tulsa, back off!
Today in Duh
"Are we in the news media cheapening the lives - and deaths - of people of color by paying more attention to lesser crimes in white neighborhoods, or are we reflecting the attitudes of the communities in which they take place?" Sun-Times columnist Mark Brown wonders.
1. It's 2009 and this is still subject to debate? My God, for how many decades are we going to pose this as a question? You might as well wonder if smoking is dangerous to your health.
2. Is it even remotely questionable that the media cares more about white people; particularly affluent white people whom they want - unlike poor black folk - as customers? Every last one of us who has been in a newsroom knows it's even more callous than this. If only the public knew . . .
3. Reflecting the attitudes of the communities in which crimes took place? What does this mean - that blacks are more accepting of crime? Or does media coverage reflect the attitudes of . . . the media?
Coming tomorrow: I prefer real friends to Facebook friends!
And the day after that: Political corruption: Just bad apples?
Nixonland
"Elkhart, Ind. has become a symbol of the devastation wrought by the nation's economic downturn," Chicago Reporter publisher Alden Loury writes. "But the South and West sides of Chicago have endured even harder times economically - and for a much longer period of time."
Yes, but Elkhart is filled with poor white swing voters. Why should Obama discover Chicago's ghettos now?
Boyz in the Hood
"Neighborhood poverty explains between 1/4th and 1/3rd of the downward mobility gap between blacks and whites," John Thompson writes at This Week in Education.
Take that with your school reform and shove it.
Driving Bill Banks
In Chicago, a resume builder.
Un-American
"Our reporters battled some bureaucrats for months when we tried to learn about red-light cameras for our recent 'Seeing Red' investigative series," the Daily Herald writes (via The Race Is On!). "One village clerk said we didn't need the documents because others had reported on the cameras. Another village official called the request a waste of time.
"In all, it took more than two months to obtain documents about a government program operating all over the region. It should take seven days under the existing loophole-ridden law."
Maybe if we start prosecuting public officials who withhold public information with, oh, let's say treason, things might change.
Signs of the Times
Top Ten Recession Related Scams (via Consumer World).
Tales From The Front . . .
. . . is now a blog.
Clunker Skunker
How the Cash for Clunkers program was hijacked by the auto dealers lobby.
Song of the Moment
"If children go to school with birthday sex on their mind, they can't learn anything."
The Shuttered Shangri La
A hoary hard-on replete with billboards and price-points.
The Secret History . . .
. . . of Jewish punk, having cancer, and time traveling.
Modern Times
-
The Beachwood Tip Line: Free to be.
Posted by Beachwood Reporter at 10:21 AM | Permalink
Chicagoetry: Shangri-La Shattered
SHANGRI-LA SHATTERED
Look: tatters. Tattered
concrete coat upon
steel-rod sticks.
Leave it shattered,
the shuttered Shangri-La Hotel,
ersatz Shamabala

starting at six hundred
grand. It matters.
Leave it: husk
of a hoary hard-on
replete with billboards
and price-points.
Botch without bang,
dry whistle whimper
late to the orgy,
stately pleasure dome
diseased. Leave it
rot by the river
where everyone can see.
As in a crucifixion,
leave rot a cautionary
corpse, a shining for fools.
Hallow what is wrought
when luxury for a few
marauds mercy for the many.
Leave it rot so we
NEVER FORGET that wrought.
-
J.J. Tindall is the Beachwood's poet-in-residence. He welcomes your comments. Chicagoetry is an exclusive Beachwood collection-in-progress.
-
More Tindall:
* Fiction: A Hole To China
* Critical biography at e-poets.net
Posted by Beachwood Reporter at 4:54 AM | Permalink
Spotlight On: Patrick Kane
By The Beachwood Spotlight Affairs Desk
1. From FunnyHockeyShow
-

2. J.R. the Cabbie/From News4 in Buffalo:
-
3. Kane with his family being honored in Buffalo last week
Posted by Beachwood Reporter at 3:33 AM | Permalink
Song of the Moment: Birthday Sex
By The Beachwood Back To School Affairs Desk
"If children go to school with birthday sex on their mind, they can't learn anything."
1. The Original
-

2. BET edited video, closed captioned but embedding disabled.
-
3. Chipmunk Version
-
4. Solo Studio Version
-
5. Female Version
-
Previously in Song of the Moment:
* Iron Man
* The Story of Bo Diddley
* Teach Your Children
* Dream Vacation
* When The Levee Breaks
* I Kissed A Girl
* Theme From Shaft
* Rocky Mountain High
* North to Alaska
* Barracuda
* Rainy Days and Mondays
* Brother, Can You Spare A Dime?
* Baby, It's Cold Outside
* Man in the Mirror
Posted by Beachwood Reporter at 3:07 AM | Permalink
BookNotes
By The Beachwood Booknotes Desk
1. From the Independent Publishers Group:
"On Thursday, August 20, Steven Lee Beeber will host a reading and signing of his highly praised book The Heebie-Jeebies at CBGB's: A Secret History of Jewish Punk (Chicago Review Press).


"The Heebie-Jeebies at CBGB's delves into punk's beginning's in New York City and discovers it to be the most Jewish of rock movements, both in makeup and attitude. Beeber interviewed more than 125 people integral to pre- and early punk; Tommy Ramone, Christ Stein (Blondie), Lenny Kaye (Patti Smith Group), Hilly Kristal (CBGB owner), John Zorn and many others offer their thoughts on the early days of punk and the Jews who made the music happen.
"The Heebie-Jeebies at CBGB's offers a fascinating mix of biography and cultural study that explores the lives of Jewish punks and creates an in-depth historical overview of the punk scene.
"Beeber's event will take place at The Book Cellar (4736 North Lincoln Avenue). His event is free and open to the public. A Q&A and book signing will follow. For further information, please contact (773) 293-2665.
2. From author Kairol Rosenthal:
"Chicago author Kairol Rosenthal launches a new book about young adult cancer at the Women and Children First Bookstore: August 12, 7:30 p.m.. Complimentary cocktails and gourmet hors douevres.
"Rosenthal will be joined by two nationally known young adult cancer support figures: Jonny Imerman of Imerman Angels and Matthew Zachary of I'm Too Young for This (i2y.com) and the Stupid Cancer Show (internet radio).


"Before cancer, thirty-something choreographer Kairol Rosenthal had not even published a Yelp review, yet alone a full-length, non-fiction book. After treatment, as source material for a modern dance performance, she began interviewing other 20- and 30-something cancer patients. Moms, college students, drug addicts, fire fighters, lawyers these patients revealed to her thoughts they had never shared with anyone else. Their gritty and raw words were too juicy to only translate into dance.
"Rosenthal applied for a literary CAAP grant from the Department of Cultural Affairs, and to her surprise became the first writer to ever receive the full amount of funding. On a shoe-string budget and with tape recorder in hand, she hit the road.
"From the Big Apple to the Bible Belt, Kairol became a one-woman cancer confessional. Eager to vent, young patients detailed their intimate sex lives, religious and spiritual questions, financial and health insurance woes, and much more. Back at her Andersonville garden apartment, Rosenthal conducted phone interviews with MacArthur fellows, sex therapists, chaplains, chronic illness experts, and policy analysts, all while managing her own incurable cancer.
"Part travelogue, diary, and investigative reporting, her manuscript Everything Changes: The Insider s Guide to Cancer in Your 20s and 30s, caught the attention of a New York agent and publishing house. It is now the most comprehensive guidebook available for young adults living with cancer and other chronic illnesses.
"In the words of cancer survivor Evan Handler (a.k.a. Harry from Sex and the City): By page three of the introduction to Everything Changes, I wanted not only to devour the rest of the book, but I wanted to call Kairol up, get to know her, and (if we weren't both already married) see if I could sleep with her. Then the book got really good. It is, without doubt, the most forthright, emotionally sophisticated, and plain-old valuable book of its kind I've seen. If fighting is your mission, this is your instruction manual.
"Kairol Rosenthal is a healthcare blogger and patient advocate for young adults with cancer. She has been interviewed as a cancer expert for The New York Times and Harpers Bazaar. Her essays have been produced by National Public Radio and appear in Help Me Live: Twenty Things People with Cancer Want You To Know. Kairol is the co-host of the Stupid Cancer Show, a weekly radio broadcast.
3. From the Reader:
"As the movie adaptation of her first book comes to the screen, Audrey Niffenegger gets ready to plug her second, writes her third, and mounts an art show."
*
Niffenegger's original serial comic in the Guardian.
*
From the exhibition:
Posted by Beachwood Reporter at 2:28 AM | Permalink
Cash For Clunkers Hijacked?
By Marcus Stern and Jake Bernstein/ProPublica
To supporters, the "cash for clunkers" program miraculously jolted the moribund car market back to life, engendering hopes that it might help revive the broader U.S. economy.
Skeptics saw it differently: The automotive industry had hijacked an environmental bill and turned it into a bailout for itself with the help of the Obama administration and a Congress besotted with wishful thinking and a hair-trigger for stimulus spending.
Both views may turn out to be correct. But one thing is certain. The sight of car buyers back in showrooms these past two weeks has raised hopes that U.S. consumers are ready, primed by government stimulus, to spend again. Those hopes gained momentum by the release Friday of employment data showing a reduced pace of job losses in the overall economy.
The idea, in concept, anyway, was simple: Bring in a clunker - a used car with lousy mileage - and collect up to $4,500 in government money against the purchase of a new car with a government-approved mileage level. The clunker, or more properly, its engine, is destroyed. Pollution and oil imports go down by at least some amount, not just this year but by many years into the future - because many of the clunkers otherwise would have remained on the road. And inventories of new cars are cleared from dealers' lots, allowing dormant factories to restart. Some dealers are even saying that potential buyers whose used cars don't turn out to qualify for the program are ending up taking a more normal trade-in and buying a new car anyway.
Questions, of course, remain. Having been broadly revamped at the behest of the powerful National Automobile Dealers Association (NADA), will the program deliver, along with economic stimulus, a meaningful increase in the fuel efficiency of America's automotive fleet? How necessary was the $2 billion expansion of the original $1 billion program that Congress passed with stunning speed last week? And what about the increasingly frustrating paucity of believable, well-sourced data about the program?
"I am completely infuriated by the lack of information," said Therese Langer, director of the transportation program at the American Council for an Energy-Efficient Economy, a nonprofit research organization promoting energy security and environmental protection. "We asked for the transaction-by-transaction data, but (the Transportation Department) refused to give it."
By knowing the mileage rating of the turned-in clunkers and the mileage rating of the new cars bought to replace them, analysts can get a better idea of the actual gas savings likely to be realized. The Transportation Department is releasing those numbers in summary form, but not the raw data that analysts like Langer seek.
"All of this information is being gathered and will be made public as soon as it's available," said Eric Bolton, a press officer for the National Highway Traffic Safety Administration (NHTSA), which is managing the clunkers program.
The problem, added NHTSA spokesman Rae Tyson, is that the rebate vouchers the agency had received as of last Friday contain personal information that must be redacted before the data can made public.
"It will happen, we just don't know when," Tyson said.
A brief timeline underscores the rapid pace of developments.
In January, Sens. Dianne Feinstein, D-Calif., and Susan Collins, R-Maine, joined by Democratic Sen. Chuck Schumer of New York, introduced a bill to fund a national program to stimulate the economy and get gas-guzzling vehicles off the roads. Similar programs had been successful in several states and countries.
The auto industry opposed the bill's tight fuel-efficiency standards. But instead of simply resisting the measure, NADA, a key lobbying group, seized the idea and converted it to its own purposes. In June, the House approved an industry-backed bill with looser fuel-efficiency standards. A similar industry-backed bill was introduced in the Senate.
Under the Feinstein bill, consumers would receive $4,500 only if they purchased a passenger car with a fuel efficiency rating of at least 13 miles per gallon higher than the clunker they were dropping off. In the bill passed by the House, the rating difference was lowered to 10 miles per gallon or more.
That NADA could bring off this change is no surprise. Its enormous clout begins with its universality - there are car dealers in nearly every House district. The association made more than $7.5 million in campaign contributions to House members in the past six years and $773,000 to senators, according to data compiled by the Center for Responsive Politics. Separately, it spent almost $3.2 million on lobbying in 2008 alone, according to a database maintained by the U.S. Senate.
At first, the environmental proponents behind the original version were outraged. "The truth is, the House bill and its Senate counterpart are another big bailout," Feinstein and Collins wrote in an opinion piece called "Handouts for Hummers," published by the Wall Street Journal. "These bills are expertly designed to provide Detroit one last windfall in selling off gas guzzlers currently sitting on dealer lots because they're not a smart buy."
The bottom line, they argued, "is that fuel-efficient vehicles should be the main focus of any 'cash for clunkers' bill."
But the competing legislation never went before the Senate for a vote. Instead, the industry-backed version was slipped into a completely unrelated war-spending bill that Congress approved on June 18.
Moreover, even Feinstein and Collins acquiesced after getting an oral commitment from Senate Majority Leader Harry Reid, D-Nev., that the Senate would consider increasing the bill's fuel efficiency standards if more money was needed for the program, according to Senate sources.
Thirteen days later, on July 1, the industry-backed version of the legislation became law with the formal name of the Car Allowance Rebate System, or CARS, and the weaker fuel efficiency standards. The $1 billion program was expected to provide rebates of up to $4,500 each for 250,000 auto sales.
For the next 24 days, the Department of Transportation hammered out the program's rules as sales-starved dealers around the country began lining up deals.
The Transportation Department completed the rules and waved the green flag to start the program on July 24. Dealers across the country immediately began promoting the program and making deals.
Six days later, on July 30, trade publications reported that the money was running out. Unattributed reports said Transportation Secretary Ray LaHood would suspend the program at midnight for lack of funds.
The LaHood reports proved erroneous, but the media that evening began a brief shift in attention away from the health care debate to the delicious story of cash for clunkers, a government program that was so successful it had burned through $1 billion in stimulus funds within days.
The news reports were based on NADA's spot survey of dealers, which estimated that 250,000 clunker sales already had been completed or were in the pipeline less than a week after the program began. Nobody, including the NADA and its dealers, was prepared for the popularity of the program.
Just 24 hours after the first press reports that the program was running out of money, the House hastily approved a $2 billion extension designed to underwrite 500,000 more sales. The money was taken from a renewable energy loan program.
Last Monday, after a briefing by the Transportation Department, Feinstein and Collins reversed themselves and agreed to support the $2 billion extension of the program, even with its lower industry-favored fuel-efficiency standards.
"The original intent of the clunkers program was to encourage people to buy more fuel-efficient vehicles, and the data so far tells us that's exactly what's happening," Feinstein said. "So, I believe the right decision at this time is that the program should be extended."
Environmental groups such as the American Council for an Energy-Efficient Economy also ended up backing the additional money for the program.
The Obama administration, waging a full-court press, clearly was gaining support for the costly extension of the rebate program through the week, despite some Republican opposition. On Thursday, the Senate approved the $2 billion extension. A week after the media frenzy about the program had erupted, the Senate forwarded the legislation to a president eager to sign it into law.
Calling it a "proven success," President Obama responded to the news with a statement claiming that the program is "getting the oldest, dirtiest and most air polluting trucks and SUVs off the road for good," and "businesses across the country - from small auto dealerships and suppliers to large auto manufacturers - are getting people back to work as a result of this program."
Ultimately, the nation will have to wait months or even years to find out whether government got it right this time.
Has the program actually revived the traditional "animal spirits" among American car buyers, and jump-started an economy that needed a jolt, or has it simply borrowed sales that would have been made by this fall anyway? How truly clunky are the clunkers destroyed by the program, and how much better are the mileage ratings of their replacements. How much will gasoline use be reduced after a year, five years, 10 years?
Meanwhile, the nation's new-car showrooms, for the first time in a long time, are buoyant and busy, despite some severe computer glitches during the first week of the program that delayed rebates and soured some dealers.
Sales employees at Shottenkirk Chevrolet in Quincy, Ill., appear pleased overall with the cash for clunkers program, even though it took them as long as 10 hours to log one deal on the government computer system at one point.
"Everyone is running out of cars," Rich Poe, the dealership's general manager, told the Quincy Herald-Whig. "Ultimately, the program has done what it was designed to do - sell more cars and get better gas-mileage cars on the road."
-
Also:
* Popular Clunkers Program Hurts Some Charities
* The Shaky Economics Of Cash For Clunkers
-
Comments welcome. Please include a real name or give us a good reason why your name can't be used.
Posted by Beachwood Reporter at 12:11 AM | Permalink
August 10, 2009
SportsMonday
By Jim Coffman

Are you enjoying this baseball season?

Me, not so much. The team I compel myself to follow has been in contention but is just about impossible to love.

The Cubs have guys who can club the ball when they get hot and they have pitchers who pitch well more often than not. But they only have one, true all-around ballplayer, don't have any baserunners who can consistently cause opposing discomfort (although the one all-around guy, Derrek Lee, is capable of a surprise first-to-third or some other clever bit of legwork every other week or so) and don't have any of the sort of special defensive players who make good games great. And even Lee simply doesn't send the pulse racing with enough regularity. His averages (on-base and batting) aren't high enough to earn star billing, he doesn't have enough power and his defense, while very good, doesn't make a difference very often.

Another irritating thing about this Cubs team is that the promising young guys aren't on the field enough. Heck, they just sent Micah Hoffpauir back down to the minors. Some posited that he had slumped lately but the primary problem was he wasn't getting nearly enough at-bats. And while Hoffpauir is clearly a first baseman first, he also is clearly as good in the corner outfield spots as either Alfonso Soriano or Milt Bradley. Anyone would have slumped during a last month-plus of the season during which time he was lucky to get two starts in a given week. As for Jake Fox, anything less than every day is less than he should be playing. And it sure would be nice if the Cubs would let Sam Fuld play, I don't know, three games in a row in center?

Of course there is still all sorts of baseball to be played and a 2009 pennant to chase. And if the Cubs somehow pull it together and make the playoffs (and maybe even win a playoff game this time around?) some of this stuff goes out the window.

But more and more the future beckons and the first thing that springs to mind is that general manager Jim Hendry will want to keep a napkin handy during the coming off-season. He'll need it for when he starts eating contracts (even if he manages to trade guys away he'll probably have to pick up at least a portion of their bloated deals going forward).

And the way it looks now, Aaron Miles should be the appetizer and Bradley the main course, even if Bradley has been piling up the singles and the walks lately. Heck, Jimmy, go ahead and dream of a feast. Dream of moving Kosuke Fukudome and even . . . Soriano.

I'll tell you right now what the Cubs could do with Soriano. They could trade him to the Giants for lefty pitcher Barry Zito's giant contract and maybe get a decent bullpen arm thrown in or perhaps a prospect (maybe Northbrook native Pat Misch, a lefty hurler who has had a couple cups of coffee in the bigs the past few years)?

Fukudome will only have two more years left on his deal after this season and Jimmy can find a taker for him can't he? Especially, of course, if he chows down on a big chunk of that contract.

But the two guys who have to go the day after the season ends are Miles and Bradley.

Miles, who is in the first year of a two-year, $4 or $5 million deal, has flitted along atop the Mendoza line (.200 batting average) all season. He has no power and draws few walks. Oh, and he can't play short and struggles at third.

Andres Blanco is a much, much better infield utility guy, is much, much cheaper and has hit better than Miles this year. And yet he went on the disabled list this past week with a minor injury because Hendry wanted his money guy (Miles) to get another shot on the Cubs bench. Grim.

As for Bradley, what can we say that hasn't been said? It turns out he has even less power than advertised, especially from the left side, which is the only way the Cubs really needed him to hit. He has assorted other, well-documented shortcomings and he'll have two more years left on a $10 million/year deal after this season.

If I'm Tom Ricketts, when I take over I say to Hendry either make a deal to gain something of value for Bradley or cut him.

Hopefully the future owner is already assembling a list of possible GM successors.

Miles and Bradley have got to go. Maybe there's hope for Fukudome yet although you still have to figure his team would love to get rid of him barring a spectacular season-ending rush.

And of course Soriano almost certainly isn't going anywhere. Go Cubs go.

-

Jim Coffman rounds up the sports weekend in this space every Monday. He welcomes your comments.


Posted by Beachwood Reporter at 12:23 PM | Permalink
The [Monday] Papers
By Steve Rhodes
1. "In many cases promised 'legacy' facilities seem designed not to meet actual needs of current park users but to accommodate the requirements of Olympic planners," Curtis Black writes at Newstips. "In many cases they involve taking away existing resources while promising residual benefits sometime in the future. In some cases they involve taking away facilities that have been only recently built."
2. "[M]uch of the federal money intended for schools 'is still sitting in state coffers - despite long lists of unmet needs in many school districts'," NPR reports. (Via This Week in Education)

3. "For the unemployed it is often difficult to keep that 'clean cut' look for interviews," a post on Edgewater Developments notes. "If you have no job and no income, it is often difficult to maintain a clean professional look at the interview. Charles, from Salon 64, recognizes this and would like to help honest individuals struggling with applications and interviews. He lays out his following service:

Salon 64: Free Hair Services for the Unemployed
1064 W. Bryn Mawr
Chicago, IL 60660
773-728-1128
"Receive a free haircut, shampoo, blow dry with documented proof of unemployment and job search. Please bring unemployment documents and employment agency documents to 1064 W Bryn Mawr, ask for Charles."
4. "At Town Hall, Currie and Raoul Tiptoe Around Democratic Dysfunction."
5. "Two years ago, the City of Waukegan was on fire," Esther J. Cepeda writes in her return to the pages of the Sun-Times. "Today, the city's mayor, a Latina community activist and the police work hand-in-hand."
The column is not, sadly, now available online.
6. From our very own Natasha Julius:
"I know the Hossa deal looks set to screw the Hawks' salary cap for the next couple of years, but seriously? I had no idea the top-line talent was literally fighting for every last cent.
7. Lolla in Review: Video reports from Greg Kot and Jim DeRogatis, as well as performance video of Dan Deacon and a woman being arrested for traipsing in Buckingham Fountain.
8. The White Sox Report: "The Small Bears placed Carlos Zambrano on the 15-day disabled list for recurring back spasms. Upon closer inspection, team doctors found his problems to stem from Z's diaper, somehow gone unchanged since February 9. The staff expects a full recovery, and for Carlos to return up to 22 pounds lighter."
9. The Cub Factor: What's really gotten into Derrek Lee.
10. 24 Hours With Penthouse TV: It's even worse than you think.
-
The Beachwood Tip Line: Sanitized for your protection.
Posted by Beachwood Reporter at 8:04 AM | Permalink
Lolla in Review
By The Beachwood 'Palooza Affairs Desk
1.

-
2.

-
3.

-
4.

Posted by Beachwood Reporter at 4:53 AM | Permalink
August 9, 2009
The Cub Factor
By Marty Gangler
There are certain points in the season that make you say to yourself, "Self, remember when . . . " Like, remember when we thought Mike Fontenot was going to play second base everyday? And remember when we thought Milton Bradley might be a nutcase, but he'd at least put up some numbers? And let's not forget, remember when Big Z was just a few mental issues away from a Cy Young run? Well, we here at The Cub Factor are remembering something else these days: Remember when we all kinda thought Derrek Lee sucked? Suddenly, Mr. Lee is not just putting together one of his best years in a while, he's putting together one of his best years in his life. So, what happened? What got into D Lee? We here at The Cub Factor have a few ideas that may explain why this guy is so good again:
* Found some of Sammy Sosa's old Flintstones vitamins
* Started breathing through his eyelids and wearing ladies undergarments
* Clunker bats turned in for more energy efficient models
* Trying to impress Jeff Baker
* Trying to impress newly single Kate Gosselin
* Sam Zell's checks started clearing again
* Facebook status updates started to really bum out his friends
* Has been the master of his domain since July 1
* Just doing what Pete Rose tells him to do
* Just figured out that scouting reports aren't just for scouts
Week in Review: The Cubs took two of three from the Reds and lost two of three to the Rockies, continuing a trend of beating teams below .500 and losing to teams above .500. Which means they'll probably finish at .500.
Week in Preview: One more in Colorado and then Phillies and Pirates come to town. Prediction: will lose two of three to the Phillies and take two of three from the Pirates.
The Second Basemen Report: Three starting second basemen - Mike Fontenot, Jeff Baker and Aaron Miles - in six games. Just like Hendry drew it up.
In former second baseman news, Ronnie Cedeno is batting over .300 for the Pirates and Mark DeRosa has hit eight home runs since the All-Star break. Both are missed.
The Zam Bomb: Big Z is furious about the diaper development noted in the Cubs Snub item here.


-
Lost in Translation: Fukudome is Japanese for "fills lineup holes where left in ruins by Soriano and Bradley."
Endorsement No-Brainer: Jim Hendry for Cash for Clunkers because, well, you get the idea.
Milton Bradley Game of the Week: Guess Who? Because that guy drawing walks and trying to bunt his way on instead of driving in runs looks like Milton Bradley, but sure isn't the guy Hendry thought he signed.
Sweet and Sour Lou: 45% sweet, 55% sour. Lou is down another four points on the Sweet-O-Meter due to missed opportunities and bad calls. And just like your real crazy drunk uncle, Lou knows it wasn't your fault it rained during Aunt Gertrude's party but he asked you to rent a tent just in case and you didn't. So yeah, he's pissed and your apology isn't going to help make a wet cake taste better.
Don't Hassle the Hoff: That means you, too, Iowa.
Over/Under: Uncle Lou ejections this week: +/- 1.5
Beachwood Sabermetrics: A complex algorithm performed by the The Cub Factor staff using all historical data made available by Major League Baseball has determined that the Captain Morgan Club is an abomination.
The Cub Factor: Unlike Soriano, you can catch 'em all!
The White Sox Report: Now with a weekly Cubs Snub.
Fantasy Fix: Randy Wells, Geovany Soto and Matt Forte.
The Mount Lou Alert System: A relatively lackluster eruption has seismologists wondering just how much lava is left in ol' Mount Lou.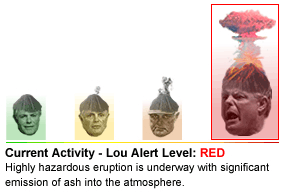 -
Posted by Beachwood Reporter at 7:52 PM | Permalink
24 Hours With Penthouse TV
Even worse than you'd think.
*
3:30 p.m.: Sex-a-Holics
4:30 p.m.: Slut Initiation: Out/Control
6 pm.: Slutty Lover Girls
7:30 p.m.: Fresh Jugs 2
9 p.m.: Innocence Lost: Tight Sluts
10:30 p.m.: Horny Spanish Flies 4
Midnight: Black Boob Hunt 3
1:30 a.m.: Drunken Lesbians Horny Night
3 a.m.: Sex-a-Holics
4:30 a.m.: Slut Initiation: Out/Control
6 a.m.: All Girl Lip Lickers
7:30 a.m.: Top Ten Group Sex
9 a.m.: 12 Inch Black Meat
10:30 a.m.: Big Boob Patrol 2
Noon: 18 Year Old Dream Teens
1:30 p.m.: Young Wet Bitches
3 p.m.: My Neighbor's Horny Daughter
-
Previously:
* 24 Hours With QVC
* 24 Hours With Tru TV
* 24 Hours With Current TV
* 24 Hours With The Military Channel
* 24 Hours With The Hallmark Channel
* 24 Hours With TVGN
* 24 Hours With Retroplex
Posted by Beachwood Reporter at 6:22 PM | Permalink
The White Sox Report
By Andrew Reilly
Why can't the Sox beat bad teams?
Are they no match for the inherent craziness and allowable recklessness of a club with nothing to lose?
Do they suffer from some form of El Duque Syndrome, needing the most insane, high-pressure circumstances to surround them before they can channel their inner excellence?
Are they really that scared of the people of Cleveland, perhaps fearing a thrashing of the Indians would drive the good people of the Sixth City to do to the Chicago River what they did to the Cuyahoga?
It's been postulated time and again that the trip to the post-season follows a path of beating up on the dregs of the league and at least holding your own against the big kids, and for the most part that's been true, save for a few weak teams squeaking their way in thanks to their residences inside even weaker divisions. But the Sox' strategy has instead relied on doing the exact opposite. Destroy the Yankees. Demolish the Angels. Salt the earth over with the remains of the Rays. Fold against the Tribe. Soil their collective selves in Kansas City. Fight to a draw against the Orioles.
Then again, maybe that's not such a bad thing. Maybe fretting over the likes of the Royals and O's is a colossal waste of time and energy, both of which could be put to better use slashing and burning those Yankees and Angels come October. Maybe they'll be okay as long as the nobodies get nothing and none but the serious are taken seriously.
If only they could play good teams all the time, this would all be so much easier. Unfortunately, they don't really need to be better than good teams like the Yankees, Rays or Angels just yet; they have to be better than their lousy neighbor teams like the Twins and Indians which, as we have seen time and time again, they simply are not.
Are they a baseball team? No. Are they a free-swinging, wild-throwing legion of bat-wielding chameleons? Perhaps.
Week in Review: Appropriate. Snap the Halos, only to get snapped by the Tribe for a 3-3 end to the homestand.
Week in Preview: Scary. The Sox, perennially awful on West Coast trips, hit the road to square off against the Mariners and A's, both just perennially awful. Someone will have to pay dearly for all the ugly baseball set to unfold. The Sox are probably that someone.
The Q Factor: The conversational form of Carlos Quentin's batting average ("two twenty-six") is in fact the product of two prime numbers ("two times a hundred thirteen is two twenty-six"). A spokesman for TCQ Labs says this is intentional and will become pivotal to the Sox' fortunes in the "very near future, sooner than you'd like it to be," adding that "When the time comes, you'll know."
That's Ozzie!: "It was like a Little League game out there." - Guillen on Thursday's less-than-Angelic performance.
The Guillen Meter: His portly fifth starter vanished and his bullpen weakening, the Guillen Meter reads 9 for "Hurry up, Jake."
Underclassmen Update: Rookie second baseman Chris Getz has stolen more bases this season (18) than Paul Konerko has in his entire career (7).
Alumni News You Can Use: After giving up a hit and a walk in two-thirds of a rehab inning at AAA Scranton/Wilkes-Barre, reviled former Sox and current Yankee reliever Damaso Marte was declared fully healed and "back to his old self."
Hawkeroo's Can-O-Corn Watch: The notes dropped into Grady Sizemore's locker having gone unanswered, Hawk now focuses his attention on Mariners right fielder Ichiro Suzuki, who might just be, bar none, the greatest player ever to play this game. Bar none. And good-looking, too.
Endorsement No-Brainer: The two-headed monster of Freddy Garcia and D.J. Carrasco for DieHard car batteries: starts your game when others won't.
Cubs Snub: The Small Bears placed Carlos Zambrano on the 15-day disabled list for recurring back spasms. Upon closer inspection, team doctors found his problems to stem from Z's diaper, somehow gone unchanged since February 9. The staff expects a full recovery, and for Carlos to return up to 22 pounds lighter.
Fantasy Fix: Lee, Holliday and Bacon Spice.
The White Sox Report: Read 'em all.
The Cub Factor: Know your enemy.
-
The White Sox Report welcomes your comments.
-
Andrew Reilly is the managing editor of The 35th Street Review and a contributor to many fine publications.
Posted by Beachwood Reporter at 6:03 PM | Permalink
August 8, 2009
The Weekend Desk Report
By Natasha Julius
Just remember, everyone: sometimes it's hot in August. You have been warned.
Market Update
Action was heavy on the Music Festival exchange this week, with weather not expected to dampen the short-term futures trends. Analysts warn, however, blue-chip gains could be erased by reports of shameless hound-dogging at the smaller properties.
Circus Tour
Britney Spears finally generated some positive buzz this week, gaining a measure of respectability in her handling of two young hostages. Obama administration officials warn, however, that little has changed and Spears' reign of terror is expected to continue.
The Aim Game
Chicago's top cop Jody Weis this week hailed an 11% drop in homicides, saying it is evidence of the effectiveness of his department's strategy to arrest all violent criminals with decent aim. Community organizers remain unconvinced of the long-term benefits.
Wages of Spin
In other news, duh.
Green Machines
Finally this week, Chicago's 2016 bid committee once again reassured skeptics that, like Beijing, the city will see lasting benefits once the Games are over. Critics were quick to point out, however, that Chicago's air will be much more difficult to clear.

Posted by Natasha Julius at 8:24 AM | Permalink
August 7, 2009
The [Friday] Papers
By Steve Rhodes
Michael Scott, this is your life!
And this is what inevitably happens when you are a loyal Daley soldier - you get rich, you get enmeshed in scandal, and maybe you even get imprisoned.
But you do get rich.
"A member of Mayor Richard Daley's team working to bring the Olympics to Chicago has quietly arranged to develop city-owned land near a park that would be transformed for the 2016 Summer Games, potentially positioning himself to cash in if the Games come here," the Tribune reports.
"Developer Michael Scott Sr., an early member of the mayor's Olympic committee, leads a group planning a residential and commercial project on lots kitty-corner from the proposed Douglas Park sporting venues, a location where land values could jump if the city gets the Olympics.
"The plan - which would include a Nike store - already has gotten crucial support from the local alderman, who has set aside the lots for Scott and his group."
Scott, as you'll recall, is also the president of the school board.
All roads lead through Michael Scott!
Developer, Olympic committee member, school board chief, mayoral pal . . . there must be a million ways to cash in on that nexus. Paging Muckety!
"Scott's designs on the public land are sure to reinforce concerns of residents that it's the mayor's friends who would benefit from Daley bringing the 2016 Olympics to the city."
Ya think?
As Helen Hunt said in Twister, this thing has just begun!
"The story is a familiar one in Daley's administration, where City Hall insiders have personally profited from even the most civic-minded of projects, from recycling garbage to building Millennium Park."
And the kicker:
"The development team includes six West Side ministers, some of whom are politically connected."
Ding! Ding! Ding!
Every base covered!
Michael Scott, you are today's winner of our new So Chicago Award.
Scott, of course, says he's done nothing wrong.
But the Tribune commendably recalls this:
"In May, he asked all of the city's school principals to form plans to promote the Olympics."
An event that he would personally profit from!
*
Principal Interest
"In addition, information emerged Thursday about the unusual role School Board President Michael Scott - one of Mayor Daley's most trusted lieutenants - played in quashing one application to a coveted selective-enrollment high school," the Sun-Times reports.
"In such schools - many of them among the highest-scoring in the state, principals get to sidestep admission tests, grades and attendance data and handpick up to five percent of their students."
Now who could have possibly thought that was a good idea?
No, seriously, who thought that up? Who signed off on it? How was it implemented?
Marina City Revival
Then and now with Mike and Linda Chunko.
Mayor Moneybags
Think the city's broke? Think again.
Pritzkers Go Public
Family feud to benefit investors.
Trustees Take The Fall
But they're the least of the bad actors.
Arlington Million Day
"This year, the wiseguys are figuring one of the big American three of Einstein, Presious Passion and Gio Ponti won't get beat," our man on the rail Thomas Chambers writes. "One of the biggest appeals to Million Day is the invasion of the foreigners and they always run well on grass, it's what they do."
Karma Cashiering
"The assistant manager frequently arrives late for work, yet disparages other employees behind their backs. He does not supervise the Lazy Cashier," writes Jerome Haller in today's installment of I Am A Security Guard. "Instead he dumps more work on the Nice Cashier and another worker I call the Cool Cashier. I watched him squirm, figuring he had it coming."
Bloodshot Briefing
"Bloodshot alum Neko Case, who is playing Lolla on Sunday, is the label's only connection to the 'palooza," Matt Harness writes.
"But Elia Einhorn and his Scotland Yard Gospel Choir will be playing a little-known private show for industry folks, including some of the Lolla bands, at 2 p.m. Sunday at the Hard Rock Hotel. SYGC, which arranged for some of their fans to join them at the intimate show, has a new album out Sept. 15."
*
And don't forget our Lolla preview.
Hughesville
John Hughes only made one great movie - The Breakfast Club. Sixteen Candles is overrated, Ferris Bueller's Day Off has many nice moments but is better in concept than execution, and I have no desire to ever see Home Alone.
But The Breakfast Club . . .
There are a few aspects to the movie I can - and do - argue with. But those are matters for critical discussion available only to a film deserving such debate.
To me, that is John Hughes's masterpiece - and truly the only decent performance in Judd Nelson's otherwise wretched career.
-
Original Trailer

Family Guy

JC Penney Commercial

American Dad

-
I hate that frickin' song though. But screws do fall out every day.
-
The Beachwood Tip Line: Smoke up, Johnny.
Posted by Beachwood Reporter at 11:04 AM | Permalink
Bloodshot Briefing
By Matt Harness
Bloodshot Records toasted a Grant Park crowd at Taste of Chicago and will again next month at its anniversary party at the Hideout. But the label has a small presence at this weekend's Lollapalooza.
Bloodshot alum Neko Case, who is playing Lolla on Sunday, is the label's only connection to the 'palooza.
But Elia Einhorn and his Scotland Yard Gospel Choir will be playing a little-known private show for industry folks, including some of the Lolla bands, at 2 p.m. Sunday at the Hard Rock Hotel. SYGC, which arranged for some of their fans to join them at the intimate show, has a new album out Sept. 15.
Beachwood Music: What's the deal with this private party?
Elia Einhorn: They knew we would be in Chicago and asked our manager. We've been on the other side of it at another festival. It's going to be awesome hanging out and getting out of the heat. The last time we came through one of these we left with Pumas and jeans that cost like $300. It's stuff you wouldn't buy on your own. It's nice to be considered a tastemaker. It's going to be insane.
Beachwood Music: Cool that you opened up a private party to include some regular people, your fans.
Elia Einhorn: We e-mailed the ones on our lists. It wasn't really public, but it's our hardcore fans. We could only accommodate 10.
Beachwood Music: Your fans, like Ha Ha Tonka's, skew much younger than some of Bloodshot's other bands. That's good and bad. Good that SYGC sold the most digital downloads of any label band. Bad that fans sometimes show up at your job and leave you notes.
Elia Einhorn: We definitely have a different demographic than the usual Bloodshot crowd, which is 30s, 40s, 50s. Ours is teens, 20s, 30s. I guess our fans tend to be younger and hipper.
Beachwood Music: Do you plan on checking out the Lolla festival?
Elia Einhorn: I've been so insanely busy, what with trying to plan this upcoming tour. But I am going to pop in and out. I want to see a little bit each day.
Beachwood Music: Which band is at the top of your list?
Elia Einhorn: Depeche Mode. They are the ones for one. We are also big BBU supporters. They are blowing the fuck up right now. They got a great review on Pitchfork and have all these labels after them. They are one of the bands going right now, and it's going to be awesome seeing them.
Beachwood Music: Lolla always seems to challenge fans to pick between two bands. A Sunday showdown pits Vampire Weekend against Neko Case.
Elia Einhorn: Neko Case no doubt. She's totally fucking awesome. I totally want to work with her. At Forward Fest in Madison, she sent the whole crowd to our show later. The place was packed. Oh, my, god, it was awesome. She's the coolest.
Even as we talk I am e-mailing her booking agent. That's what is cool about being on the road. You are playing with bands you would want to go see.
Beachwood Music: . . . And the Horse You Rode In On is due out Sept. 15. What's the tour schedule?
Elia Einhorn: Well, we've already secured a release party on Halloween at Subterranean. We are going to have all kinds of special guests. It won't be a normal show, but an event.
Looks like the tour will start in late September and will be for three months. We are going to cover the whole U.S. It will be the longest tour we've ever done. Some of the bands we will hook up with include Poi Dog Pondering and Headlights.
-
-
Bloodshot Briefing appears in this space every Friday. Matt welcomes your comments.
Posted by Beachwood Reporter at 8:41 AM | Permalink
I Am A Security Guard: Karma Cashiering
During a recent Sunday night, I remarked to the Nice Cashier that the morning employee who relieved her had been showing up on time for a change. Of course, the tardiness promptly immediately resumed. On Monday morning, the Nice Cashier had to work overtime before returning home to her kids. "You jinxed it," she said to me during a lull that night.
Yes. Yes I did.
Thus chastened, I didn't even blink when an elderly woman walked in the store while pushing a cart. A regular with a stooped back, she wore a blue blouse and dirty white pants. Her body odor wafted in the air.
Sadly, she's one of the store's more difficult customers. She often barks at the employees or holds up the line to argue about prices. Once she forgot where she had parked her car. A cashier walked outside to help her. During another visit, she forgot how to use the automatic teller machine. Another cashier helped her. The staff suspects that she is losing her faculties.
On this night, she finished shopping and arrived at the Nice Cashier's line. The cashier rang up the sale, bagged the items and announced the total due. The woman began to write a check. She stopped and asked "Mucho dinero?" The cashier repeated the amount. "I knew you spoke Spanish," the woman said. "The country is going to hell with that."
She finished writing the check, but the store's computer system wouldn't accept it. The cashier delivered the news. The customer asked for the assistant manager, who told her the same thing. Since the automatic teller machine had run out of cash, the woman left the store to use one at a nearby bank. The cashier put the bags behind the counter.
Meanwhile, another worker walked behind the register to empty the waste basket. She said the customer had called her a man while asking her to pick up a gallon of milk. "I was not going to do that after what she said to me," the employee said.
The customer returned, dropped the bags in a cart and stood in another line.
As she waited, a husky man kept walking in and out of the store while scoping her. He wore a red football jersey and blue jeans. The thought occurred to me that he might roll the woman in the parking lot. I kept my eyes on him. He disappeared among the aisles.
The woman bought the goods. She then asked for the store's number and the name of the assistant's boss, explaining she wanted a reason why he "would not accept" her check. He immediately grimaced and shifted into "cover your ass" mode. He said the computer rejected it, not him. "I have nothing to do with it," he said.
Her conduct reminded me about karma. The assistant manager frequently arrives late for work, yet disparages other employees behind their backs. He does not supervise the Lazy Cashier. Instead he dumps more work on the Nice Cashier and another worker I call the Cool Cashier. I watched him squirm, figuring he had it coming.
The Nice Cashier wrote down the information for her. She pushed her cart out of the store and found her car, which was parked in a handicapped spot near the entrance. She loaded her goods and drove away.
Afterward, the Cool Cashier said the customer should not be shopping at night. I had the same thought, especially because of the man in the red jersey. But given her abuse of the employees, my sympathy for her had expired.
I should have kept my mouth shut, but didn't. "She's like that every time she comes in here," I said. Then my feelings softened a bit. "Is that going to be us in forty years?" I asked "Hey, wait a minute. That might be a jinx."
The Nice Cashier flashed a mock glare and said, "I'll come back to haunt you."
-
A very pseudononymous Jerome Haller earns rent money as a security guard for a large, publicly-held retail chain.
-
See more tales of security guards, pizzeria waitressing, barista'ing and office drudgery in the Life at Work collection.
Posted by Beachwood Reporter at 5:17 AM | Permalink
TrackNotes
By Thomas Chambers
This is my favorite time of the year for Thoroughbred horse racing.
In the spring, you have the inscrutable three-year-olds making their runs toward the Triple Crown series. In November and December, the Breeders Cup is over and it's difficult to get too excited about the two-year-olds trying to get their feet under them. The Breeders Cup is what it is, but waits for its own intense 10-days of handicapping.
But here in mid- to late-summer, all is well as Saratoga, with stakes races throughout the meet, and Del Mar run their top-quality meets and Arlington gets into the mix with its turf-niche program, the Arlington Million, part of the International Festival of Racing (Aug. 8).
On the simulcasting side, you get exotic locales such as Finger Lakes in upstate New York, the California fairs at Santa Rosa and Fairplex, Emerald Downs in Washington State, the Jersey Shore's Monmouth meet, Minnesota's Canterbury Park with its Claiming Crown, and the beautiful turf course at Colonial Downs.
The three-year-olds are maturing, becoming in many instances much different horses than they were in the Crown chase. We now know which horses are crafting the truly memorable campaigns of 2009. Trainers are already on the Breeders Cup (Nov. 6-7) express, hoping to get their charges in the right rhythm for the big payday. Much of it leads up to the August 29 Travers Stakes, also known as the "Summer Derby." And to top it all off, we have a superstar in the making, one who might transcend racing itself into the mainstream sports consciousness.
* While it's generally true that male horses are faster than female horses, we now have a filly who obliterates the distinction simply by running. It's time to bury the "Battle of the Sexes" angle and just acknowledge that Rachel Alexandra is the best three-year-old horse in America, if not the best horse period.
She toyed with the boys once again Sunday by winning the Haskell Invitational at Monmouth by more than six lengths.
With Belmont Stakes winner Summer Bird and up-and-comer Munnings in the mix, Rachel simply bided her time in the lead pack with those two and took off on the far turn, opening daylight by the time they came into the stretch. While Summer Bird and Munnings ran with their ears pinned back like angry polecats, Rachel's flopped and flapped upright or forward throughout the race. I've heard this is a sign the horse is running easy and relaxed. She was running for fun, and finished just one-fifth under the stakes record.
If you didn't get a chance to see it, catch the replay and watch how she runs the nine furlongs seemingly in one long, smooth effort and just bounds away in the stretch. And she shut down a couple of cylinders in the final yards, so it didn't figure to take too much out of her.
She'll apparently be pointed toward the Travers Stakes, another race against the males, or perhaps the Sept. 7 Woodward, also against the boys. Wherever she goes next, her performance Sunday figures to have an effect on the Travers field. Who out there wants to face her? Summer Bird's trainer, Tim Ice, sounded a bit exasperated about the whole idea: "We'll take a look at the Travers," he said. "If she's in there, she's in there. I'm not going to invite her."
Owner Jess Jackson reiterated he'll skip the Breeders Cup and its artificial surface with the filly, but you know he also wants Horse of the Year honors for her. That might take a win in the Travers. And we'll have the added feature of an autumn argument over whether Rachel should go to the Breeders Cup. (I agree with Jackson. And he was enough of a sportsman last year to take Curlin to Santa Anita that he won't back down to a confrontation with super older filly Zenyatta. We can dream, can't we?)
* Who wins when you card the Kentucky Derby winner, deep-deep-deep closer Mine That Bird, and front-running speedball Big Drama in the $750,000 West Virginia Derby on Saturday? Even when they both run the race they wanted to run? Answer: Soul Warrior.
As he was expected to do, Big Drama, running at nine furlongs for the only time except his fifth-place finish in the Preakness, grabbed the lead and 'Bird set back, looking to make his patented late run. Trouble was, as we could all see on TV, the Mountaineer track was groomed for speed and 'Drama was running the risk of taking off and hiding. Mike Smith felt it too, and was forced to ask Mine That Bird with more than a half-mile to go. He wouldn't be able to close into a slow pace today. So as the big two polar opposites duked it out in the stretch, Soul Warrior flew past them both for the win. ($48.00!)
Despite two honorable performances in the Preakness and Belmont, we now have to wonder how much of a fluke Mine That Bird's Derby win really was. Trainer Chip Woolley's rationale for going to West Virginia was that Monmouth's track for the Haskell would have been too fast for 'Bird to run into a hot pace. The bloggers are all over Woolley, but hindsight is great, right?
'Bird will be running a long time because he is a gelding. Looks to me like Woolley needs to pick his spots a little better, after he realizes the horse is one-dimensional and will find it more and more difficult to get his perfect setup. Perhaps California?
* For non-related reasons, I was forced to play the races this weekend at home on the Bozo-Puter and it turned into an intense intravenous injection of racing and wagering.
Here are the results of other significant races last weekend:
- First time around two turns, Kensai turned back a determined Warrior's Reward to win the Jim Dandy (GII) Saturday at Saratoga. Charitable Man finished third.
- Forever Together won the Diana Stakes (GI) over upset-minded Carribean Sunset, becoming only the sixth horse to win it two consecutive years.
- Informed ran down Mast Track to win the Grade 2 San Diego Handicap at Del Mar on Sunday. Well Armed appeared to suffer the dreaded Dubai Bounce as he finished eighth and last in his first start since winning the Dubai World Cup in March.
Workin' for the Weekend
We've got a great weekend of racing Saturday and Sunday as Arlington gets its day in the sun with its International Festival of Racing, aka Arlington Million Day (ESPN, 3:30 p.m.). The cantilevered castle in the suburbs will host the Secretariat Stakes, 10 furlongs for three-year-olds; the Beverly D., 9.5 furlongs for fillies and mares three and up; and the 27th Arlington Million, 10 furlongs for three years and older. All are Grade I and all are on what figures to be a beautifully conditioned Arlington turf course.
Here's my rundown:
Arlington Million: This year, the wiseguys are figuring one of the big American three of Einstein, Presious Passion and Gio Ponti won't get beat. One of the biggest appeals to Million Day is the invasion of the foreigners and they always run well on grass, it's what they do. Gloria de Campeao comes in off a Grade I win in Singapore and all the others have graded stakes experience.
Still, probable favorite Gio Ponti has won three Grade I's in a row, and Einstein, with turf whiz Julien Leparoux aboard, is wanting this race badly after stumbling and finishing a close fifth here last year. Presious Passion is a versatile horse who has won four of six coming in, all visually impressively. I'm going with Einstein, simply because he's been keeping better company lately.
Here's the Million lineup in post-position order: Einstein (BRZ), Presious Passion, Just as Well, Stotsfold (GB), Mr. Sidney, Gio Ponti, Gloria de Campeao (BRZ), Cima de Triomphe (IRE), Recapturetheglory
The Secretariat: This race is wide open. Proceed Bee, Oil Man, Reb and Giant Oak all come out of the July 11 American Derby, the Arlington prep for this race, won by Reb by just a head. If you're talking back class, you like Take the Points and Giant Oak. Oil Man finished third but was placed down to fifth after some heavy bumping in the American Derby.
Me? I'm liking Take the Points - although he's really been disappointing me this year - because he was unfortunate to run into the hot Battle of Hastings in his last two and has Kent Desormeaux up. And the speed figure improvement of Laureate Conductor jumps out at me too. I'll also back local boy Giant Oak. He has as much graded stakes experience as any of them and if Chris Block has the Oak in a state of high self esteem, this is a locomotive who could do it on the stretchout. At least that's my theory/hope.
The Secretariat lineup, by post position: Cliffy's Future, Driving Snow (GB), Hoosier Kingdom, Proceed Bee, Laureate Conductor, Oil Man (IRE), Quite a Handful, Take the Points, Reb, Black Bear Island (IRE), Giant Oak
The Beverly D.: This is a tough one to figure. Pure Clan figures to be the favorite, coming off a fairly easy win in the Modesty Handicap July 11 at Arlington. Alnadana looks formidable, coming off a Grade III win in France. Canadian invader Points of Grace is five-for-eight lifetime and just won the Grade II Dance Smart at Woodbine. California girl Black Mamba has the speed figures, but will they translate to the deeper Arlington turf?
I anticipate a contested pace up front and Pure Clan closes mighty fine. I was there to see it July 11. I hope I can get 3-1. Alnadana, with good recent form, looks capable.
The Beverly D. runners, in post order: Alnadana (IRE), Pure Clan, Points of Grace, Black Mamba (NZ), Mad About You (IRE), Tizaqueena, Dynaforce, Denomination
Arlington's the showcase Saturday, but the satellites will be smokin' with some other great races this weekend.
Saratoga: At Saratoga on Saturday, we have the Test Stakes and the Whitney Handicap. I like Cat Moves and Heart Ashley in the Grade I Test for three-year-old fillies over seven furlongs. In the Grade I Whitney, nine furlongs for horses three and older, Dry Martini will probably be the favorite, but he'll face veterans Macho Again, Asiatic Boy, Commentator and hard-luck Smooth Air. Dry Martini's the one, but Tiznow colt Tizway tiz mine as well.
On Sunday, Benny the Bull (if he throws in a clunker here, I hope they retire him) looks to make a bit of a comeback in the Alfred G. Vanderbilt Handicap, a Grade II sprint. Fabulous Strike also runs, with Kodiak Kowboy and Fatal Bullet contesting.
Del Mar: Zensational should win the Grade I Bing Crosby at Del Mar on Saturday, but he'll get a challenge from Bamaha Breeze and Global Hunter, wheeling back two weeks after running in the Eddie Read.
On Sunday, fabulous five-year-old filly Zenyatta runs in the Grade I Clement L. Hirsch Stakes. Zenyatta is 11-0. Her biggest competition will be Life Is Sweet. If you want to see a big mighty force-of-nature filly steamroll around the seaside circuit, head to the OTB or try to get Fox Sports Net West tuned in. I found this little workaround last week. Sports Net often picks up the TVG feed for the later feature races in California, so you might get lucky. But scan all the Fox sports channels you can find. Zenyatta is worth it.
Good News
Quality Road, a three-year-old knocked out of the Kentucky Derby (he probably would have been the favorite) by a quarter crack, came back in smashing fashion Monday afternoon by setting a new record in the Amsterdam Stakes at Saratoga. Even after a timer problem and dispute, Quality Road got the record and a 110 Beyer Speed Figure. He's now pointed to the Travers.
-
Thomas Chambers is the Beachwood's man on the rail. He brings you Track Notes every Friday. He welcomes your comments.

Posted by Beachwood Reporter at 4:56 AM | Permalink
August 6, 2009
The [Thursday] Papers
By Steve Rhodes
Quote of the Day: From Lou Piniella:
Piniella asked for better communication from Gregg, saying he needs to know if a reliever has a "tired arm" before the game.

"I just can't read somebody's mind," he said. "I can look at the stuff, but by the time I look at the stuff, it's a little late.

"The ball is out of the ballpark, and the mojito doesn't taste very good."
Column of the Day: From John Kass:
"Chicago is run a certain way, and that's a decision made by the people of Chicago," Issa said. "But the United States of America is run with minorities having rights and active dissent. And now people are being silenced. We're not a country run on patronage, where if you do the right thing, a family member ends up with a political job. That's not the way the American people expect the country to be run."

Really?

Americans elected a man from Chicago who would transcend the old politics. But a bunch of guys from City Hall are now in the White House, running things.

So what's the beef?
Best Media Criticism of the Day: From Dan McNeil:
And we in the media are guilty of promulgating the Sosa fallacy. We giggled at his not-so-witty attempts at humor and ''human Beanie Baby'' qualities. We played the sound bytes on radio and television and printed his cutesy quotes because Sosa's popularity was our meal ticket.
Best Health Care Trouble Indicator of the Day: From the Illinois delegation:
And perhaps most strikingly, Halvorson is "firm in her stance that reform cannot happen until we get it right," a spokesperson told the Star. Halvorson ran for Congress on a health care agenda.
Best Unasked Question of the Day: From Alexander Russo:
My assumption is that Duncan has already been subpoenaed. Hell, he might have been back in Chicago last week to testify in front of the grand jury. But we'll never know what's going on until more reporters (and members of the public) start asking.
Best Symbolic Cluelessness of the Day: From Ed Burke:
Now, in the midst of an economic meltdown that has thrown the city's budget into chaos, he's decided it's a good time to do a little remodeling around the (taxpayer-funded) office.
Best Substantive Cluelessness of the Day: From the Tribune Company:
In a statement, Tribune Co. said "We believe our 2009 incentive program is both moderate and reasonable."
Best Chicago Blog Review of the Day: From Katie Buitrago on Fruit Slinger:
Shumski's commentary ranges from skewering customers and cookbook writers on their own words to poetic appreciation of something as undeniably beautiful as fruit. He's never quite too mean - it's well-balanced by self-deprecation - or too sappy, and the variety and pacing of the posts keeps even the most inveterate fruit-hater reading.
Best Server Commentary of the Day: From Patty Hunter:
You want to save money? So do I . . . but I need to make money in order to save it. Let's work together here.
Best Lollapalooza Preview of the Day: From Beachwood Music:
And a taste from each of the bands we think are the best picks for each day:
-
The Beachwood Tip Line: Send us your best.

Posted by Beachwood Reporter at 12:05 PM | Permalink
At Your Service: The Tip Jar
Our busy season is almost over. Families have spent their vacation money and are now saving up to buy new school supplies and autumn clothing. Does this mean they are cutting back on eating out? No, they're just tipping less.
I don't blame families for saving where they can.I am not offended if everyone at the table chooses to drink water and declines an appetizer. You get on my bad side when you feel it is okay to sit at my table for more than two hours and let your kids throw everything on the floor and then tip less than 10 percent.
Now, one in five people truly may not understand how to tip. Fine. That leaves 80 percent of you with no excuse.
You want to save money? So do I . . . but I need to make money in order to save it. Let's work together here.
*
I have noticed a trend recently that is even worse than screaming children dipping their chubby little fingers into the parmesan cheese containers.
Worse even than hillbillies telling me our pizza is "backwards-like."
It is educated, articulate adults who abbreviate words that have no business being abbreviated.
If you want to shorten words while texting, fine, that is no business of mine; but there is no reason for this phenomenon to cross over into face-to-face conversation.
The first time a woman told me the pizza was "delish," I stood there for a moment like an idiot waiting for her to finish.
But no. She was done.
Apparently it was too much work to utter that last syllable.
One young lady used "obvs" and "vacay" in the same sentence - and I almost kicked her out.
I am not one to tell people how to speak; I just don't understand why people choose to dumb language down to a point where we will soon revert to grunting at each other.
This doesn't mean you must speak only in polysyllabic words. I'm not that much of an elitist. I won't complain if you say the food is "good" or "awesome." You can give me a thumbs-up; hell, even talking to me with your mouth full is acceptable. Just please, don't make me wonder if you're making up a new language.
*
I never know what to say to people who do not like their pizza. If it's not burned and it's what you asked for, that's where my responsibility ends. You will not get your pizza for free just because you discovered deep dish pizza is "not your thing."
I've gone to restaurants before and not liked what I ordered, but I ate it because I was hungry or bagged it up and gave it away.
Sure, it's no fun to spend money on food you don't eat but it's a risk you take when you dine out.
When I was still a fresh-faced new server and someone told me the food was not to his or her liking, I would panic. Now, when someone shrugs or pushes the food away, I merely offer to box it up.
Free food is not option. You can, however, get another refill on your diet soda. And I'll drop off the check while I'm at it. Pay me whenever you're ready.

-
The pseudononymous Patty Hunter brings you tales from the front lines of serverdom every week. She welcomes your comments. Catch up with the rest of this series and its companions in our Life At Work archive.

Posted by Beachwood Reporter at 11:05 AM | Permalink
Lolla Preview
By The Beachwood Palozza Affairs Desk
The previews are in.
Jim DeRogatis: "Ah, you say, but Lollapalooza isn't really about the big marquee bands; it's about the opportunity to sample a whole lot of music in the one of the most beautiful parks in America over the course of one very long weekend.
"True enough. But even with 142 sets scattered over eight stages during 33 hours of music, my personal list of good-to-sure-bet highlights seems skimpier this summer than in years past - though I'm of course always open to pleasant surprises."
Greg Kot: "Don't Miss" and "Catch If You Can."
The Onion/Decider/A.V.Club: "Here's how The A.V. Club staff's schedules are shaking out."
Myke Writes: "I've done some pretty heavy research on the groups on this day, and I'm pretty set in what bands I'll be checking out. The bands that open the day all seem pretty weak, and who wants to listen to some no name bands at 11:15am anyway."
-
And a taste from each of the bands we think are the best picks for each day:
Friday: The Decembrists, 6 p.m., Butler Field North
-
Saturday: Atmosphere, 2:30 p.m., Hutchinson Field South
-
Sunday: Dan Deacon, 3:30 p.m., Hutchinson Field North
Posted by Beachwood Reporter at 10:25 AM | Permalink
Chicago Blog Review: Fruit Slinger
By Katie Buitrago
A preface: I have a complicated relationship with fruit. Meaning: I don't like it. Any of it. Not apples, oranges, mangoes, watermelon . . . not even [insert your favorite fruit you can't fathom anyone ever hating here].
I know this is shameful, and bizarre, and horrifically unhealthy. I know. I don't know why I was made like this, and it frustrates me endlessly. In my adult life, I'm trying really hard to rectify the situation. I can occasionally stomach a tangerine. I went on a romantic blackberry picking trip in summery Michigan, and not even bumblebees and sunsets could overcome my aversion to their seedy enfilade. There's just something repugnant about seeds or fibers or little hairs swimming about my mouth, raining on my picnic of tart, juicy delights.
Not so with the Fruit Slinger.
He's one of the lucky ones. The ones who breezily toss oranges in their tote bags for a snack, who chow down on a breakfast of peaches and yogurt. And who actually like it. Their culture is completely baffling to me, but for the sake of journalism, I will take a shot at understanding it.
-
Blog: Fruit Slinger
Description: A seasonal blog about fruits and farmers' markets.
Substance: The Fruit Slinger is the moniker of Daniel Shumski, a freelance writer and four-year veteran of an orchard in Southwest Michigan. He splits his time between many a farmers' market in Chicago and the fields. Unsurprisingly, he blogs mainly about those two places, recounting the hilarity that farmers' market customers produce ("Is this safe to eat?" is a shockingly common question, apparently) and adventures on the farm. Shumski is an ardent advocate of jams and preserves and he guides us through recipes, cooking insights, and gorgeous pictures of what turns out when he's done. It almost . . . almost makes me want to eat fruit. *twitch*
Style: Shumski's commentary ranges from skewering customers and cookbook writers on their own words to poetic appreciation of something as undeniably beautiful as fruit. He's never quite too mean - it's well-balanced by self-deprecation - or too sappy, and the variety and pacing of the posts keeps even the most inveterate fruit-hater reading. On his cooking trials and triumphs, he leads us through the highs and lows of the process before getting to the recipe. Since blogs are so personal, much of their appeal comes from how much you think you'd like the author or not. Shumski comes off as your quirky, passionate, and funny friend who has some weird-ass job he loves (and that you secretly envy while you decompose inside your office). Much of Fruit Slinger's success comes from how easy it is to like Shumski. How can you hate the fruit guy, even when he makes fun of you?
Tl;dr Score: Zero. Posts are dialogue- and picture-heavy and always an entertaining, fast read.
Commenter Involvement: Fairly low. Most of the chatter is appreciative of a particularly nice photo or recipe.
Linkage: Shumski links widely to other food bloggers and writers, as well as to favorite cookbooks and recipes.
Screen Shot:
Visual Appeal: Like I said, gorgeous photos. And they just got more gorgeous, because Shumski successfully raised a grand from readers to buy a fancy schmancy DSLR. Maybe I should start one of these blog contraptions . . . Anyway. The layout is simple but logical, with posts organized by season. The right-hand navigation bar helpfully explains the settings and characters to noobs, as well as displays favorite food books of the month and posts by category. Please, Fruit Slinger, don't ever go over to the Dark Side ChicagoNow. They will strip your beautifully organized content away from you.
NSFW: Unless your boss thinks too much about Georgia O'Keefe when he sees this peach, you're fine.
Bottom Line: If you're turned off by the "farm to table" snootery of Slow Foodists or celeb chefs, give it another chance with the Fruit Slinger. He's unpretentious, funny, and delivers a welcome blast of summer-friendly food porn on a daily basis. He may have even convinced me to venture away from the vegetable side of the farmers' market.
Posted by Beachwood Reporter at 9:46 AM | Permalink
August 5, 2009
The [Wednesday] Papers
By Steve Rhodes
1. "Taco Bell Wants To Reach More Consumers Via Social Media."
I would friend a taco.
2. "At this stage, the speaker is extraordinarily authoritative," Mark Kirk said, "and the penalties for breaking ranks with her are severe."
Sound familiar?
3. "We know that Target and Wal-Mart are constantly checking each other out and seeing how cheap they can get by," says a UFCW statement on the website Targetunion.org, urging Target employees around the country to post their wages.
*
I hope the Tribune editorial board understands that a portion of their paychecks can be attributed to the Newspaper Guild even if the Trib isn't organized.
*
What is the floor of acceptability for the Tribune editorial page? At what point would they consider a job simply not enough if the wages and working conditions were not acceptable? At the absolute minimum wage? The barest adherence to the technicalities of labor law?
I'm just wondering how low they would be willing to let Walmart go before objecting.
4. "Chicago is overbanked."
Tell me about it. Wicker Park is overbanked.
5. "Four years ago, Arne Duncan says, he became 'obsessed with numbers' he couldn't get," Carol Marin writes today.
"He was the CEO of Chicago Public Schools then, not the Secretary of Education he is today.
"How many of his students were getting shot, he wanted to know?
"'I could tell you exactly how many schools we closed, how many children had the H1N1 virus,' he said Tuesday from his office in Washington.
"But not how many Chicago kids getting shot. Or data to compare Chicago with other cities.
"'No one, literally, could tell me anything,' Duncan said.
"And so he began collecting his own statistics on how many CPS students found themselves at the wrong end of a gun.
Really?
I understand (or think that I do) that Duncan is talking here about kids shot, not killed. But I thought we'd already learned earlier this year that it was Duncan's predecessor, Paul Vallas, who began keeping stats.
"The Chicago Police Department does not record if a homicide victim is a CPS student," Understanding Government recalls. "And CPS did not even keep track of student homicides until the late 1990's when Paul Vallas was running CPS. 'I just felt we had to make it more sensational and draw attention to murders that were basically going unnoticed,' Vallas, now superintendent of the Recovery School District of New Orleans, told Chicago Tribune columnist Eric Zorn in February.
"But the practice was apparently abandoned in 2001 when current U.S. Education Secretary Arne Duncan took over the school system of the nation's third-largest city. The Chicago Tribune resurrected the statistic in 2007 in a look at the 2006-07 school year."
*
From the same article, posted last month:
"The alarm is understandable but it creates a false impression that Chicago is growing more violent. In fact, the overall homicide rate is down this year and the city murder rate has plunged in the last decade.
"The homicide rate is up in a category far more specific than 'CPS students' - it's actually CPS students who are black male teenagers living in a certain part of the city. In the 39 murders - none of which happened on school grounds - the vast majority of the victims were black male teens gunned down in predominantly poor and black South Side neighborhoods. This reflects a national trend: while overall the homicide rate has held steady the past five years, there has been a big increase in gun violence among black male adolescents."
7. "McNulty's world, as we discover in the book's generous forward written by his wife Faith, was - as is the tradition of many newspapermen past and present - saturated by cheap saloons, cheap booze and cheap acquaintances who always seem to be saturated by cheap booze while whittling away their time on earth in cheap saloons that sometimes accidentally attracted women. I always figured if you're going to practically live in a saloon, you might as well make a living off it," our very own Scott Buckner writes.
"McNulty did it in an unpolished, punctuation-deficient style that was understood and appreciated by anyone intelligent enough to not actually need things like proper punctuation. By the end of the book, you know more - and feel more - about everyone bellying up to the bar than you did about Norm and Cliff after umpteen seasons of Cheers."
8."Out of left field comes a proposal from the Illinois State's Attorneys Association, claiming that your local crime fighters are ready, willing and eager to take on the job of policing requests for public records," the Tribune editorial page notes today.
"From somewhere in outer space comes a letter from the Illinois Municipal League, arguing that if local governments are required to provide public documents in a timely manner, they'll have to lay off cops and firefighters to pay for clerks to make the copies and lawyers to fight nuisance requests.
"Both groups are lobbying Gov. Pat Quinn to amend - a better word is 'gut' - a rewrite of the state's Freedom of Information Act passed by the General Assembly in the spring."
Sadder yet is that the bill is much weaker than ought to be acceptable. Why won't someone put forward a bill making Illinois the most transparent state in the nation and motivate the Obama change machine to press lawmakers to pass it?
When your negotiating point starts from a position of compromise because of what you perceive to be "realistic," you end up with a compromised compromise that is barely worth the effort.
*
"All I know for sure is that state's attorneys throughout Illinois, who have never done anything to make the bad old law tougher, don't like the new and improved one," Phil Kadner writes.
"And that makes me wonder who they're really representing."
9. "It must be pointed out, however, that the president, the chancellor and the trustees were not motivated by personal gain," University of Illinois trustee James Montgomery writes in a letter to the Tribune today.
Really?
What were they motivated by, then, public service?
Personal gain includes a desire to please one's bosses and other powerful interests; that's how you advance your career.
"Should the president and the chancellor be fired? Absolutely not. To do so would be knee-jerk, unwise and shortsighted, and serve no useful purpose."
Because accountability apparently isn't useful.
"The loss of institutional knowledge would be devastating to the university."
Compared to the addition of ethical leadership?
*
Experts say mass firing would not cause turmoil.
*
You could always put internal interim folks in these positions to keep the ship steady while remaking the management team.
10. Dollar Days For City Property.
11. Benton Harbor attempts to golf its way out of the recession.
12. Pick up Geo Soto; draft Matt Forte.
13. Russian moms from the southern suburbs are Meeting Up Now.
-
The Beachwood Tip Line: Meet and greet.

Posted by Beachwood Reporter at 10:08 AM | Permalink
Meeting Up Now
By The Beachwood Meet Up Affairs Desk
Highlights from the newest Chicago Meetups.
*
The Northwest Indiana Spirituality Meetup Group
*
The Four Agreements Meets The Law of Attraction
*
Russian moms of southern suburbs of Chicago
*
Aurora Shrinkathon Club
*
Chicago Takraw
*
The McHenry Curves Ladies Fitness Group
*
Spiritual Cinema Meetup
*
Diamond Way Buddhist Center Chicago
*
Widows and Widowers
*
Big & Single
*
LitLounge
*
The Angel Center Psychic Development Group
*
Tennis on the Lake
*
Author! Author! Chicagoland Book & Author Marketing Network
*
SALSA Dance Coalition of Chicagoland area
*
The Chicago Game Design & Rapid Prototyping Think Tank
*
Explorers of The Shadow
Posted by Beachwood Reporter at 3:36 AM | Permalink
Sticks and Carrotmobs
By Erica Christoffer
Carrotmob is a nationwide consumer activism group with local chapters that reward independently-owned businesses committed to making energy-efficient upgrades.
To help make those improvements a reality, Carrotmob stages what they call "reverse boycotts." In one-day events, Carrotmob participants descend on a business of choice to purchase stuff. Although there is no contract, the business verbally commits to dedicating a portion of the money made during the "mobbing" toward energy upgrades.
Carrotmob Chicago is scheduled to descend on the Fox & Obel Market at 401 E. Illinois, near Navy Pier, this Sunday from noon to 6 p.m. The store has committed to set aside 50 percent of the business the mob brings in for efficiency upgrades. The Greater Chicago Food Depository will also be accepting donations from mobbers throughout the afternoon.
Laura Flanigan, co-vice president of action projects for the Net Impact's Chicago Professional Chapter, is one of this Carrotmob event's lead organizers. She answered a few questions about mobbing, consumer activism and what's going on this Sunday.
Q: What process does Carrotmob use to select a business? And how was Fox & Obel chosen to be mobbed?
Flanigan: The idea came to us in conjunction with the Academy of Management Conference. The conference has the theme of green management this year. Doing a Carrotmob was a natural fit.
The process is, a volunteer Carrotmob team will identify an area of the community and then canvass a specific type of business within that area. It has to be an independent business, locally-owned, with enough capacity to get 100 people in and out of the store within an hour. It also has to be a store where you can spend a little bit of money or a lot of money, as to not exclude anyone from participating.
It's difficult to dedicate money [to energy-efficient upgrades] when you're a small business, so the focus is really on bringing the tools to smaller, independently-owned businesses to make it happen.
Businesses then compete with each other, so the one selected would have committed the largest percentage of funds from the mob to go towards improvements. The business does not pay any fee to Carrotmob to participate. The San Francisco group is actually having the neighborhood vote, so the community chooses the mobbed business.
Fox & Obel here in Chicago was willing to dedicate a portion (50 percent) of the proceeds from the event to make improvements. They also have a variety of price points and space so a large group of people can come in and support mob. That's how they were chosen.
Q: What kind of improvements do businesses make with the dedicated funds?
Flanigan: It's generally energy efficiency upgrades to reduce their carbon footprint. We just did an energy audit on Fox & Obel with the Illinois Smart Energy Design Assistance Center, which is affiliated with the University of Illinois at Urbana-Champaign and assisted by the state. That audit is being processed and will show which improvements should be made, such as lighting and refrigeration.
Q: How will you follow-up with the store once the event is over and people move on?
Flanigan: Our team will stay connected to the store and we're going to be working with an energy contractor to do the work. We will actually see the work as it happens. We are in a position to stay connected and we're hoping that relationship drives the accountability once the mob is over.
Q. What kind of turnout are you expecting this Sunday?
Flanigan: We're hoping we get at least 500 folks into the mob. We want to send a clear message that Chicagoans care about and reward the companies that go above and beyond on their environmental commitment. We hope there will be lines out the front door all day.
Q. Are there any requirements for participating in the Carrotmob?
Flanigan: No, definitely not. For citizens to participate, it's just showing up the day-of.
Q: What sets Carrotmob apart in terms of its activism?
Flanigan: It's the closest thing to a win-win situation when it comes to environmental activism. Individuals don't have to sacrifice in order to demonstrate their commitment and their values. There's a lot of ways we can send market signals about our values, but we're not necessarily sure if they're being interpreted correctly. Doing something like this as a mob is always more effective. It's an easy way to send a loud message. It just so happens that the company is being rewarded with a "carrot" rather than getting the stick. There's a reason a business would want to participate and seek out participation in Carrotmob. If there's only a way we can do this for the types of things we buy, not just from where we buy them. Maybe that's the next phase of Carrotmob.
Q: A lot of environmentalists point to consumerism as being one of the root causes of our environmental problems today. How can Carrotmob reconcile that in its efforts?
Flanigan: One of the reasons Carrotmob has worked is because they're supporting stores that offer things people need. We're not talking about large chain stores. We're talking about food and other necessities - about healthier food - Fox & Obel does try to support local and organic produce providers. That's one way it's reconcilable. But that question certainly isn't lost on Carrotmob - the kinds of stores that work well with the Carrotmob model sell things people need everyday.
Q: Are there any other ways Chicagoans can get involved?
Flanigan: They can start their own mob. Anyone can do it. You don't have to be affiliated with anybody to do a successful Carrotmob, you just have to get the word out and find a business that's willing to commit.
This idea that Chicago seeks to be the greenest city in the world can only be supported by actual Chicagoans getting off their butts on a Sunday and demonstrating their commitment.
Posted by Beachwood Reporter at 2:59 AM | Permalink
Fantasy Fix
By Dan O'Shea
There's a lot to get to this week, so let's start with a Fantasy Baseball Round-Up and our awards for best performances during July:
MVP of the Month for July: Matt Holliday, OF. His performance was improving when he started the month as an Oakland A, but after being traded to the St Louis Cardinals, things really took off. He had a .477 batting average for the month with 4 hrs, 22 RBIs. He's now rewarding owners who drafted him early and stuck with him through a sleepy first 75 games.
Cy Young of the Month for July: I'm going to throw a curve ball here, a Cliff Lee curve ball. Wandy Rodiguez was almost unhittable, Mark Buehrle actually was unhittable and both John Lackey and Jorge De La Rosa had 5-win months, but Lee was 4-2 in July with a 2.11 ERA and 3 CG, all of his outings but the last one coming for the second worst team in the majors. He is looking more like the Cy Young winner he actually was in 2008.
Rookie of the Month for July: The Cubs' Randy Wells pitched great during July and Pittsburgh OF Garrett Jones had 10 hrs and 17 RBIs, but I've got to go with Gordon Beckham, the White Sox' upstart 3B. He hit .330 for the month with 3 HRs, 18 RBIs, 3 SBs and 12 runs scored.
Sleeper of the Month for July: Nyjer Morgan, OF. Yes, the same Nyjer Morgan that I advised waiver wire feeders to skip back in mid-July because I felt he was one-dimensional. But, he only continued to hit . . . and hit . . . and hit . . . to the tune of a .388 average for the month with 14 SB. He averaged almost 2 hits per game during the month, and scored 16 runs for a last place team. Please forgive me, Nyjer.
Fantasy Fix Action Ratings:
Player: Geovany Soto, C
FFAR: PICK UP
Comment: He's due to come off the disabled list Friday, and may have been waived by some owners last month who felt the injury was just another sign it's not meant to be for Geo this year. However, he was heating up just before he got hurt. Don't expect too many homers, but you should see hits and walks galore as he'll be well protected in the power-packed Cubs lineup.
Player: Jose Lopez, 1B/2B
FFAR: PICK UP
Comment: Only 57% owned in Yahoo! leagues. Maybe doesn't get noticed because his power is second-tier for a first baseman, but his 15 HRs this year so far are only two away from his total last year. Overall, he had a great year last year and was slow to start this year, but is really heating up now. He hit .545 last week, with 3 HRs and 8 RBIs, and his somewhat unique position eligibility gives some additional flexibility.
Player: Jon Garland, SP
FFAR: TRADE
Comment: A complete game win over the Mets within the last week shows Garland still has just about completely overcome a very poor start to the season. There's also reason to believe Arizona will keep riding him deep into game, but he strikes guys out as if he'll need to file paperwork afterward. Trade him now for spare parts, whatever you can get.
Player: Manny Ramirez, OF
FFAR: HOLD
Comment: He's in the worst slump anyone can remember, hitting well under .200 the last two weeks and, more significantly, going about 50 at-bats without an RBI. Don't count on it to continue much longer, but you also have to wonder if he's feeling the heat of the spotlight from allegations that both he and David Ortiz tested positive for steroids during the 2003. I'm still betting on a September push.
Player: Roy Halladay, SP
FFAR: TRADE
Comment: He should have been traded in the real world, and the fact that he wasn't shouldn't stop you from trading him from your fantasy team. He'll go right ahead and pitch a few more complete games the next couple months, but he won't be winning much in Toronto.
Fantasy Football Round-Up
Here's my first two rounds for this year's fantasy football draft. I've got a couple changes in the first round in particular from what I was thinking a month ago.
First Round
1. Adrian Peterson, RB: Still No. 1, always No. 1.
2. Maurice Jones-Drew, RB: I gave in to the pressure to move him up, figuring he will be Jacksonville's main source of happiness.
3. Michael Turner, RB: He's a machine, but the sports scribes have me thinking Atlanta's offense will be giving TE Tony Gonzalez a lot of chances.
4. DeAngelo Williams, RB: I wouldn't argue anyone taking him No. 2. I'll bet he has the biggest single game of total yards this season.
5. Steve Slaton, RB: Was strong during the second half last year, and should have a nice full season ahead of him.
6. Frank Gore, RB: Coach Singletary supposedly is killing his guys in early practices, but I think if he survives the pre-season, he'll excel.
7. Matt Forte, RB: Moved him up a slot because Jay Cutler is really connecting with him early on.
8. Larry Fitzgerald, WR: All systems go for a huge season, assuming Kurt Warner comes back in good form.
9. Steven Jackson, RB: I moved him up, too. I don't know why. He has more random disappointing games than other first rounders, but when he's on, he's really on.
10. Drew Brees, QB: I like one QB going in the first round, and this year it's Brees instead of Brady or Peyton Manning.
11. LaDanian Tomlinson, RB At the end of last year, I didn't see him as a first rounder this year, but San Diego is looking sharp.
12. Andre Johnson, WR: He'll get the ball early, late and often.
Second Round
13. Brandon Jacobs, RB: A young group of receivers for the Giants could mean more chance for him to run.
14. Brian Westbrook, RBThe injury threat, a good rookie running back (LeSean McCoy) in the house and improving receivers suggest a slight drop off, but not much.
15. Randy Moss, WR: His man (Tom Brady) is back, and you know what that means.
16. Tom Brady, QB: This is a little crazy, but I like Brady's hunger and the likelihood he will throw TDs like someone who has been waiting to do it since last year.
17. Chris Johnson, RB: A mighty fall for a guy that some experts have as a first rounder, but LenDale White reported in great shape and may earn a split of the carries.
18. Calvin Johnson, WR: He doesn't know who will be throwing, but he'll definitely be catching. Probably the center of the Lions game plan as they look to win . . . anything.
19. Peyton Manning, QB: Still has at least two great receivers to throw to with Marvin Harrison gone.
20. Pierre Thomas, RB: Showed great stuff last year, and could seriously push aside Reggie Bush for running opportunities.
21. Aaron Rodgers, QB: My early dark horse pick for league MVP. I'm tempted to pick him higher, but no one has him even this high.
22. Marion Barber, RB: He got his first round shot last year, and didn't live up to it.
23. Greg Jennings, WR: Will be the main beneficiary of Rodgers' big year.
24. Philip Rivers, QB: 4000+ yards and 34 TDs last year were just a start, and he has a broad array of targets.
Players who you won't see drafted in the first two rounds or any round:
Brett Favre: I'm not convinced we've seen the last of Favre. Someone will want him by Week 8 and grant his wish to not be bothered with practicing.
Michael Vick: Teams are very cautious, but the NFL is now crazy about wildcat offensive strategy, and he's a nice fit.
Plaxico Burress: Looks like he'll be doing some time. Incompetence with firearms in inexcusable.
Draft sleepers you don't want in the first two rounds, but should keep an eye on:
Darren Sproles: Remember Sproles? I think he will be a favorite short pass target for Rivers.
Greg Olsen: Was named Bears' starting TE, and Jay Cutler likes him, which is all you need to know.
-
We skipped the expert wire this week, but it will be back in force next week as we continue to look for fantasy baseball diamonds, and the jewels among this year's crop of fantasy football QBs and RBs.
-
Dan O'Shea's Fantasy Fix appears in this space every Wednesday. He welcomes your comments. You can also read his about his split sports fan personality at SwingsBothWays, which isn't about what it sounds like It's about.
Posted by Beachwood Reporter at 2:20 AM | Permalink
A Journalist's Saloon Life
By Scott Buckner
I was watching an episode of Route 66 a few days ago and, through the wonders of the disagreements that sometimes arise between the digital TV signal and my cheap-ass Radio Shack TV antenna that doesn't quite work like it should sometimes, I spent the hour watching the program in a herky-jerky, stop-motion fashion. Normally, this would be a major annoyance. However, I've came to appreciate the cinematography that made Route 66 one of the best TV shows ever made some time ago; that's why every third frame of any Route 66 episode would be an awesome photograph on its own.
This is why I thought of This Place On Third Avenue: The New York Stories of John McNulty, a book which I have come to treasure for no reason other than it's what American newspaper-columnist journalism could be again if newspaper-columnist journalism actually started giving a shit about what happens to it.
Yes, newspaper columnists write about regular, everyday things most days. But on the other days, they have the opportunity to be completely awesome, and get paid awesomely to be that way. Roger Simon did it during the 1970s when he was working for the Sun-Times. And Bob Greene may have been a miserable individual while he was writing against Roger Simon, but Bob Greene did it three times more often and usually three times better.
Today, Roger Simon is still being published nationally. Bob Greene apparently can't get a job in this town shining Sam Zell's shoes. Who knew?
True, McNulty's best work turned up in The New Yorker, which is a magazine, not a newspaper. But anyone who writes a column for a newspaper, the "I can do better at a magazine" vs. the "I can do just enough to get by at a newspaper" debate just doesn't fly. I spent more than a decade working for newspapers; if you can't spend several hours in any dive bar and walk out with a really great story or two - and write about it in a way that can make a grown man cry - you need to find a different living bagging fucking groceries or something. Because if you can't write about someone that makes someone walk up to you tell you about something you wrote five, 10 or 20 years ago that still makes a difference to them, you have no business being a writer. Anywhere.
John McNulty was a guy who died in relative alcohol-drenched obscurity (and today doesn't even rate his own Wikipedia entry) yet managed to become a close friend and colleague of author James Thurber. He first showed up in print in 1937 and died on July 29, 1956. To be honest, I had no idea who John McNulty was (and to a large degree I still don't, but I really don't have to) before I found This Place, a collection of 28 essays largely written for The New Yorker presented in a little 6 x 4.5 paperback that I (curiously) found sitting in the Travel section of a discount bookstore in south suburban Lansing. It was discounted from the original $12.50 cover price to an obscenely ridiculous $1.99. At that price, I couldn't pass it up.
McNulty's world, as we discover in the book's generous forward written by his wife Faith, was - as is the tradition of many newspapermen past and present - saturated by cheap saloons, cheap booze and cheap acquaintances who always seem to be saturated by cheap booze while whittling away their time on earth in cheap saloons that sometimes accidentally attracted women. I always figured if you're going to practically live in a saloon, you might as well make a living off it.
McNulty did it in an unpolished, punctuation-deficient style that was understood and appreciated by anyone intelligent enough to not actually need things like proper punctuation. By the end of the book, you know more - and feel more - about everyone bellying up to the bar than you did about Norm and Cliff after umpteen seasons of Cheers.
Still, when McNulty wasn't prompting everyone to be plainly reflective, he was plainly amusing and playful:
"If a wife could be as patient as Grogan the Horseplayer's landlady, there would hardly be any old guys living alone in furnished rooms the way there are hundreds of them now," he writes in the opening of "Don't scrub off these names." "One time Grogan owed his landlady ninety weeks' rent. That will give you some idea about Grogan's landlady. She got more tolerance than you can shake a stick at and she certainly is a fine woman. She's an elderly woman, seems to understand horseplayers and not be bothered by them as much as other people are."
Even when there was nothing happening wherever Jack McNulty took a seat, McNulty was observant and perceptive enough - which is the hallmark of every good columnist like this - to know there was enough going on to write about, even if everyone else in the place swore there was nothing going on.
If I could pick one favorite essay - though they're almost all amazing - it would be "Some nights when nothing happens are the best nights in this place," which appears early in the book:
"The point is that some nights when there's hardly anybody in a gin mill and nothing happens, why, those are the best nights in one way of thinking. They're more interesting and not such a hullabaloo of juke-box music and everybody talking at once and all of it not amounting to any interest to the boss or any of the regulars, unless you'd count a lot of money coming in . . . Like the other morning about half past two it was more like a speakeasy, only a few there and odd ones coming in that the boss knew well and didn't mind any of them, each one different than the other."
McNulty goes on to introduce us to Chinaman Jack Yee, who sells little wooden statues up and down the street. "The boss asked Jack to have a cup of tea, because he's always glad to see Jack . . . Coldest night, Jack got no overcoat, just a skinny raincoat tied around him and always smoking a cigarette that's stuck on his lower lip and bouncing when he talks. So Jack put down his bag of statues and had a cup of tea with the boss, and first thing you know what they are talking about but how tough it is talking Chinese for a language."
McNulty relates - on a night when nothing was supposedly happening in this place - the amazement of the boss (an Irishman from Dublin) when Chinaman Jack explains how the same word in Chinese, depending on how it's pronounced, can either mean "mouth" or "trolley car," or how "bird" can also mean "come in." "Then by God, Jack," McNulty writes, "if they're ever gonna make a start at getting anywhere they'll have to get that ironed out! . . . While the boss and Jack Yee were finishing their tea, they gave up the Chinese language as a bad job entirely."
Every single story in This Place is a gem, but still, "Some nights when nothing happens are the best nights in this place" stands out because McNulty - like any good short-form writer - knew that the last paragraph of anything they wrote was The Big Payoff, the satisfying reward that made everyone who decided to take time out of their day to spend it with you stop and think for a few moments about their own lives and how they consider the lives of others.
McNulty drives this home by introducing us to Eddie Clancarty, a fellow who never met an argument he didn't like. Anyone who has ever spent a lot of time in a dive bar knows their own Eddie Clancarty. Sometimes more than one of them.
"Without Clancarty hearing, one customer said to the boss, 'Why don't you throw him out, he's always starting a fight?'
"'Oh, leave him alone,' says the boss. 'He's going into the Army tomorrow.' He went up and served him a drink and then got away from him quick . . . Well, it got to be near four o'clock, time to put up the chairs on top of the tables and close up . . . Clancarty was off the other way. The boss looked back at him going and said, 'Now, isn't that a terrible thing? Sure I just bethought of it now! There he is going into the Army tomorrow, and I can see plain as day what's the matter with him. The poor man has nobody at all to say goodbye to.'"
Accompanying McNulty's columns (and in some ways more illustrative than McNulty's columns) is the photography of Morris Engel, whose job seemed to involve taking moody, rain-pelted photos of McNulty on the streets of New York - especially if they involved McNulty shooting the shit with guys outside some dive bar with everyday New York City life going on in the background.
Engel's images beg you to stare at them and be drawn into a grittier time when the simplest of newspaper guys could speak to - and connect with - plain, everyday people and (as McNulty might say) make them wonder how such plain simple guy coulda make them think about things you'd think it would be smarter people that would be making them think about things like that. Today, if you're an aspiring newspaper columnist, you might take McNulty's essays and Engel's photos and put them together to inspire you to put the heart and soul back in the sterile, barren, politically-comfortable landscape of what the columnist-journalism has turned itself into - if you happen to be lucky to find someone who will let you do just that.
Posted by Beachwood Reporter at 12:30 AM | Permalink
August 4, 2009
The [Tuesday] Papers
By Steve Rhodes
I don't know what to think about Cash for Clunkers.
Undoubtedly, it's a boost for the economy. And not just for auto dealers, but scrappers and supply chains and everyone else in the stream that will feel the ripples.
At the same time, it's an awful lot of (taxpayer) money.
An investment worth making?
Perhaps.
But the psychology of the whole thing is a bit baffling too. If dealers had just offered $4,500 off of qualifying models, would they have been as swamped with buyers as a program offering "free" government money?
Lost in the shuffle, too, is the environmental component: taking polluting clunkers off the streets for less-polluting models.
That's where the notion voiced by critics that we might as well subsidize buying new furniture doesn't hold up.
But what will this do to the used-car market? The clunkers consumers are trading-in are not allowed to be re-sold; they must be destroyed.
Those clunkers, though, are sometimes the only cars some folks can afford.
I've yet to read anything persuading me to a particular point of view on this, and maybe there isn't one. For a relatively simple program, it's relatively complex.
*
Should the program be extended?
Maybe the Obama administration ought to claim victory and move on.
*
On the other hand, can the Obama administration craft similar programs for other parts of the economy?
*
"At last Washington has produced a stimulus idea that actually works - the 'cash for clunkers' program that has auto dealers and thousands of car buyers smiling," Steve Huntley writes. "Also sporting a big grin is economist Irwin Kellner, who's feeling vindicated for the concept he pushed months ago, asserting that the best stimulus is one putting dollars directly into consumers' hands."
*
Would this program have been as successful if it didn't have such a marketable name?
Cash for Clunkers - C4C - is priceless.
And eminently parodiable.
*
*
Remember to make clear whether you intend comments for publication - and whether your full, real name can be included. (If not, please say why.)
COMMENTS:
1. From Devin Hogan:
I remember reading earlier this year that the idea actually came from Germany and was so successful it had to be extended.
WSJ has a great article on how chemical distributors are reaping a huge windfall due to the death ingredient needed to kill the engines.
Who'd have thought?
2. From Mark Loehrke:
Imagine how much more compelling that old Victory Auto Wreckers commercial would have been if the guy whose door fell off was getting a cool $4,500 from the tow truck driver instead of what appeared to be maybe $70.
3. From Pelham:
Cash for Clunkers is most excellent, and can also be applied to the $23.7 trillion bank bailout (that astounding figure, by the way, is reported by the Treasury's own official watchdog). And, probably, it will be applicable to whatever ramshackle frankenstein health-care "reform" the Democrats manage to extrude from Congress. I say this because we have a clunker system that will probably be preserved and extended (according to the latest emanations from DC) with cash from mid-range taxpayers, who are already paying way more for health insurance/care than their counterparts in any other industrialized country.
Incidentally, I respectfully disagree with you on the cost point for the car program, at least from a relativistic standpoint. A few billion dollars is big money only in absolute terms; relative to the many trillions the banks are getting, it's just about literally (in proportionate terms) a drop in the bucket. But unlike the bank bailout, it's actually producing results, the merits of which can certainly be debated.
One more thought: A few months back, I ran across a Bloomberg news item that said the money then spent or in the pipeline for the bank bailouts (I think it was something like $4 trillion at the time) would have been enough to pay off 90 percent of all the housing mortgages in the country. Ninety percent!!!
Think about that. Let's say that fairly early in what was then the subprime meltdown we had simply appropriated, say, $3 trillion to pay off half of all the mortgages in the country (in such a way that we reduced by half everyone's monthly mortgage payments). The banks and insurers directly or indirectly on the hook for these shitty securities would've still been rescued--pretty much unfortunately. But, more importantly, just imagine the enormous stimulus for the economy! Immediately every homeowner would have had hundreds of extra dollars in his/her pocket to actually go out and spend. And maybe a fraction of THAT could've been taxed away to pay for the enormous, FDR-scale infrastructure upgrades (not the piddling stuff the Obama administration is pissing out) necessary to restore U.S. competitiveness.
Now, the taxpayer would've still been on the hook for this indirect bailout. And the equity issue is no small one, since non-homeowners would have taken an undeserved hit. And we'd be rewarding irresponsible home buyers, who bought more home than they could afford, as well as house and condo flippers (although I'd argue that the lenders bear 99 percent of the responsibility, since they always have far more market info than any individual buyer and they pushed the subprime paradigm).
But the hit would've been only a small fraction of the $23.7 trillion we're taking now (which I think comes to something like $80,000 for every man, woman and child--or $240,000 for my lucky household). And where's the equity in simply handing over these aneurysm-bursting sums to the banks and getting NOTHING back AND, in fact, setting the stage for even worse too-big-to-fail situations in the future, since banks are using the money to go out and get even bigger by buying other banks?
Cash for Clunkers Cubed, I'd say.
4. From Brian Alves:
I was initially against it. But you cannot argue with success. The program has definitely kick-started the industry, given a dose of optimism to people and gotten a lot of old cars off the road. It appears that the mpg difference between the junked cars and the new cars is 8 mpg, which seems to be a pretty good spread. At this point, it would appear that the government is - as they say in poker - pot-committed, and they need to put in another $2 billion and then call it quits.

Sure beats plowing billions more into the useless F-22 program.

As it turns out, our 12-year old-Chevy didn't qualify but we bought a new Chevy Malibu anyway. It appears to be a quite a good car that can stack up against Toyota, Honda and Hyundai.
Smooth Criminal
I know it's wrong, but you have to give props to Ella Orko, the 86-year-old woman who was just arrested for the 61st time. There's probably a book here - one with variable levels of sadness.
Digital Divide
One-fourth of Chicagoans don't use the Internet.
If that seems like a lot, consider that it's not much different than the poverty rate here.
Mary Mart
Mary Mitchell channels Howard Brookins today without any evidence that she's researched for herself - after all this time - the issues surrounding Walmart's proposal to build a store in Chatham.
It might be interesting, for example, to see what Mitchell thinks about this piece from MSN's MoneyCentral:
[E]ach of Wal-Mart's promises has a flip side:

* Jobs: Check. But, after an initial boost, studies show a net loss of jobs.

* Low prices: Check. So low that wages and benefits are reduced as well. Then the neighbors follow suit.

* Tax boosts: Check. But that boost comes at the expense of communities nearby, which tend to lose any businesses that compete. And don't forget to factor in the cost to taxpayers of subsidies for Wal-Mart and public aid to low-wage workers.

When Wal-Mart comes to town, "it's a switcheroo," said Nelson Lichtenstein, a professor of history at the University of California, Santa Barbara, and the author of The Retail Revolution: How Wal-Mart Created a Brave New World of Business.

"They create jobs now, immediately," he said. 'Over time . . . they erode better jobs."
It's not clear at all that building a Walmart is good for your community.
What's curious is why Walmart officials aren't the ones being questioned. Why are they holding jobs hostage by not being an adequate employer?
*
Mitchell is similarly perplexing when she endorses the ridiculous notion of aldermanic privilege. "Because Brookins is the alderman, it ought to be his call, and his colleagues should have his back on this," she writes.
What?
Aldermanic privilege supposes, among others things, that what happens in one ward doesn't affect any other ward.
It's astonishing that anyone would believe this in the age of globalization.
Beyond that, aldermanic privilege is simply a method by which aldermen can build fiefdoms in any manner they like without having to worry about colleagues asking questions.
*
Eric Zorn also thinks the rest of us should stay out of it.
"My view, for what it's worth, is that the immediately impacted community - those living in a one-mile radius, say - ought to be honestly surveyed by an objective polling firm. And if they say OK, then OK," he writes.
"I don't even think I or most Chicagoans should have a say in it."
But a Walmart would affect all Chicagoans in lowering the bar for wages and benefits, among other questionable management practices and the noted impact on social services. Surely we all have a stake in this.
*
And it's not as if something unique is happening here in Chicago. Walmart has had problems getting its stores into many cities.
"New York is the largest city in the United States. It's home to 8.3 million people - 27,147 persons per square mile - and zero Wal-Mart stores," Wal-Mart Watch notes.
"Much to the chagrin of Wal-Mart and its former CEO Lee Scott, Wal-Mart has had no luck in New York City. Masters of rural and suburban growth, Wal-Mart has never been able to circumvent the city's strong labor presence, activist population, and restrictive zoning laws. In 2004, Wal-Mart tried to open its first store in Rego Park, Queens and the move was met with opposition from a coalition of politicians, union organizers and community members. [New York Magazine, 8/8/05] Similarly, residents denied Wal-Mart when it attempted to open a store in Staten Island in 2005. [New York Times, 8/22/05]."
The Aldi Option
Meanwhile, the city is selling five acres on the Far South Side to a developer for $1. The developer is planning to build an Aldi there.
Geez, couldn't the city have at least charged $4,500 - the price of a clunker?
*
I would have paid twice as much for those parcels.
Food Fight
Rich Miller isn't so sure Chatham is actually a food desert as claimed by Walmart and its allies. See why.
Tylenol Trail Goes Cold
Six months after raid, FBI has bupkus.
Feisty Fitzy
No mercy for journos.
-
The Beachwood Tip Line: Walproof.

Posted by Beachwood Reporter at 10:44 AM | Permalink
I Am A Security Guard: Begging, Addiction And Tax Evasion
As I stood at the security post on a recent Friday night, a man waited in line to pay for his goods. He wore a T-shirt that said. "I Got Out of Bed for This?"
The shirt provided the theme for my shift.
Thanks to a bout of insomnia, I got out of bed and arrived at the store 40 minutes early. The guard on duty smiled. "I'm really glad to see you," he said. "Can you stand here for five minutes? I have to run to the store and buy some bread."
I gladly agreed to perform the favor. Since replacing a guard who had dropped the F bomb on a cashier, he had been a team player. He arrived on time, helped tackle a perp, and gave me tips about would-be thieves and company policies.
So I stood at the post. Five minutes had passed. Nothing wrong with that. Then 10. Nothing wrong with that either. At the 20-minute mark, I started to fume. Why should I get fisted for doing someone a kind deed?
At that point, I saw the T-shirt.
Finally, the guard returned. He had taken 25 minutes from me. He offered to buy me a soft drink. I politely declined, doing my best to bite my tongue. We chatted a bit. I tactfully said my shift would start in a few minutes. I dropped my bag in the break room and walked to the post. He left.
The incident darkened my mood for most of the night.

Shortly after my shift started, a short woman walked up to me and complained that a man in a white cap put his hands on her car. I walked onto the store's parking lot. The man had left her vehicle. Instead, he wiped a Chevy Blazer with a dirty rag. "It's my sister's," he said.
A gut feeling told me the guy had lied. I nearly reached my breaking point. After taking a deep breath, I told him to prove it. He said he'd bring her to me. We walked inside the store. He disappeared among the aisles.
I watched him and considered getting him banned him from the store permanently. He's a tall, emaciated regular who often creates a scene and begs customers for spare change. On this night, he had found a new angle on an old scam.

Within a couple of minutes, he returned with a man. The second man motioned to the beggar and said, "He's okay."

"That's not your sister," I told the beggar.
He said, "It's his wife."
Given that the other guard had used up my humor, I abandoned my usual tact. "Nice try," I snapped. "Stay out of the parking lot."

He left the store, mumbling under his breath. I made a mental note to chat with the Head Guard about him.

For the next several hours, three more characters displayed a lack of class. One woman bought two bottles of water. The cashier asked for the city's bottled water tax, a total of ten cents. The customer squealed, "Are you kidding me?" The cashier waved her away, blowing off the dime. The customer grabbed the water, walked to an automatic teller machine and withdrew $400. She left without forking over the tax.

Another woman, a regular, argued with the cashier over the price of lipstick. She claimed the brand she selected was on sale and demanded to see the manager. The manager arrived and patiently told the customer that she had picked the wrong lipstick. The customer picked the correct one and meekly returned to the cashier. She bought the merchandise without offering an apology.

A young man, reeking of body odor, bought condoms. The cashier and I looked at each other after he left. I suggested that no one would want to get busy with someone who didn't like to wash.

Near the end of my shift, my mood had lightened a bit. But one last observation made me recall the T-shirt. An elderly woman approached the cashier. She had bought a pack of Kools six hours earlier. Now, she wanted another pack. Given the deep lines on her face and her slow walk, cigarettes were the last thing she needed. But loneliness, addiction or both had compelled the smoker to continue a bad habit.
During the transaction, a guilty feeling washed over me. The store needs customers, who keep me employed in a rather lousy economy. But I got a college education in order to provide something useful to the world. Now, I was no better than an enabler. I didn't get out of bed for that.
-
A very pseudononymous Jerome Haller earns rent money as a security guard for a large, publicly-held retail chain.
-
See more tales of security guards, pizzeria waitressing, barista'ing and office drudgery in the Life at Work collection.
Posted by Beachwood Reporter at 4:58 AM | Permalink
Really Commercial TV
By Scott Buckner
Most people have hailed the invention of the DVR for its ability to fast-forward through commercials. But I'm not most people, so even if I could afford a DVR, I'd hail it as something that lets me take a better look at commercials because, believe me, asbestos-induced lung disease, drugs gone wild, filing for bankruptcy, or being ass-ended while I'm minding my own business sitting in my car at a red light are about the only bright spots standing between being broke and being homeless for guys who have been unemployed a lot longer than I have.
Still, I remain cheerful enough on a daily basis to ponder whether some commercials are just examples of the kind of reckless excess that makes this country a target for radical extremists from other nations who have never known the soothing ahhhhhhhhhh of a Sleep Number bed, or whether they're actually useful shit that could make life better for everyone, just like those little rubber mat thingamajigs that make opening jars so easy. You decide.
* Because Medicare might not spring for grandma's hip-replacement surgery.
If ancient cultures had Dr. Frank around, they wouldn't have had to set their arthritic elderly adrift on ice floes to die. Or their arthritic elderly pets.
* Because maybe Jesus is tired of being stuck on the dashboard.
Who couldn't use more of The Lord in their life, dangling around their neck and clad in enough crystals to reflect the sun and melt the eyeballs of anyone standing nearby on a bright day? Introducing the Prayer Cross. It's religion! It's a View-Master! Hold it up to the light and peer through the "secret center stone" to see a Lilliputian version of The Lord's Prayer inside, provided your eyesight's good enough to read print that small. If it isn't, you can just go to the Prayer Cross home page and hear the first line of it being recited while you hold up the cross and stare blankly at the center.
* Because there are times when even the women who show up on Springer like to look hot.
I'm not a woman and I have no hair left to speak of, so I don't what women with a lot of hair might consider to be cheap and tawdry. But even I know that something like EZ Combs might be a better value for the same money than the Bedazzler. Then again, I don't know a thing about high fashion involving studs and rhinestones, either.
* Because guys with metal detectors are really sick of digging up pull tabs.
Turn tin cans of whatever you're drinking into make-believe bottles with a re-sealable screwcap! Bottle Tops are a more-expensive option to just jamming a wad of aluminum foil into the opening of a beverage can to stop the yellow jackets from crawling in and the carbonation from crawling out. Your can of Bud probably won't look as manly in your hand with one of these clamped onto it, but still.
* Because maybe God gives everyone one phone call after they die, and you might be on the road.
I often wondered why Billy Mays would need a cell phone since even the dead could hear him - even when he was using his indoor voice. But if you're someone like me who's deaf in one ear and finds Bluetooth earpieces to be a complete pain in the ass, the Jupiter Jack could be the one piece of merchandise you don't mind Billy shouting at you about as if you were deaf in both ears. Drive safe, be safe - provided you don't own a rustbucket beater that even the neighborhood crackheads keep stealing the cheap, worthless stereo out of.
* Because what doesn't kill you just opens your possibilities for breakfast.
There hasn't been a single commercial for McDonald's I've liked since, well, never. But the other morning, I microwave-reheated and ate a Big Mac I had sitting in the back of my refrigerator for four days without dying, puking, or developing any sort of intestinal distress. This has absolutely nothing to do with any McDonald's commercial present or past. I just thought someone out there might like to know it can be done.
-
Scott Buckner welcomes your comments.
Posted by Beachwood Reporter at 4:49 AM | Permalink
August 3, 2009
The [Monday] Papers
By Steve Rhodes
"You're less likely to get murdered, shot, stabbed, robbed or raped on Chicago streets so far this year," the Sun-Times reports this morning.
"But the city's nearly 9 percent across-the-board crime decrease touted by police - including a 3 percent dip in violent crime - doesn't tell the whole story about crime in Chicago neighborhoods, a Chicago Sun-Times analysis of district-by-district crime data shows."
And that analysis hardly tells the whole story either.
The drop in crime in Chicago isn't unique to our city. It's happening all over the country, and despite what police officials say, no one knows why. Particularly in such tough economic times, the drop in the crime rate is a mystery.
"Maybe it is time to call in one of those clairvoyants who help detectives solve the case. Because no one else can explain what criminals have been doing in the first half of 2009," the New York Times noted on Sunday. "
"[F]rom New York to Los Angeles to Madison, Wis., major crimes, violent or not, are down between 7 percent and 22 percent over the same period last year," the Times reports.
And nobody seems to know why.
*
"One reason for the lack of answers is lack of money, said Alfred Blumstein, a prominent criminologist at Carnegie Mellon University in Pittsburgh. 'The National Institutes of Health spends $400 million a year on dental research,' he said. 'The National Institute of Justice spends $50 million a year on criminal justice research'."
Lawyers in Love
From the ABA's annual meeting in Chicago, via the ABA Journal:
* Patrick Fitzgerald: Reporters Must Obey When Ordered To Reveal Sources.
* Holder, Gay Marriage And Health Care On ABA House Agenda.
Duncan's Domain
"You get to see how sincere Duncan is in lamenting the youth violence that's become pretty much constant in Chicago over the last few years, and you get to see how candid he is in criticizing his own work and that of the rest of the city in addressing the issue," Alexander Russo writes of the video of Arne Duncan's appearance before the Sun-Times editorial board last week.
"Kudos for candor and sincerity. But you also get to see that Duncan doesn't really seem to have great ideas for what to do about the problems that Chicago and other big districts are facing."
Mag Wag
The 10 least - and most - expensive magazine subscriptions around.
Trade Talk
What the other sides are saying:
"The only thing left to negotiate was travel expenses for Peavy's family so they can visit him in Chicago while living and attending school in the San Diego area. Axelrod said the White Sox agreed to a 'six-figure' deal that includes 'six to eight' trips a year, plus a home large enough for the entire family.
"Peavy called it a potential 'deal breaker,' adding: 'The most important thing in my life is being a daddy'."
*
"Axelrod sent the text message granting Peavy's approval for the trade at 12:58 p.m."
*
". . . it is the 22-year-old Poreda who is considered the prize of the deal. He is 6-foot-6, left-handed and throws a fastball regularly clocked just under 100 mph. Some rate him Chicago's top pitching prospect."
*
But did Kenny Williams overpay? The phone actually wasn't ringing off the hook in San Diego and the Padres were in a tough spot financially.
"If Peavy's contract made sense when it was signed, on a day the Dow Jones Industrials closed at 13,473.90, it has since come to represent the irrational exuberance of a baseball bubble. With the economy in severe recession and the Padres in full retreat, even a recent Cy Young Award winner begins to look like an extravagance. With a $15 million salary due in 2010, Peavy's paycheck could have represented more than one-third of the Padres' entire player payroll.
"Thus when White Sox GM Ken Williams called Towers Friday to revisit the deal Peavy had vetoed in May, he probably didn't have to do all that much beyond offering to pick up the payments. During the Padres' last homestand, Towers had met with Peavy and his agent, Barry Axelrod, for the purpose of reiterating the urgency of unloading the club's most costly contract.
"Towers was in no position to dicker. Not with Williams dangling deliverance. Were Williams more closely attuned to the Padres' financial plight, he might have been able to acquire Peavy for a bag of balls and a rosin bag to be named later.
"'This might have been the only deal out there,' Axelrod said. 'He's not going to be as big a bargain this off-season as he was last off-season, and we had trouble finding suitors then.
"'Our analysis became (that) maybe this is the only deal they can make. Maybe you're not going to get the Cardinals or the Dodgers or the Astros or the Cubs. Maybe this is going to be the only exit from San Diego'."
*
The Detroit Free Press says the White Sox were losers in the trade-deadline wars: "They acquired a potential ace in Peavy but had to give up three major league-ready pitchers and another pitching prospect. Peavy vetoed a trade to the Sox earlier in the season, is currently on the DL and is owed $56 million through 2012."
*
The Minneapolis Star Tribune says that "Detroit was the immediate winner in obtaining Jarrod Washburn, a free agent-to-be who should make 13 starts for the Tigers before the end of the schedule."
But also says . . .
"The White Sox were the long-term winners - getting Jake Peavy perhaps for September, and then through 2013 if they choose to keep him that long."
SportsMonday
"People - repeat after me: Training camp is meaningless," Jim Coffman writes. "Of course the Bears have to get their work in, but in terms of people watching the practices or media talking to players and coaches and determining anything definitive about the team? Does not happen."
The Cub Factor
Memo to the new guys: There isn't a Gatorade cooler anymore. Don't ask.
The White Sox Report
"Endorsement No-Brainer: White Sox defense for the Monty Hall problem: the result appears absurd but is demonstrably true."
Gubernatorial Blues
Biz To GOP: Borrring!
Blair Hull Sighting
Candidate C in the Blago indictment.
Port Blago
Name still towers over shipping district.
-
The Beachwood Tip Line: Reign o'er me.

Posted by Beachwood Reporter at 11:27 AM | Permalink
SportsMonday
By Jim Coffman

People - repeat after me: Training camp is meaningless. Of course the Bears have to get their work in, but in terms of people watching the practices or media talking to players and coaches and determining anything definitive about the team? Does not happen.

Over the weekend, the news out of Bourbonnais was that the second-year man out of Nebraska, Zack Bowman, who had that one great game last year (a special teams TD and defensive interception) before tearing his biceps and sitting down for the season, looks like the hottest thing since sliced olive loaf out at cornerback (which is especially important now that veteran Peanut Tillman has been sidelined for most of camp by a back injury).

Let's see what Bowman does in exhibitions - and even those barely matter because of the dumbed down schemes teams run to avoid giving away anything about what they really plan to do when the games start to matter.

Bowman had a good practice on Saturday, Lovie gushed about how good he's been in the off-season and the wishful thinking (we don't need Tillman - we've got Bowman!) kicked into high gear. Cut the hype with a scythe.

Of course everyone wants to get a good look at the Savior from Santa Claus (Ind.) otherwise known as Jay Cutler at the camp that officially started last Friday. And if he just heaves a few to Devin Hester every day and signs a few autographs, everyone should go home happy. But we won't really know anything about how quickly Cutler will be able to start leading the Bears to success until the season starts.

Another weekend story was based on former Bear Erik Kramer gushing about Cutler's raw talent. But we already knew the guy has the goods. We didn't need Kramer to tell us. On the other hand, Kramer in the news reminded fans of something concrete: the 1995 season. That was the one year during both of Ron Turner's stints as Bears offensive coordinator when he had a legitimate shot at working with a good quarterback experiencing the height of his powers. Kramer was enough of a veteran to really know what he was doing but not so old that he was on the verge of breaking down physically (although it was close - in 1996 he couldn't avoid it any longer).

And that season, Turner set Kramer up to break just about all of the Bears' significant single-season passing records. Ever since, Turner hasn't worked with a quarterback that talented - and healthy . . . until now.

The most interesting bit of information about the Bears right now, which was reiterated in one of the dailies Sunday, is the fact that they are $25 million under the salary cap. Besides the fact that this is another indication the NFL is absolutely printing money, it also makes you wonder again why the heck Jerry Angelo didn't sign a veteran wide receiver and in particular, why he didn't sign a certain former St. Louis Ram star.

This has been said several times in several other places already but it must be said again. It is absolutely indefensible that Angelo allowed Jacksonville to sign veteran wideout Torry Holt to a free agent contract toward the end of the off-season.

I don't care if signing him would have thrown the Bears salary scale out of whack (and come on, no significant damage would have been done - they're $25 million under the cap!) or if Angelo simply felt he wasn't worth the money. Holt is an accomplished veteran.

Even if you believe he probably doesn't have anything left, a small chance that he does would have still been worth a significant expenditure.

Angelo believes that the quarterback makes the receivers and that Jay Cutler will lift the games of young wideouts Earl Bennett or Brandon Rideau or rookies Juaquin Iglesias or Johnny Knox and make at least a couple of them solid NFL receivers.

But that isn't going to happen this time around. Perhaps one of those four will have a solid season in 2009 and catch maybe 30 passes. Perhaps two of them will develop into decent receivers in 2010 or later (when they have some absolutely necessary experience). And that won't change no matter how many times Cutler hits them with pinpoint passes in practices.

One guy who doesn't believe the quarterback makes the receivers by the way? That would be Bill Belichick, who brought Randy Moss to the New England Patriots a couple years ago despite the Pats, led by ultra-QB Tom Brady, having won three Super Bowls in the six years prior.

The Bears just better pray that Hester (who is perfectly positioned for a big-time breakout year after experiencing the kind of prelude performance last season that we hope one of the young receivers will have this season), and Greg Olsen and Matt Forte, can stay healthy - because they will have the ball all the time.

To return to the NFL's finances . . . I think this is the season the league goes over the $100 million per team, per season mark in terms of the basic TV deal (if it didn't already do so last year).

What I mean by that is that at some point this year, each team receives a check for over $100 million to pay for its share of this year's rights fees (although I don't think that includes the money DirecTV pays for the rights to put all the games on the satellites - that's yet another check).

That's $100 million in the bank, before a luxury suite is leased, or an $8 beer is sold. $100 million! In the past few years, the Bears have extended the contracts of so many veterans; there wasn't a murmur of a possible hold-out coming into camp. Yet they are still $25 million under the cap.

And the numbers will just get bigger in the next few seasons. There has been some chatter that the NFL owners might try to lock-out the players if they don't give the owners what they want in the collective bargaining negotiations that will heat up in the coming year - but there is just too much money there for everyone in the NFL to imagine that actually happening.

If Cutler, who still has three years left on his rookie contract, should happen to take the Bears to the promised land in the next few years (which will certainly be tough - they need receivers to get older but the defense is running out of time quickly), he might end up signing a contract extension that would make A-Rod jealous.

-

Jim Coffman rounds up the sports weekend in this space every Monday. He welcomes your comments.


Posted by Beachwood Reporter at 9:55 AM | Permalink
The White Sox Report
By Andrew Reilly
Talk about an uncharacteristic maneuver.
Even if the Jake Peavy deal had already been explored, it always seemed like such a non-event, one of those could've-been-sweet things right up there with the Maggs-for-Nomar trade and the phantom acquisition of Alex Rodriguez. Of course we just sort of assumed Peavy would never go along with playing for the White Sox anyway, but that stemmed less from what any of knew about Peavy and more from what we know about the White Sox. Because the White Sox, as you may be aware, do not make splashy moves.
Surprise moves, yes.
Risky moves, absolutely.
High upside shots in the dark, without question.
But the Peavy deal suddenly makes the Sox look like a real organization, one which a legitimately good pitcher looked at and said "I will hand over my power in this situation to be a part of what's going on over there." Five years ago we were hearing how Randy Johnson didn't think the Sox could ever win anything and Kenny Williams himself calling the club a 50-cent operation in a dollar-demanding world. Now we have a marquee player (and not one past his prime this time, either!) and a legitimate shot at . . . something. Peavy doesn't bring a guarantee of anything, but he absolutely brings the possibility of so much more.
Week in Review: Statement-making. By obliterating the Yankees, the Sox declared themselves capable of playing with real teams. By Trading for Peavy, the Sox declared themselves serious about winning. By handing an entire series over to the Twins, the Sox reaffirmed the 10,000-Lakers' perpetual dominance.
Week in Preview: The homestand concludes with three against the Angels and three against the Indians. The Indians, as you may know, recently traded away their best pitcher and second-best bat; as such, expect them to destroy the Good Guys.
The Q Factor: At approximately 3:30 p.m. CST Friday, Jake Peavy received a DVD from TCQ Labs containing several CGI renderings of a Sox-Padres interleague series scheduled for June 7-9, 2011. The best-case scenario showed Peavy facing Quentin four times yet seeing his career earned run average increase to 4.95 and a constant feeling of sadness coming to define his later years, always acutely aware that something went wrong but never really figuring out what or when. By 4:00 p.m., Peavy was packing his bags for Chicago.
That's Ozzie!: "That's the Dominican style: when you're hurt, you play dominoes." - Guillen on Bartolo Colon's odd approach to self-medication
The Guillen Meter: Sending the Yankees home with their organs in their hands, the Guillen Meter reads 4 for "bloodlusting."
Underclassmen Update: Gordon Beckham ranks third among AL third baseman with a .311 batting average while Alex Rodriguez sits in ninth at .261. Therefore, Gordon Beckham is better than Alex Rodriguez.
Alumni News You Can Use: Former Sox pitcher Clayton Richard made a strong debut for the Padres in Milwaukee Saturday, allowing just one run in 5.2 innings Saturday against the Brewers.
Hawkeroo's Can-O-Corn Watch: That Angels manager Mike Scioscia, he might just be, without a doubt, the best manager in the game today. Also, current Indians manager Eric Wedge, he might be the best manager in the game today, no question.
Endorsement No-Brainer: White Sox defense for the Monty Hall problem: the result appears absurd but is demonstrably true.
Cubs Snub: The only thing funnier than a certain fanbase's misguided hubris is when that arrogance blows up in their collective face and a rival baseball club goes out and acquires the pitcher whose jersey you were so excited about ordering once your team TOTALLY brought him aboard. But hey, you've still got Milton Bradley to show for it. BONUS SNUB: Former Greatest Pitcher of All Time Mark Prior was released by the San Diego Padres. Having set records for most innings, strikeouts, wins, and earned run average in simulated games, Prior plans to make appearances on the simulated public speaking circuit before being inducted into the Simulated Hall of Fame.
Fantasy Fix: All-Star illusions and Paul Konerko.
The White Sox Report: Read 'em all.
The Cub Factor: Know your enemy.
-
The White Sox Report welcomes your comments.
Andrew Reilly is the managing editor of The 35th Street Review and a contributor to many fine publications.
Posted by Beachwood Reporter at 9:47 AM | Permalink
The Cub Factor
By Marty Gangler
So now we know that the Cubs are most probably going to be in it the rest of the season. And we also know that it's not going to be anywhere as easy as anyone thought. But do the trade deadline pickups, John Grabow and Tom Gorzelanny, really know what they are getting into? Did they think they just won the lottery by going from the Pirates to the Cubs? Of course, we're not sure what they are thinking and on top of that they are left-handed and think with a different side of the brain than I do - but we here at the Cub Factor would like to give them a heads-up on a few things about this Cubs team so they know what they are in for:
* Don't worry about remembering the name of the guy playing second base. Eventually everyone takes a turn playing there. Including you.
* You don't have to laugh at Ryan Dempster's Harry Caray impression just to be polite. It only makes him think it's actually funny.
* It's okay to think the facilities at Wrigley Field are antiquated and horrendous. But it's not okay to say it out loud because you'll piss off a lot of stupid people.
* You are not seeing things, the roster is a mess.
* They only let Carlos Zambrano out every fifth day to pitch, so don't expect him to be available for parties.
* There is both an "I" and a "me" in Milton Bradley.
* It's perfectly acceptable to ignore any advice Ron Santo gives you. He's kind of like the Cubs version of this guy.
* There isn't a Gatorade cooler anymore. Don't ask.
-
Week in Review: The Cubs took three of four from the Astros and lost two of three to the Marlins. Just when you really thought the Cub train was picking up serious steam, it turns out that Kevin Gregg left his luggage on the platform and the train had to stop and turn around.
Week in Preview: Three in Cincinnati and three in Denver.
The Second Basemen Report: "We had Soriano at second base, Soriano at third," Lou Piniella said after Saturday night's game. "If somebody is watching this game on the Internet or they see the box score, they're going to think the manager got drunk during the game moving people around . . . "
Yes. Yes, they would.
In former second basemen news, Mark DeRosa already had seven home runs and 11 RBIs as a Cardinal. Ronny Cedeno is off to a .364 start as a Pirate. They both are missed.
The Zam Bomb: Big Z's back tightness makes him furious, so he is furious.


-
Lost in Translation: Pleasey pleasey Foxy time-o is Japanese for play Jake Fox everyday for godsake.
Endorsement No-Brainer: Kevin Gregg for Wind Power Turbines because he f'n blows.
Milton Bradley Game of the Week: Party Pooper. Because really, you think he'd be fun at a party?
Sweet and Sour Lou: 49% sweet, 51% sour. Lou is down four points this week on the Sweet-O-Meter due to Kevin Gregg. And just like your real crazy drunk uncle, Lou told you to pick up the dog poop in the yard before Aunt Yolanda's party, that was your job. But you didn't do it and he stepped in a pile of Sparky's stuff and ruined his new shoes, so there will be repercussions.
Don't Hassle the Hoff: A random spot start in a crowded outfield is a hassle, so stop it.
Over/Under: Blown saves this week: +/- 1.5.
Beachwood Sabermetrics: A complex algorithm performed by the The Cub Factor staff using all historical data made available by Major League Baseball has determined that Kevin Gregg is still better than Kerry Wood this season.
The Cub Factor: Unlike Soriano, you can catch 'em all!
The White Sox Report: Now with a weekly Cubs Snub.
Fantasy Fix: Buehrle, Kotsay and fanalytics.
The Mount Lou Alert System: Jumps from Green to Orange this week. Anger lava is beginning to boil as once solid "closer rock" has turned into molten goo. Villagers in the greater Cincinnati area - whose elders still tell tales of Mount Lou eruptions from days of old - have been warned.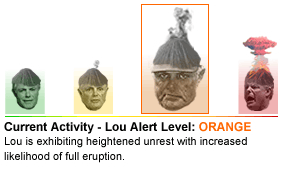 -
Posted by Beachwood Reporter at 6:38 AM | Permalink
August 1, 2009
The Weekend Desk Report
By Natasha Julius
We got this report out in record time. But trust us, you don't want to see the Weekend Desk break room right now.
Market Update
In more welcome signs of economic recovery, it appears Gullible Consumers and Dangling Cash have exceeded analysts' expectations.

Sins of the Blagger
As the primary author of Illinois' historical budget crisis prepares to count his own cash, his replacement has started cutting costs. But hey, at least Pat Quinn has the decency to look like absolute hell while doing it.
Tide and Team
It's been a splashy season for Chicago's sports teams, with many fans questioning the value of several blockbuster moves. Now that the dust has settled, the Weekend Desk sports department is ready to announce its findings. It appears the White Sox have gotten Peavish, the Bears have been Cuttled, and the Blackhawks just got Hosed.
Bumps and Lumps
Ever-respectful clothing company London Fog has reportedly airbrushed Gisele Bundchen's pregnant belly to safe-guard the model's privacy. Company spokespeople confirmed, however, they're happy to keep her pregnant tits.
Holiday in the Sun
Finally this week, if your plans for a memorable hiking vacation have been scotched by bureaucratic snafus, don't fret. There are plenty of other high-impact destinations available.

Posted by Natasha Julius at 8:44 AM | Permalink