« August 2008 | Main | October 2008 »
September 30, 2008
The [Tuesday] Papers
So maybe the financial meltdown was important enough to skip a debate over.
Bank Head
Public art of the day. And the poem that goes with it:
They said
I had a head
for business.
They said
to get ahead
I had to lose
my head.
They said
be concrete
& I became
concrete.
They said
go, my son,
multiply,
divide, conquer.
I did my best.
Naming Names
Paul Newman was 19th on Nixon's Enemies List.
Which means he was also 19th on Moe Slezak's Enemies List.
Roger, Over
I got that Newman tidbit from Ebert. So good on film, such a blowhard on politics.
Color Update
Today is Wear Blue for Obama Day. It's also Wear Black for the White Sox Day. It's also the day the Sun-Times reprinted its Cubs newsprint poster thingie to tape up in your window in Cubbie blue instead of Northwestern purple, like they did yesterday.
Bipartisan Bailout
"Obama, McCain Must Lead On Rescue Plan."
What if we put Obama and McCain in a room alone together and told them not to come out until they had an Obama-McCain or McCain-Obama bailout bill.
*
But really, whose name would go first? You'd have to call it something like the Presidential Arrangement To Rescue Investors' Overextended Tail Act.
Bar Wars
"Bars and restaurants surrounding Wrigley Field on Monday reluctantly agreed today to stop serving alcohol after the seventh inning of potential title-clinching Cubs playoff games, but only after City Hall made a last-minute concession: The prohibition will end if the games go into extra innings," the Sun-Times reports.
Drinking will be halted at the end of the seventh inning, the paper reports, and last for about an hour. Maybe depending on who's on-deck.
The seventh-inning stretch suddenly takes on new meaning.
Dirty Sox
The mayor says the same ban will apply to any bars that can be located near the Cell or, in lieu of that, in people's private homes, as well as in local police lock-ups.
Clinch Pinch
Why, then, have orders not gone out for tonight's Sox-Twins game?
The View From Minnesota
"Our guts told us it would come to this, sure as mended bones ache when storms approach," writes Jim Souhan of the Minneapolis Star Tribune. "The Twins and White Sox will play today to decide the championship of the American League Central while resuming the best rivalry involving the Twin Cities since the Vikings stopped beating the Packers.
"Visitors to Yankee Stadium in the '70s had to contend with a contentious collection of talent dwelling in The Bronx Zoo. The Twins know today they're entering the Southside Asylum. If the Sox argued any more with each other, they'd be called The View."
Missile Man
Alexei Ramirez is so skinny that when Greg Couch told a fan he'd asked Ramirez if he was on steroids, the fan said "He's barely on food."
Phone Home
"A.J. Pierzynski relishes the chance to face the Twins at U.S. Cellular Field instead of at the Metrodome and its artificial surface," the Tribune reports (second item).
"You can ask Minnesota how much of a different team they are at home," Pierzynski said.
I keep hearing this as a complaint and find it odd because the Sox have the same home record as the Twins.
*
Why is this a home game for the Sox? Because they won a coin flip, though I think Ozzie was calling someone an ass during the proceedings and league officials took that as a "tails."
Garbage Goal
"Mayor Daley will eliminate 3,000 vacant positions and lay off 1,000 city employees - 735 of them union members - to solve Chicago's worst budget crisis in a generation," the Sun-Times reports.
And yet . . . "all but six of Chicago's 50 aldermen plan to accept a 6.2 percent cost-of-living increase that will boost their annual salaries to $110,556 Jan. 1."
Buy each of these six aldermen a beer:
1. John Pope
2. James Balcer
3. Scott Waguespack
4. Tom Tunney
5. Helen Shiller
6. Mary Ann Smith
Geez, Ed Burke, you've got more money in your campaign chest - despite never having anything close to a serious challenger - than some entire neighborhoods have in their savings accounts combined. I mean, really.
*
On the other hand, the notion that the mayor asks each alderman to sign an affidavit pledging to reject the money is something he must have learned in Beijing.
Visiting Fee
"Republican congressional candidate Martin Ozinga III said Monday that he donated $10,000 to Democratic Gov. Rod Blagojevich's campaign fund so that he and other concrete industry officials could have a private audience to express their concerns to him about state construction projects," the Tribune reports.
Geez, I had to pay $15K to see the gov!
"It's interesting to me that making contributions to Democrats is automatically considered pay to play," Ozinga said. "That, in my opinon, in outrageous."
He explained that it wasn't pay-to-play, it was pay-to-say.
*
Okay, not the best line. See, he said he paid just to have his say to the governor . . . hey, they can't all be winners.
Promised Land
I hereby pledge that if I ever become a big rock star, I will not play the Super Bowl no matter how much money is offered. I will even sign an affidavit to that effect.
The Beachwood Tip Line: Something worse.
Posted by Beachwood Reporter at 12:08 PM | Permalink
How We've Changed
The United States as a whole gained more than 25 million people since the last decennial Census in 2000. The historical trend continued in 2007 where eastern states lost and western states gained population. Chicago, as the third largest city in the country, has experienced mostly moderate but some drastic changes.
Contrary to 2000 when Chicago gained population (2,895,964) for the first time in several decades, the city lost 5.5 percent (2,737,996) of its residents as of 2007. Though Cook County's loss was not as dramatic (1.7 percent), considering rapid increases experienced in what was once considered outlying counties like Will and McHenry in recent years, ever-expanding suburbanization further away from Chicago may be very much alive. In this ever-changing place, the composition of people and housing stocks are good indicators of the ways in which the city is perceived and utilized.
There is a common belief that many married couples leave their city dwellings by the time their children reach school ages. Many people also believe that those suburban parents who sent their children off to colleges move back into the city. While we do not have direct evidence to determine whether these are indeed what has happened, Chicago's demographic changes does make one wonder about the merit of these claims.
Although the city's median age did not change much from 2000 when it was 33.8 to 34.1 in 2007, Chicago lost 12.6 percent of children under 15 (642,052 to 560,967), which was compensated by adults aged between 45 and 64 whose population increased by 14 percent (544,221 to 620,317). More specifically, the loss of children was quite dramatic between 5- and 9-years old (222,003 to 172,375, or 22.4 percent), as was the gain among 55- to 59-year old adults (115,857 to 144,841, or 25.0 percent).
These are significant changes for such institutions as Chicago Public Schools or Chicago Department of Aging, who must anticipate the number of people they need to service in near future.
Gender composition in Chicago broken down by marital status becomes quite pronounced: having grown over 6 percent since 2000, there are numerically more single males (504,972) than single females (476,221); 38 percent of males belong in the category compared to 44% of females. Both married and divorced men increased by 3.6 percent and 2.4 percent, respectively while married and divorced women decreased by 3.5 percent and 1.6 percent, respectively.
As a result, a noticeably higher proportion of males (37.2 percent) were married than females (33.8 percent), and a higher proportion of females (10.8 percent) were widowed than males (2.8 percent). Given that women tend live longer than men, it is not surprising that there are many more women (105,478) who are widowed compared to men (25,609). There are more divorced women in the city than divorced men both proportionately (10.8 percent to 7.5 percent) and numerically (115,175 to 83,161). All these lead to 60.2 percent of Chicago residents over 15 years old being single, divorced, or widowed, which is an increase from 56.6 percent in 2000.
Similar to the population, the number of homes occupied also decreased by 3.7 percent(1,022,916) although the percentage of home ownership jumped from 43.8 percent in 2000 to 49.9 percent in 2007. However, the impact of recent wave of foreclosures will probably begin to surface in next year's results and are likely to bring down the rate of home ownership.
While many believe that people flee the city seeking more space, the size of homes appears to be increasing in the city: studio apartments decreased by 27.7 percent (78,355 to 56,668) but homes with three bedrooms increased by 16.6 percent (286,899 to 334,627), four-bedroom homes by 32 percent (75,478 to 99,652), and five-bedroom or more in homes by 49.5 percent (31,252 to 46,712).
Perhaps due to increase in size of homes, along with the increased demand, 41.3 percent of renters in the city spent more than 35 percent of their income on housing. This is a significant increase from 2000 when the proportion was 30.8 percent. Similarly, 30.2 percent of home owners also spend more than 35 percent of their income toward housing.
Other tidbits about Chicago housing that are interesting include, despite much discussion about environment, only 108 homes estimated for using solar energy as heating fuel, which is 75.4 percent decrease from 439, and dramatic decrease in the number homes without plumbing from 11,445 to 4,729.
The Chicago Transit Authority would be interested in knowing that the number of households that do not own cars declined by 14.7 percent from 306,336 to 261,410 but the number of households that have three or more cars increased by 11.8 percent (66,863 to 74,777).
Finally, as a result of massive distribution of cellular phones, dramatic increase in those homes without telephones from 57,186 to 67,449.
The latest release from the Census Bureau indicates that Chicago's population and housing conditions are changing quite rapidly during this decade, and all these changes will undoubtedly impact the ways in which funding is allocated in education, social services, and transportation. By and large, the city has become older with more large homes at higher cost while families with school-aged children continue to leave. Though it is unknown how long this trend will persist, it is important to keep in mind that a vibrant city has to have the ability to provide homes and opportunities to diverse group of people not simply for the sake of celebrating diversity but to maintain economic efficiency.
-
Kiljoong Kim is a Senior Research Associate in the Social Science Research Center at DePaul University. For more Kiljoong, see the Who We Are archive.

Posted by Beachwood Reporter at 10:13 AM | Permalink
Reviewing the Reviews
Geez, I didn't know the PC guy was an author. John Hodgman's his name, and this blurb by Tribune literary editor Elizabeth Taylor piqued my interest. (I mean, I didn't even recognize him from his appearances on The Daily Show - what gives?)
His new book, More Information Than You Require, is billed as a satirical almanac.
Here's his Wikipedia page, and here's his interview with Boing Boing TV.
Woodward's War
The cover of the New York Times on Sunday was Jill Abramson's review of Bob Woodward's final treatise on Bush at war, The War Within.
"In The War Within," Abramson writes, "Bush remains inured to harsh truths. Gen. George Casey concludes that the principal problem with Iraq 'is the president himself,' a perception that informs the narrative as it records years of dithering during which the president stubbornly refuses to accept, even as the evidence mounts, that a military strategy based on Rumsfeld's lean troop levels and the lack of a viable post-invasion plan make the 'victory' he demands thoroughly un-achievable. And the White House's insistence on loyalty and optimism inhibits even the few realists left on the team, like the National Security Council aide Meghan L. O'Sullivan and the State Department deputy Philip Zelikow. O'Sullivan finally brings herself to tell Bush that Iraq is 'hell'" but Zelikow, who made more than a dozen visits to Iraq and recognized the bleakness of the picture, sheds his pessimism in Bush's presence. 'Perhaps Zelikow didn't want to be entirely out of step with the optimism or didn't want to be seen as a naysayer,' Woodward speculates. 'Perhaps he could not overcome the old cliche that advisers fold in front of the president.' Zelikow's boss, Condoleezza Rice, is also complicit. She knows that Bush needs to hear the skeptical, not only the best, case from his military men, but she too softens the reality for the president, first as national security adviser and then as secretary of state. And she doesn't dare go around Cheney or Rumsfeld to deliver the truth."
Courage saves lives; cowardice kills.
Local Draw
Steve Huntley of the Sun-Times also reviewed The War Within on Sunday - and mostly ignored the book's verdict on Bush and found a way to rally 'round the flag.
"If the momentum rolling forward in Iraq culminates in success, as looks increasingly likely, historians will wonder why President Bush clung so long to a failing strategy and rosy pronouncements before finally shaking up his war policies and replacing his civilian and military commanders," Huntley writes. "That issue is at the heart of Pulitzer Prize-winning journalist Bob Woodward's new book, The War Within: A Secret White House History 2006-2008. His analysis, not always persuasive and disputed by the White House, paints a damning portrait of a commander-in-chief not fully engaged, ready to let his national security adviser formulate policy, and undermining his own credibility by telling the public America was winning in Iraq while privately admitting the war effort was going badly."
And then Huntley pivots to tell us why Bush is so great.
"While Woodward's book is unrelenting in its harsh judgment of Bush, it also presents him as the decisive figure who refused to let America fail in Iraq."
To the contrary, the Woodward book appears to show that Bush's refusal to confront the realities on the ground almost lost us the war - and may still yet.
Blue Genes
Roy Bount Jr. reviews the memoir of Christopher Lukas, brother of the New York Times writer and author J. Anthony Lukas, a tremendous talent who took his own life in 1997.
"The title of this memoir alludes to the tendency among the author's family members to kill themselves, and in particular to the suicide of the memoirist's brother, whose depression seems to have made him feel that a book he had written, which was about to come out, wasn't good enough. The memoirist, for his part, informs us that 'every morning, for many years, I have awakened, thinking: I'm ready to kill myself." In an 'Envoi' to the memoir, written as it was going to press, the memoirist informs us that Susan, his wife - whose 'irrepressible joshing' lifted his spirits for 30-odd years - has suddenly died."
Indeed, J. Anthony Lukas's suicide was commonly explained as his unhappiness with his latest work - Big Trouble, which was nearly universally praised. Christopher Lukas's memoir appears to fill in that easy narrative by offering the background of a totally dysfunctional family combined with (or causing) a life battling depression that shows once again that human beings are not synonymous with the work that their talents produce - or the happiness or joy that that work brings others.
Al-Cheney
"In Angler, his forceful new study of Mr. Cheney's tenure in office, the Washington Post reporter Barton Gellman writes that ''the vice president shifted America's course more than any terrorist could have done,' that while al-Qaeda took a terrible toll on 9/11, 'decisions made in the White House, in response, had incomparably greater impact on American interests and society,'" Michiko Kakutani writes in the Times.
When you become your enemy, your enemy has won. The horror of 9/11 offered America to show itself as a great nation; instead, we were revealed as cowardly weasels and rats.

Posted by Beachwood Reporter at 9:34 AM | Permalink
Song of the Moment: Brother, Can You Spare A Dime?
Whoever thought this song would become relevant once again - or that it had once been sung by George Michael. We have the video.
Lyrics: E.Y. "Yip" Harburg
Music: Jay Gorney
Date: 1931 - used in 1932's musical New Americana
*
From Wikipedia: It became best known through recordings by Bing Crosby and Rudy Vallee. Both versions were released right before Franklin Delano Roosevelt's election to the presidency and both became number one hits on the charts. The Warner Bros. Crosby recording became the best-selling record of its period, and came to be viewed as an anthem of the shattered dreams of the era.
*
Also Recorded By:
- Spanky & Our Gang
- George Michael
- Peter, Paul & Mary
- Ronnie Lane
- Al Jolson
- Tom Waits
- Dave Brubeck
- Mandy Patinkin
*
From Songfacts:
- Jay Gorney was the father of Saturday Night Fever actress Karen Gorney. Jay Gorney is also credited with discovering Shirley Temple.
- New Americana was a flop.
*
Lyrics:
They used to tell me I was building a dream
And so I followed the mob
When there was earth to plow or guns to bear
I was always there right on the job
They used to tell me I was building a dream
With peace and glory ahead
Why should I be standing in line
Just waiting for bread?
Once I built a railroad, I made it run
Made it race against time
Once I built a railroad, now it's done
Brother, can you spare a dime?
Once I built a tower up to the sun
Brick and rivet and lime
Once I built a tower, now it's done
Brother, can you spare a dime?
Once in khaki suits, gee we looked swell
Full of that Yankee-Doodly-dum
Half a million boots went sloggin' through Hell
And I was the kid with the drum
Say, don't you remember, they called me "Al"
It was "Al" all the time
Why don't you remember, I'm your pal
Say buddy, can you spare a dime?
Once in khaki suits, ah gee we looked swell
Full of that Yankee-Doodly-dum
Half a million boots went sloggin' through Hell
And I was the kid with the drum
Oh, say, don't you remember, they called me "Al"
It was "Al" all the time
Say, don't you remember, I'm your pal
Buddy, can you spare a dime?
*
Bing Crosby's Version
-
George Michael's Version
-
Previously in Song of the Moment:
* Iron Man
* The Story of Bo Diddley
* Teach Your Children
* Dream Vacation
* When The Levee Breaks
* I Kissed A Girl
* Theme From Shaft
* Rocky Mountain High
* North to Alaska
* Barracuda
* Rainy Days and Mondays
Posted by Beachwood Reporter at 9:15 AM | Permalink
September 29, 2008
The [Monday] Papers
"The small, flat-screen television in Twins manager Ron Gardenhire's office will be tuned to the White Sox game today for the first time in weeks," writes Joe Christensen of the Minneapolis Star Tribune.
The View From Detroit
"The Tigers announced Sunday that they have fired pitching coach Chuck Hernandez and bullpen coach Jeff Jones, the first moves in what could be a turbulent winter for the team," the Detroit Free Press reports.
Oh, and they have a game in Chicago today.
The View From Philadelphia
"For the Eagles, this was a game against an essentially mediocre team that should have been won," writes Bob Ford of the Philadephia Inquirer.
The View From Beachwood HQ
* "Dust off your looting shoes," our very own Marty Gangler writes in The Cub Factor.
* "It's hard to imagine a bigger early season win," our very own Jim Coffman writes about the Bears in SportsMonday. "[But] Reality Check: The Eagles were without their best player."
Newman's Own Reality
STILLER: Oh, I, um . . .I don't know if she told you . . . but I just came back from New York . . . with the tapes that she made, and the stuff of you . . . it's really . . . it's really great stuff. Really. That whole . . . that whole thing about . . . "Nobody can eat all the eggs," that was . . . that was really . . .
HAWKE: I was quoting Cool Hand Luke.
STILLER: Yeah. That's OK. I mean . . . That's . . . I know. It's . . . I mean . . . You know . . . It's still . . . It's . . .

RYDER: Hi.
STILLER: Hi.
HAWKE: What happened to your normal clothes?
STILLER: Wow! Lelaina, look at you. You look . . . Where'd you get that dress?
RYDER: Oh, um . . .I don't know. I just bought it. But I think I'm gonna go change because . . .
STILLER: No, don't. You look beautiful. You look like . . . You look like . . .
HAWKE: A doily.

RYDER: I'm gonna change.
STILLER: No, don't change.
HAWKE: And don't go thinking for yourself either, Lainie.

STILLER: Hey, what is your glitch, huh?

HAWKE: My "glitch"?

RYDER: You know what? We're already late.

STILLER: No, no, no, no. Hang on a second here. Do you have, like, a problem with me or something? Because if you do, let's just get this out, all right? Seriously, is there, like . . . I mean, have I, like, uh . . . stepped over some line in the sands of coolness with you? Because . . . Because . . . No, no, no. Excuse me . . . if somebody doesn't know the secret handshake with you . . .
HAWKE: There's no secret handshake. There's an I.Q. prerequisite, but there's no secret handshake.
STILLER: This guy . . . you've got this whole thing with the world. Don't you? Huh? That's great. That's really wonderful. But guess what. I'm a human being, OK? We're human beings, people, OK? We're not, like, intelligence quotations or whatever.
Zombie Politics
"The Chronicles of Pool Boy continue today with the big news that he's finally resurfaced," John Kass writes.
Hill Street Blues
I'm sorry about Charles Hill's misfortune, but doesn't this creep you out?
Greed Was Good
The Tribune editorial page made the astonishing claim on Sunday that "Wall Street traders are not more or less avaricious today than they were 10, 20 or 50 years ago," and that "a careful examination will prove that the biggest failures were ones of too much government, not too little."
Apparently nobody on the editorial board ever saw Wall Street - or this confession on the front page of the New York Times from the chairman of the Securities and Exchange Commission.
The Daley Show
Speaking about reality biting, the mayor denied over the weekend that fewer cops means less safety.
"'No, no,' said Daley when asked about the lack of new hires and the impact on safety," the Tribune reports. "When pressed, Daley bristled and said, 'It just won't.'"
No word on whether he stomped his feet while he said it.
*
Daley went on to say that it's not necessarily less sunny at night and that you can save money on gas by driving more.
Today's Worst Person in Chicago
"Mike Lufrano, the Cubs' senior vice president of community affairs, said government officials don't get the opportunities [to buy playoff tickets] because they are political sluggers who might someday be able to do the team a favor," the Tribune reports.
"'No, it's because they represent Cub fans throughout their districts,' he said."
Send me to Wrigley Field to fight for you!
EZ Pass
The difference between me and Eric Zorn.
ZORN: In college, my friends and I occasionally played a conversational game we called "adjective practice," in which we took a topic and discussed it using only descriptive terms.
ME: In college, my friends and I occasionally played a conversational game we called "let's make fun of people like Eric Zorn," in which we took a topic - like "people who play games like 'adjective practice'" - and discussed them using only descriptive terms. Alcohol was also involved.
The Beachwood Tip Line: The real thing.
Posted by Beachwood Reporter at 10:51 AM | Permalink
SportsMonday
Alex Brown slipped around a blocker and arrived at the ball carrier with no time to spare. Something had to be done or the guy was going into the end zone for the touchdown that would have given the Eagles the lead with less than four minutes left. And that something was . . . a good old-fashioned headlock. Brown grabbed hold of Correll Buckhalter's noggin and he didn't let go until the Eagle running back headed down toward the ground about a foot short of the goal line (we knew it was about a foot because Subway commercials had repeatedly reminded us exactly how far that is oh about a dozen times during the previous few hours). It wasn't exactly a textbook tackle but it did the job.

Beachwood Baseball:

The White Sox Report will appear later this week.


It is hard to imagine a bigger early season win. With a loss, the Bears would have fallen to a lowly 1-3 with all three losses suffered against conference foes. By snatching away a pulse-pounding victory, the Monsters actually moved into a tie for the top spot in the NFC North with the suddenly reeling Packers (quarterback Aaron Rodgers may have separated his shoulder in Green Bay's loss to Tampa Bay - the Packers have only rookies as back-ups).

To the highlights . . .

* Creative blitzes involving several different defensive backs during the first defensive series? The no-huddle offense right from the start? What in tarnation was going on during the first five minutes? The Bears knocked the Eagles back on their heels with some wonderfully aggressive play-calling early and the visiting defense didn't recover until halftime.

* The first few passes to Devin Hester didn't gain a whole bunch of yards. He just didn't make the catch on the deep crossing route that could have been a touchdown, and that negative eight-yard punt return was just brutal. But the Bears' efforts to get the Ridiculous One the ball.paid off on their third touchdown. Hester was nice and warmed up at that point and Kyle Orton threw his best pass of the season. It appeared high-priced free agent Asante Samuel was in perfect, man-to-man position as Orton let the ball go. But he arced it high and down the sideline and Hester found that extra gear as he slipped right around Samuel. Then he sealed him off, hauled in the ball and tight-roped the sideline well enough to leave no doubt he'd made the catch.

* Speaking of perfect body position, how about old pro Marty Booker on that second touchdown? Once he established himself on the inside, not in a million years was the Philly defensive back going to slip through and make a play on the ball. In fact, the guy was blocked off so completely, you could hardly even tell who he was. Greg Olsen's technique wasn't nearly as good on the first touchdown. It seemed like he was more interested in starting to celebrate than in getting the one additional foot or knee down in the end zone that would have made it a no-doubt completion.

* The Bears' primary home field advantage had to do with the field. On numerous occasions, including DeSean Jackson's fumble on an attempted punt return, opposing receivers slipped on Soldier Field's notorious turf. Bears receivers did a much better job of keeping their feet.

* There was a beautiful paucity of flags in the second half. Football is so much better without too many penalties mucking things up. Of course, the Bears' benefited from one huge call in particular earlier in the game - that illegal formation flag on the Eagles that offset Charles Tillman's second incredibly ill-advised personal foul in as many weeks. Tillman took a terrible angle on an attempted punt block, diving right into Philly punter Sav Roccha's knee (had he done so a split-second later, when Rocca's toe would have been back planted on the ground, it almost certainly would have been a serious injury).

* Right guard Roberto Garza seems to be out in front of all of the Bears' best runs (of course there was only one truly memorable rush on Sunday). On the critical third down conversion right after the Bears' epic goal line stand, center Olin Kreutz was able to turn his man for the beginnings of a hole but it was Garza who blasted his man well back behind the line of scrimmage.

* On defense, stout tackle Marcus Harrison is definitely the Bears' rookie of the year so far. How long until we see a starting lineup of him and playmaker Israel Idonije in the middle of the line? And safety Kevin Payne had two of the team's five biggest plays of the night on that side of the ball, slipping into the backfield to make a tackle for a loss on third down right before Philly kicker David Akers missed his 50-yard attempt and then the interception and return to the 10 that set up . . . well, it set up Kyle Orton's ill-advised throw into the middle that was easily intercepted right back.

* I had mostly praise for John Madden and Al Michaels after they did the Bears' season-opener against the Colts, but they weren't as sharp on Sunday. Madden can be so incredibly inane, going on and on with observations that are nothing less than obvious to average fans. Michaels provided some memorable bits of play-by-play, going on about Kevin Jones' "rolling, spinning, diving first down" in the first half (OK, so there were two memorable runs in the game).

* Reality check: the Eagles were without their best player, running back Brian Westbrook. Westbrook's ability to make big plays out of seemingly innocuous handoffs and passes is a game-changer and he was sorely missed. The Bears were missing defensive tackle Tommie Harris but Harris hasn't been the havoc-wreaker his team needs in the season's first few weeks (the Trib's David Haugh wrote about his seemingly almost broken-down body a few weeks ago and the story has proven prescient). This will be the last time this season the Bears commit so many turnovers and still manage to win.

-

Jim Coffman brings you the city's best weekend sports roundup every Monday. It's always a pleasure, isn't it? You can write to him personally! Please include a real name if you would like your comments to be considered for publication.

Posted by Beachwood Reporter at 9:03 AM | Permalink
The Cub Factor
I have to admit that I didn't watch very much Cub baseball this week. Which felt really weird except that for most of my life (and yours) the last week of the season is typically irrelevant. And this was no different - by Cubs standards. But it mattered to the Mets and Brewers, which was really odd to watch (I did watch a little) because one team wasn't really trying and the other was trying really, really hard. But here we are with the playoffs looming a long few days away and the question becomes, "What should I do from now until then?" Well, we here at The Cub factor feel your pain and will offer you a few tips. As this year has to be considered the best chance the Cubs have ever had in their 100 -year World Series drought, we know that a good majority of you fans out there will be a wreck once the playoffs begin - and you haters out there will also be a wreck hoping the Cubs lose. So here's what to do, Cub Factor style.
* Go pet a goat, it can't hurt.
* Study up on past Cub playoff defeats. There aren't that many and you'll impress others at Cub gatherings and the water cooler at work.
* Send good vibes to Mark DeRosa's leg and read up on his blog.
* Spend time with your family. You might have some explaining to do when your wife sees you crying over Cub wins when you didn't cry at your own wedding, so get as many points built up as you can before the games begin.
* Stock up on canned goods. If the Cubs do win it, the end of the world can't be too far away.
* Read this old Cub Factor about where to watch the playoffs.
* Dust off you looting shoes. Might as well be prepared.
-
The Week in Review: The Cubs played a few games this week and won a few and lost a couple. It really didn't matter.
The Week in Preview :Two Octobers in a row with Cub playoffs games? Pinch me. Ryan Dempster takes his bad Harry Caray impression and tremendous 2008 arm into battle against Manny Ramirez and the L.A. Dodgers at Wrigley on Wednesday. Seriously, if you see me you can totally pinch me.
The Second Basemen Report: We went 161 games this year with five different second basemen. I, for one, am a little disappointed. I mean, technically, there were five different first basemen also. But no position on the field was double-switched more than second base, so we take comfort in that. Just like Hendry drew it up.
In former second basemen news, Johnny Evers is still the last Cub second baseman to win a World Series. He is still missed.
The Zam Bomb: Not starting the first playoff game has Big Z getting angry.


Endorsement No-Brainer: Mike Fontenot for Mighty Putty.
Lost in Translation: Fukudome is Japanese for "barely on the playoff roster."
Sweet and Sour Lou: 75% sweet, 25% Sour. Lou is down three points on the Sweet-O-Meter due to getting the game face back on and putting Bob Howry on the playoff roster. And just like your real crazy drunk uncle, Lou keeps giving you a chance to make the Pop Warner football team he's coaching even though you don't deserve it. How about proving him right so he doesn't have to hear it next time he goes in for a trim at old man Wilson's barber shop.
Center Stage: The X-Factors for this playoff run will come from center field. J-Ed and R-Jo will be huge either starting or coming off the bench in big spots. These guys fell into Jim Hendry's lap and it almost looks like he knows what he's doing - if you didn't know any better.
The Cub Factor: Catch up with them all
Beachwood Sabermetrics: A complex algorithm performed by the The Cub Factor staff using all historical data made available by Major League Baseball has determined that it's time.
Over/Under: The number of dogs being kicked if the Cubs lose Game 1: +/- 1.2 million.
Mount Lou: Lou moves to yellow as strategy lava begins to churn deep inside Lou's core. Villagers asked to drink responsibly.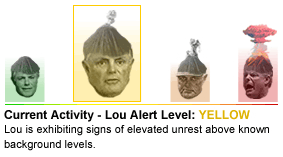 -
Posted by Beachwood Reporter at 8:42 AM | Permalink
September 27, 2008
The Weekend Desk Report
We were planning to suspend this week's Report, but now that everything's absolutely fine again, we're going to go ahead with the show.
Market Update brought to you by JP Morgan
Nothing to see here, people. Move along, move along.
Still Bearish
Attempts to overhaul Illinois' sputtering defenses hit a snag this week as officials learned the harsh reality that you can't make someone healthy just because you want to. So in other words, duh.
Bellwether?
For the second time in the month of September, the City of Detroit has embraced Change We Can't Really Believe In But We're Going For Anyway Because It'll Feel Great To Ditch What We Have. So in other words, duh.
High Drama
Ukrainian Prime Minister Yulia Tymoshenko has moved to end her lengthy standoff with President Viktor Yushchenko by calling for early elections. The radical move has not caught Hollywood off-guard, however, as a dramatization has already hit theaters.
Quad-umvirate?
Tired of seeing headlines usurped by raunchy starlets and their messy, messy personal lives, Harry Potter star Daniel Radcliffe has proved he can act naughty, too. In scripted, carefully choreographed contexts, of course.
Weekend Desk Editor's Note: I will be abandoning my post for the next six weeks to monitor the Quadumvirate of Terror's activities in India. The Weekend Desk Report will be filed by able Beachwood staffers in my absence. You can monitor my activities by checking my travelogue.
-
Please note two late Friday posts:
* The Five Dumbest Ideas of the Week. And the people who had them.
* The Dane of Hollywood. A review of a revival of Dashiell Hamlet at Cit Lit Theatre.
Posted by Natasha Julius at 9:11 AM | Permalink
September 26, 2008
The Dane of Hollywood
Some people see Shakespeare's monumental tragedy Hamlet as the triumph of old age and treachery over youthful idealism, others as lurid court intrigue, and still others as an overlong play they were forced to read and never want to think about again. For the dedicated performers of The Commons Theatre, this classic drama from around 1601 seemed like another type of classic - a film noir. Twenty-five years ago, Commons members Mike Nowak, Kathleen Thompson, and Paul H. Thompson worked with now-legendary Chicago actor/director Mike Nussbaum (known more widely around the world as Gentle Rosenburg the Arquillian Jeweler in the hit film Men in Black) to produce Dashiell Hamlet: A Classic Mystery . Nussbaum directed and Nowak played Nat Hamill, the adaptation's Hamlet.
Sadly, The Commons, a theatre company I loved and patronized frequently, is no more. But Chicago treasure City Lit Theatre, in keeping with its focus on literature on stage, decided to revive Dashiell Hamlet. They were fortunate to get Nussbaum back to direct and Nowak to appear, this time in a role more fitting to his current age - Ralph (Claudius), Nat's uncle.
Smoky jazz music rises as a pin spot illuminates (Horatio) Harry Teal (Mark Pracht) as he recounts to Detective (Fortinbras) Jordan Brass (Greg Hardin) his involvement in the crimes that have taken down one of the most powerful families in Hollywood, the Hamills - something he will do periodically throughout the play. Nat (Geoff Rice), a World War II soldier, returns home only to find his beloved father dead and his mother (Gertrude) Lillian (Shawna Tucker) shacked up with his uncle Ralph. Nat has found a recording, apparently made by his father (voice of Nussbaum), saying that he thinks he's about to be murdered. "It'll look like a heart attack, but it won't be . . . Get the bastards. There's something rotten in the books." Trusting no one, Nat talks Harry into coming to the family mansion and investigate.
We meet all the principals during a cocktail hour. Lillian and Ralph, now the head of the Hamills' Majestic Studios, are obviously cozy; Paul Owen (Polonius) and his son Keith (Laertes) are senior and junior executives, respectively, at Majestic. Jerry Bloom's Paul sports a refined accent and manner that hide a ruthless heart. Julian Martinez as Keith resembles a Latin lover, with his all-white attire and jet-black, waxed moustache and hair. The Ophelia in this group is Nita Owen (Erin Myers), a hophead who sprinkles her wacky dust onto her hand from her oversized ring. She and Nat were in love before he shipped out, but she's been easing her loneliness with strange men, prompting Nat's rejection when he finds out.
Nat's in a bad way, so Lillian invites his friends, a married movie duo (Rosencrantz and Gildenstern) named Rosie Clancy (Melissa diLeonardo) and Gillie Stern (Andy Hager). They enter stage right singing and dancing and scolding Nat for not seeing their latest movie - which, in fact, he has, amazing them with his knowledge of the plot. Nat is anxious to show a film to the party; a flickering light is directed at the theatre audience, and we hear dialogue revealing a murder plot similar to what Nat suspects has happened to his father. Ralph brings an abrupt end to the screening. The end of the evening also brings the end of the first act, as Paul is gunned down in the dark after everyone has gone to bed.
In the second act, the bodies pile up, and the mystery deepens before it resolves - and not as fans of Hamlet would expect. The script grows less Shakespearean and more noirish, and includes a funny scene between morgue workers Tyrone (Andy Hager again) and Clyde (Jerry Bloom again) in which Clyde does needlepoint and uses the corpse as a pin cushion to be free to show a horrified Tyrone what the body reveals about the man.
The cast is excellent. I was particularly impressed with Shawna Tucker, who shares a mutual attraction with Harry. Her seductiveness is reminiscent of Mary Astor as Brigid O'Shaughnessy in The Maltese Falcon, with Pracht doing a respectable, if less charismatic Bogey. It was great to see Mike Nowak again - it's been a while since I've seen a play in which he's appeared - hitting all the right notes with impeccable timing. I also greatly enjoyed Greg Hardin as Brass; he played the envious detective looking to bring the privileged Hamills down with particular relish. Gillie and Rosie were my least-favorite characters - too brassy - but diLeonardo and Hager handled them well.
And what of our modern Hamlet and Ophelia? Erin Myers was miraculous as a jaded Hollywood ingénue with tender Ophelia's heart for Nat. Hamlet's a tough part for anyone, overwhelming as he is with flamboyant craziness and dark brooding. Geoff Rice wisely keeps his Nat in check most of the time, infuses a pleasing conceit of self-pity, and knocks the "get thee to a nunnery scene" with Nita right out of the ballpark.
It should be noted that the script references Shakespeare's language almost not at all. Some fans might miss the famous phrase "to be or not to be," but the sincere speech Nat gives in its place, bringing in his experiences fighting on the battlefields of 20th century Europe, is very moving.
You won't have to know Hamlet to enjoy Dashiell Hamlet. Mounted in the same space in which it first appeared - a tiny theatre on the second floor of Edgewater Presbyterian Church - it's a first-class production that should appeal to everyone.
-
Dashiell Hamlet runs Fridays through Sundays, now through October 26 at 1020 W. Bryn Mawr Avenue. Call (773) 293-3682 for more information and to reserve tickets. (And watch for Nussbaum taking notes in the audience.)
Posted by Beachwood Reporter at 1:30 PM | Permalink
The Five Dumbest Ideas of The Week
1. Out of concern for the current economic crisis, John McCain has announced he will suspend the use of a $5,000-a-crack makeup artist for tonight's debate. Meanwhile, Sarah Palin is prepping for her face-off against Joe Biden by watching tape of one of the all-time greats.

2. Gwyneth Paltrow inspired millions of women to hate her this week when she unveiled her website, Goop, which extols the joys of domesticity. Frankly, we much prefer Melanie Griffith's site, which features helpful tips on how to beat a Vicodin habit.
3. Whose brilliant idea was it to put poor old Ed McMahon in a tracksuit with gold chains and have him rap about his foreclosure woes? Why, FreeCreditReport.com, which is featuring him in two viral videos, scheduled to be released last week.
4. Sarah Silverman is reaching out to Jewish Gen Xers with elderly relatives in Florida. The message? If you want another visit next year, vote for Obama.
5. PETA totally grosses us out.

Posted by Beachwood Reporter at 12:56 PM | Permalink
The [Friday] Papers
Sorry, Sox fans!
* "As the Twins celebrated in the middle of the diamond, the White Sox slunk off the field, shortstop Orlando Cabrera pulling his shirt out, as the Twins celebrated as if they won the division. Maybe that's exactly what they accomplished," the Minneapolis Star Tribune reports.
"That,'' Gardenhire said, "was the most intense series I've ever been a part of.''
* "While Twins players rolled around on the Metrodome diamond after an improbable 7-6 comeback Thursday, White Sox players took a slow walk to the visitors clubhouse trying to figure out how to rebound from such a catastrophe," writes the Star Tribune's La Velle E. Neal III, who grew up on the South Side as a Sox fan.
* "The Minnesota Twins ran circles around the wilting Chicago White Sox in a pivotal three-game sweep," AP reports.
* "Guillen botched this series in two ways: He psyched out his own starting pitcher, Javier Vazquez, before Game 1," Greg Couch writes in the Sun-Times. "And maybe more importantly, he allowed the team to come to Minnesota with exactly the wrong attitude, that they needed to win just one of three games to win the division."
Highway Robbery
"For the second time in less than three years, the executive director of the Illinois tollway is leaving to take a job with a company that does work for the agency, despite a 'revolving door' law that Gov. Rod Blagojevich championed to end cozy relationships between state officials and the people who seek state business," the Tribune reports.
"In both cases, the companies that hired the executive directors of the Illinois State Toll Highway Authority were major contributors to Blagojevich's campaign fund."
Revolving Door Tolling brought to you by Gov. Rod Blagojevich!
Runaway Runway
"The newly-extended, 13,000-foot runway will do nothing to bolster flight capacity or reduce delays," the Sun-Times reports.
Identity Politics
I've got news for Deborah Douglas: If Barack Obama were a white guy named Trevor Gustafson with half a brain, he'd be pitching ShamWow or sitting in the Chicago City Council.
Serial Liars
"Two weeks ago, Senator Barack Obama's presidential campaign gleefully publicized a spate of news reports about misleading and untruthful statements in the advertisements of his rival, Senator John McCain, "the New York Times reports on its front page today. "Asked by a voter in New Hampshire if he would respond in kind, Mr. Obama said, 'I just have a different philosophy, I'm going to respond with the truth,' adding, 'I'm not going to start making up lies about John McCain.'
"Yet as Mr. McCain's misleading advertisements became fodder on shows like The View and Saturday Night Live, Mr. Obama began his own run of advertisements on radio and television that have matched the dubious nature of Mr. McCain's more questionable spots."
And it's not as if this is something new in this campaign, or in the history of him and his handlers.
I don't care if you vote for Obama, especially considering the alternative - though Democrats holding both the executive and legislative branches of government usually ends in disaster - but don't piss on my leg and tell me it's raining.
Nanu Nanu
"Yes, he's funny," the Tribune says. "The only question at a Robin Williams show is, will you hurt yourself laughing?"
Yes. If it's 1975.
Pre-Foreclosure Sale, Calumet City
-
Programming Note
That's all I have time for this morning, I have to be out the door early. If you are so inclined, I'm scheduled to appear on The Week in Review tonight and on Fox Chicago Sunday on, well, Sunday.
I didn't have time to post much new content elsewhere on the site this morning, but don't forget to waste your day clicking around the Beachwood, because I'm sure you have nothing better to do. And as always, I'll make the occasional posts on Division Street through the weekend.
P.S.: It's not really over, Sox fans. How many times have we seen a situation like this where a team like the Twins drops a game or two to a team like the Royals? It happens. I hate to say it, but it does.
The Beachwood Tip Line: More than we can bear.

Posted by Beachwood Reporter at 6:45 AM | Permalink
September 25, 2008
The [Thursday] Papers
"The Minnesota Twins have been chasing the Chicago White Sox most of the season in a tight AL Central race," AP reports.
"Well, it's come down to the final week, and the young Twins are busy showing the White Sox how to thrive in the clutch."
Debate Bait
"[I]f the debate is to go ahead as planned the candidates should abandon the foreign policy theme and debate the economy," the Minnesota Daily editorial page argues.
"While the argument that it's important the two presidential nominees should show voters what they would do through action, instead of telling them, there would be nothing to show at 9 p.m. on a Friday night . . .
"Furthermore, there's a grave necessity now for voters to evaluate the candidates on the economy . . . A moderator like Jim Lehrer should help cut through vapid campaign rhetoric and educate voters on how both the flaws and advantages will play out in a dangerously unstable and intertwined global economy."
*
I actually saw Newt Gingrich float this idea first.
Cop Shop
"The Chicago Police department is down hundreds of officers despite pledges by City Hall to boost the force to combat growing violent crime, police union and department officials confirmed Wednesday," the Tribune reports.
"Police Supt. Jody Weis, facing criticism over rising homicide rates, promised aldermen to expand the department by 75 officers as part of an effort to put more officers on the street. But City Hall has not approved department requests to hire enough officers to keep up with retirements and other attrition.
"Mayor Richard Daley has said the city must reduce personnel costs in the face of a dismal economy and a gaping budget hole but has not specified where the cuts could be made at this point."
Okay, shouldn't public safety be the last place to make cuts to solve a budget crisis?
I know times are tough, but couldn't we all do with, say, a decrease in street-cleaning and garbage pick-up before putting fewer police officers on the street?
Chicago doesn't have enough cops as it is. This seems to me to be last resort territory.
It Breeds!
"City won't push to extend expiring Loop TIF district," the Sun-Times reports.
"Gerald Roper, president of the Chicagoland Chamber of Commerce, said he hopes to bring civic groups together for meetings with the Daley administration about what 'son of TIF' will look like."
It will look like Father TIF, only grow to be even bigger and richer!
*
How about a TIF district drawn around police headquarters so more cops can be hired?
Silent Signal
"Mayor Daley on Wednesday urged state Sen. James Meeks (D-Chicago) not to rain on the Cubs parade - by having 6,000 protesters ring Wrigley Field during next week's opening playoff game to call attention to the school funding disparity between rich and poor districts," the Sun-Times reports.
Suggests holding protest where nobody will notice.
"People are getting tired of it. Everybody knows the inequity. We've been talking about it for a long time."
Isn't that good enough for you, Meeks? What more do you want?
"This is nothing new. I don't know why you're finally writing about it now."
I mean, up to now I can't think of a single article the newspapers have published about school funding inequities! Why do you have such a bug up your ass all of a sudden?
""Daley said he's not worried that the Meeks protest would damage Chicago's bid to host the 2016 Summer Olympics by embarrassing the city on national television.
"'People are [more] interested in baseball,' he said."
Wow. I'd like to hear him tell the parents of Chicago public schoolchildren that.
*
Memo to CPD: Maybe officers should ring Wrigley Field in protest of shortchanged ranks.
No Tickets For You!
"Thousands of Cubs and White Sox playoff tickets were sent out Wednesday, and chances are (a) you didn't get any, and (b) you're wondering who the [bleep] did," the Tribune reports.
"Both teams made fewer tickets available to the public this year than they did the previous times they were in the playoffs (last year for the Cubs, 2005 for the Sox), yet even as your odds of gaining access to the postseason are lower than ever, you can look online and find thousands of tickets for sale - albeit often for prices that seem more appropriate for an around-the-world luxury cruise than a baseball game."
*
Okay, I see a coalition forming . . . schoolkids, cops, baseball fans . . . all shut out of Wrigley Field. And suddenly, a reform party is born!
Pricking Palin
"Barack Obama and his team were caught off guard by John McCain's suspension of his campaign and his call to delay the first presidential debate so he could return to Capitol Hill to work on the financial crisis - just as they were surprised when McCain tapped little-known Sarah Palin as his running mate," Lynn Sweet reports.
I have a hard time believing the Obama campaign was unaware of the "little-known" governor of Alaska. As I've noted before, a study by Columbia Journalism Review found Palin was the seventh-most mentioned potential pick among pre-convention media speculation, and she had been the subject over the years of stories in such little-known publications as the New York Times, Washington Post, and USA Today.
Bears Report
Eric Emery is out of pocket this week and unlikely to file his Over/Under and Kool-Aid Report, so we'll fill the void with a Bears preview from Super Die Hard.
-
The Beachwood Tip Line: In all seasons.
Posted by Beachwood Reporter at 9:16 AM | Permalink
The Bailout Blues
n 2006, Forbes listed Henry Paulson as the 81st top-compensated CEO, with an annual take of $16 million as the head of Goldman Sachs.

Now that same person, as United States Treasury Secretary, says the Congress must act by Friday to issue $700 billion in aid to the financial community or the system will fail disastrously.

The document he delivered to spell out how to save the U.S. economy and how he, as Secretary of the Treasury, will dole out the $700 billion in taxpayer dollars was:

THREE PAGES LONG!!!!
Contained in the three pages was the demand that no Court, Agency, or arm of Congress could alter, halt, or override the plan as administered, once the bailout is passed. His way or the Highway. Money first, additional regulation "after the crisis is solved." Not in the coming weeks, or the next few months, not even when the new president is in office - only when "the crisis is over."

For those of you who don't remember the Savings and Loan scandal of the 1980s, take a look at who benefited from that bailout.

So, taking all this into consideration, who is Henry Paulson going to look out for when he takes control of the almost three-quarters of a trillion dollars?

Paulson is the former head of a large investment house that will benefit from the monies he is demanding from Congress. Other lobbyists from the banking industry will descend on Congress - NOW - and in the future if any new industry regulations are proposed. The lobbyists will shower Congress with money in exchange for influence. The lobbyists will protect the banking and investment interests. Who will protect the taxpayers' interests?

The taxpayers are taking the risk, propping up a financial industry that was reckless and corrupt. We are offering to buy up the bad mortgage/securitized debts these banks and firms helped create. So, as the people offering to save the day, we should buy that debt for the lowest, bargain price, since it has so little value, according to the banks.

But the industry, and Paulson, want the taxpayers to pay not the lowest value, but a much higher, unspecified value. Are we not already proposing;to take bad debt off these business' hands? Why would we pay more for it?

Please pay attention to this issue. Get as much perspective and information as you can and do not rely on one source to decide. When you decide, call your U.S. Representative and Senator and tell them what you think. Tell them to not forget about the people who will pay off that debt we are absorbing.
-
BoingBoing is all over the bailout:
* Buy My Shit Pile, Henry!
* Your Chance To Mark Up The Wall Street Bailout Bill
* Paulson's 419 letter
-
Also going around:
The We Deserve It Dividend
I'm against the $85 BILLION bailout of AIG. Instead, I'm in favor of giving $85,000,000,000 to America in a "We Deserve It" dividend. To make the math simple, let's assume there are 200,000,000 bona fide U.S. citizens, aged 18+. Our population is about 301 million counting every man, woman and child. So, 200,000,000 might be a fair stab at adults 18 and up. Now, divide 200 million, 18+ adults into $85 billion - that equals $425,000.00 each! Yes, my plan is to give that $425,000 to every adult as a "We Deserve It" dividend.
Of course, it would NOT be tax free. So, let's assume a tax rate of 30%. Everyone would pay $127,500.00 in taxes. That sends $25.5 billion right back to Uncle Sam! It also means that every adult 18+ has $297,500.00 in their pocket. A husband and wife would have $595,000.00! What would you do with $297,500.00 to $595,000.00?
* Pay off your mortgage - housing crisis solved.
* Repay college loans - what a great boost to new grads.
* Put away money for college - it'll really be there.
* Save in a bank - create money to loan to entrepreneurs.
* Buy a new car - create jobs .
* Invest in the market - capital drives growth.
* Pay for your parent's medical insurance - health care improves.
* Enable deadbeat parents to come clean - or else.
Remember, this is for every adult U.S. citizen, 18 and older (including the folks who lost their jobs at Lehman Brothers and every other company that is cutting back) and, of course, for those serving in our Armed Forces.
If we're going to re-distribute wealth, let's really do it! Instead of trickling out a puny $1,000.00 "economic incentive."

If we're going to do an $85 billion bailout, let's bail out every adult U.S. citizen!
As for AIG - liquidate it:
* Sell off its parts.
* Let American General go back to being American General.
* Sell off the real estate.
* Let the private sector bargain hunters cut it up and clean it up.
We deserve the money and AIG doesn't. Sure it's a crazy idea, but can you imagine the coast-to-coast block party?!
How do you spell Economic Boom? W-e D-e-s-e-r-v-e I-t d-i-v-i-d-e-n-d! I trust my fellow adult Americans to know how to use the $85 Billion "We Deserve It" dividend more than do the 'geniuses' at AIG or in Washington, D.C..
And remember, my plan only really costs $59.5 billion because $25.5 billion is returned instantly in taxes to Uncle Sam. Good idea? I think so.
-
Sourced to T. J. Birkenmeier, and yes, we know the math doesn't work. But then, neither does Paulson's.


Posted by Beachwood Reporter at 4:58 AM | Permalink
September 24, 2008
The [Wednesday] Papers
Yes, I have something to say about the McCain ad that has the mayor so upset. I just haven't had time to put it together yet. Maybe later today on Division Street.
*
Or maybe it's just that I have other things on my mind.
-
By the way, the Metrodome really is awful. There is this weird wind-tunnel effect when you walk out the doors.
-
Daley's Dry Dock
Um, this is stupid. Let us count the ways.
1. "You can drink as much beer for seven innings as you want."
Um, okay. So we're through six innings and we've only got one more drinking inning left? Let's pound it, boys!
2. "It's not going to cost them any business."
Not if their customers are pounding it in the seventh!
3. "They made enough money all year, I'm sorry."
What, the mayor is running for Treasury Secretary now?
4. "If you've been drinking for five hours and you're laying on the floor, don't give that person another beer."
Or after seven innings, whichever comes first.
Olympic Pile
Now that the mayor's latest idea for an Olympic Village has fallen apart, an anonymous mayoral aide tells Fran Spielman that "Our original plan made a lot of sense."
In fact, City Hall is glad their latest idea didn't work out! What were we thinking!
Motive Voting
"The Blagojevich-friendly Illinois Senate handed the governor a small victory Tuesday, passing an ethics package that he wrote that now faces likely death in the House," the Sun-Times reports.
You know what? The House should pass it just out of spite.
Pound Foolish
"Lincoln Penny Getting New Look."
Will now feature Obama on one side.
Urgent Matter
This piece of brilliance has been going around.
Bruce Ruse
Evolution of a Springsteen rumor.
Plus, Thornton had Lou make up a sign and stand outside his limo.
Rich Pots & Kettles
John Kerry is the richest member of Congress, Roll Call reports. The Obama campaign called Kerry out of touch and released an ad about how many cars he owns.
Tribsome Twosome
Here's the Chicago Tonight interview of Gerry Kern and Jane Hirt.
CTA WTF
"CTA President Ron Huberman said that despite the threat of a slight fare increase in 2009, the CTA finds itself in the best fiscal position in a decade," CTA Tattler reports.
*
Oz Fest
"White Sox Take Extra Day Off Before Key Twins Series."
*
If Eddie Vedder channeled Lee Elia.
The Beachwood Tip Line: Bleepin' awesome.

Posted by Beachwood Reporter at 10:03 AM | Permalink
Eddie Elia
If Eddie Vedder had channeled Lee Elia for his new song.
*
[BLEEP] those [BLEEP]ing fans who come out here and say
Stuff it up those [BLEEP]ing people who show up every [BLEEP]ing day
I'll tell you one [BLEEP]ing thing, i hope we get [BLEEP]ing hotter than [BLEEP]
You can kiss my [BLEEP]ing ass right downtown and print it
If you want to rip somebody, rip my [BLEEP]ing ass
We got guys bustin' their [BLEEP]ing ass
They're really behind you, my [BLEEP]ing ass
They ought to go out and get a [BLEEP]ing job
Yeah, they ought to go out and get a [BLEEP]ing job

What the [BLEEP] am I supposed to do, let my [BLEEP]ing players get destroyed
For the [BLEEP]ing nickel-dime people who always turn up
That's why they're at the [BLEEP]ing game, mother[BLEEP]ers don't work
It'll take more than a 5-12 to destroy this club
There's some [BLEEP]ing pros out there, they want to win
But you're stuck in a [BLEEP]ing stigma [BLEEP]ng situation
[BLEEP]ing Dodgers, [BLEEP]ing Phillies and all that cheap [BLEEP]
A [BLEEP]ing playground for 15 percent
Yeah, a [BLEEP]ing playground for 15 percent
A [BLEEP]ing playground for 15 percent
Rip them mother[BLEEP]ers with them [BLEEP]suckers too
Rip them like the [BLEEP]ing players, and them [BLEEP]ing people boo
If they're real Chicago [BLEEP]ing fans, they can kiss my [BLEEP]ing ass
Don't see the progress, 143 [BLEEP]ing games left
Eight-five percent of the [BLEEP]ing world's working, other 15 come here
Gonna find out what it's like, gonna [BLEEP]ing win it this year
This organization's been winners they're whole [BLEEP]ing life
That don't show 'cause we're 5-14
Yeah, that don't show 'cause we're 5-14
I wish I hadn't talked to Les Grobstein
-
Also from the Beachwood Sports Parody Desk:
* Please Stop Believin'
* 99 Years of Cub Losses
* Blame It On Bartman
* We Can't Wait 100 Years
* Dusty Must Get Fired
* Let's Call The Crosstown Off!
* Louuuuu!
* Ode to Ozzie
* The 12 Days of Cubness
* The Hester Man Can!

Posted by Beachwood Reporter at 7:46 AM | Permalink
Doomsday
The end
of the line is near
The CTA
says that its curtains
Eliminate the routes
and raise the fares
Cutting service
of this I'm certain
How can they
get away with this
And may I say
not in a nice way
The public will pay
They don't care anyway
And they call it
Doomsday
Regrets
I have a few
But not enough
To get their attention
To get to work
What will I do
Take a cab, go broke
And lose my pension
How can they
get away with this
And may I say
Not in a nice way
Have a nice day
That's what they say
And they call it
Doomsday
Mayor Daley
doesn't seem to care
He goes to work
in one of his limos
Governor Boyovich
takes a helicopter where he goes
Those legislators Downstate
All take the I-55 highway
The voters' sin
better start walkin'
And they call it
Doomsday
On the bus
I've laughed and cried
I've even tried
a little snoozin'
With cell phone yakkers
On both sides
Sleep is what
I was losin'
You think
I'll miss all that
Maybe not
On a Friday
Now it's all moot
They don't give a hoot
and they call it
Doomsday
A working man
What has he got
No bus, no train
Gee, thanks a lot
Hey Huberman
See how it feels
Try and get to work
without any wheels
The record shows
The CTA blows
And they call it
Doomsday
Settle this
who knows
when hell has froze
And they call it
Doomsday
-
Also from the Beachwood Political Parody vault:
* Patti Just Sold A Home For The Holidays
* I Had A Crush On Obama
* Tap Three Times: The Larry Craig Song
* Little George Bush
* Hillary, Hillary
Posted by Beachwood Reporter at 6:46 AM | Permalink
September 23, 2008
The [Tuesday] Papers
1. And the government will bail us out, son.
-
2. How unimpressive were the new Tribune newsroom braintrust of Gerould Kern and Jane Hirt last night on Chicago Tonight? Very. Especially Hirt, who was completely unresponsive and out of her depth.
Perhaps most embarrassing was when Eddie Arruza asked Kern and Hirt about Trib staffers who were concerned about the pair's lack of reporting experience. Kern sputtered that he actually had reporting experience - at the Daily Herald long ago - and that he didn't see the point of Arruza's question. Hirt sat silent; she hasn't ever been a reporter. Ever. Not even once, as far as I can determine.
3. The Trib's redesign finally brings the paper into the 80s.
4. Geez, what does geomorphologist David Montgomery have that I don't have?
5. In my TVNotes column today, I forgot to mention that I happened upon a Happy Days rerun last night titled "Goin' To Chicago." My favorite part was when Ralph Malph was reading a guidebook that described "South State Street" as "the home to red hot burlesque."
Thanks to IMDB, I can report that the episode aired in the show's second season, in 1975.
The plot is described thusly: "While in Chicago with their high school choir, Richie, Ralph and Potsie sneak by their chaperones, wind up on the wrong side of an unsympathetic downtown nightclub owner, and win the sympathy of a kind-hearted cocktail waitress."
It actually wasn't very good, and not very Chicago. The establishing shots were of Buckingham Fountain, the Wrigley Building lit up at night, and the neon lights of State Street's old-time Chicago and State-Lake theaters.
6. A few things on the Beachwood Family calendar:
* Tonight at Toons, the guys who are Outside the Loop Radio will celebrate their second anniversary as Chicago's almost above-ground audio magazine.
* On Wednesday night at Stage Left Theater, Cub Factor columnist Marty Gangler's "100 . . . Years of Losing" will conclude its run at Stage Left Theatre.
* On Thursday night, friends will gather at Happy Village to toast Margaret Lyons of Chicagoist, who is departing for New York City. Her fun, witty and incisive work will be missed.
* I'm scheduled to appear on Fox Chicago Sunday this . . . Sunday. I'll be discussing trends in the blogosphere during election season.
* On Saturday, October 4, J.J. Tindall will read selections from his Chicagoetry collection at Steve's Sports Bar & Lounge.
* And, of course, over the next three nights the Twins will spank the White Sox silly.
7. When Rick Telander asks of Jay Mariotti, "Does anybody care about Mariotti's fake date lines, stolen quotes, false scenes, etc.?", I hope he understands he's asking that of his bosses who edit the paper too. (via Chicagoist)
8. CTA chief Ron Huberman is promising a feature by early next year that will give riders "the ability to text a phone number posted on bus stop signs to learn the arrival time of the next bus," CTA Tattler reports.
9. Kristen McQueary wants to know "why Cook County must borrow $3.75 billion just two months after the county sales tax doubled." The county tells her to file a Freedom of Information request.
10. "Democratic Presidential nominee Barack Obama told ABC News in May that he didn't think his daughters would need affirmative action," Kelly Virella writes on the Chicago Reporter's blog.
"His statement and his historic achievement have become rallying cries for affirmative action foes around the country. I wonder if they're aware of the results of a landmark 1981 study by social psychologists John Dovidio and B.B. Kline. They found that the more qualified black people are for admission to a college, the more likely white evaluators are to underestimate the capabilities of those black applicants."
11. "The Twins haven't finished strong, but they can make up for it with a successful (read: sweep) series vs. Chicago," the Minneapolis Star Tribune says in "Twins Have Unfinished Business."
12. "Today's high priority manifest from Grand Forks, ND. to the Belt Railway of Chicago (GFDBRC, also known as the "Gift Brick") had some nice power. In charge is SOO Line SD60 6022. Trailing are two SD40-2's, in BN Cascade green and ATSF Santa Fe Bluebonnet. The train is slowly entering the BNSF's Eola Yard."
-
The Beachwood Tip Line: Get on board.

Posted by Beachwood Reporter at 10:10 AM | Permalink
The CTA Bill of Rights
A version of this was originally published as a letter to the editor in the Sun-Times. The link has died, so at the request of the author we are enthusiastically reposting it here.
*
1. No commuter should be subjected to being held hostage between stops no longer then 12 minutes.
2. If passengers have been in-between stops for 30 minutes or more, they should be given 7-day passes and free transfers to the next bus or train if their transfers have expired due to the delay.
3. If passengers are delayed not because of weather or track work, riders should be given fare cards of $5 or a 1-day pass which would cover a daily round-trip from work to home.
4. If the CTA cancels trains or changes schedules of arrival or departure times at stations, passengers should be made aware of the changes and new updated schedules should be posted no later than the first train's arrival or departure at the station.

5. If the CTA cannot post new effective schedules or communicate with passengers about a train being cancelled or delayed at its scheduled arrival or departure tims, passengers should be given $5 dollars on a transit card or 1-day pass. Although this cannot cover lost wages, it is a start.
6. If the CTA is late more then 13 minutes past its estimated commute time between the first stop and last stop on its line in more than three successive runs, the CTA should give riders a 1-day pass.
7. The CTA should guarantee two trains per eight trains that are clean per line at morning and evening rush.
8. If the CTA is experiencing significant delays of 20 minutes or more on one line, it should let the affected passengers on free during this time.
-
Comments, revisions, amendments, additions welcome.

Posted by Beachwood Reporter at 7:59 AM | Permalink
TV Notes: Mad Men, The Hills, Soul Train, Cavemen
Recent observations from more TV viewing than should be allowed even in a democracy.
1. After an uneven season opener, Mad Men has only gotten better. I mean, it's downright gripping. Deep and layered with loads of potential plot and character development ahead of us. Yay, Mad Men! Here's the show's official blog.
2. Audrina Patridge: Not a smart girl. But smart enough to know she had to patch things up with Lo or risk drifting off the show. Also, does everyone betray LC?
3. Watching old episodes of Soul Train is one of the joys of staying in on Saturdays.
-
4. Bob Saget was roasted recently on Comedy Central, though it's not clear exactly why. It was pretty nasty - Cloris Leachman doing blue - and nobody seemed to get Norm MacDonald's take on Saget's lame America's Funniest Home Videos jokes.
-
5. Let's take a look at some commercials that have been on my mind.
* That guy Greg on that island for CDW. For some reason these commercials really bother me, even as I always watch them. Something about that Greg guy is too pat. He's perfect for the part. But what kind of business is he in? Import/export? Drugs? Maybe that's why he's so concerned with "network security" on a deserted island. Or maybe he's really just camped out at a resort and he runs the spring break promotions.
* I'm a huge fan of the GEICO cavemen. In this one, I love how clueless he is about the score, and then how he suddenly turns friendly with "What's with all the GEICO stuff, Billie Jean?" Plus, his legs are caveman-descendant hairy.
-
I had never seen this one before - golfing with Phil Simms - apparently it aired in advance of Super Bowl XLI.
-
* And now the cavemen are doing spots for ESPN.
-
* Okay, this disturbs me and intrigues me at the same time. Plus, I'm skeptical. But whatever, you usually don't see this sort of thing on TV - even nowadays. At least in America.
-
* This is a baseball-season old by now, but still. The Joe Torre in L.A. commercials are good, let's face it. And now he's likely in the playoffs and the Yankees likely are not.
-
* Finally, gotta give J.C. Penney props. Really.
Posted by Beachwood Reporter at 7:35 AM | Permalink
September 22, 2008
The [Monday] Papers
* Lou is green, people. In The Cub Factor.
* "This may be the first time in my life I'd be satisfied with losing two of three to the Twins." In The White Sox Report.
* The less said about another infuriating Bears loss, the better. Baseball beckons. In SportsMonday.
* We're going live outside Wrigley to talk to more drunk fans! Say something unintelligible!
* Aren't there better things to ask athletes than how does it feel and can you explain what this means to you? Maybe what are you gonna do tonight? Or even just is this great or what? Any good jokes on the bench toward the end there? I mean, really.
* A Cubs-Sox World Series might be a better way to discover the Higgs boson particle than the Large Hadron Collider. Because, um, worlds will be colliding. Okay, that might be lame. They can't all be winners.
* "Before [Cook County judge Martin S.] Agran made his ruling, he took a shot at Cubs fans - questioning why they'd be looking at a billboard anyway," the Sun-Times reports. "You mean they're not watching the game?" he asked. "Isn't that what most Cub fans do, stare away?"
Wow! Hey judge, Cub fans vote too!
* And didn't Derrek Lee really get away with one?
* It's not gonna happen, by the way. When will you people learn?
Head Games
"Pick apart the roster deficiencies, the play-calling decisions, all of the Bears' other issues. But their biggest weakness in Sunday's 27-24 overtime loss to Tampa Bay was from the shoulder pads up," the Tribune's David Haugh writes.
"Right now the Bears lack the mind power to do what's necessary to put teams away. When Tampa Bay wide receiver Michael Clayton baited veteran cornerback Charles Tillman into taking a swing at him in overtime, it illustrated the word on the Bears: You can get inside their heads; there's plenty of room."
The View From Tampa
"Above anything else, Michael Clayton proved he can take a punch," Rick Stroud writes in the St. Petersburg Times. "Knocked down for most of the past three seasons, the Bucs' beleaguered receiver finally showed some fight when his team needed it most. Brian Griese had overcome three interceptions to rally Tampa Bay from two scores down in the fourth quarter and force overtime against the Bears. But after going three-and-out and with his team facing a punt from its end zone, a skirmish broke out. Clayton was right in the middle of it and found himself on the receiving end of a haymaker from cornerback Charles Tillman. Of all the big plays the Bucs made in Sunday's 27-24 overtime win over the Bears, this one proved to be the biggest. Tillman was penalized for unnecessary roughness, extending a drive that would result in Matt Bryant's winning 21-yard field goal with 4:21 left."
The View From St. Louis
"Inside a quiet clubhouse the Cardinals again pondered what could have been," Joe Strauss writes in the St. Louis Post-Dispatch.
"Outside, with their well-lubricated fans singing and champagne being passed from coaches to players to grounds crew, the Chicago Cubs celebrated what is."
Yankee Stadium Goes Dark
"It will only grow with time, like Lou Gehrig's farewell, Don Larsen's masterpiece and Reggie Jackson's third home run in a World Series game. Untold thousands will say they were there the night the curtain fell on baseball's grandest stage," Tyler Kepner writes in the New York Times.
Bus and Rail Chief
What Ron Huberman told the CTA Tattler.
Obama vs. Cubs
The polls have closed and the results tabulated!
Ties Die
"Through Thanksgiving, thousands of old wooden rail ties on the Wabash and Lake Street of the Loop 'L' are being removed and replaced," Lynn Becker writes.
Sweet Tweet
Best. Twitter. Ever.
Hipster Hilton
Wicker Park hotel?
Central Park and Madison

-
The Beachwood Tip Line: Whack.

Posted by Beachwood Reporter at 8:18 AM | Permalink
At the Apple Store
On Michigan Avenue.
1. Chicago Apple Store
-
2. The Stairs
-
3. The Elevator
-
4. On a Winter's Night
Posted by Beachwood Reporter at 5:40 AM | Permalink
Every Woman Counts
Memo to self: darker hair, shorter skirts.
-
Every Woman Counts
-
Palin Power
-
Hunting Conservative Women
-
See the rest of the Citizen Kate collection!
Posted by Beachwood Reporter at 5:14 AM | Permalink
SportsMonday
The less said about another infuriating Bears loss, the better. Baseball beckons . . .

***

Whatever happens with the White Sox this week, the team has undergone a remarkable transformation in 2008. First there is the starting rotation.

Just one of the teams who was still in playoff contention as of Sunday wasn't being led by the pitchers who were projected to do so way back at the beginning of the year. Even the Twins, who traded away Johan Santana and Matt Garza in the off-season, headed into this campaign knowing Francisco Liriano would have to successfully return from Tommy John surgery to play a pivotal role if they were to have a chance. And sure enough, after a delayed start, there was Liriano (6-3) earning a must-win on Sunday for the team from the Twin Cities. The other potential one-two starter was Scott Baker, who was hurt in the middle of the season but has returned to add to a 9-4 record and a 3.69 ERA during the last month or so. Other starters have obviously stepped up for the Twins during the season, but these were the guys everyone agreed had the most potential heading into the campaign. Bad news by the way - Baker takes on shaky Javier Vazquez in the White Sox's series opener in Minnesota Tuesday.

Josh Beckett and Daisuke Matsuzaka have lead the Red Sox into the playoffs, John Lackey has done the same for the Angels and even the Rays have known commodity Scott Kazmir (a team-leading 158 strikeouts) out in front of their staff. As former Viking and Cardinal coach Dennis Green would surely note, all of these guys are who their teams thought they were. And the story is the same in the National League. The Brewers, who traded for the guy who had been expected to lead Cleveland to the promised land, are a bit of an exception. But no one is surprised to see CC Sabathia and Ben Sheets in the first two slots in Milwaukee's pitching lineup.

The exception to all of this is Chicago's American League ballclub. Regarding the guys leading the White Sox rotation at this point, well, the best thing that could be said about them going into the season was that their team didn't know what they had. Mark Buehrle, Vazquez and Jose Contreras were supposed to lead the South Side rotation this time around. Gavin Floyd and John Danks had not only not shown they could be leaders of a successful major league staff, they hadn't shown they could be members of a successful staff over the course of a full, major league season. But there they were last week, winning the games the White Sox had to have.

On Sunday, Danks lowered his ERA to an exquisite 3.20 with his 11th win of the season against eight losses. He tossed seven innings of shutout ball. In the middle of last week at Yankee Stadium, Gavin Floyd came through with perhaps the biggest start of the season, earning his 16th win in the process.

Then there is the lineup, where if anything, Carlos Quentin and Alexei Ramirez were even less known than their young pitching brethren coming into this campaign. A few of the teams still in contention have a new player making a bit of a splash this time around, but no one has a dynamic duo like the Sox. Before he went down with his ridiculous injury earlier this month, Quentin was a leading contender for MVP, having piled up 36 home runs and 100 RBI (heck, you can make a case he's still a contender, even after he's been out for a couple weeks). Ramirez hasn't come on quite so strong, but he has shown shocking power (he might be the skinniest guy in the American League after all) with 20 home runs. He has 72 RBI, his average is up over .290 and he is a fielding dervish in the infield. Ramirez should be the favorite to win the American League Rookie of the Year.

So keep that smile on your face White Sox fans, no matter what happens in Minnesota this week. Your team has undergone a metamorphosis that is the envy of most of teams in baseball.

***

I've got a quick pet peeve I'd like to get off my chest before the playoffs heat up and certain folks start getting the idea that they're cheerleaders without the pleated skirts. Guys, please, stop making the "everybody stand up" motions with your arms. I've been going to games for a long time now and I've got a handle on when and how intensely I should cheer. There is really no need for you to flap your arms at me.

And while I'm at it, hey local baseball writers, when the Sox bounce back from a bad loss to a decent Yankee team by pounding the typically terrible Royals the next day, don't attribute it to some silly stuff Ozzie was spewing during a pre-game meeting about playing like a first-place team instead of a second-place team. The White Sox won on Friday because they beat up on weak pitching while Mark Buehrle did what he does best: limited the damage.

***

I had a chance to watch the Cardinals varsity lose to the Cubs' JV Sunday, moving the Cubs one win away from home field advantage throughout the National League playoffs. In the aftermath of Saturday's awesome celebration, my seven-year-old daughter and I enjoyed just casually taking in most of the game. Then we left a little early to try to beat the rush to the Dairy Queen over on Southport. Regarding that rather joyous affair on the day before, there could not possibly be a better clinching scenario than at home against the Cardinals on a Saturday, could there? It does lend a bit more credence to the concept that perhaps this is the Cubs' . . . town.

-

Jim Coffman brings you the city's best weekend sports roundup every Monday. It's always a pleasure, isn't it? You can write to him personally! Please include a real name if you would like your comments to be considered for publication.




Posted by Beachwood Reporter at 4:55 AM | Permalink
The White Sox Report
Throughout the entire summer, I said I wasn't scared of the Twins. Their run differential wasn't impressive, they relied too heavily on the statistic anomaly that is Livan Hernandez, and their bullpen was downright shaky.
The White Sox, meanwhile, had a good thing going. They clubbed more homers than any team in baseball despite abysmal seasons from Nick Swisher and Paul Konerko. They watched Gavin Floyd and John Danks step into their own. They kept Jerry Owens in Triple-A. Really, what more could you ask for?
But despite all that, the Sox failed to put any significant ground between them and the Twins. Sure, the Sox have led the division practically the entire season, but their lead never seemed to be more than a couple games, no matter how they played.
When the calendar turned to September, I think everyone realized this was going to be a dogfight to the end. There was only one way this race could be settled: a three-game series in Minnesota during the regular season's final week.
And here we are. The Sox will have today off, and then begin the most important series of the season.
Still, I'm really not all that worried. Being three games up in the loss column is pretty comforting this time of year. The Sox will win the division as long as they can do one little thing: win a single game. This may be the first time in my life I'd be satisfied with losing two of three to the Twins.
Some may think that sounds crazy. The pitching match-ups seem to line up favorably for the Sox, and a sweep would mean the ability to celebrate a division title at the enemy's park. But all that is wishful thinking. After all, these games are being played in the Metrodome.
After thinking about this series the last couple of weeks, I came to the realization that the Metrodome is my least favorite building ever. Simply put, the Metrodome is the Brett Favre of ballparks. Just as I'll never loathe an athlete more than Favre, I can say with 100% certainty there will never be another stadium like the Metrodome. Both entities played a part in ruining a small portion of my childhood.
Even though the Metrodome will be home to the Twins for one more season in 2009, I can't think of better way for the Sox and their fans to abolish all the demons of the 90's and 00's then by popping Champagne in the Metrodome's visiting locker room. But that almost certainly won't be the case. As Jim Mora once famously said "Playoffs? We're just trying to win a game here." If the Sox can do that, everything should be alright.
*
The Week in Review: My life would be so much more hectic without the Royals. After losing three of four to the Yankees at, oh, the season's most critical point, seeing Kauffman Stadium was fantastic. The Sox finished the week 3-4.
The Week in Preview: As you may have heard, there is a rather important baseball series this week. A White Sox sweep unlocks the key to total madness: both Chicago baseball teams in the playoffs simultaneously.
Fields on the Farm: What other way could 2008 end for Josh Fields than with knee surgery?
The Missile Tracker: Alexei hit the Sox's 11th grand slam on Friday, which tied their club record. Hopefully number 12 comes against the Twins.
Over/Under: 5: The number of Sox wins or Twins losses in order for the Sox to clinch the AL Central. Apparently this number is magical.
Beachwood Sabermetics: A complex algorithm performed by The White Sox Report staff using all historical data made available by Major League Baseball has determined that if nothing else, the Royals can pride themselves on a really cool scoreboard.
The White Sox Report: Read 'em all.
-
Comments welcome. Please include a real name if want to be considered for publication.
-
Ricky O'Donnell is the proprietor of Tremendous Upside Potential , a contributor to the Sun-Times's Full Court Press and a lot of other things.
Posted by Beachwood Reporter at 4:43 AM | Permalink
The Cub Factor
What another week. The Cubs have another great week and clinch the Central Division and a playoff berth. What a great feeling for the Cubs and for Cub fans, but all I can do is think about my younger brother Jon. Not that he is a big Cub fan, because he really isn't. But growing up and being three years younger than me, Jon was on the short end of the stick during a handful of brotherly skirmishes. Okay, what the hell am I talking about. In this real life scenario explaining another real life scenario, my brother would be the Brewers and I would be the Cubs. It's a classic younger brother/older brother situation, just look. The Cubs are older (especially in the National League), they make more money (like most older siblings do), are more popular (most older brothers are), so it does fit. Maybe not all the classic older/younger rules are true in my case (my brother is much more likeable than I am) but one thing did hold true - I always won physical battles. BUT I was always looking to see what my brother had. I had to size him up and see where I stood. I would provoke him into fighting with me - my brother had (and still has) a temper and when he gets pissed, look out, he's an animal. And it was these moments that I truly enjoyed. In animal mode my brother could get in some good shots and the fight would be even for a little while, then I'd overtake him with my size and strength. So, getting back to the initial analogy - I really thought the Brewers had a bit more animal in them. I'm not complaining but I thought it would possibly be a little more interesting. But I'll take uninteresting division titles every day of the week - I'll even take uninteresting World Series wins too. I'm just sayin' that this reminded me of my brother.
*
The Week in Review: The Cubs went 4-2 for the week clinching the division title on Saturday against the Cardinals. Then they played another game on Sunday but I didn't watch a second of it or care what happened.
The Week in Preview: I think the Cubs play seven games this week on the road but I know they don't mean anything. So it's kind of like most of the last full weeks of the season for the last 100 years. Except it's different.
The Second Basemen Report: Mike Fontenot started four of seven this week with Mark DeRosa getting a pair and Ronnie Cedeno getting one. The pocket rocket Fontenot might be your second baseman come playoff time with DeRosa moving to right field, but the more fun situation will be who is going to play second base this week when the games don't matter. Maybe we'll see a few guys from the minors. It's really what The Second Basemen Report needs. Plus, if they are good, they can compete next season for the most shifted around, don't know who is going to play position on the Cubs. That's what I'm pulling for. Just like Hendry drew it up.
In former second basemen news, Dan Rohn is currently the manager of the Fresno Grizzles, the San Francisco Giants' Triple-A team. He is missed.
The Zam Bomb: Clinching a division win makes Big Z furiously happy. So do beer goggles.


Endorsement No-Brainer: The Cubs for Moet & Chandon. Because winning doesn't have to sting.
Lost in Translation: Domoscrubagato is Japanese for Fukudome.
Sweet and Sour Lou: 78% sweet, 22% sour. Lou is up 12 points on the Sweet-O-Meter this week due to winning the division. And just like your real crazy drunk uncle, Lou is going to get shitfaced.
Center Stage: Felix Pie will be able to play a lot this week because the games don't matter. You know, just like Hendry drew it up.
The Cub Factor: Catch up with them all.
Beachwood Sabermetrics: A complex algorithm performed by the The Cub Factor staff using all historical data made available by Major League Baseball has determined that this is only one step.
Over/Under:The number of real Cub fans that will be able to get playoff tickets: +/- not enough.
Mount Lou: Storm clouds have moved over the area in and around Mount Lou and have rained down a cool sweet beer and Champagne shower, completely cooling the region. He is in the green, people. And will be all week.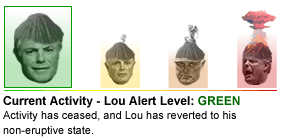 -
Posted by Beachwood Reporter at 4:24 AM | Permalink
Backyard Tire Fire Goes Pop
Backyard Tire Fire's latest album, The Places We've Lived, on the New York indie label, HYENA Records, is taking the roots rockin' Bloomington, Ill., band in a new direction. Who could have guessed Ed Anderson, the band's songwriter and chief creative force, has turned out to be "the premier pop balladeer of America's heartland?" But it's true. Anderson and BTF are quickly becoming the most interesting and innovative guitar-based rock band in the Midwest, and because of their very extensive touring schedule, hopefully beyond.
The album really expands on corners of Anderson's songwriting capabilities only hinted at on their previous disc Vagabonds and Hooligans, in which his piano-driven, and, dare I say it, beautiful pop-rock sensibilities come to the fore.
Ed recently did a great interview with Tim Von Cloedt of St. Louis, otherwise known as "Von" and proprietor of a fine roots music podcast called Americana Rock Mix. Since I'm assuming you probably didn't catch Anderson's hour-plus interview with Von, in which he really gives an enlightening assessment of where BTF is coming from in all aspects of their onstage and offstage lives, I've taken the liberty of transcribing a small portion of it. Be sure to download the whole thing and subscribe to Von's podcast for consistently interesting takes on the Americana scene.
On BTF's headlining gig at Metro on Sept. 5:
Metro is just one of those places in Chicago where . . . I think the first band that ever played in that room as The Metro was R.E.M., who were just coming out of Athens. And on their 15th anniversary Bob Dylan played it two nights in a row. It's kind of a legend of urban Chicago. We've played it before but it was our first time headlining. We love the city of Chicago. It's always treated us well.
On BTF's writing process:
Right now, I've got a whole album or two's worth of sings written. A lot of times when it's cold out and there's nothing else to do, I will hole up and just write. I don't have a day job, which I'm very lucky to not have one. It's not really like "trying" to write because then it becomes forced. It's just being open and having instruments nearby. I try to keep pretty disciplined when I am around and I've got an idea. A lot of them get tested on the road. Places is a 35-minute record and we play a 90-minute set. There's at least a dozen brand new ones that we'll play, we'll mix 'em and match 'em.
On being a notorious analog recording stickler:
There's a sound to it. There's a reason why my favorite records were made on analog. It's a real actual tape that's rolling. It's a different feel, it feels warmer, it feels more real. I like a little bit of tape hiss. Digital will enable you to do things you couldn't do otherwise, like if the drummer's dragging and the bass drum isn't exactly on the beat, you can go in and cut and paste, or making sure every snare hit is on the beat, or using autovocals to make sure the singer is just right.
There's a lot of tricks you can do that you can't do with a tape machine. It really makes things sound non-human and robotic and stale. We all play together in the same room and there isn't any of that shit. We're human beings, so let's rock and roll. We've always wanted to avoid that digital feel. I have friends who like it, and that's cool, but that's not the way we want to do it. We just happened to prefer making it the old-fashioned way with old mikes and pre-amps. There are new bands like the Flaming Lips or Beck, they're recording on analog machines with their initial signals before using their digital effects, and you can tell. Anyone who says there's no difference . . . in my opinion, that's bullshit.
On the album's lead-off song, "The Places We've Lived":
As the title suggests, it's definitely nostalgic. I've lived in basements, attics, dodging leases with different roommates, there's maybe a couple dozen places I've laid my head down on a regular basis, some have been torn down, others not. It's really strange. You think about all the different people who have lived there before and after you, it's really weird. We're always moving forward not looking back. You've experienced so many good and bad things, it's hard to believe it all gets swept under the rug and forgotten. That's where we're coming from on that song.
On the song "Welcome to the Factory":
I said, let's do something like Pink Floyd did on "Money." Let's use non-musical, random things we can find in the studio . . . empty reels of tape scraping up against a mike stand. We're emulating that Floyd kind of feel and also what it feels like sitting on an assembly line, hearing repetitive sounds. At one point, the percussion goes away and we get a strange, falling sound, and you get the feeling of falling deeper and deeper into the abyss of doing something you don't want to do.
My brother (Matt Anderson), who plays bass in the band, and I grew up the sons of a plumber, and I don't think my dad really wanted to be a plumber. He was plumber because he had four kids and a wife to take care. He did it because he had to. I could identify with that. I'm familiar with that. You have a pissed-off dad who's commuting from Chicago for the billionth day in a row . . . Most people end up doing stuff that they don't want to do day after day. People get into positions where there's nowhere else to go. I feel for them, and I feel very lucky that I can do what I love do to playing music. It's certainly not making me rich, but I'm not materialistic and don't really care about those kinds of things. We get to play rock and roll, and travel and see the country. It's a good gig and I'm not complaining.
On the song "How In the Hell Did You Get Back Here?":
When I left Bloomington (in 2000) I vowed I'd never came back. I moved to Asheville, N.C., and started this band up down there. Enough had gone down in this town that I was intent on not returning, at least not to live. It's not just me. You leave a place and claim, "That's it, you're never gonna see my ass again." How many people end up back there and liking it and leading a good life there? How many who say they're going to leave their hometown end up settling down there? It's classic. Everybody believes it when they say it. And you've got to believe it, that's what gets you to get out and see new places.
But we found that Chicago is just way too expensive to live there, we've got a lot of friends here, you can survive on the little I make here. I realized the grass isn't always greener. Sometimes you think there are some magic places were all the gigs are packed. There's no place like that, man. You just have to try your hardest in wherever you're at. Going somewhere and trying to start over from scratch, that was an eye-opener. As well as we're liked around here, we couldn't get gigs down there (in Asheville and later in Athens, Ga.). Nobody knew who we were and nobody cared. We had some good gigs, but things only started really happening when we came back up here and my brother joined us on bass.
There's no place like home. Those weren't places that we grew up. There are dozens and dozens of other bands who have been there longer and will get those gigs we were trying for. Coming back to the Midwest, that was big for us. I like Bloomington - and it's not tiny. There are 100,000 people in the city. It's the right size for us. And there are three major interstates that run right through here, so for road work, it works out nice.
On the songwriting evolution evident on The Places We've Lived:
I've noticed there are some people out there who really don't understand what we're doing on this album. They like their Backyard Tire Fire rock 'n' roll and that's about it. There are certain people, even critics, that don't get this direction. And really, there's isn't anything to "get." It's just me sitting at a piano a little bit more than I have in the past. And those songs got written and I liked 'em and we put them out as a collection as an album. There was no conscious effort to write "poppy" music or something. There are still some loud guitars on the album, and there's still a lot of that live.
*
Backyard Tire Fire live recording session at Sun Studios in Memphis
-
BTF doing an acoustic version of "Shoulda Shut It" from the new album
-
Previously in the Beachwood:
* Smoke, Mirrors and Backyard Tire Fires
-
From the Beachwood Country All-Stars to Dylan's Grammy Museum, the finest bones of rock 'n' roll are rattlin' 'round Don's Root Cellar.
Posted by Don Jacobson at 12:48 AM | Permalink
September 20, 2008
The Weekend Desk Report
You'll have enough to worry about watching the Bears on Sunday. Let us handle the rest of the news.
Market Update
It's all a little beyond us, but experts suggest Progress has once again been battered due to overheating in certain market sectors. Analysts warn nervous investors may see this as a sign that international markets are a safer bet for new revenue streams.

Junk Science
Just remember when you open your mail at the end of the month that all that stress you've been hearing about is based on totally flawed theories.
Ryder Cup Update
After one day of competition at Valhalla, the United States has built up what looks to be a comfortable lead. However, commentators have warned that the European team is being scored in euros and, therefore, nothing is safe.
Arms Race
Tired of accusations she is aping vacuous starlet Paris Hilton, Republican vice presidential candidate Sarah Palin this week reminded members of the media that she is the original Nuclear Babe. "And if Paris Hilton keeps trying to follow my lead," Palin worried aloud, "you can kiss old-school glamour and elegance goodbye."
War of Words
Meanwhile, Joe Biden would like you to know he's relevant and controversial too.
Mad Men
In other news, duh.
Sneaky Trap
Finally this week, remember: If you don't not help out your friends, your opponents can't not accuse you of being untough on corruption. Got it?

Posted by Natasha Julius at 8:39 AM | Permalink
September 19, 2008
The [Friday] Papers
"In my old neighborhood," Bob Reed writes, "we had a saying: If you owe someone a little money, they have you. If you owe them a lot of money, you have them.
"Wall St. owes us a lot for these taxpayer-backed bailouts. Man they got us good and that's why I'm not shedding any tears. Instead, I'm concerned that when this financial mess has passed, Wall St. is going to try and get us all over again."
The Tamale Guy
Reviewed on Yelp.
Palin Burgers
Close, but no moose.
UPDATE 12:33 P.M.: And apparently Grizzly's is closed! Anyone with the 411 should send me a note, but I just called the number on their website and it's disconnected.
COMMENTS: 12:47 P.M.: "Closed for months, if not a year" . . . "newspapers on the windows" . . . "ran out of moose meat" . . . Okay, I made up that last one. But I think we've got this confirmed. Citizen journalism!
Media Muddle
"Internet values reward instant punditry, the more flamboyant the better," writes Michael Miner. "Simple, solid reporting is OK, but flamboyance is what attracts page hits, and page hits attract advertisers - enough of them, in a theoretical tomorrow, to keep journalism afloat . . . Cool dispassion is what a few old-school reporters clinging to a dying trade will go on practicing until they disappear. But frenzy's in fashion."
Really? I thought TV rewarded instant punditry. And gee, how did a flamboyant writer like Jay Mariotti succeed in attracting so many newspaper readers without the aid of the Internet? And how is the formula of page hits attracting advertisers any different than circulation attracting advertisers?
Olympic Summit
"Plans are well underway to bring a groundswell of talent, ideas and code together nationwide to support not only our country's bid for the Chicago 2016 Olympics, but well beyond."
So that's what the Chicago New Media Summit is really about.
Phone Reform
Quick, someone give Barack some other numbers to call!
*
OBAMA: And there's just one more thing, Emil.
JONES: What is it, my son?
OBAMA: Well, actually it's about your son.
[pause]
OBAMA AND JONES: A-ha ha ha ha ha ha!
OBAMA: Never mind!
Jonesin' for Reform
It's still not gonna happen. But now Obama's got cover.
Propaganda Wars
"Republicans were busy trying to build a positive narrative about Palin - the 'hockey mom' who was so folksy she could 'field dress a moose' and had 'said no to the Bridge to Nowhere and other government waste' and was overflowing with small town values'," Kos writes. "McCain had shot up in the polls because of Palin. Common sense dictated it would be hard to knock him back down as long as she consolidated her popularity. So we set out to build the negative narratives about Palin. This is stuff straight out of Taking on the System. I have a whole chapter on it, in fact."
Each side builds a narrative. Neither side traffics in truth.
Think for yourselves, people.
*
Cubs Jammed
I heard Eddie Vedder's new song about the Cubs on the radio yesterday. It's unbearably earnest.
Campaign Finance
A faithful reader writes:
I receive e-mails from the Democrats and the Republicans. At first I did it to keep up on things from both sides but then it became a pain in the ass. I created filters for both just so I wouldn't have to see them all the time. I have one for each party. OK here's the payoff: each folder has exactly 17 e-mails and that's the way it goes. One sends out a money request, the other sends out a money request . . .
Tax Rap
"[W]henever I write about the need to reform the property tax system, which funds education in this state, someone living in a well-off south suburb inevitably will respond: 'If people in poor neighborhoods want good schools, they should pay for them just like we do,'" Phil Kadner writes.
"Well in Ford Heights, one of the poorest suburbs in the nation, the property tax rate for a homeowner is more than 20 percent of his home's equalized assessed value. Most of that money goes to the schools.
"In the villages of Northfield and Wilmette, two of the wealthier suburbs in Illinois, where the schools are top notch, the tax rate ranges from 4.8 percent to 5.3 percent.
"In Winnetka, the home of New Trier Township High School, where state Sen. James Meeks (D-Chicago) recently brought Chicago students to register for school, the tax rates range from 4.9 percent to 5.3 percent."
Evening Commute
-
The Beachwood Tip Line: Best friends forever.
Posted by Beachwood Reporter at 9:25 AM | Permalink
Of Mace and Men
The only thing that kept me out of jail was my cute outfit.
-
See the rest of the Citizen Kate collection!
Posted by Beachwood Reporter at 8:06 AM | Permalink
The Five Dumbest Ideas of The Week
1. Even though the Dow is shakier than an oil platform in Galveston, some intrepid eBayer has managed to scrape together more than $12,000 to bid on a piece of toast that purports to bear Sarah Palin's likeness. I guess if you can't find these it's the next best thing.
2. Inspired by the Australian bank robber whose heist set off a pink dye bomb, we're thinking pink these days. As in pink sleeping pills that are just for girls. Or cute pink telephones. Or the pink slips which are so popular these days.
3. Cross a dog lover with a rapid political partisan and what do you get?
Pugs for McCain
-
Shelties for Obama
-
And then there is the undecided swing vote . . .
-
4. Speaking of our four-footed friends, a popular pastime among farmworkers in Bayard County, Iowa, is not putting lipstick on pigs but sodomizing them with metal rods.
5. No thanks, I'll take my coffee black.
Posted by Beachwood Reporter at 7:43 AM | Permalink
The Blue & Orange Kool-Aid Report
On Sunday the Tribune published a story called "How to Make Chicago Better." Assuming that the Trib failed to assert that Jim Belushi and John Cusack should stop being the unofficial spokesmen for our city, I didn't bother reading it. I'm also guessing the Bears weren't mentioned. But they should have been, given the integral role the team plays in the city's psyche. So we'll go where the Trib didn't - we call this How To Make The Chicago Bears Better.
1. The city council passes an ordinance prohibiting Brian Urlacher from making commercial endorsements until:
A) The Bears make the playoffs
B) The Bears have a top 5 defense
C) Urlacher follows own advice and begins to "do-well"
2. The city council passes an ordinance prohibiting Robbie Gould from making commercial endorsements. Ever.
3. The city council passes an ordinance prohibiting anyone except Kyle Orton from wearing a neck beard. It is the source of his power, but not ours.
4. The Bears hire an acting coach or a plastic surgeon to remove the lost and clueless look from Rex Grossman's face. His new look: "I'm an NFL quarterback."
5. The Bears hire an acting coach or a plastic surgeon to remove the "everything is going to be alright" look from Lovie Smith's face. His new look: "Everything will not be alright if you don't get your ass in gear."
6. The city council passes an ordinance prohibiting further use of "The Monsters of the Midway." It hasn't made sense for years. The Monsters of Midway Airport? That's what it always makes me think of. And then I think about long lines, poor on-time performance, and crappy, overpriced food. Just like Soldier Field.
7. The city council passes an ordinance requiring the Bears to acquire a star quarterback, even if it requires illegal means to do so. But don't let City Hall help or we'll end up with a Daley or Stroger under center.
8. The city council passes an ordinance prohibiting the phrases "1985 Bears" and "Super Bowl Shuffle" from ever being uttered again within city limits or on national broadcasts. Instead, citizens must use the phrases "Rashaan Salaam," "Curtis Enis," or "Cedric Benson" when they get the urge to discuss the Bears' great legacy.
9. Outsource hiring for the offensive line to an executive search firm.
10. The State of Illinois acquires Wisconsin. Meet your Chicago Packers!
*
Buccaneers at Bears
Storyline: Brian Griese returns to Chicago looking for revenge. How will he fare against the Tampa-2? This game will be won in the trenches. And maybe on special teams.
Reality: Kyle Orton faces the quarterback who couldn't beat out Rex Grossman but could beat out Jeff Garcia. How will Orton fare against the Tampa-2? This game will be won the by the best quarterback.
Prediction: Bears Minus 3 points, Under 35.5 Points Scored
-
Amount of Sugar in the Blue and Orange Kool-Aid: 55%
Recommended Sugar in the Blue and Orange Kool-Aid: 35%
-
Over/Under: Ask Tony Kornheiser!
-
Eric Emery grew up in small-town Illinois but has an irrational love of the Pittsburgh Steelers. Every week he writes The Blue & Orange Kool-Aid Report and Over/Under. You can send him love letters and hate mail and he will respond graciously.
Posted by Beachwood Reporter at 12:24 AM | Permalink
Ironside: An Inside Job
Our look back on the debut season of Ironside continues.
*
Episode 7: An Inside Job
Airdate: 19 October 1967
Plot: Using a concealed knife, two convicts jump their jailers and spring free from a holding cell in police headquarters. Trapped in a building of wall-to-wall cops, the "birds" sneak into Ironside's quarters looking for a way out. It's their lucky day when they realize they've got the former Chief of Detectives as their hostage. When Eve joins the hostage pool, the stakes are raised and Ironside is compelled to use his master criminal mind to devise a foolproof escape plan - proof that Ironside will do anything to get out of writing a speech.
Guest stars: John Saxon and Don Stroud star as homicidal jewelry store thieves named Carter and Baines. Norman Fell (sourpuss Mr. Roper from Three's Company) stars as a sourpuss police captain.
Music by: Benny Carter
Next thing you know, he'll have to make his own coffee too: This episode opens with Chief Ironside grouchier than usual. He's hammering away on his manual typewriter with two fingers, pecking out a speech one . . . letter . . . at . . . a . . . time, griping that his "pretty policewoman assistant" is late for work.
The world's slowest civic improvement: It's very obvious they're re-using the same establishing shots of the police headquarters where Ironside lives and works. In most of these overhead exterior shots, the same orange dump truck is parked on the corner. "Weeks" if not "months" have gone by in seven episodes and all the while this one truck is slowly pouring dirt, filling the mother of all potholes.
Planting the seed: "Even unplugged (a television picture tube) has enough stored voltage to knock you flat." Remember this. It will come in handy later.
Lobby fashion parade: The young blond working the concession stand dons a turban and Eve enters the building wearing taupe shoes, matching handbag, and white gloves.
No laughing matter: Norman Fell plays Captain Lauren, the officer who takes control of the "bust out." This consists of him pushing pins in maps, spending a lot of time on the phone, and looking very serious about ever-y-thing.
Surefire clue that one of the convicts is a psychopath: When Baines isn't acting jumpy and neurotically yelling, he's laughing like a hyena, usually at his own smart-ass remarks.
Get a new attitude: "Come on Chief, don't think like a square. Think con."
Working on her M.R.S. degree: When Eve and the Chief are taken hostage, Ed is over on campus hitting on a lab tech in the chemistry department. Here's their flirtatious banter -
Ed: Listen, all I asked for is a date, not a wedding.
Lab Chick: Sometimes dates can lead to weddings. I'm just trying to be very careful that I don't end up with a man who has to work 24 hours a day and hasn't got any time for me and the children.
Ed: You and the children???
Lab Chick: Well, it could happen, couldn't it? You know, I'll bet we'd have beautiful kids.
Back in the day: Photocopies cost 25 cents each. This new-fangled technology actually cost more in 1967 than it does today.
Caffeine anyone? Ironside's request for coffee ends in physical violence. Eve lunges for a gun but misses by a mile and she's thrown to the ground. Baines makes as if he's going to hit Eve, when Ironside rolls up behind him ("Don't touch that girl!") and grabs him in a wristlock that drops the convict to his knees. Carter karate-chops Ironside with his gun and we're back to square one.
What we need is a good disguise: The convicts' entire escape plan rests on the fact that TV repairmen in the '60s wear coveralls.
Office lobby as giant ashtray: Ed drops his cigarette butt on the lobby floor and crushes it out with his foot. Nice.
Don't mess with the master: This episode serves to illustrate Ironside's brilliant mind as he orchestrates the entire situation to his advantage, even with a handgun perpetually leveled at his temple. Quick thinking and continually adjusting to each roadblock, Ironside's greatest weapon is his cantankerous demeanor, which he fires on everyone, from the hostage takers to the kindly building janitor, to get what he wants.
MacGyver moment: The lobby is crawling with cops, and "mobile units" surround the getaway vehicle, yet Ironside manages to take out both convicts single-handedly. In a quick one-two punch, Chief Ironside uses the removable metal arm from his wheelchair to zap the criminal holding a "live" TV set and sprays the other in the face with aerosol cleaner. Brilliant.
-
Previously:
* A Cop and His Chair
* Message From Beyond
* The Leaf in the Forest
* Dead Man's Tale
* Eat, Drink and Be Buried
* The Taker

Posted by Beachwood Reporter at 12:15 AM | Permalink
September 18, 2008
The [Thursday] Papers
1. Typographical tour of Chicago.
2. "Players Agree: Wrigley is nice, but new is nicer."
As long as the players pay for it . . .
*
The funny thing about players is that they come and go, but we're here to stay. It's our ballpark, not theirs.
3. From Aaron D.'s Yelp review of the Wicker Park Dog Park: "Filled with Alpha-humans and their dog counterparts. Owners are usually busy chatting on their phones or showing off their new tat while their pit bull attempts to maul my 15lb beagle. These are not isolated incidents. I'd say 15-20% of owners fail to manage their dogs in this park."
*
As a resident of Wicker Park who has lived across from the dog park since before it was a dog park, I can report that this is a generous assessment. The dog park is a Menace, and Must Be Stopped.
You wanna know something? Dog parks do not belong on crowded residential blocks - especially dog parks with no hours that are frequently used by Yuppie Dog Owner Scum At All Hours With No Regard For Neighbors. And it's not even the Constant Dog Fights that are the worst; it's the Screaming Dog Owners whom are within range of sharp objects that could be hurled from my front window. Do not tempt me further.
4. No wonder WaMu is in trouble - their business model was based on volume.
5. Inspired by this New York Times dining article, I went looking for mooseburgers - or any variant of moose food - on Yelp and Metromix and came up empty-handed, so I e-mailed my pals in Chicago magazine's dining department to see if they knew where someone could get moose in this town. I'll keep you apprised.
6. Please. The worst bartenders ever employed at the Beachwood Inn run circles around these lame-oids.
7. As if the Obama campaign doesn't engage in trivialities - and moreso, it was David Axelrod who has said himself he crafted a campaign around personality and not issues. The problem with Obama - like his embrace of the Machine - is that he knows better and yet does it anyway. This strikes me as more cynical than simply not knowing any better.
8. I also get a kick out of the Obama campaign's continued attacks on John McCain for being "out of touch" when Obama is the one who has needed constant schooling in how ordinary people talk and live, as noted in the post above.
9. It's funny how ignorant people who are this condescending reveal themselves to be.
10. Hero of the Day: Stephen Frayne Jr.
*
"I can tell you this is absolutely not about free speech, but about the natural domain for our site, and the domain name that is rightfully ours," says Chicago 2016 spokesman Patrick Sandusky.
By that logic, chicagoisrunbyacorrupttyrant.com rightfully belongs to the city.
11. Apparently there's one person in America who can still get a loan.
12. Under pressure from do-gooders, Obama called Emil Jones to supposedly urge him to pass the ethics bill he has stalled up to now. Beachwood Labs has obtained a transcript of that call:
OBAMA: [dials Jones's cell phone]
JONES: Heh-heh. I'm not here right now to take your call and I don't even know how to work this thing so if you leave me a message I'll never get it! Heh-heh. [beep]
OBAMA: In the name of all that is good and holy, I beseech you to release the ethics bill from your clutches and bring the kind of change to Illinois that . . . that . . . that . . . it needs. Let me be an instrument of your will. I mean His will. [click]
OBAMA TO STAFF: Okay, get that out to the press.
13. Which campaign has lied the most so far? Here's one measure.
14. Chicago's pundits overwhelmingly favor Obama. Here's a tally.
15. I'm just not feeling the outrage on this one.
16. The Daily Herald won't publish the phrase "hand job," Margaret Lyons notes at Chicagoist, but the Sun-Times has published "fuckin'," "shit" and "ass" on its website.
17. "Politicians in this state are so sleazy that even a vote to hold a constitutional convention is corrupted by their touch."
Vote Yes on Con-Con.
18. "It was my call, based on a Sun-Times Internet site that runs like a Ford Edsel and my conclusion that the paper isn't far from folding," Jay Mariotti tells Michael Miner. "The night the U.S. basketball team won the gold medal, I had to wake the web editor out of bed at a wedding in California because hours had passed without our stories being posted on the web site. That was pretty much the final straw. I left about $1 million in guaranteed money on the table."
19. "Neither of the major presidential candidates has proposed workable fixes to the nation's most significant health care problems, according to two articles published in a leading policy journal today," Judith Graham writes at Triage.
"Senator John McCain's health reform plan wouldn't reduce the ranks of the uninsured, contends one set of well-known experts, writing in Health Affairs.
"Senator Barack Obama's plan wouldn't stem rapidly rising health care costs, argues another set of experts in the same publication."
20. Chicago Fountains: Then & Now
-
The Beachwood Tip Line: A silent signal.
Posted by Beachwood Reporter at 8:11 AM | Permalink
Barr Challenges McCain, Obama Ballot Status
Files suit in Texas alleging they knowingly missed filing deadlines
Atlanta, GA - Bob Barr, the Libertarian Party's nominee for president, has filed a lawsuit in Texas demanding Senators John McCain and Barack Obama be removed from the ballot after they missed the official filing deadline.

"The seriousness of this issue is self-evident," the lawsuit states. "The hubris of the major parties has risen to such a level that they do not believe that the election laws of the State of Texas apply to them."
Texas election code requires that the "written certification" of the "party's nominees" be delivered "before 5 p.m. of the 70th day before election day." Because neither candidate had been nominated by the official filing deadline, the Barr campaign argues it was impossible for the candidates to file under state law.
"Supreme Court justices should recognize that their responsibility is to apply the law as passed by the Legislature, and the law is clear that the candidates cannot be certified on the ballot if their filings are late," says Drew Shirley, a local attorney for the Barr campaign, who is also a Libertarian candidate for the Texas Supreme Court.

A 2006 Texas Supreme Court decision ruled that state laws "does not allow political parties or candidates to ignore statutory deadlines."
Orrin Grover, attorney for Bob Barr and Wayne Root, said that he believes that the Texas Secretary of State is bound by Texas law to remove the Republican and Democratic nominees from the November ballot. "Either we have rules and deadlines, or we do not," Grover said.
The Chairman of the Texas Libertarian Party, Pat Dixon stated, "Libertarian principles require personal responsibility for your acts and failures. Obama and McCain failed to meet the deadlines. They must follow the law like everyone else."

The petition also alleges that the Democratic Party's late presidential filing falsely claimed under oath that Senator Obama had been nominated hours before the nomination actually occurred.

"The facts of the case are not in dispute," says Russell Verney, manager of the Barr campaign. "Republicans and Democrats missed the deadline, but were still allowed on the ballot. Third parties are not allowed on the ballot for missing deadlines, as was the case for our campaign in West Virginia, yet the Texas secretary of state's office believes Republicans and Democrats to be above the law."
Nader's Statement:
Both the Democratic and Republican Parties missed the August 26 deadline for their presidential candidates to be listed on the Texas ballot. For independent and minor party candidates, Texas is one of the most obstructive states in the country for being listed as a presidential candidate on the ballot. In 2008, only one minor party, the Libertarian Party, has managed to have their presidential candidate listed on the ballot in Texas since the party met the minimum state-office polling requirements in 2006 to maintain ballot access. Their presidential candidate, Bob Barr, has filed an action in court to enjoin the Texas secretary of state from listing the Democratic and Republican candidates on the ballot.
"Clearly this presents three options for the Democrats and Republicans," says independent presidential candidate Ralph Nader. First, they could recognize that our crazy-quilt system of unfair ballot access laws harms not only independent and minor party candidates but also democracy processes. They could provide real reform to ensure that voters are able to vote for candidates of their choosing in this upcoming and future elections.
"Second, they could take the same medicine they have been dishing out to grassroots candidates for decades, and have their candidates John McCain and Barack Obama join me as write-in candidates in Texas," continues Nader. "But what is most likely is that they will choose the third option, which we have seen in the past. They will simply lean on state officials to ignore the law or direct the Texas legislature to push back the deadline after it expired. If this happens, then it is just another example of political bigotry and its double-standard in American politics: independent and minor-party candidates are strictly held to ridiculous requirements to participate in democracy, while the two-party duopoly are given a privileged pass."
Posted by Beachwood Reporter at 3:00 AM | Permalink
Over/Under
After much meditation, I've discovered the source of my anger toward Tony Kornheiser's Monday Night Football performances: He never states that he believes much of anything. He really states that "other people might say" something. In Week One, for example, he couldn't stop looking for reasons why somebody might see shades of Brett Favre in Aaron Rodgers' play. In Week Two, he harped on the inevitable Super Bowl victory of the Dallas Cowboys - as portrayed in newspaper headlines. Someone ought to call the authorities, because somebody stole all of Kornheiser's original thoughts.
We here at Over/Under got to thinking about the Tony Kornheiser technique might work for an advice column. We call it "Ask Tony Kornheiser."
*
Dear Tony,
What should I say when my wife asks me if she looks fat in these pants?
It's not your opinion she values, it's the opinion of others. And you should respond in kind: "Honey, some might say the contents of those pants look like 150 pounds of chewed bubble gum in a potato sack," but you could find others who disagree. In either case, I'm absolutely certain that Aaron Rodgers' answer would remind you of Brett Favre's answer.
*
Dear Tony,
When I interviewed for my job 6 months ago, my future boss touted the company's emphasis on "work-life balance." From the first day, my boss continues to pile more work on me that I can realistically do everyday, and he sends e-mails asking me if certain work is done. Some days I spend more time answering the e-mails than actually doing the work he is asking about. All this leaves me frustrated and working until late into the evening. How do I communicate my displeasure to my bosswithout sounding lazy or unwilling to help?
I've heard others joke that "work-life balance" means you do the work and your boss gets a life! I wouldn't say that's the way it works around ESPN, but others might! No, seriously, it really does take a single-minded focus to achieve your goals, and that's why a lot of folks think the Dallas Cowboys already have this year's Super Bowl in their back pocket - unless Aaron Rodgers has something very Favre-like to say about that.
*
Dear Tony,
My husband and I got married seven years ago. Unlike our siblings and friends, we delayed starting a family. In the past, our siblings and friends outright demanded that we visit them and they almost never visited us because we didn't have a family. Since the birth of beautiful daughter, we cannot get them to leave. Worse yet, they invite their whole household, along with their children and viruses. I don't want my daughter to catch anything that she cannot defend herself against. How do I set a boundaries that will be respected?
Perhaps you might say "It's been said by many a person that your friends and family want you to have a child so you will feel just a miserable as they do. It's probably because some couples have children to mask the lack of love they have for each other." I'm pretty sure that's what Aaron Rodgers said once. And he learned that by watching Brett Favre every day in practice.
-
OverHyped Game of the Week: Jets at Chargers
Storyline: No, seriously, we cannot stop talking about Brett Favre. Talking about Favre is worse than our dependence on foreign oil. San Diego got screwed last week, and they are more pissed than a jilted lover. Yes, you get all this, plus the hyperbole that comes with Monday Night Football.
Reality: I believe San Diego brings all bad things on themselves because Norv Turner coaches the team. Fortunately, the stars are on San Diego's side. When I say stars, I mean one star: Brett Favre. Favre's lack of energy will make his stardom collapse upon itself, imploding into a black hole of karma in which no luck can escape.
Prediction: San Diego Minus 7.5 Points, Over 43 Points Scored
-
UnderHyped Game of the Week: Jaguars at Colts
Storyline: Pre-season division contenders start the year looking up at Tennessee. Though it's early, a loss for either team is nearly crippling. Knowing this, expect a well-played game by both teams.
Reality: Here's the problem: Both teams' offensive lines have more holes in it than the CTA's service. Like the Blue Line, the game will start out slow. After a few adjustments, the train will move down that track and you will have a pleasant trip home, minus that weird guy in the corner giving you the stink eye.
Prediction: Jacksonville Plus 6, Over 41.5 Points Scored
-
Last week's picks: 2-1-3
-
Eric Emery grew up in small-town Illinois but has an irrational love of the Pittsburgh Steelers. Every week he writes The Blue & Orange Kool-Aid Report and Over/Under. You can send him love letters and hate mail and he will respond graciously.
Posted by Beachwood Reporter at 12:24 AM | Permalink
September 17, 2008
Nader Predicted Wall Street Meltdown
Eight years ago, consumer advocate Ralph Nader correctly predicted that the Federal National Mortgage Association (Fannie Mae) and the Federal Home Loan Mortgage Corporation (Freddie Mac) were on track to follow the savings and loan industry of the 1980s and 90s into a big financial heap of trouble. Nobody listened, and taxpayers are now at risk of losing tens of billions of dollars. Wall Street is being shaken to its foundation. American International Group Inc., the biggest U.S. insurer by assets, is now teetering on the brink of ruin after suffering losses of $18 billion in the past three quarters, largely due to its sub prime mortgage exposure.
"Nader Rips Mae and Mac," declared the Milwaukee Sentinel Journal on June 16, 2000. "Ralph Nader, warning of a potential taxpayer bailout similar to the savings and loan crisis, urged lawmakers to cut government benefits to mortgage-market giants Fannie Mae and Freddie Mac - which he called 'poster children for corporate welfare.'"
This year Nader, who is also running for president as an independent, is getting credit for his prescience.
"Give one presidential candidate credit for identifying the problem and getting the policy right - and doing so before the twin government-sponsored enterprises (GSEs) Fannie Mae and Freddie Mac went into the tank in mid-July," wrote Lou Dubose in The Washington Spectator on Aug. 1. Dubose went on to quote Nader's June 15, 2000 Congressional testimony about HR 3703, a bill that would have reigned in some of the most dangerous tendencies of GSE's, had it passed.
In a letter to SEC Chairman Christopher Cox in 2006, Nader also criticized the exorbitant salary of GSE executives Jamie Gorelick, Daniel Mudd, Robert Levin and Timothy Howard, and noted that their financial incentives were in direct conflict with consumer financial security because of the grave moral hazard created by accounting manipulations they sanctioned that benefited their personal wealth, with no penalty for being caught.
"As you continue to investigate the Fannie Mae accounting debacle, we are writing to urge you to seek civil sanctions, including disgorgement, from senior executives who profited directly from the misconduct at Fannie Mae, and that you urge the Department of Justice to give careful consideration to criminal prosecution of these individuals," wrote Nader.
Candidate Nader has called for an immediate halt to the increase in the national debt, an end to corporate subsidies and unconditional taxpayer bailouts of corporations, and a start to the aggressive prosecution of corporate criminals.
In his prepared remarks for New York Times editors in its Washington Bureau, Nader stated: "Given the contrast between the 'free market' ideology of the Republicans and the corporate or state socialism that is their increasing practice, the time is ripe for full Congressional hearings next year on the organized power, greed and lack of regulation that is shaking the foundations of Wall Street."
Nader added, "What we need to do now is find a just way to deal with the millions of homeowners facing foreclosure and make sure that this level of financial market manipulation does not happen again."
He elaborated a 10-point plan to cool off the financial markets meltdown:
1. No bailouts without conditions and reciprocity in the form of stock warrants.
2. No more lobbying for any company that is bailed out.
3. No golden parachutes and get out of jail free cards for guilty executives.
4. No bailouts without public hearings.
5. Reduce the moral hazard in U.S. mortgage markets by introducing covered bonds for the majority of mortgage products as they do in Western Europe. That gives institutions that finance mortgages an incentive to be prudent, because they cannot just unload them and wipe their hands clean of the liability, but are instead on the hook if the homeowner defaults.
6. Maintain neighborhood stability and housing security by passing a law with a sunset clause allowing below median-value homeowners facing foreclosure the right to rent-to-own their homes at fair market value rates.
7. Avoid future housing bubbles by removing implicit government guarantees for new mortgages that exceed thresholds of greater than 15-20 times the annual fair market rent value of the home.
8. Make the Federal Reserve a Cabinet Position, so it is accountable to Congress, as well as making sure all Federal Reserve Bank presidents are appointed by the President and answerable to congress.
9. Reduce conflicts of interest by taking away power for auditor and rating agency selection from companies and placing it in the hands of the SEC to be administered on random assignment.
10. Implement a securities speculation tax, starting with derivatives to deter casino-style capitalism.
-
Resources:
* RN's response to bailout on Vote Nader Web site.
* Politico: Nader on bank woes: "I predicted this"
* Washington Spectator: Ralph Nader was right
* Ralph Nader's 2006 letter to SEC Chairman Christopher Cox
* Ralph Nader's 2000 testimony on H.R. 3703 to the U.S. House of Representatives Subcommittee on Capital Markets, Securities, and Government Sponsored Enterprises
* 2000 American Enterprise Institute book about Fannie & Freddie Mac in which Ralph Nader wrote a chapter - Serving Two Masters, Yet Out of Control - Fannie Mae and Freddie Mac
* Ralph Nader's chapter: "How Fannie and Freddie Influence the Political Process." (starts on pg. 110)
* Milwaukee Journal Sentinel: Nader rips Mae and Mac (from June 2000): Ralph Nader, warning of a potential taxpayer bailout similar to the savings and loan crisis, urged lawmakers to cut government benefits to mortgage-market giants Fannie Mae and Freddie Mac - which he called "poster children for corporate welfare." But some lawmakers said that acting hastily could raise the cost of buying a home by increasing borrowing costs for Fannie Mae and Freddie Mac, which are called government-sponsored enterprises.
Posted by Beachwood Reporter at 11:09 AM | Permalink
The [Wednesday] Papers
"Like many who do not plan to vote for either major party ticket, I have a preference as to which I'd rather see win (or, more accurately, which I want to lose more). I'm not oblivious to the differences between the two, or to the fact that the candidate I plan to vote for will not win. But perversely, because our system is biased against alternative candidates, I have the luxury of being able to vote for one," writes Peter Orvetti at The Independent Political Report.
"To be more blunt, if you live in Alabama, Alaska, Arkansas, California, Connecticut, Delaware, the District of Columbia, Hawaii, Idaho, Illinois, Kansas, Kentucky, Massachusetts, Mississippi, Nebraska, New York, Oklahoma, Rhode Island, South Carolina, South Dakota, Tennessee, Texas, Utah, Vermont, or Wyoming, you can vote for whoever the heck you want to - each is leaning so heavily to either McCain or Obama that you are free to vote your conscience."
I pretty much subscribe to this view.
*
(h/t: Capitol Fax Blog for the link)
Nay Jay
"Discussions between former Chicago Sun-Times sports columnist Jay Mariotti and Tribune Co. about a possible role at the media company have ended, Mariotti said late Tuesday," the Tribune reports.
"He said lawyers from the Sun-Times threatened to sue if he joined the company, claiming a jump to the competing news outlet would violate a non-compete agreement."
As pointed out to me by a faithful reader this morning, you'd think the Sun-Times would be thrilled to have Mariotti join the Tribune given that they spilled so much ink describing what a cancerous buffoon and lousy journalist he was after he jumped ship.
CTA Day
CTA Tattler is planning its second "Coffee With Ron" this weekend.
Plus, chicken bones.
Bank Shot
"[T]he Commission on Chicago Landmarks will be holding a public hearing on Wednesday, September 17th on the proposed designation of the North Federal Savings and Loan Bank, now Diamond Bank, at North Avenue and Clark Street," Lynn Becker notes.
"The structure was one of a group of sixteen bank buildings proposed for landmarking last year. It is the only modernist design among the group, and the fact that only now is a public hearing being held would indicate that the designation is meeting resistance."
Only In Crook County
A lawyer who defended the county against patronage allegations has just been named the inspector general charged with weeding out patronage.
Luke's Force
"The last thing I want to do is appear not qualified, to appear that it was just a nepotism hire, to appear that everything was just handed to [me]," Luke Russert says in an AP report appearing in today's Tribune.
Not to worry, Luke - it's the first thing you appear.
*
Does NBC have an inspector general?
Historical Hysteria
"David Axelrod, Barack Obama's chief strategist, said Sunday that John McCain is running the 'sleaziest and least honorable campaign in modern presidential campaign history.' It was a line trotted out all weekend by various Obama staffers as part of an effort to portray the Republican nominee as a purveyor of the slimiest tactics in recent memory," Politico reports.
"Yet presidential historians and political scientists interviewed by Politico scoffed at the notion, suggesting McCain's approach is no harsher than those used in previous modern campaigns and certainly not by comparison to many historic campaigns."
Hillaryland
"Hillary Clinton said in an interview this morning that it was possible to be enthusiastic about Sarah Palin's historic candidacy without supporting the Republican ticket," Politico reports.
"'People are missing the boat here,' Clinton said on ABC's Good Morning America. 'I don't think that it's inconsistent for a lot people to say, Well hey, that's exciting, what an exciting pick, and still say, But that's not the ticket for me and my family.'"
Man With Red Tube
On a Chicago street.
-
The Beachwood Tip Line: Definitely.
Posted by Beachwood Reporter at 10:26 AM | Permalink
The Lawn Mower Goodness of John Deere
John Deere Ranks Highest in Customer Satisfaction with Lawn Mowers in Inaugural Study
WESTLAKE VILLAGE, Calif. - John Deere ranks highest in satisfying customers with walk-behind lawn mowers, according to the J.D. Power and Associates 2008 Walk-Behind Lawn Mower Study.

The inaugural study measures customer satisfaction with walk-behind lawn mowers by examining four key factors (listed in order of importance): performance (including engine power, ease of starting and cutting effectiveness); maintenance (including durability and routine maintenance demands); warranty and price. The study is designed to provide information that helps customers with purchase decisions, as well as to assist lawn mower manufacturers in their efforts to improve customer satisfaction.
Among the 13 brands ranked in the study, John Deere ranks highest in customer satisfaction with a score of 790 on a 1,000-point scale, demonstrating strong performance in three of four factors: performance, maintenance and warranty. Honda (778) and Toro (766) follow John Deere in the rankings and also perform consistently well in the most important factors driving satisfaction.

Very few walk-behind lawn mower owners - less than one in 10 - report experiencing a problem with their lawn mower. However, the incidence of problems varies widely from brand to brand. Among those owners who experience a problem, the three most common problem areas are the starting mechanism, the engine, and the drive system.

"A walk-behind lawn mower needs to be durable, dependable and effective at maintaining a yard, and the John Deere mowers definitely are," said Michael Drago director for the real estate and construction industries practice at J.D. Power and Associates. "In particular, John Deere mowers have a notably low rate of reported problems. In fact, owners of other brands are at least twice as likely to experience problems than are owners of John Deere mowers."

The study also finds that owners of gas-powered and electric walk-behind lawn mowers have satisfaction scores that are nearly commensurate - averaging 742 and 737, respectively.

"One of the first decisions customers must make in considering a walk-behind lawn mower is whether a gas powered or electric model is right for them," said Drago. "Although each type has its own strengths and weaknesses, the overall satisfaction for the two product types is relatively similar."

The study finds that whether they are considering a gas-powered or electric lawn mower, many customers cite price as the most important consideration in their selection.

"Shoppers should keep in mind that not all walk-behind lawn mowers are equal, and may wish to consider investing more in their purchase if they are seeking a product that lasts longer and is more reliable over time," said Drago. "Rather than choosing a mower solely on price, customers should also consider the performance and features of products within their price range. In addition, customers may also want to investigate starting reliability when making their purchase decisions. After all, even the most powerful mower available won't meet customer needs if the customer has difficulty starting it."

The 2008 Lawn Mower Study is based on responses from more than 2,220 consumers who purchased a new lawn mower within the past 12 months. The study was fielded in June and July 2008.
Posted by Beachwood Reporter at 1:44 AM | Permalink
September 16, 2008
The [Tuesday] Papers
"The bankruptcy filing of Lehman Bros. Inc. and the pending sale of Merrill Lynch & Co. to Bank of America Corp. threaten to hit Chicago's battered financial sector hard," Steven Strahler writes in Crain's.
"Ultimately, it's going to have a very devastating impact on the region," a Lehman vice-president in Chicago says.
Poll Position
The Cubs' last two games notwithstanding, Chicago could be losing its grip on its Big Moment. Take the Division Street poll and tell us which big event you'd prefer this fall - a local World Series championship, a Barack Obama presidency, or the indictment of a particular mayor or governor.
Ethics Test
"Pending legislation to tighten state ethics laws could be delayed for years and maybe even die unless the Illinois Senate reconvenes soon to take further action on the measure, the state's chief legal officer warned on Monday," Crain's reports.
That would be state Attorney General Lisa Madigan.
"The (proposed) law is in jeopardy and we know why," Madigan said at a press conference.
That would be because of state Senate President Emil Jones.
*
State Rep. Kirk Dillard - a Republican who appeared in an ad for Barack Obama earlier this year - "suggested that what would really move Mr. Jones to fast action would be a call from his favorite protege: Democratic presidential nominee Barack Obama. Mr. Obama's campaign had no response."
*
Well, that's not entirely true. As Dennis Byrne notes in the Tribune today, Obama's website states that "Throughout his political career, Barack Obama has fought for open and honest government,"
Which is something that Obama's critics just don't get. For example, consider the talking points dispensed by this Obama Action Wire, including this gem:
LIE: "When Veteran Cook County Boss John Stroger faced a strong and credible challenge in the 2006 primary election from a reform-minded liberal Democrat, Obama said nothing . . . Obama's silence had probably saved Cook County's political kingpin." [pp. 8, 14]

TRUTH: Obama's Neutrality Sent "A Silent Signal" That Was Helpful To Claypool. [Chicago Sun-Times, 3/16/06]
So, you see, Obama is probably just sending another silent signal. Isn't that enough?
*
"If John McCain would just insert one sentence into a speech about this topic, it would be front-page headlines all over Illinois," Rich Miller writes.
And maybe beyond.
Sarah Clinton
"What is it about our culture that demands that women go back for additional training if they want to apply for the same job as a man?" Riverdaughter asks before totally shaming Jonathan Alter. "It must be nice to be a man in America."
*
Or a University of Chicago Divinity School professor.
Astro Turf
"Other than the brats and cheese curds and Packers updates, how did you fellas enjoy the trip?"
- Richard Justice, Houston Chronicle
Wrigley Field North
"Sources within the organization indicated that [owner Mark] Attanasio was the driving force in the decision to fire Yost. Attanasio is an aggressive businessman and money manager who is not shy to make bold moves when he thinks the situation warrants them," the Milwaukee Journal Sentinel reports.
Beer Goggles
It's always interesting to read the hometown press of opposing teams after a game as well as your local papers; it's like reading liberal and conservative blogs about the same issue, statement, candidate . . . it's all through a prism that refracts the truth. But there is an objective reality that can be discerned. That is the task of journalism.
Cheese Head
"Democratic presidential candidate Barack Obama is promising to push for $5 billion in new funds to protect and restore the Great Lakes if he gets elected in November," the Journal-Sentinel reports.
"Obama also plans to designate a Great Lakes czar to coordinate existing federal programs with authority over Great Lakes management issues."
Deficit Campaigning
"I am not voting for Barack Obama. Why? Because he won't solve our fiscal crisis any more than McCain will."
- Jeffrey Meredith in today's Beachwood
Bridging the Gap
The city of Minneapolis is scheduled to open its new 35W bridge on Thursday.
"The 35W Remembrance Garden will be built at a cost of $1 million in the northeast part of Gold Medal Park, which became an unofficial gathering spot after the collapse," the Star Tribune reports.
Now would be a good time to revisit the Beachwood's coverage:
* Letter From Minneapolis: About a Bridge
* Big News, Small Town: The national media pays a visit
Thank You, Richard Wright
-
The Beachwood Tip Line: Now available in harmony.

Posted by Beachwood Reporter at 7:59 AM | Permalink
Deficit Campaigning
Let me start off by saying that I have only voted for a Republican once. It was a county coroner. I figured, "Hey, these people are already dead - how much more damage could a Republican do?"

Outside of county coroners, I don't vote for Republicans. People who are alive - and I'm not referring to unborn babies and those in a persistent vegetative state, who are very well served by their Republican representatives - have too much at stake.

With that said, I am not voting for Barack Obama. Why? Because he won't solve our fiscal crisis any more than McCain will.
The last thing this country needs is a tax cut. Obama has vowed to cut taxes for 95 percent of Americans, apparently with the other 5 percent footing the bill. Good, raise taxes on those bastards. But raise taxes on the rest of us too. It is clear that this country needs more revenue - we should be raising taxes. (Note for Rudy and John: tax cuts are not going to increase revenues.) We need to be running true surpluses (not what we had during the Clinton years) in order to shrink the debt.

From MarketWatch: "Through the first 11 months of the fiscal year, the deficit was $483.4 billion, 76% higher than $274.4 billion a year ago, largely because of the weaker economy and higher spending on the war. The on-budget deficit has totaled $669.5 billion so far this year, up 56% from $427.8 billion at this time last year."

The U.S. federal debt now checks in at roughly $9.7 trillion.

Now you may be saying, "Why should I care? Cheney said, 'Reagan proved deficits don't matter.'" Well, for one, Dick Cheney is full of it. And you should care because in FY 2006, the U.S. government spent $406 billion on interest payments to holders of the national debt. $406 billion! That's more than 23 times the 2008 budget of NASA. Think of all the things we could do with that money.

I want to put this interest figure in perspective for you. Remember all the federal departments that the Republicans wanted to eliminate in 1996? They included the Department of Education ($59.2 billion in 2008), HUD ($35.2 billion), the Department of Energy ($25 billion requested in FY 09) and the Department of Commerce ($8.18 billion requested in FY 09). I obviously don't have the numbers that Congress authorized department-by-department for a particular year, but let's just imagine the Republicans had succeeded with their plans and denied us all the valuable services of these departments (although I certainly favor handing over HUD's responsibilities to the states and localities . . . go ahead and abolish it) - these departments still represent less than $130 billion in spending and are less than one-third of what we are committing to interest payments. That's how bad it is.

This should be the #1 issue in the campaign - the national debt and what we're going to do about it. The debt was a huge issue in 1992 and it was about $4.4 trillion then; now it's over $9.7 trillion and nobody seems to care.

The Iraq War cost was estimated at $435 million a day in early 2008. Stretch that figure out over a year and you're looking at about $158.8 billion a year. Granted, the cost per day has skyrocketed - in March 2006, the CBO was telling us that the war cost $200 million a day. So we leaped from $200 million a day to $435 million a day within two years? Not even the surge can fully explain that type of dramatic increase. Even if the Iraq War's price tag hit $200 billion a year, that's still less than half of what we spent on interest on the debt in FY 06.

Which brings me to my first major criticism of Obama supporters: They pretend that the deficit will vanish as soon as our combat troops are withdrawn from Iraq (Mid-2010? 2011? I can't keep up with the negotiations), even though the Iraq War is only part of the problem. And not all of that Iraq money will be freed up in 2012, 2013, etc. - you can bet that some money will be redirected to operations in Afghanistan and we will have non-combat troops remaining in Iraq, the so-called residual force. It's not like $200 billion is suddenly going to fall into our lap and we'll have a balanced budget. It wouldn't happen that way, especially considering that we're running deficits approaching $500 billion because of a weak economy.

The smallest Bush deficit I can recall was $163 billion in FY 07. Excluding the Social Security surplus, it would've been much worse, and by 2017, we won't be looking at any Social Security surpluses.

Bottom line: getting out of Iraq does not bring us back to zero. We're still running deficits even if you remove the Iraq War spending.

Congress, under both parties, has given no demonstration that it can reduce spending. Given that federal entitlement programs (Social Security, Medicare, Medicaid) eat up 40-45% of spending and are politically untouchable, and that the Democrats will be called pinko commies if they touch our bloated defense budget (about 20% of our spending), and that interest payments are eating up about 8-9 percent of spending . . . that leaves the universe of about 26-32% of federal spending that we can actually try to reduce right now.

So when you hear a politician say that he or she is a "fiscal conservative" who wants to reduce spending in Washington, the truth is that they can't do much at all. He's only dealing with that 26-32% universe; even when you cut funding for the super monkey collider or the Bridge to Nowhere, it doesn't make a hell of a lot of difference because the other 68-74% of spending is already spoken for. And if this "fiscal conservative" happens to be a hypocrite like Tom Coburn, you can ask him why he voted against limits on farm subsidies that are often directed to corporate-owned farms and millionaires. Fiscal conservative, my a$$. Only when it comes to denying the Justice Department a measly $10 million (overwhelmingly approved in the House) to investigate unsolved civil rights crimes. Tom Coburn, go back to delivering babies full-time because you're an awful senator.

Given Congress' inability to reduce spending (ideally we would slow down spending as much as possible), our only choice right now is to bring in more revenue and run surpluses to hammer away at the debt. It should be a national priority to stop paying billions and billions in interest.

I should note that it's going to take much more than what we did during the late 90s. Even during the so-called surplus years of the Clinton administration, we were still running deficits.

You'll notice a chart at that link showing how the public debt went down between FY 98 and FY 01, yet intergovernmental holdings went up even more. This can explain why the total national debt increased from just over $5.4 trillion to just over $5.8 trillion. Granted, a $400 billion increase over several years is better than a $400 billion increase in a single year (a la Bush), but it is a myth that we were truly reducing the national debt under Clinton. We were taking a step in the right direction, but we hadn't gotten to our ultimate destination.

Rather than offering concrete proposals for debt reduction, Obama and McCain largely seem to be ignoring the issue. They're more concerned with the meaning of quotes about pigs and lipstick. Also, did you know that Barack Obama was a community organizer of mixed race parentage and that John McCain was a POW? I couldn't remember it until the 1,000th time they told me. These men are narcissistic, self-touting idiots. But I suppose that's what running for president is all about. We deserve better candidates - these men are not the answer.

In reader letters, members of the public say that they want to hear about the issues. Well, this is the issue. One out of every 11 or 12 dollars is just being flushed down the toilet on interest. When I talk to likely voters, most of them are oblivious to the actual numbers. When I tell them this story, they're horrified - and then they ask why a person with such a strong interest in politics is not voting. That's when I tell them that Obama and McCain are absolute tools and we're all doomed . . . so we might as well enjoy our lives as much as we can. I'm going to Glacier National Park in October and to Sedona in November; life goes on and it can be enjoyable, even as idiots seal the decline of America.
Brookings has some depressing projections in "Federal deficit soars, but McCain, Obama offer no answers" by the McClatchy Washington bureau: Obama adds $3.5 trillion to the debt and McCain adds $5 trillion. And I'm supposed to be happy with the argument that Obama causes less debt? It's like walking through the door with a broken nose and telling your Mom, "Wait till you see the other guy."

I was struck by the fact that Obama talked about the Iraqi government surplus while we were "wallowing" in deficits, yet he has no solution to our deficit problem. The best defense I can hear from Obama supporters is:"He can't say that he'll raise taxes because he'll lose the election like Mondale." So this is just an electoral tactic where he promises to cut taxes for 95 percent of Americans and he doesn't intend to do it? He's secretly interested in addressing the debt? Sorry, I'm not buying it.
-
This piece first appeared on Jeffrey Meredith's blog Life in Allston, and comes to us via The May Report. Meredith is a former technology writer for Chicago's iStreet and is now a student at the Boston University Center for Science and Medical Journalism.
-
Also from Meredith: Additional figures regarding the debt.
-
Comments welcome. Please include a real name unless you have sufficient reason to remain anonymous.

Posted by Beachwood Reporter at 5:00 AM | Permalink
September 15, 2008
The [Monday] Papers
"Carlos Zambrano pitched the first no-hitter for the Chicago Cubs in 36 years, returning from a sore rotator cuff to shut down the Houston Astros 5-0 Sunday night in a game relocated because of Hurricane Ike," AP reports.
"'I guess I'm back!' Zambrano hollered."
*
Also from the no-hitter files:
- Our very own Jim Coffman writes that his favorite moment of the no-hitter was a pop-up in the eighth. Find out why.
- Cub Factor writer Marty Gangler says Big Z is furious - furiously awesome! He also wonders about hurricanes named after Cubs.
The View From Houston
"Neutral field? Are you kidding me? There's ridiculous and more ridiculous and whatever this was supposed to be," writes Richard Justice of the Houston Chronicle.
"Commissioner Bud Selig should be embarrassed to have thrown a team in the thick of playoff contention into this situation. If the Astros miss the playoffs by a game, remember this one."
View From Carolina
"The only way to overcome the wall the Chicago Bears erected to stop the Carolina Panthers' running game was to bulldoze it," writes Chris Chandler of the Charlotte Observer
"So, with less than 10 minutes remaining in the third period and the Bears leading by 14 points, Panthers coach John Fox sent rookie running back Jonathan Stewart into the game."
Stewart is now being described as "Charlotte's New Rock Star."
Trib Tool
Deadspin reports that we'll soon have Jay Mariotti to kick around again.
Obamath
* "Sen. John McCain is sharply increasing his number of campaign aides and offices in Wisconsin, where he has worked his way back into a tight presidential race with Sen. Barack Obama."
+
* "Minnesota has become a battleground in a presidential campaign that has dramatically tightened nationwide. A new Star Tribune Minnesota Poll shows that the race is now a dead heat between Barack Obama and John McCain, each supported by 45 percent of likely voters in the state."
=
"Sen. Barack Obama's campaign is expected to roll out a new ad today that suggests Sen. John McCain is running a dishonorable campaign."
*
I will not take the low road like my lying, dishonorable opponent!
Palin Drone
Eric Zorn's Sexist Folly.
Stone Cold
One of the worst things Dusty Baker ever did was to help chase Steve Stone out of the Cubs' broadcast booth. Now he's returning on the other side of the town, but how in the world will he mix with Hugest Homer Honky Hawk Harrelson?
It's a bad sign when Stoney calls Harrelson "one of the greatest play-by-play guys doing baseball currently."
Some might even say it's a stretch. Stretch.
Lethal Weapons
"The decision by Mayor Richard Daley and Police Superintendent Jody Weis to deploy assault weapons on the streets of Chicago has been made without providing a demonstrable need for the weapon," Chicago Justice says. "Over the last several weeks, the Chicago Justice Project has made inquiries to find out what information the Chicago Police Department used to make the decision to deploy this weapon. Our inquiries uncovered a dangerous lack of knowledge of past practices that could have informed present decisions."
Political Footnote
"As of 2003, the rhetoric of the enterprise is fucked. 95 percent of political commentary, whether spoken or written, is now polluted by the very politics it's supposed to be about. Meaning it's become totally ideological and reductive: The writer/speaker has certain political convictions or affiliations, and proceeds to filter all reality and spin all assertion according to those convictions and loyalties."
- David Foster Wallace
Quorom Call
"Aldermen continue to hold committee meetings with as few as two members present, despite concerns raised by a watchdog group that the Chicago City Council is in violation of state law," a Beachwood/Chicago Talks follow-up investigation has found.
Ald. Patrick O'Connor says the actions city council committees take without quoroms are legal as long as no committee member calls for a quorom.
No, really, he says that.
"That's called creating your own reality," says the BGA's Jay Stewart.
Our Kind of Collider!
Beachwood Labs has determined that the Large Hadron Collider might reveal such mysteries of the universe as who hired Angelo Torres and what the deal is with that guy's cat.
Foster and Avers
-
The Beachwood Tip Line: Sealed for your protection.

Posted by Beachwood Reporter at 8:24 AM | Permalink
Our Kind of Supercollider
1. "Three hundred feet below the outskirts of Geneva lies part of a 17-mile-long tubular track, circling its way across the French border and back again, whose interior is so pristine and whose nearly 10,000 surrounding magnets so frigid, that it's one of the emptiest and coldest regions of space in the solar system," Brian Greene writes in the New York Times.
It's the Large Hadron Collider, the world's largest particle accelerator that was turned on last week and - according to Wikipedia - may answer questions such as:
* Is the Higgs mechanism for generating elementary particle masses in the Standard Model indeed realised in nature?
* Are electromagnetism, the strong nuclear force and the weak nuclear force just different manifestations of a single unified force, as predicted by various Grand Unification Theories?
* Why is gravity so many orders of magnitude weaker than the other three fundamental forces?
We here at Beachwood Labs have determined that if the LHC's proton beams collide in just the right way, we'll find the answers to these questions too:
* Who hired Angelo Torres?
* Where did Derrek Lee's power go?
* Is Heisenberg's cat dead or alive?
* Why does it seem like a baseball player who makes a great defensive play to end an inning is always the first guy up to bat when the next inning starts?
* Where is the remote?
* How much wood can a woodchuck chuck?
* Can God create laws of physics that even He does not understand?
* Do cell phones cause cancer?
* Could Alou really have caught that ball?
* Why did the chicken cross the road?
* How many licks does it take to get to the center of a tootsie pop?
2. Large Hadron Rap
-
-
What other mysteries might the collider solve?
Posted by Beachwood Reporter at 6:20 AM | Permalink
David Foster Wallace: The Normal Post-Modernist
1. "After David Foster Wallace became a twentysomething literary phenom - after the publication of his first novel (The Broom of the System, 1987) and short-story collection (Girl With Curious Hair, 1989) got the Thomas Pynchon comparisons flowing - he checked himself into a hospital and asked to be put on suicide watch," Mark Caro writes in the Tribune.
"'In a weird way it seemed like there was something very American about what was going on, that things were getting better and better for me in terms of all the stuff I thought I wanted, and I was getting unhappier and unhappier,' he told me in 1996 upon the publication of Infinite Jest, the 1,000-plus-page novel that would cement his status as one the few modern-day literary giants."
2. "In the footnotes of the brief life of David Foster Wallace, a reader might discover that in addition to penning one of the seminal novels of the latter 20th century, and in addition to trademarking a dizzying writing style populated with parentheticals and those brilliant footnotes, and in addition to becoming a symbol of pop culture and intelligentsia for a large segment of Generation X, the Infinite Jest author lived for a time in Normal, Ill.," Monica Hesse writes in the Washington Post.
"Normal is a corn town in the middle of the state. It is not postmodern. It is not terribly ironic. It does not seem, in short, the type of place that a towering, postmodern writer such as David Foster Wallace, who hanged himself Friday at age 46, would live. And yet he did, for about a decade until moving to California. I grew up in Normal, and I knew him a little.
3. "David Foster Wallace used his prodigious gifts as a writer - his manic, exuberant prose, his ferocious powers of observation, his ability to fuse avant-garde techniques with old-fashioned moral seriousness - to create a series of strobe-lit portraits of a millennial America overdosing on the drugs of entertainment and self-gratification, and to capture, in the words of the musician Robert Plant, the myriad 'deep and meaningless' facets of contemporary life," Michiko Kakutani writes in the New York Times.
5. "As an adolescent, Wallace was a regionally ranked junior tennis player," his Wikipedia entry says. "He attended his father's alma mater, Amherst College, and majored in English and philosophy, with a focus on modal logic and mathematics. His philosophy senior thesis on modal logic was awarded the Gail Kennedy Memorial Prize, while his English senior thesis would later become his first novel."
6. Interviewed by Dave Eggers for The Believer.
THE BELIEVER: You covered John McCain for the 2000 election, and that piece, which was so fresh and honest and unvarnished, was made into a kind of book-on-demand. Do you keep up with politics, and if so, are there plans to do any more political writing? And do you have any comment on why, it seems, there are fewer young novelists around who also comment directly on the political world? Should novelists be offering their opinions on national affairs, politics, our current and future wars?
DAVID FOSTER WALLACE: The reason why doing political writing is so hard right now is probably also the reason why more young (am I included in the range of this predicate anymore?) fiction writers ought to be doing it. As of 2003, the rhetoric of the enterprise is fucked. 95 percent of political commentary, whether spoken or written, is now polluted by the very politics it's supposed to be about. Meaning it's become totally ideological and reductive: The writer/speaker has certain political convictions or affiliations, and proceeds to filter all reality and spin all assertion according to those convictions and loyalties. Everybody's pissed off and exasperated and impervious to argument from any other side. Opposing viewpoints are not just incorrect but contemptible, corrupt, evil. Conservative thinkers are balder about this kind of attitude: Limbaugh, Hannity, that horrific O'Reilly person. Coulter, Kristol, etc. But the Left's been infected, too. Have you read this new Al Franken book? Parts of it are funny, but it's totally venomous (like, what possible response can rightist pundits have to Franken's broadsides but further rage and return-venom?). Or see also e.g. Lapham's latest Harper's columns, or most of the stuff in the Nation, or even Rolling Stone. It's all become like Zinn and Chomsky but without the immense bodies of hard data these older guys use to back up their screeds. There's no more complex, messy, community-wide argument (or "dialogue"); political discourse is now a formulaic matter of preaching to one's own choir and demonizing the opposition. Everything's relentlessly black-and-whitened. Since the truth is way, way more gray and complicated than any one ideology can capture, the whole thing seems to me not just stupid but stupefying.

Posted by Beachwood Reporter at 5:47 AM | Permalink
SportsMonday
My favorite part of Carlos Zambrano's Sunday evening sensation at Miller Park in Milwaukee was the pop-up in the bottom of the eighth. The play was routine and yet it wasn't. I thought it wouldn't draw much notice, but there it was, part of the initial post-game highlights package on ESPN.com. With five outs remaining (from now on when we hear that phrase maybe we'll think of this game for a moment or two before Bartman et. al.), the foul but playable ball took tenuous flight. Just before it headed back down between first and home, Zambrano looked at Derrek Lee and thought for a split second, "Do I have to let Derrek catch this ball again? Do I have to follow that unfair, unwritten rule that dictates field players catch all pop-ups, even ones that come down on the mound?"

And then the ball was descending a little quicker than usual and Zambrano answered his own question with vehemence: "No! This one is mine - Mine!" Like all the other plays he makes on the diamond, Z's call for the ball was fundamentally sound (note the use of the word "plays" - a category of activities that does not include histrionics). He hustled over, waved his arms a few times and then snatched the ball out of the air. Zambrano grabbed that pop-up like he grabs every opportunity to make a difference on the diamond. Be it making a tough play in the field or trying to beat out an infield hit or catching a pop-up the first baseman could have grabbed, Z always plays the game with ferocity.

Then after he had done it, after Zambrano had retired the Astros in the ninth to finally finish off the no-hitter he's always had in him, and after the requisite bouncing, bouncing, bouncing celebration, the best part was the history. In a post-game interview, play-by-play man Len Kasper put Zambrano on the spot, asking him if he knew the identity of the last Cub to finish a complete game with a zero in the opponents' hit column. Z knew the answer but he seemed a little nervous as he said "Milt Pappas." Kasper tacked on a query about the year (1972) and while Zambrano didn't know the answer to that one, he did reveal that Pappas has told him at more than one Cubs Convention that "You'll be the next one to throw one. You'll be the next one to do it." Sweet.

As for other highlights:

Analyst Bob Brenly busted out his best stuff early when he spoke briefly about how Zambrano's arm angle impacts his stuff. Throughout the game it wasn't hard to see what Brenly was talking about. When Zambrano throws his slider or cut fastball by bringing his arm through closer to overhand than sidearm, the ball has late, quick downward movement. Hence the 13 groundball outs on Sunday. When the angle slips down a bit, which notably happened on only one late hanging breaking ball that Brenly pointed out (and that the Astro hitter failed to crush), the ball spins sideways and is eminently more hittable.

The 10 total strikeouts were just the right amount (any more and the pitch count starts to get scary - less and the chance of all balls put into play becoming outs declines precipitously). The fact that the Astros hit only one ball out of the infield in the first seven innings and two for the game was particularly telling. There were clearly big factors working in Z's favor: a 12-day break from pitching coming in (although that could have been a double-edged sword, what with the potential to be less than sharp after a long layoff) and the fact that Astro hitters had flown into Milwaukee on the day of the game after spending Friday and Saturday dealing with Hurricane Ike. Still, Zambrano absolutely dominated a team that had won 14 of its previous 15 games.

Many have noted Zambrano loves to hit but "loves" isn't the right word. He burns to hit. Strikeouts bring out his worst. After the game Zambrano acknowledged he was actually thinking about trying to break his bat over his thigh after a seventh-inning punchout (and after six innings of no-hit pitching) but saw manager Lou Piniella and thought better of it. A few months ago, Piniella revealed he had left Z in to hit late in a game when he was done pitching because he hoped hitting would make the big fella' a little less likely to blow up when he learned he would not be returning to the mound. OK, so he also left him in to hit because Zambrano is a switch-hitter who hits well from both sides of the plate.

Zambrano also runs the bases like his hair is on fire. Kasper noted during the third inning that Z ran through third-base coach Mike Quade's stop sign when he scored from first on Derrek Lee's two-out double in the third inning. Quade then went to great lengths to delay the start of Aramis Ramirez's next at-bat (as slow a walk as possible toward home before engaging in what was clearly a needless chat with the third baseman - it wasn't like he was going to bunt). He was trying to ensure Zambrano would have enough rest even if Ramirez recorded a quick out.

While you're usually looking for the Cubs to add to an early lead, the lack of hitting after the third inning probably helped Zambrano. It's a lot easier for a pitcher to maintain his rhythm if he isn't waiting around for big innings (with his own team at the plate) to finally wind down.

As for Zambrano's defense, well, with other guys pitching, Derrek Lee tries to strike a balance on balls hit to his right. If the second baseman has a decent chance to get it, he breaks for first to make sure he is there to take the throw. With Zambrano on the mound, Lee unabashedly pursues every last ground ball he can get his hands on. He knows Z will get to the bag on time and he knows he will catch all but the worst tosses.

Lee's defense is great yet again this year but his offense, well, when he bashed a clutch two-run double, with two outs no less, it was obviously a special night. Rarely has a guy hitting over .290 had a more miserable second half of a season. Lee has one homer in his last thousand at-bats (actually the number is closer to 160) and as of a week ago had grounded into the second-most double plays in the majors. Lee had a seven-game hitting streak going into Thursday's game and it could not have been more inconsequential. The Cubs lost five of those games. Then when the Cubs finally won the second game against the Cardinals, the result that best signified the end of their biggest slump of the season, Lee went hitless. During that losing streak I was reminded of something Don Zimmer used to say: "You can't lose a shutout." In other words, if the pitching is good enough, you can't lose - at some point you'll accidentally score a run and that'll be it. In the Cubs last three games the pitching has been too good to lose. And there is a ton more where that came from.

Bears Bite
I know it was an especially irritating loss, one that involved blowing a 17-3 lead in so many ways, but let's try to maintain perspective. The biggest killers were one huge turnover (maybe Greg Olsen could do some penance - how about he goes to one of the sports radio lunches, like the one at Ditka's, and washes a fan's feet), one blown deep pass play in particular and a tired defense finally caving in. Usually I hate people trying to bail the Bears defense out with the excuse of the offense not playing well enough and forcing the defense to stay out on the field. But in this case, one first down in four possessions late in the third quarter and early in the fourth in the humid Carolina heat did damage to the guys on the other side of the ball, plain and simple. Still, it could be so much worse. You could be a Bengals fan.

And let's make sure we don't have any revisionist history going on in the aftermath of former Bears safety Chris Harris coming back to haunt his old team, particularly on Olsen's second fumble. I know Harris led the league in fumbles forced with eight last year. But I also know that the only thing he was in contention for leading the league in when he was with the Bears was missed tackles. That, and the fact that he was good for several brutally blown coverages per game, made it easy for the Bears to take a sixth-round pick for him before last season. He does now appear to be one of those guys who finds himself after a transaction serves as the ultimate wake-up call. So that's slightly depressing, but certainly not as depressing as backing the Chiefs or the Rams.

What if a football god had told an average Bear fan before the season that they could just forget playing the first two games, that he would guarantee the Bears would come out of it 1-1. I'd have taken that deal in a heartbeat. And I'm thinking we should all just remember to thank all that is holy we've never had any feelings for the NFL Franchise that represents Detroit.

-

Jim Coffman brings you the city's best weekend sports roundup every Monday. It's always a pleasure, isn't it? You can write to him personally! Please include a real name if you would like your comments to be considered for publication.

Posted by Beachwood Reporter at 5:06 AM | Permalink
The White Sox Report
This was a tough week to be a White Sox fan, partly because they hardly played. Nothing is worse than a rainout, because a rainout means a day without baseball. Especially in times like these, when the AL Central race has never been tighter, no White Sox baseball makes for an excruciating day. Such is particularly the case when the Twins keep winning.
But lost in all the rain was this: Joe Crede has played his last game in a White Sox uniform. It's not official yet, obviously, but it seems like a reasonable assumption now that the Sox have totally cleaned out his locker. Yes, name card included. (second item)
Crede was hardly a perfect player for the Sox, but you'd be hard-pressed to find one more beloved by fans.
Once this season ends, whenever that is, the tributes to Crede will start to roll in. People will remember him as a stellar defender and the man who introduced to the Sox to Journey. Some may even bring up his epic run in the 2005 playoffs. And for that, sure, Crede should go down in South Side lore. But count me as one of the few who isn't sad to see him go.
When Crede played, he was a great defender and reliable home run threat. For that, we can forgive his poor patience and even forget his unofficial record for "most pop outs ever," set in 2007. But Crede's greatest downfall was always his bad back, which was ruthlessly cruel to him over the entirety of his White Sox tenure.
Crede always tried to play through the pain, but it constantly hindered him. That was never more evident than this season, when he led all American League third basemen in errors at the All-Star break.
That back pain hindered the Sox as well. They were clearly a better team with him on the field, but if the constant guessing game regarding his health was mind-numbing for fans, I can only imagine how those within the team felt.
In the short term, Crede's absence means we get more of Juan Uribe, which can never be considered a good thing. In the long term, it means the Sox will no longer face constant health questions with one of the their premier players. While it always hurts to see an '05 hero go, this time it makes sense.
*
The Week in Review:Thank God for Dewayne Wise. If you were to combine blowing a seven-run lead and a Cubs no-hitter, well, that would just be too much to handle.
The Week in Preview: Can we just fast forward to next Tuesday? Yeah, this week's games against the Yankees and Royals are crucial, but we all know it comes down to a three-game set in Minnesota.
Fields on the Farm: After seeing what Kyle Orton did yesterday against the Panthers, it isn't out of the question that Fields, a former Oklahoma State quarterback, could be the best signal caller in Chicago. I think even Uribe could have hit Marty Booker on that bomb.
The Missile Tracker: Is the Missile your 2008 AL Rookie of the Year? According to ESPN's Joe Morgan, yes. I'm sure that's comforting to just about everyone.
Over/Under: 100: How many times we'll have to hear how much Ozzie respects the Twins leading up to the series in Minnesota.
Magic Number: 4: The amount of games the Sox have remaining outside the division. Inside the AL Central, the Sox are 39-23.
Beachwood Sabermetrics: A complex algorithm performed by The White Sox Report staff using all historical data made available by Major League Baseball has determined that Steve Stone will be a huge upgrade over DJ in the TV booth next year.
The White Sox Report: Read 'em all.
-
Comments welcome. Please include a real name if want to be considered for publication.
-
Ricky O'Donnell is the proprietor of Tremendous Upside Potential , a contributor to the Sun-Times's Full Court Press and a lot of other things.

Posted by Beachwood Reporter at 4:54 AM | Permalink
The Cub Factor
Right when we were about to describe Hurricane Carlos as potentially devastating but more full of hype than destructive power, the Cubs' major storm system wiped out the Astros without giving up a hit. Which got us to thinking: What if hurricanes were named after Cubs players?
*
Hurricane Mark. This hurricane can strike in any region of the country or appear as a tornado or earthquake, depending on your needs.
*
Hurricane Mike: A tiny storm with deceiving power. Shows up when Hurricane Mark is elsewhere.
*
Hurricane Aramis: This hurricane has been known to change direction for no reason at all.
*
Hurricane Matt: Can usually be found wandering around Ohio.
*
Hurricane Alfonso: Devastating winds but often ends with a whimper.
*
Hurricane Jim: A strong summer but starting to peter out. May be downgraded to an occasional thunderstorm.
*
Hurricane Kosuke: No longer on the radar.
-
The Week in Review: The Cubs took two of three from the Cardinals before last night's excellent Miller Park adventure.
The Week in Preview: The Cubs play one more game against the Astros in Milwaukee, then return to Wrigley for a three-games set against . . . the Brewers. The Cardinals are scheduled in town after that, but if it rains again that series might just be simulated on the Internet.
The Second Basemen Report: Mighty Mike Fontenot got two starts, Ronnie Cedeno got one and Mark DeRosa got one, though DeRosa is also getting starts in right field. Just like Hendry drew it up.
In former second basemen news, Ron Santo last played second base for the Cubs in 1972. It's true, look it up. It was also probably the last time he knew a whole lot about baseball. That's also true, just listen to him. He is missed.
The Zam Bomb: Big Z is furious. Furiously awesome!


Endorsement No-Brainer: Lou Piniella for Greyhound: When you absolutely have to be there before game time.
Lost in Translation:- Kosuke Fukudome is Japanese for "Who?"
Sweet and Sour Lou: 66% sweet, 34% Sour. Lou is up six points on the Sweet-O-Meter this week because Big Z is back. And like your real crazy drunk uncle, Lou knows your piano playing is getting a lot of buzz, but what really matters is your recital in a few weeks. So keep practicing. But go get him a Falstaff first.
Center Stage: The Cub Factor would like to welcome Felix "Corey" Pie back into the mix. It's nice to have a pinch-running specialist off the bench, just like Hendry drew it up.
The Cub Factor: Catch up with them all.
Beachwood Sabermetrics: A complex algorithm performed by the The Cub Factor staff using all historical data made available by Major League Baseball has determined that the Astros really aren't the home team in Milwaukee.
Over/Under: The amount of water in my basement this week: +/- way too much.
Mount Lou: Lou's angry boiling surface is mostly calm and solid once again. Expect Lou to blow off some "clinch" steam very soon.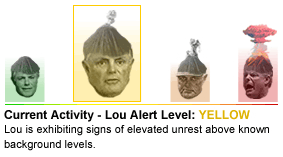 -
Posted by Beachwood Reporter at 4:25 AM | Permalink
Song of the Moment: Rainy Days and Mondays
Like the public at large, I'm sure a few of my Beachwood Reporter colleagues are probably thinking of glaringly obvious rain songs that would qualify for Song of the Moment. You know, everything from The Doors' "Riders On The Storm" to Led Zeppelin's "The Rain Song" to B.J. Thomas' "Raindrops Keep Falling On My Head" or Gordon Lightfoot's "Rainy Day People."
Not that there's anything wrong with those songs at The Moment. When your next two days are going to be spent lugging every waterlogged possession - not to mention about 500 square yards of cheap-ass carpeting - from your basement to the curb, you don't have a lot of time ponder what might be music's perfect rain song.
Fortunately, I spent this weekend high and dry, so I had more than 15 minutes to ponder this musical question. Initially, I thought of The Temptations' "I Wish It Would Rain," Stevie Ray Vaughn's "Texas Flood," and Brook Benton's "Rainy Night in Georgia." Only problem was, a song wishing it would rain even more seems outrageous unless there's a drought, I couldn't give a shit less about what happens in Texas, and nobody in Georgia with a guitar has hitched a ride on a boxcar since The Great Depression.
It was rainy. It's Monday. So it's not that much of a stretch that my Song Of The Moment is "Rainy Days and Mondays" by The Carpenters.
*
Released: 1971
Format: 7" single
Charts: Reached #2 on the "Billboard Hot 100" chart
*
From Wikipedia: The song was composed in 1971 by then fairly-unheard-of composers Roger Nichols and Paul Williams. It failed to chart in the United Kingdom until it went to #63 in a reissue there in 1993.
*
From Songfacts: The 5th Dimension passed on this song, but The Carpenters picked it up, giving them their second hit written by Williams and Nichols, who also wrote "We've Only Just Begun."
*
Commentary: Sure, pianist Richard Carpenter and his singer/drummer sister Karen were at the top of the 1970s' white-bread pop music act heap. If, like me, you were a teenager at the time and your musical world revolved around bands like Black Sabbath, Led Zeppelin, and Alice Cooper, The Carpenters were indeed radio poison. But if a popular actor like Mike Myers can make a point of injecting a Carpenters hit ("Superstar") into one of his Wayne's World movies 25 years after it got major-league radio airplay, maybe it's time for some of us - even if it's even more of a guilty pleasure than listening to, say, Ace of Base - to discover why it's such a fucking sin that Karen Carpenter's voice is no longer around thanks to the ravages of anorexia nervosa. Speaking as a onetime suicidal, I've yet to find anyone else in popular music whose voice could make a song like "Rainy Days and Mondays" make you consider for a second at least whether it might be an okay idea to put off for a day or so tonight's plan to sit down on the nearest train track and wait on the Double E.
Simply, "Rainy Days and Mondays" embodies - both in the musical score and Karen Carpenter's voice - what makes rainy days so comforting to those feeling morose and unloved (even when they might have one person who at least likes them a whole lot), and yet suck huge time for everyone else who isn't. It's the difference between a pissed-off, rain- or snow-soaked rush hour backed up for three hours on the Edens Expressway and a comfortable day curled up on the couch under the covers with a half-gallon of Haagen-Dazs, a spoon, and a six-hour block of Andy Griffith reruns. But yet, the song's killer, soaring sax solo (which seems out of place amid the dreary overtones, but still works nonetheless since it preludes the gut-wreching crescendo of hopefulness immediately afterward) can make you feel like tomorrow could be a better day, no matter whether you're convinced nobody you ever meet during the rest of your lifetime will ever want to date you or you're just looking at boxes of your shit that can never be replaced piled up on the curb waiting to be carted off to the landfill.
Thus is the true magic of the voice once known as Karen Carpenter. I can't help but think that Ozzie and Alice - as much as I still love their music of my teenage years today - wish they could have an ounce of that.
*
Lyrics:
Talkin' to myself and feeling old
Sometimes I'd like to quit, nothin' ever seems to fit
Hangin' around, nothin' to do but frown
Rainy days and Mondays always get me down
What I've got they used to call the blues
Nothin's ever really wrong, feeling like I don't belong
Walkin' around, some kind of lonely clown
Rainy days and Mondays always get me down
Funny, but it seems I always end up here with you
Nice to know somebody loves me
Funny, but it seems that it's the only thing to do
Run and find the one who loves me
What I feel has come and gone before
No need to talk it out, we know what its all about
Hangin' around, nothin' to do but frown
Rainy days and Mondays always get me down
Funny but it seems that its the only thing to do
Run and find the one who loves me
What I feel has come and gone before
No need to talk it out, we know what its all about
Hangin' around, nothin' to do but frown
Rainy days and Mondays always get me down
Hangin' around, nothin' to do but frown
Rainy days and Mondays always get me down
*
Used To Be Called The Blues:
-
Previously in Song of the Moment:
* Iron Man
* The Story of Bo Diddley
* Teach Your Children
* Dream Vacation
* When The Levee Breaks
* I Kissed A Girl
* Theme From Shaft
* Rocky Mountain High
* North to Alaska
* Barracuda
Posted by Beachwood Reporter at 3:22 AM | Permalink
City Council Doesn't Need No Stinking Quorums
Aldermen continue to hold committee meetings with as few as two members present, despite concerns raised by a watchdog group that the Chicago City Council is in violation of state law.
The Traffic Control and Safety Committee approved more than 200 agenda items at its last meeting. The 14-member committee lacked a quorum, said lawyer Jay Stewart, executive director of the watchdog group Better Government Association. Ald. Bernard L. Stone (50th) attended, as did Ald. Patrick J. O'Connor (40th), who chairs the committee.
After the Sept. 3rd meeting, which lasted less than 15 minutes, O'Connor said the committee did not violate the law by voting on agenda items, since neither he nor Stone called for a quorum. As long as none of the committee members ask for an official count during the meeting, aldermen can proceed, according to O'Connor's interpretation of the Illinois Open Meetings Act.
Stewart of the Better Government Association said that he finds it disturbing that only two of 14 members of the traffic committee attended the meeting. He said committee members - who make more than $104,000 a year - should attend meetings. He disagrees with Chairman O'Connor's argument that running meetings like this is legal as long as no committee members call for a quorum.
"That's called creating your own reality," Stewart said.
An investigation earlier this year by the BGA, Chicago Talks and The Beachwood Reporter found that the traffic committee and many of the council's other 19 committees regularly conducted business with just a few aldermen present, causing some lawyers to question whether any of that action is, in fact, legal.
Stewart said meetings held without a quorum violate the Illinois Open Meetings Act and the City Council's Rules of Order.
"If quorums are unnecessary, why in God's name have a rule on it?" Stewart said.
Under the City Council's Rules of Order, half of the total number of members of a standing committee are required for a quorum. While the majority of committee members were not in attendance at the meeting last Wednesday, at least two had employees from their offices there. Maureen Paulson, of the office of Ald. Patrick J. Levar (45th), attended. Paulson said she was there to ensure that one of the items in the 45th ward won approval.
Levar could not be reached for comment.
O'Connor said after the meeting that the majority of the items the committee approved were not controversial and were recommended by the Chicago Department of Transportation.
"It's a very routine process this morning," O'Connor said.
While some aldermen contend that a majority of committee members do not need to be present for meetings during which mundane agenda items are voted on, Stewart disagrees.
"The law doesn't change dependent on the subject matter," Stewart said.
O'Connor said this is the way government works, and he made an analogy to the presidential campaigns of Sens. John McCain (R-Ariz.) and Barack Obama (D-Ill.). While critics would question why they are absent from congressional meetings, government officials often have other commitments that prevent them from attending public meetings.
"It's government," O'Connor said. "None of it's pretty."
-
Previously:
* Out of Order: Council Committees Evade The Law
* Off the Record: Council Committees Evade The Law
* Public Payroll, Family Affairs: Aldermen Keep It Relative
Posted by Beachwood Reporter at 1:07 AM | Permalink
What I Watched Last Night
After years of searching, I've finally discovered the location of the top-secret farm that grows the world's crop of smokin'-hot pole-dancing strippers and tavern beer-poster models. It's Telemundo's hour-long music video dance party Descontrol, airing Saturdays at noon on our city's very own WSNS-TV/Channel 44.
If American farming techniques were this good, we'd have ears of corn the size of train locomotives.
Usually, my experience with Spanish TV is limited to trying to recall what I was thinking when I decided to take Latin in high school instead of Spanish like everyone else. The year spent studying Catholic education's favorite dead language might pay off if I ever need to read Julius Caesar's state of the union address, but I'm pretty sure I'd be happier these days if I could follow Spanish-TV soap operas and game shows. But that matters none when it comes to Descontrol because - unless it's important to know why everyone seems to say "vaminos" a lot - music and practically naked obscenely-hot women are languages understood by everyone in this universe. Descontrol isn't simply part Soul Train meets mostly MTV Spring Break except without the beer bongs and drunk girl puke getting all over everyone's flip-flops. No, it's where the hoochie mama bikini elite come to bump and grind enough tits and ass to make Viagra unnecessary even for the blind.
Besides the hoochies, the show revolves around host Erika Garza, a curvy, healthy-looking bra model whose chest could eliminate world hunger all by itself. Besides spending most of her day being mistaken for Fergie, Erika has the ability to break the sound barrier by talking at a speed not even mastered by Ricky Ricardo when he'd start yelling at Lucy in Spanish. Rounding out the cast is a hip-hopster deejay and few select hottie dancers designated as "chicas Descontrol." I'm not sure what qualifies someone to be a Descontrol chica, but if Dean Martin and his variety show were still alive, he'd swear off hiring white women to be Gold Diggers.
I don't know why, but the main non-song and dance feature during Saturday's program was a platform populated by buff Latino dudes sporting knee-length shorts, mandanas, shaved chests, huge rope chains, and big colored ribbons on their biceps. In other words, everything Hot Chicks with Douchebags spends its existence warning the world about. As the show progressed, they were voted off the stage until only one was left to, I think, be auctioned off for a Calvin Klein underwear ad. Or be eaten for lunch by the chicas.
Of course, like its Soul Train and American Bandstand ancestors, a dance show wouldn't be complete without a current well-known band stopping by to perform its current well-known single. Saturday's band was Los Creadorez del Pasito Duranguense, which is Spanish for "guys in cowboy hats playing polka music."
The final element of the show is, of course, music videos. Which, not surprisingly, spend most of their time being pre-empted by the hoochies showing off a banquet of gifts that God in His infinite goodness was generous enough to put before any man with access to Channel 44. Not that I'm complaining, but this sort of thing makes trying to pick up on a song's storyline visually impossible.
Saturday's program had a few notable music video standouts:
* The "You Sure This Ain't European?" award, for Yomo's "Tu Te Las Trae." There's a lot of crazy shit being done in whorehouse casinos, but I'm reasonably sure dudes wearing gas masks breakdancing to techno isn't on the list. The guy painted gold with tree branches growing out the top of his head, I can see, though. It's got that level of dreamy weirdness rarely seen since VH-1 thought it would be fun 20 years ago to scare the bejeezus out of everyone with Lene Lovich.
* The "Our Name Says It All" award, for Banda Machos. If you're going to be a banda something, be a banda machos. Except I'm not sure a banda manly guys should put out a video for "El Proximo Tonto" that shows them being abused by a 50-foot-tall blonde groupie. Nor should they put out a song that has nothing do with the Lone Ranger.
Immediately following Descontrol was a soccer match between Peru and Argentina, which I didn't watch because I don't need to understand Spanish to know that unless a fan riot breaks out, soccer is very boring.
* * *
Meanwhile, back in the gringo world Saturday afternoon, NBC Sports was live in Salt Lake City, Utah, presenting the Toyota Challenge. This was a freestyle motocross competition where daring young men hopped up on Mountain Dew were sailing motorcycles through the air off ungawdly-high dirt ramps as acrobatically as adrenaline and insanity allows. The object, of course, is to collect as many points as possible during the course of three runs without landing on your head and turning into a freestyle paraplegic.
As it turns out, events like the Toyota Challenge are very educational. Where else can a 20-year-old learn what it's like to break a hip 60 years before he'll do a Kiss of Death Flip or 360 Flat Spin just getting out of bed in the old folks home?
Are guys like motocross freestyler Nate Adams out of their minds or just lucky when their Dead Sailer or Lazy Boy Back Flip goes awry and they find themselves still with working parts or heads attached to their shoulders after being face-planted into the ground? Who cares. Nobody gets laid by hot shred-metal babes every weekend by working at Burger King.
-
See what else we've been watching! Submissions welcome.

Posted by Beachwood Reporter at 12:28 AM | Permalink
September 13, 2008
The Weekend Desk Report
We'll be watching the news this weekend. You just do whatever you need to do to get up for church on Sunday.
Market Update
Annoyed that bailouts of several big-name financial institutions have failed to solve America's lending crisis, Treasury Secretary Henry Paulson has turned petulant. "No way am I sticking my neck out for LAME-an Brothers," he declared. "And Wa-POO can sit and spin for all I care too."
Dirty Campaigning
In a brazen attempt to sabotage its chief rival in this year's Prom Queen election, the United States has taken the extraordinary step of having them and their friends expelled from school. Not surprisingly, the ousted parties' cause has now been embraced by this year's breakaway leader for Prom King.
Combust Tracker
Following positive response to its Bus Tracker system, the CTA has announced alerts that will now tell you not only how long you have to wait but also whether your driver will cut a bitch. A CTA spokesperson notes that such an option might be available on the agency's Train Tracker system in the very near future.
Glorious Returns
Britney Spears this week scored a resounding triumph on the world stage despite reports she may not be the picture of health her handlers would like us to believe. Meanwhile, Iraq appears poised to walk down the aisle with Syria in what Bush administration officials could only term "an unholy union."
Critical Flogging
Finally this week, it appears the crowded industry of film review has turned cutthroat, progressing from "thumbs up/thumbs down" to "slap up/slap around." Critics be warned.

Posted by Natasha Julius at 7:35 AM | Permalink
September 12, 2008
The [Friday] Papers
So it turns out there's another connection between Allison Payne and the Rev. Jesse Jackson: Yusef Jackson.
"In the midst of the Rev. Jesse Jackson 's recent revelation he fathered a child out of wedlock, there is good news to report: The blooming of a new and totally above-board romance in the Jackson family," Bill Zwecker reported in January 2001.
"While neither Jackson's son Yusef Jackson nor WGN-Channel 9 news anchor Allison Payne will comment on the record, it appears the attractive duo have become a couple.
"Along with numerous sightings in such high-profile venues as Harry Caray's restaurant, Payne was seen as being very much part of the Jackson family group (as opposed to the press pool) at the well-publicized service at Salem Baptist Church on the South Side Sunday.
"This must be a touchy time for journalist Payne , who clearly must be sensitive to the personal feelings of Yusef Jackson , while being forced to report on the details of his father's situation."
Ten months later, Zwecker reported:
"SEEN ON SCENE: Black Ensemble Theater supporters Jacqueline Jackson and WGN-Channel 9's Allison Payne and her beau, Jacqueline's son Yusef Jackson, were among the crowd cheering the relaunch of The Jackie Wilson Story at the theater - set to run through mid-January.
And in July 2006, Stella Foster reported:
"Lovely and svelte vocalist Santita Jackson, daughter of the Rev. Jesse Jackson and wife Jackie, celebrated her birthday at the Grand Lux Cafe on Monday with her parents, siblings Jonathan, Yusef, Jackie Jr. (U.S. Rep. Jesse Jr. was out of town) and friends including WGN-Channel 9's Allison Payne, the Defender's Roland Martin and Art Sims, Channel 11's Sylvia Ewing and hairstylist J of the Lavish Salon."
Medical Miracle
Perhaps Jackson can use his clout to see that Jen Hall and Stella Ackerman get the medical attention they need.
Palin Drone
I'm still trying to figure out why 20 months as Alaska governor after six years as a small-town mayor is any more insufficient than 24 months as a United States senator after eight years as a part-time Illinois state senator. Neither of them is qualified.
Sam Swell
Sam Zell is once again spending a gazillion dollars on his birthday party - even as he lays off the reporters who supposedly own his newspapers. I have a better idea: Use the money instead of endow your investigative reporting teams.
School Cash
Chicago Public School students could earn as much as $4,000 in two years by getting good grades. Where do I enroll?
Reverse Psychology
"The latest evidence to bolster Barack Obama's foreign policy judgment against his critics arrived this morning on the front page of The New York Times," Joe Conason writes in the New York Observer, in a piece being echoed in the leftosphere. "The paper of record reports today that President Bush issued an order three months ago that permits U.S. special forces to strike against Al-Qaeda inside Pakistan, without the permission of Islamabad's government.
"That is precisely what Obama said he would do as president if the Pakistani government proved unwilling or unable to act against the Islamist terror organization whose attacks on 9/11 are being marked today in New York, Washington, and around the country."
Barack Obama: More of the Same.
Border Wars
"Gen Ashfaq Parvez Kayani said nearly a week after a deadly American-led assault in Pakistani territory that there was no deal to allow foreign forces to operate inside its borders," AP reports. "He warned that 'the sovereignty and territorial integrity of the country will be defended at all cost."
Meanwhile, Pakistan announced it would start a series of raids in the Rocky Mountains.
Still Not Ready
When I saw the headline "Obama Ducks Call To Push Reform In Illinois" I thought that it must be an old article that a Google bot accidentally pushed to the fore. Instead, it's actually from today's Sun-Times.
Heart of Stone
"Under no circumstances will I give up my pay raise."
- Ald. Berny Stone, today's Worst Person in Chicago
Attack Dog
Just as he did when his campaign was in trouble in the Democratic primary, Barack Obama signals on the front page of the New York Times today that he will "intensify his assault against Senator John McCain, with new television advertisements and more forceful attacks by the candidate and surrogates beginning Friday morning."
I wish Obama would step up to the plate and show some leadership instead. It seems to me he could inspire boatloads of those independent swing voters by practicing a new kind of politics instead of always resorting to the old. It seems to me he could inspire a nation if he said:
"Enough. This campaign has taken a corrosive turn. We're all guilty. But let's put an end to this right now. No more attacks on personality; no more mud-wrestling in the gutter. I call upon my supporters to cease sexist and scurrilous attacks on Governor Palin and her family, as well as on Senator McCain. These are decent, honorable people. We're better than this. Debate the issues - vigorously. If we debate the issues, we win. But nobody wins when we demonize and caricature our political opponents in an attempt to gain power. That's not what this campaign is about. Let's lead by example and show that we can unify around a higher purpose. And if we do that, I'm confident that John McCain and his supporters will follow our lead. Let's do this together, Senator McCain. But to my supporters, I say, let's do this anyway, with or without them. Let's show America - and the world - what an Obama administration would be about."
If you don't believe you can win an election without playing dirty, then your campaign is pretty cynical.
Like Friendly Wine
-
The Beachwood Tip Line: Dream a little dream.

Posted by Beachwood Reporter at 9:38 AM | Permalink
The Five Dumbest Ideas of The Week
1. We wonder if back in 1978 when Bruce Springsteen was penning "Badlands" he realized that, in 30 years hence, his tribute to the desperation of the working class would be used by a right-wing morning show to signal a commercial break. Paging Heart and Van Halen!
2. So I've got this great idea for a porno film - it's called Department of the Interior. It features a party-hearty group of aging frat boys and skanks who drink and snort everything in sight, pocket freebies from oil company personnel - when not sexually servicing them - and supplement their income by selling sex toys. Oh wait, it's already been done.
3. How many times have you sat around waiting for your Brazilian bikini wax and thought, "Gee, a bottle of Flemish red would really take the edge off right now"? Nope, me neither. But then I don't live in Seattle, home to the Wax Bar.
4. It was said of Eleanor Roosevelt that "she'd rather light one candle than curse the darkness." This just might make her reconsider.
5. I've had it with pols who think putting lipstick on a pig is some kind of insult. When done tastefully, the look can be absolutely stunning.
Posted by Beachwood Reporter at 7:06 AM | Permalink
Roger Ebert Jumps Palin's Shark
Sarah Palin sure has accomplished one grand task: she's unwittingly unmasked a bunch of hateful, elitist, sexist fools for the liberal posers that they are. Our next contestant: Roger Ebert. Let's take a look.
*
"Roger Ebert on Sarah Palin: The American Idol candidate."
September 11, 2008
BY ROGER EBERT Sun-Times Movie Critic
I think I might be able to explain some of Sarah Palin's appeal. She's the American Idol candidate. Consider. What defines an American Idol finalist? They're good-looking, work well on television, have a sunny personality, are fierce competitors, and so talented, why, they're darned near the real thing. There's a reason American Idol gets such high ratings. People identify with the contestants. They think, Hey, that could be me up there on that show!
COMMENT: But I thought Barack Obama was the American Idol candidate? Or is he just the Access Hollywood candidate? He's been on so many celebrity shows and on so many magazine covers I forget. And I thought John McCain was the one who was out of touch with the electorate! Turns out Obama is the one working so hard to show he's just folks!
*
My problem is, I don't want to be up there. I don't want a vice president who is darned near good enough. I want a vice president who is better, wiser, well-traveled, has met world leaders, who three months ago had an opinion on Iraq.
COMMENT: Yes, Sarah Palin is one of the few Americans who never had an opinion on Iraq! Even when her son joined the military she never formed an opinion! When she said America better have a clear exit strategy, she wasn't voicing an opinion, she was just musing! Now, it's true, she hasn't been asked much for her opinion given that she is the governor of Alaska. Come to think of it, I don't know what Rod Blagojevich's opinion of Iraq is either. He must not have one.
*
Someone who doesn't repeat bald-faced lies about earmarks and the Bridge to Nowhere. Someone who doesn't appoint Alaskan politicians to "study" global warming, because, hello! It has been studied. The returns are convincing enough that John McCain and Barack Obama are darned near in agreement.
COMMENT: It's not clear at all that Palin has told bald-faced lies, though it's pretty clear that Obama has. Further, Palin has stated quite clearly that she believes in global warming.
*
I would also want someone who didn't make a teeny little sneer when referring to "people who go to the Ivy League."
COMMENT: I do! The Ivy League is a bastion of elite rank credentialism that rewards wealthy and/or over-ambitious and greedy 18-year-olds at astronomical prices that buy an education with no more value in its content than a Big Ten university. I'll take the public school idealist any time.
*
When I was a teen I dreamed of going to Harvard, but my dad, an electrician, told me, "Boy, we don't have the money. Thank your lucky stars you were born in Urbana and can go to the University of Illinois right here in town." So I did, very happily.
COMMENT: And look how badly that turned out! But shouldn't liberals be mad that exclusive educations are reserved for those who can afford them?
*
Although Palin gets laughs when she mentions the "elite" Ivy League, she sure did attend the heck out of college.
Five different schools in six years. What was that about?
COMMENT: What are you implying, Roger? As I understand it, her family couldn't afford to keep all their kids in college at once. She persevered. In fact, in video taken before she was picked to be on John McCain's ticket, she described how she participated in beauty pageants for the scholarship money and how demeaning it was to turn around in the swimsuit competition and have male judges compare contestants' butts. Meanwhile, we know very little about Obama's years at Occidental and Columbia. What was that all about?*
*
And how can a politician her age have never have gone to Europe?
My dad had died, my mom was working as a book-keeper and I had a job at the local newspaper when, at 19, I scraped together $240 for a charter flight to Europe. I had Arthur Frommer's $5 a Day under my arm, started in London, even rented a Vespa and drove in the traffic of Rome. A few years later, I was able to send my mom, along with the $15 a Day book.
COMMENT: I've never gone to Europe! She's lived in at least three different states, worked as a TV sportscaster, helped run a commercial fishery, is an avid hunter and fisher, was a small-town mayor and now a governor with an expertise in energy. Is she somehow deficient because she never backpacked around London and Rome or rented a Vespa? Plus, I thought you didn't want someone like you in the White House!
*
You don't need to be a pointy-headed elitist to travel abroad. You need curiosity and a hunger to see the world. What kind of a person (who has the money) arrives at the age of 44 and has only been out of the country once, on an official tour to Iraq? Sarah Palin's travel record is that of a provincial, not someone who is equipped to deal with global issues.
COMMENT: Should we compare John McCain's travel record to Obama's then? Is this really one of your strongest arguments against her? In this whole rant I don't see a single argument about, you know, the issues. Instead, it's about making a personality judgement based on what trivial knowledge is at your disposal without having to do too much research.
*
But some people like that. She's never traveled to Europe, Asia, Africa, South America or Down Under? That makes her like them.
COMMENT: Like the masses? Why do liberals despise the working people they claim to represent so much? Do you really think people out there prefer a candidate who hasn't been a world-traveler? Because I'm pretty sure very few folks have any clue as to her vacation destinations.
*
She didn't go to Harvard? Good for her! There a lot of hockey moms who haven't seen London, but most of them would probably love to, if they had the dough. And they'd be proud if one of their kids won a scholarship to Harvard.
COMMENT: Are there a lot of hockey moms who haven't seen London? How do you know? Because hockey is an expensive sport. And are you suggesting that Palin wouldn't be proud if one of her kids won a scholarship to Harvard? Because I'm pretty certain she would be - as long as her kid didn't become a hypocritical snob.
*
I trust the American people will see through Palin, and save the Republic in November. The most damning indictment against her is that she considered herself a good choice to be a heartbeat away. That shows bad judgment.
COMMENT: Yes, she should have said, "No, John, I'm not the best person for this job." Just like Joe Biden did.
*
There are plenty of reasons to oppose Sarah Palin. Maybe, quite simply, you are a Democrat. Maybe she's too conservative on social issues for you. She's pro-life and you're not. She's not likely to help bring affordable health care to America. Gun control does not appear to be her forte. It's not clear that she has an education agenda. And so on. But these silly, sexist, elitist attacks say much more about the people who make them than they do about her - and they say something about the inability of the Obama campaign to deliver a new kind of politics among his own followers, much less the nation.
-
See also:
* Eric Zorn's Sexist Folly
Posted by Beachwood Reporter at 3:33 AM | Permalink
Happy Birthday, Gov Gab!
Feliz cumpleanos! Herzlichen Gluckwunsch zum Geburstag! Bonne Anniversaire! Happy birthday to Gov Gab, your U.S. government blog (www.govgab.gov)! No matter how you say it, birthdays call for celebrating, and you are cordially invited to join in on the week-long celebration from September 22-26.
How quickly they grow up - Gov Gab is turning one and has a year's worth of entries, all focused on how you can make your daily life easier with helpful, perhaps little-known, government information.

The week of September 22nd, the daily bloggers are each using the theme, "When I was one year old . . . " to talk about the way things were and how different (or similar) they are today. Still packed with useful and relevant tips and hints on everything from consumer frauds to going green, take a trip down memory lane as Gov Gab discusses the past and links to helpful information you can use both now and in the future. Whether you're one or one hundred, Gov Gab has the information you can trust about government news and services for your lifestyle.
Gov Gab is eager to hear how things were when you turned one. Feel free to join in the conversation and leave a comment. Or you can contact an individual blogger via e-mail. Want to know as soon as Gov Gab has been updated? Sign up for our RSS feed or e-mail updates. Find the topic area that most interests you by using the search feature.

Gov Gab only turns one once, and we look forward to having you join our party. Please bring your tips, ideas, and comments to share. No need to RSVP.
####
GSA # 2885

Posted by Beachwood Reporter at 12:19 AM | Permalink
The Blue & Orange Kool-Aid Report
A non-scientific study conducted by the Kool-Aid Report's research staff has concluded that only five people on the planet predicted last week's win over the Colts. Given their shocking prescience, we asked them to reveal what else our future holds.
* Barack Obama will win the election but step down shortly after taking office when it is revealed that he tried to get a federal earmark for a bridge to Northerly Island, or, in other words, a Bridge to Nowhere.
* The Cubs will crash-and-burn due to a reliever corps that becomes a Bridge to Nowhere.
* Britney Spears' comeback is halted when doctors determine her frontal lobe is a Bridge to Nowhere.
* New ad campaign: This is your brain on a Bridge to Nowhere.
* Chicago wins the 2016 Olympic Games after promising the IOC it will build three Bridges to Nowhere to go along with the Skyway in order to leave a legacy behind.
* The Bears discover that their deceiving win against the Colts is a Bridge to Nowhere once they fail to make the playoffs.
-
Bears at Panthers
Storyline: A match-up between two teams with stout running games and unyielding defenses. Do you love football? Well, you'll get morning wood thinking about this game!
Reality: Though both teams played well on the road last week, only one team played against a healthy opponent. Furthermore, expect your genitalia to crawl into your body cavity when watching two teams that "play not to lose."
Prediction: Carolina Minus 3 Points, Under 37 Points Scored
-
Sugar in the Blue and Orange Kool-Aid: 65%
Recommended sugar in the Blue and Orange Kool-Aid: 40%
-
Over/Under: Some teams are already doomed. Is yours on the list?
-
Eric Emery grew up in small-town Illinois but has an irrational love of the Pittsburgh Steelers. Every week he writes The Blue & Orange Kool-Aid Report and Over/Under. You can send him love letters and hate mail and he will respond graciously.
Posted by Beachwood Reporter at 12:13 AM | Permalink
September 11, 2008
American Flags
1.
Our love is all of God's money.
2.
Speaking of tomorrow, how will it ever come?
3.
You have to learn how to die.
Posted by Beachwood Reporter at 7:22 AM | Permalink
Barr and Paul and Nader, Oh My!
1. Atlanta, GA - Bob Barr, the Libertarian Party nominee for president, has invited GOP Congressman Ron Paul to be his running mate in the upcoming election. In a letter sent to Paul, Barr called Paul one of the "few American patriots" who exist in today's society, and asked him to "seriously consider this final offer as an opportunity to show true, lasting leadership beyond party politics."
Barr cited Paul's 1987 letter to then-GOP Chairman Frank Fahrenkopf, in which Paul stated that, "after years of trying to work through the Republican Party both in and out of government . . . concluded that efforts must be carried on outside the Republican Party."
Though recognizing Paul's personal investment in the Republican Party and his recent attempts to reform the party from inside, Barr said he disagreed with Paul's strategy. "Better options remain that will carry a message of liberty onto the ballot in November and beyond," Barr stated, adding at a news conference called today at the National Press Club, that "change in politics and public policy in America cannot and will not be done from within the current, two-party system."
Barr continued, "'The status quo will not change the status quo' and impact comes entirely from gaining votes in the General Election." That is why Barr said he would remain focused on the Libertarian Party's electoral effort and clear message, and why he invited Paul to join him.
"While you declined my offer to seek the Libertarian presidential nomination many months ago, I ask that you seriously consider this final offer as an opportunity to show true, lasting leadership beyond party politics," Barr stated in his letter to Paul.
Barr's running mate, Wayne Allyn Root, expressed support: "As the Libertarian Party vice presidential nominee, I believe in one thing above all else-principle. There can be no compromise on the ideals of limited government, lower taxes, lower spending, and more freedom for the American people. Those are the principles to which I've dedicated my life. The GOP and Democratic candidates only give lip service-at best-to these ideals and principles. It is only an act at election time every four years."
"I want to end the charade once and for all," Root continued. "I am willing to sacrifice anything to advance the cause of liberty, freedom, smaller government and to enable the American taxpayer to keep more of their own money and property. Understanding Dr. Ron Paul's reputation and name recognition in the freedom movement, I am willing to step aside as Libertarian vice presidential candidate if he would be willing to take my place. I will pledge to work day and night, just as I have as the vice presidential nominee, to support Dr. Paul. I believe this is a wonderful opportunity for the Libertarian and freedom movements. I encourage Dr. Paul to accept Congressman Barr's offer. The campaign is making this offer because we believe there is no sacrifice too large when it comes to improving the lives of the American people and American taxpayers."
Libertarian Party presidential candidate Bob Barr represented the 7th District of Georgia in the U. S. House of Representatives from 1995 to 2003.
2. Statement by Ralph Nader:
Today, along with other third party candidates, I joined Congressman Ron Paul to endorse a common agenda that stands up for the U.S. Constitution by ending illegal wars, and protecting the privacy and civil liberties of all persons under US jurisdiction. We also jointly called for an immediate halt to the increase in the national debt, an end to corporate subsidies and taxpayer bailouts of corporations, and to start aggressively pursuing prosecution of corporations that commit crimes and frauds.
Both Congressman Paul and I also support holding President Bush and Dick Cheney to account for their transgressions against our Constitution.
Today's coming together of third party candidates marks the beginning of the realignment of American politics.
While Congressman Paul and I do not agree on all things - such as health and safety regulations, health insurance systems, and how to handle areas where the market fails or is not up to the task of getting the best outcomes for the American people - on the overriding foreign policy, reckless waste financed by deficit spending, and civil liberties issues of the day, we stand together. He is a stalwart who has consistently stood up for what he believes in and never wavered when he is opposed by the legions of commercial interests and lobbyists that swarm the Capitol.
Congressman Paul said today, "the strongest message can be sent by rejecting the two-party system, which in reality is a one-party system with no possible chance for the changes to occur which are necessary to solve our economic and foreign policy problems." He also called on his supporters to vote for Nader/Gonzalez or one of the other non-establishment, principled candidates, who support the joint statement issued today.
For all the millions of people who have broken free from the establishment parties' domination over our dwindling democracy, Nader/Gonzalez presents a clear choice for those who want to support a candidate who will stand up against the war and stand up for personal liberties and privacy that have been trampled on by the notorious, misnamed, PATRIOT Act, the FISA 'snoop' Bill, and the unilateral dictates of the Bush/Cheney regime.
Some unfairly paint the Nader/Gonzalez candidacy as being for big government. Nothing could be more untrue. Nader/Gonzalez supports a government of the people, by the people, for the people. We agree with Congressman Paul that government is rife with waste and corporate demands, and needs to be scaled back in many areas - most of all the bloated, wasteful US military budget, which is half of the government's total operating budget.
We are also against big government doling out hundreds of billions in corporate welfare, subsidies, and bailouts to companies.
We support abolishing income tax on the first $50,000 of income to be made up with a fraction of a percent Wall Street speculation tax, especially on derivatives.
The Nader Campaign was proud to stand today with Congressman Paul and other third party candidates to highlight the many fundamental positions where the two "major" parties are increasingly estranged from the American people.
Posted by Beachwood Reporter at 6:09 AM | Permalink
Chicagoetry: Five Boys On A Golf Course
FIVE BOYS ON A GOLF COURSE
for CDR Dan F. Shanower, USN
Feb. 2, 1960-Sep. 11, 2001
Me Speed and Dan
were in the middle
of the first nine
At Springbrook Golf Course,
Naperville, Illinois, 1977.
We
Sucked. We just wanted
to be together.
Speedy and Dan were
the first new friends
I made in high school, dorks
in the Awkward Age, coming
together from differing
junior highs,
House of Saints and Sinners.
Speedy: Sts. Peter & Paul.
Me: Lincoln.
Dan: Washington.
Over the rough, on the
next fairway, Rod
and Ken (Jefferson).
They were on the
goddam golf team,
Very Big Deal.
I remembered Rod
from when were on the Blackhawks,
the NHL team (Naperville
Hockey League). I knew
he didn't remember me, no
clue who. So, in character,
I start to
hassle him: "Good one, ROD!
Cool guy, ROD!"
Later, he told me his
first response was:
"Who IS that asshole?!"
It became
a familiar refrain!
Over time, we all
came together. When "Some Girls"
came out, we were among
the first in line
at Soldier Field, July 8,
1978.
We'd commandeered Speedy's
dad's lime-green Cordoba,
headed downtown at 2 a.m.
We often used Speedy's mom's
Dodge van, after school,
to Bizarre Bazaar in Old Town,
looking for Civil Defense jackets
and bootleg records (at the time,
I didn't know what a "bong" was).
Graduation: Speedy was
Valedictorian, Ken was
Best Personality, I was
Class Clown (Rod: "I thought
Dan was
funnier").
Rod became Most Successful.
Fast Forward: Rod is at Southern,
Ken has started a business, Speedy
is at U. of I., Dan
at Carroll College, Waukesha,
Wisconsin. My sister called
with the news:
"Speedy died." Aneurysm
during a touch football game
on the U. of I. quad.
Five boys became four pall
bearers and a first friend.
Fast Forward: I'm watching
"Good Morning, America," Sep. 11,
2001. They interrupted
themselves. A plane had hit
the World Trade Center, then we
all watched the second one
hit. I start channel surfing.
Jim Miklaszewski, at the Pentagon,
where Dan was now a Commander
in Naval Intelligence, says
something just hit
the building.
The next day, Rod
called with the news:
"Dan's dead."
"O strong dead-march you please me!
O moon immense with your silvery lace you sooth me!
O my soldiers twain! O my veterans passing to burial!
What I have I also give you."
We who remained drove
a van to Arlington, VA,
for the military funeral,
smoking joints and telling
stories. The Navy
bore pall
for us
all.
-
J. J. Tindall is the Beachwood's poet-in-residence. He can reached at jjtindall@yahoo.com. Chicagoetry is an exclusive Beachwood collection-in-progress.

Posted by Beachwood Reporter at 3:27 AM | Permalink
Five Boys On A Golf Course
for CDR Dan F. Shanower, USN
Feb. 2, 1960-Sep. 11, 2001
Me Speed and Dan
were in the middle
of the first nine
At Springbrook Golf Course,
Naperville, Illinois, 1977.
We
Sucked. We just wanted
to be together.
Speedy and Dan were
the first new friends
I made in high school, dorks
in the Awkward Age, coming
together from differing
junior highs,
House of Saints and Sinners.
Speedy: Sts. Peter & Paul.
Me: Lincoln.
Dan: Washington.
Over the rough, on the
next fairway, Rod
and Ken (Jefferson).
They were on the
goddam golf team,
Very Big Deal.
I remembered Rod
from when were on the Blackhawks,
the NHL team (Naperville
Hockey League). I knew
he didn't remember me, no
clue who. So, in character,
I start to
hassle him: "Good one, ROD!
Cool guy, ROD!"
Later, he told me his
first response was:
"Who IS that asshole?!"
It became
a familiar refrain!
Over time, we all
came together. When "Some Girls"
came out, we were among
the first in line
at Soldier Field, July 8,
1978.
We'd commandeered Speedy's
dad's lime-green Cordoba,
headed downtown at 2 a.m.
We often used Speedy's mom's
Dodge van, after school,
to Bizarre Bazaar in Old Town,
looking for Civil Defense jackets
and bootleg records (at the time,
I didn't know what a "bong" was).
Graduation: Speedy was
Valedictorian, Ken was
Best Personality, I was
Class Clown (Rod: "I thought
Dan was
funnier").
Rod became Most Successful.
Fast Forward: Rod is at Southern,
Ken has started a business, Speedy
is at U. of I., Dan
at Carroll College, Waukesha,
Wisconsin. My sister called
with the news:
"Speedy died." Aneurysm
during a touch football game
on the U. of I. quad.
Five boys became four pall
bearers and a first friend.
Fast Forward: I'm watching
"Good Morning, America," Sep. 11,
2001. They interrupted
themselves. A plane had hit
the World Trade Center, then we
all watched the second one
hit. I start channel surfing.
Jim Miklaszewski, at the Pentagon,
where Dan was now a Commander
in Naval Intelligence, says
something just hit
the building.
The next day, Rod
called with the news:
"Dan's dead."
"O strong dead-march you please me!
O moon immense with your silvery lace you sooth me!
O my soldiers twain! O my veterans passing to burial!
What I have I also give you."
We who remained drove
a van to Arlington, VA,
for the military funeral,
smoking joints and telling
stories. The Navy
bore pall
for us
all.

Posted by Beachwood Reporter at 12:34 AM | Permalink
Over/Under
Every team enters the season with one goal: Win the Super Bowl. It's much like the unrealistic expectations that parents have of their children. Picture Mom and Dad cooing over their child, believing that slightly strong grip means the little one is destined to become a linebacker or an Olympic gymnast. Unfortunately, when little Johnny learns to walk, he has a better chance of becoming a professional crash test dummy than a professional athlete.
After week one, it's clear already, then, that some teams are doomed. That means millions of fans should use their time this fall doing something other than uselessly rooting on their teams. Here's who.
*
Team: St. Louis Rams
Week 1 Result: Lost by 35 points
Alternate Activities:
- Congratulate Cardinals on being the best team to not make the playoffs.
- Learn Belgium to accommodate the news owners of Anheuser-Bush.
- Send letters to the Arizona Cardinals begging for them to return.
- Use Google to discover that the Bowling Hall of Fame is in town; visit.
*
Team: Oakland Raiders
Week 1 Result: Lost by 27 points
Alternate Activities:
- Sign petition to change city nickname from "Sunny Side of the Bay" to "That Crap Hole Across from San Francisco."
- Get 21 friends together and re-enact the "Immaculate Reception," but this time, have Franco Harris drop the pass.
- Present a "Key to the City of Oakland" to John Madden. Because all of these "keys" must be ridiculously huge, make the key 10-by-20 feet so it will actually look huge next to John Madden.
- Name major thoroughfare after Raiders owner Al Davis. Match the street according to Davis' ability by selecting a street that has not been upgraded in the past 15 years.
*
Team: Seattle Seahawks
Week 1 Result: Lost by 24 points
Alternate Activities:
- Watch Grey's Anatomy and drink every time you see an injured Seahawk cast as an extra.
- Petition the city known as "The Gateway to Alaska" to make its mascot Sarah Seahawk. Apply lipstick.
- Petition Starbucks to buy the team. High ticket prices and yuppie buzz will make a crappy product seem fantastic, at least until the hype collapses on itself.
- Re-start Jim Zorn fan club.
*
Team: Houston Texans
Week 1 Results: Lost by 19 points
Alternate Activities:
- Try to disqualify residents of Dallas from voting because they aren't "real Texans," as determined by the nickname of Houston's football team.
- Get the Astrodome ready for the 20 people displaced from Hurricane Ike.
- Use the massive profits of the local oil producers and buy the NFL. Change name to National Texans' League.
- Hire Barack Obama as coach based on his platform of hope and change. But make Dick Cheney the general manager 'cause he know the oil bidness - and he needs a new job.
*
Over-Hyped Game of the Week: Patriots at Jets
Storyline: Hey, it's Brett Favre! Look! Look! LOOK! Brett Favre never gets injured! Not like Tom Brady. Who is the starting QB at New England? Who? Matt Cassel? What? He hasn't started since high school? Hurry, put the camera on Brett Favre! HURRY!
Reality: Sometimes when you carelessly throw the ball in the air, somebody on your team catches it for a touchdown. More often, it falls to the ground or it's intercepted. Last I checked, Brady's knee didn't send the defense to injured reserve.
Prediction: New England Plus 3 Points, Under 39 Points
*
Under-Hyped Game of the Week: Steelers at Browns
Storyline: AFC rivals meet in perhaps the penultimate battle to decide the division winner.
Reality: Cleveland started the year as the chic sleeper pick. Many forgot one thing about the Browns: They stink. Those who love scoring should watch this game. With New England and Indianapolis stirring doubt, the sports media needs new teams to drool over. Get your Steelers/Cowboys stock footage ready!
Prediction: Pittsburgh Minus 4, Over 46 Points Scored
-
Eric Emery grew up in small-town Illinois but has an irrational love of the Pittsburgh Steelers. Every week he writes The Blue & Orange Kool-Aid Report and Over/Under. You can send him love letters and hate mail and he will respond graciously.

Posted by Beachwood Reporter at 12:12 AM | Permalink
September 10, 2008
The [Wednesday] Papers
WGN-TV anchor Allison Payne's friendship with newsmaker Jesse Jackson is paying off.
"Payne said she was grateful to the Rev. Jesse L. Jackson, who used his influence to get her an immediate appointment at the Mayo Clinic," Robert Feder reports. "'If he hadn't called, I know I would have had to wait months go get in,' she said."
You know, like the little people.

"[WGN news director Greg Caputo] said this 'absolutely will not change coverage' of Jackson and his family by the station, 'and if that limits Allison's participation in stories involving Rev. Jackson, then that's what we'll do," Phil Rosenthal reports.
Here's a story idea for Caputo: How many friends has Jackson clouted into the Mayo Clinic ahead of others who have been waiting their turn?
Zethics
I'm guessing under Sam Zell the Tribune Company no longer has an ethics policy, but Payne clearly violated the policy that existed when Zell bought the company. After all, getting into the Mayo Clinic is worth far more than a keychain.
Nipping Nepotism
"The Illinois House's top Republican said Tuesday he's crafting legislation designed to stop the longtime practice of outgoing elected officials anointing their successors without any say from voters," the Sun-Times reports.
How dare a Republican seize the mantle of change.
U R SCRWD
"In case of emergency, Chicago will sent a text to cell phones."
Among the messages officials are preparing:
* BOOTY CALL! C U @ POUND
* U R NOW IN A TIF DSTRCT
* DON'T TALK 2 FEDS
* SEND $$$
* WHAT R U WEARING?
* STLL TIME 2 VOT AGIN
Car Jackers
The same editorial board that recently wrote "We know motorists feel gouged by the high costs of parking, of ramp parking taxes and of parking penalties in Chicago" has no problem calling for a CTA fare hike today.
I guess we know now - if there was ever doubt - how they get to work.
Texting Tales
Living la CTA loca.
Con-Con Carne
"Don't believe the propaganda," Kristen McQueary writes. "A constitutional convention is one of very few tools Illinois voters can employ to be heard. Why do you think the political establishment only allows us to do it every 20 years?"
View From Minnesota
"Manager Ron Gardenhire dislikes scoreboard-watching, but with the Twins thumping the Royals and the White Sox losing twice, all was fabulous," the Minneapolis Star Tribune says.
View From Milwaukee
"The 49 homicides recorded in Milwaukee through Aug. 31 amount to the fewest killings in that time period since 1986, according to the Police Department," the Milwaukee Journal Sentinel reports.
Palinola
Dale Bowman's Illinois Hunting Report.
*
We hunt an awesome deer in the blue states!
Sky Blue Sky
I'm pro-Spire. The more spirally the better. Here's a photo gallery, via Blair Kamin's Tribune blog.
Unfrigginbelievable
"International scientists working at an underground complex started up a huge particle-smashing machine on Wednesday aiming to recreate the conditions of the 'Big Bang' that created the universe," Reuters reports.
"Experts say it is the largest scientific experiment in human history and the Large Hadron Collider (LHC) is the biggest and most complex machine ever made."
You know, you can put lipstick on a particle-smasher . . .
Ferdy Says
"Yesterday and today, as I read the fallout of MSNBC's decision to demote Chris Matthews and Keith Olbermann from their anchor duties for the 2008 General Election, I saw feminists hail it as a welcome kick out the door to two of television's most popular and voluble misogynists," our very own Marilyn Ferdinand writes. "The United States' 'paper of record,' which I have demoted by not naming it, cites the following: 'The McCain campaign has filed letters of complaint to the news division about its coverage and openly tied MSNBC to it. Tension between the network and the campaign hit an apex the day Mr. McCain announced Gov. Sarah Palin as his running mate.'
"The paper made no mention of the fact that both Matthews and Olbermann tarred presidential candidate Hillary Clinton repeatedly over the course of her campaign with misogynistic language (maybe because the newspaper's columnists did, too) and that the network refused to rein either of them in by demoting them despite repeated complaints from Senator Clinton's campaign staff, Media Matters, and the National Organization for Women. Clearly, when Republican presidential candidates talk, major media listens. Don't look for Sarah Palin to get the same treatment the former First Lady did at this newspaper or other major media outlets."
Which is an introduction to Ferdy leading us to "the last interview BBC writer Dennis Potter gave before his untimely death in 1994. This deeply intelligent, self-aware man brimming with appetites, ideas, nostalgia, and a clear-eyed understanding of social intercourse and the ways it can be twisted and degraded is best known around the world for his television series The Singing Detective, a brutal, inventive, compassionate look at a tormented soul that puts most television dramas to shame."
I encourage you to take a look.
Dear Cubs Fans
Maybe if you hop aboard the Karma Train you'll feel better.
The Beachwood Tip Line: Spit and polished.

Posted by Beachwood Reporter at 8:21 AM | Permalink
Meeting Up Now
The newest Chicagoland Meetups.
-
FreeSeminarsThis Week.com
*
Chicago C# Meetup Group
*
Downers Grove Stay At Home Moms for Obama
*
Chicago Media-Marketing & Advertising Meetup Group
*
Divine Divas
*
Lake County Retired & Semi Retired Women Over Fifty
*
Vernon Hills Boycott Wal-Mart
*
Healing with Raw Foods Group
*
Naperville Cleveland Browns Meetup Group
*
Chicago Russian Playgroup
*
Chicago Hip Mama Early Childhood Learning Co-Op
*
South Loop Cyclists
*
McHenry Improv Art Meetup Group
*
Nordic Pole Balance Walking Meetup Group
*
Powerful You! Women's Networking
*
D.O.T.A. dota
*
Northern Illinois Destination ImagiNation Meetup Group
*
Chicagoland Toastmasters Meetup Group
*
hideaway poker club of elgin,il
*
Love is Murder Conference & Seminars
*
Chicago Real Estate Buying & Investing Meetup Group
*
Chicago Improv Art Meetup Group

Posted by Beachwood Reporter at 5:16 AM | Permalink
Ironside: The Taker
Our look back on the debut season of Ironside continues.
*
Episode 6: The Taker
Airdate: 12 October 1967
Plot: It's a foggy day in Frisco Town when a fedora-sporting cop named Andrew Anderson is gunned down by an acquaintance on a deserted street. After an incriminating amount of cash is found on his body and certain improper relationships come to light, it appears as if Anderson was on the take. The police commissioner is hoping to keep the crooked cop story under wraps and the best way to do that is to keep Ironside, the force's best detective, off the case. Fat chance.
Guest stars: Mark Richman, Robert Alda, and William Schallert
Long forgotten "special guest star": Jan Shepard as Adrienne May
Music to murder by: Harpsichord and dulcimer music paired with long notes on an electric organ make anything seem menacing. A Ford Fairlane traveling at 2 mph has never been so foreboding.
That eerie Night Gallery vibe without the night: In the background of the funeral scene, the creepiest pair of statues stands on a hill overlooking Anderson's burial plot. Since everyone is decked out in black, these glowing white Plaster of Paris figures look especially odd, like a pair of golfers frozen on the final tee.
Color Me Beautiful: After the funeral, Ironside says, "We can't do any more for Andy here. Let's go . . . (to) headquarters. I want to get out of this dark suit and start doing my homework." Obviously, Ironside does his best thinking in a blue suit.
Fashion moment #1: Adrienne May is wearing a flowing polyester pants suit that disguises itself as a flowing polyester dress. It's white with black ovals spotted all over and an orange scarf tied at the waist. Hoop earrings and bracelets made of orange plastic complete the look.
Drink up, for tomorrow we go to jail: Once again, a suspect in a murder investigation offers the presiding detective a drink. In the event that Chief Robert T. Ironside should appear on your doorstep to ask you a few questions, I suggest you stock your bar with bourbon. He prefers it straight, on the rocks.
Acting = breathy line reading: It takes me 10 minutes to figure out just who it is Jan Shepard reminds me of - a low-rent, bleach-blonde Elizabeth Taylor.
It's Casual Day at the office: Ed looks peculiar sporting a Mr. Rogers sweater in lieu of his usual suit coat.
On-the-job flirtation between Ken and Barbie:
Ed: So, I'm a heel for trying to prepare him in case he's wrong about Andy?
Eve: You're not a heel Ed. Just a stinker. (Insert coy smile here.)
Fashion moment #2: In his second scene, the Commissioner (Gene Lyons) looks like Orville Reddenbacher - all giant horned-rim glasses and bow tie, minus the suspenders.
Well, of course he's not the murderer: William Schallert portrays Photographer Simon Arkoff. Obviously, a character played by the actor best known as the father of both Nancy Drew and Patty Duke couldn't possibly be the killer, even if he does have an accent that's, ah, er, um, Russian? Polish? "European"?
Nothing kills the action faster than a rotary phone: The scene grinds to a complete halt after Ironside leaves and Arkoff rushes to the phone to make a call. We never learn whom he's calling. Instead, we watch as he dials the number (dial--whirr times seven) and listens to it ring. And ring. And ring. Twenty seconds (I counted) of watching someone place a phone call. Can you imagine 24 in the age of rotary phones?
Get hep to the lingo: Hophead
He must have made a deal with the devil: The yacht club commodore is played by Cyril Delevanti, a perpetually elderly British character actor with a familiar face; every time he'd pop up in some movie or TV show, you'd think to yourself, "Oh my gosh, I thought he was dead."
Eve's yellow-and-black plaid suit: I'd describe it for you but it hurts my eyes to look at.
Burn rubber: Every time Ed's car comes to a stop at the curb, the tires squeal on the pavement. The funny thing is, he's never going more than 10 mph.
Thank God for Quincy Jones' soundtrack #1: I'd be willing to guess that one-eighth of this episode consists of nothing but shots of Ironside's gray wagon cruising the streets of San Francisco. That makes for a lot of jazzy variations on the Ironside theme song.
Thank God for Quincy Jones' soundtrack #2: I'm lovin' all the maraca shake-shake-shakin' going on in this episode's score.
Shootout at the O.K. Yacht Club: Ironside and Mark arrive at the Belvedere Boat Club to question their No. 1 suspect, Daryll Frazer. Rolling up alongside a large powerboat, Ironside peeks through the porthole to see Frazer (Mark Richman) sitting behind a desk, hilariously spinning the barrel of a gun.
Congratulations Mark, you've been promoted: Ironside sends his legman Mark on board to find out what Frazer and his compatriot Johnny Utrecht (Robert Alda) are talking about; he hands his driver a handgun, instantly promoting Mark to backup.
Attention Village People: Do rich guys who own yachts (not boats, mind you, but yachts) really dress like faux captains, with white pants, a navy blue captain's jacket, and nautical cap? Because on TV it looks absolutely ridiculous. Unless of course, you're Thurston Howell, III.
-
Previously:
* A Cop and His Chair
* Message From Beyond
* The Leaf in the Forest
* Dead Man's Tale
* Eat, Drink and Be Buried

Posted by Beachwood Reporter at 4:51 AM | Permalink
Vote None of the Above
Taking it to the streets.
See the rest of the Citizen Kate collection!
Posted by Beachwood Reporter at 12:42 AM | Permalink
Booklist: Coming Attractions
Books on my table that I've recently read and/or re-read and/or have been meaning to write about for a long time.
1. Drunkard. Neil Steinberg's memoir of his battle with alcoholism.
2. Five Ring Circus. An account (and cautionary tale) of Vancouver's successful 2010 Olympic bid by a University of British Columbia professor who led the opposition.
3. Moneyball. The Michael Lewis classic about how the sabermetricians have revolutionized the way thinking people look at baseball, using the Oakland A's and their general manager, Billy Beane, as his case study.
4. Clinton in Exile. The unauthorized (and sleazy) biography of Bill Clinton's post-presidential life.
5. See You In Court. Subtitle: How the Right Made America a Lawsuit Nation. A counterintuitive yet persuasive account by Thomas Geoghegan.
6. Victims of Justice Revisited. Thomas Frisbie and Randy Garrett plumb the Rolando Cruz case.
7. Splendid Solution. The story of Jonas Salk and his polio vaccine.
8. Free Lunch. David Cay Johnston examines how the wealthy use the tax code to screw the rest of us.
9. The Third Coast. Ted McClelland takes a trip around the Great Lakes in search of weirdness.
10. Millennium Park. Timothy Gilfoyle's coffee-table history of the park that is millennium.
11. Chicago Cubs: Yesterday and Today. The Cubs in all their glory, old and new.
12. Chicago: A City on the Move. A thoroughly engaging history of the CTA as seen in part through photos from the agency's archives.
13. What It Takes. Richard Ben Cramer's amazingly deep and through examination of the candidates for president in 1988. A must-read for every citizen. Really.
14. The Dark Side of Camelot. Seymour Hersh fills out the portait of JFK and it's not pretty. Truthfully, one of the worst presidents ever. Deal with it.
-
Previously in Booklist:
* Amazon Recommends
* The Walgreens Discount Shelf
* The Last 10 Books I Read And Why
* Five Best Books Ever (For Now)
-
Posted by Beachwood Reporter at 12:33 AM | Permalink
September 9, 2008
The [Tuesday] Papers
"After months of record-breaking fund-raising, a new sense of urgency in Senator Barack Obama's fund-raising team is palpable as the full weight of the campaign's decision to bypass public financing for the general election is suddenly upon it," the New York Times reports on its front page today.
"Pushing a fund-raiser later this month, a finance staff member sent a sharply worded note last week to Illinois members of its national finance committee, calling their recent efforts 'extremely anemic'."
On Sunday, Lynn Sweet reported on some of the measures the campaign is taking to raise dough.
"Under pressure to raise millions of dollars in the coming weeks, Barack Obama's campaign is raising the bar for entree into his elite fund-raising world while heavily scheduling big political names and celebrities to help him raise campaign cash fast," Sweet wrote.
"Membership on Obama's privileged National Finance Committee was once open to those who raised a minimum of $250,000; now it's $300,000. The 'asks' for joint Obama/Democratic National Committee high-roller events are getting higher."
For example, recent VIP receptions with Michelle cost $25,000.
And while the campaign pretended grassroots donors had something to do with the party's platform, rich people were paying to meet with Obama's top advisers.
"In order to squeeze money out of donors, Obama's marketeers have created different kinds of events for niche contributors, including packaging together Obama foreign policy advisers Susan Rice, Richard Danzig and Greg Craig for briefings," Sweet reports.
"An Obama 'policy lecture series' - a way to stroke donors is to make them feel they are real insiders - features Obama top adviser Valerie Jarrett on Monday in New York. She will give what is billed as an 'insider's view' of the campaign. The series is $10,000; one event goes for $2,500.
"There is a 'political and policy briefing and dinner with campaign leadership' Wednesday in Chicago featuring the Obama all-stars for those who raise or donate $10,000: campaign manager David Plouffe, senior adviser Peter Rouse, economic adviser Jason Furman, national field director Jon Carson, chief of staff Jim Messina, national finance director Julianna Smoot and economic adviser Austan Goolsbee."
UPDATE 12:11 P.M.: Here's Obama's "Celebrity Fund-Raising Schedule" from Lynn Sweet.
*
Back to the Times:
"Even Mr. Obama's fund-raisers in Illinois were admonished in an e-mail message last Thursday to step up their efforts to 'show the other regions that his home state still has it' The donors, who were also reminded they had each promised to collect $300,000 for the campaign, were asked to raise $25,000 each for an event on Sept. 22 at a Chicago museum.
"The new state-by-state goals unveiled by campaign officials in Denver stunned at least some in the room and included sizable increases for at least some states, according to interviews with several Obama fund-raisers."
Real Change
Wouldn't it have been something if the campaign had reserved the skyboxes at Invesco for grassroots donors selected by lottery while the rich folk were treated like ordinary people? And maybe the campaign could hold events where regular folk meet with policy advisers. That would be change.
Boot Hoot
The mayor pulled his proposed boot ordinance off the table - for now - because he didn't have the votes in the council.
Once recalcitrant aldermen retrieve their cars from the pound, Daley will try again.
*
Maybe the Obama campaign can figure out how to raise money by booting cars at its events. The Obama Boot for Change!
School Fools
"Illinois ranks second to last in the country for state funding of public education," the Sun-Times noted over the weekend.
That means at least two of these states rank higher than we do: Mississippi, Louisiana, Georgia.
Insert Joke Here
I have nothing funny or insightful to say about Cardinal George or United Airlines.
My New Hero
Here's to you, Don Gorske. You are an inspiration.
Breaking News
Cardinal George says his indifference to child sex abuse is based on an old story.
*
I'm trying to work with it, folks.
Irony Is A Bitch
"Obama: Palin as mom, governor, hunter may be cool, but she's just another politician."
*
And by "bitch" I am not referring to Sarah Palin's gender, but simply the old "karma is a bitch" phrase.
Karma Is A Bitch
"Obama: McCain wants this to be about biography."
The Machine Is A Bitch
"Rendell: If I was Palin, you'd be calling for my impeachment."
If you were Daley, you would have been impeached.
*
Troopergate vs. Robert Sorich. Discuss.
*
McCain: "And Sen. Obama has never once stood up to his party. You know that very well in the state of Illinois."
*
How ironic that Obama's alliance with the Machine might just sink him. McCain and Palin are the first of his opponents in his entire career who have figured out how to attack him. I mean, aside from Bobby Rush using that whole elitist/egghead thing.
TV Notes
* Bob Woodward was on Larry King Live last night discussing his new book and they played audio of President Bush admitting that one of his failures was "to change the tone in Washington."

* Michelle Obama appeared on Ellen yesterday and Ellen discussed her recent wedding but didn't ask Michelle why her husband didn't think it should be legally recognized.
* On Monday Night Football last night, the insufferable Tony Kornheiser spewed more benchmarks for comparing Aaron Rodgers to Brett Favre than have been proposed for gauging success in Iraq, until Ron Jaworski finally said, "Let it go, Tony."
In the Beachwood
* We're ecstatic to welcome Scott Buckner back to these pages in his boffo role as the city's best TV critic, as shown again by several recent posts of his.
The Beachwood Tip Line: Favre-like.
Posted by Beachwood Reporter at 9:59 AM | Permalink
What I Watched Last Night
For years, I thought that one of this country's major exports to Third World nations was championship T-shirts printed for losing sports teams. This is how we end up with all those photos of children from countries ravaged by war, cyclones, or abject poverty who will grow up believing the Chicago Bears won Super Bowl XLI. But thanks to last Saturday afternoon's segment of The Woodwright's Shop on Chicago's WYCC-TV/Channel 20, I learned that an even more humanitarian American export is technology that hasn't been used since George Armstrong Custer was recruited to make Montana the happiest place on earth by killing every Native American in sight.
Every weekend, Woodwright and cheerful host Roy Underhill celebrate the world of hand tools and construction methods using those tools popular among our settler ancestors when they weren't too busy with other popular activities of the day, like dropping dead from cholera. Basically, Roy and Woodwright is what Norm Abrams and This Old House would be if nobody ever bothered to discover electricity. Sure, Roy looks Howdy Doody-ish in his tweed cabbie hat and suspenders. Sure, some of his guests can be a lot like those socially off-kilter railroad buffs able to recite the arrival and departure schedule for every train in the history of the Monon Railroad. But believe me, when the planet is a smoking cinder on Armageddon Day and the rest of us are worrying about how we're going to survive without cell phones and Internet porn, Roy's going to be the only guy around able to build a two-seat outhouse without even using nails.
Saturday's Woodwright took us on a splinter-studded field trip to Tillers International near Kalamazoo, Michigan. That's where a fellow named Chuck was overseeing a line of fellows on shaving horses hand-shaping yokes for baby oxen much like elves in Santa's workshop. These fellows are accomplished at making other Santa's-workshop wooden stuff by hand too, like butter churns, hay rakes, and some of the most attractive riding crops you'll ever see made entirely out of hickory. I couldn't help but imagine the mountain of mail-order cash this place might make if it catered its hickory riding crop business to recreational S&M'ers and professional dominatrixes everywhere bored long ago with plain old leather crops.
Meanwhile, incredibly old blacksmith Herb was overseeing hottie student blacksmith Shannon's progress hammering hand-forged iron rings at the anvil, and an earthy-crunchy woman named Dolcie in a very wide-brimmed hat was showing Roy how to drive two oxen yoked side-by-side. This involved commanding "come" and "ho" for starting and stopping, and "gee" and "haw" for turning right and left. Dolcie was armed with a whip, but I think it was reserved for whenever the ho refuses to come. Or do anything else she's damn well told to do.
(Woodwright trivia: "Ox" refers not to a specific breed of animal, but rather any critter which has been yoked. Bulls are used most often, but if you yoked a pair of bison or cats or evil ex-wives together and managed to get them to plow a field, you'd have a team of oxen just the same.)
Next up was a jet-lagged fellow named Dave who spent the previous three weeks in Uganda washing his clothes in a bucket and teaching cattle farmers how to plant better cattle feed. Mostly, Dave showed off a few of the more useful Tillers creations popular among Third Worlders, like the scythe, the wooden wheelbarrow, the hand-cranked fodder chopper, and - curiously enough from a guy left to live out of a bucket - the hand-cranked washing machine. In the background, I thought I saw a box of those kiddie guns made out of a hunk of wood with a springy clothespin glued to the top that shoots rubber bands, but the camera cut away too soon for me to be sure.
At the start of the show, Underhill introduced us to the founder of Tillers: a fellow named Dick, who hatched the idea while in the Peace Corps - an organization built in 1961 upon the adage, "Give a man a fish and you feed him for a day; teach a man how to fish and you feed him for life." Yet almost 50 years later, the Peace Corps has yet to teach a single person in the blazing African desert how to make ice to keep his butter from turning into rancid slop an hour after he spent three months building a stupid churn.
Exporting low-tech knowhow to sustain life and community out of nothing despite natural disaster or relentless privation may be truer to Peace Corps doctrine, but still, you'd think the most humanitarian thing we could do for electricity-strapped Third Worlders would be to load a dozen armadas of rusty tramp steamers to the gills with the bazillion tons of obsolete hand tools cluttering up America's basements and rural flea markets. Saturday's program didn't mention exactly what Third Worlders are supposed do for tools to build things like timber-frame sheep sheds held together with dovetail bracing once the missionaries from Tiller International show them how to do it, but the organization seems to spend a chunk of its resources doing it.
In the end though, it's good that we have fine folks like Tillers International and Roy Underhill's Woodwright curating our endangered woody traditions. Otherwise, nobody would know how to hand-tool a canoe out of a big log. So a big tip of the hat goes out to Woodwright Roy and Tiller Dick for being there to pick up the slack.
-
See what else we've been watching! Submissions welcome.

Posted by Beachwood Reporter at 9:12 AM | Permalink
The White Sox Report
This isn't the first time Ozzie Guillen has seen his best player suffer a season-ending injury while fighting for a division title. It was 2004, Guillen's first year as a manager on the South Side, when Magglio Ordonez was lost for the year after colliding with Willie Harris on the field. That injury happened in the middle of May, and without Ordonez, the Sox simply didn't have enough offense to beat out the Twins for the division.
Could we be headed down the same road again, now that MVP candidate Carlos Quentin is likely done for 2008? Possibly, but as the Sox enter the week with a 2.5 game lead over the Twins and just 20 games left to play, they'll have no excuses this time. There's still enough offensive firepower to make the playoffs, but to do it, some of this year's most expensive dead weight will have to start hitting.
It comes down to three players: Paul Konerko, Ken Griffey Jr., and Nick Swisher.
It starts with Konerko, the captain, who has done enough wrong this year to almost - almost - make Sox fans forget about that World Series grand slam. This is the second straight season Konerko has disappointed, and don't forget he still has two seasons remaining on that five-year, $60 million contract he signed after 2005. But the captain has started to come around a tad lately, hitting homers in three consecutive games and raising his OPS to .775.
Swisher's first season on the Sox has been underwhelming as well. Swisher's tremendous plate patience makes him valuable regardless, but the Sox had to expect more from their top off-season acquisition than a .228 batting average.
Then there is Junior, who should man Quentin's vacated left field slot. Though Quentin was no Gold Glover in the field, there will still be a big drop off defensively with Griffey in the lineup every day. He'll need to hit for power to hold onto that spot, which is something he hasn't done since arriving in Chicago. Junior came here with a respectable 103 OPS +, but has hit just one homer since joining the Sox.
Most people look at those three names and think it would make for a solid middle of the lineup. Instead, the Sox just need them to replace the production of one man. Unfortunately for the Sox, it will be harder than it sounds.
*
Week in Review: Quentin's injury is the most upset I've been about something in sports since the Bears lost the Super Bowl in January of 2007. Don't worry, though, I'm sure Quentin's wrist will be fine in September two years from now, when it won't really matter.
Week in Preview: Four against Toronto, three against Detroit. Can we just fast forward to the September 23 series at Minnesota?
Fields on the Farm: We've said it before, but man, is it weird to know the Sox are sitting Fields in favor of Juan Uribe. Will Fields even be this team's third baseman next year? I thought only Cubs prospects flash brilliance before falling off the face of the Earth.
The Missile Tracker: How about moving Alexei up in the lineup without Q? No one has come up with more clutch hits this year, and it'd be nice to add a dash of speed to the lowest top of the order in baseball history.
Over/Under: 7: The Sox's spot in Phil Rogers' latest power rankings. Seems a tad high without Q, no?
Beachwood Sabermetrics: A complex algorithm performed by The White Sox Report staff using all historical data made available by Major League Baseball has decided that Joe Crede can have those back issues somewhere else next season.
The White Sox Report: Read 'em all.
-
Comments welcome. Please include a real name if want to be considered for publication.
-
Ricky O'Donnell is the proprietor of Tremendous Upside Potential , a contributor to the Sun-Times's Full Court Press and a lot of other things.

Posted by Beachwood Reporter at 7:26 AM | Permalink
September 8, 2008
The Siege of St. Paul
A St. Paul resident who wishes to remain anonymous answered a query from Beachwood HQ about protesters at the Republican National Convention there last week seen on TV breaking store windows and trampling on police cars. Were these just a bunch of idiots? How can we feel sympathetic to the mass arrests made? This was our source's response.
*
Yes there were people breaking stuff. But not 1,000 people doing so. which is how many people were arrested. This is bullshit. The Mpls. PD has been using this tactic on any kinds of protesters since the '90s: You arrest everyone, EVERYONE who's there, whether they're actually committing "crimes" or not. Then you let them all go with tickets. It's an insidious tactic aimed at stifling dissent and discouraging people from even showing up, which apparently is legal. Apparently you can arrest someone for just
showing up to yell about something. When did this become constitutional? When did it become OK for cops to detain you when you're not breaking anything & you're unarmed? I've NEVER seen that happen to anti-abortion nuts, who threaten people with death on sidewalks & who actually DO kill people.
When cops are free to do this, it IS a fascist state. When you can be arrested and hauled off in a van for just standing on a public street, it IS a fascist state. When your arrest is being based on the content of your speech & who it is you're protesting against, it IS fascist state.
Two other things that happened in St. Paul that are EXTREMELY worrying, especially to us as so-called "new media" journalists. One is the lengths the Ramsey County Sheriff's Dept. (headed by a corrupt sheriff who once closed down a League of Women Voters meeting because he didn't like what people were saying about him) to infiltrate protest groups before the convention even started. The cutting edge of anti-free speech fascism right now is local PDs being empowered by the DHS to act as "terrorism cops." They're being trained by the Bushies to go undercover and infiltrate legitimate opposition groups . . . this is a method of course honed by the Chicago cops and now is being inculcated into every local PD in the land. There were several armed, preemptive raids on protesters . . . again, all arrested, all manhandled, all let go with misdemeanor tickets and fire code violations. All aimed at intimidating free speech and quashing dissent.
The other VERY worrying thing was the targeting of "new media." They were singled out for especially harsh treatment. The iWitness people who document police abuse were spied on, tailed, infiltrated and arrested even before the convention began. This was reportedly on the advice of the New York City PD, who were made to pay out millions of dollars because their abuse of protesters was filmed by iWitness. People with cameras who didn't have RNC credentials (and some who DID like Amy Goodman) were stopped and questioned for standing on public streets and merely taking pictures or video of buildings. Anyone with a camera or notebook who weren't from one of the mainstream media sources were stopped, searched and intimidated.
This even happened to some mainstreamers, like AP photogs and KARE-TV cameraman. Apparently, being a media person covering protests now means that you, too, are going to be arrested. For doing nothing wrong. For standing on a public street. When did this become constitutional? I'd like to know.
It was very, very disappointing that Mayor Chris Coleman, who was overwhelmingly elected in 2006 because he was more progressive than his predecessor, the Bush-endorsing Dem Randy Kelly, would not question any of this. I can see where maybe he wouldn't be able to control all this police abuse because much of it was being instigated from Washington. Still, he was ultimately complicit in this horrible display because he raised absolutely no concerns about the violations of free speech. Like all the apologists, he focused on a few anarchists and used their antics as justification for mass arrests and intimidation. It was disappointing because it shows that the desperate need of cities for revenue in an era when our formerly GOP-run state legislature has slashed aid to cities to the bone trumps all else, when draining dirty tourist petrodollars from the prime purveyors of unchecked militarism in the world is more important the rights of people to protest it.
*
In "Wrong Place, Wrong Time, Wrong Lessons From The RNC," from today's Minneapolis Star-Tribune, columnist Nick Coleman writes:
In June 2006, referring to the intentions of Twin Cities boosters to lure either the Democratic or the Republican national convention here in 2008, I wrote:
"Why wait? Let's arrest thousands of people right now, hold them in barbed-wire cages, pay millions in overtime to cops, close off downtown, disrupt transportation (and) strew garbage around the streets.
I'm sorry I was right . . .
So it is strange to hear Officialdom, including my brother, the mayor of St. Paul, proclaiming the convention an unqualified success. From many perspectives, yes, it WAS a success. Folks watching TV probably didn't know or care whether they were looking at St. Paul or Sao Paolo, but Minnesota looked good to Minnesotans, and we like that . . .
One thing that was hard to swallow was the militarized statelet in St. Paul, with tactics and security designed for worst-case scenarios that did not materialize. The bulk of the 800-plus arrests were made there . . .
But average citizens, including the 10,000 law-abiding ones who came out to peacefully protest against the war in Iraq, were not prepared to see St. Paul turned into a No Man's Land where roofs were lined with snipers, streets were lined with legions of cops, security fences channeled citizens like rats and you had to color within the lines or you'd kiss asphalt and visit Bob Fletcher's No Frills Motel.
*
Amy Goodman Describes Her Arrest
Posted by Beachwood Reporter at 5:24 PM | Permalink
Bob Barr Opposes This Bailout!
Dear Friend,
I am sure you must be as angered as I am by the government take over of Fannie Mae and Freddie Mac. This taxpayer rip-off is guaranteed to cost you and me billions . . . and who is to benefit?
First and foremost, THE BANK OF CHINA. That's right, the government bank in the People's Republic of China. Among others, numerous countries in the Middle East and institutions around the world are also benefiting. Billions and billions are being sent overseas at our expense.
What do Senators McCain and Obama say about this government nationalization of our home lending system? They are both reported to be supportive.
I can tell you unequivocally, that Presidential candidate Bob Barr opposes this bail out!
Why? Because our tax dollars are being used (once again - remember Bear Stearns?) to fatten the bank accounts of speculators who bought bad loans. This is a case of the government rewarding those who took high-risk investment positions and were about to lose . . .
And where is Congress through all of this? Today they are back from a six-week vacation and after just three more weeks, they quit work for the rest of the year! Between lengthy paid vacations, you can be sure they will be privately encouraging federal regulators and bureaucrats to bail out their friends. You see, Congress is paid handsomely - in the form of campaign contributions and other gifts - to make sure that the wealthy are protected from their own mistakes.
Do you need still more evidence that the only ones to benefit from this bail-out are foreign investors and Wall Street, check out all the major stock exchanges TODAY and you'll see massive gains that you are paying for.
John McCain and Barack Obama support this. No surprise there. Bob Barr is alone in blowing the whistle on this multi-billion bail out.
Please help me get this out to voters. Please do two things today:
#1. Forward this email to every friend and relative to let them know.
#2. Contribute to the Bob Barr campaign.
Your gift of $50, $100, $250 or even more will help us get the message out! We will soon be launching a national media effort and your gift will help us expose the truth about the Fannie Mae and Freddie Mac bailouts. Thanks.
Sincerely,

Russell Verney
Campaign Manager
Posted by Beachwood Reporter at 1:22 PM | Permalink
Ann Marie's New Gig
This just in.
*
From: "Robert J. Zimmer"
Date: September 8, 2008 9:31:50 AM CDT
To: "'university-community@bulkmail.uchicago.edu'"
Subject: Vice President for Civic Engagement
Reply-To: president@uchicago.edu
To: University Community
From: Robert J. Zimmer
Date: September 8, 2008
Re: Vice President for Civic Engagement

I am very pleased to announce that Ann Marie Lipinski, former editor of the Chicago Tribune, has accepted the position of Vice President for Civic Engagement at the University. She will begin her new position on October 1.
In this newly defined role, Ann Marie will lead in developing and representing the relationship of the University of Chicago with the City of Chicago, its multiple communities, and its extended region. The relationships of the University to the City of Chicago have great potential to enrich our fundamental missions of research and education, while simultaneously enhancing the quality of life in the City, its economic development, and its global reach. Our goal is to see the University of Chicago become a model of how a great urban research university can interact in partnership with its city, and Ann Marie, who has a strong track record leading one of Chicago's great institutions, will provide strong leadership in helping us to build upon our already significant achievements.

More specifically, as the Vice President for Civic Engagement, Ann Marie is charged with advancing, coordinating, and articulating the University's ambitious efforts in pre-K-12 education, community health, local economic growth, business and job creation, business diversity, real estate development, social services, programs for children at risk, student volunteer activities, safety and security, and research efforts connected to the City and its communities. She will oversee the University's multi-faceted relationships with South Side communities, elected officials, and community leaders, and will develop our relationship with the State of Illinois. In January 2009, she will become chair of the board of the University of Chicago Charter School, which opened its fourth campus earlier this month.

In addition to her administrative responsibilities, Ann Marie will be appointed as a senior lecturer in the College, teaching material related to policy and journalism.

Ann Marie will work to share our innovative activities of civic engagement with peer institutions around the nation, and in turn learn from those universities' efforts. In addition, she will develop the connection between the University's evolving international efforts and the City of Chicago's emerging status as a global city.

Under Ann Marie's stewardship as managing editor and editor, the Chicago Tribune became a leader in journalism and public service, with Pulitzer Prize-winning projects that freed innocent prisoners from death row, helped revitalize the South Side lakefront, and uncovered product defects that endangered children.

Ann Marie, who has a Bachelor of Arts degree from the University of Michigan and was a Nieman Fellow at Harvard University, began at the Tribune as a summer intern. She rose to become the paper's top news executive, guiding more than 700 employees at the Midwest's leading media institution. She was one of three Tribune reporters awarded a Pulitzer Prize for investigative reporting in 1988. As editor, she sharpened the Tribune's public service mission and led the paper to Pulitzer Prizes in international reporting, feature writing, explanatory reporting, editorial writing, and investigative reporting.

As part of the newspaper's efforts to promote literacy and literature, Ann Marie oversaw a series of awards promoting fiction and non-fiction work that underscored Chicago's historic contributions to American letters. As editor, she created the Tribune's Young Adult Book Prize and the Tribune Literary Prize, bringing to Chicago such luminaries as Arthur Miller, August Wilson, Tom Wolfe, Margaret Atwood, Joyce Carol Oates, and E.L. Doctorow.

A 30-year resident of Chicago, Ann Marie and her family have lived in the Kenwood neighborhood for the past five years. She serves on the boards of the University of Chicago Laboratory Schools and the Chicago Children's Choir, along with the Pulitzer Prize Board and other national organizations.

Please join me in welcoming Ann Marie Lipinski to her new role in the University of Chicago community.
-
Comments welcome. Please include a real name if you wish to be considered for publication.
Posted by Beachwood Reporter at 12:21 PM | Permalink
The [Monday] Papers
"The brand-spanking new $720 million Lucas Oil Stadium got its regular-season christening Sunday night," the Indianapolis Star's Phil Richards writes.
"A national television audience tuned in. NFL commissioner Roger Goodell was in the house. Johnny Mathis sang the national anthem. They cranked open the massive retractable roof and the giant window on the stadium's north end, and the standing-room-only crowd of 66,822 stood and roared for the U.S. Army Blackhawk helicopters' flyover.
"Then the Indianapolis Colts crashed and burned.
"The Chicago Bears dominated the Colts 29-13 and sent the quiet crowd home muttering."
Indeed.
"It's sickening," Peyton Manning said.
Bearly Legal
"That deliriously diehard Bears fan? The one who has high hopes, high as a pie in the sky hopes no matter how bad the vast majority thinks his team will be? Even that guy was blown away by the Bears Sunday night," writes our very own Jim Coffman.
The Cubs Are Ridiculous
We check in with the Curses and Plagues Affairs Desk.
Boots Are Marching
"Chicago aldermen will be asked today to lower the boom on their scofflaw constituents - by dropping the Denver boot threshold from three unpaid tickets to two," the Sun-Times reports.
"Ald. Danny Solis (25th), Daley's hand-picked president pro-tem and staunchest Hispanic supporter, said he would reluctantly go along with the booting blitz.
"'There's so much money still outstanding. It's just one notch more. It's better than a $10 [monthly] fee to pick up garbage,' Solis said."
Hardly!
Annual parking ticket fines alone for even the most conscientious driver who doesn't have a private garage tend to total more than the $120 a year garbage fee would, and that's not even counting the obnoxious booting fees.
"This is a bad idea," Ald. Toni Preckwinkle (4th) told the S-T. "It would have a terrible impact on ordinary working people in Chicago."
*
Maybe we should have a boot tax. You know, assess a fee for every pair of boots folks own. Just sayin'.
The BTA
"Chicago Transit Authority President Ron Huberman and CTA Chair Carole Brown will announce budget-cutting measures this morning in response to expected shortfalls," the Sun-Times reports.
"The agency expects to lose $34.5 million in 2009 from giving free rides to seniors, the low-income disabled, and members of the military, along with $32 million from the loss of the state's reduced fare subsidy, for a total loss of $66.5 million."
Welcome to the Blagojevich Transit Authority. Next stop: Idiotville.
*
Maybe we should boot the governor. I mean, really, just immobilize the guy.
*
Maybe we should assess a tax on all seniors who take free rides on the CTA. Just sayin'.
Medical Malpractice
"Mayor Daley's plan to borrow $85 million to buy the campus of Michael Reese Hospital to pave the way for construction of a $1.1 billion Olympic Village has hit a snag," the Sun-Times reports.
Hard to believe!
"The $85 million borrowing was controversial even before the latest complication. Even as Daley is poised to lay off more than 1,000 city employees in the face of a $420 million budget shortfall, aldermen have questioned why City Hall would make an $85 million gamble that the depressed real estate market will come roaring back.
"Though the loan would be backed by property taxes, City Hall has said Chicago taxpayers would not be left holding the bag because, long before the principal is due, the city expects to recoup its costs by selling the property to a master developer."
Insert your own booting joke here.
Machine Press
If I was the editor of one of our esteemed dailies, I would been inclined to run a top-of-page-one headline the other day that read "Daley: No Machine!"
And then instructed my campaign reporters to ask Barack Obama if he believes there is a Chicago Machine.
Cop Shop
Compare and contrast.
"It's much better for Obama if reporters focus on whether Palin, the governor of Alaska, was truly evil for trying to fire her former brother-in-law, the cop who allegedly Tasered his own 11-year-old stepson," John Kass writes.
"Some were rejected from suburban police departments. Others sold cocaine and smoked pot. A few were thieves. Others are related to crooks. One was even a gang member. They're among dozens of people restored to the Chicago Police Department's hiring list after they were found unfit to become cops," the Sun-Times reports.
Ball Drop
"The Chicago Police Board has the final say on firings, and it turned down the superintendent about 70 percent of the time between 2003 and 2007. It operates with little publicity, even though its decisions play a big role in ensuring quality policing in the city."
Sun-Times editor-in-chief Michael Cooke was not available for comment.
More of the Same
"Democrat Barack Obama says he would delay rescinding President Bush's tax cuts on wealthy Americans if he becomes the next president and the economy is in a recession, suggesting such an increase would further hurt the economy," AP reports.
New game: Drink every time Obama reverses a position!
Partisan Feminism
"Are you as surprised as I am that people in the year 2008 are debating whether Alaska Gov. Sarah Palin should have thought twice about being John McCain's running mate because she has a baby and her teen unwed daughter is pregnant?" Lynn Sweet writes in a blog post called "When it comes to defending Palin's right to run for vice president, where are the feminists?"
*
Memo to readers who know who they are: It's possible to believe that Sarah Palin - like Hillary Clinton - is a target of rank sexism and hypocrisy without endorsing her candidacy or agreeing with any of her policy positions.
Parallel Universe
I received this e-mail this morning.
Each base is now sufficiently revved up to perpetuate the nastiest presidential campaign with as little relationship to the truth as any in modern history. Ironic, huh?
*
Maybe we should boot the bases.
*
You know what would be refreshing? If Barack Obama gave a speech and said, "Knock it off!" If he gave a speech reprising his long-disappeared theme of unifying the country behind an elevated political discourse of dignity and respect instead of waging a campaign that I'm sure will be the ugliest yet. He could even text message his supporters, and maybe throw in a few words about sexism. He could call out smears against McCain and Palin as well as those against himself, and appeal directly to independent swing voters while doing it.
*
Maybe he and McCain could even set up a joint fact-check site for the most scurrilous smears - I know this has been proposed elsewhere, though I can't remember where - that both campaigns could agree are beyond the pale.
Breaking News
"Democratic presidential nominee Barack Obama held his daughters' hands when he escorted them to their first day of school," AP reports.
No kidding. AP really reported this.
The Beachwood Tip Line: For when you're Hungry, Angry, Lonely and Tired..
Posted by Beachwood Reporter at 10:09 AM | Permalink
SportsMonday
That deliriously diehard Bears fan? The one who has high hopes, high as a pie in the sky hopes no matter how bad the vast majority thinks his team will be? Even that guy was blown away by the Bears Sunday night. Even that guy didn't envision the Monsters absolutely manhandling the Colts and delivering a "We Are Back" statement that reverberated through the NFL.

So many highlights!

Beachwood Baseball:

The White Sox Report will appear on Tuesday this week.


* Olin Kreutz screwed up his first snap of the game and fans had to be thinking here we go again - Rex Grossman took all the heat for all the messed-up snaps from Kreutz over the past several years when the center deserved much more scrutiny. Later, Kreutz was caught holding. In the fourth quarter, he was caught holding again. Oh, and in between all of that, he had a hell of game. As the absolute leader of the offensive line, the veteran takes extra heat when the Bears struggle and deserves extra credit when they shine. Even when the offense didn't score (which it usually, amazingly, did), it almost always churned out a couple first downs to keep the Colts' high-powered offense off the field. Matt Forte had a huge debut but most of his runs were primarily a matter of taking what the line gave him. He had his biggest play on a beautifully blocked draw, something analyst John Madden noted the Colts have long been susceptible to, and a couple great cutbacks. Oh, and one final thing about Kreutz: the rest of his snaps were flawless.

* During offensive coordinator Ron Turner's great, great play-calling performance, one call clearly stood out. You wanted the Bears to go for the jugular as they drove into Colts territory with a nine-point lead early in the fourth quarter, but you totally understood Turner playing it close to the vest. It had worked awfully well up until then and with just a one-yard, third-down run they would have earned a first down well inside Robbie Gould's preferred field goal range. Such a kick (for a 12-point lead) would have forced the Colts to score two touchdowns to win. But Turner eschewed the safe play. Desmond Clark broke free deep and Kyle Orton, standing strong in the face of a heavy rush, didn't miss him.

* The Bears didn't blitz as often as Madden thought they did and while Peyton Manning was clearly rusty, it wasn't as much of a factor in the outcome as the Bears' suffocating scheme, a fact Madden and partner Al Michaels too frequently overlooked. But overall it was a pleasure to take in the game with these guys. It never fails that a couple times a game, Michaels is on top of a rules interpretation or a bit of unusual strategy that most play-by-play guys simply miss. His explanation of why Lovie's challenge of the call on the fumble on the kickoff return had no chance was just the sort of thing he does much better than any other announcer.

And there was some even-better-than-usual stuff from Madden. He was sharp whether he was talking about Orton getting better the closer he got to the end zone or revealing that he'd had an unusually revealing chat with Lovie at some point this week regarding Mike Brown. It wasn't exactly rocket science, but Lovie noted that while Brown is awfully good coming up in run support, that's also where he keeps getting hurt. So he'll be staying back in a deep zone for the foreseeable future. Not a huge revelation from the average coach, but for the Bears' rigorously reticent head coach it was an amazingly frank exchange.

* Great to see Big-Play Peanut Tillman (does that draw a flag for illegal nickname procedure?) in a return engagement - the veteran cornerback's game-changing capabilities were rarely seen last year as injuries took their toll. But Tillman, who warmed up in the first half by absolutely leveling Reggie Wayne on an ill-advised Peyton Manning pass into the flat, made the defensive play of the game when he slapped the ball out of Marvin Harrison's hands with the Bears clinging to a two-point lead late in the third quarter. Lance Briggs, who was also a major physical presence on D, especially in the second half, smoothly scooped up the fumble and ran it all the way back for a huge touchdown. It was just the way the head coach, who not only preaches the importance of turnover creation but also exhorts his players to turn those turnovers into immediate points (i.e. trying to scoop up fumbles to get a big return going rather than just falling on them), would have drawn it up.

* The Bears neutralized Colts freak-of-nature safety Bob Sanders at least 90 percent of the time. Sanders reminded one and all of his frightful power despite his diminutive stature (he stands barely 5 feet, 8 inches tall) with a huge hit on Matt Forte late in the first half. If the Bears weren't running when Sanders was back in pass coverage and passing when he came up near the line, they were popping linemen free to at least shield him away from ball carriers all night.

* After a shaky start (his first kickoff was low and not terribly deep), Robbie Gould pounded a couple great ones (strong hangtime while carrying all the way to the goal line or beyond) in the second quarter and after the intermission. When the Colts committed an obvious penalty on the one late in the first half after the Bears first field goal, rookie draft steal Marcus Harrison followed with his huge sack (Welcome to Chicago big guy!). Then Adewale Ogunleye, who had a great game other than that brutal, head-butting personal foul late, tackled Joseph Addai for the safety.

* Even when Devin Hester makes a mistake, it is an extraordinary mistake. His decision to try to take the second-half kickoff out of the end zone after waiting a few seconds to try to convince Colts he had downed it was . . . wait for it . . . ridiculous! One can't help but see that sort of play and wonder if the lack of football smarts on display as Hester was then tripped up inside the five is also the reason he still seems not to have mastered the wide receiver position. But hey, the season is just getting started, right? There's plenty of time for him to make his mark on offense. Then again, given how well Clark went deep in the fourth quarter and how smoothly Greg Olsen proceeded down the sideline on his way to hauling in the Bears' second-biggest pass play of the night at the end of the first half, maybe this team will revolutionize the receiver position. Maybe tight ends Clark and Olsen will line up wide, Rashied Davis will return to the slot and Hester will go back to specializing in returns.

* In conclusion, let's all do something together. Let's all repeat a mantra ten times and then maybe a few more people will remember it when training camp rolls around next year. "Pre-season games mean nothing. Pre-season games mean nothing . . . Pre-season games . . . " Well, you take it from here. The Bears certainly will.

-

Jim Coffman brings you the city's best weekend sports roundup every Monday. It's always a pleasure, isn't it? You can write to him personally! Please include a real name if you would like your comments to be considered for publication.

Posted by Beachwood Reporter at 8:14 AM | Permalink
The Cub Factor
The collapse is on! What, did you really think this was gonna be the year? Just arrive on Planet Earth? We here at The Cub Factor have consulted our auxiliary Curses and Plagues Affairs Desk and this is what we have to look forward to down the stretch.
* Lou Piniella and Matt Sinatro find the ballpark just fine but Mark DeRosa gets lost because Ryan Dempster gave him a joke map.
* Kosuke Fukudome makes it to the park just fine.
* Mark DeRosa gets an emergency pitching start and comes up with a dead arm.
* Kerry Wood strains an oblique laughing at Ryan Dempster's Harry Caray impression.
* The Cubs re-sign Jacques Jones.
* A scope of Rich Harden's right arm shows that it's actually made of paper mache.
* The Cubs finally make that Brian Roberts trade.
* The Cubs mark 100 years of futility in a very Cubbie way.
-
Week in Review: The Cubs were swept at home by the Astros and lost two of three to the Dusty Baker's lowly Reds. Worst. Week. Ever.
Week in Preview: The Cubs get a day off Monday and then head to St. Louis for three and to Houston for three more. I mean, seriously, they need to win a few of these games.
The Second Basemen Report: Six games, one win, five losses, three second basemen - you do the math. Yeah, do the math and let me know what it means, because I don't. DeRosa started four with Cedeno and Fontenot each getting one.
In former second basemen news, Glenn Beckert-signed baseballs go for around 70 bucks. He is missed.
The Zam Bomb: Big Z no like MRIs. Big Z is furious.


Endorsement No-Brainer: Mark DeRosa for All-Purpose 409.
Lost in Translation: Domo Benchogato is Japanese for "where's Kosuke?"
Sweet and Sour Lou: 60% sweet, 40% sour. Lou is down a whopping 9 points on the Sweet-O-Meter because he don't read maps so good no more. And like your real crazy drunk uncle, Lou doesn't know what to tell the neighbors after you didn't walk their dog while they were on vacation. But he knows he's not cleaning up all this shit. And he's gonna let you know he knows just as soon as you get him a cold Falstaff.
Center Stage: J-Ed got four starts and R-Jo got two. With K-Fu domo benchogato, look for R-Jo to get some starts in right, along with D-Ro and M-Ho.
The Cub Factor: Catch up with them all.
Beachwood Sabermetrics: A complex algorithm performed by the The Cub Factor staff using all historical data made available by Major League Baseball has determined that curses don't just go away because it's some big anniversary and you spend a lot of money.
Over/Under: The number of times the curse will be mentioned in media outlets the remainder of the season: +/- 100 times a day.
Mount Lou: Lou jumps to orange this week due to shitty baseball and pitchers with bad arms. The once calm surface of Mount Lou is beginning to boil once again. Expect an anger eruption by Wednesday. A frustration cloud of soot can already be seen from miles away.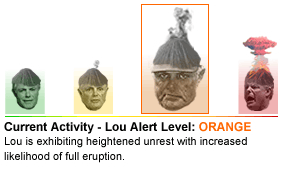 -
Posted by Beachwood Reporter at 7:38 AM | Permalink
Rockpile: Seconds of Pleasure
When it was re-issued by Columbia/Legacy in 2004, a new generation of music critics rightly came to realize that Rockpile's one-and-only album Seconds of Pleasure (1980) was, to quote Nick Lowe and Dave Edmunds from the album, "nothing but fine, fine, fine." Even so, it's good every now and then to remind people of that fact, especially with Lowe taking to the road in October to support his new release, At My Age.
Of course, the central fact about the retro-rockabilly masterpiece Seconds of Pleasure was that it marked the break-up of a band that only put out one record. Edmunds (guitar, piano, vocals), Lowe (bass, vocals), guitarist Billy Bremner, and drummer Terry Williams had all played together on Lowe's and Edmunds' solo records in the 1978-80 period, which includes such seminal power-pop efforts as Edmunds' Repeat When Necessary and Lowe's Jesus of Cool (known as Pure Pop for Now People in the U.S.).
Legend has it that Lowe and Edmunds' partnership by this point had become pretty strained. I can believe that, since Edmunds was above all a rockabilly purist, sharing a worship of Carl Perkins with Beatle George Harrison, while Lowe was much more of an experimenter who saw power pop and rockabilly as nothing more than a way station in a journey that has included jazz, hardcore country, lounge, soul and other genres. Indeed, in the years since, Lowe has dismissed Rockpile as a "posh bar band" that played '50s-style rock 'n' roll at amazingly breakneck speeds.
And that's just why I love them. I think one of the things that makes Seconds of Pleasure so great is that the songs do seem only seconds long. These guys were so tight, it was like the Everly Brothers had come along in 1980 instead of 1960 and had had 20 more years to practice. I'm a sucker for instrumental virtuosity and they had it. Lowe's and Edmunds' harmonies and vocal styles were so spotless and clean, you could eat your lunch off of them. And yet, they never come off as mechanical. Probably thanks to Edmunds' reverence for all things '50s, they capture the yearning angst of early teenage rock 'n' roll in a thrilling way. Six of the songs were originals penned by Lowe and Edmunds.
Its highlights include:
"Teacher, Teacher." The lead-off track was written by Kenny Pickett and Eddie Phillips of The Creation. It accounted for the album's only chart appearance, peaking at No. 51 on the Billboard list in 1981. It sets the album's standards with its tight harmonies and speedy delivery.
-
"If Sugar Was as Sweet as You." It has the classic line, "If sugar was as sweet as you, honey, sugar just couldn't be bought/Because you're so sweet, you make sugar taste just like salt." This is a Joe Tex R&B song, amped up with Lowe's plucky bass laying down an irresistible groove.
-
"Now and Always." An awesome creation of a modern-day Everly Brothers song. It's got to be the best song they never wrote.
-
"Play That Fast Thing (One More Time)." Which kind of sums up Rockpile's philosophy. It starts off with a fine solo drum riff by and is highlighted with an uptempo boogie-woogie arrangement.
-
"Wrong Again (Let's Face It)." By the Squeeze duo of Chris Difford and Glenn Tilbrook. "The journalist writes down the things he remembers/The things he forgets are the things that you feel." Hmmm. Not sure how I feel about that. Are they saying journalism drains the feeling from depictions of "reality"? That aside, it rocks.
-
"Oh What a Thrill." Chuck Berry's obscure number sounds a lot like "Back In the U.S.A.." But that's a good thing. It also has a tremendous, reverb-drenched Edmunds guitar solo.
-
"When I Write the Book." The best original song on the album. Lowe's vocals are thrillingly backed by Edmunds on organ. It's a song of regret and heartbreak, but delivered in an optimistic way.
-
"Fool Too Long." Another loving recreation of mid-'60s R&B-based pop. "If I'm the one who pays the rent, I've got to have 100 percent." Killer riff, killer echoey solo. Indeed, all killer, no filler, just like the whole album.
-
"You Ain't Nothing But Fine." The speediest, most off-the-tracks rockabilly you have ever heard, with Lowe leading the way on a smoking bass. It sends Seconds Of Pleasure off at a fever pitch.
*
Comments welcome. Please include a real name if you wish to be considered for publication.
*
From Chad Everett to Led Zeppelin, Jimmy Swaggart to Prince, the Beachwood Bins are teeming with great and not-so-great moments in rock history.

Posted by Don Jacobson at 5:16 AM | Permalink
September 6, 2008
The Weekend Desk Report
We'll be keeping a watchful eye on Hanna this weekend. We never really bought that sweet and innocent act anyway.
Market Update
Staying the Course looks set to end its long rally in the near future. Experts point out that, under current market conditions, there soon may not be much course left to stay anyway.
World Wide Webb
Having successfully packed another guilty public servant off to jail this week, Chicago's very own superlawyer Dan Webb will be looking for more high-profile clients. While there are certainly candidates close to home, the Weekend Desk has learned Webb plans to look farther afield. The smart money is on crusty Alaskan senator Ted Stevens. Experts say word of Webb's appalling track record may not have untangled itself from the senator's tubes just yet.
Back in the Fold
There is reason for optimism this week as the West cautiously reaches out to a once-notorious terrorist force. Experts say international pressure has cowed the always-flamboyant former antagonist, although skeptics warn the abrupt change of heart is hardly genuine.
Unfolding Drama
Meanwhile, one of America's recent international success stories looks set to cause embarrassment yet again as observers wonder if she's been rushed back into the spotlight too quickly.
Bear Down
Finally this week, we'd be remiss if we didn't mention the start of another Bearish season in Chicago. We've crunched the numbers and determined that this year's championship will come down to a contest between Walkouts and Buyouts. So in short, no one wins.

Posted by Natasha Julius at 7:39 AM | Permalink
September 5, 2008
The [Friday] Papers
"John McCain packed a stadium full of supporters into his 6-by-7-foot prisoner-of-war cell Thursday night, suggesting his harrowing life history proves he is the battle-scarred warrior who could keep Americans safe and shake up Washington," the Sun-Times reports.
Indeed. McCain came dangerously close to claiming - as his campaign has already been accused of - that he deserves the presidency because of his heroism in war, though he came just as close to pleading for a sympathy vote.
For the most part, McCain's speech was lame. He failed to project leadership and overdosed on the flag. He did pull a neat turn though: He effectively attacked Barack Obama as a candidate who has only talked about reform instead of leading it, and in admitting his own party's failures and implicitly rejecting the last eight years of George W. Bush, he tried to capture the mantle of hope and change.
It's something he could not have done without Sarah Palin, who we can clearly see now saved this convention for the GOP and quite possibly saved the race - for now - for John McCain.
The Tribune was polling online yesterday to see if readers thought Palin should be dropped from the ticket. What they should be polling is if Palin should be the one at the top of the ticket.
McPalin
* SarahBarracuda.com
* Song of the Moment: Barracuda
* Mystery Convention Theater
Head Lines
"Robbed Bank To Play Lottery, Cops Say."
Blagojevich in custody.
*
"Cook County Board Approves Vendor Database."
Huge contract will be given out to build it.
*
"Trib Redesigns Paper To 3 Sections."
Just three more to go!
*
"Man Arrested After Turf Dispute Sets Off Brawl On Ravinia Lawn."
Picnic baskets overturned, wine spill threatened.
*
"County May Buy Golf Course From Commissioner's Family."
And then lease it back to him.
Invisible Machine
Richard M. Daley, responding to Rudy Giuliani's assertion that Barack Obama "immersed himself in Chicago machine politics:"
"I don't know where we get this, this idea that there's a big Democratic machine going on. Chicago and the metropolitan area is very Democratic and the state is. There's no, this machine. I thought it was laughable."
Obama also said he had never seen a machine going on.
Logan's Run
"Alton Logan wants Mayor Daley to apologize for the nearly three decades he spent in prison for his wrongful murder conviction," the Sun-Times reports.
"He was the man that signed the death certificate," Logan said. "That's the only apology I want.
Daley can't remember the case, even though, as the S-T points out, it's notorious enough to be featured on 60 Minutes.
"I have no idea [whether an apology is warranted]," Daley said. "You know how many cases we had in the state's attorney's office?"
Daley then cut off questioning because he had to get back to rebuilding souls.
Blago's Court
"[Logan will] also seek a pardon from Gov. Blagojevich, which would make him eligible for nearly $200,000 in compensation."
Or, to put it in terms the governor will understand, four campaign donations.
Ferdy Recommends . . .
I Served The King of England, opening tonight at the Music Box and at the Century 12 and CineArts 6, 1715 Maple, Evanston.
"If you go to see it hungry, you'll be chewing your arm witnessing all the lavish meals served at all the fine establishments where Dite works," she wrote last year. "There are some transcendent moments of visual trickery, such as when Dite the elder empties a box of stamps and they float lifelike on the breeze. The Czechs do sexual playfulness extremely well, and each act of physical love is a rather complete and innocent delight, even between Dite and Liza . . . This densely packed film moves with the grace, speed, and charm of Dite twirling his tray of delectables."
Summer Bummer
Geez, how would you like to come all the way to Chicago for the Olympics and have to stay in Indiana?
Hockey Moms Respond
-
Hockey Moes
The Official Tribute Site, including the Moes Hall of Fame, the Flaming Moes song, and Moetry.
The Beachwood Tip Line: To have and to hold.

Posted by Beachwood Reporter at 7:36 AM | Permalink
Song of the Moment: Barracuda
The GOP quickly picked up on the high school nickname of Sarah Palin and started playing Heart's "Barracuda" at their convention, which wrapped up last night. In fact, after John McCain's closing speech, "Barracuda" was the second song to play, after "Raising McCain." And boy is Heart pissed.
"The Republican campaign did not ask for permission to use the song, nor would they have been granted that permission," Heart said in a statement. "We have asked the Republican campaign publicly not to use our music. We hope our wishes will be honored."
Nothing like Republicans stealing private property and not respecting the rule of law!
"Sarah Palin's views and values in NO WAY represent us as American women. We ask that our song 'Barracuda' no longer be used to promote her image. The song 'Barracuda' was written in the late 70s as a scathing rant against the soulless, corporate nature of the music business, particularly for women. (The 'barracuda' represented the business.) While Heart did not and would not authorize the use of their song at the RNC, there's irony in Republican strategists' choice to make use of it there."
*
Released: 1977
Format: 7"
Album: Little Queen
Charts: Peaked at No. 11 on the Billboard Hot 100.
*
From Wikipedia: In a season 2 episode of Reno 911!, the cast plays "Barracuda" after kicking out a local garage band for being too noisy and "playing crappy music."
*
From Songfacts: According to the band, this is a statement about the record industry in general. It was written at a time when there was friction between the band and their label. Little Queen was the first album they released for the CBS-Portrait label. Their old label, Mushroom Records, sued the band and in 1978 released Magazine, an album made up of previously recorded material Heart did not want released.
*
Lyrics:
So this ain't the end - I saw you again today
I had to turn my heart away
You smile like the sun - kisses for everyone
And tales - it never fails
You lying so low in the weeds
I bet you gonna ambush me
You'd have me down, down, down, down on my knees
Wouldn't you, barracuda? Ohhh
Back over time we were all trying for free
You met the porpoise and me, uh huh
No right no wrong, selling a song
A name whisper game.
And if the real thing don't do the trick
You better make up something quick
You're gonna burn, burn, burn, burn, burn it to the wick
Ooh, barracuda ohhhh yeah
"Sell me sell you" the porpoise said
Dive down deep down save my head
You...I think that you got the blues too.
All that night and all the next, swam without looking back
Made out for western pools - silly, silly fools
The real thing don't do the trick, no
You better make up something quick
You're gonna burn, burn, burn, burn, burn it to the wick
Ohhh, barra-barracuda yeah
*
From 1977:
-
Previously in Song of the Moment:
* Iron Man
* The Story of Bo Diddley
* Teach Your Children
* Dream Vacation
* When The Levee Breaks
* I Kissed A Girl
* Theme From Shaft
* Rocky Mountain High
* North to Alaska
Posted by Beachwood Reporter at 4:51 AM | Permalink
September 4, 2008
The [Thursday] Papers
Not wanting to believe it doesn't make it untrue.
"In her first national address, vice presidential nominee Sarah Palin wowed the Republican convention using wit, sarcasm, charm and ridicule in a full-scale assault on a now familiar cast of GOP targets: an elitist adversary, biased media and high taxes," Politico reports.
"Without mentioning Democrat Barack Obama's name and rarely losing a smile, the Alaska governor delivered one riposte after another."
The relatively rational Chuck Todd says that conservatives have found their Obama.
Indeed, Sarah Palin delivered the most striking speech of the season and has instantly changed the dynamic of this race. Trust me, the Obama campaign is retooling as we speak.
But hey, don't take my word for it.
Here's lefty Jerome Armstrong of My Direct Democracy, which is sort of the Son of Kos:
I watched the TV speeches tonight in full, and have just one word.

Palin.

We have met someone that we will be doing battle against for a decade or more. Seriously. I've never seen a woman, or a man for that matter, speak that way, prime time, national, convention, live, ever. She blows away Hillary Clinton. Sorry, but that's what it is. Palin's deft speaking style is like watching visceral connective tissue being torn - with a child in arms [understand that the Clinton comparison is within the context of contra Obama].

OK, so my guess. Come November, and Obama's glorious victory, Palin is who they pronounce as the '12 nominee against Obama. Either that, or Palin is Prez after McCain croaks on a pretzel from 2 years of the WH.

Palin captured the GOP's heart and flag tonight. She hit it 456 ft into deep right field, and way friggin outside the park.

Romney? Huckabee? Giuliani? Amateurs all. Nada comparison (I can't believe I even put Whitman in Palin's league). Anyone that thinks McCain could have chosen better than Palin, among the GOP ranks, is on drugs. Talk about a cultural war that's on again!
For that matter, let's check in with Kos. As of this writing, this is how their online poll looked. Of course you would expect Kos readers to vote the worst, so note with shock the overwhelming second choice.
Palin's speech was

* A grand slam: 16% (3445 votes)

* A home run: 7% (1486 votes)

* A base hit: 9% (1922 votes)

* A walk: 3% (663 votes)

* Out at first: 2% (441 votes)

* A strike-out: 3% (707 votes)

* Some other stupid sports metaphor: 9% (1942 votes)

* As infuriating as it was boring: 45% (9664 votes)

* Other : 3% (755 votes)
Camp Obama
"The speech that Gov. Palin gave was well-delivered, but it was written by George Bush's speechwriter and sounds exactly like the same divisive, partisan attacks we've heard from George Bush for the last eight years," said campaign spokesman Bill Burton.
No, Bill, it sounded nothing like the past eight years. Maybe you should just welcome new talent to field and say you look forward to running against her for president in four years.
*
Just as lame: Democrats trying to sell the proposition that Palin was too "sarcastic" to play well in the Heartland. She wasn't sarcastic, she was plain-spoken ("Here's a news flash for you . . ."), charming and funny.
*
And Dems calling her smug? Please.
*
As if Obama doesn't have speechwriters.
*
Doesn't the Obama campaign suddenly seem sour?
Mystery Convention Theater
Over at Division Street.
Rave Review
"Barack Obama had a firework-laced stadium packed to the gills. But no amount of sophisticated stagecraft can compete with genuine, gut-churning drama, fueled by the potential for a rapid-fire comeback by one unfairly maligned," writes Tribune theater critic Chris Jones.
"Palin is positioned as the antithesis of the Chicago-schooled rhetorician and, on Wednesday, she skillfully substituted plain American talk for dodgy Greek columns and the wholesome language of the PTA for the unnerving excesses of the church of Rev. Jeremiah Wright Jr."
Reform Storm
"She also poses the greatest threat yet to the Obama reform narrative," John Kass writes. "The cynical epic has become the establishment media bedtime story, with Obama as the young King Arthur riding forth to promise change. In this, the Washington Beltway media colony has been his eager Merlin, hoping to guide him, cleaving desperately to the theme that he's some kind of reformer, even though Obama is a politician backed by Chicago's Daley machine and never once challenged the political corruption in Chicago and Illinois. Not ever.
"The contrast with Palin - who actually went after the Republican Party bosses in Alaska on the corruption issue - is profound and challenging for the Obama-friendly media that willfully ignore his lack of leadership on the reform front, yet are consumed to find out if Palin has an overdue library book."
Editorial Judgements
"Wow. Now America knows why John McCain wanted Sarah Palin on his presidential ticket," the Tribune editorial board writes. "Whatever your politics, if you watched this speech you know this much: Barack Obama and Joe Biden are in a tougher fight than either of them imagined when they first learned the name of McCain's running mate."
The Sun-Times, meanwhile, found itself stuck with an editorial it no doubt wrote before the speech and didn't bother to revise.
Punditry
The GOP should just adjourn now and leave on a high note.
Programming Note
Just added: New video of "Dusty Must Get Fired" to go along with our audio parody, just in time for another visit by the former Cubs manager to Wrigley Field this week with the Reds.
The Beachwood Tip Line: East Bound and Down.

Posted by Beachwood Reporter at 8:53 AM | Permalink
September 3, 2008
The [Wednesday] Papers
I guess what has always separated me from the Obamaphiles is that I actually believe in his rhetoric, though I've never believed in him. I believe in an elevated form of new politics. That would be one that didn't demonize, caricature and slime Sarah Palin no matter how passionately you disagreed with her political positions. The travails of her daughter are nobody's business, and attempts to argue otherwise are just rationalizations from liberals on the attack. It would be one thing if Sarah Palin was pro-life in public but in private urged her daughter to get an abortion. Instead, her private actions seem to jibe perfectly with her public positions. And to make this about abstinence education is a laugh. I think abstinence education is a joke, but to make Bristol Palin an example of how it doesn't work is absurd. For one thing, we don't even know if Bristol Palin believes in abstinence; we only know her mother does. For another thing, people make mistakes. Finally, plenty of teenage girls go through the most sophisticated, smartest sex education classes ever devised by humankind and still end up pregnant. Barack Obama - whose mother was 18 when she had him - is right. If only his followers believed his words as much as I do.
Media Madness
How in the world do the "revelations" about Sarah Palin equate to a poor vetting job? To make that argument is to suggest that anyone with a pregnant teenage daughter or a spouse with a 20-year-old DUI ought to be disqualified for national office. If you used to snort cocaine and wrote about it in a book, though, that's cool. And nevermind the sleazy lobbying record of the other vice presidential nominee's son. This is sheer madness. Let's judge Sarah Palin - and Barack Obama (D-Rezko) for godsakes - on their records, not their family dynamics.
BREAKING NEWS!
* Palin has acknowledged smoking pot! You would too if you were a hockey mom - and the hockey moms out there know what I mean.
* Palin hired a lawyer to defend herself against corruption charges! What, she should act as her own attorney? You know how many lawyers Obama is surrounded by?
* Her husband once "belonged" to a "fringe" political group in Alaska supporting secession from the United States given the proper circumstances. Like, if the U.S. Army attacked! How is this any different from the "fringe" associations of Obama?
* Palin sought "pork-barrel" projects! Really? Are all federally funded social service and infrastructure projects "pork-barrel?" Or just the ones that Obama sent to Romeoville, Peoria, and the University of Chicago?
God's Ticket
"And Palin, in a videotape that the Huffington Post is showcasing, told her former congregation in June to pray for a new oil pipeline - 'I think God's will has to be done.'"
"Make me an instrument of your will."
- Barack Obama's prayer left in the Wailing Wall
"I think I have an ongoing conversation with God."
- Barack Obama
"He'll win if it's meant to be."
- Michelle Obama
Todd's Tab
We're paying it. Thanks, Barack!
School's Out
A powerful scene at New Trier. Really, can't we just bus the kids up there every day for school? Better yet, we could build some safe and affordable housing up there and transplant entire families. Then turn Chicago's ghettos into Olympic staging areas.
The Daley Show
"Mayor Daley accused the Rev. James Meeks, the event organizer, of using children as political pawns by leading an opening-day boycott," the Sun-Times account notes.
"Why don't you do it in June? Why don't you do it in July when they're out? Why do you tell 'em not to go to school today? It's very selfish," Daley said.
At least Daley did it in June. (h/t: Rich Miller's "Serious Hypocrisy Alert")
Blago vs. Palin
"Cook Voters To Get Say On Recalling Blagojevich."
BREAKING!
"Documents Detail Palin's Political Life."
"The document, largely a collection of newspaper clippings on local issues with no major revelations about Palin, details her socially conservative views - she opposes abortion even in the case of rape and incest, and supported an amendment to the Alaska Constitution to ban it - and also some of the exceptions to them. At one point, Palin supported mandatory education for teenagers about contraception, something that political insiders in both parties will find ironic in the wake of her 17-year-old daughter Bristol's pregnancy and upcoming marriage."
No major revelations! Shocking!
But what about these findings?
* "Palin Made a Bet With Her Husband About Whether Murkowski Would Get Into the Race - the Loser Had to Get a Tattoo. Palin told The Associated Press that she and her husband, Todd, made a bet on whether Murkowski would run. If the governor says he'll enter the race, Palin has to get the Big Dipper tattooed on her ankle. If Murkowski says no, Todd gets a wedding ring inked on his finger."
* "Palin Supported Penalties for Using Skateboards on Public or Private Property in Wasilla. Beginning Oct. 15 - after the expected opening of the $233,000 Wasilla Skate Park - skaters will be breaking the law if they use their skateboards, in-line skates, bicycles, scooters (or any other recreational, non-motorized wheeled device) on public or private property where signs are posted forbidding their use . . . In the ordinance approved Monday, the penalty for first-time violators of the ordinance is a written warning and the skate device may be confiscated for 10 calendar days. For a second offense, a $50 fine shall be paid and the skate device may be confiscated for 30 calendar days. A third-time offender will have to pay a $100 fine and will lose his or her skate device permanently."
She built a skatepark and was up for a tattoo. Not bad, huh?
The Beachwood Tip Line: Metered.
Posted by Beachwood Reporter at 8:39 AM | Permalink
East Bound and Down
Gone to that great big truck stop in the sky.
1. The boys are thirsty in Atlanta, and there's beer in Texarkana.
2. Pickin' and grinnin' with Chet Atkins.
3. At a picnic with Glen Campbell.
4. Homer sends his condolences.
5. Emphysema killed him.
6. From Wikipedia: "Reed was featured in animated form in a December 9, 1972 episode of Hanna-Barbera's The New Scooby-Doo Movies, The Phantom of the Country Music Hall (prod. #61-10). He sang and played the song "Pretty Mary Sunlite." That song is played throughout the episode as Scooby and the gang search for Reed's missing guitar."
7. JerryReed.com is some other dude.
8. In the Rockabilly Hall of Fame.
9. From Songfacts: "In an interview with Hal Needam, director of Smokey and the Bandit, he said that he didn't have any music for the film. Jerry Reed came back two days later with three songs that were used in the movie unchanged. (- Ron, Green Bay, WI)"
10. The trailer.
Posted by Beachwood Reporter at 6:01 AM | Permalink
Over/Under
With the 2008 season upon us, I have a very important question to pose: Do you realize that my record on the Over/Under for team wins last season was 6-3-1? That means that I was correct two out of three times. If I was a Major League Baseball player, my batting average would be .667! If I ran for President, I would have won 370 Electoral College votes! If I was on American Idol last season, I'd have received 65,000,000 votes! Unfortunately, I can't hit for average, I'm too honest to run for president, and a restraining order taken out by Paula Abdul have kept me off American Idol. My only option is to improve on last year's Over/Under performance. Here we go.
-
Team: Jacksonville
Line: 10 wins
Prediction: Over
Comment: Even though the Jaguars have enjoyed regular and post-season success, professional football comes fourth to the people of Jacksonville after college football, NASCAR, and noodling. So they have something to prove.
*
Team: San Francisco
Line: 6 wins
Prediction: Over
Comment: Shortly after the 49ers reach .500 for the first time since 2002, Barry Bonds will have returned to his former 165-pound self and sign on as a cornerback.
*
Team: Seattle
Line: 8.5 wins
Prediction: Under
Comment: Vegas opens a new line called "Times the words 'rain,' 'fish market,' and 'grunge' are used to fill time while the Seahawks are getting blown out.
*
Team: Atlanta
Line: 4.5 wins
Prediction: Under
Comment: Drink every time commentators blame "wasted talent," "humane society," and "self-destruction" even though Michael Vick couldn't help this team win any more games than they will without him.
*
Team: New England
Line: 12 wins
Prediction: Over
Comment:In the off-season, Bill Belichick re-engineered his evil cyborg "Tom Brady v2.0" to be 50% more talented, 50% more angry, and 100% less interested in career-distracting hot models.
*
Team: Detroit
Line: 6.5 wins
Prediction: Under
Comment: This team is always supposed to find a way to win, mostly because it's always General Manager Matt Millen's last chance to show he knows what he's doing. In an alternate dimension, the Bizarro Matt Millen leads his team to the Super Bowl every year. In this one he finally gets fired.
*
Team: Green Bay
Line: 8.5 wins
Prediction: Over
Comment: If you believe the hype, Brett Favre would have cured cancer, balanced the federal budget, and scared Hurricane Gustav away from Louisiana if he hadn't returned to the NFL. As it stands now, Green Bay still possesses a team-first focus, a young defense, and the Bears and Lions twice each on the schedule.
*
Team: Minnesota
Line: 8.5 wins
Prediction: Over
Comment: My mom could play quarterback for the Vikings and lead them to the Super Bowl because she possesses the minimum abilities necessary to say "hike" and hand the ball to Adrian Peterson.
*
Team: Your Chicago Bears
Line: 8 wins
Prediction: Way Under
Comment: The good news is that baseball season in Chicago is likely to extend halfway into football season. The bad news is that the schedule gets harder right about the time the baseball season comes to its inevitable inglorious end. The only way the Bears win eight or more is if the NFL extends the season to 20 games and the extra four games are played against Atlanta.
*
Team: My Pittsburgh Steelers
Line: 9 wins
Prediction: Barely Over
Comment: The Steelers have one of the league's hardest schedules. I think one of the games is against the 1998 Denver Broncos. Even though my team will have its troubles, don't believe for a moment that I would never bet a Bears fan that the Steelers will win at least one more game than the Bears this year.
-
For more Emery, see the Kool-Aid archive, and the Over/Under archive. Emery accepts comments from Bears fans reluctantly and everyone else tolerably.

Posted by Beachwood Reporter at 12:19 AM | Permalink
Naming The New Palin
1. Gustav. With a name like this, there's the possibility of a hellish pregnancy with lots of morning sickness, weight gain, swollen and unstable hemorrhoids, and a brutal labor of about 30 hours followed by a dull, press-free childhood.
2. Swayze. Sarah Palin looks like she once resembled one of the snooty guests at Kellerman's who secretly lusted after Johnny Castle. Plus, naming the child Swayze will guarantee the cougar and gay-dancer vote.
3. Tab. With uncles named Track and Trig, Tab will fit right in either in Alaska or D.C. Plus, how cool would it be to be named after a once-considered deadly diet drink? Plus, the name Tab is very close to another strangely named and somewhat famous political son Tagg.
4. Nigel. This will show that grandma actually knows something about international relations by giving the baby a very English (read: foreign) name.
5. Mayo. With aunts and uncles named Track, Trig, Willow and Piper, why not?
6. Rafiki. Means "friend" in Swahili. Blame Barack Obama for this one - he made it okay to have a weird name yet still succeed in politics. He or she can go by either Rafa or Fifi during college then go back to the more unusual and exotic-sounding Rafiki when "working" with native Alaskans. And naming the child Rafiki will demonstrate that the family is hip to the Dark Continent.
7. Or, if they want keep with their Alaskan roots, they can choose a name from the Yup'ik language. I'm pulling for Culunaq (salted salmon fish), Iik (eye), or Kalluk (thunder and/or lightning).
8. Jamie Lynn. An homage to the most famous teen mother to date: Jamie Lynn Spears. With a name like Jamie Lynn, her parents are assured to be 30-year old grandparents.
9. Van. See Nos. 3 and 5.
10. Oprah. Both a way to attract Obama supporters and a way to get mentioned on Oprah.

Posted by Beachwood Reporter at 12:18 AM | Permalink
What I Watched Last Night
As the late Bernie Mac might say: Go ahead, America. Spend a 10-day vacation with nowhere to go, nothing to do, no money to do it with, and nobody to spend it with except plain old local TV from stupid-ass rabbit ears antennae that only works when you hang it off a nail next to the window. Even then, you still never get Channel 2. Kids today don't know TV hardship until they have to flip the channel with a pair of pliers because the selector dial disappeared.
But old-school's luster only goes so far, so sooner or later, you start forming opinions about daytime TV that have nothing to do with Jerry Springer. This is especially true if you somehow manage to avoid a single encounter with Jerry Springer without having to rent anything from Blockbuster or bend over and grab your ankles for what Comcast charges these days for basic cable.
So wise up, America. The government is paying a boatload of money for digital TV converter boxes, so you owe it to yourself to jump on one of the few government gravy trains that any broke-ass white guy like myself wouldn't feel that bad about. It's even better if you've somehow managed to become a broke-ass Republican white guy.
I know it can be tough, America, but suffering through your days with plain old broadcast TV until your next marriage can indeed be done, because I did it pretty much 24/7 this past week without becoming more brain-dead than what is considered acceptable at the dive bar up the street. I've now seen enough episodes of Cops and TV judge shows to know that even syphilitic crack whores and chronic wife-beaters have gone further on far less.
No, the problem with daytime broadcast TV has nothing to do with trying to stay away from Jerry Springer. It's trying to stay away from the bottomless well of TV judges and the constant variety of freak show disguised as real life that parades before them every broadcast day.
That said, I now know why TV judges become TV judges: You just don't get this kind of lunatic fringe in your everyday life by working a federal district courtroom. Look, I'm all for carnival workers and the inbred getting their fair share of justice, but somehow I doubt any of our Supreme Court justices go home with anywhere near the number of stories to entertain the neighbors during Saturday night cocktails.
* * *
Okay, I peeked more than once during my week-long layover. WCIU-TV (Channel 26)'s Judge Marilyn Milian of The People's Court is indeed the hottest judge on television. She'll be all over every single she-judge contender when the new TV-judge season begins within the next week or so.
I'm also pretty confident she'd be able to bitch-slap Judge Maria Lopez and the always-amusing Judge David Young into submission. She might have a problem taking Judge Mathis, but it wouldn't surprise me if she had some very pointy shoes beneath her bench to lay him out with. What she might have going on under that robe is another discussion, so for now I'm sticking to the really pointy shoes.
Quite frankly, I'm glad The People's Court is done with old-folks favorite judges Wapner and Judy. If nothing else, Judge Marilyn has given the elderly of America a reason to get moving around at least once in their day. Or week. Still, I could live without Harvey Levin standing next door to that Times Square movie theater whose marquee seems to advertise nothing but Legally Blonde years after it was released.
* * *
But really, the one show that stands head-and-shoulders above the crowd in daytime TV's DNA bouillabaisse is WCIU's Cheaters, which airs between noon and 1 p.m. It's Cops without the cops, Jesus without the priest, and unfortunately, not as good as Jail. No matter though; every Cheaters episode has its moments.
Last week's emcee roster was schizophrenic, wavering between sometimes-unshaven host Tommy Grand (a.k.a. co-producer Tommy Habeeb) and slimy, condescending hipster host Joey Greco. Greco got shanked in an infamous episode at some point during the show's run, which I didn't find all that surprising given that just about every returning cheater interviewed last week still wants to slap the smug out of him.
I've come to prefer Tommy Grand as our guide through the muck and mire of infidelity that makes Cheaters so fucking good even when it's bad. I'm not sure whether it's his whole Randy Quaid approach to his work or his ability to be content with watching shit unfold before his eyes like he just fired up a big fatty 20 minutes earlier.
Sure, Joey Greco thrives on the confrontation which is the high point of every show. But when you're a different dude who's able to calmly bullshit in the middle of a White Hen parking lot with every cheatin'-ass mook you've just busted on camera with some hoochie mama in the back seat of your car at 2 a.m., you the man.
* * *
During my weeklong spiral of despair into the UHF pit, I've never felt so compelled to take more long, hot showers than after being immersed in the constant stream of commercials urging me to decide whether I want to cash in on my structured annuity settlement or just say fuck it all and file for bankruptcy.
Decisions, decisions - and I'm not even more than $10,000 in debt. I may be close, but frankly, a bankruptcy attorney who never blinks his eyes even creeps the bejeezus out of my kids. So in the end, I managed to repel his hypnotic stare and decided to sit tight on my mountain of debt for at least a few more months until I need to turn my auto wreck into a check, want the comfort of a payday loan, or just revel in my brokeness with a whole shitload of furniture from Rent-A-Center.
It's not as depressing as it seems, though. Sometimes a guy likes going to bed knowing he still has a few options to burn through before he actually has to go live under a bridge.
* * *
I think I have found the newest local TV commercial that not just transcends the vapidity of the infamous Eagle Insurance commercial, but also has the potential to outlast the Victory Auto Wreckers commercial which has been airing nonstop and virtually unchanged on Chicagoland's lower-budget channels for roughly 30 years.
This tip of the hat goes to the Calumet Auto Parts commercial featuring Captain Calumet, the valiant caped crusader who I'm pretty sure even campy car dealer Bob Rohrman's ad people were afraid to come up with. Heck, there's even a midget and a befuddled woman in it. That's exactly the legendary sort of weirdness that has made Eagle Man and the dude with the rusted-off car door hinges such enduring icons among every stoner and insomniac in Chicago still awake at five in the morning.
So don't go changing a thing even 30 years from now, Captain Calumet. We like you just the way you are.
-
See what else we've been watching! Submissions welcome.
Posted by Beachwood Reporter at 12:16 AM | Permalink
September 2, 2008
The [Tuesday] Papers
It's Bizarro World today.
* "Palin was seen as such a long shot by the Obama team, they did not bother much preparing for her arrival," Lynn Sweet reports. "They figured a probe into whether she influenced the firing of her former brother-in-law, an Alaskan state trooper, would knock her out of contention."
As opposed to the probe into Tony Rezko?
* "Palin's husband, Todd, was arrested for drunken driving in 1986."
Isn't that about the time Obama was doing a little blow?
* "If ever there was a warning of the dangers of inaccurate effuvia spinning around the Internet, it is the inaccurate story that ultimately outed the pregnancy of the 17-year-old Bristol Palin, daughter of Sarah Palin," Michael Sneed writes.
The same Michael Sneed who is so famously inaccurate that Chicago magazine twice in the 90s did full-page annotations of her columns showing what she got wrong, what she got late, and what she ripped off from other papers.
Alternate answer: Yes, the Internet sucks. Now I've got to get back to reading in the New York Times about how Steven Hatfill is the anthrax killer and plop in some old CNN videos about how Patsy Ramsey killed her daughter.
* John Kass also blames "the Internet", which is like attacking "The Magazines" because some of them publish nude photos of barely legals. (Kass makes sure to include the obligatory cliche about bloggers working out of basements; I guess that's where the Trib keeps its Internet folk.)
* "We can't help ourselves. A woman puts herself front and center, we're going to spend more time commenting on her looks than we would if a man were in the same position," Richard Roeper writes.
I'm not sure which is worse, the notion that "we" can't help ourselves ("just lay back and enjoy it, honey") or that somehow comments on Palin's looks are her own fault for "putting herself front and center."
* "So, you see, I'm not the only person concerned about all the violence," Stella Foster writes at the end of her priceless political analysis today.
Really? I thought you were! Yeah, you sure said it!
Relief Is Here
We have the world's best Palin roundup; the facts you need, the perspective you crave, and the wit you've come to expect.
And in case you missed us yesterday, catch up on these tasty morsels:
* Our latest installment in Kathryn Ware's wickedly awesome Ironside series. In this one, Quincy Jones pulls double duty.
* DNC Journal, a convention wrap-up.
* Our very own Citizen Kate hugs it out with Ralph Nader.
* The Cubs Answer Man returns to calm your first-place fears.
Plus all of today's new postings, conveniently summarized in that box up there called "Today's Beachwood."
Seriously, do we not rule?
Obaminating the Facts
Why oh why can't the Tribune get it right when it comes to Barack Obama and Joe Lieberman?
"Lieberman's relationship with Democrats dramatically soured in 2006, when he lost a primary to anti-war candidate Ned Lamont," John McCormick writes. "But he went on to win the general election running as an independent with strong backing from Republicans.
"The process left Lieberman feeling alienated from his former party, an outlook reinforced by the fact that this year's Democratic nominee, Obama, was one of the few members of his party in the Senate to send Lamont money and formally back him. "
Let's go through this again: Barack Obama endorsed the pro-war Lieberman in the primary, not the anti-war Ned Lamont. For some reason, the local papers do not want you to know this. Obama only changed his endorsement to Lamont after Lamont won the primary and became the official party candidate. As always, Obama then went with the party's man, even though Lieberman remained in the race as an independent. Suddenly, Lamont had become the better man for the job, even though we don't live in a Red America or a Blue America or a Purple America.
Chitlin Circuit
This astonishing nugget appears near the bottom of Sneed's column today:
"Legendary former Illinois Congressman Bob Michel, the house minority leader who retired in 1992, used to put on blackface and sing 'Ol Man River' at the annual Springfield Gridiron Dinner."
To which I can only say, all is forgiven, vote Barack.
Irrepressible
Sneed also includes the obligatory nonsensical Judy Baar Topinka item just to keep her pal's name in the press. This time it's about how Judy likes to use the same coffee cup for days at a time.
Sneed makes a lot more money than I do. So does Stella. So do all of 'em.
Multitasking
Do you think Sun-Times reporters get paid extra to humiliate themselves?
I don't either.
Letter Vetters
I'm always curious when I see out-of-town letters showing up in the papers. For example, over the weekend the Sun-Times published letters from Dr. J. Alva Scruggs of Tallahasse and Bonnie O'Neill of Newport Beach.
Here's what else Scruggs wrote lately:
"The FBI, CIA, and the Anti Terrorism gangs knew that Obama was being targeted in a 'conspiracy' by group(s) of American Bubbers.That is why Obama was seen by the nation on TV Monday Night instead of being at the Democratic Convention!! Obama had been placed in a private undisclosed 'safe home' of FBI choosing."
And O'Neill, it turns out, is the vice president of the Eagle Forum of California.
Experience That Counts
"Obama tells CNN's Anderson Cooper on 360 that running his campaign counts as executive experience."
Yes. If you are applying for a job as a campaign manager.
The Beachwood Tip Line: Abstinent.
Posted by Beachwood Reporter at 9:40 AM | Permalink
SportsTuesday
It didn't rival doing the Tomahawk Chop in celebration of the Braves rallying to knock off the Brewers late last year and move the Cubs that much closer to a division title. But my fellow upper-deck reserved fans and I did enjoy some scoreboard watching on Monday. It was the highlight of a game otherwise memorable only for a depressingly dominant performance by Astros ace Roy Oswalt.

My all-time favorite scoreboard-watching scene played out during the last the week or so of last year's Cubs regular season. I don't even remember if the home team won on the evening in question, but I do recall that Milwaukee lost to Atlanta. It took a while (at least for me and my fellow Slowskis) to figure out what the vendor in our section was doing when he busted out The Chop. My first instinct was to just dismiss the guy as yet another sufferer of getting-attention-deficit-disorder who needed to be ignored. Then it finally began to dawn on us that this was a better-than-average way to express our appreciation for the Braves playing the role of spoiler. And every time a new, promising number went up on the scoreboard indicating Atlanta was that much closer to a win, we started in again with the Chop's distinctive arm motion and moderately melodic chant.

Up here in Chicago we don't see the scenes of thousands of Braves and Florida State fans doing The Chop like we used to. The teams in question, who used to be in the hunt for championships year after year, have faded from the national scene. But you only have to hear it a time or two for it to stick in your memory, and all sorts of folks dove right in at Wrigley that night. I must, however, report that there won't be a repeat this time around. The Brewers are done playing the Braves in 2008. And the Cubs will go ahead and take care of business on their own this month, right? They're still ahead by four games (in the loss column), they'll put together a final, finishing kick and clinch this thing in style, right? Bueller?

One final out-of-town score observation: In this day and age, with Blackberry-type technologies all over the stands enabling fans to not only follow out-of-town games but also out-of-town pitches, Wrigley's still adds a cool little bit of drama. Every once in a while you happen to glance at it at the exactly the right moment. That's the moment when a key little green panel is removed (and someone nearby hasn't already given you the updated score). Tension builds for a moment or two and then the number goes up that indicates a key out-of-town score is going your way.

And that was exactly how it played out on Monday after the panels chronicling the first seven innings of the Mets-Brewers game showed Milwaukee clinging to a 2-1 lead. The panel for the top of the eighth was removed, we all held our breath a bit and then the "3" came into view. That occasion was met with a cheer and an even bigger one went up when the scoreboard guys did the end-of-game ritual. That involves taking down all the inning-by-inning numbers, replacing them with those flat green panels until only the final score remains.

Otherwise the only other memorable part of the game (other than Oswalt facing one hitter over the minimum through eight, two-hit innings) was a little history being made. Sure it was tiny and obscure history but still . . . I'm thinking no extra-base hit has ever rebounded back off a Wrigley wall further than Miguel Tejada's lead-off triple to left in the third. Maybe that's a little strong. Maybe there have been a few balls that rolled even further past the bullpen mound than Tejada's shot. But this one had to at least be in the top five all-time, right?

We also had time to ponder the question, "If an outfielder just misses throwing a base-runner out at the plate and another base-runner is able to advance on the throw, should he automatically have thrown it in front of the other base-runner instead?" Because while Jim Edmonds almost threw out Tejada at the plate on the ensuing sacrifice fly (after a walk), he didn't and the runner at first managed to move up on the throw. I was all for taking the shot at the time but in the aftermath I wasn't quite sure.

And of course there was appreciation for another solid outing from Jason Marquis (two earned runs given up in six innings of work). There was exasperation with Jeff Samardzija for not covering home plate quickly enough on the wild pitch that gave the Astros their third run. There was marveling at Hunter Pence's great sliding catch near the right-field line. And there was griping about Derrek Lee again failing in the clutch with runners on base and two outs in the ninth. Lee has decent overall numbers and he hit the ball hard to right, forcing a catch to be made right at the edge of the warning track, but he never seems to get it done in late innings, and he either leads the league or is right there in double-plays grounded into.

In the game's aftermath, the optimist notes that the Cubs are going to lose a few games this month they might otherwise have won as they strive to make absolutely sure their pitchers are in top form (i.e. well-rested) heading into the post-season. The number that really matters isn't the Cubs' lead over the Brewers, after all, but their double-digit lead over the Cardinals for the wild-card spot. The pessimist would probably have to point out that if the Cubs could not only not hit Oswalt but not even make him work (Oswalt cruised through those aforementioned innings in about 90 paltry pitches), how will they fare against Dan Haren, Brandon Webb and Randy Johnson in the playoffs (assuming the Diamondbacks manage to hang on to their lead in the NL West)?

Bear Down
Where to even start with the Bears? I think I'll go with a plea. Lovie, I beseech you, at least have your linebackers and your strong safety play more aggressively from start to finish this season in passing situations and when down-and-distance usually dictates a rush. The coach's beloved Tampa-2 defense almost always dictates that the players in question playing read-and-react football. They're either playing soft as the handoff goes to the halfback or they're taking deep drops into zone coverage as a potential pass proceeds.

If you're going to go down, and just about everyone agrees these Bears will go down, at least go down aggressively. Bust out the blitz more than a time or two in any given game. Get your playmakers into opposing backfields even if it means exposing yourself to occasional big plays. Please. I can't take much more of the bend-but-don't break defense that has led to the Bears giving up massive amounts of yardage in game after game during the last season-plus. I know you believe if you can force opposing teams to take the maximum number of snaps on the way down the field you will force a turnover, but that's not getting it done, now is it?

OK, OK, perhaps the opener against Peyton Manning and Colts isn't quite the right time to go all aggressive back there. But no matter how badly Indianapolis thumps the Bears (and hey, it isn't completely hopeless - Peyton Manning had minor knee surgery and there's a chance he'll be rusty - a miniscule chance, but a chance nonetheless), there are still 15 games to at least strike at least a little fear into opposing offenses.

-

Jim Coffman brings you SportsMonday every Monday. Except on the days he brings it to you on Tuesdays. You can write to him personally! Please include a real name if you would like your comments to be considered for publication.

Posted by Beachwood Reporter at 7:52 AM | Permalink
The [Palin] Papers
A roundup about our potential hockey mom-in-chief.
The Palin Agenda
* Faith-based mukluk distribution program.
* Plan to convert Detroit's auto industry to snowmobile production.
* Will drop the first puck instead of throwing out first ball.
* Stanley Cup to be housed in the White House Roosevelt Room.
* Supports transnational bison milk pipeline.
* Supports annexation of Canada to complete northern portion of Manifest Destiny.
* Supports subsidies to revive the Eskimo Pie industry.
* Alaska replaces Texas as the state you should not mess with.
* Just added: Free condoms for high school students!
Are You Experienced?
The majority of the punditry is attacking John McCain for attacking Barack Obama's lack of experience and then naming Palin to the ticket. But that cuts both ways: Now Dems who argued that experience didn't matter have suddenly discovered it does when it comes to vice president nominees. It would be a blast to watch everybody tie themselves in knots if it wasn't so depressing.
OBAMA SUPPORTER: She's in her first term as governor and before that was only a small-town mayor!
MCCAIN SUPPORTER: He's in his first term as senator and before that was only in the Illinois legislature!
OBAMA SUPPORTER: It's not about experience, it's about judgement!
MCCAIN SUPPORTER: Exactly! Er, I mean, she's had executive experience!
OBAMA SUPPORTER: But what about McCain, he's never been in charge of anything!
MCCAIN SUPPORTER: Neither has Obama!
OBAMA SUPPORTER: He's been in charge of his campaign!
MCCAIN SUPPORTER: And McCain hasn't been in charge of his?
OBAMA SUPPORTER: So, wait, which one of us is arguing that experience doesn't matter?
MCCAIN SUPPORTER: I don't even remember anymore.
Huffington Pose
"Palin is notable for what she doesn't bring: a track record," The Good and Great Arianna writes. "If McCain had picked any of the far more experienced candidates on his short list, they would have come fully equipped with a long paper trail implicating them in the horror show that is the Republican Party of the last eight years."
Funny, I remember Obama supporters arguing that it was a good thing that their man hadn't yet assembled a record in the Senate, lest he be attacked for stands he was actually forced to take in public.
Tale of the Tape
Some parts of this are offensive - "Hussein" et. al. - but it's still worth a quick gander.
The Beachwood Alaska Bureau
Now seems like a good time to remind readers of our I Lived In Alaska series.
Talking Points
* "Obama Says Palin's Family Is 'Off Limits'."
And he'll keep saying it as often as he has to!
* "While she was mayor, Palin slimmed the size of Wasilla's government . . . "
From five employees to four!
" . . . and cut property taxes."
From $2 a month to $1.50!
Palin Props
When the Palin pick was first announced, my reaction was: Obama just won the election. But since then I've come around to the idea that she's a brilliant choice if the McCain campaign emphasizes that it will have a working mom in the White House. That's powerful stuff. And no matter what you think about McCain, it's hard to argue now that the McCain-Palin ticket is "out of touch."
Palin, in fact, might be the most ordinary person ever on a presidential ticket. Not in terms of ideology, where I think I'm safe in saying she is to the right of most Americans. And the Palins aren't exactly hurting economically, though they aren't rich either. But they are closer to the ground than any other nominee families I can think of.
Now, I happen to believe in experience. It's silly not to. Think about your own life and your own job. Think about why you are mad that Jane Hirt is the Tribune's new managing editor, or your concerns for Cubs and White Sox players who may be about to experience their first playoff games. Experience matters, and those who say it doesn't were always just rationalizing their support of Obama's campaign.
Experience isn't everything, of course; and it's not an inherently good value. But it was always a laugh when Obamaphiles said "Look at George W. Bush!"
Yes, look at him. Doesn't he prove my point?
Or when they said, "Look at Don Rumsfeld!"
Yes, look at him. His track record told you everything you needed to know about him.
The best predictor of future behavior is past behavior.
And the idea that it's just simply impossible for one person to be better prepared for the presidency than another because the job is so unique - propagated once again here - is pure nonsense. I'm quite certain Al Gore had a much better idea of how to be an effective president given his eight years as veep than he did prior to 1992 when he was still just a United States senator.
*
Meanwhile, Eric Zorn disqualifies anyone from Alaska from a national ticket because the state's "population of about 670,000 is slightly less than the population of north suburban Lake County."
Zorn fails to note that the population of Delaware is 853,476. Maybe by his formulation that just gets Joe Biden in under the wire. Or is it Biden's experience that qualifies him?
Something About Sarah
The difference between Palin and Obama is that she's Dave Kovic and he's Bill McKay.
*
Or you could say that Palin is Alaska's Peter Fitzgerald, Obama's predecessor who actually took on corruption (and mostly in his own party) and famously fought against earmarks for Illinois projects just because they were in Illinois, in sharp contrast to Obama on both counts.
*
Maybe you could say Sarah Palin hasn't had the hope boiled out of her yet.
*
Sure she supported Pat Buchanan, but is that any worse than supporting Dorothy Tillman?
Phony Rhetoric
Michael Kinsley: "The whole 'experience' debate is silly. Under our system of government, there is only one job that gives you both executive and foreign-policy experience, and that's the one McCain and Obama are running for. Nevertheless, it's a hardy perennial: If your opponent is a governor, you accuse him or her of lacking foreign-policy experience. If he or she is a member of Congress, you say this person has never run anything. And if, by any chance, your opponent has done both, you say that he or she is a 'professional politician.' When Republicans aren't complaining about someone's lack of experience, they are calling for term limits."
Kinsley is only half-right. The experience rhetoric is silly, but the question itself is wholly relevant.
The Record
Our very own Stephanie B. Goldberg has been doing the research. These are her findings:
* Within Alaska, she is not seen as a conservative but as a populist. Most of her legislative gains have come by getting the backing of Democrats, who were the ones pushing for the ethics code that she now takes credit for.
* The NEA likes her because she stabilized educational funding and raised funding levels. Apparently, Alaska provides very little in the way of special ed and head start-type programs and she has shown no interest in touching that issue.
* She has been described as a creationist but she is not in favor of incorporating it into the curriculum. She is in favor of discussing it.
* I don't know if she's so much a reformer as someone who consistently bites the hand that feeds her, so to speak, to advance her own career. In Wasilla, she was mentored by the mayor and ended up running against him and defeating him. The Republican party put her on an energy board and she did indeed blow the whistle on a member but it appears to me, at any rate, to be motivated more by a desire to wound the Republican Party and take over its leadership.
* Her solution to health care in Alaska is to remove barriers to competition and eliminate something called a certificate of need.
* Besides Troopergate, there are two other scandals or screw-ups that haven't really been investigated. As Mayor of Wasilla, she exercised eminent domain to acquire property for a sports complex, which resulted in a successful lawsuit against the village and a $1.5 million judgment. There's also some funny business with the state dairy, where she resisted closing it and fired everyonne who wanted to close it, and poured more money into it and ended up closing it. Josh Marshall suggests it was a sweetheart deal for a friend.
* The husband appears to function as her capo and is entangled in govt matters while remaining a BP employee.
* Strong pattern of telling outright lies, as in claiming that only a tiny footprint is involved in ANWR drilling, that she opposed the bridge to nowhere, that scientific research backs her decision to oppose listing polar bears as an endangered species.
Fact Check
On that bridge to nowhere.
Photo Gallery
* Wasilla City Hall.
Surprise
Palin was on most lists.
Misfire
"Meanwhile, Obama and Biden seemed a little discombobulated by McCain's surprise decision, sending mixed messages. At first the campaign issued a harsh statement deriding her experience and calling her "more of the same."
One thing Palin is not is more of the same.
Pundit Patrol
Mark Brown: "I don't think you get very far in a political context by arguing that a woman who spent most of her adult life as a homemaker has no experience."
Especially when it's not true. Palin graduated from college 21 years ago. She's held public office for 16 of those years, and in the first five she worked as a TV sports reporter and for the family commercial fishing business.
Mary Mitchell: "But I thought McCain was the fighter, the maverick, the guy who could clean up Washington - at least that is what he has been telling voters for 19 months. Suddenly, he needs a running mate who has held state office for only two years to help him get the job done? It doesn't make a whole lot of sense."
Just like this column. Isn't this kind of a maverick thing to do?
And of course, Mitchell wheels out Palin's gender as an excuse for racist Democrats to eschew Obama, i.e., reluctant Hillary Clinton supporters are racists. News flash: It's a secret ballot! No one has to know who you vote for.
John Kass: "It's the political reform, stupid!
"The young Alaska Republican put her political career on the line by challenging the corrupt, old Alaskan Republican bulls on their sleazy pay-for-play politics and their use of the public trust to fill the pockets of their friends. She didn't merely talk about abstract change in Washington. She challenged corruption at home, challenged her own party bosses - some of whom are already in prison - at great risk to her political future.
"It is something I've begged and begged Obama to do with the ham-fisted pols in Chicago and Illinois - to not merely talk about change far away, but to take a principled stand even if that stand runs counter to his political interests at home; to challenge the thugs of his own party, to give us a reason to believe he's the man he says he is. He has politely declined.
"In this, Obama obviously has more experience than Palin."
Letters
Sun-Times letter writer Emily Haight of Oak Forest: "Let's face it. If Sarah Palin were male, she would not even have been on a long list of vice presidential possibilities."
Let's face it, if Barack Obama were white he wouldn't be the nominee.
Let's face it, if Joe Biden wasn't white, he wouldn't be on the ticket.
Let's face it, every governor - like every senator - is on each party's long list of vice presidential possibilities.
-
Comments welcome! Please include a real name if you wish to be considered for publication.
Posted by Beachwood Reporter at 7:05 AM | Permalink
Big in Japan: Not American Football
Non-football fans here are running the sports bars, there are only a few of them and they are usually focused on Rugby and European footie.

Japanese Olympic coverage was an ominous preview of what may be a sparse and unexciting football viewing season for yours truly. Coverage was limited only to sports in which Japanese athletes excelled (Judo, badminton, women's freestyle wrestling, table tennis, swimming, baseball, softball and a bit of gymnastics). Many of the track and field events and almost all of the basketball, cycling and volleyball were not shown in favor of broadcasting replays of events with Japanese players or TV "celebrity" commentary on Japanese athletic performances.

It also should be noted that almost without exception, all Olympic recap commentators had little to no sporting experience and even less knowledge. One clip that was played over and over again featured a Japanese female wrestler executing the "butt-drag" technique and a brisk dialogue between commentators about the positioning of her fingers while executing said technique, no joke.
I figured I'd still give it a go, after all the first big college game was on this past weekend, and I had the jones for some American-style football.

Tokyo Sports Cafe pitches itself as the pre-eminent sports viewing bar with all the feeds, but it didn't have the Alabama-Clemson game, and when we asked them about it, they told us they did, just to get us into the bar.

The Sports Cafe, and other so-called "real" sports bars in the city are almost all located in Roppongi, or the area of town reserved for foreigners and the debauchery associated with them. Roppongi is the scummy part of Tokyo, an area of town where you can't walk five feet without being verbally accosted by a Nigerian guy trying to trick you into entering an overpriced strip club or a Chinese lady trying to get you to come into the building for a "3000 yen massagie."

Let's just say its a place that you want to stay away from unless you are a fan of 24-hour packed college-type bars blaring bad top 40 and dance music. At any rate, it's not close to my apartment either and it's a pain to get to. Not to mention, if you miss the last train home, you are pretty much stranded out until 5 a.m. (unless you feel like taking a $150 cab ride home). Upon arrival, after many promises of the Clemson-'Bama game, we were treated to weird European videos played over obnoxious techno music.

Alas, I am forced to face the fact that the Bears and NFL and college football, much like all American sports, are an afterthought in this country. There are football fans, and some NFL supporters, but the local cable and satellite channels only carry one or two NFL games a week, and these are usually prime-time match ups (which the Bears will not be a part of this year) and they are shown at about 4 or 5 a.m. Monday morning. As has been the case with American baseball games shown here, the games are often arbitrarily assigned or billed as being shown, but replaced at the last minute with a Japanese game show or some other nonsense.

Less-than-legal Internet feeds are available as well, but from what I have been told, they are unreliable and have terrible reception.

A friend of mine, Toby, works for a company whose mission is to provide Japanese football fans with information about games (in Japanese) on their cell phones. His job is to watch the games in the middle of the night and do the write-ups. According to him, it is possible to subscribe to an online viewing service but the fees are exorbitantly high and it is dodgy unless one has a high-speed hookup and a lot of patience. My search for this service have so far been fruitless.

Unfortunately it seems that my best option will be to listen to streaming radio from 670 The Score, as I did in 2006 from a cabana in the Bahamas when I was on vacation.

I guess in a way it's a good thing because I won't be subjected to watching the puppet show that the Bears will try to pass off as an offense.
But Bears fans should take note: even when the team is mediocre, it's still more frustrating not being able to watch them than watching them in all their miserable glory.
-
Previously in Big in Japan:
* Not Fukudome
* The Yokohama Cubs
* The Chicago Way
* Not The Olympics
* Charisma Man
Posted by Beachwood Reporter at 5:52 AM | Permalink
The Cub Factor
In the back of everyone's mind there lives an angry little man who just doesn't believe. He's the little voice who tells you things. Sometimes it's good to listen to him - like when he says, "You don't have enough gas to get to DQ and back, you better get some or you'll be screwed." But other times he's just a jerk. Like when you are up to bat for your work softball team in a big spot and he says, "Who do you think you are? You're not the hero, you're going to tap out to the pitcher if you hit the ball at all, loser." I think it's safe to say that some people can tell the little man to screw off more than others, but as Cub fans can we ever tell that little man he's wrong when he says, "They are going to blow it, they always do. Now go eat another Eskimo Pie, fatass." And although personal favorite junk foods differ, all Cub fans can't turn off that little voice in their head. And sure, there are actual people who tell Cub fans this every day in real life, but tell them to stick it too. At least until October, because they will be in the playoffs. Then I'm afraid it's going to be a give-and-take death match with the little angry man inside your head. Because this is the best Cubs team since 1908 and the best chance they'll ever have in anyone's lifetime (unless you are >100) to win this thing.
-
Week in Review: The Cubs went 5-3 including Labor Day, sweeping the Pirates, splitting the Phillies, and losing the first of a three-game series with the Astros. And like a real hungry guy with a steak that's a little overdone, it's not exactly the way you'd like it, but you really can't complain.
Week in Preview: Two more this week at home against the Astros and then on to Cincinnati for a weekend tilt with good ol' Dusty Baker and the crappy Reds. Expect Dusty to complain about something stupid, and the Cub to roll through the Reds.
The Second Basemen Report: Mark DeRosa started seven of the last eight games at second base and also saw time at shortstop. He has now played every position except centerfield, catcher, and third-base coach. Ronnie Cedeno got the other start at second. Just like Hendry drew it up.
In former second basemen news, Wayne Terwilliger has his own website.
The Zam Bomb: Coolers beware: Dead-arm period make Big Z an unhappy boy. Some might say furious.


Endorsement No-Brainer: Igloo coolers: Even tougher than Big Z.
Lost in Translation: Domo Octogato means "now batting eighth."
Sweet and Sour Lou: 69% sweet, 31% Sour. Lou is staying put on the Sweet-O-Meter this week even though he was noticeably grumpy on Labor Day. Maybe he comes from a union family. And just like your real crazy drunk uncle, Lou isn't disappointed in you for coming in third at the local swim meet, but he isn't happy about it either. He's "eh." Now go bring him a Falstaff and try not to shake it up on the way.
The Cubs Answer Man: First-Place Fears.
Center Stage: J-Ed got five of the last eight starts, with the other three going to R-Jo. Felix Pie may be among the September call-ups, but don't expect to see him in the starting lineup unless every other outfielder and Mark DeRosa get hurt. You know, just like Hendry drew that up.
The Cub Factor: Catch up with them all.
Beachwood Sabermetrics: A complex algorithm performed by the The Cub Factor staff using all historical data made available by Major League Baseball has determined that just getting there is not enough.
Over/Under: The number of fans trading in their Fukudome apparel for DeRosa jerseys: +/- 1.5 million.
Mount Lou: Lou stays technically at Level Green. But he's still like a turning banana, ripening into Yellow. A minor expulsion of pre-eruption lava seems likely this week.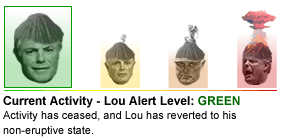 -
Posted by Beachwood Reporter at 5:03 AM | Permalink
What I Watched Last Night
On Sunday night, NBC aired the film National Treasure featuring Nicolas Cage, Jon Voight, Harvey Keitel and a whole bunch of very competent actors I couldn't point out in a crowd if my life depended upon it. And for the life of me, I wish I could remember the name of the blonde. Especially during the shopping mall dressing room scene. Hubba hubba.
On one hand, National Treasure was perhaps the most blatant product-placement fiesta ever offered in the history of Hollywood to the fraternal organizations known as The (Free)Masons and/or the Knights Templar. This is amazing because these organizations have long been rumored to be the secret force behind the aliens of Area 51 and Every Single Goddamned Reason Why Your Wife Won't Have Sex With You, Even When You Don't Come Home Really Fucked Up. But some awfully strange shit is rumored to happen with the Masons, especially if they're wearing matching pinkie rings. So who am I to argue?
But still, on one hand, National Treasure was bitchin' good for the Masons. On the other hand, it was even better for Harvey Keitel. He's one my my favorite modern-day actors and, believe me, if a guy like that can manage to land a mainstream role after doing some seriously dark business in The Bad Lieutenant, there will always be hope for those among us looking to score at a dive-ass bar that only charges 85 cents for drafts and $1.95 for mixed drinks.
On the other hand, National Treasure got me thinking about the upcoming national election. Granted, 20 bucks worth of hooch poured into a crowd of Limey blokes otherwise subservient to the crown might get them thinking they could start their own country under their own rules, goddamit. Hell, at prices 250 years ago, 20 bucks might have been good enough to get a whole village of pubcrawlers to dress up like the Village People and dump a whole fucking boatload of tea into a harbor.
History's funny that way, y'know. Stranger things have happened on a Friday night in my local dive bar on five stinkin' bucks.
But I digress. National Treasure introduced us to the historical idea that, in the name of The Revolution or something major leading up to it, Ben Franklin wrote some extremely seditious letters to his brother's newspaper under the guise of some old biddy named Silence Dogood. Mr. Franklin might have been aces in predicting the tides 300 years later, but even drunk out of my gourd I can spot a name as phony as fucking Silence Dogood. But apparently, the British are nowhere as good as Americans or the Irish in getting fucked up and spotting blatantly obvious pen names. According to National Treasure, the Silence Dogood letters weren't quite "give me liberty or give me death," but it was close enough for Nicolas Cage to be involved in a big-ass action/suspense movie, especially given the amount of lighting-grade gunpowder used in the last 20 minutes.
Yes, unlocking a massive $300 trillion-bazillion-godzillion treasure the entire history of mankind has ever known using nothing more than a Meeschaum pipe was a massive stretch far beyond the mortal powers of MacGyver. And yes, it was still and all good for one more Nic Cage movie that, if I recall right, settled once and for all the debate over the Lincoln-Kennedy/Kennedy-Lincoln penny thing. But that's neither here nor there, because Sunday night's airing of National Treasure got me thinking about which of our own presidential candidates in the November election might actually sacrifice their neck for the presidency, let alone their country.
Drunk or not, the debate was not good. Granted, the opposition was not exactly what anyone might consider a contender, but still.
I come from a long line of South Shore Democrats, but truth be told, I left the melee feeling good for neither candidate whatsoever. Unless someone steps up balls-to-the-wall within the next eight weeks and provides this country with some true fucking hope for America that it can believe in, we might as might as well all be stacked 16-deep in the hold of a slaver ship back to Europe or Africa.
Because come November 4, we're all fucked no matter which way we vote. Plain and simple.
Why? Because the "hope" that our candidates speak of for America rings so very hollow. Hope for America? Screw you, Barack Obama. Screw you too, John McCain. Your words ring empty, written and spoken not by you, but manufactured by the speechwriters who go to the highest bidder. Your vision of the America to be is not yours. It's someone else's. It's the figment of the imagination of someone simply feeding a nation hungry for the hope of something better.
It's the figment of the imagination of someone simply and mindlessly feeding the lions at Brookfield Zoo or the guy down the street tossing grass seed around so his sod won't completely die in the noonday sun.
Guess what, Barack Obama and John McCain? I don't believe a word you say. Ben Franklin may have been one helluva writer in his day, but why do I think if you stood side by side, almost 250 years ago, Ben would kick your ass - and in his own words - up and down Philadelphia's main drag? You are manufactured. You are staged. You tell us what you think we want to hear. Yes, during your speeches, you may believe you are feeding us hope. But in the absence of who or what is truly you, who will I rely on to lead me or my neighbor - if it came down to that - in war to the point that I would even think of killing my neighbor, my brother, or even own my son in the same sort of conflict that tore our own nation apart almost 150 year ago?
I haven't a single clue. But right now, I know it's neither of you. If I am left with nothing but myself or my neighbor to rely upon - and if my neighbor actually turns out to be my enemy, I will still feel more comfortable in the hands of my enemy because at least I will have seen truth in their eyes.
I have not seen that same truth in yours.
I am 48 years old. I am a child of the early 1960s. In my time, I've seen hope realized and hope extinguished in both the spring and summer of 1968. That year, I saw Chicago's West Side burn and, beyond that, I saw America lose trust in its leaders it believed in for so long, a trust that even now may never be held again. Some . . . no, many . . . who not only lived through those times, but then came far afterward . . . .may believe that you project the hope we all have to erase all this, to make your election everything America ever wanted.
This is what I want for America, from both of you. I ask only one thing, one promise, which goes beyond your words this and last week: Make me believe in an America I can believe in again, and show me how you to plan to do it. Words are cheap, and they are usually purchased from someone else on your behalf. So let me see it in your eyes, and your actions, and from here on today that you understand and are willing to step up to fight for the legacy - be she contrived by a movie or not - of Silence Dogood.
-
See what else we've been watching! Submissions welcome.
Posted by Beachwood Reporter at 5:00 AM | Permalink
The White Sox Report
Like most Sox fans, Gavin Floyd didn't have high hopes for himself heading into this season. Why else would he make a bet with teammates that he would shave his head if he won more than 12 games in 2008?
But since grabbing that razor after an August 10 win over the Red Sox, hair is the only thing Floyd has lost. In four starts following the haircut, Floyd is 3-0, never allowing more than more than three runs in any start.
Really, Floyd's recent success shouldn't be all that surprising - he has been consistently good the entire season. What's weird is that most Sox fans, myself included, still don't believe what they're seeing.
One contributor to South Side Sox recently mapped out what the Sox should look like over the next four years. Alexei Ramirez and Carlos Quentin are projected to be team staples through 2012, and John Danks is rightfully penciled in atop the rotation. But Floyd only sits in the fifth starter's slot. After what's he's done for the Sox this year at age 25, haven't we seen enough from the former top-five draft pick to expect him to be better than that?
If you're just looking at Floyd's peripheral statistics, probably not. He gives up way too many line drives, fly balls and walks, and doesn't get a ton of strikeouts. You can say he's been lucky, since a little luck can go a long way in baseball. But it's not like Floyd is living off one or two dominant months. He's been steady the whole year.
Here Floyd sits on the second day of September as the White Sox's winningest pitcher with 15 victories, good for sixth in the AL. His 3.61 ERA and 1.25 WHIP aren't too shabby either.
Maybe it's time we stopped expecting a grand downfall from Floyd and enjoy what he's given the Sox this season. Sure, some of his numbers aren't as appealing as Javy Vazquez's, but ask yourself who you'd have more confidence in during the playoffs. If Floyd can get it done there, maybe he can finally get a little more respect.
-
Week in Review: One word: Pedroia. The Red Sox's little jockey ate Sox pitching for breakfast for this week, and Boston won two of three because of it. Also: G-Flo picked up two victories.
Week in Preview: The Sox and Angels hook up for a four-gamer in Chicago to close out the week. I wonder if Doug Eddings will be behind the plate any of those games?
Fields on the Farm: For whatever reason, Fields hasn't been able to get it going all year. This week was pretty much a microcosm of his entire 2008: .265 BA, one homer, 15 strikeouts.
The Missile Tracker: Alexei hasn't shown any signs of slowing down. He picked up his second four-hit game this week against the Orioles.

Over/Under: 0: Number of people that were anxiously anticipating Mike MacDougal's return to the majors.
Beachwood Sabermetrics: A complex algorithm performed by The White Sox Report staff using all historical data made available by Major League Baseball has decided that Nick Swisher would totally be Reagan.
The White Sox Report: Read 'em all.
-
Comments welcome. Please include a real name if want to be considered for publication.
-
Ricky O'Donnell is the proprietor of Tremendous Upside Potential , a contributor to the Sun-Times's Full Court Press and a lot of other things.
Posted by Beachwood Reporter at 3:34 AM | Permalink
September 1, 2008
DNC Journal
Notes from a convention.
The Speech
In a convention preview in the Tribune, Obama recalled his 2004 keynote speech: "I just sat in a hotel room watching a basketball game and wrote it up, most of it sort of in one sitting."
Really? From a Chicago magazine article called "The Speech":
"Obama labored over it for weeks, harvesting lines that he had already tested on Illinois crowds."
The rest of the Trib article is complete stenography. You have him one-on-one, why not ask him some real questions? Were there ground rules?
For example:
- How can you attack John McCain while upholding the central tenet of your campaign as representing a new kind of politics?
- How do you square chiding John McCain for not engaging in serious debate while you were the one who refused a series of town hall meetings?
- Mayor Daley will be giving a speech in support of you. How can you endorse a mayor so steeped in corruption?
Just to name a few.
*
Obama says in the article that "I had to scratch and claw my way to the point I am now, and I think I've done so without cutting corners or compromising my integrity."
- Don't you think your relationship with Emil Jones represents some compromise of your integrity?
- What do you think about Emil Jones giving his job to his son?
I mean, really. You're a reporter. Ask questions.
*
"Never shy to criticize the media, Obama pointed to the endless coverage and speculation over his running mate selection as an example of why voters don't know more about where he stands on the issues."
That's rich. The Obama campaign manipulated the media for just that result, including the leaking (from an otherwise leak-proof operation) of trial balloons testing out Joe Biden, including a front-page New York Times story. Please.
Blog Fog
NYT: "Inviting Bloggers Into The Tent."
Bloggers who are arms of the parties, that is. I was denied credentials to both conventions.
About Biden
The NYT outlines his positions. These caught my eye:
- Biden supports Roe v. Wade, but opposes public financing for abortion. Liberals often criticize opposition to public financing because it's harder for poor people to afford abortions.
- Voted for a ban on partial-birth abortions; voted against required parental notification for minors who go out of state for abortions.
- Opposes gay marriage. Voted for the Defense of Marriage Act denying federal benefits for same-sex couples, even though he says he suppports federal employee benefits for same-sex couples. Maybe he voted for DOMA for other reasons and accepted that provision.
- Voted against the first Gulf War but for this one. "I made a mistake. I underestimated the influence of Cheney, Rumsfeld, and the rest of the neocons." Voted against the surge.
- Supports the death-penalty "as a crime-fighting technique."
Biden vs. Lavine
Eric Zorn wanted John Lavine's head on a pike for an unproven journalistic crime (that I'm not convinced he committed, by the way) but gives Joe Biden a pass for his plagiarism problems and biographical exaggerations.

"I think the statute of scandal limitations is almost run on that," Zorn writes, "though it certainly will invite a rejoinder about McCain's old problems - Keating Five, cheating on his injured first wife and so on. Maybe that was the idea? Lure the GOP into dredging up 20-plus-year-old issues, then clearing their throats and saying, "Well, now that you mention the 1980s . . . "
Right. That's why Obama picked Biden - as a way to get to the Keating Five and McCain's first marriage.
Race Card
"Mr. Obama faces genuine obstacles that are more salient than skin color," Matt Bai writes in the New York Times. "By any historical measure, he has remarkably little governing experience and almost none in foreign policy."
Little did many know that the Obama campaign would soon make the same argument against Sarah Palin.
Old Politics
"So the Obama campaign has turned to the politics of personal destruction, attempting to make a campaign issue out of John McCain's inability to remember how many houses he has," Paul Krugman writes in "Accentuate the Negative." "And the turn comes not a moment too soon."
All previous campaign themes are no longer operational.
What Is He Thinking?
Obama can blame the media for the public not knowing where he stands, but how does he account for mystified experts and intellectuals?
The upshot of the New York Times cover story "Obamanomics" is that, well, he stands for a bunch of different things, best exemplified by the article's headline: "A Free-Market-Loving, Big-Spending, Fiscally Conservative, Wealth Redistributionist."
The Times also finds Obama's general political philosophy a mystery.
* "His philosophy is ambition," said Fred Siegel, a historian at The Cooper Union in New York. Isee him as having a rhetoric rather than a philosophy."
* "He has a pretty conservative social message," said Theda Sckopol, a government professor at Harvard University. This impulse informs his views of religion. A deep current in American liberalism holds that church and state are separate realms. Mr. Obama does not swim in this river.
* Alan Wolfe, a professor at Boston College, said no one should mistake Mr. Obama for a raging liberal. "During the primaries, I used to tell people that Obama, not Hillary, was the real Clinton."
* "He buys into the precepts of American Exceptionalism, which portrays the 20th century as the story of American visionary leadership," said Andrew Bacevich, a professor of international relations at Boston University. "What strikes me is how utterly conventional it is . . . I doubt seriously he has a fully formed world view yet. There will be an internal fight for the mind and soul of President Obama."
* Lawrence Tribe is an Obama supporter who found his vote for Bush's FISA bill "perplexing."
* Cass Sunstein: "He is a visionary minimalist."
Alan Brinkley: "He is not rooted in the way of a lot of politicians; we don't know what his precise philosophy will be. We just see these interesting shards."
The Torch
"Barack Obama will close the book on the old politics of race and gender and group against group," Kennedy said.
Really? Once he's won and those divisions are no longer useful to him, you mean? How will he do that?"
"This November the torch will be passed again to a new generation of Americans."
The Democrats have passed the torch more often than an Olympic relay team.
*
Kennedy says what struck him was that Obama's family "was so much like mine."
Um, right. Mine too, if by that you mean made up of humans.
Missouri Mush
Claire McCaskill: "I know this son of a single mom will stand up for the dreams of our daughters. And I know John McCain won't."
Um, McCain has daughters too. Just sayin'.
"In Missouri, we have a ringside seat to the real America, and I can assure it looks much different."
You know, everyone in Congress is from somewhere outside of Washington, D.c., that you might call the real America.
"It's time for someone who understands the real America: the waitresses, small businessmen, single moms and truck drivers."
You know, people we only pay attention to every four years when we need their votes. The Dems always try this line of attack and always lose. And that's never been Obama's constituency.
Pelosi Pap
Calls the Iraq war a "catastrophic mistake," but forgets the part where the Democrats endorsed it.
Close To Home
USA Today: "Obama's inner circle also has an unmistakable Chicago flavor to it."
How comforting.
Putting On Ayers
USA Today: "Sunstein, a University of Chicago law professor who knows both men, is "very disturbed by [Ayers'] past and by his refusal to disavow what he did. Still, he says, "I think the implications fo this for Obama are zero."
They aren't zero, but they should be. It's not the supposed associations with radicals that is the problem, it's the associations with the Chicago Machine.
This Bud's For You
If I was John McCain, I would have responded to Obama's attacks about his houses with this: What does my opponent have against beer?
Michelle Bell
"When her husband ran for Congress in 2000, Michelle Obama groused so much about handshaking and fund-raising that Arthur Sussman, then her boss at the University of Chicago, finally asked if she truly could not find a single thing about campaigning to enjoy," Jodi Kantor writes in the New York Times.
"Michelle Obama thought for a moment. Visiting so many living rooms had given her some new decorating ideas, she allowed."
Wow. Um, harsh.
"She must continue to refashion her own occasionally harsh public image in warmer tones," Kantor writes. Because reporters should always advise political strategists to manipulate their public images to maximize electoral likability. And don't worry, we can discuss this sort of thing in the paper because the public is in the other room.
*
"So on Monday night, the campaign filled the stage and screen with Michelle Obama's family: her basketball-coach brother, Craig Robinson; her homemaker-turned-secretary mother, Marian; and the memory of her father, Frasier, a city worker stricken with multiple sclerosis. (When her father was alive, the family barely talked about his disease, Craig Robinson said in an interview last year; now Michelle Obama mentions it at nearly every campaign stop.)"
Geez, you'd think he was a prisoner of war or something.
Race Bard
"They do everything right. They have great kids, the work their hearts off, they make it in their professions, they don't live off welfare, they don't commit crimes, they don't live on affirmative action."
Why does Chris Matthews still have a job?
Menage Obama
Bill Maher: "The coverage after, that I was watching, from MSNBC, I mean these guys were ready to have sex with him."
Phone Home
Saying thanks: "The AT&T Convention in Denver."
Hill's Bill
For all the money Obama raised making appeals based on Hillary Clinton in the primaries, he should help pay off her debt.
Fox's Chicken
Alan Hannity is so bad one can only conclude that's why he has the job.
Speech Review
* Hillary Clinton had the most complicated speech to give and she rocked it.
* Dennis Kucinich gave the kind of speech you wish Obama would deliver.
* Apparently Montana Gov. Brian Schweitzer was really good, but I didn't see it.
* Apparently Kansas Gov. Kathleen Sebelius and our very own Tammy Duckworth sucked.
* John Warner certainly did.
* John Kerry was brutally clumsy.
* Al Gore only made you realize that the party has three superstars in him and the Clintons, and none of them are on the ticket.
Missed Opportunity
Obama's speech began and ended with Obamanian rhetoric, but the meat of it was routine Democratic boilerplate that we hear every four years. It's too bad David Axelrod decided against a substantive campaign in favor of a personality-based campaign, despite Obama's protestations that the whole process has been too trivial. Hello? A reform agenda along the lines of the Contract With America would have been most welcome. Here's the change we're going to bring. Instead, change now simply means a change to the Democrats. Big deal.
History Lessons
C-SPAN ran old convention speeches over the weekend and it was fascinating. Gerald Ford, for example, gave a surprisingly strong speech - easily better than Obama's - that was interrupted by applause 65 times in 36 minutes.
I mean, does this sound familiar?
"As I try in my imagination to look into the homes where families are watching the end of this great convention, I can't tell which faces are Republicans, which are Democrats, and which are Independents. I cannot see their color or their creed. I see only Americans."
By The People
Wig vs. Bigwig.
Unity
If Obama can't even unite his own party, how can he unite the country? The fact is that Obama divided his party by playing dirty against the Clintons, and yet unity fell to Hillary during the convention. She did her part, but what about him?
It would have made more sense to put Hillary (and Bill) on the first night of the convention. Unite the party from the start and move past the Clintons right away. You could also do Jimmy Carter and even Ted Kennedy - you know, pass that torch at the outset. On the second night you have the other candidates say their piece and segue into Obama biography. Then you follow with policy and end with the big speech.
Bruce Ruse
I appreciate Barack Obama using "Born in the U.S.A." as part of his convention soundtrack in the sense that he's taking it back from Ronald Reagan, but it's nearly as inappropriate to use the song as a patriotic anthem when it's really about disaffected Vietnam vets. "Promised Land" would have been a much better choice - especially for a speech titled "The American Promise."

Posted by Beachwood Reporter at 6:08 AM | Permalink
The Cubs Answer Man: First-Place Fears
Now that September has arrived and the Cubs and Sox both begin the final month of the season in first place, questions about the inevitable Cubs-Sox World Series have begun arriving in the e-mail box of our Cubs Answer Man, Rick Kaempfer.
Rick has kindly consented to answer a handful of your questions below. If you have any other questions, e-mail him at amishrick@yahoo.com, and he'll answer them in a future column.
*

Q: I know everyone is worried about the upcoming Cubs-White Sox World Series and predicts it's a sign of the apocalypse, but they met once before and nothing terrible happened. Isn't that true?
A: Well . . . if you don't count the eruption of Mt. Vesuvius that destroyed Naples, or the earthquake that destroyed San Francisco, or the tsunami in Hong Kong that killed 10,000 people, or the 8.2 earthquake that killed 20,000 in Chile, or the birth of Bugsy Siegel, Adolph Eichman, and Leonid Breschnev, then yes you're absolutely correct - nothing terrible happened in 1906.
*
Q: I'm married to a White Sox fan and I worry that if the Cubs meet the Sox in the World Series, our marriage may not survive. What tips can you offer to help us?

A: If the Cubs win, offer to go the store and don't come back for a month. It could save your marriage and your life.
*

Q: Are there any plans in place to segregate the White Sox fans from the Cubs fans to avoid gang warfare during the Cubs-Sox series?
A: Not really. Other than keeping an extra security guard nearby the shirtless father-son first base coach sucker-punchers and the "steel-toed kick the Sox fan in the face at a 2-year-old's birthday party" guys, I picture lots of dancing, finger snapping, and poor old Officer Krupke doing his darndest to keep the peace.
*
Q: You know how the Mayor of one team's city always bets the mayor of the opposing team's city during the World Series? Who will Mayor Daley bet if the Cubs play the Sox?
A: Himself. It will be just like a city election. No matter what happens, Daley wins.
*
Q: Why doesn't Mayor Daley bet Governor Blagojevich? The mayor is a Sox fan and the governor is a Cubs fan. That could be fun.

A: Good idea. The loser spends the afternoon under oath with Patrick Fitzgerald.
*
Q: What do you think the headline will be if the Sox win the series?

A: CUBS LOSE!
*

Q: What do you think the headline will be if the Cubs win the series?

A: FROGS FALL FROM SKY!
-
Previously
* The Cubs Answer Man: Parade Prep
-
And From 2007:
* The Cubs Answer Men #1: Rule changes and parade seating.
* The Cubs Answer Men #2: Dress codes and left nuts.
* The Cubs Answer Men #3: Parking, beer and Lutherans.
* The Cubs Answer Men #4: God's will and the Tribune's bill.

Posted by Beachwood Reporter at 5:39 AM | Permalink
Song of the Moment: North to Alaska
The rush is on.
*
Released: 1960, featured in the John Wayne movie of the same name.
Artist: Johnny Horton, known for the historical ballad and at one time married to an ex-wife of Hank Williams.
Charts: Reached No. 1 on Billboard's country singles chart and No. 4 on the pop chart.
Amazon: While Louisiana Hayride star Johnny Horton's 1956 Top 10 debut "Honky Tonk Man" strode the line between rockabilly and honky-tonk minimalism, he found his niche in 1959 with a short-lived phenomenon known as the saga song: newly penned tunes, based on or inspired by historical events. The song that rendered Horton immortal? A rousing rendition of folksinger Jimmie Driftwood's War of 1812 number "The Battle of New Orleans," which topped both the country and pop charts for weeks. Riding a winner, Horton kept the momentum going with the Civil War-themed "Johnny Reb," and "Sink the Bismarck," based on a World War II naval battle. He died in a Texas car crash in early November 1960, days before his next single, "North to Alaska" (from the John Wayne film of the same name), hit the charts. While saga tunes understandably dominate this [greatest hits] collection, it also includes "Honky Tonk Man" and the ballads "Whispering Pines" and "The Mansion You Stole." There's no better introduction to Horton's seminal recordings. - Rich Kienzle
Lyrics:
Way up north, (North To Alaska.)
Way up north, (North To Alaska.)
North to Alaska,
They're goin' North, the rush is on.
North to Alaska,
They're goin' North, the rush is on.
Big Sam left Seattle in the year of '92,
With George Pratt, his partner, and brother, Billy, too.
They crossed the Yukon River and found the bonanza gold.
Below that old white mountain just a little south-east of Nome.
Sam crossed the majestic mountains to the valleys far below.
He talked to his team of huskies as he mushed on through the snow.
With the northern lights a-running wild in the land of the midnight sun,
Yes, Sam McCord was a mighty man in the year of nineteen-one.
Where the river is winding,
Big nuggets they're finding.
North to Alaska,
They're goin' North, the rush is on.
Way up north, (North To Alaska.)
Way up north, (North To Alaska.)
North to Alaska,
They're goin' North, the rush is on.
North to Alaska,
They're goin' North, the rush is on.
George turned to Sam with his gold in his hand,
Said: "Sam you're a-lookin'at a lonely, lonely man.
"I'd trade all the gold that's buried in this land,
"For one small band of gold to place on sweet little Ginnie's hand.
"'Cos a man needs a woman to love him all the time.
"Remember, Sam, a true love is so hard to find.
"I'd build for my Ginnie, a honeymoon home.
"Below that old white mountain just a little south-east of Nome."
Where the river is winding,
Big nuggets they're finding.
North to Alaska,
They're goin' North, the rush is on.
North to Alaska,
They're goin' North, the rush is on.
Way up north, (North To Alaska.)
Way up north, (North To Alaska.)
Way up north, (North To Alaska.)
YouTube:
-
Previously in Song of the Moment:
* Iron Man
* The Story of Bo Diddley
* Teach Your Children
* Dream Vacation
* When The Levee Breaks
* I Kissed A Girl
* Theme From Shaft
* Rocky Mountain High

Posted by Beachwood Reporter at 5:15 AM | Permalink
Ironside: Eat, Drink and Be Buried
Our look back on the debut season of Ironside continues.
*
Episode 5: Eat, Drink and Be Buried
Airdate: 5 October 1967
Plot: After popular advice columnist Francesca Kirby (Lee Grant) is nearly kidnapped from her estate by the Creature from the Black Lagoon, her old friend Robert T. Ironside is called in to narrow the list of suspects.
This episode opens with what may well be the most laughable opening of any Ironside installment - no, make that any crime drama of the last 50 years. Don't take my word for it; do yourself a favor and rent the DVD. The sight of Lee Grant in a blousy black-and-white print pantsuit sprinting up the side of a hill, fleeing from her wet-suit clad abductor, is a hilarious moment of vintage '60s television.
Guest stars: Lee Grant, Farley Granger
Special guest star in triplicate: Quincy Jones pulls triple duty. In addition to writing the music for this week's episode, Jones plays the part of Les Appleton, a jazz club owner and old friend of Mark's. Finally, during a poolside cocktail party, Lee Grant's character makes reference to the famous music man when she says, "Oh, Quincy Jones, he really turns me on."
Six million dollar cameo: Richard Anderson (aka Oscar Goldman) plays Darren Sanford, Francesca's frustrated publisher.
She's does advice, not sports: Bantering poolside with her publisher, Francesca says, "Using that kind of logic, Willie Mays would still be playing ball with Toronto." Um, Willie Mays never played for Toronto.
Abduction For Dummies: There has got to be an easier way to kidnap someone than popping out of a pond in full scuba gear and chasing after your victim while wearing a wet suit and mask. Driving the getaway convertible while clad in rubber can't be easy either.
Speak softly and carry a big magnifying glass: Ironside actually uses a giant magnifying glass to show Eve (and the audience) what's obvious to the naked eye - the typewriter used to write Francesca's threat letter has a worn-out 'E'.
If you've seen one nightspot, you've seen them all: The Key of C jazz club owned by Quincy Jones' character looks like the same set as the underground Tiny Tim club used in the first episode.
Get hep to the lingo:
Les Appleton: It's all over the street now that you're living with the fuzz.
-
Mark: Plainer man. Run it on down to me.
-
Les Appleton: Well, he's a jive, funny-time-keepin', tuned-out musician.
Lifestyles of the rich and famous: A second attempt on Francesca's life is made when she's poisoned with strychnine. Thank goodness she's wealthy enough to have a personal physician on call who packs his own stomach pump.
Flash of inspiration: "The Ronco Home Stomach Pump." It's handy to have on hand for those times when you accidentally ingest too many sleeping pills or find yourself the victim of strychnine poisoning. Order one today.
Prime-time porno, 1967 style: Francesca's sister Doris Keller runs a photography studio. Well, sort of. For three dollars an hour, her male clients (or as she refers to them, "kooks") can snap photos of a woman in a plaid bikini posing with a giant pink stuffed teddy bear.
Another round before you arrest me, Chief? People in San Francisco are hilariously casual about being interviewed by the police during a murder investigation. In the last episode, Ironside and his crew were sipping cocktails served by a suspect's wife. In this episode, Francesca's sister offers Ironside a shot of whiskey before pouring herself a stiff one.
Insert moment of false suspense here: Back at Ironside's home office, an unidentified man creeps through the front door and tiptoes across the hall toward a meat cleaver menacingly placed in the foreground of the shot. Ironside turns to face the intruder, Francesca's husband Mitch Kirby (Farley Granger). Since Kirby is there to plead his innocence to the Chief, you quickly realize there's no point to any of this bogus red herring.
Jack and Jill of all trades: Quincy Jones isn't the only one with multiple skills at work in this episode. Eve goes undercover as Francesca's secretary, providing police protection, gathering inside information, and taking dictation. For once, no domestic skills are required of the policewoman.
Scenes like this are why I love this show: Ironside meets Francesca on the dock of her yacht to discuss the case and try to convince her she needs police protection. She's absolutely against having a tag-a-long cop, saying, "What's the point. Anybody can be hit. Of all people, you should know that."
No sooner are the words out of her mouth than shots ring out. A hit man in a parked car a mere few hundred yards down the waterfront uses a scope rifle to take shots at Francesca. Ed and Mark sprint after the shooter's car as it squeals out of the parking lot.
Ed displays crack marksmanship when he caps the car tires, firing his handgun which he steadies at eye level with the open palm of his opposite hand. Squinting one eye, his tongue sticking out between his teeth, he's the picture of concentration. And all this is set to the accompaniment of Quincy Jones' thrilling soundtrack. You gotta dig it.
-
Previously:
* A Cop and His Chair
* Message From Beyond
* The Leaf in the Forest
* Dead Man's Tale
Posted by Beachwood Reporter at 5:01 AM | Permalink